Are you hoping to experience a gorgeous Asheville winter? As locals, we'll share our favorite things to do in Asheville in the winter.
One of the reasons that we moved to Asheville, NC: WINTER! I know; I know. That sounds absolutely bonkers, but when you are born and raised in a cold place and then live in Florida for almost a decade (and steaming Indonesia for a year), you want all things winter! Seasons are life.
An Asheville winter is extra special because unlike up North, our winters are much milder. Sure, you'll see some gorgeous snow flurries and need to rock a winter coat, but you won't have to shovel out your car. Did I mention that I was born in CT? Apartment living in the winter was hell…
The ice might make driving tricker, but overall, you can experience so much more of Asheville with fewer crowds — with the exception of the holiday weeks.
So, if you are headed to Western North Carolina, what are the best winter activities in Asheville, NC? Where should you hike? Where can you see light displays? What are the top Asheville winter events? And of course, what should you drink to stay warm?
As AVL locals, we are sharing our favorite things to do in Asheville in the winter. We'll also give you a few tips to better pack and to know what's open and closed. Let's get started!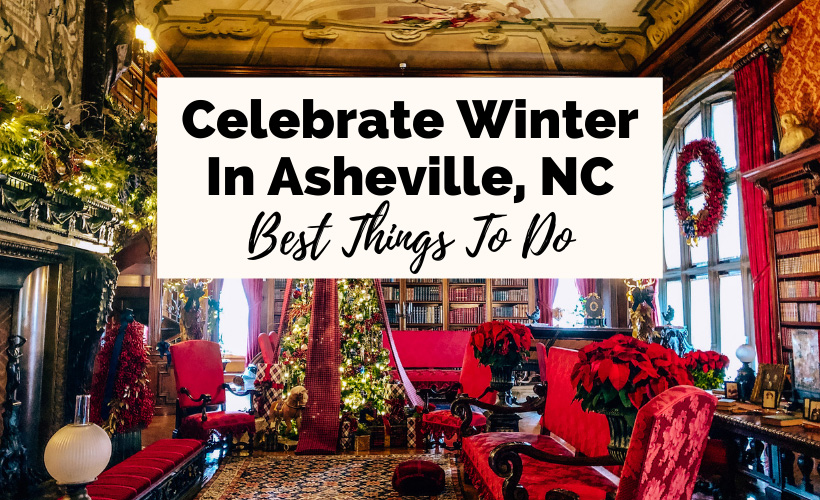 ---
This post may contain affiliate links for products and services I recommend. If you make a purchase through these links, at no additional cost to you, I will earn a small commission. Read the full disclosure here.
---
*Please remember that while we try to update posts for the global pandemic, be sure to check all websites and/or call establishments as times, rules, and procedures are constantly changing. Only travel when it is safe to do so.
See our Top Places To Stay in Asheville.

Don't miss out on these Asheville properties on Booking.com, too.
Asheville, NC Winter Weather
As a former New Englander and Floridian, Asheville winters are pretty mild — just like all of the Asheville seasons. From December to February, you can expect daytime highs averaging around 50 to 60-degrees and evening lows around the 30s. We'll see a few evenings drop into the 20s, too.
While we don't usually have feet upon feet of snow, we will receive light dustings, frequent ice, and the occasional snow 'storm.' Asheville's snow is really nothing. I love it. Last year, we didn't even crack out the shovel.
If you are hiking, temperatures in the higher elevations are about 10 to 25-degrees cooler. There will be more fog. Sunset for November and December is around 5 PM and by February, the sun will set around 6:30/7 PM.
For what to pack and wear, I still recommend layers, a winter coat, scarves, gloves, and boots. We don't have a lot of slush and grossness, but you'll crunch on ice and walk through mud.
Never Miss Another Asheville Update
Are you tired of generic Asheville travel itineraries? Do you want to experience the magic of Asheville like a local?
Grab our free Asheville Favorites checklist today, including restaurants, breweries, and hiking. Plus, get local updates straight to your inbox. Sign up here.
Best Things To Do In Asheville In Winter: Asheville Winter Events
So, now that you are prepared for an Asheville winter, let's dive into all of things that you can do, both indoors and outdoors. Almost all of these Asheville winter activities are perfect for the entire family — minus the booze.
Dance Along With Winter Lights At The NC Arboretum
In pandemic mode 2020, Winter Lights at The North Carolina Arboretum is looking a little different this year.
In the past, visitors could walk through the decorated gardens at night, sipping on hot chocolate. Light displays danced to music, children made s'mores by the fire, and their huge tree glowed throughout the grounds.
This year, The NC Arboretum is hosting Winter Lights via a one-mile drive-thru in your vehicle. From November 20, 2020 to January 10, 2021 from 5:30 to 10:30 PM, drive around their nature-themed light displays. Grab tickets to Winter Lights here→
Visit Biltmore In Its Holiday Glory
No Asheville winter is complete without a visit to Biltmore, George and Edith Vanderbilt's home. Every year, Biltmore — said to be American's largest estate — decorates for the holidays. Although the Biltmore house is always breathtaking, those trees and harps add such a cozy feel.
You can experience a Biltmore Christmas in two ways: visit the home during the day and see all of the trees, ribbons, lights, and holiday decor. Or, experience the magic of Candlelight Christmas Evenings when the house's fireplaces, candles, and lights shimmer throughout the rooms.
Don't forget to make the most out of your ticket with these fun things to do and see at Biltmore to get your money's worth. Antler Hill Village and Biltmore Winery are also beautiful from November to January.
Virtually Attend The Grove Park Inn Gingerbread Competition
Another change in 2020, while the Omni Grove Park Inn is still hosting its annual Gingerbread House Competition, visitors will not be able to walk around to see them — everything is virtual this year.
In previous years, gingerbread houses flanked rooms, you could grab a hot chocolate at their pop-up stand, and visitors sipped cocktails in front of the floor-to-ceiling fireplaces. This year, Grove Park Inn is hosting a series of online events including classes (Carla Hall from Top Chef!).
To maintain social distancing, the Grove Park Inn is also only allowing visitors with reservations onto the property during busy times. You can always check in with them if you are unsure. We love making dinner reservations at The Edison or Sunset Terrace.
How To Spend Winter In Asheville Outside
Some of the best Asheville winter activities are outdoors. We love hiking year-round, and we don't let Western North Carolina winter weather stop us — most of the time.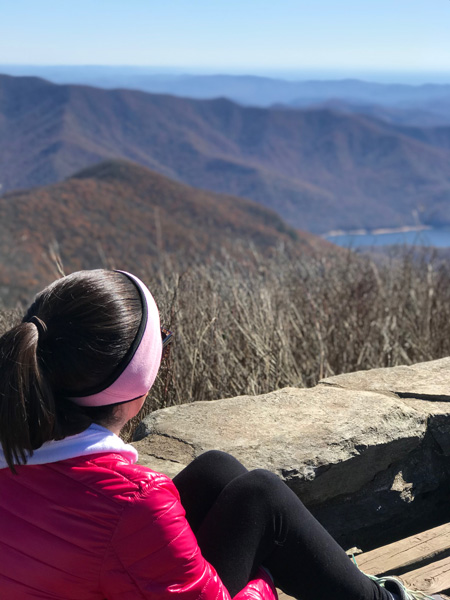 What are a few winter hikes around Asheville that you'll enjoy? We recommend Daniel Ridge Falls, Bearwallow Mountain, Trombatore, and The North Carolina Arboretum. A few Asheville winter hikes on our to-do list include Max Patch, Roan Mountain, Lover's Leap, Looking Glass Rock, and all around Chimney Rock.
If you are worried about the cold and ice, don't miss these Asheville parks and gardens with hiking areas and nature trails.
If it is not quite winter yet, you can always check out our favorite fall hikes near Asheville, and grab our complete Asheville hiking guide here→
A Word Of Caution For Asheville Winter Hiking
A few things to know about winter hikes around Asheville: parts of the Blue Ridge Parkway (BRP) will close down for weather. You can check BRP weather updates and gate closures here.
Like always, but as a reminder, you will want to hike with matches, layers, first aid supplies, flashlights/headlamps, and emergency/extra supplies in case you get injured or lost.
Bring a map or GPS — it's easier to get lost on snow and leaf-covered trails. Know your trail blazes. We hike with this Garmin paired with the GAIA phone app. People frequently get lost or confused — tourists and locals.
Don't forget, too, that it's colder and grows darker early in the winter. Bring layers, and tell others where you are hiking and when to expect you. You won't always have cell reception in the mountains.
Spy A Frozen Waterfall
Another reason visitors love an Asheville winter: waterfalls! If you are not escaping to somewhere warm and tropical, why not head to the "land of waterfalls?"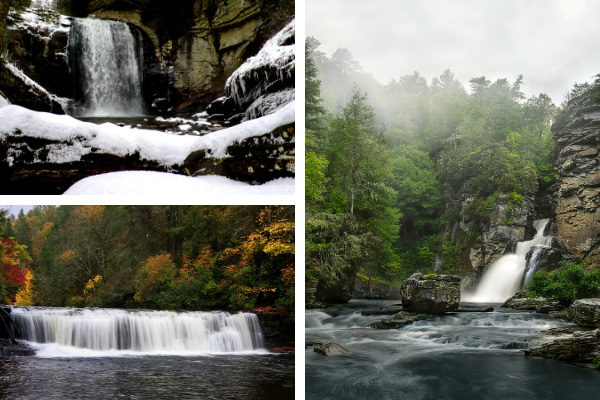 We recommend DuPont State Forest for The Hunger Games waterfalls. You can see 4 waterfalls in a 7-mile+ loop or just do the three — Triple, High, and Hooker Falls — in a 3-mile out and back. Triple and Bridal Veil Falls are the two The Hunger Games filming locations.
If you are looking for easier Asheville winter activities for the entire family, you can drive right up to Looking Glass Falls, and sometimes, they freeze in the winter — hence their namesake.
For a few more Asheville winter waterfall hikes: Daniel Ridge Falls in the Pisgah National Forest is around a 1-mile out and back, and Linville Falls & Gorge is also pretty stunning (the Visitor Center access point/parking might be closed along the BRP). Don't miss all of our favorite waterfall hikes near Asheville here→
Enjoy Winter Sports Like Snow Tubing Or Mountain Biking
We haven't been snow tubing or skiing yet, but we've heard Beech Mountain and the Cataloochee Ski Area are the places to go.
I'm more of a (terrible) mountain biker, and before it gets too icy, I love the Bent Creek Experimental Forest Trails right before The NC Arboretum. This area is also great for Asheville winter hiking.
After a morning or afternoon of hitting their numerous trails, stop at Apollo Flame Bistro for a sub. It's kind of a dive that we are pretty obsessed with. The Asheville Outlets are across the street, too.
Asheville, NC Winter Activities For Foodies & Shoppers
Walk Around Downtown Asheville
Downtown Asheville is a must all year, but in the winter, you can find sparkly lights and holiday window displays. Grab brunch, lunch, or dinner, get an early start on holiday shopping, and take a break with some donuts, ice cream, or beer.
What are our recommendations? It's sort of endless, but don't miss our top 50 things to do in Asheville. For lunch, we love Red Ginger Dimsum or Asheville Pizza and Brewing.
For beer, you cannot go wrong with Twin Leaf, Catawba, Green Man, or Wicked Weed. If it's dinner, we frequent Chiesa, Plant, and Laughing Seed.
Stop by Cultivated Cocktails for a distilled bevie, and don't forget to book shop with Champagne at Battery Park Book Exchange.
Sip On A Craft Brew Or Warm Up By A Winery Fire
Lastly, no Asheville winter would be complete without BOOZE. Head to one of Asheville's top breweries for a winter brew. Besides the ones we mentioned above located in downtown AVL, don't miss Zillicoah, Ginger's Revenge, or Wedge.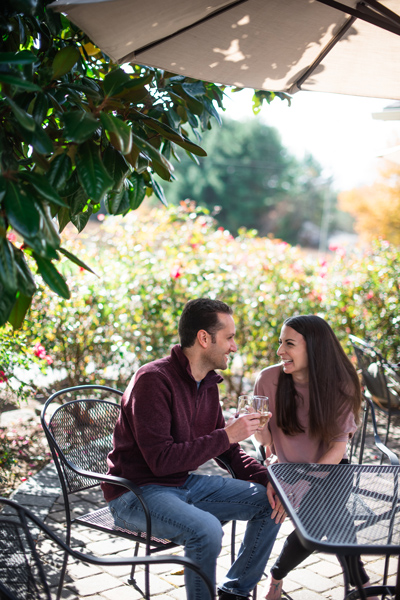 If beer isn't for you, Asheville also has fabulous nearby wineries. Along with Biltmore, if you head to the River Arts District, don't skip pleb urban winery. They create sustainable, clean, and small-batch wines.
If you don't mind driving a little further, Hendersonville and Flat Rock are home to our personal favorites like Marked Tree Vineyard and Burntshirt Vineyards. Burntshirt also has a fire pit and winter Gluhwein (mulled wine). Point Lookout and St. Paul offer blazing fireplaces to warm you up.
Of course, seasonal cocktails are also acceptable. We recommend The Montford Rooftop Bar or The Edison at the Omni Grove Park Inn (huge fireplaces!).
Where To Stay In Asheville, NC In Winter
See our Top Places To Stay in Asheville.

Don't miss out on these Asheville properties on Booking.com, too.
What are your favorite things to do during an Asheville winter?
What are your favorite things to do in Asheville in the winter? What Asheville winter events have you attended, and what is on your bucket list? Please let us know in the comments.
You May Also Enjoy:
50 Best Things To Do In Asheville, NC
Top Winter Hikes And Waterfalls Near Asheville
Fall In Asheville
Best Asheville Breweries
Top Wineries Near Asheville, NC