What are delicious breweries in Brevard, NC that you can stop by after chasing those waterfalls? Don't miss our favorite breweries near Brevard for grub and local beer.
We love hiking around Brevard, NC. Since we are Asheville locals, we drive through Brevard to get to the Pisgah National Forest and Gorges State Park.
Typically, we'll hike around Daniel Ridge, Moore Cove Falls, or Rainbow Falls. Afterward, we crave nothing more than a bite to eat and a little hydration, craft-beer style.
Plus, who can resist the Brevard breweries? Not me. We literally drive right by them.
So, what are the hopping breweries in Brevard to check out? And, what are some of the best breweries near Brevard that you will pass along the way?
We'll share our favorites as well as briefly mention the hikes you'll find nearby. Let's get started!
If you love breweries, don't miss the absolute Best Breweries In Asheville, NC — our home!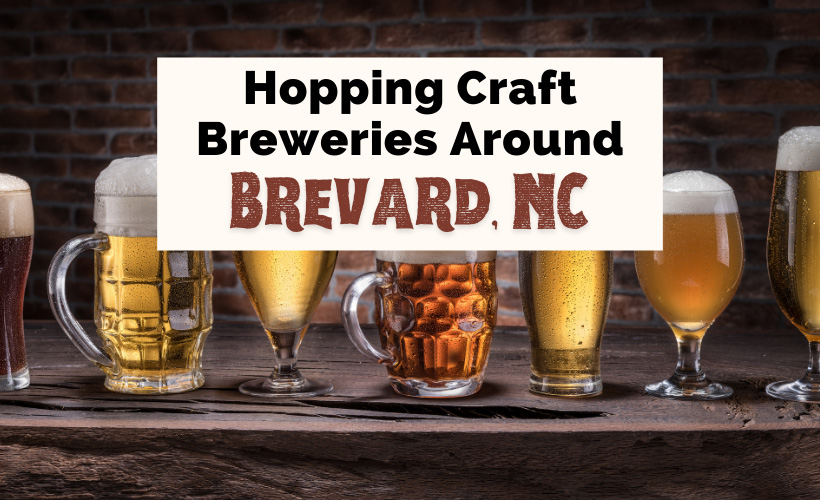 This post may contain affiliate links that earn us a commission at no extra cost to you.
Don't miss these inns, hotels, cottages, and cabins around Brevard, NC. Or, stay in our area in Asheville, NC.
Not-To-Miss Breweries In Brevard
Address: 342 Mountain Industrial Dr, Brevard, NC 28712
Website: https://www.oskarblues.com/
Phone: (828) 883-2337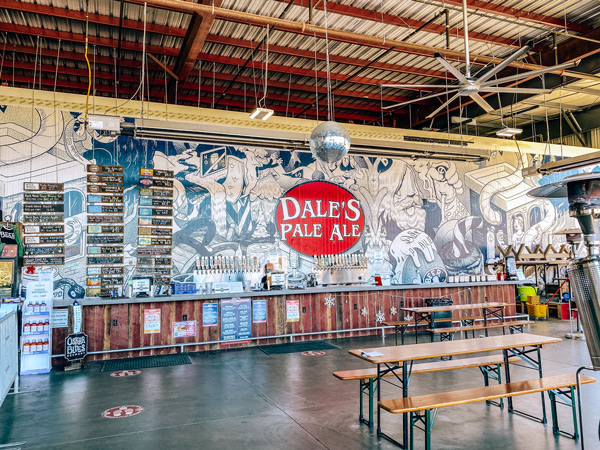 Although seemingly out in the middle of nowhere, Oskar Blues is a casual setting filled with outdoor picnic tables and delicious burgers, nachos, and fries. Ordering fried pickles after a hike may seem a bit…contradictory…but we aren't judging.
I'm a fan of their Death by Coconut, which is like drinking a York Peppermint Patty. Oskar Blues started in Lyons, Colorado. You'll find IPAs, Scotch Ale, American Red, Pilsner, and India Pale Ale.
Never Miss Another Asheville Update
---
Tired of generic Asheville travel itineraries? Are you hoping to experience the magic of Asheville like a local? Grab our free Asheville Favorites checklist, including restaurants, breweries, and hiking. Plus, get local updates – including events and hidden gems – straight to your inbox. Sign up here.
Address: 212 King St Suite B, Brevard, NC 28712
Website: https://www.upcountrybrewing.com
Phone: (828) 885-7538
UpCounty Brewing has multiple taprooms. Find them in Brevard and West Asheville. Serving up some of my favorite beers, try their Gose, Brown Ale, Stouts, and Lagers. You can also order Sours, IPAs, and Pale Ale.
Did you know that there is an UpCountry Brewing in West Asheville? You can order Grata Pizza with your beer. Grab all of our Asheville Brewery Tips Here.
Address: 49 Pisgah Hwy #3, Pisgah Forest, NC 28768
Website: https://ecustabrewing.com/
Phone: (828) 966-2337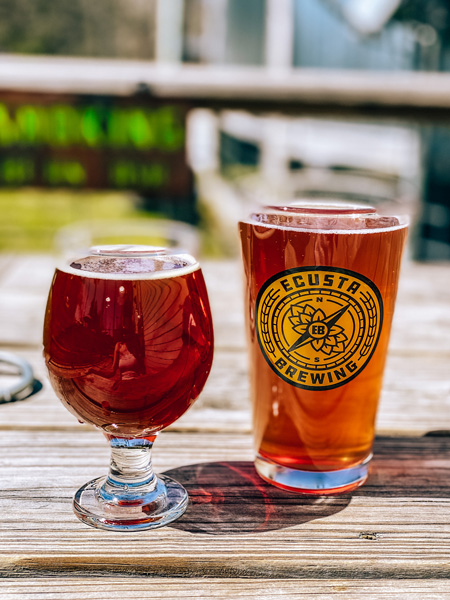 One of my personal favorite breweries in Brevard, Ecusta Brewing Company offers outdoor seating along the water and across from the bridge.
Ecusta sits on the corner of the entrance into the Pisgah National Forest.
Don't let the shopping center vibe turn you off, either. They offer a large seasonal selection along with Sours, IPAs, Strong Ale, and Porters.
Ecusta Brewing also serves canned wine and Ginger's Revenge ginger beers.
The Mojito Sour is pretty dang fun in the sun after a warm day of hiking. 'Ecusta' means 'Get Distant.'
Address: 63 E Main St, Brevard, NC 28712
Website: http://www.brevard-brewing.com/
Phone Number: (828) 885-2101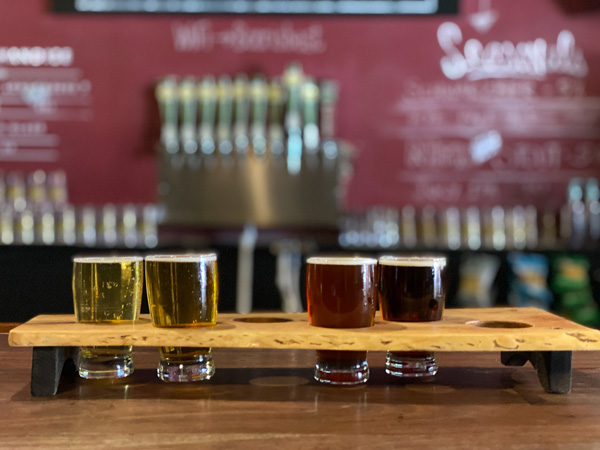 "Crafted in the land of waterfalls," Brevard Brewing Company is a micro-brewery that specializes in my favorite: Lagers! Notably, they were the first brewery to open in Transylvania County in 2012.
Centrally located, you'll find Brevard Brewing in the heart of downtown Brevard. They have mostly indoor seating with a few smoky picnic tables in their back alley.
Save This Post For Later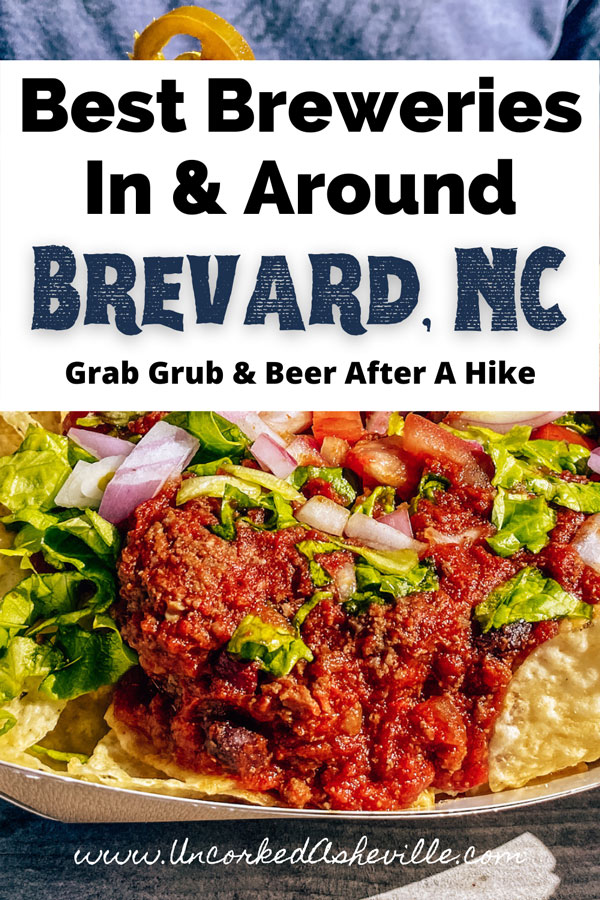 Breweries Near Brevard You'll Also Pass
Technically, the following breweries aren't in Brevard, but they are definitely right along the city line. If you are heading to or from Asheville after a hike, these are fabulous breweries near Brevard.
Address: 4891 Boylston Hwy, Mills River, NC 28759
Website: https://burningblush.com/
Phone Number: (828) 595-9859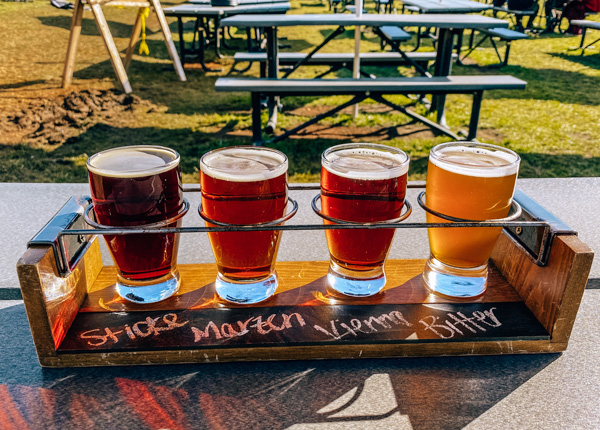 Burning Blush Brewery is just outside of Brevard in Mills River, NC. You'll see their brewery from the Boylston Highway.

Burning Blush has a gorgeous taproom with high ceilings and plenty of outdoor seating. Don't miss the rotating food trucks, too.
Newer to the brewery scene, Burning Blush opened in 2019 and offers a large selection of beers, cider, and wine.
Personally, I love when the Appalachian Chic Food Truck is on-site. You'll also see Asheville's famous Cecelia's Kitchen Food Truck.
Looking for even more craft beer? Don't miss All Of The Breweries In Mills River.
Address: 100 Sierra Nevada Way, Mills River, NC 28732
Website: https://sierranevada.com/
Phone Number: (828) 708-6176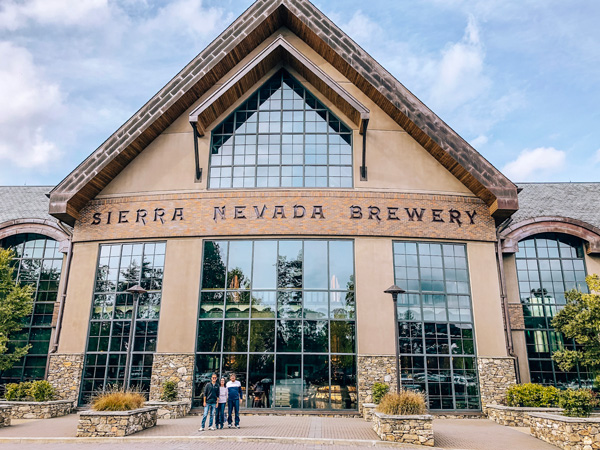 Of course, I have to at least mention Sierra Nevada right before the highway to Asheville.
One of the most famous breweries near Brevard, grab a bite to eat and try one of their nationally famous beers.

Sierra Nevada is usually an AVL airport stop for us, and the grounds have a ton to offer.
Hiking & Waterfalls Near These Breweries Around Brevard
Known for its vibrant music community, white squirrels, and waterfalls, before you head to the Brevard breweries, don't miss these hikes:
Looking Glass Falls
Drive up to Looking Glass Falls in the Pisgah National Forest. You'll meet a 60-foot waterfall that freezes in the winter.
Catch a rainbow in a waterfall cove. An easy family hike, this 1.4-mile out and back promises a 50-foot waterfall. Moore Cove Falls is just past Looking Glass Falls.
If you turn left instead of right for Looking Glass Falls in the Pisgah National Forest, you'll come across Daniel Ridge Loop and Falls. You can take the short and easy out and back straight to the falls or hike the longer and more moderate loop.
For nature lovers, don't miss Pink Beds Loop in the Pisgah Forest. This 5.5-mile trail is full of blooms and butterflies in the summer. Mostly flat and a little mucky, this easy trail is both scenic and serene.
One of the prettiest and most popular moderate waterfall hikes in both Gorges State Park and the Pisgah National Forest, trek to a 150-foot waterfall. If you are lucky, you'll see a full rainbow as the massive waterfall spits all over you.
Read more about the Best Waterfalls Around Asheville and these Stellar Hikes Near AVL.
Have you visited any of these breweries in Brevard?
Which of the Brevard breweries have you visited, and what did you order? Where did you stop before or after a hike around Brevard, NC? Let us know in the comments.
Don't miss these inns, hotels, cottages, and cabins around Brevard, NC. Or, stay in our area in Asheville, NC.
Where Can You Head Next For More Libations?
Asheville, NC's Famous Breweries
Our Delicious Hendersonville, NC Brewery Guide
Best Mills River Breweries
Not-To-Miss Breweries In Black Mountain
Food & Drink In & Around Asheville
Hiking Trails & Waterfalls Near These Breweries
Moore Cove Falls
DuPont State Forest
Rainbow, Turtleback, & Hidden Falls
Daniel Ridge Loop & Falls
Pink Beds Hike
Asheville Day Trips