Uncover the best breweries in Brevard, NC – perfect after waterfall chasing and hiking – for both grub and local beer – from WNC locals.
We love hiking and mountain biking around Brevard. And, since we are Asheville locals, we drive through Brevard to get to the Pisgah National Forest and Gorges State Park.
Typically, we'll hike around Daniel Ridge, Moore Cove Falls, Pink Bed Loop, Looking Glass Falls, and Rainbow Falls.
Afterward, we crave nothing more than a bite to eat and a little hydration, craft-beer style, from those stellar Brevard breweries.
They are hard to resist, especially since we drive right by them. And, if you mountain bike, the Brevard Bike Path passes through two.
So, what are the top Brevard, NC breweries to check out? And, what are some of the best breweries near Brevard – think Mills River – that you will pass along the way?
See which Brevard brewery has the best outdoor seating, and which breweries in Brevard serve food. Nothing beats a food truck burger or pork schnitzel sandwich.
We'll share our favorite brews as well as briefly mention the hikes you'll find nearby. Don't forget to tell us your preferred brewery in Brevard in the comments. Let's get started!
If you love craft beer, don't miss the absolute best Breweries in Asheville, NC – our home.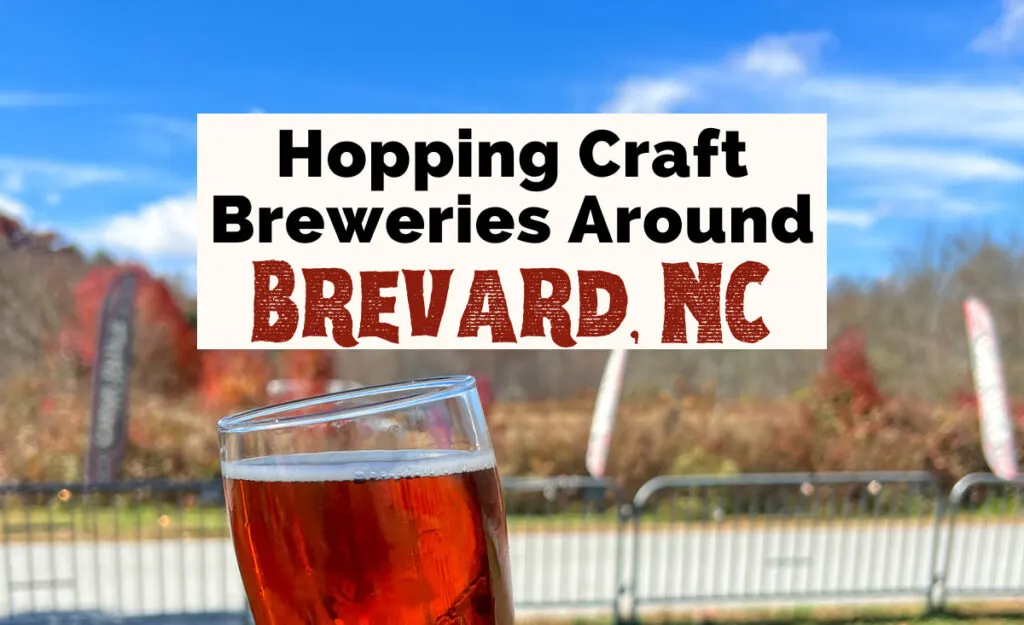 This post may contain affiliate links that earn us a commission at no extra cost to you. If you love these guides, support Uncorked Asheville here.
Don't miss these inns, hotels, cottages, and cabins around Brevard, NC. Or, stay in our area in Asheville, NC.
6 Best Breweries In Brevard (And Nearby)
1. Oskar Blues Brewery
Address: 342 Mountain Industrial Dr, Brevard, NC 28712
Website: https://www.oskarblues.com/
Phone: (828) 883-2337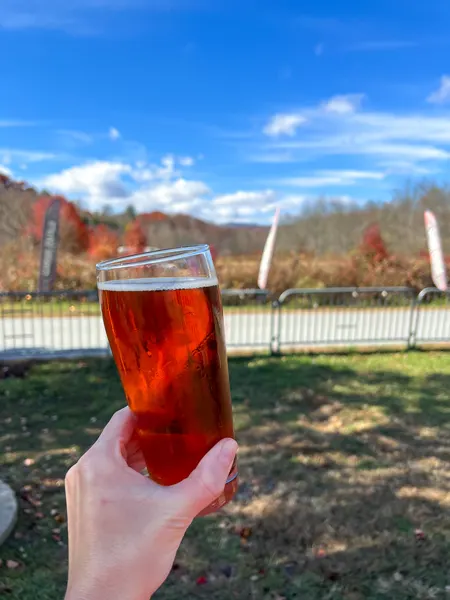 We just love mountain biking around Asheville, and if you are looking for a Rails-To-Trails pathway, the Brevard Bike Path lets riders choose from both a paved section as well as a romp through the Pisgah National Forest.
And, you might be asking what a bike trail has to do with beer: everything. The Brevard Bike Path passes by two Brevard breweries, Ecusta and Oskar Blues.
Situated along the Brevard Sports Complex portion of the Brevard Bike Path, there's a paved side trail that leads riders to the entrance of Oskar Blues.
It's perfect and quite convenient. Oskar Blues even has bike racks in front of their food truck.
For breweries in Brevard, Oskar Blues promises a casual setting filled with outdoor picnic tables and covered but open bar top seating.
Along with Stouts, Scotch Ales, American Reds, Pilsners, India Pale Ales, IPAs, Ambers, Kolschs, and Lagers, find an on-site food truck, the Chubwagon, serving burgers, nachos, and fries.
Ordering fried pickles after a hike or bike ride may seem a bit contradictory, but we aren't judging.
The Chubwagon wouldn't be the best option if you are lactose or gluten-free, though, and you might have to settle for a salad.
One of our all-time favorite Oskar Blue beers is Death by Coconut, which is like drinking a York Peppermint Patty. They also make a mean Oktoberfest in the fall.
Oskar Blues started in Lyons, Colorado. They are a kid and pet-friendly brewery near AVL.
On your way out, dip your head into the large production facility.
2. Ecusta Brewing Company
Address: 451 Ecusta Rd, Brevard, NC 28712
Website: https://ecustabrewing.com/
Phone: (828) 966-2337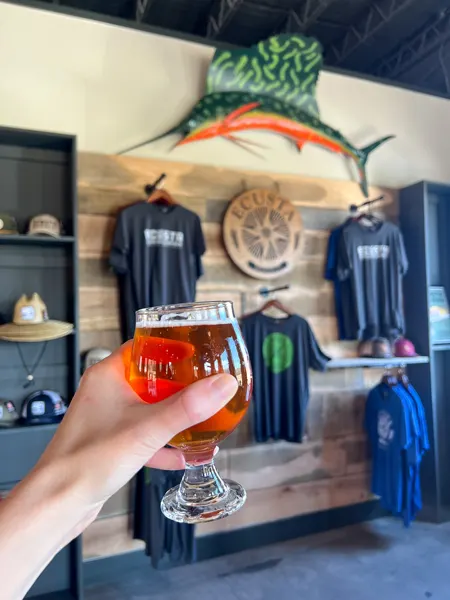 One of our personal favorite breweries in Brevard, Ecusta Brewing Company has a new 2022 location with a gorgeous taproom, a 21+ designated seating area, and indoor and outdoor seating.
Ecusta used to sit at the entrance to the Pisgah National Forest, but now they are a block away.
They offer a large seasonal selection of beer along with Sours, IPAs, Strong Ales, and Porters.
Ecusta Brewing also serves canned wine, other local breweries' beer, and Ginger's Revenge ginger beers.
If you catch a Mojito Sour, it's pretty dang fun in the sun after a warm day of hiking. And, did you know that "Ecusta" means "Get Distant."
Ecusta Brewing Company's sleek new taproom also has an on-site restaurant, Gordingo's. Gordingo's serves up bar bites including nachos, chips and salsa, and tater tots.
For larger meals, select from tacos, burritos, and rice and salad bowls.
Like Oskar Blues, this is another Brevard brewery along the Bike Path, and they have bike racks out front. Brewery hopping via bike makes for a great Asheville day trip.
See what other changes came to Asheville and WNC in 2022.
3. UpCountry Brewery & Distillery
Address: 212 King St Suite B, Brevard, NC 28712
Website: https://www.upcountrybrewing.com
Phone: (828) 885-7538
UpCounty Brewing has multiple taprooms across Western North Carolina, including Brevard and West Asheville.
Serving up some of our favorite beers, try their Goses, Brown Ales, Stouts, and Lagers. Or, select from Sours, IPAs, and Pale Ales.
Their Brevard location is also a distillery, and they have craft cocktails.
For Brevard breweries, UpCountry offers trivia nights, artisan and holiday markets, yoga, pop-up coffee events, and live music.
UpCountry Brewing in West Asheville is attached to Grata Pizzeria, which makes some of the best pizza in the city. Notably, Grata also serves up stellar gluten-free AVL pizza.
If you love craft cocktails, read more about the great distilleries in and around Asheville, NC.
4. Brevard Brewing Company
Address: 63 E Main St, Brevard, NC 28712
Website: http://www.brevard-brewing.com/
Phone Number: (828) 885-2101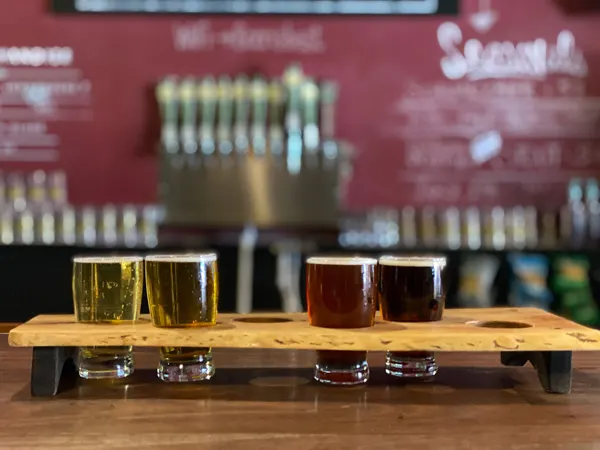 If you enjoy walking Downtown Asheville, Brevard is another fabulous mountain city with a historic and walkable downtown area filled with shops and food.
Plus, tucked into its historic streets is another one of the delicious Brevard breweries, Brevard Brewing Company.
"Crafted in the land of waterfalls," Brevard Brewing is a micro-brewery that specializes in our favorite: Lagers.
Of course, you will also find Dunkels, IPAs, and Red Ales. They have mostly indoor seating with a few smoky picnic tables in their back alley.
Notably, Brevard Brewing was the first brewery to open in Transylvania County in 2012.
Never Miss Another Asheville Update
---
Tired of generic Asheville travel itineraries? Experience Asheville like a local with our free Asheville Favorites checklist, including restaurants, breweries, and hiking. Plus, get local updates – including events and hidden gems – straight to your inbox. Sign up here.
5. Burning Blush Brewery
Address: 4891 Boylston Hwy, Mills River, NC 28759
Website: https://burningblush.com/
Phone Number: (828) 595-9859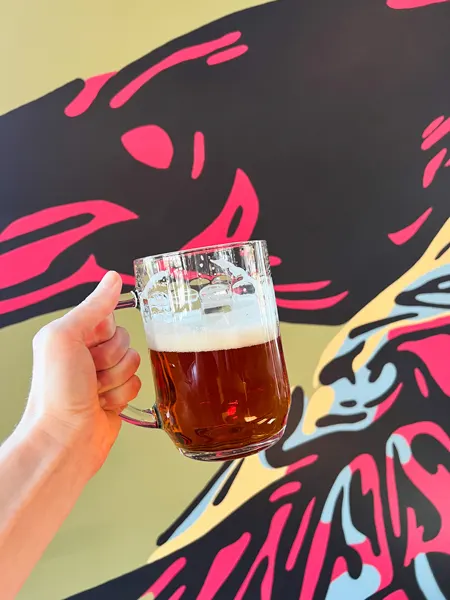 One of our favorite breweries near Brevard, head to Burning Blush in Mills River.
Like Brevard, the Mills River breweries – and Bold Rock Cidery – are terrific for food and some of the best craft beer in Western North Carolina.
A bit newer to the Brevard brewery scene, Burning Blush opened in 2019 and offers a large selection of local craft beers, cider, and wine.
A few beers to try include their Kolschs, Belgian Tripels, Czech Dark Lagers, Helles, and Altbiers.
You'll conveniently pass Burning Blush Brewery along the Boylston Highway, which we take to and from Brevard and Asheville.
It's hard to miss – and we can never just drive past without stopping.
Burning Blush has a gorgeous taproom with high ceilings, colorful murals, and plenty of outdoor seating. They are pet and family-friendly.
They also host the best food trucks around Asheville, including Haus Heidelberg – one of our favorite Hendersonville restaurants – Appalachian Chic, Cecilia's Kitchen, and Garage BBQ – serving up some of the best BBQ around.
6. Sierra Nevada Brewing Co.
Address: 100 Sierra Nevada Way, Mills River, NC 28732
Website: https://sierranevada.com/
Phone Number: (828) 708-6176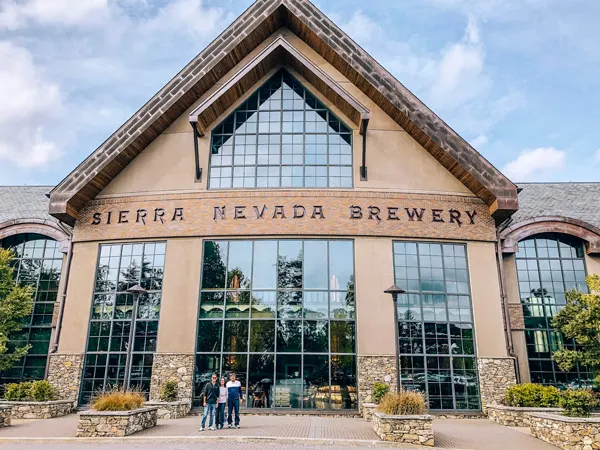 Of course, if we are talking about the best and most famous breweries near Brevard, everyone knows Sierra Nevada.
Grab a bite to eat and try one of their nationally famous beers. We think Sierra tends to favor IPAs and all of the hops.
They are also famous for their seasonal brews like that winter Celebration.
For food, enjoy snacks including wings, pretzels, and fries. For larger meals, dine on salads, wood-fired pizzas, burgers, BBQ, and clams.
One of Asheville's family-friendly restaurants, kids can select from grilled cheese, burgers, hot dogs, pizza, and Mac & Cheese.
Sierra Nevada is usually an Asheville airport stop for us, and the facility has a ton to offer, including brewery tours, a gift shop, a back porch, and, of course, the taproom.
Hiking & Waterfalls Around The Brevard, NC Breweries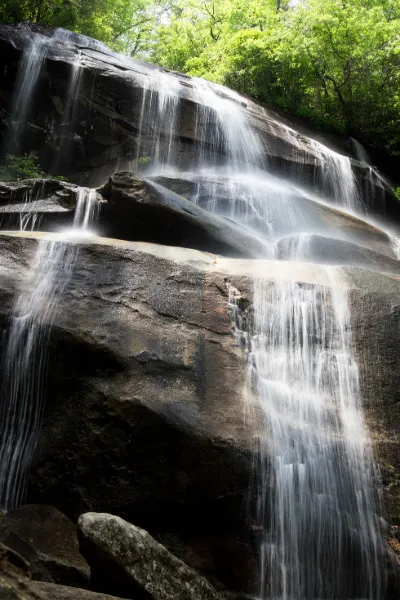 Known for its vibrant music community, white squirrels, and waterfalls, before you head to the Brevard breweries, don't miss these hikes:
Looking Glass Falls
Drive up to Looking Glass Falls in the Pisgah National Forest. You'll spy a 60-foot waterfall that freezes in the winter.
Moore Cove Falls
Catch a rainbow in a waterfall cove. An easy family hike, this 1.4-mile out and back promises a 50-foot waterfall. Moore Cove Falls is just past Looking Glass Falls.
Daniel Ridge Loop & Falls
If you turn left instead of right for Looking Glass Falls in the Pisgah National Forest, you'll come across Daniel Ridge Loop and Falls.
Take the short and easy out and back straight to the falls or hike the longer and more moderate loop. This is a fabulous winter hiking trail near AVL.
Pink Beds Loop & Picnic Area
For nature lovers, hike Pink Beds Loop in the Pisgah Forest. This 5.5-mile trail is full of blooms and butterflies in the summer.
Mostly flat and a little mucky, this easy trail is both scenic and serene. Pink Beds also has a large picnic area.
Rainbow, Turtleback, & Hidden Falls
One of the prettiest and most popular moderate waterfall hikes in both Gorges State Park and the Pisgah National Forest, trek to a 150-foot waterfall, Rainbow Falls.
If you are lucky, you'll see a full rainbow as the massive waterfall spits all over you.
Read more about all of Asheville's top hiking trails.
DuPont State Forest
One of the best places for waterfall hiking, we love DuPont State Forest. Hike three breathtaking waterfalls in an easy-to-moderate 3.1-mile hike.
It's also one of NC's best filming locations, and you might recognize multiple falls from The Last of the Mohicans and The Hunger Games.
Nearby, head to Downtown Hendersonville, which is full of more hopping breweries, beautiful wineries, apple orchards, and local coffee shops.
Don't miss these inns, hotels, cottages, and cabins around Brevard, NC. Or, stay in our area in Asheville, NC.
Save The Best Brevard Breweries For Later: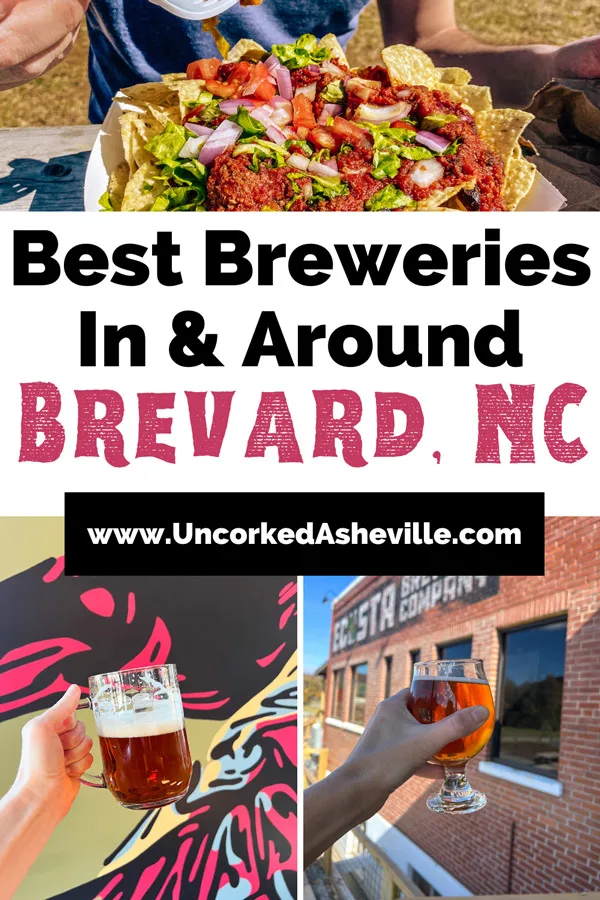 What is your favorite Brevard brewery?
If we had to pick our top brewery in Brevard, we'd go with Ecusta Brewing Company. For breweries near Brevard, Burning Blush is also a must.
On our Mills River brewery list, you'll also find Mills River Brewing – which looks like a beer campground for adults. It's fantastic.
What are your favorite breweries in Brevard, NC – and nearby?
And, what are your favorite hikes around Brevard? How about waterfalls? Mountain biking trails?
Let us know in the comments. Cheers!
More Breweries Near Brevard
Not-To-Miss Breweries In Black Mountain
Weaverville's Beer Scene
Guide To Exploring Asheville