Are you headed to Western North Carolina and looking for the best things to do in Asheville, NC?
As AVL locals, we'll share our favorite Asheville activities and attractions. Explore hikes, waterfalls, wineries, breweries, shopping, restaurants, art, museums, and so much more. Experience Asheville like a local.
Let's face it: It's pretty hard to get restless in Asheville. Even as residents, we are always finding new places to explore, different beer flavors to drink, seasonal garden exhibits, and pop-up art.
We are hiking obsessed. Chasing waterfalls never grows old. You can slide down waterfall rocks and kiss a dragon tree on its snout.
See where Katniss found Peeta hiding in The Hunger Games. Get your birdwatching on. Stop at a scenic overlook on the Blue Ridge Parkway. Fall in love over a picnic on top of a mountain summit.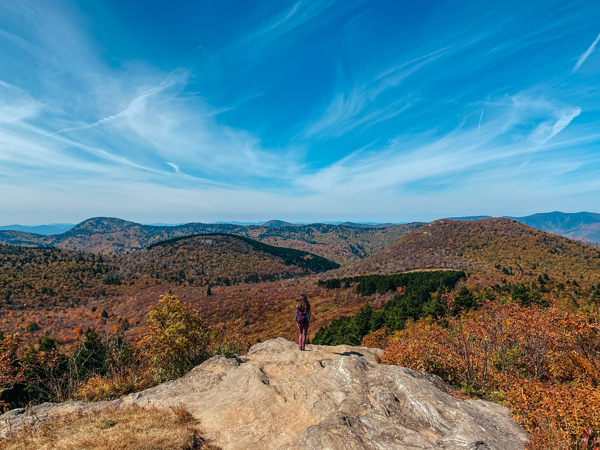 Plus, Asheville has a rich and scandalous literary history, hipster music scene, and historic downtown filled with unique gems.
Imagine vintage pinball machines and video games, distilleries, and a champagne bookstore. See Shakespeare in the Park surrounded by fireflies or cheer for the local baseball team with some nachos.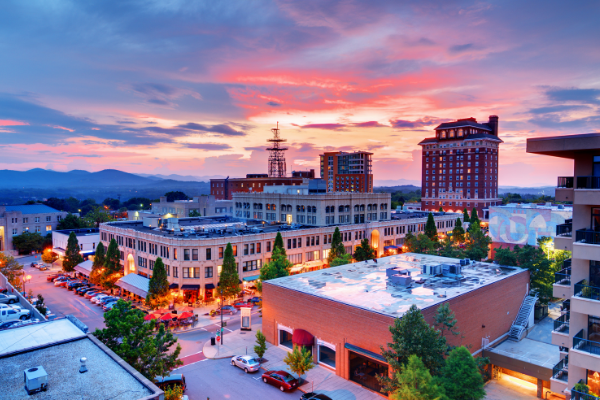 Known as foodie heaven, or Foodtopia, you'll never go hungry in Asheville. The endless local craft beers are sure to quench your thirst.
Heck, we've got wineries, Biltmore, and those gorgeous blue and green-hued mountains.
So, whether you live in AVL or are visiting, what are the best things to do in Asheville, NC?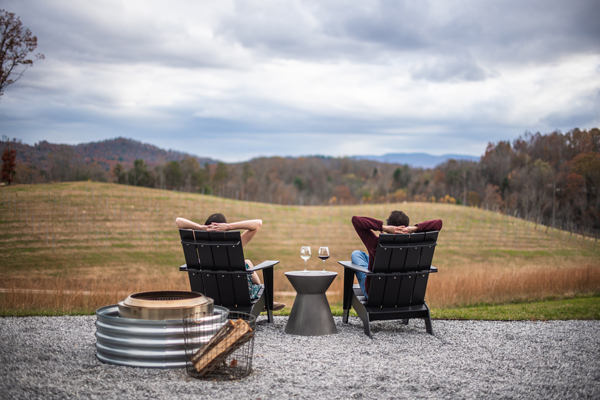 We'll share our favorite things to do in Asheville as well as friends' musts (we can't eat real cheese, sorry) along with Asheville activities and attractions on our bucket lists. Find both huge Asheville tourist attractions as well as more local Asheville fun.
Many of these Asheville, NC things to do will be in the heart of Asheville, but we'll also branch out to easy and fun day trips across Western North Carolina (WNC), too. Let's get started!
Be sure to check out our Asheville Events Calendar.
---
This post may contain affiliate links for products and services I recommend. If you make a purchase through these links, at no additional cost to you, I will earn a small commission. Read the full disclosure here.
---
See our Top Places To Stay in Asheville.

Don't miss out on these Asheville properties on Booking.com, too.
*Please remember to check all locations, times, and places by going on their website or calling. We update our guides frequently, but activities and events may be seasonal or change frequently.
Best Things To Do In Asheville, NC For Outdoor Adventurers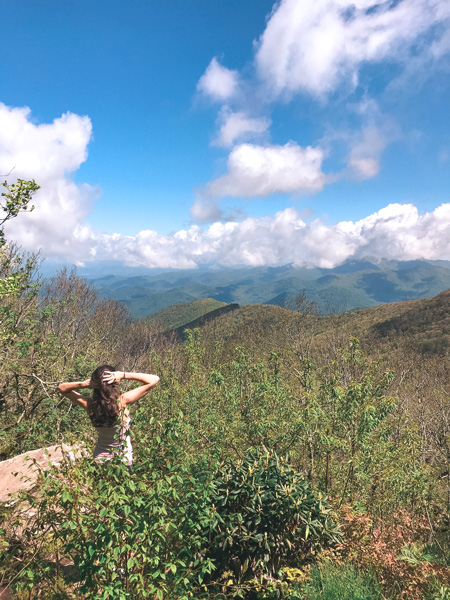 I usually write my lists a little biased: The things I love to do in Asheville involve hiking and drinking. Let's be real.
It's also no secret that we are New Englanders who lived in Florida for about 8 years, and Florida is a swamp. Moving to the less humid mountains — and remember, Florida barely even has HILLS — we can't stay outside long enough here in AVL.
So what are the best outdoor Asheville, NC things to do? We got you:
1. Trekking along one of the gorgeous Asheville hiking trails
Besides drinking beer by the river, we love hiking in and around Asheville, NC. As locals, what are our favorite hikes?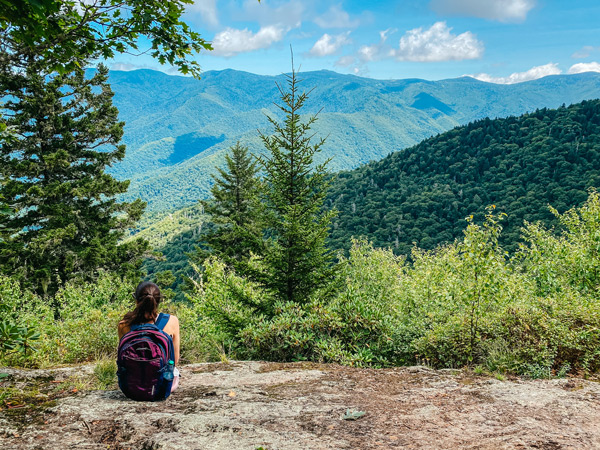 For almost 360-degree views, head to Mount Pisgah, Fryingpan Mountain Tower, and Craggy Pinnacle.
Lover's Leap is sure to make your stomach drop. Like Lover's Leap, Max Patch lands along the Appalachian Trail and is the prettiest spot in WNC for a picnic.
For stunning fall foliage, don't miss Graveyard Loop, Black Balsam via the Art Loeb and Sam Knob trails, and Craggy Gardens.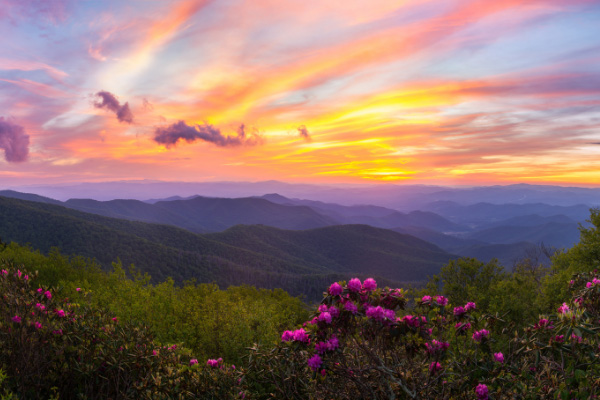 If you want quieter hikes, Craven Gap — the Obamas hiked here — and Trombatore Trail to Blue Ridge Pastures are less scenic but still beautiful.
For short and easier hikes, head to Bearwallow Mountain or the trails at Biltmore or The NC Arboretum. Pink Beds is perfect for nature lovers.
Head over to our Master Guide Of Must-Trek Asheville Hiking Trails.
2. Chasing all of the breathtaking waterfalls near Asheville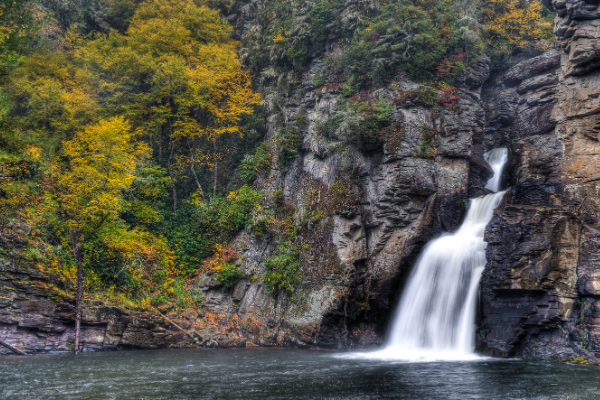 When looking for things to do in Asheville, NC, you cannot miss visiting the waterfalls.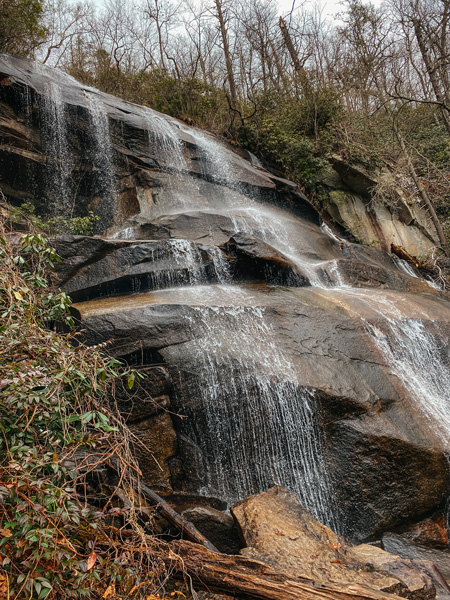 Transylvania County is known as the "Land of Waterfalls." Encounter over 200+ waterfalls spanning across Western North Carolina. Asheville (NC Micropolitan Statistical Area) and Brevard fall into some of this area.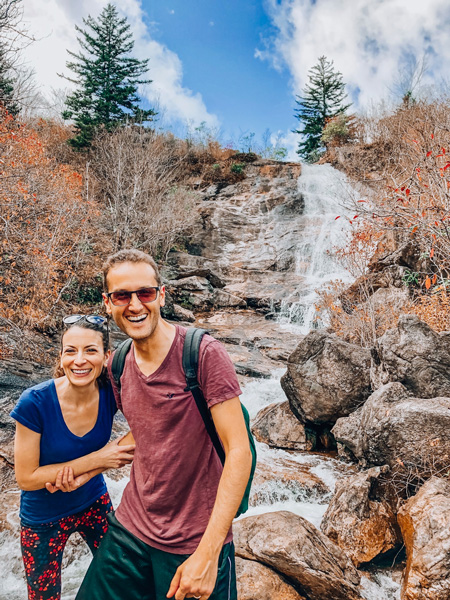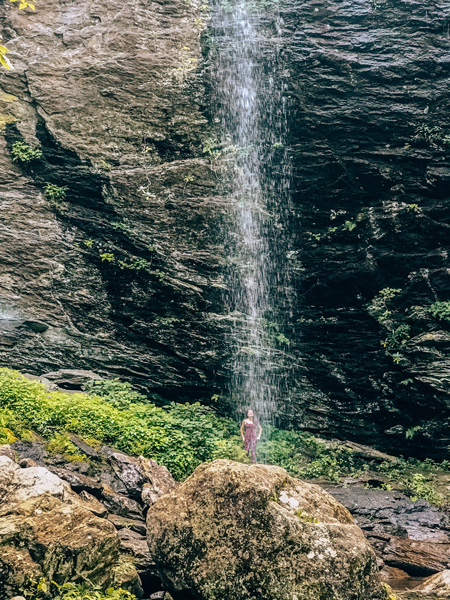 A few waterfalls that we recommend include Linville Falls, Catawba Falls, Douglas Falls, Graveyard Field's Second and Upper Falls, Daniel Ridge Falls, Moore Cove Falls, Rainbow Falls, Mingo Falls, and Looking Glass Falls.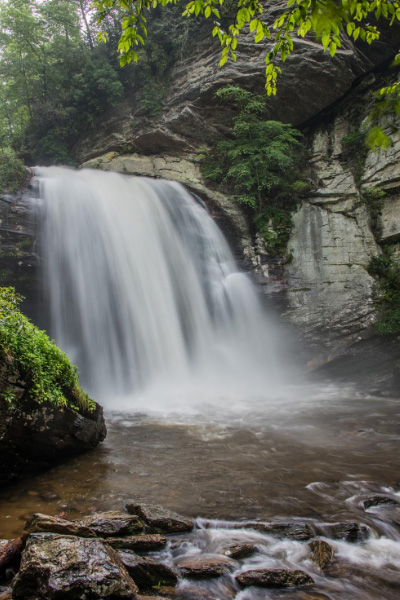 We'll get to The Hunger Games waterfalls at DuPont State Forest soon but will show you some pictures as a teaser…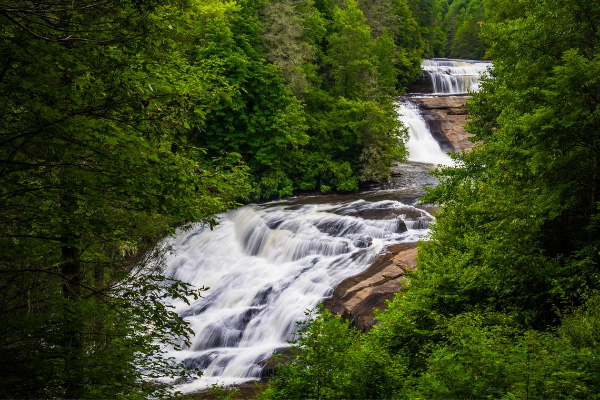 Don't miss all of the Breathtaking Waterfalls Near Asheville.
3. Driving down the Blue Ridge Parkway with the windows down & stopping at an overlook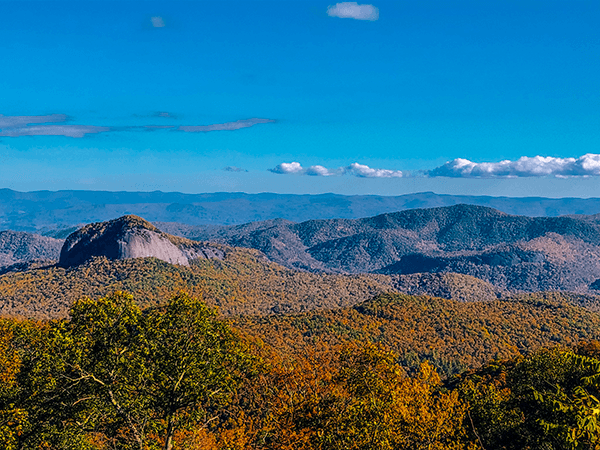 One of Asheville's biggest natural attractions is the Blue Ridge Parkway (BRP). The BRP runs from Virginia's Shenandoah National Park to Great Smoky Mountains National Park in North Carolina.
Hop on this 45 mph, two-lane road and explore all of the waterfalls, hikes, and scenic overlooks.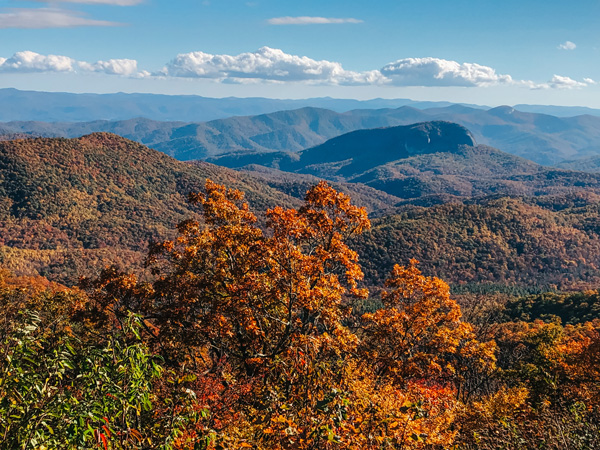 Drive through the mountains via tunnels, and know that this area turns into a mural of vibrant eye candy in the fall.
In the spring and summer, the Parkway fills in with gorgeous wildflowers and rhododendrons. The BRP is a dream for bikers and motorcyclists.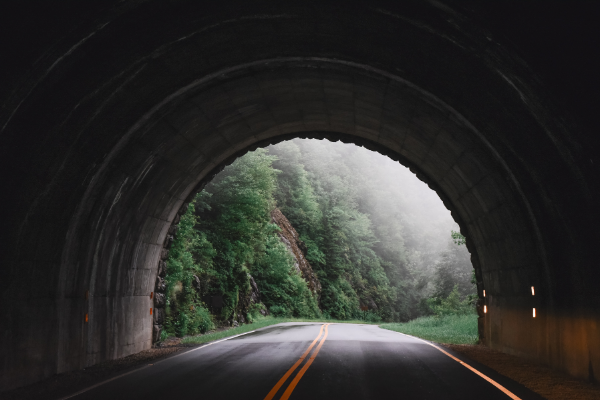 Find romantic fog, artists and birdwatchers pulled over at designated spots, and happy wildlife. Keep in mind, though, that many parts of the BRP close in the winter for ice.
Save Your Favorite Asheville Things To Do For Later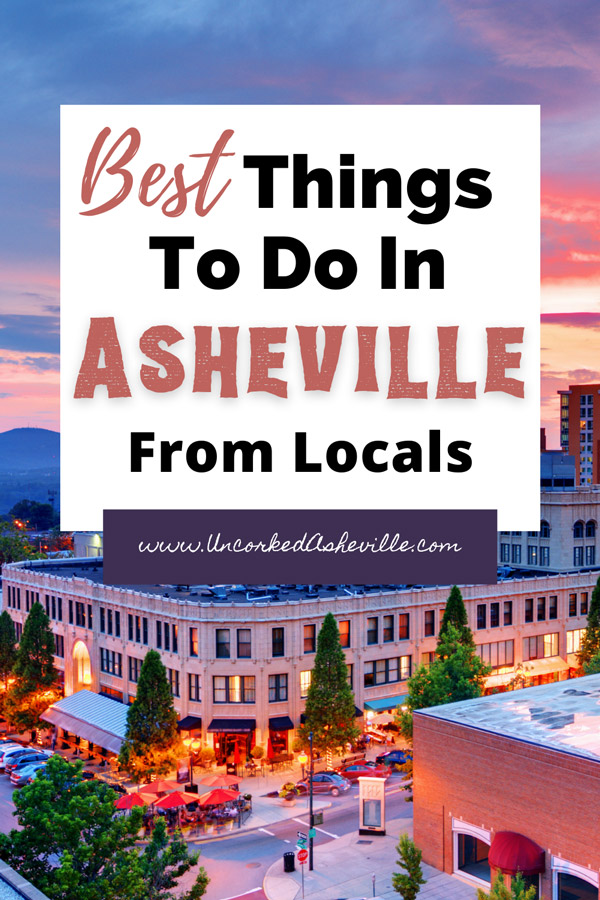 4. Strolling through one of the gorgeous local parks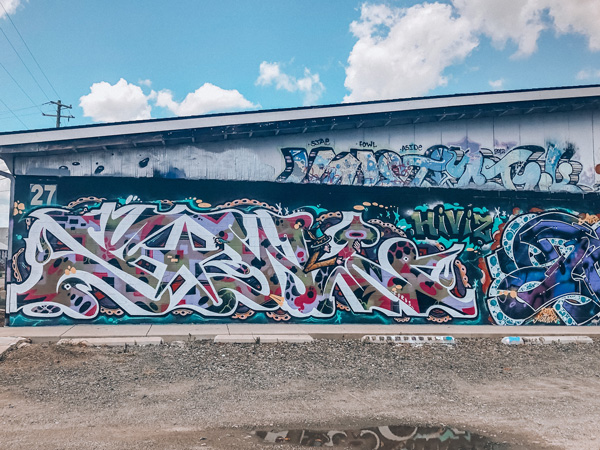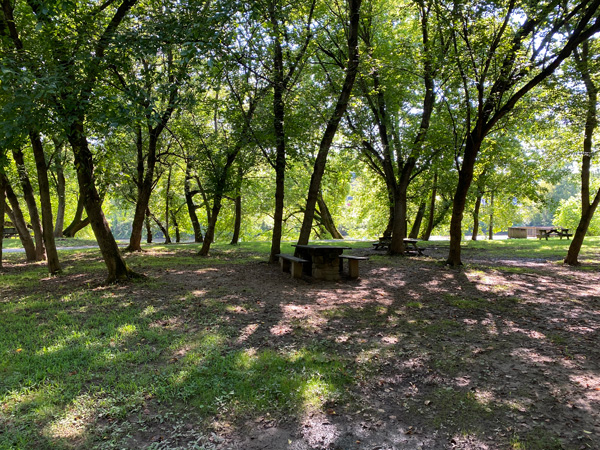 What most tourists don't know is how many stellar parks and gardens we have here in Asheville, especially if you want to stay in the city and just chill out.
In the late spring, our favorite things do in Asheville involve walking along the French Broad River and completing a few brisk loops in the local parks.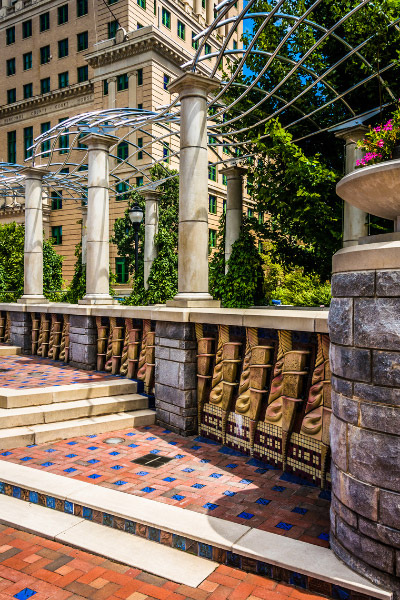 A few AVL public parks worth your visit include the French Broad River Park and Carrier Park, which connect in a 5k walking 'loop.'
There is also Pack Square and the Skate Park over in the River Arts District. Don't miss the newly renovated Riverwalk, too.
See the complete list of Quaint Asheville Parks & Gardens Here.
5. Exploring one of the massive state & national parks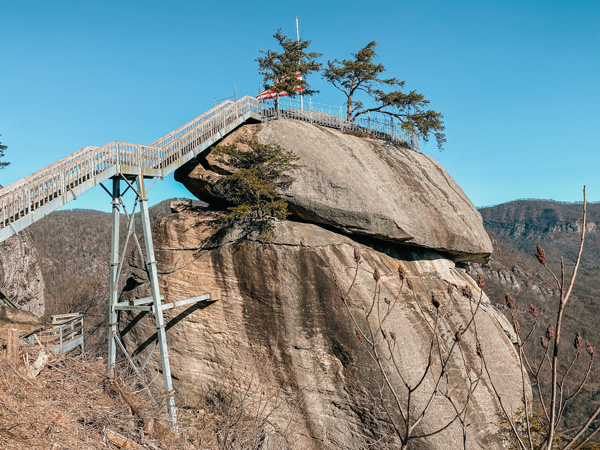 Of course, North Carolina is also infamous for its state and national parks. You have the Great Smoky Mountains, Chimney Rock State Park, Mount Mitchell, Grandfather Mountain, and Gorges State Park.
The Pisgah National Forest is one of North Carolina's most popular state parks with more than 500,000-acres of forest. You'll find many of the waterfalls and BRP hikes mentioned above here.
Climb the highest peak east of the Mississippi River at Mount Mitchell with an elevation clocking in at 6684 feet. You can see all of your favorite mountains from afar.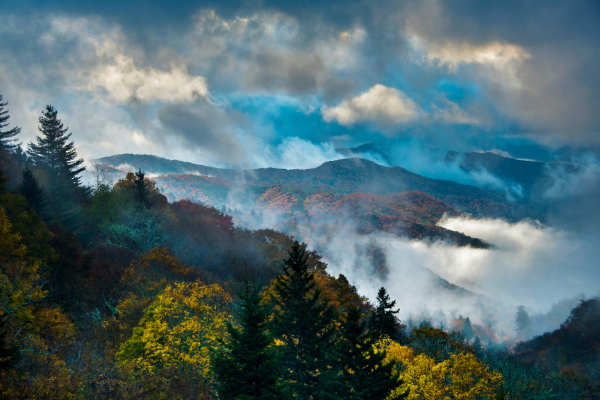 Grandfather Mountain is filled with biodiversity. The mountain peaks at 5,946 feet above WNC. Be sure to check out the Mile High Swinging Bridge and animal habitats.
Spy elk in Great Smoky Mountains National Park, which is one of the most visited national parks in America. For an introduction to the Smokies, start at the Oconaluftee River Trail in Cherokee, NC.
6. Biking in the mountains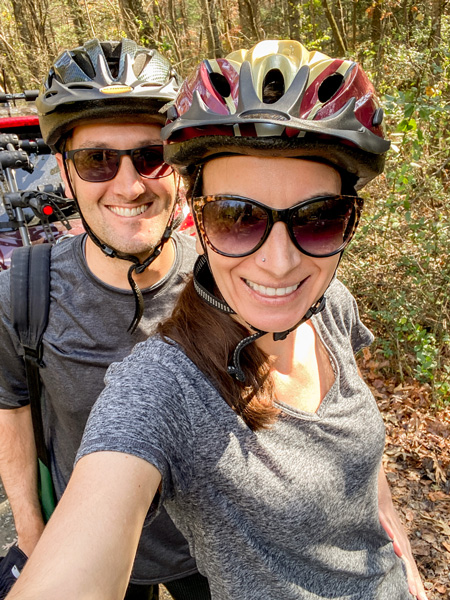 If you love mountain biking, the Blue Ridge Mountains are your home away from home. We are not expert mountain bikers, by any means, but we do love hitting the trails.
In Asheville, don't miss Bent Creek Experimental Forest for hiking and biking. The Hard Times Trail connects into The NC Arboretum. You can also bike at Biltmore with an annual pass or ticket.
Outside of Asheville, head to Daniel Ridge Loop, DuPont State Forest, and Tsali Recreation Area.
Don't skip these mountain biking trails around Asheville.
7. Picnicking on a mountain summit or by a lake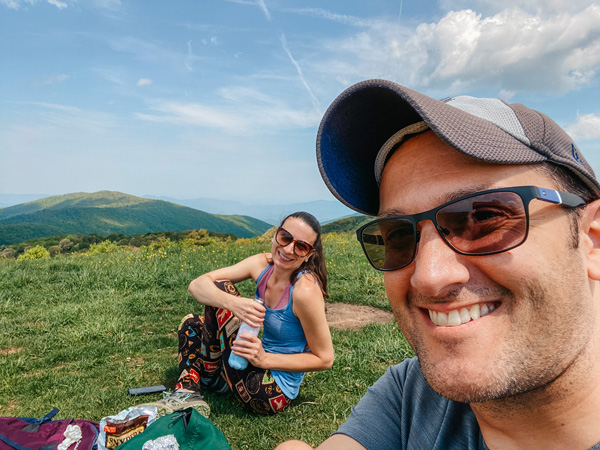 Living in Asheville, we have transformed into professional picnickers. You can either pack a picnic for your hike or enjoy something lighter by a lake.
For easy picnics, head to a winery like Stone Ashe Vineyards. Stroll Beaver Lake in North Asheville or Lake Louise in Weaverville. Pull up to a picnic area like those at Pink Beds, Craggy Gardens, or Mount Pisgah.
For hiking picnics, we love Max Patch, Bearwallow Mountain, Bridal Veil Falls-DuPont, Trombatore Trail, and Black Balsam.
Grab our full list of the best Asheville picnic spots.
8. Meandering in the Botanical Gardens At Asheville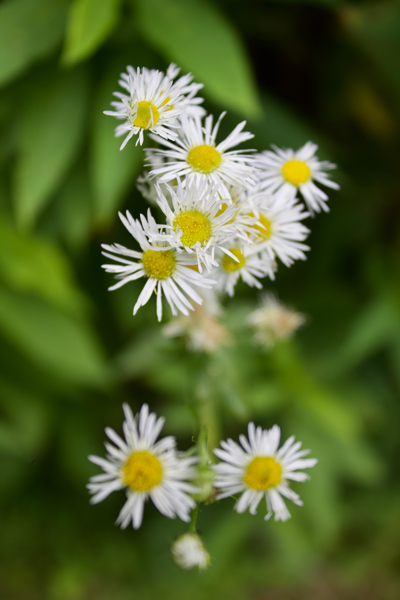 Located within the UNC-Asheville campus of North Asheville, one of our favorite Asheville things to do is hang out at the Botanical Gardens. Plus, it's free!
With 10-acres of streams, nature trails, bridges, and spots perfect for picnicking, this lesser-known gem is also a refuge for endangered wildflowers.
9. Attending a special event at The North Carolina Arboretum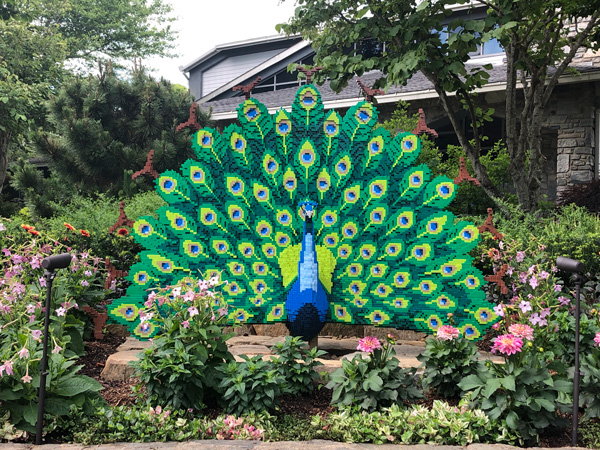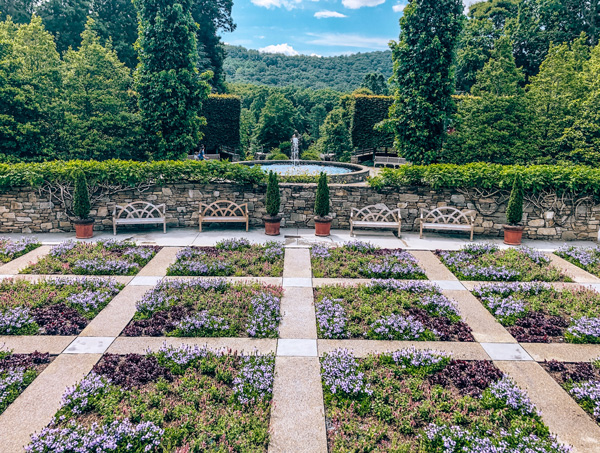 We are annual passholders at The NC Arboretum, located right before you hop on the Blue Ridge Parkway. Along with gorgeous nature and hiking trails, you don't want to miss their Winter Lights Exhibit.
In November, they light up the gardens with innovative creations, wildlife replicas, and lights that dance to music. Read more about Asheville's Winter Activities.
In past springs and summers, they filled the gardens with nature-themed LEGO installations and art sculptures.
Of course, you can see Bonsais, butterflies, and their famous Quilted Garden. You must pay a small parking fee to enter the grounds.
10. Meeting new furry friends at the WNC Nature Center
Looking for things to do in Asheville where you can meet the furry locals in a safe environment (instead of on the trails or our front steps…)? Head to the WNC Nature Center, home to black bears, owls, red wolves, otters, and red pandas.
They have snakes, turtles, hawks, goats, and donkeys, too. Like The North Carolina Arboretum, there is a small entrance fee.
11. Watching birds at The Beaver Lake Bird Sanctuary & Perimeter Trail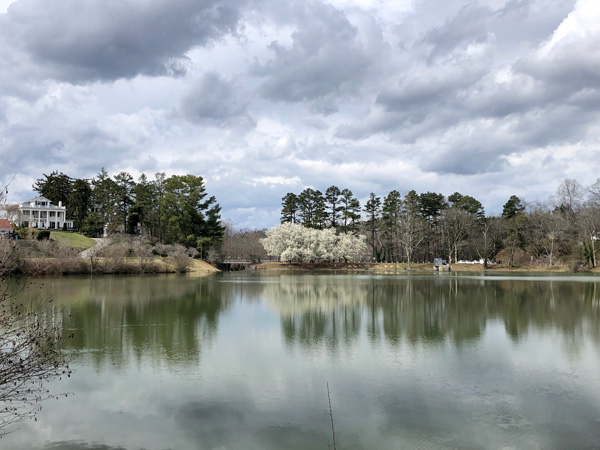 One of our top weekly things to do in Asheville, we love walking the 2-mile Perimeter Trail around Beaver Lake and dip into the Bird Sanctuary.
Beaver Lake is perfect for a stroll after a North Asheville lunch or dinner. Bring a book and some binoculars.
The Beaver Lake Bird Sanctuary houses a .5-mile boardwalk. Birdwatchers can spy hawks, osprey, herons, vultures, kites, sparrows, woodpeckers, ducks, wrens, swallows, warblers, and bluebirds.
Although Beaver Lake is privately owned, the area is open to the public and free. Please consider leaving a donation in the parking lot box, though.
12. Living out your The Hunger Games dreams at DuPont State Forest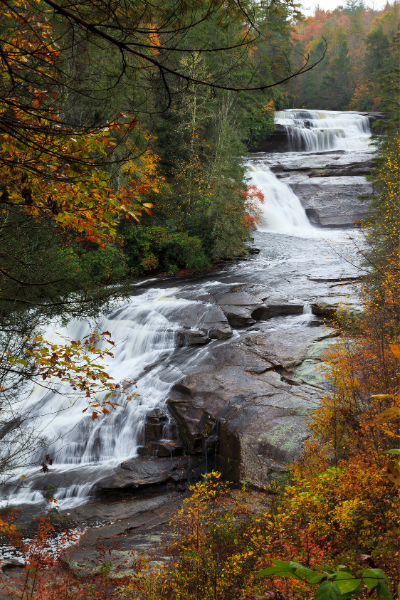 Did you even visit Asheville, if you didn't make the 40-minute drive to DuPont Forest located in Cedar Mountain? GO! GO! GO!
One of our most recommended things to do in Asheville is enjoying the three (or four) waterfalls at DuPont.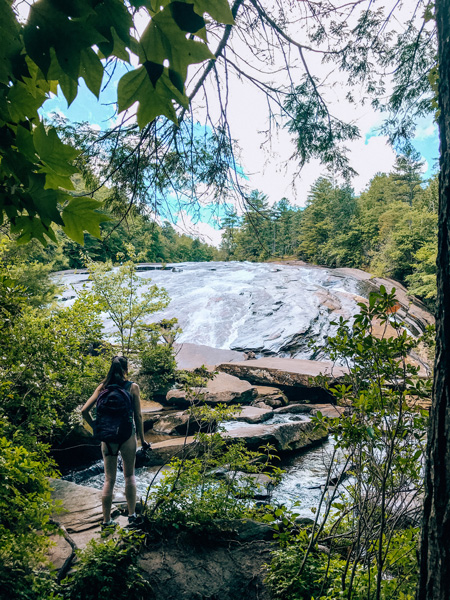 Did you know that they filmed scenes from The Last Of The Mohicans and The Hunger Games at DuPont Forest? Triple Falls and Bridal Veil Falls are famous.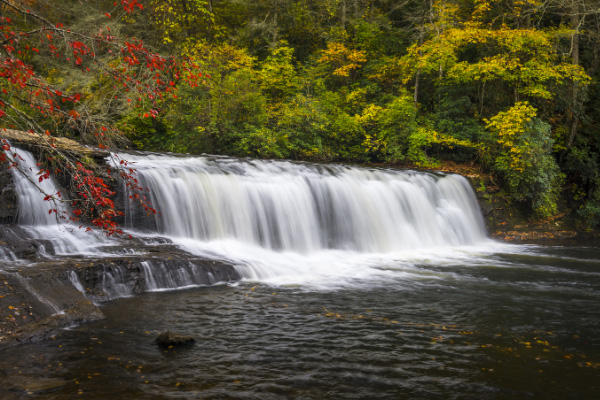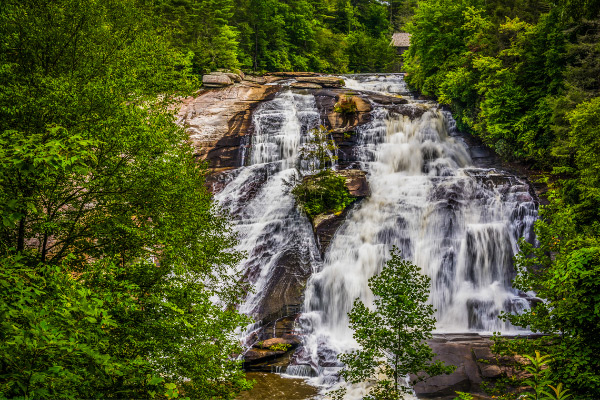 We suggest parking in the Hooker Falls Access Area. Head to Hooker Falls first — the easiest waterfall hike — and then loop back up to Triple Falls and High Falls.
If you still have energy, walk under the covered wooden bridge to Bridal Veil Falls, which adds 4 more miles to your hike.
If you need lunch afterward, drive 20-minutes to nearby Hendersonville — another one of our favorite towns.
Don't miss our complete guide to the Waterfalls At Dupont.
13. Becoming a fall foliage leaf chaser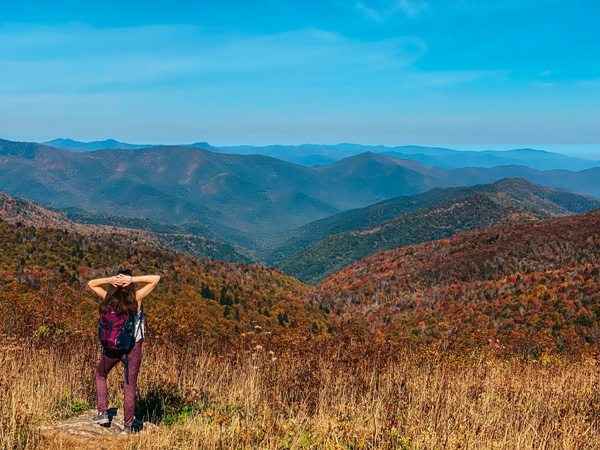 Asheville sees the most tourists in the fall and around the holidays. What's the big deal? THE LEAVES.
Growing up in CT, I thought New England was the boss of fall foliage. Who knew that the Western North Carolina mountains had an even more gorgeous fall season?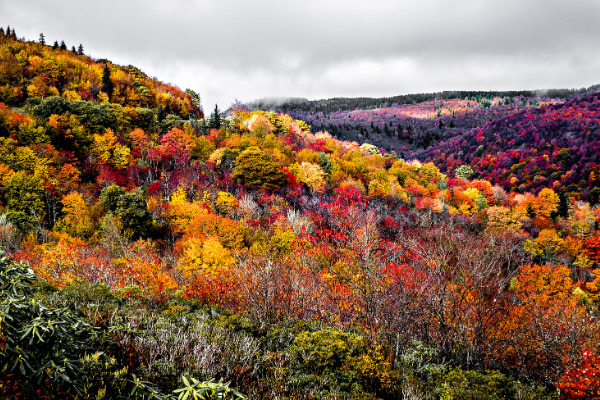 Our top things to do in Asheville, NC in the fall include visiting the apple orchards for cider donuts and getting lost in a corn maze.
Brewery hop for spiced and pumpkin beers. Trek the most beautiful fall foliage hikes, and wine taste at the vineyards with the best views.
An Asheville fall is also a great time to drive down the Blue Ridge Parkway.
Nothing beats the vibrant mountain foliage. Here is Everything You Need To Know About Fall In Asheville.
14. Dipping into a local swimming hole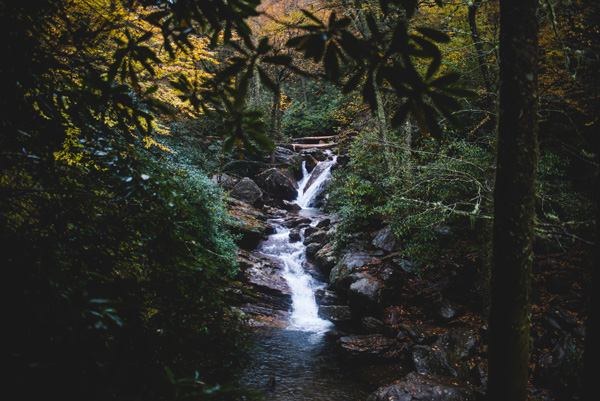 In need of cooler summer things to do in Asheville, NC? Drive under one hour to Skinny Dip Falls to kiss the magical Dragon Tree on your way to this serene waterfall.
Spread out along the falls and take a dip in one of its pools. You can also head over to Sliding Rock and literally slide down a 60-foot natural boulder into the chilly waters.
15. Floating down the French Broad River
Full disclosure on this bad boy, but we love *watching* other people float down the French Broad River in the summer.
Imagine walking along the Riverwalk in the River Arts District and suddenly spying a gaggle of floating and cackling unicorns…
Where can you get your tubing on? French Broad Outfitters, Zen Tubing, and Sky Tubing are just a few.
Top Asheville Things To Do For Boozy Folks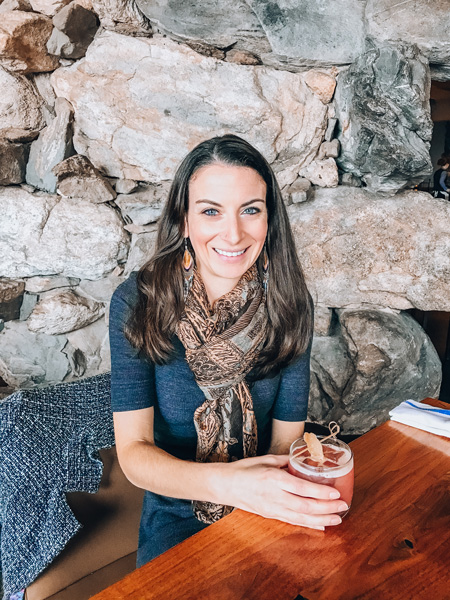 While the best things to do in Asheville, NC — to me — are all outdoors, my next go-to are those breweries. Asheville has no shortage of beer. In fact, I think "Asheville" even translates to beer…
However, we get that beer isn't for everyone. Below, find the best Asheville things to do that involve all of the booze: wineries, distillers, cideries, and rooftop bars. This section is for the boozy folks.
---
A quick link guide for you:

Best Asheville Breweries
Fabulous Wineries In & Near Asheville
Top Spots For Local Spirits
---
16. Drinking all of the beer at the famous Asheville breweries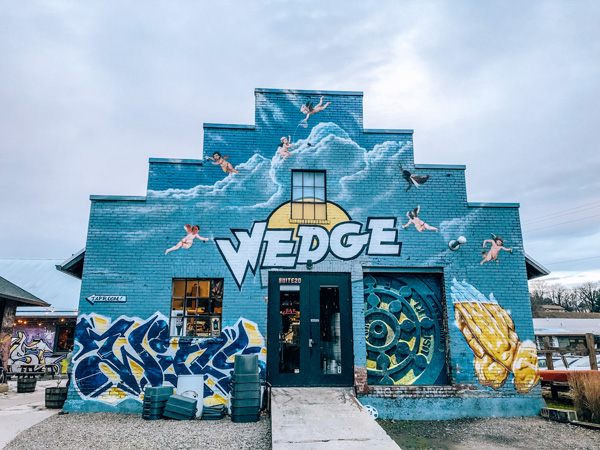 You cannot come to Asheville without trying as much of the local craft beer as possible. As locals, what are our favorite breweries in AVL?
We love Asheville Brewing, Zillicoah, Wedge at Foundation, Hillman Beer, Green Man, and Twin Leaf. If basements are your jam, One World Brewing downtown is a lesser-frequented AVL brewery.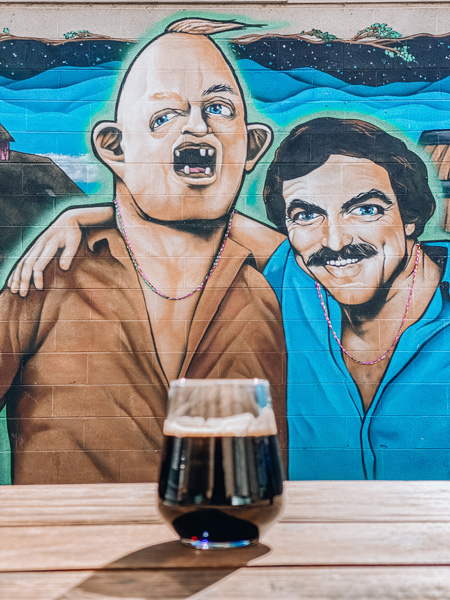 South Slope guards our favorite breweries like Hi-Wire and Catawba, and don't miss the infamous places like Sierra Nevada, New Belgium, Wicked Weed, and Burial.
For ginger beer (gluten-free and Keto), you have to try Ginger's Revenge. For something different, Bhramari and Funkatorium (sours) are sure to impress or weird you out.
Explore our Ultimate Asheville Beer Guide.
17. Tasting wine at the hipster wineries and NC vineyards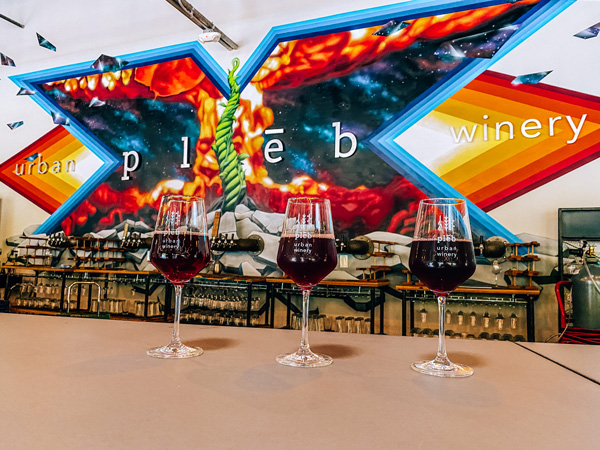 If beer isn't your thing, there are plenty of wineries in and around Asheville, too. Directly in Asheville, check out pleb urban winery in the River Arts District.
Of course, Biltmore has a famous winery, and wine tasing is included in your home tour ticket. Biltmore also offers a Behind-The-Scenes winery tour and a Chocolate And Red Wine Tasting Tour.
If you head out of Asheville, our personal favorite wineries are in Hendersonville, including Burntshirt Vineyards, St. Paul Mountain Vineyards, Stone Ashe Vineyards, and Point Lookout.
Burntshirt's Hendersonville location is perfect if you want to order GrubHub and get grinders delivered from Joey's NY Bagels.
18. Sipping on a cocktail at one of Asheville's distilleries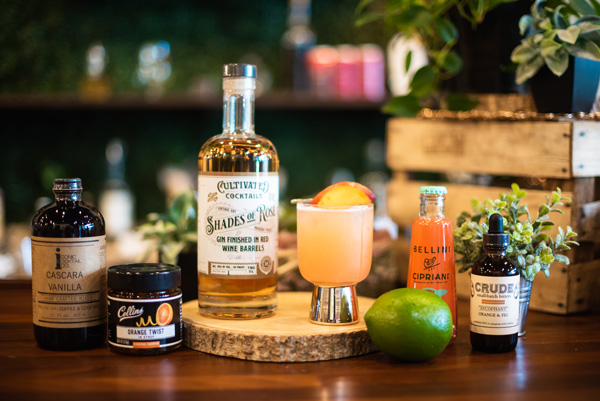 If one of your favorite things to do in Asheville is trying all of the local libations, you don't want to miss the Asheville distilleries. Our favorites are Cultivated Cocktails, Adam Dalton Distillery, and Chemist.
At all three, you can taste their local spirits and order a cocktail — although for Chemist, you'll need to visit their bar, Antidote, for cocktails.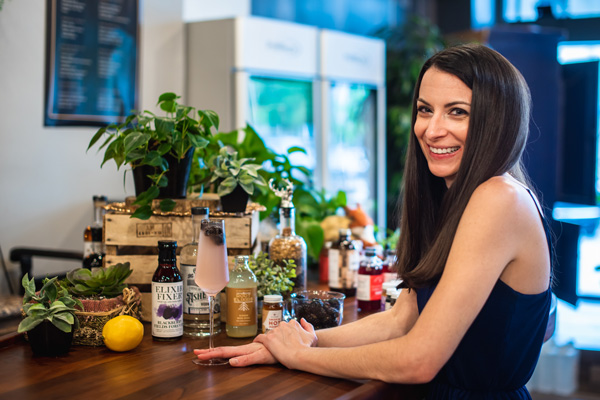 P.S. If you know me from The Uncorked Librarian, you also know that we partner with Cultivated Cocktails for some of our literary-inspired drinks. They sell the best cocktail schwag, too.
19. Nursing a cider at one of Asheville's cideries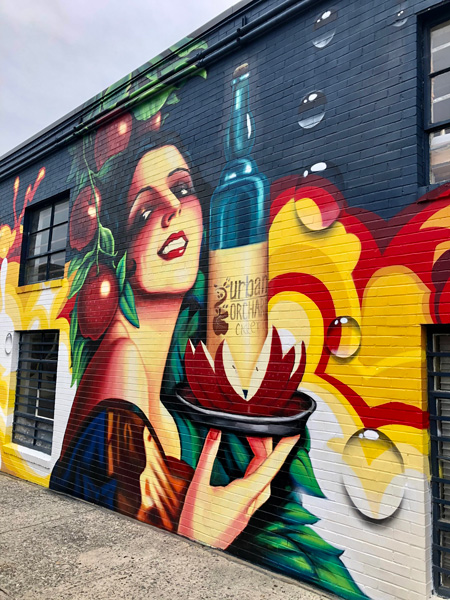 Of course, if you are gluten-free or looking for apple-related booze, Asheville and Hendersonville also have cideries. Many ciders are sold at the local breweries and wineries.
Urban Orchard and Noble are the most well-known cideries in Asheville. Also in and around Asheville, find Mills River Cidery and Little Switzerland Orchard and Winery.
20. Spying sweeping AVL views from the rooftop bars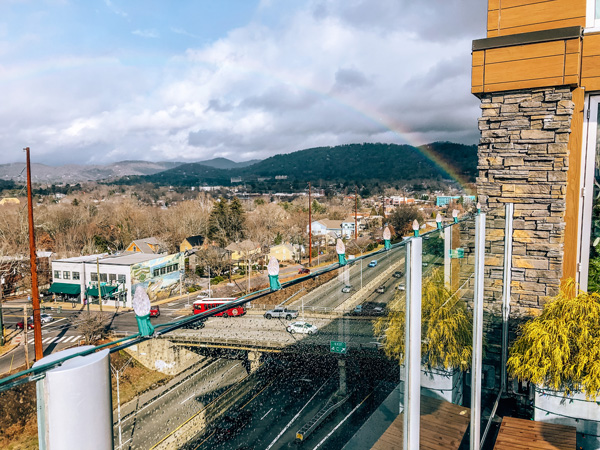 Rooftop bar hopping always makes the top of the list for the best things to do in Asheville, NC. We always recommend Top Of The Monk, W XYZ Bar at the Aloft, and The Montford Rooftop Bar in Hyatt Place.
There is also Antidote (part of the Chemist Distillery), Hemmingway's Cuba, and Pillar Bar at the Hilton Garden Inn — just to get you started. You can take Asheville Rooftop Bar Tours, too.
21. Relaxing in one of the cozy AVL wine bars
Unfortunately, Asheville has seen quite a few wine bars go under with the pandemic, including Sante and Rustic Grape. However, if you want to relax with a bottle or glass of wine, head to:
5 Walnut Wine Bar – Located in downtown Asheville, find an eclectic list of wines in a cute rustic and pastel bar.
Bottle Riot – Situated in the River Arts District, enter a cozy wine bar with food.
Leo's House Of Thirst – Brand new to AVL, our friends headed here for a fancy dinner and sizable wine list.
Battery Park Book Exchange – This champagne and wine bar in a used bookstore is iconic.
Marked Tree Vineyard; Asheville Tasting Room – Located behind the Aloft Hotel in the old Rustic Grape, enjoy a cozy atmosphere.
22. Dipping into a local or dive bar for live music and drinks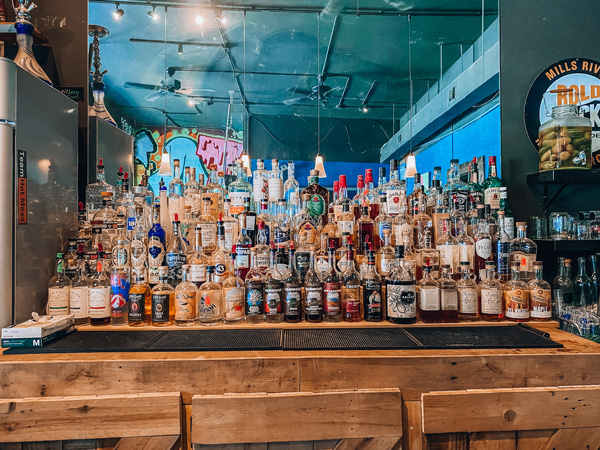 With bars taking a major hit during the different pandemic phases, I am going to keep this one short because of the devastating turnover — and want to keep you up-to-date.
Asheville Club, Pack Tavern (also great for lunch), Dalton Distillery Bar, and Angry Jacks are some of our favorite bars in downtown Asheville.
Best Asheville, NC Things To Do For Foodies
Have we made you hungry yet? You must need something to eat by now to soak up all of that booze. And man, all of those waterfalls and hikes sure do make a gal ravenous.
One of the best things to do in Asheville is EAT. I promise: Asheville is a foodies' dream. The city is even known as "Foodtopia."
We always openly share that Tom and I have a lot of food intolerances. I have UC and Tom has Celiacs. We are both lactose-intolerant, and Tom can't touch gluten.
Asheville is extremely understanding and accommodating for food allergies, intolerances, and preferences.
This entire section is all about the foods.
---
For quick foodie posts, head to our AVL restaurant lists by cuisine here:
Unforgettable Asheville Restaurants From Locals
Best Vegetarian & Vegan Restaurants In Asheville
Famous Asheville BBQ Joints
Sushi Restaurants
Best Thai Food
Indian Restaurants
Top AVL Takeout
Delicious Donuts
Asheville's Famous Coffee Shops
All Food & Drink Posts On Uncorked Asheville
---
23. Getting your caffeine fix at a local coffee shop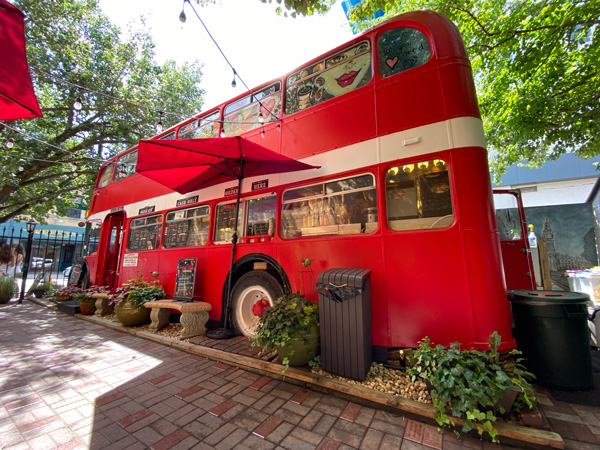 The moment friends and visitors land in town, the DMs start pouring in: "Where can we get the best coffee in Asheville?"
Green Sage has multiple locations with food, smoothies (!!), and coffee. PennyCup Coffee Co. is a small-batch roaster.
Vortex has delicious donuts and coffee, and we love the French Broad Chocolate Lounge (more to come).
You can't go wrong with the cafe in Malaprop's Bookstore because, well Malaprop's, and Double D's is an Instagrammer's wet dream. Just look for the red trolley.
24. Sipping hot chocolate with truffles at French Broad Chocolate Lounge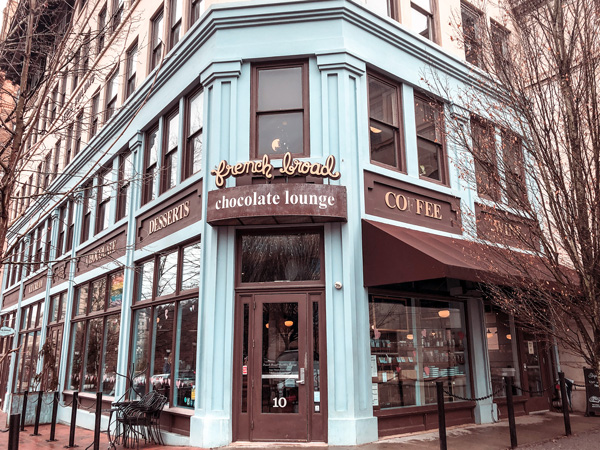 If you are looking for Asheville, NC things to do, Pack Square is always a good idea. Find a park, art museum, music, restaurants, and CHOCOLATE.
The French Broad Chocolate Lounge has everything a chocolate lover desires. Discover desserts, hot cocoa, truffles, bonbons, cakes, custards, cookies, coffee, brownies, booze, and ice cream.
Need I say more? French Broad Chocolates serves up lactose-free, gluten-free, and vegan options, too.
At the French Broad Chocolate Factory Riverside Drive location, you can take a 45-minute chocolate factory tour.
25. Munching on a steaming hot donut with fresh cider at the Hendersonville apple orchards
At the end of August, the apple orchards around Asheville start opening.
Nearby Hendersonville, known as "Apple Alley," is the place to be for apple and pumpkin picking, corn mazes, hot cinnamon cider donuts, cider slushies, hard cider, farm animals, and even a bamboo forest.
Sky Top Orchard (Flat Rock), Stepp's Hillcrest, and Grandad's Apples are the top three orchards we recommend.
Eat all of the cider donuts and run in all of the corn mazes with this list of Asheville Apple Orchards.
26. Watching the sunset with cocktails and dinner at the Grove Park Inn
One of the top nighttime things to do in Asheville, NC is catch a sunset at the famous Omni Grove Park Inn.
You don't have to stay overnight on this gorgeous adult Disney World-like property to have dinner on Sunset Terrace, watching the sun melt into downtown Asheville and Mount Pisgah.
We love grabbing a light dinner with some of my favorite cocktails at Edison. If you are stuffed from lunch, just snack on a charcuterie board with drinks from The Great Hall Bar.
In the winter, everyone flocks here to see Grove Park Inn's Gingerbread display with hot chocolate.
27. Enjoying breakfast all day at Tupelo Honey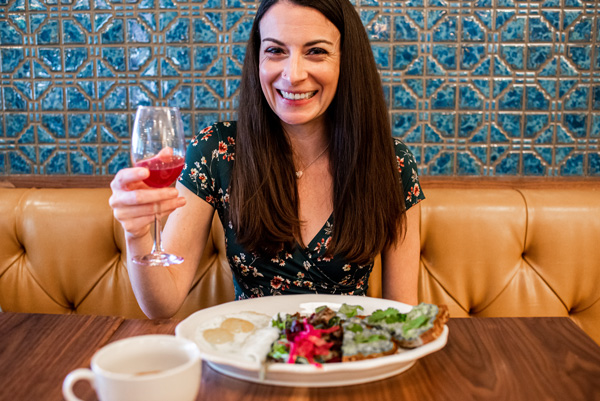 I'm not going to lie: waking up in the mountains is rough, especially if there is fog. The darker mornings make it harder to wake up early.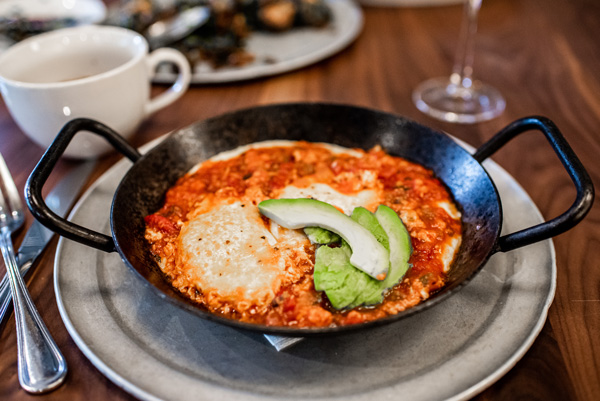 If you are looking for breakfast, Tupelo Honey is one of Asheville's most popular restaurants. Not only do they serve breakfast all day, but they offer lunch and dinner as well as locally source their food.
Of course, people swoon over Biscuit Head and Sunny Point Cafe in West Asheville. Green Sage is usually one of our stops after an early morning appointment.
---
P.S. Looking for a place to stay in Asheville? Here are our Asheville Accommodations Picks.
---
28. Brunching at one of these Asheville hot spots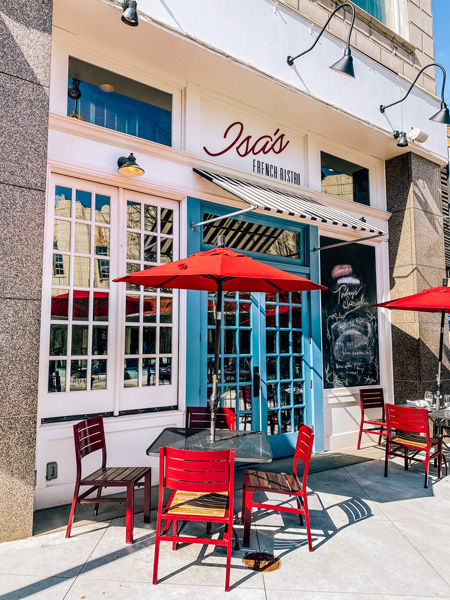 We don't brunch across Asheville often, but along with the breakfast options mentioned above, brunch is another one of Asheville, NC's hot things to do.
A few brunch spots to get you started include HomeGrown, Early Girl Eatery, Chestnut, Isa's, Corner Kitchen, Rhubarb, Blue Ridge at the Omni Grove Park Inn, Deerpark Restaurant at Biltmore, and The Blackbird.
One of our favorites is the Jerusalem Garden Cafe.
29. Grabbing lunch in Foodtopia after a long AM of hiking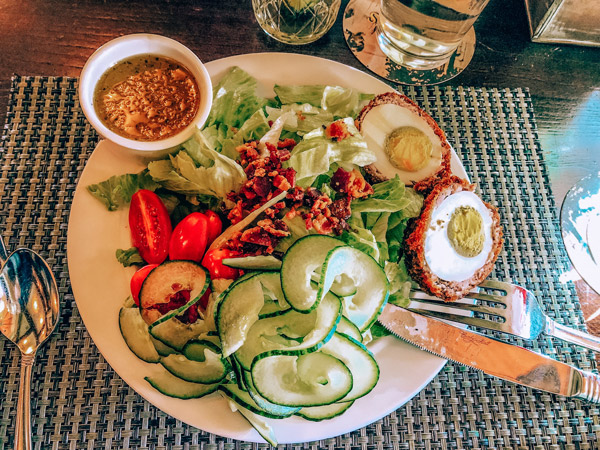 Personally, two of my favorite places to get lunch are at Biltmore — you will need a ticket to enter them. The Stable Cafe has the best sandwiches and cocktails in the wildest setting: The former Vanderbilt horse stables.
Then, as an ode to their beloved Saint Bernard, Cedric's Tavern in Antler Hill Village offers seasonal cocktails, delicious southern and American contemporary cuisine, and PICKLES. Ask for some Lusty Monk mustard.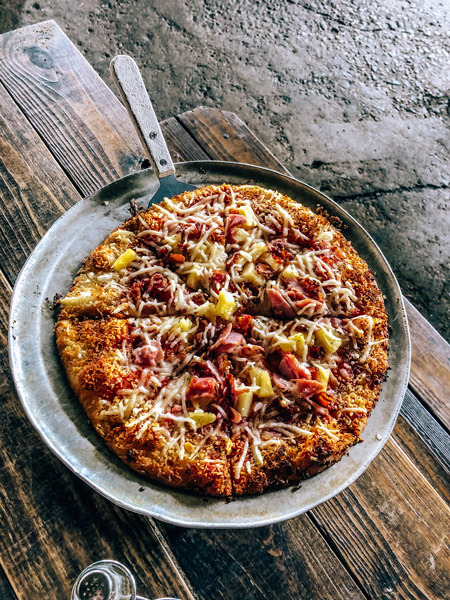 For lunch in downtown Asheville, if you love pizza and burgers, there is Farm Burger, Asheville Pizza & Brewing, and Pack's Tavern.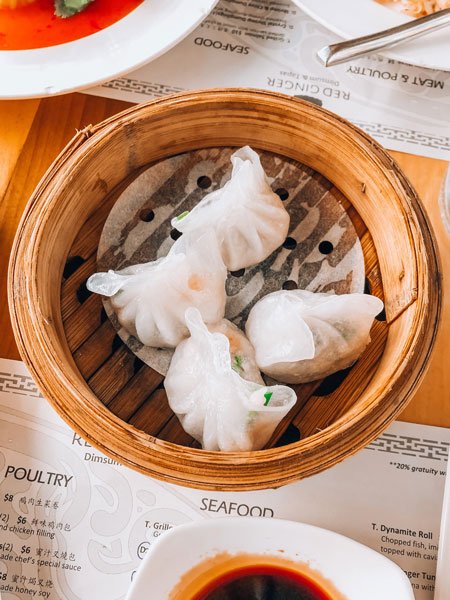 We frequent The Edison at the Grove Park Inn in North Asheville, and I crave Red Ginger Dimsum and Tapas like it's my freaking job.
YUM Sushi is delicious for poke bowls, and The Noodle Shop is perfect for Pho and all the noodles.
Whether or not you are a vegan or vegetarian, Laughing Seed Cafe is another gem, and we are addicted to grinders (gf pizza and grinders available) at Apollo Flame Bistro.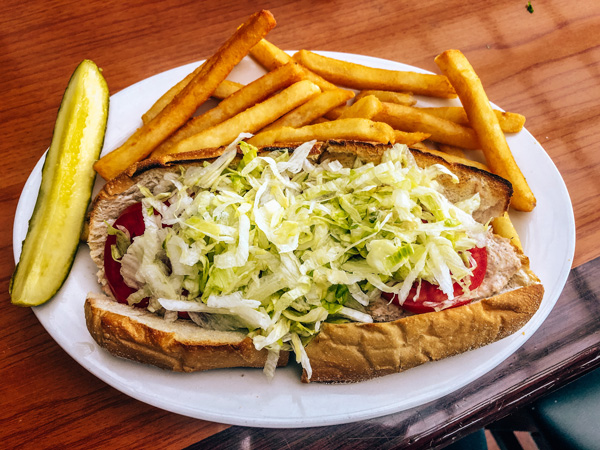 White Duck Taco, Mayfels, Early Girl Eatery, and Tupelo, of course, are also popular.
Don't skip our most Popular Guide To Eating Around Asheville.
30. Having aperitifs and dinner before a concert or night out on the town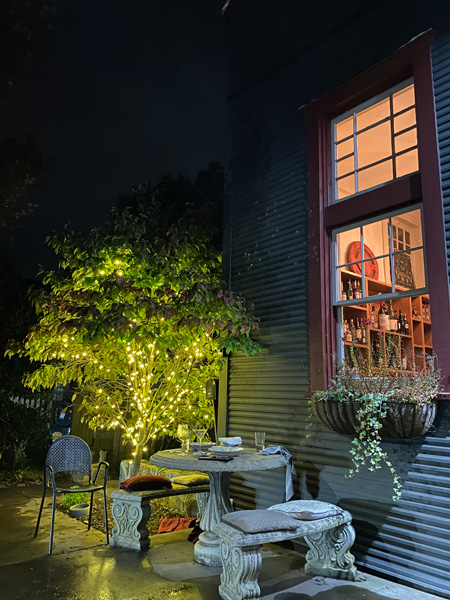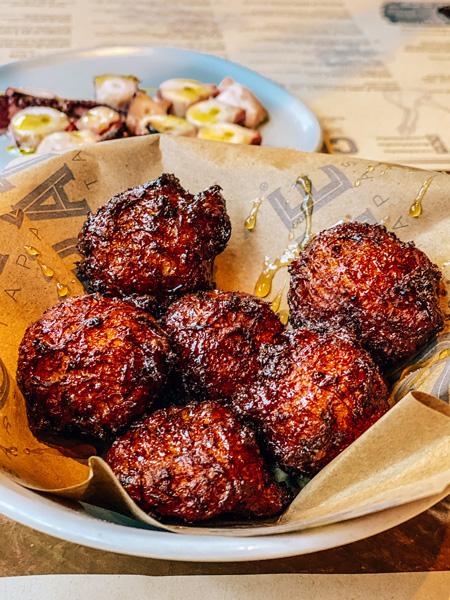 Oh, dinner; where I do I start? I'll share our favorites first: Chiesa — Italian in an old church — and Plant –vegan — are where I want to LIVE.
Don't forget to check out our complete guide to eating vegan and vegetarian in Asheville.
Around North Asheville and Montford, we also enjoy Nine Mile, Edison, and Zillicoah's food truck. Vinnie's is always packed.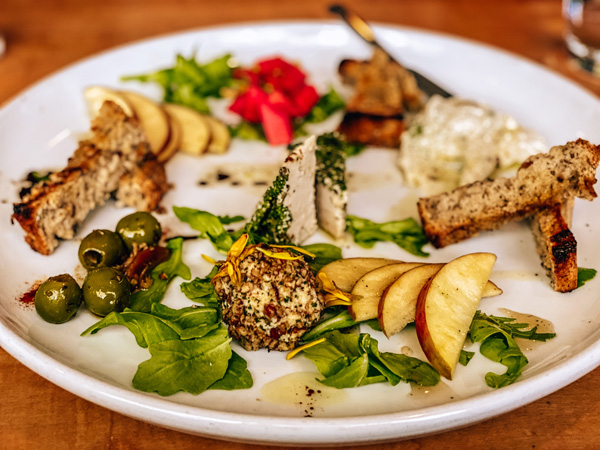 For dinner-y things to do in downtown Asheville, don't miss the big ones like Posana, Chestnut, Jargon, Rhubarb, and Cúrate.
You can also grab dinner at the breweries like Wicked Weed and Bhramari. We always recommend reservations when possible. Many of the restaurants use Open Table.
If you'd prefer to order in, don't miss our Favorite Asheville Takeout Spots.
31. Shopping at a Farmer's Market
I don't know about you, but when we travel out of state or even internationally, I love visiting local Farmer's Markets and even grocery stores.
A little foodie shopping trip is perfect to try the area's cuisine and meet a city in a brand new way. Western North Carolina Farmer's Market is the largest.
The other most popular Farmer's Market is the Asheville City Market on Saturdays in downtown AVL between Woodfin Street and East Walnut St. at 52 North Market Street. We pop by this one on our way to the Thomas Wolfe Memorial.
32. Tasting cheese along the WNC Cheese Trail
If you are looking for cheesy things to do in Asheville, NC — wink, wink — don't miss tasting artisan cheese in Western North Carolina. Follow the cheese trail map to meet with and buy from your local cheesemakers.
**Full disclosure on this one: Since we are lactose-intolerant, we have not done the WNC Cheese Trail. I had to mention it since everyone talks about and recommends the WNC Cheese Trail.
If I could eat cheese, I'd be all over this.
33. Eating all of the donuts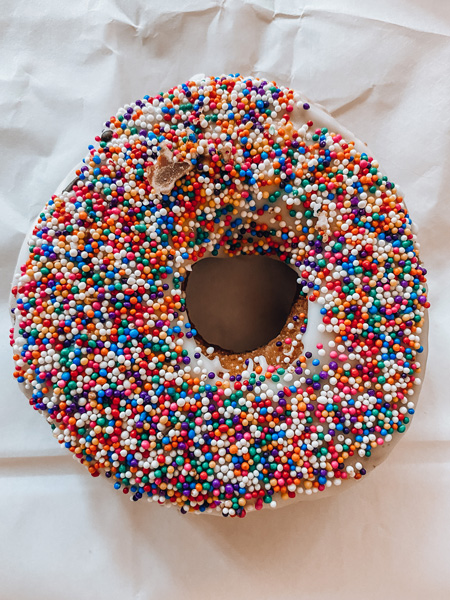 Asheville has all of the donuts. I just ate a delicious Vortex donut the other day; it melted in my mouth. A few other local places include Duck Donuts, Hole Doughnuts, and Geraldine's Bakery.
If you are here in the fall, go to ALL of the apple orchards and try their donuts. I think Sky Top has the best since they make their cinnamon cider donuts in front of you and serve them piping hot. I'd love to know your favorites.
Tour Asheville's Donut Scene.
34. Trying as many food trucks as possible
Many of the AVL food trucks circulate the brewery scene. If you are looking for foodie things to do in Asheville try Deli Llama, Melt Your Heart (grilled cheese), and The Trashy Vegan.
Zillicoah Brewing has our favorite resident food truck, Taqueria Muñoz. We always go for the tacos and burritos — and yes, they can do lactose and gluten-free.
Another brewery food truck, we love Ginger's Revenge's Friday truck, Sweet Plantains. Those yucca fries are everything.
If you want crepes and Cuban sandwiches, Cecilia's Kitchen has a permanent spot in North Asheville and a food truck that moves around to places like New Belgium.
Bear's has a permanent location in downtown Asheville now and serves up some of the best AVL BBQ.
Asheville, NC Things To Do For History, Music, Sports, Theater, & Art Lovers
35. Visiting Biltmore Estate
Touring Biltmore — America's largest home — is one of the most popular things to do in Asheville, NC. Visiting Biltmore is a must, at least once.
We are annual passholders and head to Biltmore a few times a month. Yes, a ticket will cost you at least $60+, but it's completely worth it.
You can easily spend a day at Biltmore touring the house, tasting wine at their winery, grabbing a bite to eat, walking the gardens, and even hiking one of their 22-miles worth of trails.
Don't miss Biltmore's delicious and intriguing tours, too, for wine and history lovers.
See all that you can do at Biltmore here, and also know that there are kid-friendly activities on the Estate.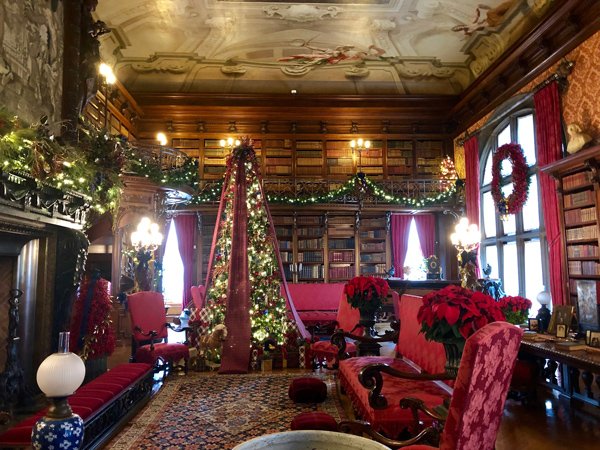 Our highlights would be: visiting the Biltmore pool and library, grabbing lunch at the Stable Cafe or Cedric's Tavern, taking a Behind The Scenes Winery Tour, and walking around the lagoon and gardens.
You can also stay overnight at The Village Hotel on Biltmore Estate or The Inn On Biltmore Estate.
36. Gossiping at the Thomas Wolfe Memorial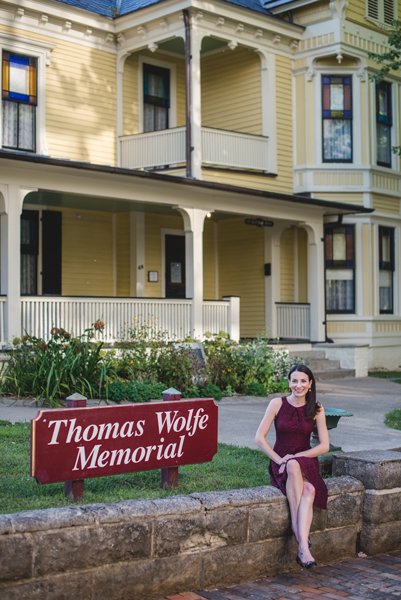 One of my personal favorite things to do in Asheville is visit The Thomas Wolfe Memorial and take a house tour.
You might remember Wolfe from his novel Look Homeward, Angel. The story is a loose retelling of Wolfe's life growing up in Asheville, NC.
Most notably, Wolfe barely changed the names and spellings of his Asheville community members. This was scandalous and ill-received gossip, at the time.
Visitors take a guided tour of Julia Elizabeth Westall Wolfe, Wolfe's mother's, boarding house on Market Street. Wolfe's childhood home is no longer standing, but he spent most of his childhood in this business home.
Quite the character, Julia's story is both inspirational and a tad frustrating. She was quite the entrepreneur of her time. You can also watch a short video and tour the museum.
Grab our list of Books About & Set In Asheville along with Famous Asheville Authors like Thomas Wolfe.
37. Perusing the art galleries at Black Mountain College Museum & Arts Center
One of the free things to do in Asheville, the Black Mountain College Museum offers contemporary and historic exhibitions, events, and research opportunities for the community.
We dropped in one afternoon and toured the current art exhibitions. Small but worth a quick visit, you can budget about 30-minutes here. Please consider leaving a small donation. The museum is free to enter.
38. Playing vintage arcade games at the Asheville Pinball Museum
Located behind the Grove Arcade, don't miss the Asheville Pinball Museum. One of the best things to do in Asheville museum-wise, as an adult, spend $15 for a wristband to play old arcade games as long as you like.
Of course, kids are welcome. You'll find older games like Donkey Kong and Frogger, video consoles for Nintendo and Super Nintendo, and of course, pinball machines.
39. Touring the urban art and visiting artists' studios in the River Arts District
If you are looking for things to do in Asheville for art lovers, head to the River Arts District (RAD) in West Asheville. The area is almost a mini-version of Wynwood Walls in Miami, Florida.
RAD is where you will find the infamous "Good Vibes" Silo — painted by Ian Wilkinson and Ishmael — that now says "Stay True."
Explore urban street art, galleries, artists' studios, shopping, food, and booze. RAD is also home to pleb urban winery and Wedge Brewing.
Don't miss all of Asheville's Stunning Murals. Learn more about their history & the artists, too.
40. Taking a boozy beer or haunted ghost tour on the Lazoom Bus
If you are looking for wilder things to do in Asheville, check out the LaZoom bus. How many times have you spied a purple bus tearing down the streets of Asheville full of giggling and rowdy adults?!
Full disclosure: a LaZoom tour is on my to-do list, especially since we found ourselves in the midst of a global pandemic.
Walk into a funky, kitschy bar full of eccentric tour guides and staff before hopping on the bus.
41. Walking the galleries at the Asheville Art Museum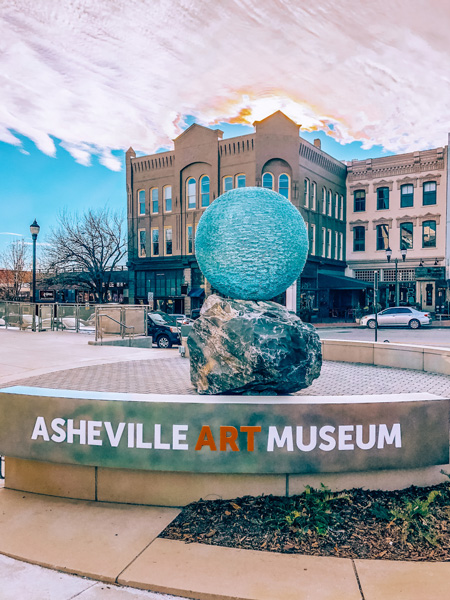 If you love art museums, don't miss the newly renovated Asheville Art Museum situated next to the French Broad Chocolate Lounge (hint, hint). This museum focuses on American art of the 20th and 21st centuries.
42. Learning more at the Asheville Museum Of Science
For Asheville things to do for your inner scientist, try the Asheville Museum of Science. A smaller science learning center, learn more about North Carolina geology and local specimen.
They have gemstones, dinosaur bones, and animal exhibits.
43. Hiking and touring the Carl Sandburg Home
Deemed the "Poet of the People," Carl Sandburg lived in Connemara, NC (Flat Rock), outside of Hendersonville. In his lifetime, Sandburg won three Pulitzer Prizes and was a Civil Rights activist.
Born in Illinois, Sandburg and his wife moved to Connemara in 1945.
The Carl Sandburg Home along with The Hunger Games waterfalls and downtown Hendersonville makes for a great Asheville day trip.
Visitors of the home can take a guided tour, walk the park, hike the grounds, or visit the bookstore.
44. Paying your respects to the famous locals at Riverside Cemetery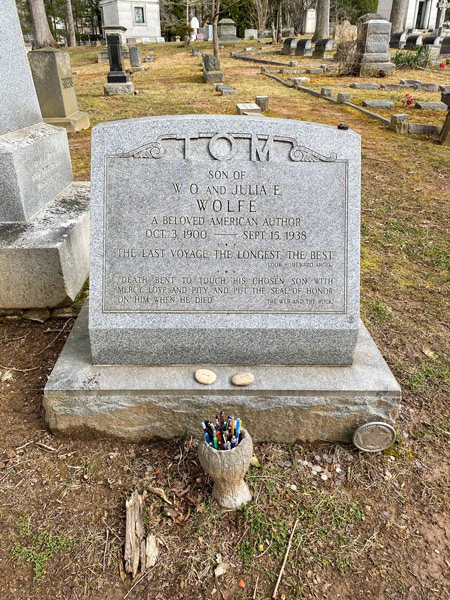 Looking for dark tourist things to do in Asheville, NC? Head to Riverside Cemetery to pay your respects to literary greats. Famous authors Thomas Wolfe and William Sydney Porter — O. Henry — are buried here.
Established in 1885, you'll encounter ghost stories, Victorian-style mausoleums, and W.O.'s famous Angels. You'll find a walking guide at the gates along with 3.5 miles of paved roads.
P.S. Lesser-known author, Wilma Dykeman is buried at Lewis Memorial Park.
Grab our Historical Guide To Riverside Cemetery, and see why we think this burial ground should be on your Asheville itinerary.
45. Listening to live music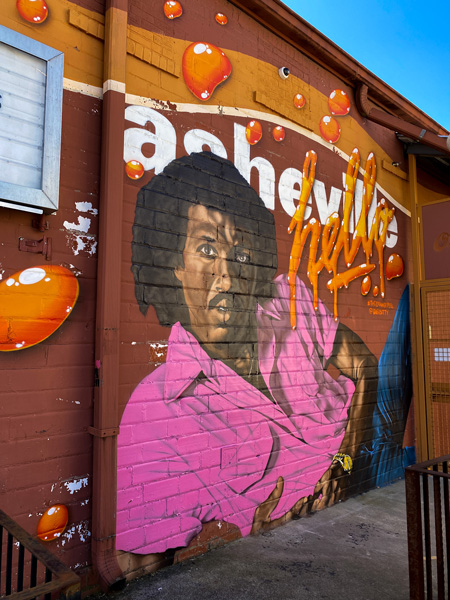 Thrillest named Asheville as one of the best music cities in the United States.
Asheville hosts a variety of festivals and concerts at places like Thomas Wolfe Auditorium/Harrah's Cherokee Center Asheville, Isis Music Hall, Wortham Center For The Performing Arts, The Grey Eagle Music Hall, and The Orange Peel.
We try to list a few concerts and live music on our Asheville Events Calendar.
46. Watching Shakespeare in the park with the Montford Park Players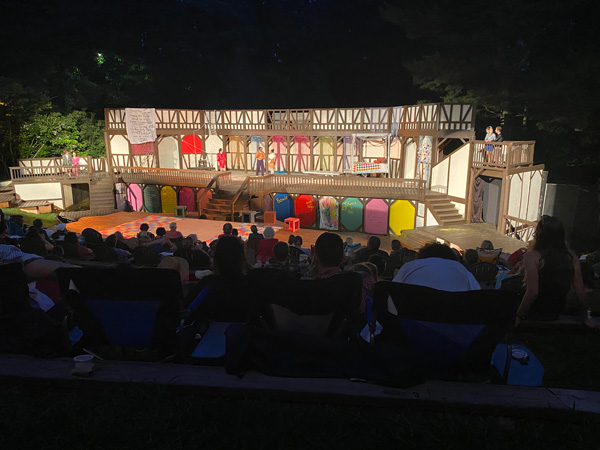 Picture quirky and comedic theater under the stars as fireflies light up the night sky. Don't miss the Montford Park Players open-air performances. They are magical.
Most Friday through Sunday evenings in the spring through fall, you can watch the Montford Park Players perform at the Hazel Robinson Amphitheater in the historic Montford neighborhood of Asheville. Many of the plays are by Shakespeare, but they mix it up, too.
You can bring or purchase boozy beverages. Theatergoers go all out with their professional picnic baskets. You may also bring your own chairs and blankets
While tickets are free, you can choose to rent chairs and leave a donation. Performers circulate the crowd at intermission with collection baskets.
Well-behaved pooches are welcome. There's plenty of parking around the area. Grab dinner at Chiesa or Nine Mile beforehand. Riverside Cemetery is nearby.
47. Cheering for the Asheville Tourists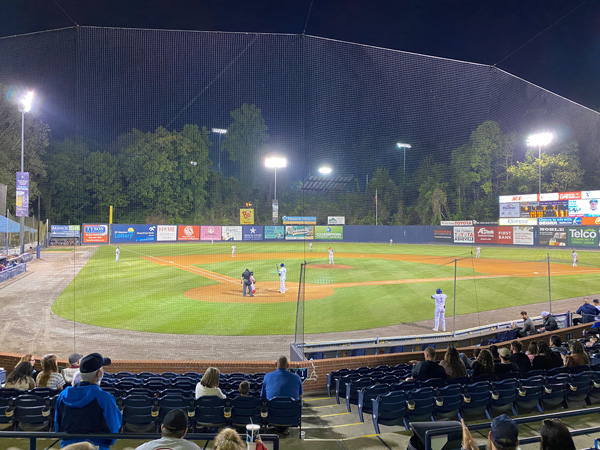 For sports lovers and families, one of the most fun things to do in Asheville is to watch the Asheville Tourists play at McCormick Field. The Asheville Tourists are a minor league baseball team.
Tickets are a steal although parking is a little funky. Grab souvenirs, local beer, and of course, baseball food. I couldn't think of a better way to spend a weeknight with friends.
48. Spending time getting to know each of Asheville's unique neighborhoods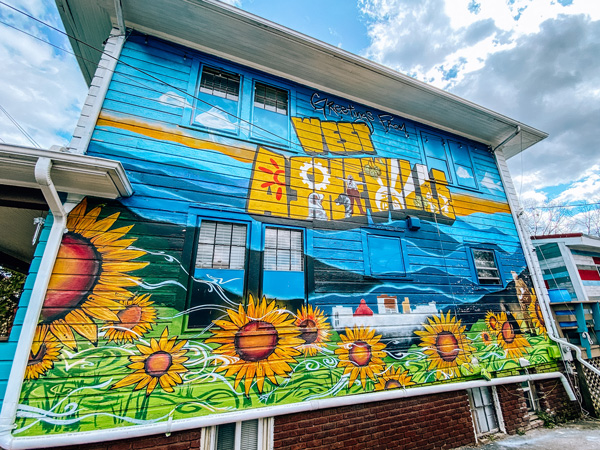 Did you know that Asheville's neighborhoods are very distinct and worth a visit? We highly recommend spending a little time in each.
Parts of Montford are on the National Register of Historic Places. Find Riverside Cemetery, Montford Park Players, tons of Bed and Breakfasts, and gorgeous architecture.
West Asheville is pretty hipster with breweries, trendy restaurants, and a gorgeous Dolly Parton mural. There is a vibrant LGBTQ+ community, and you'll find a mix of millennials and GenXers.
North Asheville is home to the Grove Park Inn, UNC-Asheville, gorgeous Charlotte Street homes, golf, botanical gardens, and Beaver Lake.
Downtown is where it's at for beer, coffee, and concerts. RAD showcases the most vibrant street art. Biltmore Village has yuppie shopping and cafes.
49. Taking a full literary tour of Asheville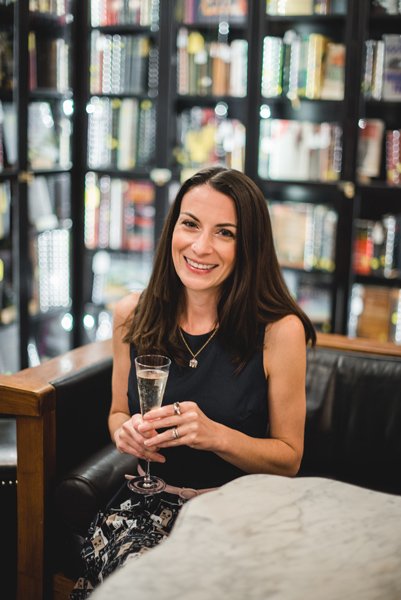 There are tons of things to do in Asheville, NC for book lovers. You could easily spend a few days touring The Hunger Games waterfalls and filming sites at DuPont, Craggy Pinnacle, and Henry River Mill Village (District 12, anyone?!).
There are endless bookstores, book bars, and of course, The Thomas Wolfe Memorial. As mentioned above, you can visit the Carl Sandburg Home, Biltmore library, and even drop into Pack Memorial Library to see history along the walls.
Pay your respects to Zelda Fitzgerald who perished in the Highlands Hospital fire, and tip your hat to F. Scott Fitzgerald while at the Grove Park Inn.
Best Things To Do In Asheville, NC For Shoppers
Are you one of those people that will shop until you drop? Nope; me either.
BUT, if you are looking for things to do in Asheville that involve buying gifts, fun stuff you never knew you needed, and local treats, we have just the shopping list for you.
50. Buying new books to read at AVL's famous bookstores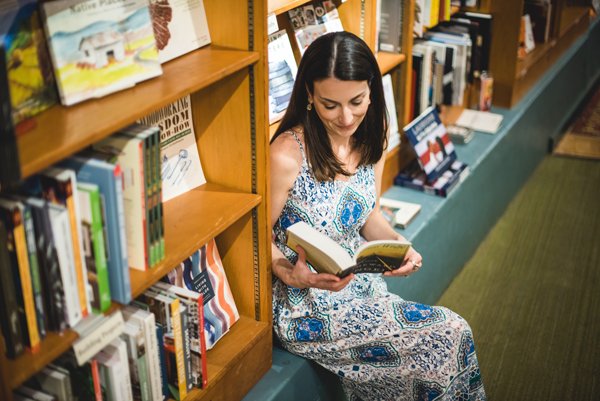 Bookish Asheville things to do include a visit to the Battery Park Book Exchange and Malaprop's bookstores.
Battery Park Book Exchange is a multi-level champagne book bar. Located in the historic Grove Arcade in downtown Asheville, they sell used books and have extensive wine, cocktail, and champagne selections.
Battery Park Book Exchange also hosts readings, live music, and themed events.
Another beloved AVL bookstore, Malaprop's holds numerous author events and has a fabulous newsletter, which points out new releases and notable indie reads. They have a cafe, book clubs, and children's storytime.
Don't miss the Best Bookstores In Asheville.
51. Shopping for candy, clothes, and goodies at Asheville's specialty shops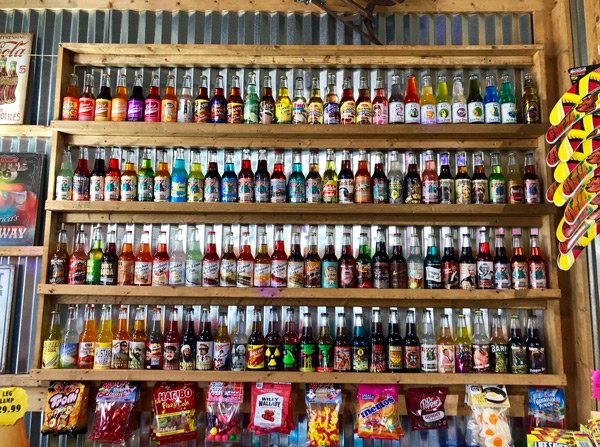 Asheville offers a ton of shopping in independent stores, boutiques, and open-air markets in all of its districts, including places like Historic Biltmore Village, the River Arts District, West Asheville, and Downtown.
You'll find everything you could ever need including old school candy, unicorn hats, soda pop (Rocket Fizz), magnets, and books.
52. Visiting the historic Grove Arcade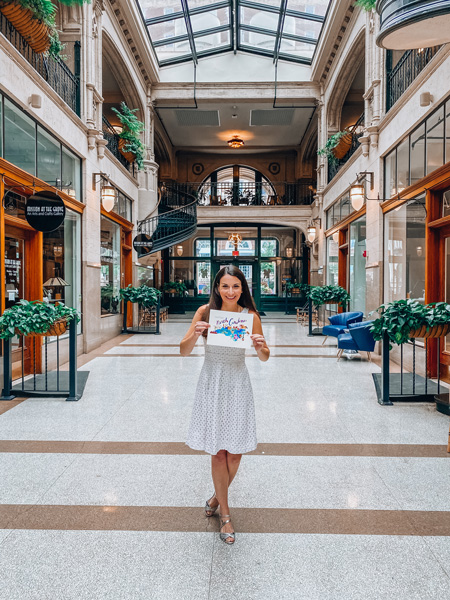 The Grove Arcade is architectural eye candy filled with a little yuppie love, including places like the Battery Park Book Exchange and Asheville Proper.
For a little history lesson: E.W. Grove, also infamous for constructing the Grove Park Inn, opened the Grove Arcade in 1929 as a retail center. Grove was all about fresh mountain air and serving up quinine to fight diseases.
Like George Vanderbilt with Biltmore, Grove didn't live to see his gem to fruition; however, the Grove Arcade bloomed into a thriving center for commerce and trade.
During WW2, the Arcade transformed into a more covert military hub. Then, in 1951 the National Weather Records Center took over the building until the city reclaimed the space in the 90s. Today, find shops and restaurants.
Day Trips & Things To Do Around Asheville, NC
Although you can spend a lifetime doing all of the things in Asheville, I quickly wanted to mention a few brief getaways.
We especially love exploring AVL's nearby cities and towns like Hendersonville, Weaverville, and Black Mountain.
Grab our Complete List Of Top Asheville Day Trips Here.
53. Spending a day in downtown Hendersonville, NC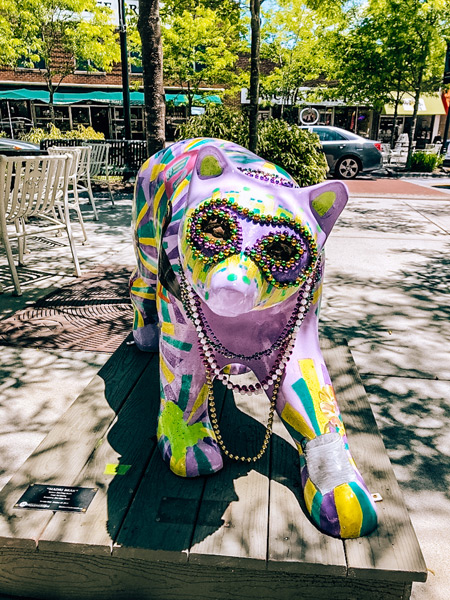 Hendersonville is about 40-45-minutes away from downtown Asheville. A smaller city, find even more cafes, restaurants, shops, and breweries.
Walk around the historic downtown and grab chocolate at their factory. Umi Sushi is our favorite, and the wineries, orchards, and DuPont State Forest are all nearby.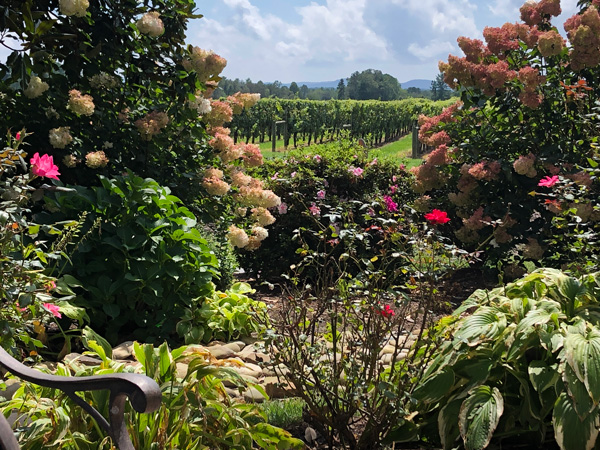 Uncover all of the Fantastically Fun Things You Can Do In Hendersonville, NC.
54. Taking a day trip to Knoxville, TN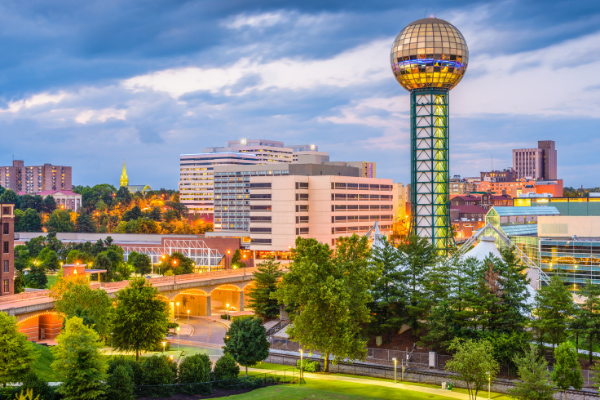 A little under two hours away, you also might want to head over to Knoxville, Tennessee for the day. Like Asheville, Knoxville has a historic downtown filled with distilleries, breweries, bookstores, and endless fun. The last time we went, we ice-skated in the historic square around the holidays.
Our good friend, Clayton, runs a Knoxville travel blog, KnoxRoadTripper. He shares all that there is to love about the city — and he's full of unique tidbits and history.
55. Visiting Dollywood
Justin over at Snapshots Made Yesterday introduced us to Dollywood in Pigeon Forge, TN. A little over 1.5-hours from Asheville, if you are Dolly-obsessed this theme park is for YOU.
Find rides, southern cuisine, live shows, and everything DOLLY. Plus, Pigeon Forge itself makes for a great day trip with its waterparks, Parrot Mountain and Gardens, the Titanic Museum, breweries, wineries, and zip-lining.
Where Can You Stay In & Near Asheville, NC?
Below are three top recommendations for accommodations. Don't miss our Master List For Where To Stay In Asheville, too.
Aloft – Downtown Asheville – If you are looking to stay in downtown Asheville, the Aloft hotel is newly renovated. Vibrant local murals, updated rooms, and sprawling public areas greet visitors. The Aloft hosts live music, has a sexy new bar with selfie mirrors, and the patio space overlooks bustling downtown AVL. Did I mention there is a rooftop pool overlooking the mountains?
Hampton Inn And Suites Asheville Biltmore Area – Although this hotel is on busy Brevard Road – NC-191 – across from the Asheville Outlets, it's one of our favorites before moving to Asheville. Clean, updated, and in the middle of everything, you can access downtown, Biltmore, and the Blue Ridge Parkway fairly quickly. Plus, you can grab a quick breakfast with tons of food options nearby if you want a hiking lunch for the road. We are obsessed with grinders at the nearby Apollo Flame Bistro.
1898 Waverly Inn Bed and Breakfast — While house hunting, we stayed at this sweet B&B in Hendersonville, NC (35-40 mins from Asheville closer to DuPont State Forest). We loved their social happy hour and friendly hosts. You can walk into downtown Hendersonville, and don't miss Umi Sushi. Hendersonville is its own hip little town.
Too Many Things To Do In Asheville? Save This Post For All Of Your Asheville Vacations: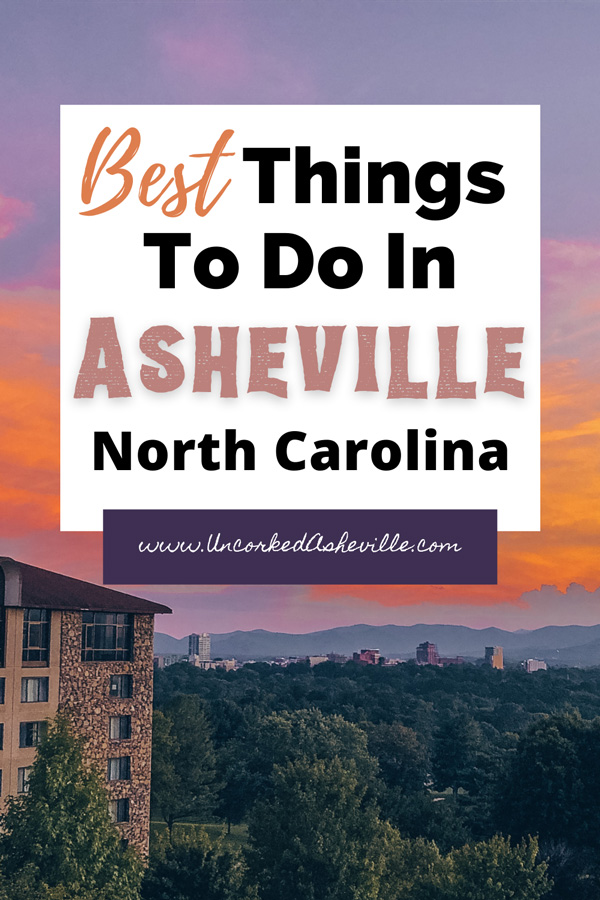 What are your favorite things to do in Asheville, NC?
What are your favorite Asheville attractions and activities? Where do you head first, and what are your Asheville musts? Let us know in the comments.
Asheville Things To Do By Season:
Best Asheville Fall Activities
Not-To-Miss Fall Foliage Hikes
Where To Apple Pick Near Asheville

8 Festive Events & Activities In Asheville In The Winter
Accessible & Worthwhile Winter Hikes Near Asheville
For Boozy Folks:
Must-Visit AVL Breweries
Top Wineries Around Asheville
Asheville Distilleries
Brevard's Delicious Breweries
Breweries & A Cidery: Mills River
For Outdoors Lovers:
Asheville Hiking Trails Locals Love
Best Waterfalls Near AVL
Scenic Asheville Picnic Spots
Parks & Gardens To Stroll
Where To Bike In Asheville
For Foodies:
Our Asheville Foodie Guide
Top Restaurants Around Asheville
Asheville, NC Itineraries:
36-Hours In Asheville
Asheville For Book Lovers
Self-Guided & Lead Asheville Tours:
Best Asheville Neighborhoods To Visit
Biltmore Tours Worth The Cash
Gorgeous Street Art In Asheville
Day Trips:
Best Day Trips From Asheville
Lunching, Boozing & Hiking Around Hendersonville
Visit Weaverville
Explore Black Mountain