Explore all that you can do in the Asheville River Arts District, including galleries, breweries, and restaurants – from locals.
One of Asheville's most famous neighborhoods, you literally cannot miss the River Arts District (RAD).
From the Asheville Silo that greets visitors on the I-240W bridge to the vibrant street art and specialty restaurants, RAD is happily an in-your-face kind of place.
In fact, it is so rad, the Obamas dined here.
As AVL locals, we frequent the River Arts District for food, outdoor fun, and shopping at the artists' studios.
Although a popular visitor area, many of RAD's coffee shops, breweries, and wine bars stay quieter, especially on the weekdays. Plus, there's loads of parking and a plethora of personality.
Heck, did you know that you can watch indie movies here? Or, wander for hours in a European-style decor market with drinks?
How about eating the most indulgent charcuterie board, ordering a baller wine bottle, and devouring the best burger the city has to offer?
Ride your bike down the new greenway and float along the French Broad River in a unicorn tube. Let's not forget about the craft beer. How about the coolest tacos in town? You might even catch a street artist in the act.
If you are new to Asheville's RAD neighborhood, though, the area can be a little overwhelming. You don't want to get lost in the sea of warehouses.
So, keep reading for our local's guide on the best things to do in the River Arts District in Asheville, NC. We'll start with studios, galleries, and shops.
Then, we'll dive into where to eat, drink, and sleep. Let's get started!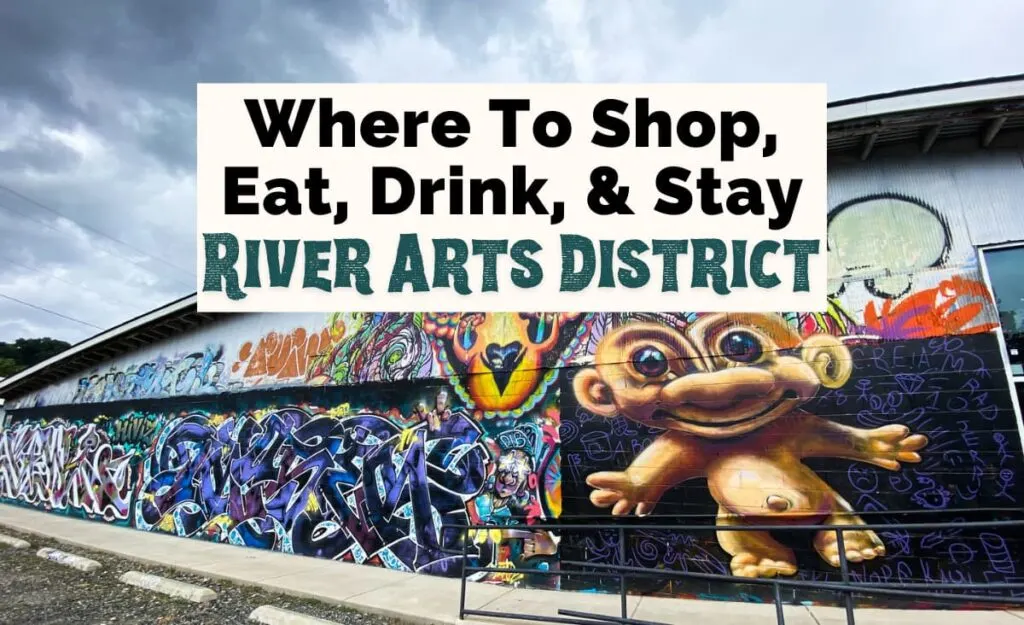 This post may contain affiliate links that earn us a commission at no extra cost to you. If you love these guides, support Uncorked Asheville here.
Asheville River Arts District Studios & Shopping
Explore famous art galleries, studios, and stores in the most eccentric art district in Asheville, RAD. Meet local artists as you peruse some of the city's coolest historical buildings. For visitors, this is a popular AVL tourist attraction, but we also frequent the area as locals; it's one of our favorites.
Artist Studios, Galleries, & Shops
This former industrial area has been brought to life with working studios for local artists. If you are wondering what to do in the River Arts District first, we highly recommend checking out the public and open studios.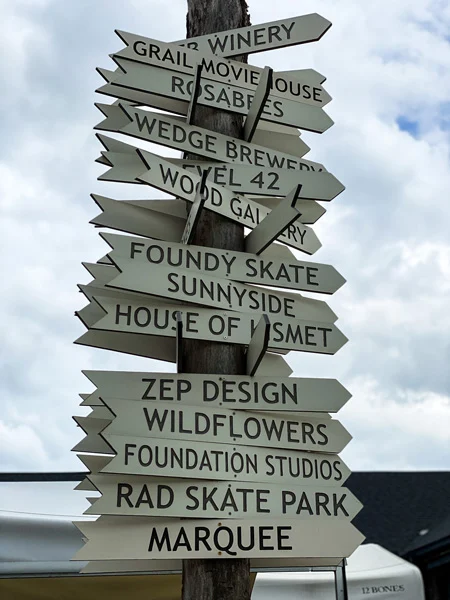 A few terrific River Arts District studios with shops to get you started:
If you are more local or just happen to be in town, the River Arts District Artists host events like an Annual Studio Stroll. Or, book one of their Asheville Art Studio tours, including glass and clay experiences; customize your own tour.
RAD Stores & More
Asheville is full of the best shopping districts. If you love art, home decor, and more, why not shop local? This is the area to do so.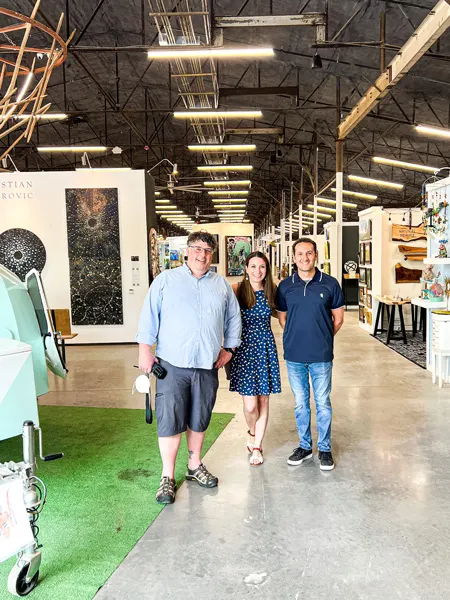 Two great places for shopping include:
Marquee (36 Foundy St) – Newer to RAD, this warehouse transformed European-style market is filled with artists' goods, home decor, and creative vendors from around Western North Carolina. Encounter vintage pieces, jewelry, pottery, lighting, and more. We could spend hours wandering the stalls, which change frequently. There is ample parking in this area, most of which is gravel lots. Marquee and the surrounding studios are a great stop on a rainy day.


Second Gear (99 Riverside Dr) – Newer to Asheville, shop for gently-used, outdoor gear. This consignment shop donates 1% of sales to its non-profit partners. We've also bought brand new gear here, including fanny packs, workout skirts, biking gloves, and outdoor wildlife protection accessories.
Where To Drink In Asheville's River Arts District
Visitors certainly won't go thirsty in the Asheville Arts District. And, true to our namesake, we are pros here. Discover the best River Arts District breweries, coffee shops, bars, and wine stops.
River Arts District Breweries
Asheville is famous for its craft beer scene. With over 50+ breweries across the city, it's pretty hard to pick one or two, whether you are a visitor or a local. Below, enjoy our favorite breweries in the River Arts District, most of which boast easy access, plentiful parking, large outdoor space, and delicious beer.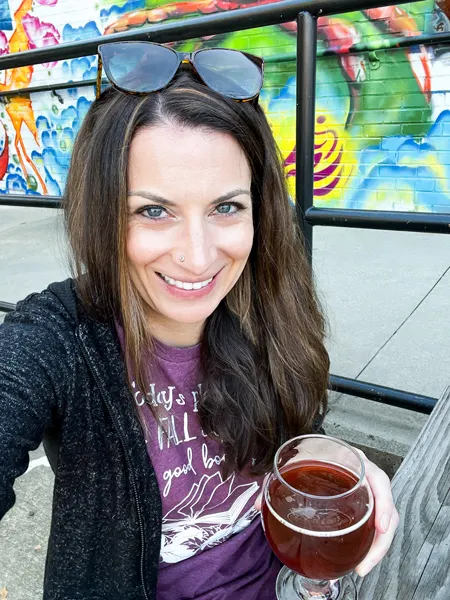 Terrific breweries in the River Arts District:
For more beer-related things to do in the River Arts District in Asheville, enjoy both the French Broad River and RAD breweries on this unique and guided brewery canoe tour. About 4 hours long, visit places like 12 Bones, Wedge, and New Belgium along with artist studios.
Wine In RAD
If beer isn't your jam, know that Asheville is also a great spot for wine drinkers. In fact, Western North Carolina is full of top wineries perfect for wine tastings, especially if you head out toward the Hendersonville vineyards (Stone Ashe and Souther Williams are our favorites). You can also find some of the best wine spots in the Asheville River Arts District.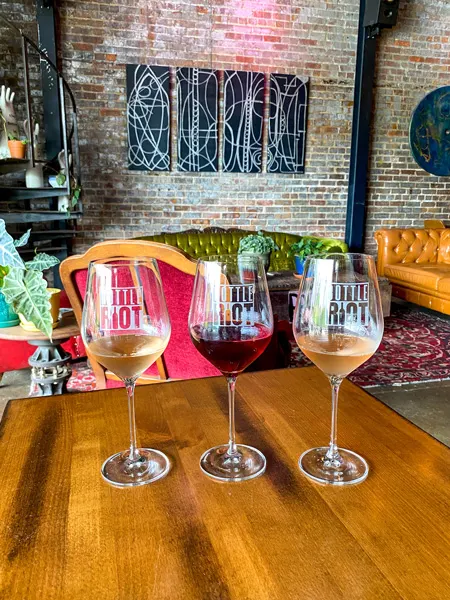 Where to drink wine in RAD:
Bottle Riot (37 Paynes Way #009) – A swanky fun AVL wine bar, Bottle Riot serves up wine in glasses as big as your face. Find a constantly rotating menu of wine by the glass or go big with a baller bottle. Tapas and spirits included. Consider making dinner reservations at Bull & Beggar next door.


pleb urban winery (289 Lyman St.) – For unique Asheville wineries, explore organic wines that focus on minimal intervention winemaking. This wide-open space is filled with Gus Cutty art. Or, sit outside at a picnic table. We highly recommend ordering a flight. This is one of the best places in Asheville to meet up with friends.
River Arts District Bars
We are all about Asheville's ritzy, quirky, and even dive bars. The River Arts District bars are perfect for live music and art shopping.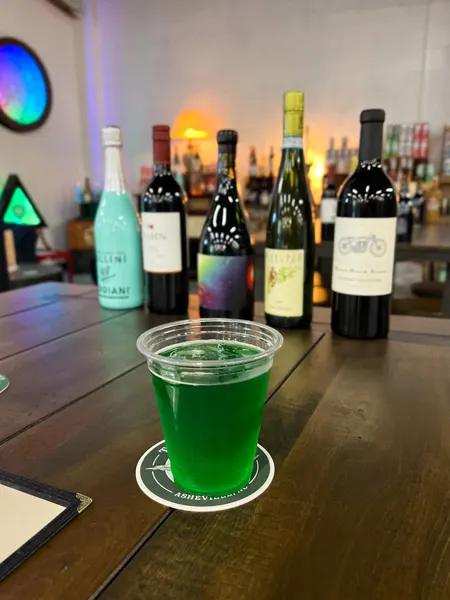 Bars in the River Arts District in Asheville to check out:
RAD Coffee Shops
Like its breweries, there certainly is no shortage of indie coffee shops across the city (along with a few franchises). We especially love the coffee shops in the River Arts District for their strong brews and ambiance.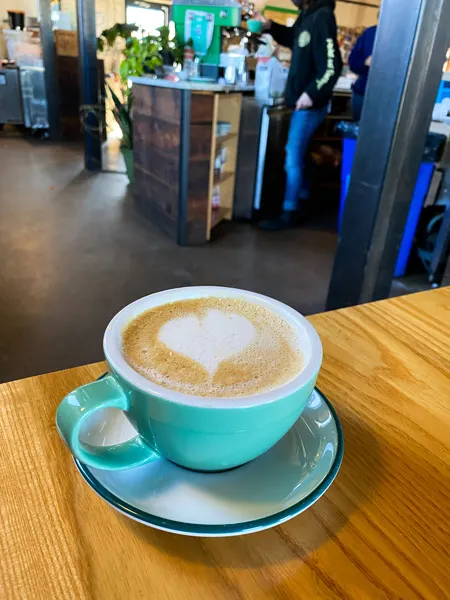 Asheville River Arts District coffee shops to visit:
Summit Coffee (4 Foundy St. Suite 20) – One of our favorite spots for coffee in AVL, enjoy a matcha latte on Summit's patio overlooking vibrant street art. The inside is rustic and cozy. Be sure to check out Andy Herod's sloth mural nearby. You'll see plenty of digital nomads here.


Ultra Coffeebar (242 Clingman Ave Ext) – Train watch from the patio, enjoy a smooth brew, and grab a light breakfast or lunch – with vegan and gluten-free options.
Of course, if all of these drinking options seem overwhelming, you can also opt for a tip-based walking and guided tour of the River Arts District. Tours might head to The Grey Eagle, pleb, and Wedge.
Where To Eat In The River Arts District
Did you know that Asheville is nicknamed "Foodtopia?" We have some of the best local restaurants, some of which are James Beard award-winning and nominated, and others that are lesser-known. Each AVL neighborhood hosts specific and must-eat-at restaurants, including the Asheville Art District.
Top RAD Restaurants
We have an entire guide to eating in the River Arts District that is filled with restaurants, cafes, breweries with food trucks, and more. That's how many places there are to choose from. Find tacos, that famous North Carolina BBQ, and all of the meats. However, we'll name just a few highlights below.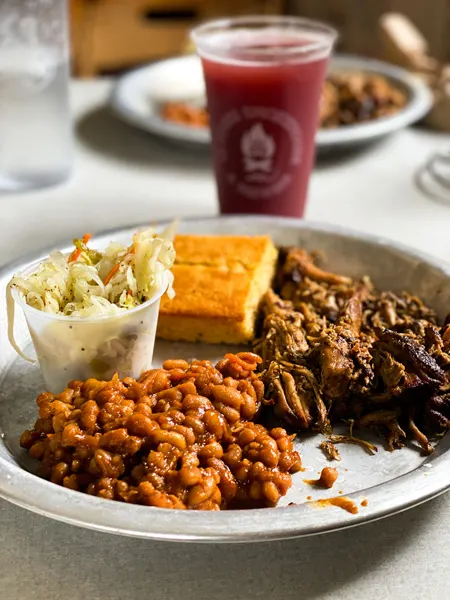 A few of our favorite River Arts District restaurants include:
12 Bones Smokehouse (5 Foundy St. Ste 10) – One of Asheville's most famous BBQ joints, enjoy BBQ ribs, pulled pork or chicken, and smoked turkey, just like the Obama's at this 12 Bones Smokehouse RAD location. Barack and Michelle Obama ate here and hiked Craven Gap. Sit inside with walls signed by visitors or outside on their picnic tables overlooking all of RAD. 12 Bones is a terrific kid-friendly food option, too, especially with those "just a taste" portions.


RosaBees (27 Foundy Street, Suite #20)- For memorable Asheville restaurants, don't skip RosaBees. This is a Hawaiian restaurant featuring Polynesian dishes with spicy and tropical-flavored entrees. RosaBees is a lesser-known AVL restaurant serving dinner.


The Bull And Beggar (37 Paynes Way #007) – One of Asheville's most romantic restaurants, enjoy a decadent charcuterie board and all of the meats. You'll appreciate the dim lighting, warm ambiance, and fine dining experience.


Baby Bull (1 Roberts St.) – For the best burgers in AVL, Baby Bull is a no-frills burger and handheld joint overlooking the Asheville silo. Their menu is perfectly small, and be sure to catch "Burger Monday."


White Duck Taco (388 Riverside Drive) – One of the most famous Asheville taco spots, choose from unique taco creations as you sit along the French Broad River. White Duck Taco Shop's parking lot is huge – just like the line out the door.


All Souls Pizza (175 Clingman Ave) – Many locals will tell you that All Souls is one of the best pizza spots in Asheville. Sit outside and catch a view of The Grey Eagle while devouring massive salads, steaming hot soup, and – of course – artisanal pizza.
RAD Food Trucks
Of course, no foodie scene is complete without food trucks. Along with the rotating food trucks mentioned above – The Smokin' Onion and Celicia's Kitchen, especially – know that the area has a few permanent food trucks as well.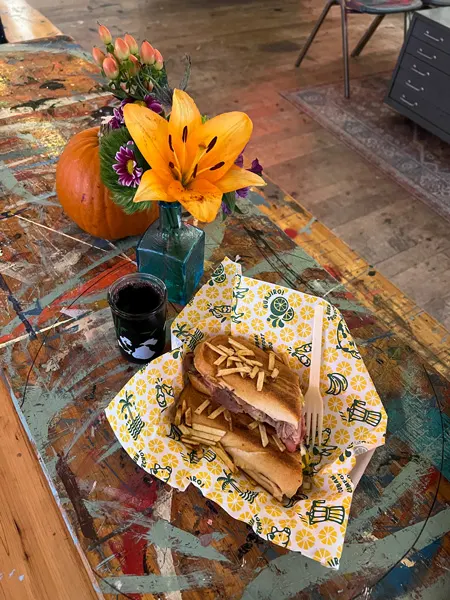 For delicious food trucks in the River Arts District, try:
Chop Shop Food Truck (5 Foundy St) – The Chop Shop is a delicious North Asheville butchery. Their RAD food truck sells hot dogs and burgers with salad options and GF bread. Pair a giant hot dog with a Wedge beer. Sit outside on the covered picnic tables.


Foothills at Hi-Wire's RAD Beer Garden (284 Lyman St) – Foothills meats are truly a local experience. Select from a variety of Smokehouse meats, BBQ, burgers, and hot dogs. Foothills is based out of Black Mountain (a must-visit mountain town); they also have a third location in Biltmore Village.


Guajiro Cuban Comfort Food (122 Riverside Dr) – Newer to AVL (2022), this Cuban food truck serves up the best breakfast, brunch, and lunch. Select from egg dishes, handhelds, and platters. Of course, order a Cuban sandwich with fried plantains and yucca fries.
Many of these restaurants are also a great stop around Biltmore Estate, another top AVL attraction for its wine tasting, allegedly haunted home, and beautiful gardens.
Best Things To Do In The River Arts District In Asheville
Besides eating, drinking, and art shopping, if you are still wondering what to do in the River Arts District, the list is pretty endless. Float down the French Broad River, and bike along the newly renovated Riverwalk.
Then, watch an indie movie, and listen to live music. If you are visiting Asheville with kids, tour a chocolate factory or hop on a skateboard. Go on a scavenger hunt looking for the coolest urban art.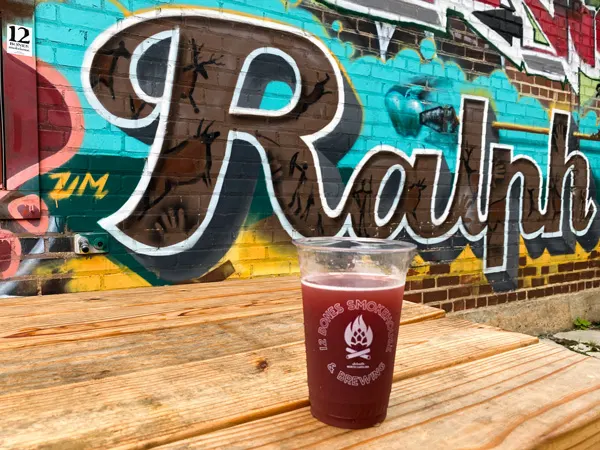 Asheville is full of things to do for locals and visitors.
Some of the best River Arts District things to do:
Never Miss Another Asheville Update
---
Tired of generic Asheville travel itineraries? Experience Asheville like a local with our free Asheville Favorites checklist, including restaurants, breweries, and hiking. Plus, get local updates – including events and hidden gems – straight to your inbox. Sign up here.
Where To Stay Near The River Arts District
If you are looking for where to stay in RAD, you'll find yourself on the edges of the district around Downtown AVL, North Asheville, and West Asheville. Read our complete Asheville, NC hotel guide if you need more suggestions.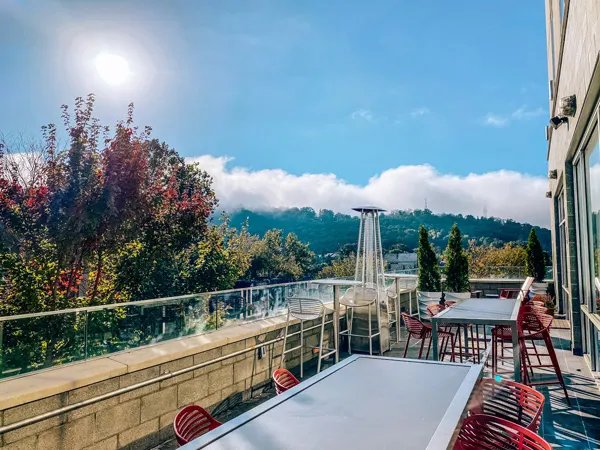 A few hotels near RAD we recommend include:
More Nearby Neighborhoods To Explore
Asheville is famous for its unique neighborhoods and districts. Each has its own set of restaurants, murals, activities, and attractions.
For more things to do near the River Arts District, check out these great areas:
North Asheville – Home to Beaver Lake and the Botanical Gardens at Asheville, enjoy a more residential area with terrific neighborhood restaurants. Find breweries and even a distillery. North Asheville also boasts easy access to the Blue Ridge Parkway, including popular hiking areas like Craggy Gardens and Craggy Pinnacle.

West Asheville – If you love bookstores or want to catch that famous mural of Dolly and RuPaul, head to West Asheville. Home to mouthwatering restaurants like Nine Mile, Gypsy Queen Cuisine, and Neng Jr.'s, you'll also love Odd's Cafe and Thai Pearl. Haywood Common is our top pick.

Historic Montford – Pay homage to O. Henry and Thomas Wolfe at Riverside Cemetery. Watch Shakespeare in the Park. This gorgeous residential neighborhood is filled with historic homes and Bed & Breakfasts.
What are your favorite things to do in Asheville's River Arts District?
What is your favorite River Arts District brewery, gallery, and restaurant? How about the best mural and RAD coffee shop? Let us know in the comments.
Related Articles To Help You Plan:
Save This RAD Asheville Guide For Later: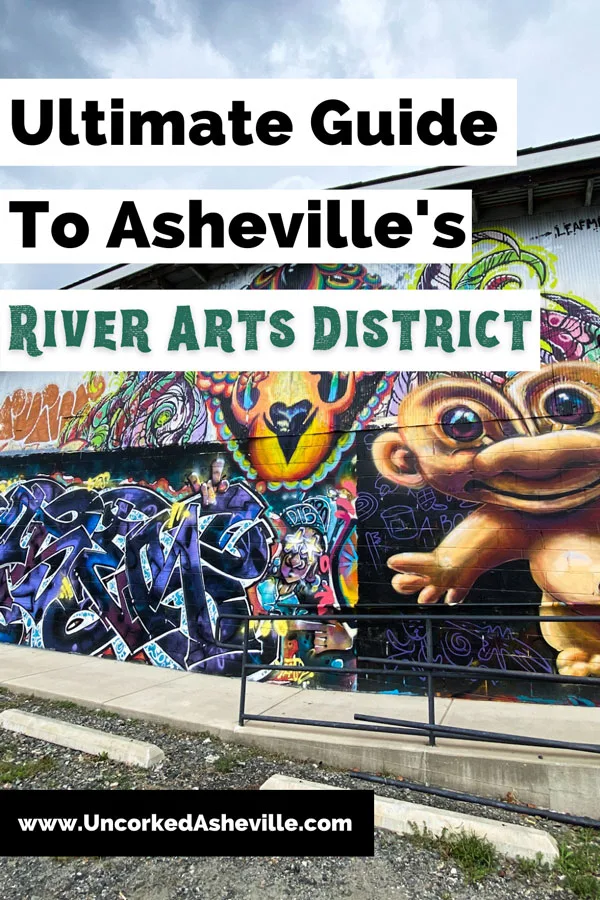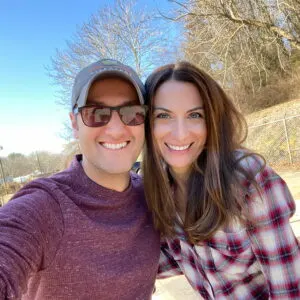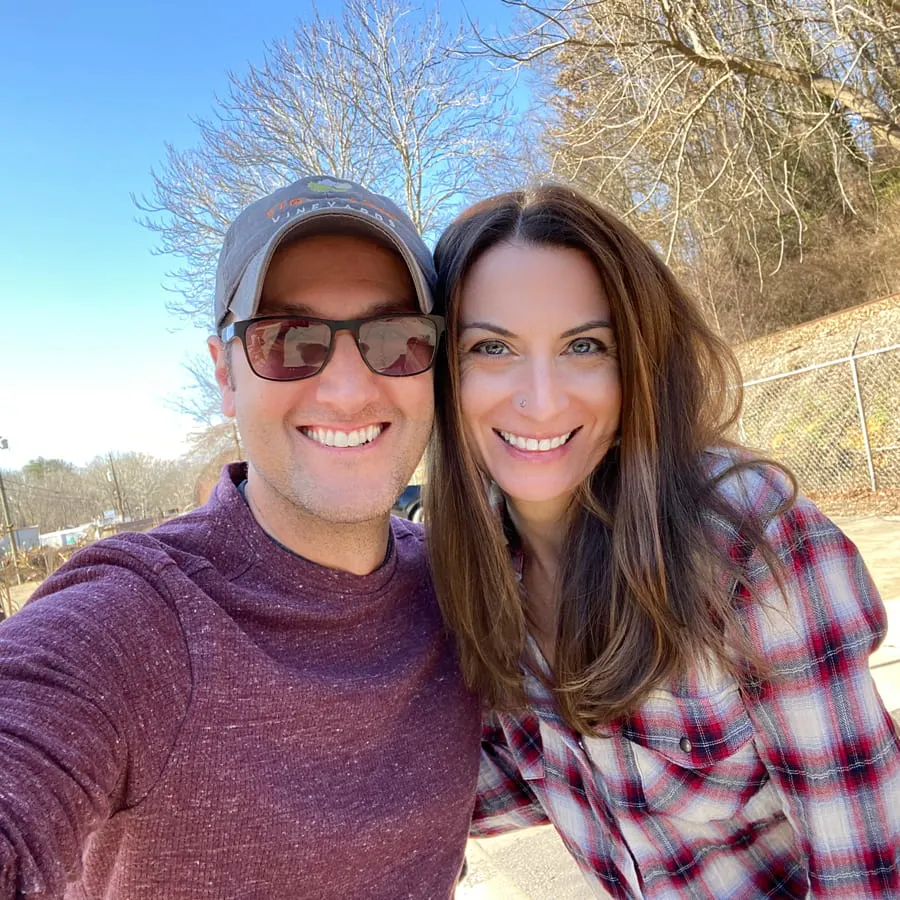 Christine (pronouns: she/her) is the owner and lead writer of Uncorked Asheville. After falling in love with those gorgeous Blue Ridge Mountains, Christine and her husband Tom decided to call Asheville, North Carolina their home. When her pointy Italian nose isn't stuck in a book, Christine is adopting all of the kitties, getting lost in the forest, and drinking an ESB.
Christine has a BA in English and History from Smith College, her MLIS from USF-Tampa, and is a former U.S. Fulbright Scholar - Indonesia. She also owns The Uncorked Librarian LLC with books and movies to inspire travel.