Explore how your business and Uncorked Asheville can work together.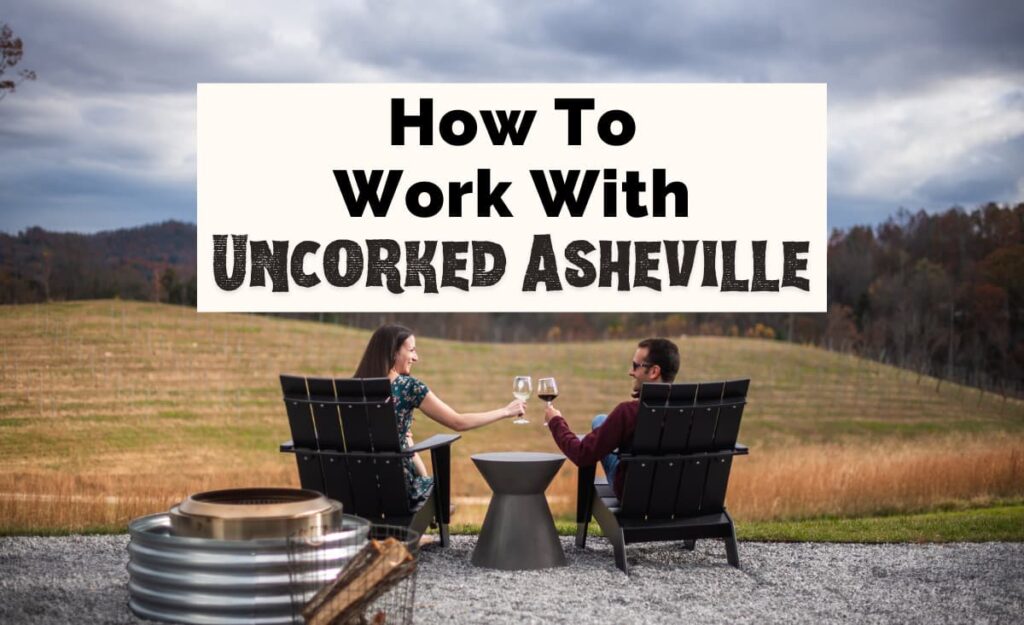 What Is Uncorked Asheville All About?
Uncorked Asheville is a niche travel website helping visitors "experience Asheville like a local."
Our goal is for visitors to fall in love with and experience the magic of Asheville, North Carolina, capturing the same enchanting feeling we had on our first visit to the city.
We encourage travelers to have a unique and personalized trip, touring both off-the-beaten-path places as well as visiting "must-sees."
Grab a sub at Apollo Flame, order charcuterie at Biltmore Estate, Leo's House of Thirst, or Bottle Riot, pay homage to O. Henry, hike The Hunger Games waterfalls, and devour a Baby Bull or The Malvern burger.
Who Manages Uncorked Asheville?
Christine manages the Uncorked Asheville website and business.
She writes the website's content, takes photographs, posts on social media, facilitates an Asheville Facebook Group, sends out bi-weekly newsletters, and personally responds to readers' emails.
Of course, Christine also travels, hikes, and eats her way through Asheville. We almost said "sleeps," but man, that just sounded wrong.
Christine's husband, Tom, is a full-time pilot, and he graciously helps with editing, eating, and taking pictures. Both Christine and Tom are Asheville locals.
We occasionally hire paid and credited writers for articles, especially for family-related content (we have furbabies and not children).
Learn more about Christine.
Who is Uncorked Asheville's demographic?
Readers frequent Uncorked Asheville looking for places to stay, things to do, itineraries, and where to eat.
Our visitors range in age from young professionals and bachelorette party groups to retirees, vacation home snowbirds, and middle-aged families craving adventure.
Many readers are also considering relocation to Asheville or recently moved here.
Although Uncorked Asheville is written for both short and long-term visitors, the occasional long-time local drops by to discover new finds. Asheville is a huge city to explore, and it's always growing and changing.
Lastly, our audience is based mostly in the United States followed by residents of the UK, Canada, and Germany.
We also own The Uncorked Librarian LLC
Christine also manages the popular media website, The Uncorked Librarian LLC. The Uncorked Librarian showcases "books and movies to inspire travel."
Here, Christine hosts an annual reading challenge, runs online and in-person book clubs, and discusses new releases. Find movie and book lists set in destinations around the world.
Working with Uncorked Asheville also means that you may have access to The Uncorked Librarian and its channels.
Read more about The Uncorked Librarian.
How Can We Work Together?
You champion your establishment, business, and services just as much as we love those blue and green-hued mountains.
…OK, and maybe craft beer, a glass of wine, and an indie bookstore…
Uncorked Asheville wants nothing more than to showcase community-oriented businesses and local individuals and products.
For Asheville & North Carolina Businesses:
How can we work together?
We accept media invites to events such as restaurant openings and hardhat renovation tours of businesses. Feel free to send us press releases. Please just remember to ask before signing us up for any regular newsletters — it's the law.


If you'd like to purchase ad space — like the ads that you currently see running on our website — please email Christine for the link to go directly through our Ad Network, Mediavine.


If you'd like an event posted on our calendar, please email us all important details; we do not charge for business or event postings. View our Events Calendar for more information.


We love hearing about your business and enjoy meeting with owners and community members. Never hesitate to drop us an email letting us know you are there, what your business is about, and a great time to visit.


If you'd like to partner for an event or request a guest appearance, we'd love to hear from you. We are always interested in hosting meet-ups and on-site book clubs. We do charge a fee for most guest appearances.


We will occasionally consider sponsored stays, meals, and activities at no obligation to post or write about the experience. If we have a good experience, we typically share this in our newsletter, across social media channels, and may add your business to a relevant website article — at our discretion.


For a fee, we will also occasionally create sponsored posts for the website and social media as well as accept Press Trips.
We will not work/partner for a compensated sandwich or glass of champagne.
You cannot pay your bills with a bottle of gifted wine and neither can we. Please don't contact us with these types of inquiries.
Upon request, we'd also be more than happy to send you our Media Kit and website stats for monthly and yearly page views, etc.
Email Christine at hello [at] uncorkedasheville [dot] com for all opportunities.
For Freelance Writers:
While we take pride in personally experiencing and writing our own content, we occasionally hire paid and credited website writers/contractors, especially for content where you are the larger expert.
We do not hire ghostwriters.
We also ask that writers are willing to make more than a one-time commitment as we train you. You will be asked to sign a contract.
If you are interested in writing for Uncorked Asheville, please email Christine with the following information:
Experience and one or two writing samples demonstrating your abilities

Your understanding of SEO — while we prefer writers who have a background/training in SEO and marketing, this is not necessarily a requirement

Your rate per word count

Topics you'd like to write about
Some Of The Businesses & Brands We've Worked With
Sarah Resta Photography
Nick Levine Photography
Biltmore Estate
Cultivated Cocktails
Dalton Distillery
Cheerwine
Sheetz
NC Muscadine Grape Association
NC Wine
Bob's Red Mill
Aloft Hotel
Asheville Cottages
Sarah Franklin Design
Tupelo Honey Cafe
Asheville Proper
Savvy Marketing Solutions
Tabletop Media Group
Big South Kitchen
Sante Wine Bar
Where You Can Find Uncorked Asheville
Below are the main business accounts associated with Uncorked Asheville: