Looking for the best brunch in Asheville, NC? If it's Saturday or Sunday, be sure to head over to these delicious Asheville brunch places.
We just love weekend brunch. Show us all of the eggs, seasonal cocktails, and freshly brewed coffee, especially after a fun night out bar and brewery hopping.
Of course, sometimes you just need a burger, chicken sandwich, or some fruit. Gotta soak up that beer and wind down your stomach.
As AVL residents, we've eaten at our fair share of restaurants, including both the popular and lesser-known brunch places in Asheville. We covet local spots.
While Tupelo Honey, Biscuit Head, and Early Girl Eatery are fantastic selections, we also want to give you a slightly different Asheville brunch list.
Think Rosetta's Kitchen for vegan soul food and Leo's House Of Thirst (Saturdays) or La Bodega for wine and tapas.
5 Points is a local diner must. RosaBees is a hidden River Arts District gem, and ELDR is a new 2022 restaurant in Grovewood Village.
Plus, which restaurants feature a variety of cuisines and price points perfect for the entire family? Are any pet-friendly?
Of course, we won't skip fancy Asheville brunch places like Isa's, Social Lounge, and The Market Place. Biltmore Village's Corner Kitchen is equally popular.
And, where can you find Saturday and Sunday brunch in Asheville for those of you who are vegan, vegetarian, and gluten-free? We are a Celiac household ourselves.
Below, uncover just a few of the best places for brunch in Asheville, NC.
"Best" is always subjective, and we would love to know your favorites in the comments. We are always updating this list. Let's get started.
Read more about all of Asheville's fantastic restaurants.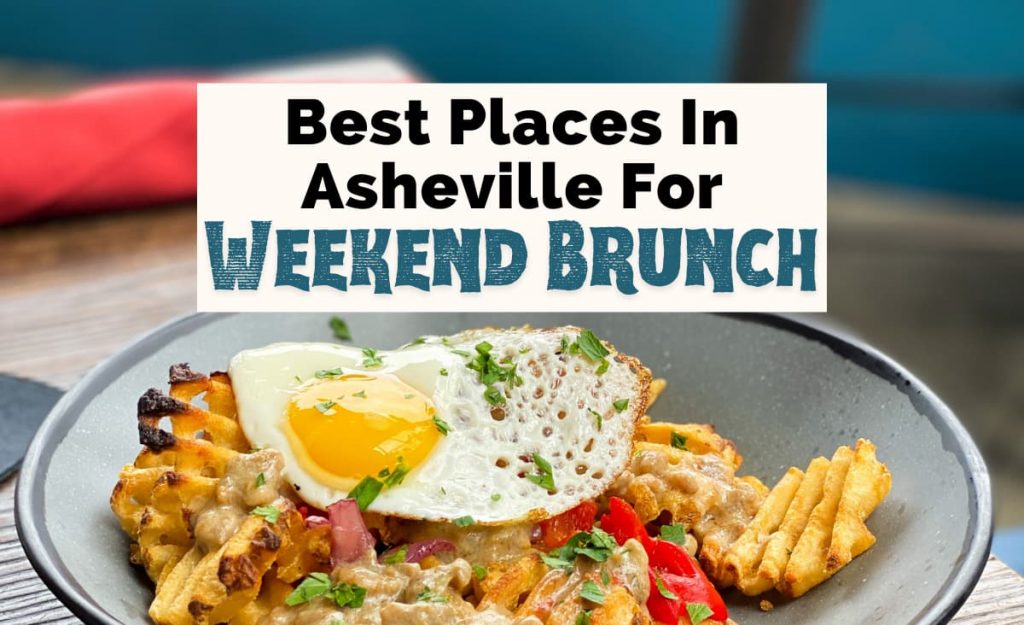 This post may contain affiliate links that earn us a commission at no extra cost to you.
See our Top Places To Stay in Asheville.

Don't miss out on these Asheville properties on Booking.com, too.
14 Places For The Best Brunch In Asheville, NC
1. Social Lounge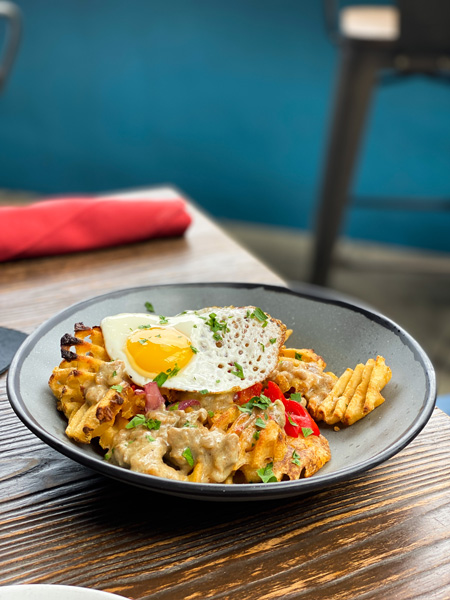 If you are looking for Saturday and Sunday brunch in Asheville, Social Lounge has a fantastic seasonal cocktail list and delicious brunch options – gluten-free and a few vegan dishes included.
Choose from their lighter fare like vegan lox, salads, and muffins. Or, order omelets, shrimp and grits, eggs, sweet pancakes, and French toast. Plus, there's dessert.
You might just catch light live music from a guitarist, and for us, Social Lounge is our go-to before heading to a festival or fair in Pack Square. It's a great way to beat the parking crowds and fuel up.
Social Lounge also has one of the quaintest rooftop bars in Downtown Asheville.
While the rooftop may not be as tall or as glamorous as Capella on 9, you still get those breathtaking mountain views.
A brunching party next to us best described the rooftop as a scene out of Better Homes and Gardens – with booze.
This restaurant is a great spot for couples and boasts a late-night bar.
Know that Social Lounge is the sister restaurant and connects to Strada Italiano, a romantic dinner restaurant. Enjoy indoor seating and a bar area.
Make online reservations in advance, if you can.
Park in the numerous Downtown garages; we prefer the Civic Center Garage behind Downtown Asheville's chaotic main streets, but it is a bit of a hike.
New in 2022, Chef Anthony Cerrato also opened Gemelli in North AVL. This is a more low-key, Italian eatery perfect for breakfast, brunch, lunch, and dinner.
Social Lounge Asheville | 29 Broadway St, Asheville, NC 28801
2. The Market Place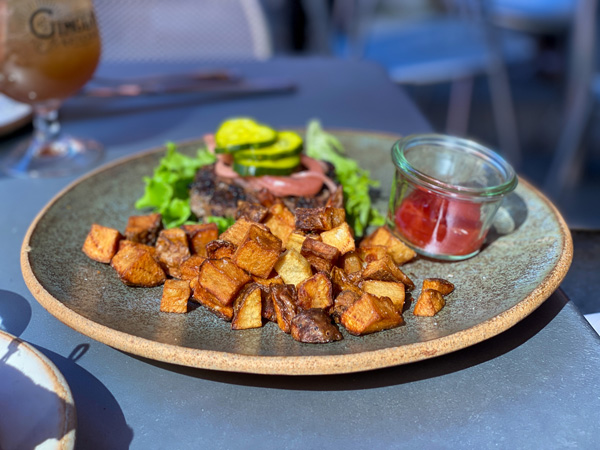 If you love people-watching, The Market Place is a great spot for brunch in Downtown Asheville. We highly suggest making reservations if you don't want a one to two-hour wait, though.
Dining on the outside patio feels a bit like a European cafe. The inside is classy and sleek.
The Market Place has a local and seasonal draft list as well as stellar brunch cocktails. They specialize in farm-to-table American cuisine.
While The Market Place doesn't have a large selection of gluten-free and lactose-free options, they can modify a few dishes.
Find a fancier brunch selection including mussels or scallops. Enjoy grits as well as handhelds and eggs.
The Market Place is also a worthy Asheville fine-dining spot at dinnertime.
The Market Place | 20 Wall St, Asheville, NC 28801
3. ELDR Restaurant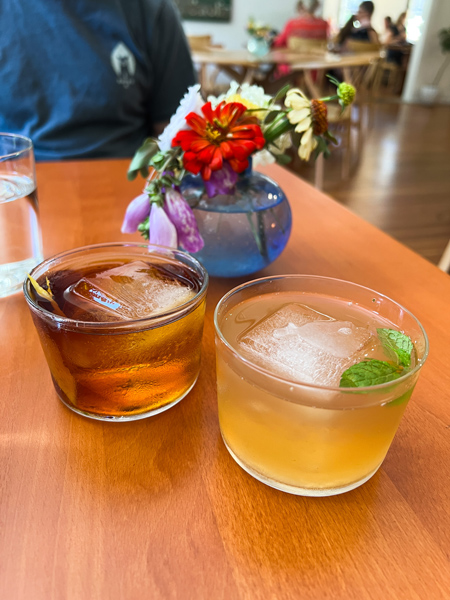 New to North Asheville in Grovewood Village and across from the historic Omni Grove Park Inn, ELDR is a not-to-miss Asheville brunch spot. In fact, it's one of our favorites.
Managed by the owners of Pulp & Sprout and the (former) Over Easy Cafe, find a wide variety of breakfast and lunch items, including one of the best burgers in town, handhelds, egg dishes, and pancakes.
We happened to catch a specialty pork schnitzel with egg and beet shavings, and the incredible selection of delicious handcrafted cocktails will force difficult decisions. You'll want to try them all.
ELDR easily modifies food dishes for our intolerances – especially lactose – and they have gluten-free items and bread. With Celiacs, Tom can dine here.
Along with cocktails, enjoy coffee, tea, and an extensive wine list. ELDR's menu changes daily.
Enjoy indoor dining in one of two rooms, at the bar, or on the outdoor patio. They also sell pottery and small souvenirs at the hostess stand.
Although we snagged a seat without reservations – after the brunch rush – we highly suggest making advanced reservations, especially if you have your heart set on eating at ELDR.
During the week, enjoy coffee and pastry service, lunch, and dinner. ELDR Restaurant is closed on Mondays and Tuesdays, but always double-check hours on their website.
Find free parking around the restaurant in Grovewood Village. Explore even more of North AVL's happening restaurant scene.
ELDR Restaurant | 111 Grovewood Rd, Asheville, NC 28804
4. La Bodega by Cúrate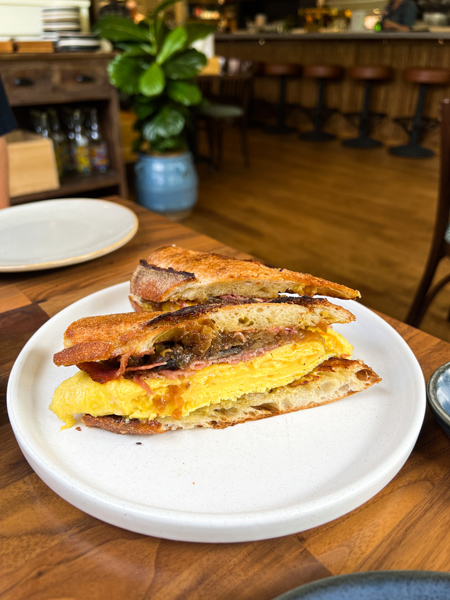 Who else makes the best brunch in Asheville? We nominate La Bodega by Cúrate, a new 2022 wine and tapas bar located on S. Lexington Ave. in Downtown Asheville.
Of course, this is no surprise since Félix Meana and Chef Katie Button opened this Spanish café, market, and wine bar.
Their famous Spanish restaurant, Cúrate, won the 2022 James Beard Award for outstanding hospitality.
Unlike Cúrate, La Bodega does not take reservations, and the prices are more moderate as well as budget-friendly. We appreciate that diners can try unique wines by the glass without breaking the bank.
So far, we've never had to wait for a table, and La Bodega has downstairs café seating and upstairs table service.
Open all day, enjoy a highly curated wine list, Spanish tapas like olives and melons with meat and cheese, and breakfast omelets and sandwiches.
La Bodega's menu changes seasonally but features dessert croissants, charcuterie, soups, salads, burgers, and of course, Spanish-inspired desserts. They have gluten-free options.
If the menu seems intimidating, especially that wine list, don't worry. The staff is incredibly knowledgeable and friendly.
Plus, brunch in Asheville never felt so cozy and inviting. Fall in love with those beam ceilings and brick walls.
After brunch, head downstairs to the shop to stock up on your favorite meats, cheeses, wines, and olives. This is our personal version of heaven and one of our top AVL wine bars.
Nearby, grab an iced coffee to go at The Rhu, and drop into Lexington Glassworks for gorgeous blown glass creations – that you can watch them make.
Even better, grab ice cream sandwiches at Sunshine Sammies – vegan options included.
We prefer to park in the Biltmore Garage or pay lot across the street for this area.
La Bodega by Cúrate | 32 S Lexington Ave, Asheville, NC 28801
5. RosaBees*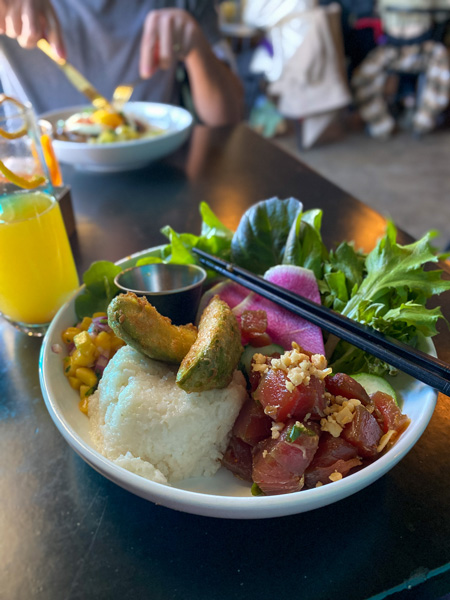 * Brunch is temporarily suspended at RosaBees (due to the times), but they are hoping to start brunch service up again in Spring 2023. We will keep you updated!
The River Arts District restaurants are delicious and sometimes overlooked. We especially enjoy them because there is plenty of parking and places to explore afterward.
RosaBees is no exception.
Although an unforgettable dinner restaurant, RosaBees is also one of the best Asheville brunch places if you devour sushi, tropical flavors, spicy meats and fish dishes, and Hawaiian cuisine.
RosaBees is also one of the most unique brunch suggestions on this list. Order a passion fruit mimosa or another one of their deliciously fruity cocktails.
Select from fresh appetizers before ordering poke, eggs, french toast, scallops, and sandwiches. Filipino lumpia and Japanese pancakes included.
Find vegan, vegetarian, and gluten-free options. Afterward, tour the artists' studios, street art, shops, and breweries in Asheville's River Arts District.
The new Marquee – a European-style home decor and art market – is a must. Catch an indie film at The Grail Moviehouse.
RosaBees | 27 Foundy St #20, Asheville, NC 28801
6. Leo's House Of Thirst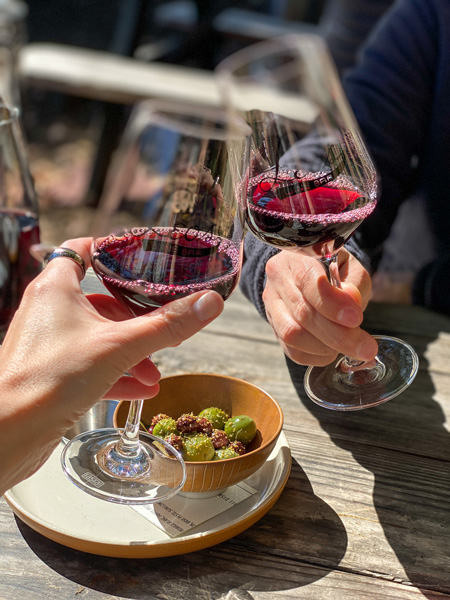 Along with La Bodega, Leo's House of Thirst is one of the best brunch places in Asheville that serves wine and tapas. It's also a pet-friendly space.
This wine and tapas bar sits in West Asheville, a fantastic neighborhood for shopping and drinking. While they are no longer open to the public on Sundays, Saturday brunch is always a good idea.
Unlike the other Asheville brunch places on this list, Leo's does not have traditional brunch plates with sausage and eggs.
Instead, order meat and cheese charcuterie – gluten-free crackers are available – olives, deviled eggs, sandwiches, and soups.
The menu is smaller but absolutely delicious. Plus, you cannot beat the ambiance.
Sit outside at a picnic table on the lawn (with heaters for fall) under the trees. Inside, find cozy tables and a small bar.
While at Leo's, don't miss even more stellar West Asheville restaurants, including Thai Pearl and Gypsy Queen Cuisine.
Leo's has its own parking lot behind the building as well as street parking. Please just pay attention to all posted parking signs as some lots will tow you.
Leo's House Of Thirst | 1055 Haywood Rd, Asheville, NC 28806
7. Sunny Point Cafe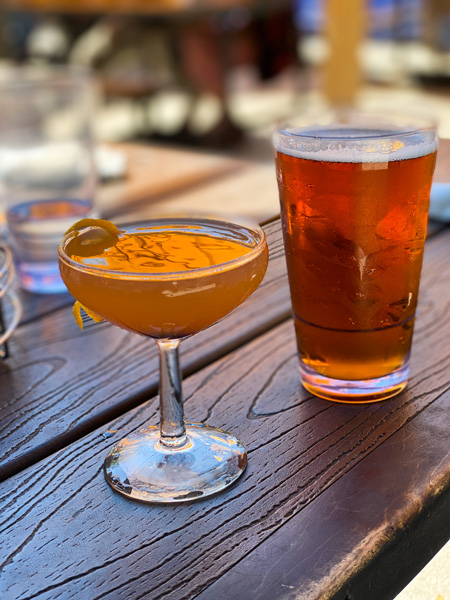 With lines around the block, Sunny Point Cafe is a classic for locals and visitors. They serve up the best brunch in Asheville that's budget-friendly and casual.
Encounter simple food with great service. Sunny Point is also a kid-friendly Asheville restaurant.
They specialize in Southern classics including chicken and waffles, biscuits and gravy, fried green tomatoes, and shrimp and grits.
Sunny Point Cafe also has French toast, hotcakes, avocado toast, and breakfast burritos. They offer gluten-free bread options and dole out large portions with local drinks.
Know that Sunny Point Cafe serves all three meals on most days. Eat outside on the patio or dine indoors. They do not take reservations.
We typically find street parking on State Street. Read more about Asheville's top breakfast spots.
Sunny Point Cafe | 626 Haywood Rd, Asheville, NC 28806
8. Jerusalem Garden Cafe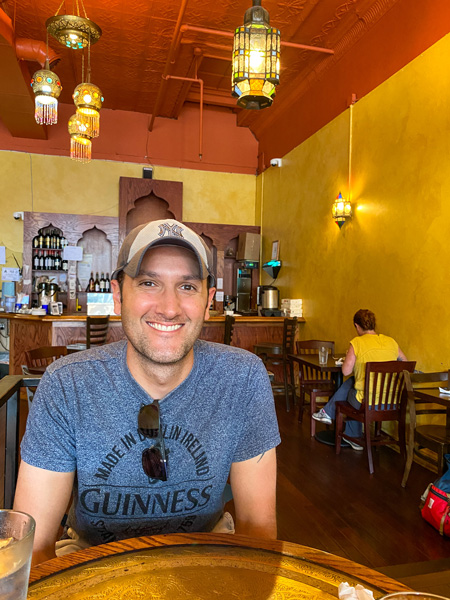 We love Mediterranean and Middle Eastern cuisine. If these flavors call to you too, head to Jerusalem Garden Cafe, especially for Saturday and Sunday brunch in Asheville.
Enjoy a space filled with vibrant lamps and colors. For brunch, select from omelets, Shakshuka, eggs, falafels, hummus, salads, and gyros. They also serve brunch mimosas.
For a Downtown Asheville restaurant, we appreciate the prices and location. After brunch, tour Asheville's beer scene.
Across the street, you'll spy Tupelo Honey, another popular breakfast and brunch place in Asheville.
We prefer to park at the Coxe Ave. garage and walk to Jerusalem Garden Cafe.
Jerusalem Garden Cafe | 78 Patton Ave, Asheville, NC 28801
Never Miss Another Asheville Update
---
Tired of generic Asheville travel itineraries? Experience Asheville like a local with our free Asheville Favorites checklist, including restaurants, breweries, and hiking. Plus, get local updates – including events and hidden gems – straight to your inbox. Sign up here.
9. Noble Cider*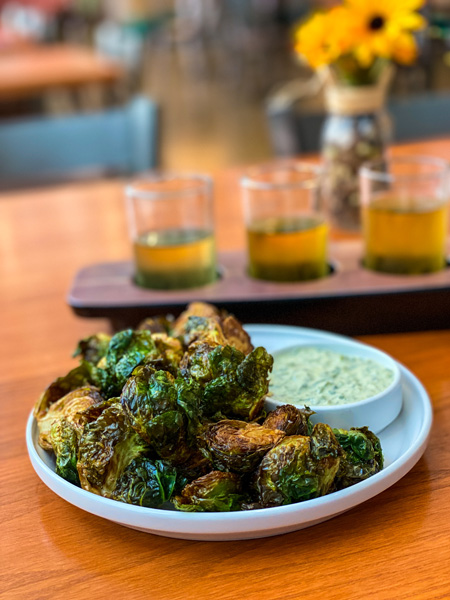 *Their kitchen is currently closed due to staffing. Please check for updates on their website. For now, enjoy Noble's Casual Eats.
Along with the breweries, did you know that Asheville has a plethora of cideries? In fact, downtown just got a new taproom for Botanist and Barrel and Bold Rock.
We enjoy Noble Cider.
Both Bold Rock and Noble Cider started offering Sunday brunch in Asheville. Noble is especially perfect if you require gluten-free food options.
Noble's Sunday brunch showcases cider mimosa flights, eggs, French toast, and a vegan breakfast bowl.
We also devour their regular lunch and dinner menu filled with sharables, charcuterie, popcorn chicken, and burgers.
Park across the street at the Rankin or Civic Center garage.
If you are looking for another fabulous gluten-free Asheville brunch place, BimBeriBon is a dedicated gluten-free bakery and cafe.
They serve up delicious donuts and bowls in West Asheville.
Noble Cider | 49 Rankin Avenue Asheville, NC 28801
10. Twisted Laurel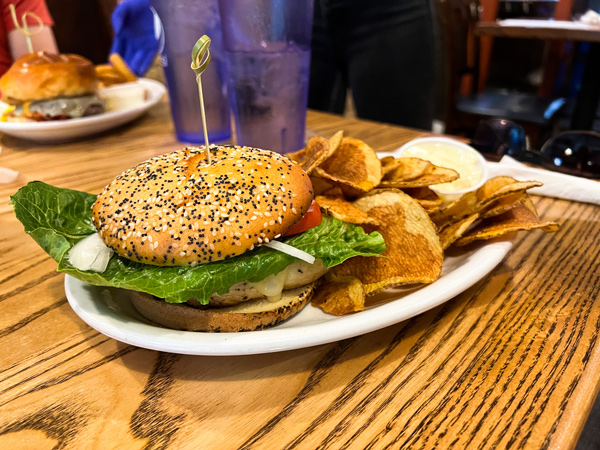 Twisted Laurel is a go-to Asheville brunch place if you are craving a local craft beer selection, cocktails, and sandwiches. They have two locations and serve food all day.
Weaverville is Twisted Laurel's flagship location, just 10 minutes from Asheville. Their second location is in Downtown Asheville.
We prefer the Weaverville location when we wish to escape the Downtown crowds. Weaverville has plenty of things to do including a dog park bar, lake, and shops.
Twisted Laurel features creative Mediterranean-inspired southern comfort food.
Their Sunday brunch menu showcases breakfast platters, biscuits and gravy, and all-day Bloody Marys.
Read more about Weaverville's other great restaurants. Stoney Knob Cafe is incredible and also features brunch.
Twisted Laurel | Downtown Asheville 130 College St, Asheville, NC 28801 | Weaverville 10A S Main St, Weaverville, NC 28787
11. Isa's Bistro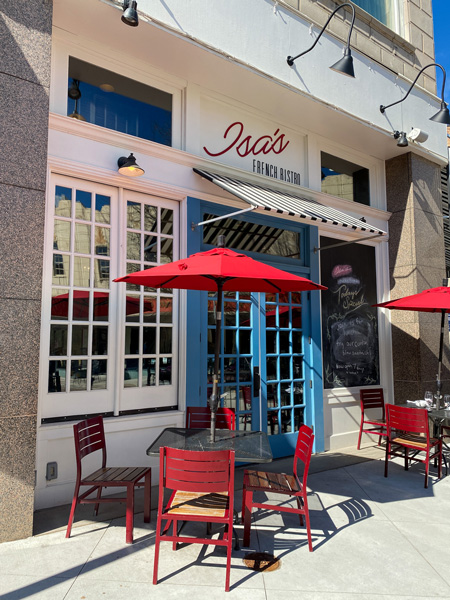 Located in Asheville's trendy and gorgeous downtown hotel scene, Isa's French Bistro is a part of the Haywood Park Hotel.
You'll recognize this picturesque French bistro in engagement and wedding photos.
If you are looking for a fancier brunch in Downtown Asheville, head to Isa's. They have a small outdoor patio and a spacious indoor dining room.
For breakfast and brunch, Isa's serves up a hash skillet, eggs, sausage, and French toast. Isa's will also have a few vegan and gluten-free options, including a build-your-own breakfast sandwich.
Don't miss that Bloody Mary or their mimosas.

Isa's French Bistro | 1 Battery Park Ave, Asheville, NC 28801
12. Corner Kitchen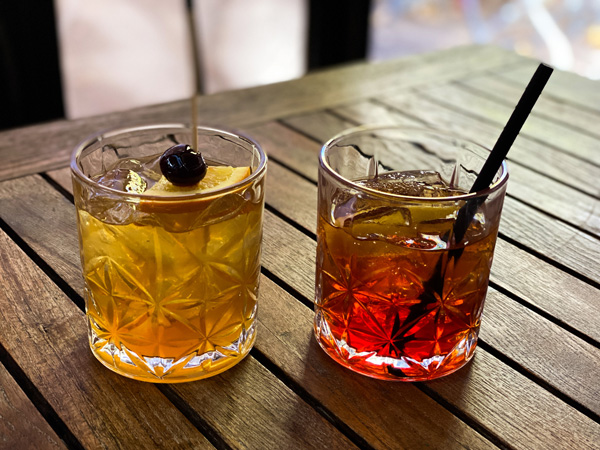 Extremely popular, Corner Kitchen serves up the best brunch in Asheville near Biltmore Estate in Historic Biltmore Village. This is a pet and kid-friendly restaurant.
Most notably in 2022, they've added back brunch from 9 AM to 2 PM all week. This is especially nice after an early morning attending a Biltmore special event like Van Gogh Alive.
Uniquely, sit inside a historic home that was part of George Washington Vanderbilt's property. Like Biltmore's gardens, Frederic Law Olmstead designed this gorgeous neighborhood.
Brunch at Corner Kitchen features sandwiches, eggs, lox, Southern bowls, soups, and salads. Their mouthwatering cocktails and mimosas incorporate some of Asheville's finest spirits.
In the winter, enjoy the heated outdoor patio.
We highly suggest making advanced reservations at Corner Kitchen. Even in traditionally quieter times, you may still see people swarming to get in for a meal.
Park anywhere along the streets of Biltmore Village. It gets a little tight and congested here
Corner Kitchen | 3 Boston Way, Asheville, NC 28803
13. Rosetta's Kitchen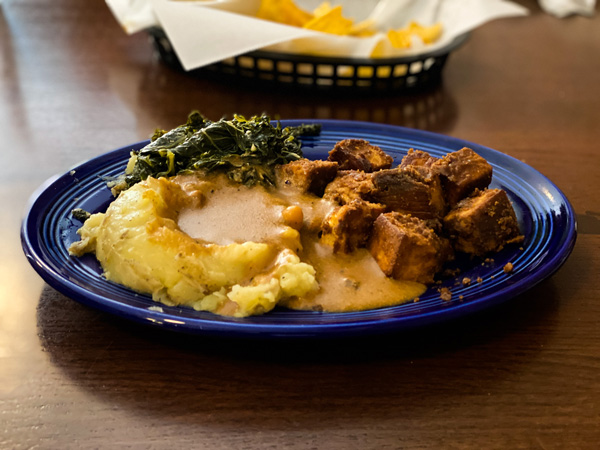 Located on the outskirts of historic downtown, Rosetta's Kitchen is one of the best vegan and vegetarian places for brunch in Asheville. This is vegan soul food, after all.
Even if you aren't vegan, Rosetta's Kitchen serves up mouthwatering dishes and specializes in Kombucha.
In fact, Rosetta's Kitchen has a Buchi bar with Kombucha cocktails and mocktails.
We crave Rosetta's chips with vegan queso and mashed potatoes with gravy. Think vegan kimchi and peanut butter tofu. Some of their dishes are spicier than others.
Rosetta's isn't just a brunch place, though; find anything from small plates to vegan entrees and sandwiches.
The vegan grilled cheese, "Reuben," and veggie burger are stellar, not to mention those buffalo cauliflower wings.
Rosetta's Kitchen serves soups and salads, making it a great lunch spot. Afterward, head to Rowan, one of our favorite but simple Downtown Asheville coffee shops.
Rosetta's Kitchen | 68 N Lexington Ave, Asheville, NC 28801 (new location after 20 years!)
14. 5 Points Restaurant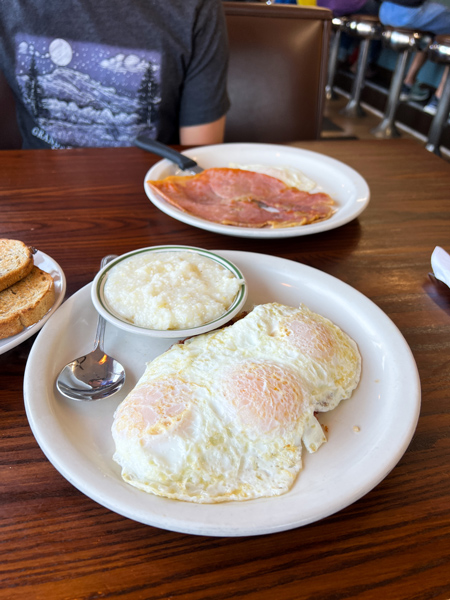 For the best brunch in Asheville – where the locals go – 5 Points is a must if you seek out casual diners and classic greasy but delicious breakfast options.
Located at the intersection of Downtown, Historic Montford, and North Asheville, enjoy a no-frills, budget-friendly, and third-generation family diner.
Serving up Greek and Italian breakfast, brunch, and lunch, encounter a never-ending bustle of hungry locals dipping in and out after the gym, meeting up with friends, or before starting the day.
The coffee keeps on coming, and select from breakfast sandwiches, omelets, eggs paired with meats, Southern grits, and corned beef hash.
Five Points serves breakfast all day – until their mid-day closing. Or, order lunch – including gyros, sandwiches, and meat and seafood dishes.
This is a family-friendly restaurant with quick and friendly service.
Although not the easiest Asheville brunch spot for food intolerances and allergies, find a gluten-free biscuit and dishes that can be modified.
Park in the lot out front – just know that it gets a bit tight if you drive a large vehicle.
5 Points Restaurant | 258 Broadway St, Asheville, NC 28801
Did You Find A Few New Asheville Brunch Places To Try? Save This Post For Later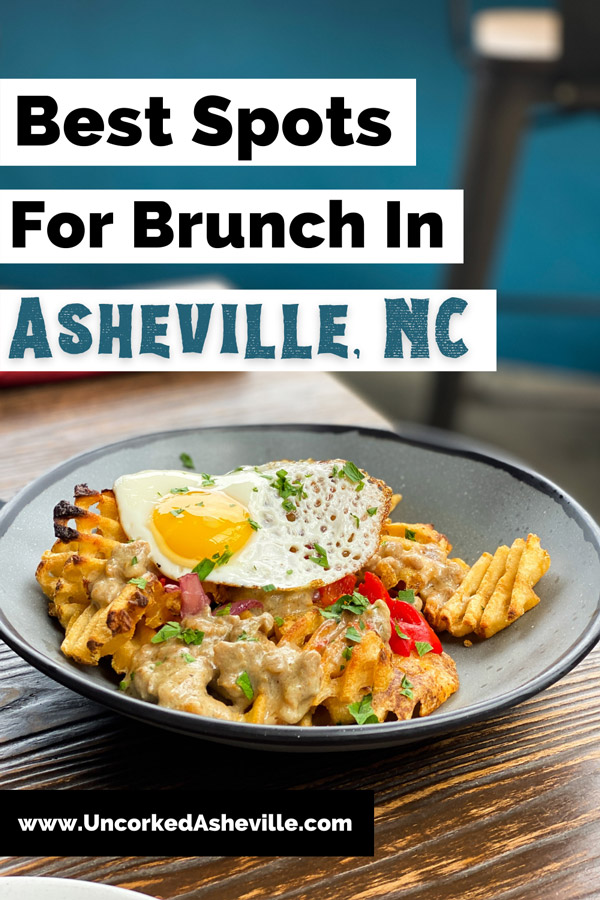 Where To Stay In Asheville
Explore the best places to stay in Asheville. A few of our top suggestions:
Aloft – Downtown Asheville – Centrally located and recently renovated, enjoy a rooftop pool, gorgeous bar, and trendy rooms.

The Omni Grove Park Inn – Treat yourself to a luxury resort in North Asheville, complete with breathtaking sunsets, terrace bars and dining, and loads of Asheville history.

Hampton Inn And Suites Asheville Biltmore Area – A budget-friendly but renovated hotel on busier Brevard Road that's perfect if you wish to stay between Biltmore Estate, Downtown Asheville, and the Blue Ridge Parkway.

Asheville Cottages – Gorgeous 1 to 3-bedroom cottages with a private deck, housing a grill and hot tub. Find luxurious heated-floor bathrooms with rain showers, a well-stocked kitchen, and the cleanest rooms in town.

Foundry Hotel – An oasis in Downtown Asheville, Foundry Hotel is a nod to AVL's industrial history. Find famous restaurant Benne on Eagle while sleeping ensconced in charm and elegance.

Country Inn & Suites by Radisson, Asheville Westgate, NC – Located off of the highway as you enter AVL, find a sleek and clean hotel at a great price.

Black Walnut B&B Inn – Designed by Biltmore's supervising architect, Richard Sharp-Smith, this 1899 inn is close to Downtown AVL and serves afternoon tea. Two rooms are pet-friendly.
Don't miss out on these Asheville properties on Booking.com, too.
Where do you love to get Sunday brunch in Asheville?
What is your favorite restaurant for bunch in Downtown Asheville? West Asheville? North AVL?
We'd love to know what brunch places in Asheville you personally love too. Please let us know in the comments.
Read more about takeout in Asheville here.
Where to head next:
Chocolate Cafes
Dessert Time
Donuts
Start your Asheville adventures.