Just like hiking and waterfalls, the Asheville mountain biking trails are plentiful and incredible. Uncover the best bike trails in and around Asheville, NC.
We are major outdoor enthusiasts, especially living in Asheville. Every day, those Blue Ridge Mountains call to us. Hidden within their fog, discover endless hiking, biking, and walking trails. Did I mention waterfalls?
We are definitely more experienced hikers than mountain bikers, but we try. We don't own super fancy mountain bikes or riding gear. Full disclosure here: We are your average bikers.
However, we love the casual road bike trails and easy to moderate mountain biking trails around Asheville.
Asheville's most local bike trails sit ensconced in the Bent Creek Experimental Forest and NC Arboretum. You can also find family-friendly bike trails in Asheville's parks. Did you know we have a velodrome?
A bit more of a drive, additional mountain bike trails near Asheville lead you to cascading waterfalls and babbling brooks. Think Daniel Ridge Loop and DuPont State Forest.
As locals, we are sharing where to road bike and mountain bike in Asheville. Some of these Asheville mountain biking trails will be much harder while others will be perfect for the entire family. Let's get started!
If you enjoy mountain biking in Asheville, NC, don't skip these Top Asheville Hiking Trails.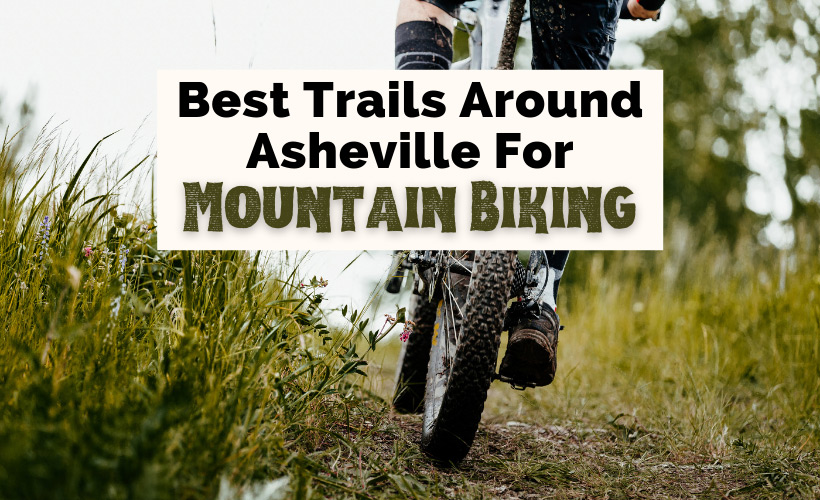 ---
This post may contain affiliate links for products and services I recommend. If you make a purchase through these links, at no additional cost to you, I will earn a small commission. Read the full disclosure here.
---
8 Top Asheville Mountain Biking Trails (With Road Bike Options)
1. Carrier & French Broad River Park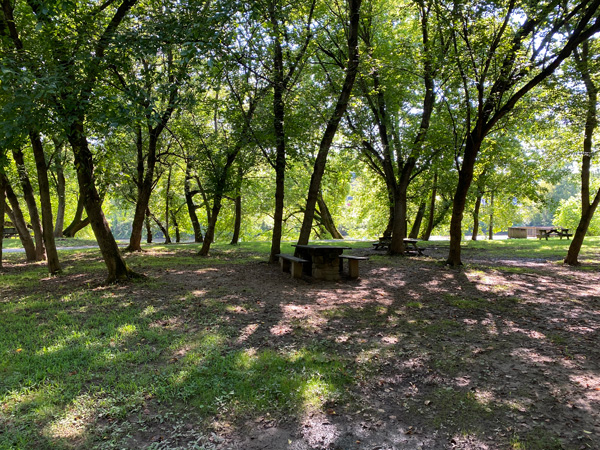 OK. OK. I am starting easy here. Don't come for me… Yes; Carrier Park is for Asheville road biking enthusiasts, but for families with young kids, bring your mountain bikes.
Carrier Park offers two perfect warmup Asheville mountain biking options. You can use their paved track for biking loops or Carrier Park's trail that connects into French Broad River Park.
The outer trail is part of the French Broad River Greenway. You can bike a 3.1-mile loop between the two parks. You'll cross sidewalks as well as paved and dirt areas. The French Broad River makes this one of the most scenic Asheville biking trails.
Carrier Park also has a velodrome, perfect for running and biking laps. The "Mellowdrome" used to be an ex-NASCAR short track. This velodrome is safe for both road and mountain bikes. Carrier Park has restrooms, too.
---
---
2. Bent Creek Experimental Forest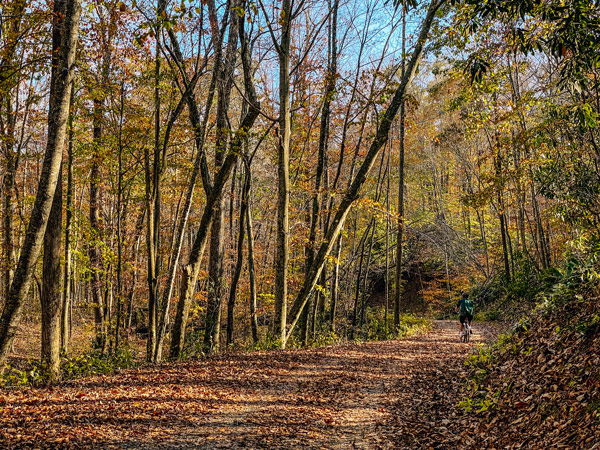 Bent Creek Experimental Forest is a massive recreational area in AVL with camping, Lake Powhatan, and endless trails. Bent Creek has some of the best local Asheville mountain biking trails for all levels and gets busy on the weekends.
I'm not going to lie: The first time we mountain biked here, I about dropped dead. We took a harder trail, and I was not in biking shape. Biking shape is different than hiking shape. I also have a cheapo and heavy mountain bike.
The Hardtimes Connector and Deer Lake Lodge Trails are easier. We've watched families teach their little guys how to mountain bike around the Deerfield Loop Trail and the bikable parts of the Homestead Trail.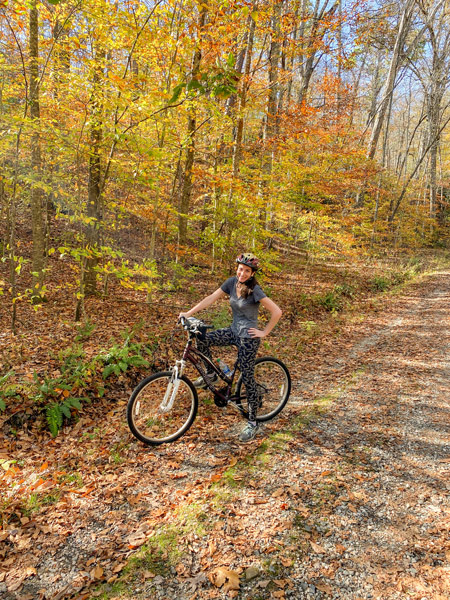 The Ledford Trail and Wolf Branch Trail are more moderate bike trails in Asheville. That's about as hard as I can personally handle right now.
This MTB WNC Guide is the most helpful when choosing a Bent Creek Experimental Forest Trail. It gets a tad confusing out there until you learn the grounds.
---
Never Miss Another Asheville Update
Are you tired of generic Asheville travel itineraries? Do you want to experience the magic of Asheville like a local?
Grab our free Asheville Favorites checklist today, including restaurants, breweries, and hiking. Plus, get local updates straight to your inbox. Sign up here.
---
3. The North Carolina Arboretum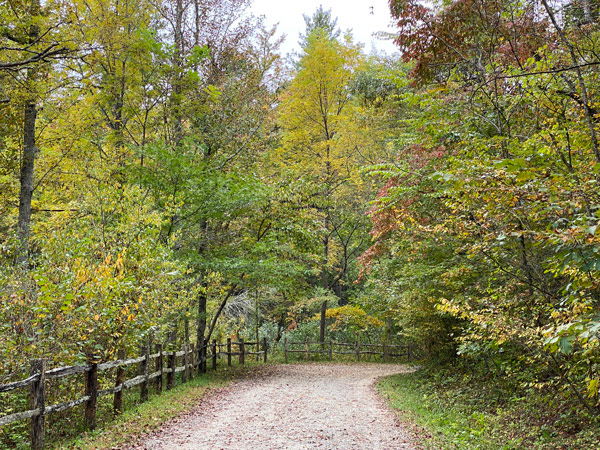 For slightly easier mountain biking trails in Asheville, The NC Arboretum is a fabulous choice. You will have to pay to enter, though. We are annual passholders, and the small fee is definitely worth it.
The North Carolina Arboretum houses over 65 acres of cultivated gardens and is filled with hiking, biking, and nature trails. In fact, part of the Arboretum's Hard Times Trail connects into the Bent Creek Experimental Forest.
The Arboretum's easy Asheville mountain biking trails include Bent Creek Road and its branches including Wolf Branch Road and Old Mill Trail. Hard Times Road and the Owl Ridge Trail are harder. Don't miss the NC Arboretum's Trail Map.
Past the entrance to The NC Arboretum, you can also enjoy these hikes along the Blue Ridge Parkway.
---
---
4. Biltmore Estate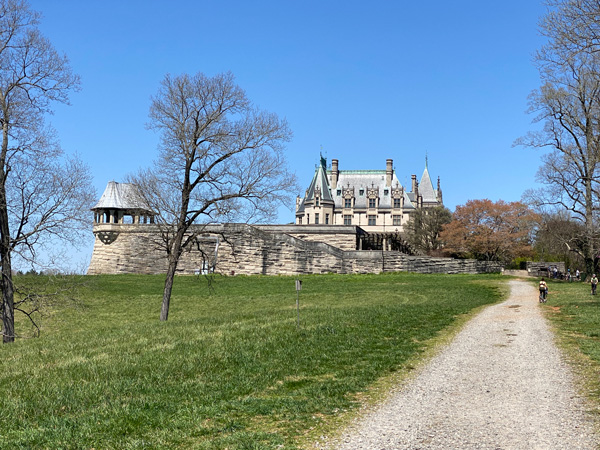 Did you know that another local and popular Asheville mountain biking spot is at Biltmore Estate? You will either need a ticket or membership to enter the grounds.
We are annual Biltmore passholders, and like The NC Arboretum, it's more than worth it. We frequent Biltmore's events, exhibitions, and gardens. Biltmore has 22 miles of hiking and biking trails.
You can rent bikes on the Estate at the Bike Barn or bring your own. The trails tend to get a little confusing; don't skip Biltmore's Biking Trail Map.
The most popular Biltmore biking trails are Deer Park Trail and the Lagoon Trail. Both provide different views of Biltmore House. Deer Park Trail has a large incline, but it leads you to the side of Biltmore House and Gardens.
Talk about an incredible view of Biltmore along the Deer Park Trail. You can park your bike at the garden gates. We've hiked the Westover Trails and have seen bikes on the longer Farm Trail.
---
We are annual passholders to Biltmore. Make the most out of your Biltmore Visit With ThIs Guide.
---
5. The Adventure Center Of Asheville's Kolo Bike Park
Kolo Bike Park is located at The Adventure Center of Asheville. We have yet to bike here as their passes and rentals are a little pricy. Plus, Kolo isn't exactly our personal style, but it might be yours.
For adventurous bikers and AVL visitors looking to play, Kolo offers 4 miles of diverse Asheville mountain biking trails. They even market the bike park as a "mountain bike sampler-pack."
Riders of all levels will encounter jumping lines and a Skills Park filled with obstacles. Younger riders can sign up for Shred Sessions. Grab all of the information about Asheville's Kolo Bike Park here.
Save This Post For Later
---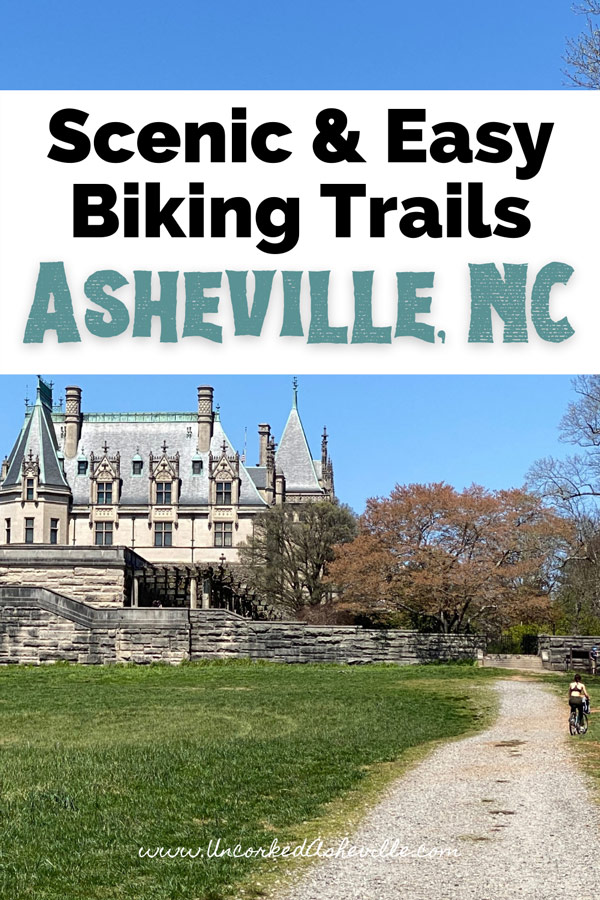 ---
6. RAD's Riverwalk Greenway
One of the newest road and mountain biking trails in Asheville, RAD's (River Arts District) got a 2020-2021 facelift.
For about 2 miles along the French Broad River and Riverside Drive, Lyman Street, and Amboy Road, bikers can safely ride in their own biking lane. They did a beautiful job with this Riverwalk.
You can always stop at pleb urban winery or one of the RAD breweries, too. Plus, RAD Skatepark is right there.
7. Daniel Ridge Loop & Falls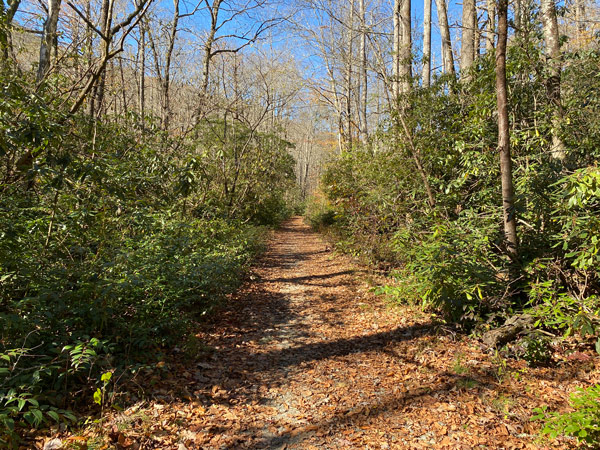 For more difficult mountain biking trails near Asheville, head over to Daniel Ridge Falls and Loop. Located in the Pisgah National Forest, you'll have this quieter spot almost to yourself. Unless everyone starts reading Uncorked Asheville…
Plus, there's a gorgeous waterfall. Full disclosure that we prefer to hike this local trail. We usually only pass a few hikers and many more mountain bikers, though. Guys, I just wouldn't make it.
This trail is full of cascading water with a lot of roots and rocks. Most people attempt the trail counter-clockwise. The full loop is a very difficult mountain biking trail.
You'll see a few "No Electric Mountain Biking Signs" around Daniel Ridge Loop, but you can use a regular mountain bike here.
Keep an eye on the red Daniel Ridge Loop Trail blazes; there are confusing connectors. Head to Daniel Ridge with offline maps and a Garmin or the GAIA app. Getting lost in the Pisgah National Forest is scary.
Riders also mountain bike Cove Creek Trail and Cove-Daniel Loop out here, too.
---
---
8. DuPont State Forest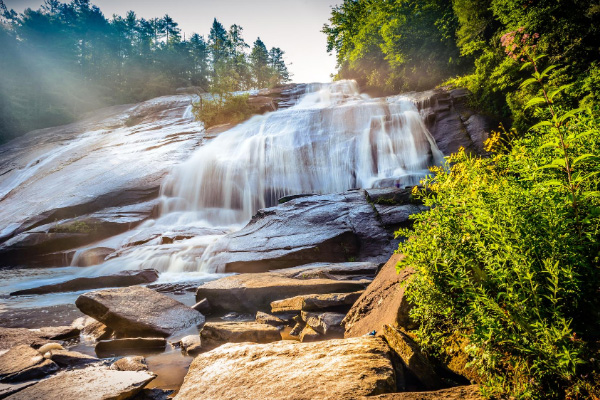 Home to The Hunger Games waterfalls, DuPont State Forest is one of my favorite State Parks about 45 minutes from Asheville.
DuPont has numerous access points and endless trails. I'm not sure we'll ever explore them all. Please pay attention to posted signs as you cannot mountain bike in particular areas.
For an easy trail straight to a waterfall, I'd definitely recommend mountain biking to Bridal Veil Falls. The 4.2ish-mile trail consists of mostly gravel roads and is pretty flat.
Like Bent Creek, MTB WNC has a well-labeled map of the DuPont Forest biking trails. Many bikers enjoy Ridgeline Loop, Turkey Knob Road Trail, and Wintergreen Falls Trail.
---
---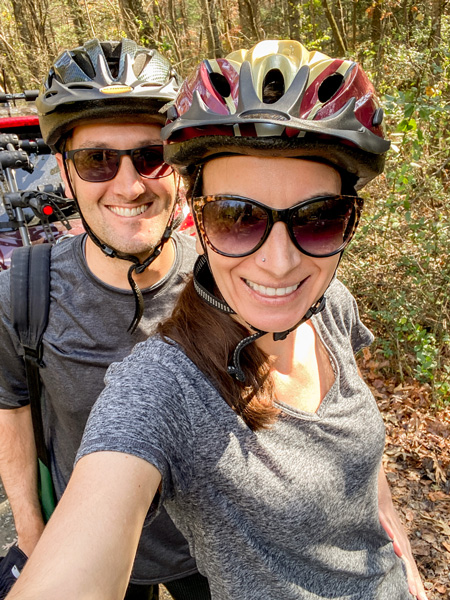 More Mountain Biking Trails Near Asheville:
You can also find WNC mountain biking trails around Asheville at Point Lookout Trail, North Mills River, Tsali Recreation Area, Thermal Belt Rail Trail, and Beech Mountain Resort.
What Are Your Favorite Asheville Mountain Biking Trails?
Do you have favorite bike trails near Asheville that you enjoy? Have you biked any of the above trails? What should we try out and add? Please let us know in the comments.
If You Love Getting Outside, Head Here Next:
Stunning Waterfalls Near Asheville
Asheville Hiking Trails You Cannot Skip
Best Picnic Areas Around Asheville
AVL Parks & Gardens
Blue Ridge Parkway Hikes Around AVL
You May Also Find These Posts Helpful:
Everything You Can Do In & Around Asheville
Where To Stay In Asheville