Eat at the best restaurants in West Asheville, NC. As locals, we are sharing which West Asheville restaurants are musts for breakfast, brunch, lunch, and dinner.
One of the coolest Asheville neighborhoods, West Asheville is filled with breweries, donut and coffee shops, and the most vibrant murals. Both brunch and lunch in West Asheville are fabulous and famous, too.
And, where else can you have a quirky dinner with scrabble-tiled bathroom walls and pass by Dolly smiling at RuPaul on the street? You might have heard names like Jargon and Nine Mile, too.
Like the bars, the West Asheville food options are plentiful, fun, and diverse. How do you choose?
In fact, this West Asheville restaurant list might receive some eye rolls from locals because it is filled with so many — maybe even too many — delicious spots.
It's hard to name just a few amazing West Asheville restaurants. Sorry, guys!
You really cannot go wrong eating in West AVL. With that said, who makes the best pizza in West Asheville? We love Grata Pizzeria at UpCountry Brewing. They even have gluten-free crust.
What about the best sushi and Thai food in West Asheville? Run to Green Tea Sushi and Thai Pearl.
Plus, everyone knows Biscuit Head and Sunny Point Cafe for brunch in West Asheville. For lunch, Haywood Common and The Whale are perfect for cocktail and beer lovers.
Next door, Zia Taqueria serves up stellar Mexican and tacos. Gypsy Queen Cuisine has loads of Mediterranean vegan options.
Do we have you convinced to eat in West Asheville? As locals, keep reading for the most delicious restaurants in West Asheville, NC. Let's get started!

Read more about the top things to see, do, drink, buy, and eat in West Asheville.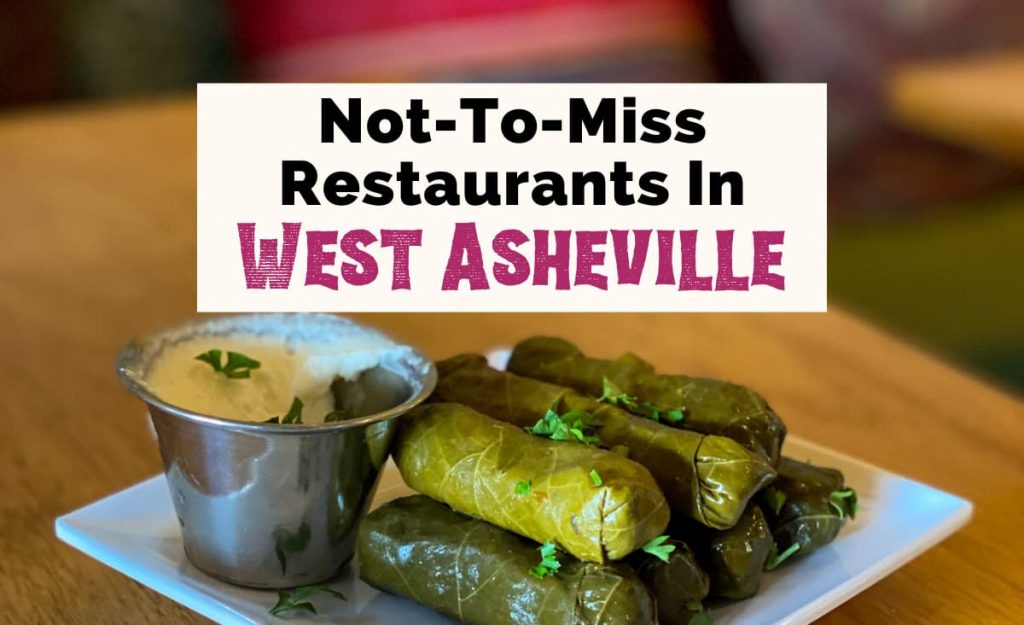 This post may contain affiliate links for products and services we recommend. If you make a purchase through these links, at no additional cost to you, we will earn a small commission. Read the full disclosure here.
See our Top Places To Stay in Asheville.

Don't miss out on these Asheville properties on Booking.com, too.
12 Best Restaurants In West Asheville
1. Gypsy Queen Cuisine (GQC)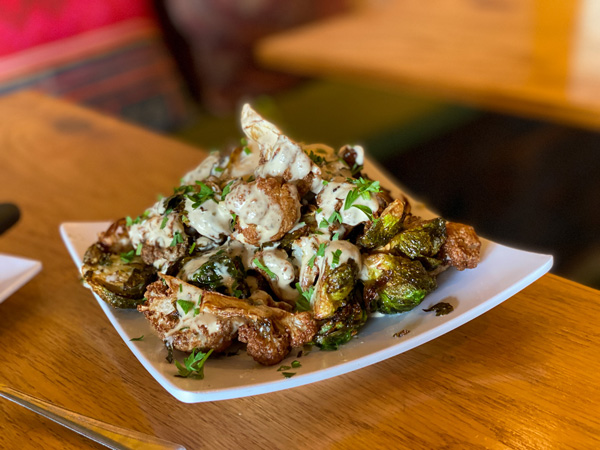 One of the best West Asheville restaurants for vegan options (and GF items), Gypsy Queen Cuisine (GCQ) makes mouthwatering Mediterranean meals.
GQC is famous for its Lebanese street food. Order Brussels sprouts, falafels, gyros, and grape leaves. The portions are huge, and we cannot rave enough about their food.
Gypsy Queen Cuisine also has a small shelf filled with Mediterranean treats for purchase including olives and tahini.
Unlike many of the other restaurants in West Asheville on this list, please note that GQC is not in the immediate downtown area. Off-the-beaten-path, you will drive slightly out of the walkable areas.
Gypsy Queen Cuisine | 807 Patton Ave
2. Sunny Point Cafe
One of the best spots for breakfast and brunch in West Asheville, Sunny Point Cafe is also our readers' choice restaurant.
You can enjoy "Southern comfort food from dawn to dark." Most days of the week, Sunny Point Cafe serves up breakfast, lunch, and dinner — but not all.
A family-owned West Asheville restaurant, you'll love their classic entrees like shrimp and grits and chicken and waffles. For breakfast, choose from breakfast burritos, omelets, avocado toast, and hotcakes.
Sunny Point Cafe has vegan and gluten-free options, including gluten-free bread.
Be forewarned that you cannot make reservations. On weekends as well as during peak lunch hours, you'll find a crowd here.
End your meal with pound cake, shortcake, and pies. They serve up local craft beer, mimosas, and cocktails, too.
Sunny Point Cafe | 626 Haywood Rd
3. Zia Taqueria
For some of the best tacos across AVL, don't miss Zia Taqueria. This West Asheville Mexican restaurant also blends up our favorite margarita.
Most notably for taco joints, Zia offers a vegan cream sauce to replace that cheese as well as vegan burrito bowls. Their portions are huge.
For lunch in West Asheville, order a Zia Bowl and add your favorite toppings. Or, go for the tacos. Don't fill up on those fresh chips and salsa first…like us.
Zia Taqueria has its own parking lot out front, which is pretty spacious for West Asheville.
Zia Taqueria | 521 Haywood Rd
You might also enjoy TacoBilly located at 201 Haywood Rd in West Asheville near Hole Doughnuts, Archetype Brewing, and Urban Orchard Cider Co.
4. Thai Pearl
Where can you find the best Thai food in West Asheville? Thai Pearl! This comes as no surprise, though, since Chef May worked for The Royal Palace in Bangkok.
One of the newer downtown West Asheville restaurants, be sure to order those Thai fried onion rings. The noodles, rice, and Thai salads are delicious. It's hard to choose what to order.
Many dishes are gluten-free and Chef May can work around food intolerances.
You'll love the trendy but cozy atmosphere. Chef May is also incredibly supportive of the community both in Asheville as well as across the world.
Thai Pearl | 747 Haywood Rd
Never Miss Another Asheville Update
Are you tired of generic Asheville travel itineraries? Do you want to experience the magic of Asheville like a local?
Grab our free Asheville Favorites checklist today, including restaurants, breweries, and hiking. Plus, get local updates straight to your inbox. Sign up here.
5. BimBeriBon
If you are looking for gluten-free food in West Asheville, BimBeriBon serves up breakfast, brunch, and lunch. As a cafe and bakery, their motto is "real, feelgood food."
BimBeriBon prides itself on using fresh ingredients and no refined sugars or gluten. Diners can eat here on Fridays, Saturdays, and Sundays.
For weekend lunch in West Asheville, devour vegan nacho bowls, grilled tempeh, Cuban sandwiches, and Asian-inspired cuisine. Sunday brunch entails frittatas, eggs, and avocado toast.
BimBeriBon | 697 Haywood Rd
6. Haywood Common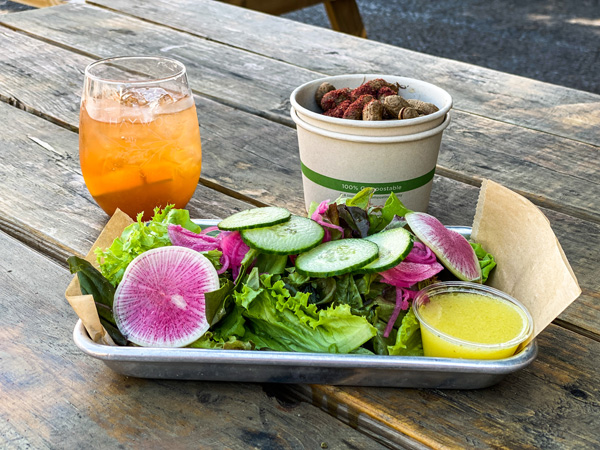 One of the most fun things to do for lunch in West Asheville includes grabbing food from Haywood Common and pairing it with beer on a covered or uncovered picnic table from The Whale.
Haywood Common has your traditional and healthy handhelds, bowls, and salads. We love snacking on their boiled peanuts with beer.
Haywood Common shares space with The Whale, which is an extensive West Asheville bottle shop with an everchanging and plethora of imported and local beer on tap.
Haywood Common and The Whale reside next to Zia Taqueria. We usually use the Park Mobile app and park at the church next door.
Haywood Common | 507 Haywood Rd
For more popular spots for lunch in West Asheville, find the Asheville Sandwich Company and Early Girl Eatery.
7. Biscuit Head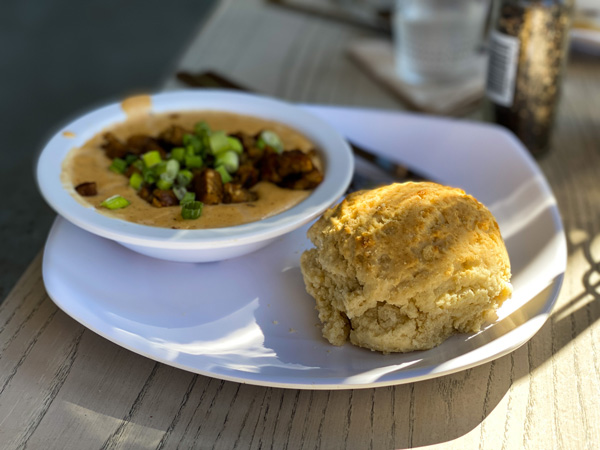 Biscuit Head is one of those West Asheville restaurants for breakfast and lunch that lands on all of the best of Asheville foodie lists. "Put some South in your mouth."
We'll give you one guess as to what Biscuit Head is famous for… biscuits and gravy! They also have a vegan and gluten-free biscuit and gravy option.
You can choose from biscuit sandwiches with eggs, ham, pulled pork, or fried chicken. Biscuit Head has South Asheville and Biltmore Ave. locations, too.
Biscuit Head | 733 Haywood Road
8. Green Tea Sushi & Japenese Restaurant
One of the best restaurants in West Asheville, head to Green Tea Sushi for rolls and cocktails. They are also one of the top local sushi spots in the city. We also love The Madness AVL.
Weather-permitting, sit outside on Green Tea Sushi's patio while enjoying delicious sushi rolls, specials, and sashimi. They are a family-friendly restaurant and are also close to Gypsy Queen Cuisine.
Green Tea Sushi fills up with locals, but because this West Asheville restaurant is not situated downtown, you should be able to find parking and a table.
Green Tea Sushi | 2 Regent Park Blvd
9. Nine Mile West
For stellar Caribbean-inspired cuisine, Nine Mile is truly one of the best restaurants in West Asheville. Nine Mile has multiple locations, though, and we tend to frequent Nine Mile in Historic Montford.
Nine Mile does not accept reservations, and you will find lines down the block for dinner. You'll see why.
Nine Mile extensively labels its delicious pasta, meat, and seafood dishes for allergies and food preferences as well as intolerances. They run on the spicier side, but as travel writers with GI issues, we can always find something to eat.
Nine Mile West | 751 Haywood Rd
10. Jargon
For a fancy dinner in West Asheville, Jargon is moderately upscale, romantic, and full of character. Jargon also gives their locals love.
They make delicious and fun cocktails, and you'll find modern American cuisine. The bathroom walls are covered in Scrabble tiles, and you'll chuckle at the lava lamps above the walls.
We recommend making dinner reservations. Look for side street parking. Close to Nine Mile and Thai Pearl, we park around the West Village Market & Deli area.
Jargon | 715 Haywood Road
The Admiral and Isis Music Hall are also popular West Asheville restaurants.
11. Grata Pizzeria
For pizza in West Asheville, Upcountry Brewing and Grata Pizzeria are musts. UpCountry is also a fantastic Asheville brewery.
Find yourself sitting in what feels like someone's backyard while sipping beer and eating pizza. Grata Pizzeria also has gluten-free pizza crust and vegan cheese options.
UpCountry Brewing With Grata Pizzeria | 1042 Haywood Rd
12. The Madness AVL
Where can you find magnificent cocktails, mouthwatering burgers, and sushi in West Asheville? The Madness AVL has it all.
One of the newer West Asheville restaurants (December 2020), this sleek establishment will not disappoint you. Just be sure to ignore the congested strip mall.
The Madness is both hipster but also casual delicious. Order specialty and sushi rolls along with beautiful appetizers served like art.
If you have non-sushi lovers with you, their burgers are fantastic. And talk about those fries.
The Madness Asheville | 275 Smokey Park Hwy Ste 251
P.S. For coffee in West Asheville, don't skip Bean Werks or Izzy's.
Where To Stay Around Asheville:
See our Top Places To Stay in Asheville.

Don't miss out on these Asheville properties on Booking.com, too.
Save Your Favorite West Asheville Restaurants For Later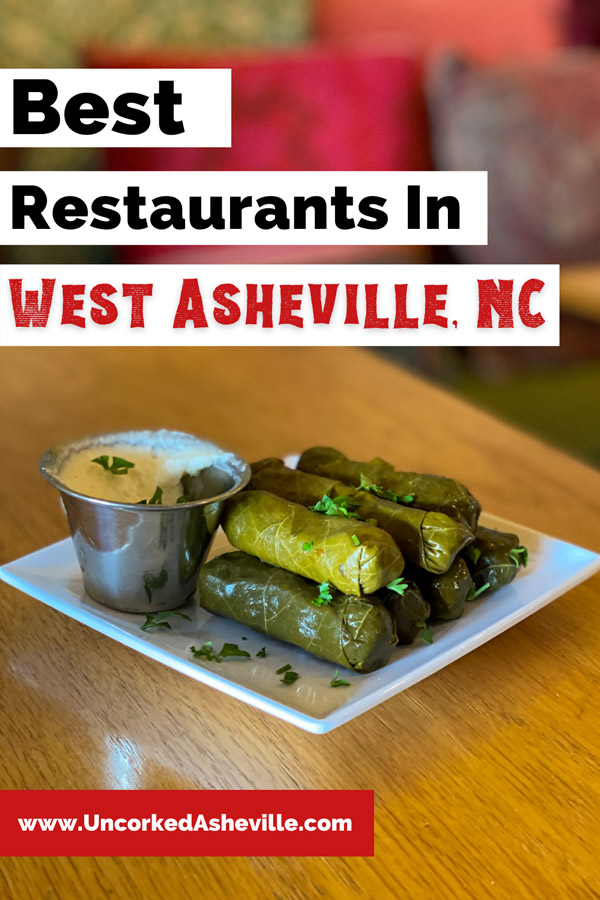 What are your favorite West Asheville Restaurants?
Where do you love to get brunch in West Asheville, NC? How about lunch in West Asheville? What are your favorite bars, breweries, and shops? Let us know in the comments.
More Asheville Neighborhoods
West Asheville Guide
Historic Montford
Guide To All Asheville Neighborhoods
Living In Asheville FAQs
Head Here If You Are A Foodie