Explore the most fun fall things to do in Asheville in October. Pick apples, chase ghosts, get lost in a corn maze, and enjoy seasonal cocktails.
Nothing beats Asheville in October with its mild weather and beautiful fall foliage.
Plus, the fall activities in Asheville are endless. Imagine picking all of the pumpkins and apples you could ever desire. Nearby Hendersonville is known as "Apple Alley," after all.
Bring on the sugary cider donuts and apple cider slushies. We cannot even begin to tell you how many apple crisps we have made since moving here.
Plus, Asheville's Blue Ridge Mountains come to life with all of that angsty mist swirling in a cinnamon and pumpkin-spiced rainbow of breathtaking color.
So, what are the best things to do in Asheville in the fall?
Below, find Asheville fall activities that both visitors and locals crave, including foliage and waterfall hikes, rooftop bars, and top orchards.
Enjoy family-friendly things to do as well as more adult adventures including boozy ghost tours and vineyard hopping.
While these are our top fall Asheville bucket list activities and traditions, we hope that you create your own too.
Let us know your favorite things to do in Asheville in October and November in the comments. Let's get started.
Visit prepared with our Asheville fall foliage forecast and festival calendar.
This post may contain affiliate links that earn us a commission at no extra cost to you. If you love these guides, support Uncorked Asheville here.
See our Top Places To Stay in Asheville.

Don't miss out on these Asheville properties on Booking.com, too.
20 Best Fall Things To Do In Asheville In October
Watch A Grove Park Inn Sunset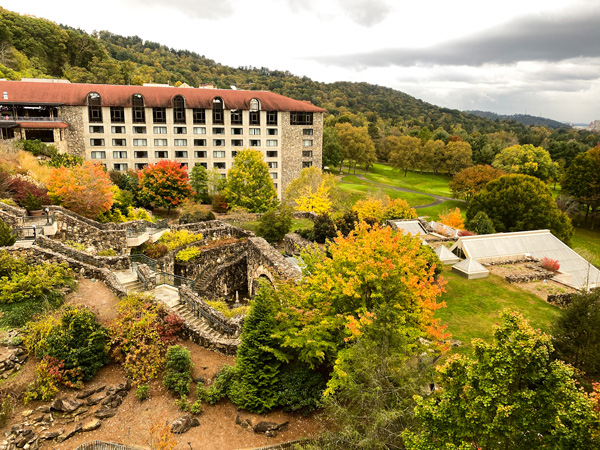 Looking for romantic and memorable fall things to do in Asheville?
The historic Omni Grove Park Inn sits on Sunset Mountain in North Asheville and is one of our top Asheville fall activities for sunsets, rooftop bars, and food.
Head to the Great Hall Bar, home to jaw-dropping floor-to-ceiling fireplaces.
Literary quotes flank those massive stone hearths, which is fitting since F. Scott Fitzgerald once stayed here.
Grab a seasonal craft cocktail, munch on some of the best charcuterie in town, and gently glide back and forth in one of the cozy rocking chairs.
The dark lobby opens up to windows overlooking Downtown Asheville and Mount Pisgah. Of course, the stone patio – Sunset Terrace – lives up to its namesake.
Catch a vibrant and famous Grove Park Inn sunset. Bright purples and pinks light up the mountains, especially in October in Asheville.
If you want to treat yourself, make dinner reservations at one of the best fine dining restaurants, Sunset Terrace. Dine on delicious and rich seafood and meat dishes.
Or, check out our personal favorite Grove Park Inn restaurant, Edison.
Edison is perfect for lighter fare along with seasonal drinks on a covered patio filled with blazing fireplaces. The atmosphere is both romantic and casual.
Like Edison, Asheville is full of a plethora of unforgettable restaurants for all budgets and cuisines.
Lastly, heading into November and December, The Omni Grove Park Inn hosts its annual Gingerbread House Competition. Spy innovative creations while sipping on hot cocoa.
The Omni Grove Park Inn | 290 Macon Ave, Asheville, NC 28804
Apple Pick In Apple Alley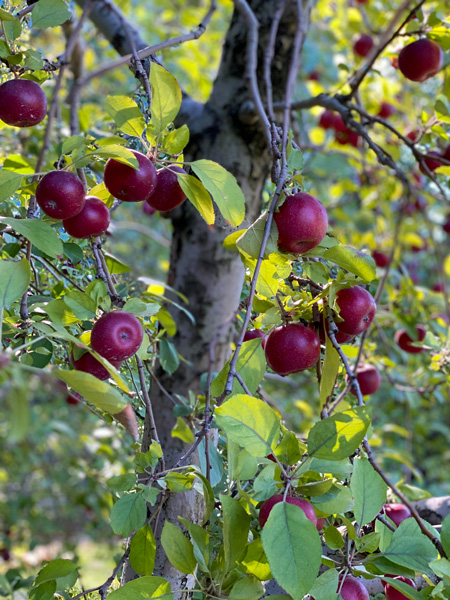 One of the most fun family-friendly things to do in Asheville in October is apple pick! Did you know: North Carolina is one of the top 10 producers of America's apples?
Hendersonville is the absolute best spot for apple picking near Asheville.
Along Highway 64 (near I-26) in Henderson County, find "Apple Alley." We think it's wine alley too, but let's talk about kid-friendly fall things to do in Asheville first.
Around Hendersonville and Flat Rock, find Grandad's Apples (no U-pick here), Jeter Mountain Farm, Coston Farm, Justus, Stepp's Hillcrest, and Sky Top.
The Hendersonville apple orchards are famous for their baked goods, ciders, U-Pick farms, corn mazes, and pumpkin patches.
Personally, Fujis sing to us for apple crisps. Find Pink Ladies, Galas, Honeycrisps, Romes, and Golden Delicious – just to name a few NC apples.
Some of the apple orchards near Asheville also have sunflower mazes and bamboo forests. You may even catch a few humping goats or a hard cider.
For fall things to do in Asheville, apple picking is also a must for those stunning views of the Blue Ridge Mountains.
Explore all that you can do around Hendersonville and grab lunch or dinner at one of their fantastic restaurants. Umi Sushi, Pita Express, and Haus Heidelberg are delicious.
Pick Pumpkins At A Pop-Up Stand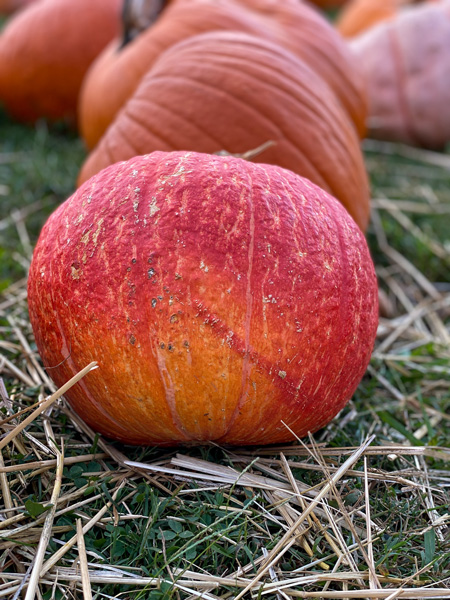 While apple picking is one of the best fall things to do in Asheville, we cannot forget those pop-up pumpkin stands.
Know that you can pumpkin pick or shop at almost all of the orchards around Asheville, NC. And yes, Ingles and Trader Joe's sell some pretty perfectly shaped pumpkins for carving.
However, we cannot resist those side-of-the-road pumpkin stands – or even better, ones that are the epitome of Asheville in October.
We highly recommend pumpkin picking at Grace Episcopal Church in Asheville.
Whether or not religion is your jam, this Gothic Revival church is stunning with those bright red doors and gray stone facade contrasting those vibrant orange pumpkins.
Located right before Beaverdam Road on Merrimon Ave. in North Asheville (if you are coming from Downtown), find an array of colored pumpkins.
Grace Episcopal Church sells orange, white, blue, and light orange-hued pumpkins plus funky gourds by size. Personally, we prefer the Dr. Seuss-like pumpkins.
Please be aware that this Asheville pumpkin patch tends to come down early, usually a week before Halloween.
While in this neighborhood, consider dining at stellar North Asheville restaurants like Luella's Bar-B-Que, Asheville Pizza & Brewing, The Madness, Cecilia's Kitchen, Plant, and Taco Temple over on Charlotte.
P.S. Our friend, Tara from Hammer and a Headband, has some cute pumpkin carving ideas and free templates here.
Grace Episcopal Church | 871 Merrimon Ave, Asheville, NC 28804
Drive The Blue Ridge Parkway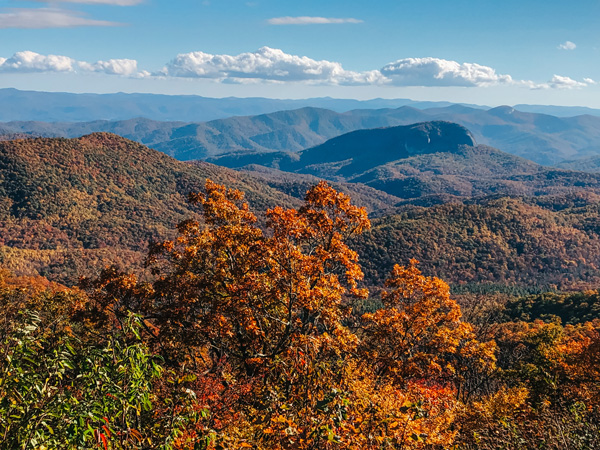 One of the most popular fall things to do in Asheville in October includes driving the Blue Ridge Parkway (BRP).
The BRP is 469-miles long and follows the ridge of the Blue Ridge Mountains, running from Shenandoah National Park in Virginia to the Great Smoky Mountains National Park in North Carolina.
Considered "America's favorite scenic drive," the BRP is a 2-lane road that's typically about 45mph.
Visitors navigate the BRP via mile markers; cellular service is spotty.
Bears and wildlife may cross the road at any time – please drive carefully. If it is foggy, you might end up driving into a cloud with limited to no views.
A clear or sunny day is best unless you have an amazing sense of humor.
Along the Blue Ridge Parkway, visitors will encounter endless hiking trails, swimming holes, and cascading waterfalls.
Just be sure to check with the NPS for any BRP gate and road closures. Parts of the parkway will start to close around November in Asheville for ice and weather – but sometimes sooner.
Asheville in October is quite unpredictable weather-wise, which also messes with the foliage.
Blue Ridge Parkway Visitor Center (AVL) | 195 Hemphill Knob Rd, Asheville, NC 28803
Hike (Or Bike) A Fall Foliage Trail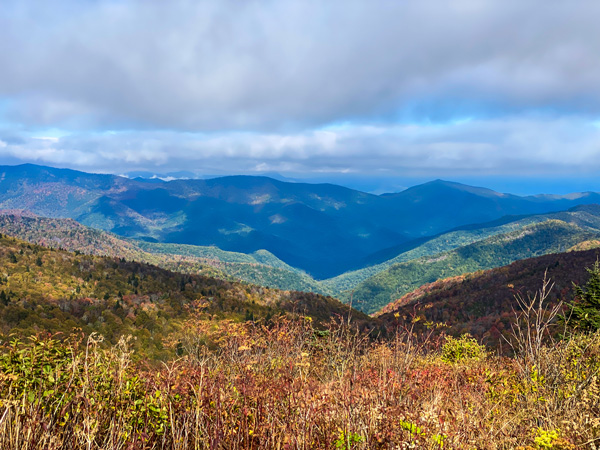 Which brings us to the next best fall things do in Asheville: hiking and biking. Chase those leaves!
Top fall foliage hiking trails around AVL include Mount Pisgah, Fryingpan Mountain Tower, Graveyard Fields, and Black Balsam via the Art Loeb Trail.
As AVL locals, we head to these almost every year. Many boast 360-degree views or waterfalls.
Of course, there are endless BRP trails in NC to trek, including Skinny Dip Falls, Pink Beds Loop, Craggy Pinnacle, and Craggy Gardens. Mount Mitchell and Little Butt/Big Butt are fabulous too.
Before hopping on the BRP in South Asheville, stop at The NC Arboretum for nature walks, gardens, and biking trails.
Other popular hiking trails around Asheville include Max Patch, Bearwallow Mountain, Trombatore Trail to Blue Ridge Pastures, Lover's Leap, and the Oconaluftee River Trail in the Great Smoky Mountains.
If you are more of a mountain biker, head to Daniel Ridge Loop and the Bent Creek Experimental Forest.
Please remember to never hike on a trail that looks flooded, unsafe, or washed away. Know that trail markers sometimes get obscured by falling leaves.
Hike prepared with food, water, appropriate gear, clothing layers, and navigation. Even as locals, we've gotten off track in the Pisgah National Forest.
Grab our full list of Asheville hiking trails.
Visit One Of NC's Abandoned Places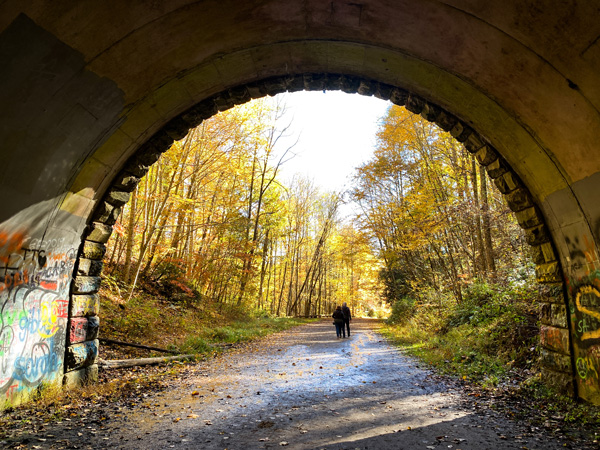 For dark tourist things to do in Asheville in October – or any time of year – why not visit (or at least read about) some of North Carolina's spookiest abandoned places?
Three sites of interest that make for unique Asheville fall activities include Bryson City's Road To Nowhere, Henry River Mill Village, and the abandoned plane crash site off of Waterrock Knob on the BRP.
The Road To Nowhere is a broken promise from the government to the people and is located in the Smoky Mountains.
Today, visitors can drive down unfinished Lakeshore Drive for a gorgeous aerial view of Fontana Lake. The road abruptly ends at a tunnel, which is home to gorgeous fall foliage and hiking trails.
For The Hunger Games fans, you might recognize Henry River Mill Village as District 12. This once abandoned mill village offers short tours of the crumbling grounds.
See the Everdeen's house while learning more about North Carolina's industrial history. They are working on renovations for this area, including more events. You can even stay overnight now.
Or, make the difficult 2+-mile hike to a tragic plane crash site, passing through Waterrock and Browning Knob.
Both the pilot and his secretary died and parts of the Cessna remain on the side of the mountain.
Tour Biltmore Estate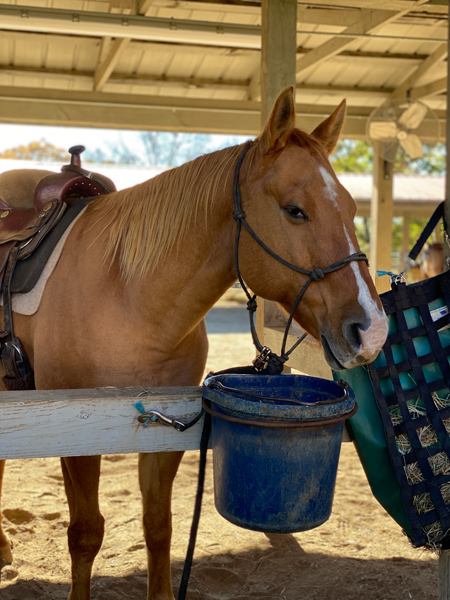 One of our favorite things to do in Asheville in October almost always includes a visit to Biltmore Estate. We are annual passholders and have been for years.
America's largest home, Biltmore is 8,000 acres of sheer beauty.
George Vanderbilt and his wife, Edith, put their heart and soul into this estate. Community-driven, the Vanderbilts gave back to Asheville in areas of forestry, agriculture, and education.
Enjoy a morning on a self-guided or audio tour of Biltmore House. With spanning views of the forest and Deer Park, you'll love Biltmore and its loggia to spy all of the Asheville fall foliage.
Then, head to the gardens designed by Frederick Law Olmsted. If you are getting hungry, grab lunch in the former horse stables at the Stable Cafe.
In the afternoon, don't miss wine tasting at Biltmore's winery. We also enjoy cocktails and pickles at Cedric's Tavern, an ode to the beloved Biltmore pooch.
Or, relax at Biltmore's wine bar with charcuterie. Shop in Antler Hill Village or rent bikes at the Bike Barn.
For even more fall things to do in Asheville, Biltmore has 22 miles of nature and hiking trails. We frequent the Lagoon and Deerpark Trails.
Discover all of the things that you can do at Biltmore. If you are traveling with children, check out these family-friendly Biltmore activities too.
Littles will love the Farmyard, wooden playground, and period exhibitions.
Lastly, know that Christmas at Biltmore starts in early November. Enjoy Candlelight Christmas evenings, holiday decor, and even more special events.
Biltmore in October through the holidays is the best. Just be sure to reserve your tickets in advance to beat the crowds.
Biltmore Estate | 1 Lodge St, Asheville, NC 28803
Attend A Fall Festival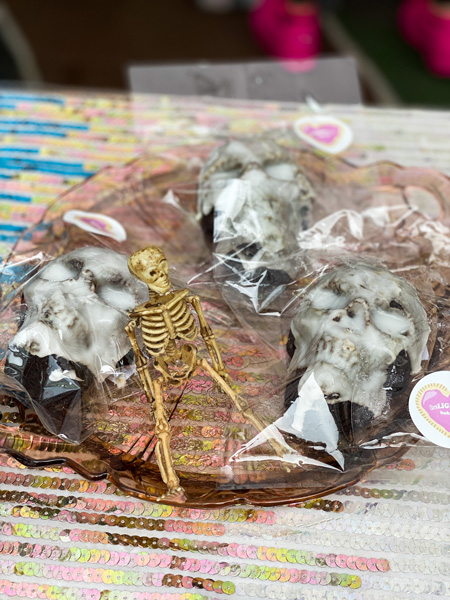 Asheville in October is one of the best times for seasonal festivals.
Both Hendersonville and Asheville host a wide variety of fall festivals.
You'll find endless Oktoberfests, craft fairs, art fests, vintage flea markets, block parties, and Hispanic Heritage Month celebrations.
We particularly covet Asheville's VeganFest (Asheville is a fantastic city for vegans). Hendersonville is famous for hosting The North Carolina Apple Festival.
To see all of Asheville's fall events and more, head over to our events calendar.
Never Miss Another Asheville Update
---
Tired of generic Asheville travel itineraries? Experience Asheville like a local with our free Asheville Favorites checklist, including restaurants, breweries, and hiking. Plus, get local updates – including events and hidden gems – straight to your inbox. Sign up here.
Laugh On A Haunted LaZoom Tour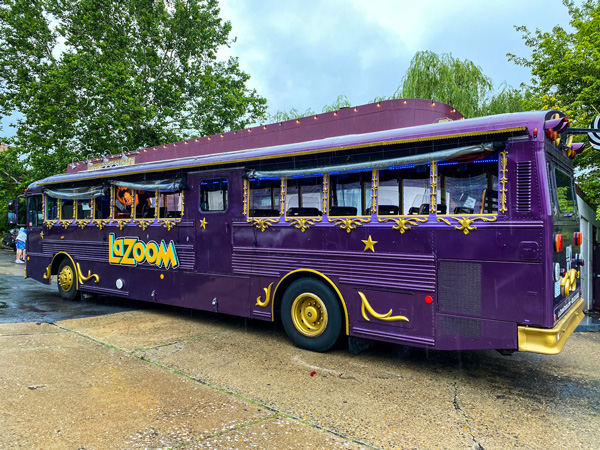 If you are looking for spooky-fun fall things to do in Asheville, LaZoom is it!
How many times have you spied a purple bus with eyelashes tearing down the streets of Asheville full of giggling people? That's LaZoom.
LaZoom offers a variety of comedy tours – some for the entire family while others are designated for those of the legal drinking age.
The LaZoom Ghosted [Haunted] Comedy Tour is one of the best Asheville fall activities where you get to sit back and relax. Walk into a kitschy bar full of cat pillows and rubber chickens.
Our one-hour tour took us through Downtown AVL as the city's ghosts hopped on and off the bus. Each character shares the darker history of the city.
Think murderers, thieves, and famous dead people.
For the 21+ group, you are allowed to bring unopened beverages on the bus – to open once seated – purchased from LaZoom's bar.
They have local craft beers and bottles of wine. They even hand you a personal cooler.
We suggest purchasing tickets in advance. Get there early, too, as you board the bus based on your arrival order.
LaZoom is also one of the best fall activities in Asheville if you are traveling with a group.
LaZoom Comedy Bus Tours | 76 Biltmore Ave, Asheville, NC 28801
Picnic By The Lake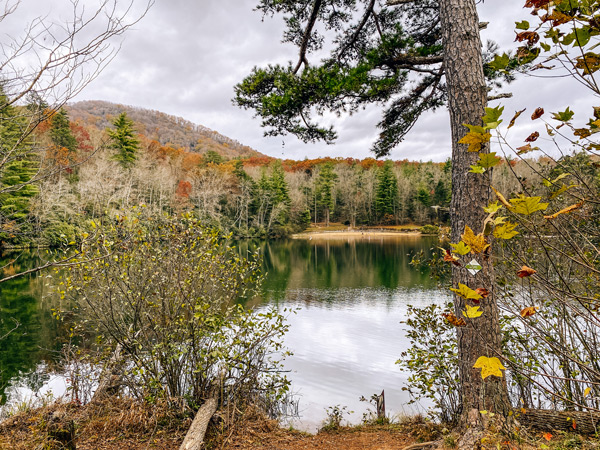 For free Asheville fall activities, why not head to the lake and enjoy a stroll or picnic?
There are plenty of lakes near Asheville to choose from, including those within the city and a few that are under one hour away.
In North Asheville, Beaver Lake is home to a 2.1-mile perimeter trail and bird sanctuary. Find a hidden picnic table as well as benches around the lake.
Weaverville's Lake Louise, with fitness equipment and ducks, is only about 15 minutes away too.
Or, head to Lake Powhatan, a recreational center next to The NC Arboretum that promises local trails and a waterfall dam. This is another great mountain biking area.
There's also Fontana Lake in Bryson City, Lake Lure near Chimney Rock, and Lake Junaluska near Maggie Valley and Waynesville.
Drink Fall Beer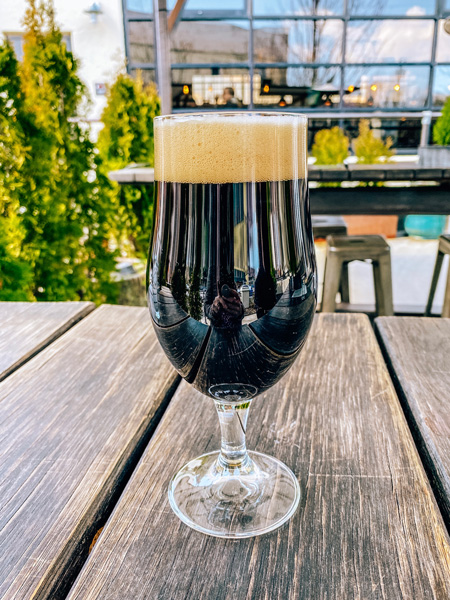 One of the best boozy fall things to do in Asheville is brewery hop.
Like its award-winning foodie scene, Asheville is famous for its craft breweries. We live for ambers, stouts, reds, and anything infused with spice.
We cannot even begin to keep up with the Asheville breweries and their wild Count Chocula concoctions. However, we are all here for it.
Everyone has their personal favorites, and this beer passion gets a bit contentious.
If you want to see a massive beer factory, head to Sierra Nevada for their Oktoberfest – order the duck fries – or even New Belgium for a pumpkin brew. Those are both more touristy (but delicious) breweries.
For local Asheville craft breweries try:
You may also enjoy Hendersonville's breweries like Oklawaha, D9, and Southern Appalachian Brewery- perfect after apple picking.
Or, after a day of waterfall chasing and hiking in the Pisgah National Forest, tour the Brevard breweries, like Ecusta or Oskar Blue, or the Mills River breweries including Bold Rock.
If you are gluten-free, check out Asheville's delicious cideries like Noble, Botanist and Barrel, and Urban Orchard.
Get Lost In A Corn Maze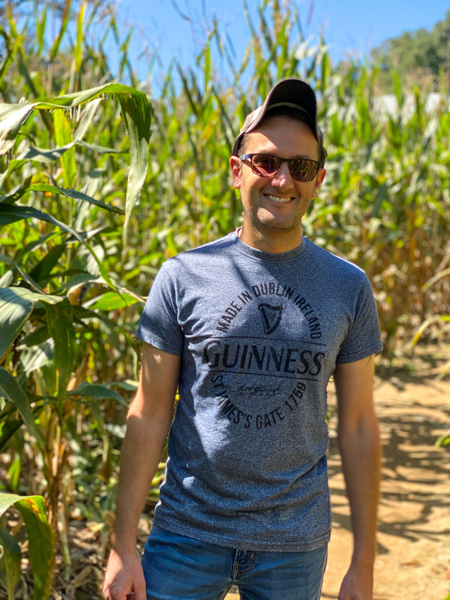 We live for corn mazes. Growing up in Connecticut, Lyman Orchards still has one of the best corn mazes that we've ever been to.
Throughout October in Asheville, we love heading to Stepp's Hillcrest Orchard and Farm to pick apples, grab some fresh salsa and jam, and get incredibly lost in their corn maze.
The 5-acre corn maze is wickedly large and confusing. You have to try it. Stepp's corn maze will take you at least 30 to 45-minutes.
We also highly recommend using the restroom before you enter but also making sure that you are well-hydrated. Buncombe and Henderson counties may still be quite warm weather-wise.
Snap a picture of the map on the wall for when you get desperate. There are no clues along the way, and if you go during a quiet weekday, you might be one of the only ones out there.
Grandad's Apples also has a fun corn maze with maps spread throughout the corn stalks.
Eat Cider Donuts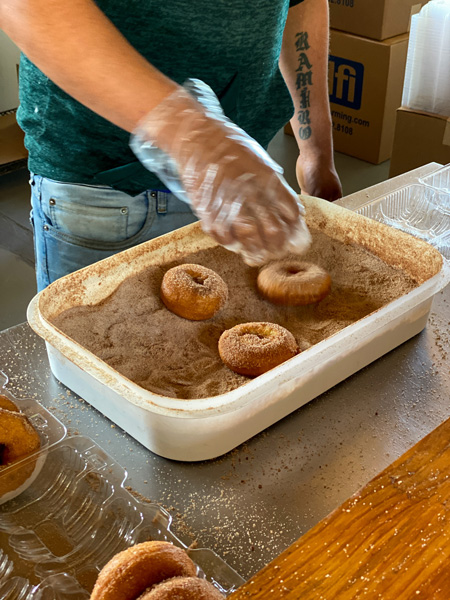 Another one of our personal "must" fall things to do in Asheville, we seek out all of the cider donuts.
We have certainly been around the donut block so we can safely say that Sky Top Orchard makes our favorite donuts, ever.
Our first time here, we had no idea why everyone was sitting around gorging on donuts instead of playing and apple picking. Now we get it.
Walk up to their window to watch as the staff makes fresh-out-of-the-frier donuts. They shake those steamy bad boys in cinnamon and sugar, and they land straight in your mou…container.
Fair warning: the donuts are beyond popular, and they may run out on weekends. Sky Top serves hard cider as well as cider slushies to wash down that clump of delicious gooey goodness.
After a donut, for more Asheville fall activities, head to the bamboo forest and say hello to the goats. Try your luck at the apple cannon.
Even on weekdays, Sky Top stays pretty busy. The weekends fill up with crazed orchard-goers, especially in October and November.
Go early and on the weekdays, when possible. Read our complete guide to visiting Sky Top Orchard.
Also, enjoy even more Flat Rock attractions like touring the Carl Sandburg Home, strolling the Park at Flat Rock, and watching a play at the Flat Rock Playhouse.
Sky Top Orchard | 1193 Pinnacle Mountain Rd, Flat Rock, NC 28731
Chase Waterfalls At DuPont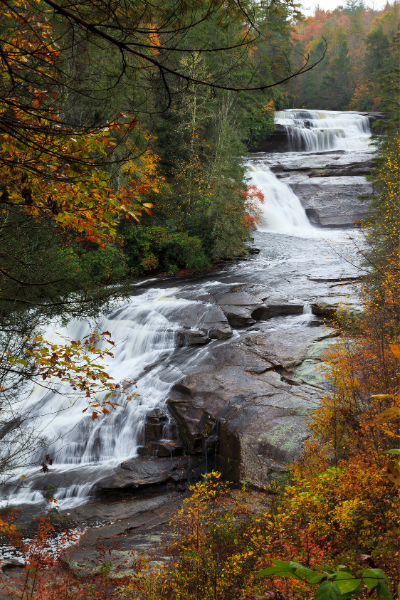 Visiting DuPont State Forest is one of the best fall things to do in Asheville in October. There are multiple waterfall hikes, and we suggest seeing Hooker, Triple, and High Falls – around a 3-mile trek.
Triple Falls is both gorgeous and famous as a The Hunger Games filming location.
Remember the scene where Katniss almost steps on Peeta's face in the falls? That's Triple Falls.
Further in the forest, find Bridal Veil Falls where Katniss cools her burning leg from the fireballs. Bridal Veil Falls (DuPont) is also home to scenes from The Last of the Mohicans.
DuPont will grow incredibly busy, though, and their multiple parking lots may fill up, especially by mid-day. There are on-site restrooms and a visitor center.
Of course, you can always visit Asheville waterfalls like Douglas Falls, Mingo Falls, Catawba Falls, Daniel Ridge Falls, Rainbow Falls, Moore Cove Falls, and Linville Falls.
Please exert caution around all waterfalls and learn more about waterfall safety. People have died.
Wine Taste At A Vineyard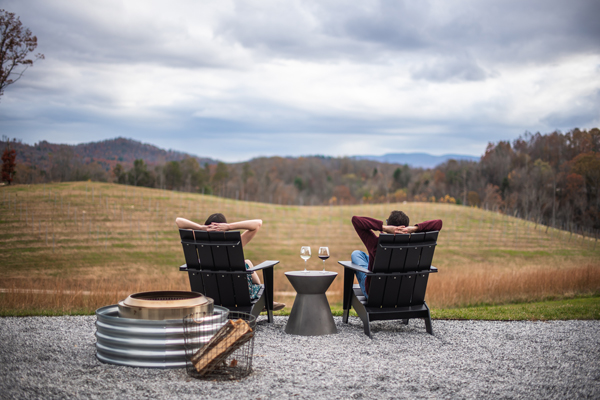 If you are looking for more adult fall things to do near Asheville, the Hendersonville wineries are both delicious and gorgeous.
A few top wineries near Asheville we recommend:
Stone Ashe Vineyards – Stone Ashe Vineyards is a newer Hendersonville winery and one of our favorites. We love sitting on the hill overlooking the grapes. Their tasting room has floor-to-ceiling windows too.
Point Lookout Vineyards – A winery with breathtaking views, don't miss sitting high over the mountains while sipping delicious wines. Choose between a wine or mead tasting, and they have food on-site.
St. Paul Mountain Vineyards – St. Paul grows 14 varieties of grapes. Grab a glass of wine and sit on the patio overlooking the vineyards or chill inside by the fireplace.
Sawyer Springs Vineyard – A lesser-known winery in Hendersonville, grab a picnic outside this family-run business. Sawyer Springs is perfect if you are craving a quieter Asheville fall experience.
If you are headed to Flat Rock, don't miss Marked Tree Vineyards. The views are stellar here.
On a foggy day, you'll get major Asheville Halloween vibes. The free-standing chimneys add to the spooky atmosphere.
If you don't have time for a winery, though, Asheville also has dazzling wine bars, including Bottle Riot and Leo's House of Thirst.
We wouldn't be Uncorked Asheville if drinking wasn't one of our favorite Asheville fall activities.
Read A Fall Book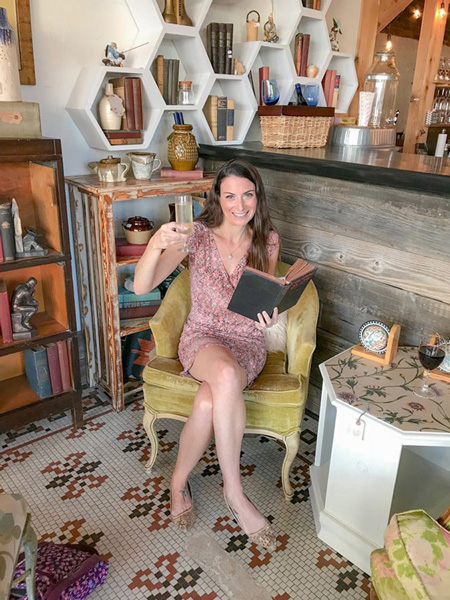 It's no secret that Christine has her MLIS and that one of her favorite things to do is read – and share her favorite books on The Uncorked Librarian.
Whether you are a local, visitor, or snowbird, we highly recommend getting cozy and warm with a blanket and fall book in front of a fireplace during your AVL mountain evenings.
Grab that donut, warm up that cider while dumping in butterscotch schnapps, and pick up a book.
We have two Asheville-specific book lists just for you: Books Set In North Carolina & Books Set In Asheville.
Also, check out these local Asheville authors like Denise Kiernan.
Plus, our sister site, The Uncorked Librarian, offers plenty of fall reading lists too: wickedly witchy books, steamy vampire series and romances, Salem Witch trial books, dark academia books, and seriously spooky books for adults.
Will you add reading to your list of Asheville fall activities this year? Please!
Day Trip Around Asheville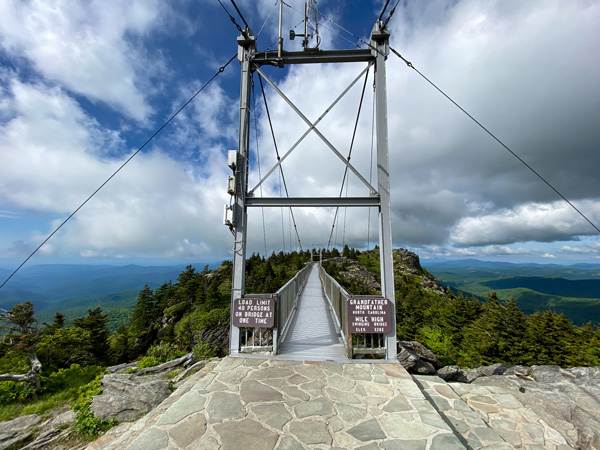 While enjoying Asheville in October and November, take a few day trips to some of AVL's neighboring towns. Each has its own attractions and character.
We love Black Mountain for breweries, a meadery, and Oak and Grist Distillery. Not to mention Black Mountain has delicious restaurants and gorgeous Bed & Breakfasts.
Immediately to the north of Asheville, you can also head into Weaverville to escape the crowds.
Enjoy Weaverville restaurants like Stoney Knob Cafe, Soba, and Glass Onion. There's even a boozy dog park bar, WagBar, and Bob Ross-themed bar, Hoppy Trees.
Or, head to Grandfather Mountain for that mile-high "swinging" bridge. Wine taste in the Tryon Foothills.
Lastly, don't forget that Knoxville and Dollywood are only hours away.
Read more about the best mountain towns around Asheville.
Stroll Riverside Cemetery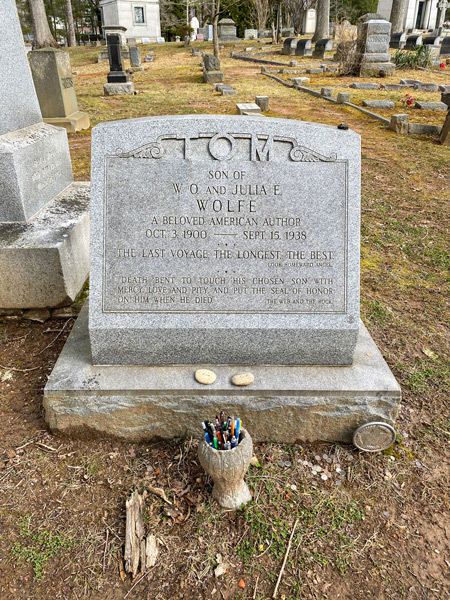 If you are looking for spookier things to do in Asheville this fall, take a walk through Riverside Cemetery.
Located in Asheville's quaint Historic Montford District, Thomas Wolfe and O. Henry are buried here.
Pick up a walking guide at the gates that will point out historical sites and famous people interned here. W.O. Wolfe's angels greet visitors throughout the grounds.
The 3.5 miles of paved walking trails found throughout this beautiful Victorian-inspired cemetery won't leave you disappointed. And yes, Riverside Cemetery is allegedly haunted.
Nearby, peek from afar at Homewood – an equally spooky mansion that looks like a castle.
Read more about Asheville's rich literary history.
Riverside Cemetery | 53 Birch St, Asheville, NC 28801
Hunt For Ghosts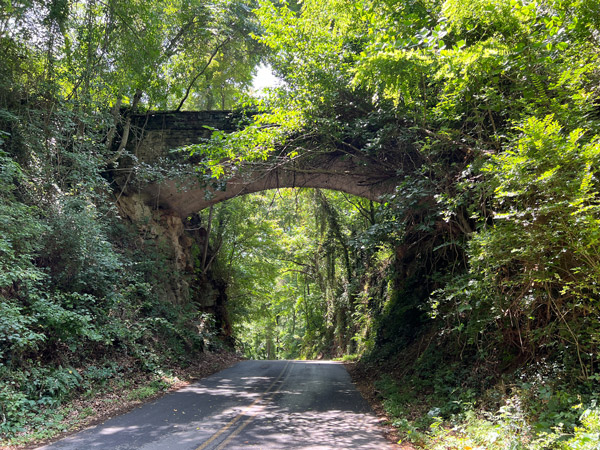 For more dark tourist fall things to do in Asheville, you can always find ghosts. Asheville has some great haunted places and ghost stories.
First, pay your respects to Zelda Fitzgerald who died in the Highland Hospital fire. There is a bleak plaque commemorating the former site.
Or, head to Helen's Bridge where a young, brokenhearted woman is said to haunt the area. Just don't turn off your car or it may not start again.
Of course, The Omni Grove Park Inn is known for their resident ghost, the Pink Lady. Maybe you'll catch her wandering the halls.
While taking selfies with the chicken mural in Asheville's Chicken Alley, listen for the tapping of a cane from a murdered doctor…
These are some of the spookiest fall activities in Asheville – if you are a believer.
Watch Shakespeare In The Park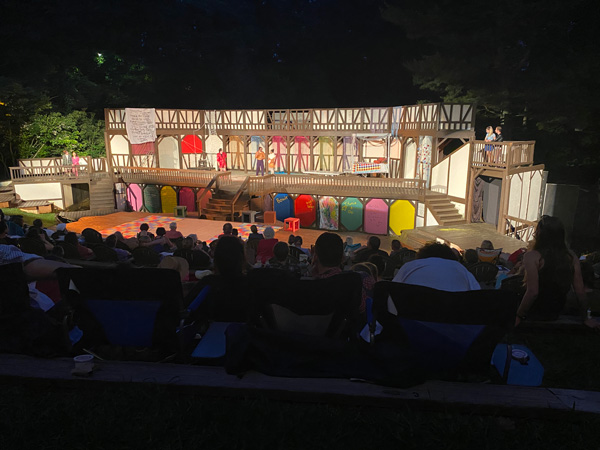 Another one of the best free fall activities in Asheville in October, Shakespeare in the Park promises theater under the stars.
Just keep in mind that the Montford Park Players' season usually ends around the third week of October.
This isn't your average Shakespeare performance – and you are sure to crack a smile.
Bring your own lawn chairs or use theirs. There are on-site restrooms as well as vendors selling snacks and drinks – beer and wine included!
Pack a picnic and some bug spray. Performances and parking are free, but leave a generous donation as players come around mid-show.
Be on the lookout for the Montford Moppets too. They perform earlier shows. Both are great fall activities in Asheville perfect for the entire family.
Montford Park Players | Hazel Robinson Amphitheatre | 92 Gay St, Asheville, NC 28801
Fall In Asheville FAQs
Is October A Good Time To Visit Asheville?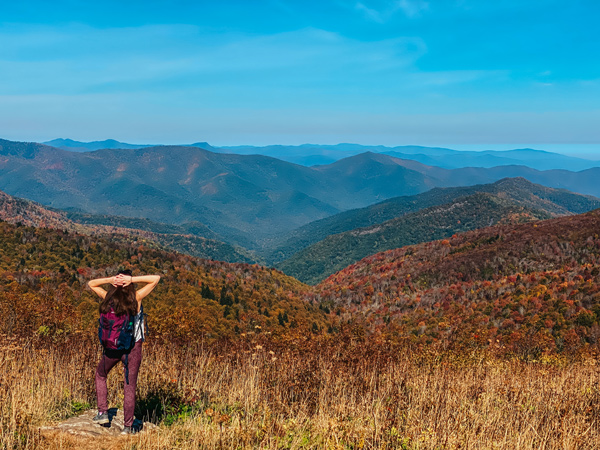 October in Asheville is by far one of the best times to visit, especially if you are chasing that breathtaking fall foliage.
The fall things to do in Asheville in October are plentiful too – and many are free or budget-friendly.
Unique to the fall, you'll find autumn beer flavors, open apple orchards with corn mazes, and pop-up pumpkin stands.
The weather is mild and usually pleasant too.
Is Asheville Crowded In October?
The downfall of visiting Asheville in October, though, is the crowds and prices. In short: yes, Asheville is crowded in October (and sometimes late September).
Because the fall and holidays are peak tourist season, you'll find more expensive accommodations.
Top restaurants and hotels will be fully booked, and you can expect crowds. You'll want to make advanced reservations pretty far out.
The Blue Parkway will grow congested, and you'll want to get an early start. Weekdays are best.
As residents, we do quite a few popular Asheville fall activities, but we personally tend to back off too and travel during non-peak times.
What Is The Weather Like In Asheville In October?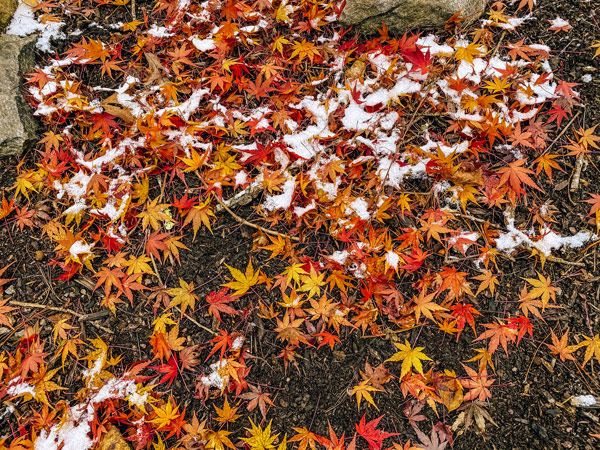 The weather during the fall in Asheville is a tad unpredictable. This is the mountains, after all.
One day, the sun blazes down on you and it's 90 degrees outside.
The next, a cold front pushes through and you wake up to temperatures in the 40s. Asheville in October usually starts to mildly cool down, though.
The end of September into early October is also when the leaves start to change. You'll see leaves burst into colors in the higher elevations at the end of September.
Asheville soon follows. The Asheville fall foliage may go as late as the end of October into early November.
Asheville days generally waiver in the 70s and 80s in September and mid-October – although 60s is not uncommon.
For Asheville in November, expect daytime temps around 60 with cooler nights in the 40s.
What Should You Wear In Asheville In October?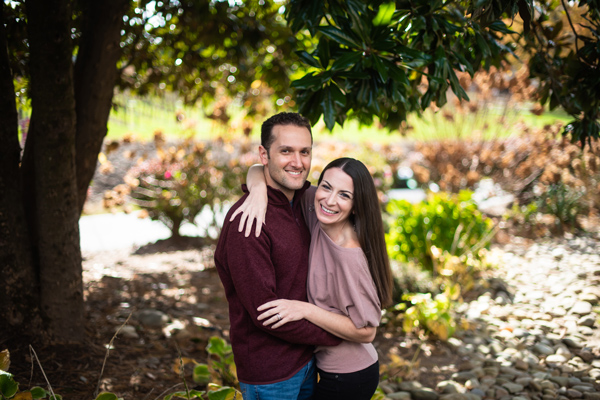 One of the biggest questions we get is what to wear in the fall in Asheville.
We recommend wearing layers, carrying sunscreen and bug spray, and having a light jacket or fleece, especially at the beginning of Asheville's fall season.
The beginning of fall may still be warm, and shorts and skirts will work during the day.
Umbrellas are needed for the occasional pop-up shower. Some of the hiking trails get extremely muddy.
Where To Stay In Asheville
Explore the best places to stay in Asheville. A few of our top suggestions:
Aloft – Downtown Asheville – Centrally located and recently renovated, enjoy a rooftop pool, gorgeous bar, and trendy rooms.

The Omni Grove Park Inn – Treat yourself to a luxury resort in North Asheville, complete with breathtaking sunsets, terrace bars and dining, and loads of Asheville history.

Hampton Inn And Suites Asheville Biltmore Area – A budget-friendly but renovated hotel on busier Brevard Road that's perfect if you wish to stay between Biltmore Estate, Downtown Asheville, and the Blue Ridge Parkway.

Asheville Cottages – Gorgeous 1 to 3-bedroom cottages with a private deck, housing a grill and hot tub. Find luxurious heated-floor bathrooms with rain showers, a well-stocked kitchen, and the cleanest rooms in town.

Foundry Hotel – An oasis in Downtown Asheville, Foundry Hotel is a nod to AVL's industrial history. Find famous restaurant Benne on Eagle while sleeping ensconced in charm and elegance.

Country Inn & Suites by Radisson, Asheville Westgate, NC – Located off of the highway as you enter AVL, find a sleek and clean hotel at a great price.

Black Walnut B&B Inn – Designed by Biltmore's supervising architect, Richard Sharp-Smith, this 1899 inn is close to Downtown AVL and serves afternoon tea. Two rooms are pet-friendly.
Don't miss out on these Asheville properties on Booking.com, too.
Save These Asheville Fall Activities For Later:
What are your favorite fall things to do in Asheville, NC?
So, are you ready to visit Asheville in October? What fall activities in Asheville do you love?
What is your favorite apple orchard or waterfall hike? Who has the best donuts, and where do you catch the prettiest sunset?
Please tell us about your Asheville fall traditions in the comments. We'd love to know where else you head in WNC too.
You May Also Enjoy:
50+ Best Things To Do In Asheville All Year Round
Winter Holidays In Asheville
Gear Up For Christmas In Asheville