Watch the best movies filmed in NC, including Dirty Dancing and The Hunger Games. Then, head out on a road trip to relive your favorite moments.
With those gorgeous mountain ranges and sprawling cities, it makes sense that there are so many great movies made in North Carolina.
As AVL residents, we especially appreciate movies filmed at Biltmore and in Asheville.
Who can resist that grand estate with rolling hills, endless gardens, and a spooky but intricate mansion filled with history?
Plus, both NC and Asheville boast a fantastic literary history full of bestselling authors and unique bibliotourism.
Then, there are tons of movies filmed in Wilmington, NC – due to their large studio presence – including The Hudsucker Proxy and Super Mario Bros along with many of Nicholas Sparks' book adaptations.
So, what are the best movies filmed in North Carolina to watch right now?
Keep reading for top movies filmed in Charlotte, Wilmington, Asheville, NC's spookiest abandoned places, the Blue Ridge Mountains, The Smokies, and so much more.
Travel via film to Sylva, Maggie Valley, Waynesville, and WNC's famous waterfalls. We'll even share a few NC filming locations that you can visit today.
Don't forget to let us know your favorite North Carolina movies in the comments. Grab that cozy blanket and your road maps. Let's get started!
You may also enjoy these books about and set in North Carolina.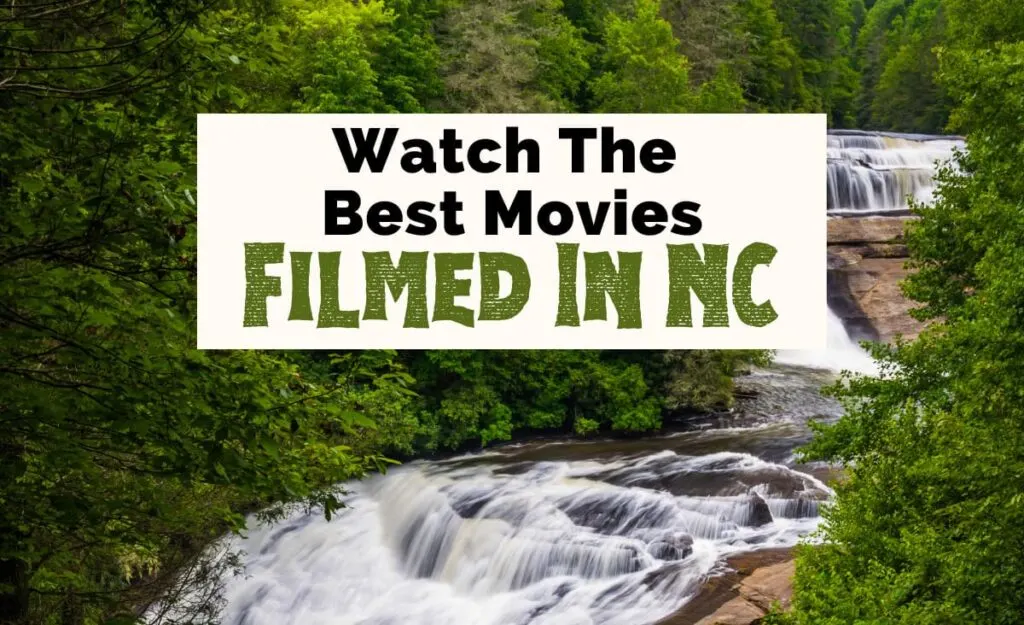 This post may contain affiliate links that earn us a commission at no extra cost to you. If you love these guides, support Uncorked Asheville here.
Watch your favorite NC movies, and read great Southern books here:
14 Best Movies Filmed In NC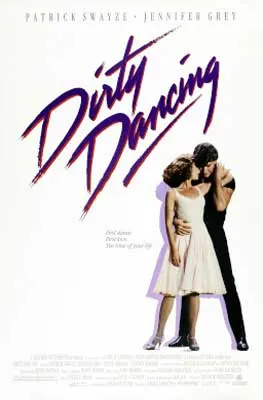 Dirty Dancing (1987)
Set during the summer of 1963, this is a romantic tale of lovers on opposing sides of a class divide.
Frances "Baby" Houseman is vacationing with her parents at a prestigious Catskills resort owned by her father's friend Max.
While there, she encounters Johnny, one of the dance instructors at the resort.
They are introduced during a "dirty dancing" session where the working class staff members are "allowed" to dance with the wealthier guests.
Over time, Baby and Johnny develop feelings for each other, especially when Baby steps in as Johnny's dance partner.
But, can they be together when everything seems to be pulling them apart? And, will they nail the final dance number?
Dirty Dancing is one of the most famous movies filmed in NC and has a huge following. Even if you haven't seen it, you'll probably recognize the movie's most famous moment, that lift.
For NC movies, Dirty Dancing also has the best soundtrack. In fact, Christine might just be singing, "Now I've had the time of my life…" as we speak.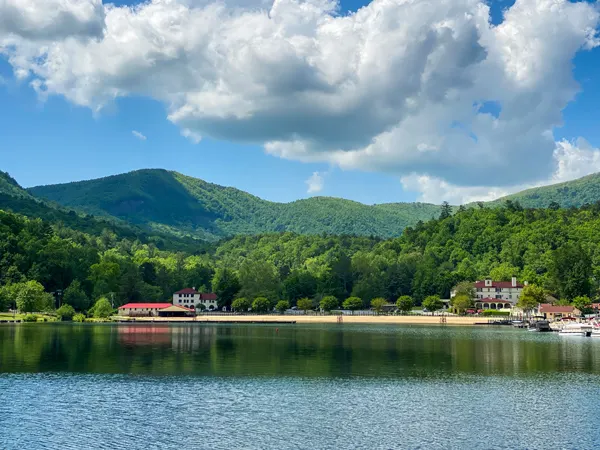 As a bonus, if you watch The Movies That Made Us on Netflix, the series has an episode dedicated to this cult classic showing many of the NC filming locations across Lake Lure.
Today, visit Lake Lure and look for where Baby carried that watermelon as well as danced on the stairs. At Camp Chimney Rock, see the original cabins, dining hall, and gym.
Even more fun, Lake Lure hosts a Dirty Dancing Festival every September with movie-inspired games, food, and entertainment.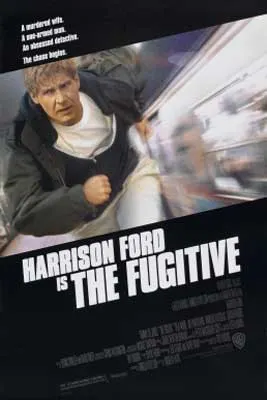 The Fugitive (1993)
Arriving home from a social function, surgeon Richard Kimble finds that a man with a prosthetic arm has assaulted his wife and escaped while Kimble tries to call an ambulance.
Arrested, tried, and convicted for the murder of his wife (as there was no trace of another attacker), Kimble is being transferred to death row when the other prisoners on the bus stage an escape attempt.
In the chaos, the bus crashes off the road and Kimble is inadvertently freed.
Now on the run from the cops and the FBI, Kimble must stay one step ahead as he tries to find both proof of his innocence and the real killer.
This early 90s Harrison Ford thriller has become a certified classic and is one of the tensest movies filmed in North Carolina on this list.
Did you know that you can still see the eerie abandoned site of the bus crash in Dillsboro, as the train passes along the Great Smoky Mountains Railroad?
Other The Fugitive North Carolina filming locations include Blue Ridge Mountain towns Bryson City and Sylva.
Explore even more spooky abandoned places in North Carolina.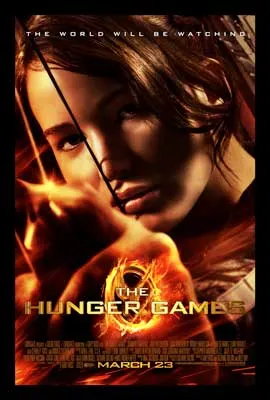 The Hunger Games (2012)
Are you ready for one of the most hotly contested North Carolina movies?
Based on the first of the post-apocalyptic books by Suzanne Collins, The Hunger Games focuses on Katniss Everdeen, a young resident of the mining-based District 12 region of Panem, the nation of the future.
In this dystopian society, every year the Hunger Games are held, in which randomly determined members from each District – mainly children – are selected as "tributes" to fight to the death in an arena, with only one survivor allowed.
The event is run by the nation's Capitol, and when Katniss' young sister Prim is selected to compete, Katniss volunteers as tribute in order to save her life, though it means taking her place.
As she is prepared for her deadly confrontation, it becomes clear that Katniss might prove a problem for those in charge.
Little acts of defiance begin to add up to what could potentially become a rebellion against the Capitol.
This movie is one of the main pillars of the YA book adaptation cinema scene.
Like almost all movies filmed in NC, the location shots of nature are a great counterpoint to the cold artifice of the Capitol and its brutality.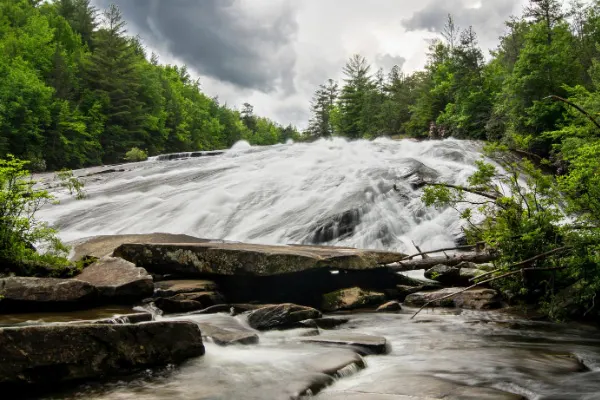 Head to abandoned Henry River Mill Village for a tour of District 12 to see Peeta's bakery and the Everdeen home as well as DuPont State Forest's Triple and Bridal Veil Falls where Katniss and Peeta hid.
The Hunger Games is also one of the most famous North Carolina movies filmed in Charlotte – you'll recognize the Capitol – as well as Wilmington, which was part of the Arena.
Lastly, scope out a few more filming locations around Craggy Pinnacle along the Blue Ridge Parkway.
After touring these sites, head to Asheville for even more bibliotourism, including a champagne used bookstore, the resting ground for Thomas Wolfe, and to watch Shakespeare in the Park.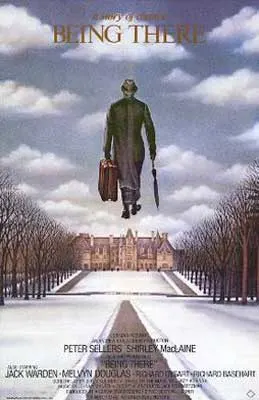 Being There (1979)
At the estate of an old, wealthy man in Washington D.C, simple-minded Chance the gardener takes care of the grounds and gardens.
He has never left the property, having lived there all his life, and what little he knows of the outside world he gets from TV.
When his employer passes away and he is forced to leave the estate, he aimlessly wanders out into the city.
When wealthy business mogul Ben Rand's car accidentally hits him, Chance is mistaken for a similarly well-to-do businessman because of his stately clothes and manners.
In Rand's political social circle, Chance proves a hit with his seemingly simple advice. Before long, he's on his way to becoming the next President.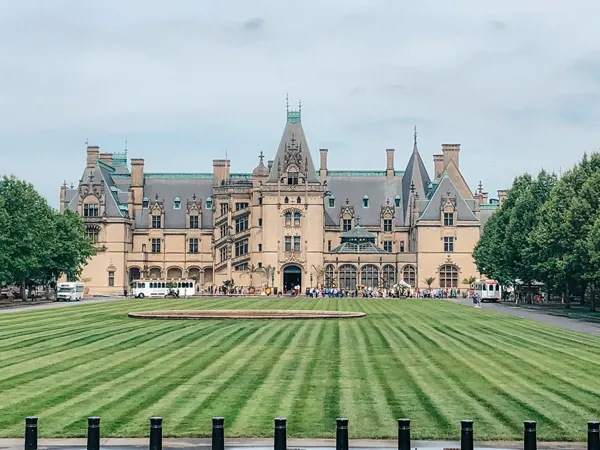 As you would expect, when you're making movies filmed in Asheville, NC, if there's a rich man's house in the screenplay, your movie is going to end up being one of the many movies filmed at Biltmore Estate.
Being There is no exception. This existential comedy/satire also has a surprisingly deep meaning for some viewers, especially after the closing scenes.
Get the best out of visiting Biltmore Estate with our ultimate guide.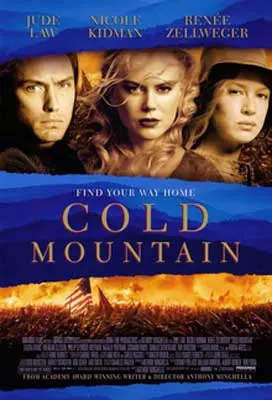 Cold Mountain (2003)
Cold Mountain is one of the NC movies that every local wishes was actually made in North Carolina…
Set during the tumult of the American Civil War, the movie begins at the beginning of a relationship between a man named Inman, a carpenter, and Ada, a preacher's daughter.
At the outbreak of war, Inman heads out to fight for the Confederacy, promising to return to Ada, who also promises to wait for him.
After three years of fighting, Inman is lying wounded in a hospital when a nurse reads him one of the many letters sent to him by Ada, asking him to come home.
Against his duty as a soldier, Inman deserts the Confederate army and begins the long and perilous journey back to Cold Mountain, and to Ada.
For a movie set in North Carolina, you'd hope that this was also one of the movies filmed in North Carolina, and it is, although the majority of the filming is done in Romania.
The actual Cold Mountain sits in Shining Rock Wilderness as part of the Pisgah National Forest.
Also, while this is pure American period drama cinema, it's interesting that many of the main cast are non-Americans.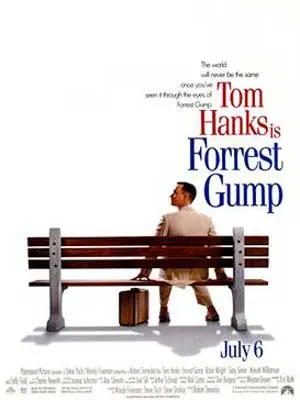 Forrest Gump (1994)
As a man sits on a bench waiting for a bus, he begins to tell the story of his life to the person next to him. It turns out, his name is Forrest Gump, and he's led a pretty extraordinary life.
Beginning with his childhood in rural Alabama, where he had to overcome leg braces and bullying, Forrest tells of his college days, his draft into the army for the Vietnam War, his achievements in table tennis, and how he became a shrimp fisherman.
Along the way, Forrest meets famous and influential people, including various US Presidents and even Elvis. However, his love for his childhood sweetheart, Jenny, continuously comes up in his story.
I mean, it's Forrest Gump – this might just be the most famous of the movies made in North Carolina on this list.
If you haven't seen it, needless to say, you're in for an emotional journey with the main performance that cemented Tom Hanks' position as a bona fide Hollywood star.
Some expressions will forever stay with you too.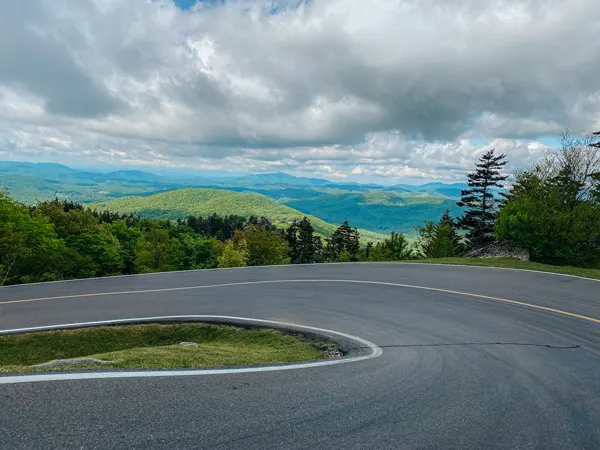 Today, head to Grandfather Mountain – a gorgeous hiking area off of the Blue Ridge Parkway – for "Forrest Gump Curve" in Linville, NC to see where Forrest ran.
It can be easy to miss the small sign while driving, with the best view on the descent and exit of the park. For fun, walk across the Mile High "Swinging Bridge" too.
And, while Forrest Gump was also filmed in SC, Georgia, and Washington NC, additional North Carolina filming locations include parts of the Blue Ridge Parkway near Boone as well as Biltmore Estate in Asheville.
Watch even more iconic Southern films.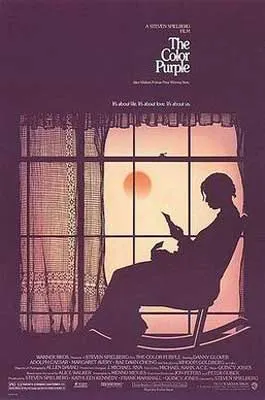 The Color Purple (1985)
In the early 20th century, 14-year-old African-American girl Celie Harris already has two children and lives in an abusive relationship with a man she was given to by her equally abusive father.
To make matters worse, her younger sister Nettie has been kicked out of the household and Celie has lost contact with her.
As the years go by, Celie lives a meek life until she meets showgirl Shug, and the two develop feelings for each other.
Can Celie eventually find peace, happiness, and a sense of identity in such a relentlessly cruel world?
Based on Alice Walker's Pulitzer Prize-winning novel of the same name, this powerful period drama from director Steven Spielberg is one of the most uncompromising and emotional movies filmed in NC ever made.
Much of the movie was filmed in North Carolina's Anson and Union counties, including the towns of Wadesboro and Marshville.
If you enjoy The Color Purple, read even more books set in and about Southern living.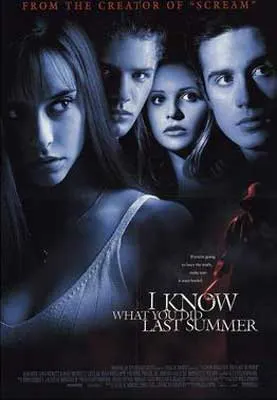 I Know What You Did Last Summer (1997)
If you are a child of the 90s, NC movies don't get any more memorable and nostalgic than this.
While driving to the beach on the 4th of July, Julie James and her friends accidentally hit a pedestrian and believe that they've killed him.
In order to avoid reprisal, they all agree to dump the body in the ocean.
However, the man wakes up during the act and, during a struggle, he falls into the water; the group believes him to have drowned.
A year later, the friends have gone their separate ways, agreeing to never speak of the cover-up again. However, Julie receives a mysterious letter saying simply: "I know what you did last summer!"
Now the members of the group find themselves being stalked by an unknown person wielding a deadly hook and must try and survive.
A lot of this classic 90s slasher horror movie was shot in Southport, NC, and North Carolinians will recognize plenty of landmarks, including the Southport Marina, Duke University, and the Cape Fear River.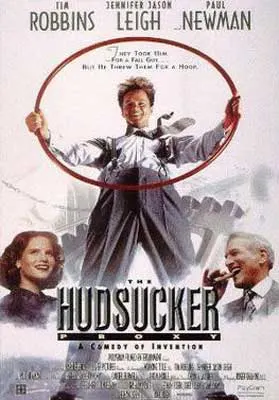 The Hudsucker Proxy (1994)
For more movies filmed in Wilmington, NC, try The Hudsucker Proxy.
Nobody could have predicted that Waring Hudsucker – founder and president of Hudsucker Industries – would jump out of a window to his death during a business meeting. But that's exactly what he did.
Now Hudsucker's stock shares are going to be sold to the public. But the scheming Sidney J. Mussberger knows that if the shares can be devalued, he can buy a controlling stake in the company for a bargain.
All he needs to do is to lower the company's value.
He appoints lowly mailroom clerk Norville Barnes as the new proxy. He even lets him have his invention ideas put into production, thinking this will help.
Unfortunately, the inventions prove to be a huge success.
This is one of the earliest screwball comedies from the Coen brothers. All movies filmed in NC wish they had the cult status that The Hudsucker Proxy has built over time.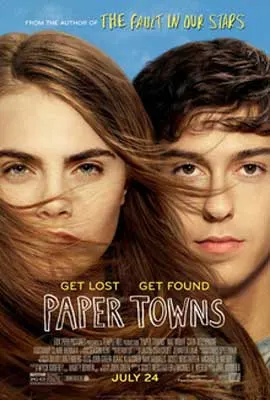 Paper Towns (2015)
Quentin and Margo live opposite each other and have known each other for years.
But while Margo has become adventurous and one of the popular girls, Quentin remains kind yet shy and reserved, despite his infatuation with her.
One evening, Margo climbs through Quentin's window and takes him on a night of exhilarating hijinks out on the town. But in the morning, Margo has disappeared.
She did, however, leave clues for Quentin and his friends to follow, and thus begins a coming-of-age journey of self-discovery.
Paper Towns is adapted from a John Green novel of the same name, making it one of the more literary movies filmed in Charlotte, NC (and around the city) on this list.
In fact, Central Cabarrus High School in Concord, NC transformed into Jefferson Park High School.
This should also give you an idea of what to expect from the general vibe of the movie, which comes complete with wry observations and plenty of young adult dialogue.
For North Carolina movies, you'll either love it or…list it. Paper Towns also makes for a great book about Florida living.
Never Miss Another Asheville Update
---
Tired of generic Asheville travel itineraries? Experience Asheville like a local with our free Asheville Favorites checklist, including restaurants, breweries, and hiking. Plus, get local updates – including events and hidden gems – straight to your inbox. Sign up here.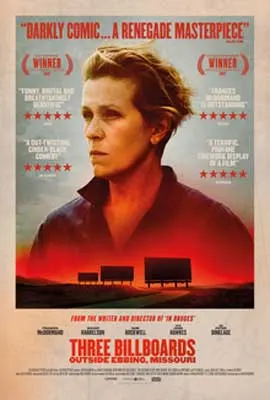 Three Billboards Outside Ebbing, Missouri (2017)
Seven months after her daughter was raped and murdered, local Ebbing resident Mildred Hayes is frustrated that there has been no headway in the investigation.
Using three billboards on the side of the road leading into Ebbing, Mildred leaves a provocative message that calls out the local police chief by name.
This causes some amount of uproar in the town.
The police chief is not happy about the personal attack, and his racist deputy begins to form a revenge plot of his own. Mildred is also treated badly by several members of the community.
But her defiant will keeps her going because she will not give in until justice is served.
Definitely one of the movies filmed in North Carolina with the most adult content, Three Billboards… went on to be nominated for the Best Picture Oscar and won Academy Awards for both Frances McDormand and Sam Rockwell.
Three Billboards Outside Ebbing North Carolina filming locations include Downtown Sylva, Black Mountain, Maggie Valley (J. Arthur's restaurant), and Waynesville.
While no longer there, the actual three billboards sat just east of Asheville along North Fork Left Fork Road.
Romantic Asheville goes into great detail about the Jackson County filming locations for Three Billboards Outside Ebbing, if you are interested in seeing them.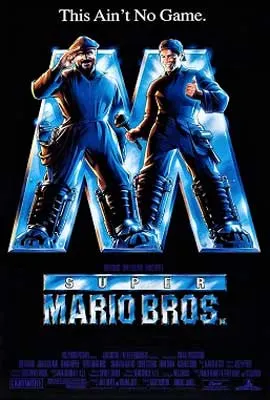 Super Mario Bros. (1993)
Another one of the NC movies filmed in Wilmington, Super Mario Bros. is for viewers and gamers who enjoy adventure comedy films.
65 million years ago, when the meteor wiped out the dinosaurs, it also split reality into two dimensions. The few dinosaurs who crossed over evolved into a new race of humanoids.
Flash forward to 1990s Brooklyn, and Italian-American plumber brothers Mario and Luigi are trying to stay in business despite the efforts of a rival mafia-operated construction company.
Also in the mix is Daisy, a young woman digging for dinosaur bones under the Brooklyn Bridge.
She and Luigi are dating, so when she is kidnapped by the henchmen of a powerful dinosaur from the dinosaur dimension, they follow along on a rescue mission that will lead them into the heart of Dinohattan.
This movie is one of the so-bad-it's-good genres of movies filmed in NC, and if you're a fan of Mario games, know that the filmmakers have taken some liberties with the original source material.
Honestly, I wouldn't go into this expecting something good; but you will get something memorable.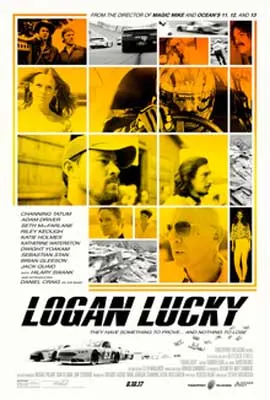 Logan Lucky (2017)
Jimmy Logan is down on his luck. He's just been fired from his job, and his young daughter is moving away with her mother and her rich new husband.
In order to have enough money to be near his daughter, Jimmy and his brother Clyde plan to rob the Charlotte Motor Speedway during the Coca-Cola 600 Memorial Day race.
There are just a couple of problems between them and success; the main one being that they'll need the help of an explosives expert, and the only one they can use is Joe Bang – and he's in prison.
Will they be able to break him out, rob the Speedway, and make it to Jimmy's daughter's beauty pageant on time?
This is one of the most fun movies filmed in Charlotte, NC.
The A-list cast all give great performances and director Steven Soderbergh (of Ocean's Eleven fame) makes everything look very slick.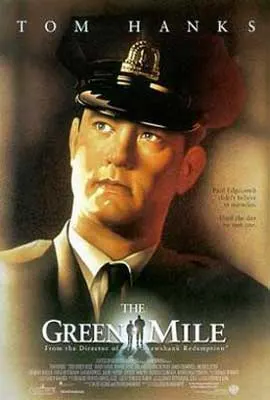 The Green Mile (1999)
After retirement home resident Paul Edgecomb bursts into tears in front of another tenant while watching an old movie, he decides to tell her about a significant moment in his life.
60 years earlier, Paul was working as a warden at Cold Mountain Penitentiary's death row, where he oversaw the executions of inmates.
While there, he meets John Coffee – an enormous African-American giant of a man, but who seems to have a tender heart of gold.
Paul cannot believe a man like John could be up for the electric chair, but as the two get to know each other, it seems there is even more to John than meets the eye.
Based on author Stephen King's novel of the same name, this period drama is a tearjerker for many viewers.
As you can expect given the source material, there is adult content throughout. But The Green Mile is also considered one of the most emotional movies filmed in North Carolina – Blowing Rock, specifically.
Grab the best North Carolina movies and books here:
Save These Movies Filmed In North Carolina For Later: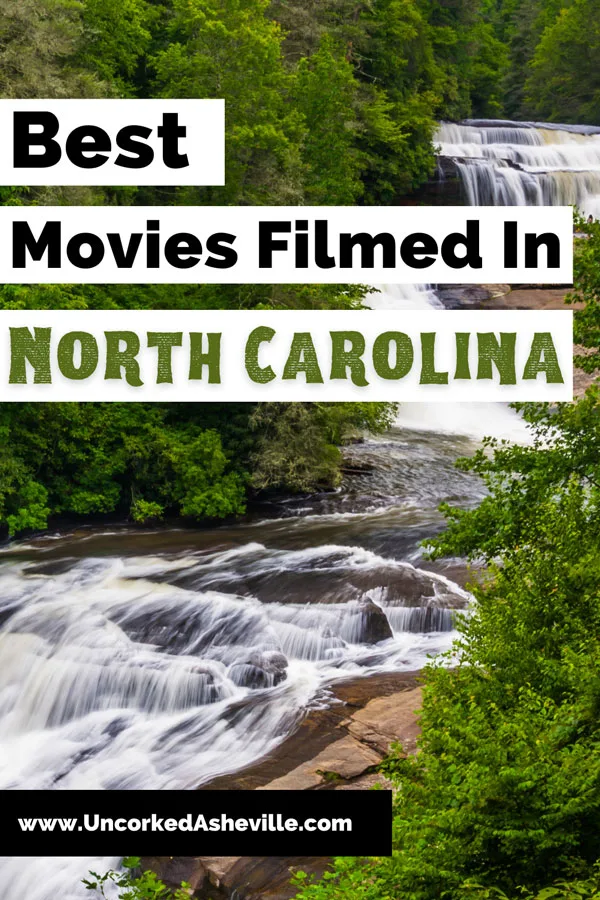 What are your favorite movies made in North Carolina?
We are always growing our to-be-watched list. Let us know which movies filmed in NC have you watched and loved. Plus, if you head to any of these North Carolina movie locations, we'd love to know what you think.
Before you go…
If you enjoy both books and movies set in and about destinations, be sure to head over to our sister site, The Uncorked Librarian (TUL). TUL is dedicated to showcasing travel-inspiring media along with our popular Uncorked Reading Challenge, which you may join at any time.
Related Articles: