Uncover the best breweries in Hendersonville, NC. These Hendersonville breweries have gorgeous taprooms and huge selections.
When traveling around Western North Carolina (WNC), most people think of Asheville for a happening beer scene. However, did you know that close to AVL, the Hendersonville, NC breweries are just as fantastic?
Hendersonville is only a 40-ish-minute drive south of Asheville.
Over the past few years, we've seen more and more breweries in Hendersonville popping up across the city. With pristine taprooms, gorgeous murals, and plentiful outdoor seating, all are worth a visit.
Plus, the craft beer in Hendersonville is delicious, especially if you love Ambers, Stouts, Scottish Ale, Lagers, and Blondes — like us. Oh, and did I mention the plethora of beautiful Kölsch beers?
Below, we are sharing our favorite Hendersonville breweries, including a Hendersonville brewery with gluten-reduced beer. See which breweries have mouthwatering BBQ food trucks and coffee, too.
As AVL locals, this article might even seem a tad blasphemous. Who leaves Asheville for beer elsewhere?
See why the breweries in Hendersonville, NC might surprise you, what to expect, and why we love this city so much. Avoid some of the crowds you typically see in Asheville, as well. Let's get started!
Read more about all that you can see, drink, and do in Hendersonville.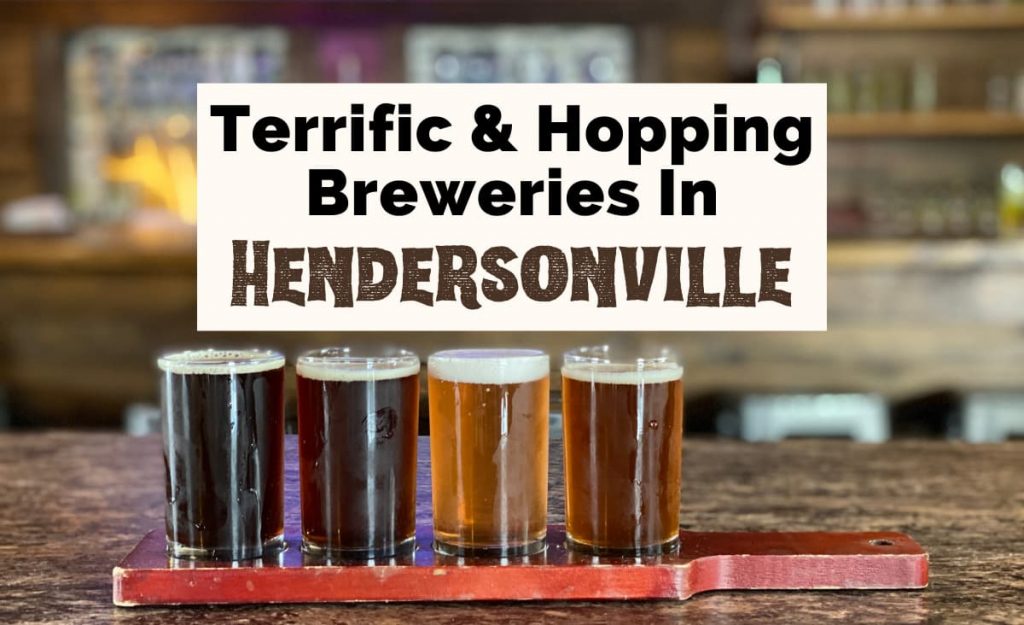 This post may contain affiliate links for products and services I recommend. If you make a purchase through these links, at no additional cost to you, I will earn a small commission. Read the full disclosure here.
If you need a place to stay, book a hotel, Bed and Breakfast, cabin, or cottage in Hendersonville here.
Nearby Flat Rock, NC has some great accommodations, too.

Don't miss our Asheville Accommodation Recs, too.
6 Best Breweries In Hendersonville, NC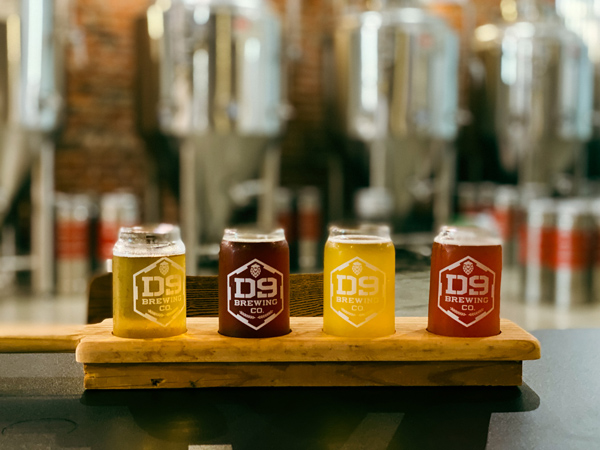 What brewery in Hendersonville serves both coffee and beer? D9 Brewing Company!
D9 Brewing is a gorgeous and newer downtown Hendersonville brewery. We also appreciate that they open a little earlier than many of the other breweries in town.
Famous for their sour beers, D9 started out in a garage before taking over the Charlotte beer scene and opening a Hendersonville taproom
D9's beers include fun names like "Whiskers on Kittens" (that brew is sour AF) and Hakuna Matata. They serve up local guest cider and ginger beers, too. Think Noble Cider and Ginger's Revenge.
D9 Brewing Company | 425 N Main St, Hendersonville, NC 28792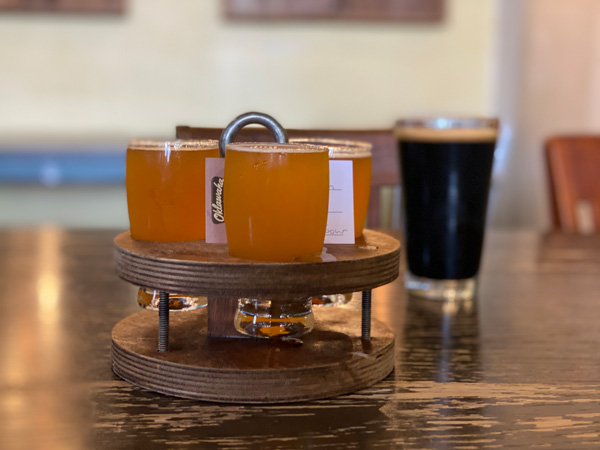 Formerly Sanctuary Brewing, Oklawaha Brewing Company is one of the most unique breweries in Hendersonville. They brew up gluten-reduced beers.
My Celiac husband is thrilled that he can drink beer at Oklawaha. However, gluten-reduced beers are not for everyone with Celiac Disease and still contain wheat if you have a wheat allergy. We are not doctors.
Oklawaha also sells Roots hummus to snack on. You'll recognize them by their huge "drink local" lighted sign. Oklawaha also has a small outdoor patio, and the taproom is wide open.
Oklawaha Brewing Company | 147 1st Ave E, Hendersonville, NC 28792
Never Miss Another Asheville Update
Are you tired of generic Asheville travel itineraries? Do you want to experience the magic of Asheville like a local?
Grab our free Asheville Favorites checklist today, including restaurants, breweries, and hiking. Plus, get local updates straight to your inbox. Sign up here.
What started as a hobby and a dream turned into Dry Falls Brewing. Dry Falls sits in a red brick building serving up Kölsch, Whitbier, Pale Ale, Fruit Beer, Stouts, Sours, and IPAs.
They also offer seasonal and rotating beers as well as beer slushies.
Dry Falls Brewing | 425 Kanuga Rd, Hendersonville, NC 28739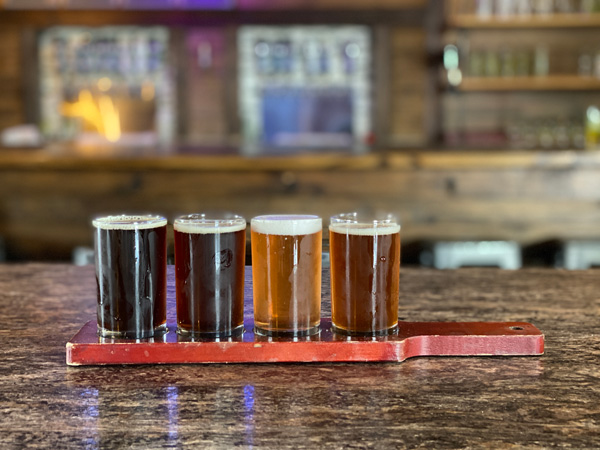 Which of the Hendersonville breweries has Christine's favorite Amber? Triskelion. You'll spot Triskelion Brewing around historic 7th Avenue across from…a cow on a roof.
That's M & M Meats. Did you know that Christine's dad used to work for a meat company?
Triskelion Brewing's building also has a fun blue and gray geometric circle mural. They serve a huge biker community.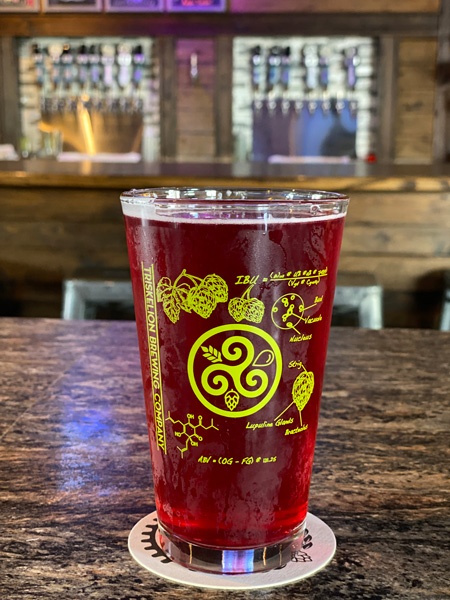 Personally, we love their Ambers and Scottish Ale. Their guest taps include cider, hard seltzer, and ginger beer.
Don't miss The Lunch Bus in the outside biergarten — think fried Brussel Sprouts.
But, what makes Triskelion one of the most unique breweries in Hendersonville is their Blood and Brews tattoo shop. Yasss!
Triskelion Brewing | 340 7th Ave E, Hendersonville, NC 28792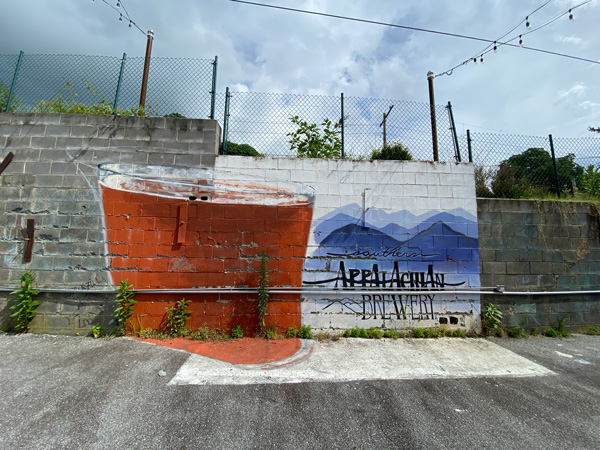 Tucked behind historic 7th Ave, you'll recognize Southern Appalachian Brewery by its Blue Ridge Mountain craft beer mural. Linda the mannequin convinced us to buy a shirt here.
On Sundays, Southern Appalachian Brewery offers mimosas, which as we witnessed, are Christine-style (all booze!). This Hendersonville brewery understands our souls.
Southern Appalachian Brewery's beer selection is slightly smaller than some of the other Hendersonville breweries, but they still pack a plentiful punch. Find Hefeweizen, Amber, IPA Stouts, and a Blonde or two.
Explore both an indoor taproom and a large outdoor patio perfect for food trucks and events like live music and yoga.
Southern Appalachian Brewery | 822 Locust St, Hendersonville, NC 28792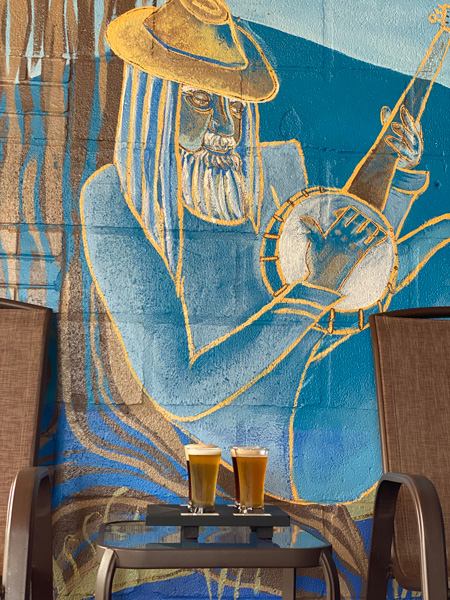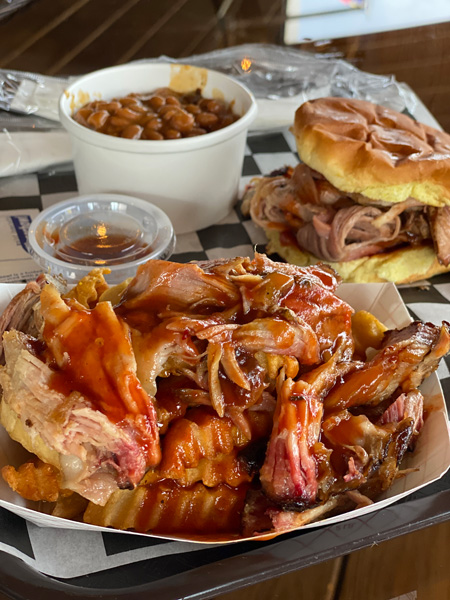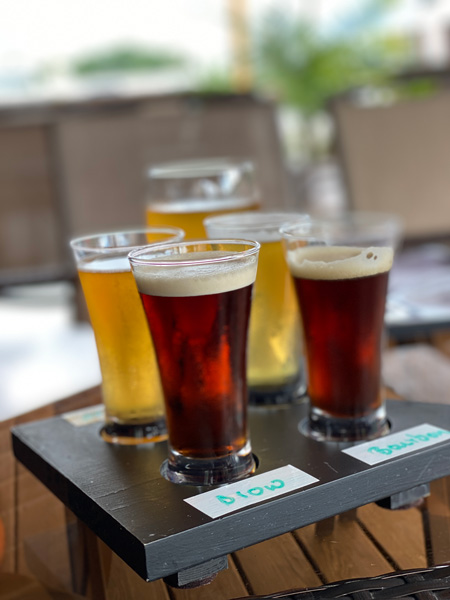 Full disclosure that we are not 200% into the bullet-shaped taps here, but Guidon is an American/German ex-military and family-owned Hendersonville brewery and taproom, which we respect. They serve their flights on 'guidon' boards.
Because Guidon Brewing Company is German, they offer our favorite brew in the world, Kölsch, and their orange-style Kölsch is delicious.
They have rotating food trucks, and we devoured the BBQ dishes from Carolina Ace Catering BBQ. Think pulled pork fries and ribs with your beer.
Guidon also has gluten-free options like seltzer and cider along with a covered outdoor patio and two-level indoor taproom. Enjoy (a tiny) gorgeous mountain view and beautiful outdoor murals.
Both Guidon and Southern Appalachian are off-the-beaten-track breweries outside of downtown Hendersonville.
Guidon Brewing Company | 415 8th Ave E, Hendersonville, NC 28792
See where to stay in and around Hendersonville:
If you need a place to stay, book a hotel, Bed and Breakfast, cabin, or cottage in Hendersonville here.

Don't miss our Asheville Accommodation Recs, too.
Save your favorite breweries in Hendersonville, NC For Later
What are you favorite Hendersonville breweries?
Which brewery in Hendersonville do you frequent? Which Hendersonville brewery has your favorite beer? Let us know in the comments!
What else can you do in and around Hendersonville?
Top Hendersonville, NC Things To Do
Not-To-Miss Hendersonville Wineries
Restaurants To Love In Hendersonville
Where To Pick Apples & Get Cider Donuts Around Hendersonville
More breweries near Hendersonville to try:
Asheville Beer Guide
Black Mountain Breweries
Mills River Breweries
Breweries In Brevard