Historic Montford in Asheville, NC is a beautiful destination for restaurants, Shakespeare in the Park, and Bed and Breakfasts.
The Historic Montford District in Asheville, NC sits between downtown and North Asheville. Uniquely, parts of Montford land on the National Register of Historic Places.
It goes without saying that Asheville's Montford neighborhood is a literary and history buff's dream. Think spooky cemetery, open-air theater, and beautiful architecture.
Montford formerly housed Highland Hospital, one of the more progressive mental health institutions of its time.
You might recognize the name since Zelda Fitzgerald along with 8 other women perished in the Highland Hospital fire.
Also located in Montford, pay homage to literary greats like Thomas Wolfe and O. Henry. Riverside Cemetery makes for a gorgeous stroll through Asheville's history – both inspiring and terrible.
Montford grew on the verge of Asheville's big boom along with the construction of The Grove Park Inn and Biltmore.
Architecturally, the area is full of eye candy, especially if you love spectacular old houses. There's even a 'castle.'
One of the most diverse architectural areas across North Carolina, find Neo-Classical apartment buildings, Victorians, Colonial Revivals, and bungalows.
While Montford is a mostly residential area, visitors will find quaint Montford Bed and Breakfasts and easy access to downtown. Don't miss our favorite Montford restaurant, Nine Mile.
After having a delicious local dinner, catch a free and comedic performance of Shakespeare in the Park performed by the Montford Park Players.
Does it sound like Montford is worth a visit? As AVL locals, we are sharing all that there is to see and do in Historic Montford in Asheville, NC.
Read more about Asheville's beautiful and unique neighborhoods.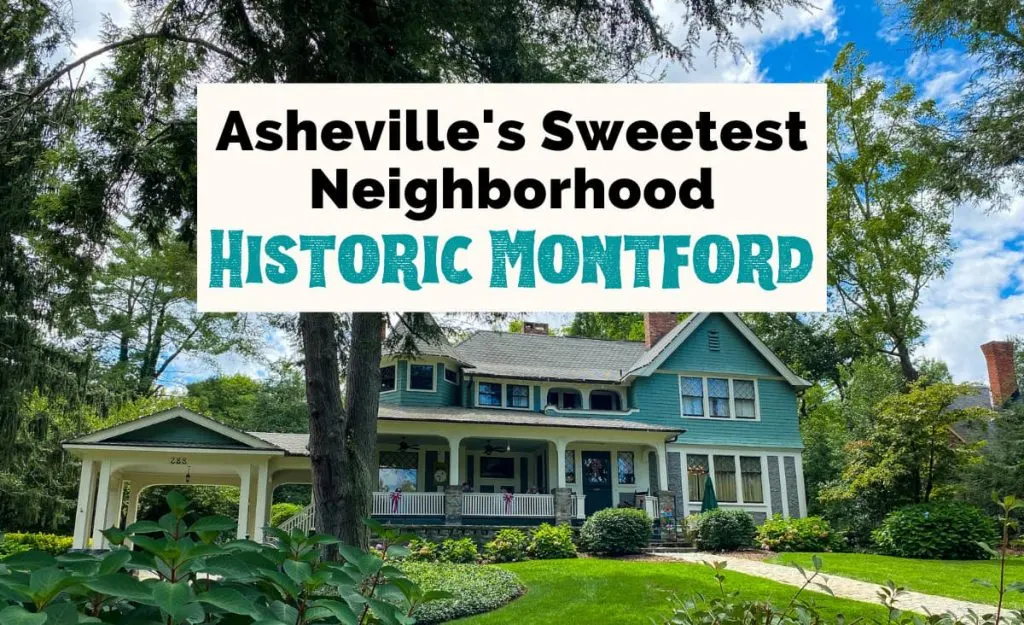 This post may contain affiliate links that earn us a commission at no extra cost to you. If you love these guides, support Uncorked Asheville here.
Best Things To Do In Historic Montford In Asheville, NC
If you are visiting Asheville's Historic Montford neighborhood, what can you see and do? This section will especially speak to history and literature lovers.
Stroll Riverside Cemetery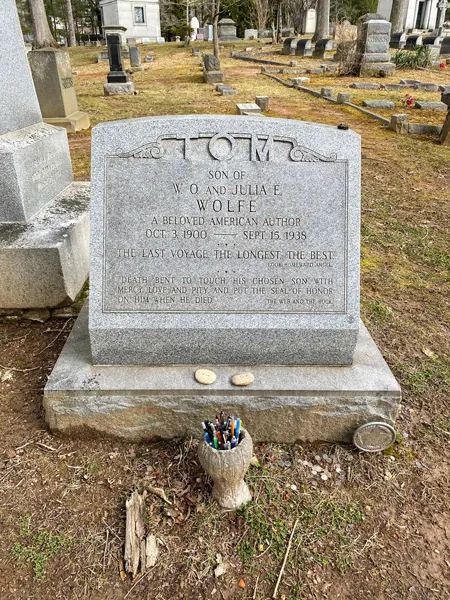 OK, maybe you think this is a weird or creepy suggestion, but you might be surprised…
For things to do in Montford – and historic sightseeing in Asheville – walk the 3.5 miles of paved roads at Riverside Cemetery.
Only 4,000 (living) people visit this beautiful Victorian-style cemetery a year, and we promise, you want to be one of them.
Established in 1885, encounter ghosts (maybe), Victorian-style mausoleums, and W.O.'s famous angels. Grab a free typed walking guide filled with information at the gates.
Be sure to pay your respects to Asheville's literary greats like Thomas Wolfe and O. Henry.
And if you are a bibliotourist, peruse our Asheville for book lovers itinerary – including a champagne bookstore and literary tearoom.
Read more about Riverside Cemetery and know that it is also one of Asheville's Civil War sites.
Riverside Cemetery | 53 Birch St, Asheville, NC 28801
Watch Shakespeare In The Park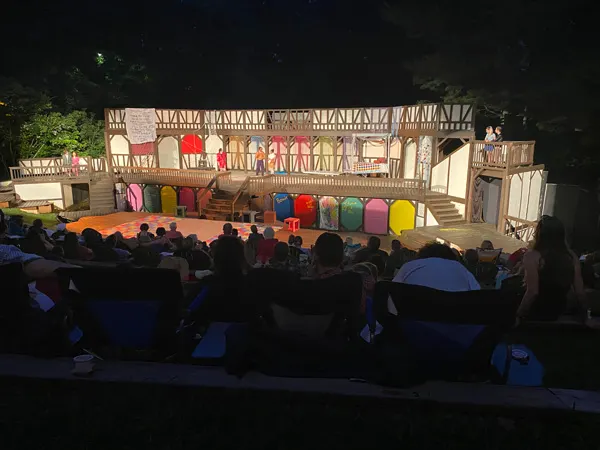 For magical and romantic things to do in Asheville's Montford neighborhood, don't miss an open-air play.
Attending Shakespeare in the Park is a must.
Nothing beats sitting under the stars surrounded by fireflies with some bubbly or a local craft brew. For this English and History double major, watching a Shakespeare play on stage is the cherry on top.
Picture quirky and comedic theater. Be forewarned: This isn't your average Shakespeare performance.
Yes, there was body glitter in A Midsummer Night's Dream. We loved it.
Most Friday through Sunday evenings in the spring through autumn, you can watch the Montford Park Players perform at the Hazel Robinson Amphitheater.
Many but not all of the plays are written by Shakespeare.
Occasionally, they offer earlier shows but they generally start at 7:30 PM. Families are welcome.
You may bring or purchase boozy libations. We've witnessed theatergoers go all out with their fancy AF picnic baskets.
You may also bring your own chairs and blankets or rent them.
While tickets are free, performers circulate at intermission with donation buckets. Well-behaved pooches are welcome.
There's plenty of free parking around the area and on-site park restrooms.
Montford Park Players At Hazel Robinson Amphitheater | 90 Gay St, Asheville, NC 28801
Never Miss Another Asheville Update
---
Tired of generic Asheville travel itineraries? Experience Asheville like a local with our free Asheville Favorites checklist, including restaurants, breweries, and hiking. Plus, get local updates – including events and hidden gems – straight to your inbox. Sign up here.
Catch A Concert
Similar to Shakespeare performances, listen to live music at the Hazel Robinson Amphitheater. Their website lists all event dates.
Purchase your tickets online.
Hazel Robinson Amphitheatre | 90 Gay St, Asheville, NC 28801
Take A Haunted Comedy LaZoom Bus Tour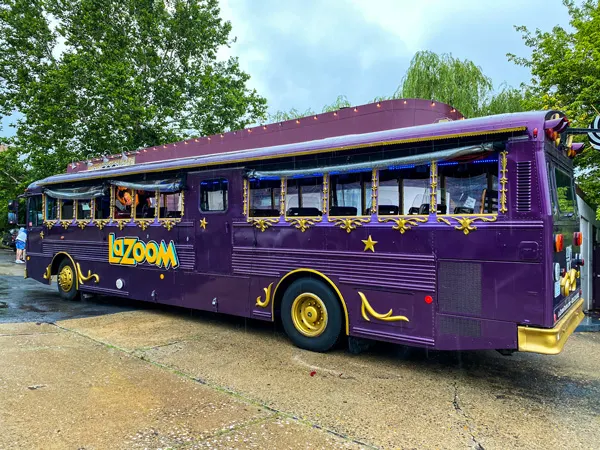 How many times have you spied a funky purple bus with eyelashes tearing through Asheville's tiny streets?
Later in the evening, it is most likely full of giggling adults… That's LaZoom!
LaZoom is actually located in Downtown Asheville. However, some of their comedy bus tours head straight through Asheville's Historic Montford District.
LaZoom offers different comedy tours, some for the entire family and others for the legal drinking age crowd.
For one of Tom's birthdays, we booked the LaZoom Ghost Bus Tour. Walk into a kitschy bar full of overly happy tour guides and cat pillows.
Our one-hour bus tour took us through downtown Asheville as "ghosts" hopped on and off. Each shared the darker history of the city.
Think murderers, thieves, and famous dead people.
Zelda Fitzgerald stole our hearts at the former Highland Hospital location… although she did hump a bush in the rain. Just grab a drink, y'all. You are in for a wild wide.
For the 21+ group, you are allowed to bring unopened beverages on the bus – to consume once seated – purchased from LaZoom's bar.
LaZoom sells local craft beers and bottles of wine. They even hand you a personal cooler.
We suggest purchasing tickets in advance. Get there early, too, since you board the bus based on your arrival order.
Oh, and if your tour doesn't make stops, be sure to do your business before getting on the bus. An hour is a long time after a beer or two.
Along with LaZoom, Asheville's Gray Line Trolley comes through here – and their haunted tour is equally informative and fun.
Uncover even more of Asheville's paranormal spots.
LaZoom Comedy Bus Tours | 76 Biltmore Ave, Asheville, NC 28801
Pay Your Respects To Zelda Fitzgerald at Former Highland Hospital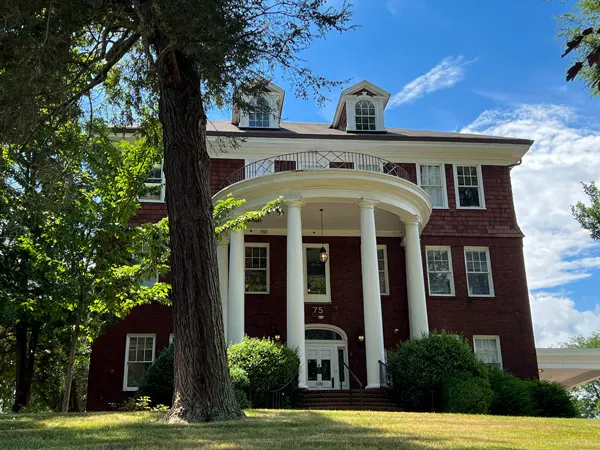 Psychiatrist Dr. Robert S. Carroll founded "Dr. Carroll's Sanatorium" or Highland Hospital, which relocated to Montford in 1912.
Dr. Carroll stressed that therapy, diet, exercise, and fresh mountain air could help cure his patients – a progressive practice for the time period.
However, he also utilized painful electric shock therapy, and it is said that many of the women tried to escape by jumping out of the windows.
F. Scott Fitzgerald summered at The Omni Grove Park Inn while his wife, Zelda – also a writer – sought refuge at Highland Hospital.
Zelda suffered from potential bipolar disorder, and she tragically died in the 1948 fire – allegedly caused by an electric coffee urn in the kitchen.
The fire quickly spread up the dumbwaiter shaft, and because Dr. Carroll locked patients in their rooms, many could not escape.
Highland Hospital no longer stands today; instead, two businesses sit at the location of the former hospital located on Zillicoa St.
You can read more about the Highland Hospital fire in Lee Smith's historical fiction novel, Guests On Earth – also one of the great books set in AVL.
The area is deemed incredibly haunted – with paranormal activity in the buildings and outside the former grounds.
Dark tourists will especially enjoy the legends of North Carolina.
Former Highland Hospital/Zelda Fitzgerald Memorial | 75 Zillicoa Street, Asheville, NC 28801
Tour The Homes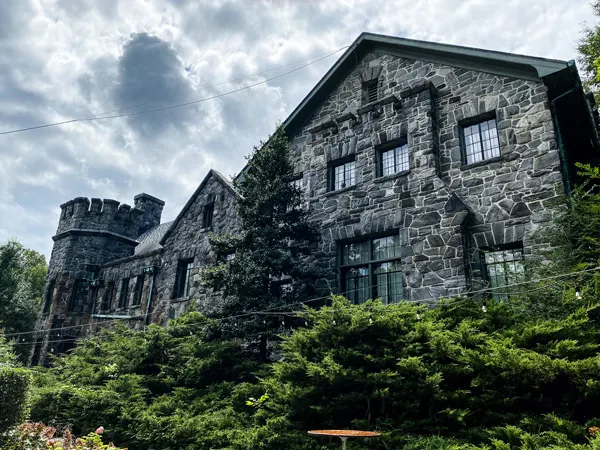 We wanted to briefly let you know that you can also take specific tours of Montford in Asheville.
However, with the Big C still happening, we are going to leave this section a little scarce since many Montford tours are on hold.
Typically, though, there is a holiday tour of the Montford homes along with garden and cemetery tours. As mentioned above, the Gray Line Trolley is back in action, though.
We find it fun to park along the road and go for a walk, creating our own personalized walking tour.
Attend The Montford Arts & Music Festival
The Montford Arts & Music Festival is the largest and longest-running, single-day neighborhood street festival.
The bash takes place on Montford Avenue in Asheville's Historic Montford neighborhood.
Shop from local vendors. Listen to live entertainment, and eat delicious food. Learn more about the Montford Arts & Music Festival.
Uncover even more of Asheville's great events and festivals.
Relax In Montford Park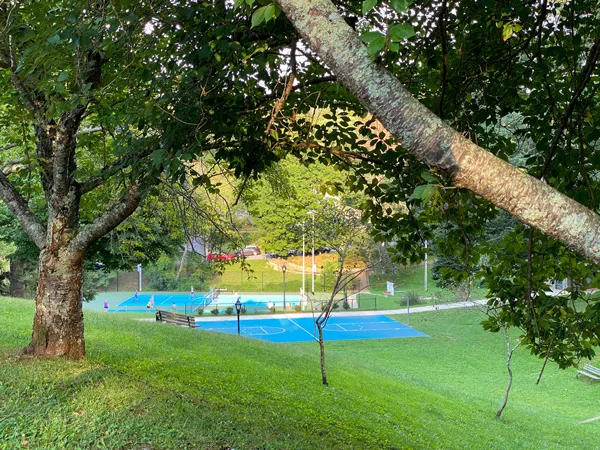 One of Asheville's smaller parks, spend some time on a blanket reading a book and relaxing on the grass in Montford Park.
This local neighborhood park features tennis courts, picnic spots, and a basketball court.
Grab A Book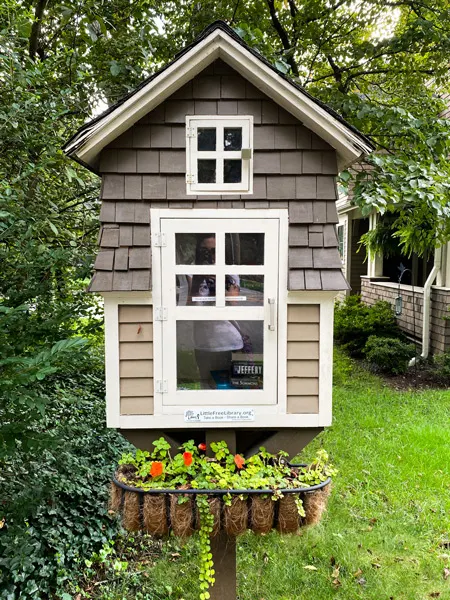 Montford is full of Free Little Libraries on numerous quaint streets. Leave a book; take a book.
With all of the bookstores in Asheville, you know the residents are avid readers.
Plus, Asheville is full of local authors, books set in Asheville, and books about NC.
Celebrate Greek Heritage & Culture At The Asheville Greek Festival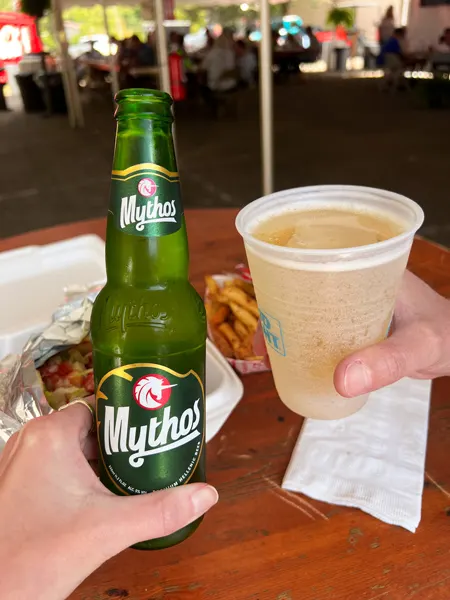 If you love festivals, around the third full week of September, be on the lookout for Holy Trinity Greek Orthodox Church's Greek Festival.
This two-day event is full of dancing, music, local and Greek vendors, and the best Greek cuisine around. Even better, the festival is family and budget-friendly.
We love going for their Greek wine and traditional foods, including dolmades and gyros. Discover even more of the best fall events across the greater Asheville area.
Montford Restaurants
Nine Mile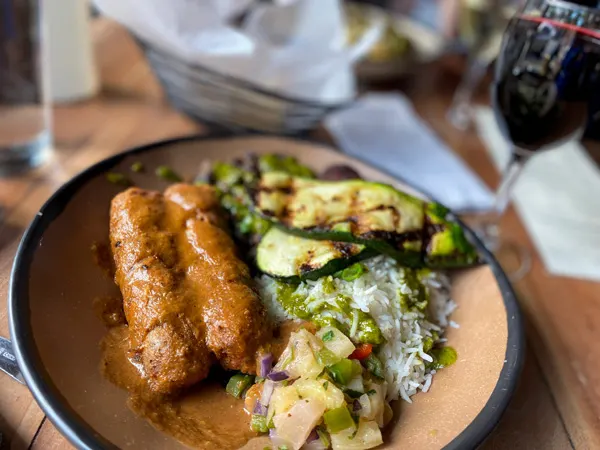 With recent closings, Asheville's Historic Montford District has one main date-night restaurant that is devour-worthy, Nine Mile.
We covet Nine Mile's Montford-Asheville location. You'll also find Nine Mile in West Asheville and South Asheville.
Nine Mile is a vegetarian-friendly restaurant with Caribbean-inspired pasta and rice dishes. They run on the spicier side and are delicious.
Nine Mile also has one of the largest menu keys for gluten-free, vegetarian, vegan, nuts, dairy-free, and honey.
Explore our complete guide to Asheville's foodie scene.
Nine Mile | 233 Montford Ave, Asheville, NC 28804
All Day Darling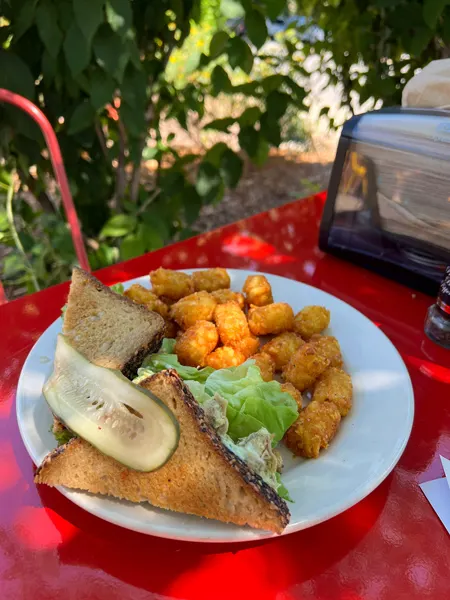 Nothing beats a delicious local brunch in Asheville – and All Day Darling is one of the "must" Montford restaurants.
Open 7 days a week – and perfect for gluten-free and food-intolerant diners – All Day Darling serves breakfast, lunch, and dinner.
Always jumping, head here for classic and healthy breakfast options including gluten-free pancakes and frittatas, lox, breakfast bowls, and eggs with all of the sides.
For lunch and dinner, select from sandwiches like Reubens and chicken salad or grab burgers and mushroom toast. Enjoy gf fried chicken, salads, and fried cauliflower snacks too.
A family-friendly restaurant, find a kids' menu with grilled cheese, rice and beans, burgers, and a chicken sandwich.
Although All Day Darling does not have a fully dedicated gluten-free kitchen, they do have a dedicated gf fryer.
Plus, All Day Darling sits conveniently near many of the Montford Bed and Breakfasts.
Read more about gluten-free dining in AVL.
All Day Darling | 102 Montford Avenue, Asheville, NC 28801
5 Points Restaurant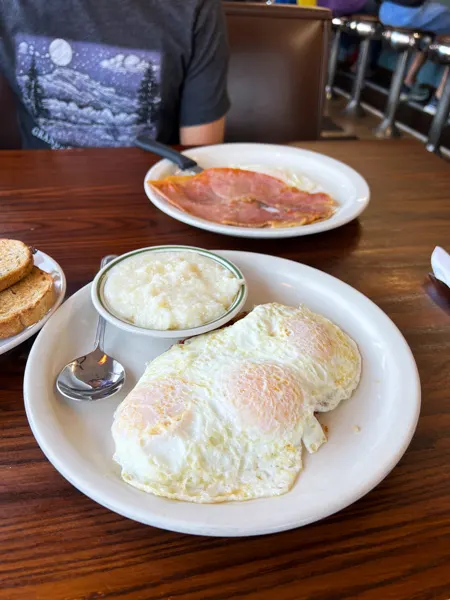 Where can you find the best local breakfast in Asheville? Five Points Restaurant!
Five Points sits at the intersection of Downtown, North AVL, and Montford and is a budget-friendly and casual option for breakfast, brunch, or lunch in Asheville.
If you enjoy diner eats, this Italian and Greek cuisine, third-generation family restaurant is a must. Although a no-frills dining option, devour delicious and simple meals with excellent service.
For breakfast, relish in never-ending coffee pours, eggs with all of the meats, breakfast sandwiches, corned beef hash, and Southern grits.
For lunch in AVL, select from classic sandwiches, gyros, and grilled and fried seafood dishes.
Locals dip in and out of here all morning through mid-afternoon, and 5 Points Restaurant serves breakfast through closing.
Although not the easiest dining option for food intolerances and preferences, find a gluten-free biscuit and some dishes that can be modified.
5 Points Restaurant | 258 Broadway St, Asheville, NC 28801
More Restaurants Near Historic Montford
Nearby on the edge of Downtown and North Asheville, we also highly recommend Luella's Bar-B-Que for some of the best AVL BBQ, Plant for vegan cuisine, and Asheville Pizza & Brewing for pizza and beer.
Our favorite Montford restaurant, Chiesa, closed in 2022. We are devastated.
Montford Bed And Breakfasts
There is certainly no shortage of Bed and Breakfasts in Asheville's Historic Montford District.
A few Montford Bed and Breakfasts include: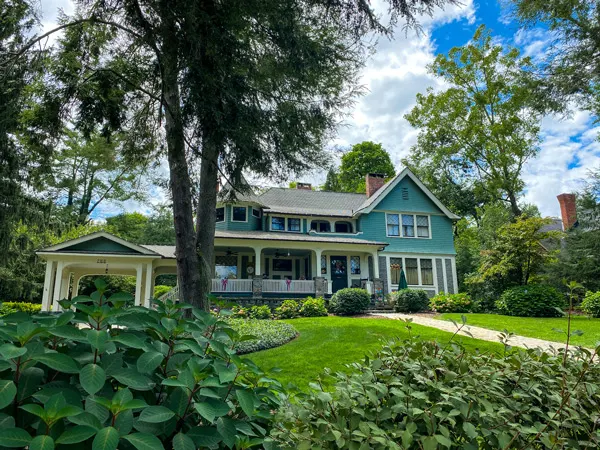 Richard Sharp-Smith — Biltmore's supervising architect — designed and built The Black Walnut Bed and Breakfast Inn in 1899. Two of the eight rooms are pet-friendly. This Montford Bed and Breakfast is close to downtown, and they offer afternoon tea.
Built in 1905, this 5 bedroom, all en-suite Bed and Breakfast in Montford has an acre of gardens.
About one mile from downtown AVL, encounter a Queen Anne Victorian Mansion filled with old charm, modern amenities, and a shared garden.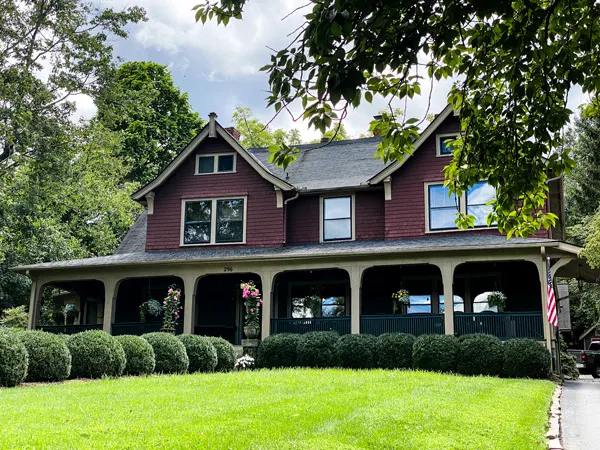 1900 Inn on Montford is a sweet Montford Bed & Breakfast. They serve up a 3-course breakfast and have live music on Saturdays. The Inn is about one mile from downtown.
Many of our photographer friends shoot pictures here. Parking is free, and the 1900 Inn on Montford is pet-friendly.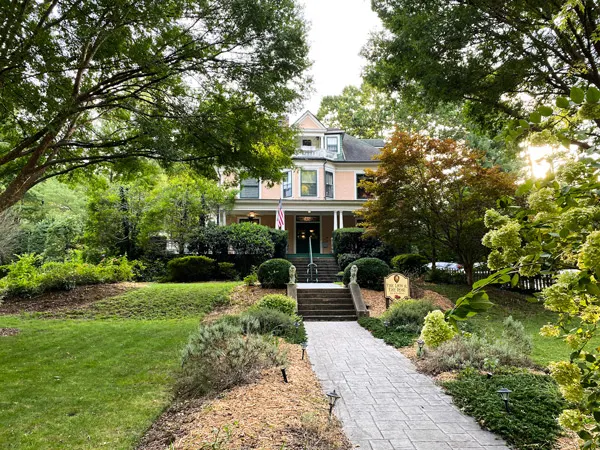 One of Asheville's longest operating inns, this 1898 pink lady Queen Anne/Georgian-style Montford B&B is also one of the first stops on Asheville's historic trolley tours.
Grab all of our Asheville hotel recommendations here.
Loving Historic Montford In Asheville, NC? Save This Post For Later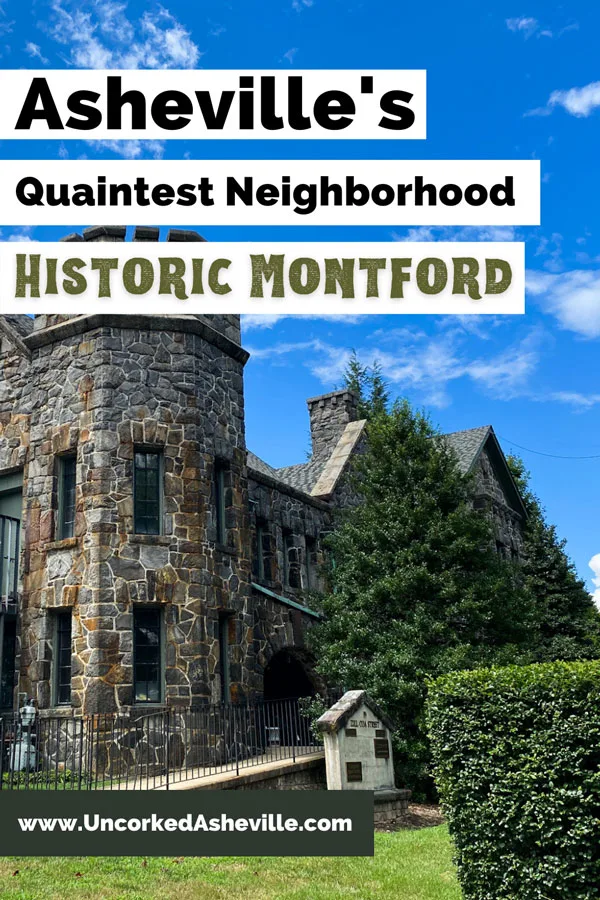 What do you love about the Montford neighborhood in Asheville, NC?
What are your favorite Montford restaurants? Have you stayed at any of Montford's Bed and Breakfasts? Let us know in the comments!
For more information, you can also visit the Montford, Asheville neighborhood website.
Where can you explore next?
Moving To & Living In Asheville
Best Things To Do Around AVL
More Asheville neighborhoods to explore:
West Asheville
River Arts District (RAD)
North AVL
Our Complete Asheville Neighborhood Guide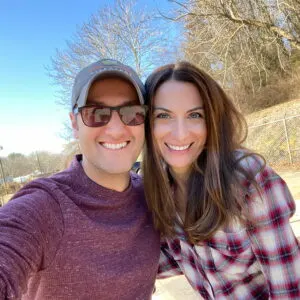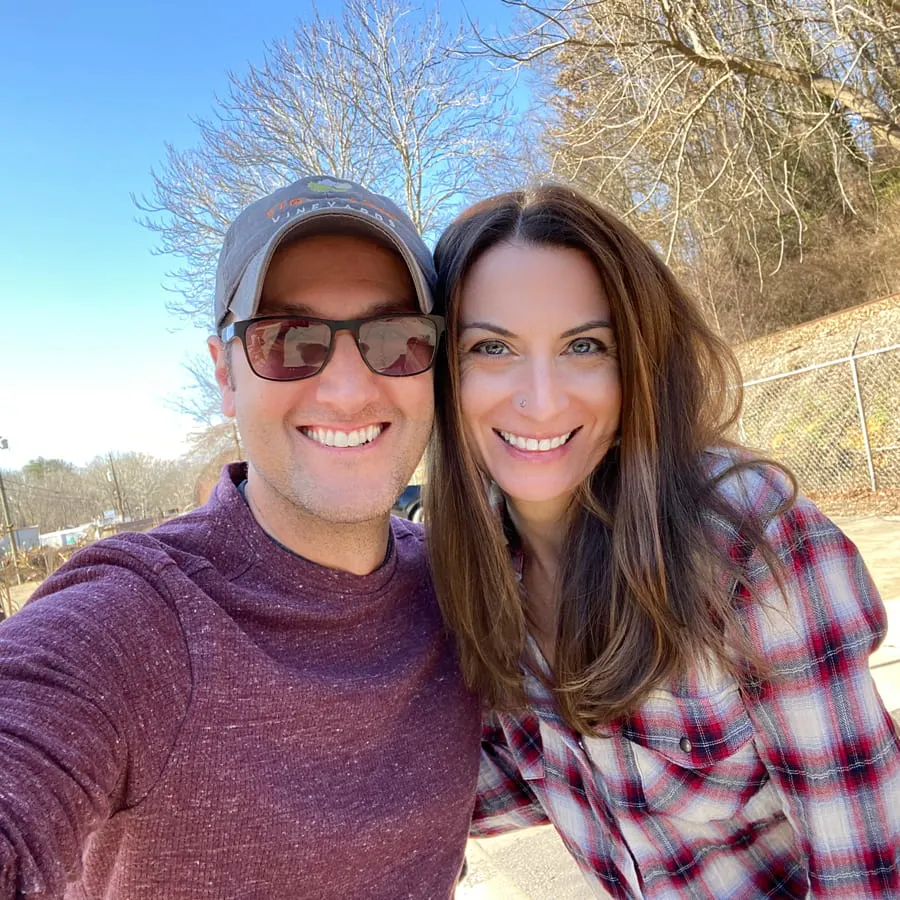 Christine (pronouns: she/her) is the owner and lead writer of Uncorked Asheville. After falling in love with those gorgeous Blue Ridge Mountains, Christine and her husband Tom decided to call Asheville, North Carolina their home. When her pointy Italian nose isn't stuck in a book, Christine is adopting all of the kitties, getting lost in the forest, and drinking an ESB.
Christine has a BA in English and History from Smith College, her MLIS from USF-Tampa, and is a former U.S. Fulbright Scholar - Indonesia. She also owns The Uncorked Librarian LLC with books and movies to inspire travel.