Historic Montford in Asheville, NC is a beautiful destination for restaurants, Shakespeare in the Park, and Bed and Breakfasts.
The Historic Montford District in Asheville, NC sits between downtown and North Asheville. Uniquely, parts of Montford land on the National Register of Historic Places.
It goes without saying that Asheville's Montford neighborhood is a literary and history buff's dream. Think spooky cemetery, open-air theater, and beautiful architecture.
Montford formerly housed Highland Hospital, one of the more progressive mental health institutions of its time. You might recognize the name since Zelda Fitzgerald along with 8 other women perished in the Highland Hospital fire.
Also located in Montford, you can pay homage to literary greats like Thomas Wolfe and O. Henry. Riverside Cemetery makes for a gorgeous stroll through Asheville's history — both inspiring and terrible.
Montford grew on the verge of Asheville's big boom along with the construction of The Grove Park Inn and Biltmore. Architecturally, the area is full of eye candy, especially if you love spying spectacular old houses. There's even a 'castle.'
One of the most diverse architectural areas across North Carolina, find Neo-Classical apartment buildings, Victorians, Colonial Revivals, and bungalows.
While Montford is a mostly residential area, visitors will find quaint Montford Bed and Breakfasts and easy access to downtown. Don't miss our favorite Montford restaurant, too, Nine Mile.
After having a delicious local dinner with church-themed cocktails, don't forget to catch a free and comedic performance of Shakespeare in the Park.
Sound worth a visit? As AVL locals, we are sharing all that there is to see and do in Historic Montford in Asheville, NC.
Read more about Asheville's beautiful and unique neighborhoods.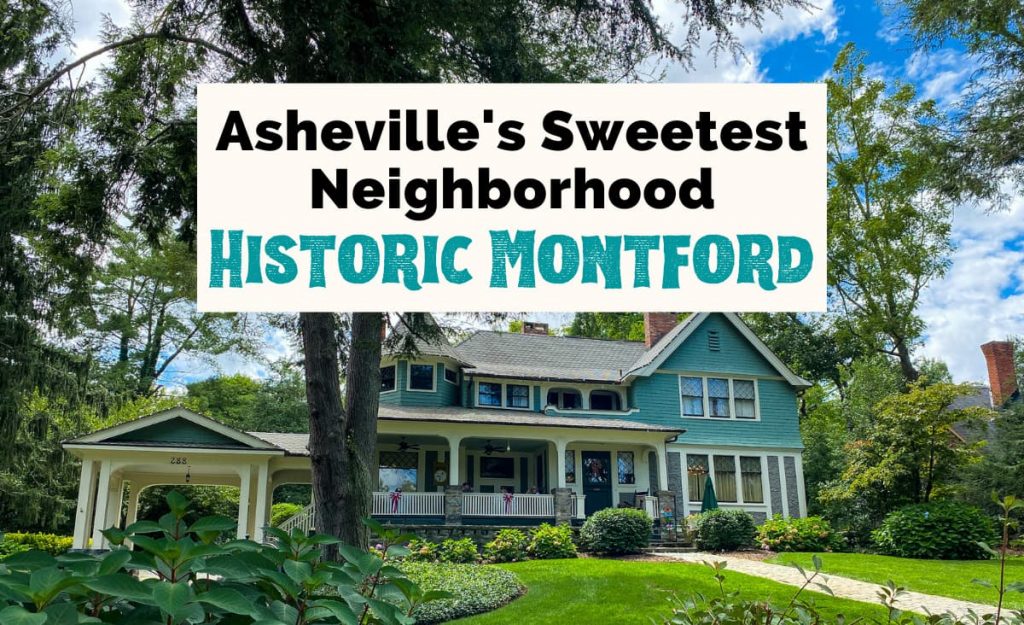 This post may contain affiliate links for products and services we recommend. If you make a purchase through these links, at no additional cost to you, we will earn a small commission. Read the full disclosure here.
See our Top Places To Stay in Asheville.

Don't miss out on these Asheville properties on Booking.com, too.
Best Things To Do In Historic Montford In Asheville, NC
If you are visiting Asheville's Historic Montford neighborhood, what can you see and do? This section will especially speak to history and literature lovers.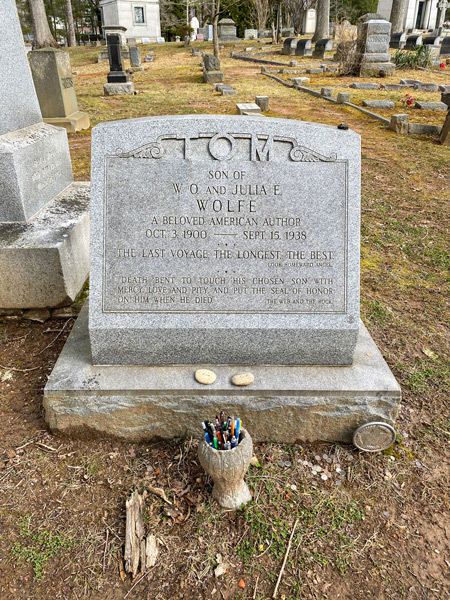 Stroll Riverside Cemetery
OK, maybe you think this is a weird or creepy suggestion, but you might be surprised… For things to do in Montford, we recommend walking the 3.5 miles of paved roads at Riverside Cemetery.
Only 4,000 (living) people visit this beautiful Victorian-style cemetery a year, and we promise, you want to be one of them.
Established in 1885, you'll encounter ghosts (maybe), Victorian-style mausoleums, and W.O.'s famous angels. Grab a free typed walking guide filled with information at the gates.
Be sure to pay your respects to literary greats like Thomas Wolfe and O. Henry. Read more in our full guide to Riverside Cemetery.
Riverside Cemetery | 53 Birch St, Asheville, NC 28801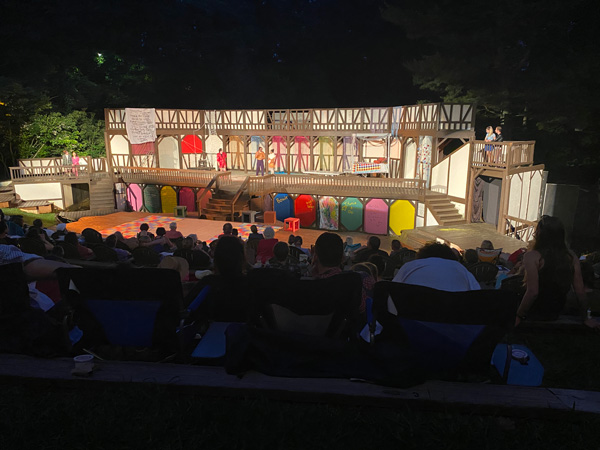 Watch Shakespeare In The Park
For magical and romantic things to do in Asheville's Montford neighborhood, don't miss an open-air play.
Nothing beats sitting under the stars surrounded by fireflies with some bubbly or a local craft brew. For this English and History double major, watching a Shakespeare play on stage is the cherry on top.
Picture quirky and comedic theater. Be forewarned: This isn't your average Shakespeare performance. Yes, there was body glitter in A Midsummer Night's Dream. We loved it.
Most Friday through Sunday evenings in the spring through autumn, you can watch the Montford Park Players perform at the Hazel Robinson Amphitheater. Many but not all of the plays are written by Shakespeare.
Occasionally, they offer earlier shows but they generally start at 7:30 PM. Families are welcome.
You may bring or purchase boozy libations. We've witnessed theatergoers go all out with their fancy AF picnic baskets. You may also bring your own chairs and blankets or rent them.
While tickets are free, performers circulate at intermission with donation buckets. Well-behaved pooches are welcome. There's plenty of free parking around the area and on-site park restrooms.
Montford Park Players At Hazel Robinson Amphitheater | 90 Gay St, Asheville, NC 28801
Never Miss Another Asheville Update
---
Are you tired of generic Asheville travel itineraries? Do you want to experience the magic of Asheville like a local?
Grab our free Asheville Favorites checklist today, including restaurants, breweries, and hiking. Plus, get local updates straight to your inbox. Sign up here.
---
Catch A Concert
Similar to Shakespeare performances, listen to live music at the Hazel Robinson Amphitheater. Their website lists all event dates. Purchase your tickets online.
Hazel Robinson Amphitheater | 90 Gay St, Asheville, NC 28801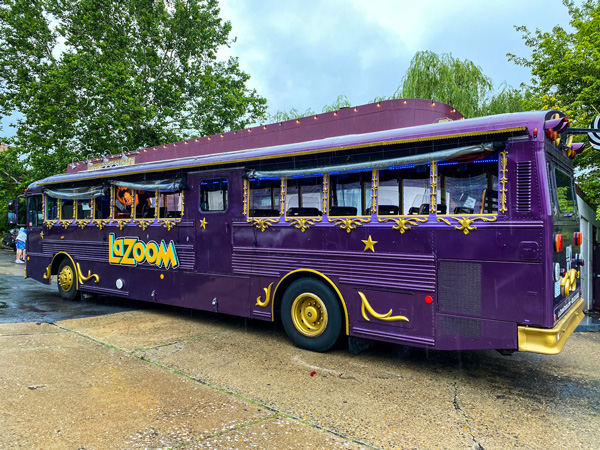 Take A Haunted Comedy LaZoom Bus Tour
Full disclosure that LaZoom is located in downtown Asheville. However, some of their comedy bus tours head straight through Asheville's Historic Montford District.
How many times have you spied a funky purple bus with eyelashes tearing through Asheville's tiny streets? Later in the evening, it is most likely full of giggling adults… That's LaZoom!
LaZoom offers different comedy tours, some for the entire family and others for the legal drinking age crowd.
For Tom's birthday, we booked the LaZoom Ghost Bus Tour. You'll walk into a kitschy bar full of overly happy tour guides and cat pillows.
Our one-hour tour took us through downtown Asheville as 'ghosts' hopped on and off. Each shared the darker history of the city. Think murderers, thieves, and famous dead people.
Zelda Fitzgerald stole my heart at the former Highland Hospital location… although she did hump a bush in the rain. Just grab a drink, y'all…
For the 21+ group, you are allowed to bring unopened beverages on the bus — to open once seated — purchased from LaZoom's bar. They have local craft beers and bottles of wine. They even hand you a personal cooler.
We suggest purchasing tickets in advance. Get there early, too, as you board the bus based on your arrival order.
Oh, and if your tour doesn't make stops, be sure you do your business before getting on the bus. An hour is a long time after a beer or two.
LaZoom Comedy Bus Tours | 76 Biltmore Ave, Asheville, NC 28801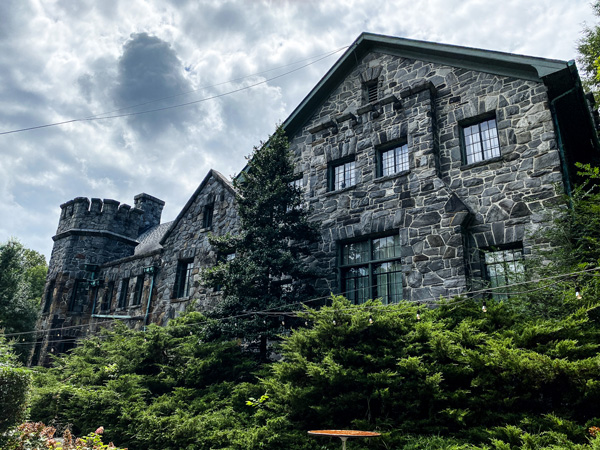 Take A Tour Of The Homes
We wanted to briefly let you know that you can also take specific tours of Montford in Asheville. However, with the Big C still happening, we are going to leave this section a little scarce since many Montford tours are on hold.
Typically, though, there is a holiday tour of the Montford homes along with garden and cemetery tours. We've seen the Gray Line Trolley back in action, though.
We find it fun to park along the road and go for a walk, creating our own personalized walking tour.
Attend The Montford Arts & Music Festival
The Montford Arts & Music Festival is the largest and longest-running, single-day neighborhood street festival. The bash takes place on Montford Avenue in Asheville's Historic Montford neighborhood.
Shop from local vendors. Listen to live entertainment, and eat delicious food. Learn more about the Montford Arts & Music Festival.
Montford Restaurants
With recent closings, Asheville's Historic Montford District has one main restaurant that is devour-worthy, Nine Mile.
Nearby on the edge of downtown and North Asheville, we also highly recommend Luella's Bar-B-Que for some of the best AVL BBQ, Plant for vegan cuisine, and Asheville Pizza & Brewing for pizza and beer.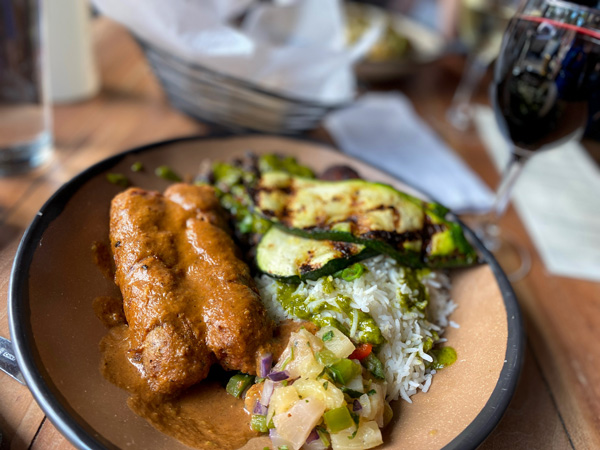 Nine Mile | 233 Montford Ave, Asheville, NC 28804
We covet Nine Mile's Montford-Asheville location. You'll also find Nine Mile in West Asheville and South Asheville.
Nine Mile is a vegetarian-friendly restaurant with Caribbean-inspired pasta and rice dishes. They run on the spicier side. I have UC and can still find something to eat.
Nine Mile also has one of the largest menu keys for gluten-free, vegetarian, vegan, nuts, dairy-free, and honey.
Both of these Montford restaurants are musts. They won't disappoint. P.S. Don't miss our complete guide to Asheville eats.
Montford Bed And Breakfasts
We are by no means experts on the Bed and Breakfasts in Asheville's Historic Montford District. We did however want to let you know that they exist, look gorgeous, and receive great online reviews.
A few Montford Bed and Breakfasts include: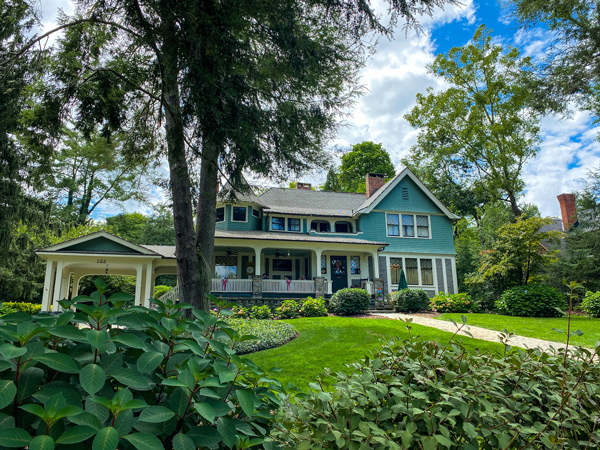 Richard Sharp-Smith — Biltmore's supervising architect — designed and built The Black Walnut Bed and Breakfast Inn in 1899. Two of the eight rooms are pet-friendly. This Montford Bed and Breakfast is close to downtown, and they offer afternoon tea.
Built in 1905, this 5 bedroom, all en-suite Bed and Breakfast in Montford has an acre of gardens.
About one mile from downtown AVL, encounter a Queen Anne Victorian Mansion filled with old charm, modern amenities, and a shared garden.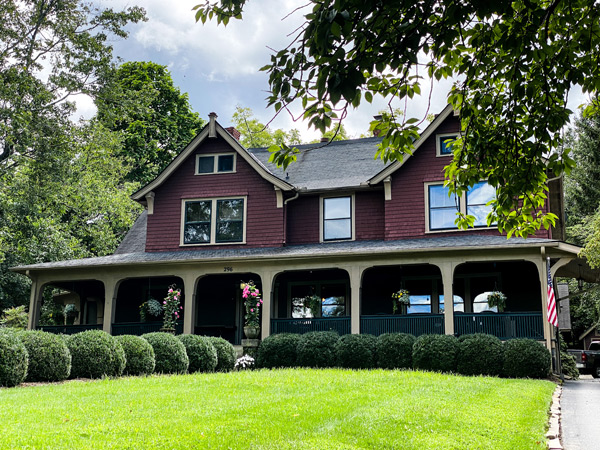 1900 Inn on Montford is a sweet Montford Bed & Breakfast. They serve up a 3-course breakfast and have live music on Saturdays. The Inn is about one mile from downtown.
Many of our photographer friends shoot pictures here. Parking is free, and the 1900 Inn on Montford is pet-friendly.
One of Asheville's longest operating inns, this 1898 pink lady Queen Anne/Georgian-style Montford B&B is also one of the first stops on Asheville's historic trolley tours.
Grab all of our Asheville hotel recommendations here.
Loving Historic Montford In Asheville, NC? Save This Post For Later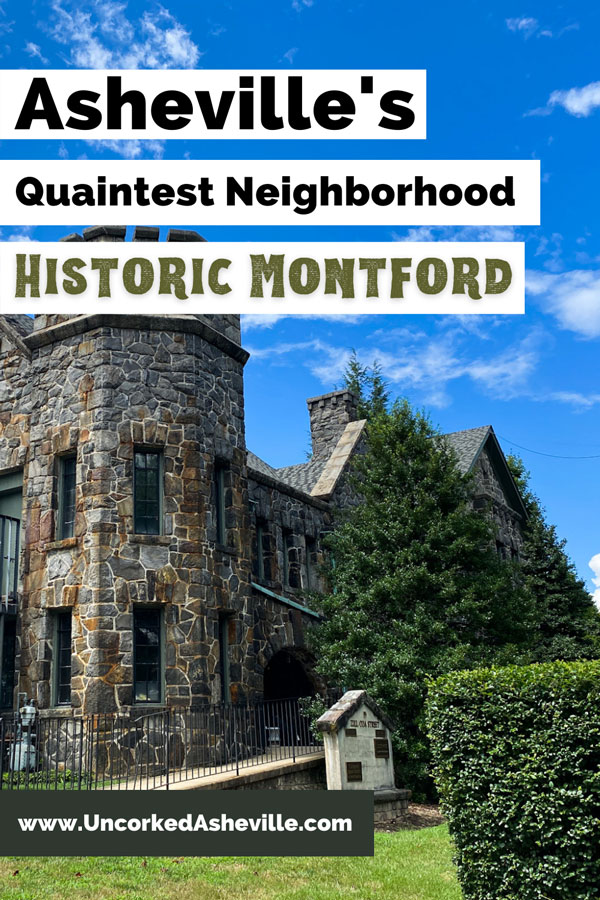 What do you love about the Montford neighborhood in Asheville, NC?
What are your favorite Montford restaurants? Have you stayed at any of Montford's Bed and Breakfasts? Let us know in the comments! For more information, you can also visit the Montford, Asheville neighborhood website.
Where can you explore next?
Our Asheville Neighborhood Guide
Moving To & Living In Asheville
West Asheville: Things To Do

Interesting Facts About Riverside Cemetery
Best Things To Do Around AVL