It's no secret that the Asheville restaurants are pretty stellar. With so many options, how do you choose? From locals, don't miss the best restaurants in Asheville for breakfast, lunch, and dinner.
When we first moved to AVL, all of the Asheville restaurant guides seemed to have the exact same places to eat:
"You must go to Cúrate, French Broad Chocolate Lounge, White Duck Taco, Tupelo Honey, Jargon, Rhubarb, All Souls Pizza, Buxton Hall, and Biscuit Head."
Yes! Those are indeed some of the most popular and famous Asheville restaurants. They are delicious. You should go to them.
But, what about dining in an old church at Chiesa? Or, the best vegan and vegetarian places like Laughing Seed Cafe, Gypsy Queen Cuisine, and Plant? We live for Plant's vegan cheese platter.
Along with Chai Pani, we crave Mela's spicy Indian sauces.
Jerusalem Garden Cafe is a vibrant must that forces difficult choices against its downtown neighbor, Red Ginger Dimsum. Endless Asian tapas anyone? One word: Dumplings.
Personally, Edison at the Grove Park Inn makes our mountain hearts sing with those jaw-dropping sunsets and seasonal craft cocktails.
We devour Yum Poke bowls any chance we get. Sitting at Chestnut's bar warms our soul.
Like Chestnut, Posana is classic with a dedicated gluten-free kitchen. And, what about when you need a hole-in-the-wall grinder from Apollo Flame Bistro?
We'll always be suckers for that giant Saint Bernard at Biltmore's Cedric's Tavern. Plus, which Asheville breweries have the best food or food trucks?
Known as Foodtopia, the restaurants in Asheville are plentiful and amazing. So, how do you choose? As Asheville locals, we are sharing our favorite Asheville, NC restaurants.
We'll let you know the popular, award-winning, and tourist Asheville restaurants that are still musts.
But first, we'll share what we personally think are the lesser-known and best restaurants in Asheville, NC. Most of these won't break the bank, either.
And yes, of course, this list will be highly contentious (bring it on!) and also not include every restaurant in Asheville.
What are the unforgettable Asheville restaurants? Let's get started!
Along with its food, what else is Asheville, NC famous for? The Best Craft Breweries!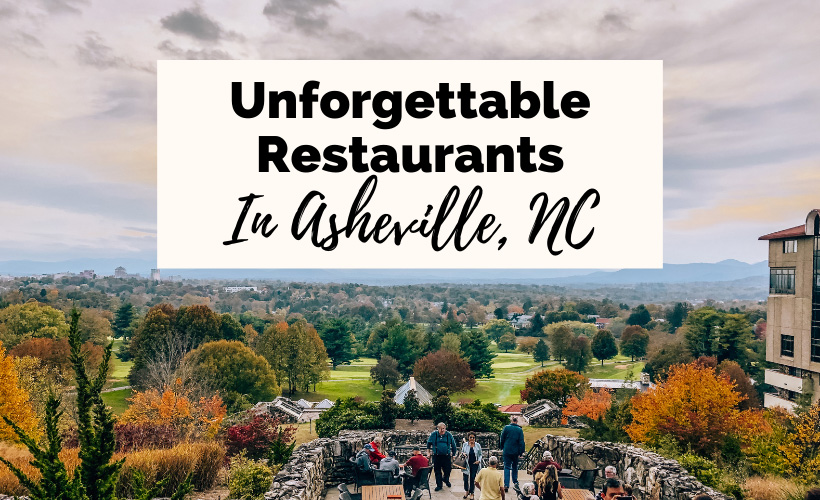 This post may contain affiliate links for products and services we recommend. If you make a purchase through these links, at no additional cost to you, we will earn a small commission. Read the full disclosure here.
Best Asheville Restaurants From Locals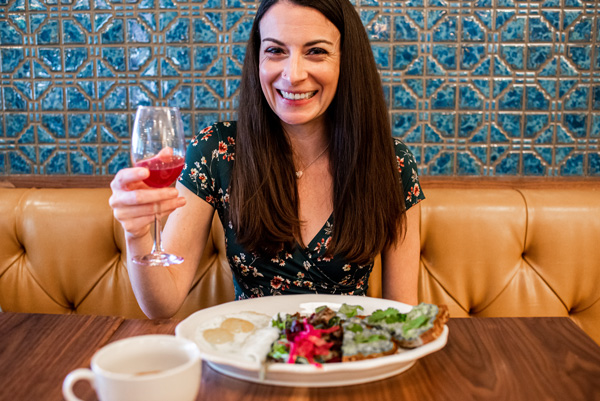 *Although we update our lists frequently, please double-check all information by visiting each Asheville restaurant's website or calling.
We are also including restaurants in Asheville that we love for dine-in and takeout. Grab our favorite Asheville takeout restaurants here→
See our Top Places To Stay in Asheville.

Don't miss out on these Asheville properties on Booking.com, too.
165 Merrimon Avenue, Asheville, NC 28801
(828) 258-7500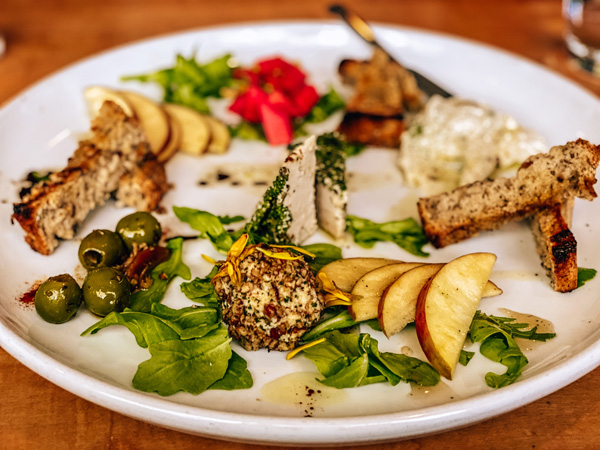 One of the Asheville restaurants we live for, Plant is everything. Plant is food. We are not vegan, but Plant is truly for everyone.
Hands down one of the best vegan restaurants in Asheville, we are obsessed with their cheese plate. We love sitting outside on the patio on a breezy spring day with their fresh cocktails and endless small plates.
Dishes change seasonally and are mostly organic and gluten-free. Beets, curries, veggie lasagna… Need we say more?
Call for a reservation but know they aren't required. We'd make one, though, especially if you have your heart set on eating here.
747 Haywood Road Asheville, NC 28806
(828) 412-5905
One of the newer Thai food restaurants in Asheville (2020), Thai Pearl is gorgeously decorated and delicious. Thai Pearl is also a great choice if you are looking for more gluten-free options.

Sitting between two famous West Asheville restaurants, Nine Mile and Jargon, choose from curries, rice, stir-fry dishes, soups, and Thai salads. Thai Pearl also serves fresh oysters.
Notably, Chef May trained and cooked at The Royal Palace in Bangkok, Thailand. She also worked alongside a Michelin Star Chef in Queensland, Australia.
Full disclosure that Chef May's team originally invited us out for lunch 'on the house' as a new Asheville restaurant; we are so glad. Now, we frequent Thai Pearl as much as we can.
Not only did we meet Chef May and learn how much she gives back to the community, but we tried her most popular Thai dishes.
Be sure to order Chef May's mouthwatering Thai onion rings and a green papaya salad. Tom devours the Pad Thai and Thai Basil. Thai Pearl's ginger soup is the perfect fall dish to warm you up.
Thai Pearl is definitely our new favorite go-to AVL Thai restaurant.
152 Montford Ave, Asheville, NC 28801
(828) 552-3110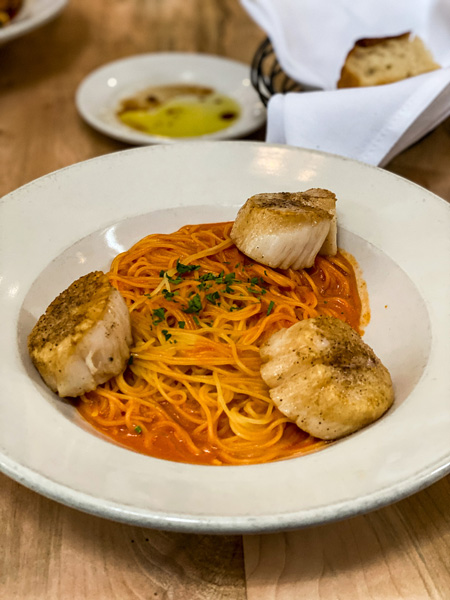 Chiesa is by far one of our favorite Italian restaurants in Asheville. We go here to celebrate pretty much everything.
Please know that due to the times, they've been opening & temporarily closing, though.
Tucked into Asheville's Historic Montford District (the prettiest of the AVL neighborhoods), this converted church and former community center serves delicious and authentic Italian food — not the goopy fake Italian-American stuff.
With gluten and lactose intolerances, the chef always meets our needs with coveted dishes like risotto. We love drinking church-themed cocktails on their outdoor patio.
Think Brussels sprouts, duck, and house-made pasta. We highly recommend making reservations.
Catch a Shakespeare play in the park after dinner (May through October) or pay homage to Thomas Wolfe and O. Henry at Riverside Cemetery.
Address: 275 Smokey Park Hwy Ste 251, Asheville, NC 28806
Coming Soon To North Asheville on Merrimon…
Phone Number: (828) 418-3166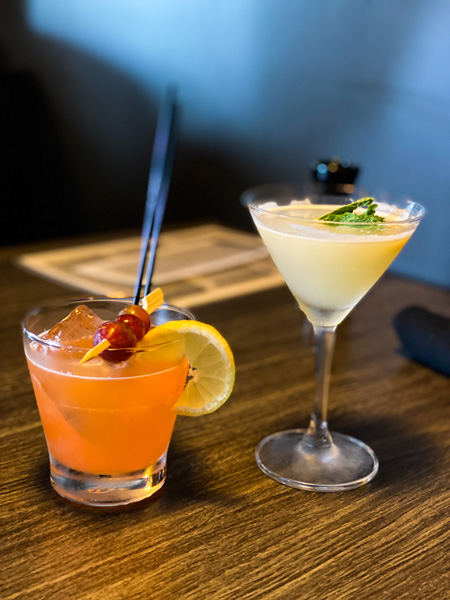 Where can you find pretty cocktails, mouthwatering burgers, and the best sushi in Asheville? The Madness, of course!
One of the newer Asheville restaurants (December 2020), this trendy establishment won't disappoint — even if the location is a tad busy and in a strip mall. Don't run away; it's worth it.
The Madness is a bit hipster but also casual delicious. Order unique specialty rolls, traditional sushi rolls, and beautiful appetizers that are served like pieces of affordable but fancy art.
Plus, if you have non-sushi lovers with you — gasp — their burgers are fantastic. And those fries. We order a little of everything.
P.S. Green Tea Sushi is our second favorite sushi restaurant in Asheville. The third is Umi in Hendersonville, NC.
North Asheville: 501 Merrimon Avenue, Asheville, NC 28804; (828) 505-7427
South Asheville: 33 Town Square Blvd., Biltmore Park, Asheville, NC 28803; (828) 676-3855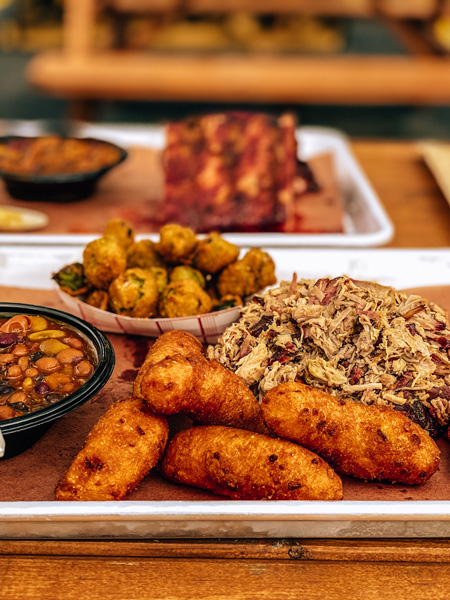 We could never pick out even one or two of the best BBQ restaurants in Asheville. However, we are partial to Big South Kitchen, which serves up BBQ takeout in Arden, and North Asheville's Luella's Bar-B-Que.
Show us the fried okra! Luella's doles out huge portions of the best BBQ ribs and pulled pork paired with overflowing sides.
Of course, 12 Bones Smokehouse is especially famous since Former President Barack Obama and First Lady Michelle dined here.
290 Macon Ave, Asheville, NC 28804
(800) 438-5800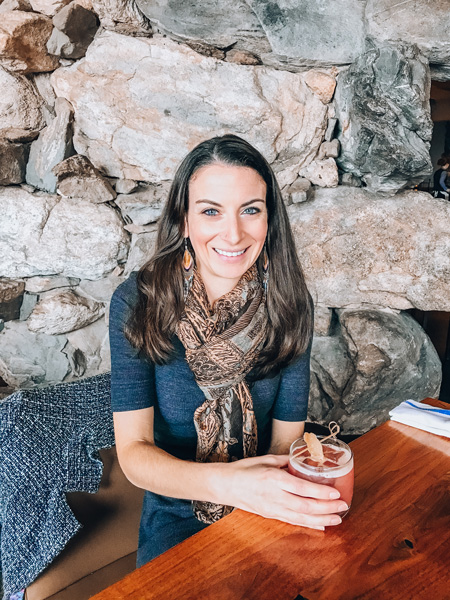 Please don't stalk us, but as Asheville locals, we probably frequent Edison more than we should. The Omni Grove Park Inn, like Biltmore, is a huge part of Asheville's history.
You cannot beat those sunset views over the mountains. P.S. The Grove Park Inn's view is also the inspiration for Uncorked Asheville's logo.
We love to have lunch at Edison with seasonal craft cocktails and local beers. They also serve lighter fare like sandwiches and salads and are cheaper than their other restaurant, Sunset Terrace.
Even though the bars are not quite situated on an actual rooftop, we consider The Omni Grove Park Inn as housing the best rooftop restaurants in Asheville, NC.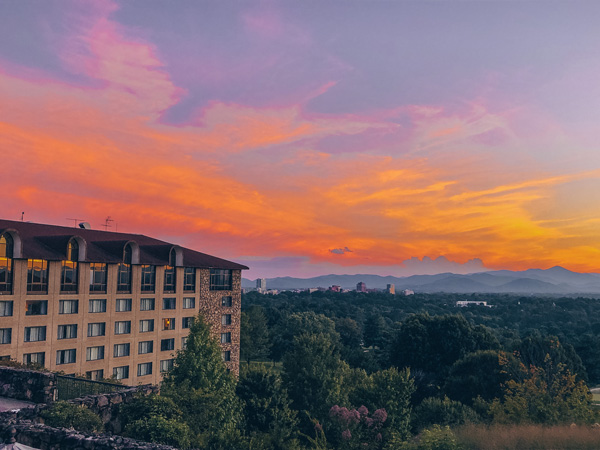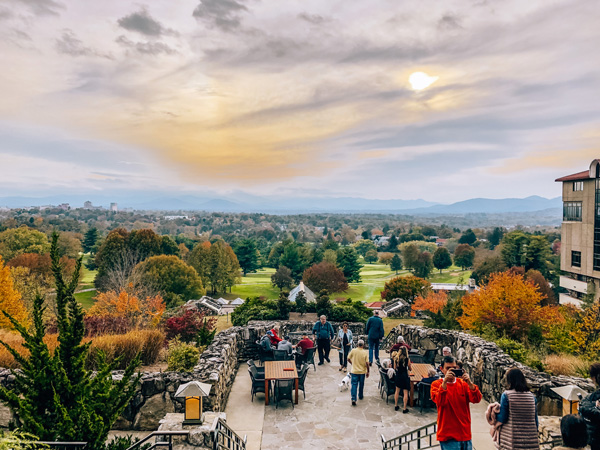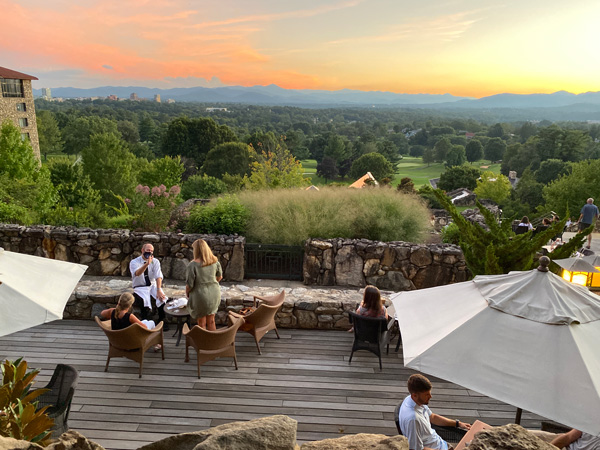 More Unforgettable Grove Park Inn Restaurants:
Sunset Terrace is a stellar high-end Asheville restaurant, too. We daintily annihilate their scallops and steak. Look at those views.
You can also order snacks and drinks at The Great Hall Bar and sit outside beyond Sunset Terrace. Visiting the Grove Park Inn is one of the 'must' Asheville experiences.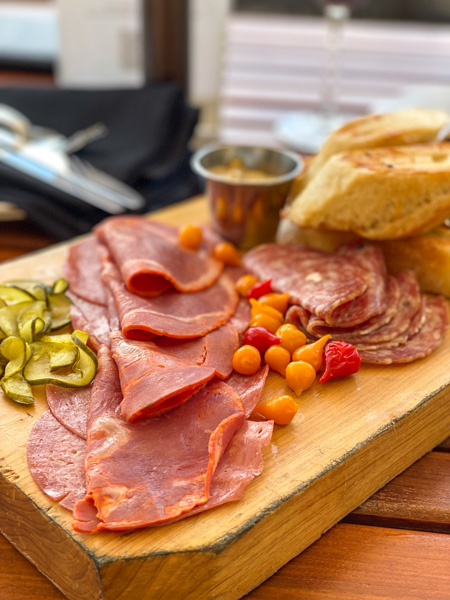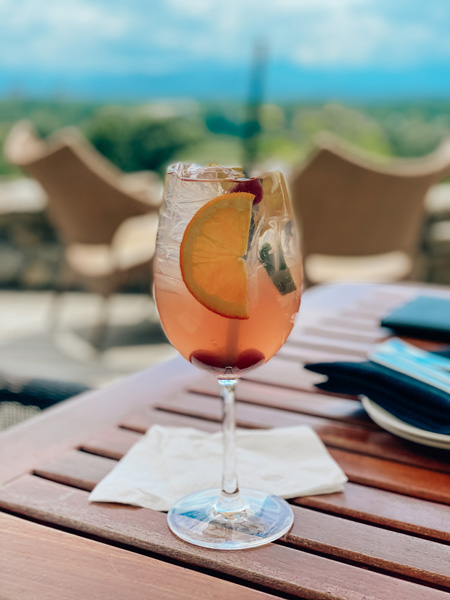 Please just remember that the Grove Park Inn is a luxury resort hotel. Most of the year, parking is free for the first few hours in their lots and Vanderbilt parking garage.
807 Patton Ave, Asheville, NC 28806
(828) 575-2758
One of the best restaurants in Asheville, NC that you rarely find on lists, run to Gyspy Queen Cuisine (GQC). They make delicious Mediterranean & Lebanese street food.
Fair warning, too: you will have trouble deciding what to eat here. You will most likely over-order and want to eat it all.
Gypsy Queen, along with Plant and Laughing Seed, is also one of the best Asheville restaurants for both vegan and gluten-free food.
For Mezze, order the grape leaves, hummus, and a mixture of fried Brussels sprouts and cauliflower. For entrees, choose from rice bowls, gyros, platters, and wraps.
We recommend dining at Gyspy Queen for lunch. Order at the counter and grab a seat — inside or out.
Gypsy Queen is located near Green Tea Sushi, too, just on the outskirts of downtown Asheville over the bridge that passes by the Asheville silo.
Don't let the not so pretty area of buildings — some closed down — scare you away. We promise: the food is delicious and the staff is incredibly accommodating and friendly.
You might also catch GQC's food truck around town.
233 Montford Ave, Asheville, NC 28804 | (828) 505-3121
751 Haywood Rd, Asheville, NC 28806 | (828) 575-9903
Biltmore Town Park Square, Town Square Blvd, Asheville, NC 28803 | (828) 676-1807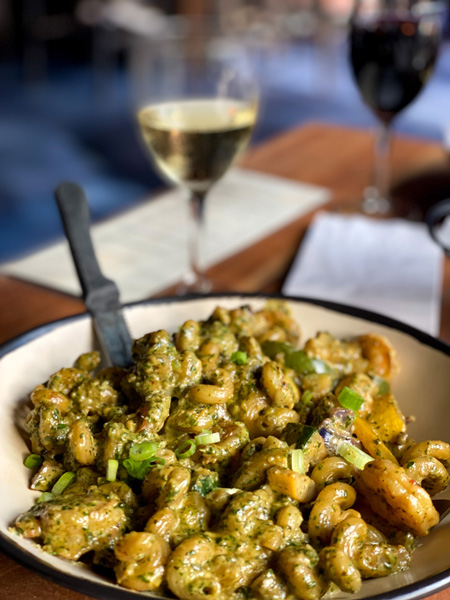 We love Nine Mile's Montford-Asheville location. Nine Mile is a vegetarian-friendly restaurant with Caribbean-inspired pasta and rice dishes.
For Asheville restaurants, Nine Mile has one of the largest menu keys for gluten-free, vegetarian, vegan, nuts, dairy-free, and honey.
Nine Mile does not take reservations, and they will grow extremely busy no matter what time you arrive. With some luck, you might catch them at the right time, and we promise: the wait is worth it.
Nine Mile runs on the spicier side, but they can accommodate. Their pasta and seafood are delicious. Nine Mile also only serves wine and beer.
If you visit Nine Mile's Montford location — which is near Chiesa — spend some time walking the neighborhood. You'll pass gorgeous old houses, Free Little Libraries, Montford's famous B&B's, and Montford Park.
1 Biltmore Ave, Asheville, NC 28801
(828) 505-3969
One of the first fancier restaurants in downtown Asheville that we ate at before moving to AVL, Posana is always jumping.
Unique to Asheville, Posana has a dedicated gluten-free kitchen. This is perfect for our Celiac husband. Almost all of their menu is gluten-free with the exception of a few labeled cocktails and drinks (those bitters, man).
Like Chiesa and Chestnut, Posana is the absolute best restaurant in Asheville for celebrations. They serve local and contemporary American cuisine.
Think gluten-free desserts, appetizers, and meaty entrees. The executive chef and co-owner graduated from The Culinary Institute of America.
Posana has a large patio and looks out on Pack Square, which is full of interesting happenings. This is Asheville, after all.
Recently, the owners also started nearby District 42, a lounge, and Bargello, casual fine dining at Kimpton Hotel Arras. Read more about all of Asheville's best gluten-free restaurants.
62 N Lexington Ave, Asheville, NC 28801
(828) 350-1140
If you are looking for one of the best restaurants in downtown Asheville serving up French comfort food, head to Bouchon.
We have to thank our dedicated readers for putting Bouchon on our radar. One of our newsletter subscribers mentioned that she reserves dinner at Bouchon for every single one of her Asheville visits. We can see why.
Of course, French cuisine isn't super friendly if you are lactose-intolerant, but we found delicious beef stew and duck entrees.
One of the coziest fine dining Asheville restaurants, sit inside their intimate, warm, and dimly lit space or enjoy the outdoor patio.
Bouchon has some of the strongest and most delicious cocktails in town, and of course, you have to order classy French wine with dinner.
Afterward, head to Crave Dessert Bar for more cocktails, hookah, and of course, the best desserts in Asheville.
91 Biltmore Ave., Asheville, NC 28801
(828) 575-9599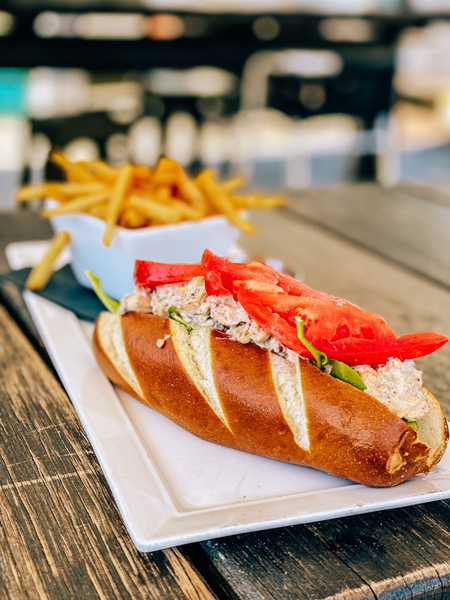 Here at Uncorked Asheville, we always get asked for the best Asheville restaurants near or at breweries. Although Wicked Weed is indeed a tourist spot, you kind of have to go here.
Wicked Weed serves up delicious sandwiches, burgers, and entrees to pair with their wide beer selection.
If we have friends in town who want to see Asheville's famous breweries while getting food, we head to Wicked Weed.
Of course, you can go the delicious food truck route, too.
Don't miss Zillicoah's stationary Mexican food truck, Taqueria Munoz. Ginger's Revenge loves to host the tasty Trashy Vegan.
626 Haywood Rd, Asheville, NC 28806
(828) 252-0055
One of the absolute best restaurants for breakfast in West Asheville, Sunny Point Cafe is both a visitor and local favorite.
The weekends will see lines around West Asheville, and the weekdays tend to be just as busy. Sunny Point posts wait times near where you order.
Sunny Point Cafe serves all three meals on most days, but we especially love them for breakfast and lunch.
Eat outside on Sunny Point Cafe's patio filled with murals or dine indoors. Choose from Southern classics like chicken and waffles, fried green tomatoes, and shrimp and grits.
Sunny Point Cafe also has French toast, hotcakes, avocado toast, candied bacon, and breakfast burritos. They offer gluten-free bread and vegan options and serve up large portions with local libations.
We enjoy their local beer selections and craft cocktails. Mimosas included!
Save The Best Restaurants in Asheville, NC For Later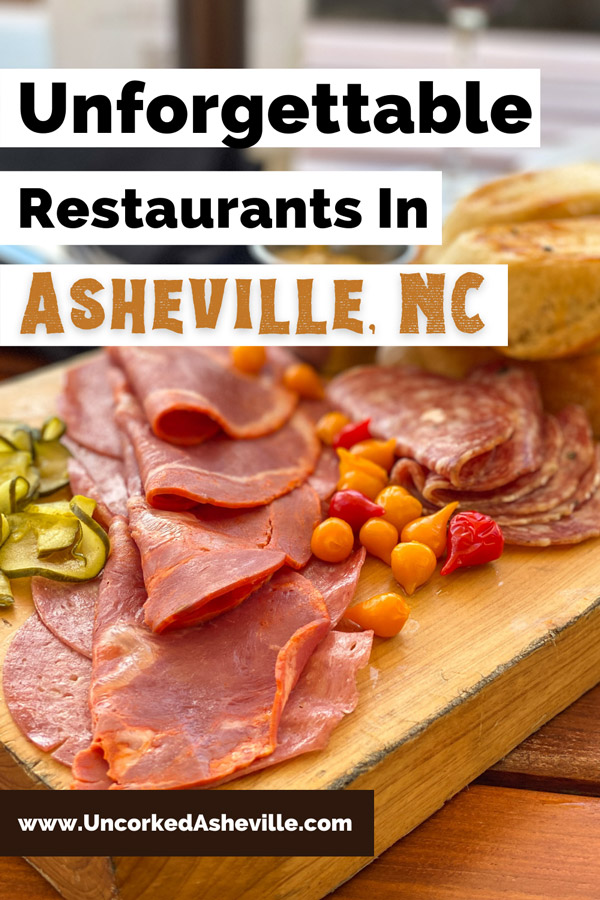 521 Haywood Rd, Asheville, NC 28806
(828) 575-9393
West AVL houses many of the best restaurants in Asheville, NC, and Zia Taqueria proves it. Similar to the popular White Duck Taco Shop, Zia Taqueria cooks up the city's most delicious tacos and Mexican cuisine.
Most notably, Zia Taqueria has a vegan cashew cream sauce and burrito bowl topped with cauliflower, veggies, and vegan protein selections.
Sit outside on their patio or at a picnic table. Of course, you can dine inside, too.
Don't forget a margarita. We would dare to say that Zia Taqueria makes one of the best margaritas in Asheville. Not too sugary, full of booze, and their margarita goes down quickly.
While you order, enjoy complimentary salsa and chips — which we can never stop eating. Afterward, head to The Whale for the largest national and international craft beer selection.
Zia Taqueria has its own parking lot. We prefer to park at the church next door — which utilizes the Park Mobile app — especially if we are eating and drinking around West Asheville.
143 Charlotte St, Asheville, NC 28801
(828) 505-4499
If you love New England-style fish, Jettie Rae's is a must. One of the best seafood restaurants in Asheville, choose from oysters, shrimp cocktail, mussels, and clams.
Of course, Jettie Rae's has a raw bar, and their cocktail list is inventive and full of heat. Find twists on classic drinks.
Jettie Rae's has non-seafood options, too, including burgers and salads. We highly suggest making advanced reservations here.
Most uniquely, Jettie Rae's sits in a renovated Gulf Gas Station that "Steamer" Edmonds opened. We enjoy sitting outside on the covered patio.
45 Asheland Ave. Unit 101, Asheville, NC 28801 | (828) 505-2277
100 Julian Shoals Dr.Arden, NC 28704 | (828) 676-3800
For the best poké restaurant in downtown Asheville, Yum has both build-your-own sushi burritos and poké bowls. What's not to love?
Pick your protein along with rice or salad. Load up with the goods.
Our favorite mix-ins with tuna and salmon proteins include carrots, mango, roe, cucumber, avocado, seaweed salad, fried garlic, and scallion.
Add some ginger sauce, and get ready to dig in.
18 N Main St, Weaverville, NC 28787
(828) 645-8866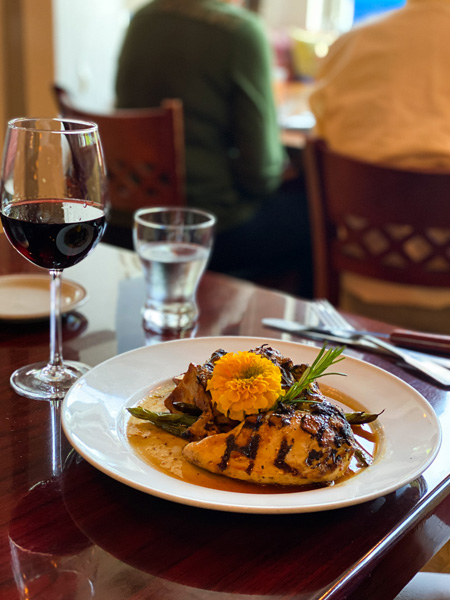 We are being a tad sneaky here, but one of the best restaurants in the Asheville area, don't miss Glass Onion. Technically, Glass Onion is in Weaverville, NC — which is under a 10-minute drive from downtown Asheville.
Glass Onion is a classy but still more casual Asheville fine dining option. We highly suggest making reservations, especially for an evening out.

A tad more expensive, order delicious beet appetizers and plentiful-portioned meat and seafood entrées. Considered 'global Italian,' you'll love the atmosphere and blown-glass decor.
Glass Onion is incredibly accomodating to food intolerance and allergies. They have a plethora of GF options, too.
You can read more about Weaverville's delicious restaurants here. Weaverville is a great option to beat the bustle of downtown Asheville.
Head to Twisted Laurel for cocktails after dinner or WagBar for craft beer with the pooches.
Instead of Weaverville, you could also drive 30-minutes east of Asheville to some of our favorite Black Mountain restaurants. Black Mountain has breweries, a meadery, and a distillery.
70 North Lexington Ave., Asheville, NC 28801
(828) 225-8880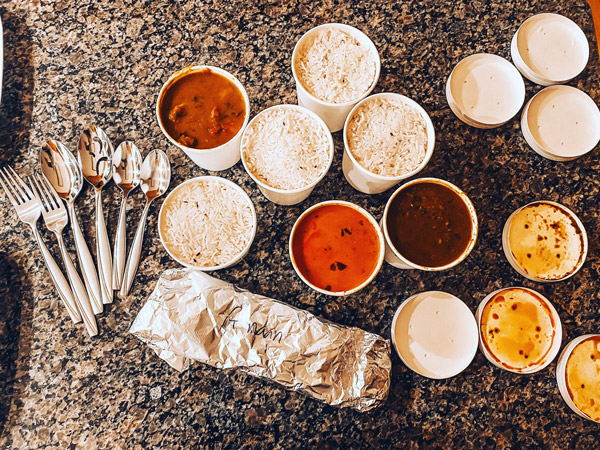 One of our favorite Asheville Indian restaurants, Mela offers large portions of North and South Indian-inspired cuisine. You can find vegan and gluten-free options, too.
Mela boasts of fresh and local ingredients, and their sauces are to die for.
We love Mela's chicken curry and lamb Chettinad, which may set your mouth on fire. For us, Mela is one of the absolute best Indian restaurants in Asheville, NC. We tend to order takeout from Mela.
A second fabulous Indian and Pakistani Asheville takeout option, we devour Biryani Express (their menu is listed on the takeout apps like Takeout Central).
82 Patton Avenue Suite 100, Asheville, NC 28801
(828) 505-8688
One of our all-time favorite Asian fusion restaurants in Asheville, Red Ginger Dimsum and Tapas is home to dumplings and sushi. We ate here long before we moved to Asheville and can't get enough.
Choose from fried rice, every type of delicious dumpling, Asian pancakes, bento boxes, summer rolls, and vegan, vegetarian, and gluten-free options.
You want to order 2-3 plates per person and because they are Asian tapas, you may also share across the table.
Never Miss Another Asheville Update
Are you tired of generic Asheville travel itineraries? Do you want to experience the magic of Asheville like a local?
Grab our free Asheville Favorites checklist today, including restaurants, breweries, and hiking. Plus, get local updates straight to your inbox. Sign up here.
27 Foundy Street, Suite #20, Asheville, NC 28801
(828) 417-7212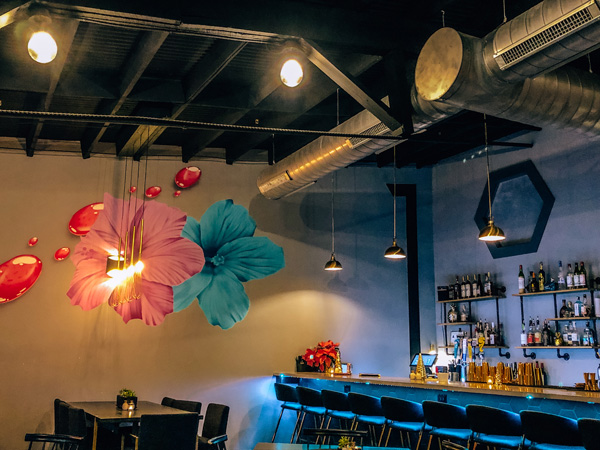 We stumbled upon Rosabees in the River Arts District (RAD) after enjoying the street art, pleb urban winery, and Wedge Brewing.
A Polynesian restaurant, Rosabees has delicious poke, rice, and noodle dishes. This is a great off-the-beaten-path Asheville dining option.
After dining at Rosabees, head to one of Asheville's hippest wineries, pleb.
Or, drive a few minutes away to Bottle Riot, a gorgeous Asheville wine bar.
78 Patton Ave, Asheville, NC 28801
(828) 254-0255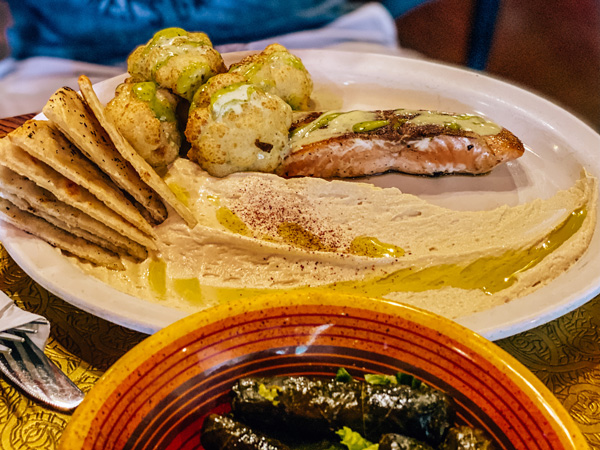 When the other downtown Asheville restaurants get slammed, it's refreshing to sneak into Jerusalem Garden Cafe. The atmosphere is colorful, serene, and delicious.
Jerusalem Garden Cafe specializes in Mediterranean and Middle Eastern cuisine. We actually love their Saturday and Sunday brunch, and they are also one of our favorite Asheville lunch spots.
Think falafels, hummus, salads, and gyros. They even serve brunch mimosas.
1 Page Ave #151, Asheville, NC 28801
(828) 505-0909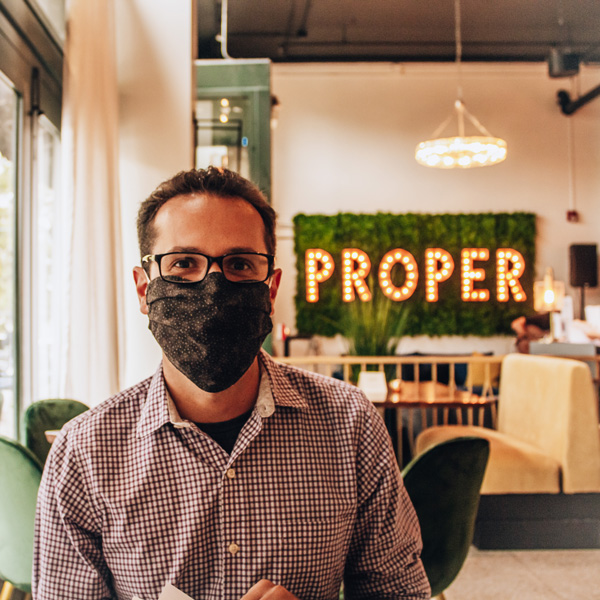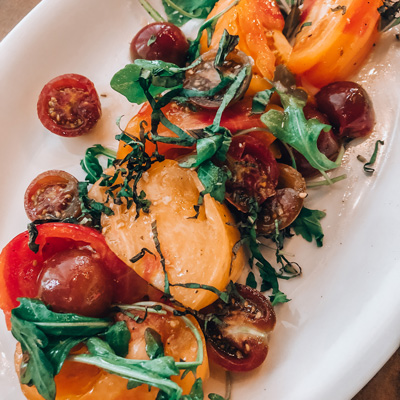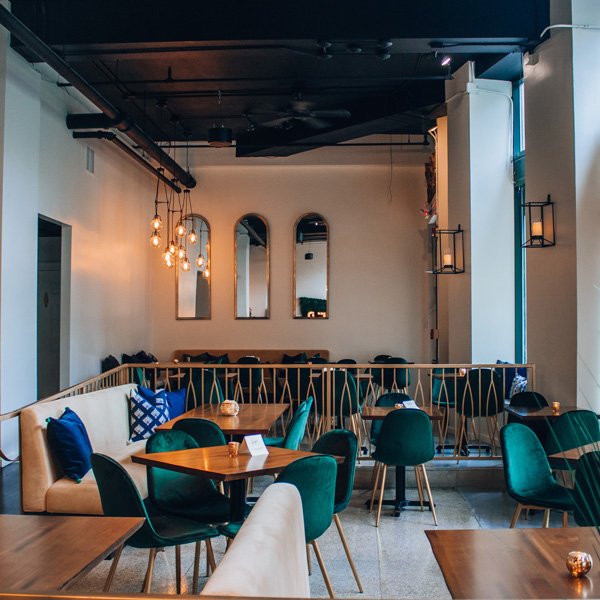 One of the new downtown Asheville restaurants that opened in 2020, Asheville Proper is your proper steakhouse. Located in the historic Grove Arcade, they invited us out for a pre-opening, media night dinner.
Um, speakeasy cocktails and delicious steaks with fresh sides?! Yes, please. You'll love the trendy atmosphere and live-fire dining experience.
Afterward, head to one of Asheville's coolest distilleries, Cultivated Cocktails. Similar to the nearby Battery Park Book Exchange, they serve literary cocktails.
Biltmore Estate | 1 Lodge St, Asheville, NC 28803
Antler Hill Village & Winery
(828) 225-1320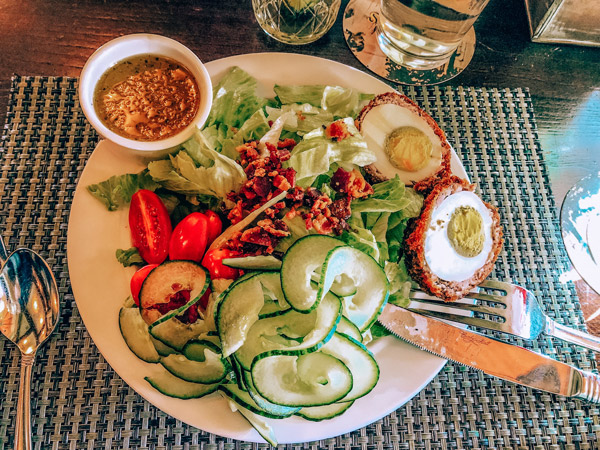 We make no promises to be the 'best' Asheville locals. We love Biltmore in all its touristy glory.
Biltmore Estate's history is captivating, and its food is delicious. In fact, we are annual passholders.
For fantastic Asheville restaurants, Cedric's Tavern is a go-to. You will need a pass/ticket to enter, and we suggest reservations, too.
Cedric was the Vanderbilts' beloved St. Bernard. The restaurant is an homage to him. We devour their in-house pickles, Lusty Monk mustard, seasonal cocktails, fish and chips, and sandwiches.
Biltmore Estate | 1 Lodge St, Asheville, NC 28803
Next To Biltmore House & Gardens
(828) 225-1320
Another delicious Biltmore property restaurant, Stable Cafe is a must. I mean, when else can you say that you dined in George Vanderbilt's horse stables?
We love the chicken and tuna salad paired with a cocktail. This is the perfect stop if you are spending all day touring Biltmore.
Typically, you would want to visit the Biltmore House first, peruse the gardens, and then grab lunch at Stable Cafe. Afterward, beeline it for the Biltmore Winery. Grab our suggested Biltmore itinerary here.
You will need a Biltmore ticket or annual pass to dine at Stable Cafe. We recommend reservations. You can learn more about Biltmore's special winery tours here.
Stable Cafe is also perfect if you are looking for family-friendly things to do at Biltmore.
675 Merrimon Ave, Asheville, NC 28804 | (828) 254-1281
77 Coxe Avenue, Asheville, NC 28801 | (828) 255-4077
1850 Hendersonville Road Suite A, Asheville, NC 28803 | (828) 277-5775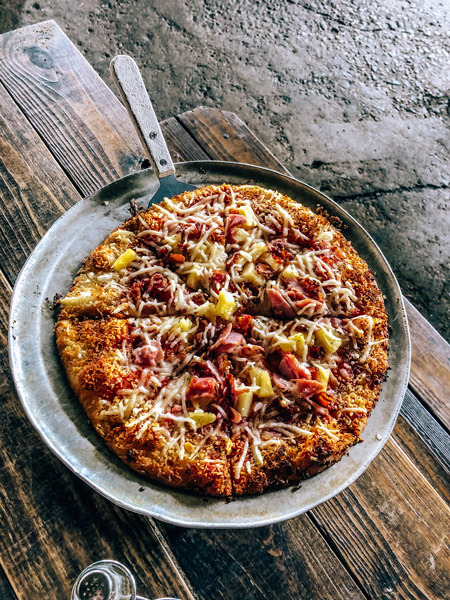 Our go-to for pizza restaurants in Asheville, Asheville Pizza and Brewing is the best. They have multiple locations across North, South, and downtown Asheville.
If you are vegan and/or gluten-free, they offer vegan cheese and gluten-free pizza crust.
Along with pizza, don't miss their delicious craft beer. We love their stout coconut blends and ambers.
Asheville Brewing has more bar food items like tater tots, sandwiches, and burgers. The Merrimon location also has a movie theater where they play the oldies but goodies and now brand new movies.
40 Wall St, Asheville, NC 28801
(828) 252-3445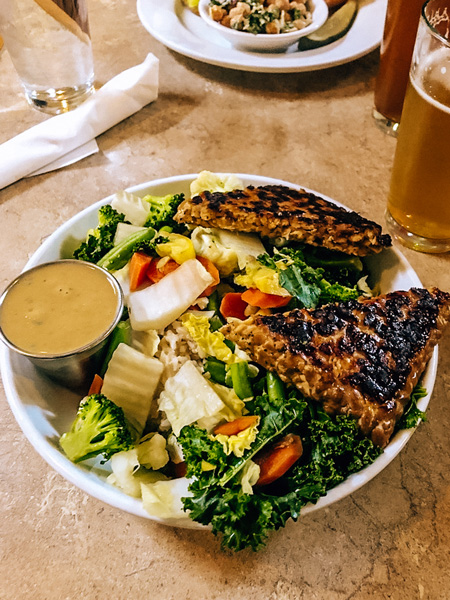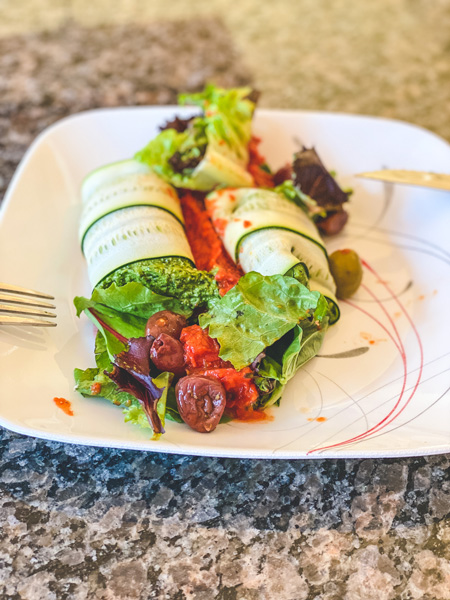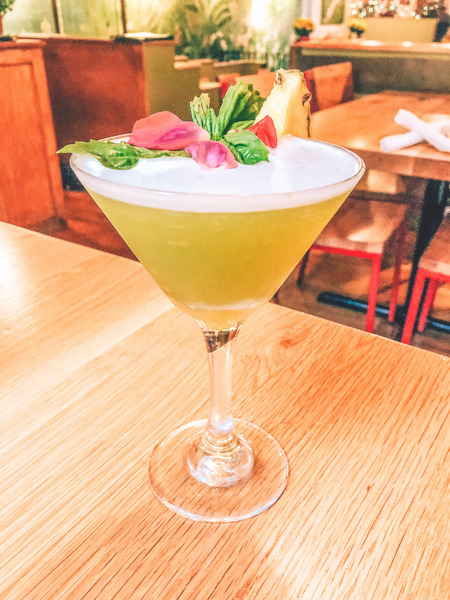 One of the first Asheville restaurants that we ever ate at before moving here, Laughing Seed Cafe is a delicious vegan and vegetarian downtown Asheville restaurant. They also have fantastic gluten-free options.
We enjoy Laughing Seed Cafe's veggie burger, 'Reuben,' and vegan manicotti along with craft cocktails.
Laughing Seed Cafe is also the perfect Asheville takeout spot for the holidays — think pies, sauces, and meals for the entire family.
48 Biltmore Ave, Asheville, NC 28801
(828) 575-2667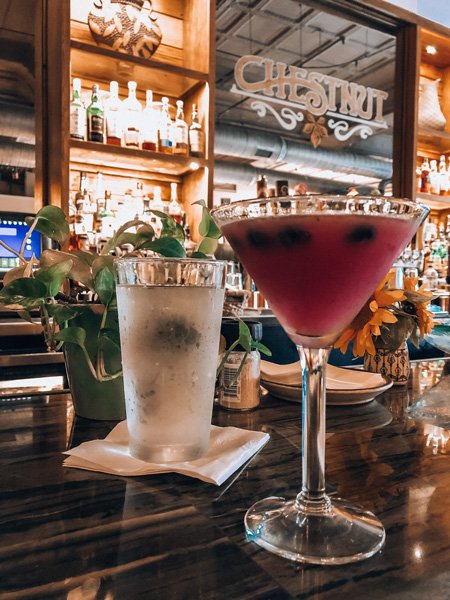 For one of the more popular downtown Asheville restaurants on the fancier side — and where people go before concerts or for brunch — Chestnut is sleek and trendy.
Although they make delicious meals, nothing beats charcuterie and drinks at the bar. Chestnut also serves Southern dishes with large portions of the meats.
22 Battery Park Avenue, Asheville, NC 28801
(828) 254-4003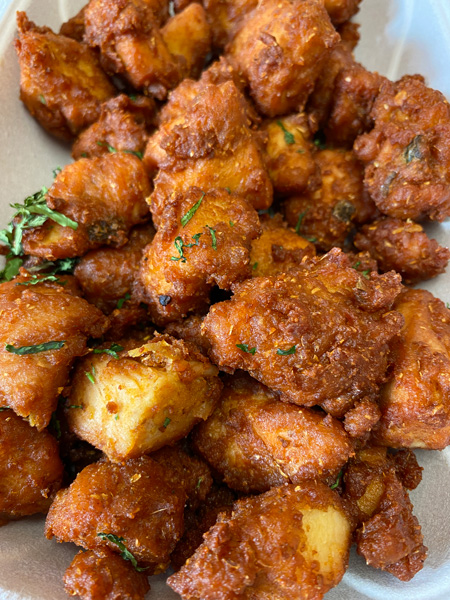 One of the best downtown Indian restaurants in Asheville and also a popular spot, don't miss Chai Pani. Chai Pani is best known for its Indian street snacks.
This Asheville restaurant has been featured in The New York Times, GQ Magazine, and New York Magazine.
We love Chai Pani's okra fries, chicken pakoras, and simple rice and daal plate. Chai Pani has vegan and gluten-intolerance-friendly options, too.
12 College St, Asheville, NC 28801 | (828) 255-4863
1829 Hendersonville Rd, Asheville, NC 28803 | (828) 505-7676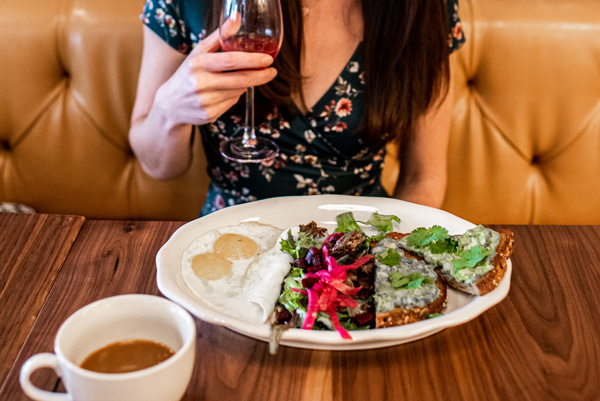 Full disclosure that Tupelo Honey Cafe is certainly one of the most touristy downtown Asheville restaurants on this list (and a franchise), especially for brunch and lunch; we still love them. Make reservations…
Known for locally sourced ingredients, Tupelo Honey offers southern cuisine, brunch all day, and incredible cocktails. People love their chicken, and they are food-intolerance friendly.
Tupelo Honey is also super supportive of their local blogger community.
10 S. Pack Square, Asheville NC 28801
(828) 252-4181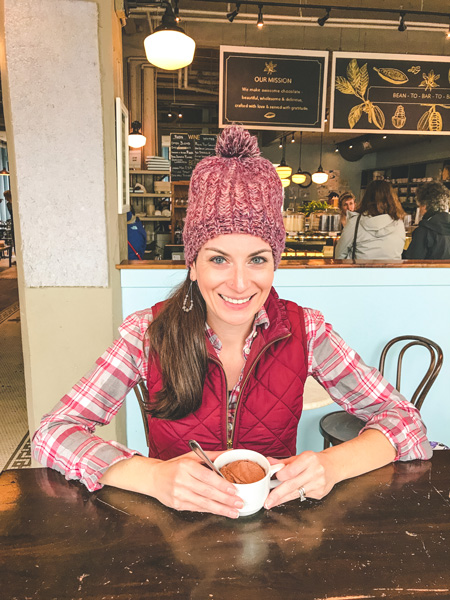 If you are looking for coffee shops and the best dessert restaurants in Asheville, French Broad Chocolate Lounge is a chocolate lover's dream.
This is also a big tourist spot but well worth the line out the door.
Find desserts, hot cocoa, truffles, bonbons, cakes, custards, cookies, coffee, brownies, booze, and ice cream. The Chocolate Lounge has lactose-free, gluten-free, and vegan options, too.
Don't miss the great museums nearby, including the Asheville Art Museum. We also love Old Europe Pastries for treats on the run.
Looking for more dessert cafes and restaurants in Asheville? Explore our favorite AVL Donut Shops.
11 Broadway St., Asheville, NC 28801
(828) 281-8151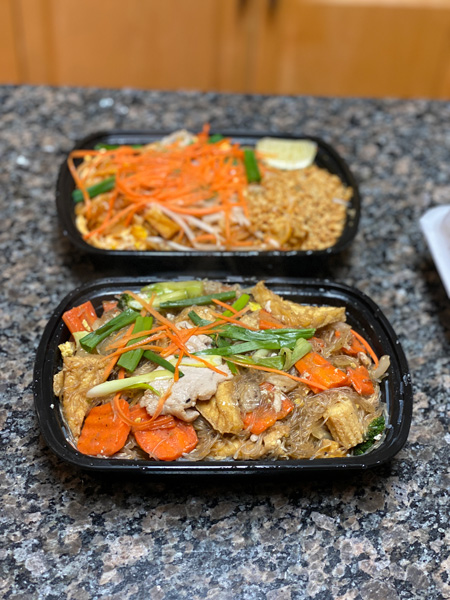 One of the most popular Thai food restaurants in Asheville, Suwana's serves up authentic Thai food. Suwana's is our favorite Asheville restaurant for takeout.
You can order it all: noodles, fried rice, stir-fry, and curry. We love Suwana's Pad Woon Sen and Pad Thai.
1025 Brevard Rd., Asheville, NC 28806 | (828) 665-0080
485 Hendersonville Rd., Asheville, NC 28803 | (828) 274-3582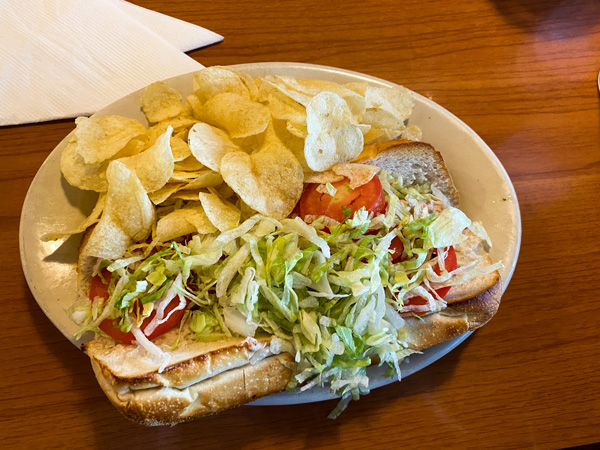 One of our bi-weekly, go-to Asheville restaurants is a "hole-in-the-wall" Greek diner.
We are praying Apollo Flame Bistro doesn't think that's an insult because we live for their grinders after a visit to The NC Arboretum or Blue Ridge Parkway-Pisgah area for hiking.
It's our personal tradition to grab grape leaves and grinders (subs) here after a day of exploring the mountains.
There are two Apollo Flame Bistro Asheville locations – one near the outlets and Blue Ridge Parkway (BRP) and one close to Biltmore.
Know that Apollo Flame is one of our most contentious Asheville restaurant recommendations. We get endless 'thank you's' for this gem as well as a few "WTFs?!"
Save These Delicious Asheville, NC Restaurants For Later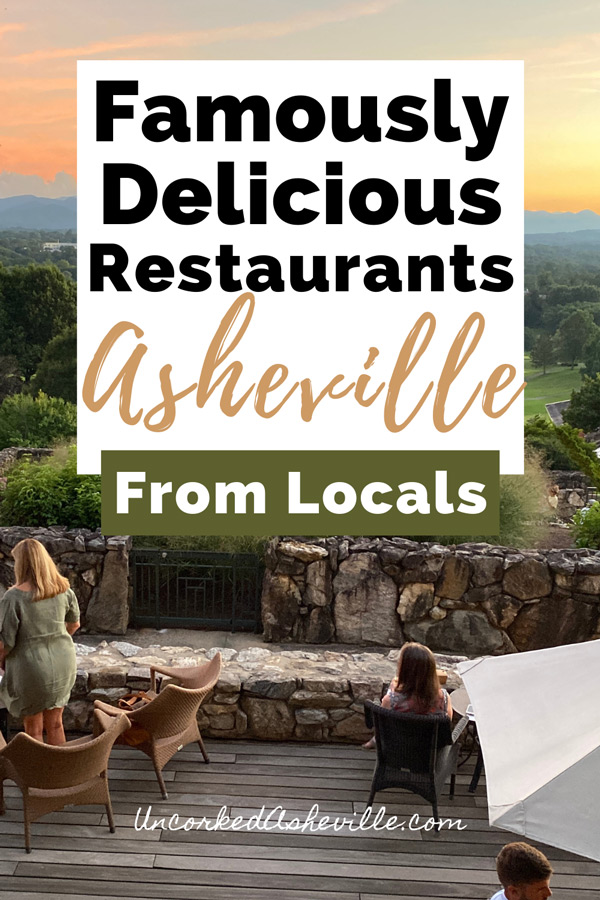 Popular Asheville Restaurants
We didn't want to have a list of Asheville restaurants without listing just a few of the big ones that you'll see on every foodie list.
Because these establishments land on pretty much every bloggers' and tourism board's "best restaurants in Asheville, NC" post, we wanted to give you different and sometimes more affordable and more bang for your buck AVL restaurants first.
That's not to poo-poo on these delicious or even award-winning Foodtopia options, by any means. Do not come for us.
These are some of the literal best restaurants in Asheville. Above, there are quite a few big "tourist" Asheville restaurants, too.
When we say "Asheville," though, everyone knows the below Asheville restaurants, which are equally fabulous dining options.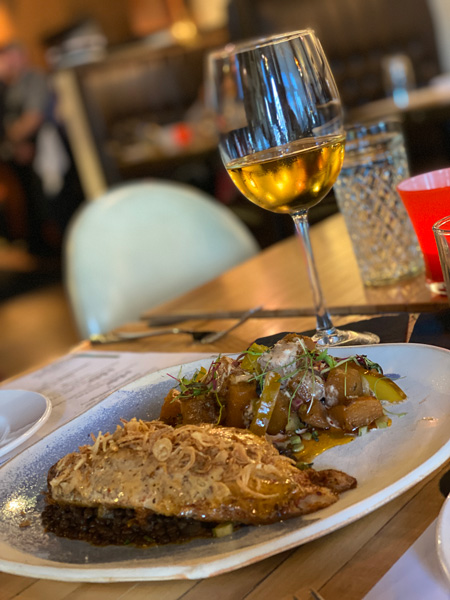 A few more popular restaurants in Asheville, NC:
Cúrate – 13 Biltmore Ave, Asheville, NC 28801 – Spanish tapas and wine in a former 1927 bus depot. Anthony Bourdain ate here. Charcuterie and sherry are life.
Jargon – 715 Haywood Rd, Asheville, NC 28806 – Fancy American cuisine with a Southern twist in West Asheville. This quirky AVL restaurant is perfect if you love lava lamps.
All Souls Pizza – 175 Clingman Ave, Asheville, NC 28801 – Local and seasonal pizza pies.
Buxton Hall BBQ – 32 Banks Ave, Asheville, NC 28801 – Whole-hog, famous East Carolina BBQ and sides.
Benne On Eagle – 35 Eagle St, Asheville, NC 28801 – Located in The Foundry, a restaurant showcasing African-American roots of Appalachian cooking.
Biscuit Head – Multiple locations across AVL – Everything Southern biscuits. They also have a gluten-free and vegan biscuit option with gravy.
Farm Burger – 10 Patton Ave, Asheville, NC 28801 – Locally-supported burgers and fries with gluten-free options.
Vinnie's Italian – Multiple locations across AVL – With lines out the door, Italian, Italian, Italian.

S&W Market – 56 Patton Ave, Asheville, NC 28801 – For new 2021 Asheville restaurants, we had to showcase AVL's food hall.

Find Highland Brewing on two floors while you snack on tacos, hot dogs, and fried chicken sandwiches. The Hop even has a stall here (with vegan ice cream options).
Delivery For Asheville Restaurants: Services & Apps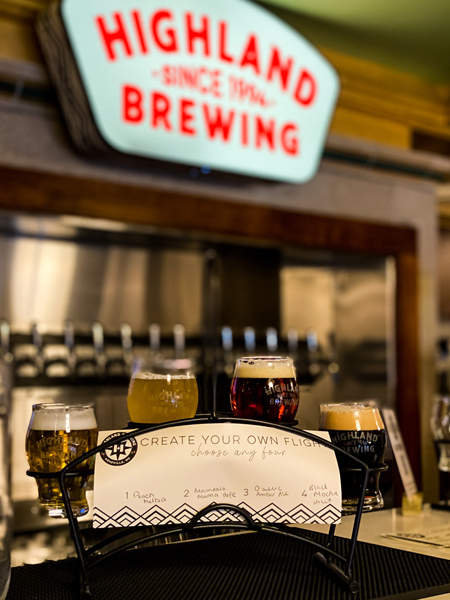 What are the best ways to get delivery in Asheville if you don't want to pick up your order or dine out? Of course, you can see if the restaurant has its own delivery service.
We are also big fans of phone apps like Takeout Central, Kickback AVL, and GrubHub. Grab our favorite Asheville takeout list here.
Looking For A Place To Stay To Tour All Of The Asheville Restaurants?
Save Your Favorite Restaurants Around Asheville, NC For Later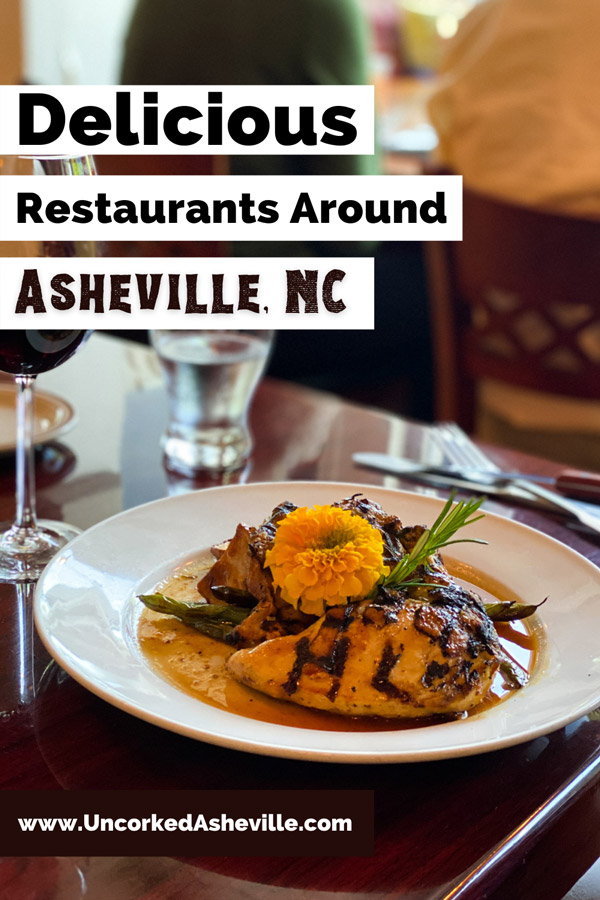 Are you ready to tour the best Asheville restaurants?
Which of these restaurants in Asheville have you tried? Is there an Asheville restaurant that is your go-to or part of your AVL tradition?
Are there any Asheville restaurants that you don't love as much? Let us know in the comments!
Foodie Posts You May Also Enjoy:
Complete Asheville Food & Drink Guide
Best Takeout & Delivery Restaurants In Asheville
Eating Vegan & Veggie
Gluten-Free Guide
West Asheville Restaurants
Asheville By Cuisine:
BBQ Joints
Best Tacos
Sushi Restaurants In Asheville
Thai Food
Spicy Indian
Asheville By Meal
Breakfast
Lunch
Fine Dining Dinner
Don't Forget Coffee & Dessert:
Sugary Donuts
Top Coffee Shops
Dessert Bars
Apple Orchards
Did We Make You Thirsty? Head Here:
Asheville Breweries
Top-Shelf Distilleries
Wineries & Vineyards
Trendy Wine Bars
Rooftop Bars
Nearby Asheville Restaurant Guides:
Black Mountain
Weaverville
Hendersonville
Don't forget to check out our best things to do in Asheville, too→