It's no secret that the Asheville restaurants are pretty stellar. With so many options, how do you choose? As locals, don't miss our favorite restaurants in Asheville for breakfast, lunch, and dinner.
When we first moved to AVL, all of the Asheville restaurant guides seemed to have the exact same places to eat. "You must go to Cúrate, French Broad Chocolate Lounge, Tupelo Honey, Jargon, Rhubarb, All Souls Pizza, Buxton Hall, and Biscuit Head."
Yes! Those are indeed some of the most popular and famous Asheville restaurants. They are delicious. You should go to them.
But, what about dining in an old church at Chiesa? Or, the best vegan and vegetarian places like Laughing Seed Cafe and Plant? I live for Plant's vegan cheese platter.
Along with Chai Pani, we crave Mela's spicy Indian sauces. Jerusalem Garden Cafe is a vibrant must that forces difficult choices against its downtown neighbor, Red Ginger Dimsum. Endless Asian tapas anyone? One word: Dumplings.
Personally, Edison at the Grove Park Inn makes my mountain heart sing with those jaw-dropping sunsets and seasonal craft cocktails. I devour Yum Poke bowls any chance I get. Sitting at Chestnut's bar warms my soul.
Like Chestnut, Posana is classic. And, what about when you need a hole-in-the-wall grinder from Apollo Flame Bistro? I'll always be a sucker for that giant Saint Bernard at Biltmore's Cedric's Tavern.
Known as Foodtopia, the restaurants in Asheville are plentiful and amazing. So, how do you pick? As Asheville, locals, we are sharing our favorite Asheville, NC restaurants.
We'll let you know the popular, award-winning, and tourist Asheville restaurants that are still musts along with what we personally think are the lesser-known and best restaurants in Asheville.
And yes, of course, this list will be highly contentious (bring it on!) and not include every restaurant in Asheville.
What are the unforgettable Asheville restaurants? Let's get started!
Along with its food, what else is Asheville, NC famous for? The Best Craft Breweries!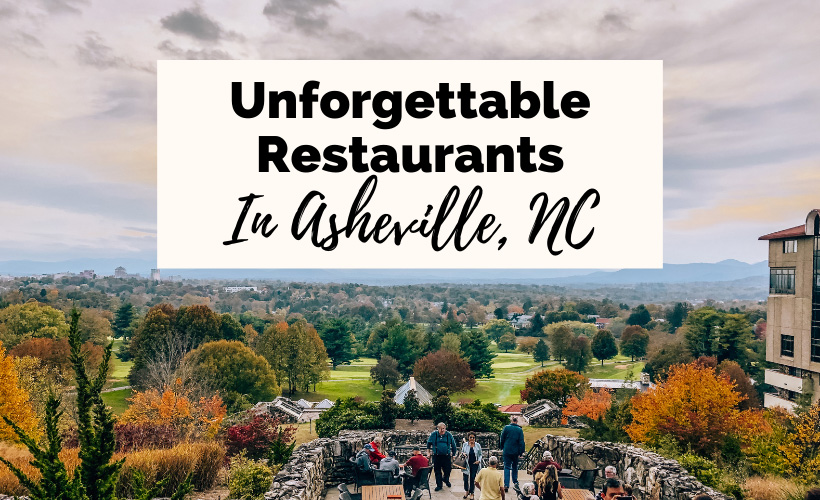 This post may contain affiliate links for products and services I recommend. If you make a purchase through these links, at no additional cost to you, I will earn a small commission. Read the full disclosure here.
See our Top Places To Stay in Asheville.

Don't miss out on these Asheville properties on Booking.com, too.
Delicious Asheville Restaurants – Our Top Picks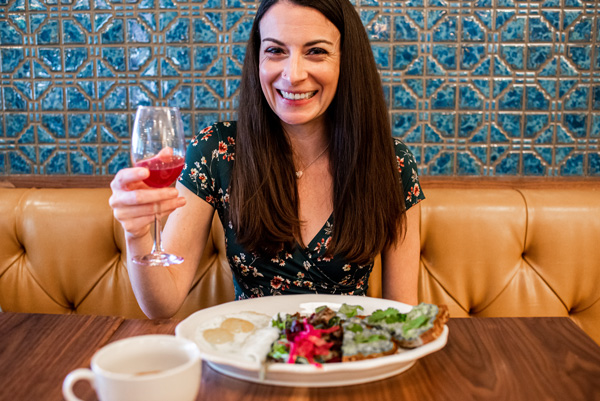 *Although we update our lists frequently, please double-check all information by visiting each Asheville restaurant's website or calling.
We are also including restaurants in Asheville that we love for dine-in and takeout. Grab our favorite Asheville takeout restaurants here→
152 Montford Ave, Asheville, NC 28801
(828) 552-3110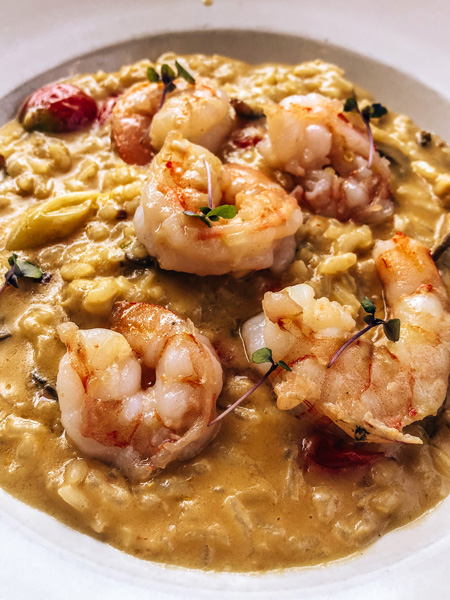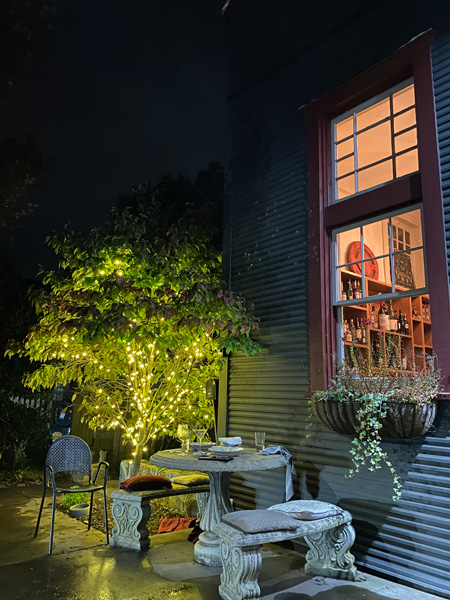 Chiesa is by far one of our favorite restaurants in Asheville. We go here to celebrate pretty much everything.
Tucked into historic Montford, this converted church and former community center serves delicious and authentic Italian food — not the goopy fake Italian-American stuff.
With gluten and lactose intolerances, the chef always meets our needs with coveted dishes like risotto. I love drinking a church-themed cocktail on their patio.
Think Brussel sprouts, duck, and house-made pasta. I highly recommend making reservations.
Plus, Chiesa is located in Asheville's beautiful Montford district: Catch a Shakespeare play in the park after dinner or pay homage to Thomas Wolfe and O. Henry at Riverside Cemetery.
165 Merrimon Avenue, Asheville, NC 28801
(828) 258-7500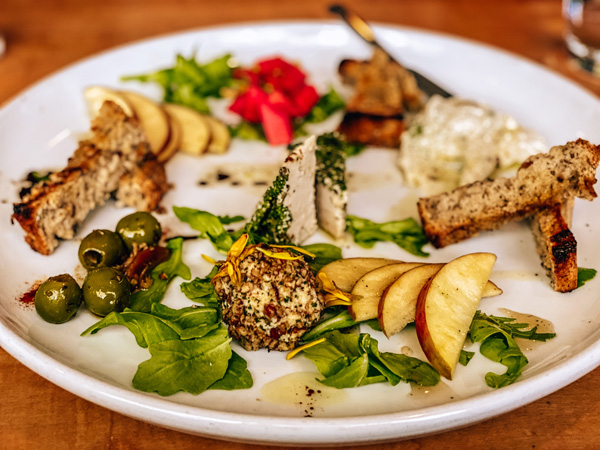 One of the Asheville restaurants we live for, Plant is everything. Plant is food. We are not vegan, but Plant is truly for everyone.
One of the best vegan restaurants in Asheville, I'm obsessed with their cheese plate. We love sitting outside on the patio on a breezy spring day with their fresh cocktails and endless small plates.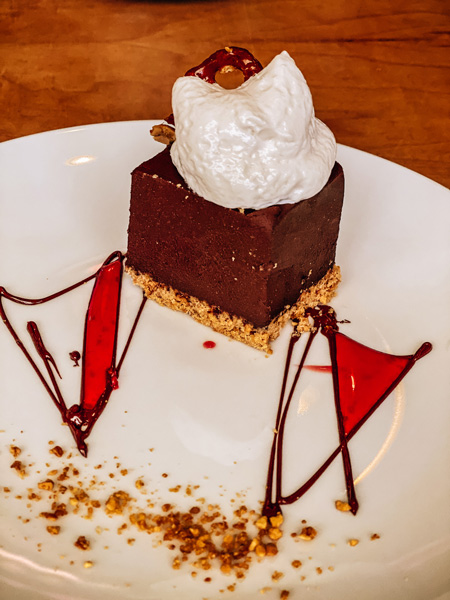 Dishes change seasonally and are mostly organic and gluten-free. Beets, curries, veggie lasagna…need I say more?
Call for a reservation, but know they aren't required. I'd make one, though, if you don't want to wait.
Save These Asheville Restaurants For Later
45 Asheland Ave. Unit 101, Asheville, NC 28801 | (828) 505-2277
100 Julian Shoals Dr.Arden, NC 28704 | (828) 676-3800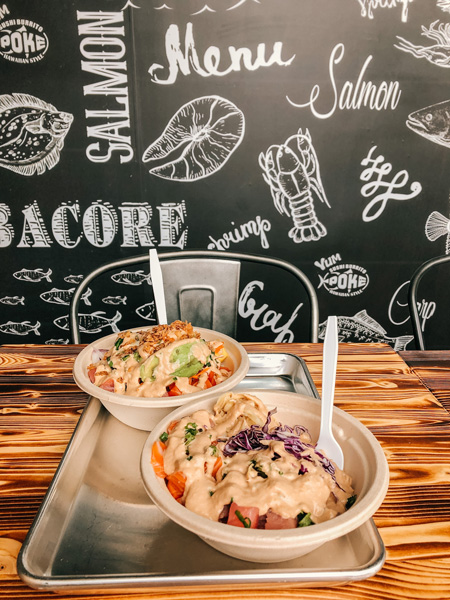 For the best poké restaurant in downtown Asheville, Yum has both build-your-own sushi burritos and poké bowls. What's not to love?
Pick your protein along with rice or salad. Load up with the goods. My favorite mix-ins with tuna and salmon are carrots, mango, roe, cucumber, avocado, seaweed salad, fried garlic, and scallion.
Add some ginger sauce, and get ready to dig in.
70 North Lexington Ave., Asheville, NC 28801
(828) 225-8880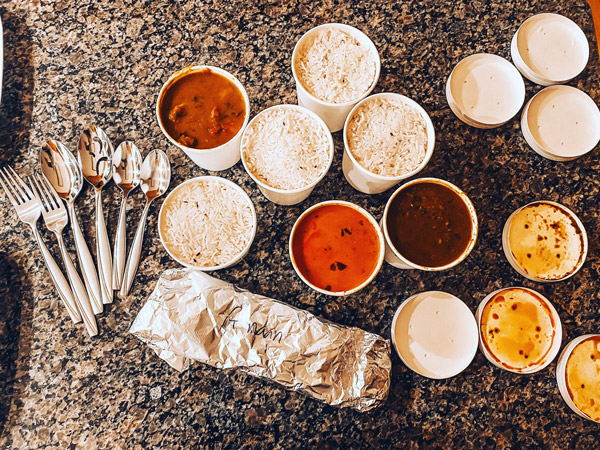 One of our favorite Asheville Indian restaurants, Mela offers large portions of North and South Indian-inspired cuisine. You can find vegan and gluten-free options, too.
They boast of fresh and local ingredients, and their sauces are to die for.
We love Mela's chicken curry and lamb Chettinad, which may set your mouth on fire. For us, Mela is one of the absolute best Indian restaurants in Asheville, NC.
82 Patton Avenue Suite 100, Asheville, NC 28801
(828) 505-8688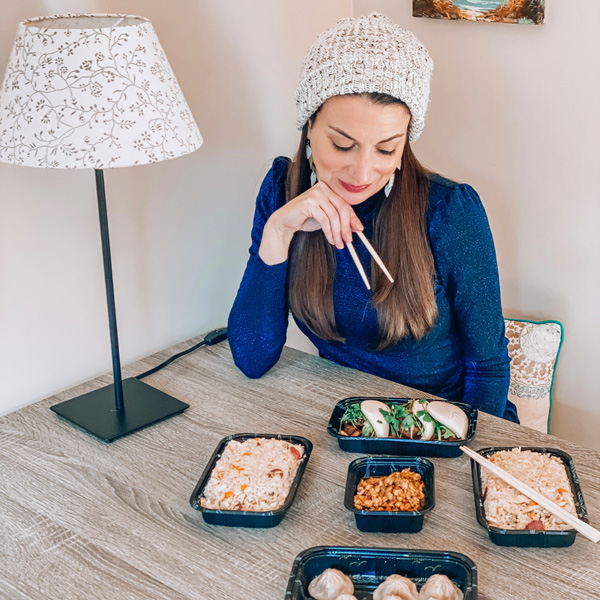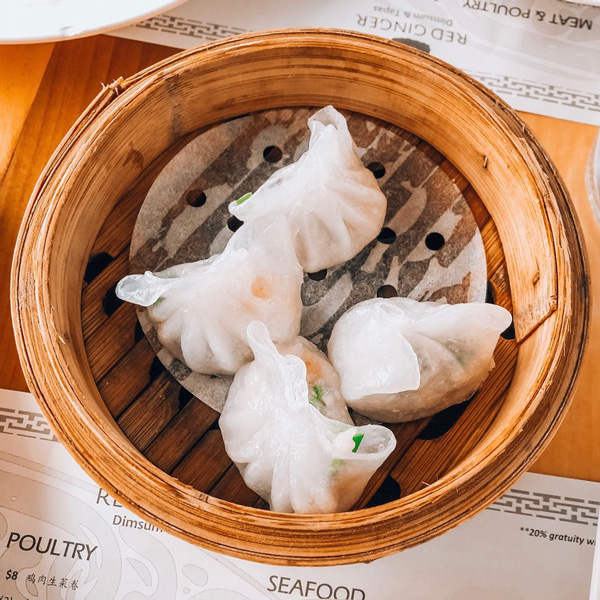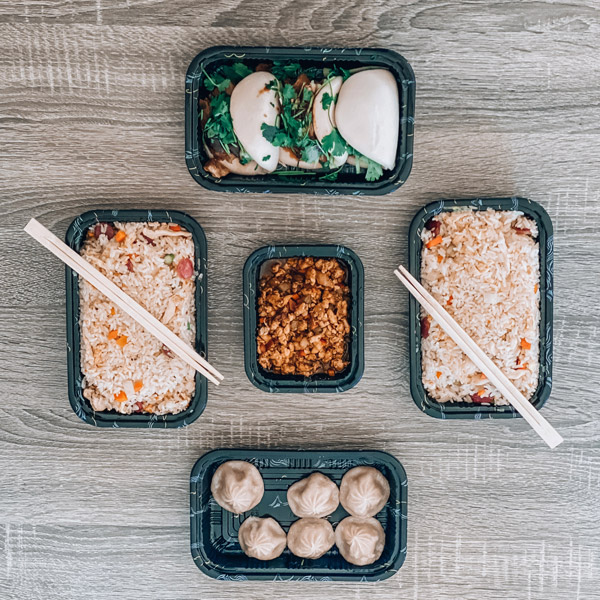 One of our all-time favorite Asian fusion restaurants in Asheville, Red Ginger Dimsum and Tapas is home to dumplings and sushi. We ate here long before we moved to Asheville and can't get enough.
Choose from fried rice, every type of delicious dumpling, Asian pancakes, bento boxes, summer rolls, and vegan, vegetarian, and gluten-free options.
You want to order 2-3 plates per person and because they are Asian tapas, you may also share across the table.
27 Foundy Street, Suite #20, Asheville, NC 28801
(828) 417-7212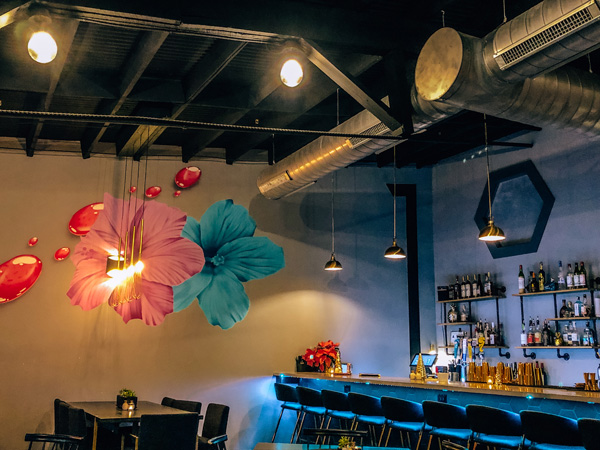 We stumbled upon Rosabees in the River Arts District (RAD) after enjoying the street art, pleb urban winery, and Wedge Brewing.
A Polynesian restaurant, Rosabees has delicious poke, rice, and noodle dishes. This a great off-the-beaten-path Asheville dining option.
Curious about pleb? Although Asheville is famous for its breweries, don't miss AVL's Stellar Wineries.
78 Patton Ave, Asheville, NC 28801
(828) 254-0255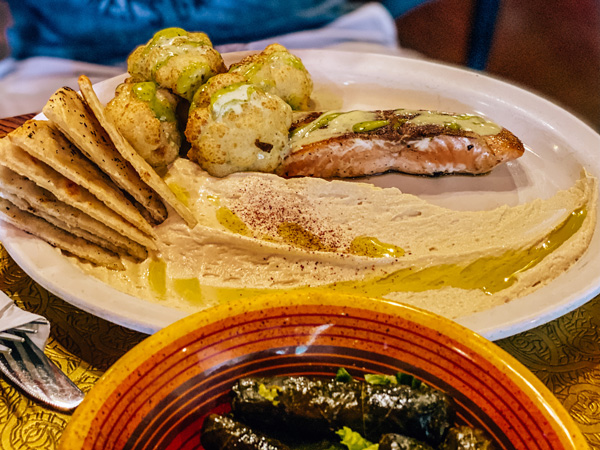 When some of the other downtown Asheville restaurants get slammed, it's nice to sneak into Jerusalem Garden Cafe. The atmosphere is colorful, serene, and delicious.
Jerusalem Garden Cafe specializes in Mediterranean and Middle Eastern cuisine. We actually love their Saturday and Sunday brunch. Think falafels, hummus, salads, and gyros. They even serve brunch mimosas.
1 Page Ave #151, Asheville, NC 28801
(828) 505-0909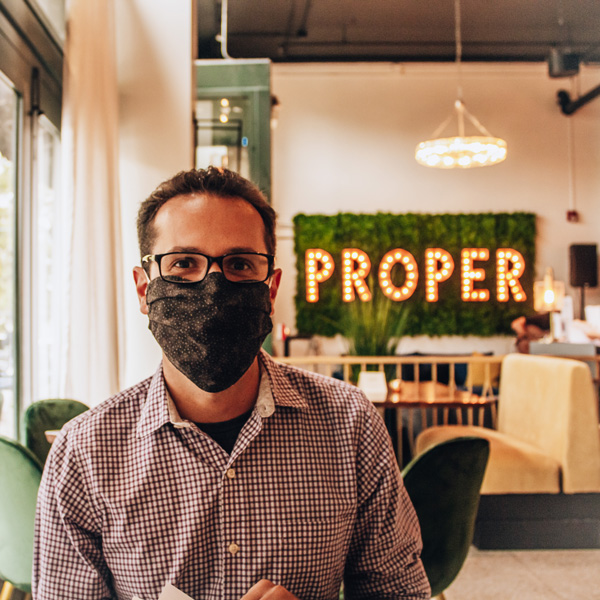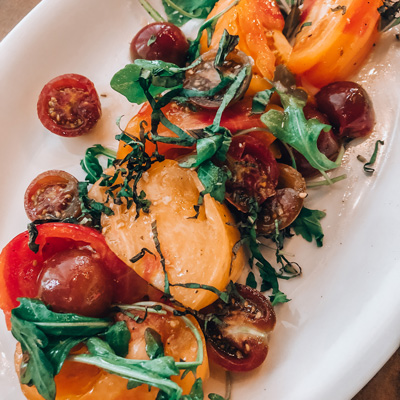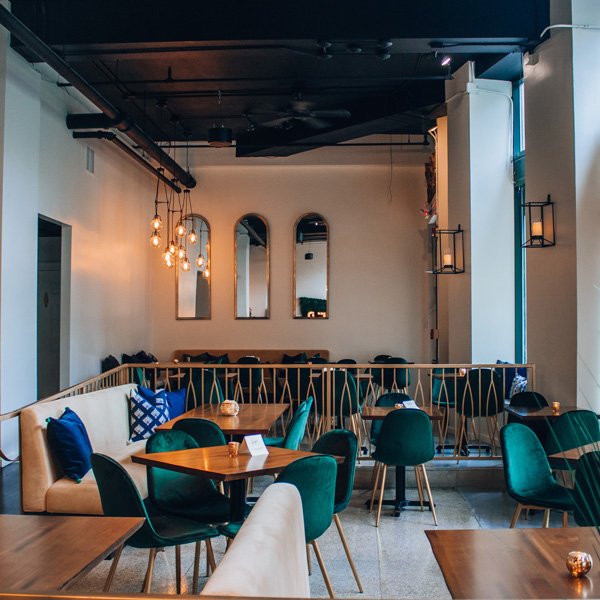 One of the new downtown Asheville restaurants that opened in 2020, Asheville Proper is your proper steakhouse. Located in the historic Grove Arcade, they invited us out for a pre-opening dinner.
Um, speakeasy cocktails and delicious steaks with fresh sides?! Yes, please. You'll love the trendy atmosphere and live-fire dining experience.
Biltmore Estate | 1 Lodge St, Asheville, NC 28803
Antler Hill Village & Winery
(828) 225-1320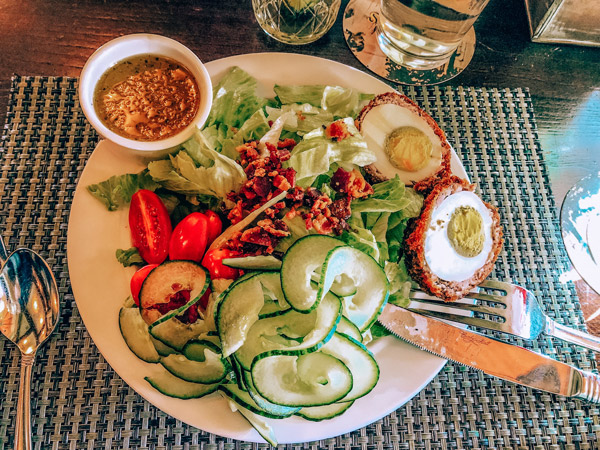 I make no promises to be the 'best' Asheville local. I love Biltmore in all its touristy glory. Biltmore Estate's history is captivating, and their food is delicious. We are annual passholders.
For fantastic Asheville restaurants, Cedric's Tavern is a go-to. You will need a pass/ticket to enter, and I suggest reservations, too.
Cedric was the Vanderbilts' beloved St. Bernard. The restaurant is an homage to him. I devour their in-house pickles, Lusty Monk mustard, seasonal cocktails, fish and chips, and sandwiches.
Get the most out of your Biltmore ticket. Along with delicious food, see all the Things That You Can Do At Biltmore.
Biltmore Estate | 1 Lodge St, Asheville, NC 28803
Next To Biltmore House & Gardens
(828) 225-1320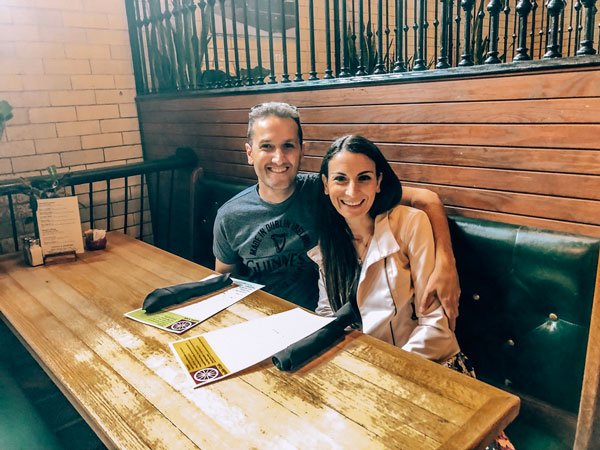 Another delicious Biltmore property restaurant, Stable Cafe is a must. I mean when else can you say that you dined in George Vanderbilt's horse stables?
I love the chicken and tuna salad paired with a cocktail. This is the perfect stop if you are spending all day touring Biltmore.
Typically, you would want to visit the Biltmore House first, peruse the gardens, and then grab lunch at Stable Cafe. Afterward, beeline it for the Biltmore Winery.
You will need a ticket to dine here, and I recommend reservations. You can learn more about Biltmore's special winery tours here.
100 Stone Ridge Blvd Asheville, NC 28804
(828) 645-0155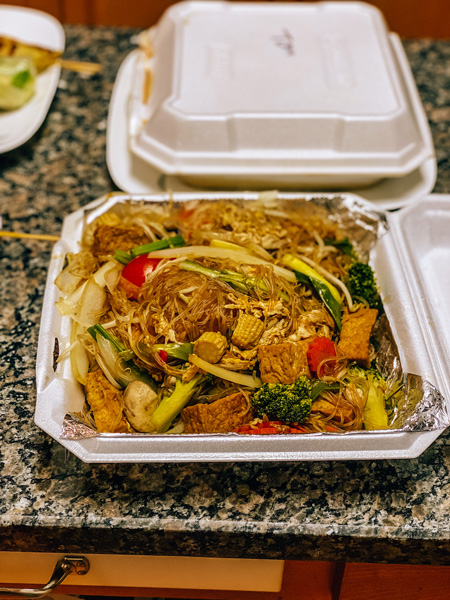 One of our favorite Thai food restaurants in Asheville, Siam Thai is our takeout go-to. Located in North Asheville, you can devour home-style authentic Thai food.
We order a handful of appetizers like tofu, fresh rolls, dumplings, satay, and chicken wings. Pair these small plates with delicious Thai noodles. Don't miss their Pad-Thai, Pad Z-Ew, and Pad Woon Sen.
675 Merrimon Ave, Asheville, NC 28804 | (828) 254-1281
77 Coxe Avenue, Asheville, NC 28801 | (828) 255-4077
1850 Hendersonville Road Suite A, Asheville, NC 28803 | (828) 277-5775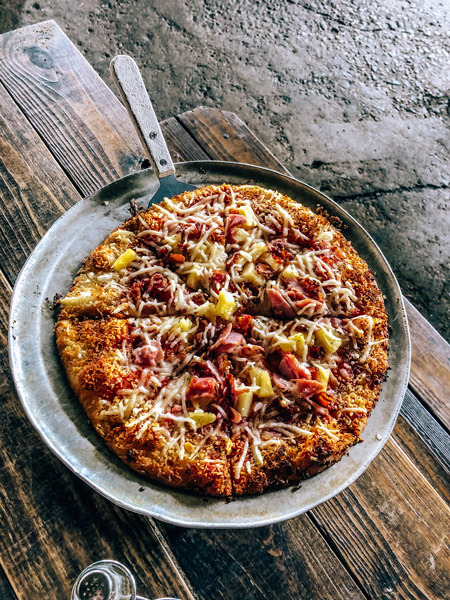 Our go-to for pizza restaurants in Asheville, Asheville Pizza and Brewing is the best. They have multiple locations across North, South, and downtown Asheville.
If you are vegan and/or gluten-free, they offer vegan cheese and gluten-free pizza crust.
Along with pizza, don't miss their delicious craft beer. I love their stout coconut blends and ambers.
Asheville Brewing has more bar food items like tater tots, sandwiches, and burgers. The Merrimon location also has a movie theater where they play the oldies but goodies.
290 Macon Ave, Asheville, NC 28804
(800) 438-5800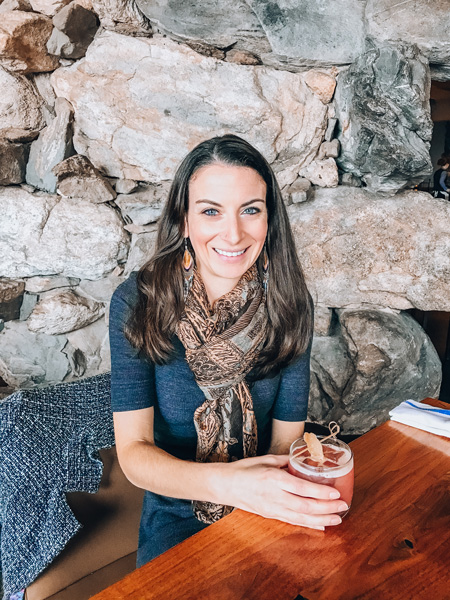 Please don't stalk us, but as Asheville locals, we probably frequent Edison more than we should. The Omni Grove Park Inn, like Biltmore, is a huge part of Asheville's history.
You cannot beat those sunset views over the mountains, either. P.S. The Grove Park Inn view is also the inspiration for Uncorked Asheville's logo.
We love to have lunch at Edison with seasonal craft cocktails and local beers. They also serve lighter fare like sandwiches and salads and are cheaper than their other restaurant, Sunset Terrace.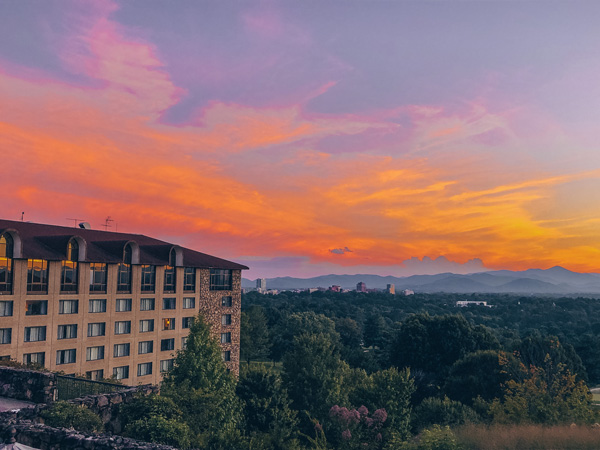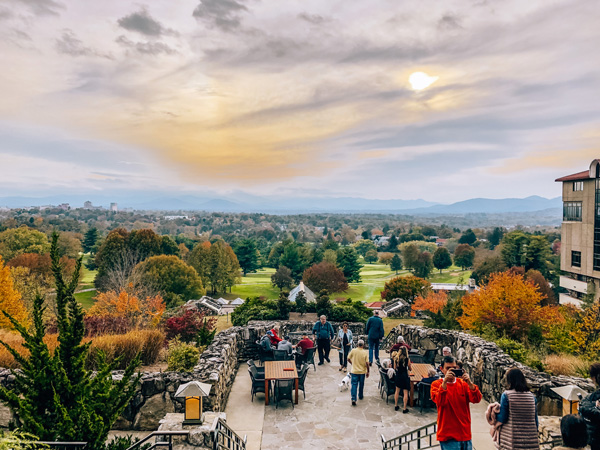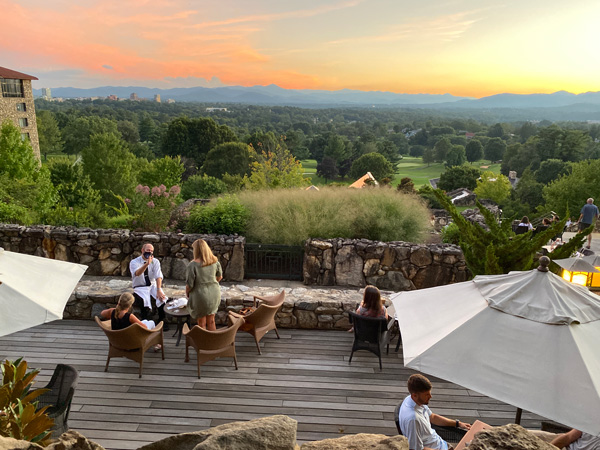 More Unforgettable Grove Park Inn Restaurants:
Sunset Terrace is a stellar high-end Asheville restaurant, too. I daintily annihilate their scallops and steak. Look at those views.
You can also order snacks and drinks at The Great Hall Bar and sit outside beyond Sunset Terrace.
233 Montford Ave, Asheville, NC 28804 | (828) 505-3121
751 Haywood Rd, Asheville, NC 28806 | (828) 575-9903
Biltmore Town Park Square, Town Square Blvd, Asheville, NC 28803 | (828) 676-1807
We love Nine Mile's Montford-Asheville location. Nine Mile is a vegetarian-friendly restaurant with Caribbean-inspired pasta and rice dishes.
For Asheville restaurants, Nine Mile has a large menu key for gluten-free, vegetarian, vegan, nuts, dairy-free, honey, and dishes that they can adjust.
40 Wall St, Asheville, NC 28801
(828) 252-3445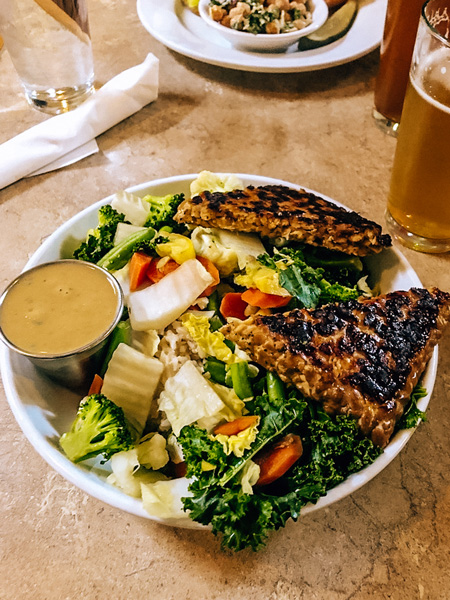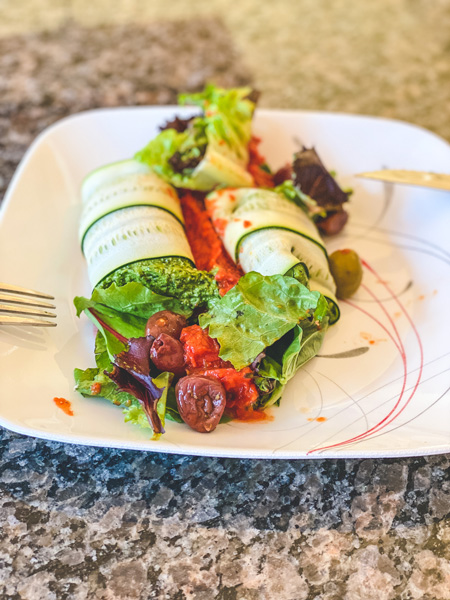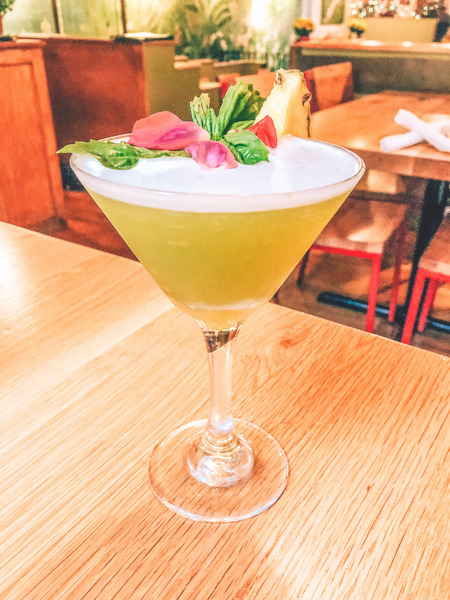 One of the first Asheville restaurants that we ever ate at before moving here, Laughing Seed Cafe is a delicious vegan and vegetarian downtown Asheville restaurant. They also have fantastic gluten-free options.
We enjoy Laughing Seed Cafe's veggie burger, 'Reuben,' and vegan manicotti along with craft cocktails.
Laughing Seed Cafe is also the perfect Asheville takeout spot for the holidays — think pies, sauces, and meals for the entire family.
48 Biltmore Ave, Asheville, NC 28801
(828) 575-2667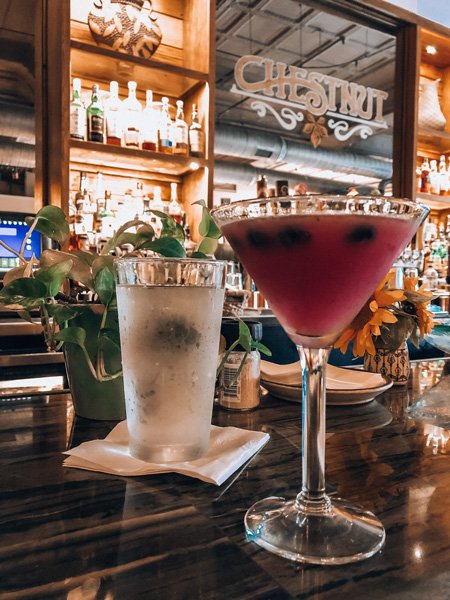 For one of the more popular downtown Asheville restaurants on the fancier side — and where people go before concerts or for brunch — Chestnut is sleek and trendy.
Although they make delicious meals, nothing beats a charcuterie and drinks at the bar. Chestnut also serves Southern dishes with large portions of the MEATS.
20 S Spruce S., Asheville, NC 28801
(828) 225-6944
I love a restaurant with a cozy tavern feel. If you are looking for delicious lunch restaurants in downtown Asheville, Pack's Tavern offers convenience, ambiance, and beer.
We enjoy sitting on the outdoor patio with Asheville views. They have your typical tavern go-to's like sandwiches, burgers, and salads.
22 Battery Park Avenue, Asheville, NC 28801
(828) 254-4003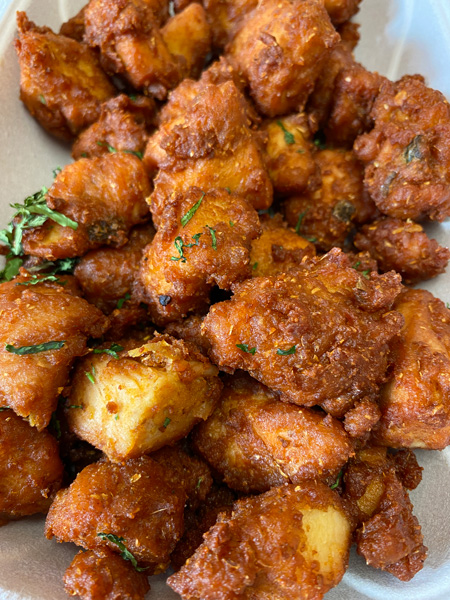 One of the best downtown Indian restaurants in Asheville and also a popular spot, don't miss Chai Pani. Chai Pani is best known for its Indian street snacks.
This Asheville restaurant has been featured in The New York Times, GQ Magazine, and New York Magazine.
We love Chai Pani's okra fries, chicken pakoras, and simple rice and daal plate. Chai Pani has vegan and gluten-intolerance-friendly options, too.
12 College St, Asheville, NC 28801 | (828) 255-4863
1829 Hendersonville Rd, Asheville, NC 28803 | (828) 505-7676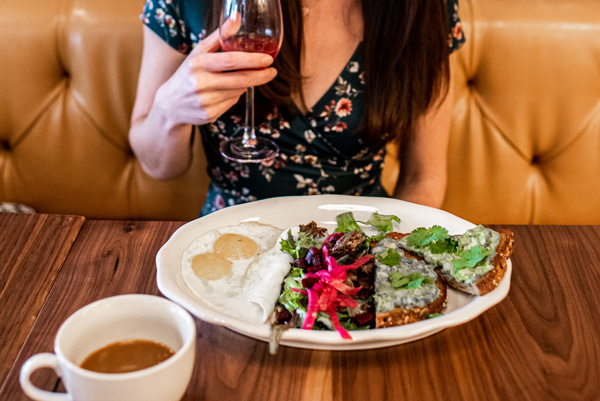 Full disclosure that Tupelo Honey Cafe is certainly one of the most touristy downtown Asheville restaurants on this list (and a franchise), especially for brunch and lunch; we still love them. Make reservations…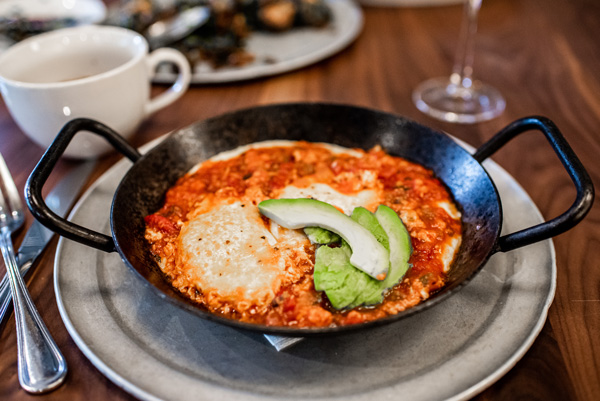 Known for locally-sourced ingredients, Tupelo offers southern cuisine, brunch all day, and incredible cocktails. People love their chicken, and they are food-intolerance friendly.
Tupelo Honey is also super supportive of their local blogger community.
10 S. Pack Square, Asheville NC 28801
(828) 252-4181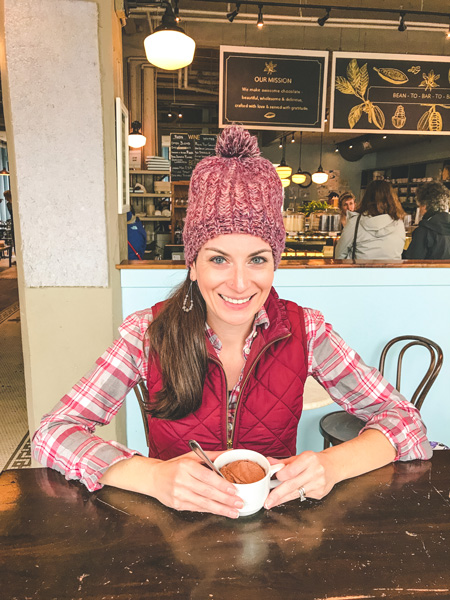 If you are looking for coffee shops and dessert restaurants in Asheville, French Broad Chocolate Lounge is a chocolate lover's dream. This is also a big tourist spot but worth the line out the door.
Find desserts, hot cocoa, truffles, bonbons, cakes, custards, cookies, coffee, brownies, booze, and ice cream. The Chocolate Lounge has lactose-free, gluten-free, and vegan options, too.
Don't miss the Asheville Art Museum next door.
Looking for more dessert cafes and restaurants in Asheville? Explore our favorite AVL Donut Shops.
11 Broadway St., Asheville, NC 28801
(828) 281-8151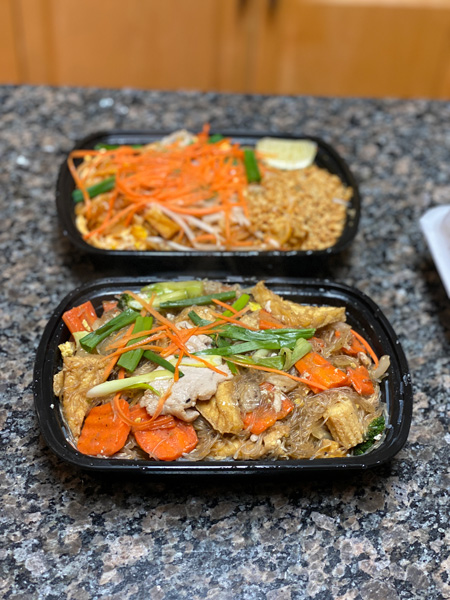 One of the most popular Thai food restaurants in Asheville, Suwana's serves up authentic Thai food. Suwana's is our favorite for Thai takeout along with Siam Thai.
You can order it all: noodles, fried rice, stir-fry, and curry. We love Suwana's Pad Woon Sen and Pad Thai.
3 SW Pack Square, Asheville, NC 28801
(828) 250-9898
One of our coveted tinier downtown Asheville restaurants, The Noodle Shop is all about noodles, stir-fry, and rice dishes. I'm always a fan of their soup.
I can never say no to a fresh spring roll — not fried. Conveniently located in Pack Square, you can head over to French Broad Chocolate or the Asheville Art Museum afterward.
1 Biltmore Ave, Asheville, NC 28801
(828) 505-3969
One of the first fancier restaurants in downtown Asheville that we ate at before moving to AVL, Posana is another AVL restaurant that is always jumping.
Posana has a dedicated gluten-free kitchen, which is perfect for my Celiac husband.
Like Chiesa and Chestnut, Posana is the best restaurant in Asheville for celebrations. They serve local and contemporary American cuisine.
The executive chef and co-owner graduated from The Culinary Institute of America.
1025 Brevard Rd., Asheville, NC 28806 | (828) 665-0080
485 Hendersonville Rd., Asheville, NC 28803 | (828) 274-3582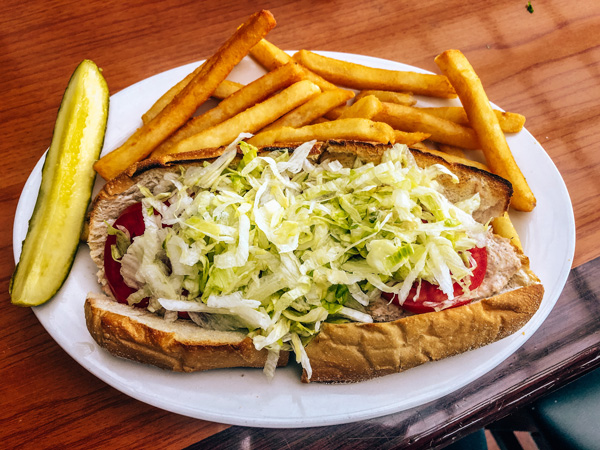 One of our bi-weekly, go-to Asheville restaurants is a hole-in-the-wall diner. I am praying Apollo Flame Bistro doesn't think that's an insult because I LIVE for their grinders after a visit to The NC Arboretum or Blue Ridge Parkway-Pisgah area.
It's our personal tradition to grab grape leaves and grinders after a hike here.
There are two Apollo Flame Bistro Asheville locations – one near the outlets and Blue Ridge Parkway (BRP) and one close to Biltmore.
1000 Brevard Rd, Asheville, NC 28806
(828) 527-6106
Clayton from Knox Road Tripper introduced us to Papa's & Beer. Watch out; they have addicting Mexican food. Get a burrito.
With multiple locations across Asheville, this is the perfect Asheville takeout restaurant on the way home from a hike, too.
A family-run business, Papa's & Beer serves authentic California-style Mexican cuisine. They have flautas, burritos, enchiladas, tacos, seafood, and so much more.
North Asheville: 501 Merrimon Avenue, Asheville, NC 28804; (828) 505-7427
South Asheville: 33 Town Square Blvd., Biltmore Park, Asheville, NC 28803; (828) 676-3855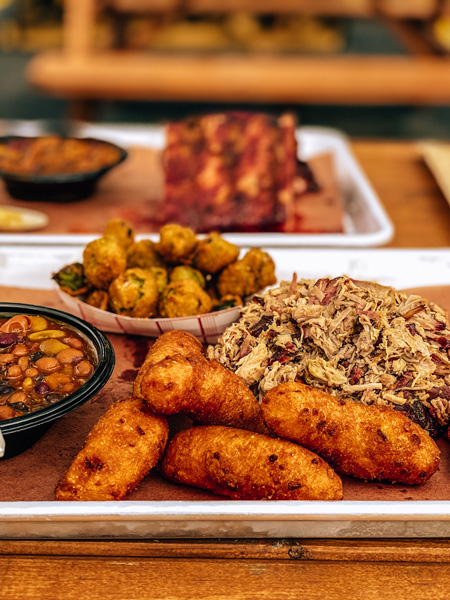 I could never pick out even one or two of the best BBQ restaurants in Asheville. However, we are partial to Big South Kitchen, which serves up BBQ takeout in Arden, and North Asheville's Luella's Bar-B-Que.
Show me the fried okra! Luella's doles out huge portions of the best BBQ ribs and pulled pork paired with overflowing sides.
Of course, 12 Bones Smokehouse is especially famous since Former President Barack Obama and First Lady Michelle dined here.
91 Biltmore Ave., Asheville, NC 28801
(828) 575-9599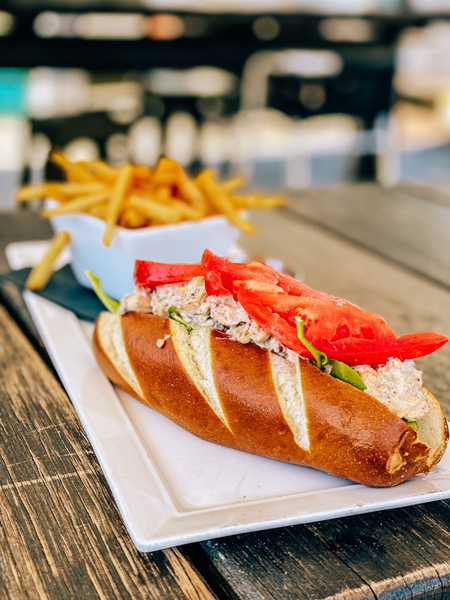 Here at Uncorked Asheville, we always get asked for the best Asheville restaurants near or at breweries. Although Wicked Weed is indeed a tourist spot, you kind of have to go here too.
Wicked Weed serves up delicious sandwiches, burgers, and entrees to pair with their wide beer selection. If we have friends in town that want to see Asheville's famous breweries while getting food, we head to Wicked Weed.
Of course, you can go the delicious food truck route, too. Don't miss Zillicoah's stationary Mexican food truck, Taqueria Munoz.
Save These Delicious Restaurants In Asheville For Later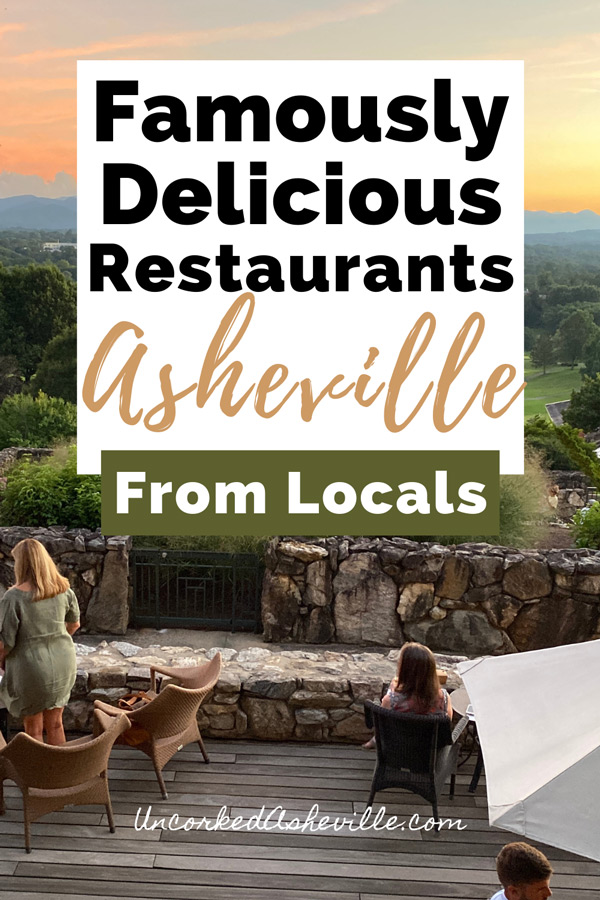 Popular Asheville Restaurants
I didn't want to have a list of Asheville restaurants without listing just a few of the big ones that you'll see on every foodie list.
Because these establishments land on pretty much every bloggers' and tourism board's "best restaurants in Asheville" post, I wanted to give you different and sometimes more affordable and more bang for your buck AVL restaurants first.
That's not to poo-poo on these delicious or even award-winning Foodtopia options, by any means. Do not come for me. They are some of the literal best restaurants in Asheville. Above, there are quite a few big "tourist" Asheville restaurants, too.
When I say "Asheville," though, everyone knows the below Asheville restaurants, which are equally fabulous dining options.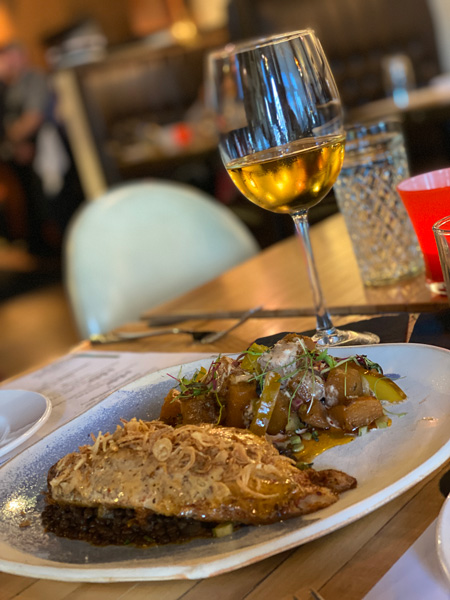 A few more popular restaurants in Asheville, NC:
Cúrate – 13 Biltmore Ave, Asheville, NC 28801 – Spanish tapas and wine in a former 1927 bus depot. Anthony Bourdain ate here.
Jargon – 715 Haywood Rd, Asheville, NC 28806 – Fancy American cuisine with a Southern twist in West Asheville.
Rhubarb – 7 SW, N Pack Square, Asheville, NC 28801 – Farm-to-table contemporary American and Appalachian cuisine.
All Souls Pizza – 175 Clingman Ave, Asheville, NC 28801 – Local and seasonal pizza pies.
Buxton Hall BBQ – 32 Banks Ave, Asheville, NC 28801 – Whole-hog, famous East Carolina BBQ and sides.
Benne On Eagle – 35 Eagle St, Asheville, NC 28801 – Located in The Foundry, a restaurant showcasing African-American roots of Appalachian cooking. This one is on our Asheville bucket list.
Biscuit Head – One location: 417 Biltmore Ave #4f, Asheville, NC 28801 – Everything Southern biscuits.
Farm Burger – 10 Patton Ave, Asheville, NC 28801 – Locally-supported burgers and fries with gluten-free options.
Vinnie's Italian – 641 Merrimon Ave, Asheville, NC 28804 – With lines out the door, Italian, Italian, Italian.
Delivery For Asheville Restaurants: Services & Apps
What are the best ways to get delivery in Asheville if you don't want to pick up your order or dine out? Of course, you can see if the restaurant has its own delivery service.
We are also big fans of phone apps like Takeout Central and GrubHub. Grab our favorite Asheville takeout list here.
Did you know that North Carolina has its own takeout app and delivery service, Takeout Central? Just download the free app, and you'll see all of the areas and restaurants they serve, including Asheville.
Place your order in the app, add a payment method, and drop any notes for the restaurant or driver.
---
As a partner of Takeout Central, if you use the code uncorked, you'll be eligible for a free delivery.
---
Along with Takeout Central, we also use GrubHub. Sometimes they have slightly different menus — even though the restaurant is the same — and/or they service different establishments.
Within Asheville, you can also use Uber Eats, Kickback AVL, and DoorDash, but we mostly rely on Takeout Central and GrubHub for the best Asheville delivery options.
Looking For A Place To Stay To Tour All Of The Asheville Restaurants?
Are you ready to tour the best Asheville restaurants?
Which of these restaurants in Asheville have you tried? Is there an Asheville restaurant that is your go-to or part of your AVL tradition? Are there any Asheville restaurants that you don't love as much? Let us know in the comments!
Foodie Posts You May Also Enjoy:
Complete Asheville Food & Drink Guide
Best Takeout & Delivery Restaurants In Asheville
Ultimate AVL Guide To Eating Vegan & Veggie
Gluten-Free Guide To Asheville
Asheville By Cuisine:
Asheville For Barbecue Lovers
Delicious Sushi Restaurants In Asheville
Top Thai Food Restaurants In AVL
Spicy Indian Food Restaurants To Love
Don't Forget Coffee & Dessert:
Sugary Donuts Spots In Asheville
Top Coffee Shops In AVL
Fantastic Apple Orchards Around Asheville
Did We Make You Thirsty? Head Here:
Not-To-Miss Asheville Breweries
Top-Shelf Distilleries In Asheville
Asheville For Wine Lovers
Nearby Asheville Restaurant Guides:
Best Restaurants In Black Mountain, NC
Weaverville, NC Restaurants To Love
Don't forget to check out our best things to do in Asheville, too→