Meet favorite North Carolina authors and writers, and uncover some of their greatest books and works to read.
It's no secret that North Carolina has a strong Southern literary tradition, responsible for both classics and bestselling contemporary titles.
Of course, we can thank the line-up of prolific NC authors – natives as well as people who grew up, relocated, and even vacationed in North Carolina.
The state has fantastic schools, after all, and those WNC mountains are pretty gosh darn inspiring and healing, especially for people like the Fitzgerald family.
So, if you are looking for the best authors from North Carolina, where should you start? Do we even need to whisper the name "Thomas Wolfe?"
And, how about the best North Carolina writers like Megan Shepherd, David Sedaris, and Maya Angelou? Plus, which books of theirs should you start with?
Below, uncover just a few of the best NC writers and their books to dip your toes into. Of course, there are many more famous North Carolina authors, and "best" is subjective.
Be sure to tell us your favorites in the comments. Let's get started!
You may also enjoy these books about North Carolina.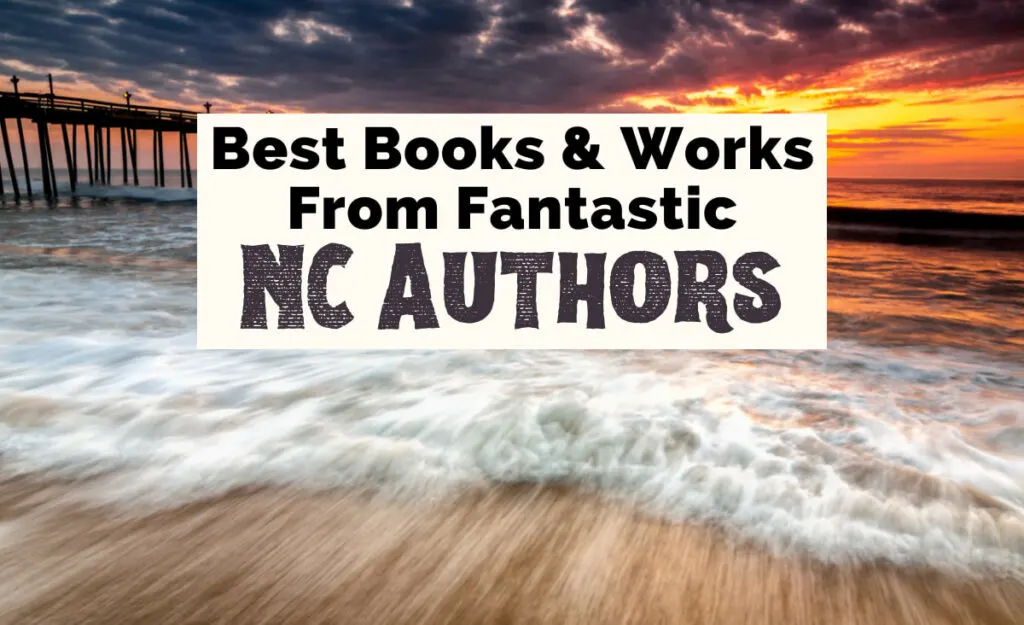 This post may contain affiliate links that earn us a commission at no extra cost to you. If you love these guides, support Uncorked Asheville here.
Grab the best books and watch movie adaptations from your favorite NC authors:
13 Best North Carolina Authors & Their Books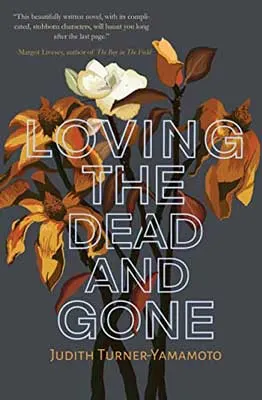 Judith Turner-Yamamoto
Featured Book: Loving the Dead and Gone
While she eventually found herself traveling all over the world, Judith Turner-Yamamoto grew up in much more modest circumstances.
As a young NC local, she spent her childhood living the rural life in a "small mill town."
Her writing career began as an art historian with the descriptions of pieces and the feelings they evoked in her, which helped develop her writing style.
Later, whilst working for such illustrious publications such as The Los Angeles Times, The Boston Globe Magazine, and Elle, Turner-Yamamoto published hundreds of cover stories and features on all aspects of lifestyle, including books.
This groundwork led to the release of her debut novel Loving the Dead and Gone.
In this 20th-century period drama, the story alternates between two women brought down by bereavement, and switches between the 1920s and the 1960s.
Loving the Dead and Gone showcases how North Carolina authors like Turner-Yamamoto can paint a rich picture of their home state in their writing.

Read Loving the Dead and Gone: Amazon | Goodreads | Author's Website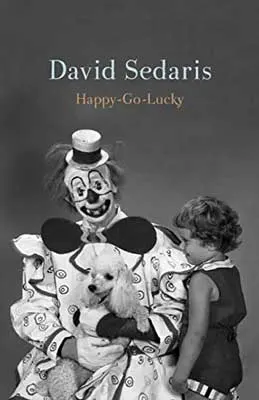 David Sedaris
Featured Book: Happy-Go-Lucky
If you're looking for famous North Carolina authors, David Sedaris will be high up in a lot of people's estimations.
This queer author, playwright, essayist, and NC native has spent a long amount of time working for the world-famous magazine, The New Yorker.
He's also a three-time Grammy Award nominee in the spoken word and comedy albums categories for, among other things, his (appropriately) humorously-titled Let's Explore Diabetes with Owls.
Working mainly as a humorist, Sedaris has discussed and satirized many aspects of daily life.
His most recent book, Happy-Go-Lucky, talks about his experience with the global pandemic.
Fun fact: in one of the strange twists of life that we love, Sedaris has spent so much time in his neighborhood helping pick up litter that he got the nickname "Pig Pen" and even has a local garbage truck named after him.
What other North Carolina writers can claim the same?
Read Happy-Go-Lucky: Amazon | Goodreads | Author's Website
Brendan Slocumb
Featured Book: The Violin Conspiracy
Like many NC authors on this list, Brendan Slocumb did not begin life with a desire to be a writer.
Instead, Slocumb started out as – and continues to be – a musician, notably a classically trained violinist.
Having been raised in Fayetteville NC, Slocumb graduated from the University of North Carolina at Greensboro with a degree in music education and moved into teaching children of all ages.
With this hands-on experience, he had the perfect fodder for his debut novel, The Violin Conspiracy – one of the great books on music to add to any reading list.
In this intriguing drama, young budding Black musician Ray is given an old antique violin by his grandmother.
When it turns out to be a priceless Stradivarius, Ray's world is thrown into chaos.
Seemingly everyone, including his family, wants the violin, and someone even goes so far as to steal it before a life-changing performance. How will he get it back?
Not just a creative force, Slocumb also founded Hands Across the Sea, a nonprofit organization dedicated to supporting the Berea School of the Arts in Manila in the Philippines.

Read The Violin Conspiracy: Amazon | Goodreads | Author's Website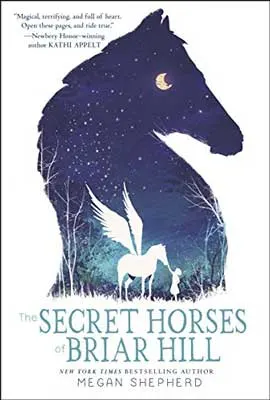 Megan Shepherd
Featured Book: The Secret Horses of Briar Hill
Growing up in a bookstore is something very few people have the opportunity or the privilege to do, but author Megan Shepherd is one of those NC writers.
From her parents' independent bookshop to living and writing in Asheville, Shepherd had quite the international jaunt in between.
Following a degree in International Studies at the University of North Carolina at Chapel Hill, she spent two years working in the US Peace Corps in Senegal.
Whilst there, she transcribed oral folk tales for the children of a local elementary school – perfect foundation work for her own future literary projects.
She has in fact written two YA trilogies; The Cage trilogy and The Madman's Daughter trilogy.
Her middle-grade novel The Secret Horses of Briar Hill is about a young girl who discovers an injured winged horse that escaped its world behind the mirror.
It was nominated for the Carnegie Medal and is just as magical as it sounds. Shepherd also penned Grim Lovelies, which is a fabulous witchy book for YA fantasy lovers.

Read The Secret Horses of Briar Hill: Amazon | Goodreads | Author's Website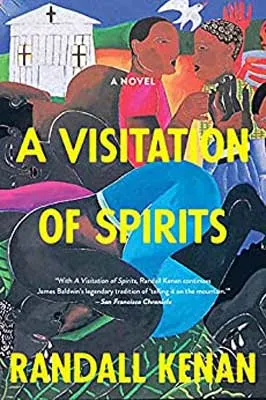 Randall Kenan
Featured Book: A Visitation of Spirits
Author Randall Kenan bounced between New York and North Carolina for much of his life.
Born in New York State but raised from a very young age by his grandparents, Kenan grew up in the town of Wallace in Duplin County, NC.
While studying physics at the University of North Carolina at Chapel Hill, Kenan found he wasn't enjoying himself and drifted towards the English and Creative Writing classes instead.
This academic course correction led to Kenan entering the world of publishing, producing first the novel A Visitation of Spirits and the short story collection Let the Dead Bury their Dead, which brought him into the public eye.
A Visitation of Spirits follows the story of sixteen-year-old Horace Cross, a gay teenager with dreams beyond small-town North Carolina life.
The story honors James Baldwin's tradition of "telling it on the mountain."
Throughout his life, James Baldwin remained a strong idol for Kenan – a man he had much in common with as a similarly standout Black gay male writer.
Anyone looking for North Carolina authors who represent minorities with authenticity and a powerful voice will have much to appreciate in Kenan's works.

Read A Visitation of Spirits: Amazon | Goodreads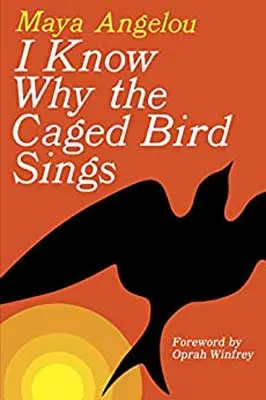 Maya Angelou
Featured Book: I Know Why the Caged Bird Sings
The life of Maya Angelou could understatedly be called astonishing.
Angelou was a writer, poet, activist, and force for Black culture. She wrote 36 books; she had more than 50 honorary degrees.
She recited one of her poems at the inauguration of President Bill Clinton, the first poet to do so since JFK in 1961.
Her first book, I Know Why the Caged Bird Sings, is autobiographical in nature and broke taboos of the time with its brutal honesty about her childhood sexual abuse at the hands of her mother's boyfriend.
At first banned due to this content, the book is now a course adopted at campuses all over the United States.
Born in Missouri and raised in Arkansas during the Depression, Angelou eventually came to take a lifetime Reynolds Professorship of American Studies at Wake Forest University in Winston-Salem NC where she lived until her death in 2014.
Maya Angelou is undeniably one of the most famous North Carolina authors on this list, responsible for some of the best Southern reads.
Read I Know Why the Caged Bird Sings: Amazon | Goodreads | Author's Website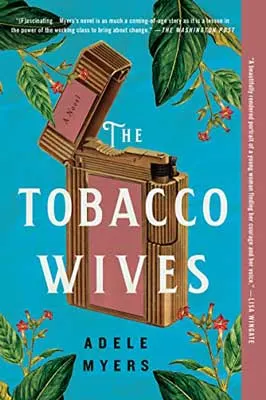 Adele Myers
Featured Book: The Tobacco Wives
As a bright and upcoming literary star, Adele Myers is one of the authors from North Carolina who took her childhood and put it onto paper.
Myers grew up in Asheville, NC, and graduated from the University of North Carolina at Chapel Hill with a degree in journalism.
This helped her to become one of the many successful Asheville writers we enjoy today.
For her debut novel The Tobacco Wives, Myers drew inspiration from her experiences listening to her grandmother talk about the wives of the tobacco magnates of postwar Winston-Salem, NC.
Set in 1946, the story follows talented seamstress Maddie Sykes, who moves to the town of Bright Leaf, NC, and enters into the social complexities of the town and its "tobacco wives."
But when Maddie notices the health problems that the townsfolk in this "paradise" are suffering from, she doesn't know where to turn; then, things become even more dangerous.

Read The Tobacco Wives: Amazon | Goodreads | Author's Website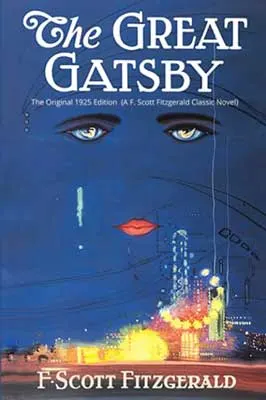 F. Scott Fitzgerald
Featured Book: The Great Gatsby
Unarguably one of the most famous writers in American history, did you know that F. Scott Fitzgerald was also part of the North Carolina authors' club?
For a period in the 1930s, Fitzgerald, author of The Great Gatsby, lived in and around our very own Asheville, NC in various hotels.
This was while his wife Zelda was undergoing treatment for suicidal mania and depression in the nearby Highland Hospital in Asheville's Historic Montford District.
Unfortunately, we can't report that any significant works by Fitzgerald were written during this time.
While he was writing short stories and attempting to get them published, Fitzgerald spent a lot – and we mean a LOT – of time drinking.
At one point he fired a gun indoors and got kicked out of the Omni Grove Park Inn where he was staying. If you enjoy the literary history of that caliber, you can still stay there today!

Read The Great Gatsby: Amazon | Goodreads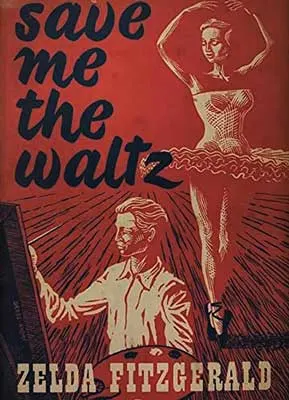 Zelda Fitzgerald
Featured Book: Save Me the Waltz
Often wrongly overshadowed by her husband, Zelda Fitzgerald is also one of the celebrated NC authors in her own right.
In fact, it is a strong opinion that F. Scott Fitzgerald would not have had half the career he had if it were not for Zelda.
Her own novel, Save Me the Waltz, is a literary embodiment of the spirit of the era Fitzgerald is most famous for.
After her husband died, Fitzgerald returned to Asheville to continue treatment at Highland Hospital, and work on her writing.
Sadly, Fitzgerald spent her last days at Highland Hospital, where her life was tragically cut short by a fire that broke out and killed her and eight other women.
Visitors to the hospital today claim to have seen the ghost of Zelda Fitzgerald wandering the grounds.
While you might not manage to do the same, you can definitely see the melancholy memorial plaque laid outside this (supposedly) haunted area in Asheville that marks her life there.

Read Save Me the Waltz: Amazon | Goodreads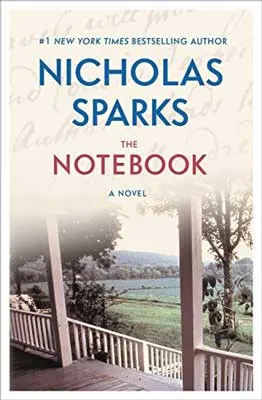 Nicholas Sparks
Featured Book: The Notebook
If we're going to talk about NC writers, we can't neglect Nicholas Sparks, whatever your opinion of his works (and there are more than a few).
His books are legion, his movie adaptations are similarly numerous (eleven and counting), and he's one of the most famous North Carolina authors in the world.
Titles such as The Notebook, Dear John, The Longest Ride, and A Walk to Remember will be recognizable to many.
You might most remember The Notebook for its gut-wrenching twist about a WW2 soldier returning home to the girl he loved long before the war.
Essentially, if you want a hard-hitting and/or romantic drama about family, relationships, soldiers – and sometimes all of the above – Sparks has got your back.
Sparks settled in New Bern, NC and lives there to this day, going so far as to volunteer as a coach for the New Bern High School track team.
Find even more famous movies filmed across NC, including Sparks' A Walk To Remember.

Read The Notebook: Amazon | Goodreads | Author's Website
Never Miss Another Asheville Update
---
Tired of generic Asheville travel itineraries? Experience Asheville like a local with our free Asheville Favorites checklist, including restaurants, breweries, and hiking. Plus, get local updates – including events and hidden gems – straight to your inbox. Sign up here.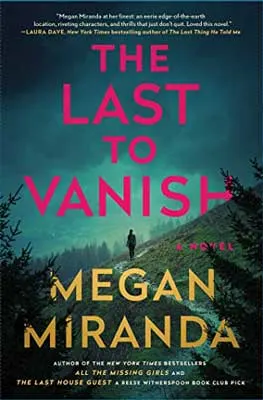 Megan Miranda
Featured Book: The Last to Vanish
Do you enjoy the thrill of questions unanswered, motives mysterious, and disappearances unexplained? Then North Carolina authors like Megan Miranda should be right up your street.
Her books have a rich mixture of intrigue and tension with plenty of shady pasts and buried secrets for both adults and young adults alike.
Miranda was initially raised in New Jersey, before graduating from MIT and then becoming a teacher, settling in North Carolina where she writes and raises her family.
Her 2022 release, The Last to Vanish, is set in a cozy mountain resort in Cutter's Pass NC, which has suffered from a string of disappearances.
When the journalist staying in the town to investigate the vanishings also goes missing, paranoia goes through the roof and everyone suddenly seems suspicious.

Read The Last to Vanish: Amazon | Goodreads | Author's Website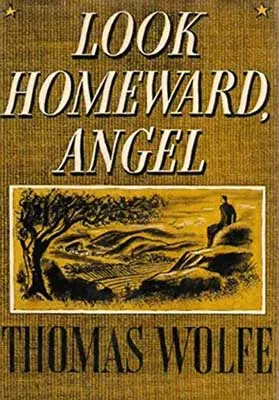 Thomas Wolfe
Featured Book: Look Homeward, Angel
Did you think we'd get through this list of authors from North Carolina without mentioning Thomas Wolfe?
He's not only one of the most famous NC authors, but he's Asheville born and raised.
Hailed as a progressive pusher of boundaries and of what could be possible in literature, Wolfe managed to write four long novels and many short stories before his early death at age 37.
Wolfe's famous novel, Look Homeward, Angel, drew heavily from his early experiences of living and growing up in Asheville.
In fact, the Asheville-based book apparently caused quite a commotion when it was first published in 1929.
The story contained many local characters, most of whom were thinly veiled copies of real living residents. Needless to say, people were not entirely happy to have been immortalized in Wolfe's book.
There is a memorial to Thomas Wolfe in his hometown, and visiting this boarding house is one of the best things to do in Asheville for literature lovers.
Visitors can also visit Wolfe's grave at Riverside Cemetery. While in AVL, discover all that you can do.
Read Look Homeward, Angel: Amazon | Goodreads | Thomas Wolfe Memorial
More NC Authors from Christine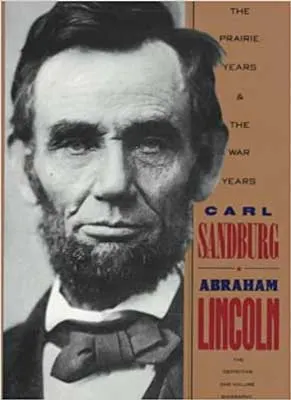 Carl Sandburg
Featured Book: Abraham Lincoln: The Prairie Years & the War Years
Deemed "Poet of the People," Carl Sandburg is one of the most award-winning North Carolina authors on this list, achieving the Pulitzer Prize for his biography about Lincoln as well as his poetry.
With six volumes about "Honest Abe" – and for hardcore history buffs – Sandburg's Abraham Lincoln: The Prairie Years & the War Years is said to be one of the most definitive sources on Lincoln, filled with a lifetime of research.
Readers watch the progression of Lincoln from a man to the President and leader he becomes.
Sandburg also penned whimsical children's stories and was known for his journalistic talents, reporting on race and socio-economic tensions of the time.
In 1945, Sandburg moved to Connemara, which became Flat Rock, NC. Now a National Historic Site, tour Sandburg's home, hike Glassy Mountain, and pet the farm animals.

Read Abraham Lincoln: Amazon | Goodreads | Carl Sandburg Home
Save Your Favorite NC Authors For Later: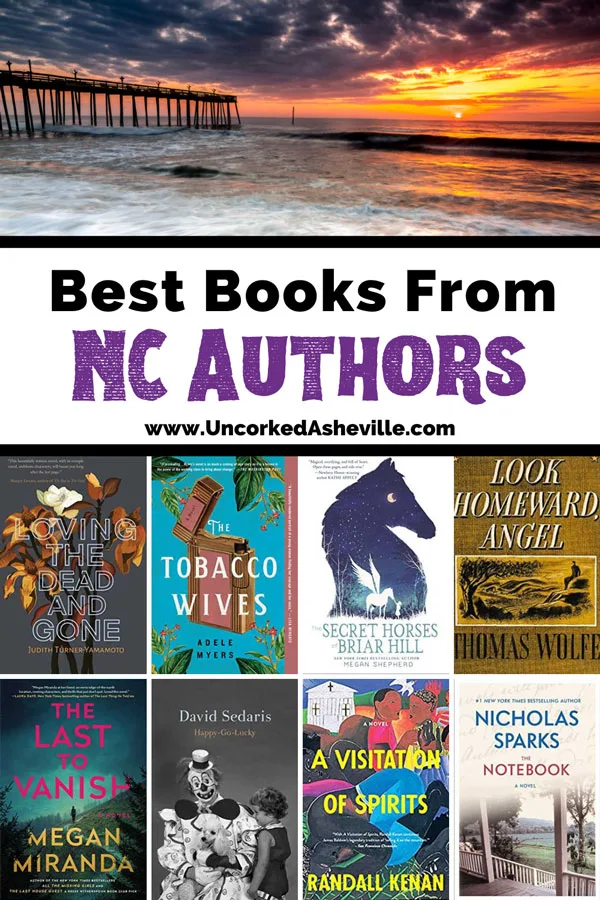 Grab the best movies and books from these NC writers:
Which authors from North Carolina (or who resided in NC) do you love and recommend?
If we had to pick just a few NC authors to read, Christine champions Maya Angelou, Megan Shepherd, Denise Kiernan, Sarah Addison Allen, Megan Miranda, and Thomas Wolfe.
Wolfe may be a bit long-winded and snoozy, at times, but he brings our Asheville home to life.
Who are your favorite NC writers and authors? What books of theirs do you enjoy? Let us know in the comments.
You Might Also Enjoy: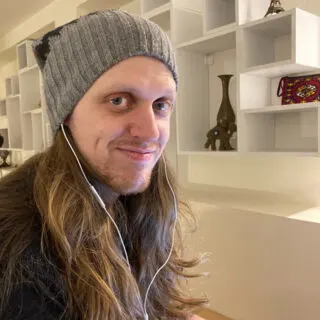 Jeremy (pronouns: any) is an autistic writer, hobbyist, and movie buff, as long as that movie is Labyrinth. Since leaving the corporate world behind in 2018, he has read more books than he thought possible. True to his British upbringing, his first instinct in any given situation is to put the kettle on.