For dark tourists and history lovers, explore spooky haunted houses in Asheville, NC – including a few haunted places like schools and cemeteries.
If you are anything like us, you might be wondering if Asheville is haunted. The answer is resoundingly yes!
From historic cemeteries and alleys guarded by chickens to resort hotels and large attractions, the haunted places in Asheville, NC are seemingly endless.
The largest (and most famous) haunted house in Asheville is, of course, Biltmore – where the Vanderbilts are said to still enjoy their pool and grand library.
A bit more somber, the Pink Lady wanders the Grove Park Inn – one of the fanciest haunted Asheville destinations on this list.
Or, follow the tiny houses to a 10-foot chicken where being a good samaritan led to a brutal murder and one vengeful ghost.
And, did you know that Asheville's infamous literary history is also tied to a few of its paranormal places?
Of course, much of this is rumor and speculation. You might just have to see for yourself.
Keep reading to uncover the spookiest places and haunted houses in Asheville, NC.
We'd love to know your favorite Asheville haunted house or ghost story in the comments. Let's get started!
Uncover North Carolina's abandoned places too.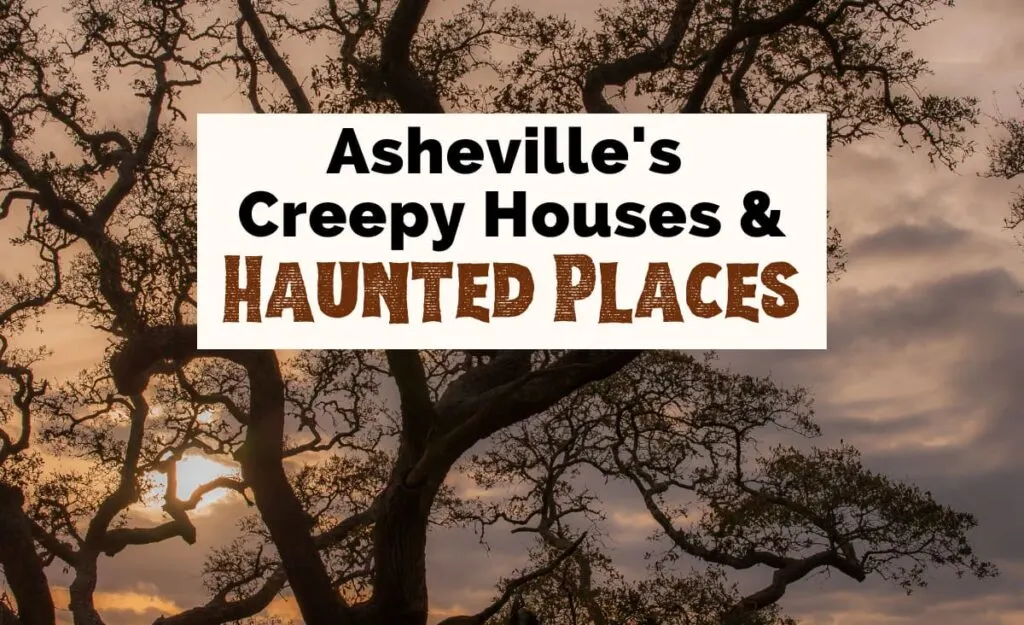 This post may contain affiliate links that earn us a commission at no extra cost to you. If you love these guides, support Uncorked Asheville here.
9 Best Haunted Houses In Asheville, NC
1. Grove Park Inn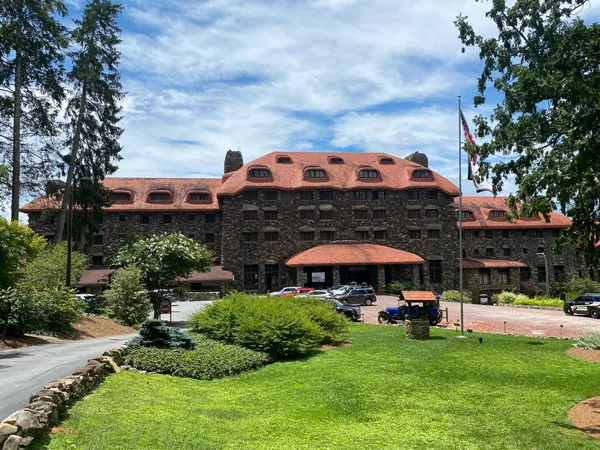 Built in the early 20th century, The Omni Grove Park Inn has been providing guests with luxury spa treatment and accommodation for over a hundred years.
In fact, F. Scott Fitzgerald even summered here, allegedly getting kicked out for drunken shenanigans.
Yet in the early days of its life, the inn became the scene of a terrible tragedy.
Legend tells that in the 1920s, a young woman fell to her death from the balcony of one of the rooms at Grove Park Inn.
Speculation is rife as to the reason for her fall.
Many believe that her death was an accident, though some say that she threw herself off the balcony in despair after her lover brought an end to their relationship.
Since then, guests at the inn have seen a lady in a pink dress wandering the grounds – the same pink dress the woman was wearing when she fell from the balcony.
Gaining the name the "Pink Lady," she supposedly haunts the inn.
The Pink Lady appears mainly to children, though adult visitors have shared instances of doors slamming and rattling, voices being heard in empty rooms, and seeing either someone in pink or a strange pink mist.
However she appears, the Pink Lady has earned Grove Park Inn the reputation of being one of the most haunted houses in Asheville, NC, which is ironic since it's also one of the best places to grab a romantic sunset meal.
Today and much less spooky, visitors may enjoy two "rooftop" restaurants, Sunset Terrace and Edison, perfect for catching a vibrant mountain sunset over Downtown Asheville and Mount Pisgah.
During Christmastime in Asheville, be sure to check out the annual Gingerbread House Competition.
For an Asheville haunted house, the resort is really quite benign.
The Omni Grove Park Inn | 290 Macon Ave, Asheville, NC 28804
2. The Biltmore Estate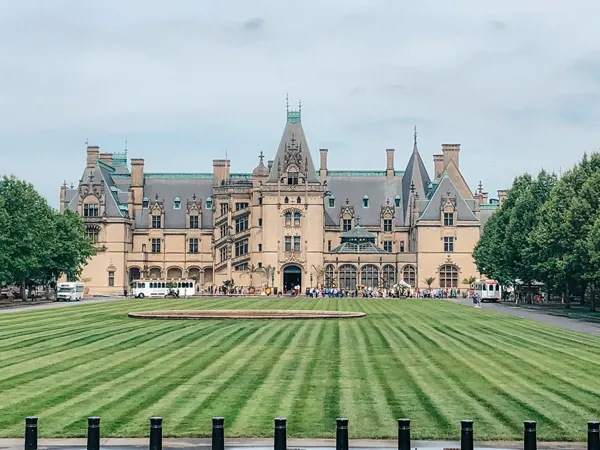 Situated in South Asheville, George Washington Vanderbilt is responsible for America's largest home, Biltmore.
Built in 1895, the complex boasts 35 bedrooms and 43 bathrooms. The Vanderbilt family lived there until 1930 when the home first opened to the public.
George and Edith Vanderbilt left such an imprint on Biltmore Estate that many believe their spirits are still felt there today.
Spend too long in Biltmore Library, and you may hear the soft whisper of Edith calling out to George, especially in front of the marble fireplace.
Guests have also told of feeling the sensation of being splashed with water and hearing manic laughter coming from the drain in the pool room.
No visit to haunted Asheville would be complete without coming to this spooky abode!
Make the most out of your Asheville haunted house tour, and grab our complete guide to visiting Biltmore.
Along with ghosts, Biltmore's grounds are filled with hiking and biking trails, a winery, delicious restaurants, and luxury overnight stays.
Explore more fun facts about Biltmore too!
Biltmore Estate | 1 Lodge St, Asheville, NC 28803
3. Highland Hospital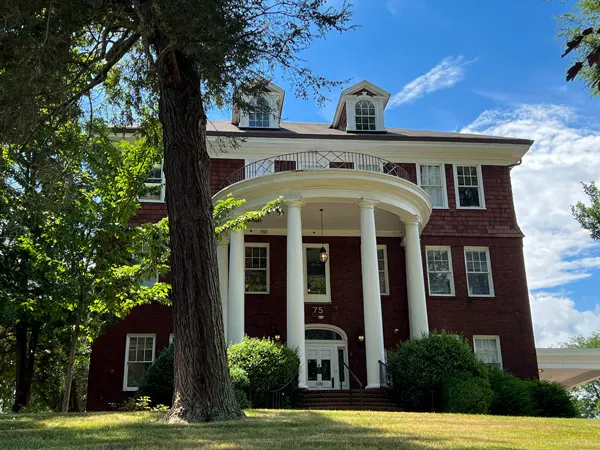 Though it no longer stands, Highland Hospital, a former sanatorium, was the scene of a deadly fire that claimed the lives of nine patients, among them the writer Zelda Fitzgerald.
During an evening in 1948, one theory is that an electric coffee urn malfunctioned, thus causing a fire to break out in the kitchen of the hospital's main building.
The flames quickly spread throughout the building, helped partly by the flammable dumb-waiter shaft and the fact that the building did not have a sprinkler system.
Chillingly, with many of the windows chained shut to stop patients from jumping out, firefighters were not able to save everybody.
Following this tragedy, the former grounds may be haunted, and witnesses say they have seen the ghost of Zelda Fitzgerald walking in the area.
There is a plaque dedicated to her on the site where this Asheville haunted house once stood, with a particularly bleak quotation from her.
Today, one of the most fun things to do in Asheville includes taking a tipsy LaZoom bus haunted comedy tour where you might see Zelda… Well…
Read more about the Highland Hospital fire in Lee Smith's Guests On Earth – a fictionalized account of that fateful night and one of the best books set in AVL.
If Zelda's story fascinates you, meet even more authors who resided in North Carolina.
Former Highland Hospital/Zelda Fitzgerald Memorial | 75 Zillicoa Street, Asheville, NC 28801
4. Old Battery Park Hotel
Of all the haunted houses in Asheville, the old Battery Park Hotel has one of the most tragic and dramatic ghost stories.
In 1936, whilst staying at the hotel, 19-year-old Helen Clevenger was brutally murdered. Her uncle found her lying in her bed in Room 224 with her face slashed and a lethal gunshot wound.
Upon criminal investigation, one of the hotel staff was tried, convicted, and executed for her murder. But – plot twist – not everyone was convinced that he had committed the crime.
Whoever was responsible, paranormal activities and apparitions have been sighted and heard in and around Room 224 by more recent guests and ghost hunters.
Some believe the spirit of Helen Clevenger roams the hallway of the hotel; others think it may be the man convicted of her murder, seeking to avenge himself for his wrongful conviction.
Today, the building is apartment housing for the elderly, and you can find it right behind the historic Grove Arcade.
For more frightening tales, uncover North Carolina's best urban legends.
Battery Park Senior Apartments | 1 Battle Square, Asheville, NC 28801
5. Clyde A. Erwin High School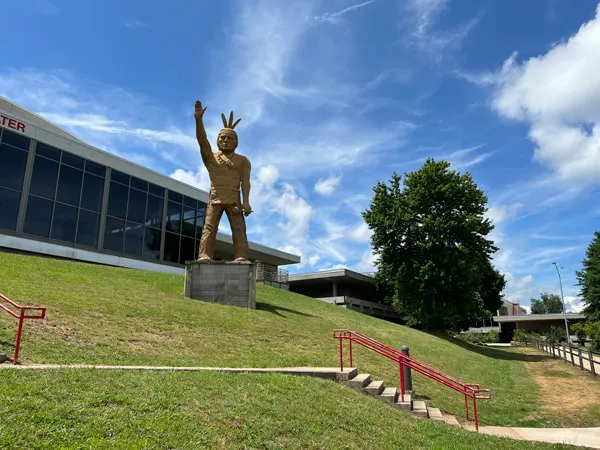 When it comes to haunted houses, Asheville has more than its fair share, it seems.
This particularly spooky building is a perfectly ordinary school … that happens to be built on a graveyard.
In order to utilize the best location for a new education complex, planners had the pre-existing cemetery relocated to another area, with plenty of graves being exhumed and reburied.
However, while many of those with headstones were successfully taken to a new gravesite, there were those that were missed.
In fact, the cemetery also had a "potter's field" area – a place where the particularly poor were buried in unmarked graves. Most of these were left and simply built over.
As such, there have been plenty of reports of poltergeist activity in the school over the years; flickering lights, objects seemingly moving either of their own accord or by an unknown force, and even strange humming sounds.
Clyde A. Erwin High School | 60 Lees Creek Rd, Asheville, NC 28806
6. Shiloh Abandoned Forestry Compound
This former forestry school began to gather a reputation as one of the most haunted houses in Asheville after the former director of the school died.
Having been fired for "temper" issues, the director swore revenge on those who had wronged him.
When he died in the mid-1950s, locals started to notice some strange events and occurrences at the now-abandoned compound.
Reports of lights on late at night led to investigations, but no one was found in the building.
One local man investigated and was supposedly frightened away by an ominous presence and a sinister shadow.
In fact, he was so disturbed that he later sold his house and disappeared, never to be seen in Asheville again.
The most grizzly supernatural instance came from the legend of a prostitute murdered at the compound.
In one of the bathrooms downstairs, blood allegedly collects in the toilet, and the temperature may be unnaturally cold.
Read about more abandoned places in North Carolina here.
Never Miss Another Asheville Update
---
Tired of generic Asheville travel itineraries? Experience Asheville like a local with our free Asheville Favorites checklist, including restaurants, breweries, and hiking. Plus, get local updates – including events and hidden gems – straight to your inbox. Sign up here.
7. Helen's Bridge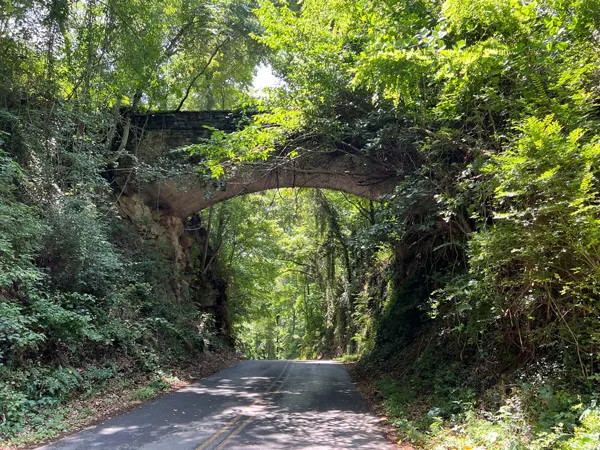 Maybe you are unafraid of the idea of a haunted house in Asheville. Well, how about a haunted bridge?
Crossing over College St. in the east part of Asheville, this ornate stone bridge used to connect up to the Zealandia Mansion that sat atop the hill.
Helen's Bridge got its name from the lady who used to live in the Zealandia Mansion with her daughter; after losing her child in a fire at the mansion, Helen went to the bridge and took her own life.
Ever since that day, strange things occur at the now-named Helen's Bridge.
One of the most disconcerting is that those who pull over to view the site will not be able to get their car to restart, effectively trapping people there.
There have also been sightings of a woman searching the area, asking people for signs of her daughter, which is incredibly creepy.
Just head down College Street toward Beaucatcher Mountain Road. You'll know the bridge when you see it.
Use the small pullover area to park your car. Of course, be careful of oncoming traffic, and only turn off your car if you dare.
Helen's Bridge | Near The Intersection of College Street & Beaucatcher Mountain Road
More Haunted Places In Asheville, NC From Christine
8. Riverside Cemetery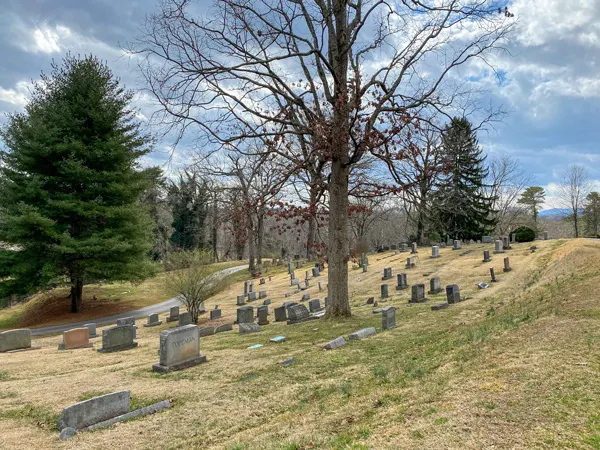 One of the most historic haunted places in Asheville, NC, Riverside Cemetery will appeal to both literary travelers and dark tourists.
First, pay tribute to literary greats, O. Henry and Thomas Wolfe, while walking the paved roads of this beautiful Victorian-style cemetery.
As one of Asheville's most famous authors, you might recognize Wolfe for Look Homeward, Angel – a classic tome where he hilariously laid bare the city's dirty laundry and gossip.
After leaving a pen for Wolfe or a penny for O. Henry, take a closer look into Asheville's darker history, filled with war and disease.
Visitors may catch a child's apparition playing amongst the graves, a stark reminder of the yellow fever epidemic.
Along with the probability of unmarked graves, in 1865 – near today's UNC Asheville campus – Union and Confederate forces engaged in a 5-hour standoff at the Battle of Asheville as part of the American Civil War.
People claim they can still hear cannon fire and gunshots. Others have caught sightings of Confederate soldiers marching, trapped in time.
Not to mention that during World War I, the U.S. interred German officers in Hot Springs, NC. At least 18 of those officers died from typhoid fever, and their remains rest at Riverside Cemetery.
If you are interested in walking the grounds, read more about visiting Riverside Cemetery, which sits in Asheville's beautiful Montford neighborhood – find a castle ensconced by historic inns too.
For history and literature lovers, catch a free Shakespeare in the Park performance nearby at the Hazel Robinson Amphitheatre from May through October.
Riverside Cemetery | 53 Birch St, Asheville, NC 28801
9. Chicken Alley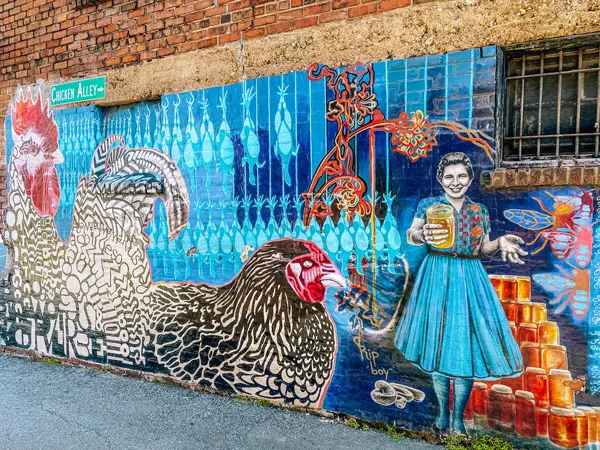 You'll immediately recognize Chicken Alley by its 10-foot rooster – and yes, this is one of the must-visit haunted places in Asheville. Who knew?!
Molly Must, a well-known and accomplished local mural artist, painted Chicken Alley in 2011.
This particular series of murals share a piece of AVL history, including Sam and Argie Young's chicken processing plant.
Must also captured Sandra Gudger, their granddaughter and local beekeeper – hence, the honey jar.
While the mural itself is not haunted, Chicken Alley certainly is.
Rumor has it that in 1902, Dr. Jamie Smith attempted to break up a bar fight at what was then called Broadway's Tavern.
Unfortunately, Dr. Smith took a fatal knife wound to the heart and died instantly. No one found his killer, and a year later, the tavern burned down.
Late at night, you might catch the ghost of Dr. Smith – wearing a long coat and wide hat. Some say they can even hear the tapping of his cane.
If you love the chicken mural, explore more of Asheville's brilliant urban art scene.
Chicken Alley | Off of Woodfin Street between Carolina Lane and North Lexington Ave.
Save These Asheville Haunted Houses For Later: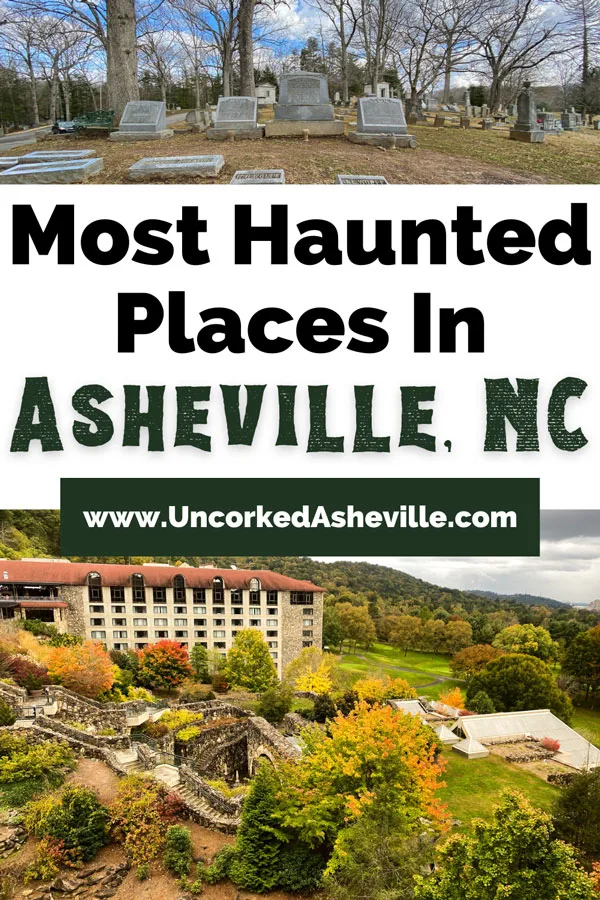 Where To Stay In Asheville
Explore the best places to stay in Asheville. A few of our top suggestions:
Aloft – Downtown Asheville – Centrally located and recently renovated, enjoy a rooftop pool, a gorgeous bar, and trendy rooms.

The Omni Grove Park Inn – Treat yourself to a luxury resort in North Asheville, complete with breathtaking sunsets, terrace bars and dining, and loads of Asheville history.

Hampton Inn And Suites Asheville Biltmore Area – A budget-friendly but renovated hotel on busier Brevard Road that's perfect if you wish to stay between Biltmore Estate, Downtown Asheville, and the Blue Ridge Parkway.

Asheville Cottages – Gorgeous 1 to 3-bedroom cottages with a private deck, housing a grill and hot tub. Find luxurious heated-floor bathrooms with rain showers, a well-stocked kitchen, and the cleanest rooms in town.

Foundry Hotel – An oasis in Downtown Asheville, Foundry Hotel is a nod to AVL's industrial history. Find famous restaurant Benne on Eagle while sleeping ensconced in charm and elegance.

Country Inn & Suites by Radisson, Asheville Westgate, NC – Located off of the highway as you enter AVL, find a sleek and clean hotel at a great price.

Black Walnut B&B Inn – Designed by Biltmore's supervising architect, Richard Sharp-Smith, this 1899 inn is close to Downtown AVL and serves afternoon tea. Two rooms are pet-friendly.
Don't miss out on these Asheville properties on Booking.com, too.
What is your favorite Asheville haunted house or place?
Do you have any spooky North Carolina stories? Which haunted places in Asheville have you visited? Let us know in the comments!
As mentioned above, we devour ghost stories. Read the best haunted house books on our sister site, The Uncorked Librarian.
You May Also Enjoy: