Even though AVL has a bustling city vibe, did you know that you can find the best parks in Asheville, NC?

Discover our favorite Asheville parks as locals, including public parks, gardens, and a few national and state parks near Asheville, North Carolina, too.
Yes, it's true: Asheville is famous for being a hippie little city with endless breweries, funky music, the largest home in America, and endless nearby trails and waterfalls.
But did you also know that the Asheville parks are stellar, too? We love spending an early morning walking French Broad River Park and watching people float down the river at Carrier Park.
The Skatepark at the Foundation is a staple in the River Arts District, ensconcing visitors in vibrant street art, youthful vibes, and crafty culture.
Even better, the gardens in Asheville, NC are filled with gorgeous wildflowers that attract Monarch butterflies and endless species of birds. From the Biltmore to The NC Arboretum and Asheville Botanical Gardens, you cannot go wrong.
So, what are our favorite public parks in Asheville, NC? If you only have a short time, which Asheville gardens should you stroll through?
Below, find Asheville parks and gardens as well as a few brief mentions of State and National Parks near Asheville. We'll tell you what to expect, where to grab more information, and when to go — all from a local's perspective.
Oh…and we may have added in a beautiful Victorian-style cemetery where you might want to pack a penny and a pen… Let's get started!
If you love these parks and gardens, don't skip these Gorgeous Asheville Picnic Areas.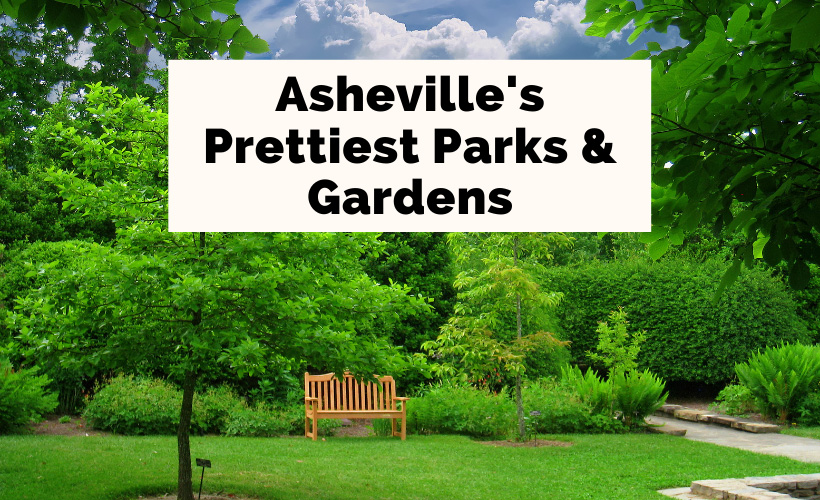 ---
This post may contain affiliate links for products and services we recommend. If you make a purchase through these links, at no additional cost to you, we will earn a small commission. Read the full disclosure here.
---
9 Favorite Public Parks In Asheville, NC
1. French Broad River Park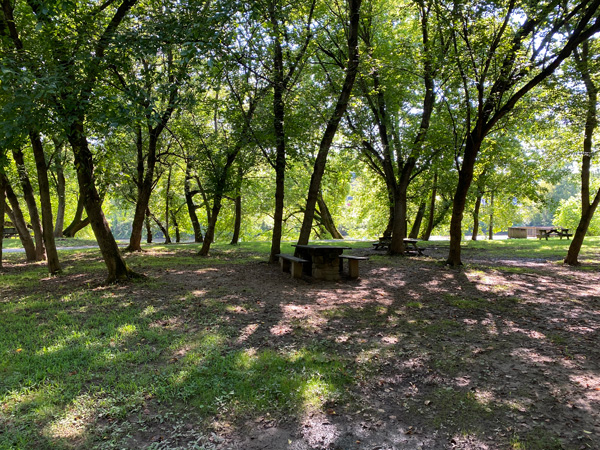 If you are looking for a park that follows the French Broad River and is in West Asheville past the River Arts District, don't miss the French Broad River Park.
Quaint and beautiful with walking trails that connect to Carrier Park, this is one of our favorite parks in Asheville, NC for a late morning stroll.
French Broad River Park is also one of the most popular Asheville parks for locals.
If you have a pooch, on the far side of the grounds they have a divided dog park for big and little dogs. This area is fenced in so your dog can run around off-leash.
You'll also find picnic tables, benches, river observation decks, public restrooms, and a gazebo. Paved walking trails loop through the park and to other areas along the French Broad River Greenway Trail.
Please note that if you connect to the other parks, not all of those trails are paved but are still easily accessible minus the mud and standing water puddles.
French Broad River Park Address
French Broad River Park is located at 508 Riverview Dr, Asheville, NC 28806. You'll find connecting parking lots right before the entrance and a walking map near the restrooms.
---
---
2. Carrier Park
You can either park at French Broad River Park or Carrier Park if you want to walk their 3.1+-mile connecting loop. Carrier Park is another one of the most popular parks in Asheville, NC, and as you approach the former racetrack, you'll see why.
I'm not going to lie, for Asheville parks, this one blew us away. I still find French Broad River Park a tad prettier, though.
Carrier Park has public restrooms, a walking and bike riding track (a velodrome if we are getting fancy), a playground, volleyball nets, and an area for lawn bowling and bocce.
You'll also find a roller hockey rink, fields and courts for sports like basketball and baseball, picnic areas as well as a pavilion, observation decks, and walking trails. Basically, pretty much anything that you could ever want from a park.
Carrier Park Address
Carrier Park is located at 220 Amboy Road, Asheville, NC 28806. The park is literally right off of I-26 and has multiple parking lots that are connected by walking trails.
Between Carrier and French Broad River Park, you'll also walk past Amboy Park, which is currently under construction.
---
Never Miss Another Asheville Update
Are you tired of generic Asheville travel itineraries? Do you want to experience the magic of Asheville like a local?
Grab our free Asheville Favorites checklist today, including restaurants, breweries, and hiking. Plus, get local updates straight to your inbox. Sign up here.
---
3. Pack Square Park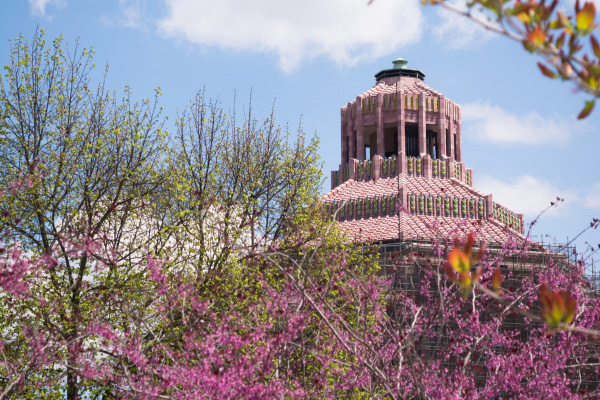 If you are looking for parks in downtown Asheville, don't miss Park Square. I consider Pack Square exactly that: a public square in the heart of AVL.
Pack Square has been with the city since around 1797 and was originally positioned at the intersection of ancient trading paths, according to the National Park Service.
Here, you'll find green spaces, water pads, water fountains, a concert and performance stage, and local sculptures and street art.
On the ground, follow the Urban Trail markers, and you'll also find the City Hall nearby. Please note that as a symbol of the Confederacy, Vance Moment will no longer be here.
Pack Square Address
Pack Square is located at 80 Court Plaza, Asheville, NC 28801.
Save This Post For Later:
Located in the River Arts District, you cannot miss passing through Foundation Skatepark if you are headed to pleb urban winery, Wedge Brewing, or anywhere in that area just to look at all of the brilliant street art. This skating park is run on donations and maintained by volunteers.
Just next door to the outdoor Skatepark, you'll also find Western North Carolina's premier indoor skatepark — which offers lessons, camps, and party space.
RAD Skatepark Address
RAD Skatepark is located at 37 Foundry Street Asheville, NC 28801.
---
---
A Few More Parks In Asheville, NC
We haven't been to all of public Asheville parks, and these are a few more that we know of:
Azalea Park – East Asheville
Richmond Hill Park – West Asheville
Martin Luther King, Jr. Park – Near Downtown
Which of these parks in Asheville is your favorite?
---
---
Beautiful Gardens In Asheville
Along with the parks in Asheville, NC, you don't want to miss these nature trails and gardens near Asheville.
5. Botanical Gardens At Asheville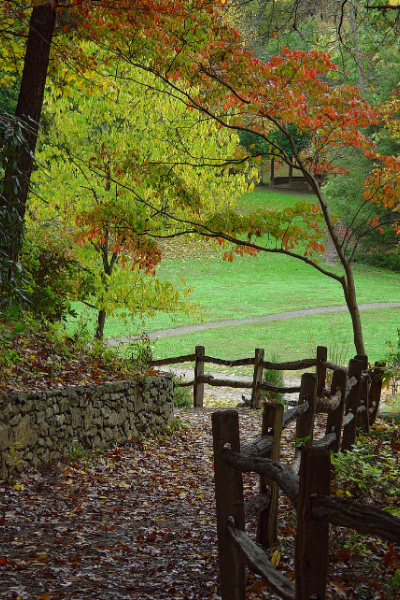 If you are loving the parks in Asheville, NC, and are looking for gardens, head over to the Asheville Botanical Gardens.
Located on the UNC-Asheville campus, parking and entrance are free to these public grounds. You'll find 10-acres of protected and endangered wildflowers along with nature trails, bridges, birds, and spots to picnic.
Asheville Botanical Gardens Address
The Asheville Botanical Gardens also has a Visitor Center and shop filled with locally published books and nature knicknacks. Address: 151 W T. Weaver Boulevard, Asheville, NC 28804.
---
---
6. The NC Arboretum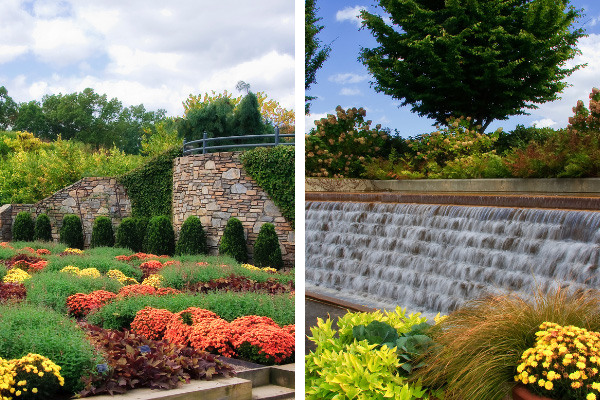 We always recommend The North Carolina Arboretum for nature seekers. In fact, we are annual passholders here for their gorgeous nature trails and hikes, beautiful gardens, and special events.
Along with biking and walking paths, you can say hi to the Bonsai trees, check out a special exhibit –one year, they had nature-themed LEGO sculptures — or attend a festive event like Winter Lights.
The North Carolina Arboretum Address
Out of all of the parks in Asheville on this list, though, while the Arboretum is a public space, you do have to pay a small fee to enter. The NC Arboretum is located at 100 Frederick Law Olmsted Way Asheville, NC 28806.
---
---
7. Beaver Lake Trail & Bird Sanctuary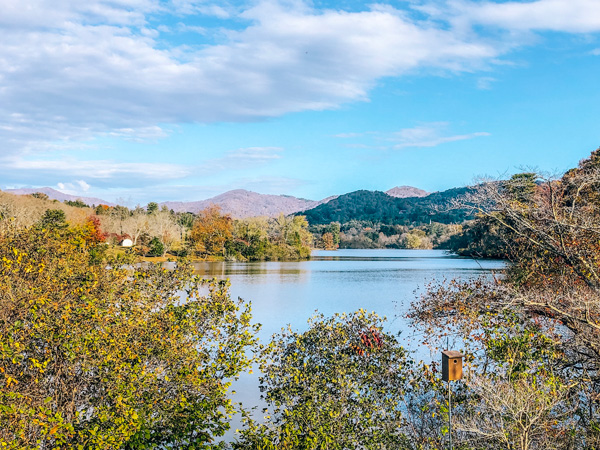 If you love bird watching and nature trails at the Asheville parks, don't skip a visit to Beaver Lake Bird Sanctuary in North Asheville. Visiting is free, and parking at the Bird Sanctuary and dirt lots around the lake are donation-based.
You can walk the less than .5-mile boardwalk Sanctuary loop to see birds, trees, and flowers. Our favorite: walk the 2-mile perimeter trail loop around Beaver Lake. You'll love the Blue Ridge Mountain views and shimmering lake.
Beaver Lake Address
Please note that Beaver Lake is technically privately owned by open to the public. Unlike the other Asheville parks, you need a permit to walk your dog here. Beaver Lake is located at 1056 Merrimon Ave. Asheville, NC 28804.
---
---
8. Biltmore Gardens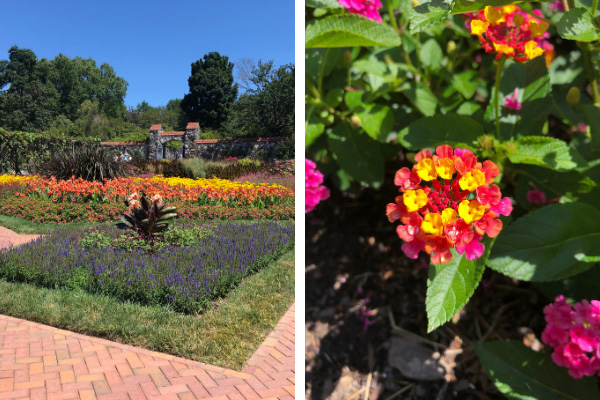 Of course, you cannot miss the Biltmore. While technically not one of the public gardens in Asheville, NC, this private estate has gorgeous gardens and walking trails.
You will have to pay admission to get in, even if you aren't touring the house. We are annual passholders here.
Biltmore's gardens are designed by the infamous Frederick Law Olmsted. Visitors uncover Italian, spring, shrub, azalea, and walled gardens along with a Conservatory.
It's best to visit the Biltmore gardens in the spring and summer. The Biltmore blooms are pretty famous.
Biltmore Address
Biltmore Estate is located 1 Lodge St, Asheville, NC 28803.
---
Get the most out of that Biltmore Ticket Price with these insider tips.
---
9. Riverside Cemetery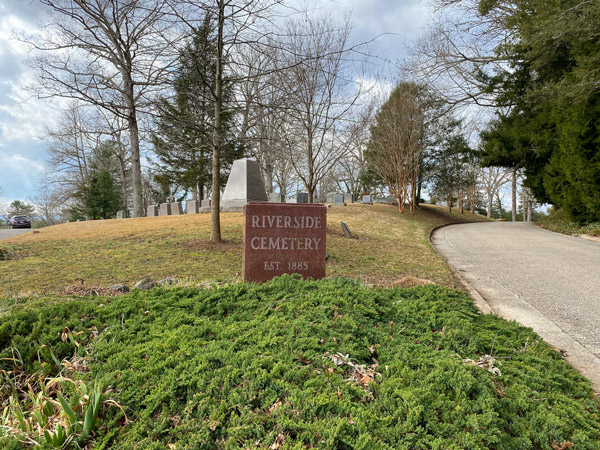 I wouldn't necessarily call Riverside Cemetery one of Asheville's parks or gardens, per se, but you will find 87 acres of beautiful grounds adopted by the City of Asheville. In fact, the Parks & Recreation Department maintains the cemetery.
Walk over 3.5 miles of paved roads through endless history. While some claim that Riverside Cemetery is haunted, the intricate stonework on many of the graves is quite beautiful and less spooky. Encounter serene and rolling hills and beautiful wildflowers.
Most notably, literary masterminds like Thomas Wolfe and O. Henry are buried here. On a Sunday morning, you'll find Asheville residents and visitors strolling the grounds.
Riverside Cemetery Address
Riverside Cemetery is located at 53 Birch Street in Asheville, NC 28801. You'll drive through the gates and can park anywhere alongside the paved roads. Grab a detailed map of the cemetery at the entrance's information board.
Please drive slowly and watch for pedestrians. Don't miss out on the beautiful architecture in this historic Montford neighborhood, too.
---
Intrigued? See why we think Riverside Cemetery is a peaceful walking spot in Asheville.
---
State & National Parks Near Asheville, NC
Very briefly, I also wanted to mention a few of the national and state parks in and near Asheville, NC.
Blue Ridge Parkway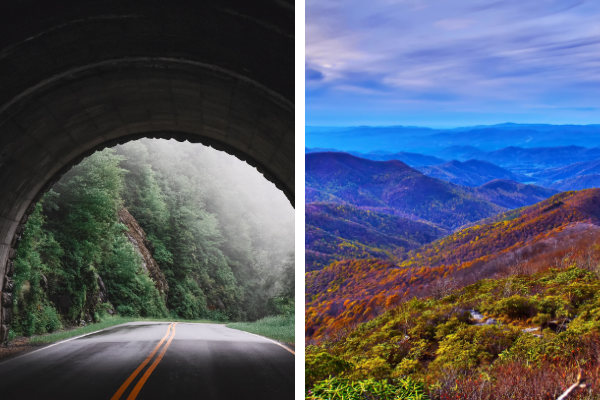 Although a gorgeous winding road through the mountains, the Blue Ridge Parkway (BRP) is a National Parkway managed by the U.S. National Park Service.
While I could write posts upon posts about the BRP for its scenic overlooks, endless hikes, and cascading waterfalls, all you need to know is that the Blue Ridge Parkway is an Asheville must.
The Parkway lights up in the fall with stunning foliage and runs 469-miles through Virginia and North Carolina from Shenandoah National Park to Great Smoky Mountains National Park.
You can find all you need to know about the BRP on this BRP website.
Please keep in mind that the BRP has weather closures, especially in the winter, and can also get incredibly foggy. Think Cliffs of Moher.
Pisgah National Forest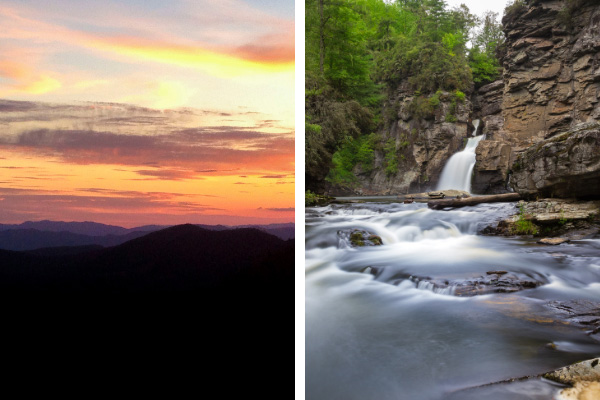 Pisgah is one of North Carolina's popular State Parks with more than 500,000-acres of forest. The NC Arboretum is a part of the Pisgah Nationa Forest, too.
Here, you can hike along popular trails like Black Balsam, Mount Pisgah, Looking Glass Rock, and Graveyard Loop.
You'll find watering holes and waterfalls like Looking Glass Falls, Moore Cove Falls, Sliding Rock, Linville Falls, Catawba Falls, Daniel Ridge Falls, Douglas Falls, and Skinny Dip Falls.
The ever-popular Craggy Gardens belong to Pisgah, too, and even the Biltmore used to own a piece of this land.
The Great Smoky Mountains National Park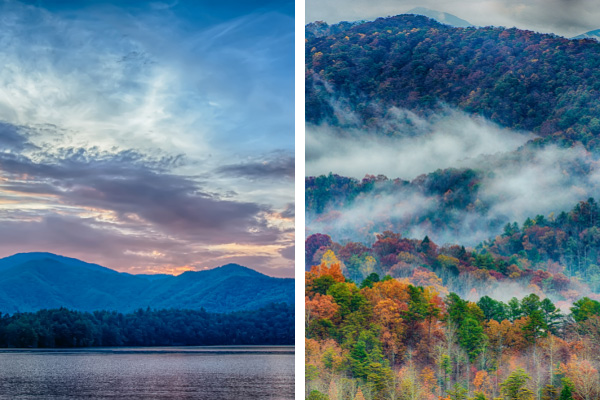 Great Smoky Mountains National Park is one of the most visited National Parks in the United States. The 520,000-acres of the Smoky Mountains run from Western North Carolina (WNC) into Tennessee.
Watching the pink and purple sunset over these beauties in one of my favorite parts about living in WNC.
You can catch elk at the Oconaluftee Visitor Center & River Trail.
A Few More State & National Parks Near Asheville:
Chimney Rock State Park
Mount Mitchell
DuPont State Forest – Home to The Hunger Games waterfalls
Grandfather Mountain
Gorges State Park – Don't miss the popular waterfall hike to Rainbow Falls
What Should You Pack When Visiting The Parks In Asheville, NC?
Binoculars – If you love birdwatching, you'll see plenty of North Carolina's beautiful birds in and around the Asheville parks and gardens. North Carolina is home to hawks, osprey, herons, vultures, kites, sparrows, woodpeckers, ducks, wrens, swallows, warblers, and bluebirds — just to name a few well-known species.
Travel Picnic & Outdoor Blanket – Whether you live in Asheville or are just dropping by, it's always handy to have a travel picnic and outdoor blanket with you.
Stainless Steel Water Bottle – If you are hitting some of the walking trails at the parks in Asheville, NC, you definitely want to carry some water. Certain areas are less shaded than others.
Where You Can Stay When Visiting The Gardens & Parks In Asheville, NC
What Are Your Favorite Parks In Asheville, NC & Nearby?
Do you have places in Asheville that you frequent to escape the city life? Which of these Asheville parks and gardens have you visited? What did you think?
Are you eyeing some of the National and State Parks near Asheville, too? Do you have any questions? Let us know in the comments.
If You Loved Visiting The Parks In Asheville, You May Also Enjoy:
30+ Asheville Hiking Trails Locals Love
Gorgeous Asheville Waterfalls
Best Biking Trails Around AVL
Top Asheville Picnic Places
Don't Miss These Asheville Destinations:
Hiking At The North Carolina Arboretum
Picnicking At The Asheville Botanical Gardens
Bird Watching & Nature Trail Hiking At Beaver Lake
Stroll Riverside Cemetery

Top Asheville Activities & Attractions From Locals