16 Indulgent Asheville Dessert Spots
Satisfy your sweet tooth at the best Asheville dessert shops, including places serving cakes, ice cream, chocolate, donuts, and more – from locals.
Known as Foodtopia, Asheville is full of hopping breweries, coffee shops, rooftop bars, and unique and famous restaurants.
After you've had a delicious lunch or fine dining dinner, you might be craving something sweeter like a delicious cheesecake, rich chocolate cupcake, vegan affogato, or smoky Old Fashioned.
So, where can you devour the best dessert in Asheville under the stars while people-watching?
Which dessert bar serves handcrafted cocktails and offers hookah? Out of all of the bakeries, who makes the freshest pastries?
Lastly, as a half Celiac and lactose-intolerant household, ourselves, where can you find delicious gluten-free and vegan desserts in Asheville, including donuts, ice cream, cookies, and cakes?
Keep reading to find out – from locals – and be sure to share your favorites in the comments. Let's get started!
Pair your dessert with the best Asheville coffee too.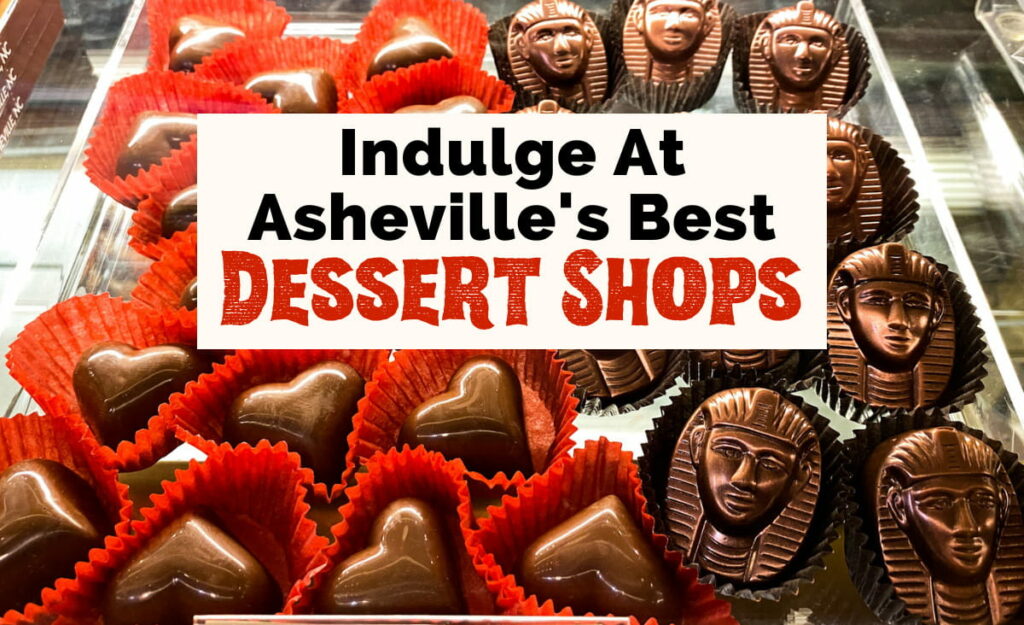 This post may contain affiliate links that earn us a commission at no extra cost to you. If you love these guides, support Uncorked Asheville here.
Our Top Three Places For The Best Dessert In Asheville:
French Broad Chocolate Lounge
The Hop Ice Cream Cafe
Old Europe Pastries
16 Best Asheville Dessert Shops (& More)
1. Crave Dessert Bar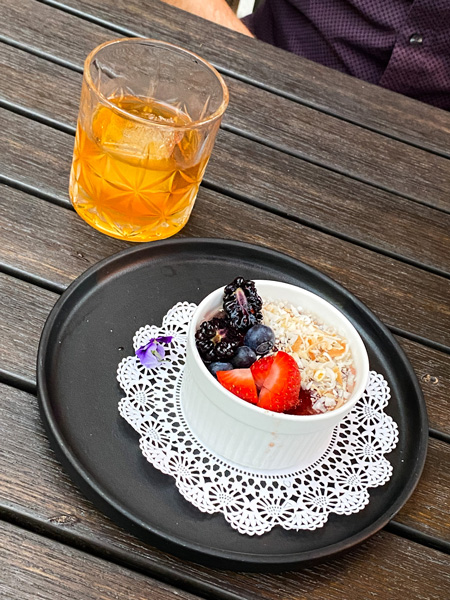 Are you looking for one of the most romantic Asheville date-night restaurants for desserts and drinks? Head to Downtown's Crave Dessert Bar.
Crave serves up the best desserts in Asheville along with cocktails, hookah, tea, and coffee.
Picture a jar over an Old Fashioned, Beauty & The Beast-style. Lift that jar, and the smoke rushes out… just like that oh-so-bad-for-you but deliciously good flavored hookah. We all have vices…
While not the best spot for vegan and gluten-free treats, Crave has a few options. Plus, there is always liquid dessert. Their cocktails are crafty and delicious.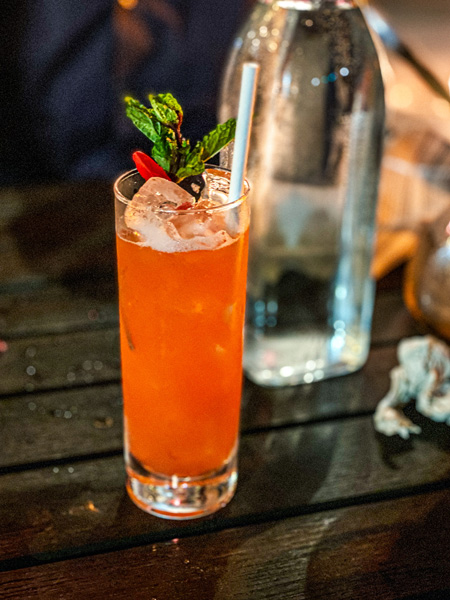 Even better, Crave Dessert Bar stays open until midnight, and they serve food including bites, handhelds, and flatbreads. Sit under the stars on their outdoor patio as you people watch.
We especially enjoy Crave after a night of fine dining over at Bouchon, delicious French cuisine in an equally romantic setting.
Read more about fun things to do in Asheville for couples.
Crave Dessert Bar | 41 N Lexington Ave Suite #100, Asheville, NC 28801
2. Asheville Chocolate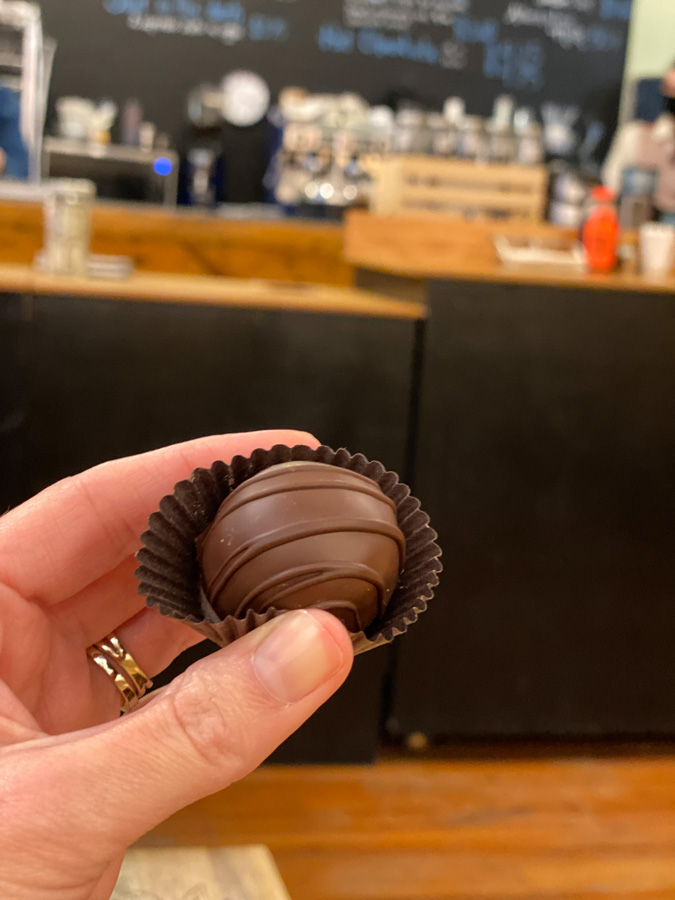 "Get chocolate sauced" at Asheville Chocolate, a more local but still bustling Downtown Asheville dessert cafe. Where do we even start?
Asheville Chocolate serves up truffles, gelato, drinks, and desserts. Think affogatos or hot chocolate and mochas with homemade ganache.
They also boast seasonal and ever-changing flavors along with decadent vegan options. If you don't see vegan items on the menu, just ask.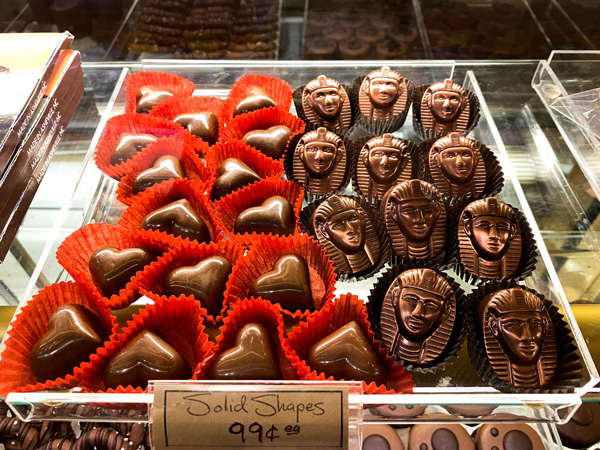 Asheville Chocolate is our personal favorite chocolate shop in Asheville for the chill vibes, coffee, and comfy seating areas.
While you are indulging at Asheville Chocolate, don't skip cocktails at popular nearby AVL rooftop bars including The Social Lounge and Capella On 9.
Asheville is full of so many great coffee shops, consider booking a guided coffee tour.
Asheville Chocolate | 25 Broadway Street, Asheville, NC 28801
3. Old Europe Pastries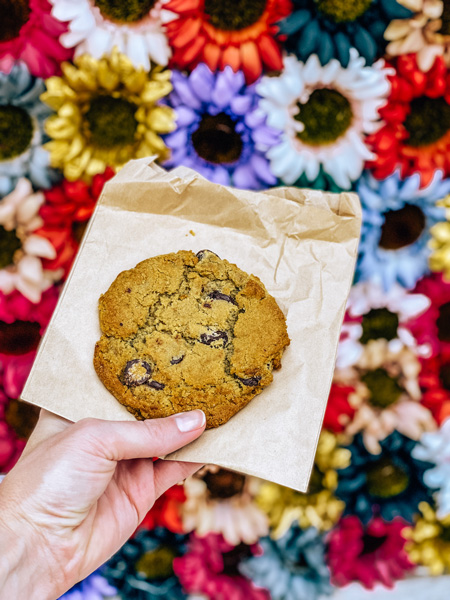 Open since 1994, Old Europe is one of the longest-running cafés and coffee shops in Asheville.
They make some of the city's best pastries and desserts, including traditional Hungarian treats, and are a great quick option for breakfast in Asheville or a late-night treat.
Order anything from breakfast quiche and Danish to cookies, cakes, macarons, cupcakes, and croissants.
If you are vegan, lactose-intolerant, or looking for gluten-free dessert in Asheville, Old Europe will have something for you.
Locals and visitors may order treats online or via a food delivery service too.
Discover even more of Downtown Asheville's best restaurants, including nearby Social Lounge, Posana, Itto Ramen Bar, and Limones.
Old Europe Pastries | 18 Broadway St, Asheville, NC 28801
4. Odd's Cafe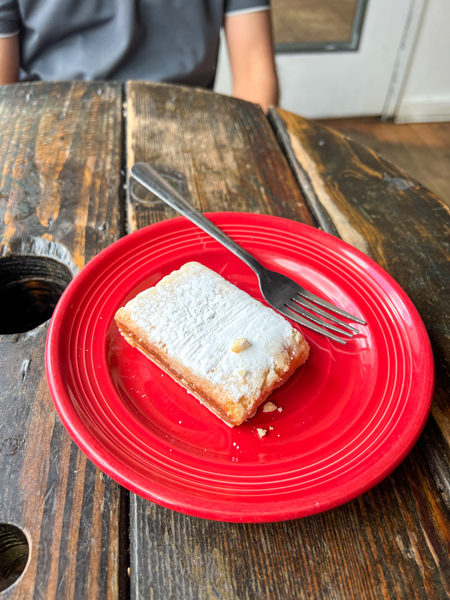 We just love the street murals, coffee and book shops, cafes, and local restaurants in West Asheville.
If you are looking for a great hang-out space paired with the best dessert in Asheville, put your kitty on a leash and head to Odd's Cafe.
This cafe truly lives up to its namesake and is a popular local coffee shop.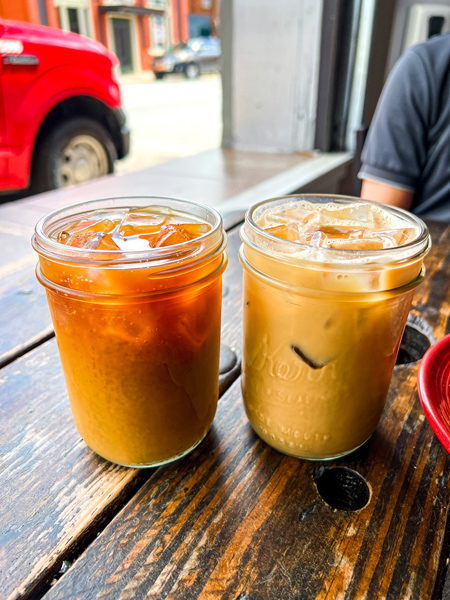 Situated along busy Haywood Road, park along one of the surrounding streets and dip inside with your family and pets.
Odd's Cafe serves up coffee, tea, lattes, and espressos, and boasts some of the best gluten-free treat options, including muffins, blondies, and brownies.
If you are gluten-free like part of our household, know that Cellarist next door serves gluten-reduced beers too.
Odd's Cafe | 800 Haywood Rd Suite A-110, Asheville, NC 28806
5. French Broad Chocolate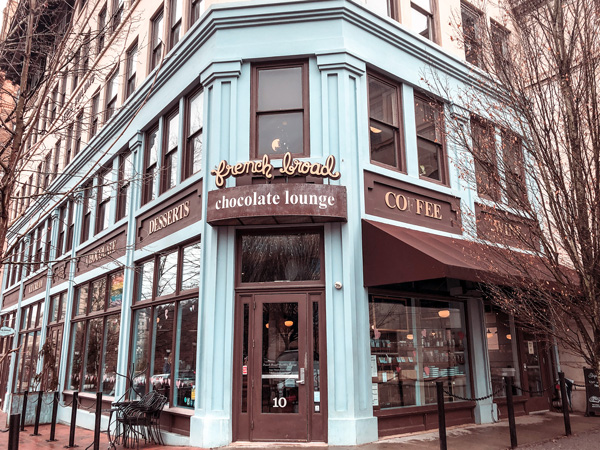 One of the best dessert places in Asheville, everyone knows French Broad Chocolate.
In fact, it's an attraction in and of itself – like Biltmore Estate – and one of the best things to do while visiting the city.
Select from handcrafted bonbons, chocolate bars, ice cream, and more along with the best vegan selections, including vegan affogatos, ice cream, truffles, and milk alternatives.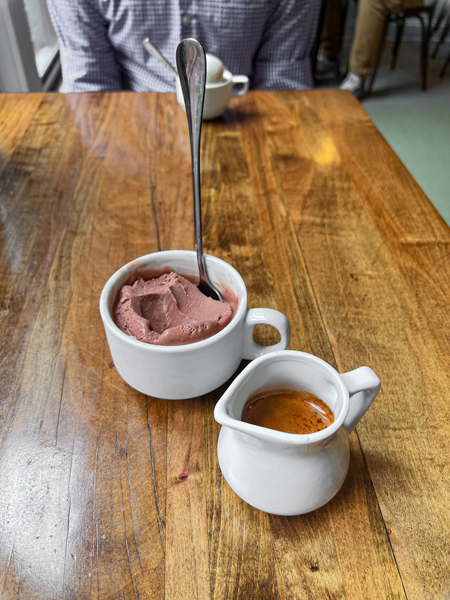 French Broad Chocolate has two locations: A Downtown Asheville coffee shop and a River Arts District cafe and factory, with guided tours.
The Downtown location sits along Pack Square, a great urban walking park, where the city hosts many of its events and festivals. The Asheville Art Museum is right next door.
French Broad Chocolate Downtown is also the perfect place for dessert in Asheville after dining at Posana, Curate, or Limones, just a few of Asheville's unforgettable restaurants.
The River Arts location is close to Ginger's Revenge – think hard ginger beer and food trucks.
Discover even more delicious spots for dairy-free Asheville treats; we are pros here.
French Broad Chocolate | Downtown: 10 South Pack Square, Asheville NC 28801 & River Arts District Factory: 821 Riverside Drive Asheville NC 28801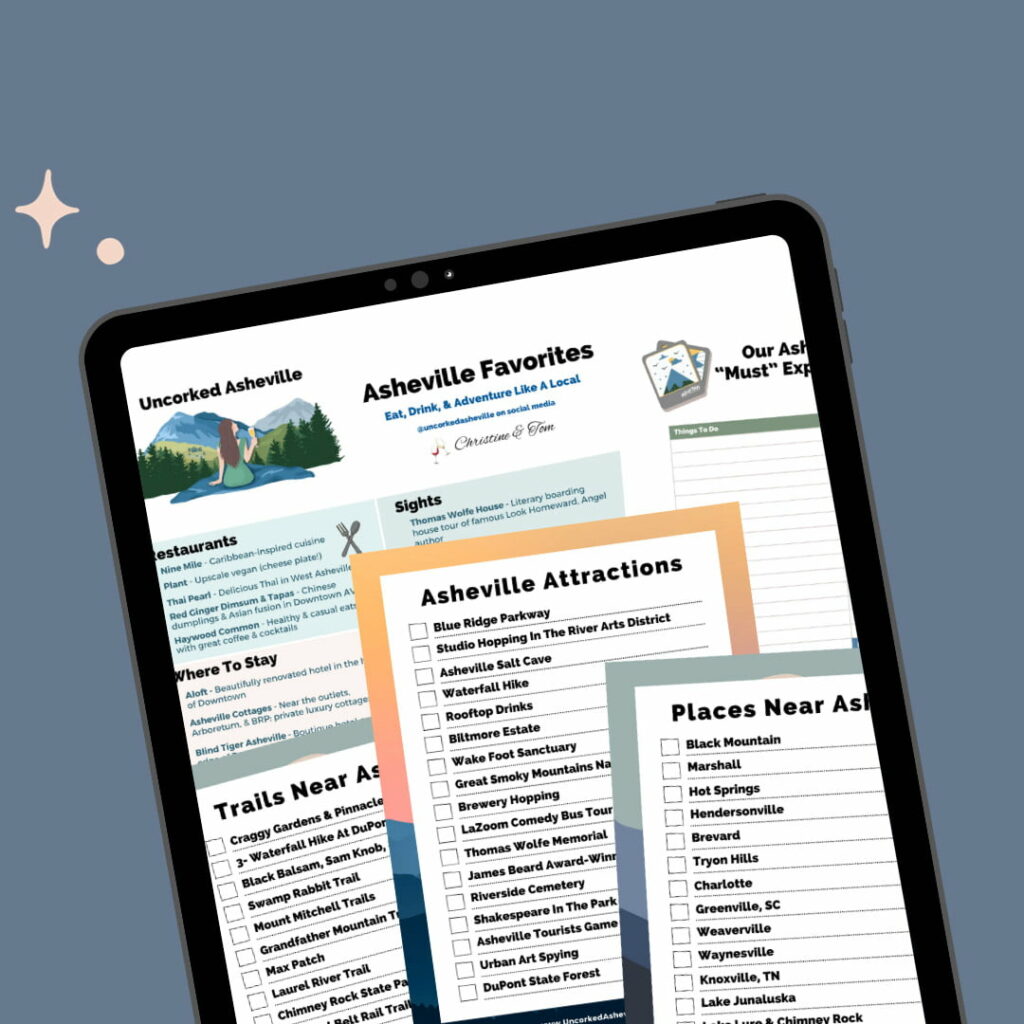 Never Miss Another Asheville Update
Experience Asheville like a local with our free attractions, dining, hiking, and day tripping guides. Get events, updates, and more straight to your inbox from Christine.
6. Sunshine Sammies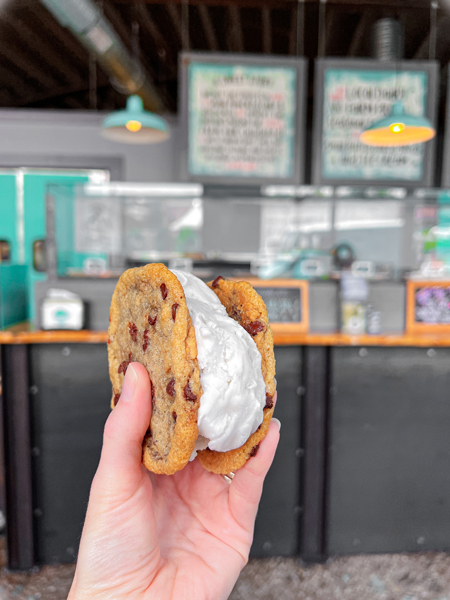 For local treats, creative ice cream sandwiches, cookies, and soda floats, head to Sunshine Sammies. This is one of the Asheville dessert shops your nose will find first.
The moment you walk in, fresh ice cream and cookies baking swirl around you. It is magnificent.
Situated in Downtown AVL – with a vintage food truck that heads to South Asheville – feed your inner child.
Sunshine Sammies offers vegan and gluten-free selections along with regular ice cream and cookies. Order online too.
The best part of Sunshine Sammies, for us, is that fresh vegan ice cream sandwich. Order some Penny Cup Co. too.
We suggest parking at the Biltmore Ave. garage or nearby pay lots. Lexington Glassworks is close by – a terrific blown glass shop and studio. Catch a live demonstration.
Uncover even more of the best ice cream shops in Asheville.
Sunshine Sammies | 99 S Lexington Ave, Asheville, NC 28801
7. Hole Doughnuts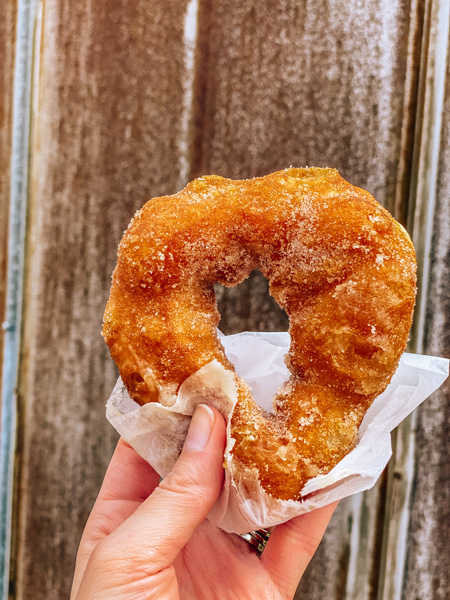 Voted Best Dessert of 2016 by Bon Appetit, Hole Doughnuts is one of Asheville's infamous donut shops – and trust us, there are many.
Along with classic donut flavors, Hole Doughnuts has a seasonal donut that rotates every week, and they serve coffee and tea from the local Asheville businesses.
Nearby, head to one of Asheville's great cideries, Urban Orchard. Or, dip over to Archetype West – a gorgeous AVL brewery with rooftop seating.
Hole Doughnuts | 168 Haywood Rd, Asheville, NC 28806
8. Geraldine's Bakery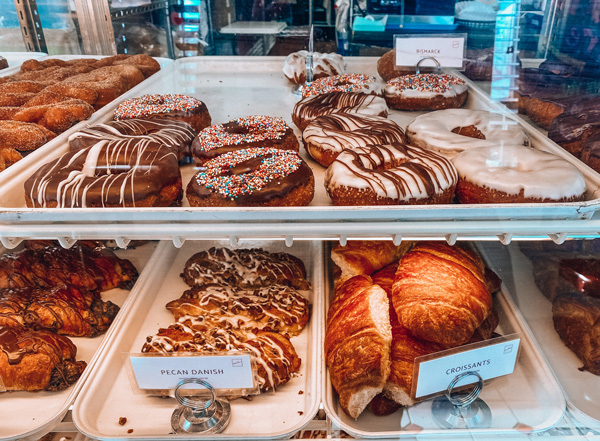 For all of your freshly baked goods and dessert in Asheville, head to Geraldine's Bakery.
They remind us of our Italian Bakery back home in Connecticut and are one of North Asheville's great restaurants.
Select from wedding cakes, Italian cookies, fritters, donuts, and an endless display of colorful and gooey pastries.
Just keep in mind that Geraldine's closes by 1 PM. If you are looking for more, don't miss Asheville's stellar weekend brunch places.
Geraldine's Bakery | 840 Merrimon Ave, Asheville, NC 28804
9. Double D's Coffee & Desserts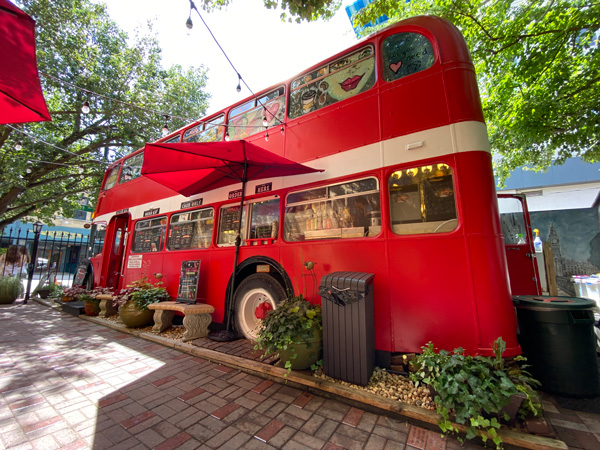 We are pretty sure that you've all seen that big double-decker red bus…
However, Double D's isn't just a cool bus and Instagrammable spot; it's also one of the best coffee and dessert places in Asheville.
Along with coffee and tea, order iced drinks, frappes, smoothies, and milkshakes. They even make their own signature drinks.
Their desserts include ice cream, muffins, brownies, and cookies. Just know that they only accept cash, and they have Wi-Fi.
Double D's Coffee & Desserts | 41 Biltmore Ave, Asheville, NC 28801
10. The Hop Handcrafted Ice Cream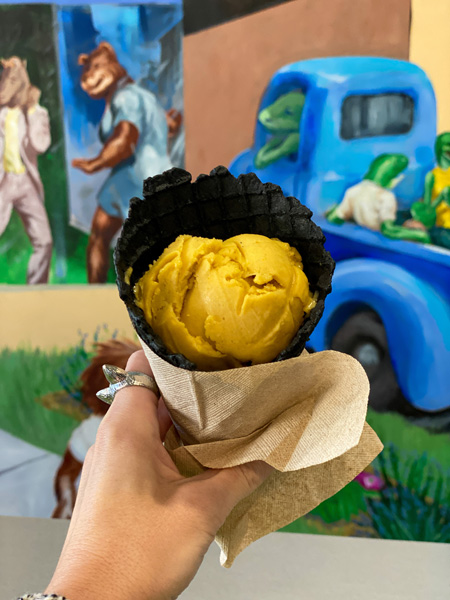 What's our number one pick for the best desserts in Asheville?
We love The Hop, which now has an attached sister restaurant at its North AVL location, Pop Bubble Tea (more to come below).
Imagine ice cream and build-your-own bubble tea all in the same area (and Zen Sushi is in the same plaza upstairs!).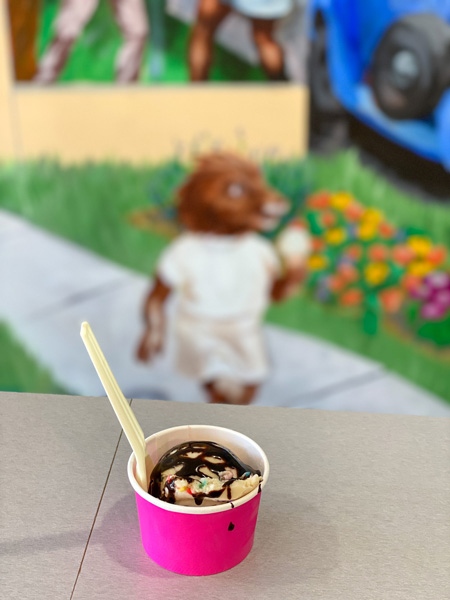 The Hop Ice Cream Cafe specializes in handcrafted dairy ice cream and 100% from scratch, dairy-free, and vegan ice cream.
We are lactose-intolerant and can attest that the vegan flavors are creamy, plentiful, and delicious. We especially enjoy The Hop's hot apple cider floats.
For kid-friendly Asheville restaurants, you cannot go wrong with the whimsical decor and endless selection of ice cream, sorbets, toppings, drinks, and more.
The Hop has multiple locations across Asheville – including North, West, and Downtown – as well as a cafe in Black Mountain.
The Hop Ice Cream | North Asheville Flagship Location: 640 Merrimon Ave, Asheville, NC 28804 | Find all of their locations here.
11. City Bakery
Are you looking for great bakeries in Asheville? Head to City Bakery in Downtown and North Asheville.
For artisanal loaves of bread and pastries as well as coffee, City Bakery has been around since 1999.
Using products from local companies, you'll find a variety of freshly baked bread like Sourdough, Challah, Focaccia, and Ciabatta.
For pastries, pick from scones or muffins. City Bakery also serves cookies for dessert.
City Bakery | Downtown Asheville – 60 Biltmore Ave., Asheville, NC 28801 | North Asheville – 88 Charlotte St., Asheville, NC 28801
12. Pop Bubble Tea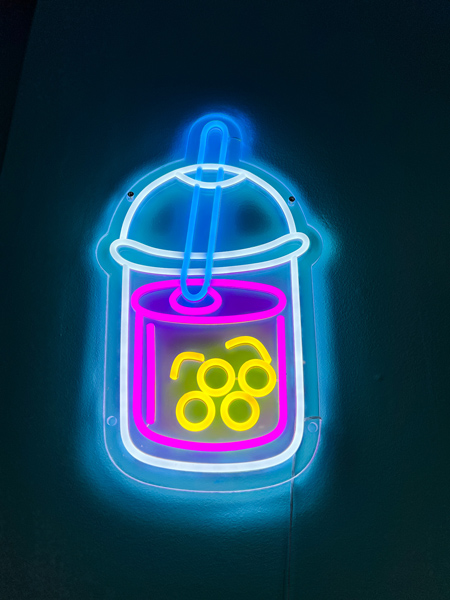 If you need to fight that bubble tea craving, we have just the Asheville dessert shop for you.
Head to Pop Bubble Tea – located in The Hop on Merrimon Ave. in North AVL. They are brand new as of 2022.
For those of you who are unfamiliar with bubble tea – also known as boba or pearl milk tea – this is a Taiwanese tea-based drink mixed with fruit or milk and tapioca balls. It's delicious!
At Pop Bubble Tea, choose from specialty teas or build your own. Along with milk teas, find fruit, matcha, and classic tea flavors.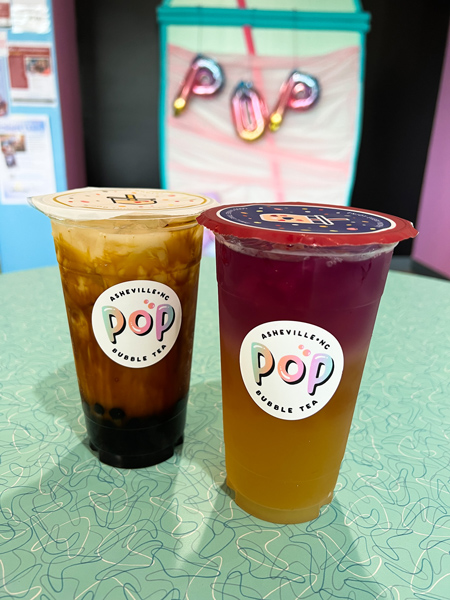 Add as much ice and sugar as you wish, and make tough decisions between jelly, tapioca, red bean, and pudding toppings.
Pop Bubble Tea labels its menu for caffeine, gluten, and dairy. We appreciate the oat milk option.
With brightly colored walls, boba stickers available for purchase, and even a bubble tea light, you cannot help but smile – even on a rainy day.
Dessert in Asheville never looked so colorful! Did we just drink a unicorn?
Pop Bubble Tea | 640 Merrimon Ave, Asheville, NC 28804
13. Rocket Fizz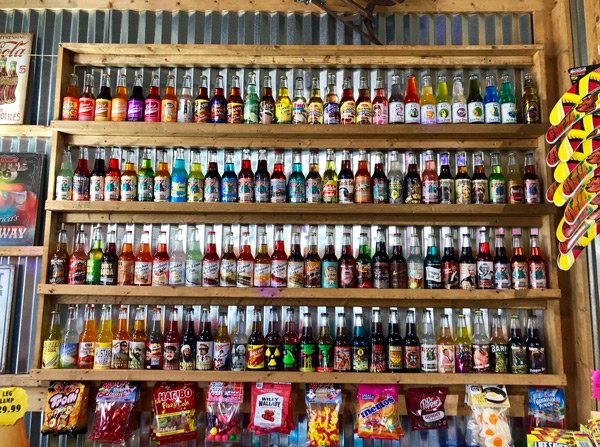 For candy and dessert shops in Asheville, we have to give a notable mention to Downtown's Rocket Fizz, a fun soda pop and vintage candy store filled with endless treats.
While Rocket Fizz is a franchise, you'll be taken back to your childhood, especially with sugar straws, gummy hamburgers, and candy necklaces.
Remember those lollipop engagement rings, Ring Pops? Plus, find walls of fun-flavored soda. It's the ultimate sugar rush.
Rocket Fizz is also a quick and easy stop for a sweet treat for the road.
Similarly, you could stop in Downtown Asheville's Mast General Store, which sells pretty much everything you could ever need, including more chocolate and candy.
Rocket Fizz | 21 Battery Park Ave Ste 102, Asheville, NC 28801
14. Well-Bred Bakery & Cafe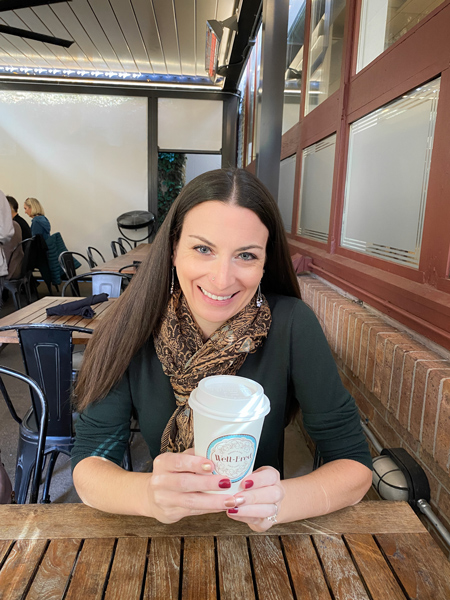 One of the most well-known bakeries in Asheville, perfect for treats, Well-Bred first opened shop in Weaverville in 2022.
Today, Well-Bred has locations in Biltmore Village, Downtown, and Weaverville, and makes for the perfect Asheville dessert stop if you are touring historic Biltmore Estate, America's largest home.
Along with coffee, breakfast, and lunch items – thinks soups, salads, and sandwiches – select from cookies, cakes, brownies, croissants, and eclairs.
Just know that Well-Bred Bakery & Cafe has a fairly limited vegan and gluten-free selection.
If you are visiting their Biltmore Village location, try even more famous Biltmore Village restaurants like Corner Kitchen, Red Stag Grill, and Andaaz.
Well-Bred Bakery & Cafe | Biltmore Village: 6 Boston Way, Asheville, NC 28803, Downtown AVL: 1 Page Avenue, Ste. 112G, Asheville, NC 28801; Weaverville: 26 North Main Street, Weaverville, NC 28787, Food Truck: 232 Reems Creek Rd, Weaverville NC, 28787
Best Places For Dessert Near Asheville
15. Sky Top Orchard (Flat Rock)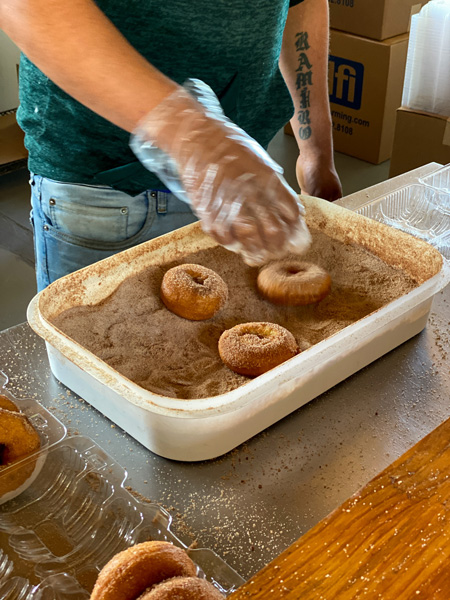 One of our favorite places for dessert near Asheville is about 45 minutes away.
If you are visiting Asheville in the fall, be sure to head to the Hendersonville apple orchards for donuts, cider, and slushies.
We especially frequent Sky Top in Flat Rock along with nearby Stepp's Hillcrest. Jeter Mountain Farm is also extremely popular.
Sky Top makes hot apple cider donuts on the spot and serves them warm. Along with slushies and apple cider, don't miss their hard cider, caramel apples, and baked goods.
Of course, you can apple pick and shop at their country store.
Read more about all that you can do in Asheville in October.
Sky Top Orchard | 1193 Pinnacle Mountain Rd, Flat Rock, NC 28731
16. Dough House (Black Mountain)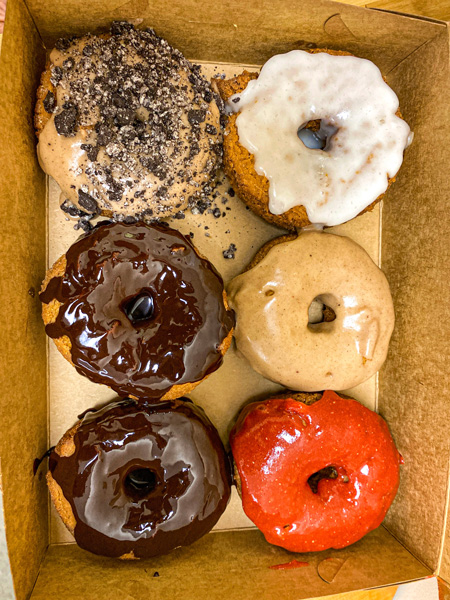 Since we are experts in gluten-free and vegan treats, especially given our dietary needs, we had to share one of our personal favorite places for dessert near Asheville: Dough House.
Dough House is the sister restaurant to Asheville's Trashy Vegan, and they serve up the absolute best vegan and gluten-free donuts we've had in Western North Carolina.
Even better – there's no upcharge for going gluten-free.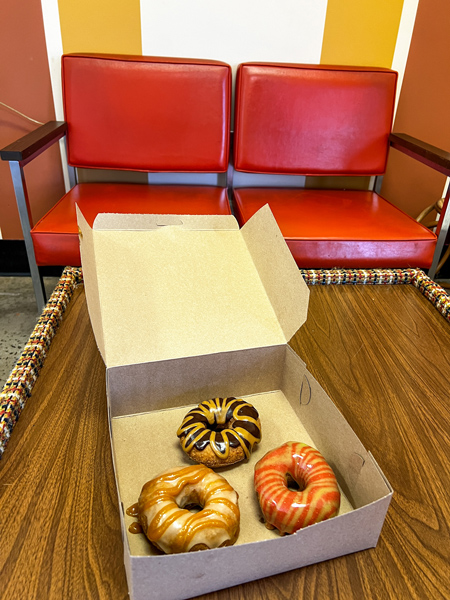 Select from their donut classics and seasonal donut flavors, like vanilla, chocolate, and strawberry glaze.
We especially love Dough House's matcha strawberry and classic chocolate flavors. We've seen everything from maple "bacon" to Boston creme and mango with strawberry. Grab coffee and chai too.
While in this area, we love local Black Mountain restaurants, including Trailhead and Cousins Cuban Cafe. Shop downtown and walk Lake Tomahawk.
Dough House | 601 W State St Suite 3, Black Mountain, NC 28711
5 Top Guided Asheville Food & Drink Tours You Might Enjoy:
Save The Best Spots For Dessert In Asheville, NC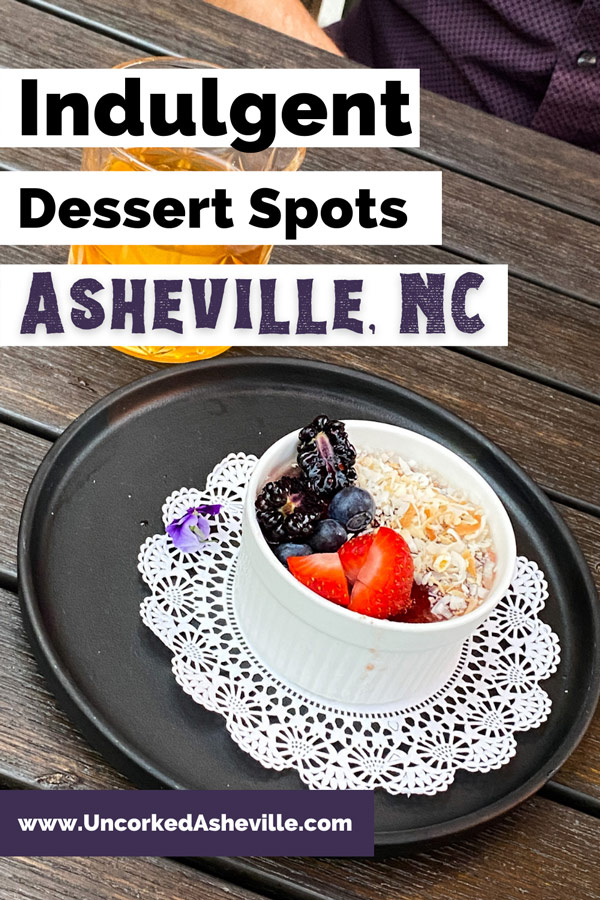 Who makes the best desserts in Asheville, NC?
Where do you go for dessert in Asheville? What is your favorite type of dessert: Donuts, ice cream, cakes, pastries, truffles, candy, or Italian cookies? Let us know in the comments.
Before you go…
Asheville is full of fun and quirky shops for desserts, chocolate, specialty food, and more – like clothing, jewelry, souvenirs, and art. Discover some of the best shops in AVL – Downtown, around the River Arts District, in West Asheville and Biltmore Village, and more.
Related Articles: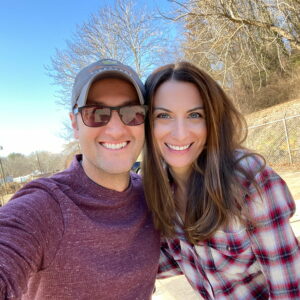 Christine (pronouns: she/her) is the owner and lead writer of Uncorked Asheville. After falling in love with those gorgeous Blue Ridge Mountains, Christine and her husband Tom decided to call Asheville, North Carolina home. When her pointy Italian nose isn't stuck in a book, Christine is adopting all of the kitties, getting lost in the forest, and drinking an ESB. She has a BA in English and History from Smith College, her MLIS from USF-Tampa, and is a former U.S. Fulbright Scholar - Indonesia. Christine also owns The Uncorked Librarian LLC with books and movies to inspire travel.