Looking for the best fine dining in Asheville, NC? Don't miss the most memorable fancy restaurants in Asheville for all of your special occasions.
Sometimes you just want to treat yourself to a fancy dinner out or even celebrate an amazing accomplishment. Let's not forget those romantic dinner dates, too.
When we decided to move to AVL, we celebrated our decision to relocate at Plant– the best restaurant for vegan fine dining in Asheville. Then, we cheers'ed with local friends over gluten-free dinner at Posana.
When we finally closed on our home, we grabbed cocktails and Italian at Chiesa. All of these restaurants are now our celebratory go-to's.
While we frequent more low-key, wallet-friendly establishments daily, we appreciate that Asheville has hundreds of restaurants to choose from, ranging from type of cuisine and atmosphere to price and location.
If you are looking for nice restaurants in Asheville for those major life celebrations, then, how do you choose?
Below, uncover favorite fancy restaurants in Asheville, including ones with gluten-free, vegan, and vegetarian options. We'll even share who has the best dinner sunset…
We should also mention that we aren't huge steak and potato people, but we'll have one or two suggestions for you too.
While these are what we and our readers consider to be the best Asheville fine dining restaurants, please remember that 'best' is subjective. We always love hearing your favorites in the comments.
Also, don't miss Asheville's terrific restaurants for all price levels, meals, and environments.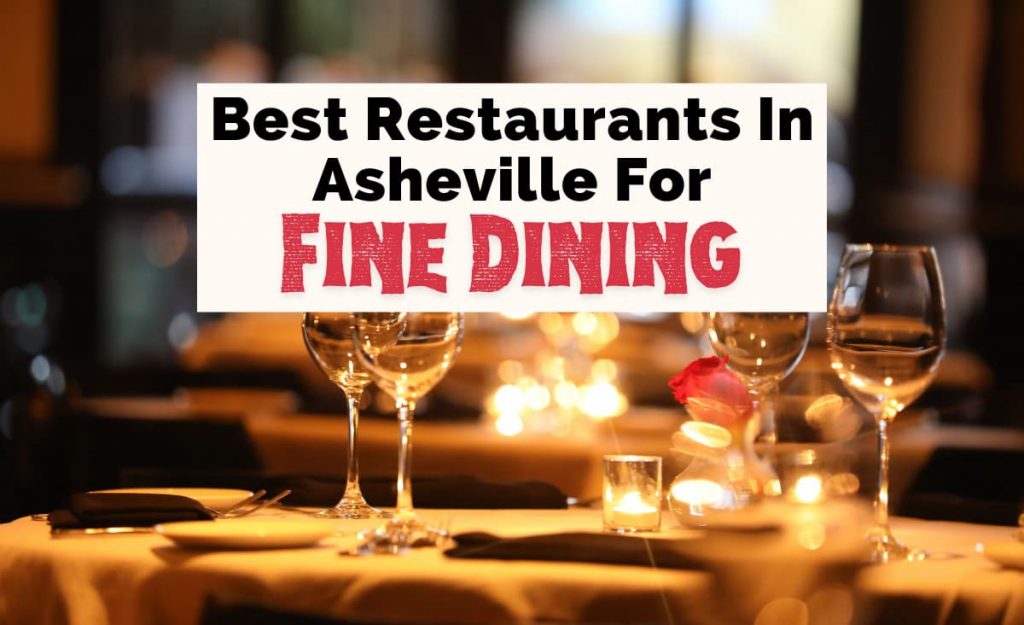 This post may contain affiliate links for products and services we recommend. If you make a purchase through these links, at no additional cost to you, we will earn a small commission. Read the full disclosure here.
See our Top Places To Stay in Asheville.

Don't miss out on these Asheville properties on Booking.com, too.
10 Best Restaurants For Fine Dining In Asheville, NC
1. Cúrate
Enjoy fine dining in Asheville like Anthony Bourdain and Gordon Ramsay. Both ate at downtown Asheville's most famous Spanish restaurant, Cúrate.
This gorgeous establishment sits in a former 1927 bus depot. With a large bar and hanging meats, you know that you'll be in good hands.
The chef, Katie Button, and owner, Felix Meana, previously worked for José Andrés. In 2018, Wine Enthusiast named Cúrate as one of America's Best 100 Wine Restaurants.
Cúrate's extensive wine list notably showcases a variety of sherry, too. Order Spanish tapas, including charcuterie and fried fish.
While tapas are more popular, pick from seafood and meat entrees as well. Don't forget to save room for dessert.
We highly suggest making reservations far out in advance.
Cúrate also owns La Bodega, an all-day cafe serving Spanish specialty food and wine. For travelers, Cúrate runs curated food trips across Spain, Portugal, and Morocco. We follow Felix Meana on IG, and the wanderlust is for real.
Cúrate | 13 Biltmore Ave, Asheville, NC 28801
2. Jargon
Jargon is one of the most popular fine dining restaurants in West Asheville. Find a quirky and charming restaurant with a lava-lamp-filled bar and both indoor and outdoor seating.
If you enjoy contemporary American dishes with a Southern flair, Jargon will speak to you.
Be aware that while they can make gluten-free and lactose-free accommodations, this isn't always the easiest restaurant choice for food intolerances. They will try, though.
We give this warning from experience, but we love Jargon. With a frequently changing menu, find items like fried okra, stuffed clams, and meatballs.
Jargon also serves up gumbo or soups with a variety of salads filled with locally sourced, seasonal ingredients. Then, order a main dish like cornish hen, pasta, and steak.
Most importantly, Jargon makes incredible craft cocktails. It's hard to choose.
We enjoy the Scrabble walls in the restrooms. Like most of the Asheville fine dining restaurants, we highly recommend making advanced reservations here.
Don't miss our complete guide to West Asheville, too, filled with wine bars, breweries, and murals to check out after dinner.
Jargon | 715 Haywood Rd, Asheville, NC 28806
3. Bouchon
For French fine dining in downtown Asheville, Bouchon is both romantic and delicious. In fact, some of our readers noted that this is their top restaurant in Asheville — and they visit on every trip.
One of the coziest establishments, sit inside Bouchon's intimate and dimly lit space or enjoy the outdoor patio.
Choose from a variety of French comfort food, decadent French red wines, and hearty cocktails. We recommend starting with a cocktail and then sharing a bottle of wine for dinner.
True to French cuisine, many of the dishes have lactose and some gluten, if you are intolerant. We can usually find one or two stellar dishes to eat, though.
Bouchon makes famous French fries — that you must order — and they have delicious duck, beef, and seafood main dishes. We are fans of the Boeuf Bourguignon.
We are pretty sure you'll love the food, ambiance, and service at Bouchon. Crave Dessert Bar sits across the street for after-dinner drinks and desserts.
Bouchon | 62 N Lexington Ave, Asheville, NC 28801
4. Sunset Terrace
For fine dining in Asheville with the best sunset views, Sunset Terrace will take away your breath. Located in Asheville's historic Grove Park Inn, this is the adult Disney resort of the mountains.
Think floor-to-ceiling fireplaces, dark wood, and massive windows facing Mount Pisgah and downtown Asheville. Once outside on the terrace, you'll find covered seating for Sunset Terrace.
This area may grow a bit warm in the summer, and in the fall, catch the gorgeous foliage from high up. We consider Grove's Sunset Terrace, The Great Hall Bar, and Edison as fantastic 'rooftop' restaurants.
Of course, since The Grove Park Inn is a luxury resort, know that this experience might feel a bit more touristy to you. However, we are Asheville residents, and we love as well as frequent The Grove Park Inn.
Order starter cocktails and delicious mains like scallops, pork chops, and steaks. Check to see if they have their vegan bowl, too.
Grove's restaurants fill up quickly, and we suggest advanced reservations, especially around sunset times and holidays. Don't miss their winter gingerbread display.
Sunset Terrace | The Omni Grove Park Inn | 290 Macon Ave, Asheville, NC 28804
Never Miss Another Asheville Update
Are you tired of generic Asheville travel itineraries? Do you want to experience the magic of Asheville like a local?
Grab our free Asheville Favorites checklist today, including restaurants, breweries, and hiking. Plus, get local updates straight to your inbox. Sign up here.
5. Limones
Another one of our readers' favorites for fancy restaurants in Asheville, Limones is Mexican combined with French-influenced California cuisine. Sounds amazing, right?
The Chef, Hugo Ramirez, is a Mexico City native. Moving to Asheville from San Francisco almost 19+ years ago, he focuses on simply good food.
Start with tapas for the entire table including fresh ceviche, grilled street corn, or lobster nachos. Then, move on to fusion-cuisine mains including BBQ fish, scallops with salsa, ramen short ribs, and enchiladas with vegan cheese.
Save room for churros or a Tres Leches cake paired with Mexican coffee. Of course, Limones has a killer cocktail list.
Limones is also our neighbors' favorite Asheville fine dining restaurant — and they have great taste!
Limones | 15 Eagle St, Asheville, NC 28801
6. Glass Onion
Since the nice restaurants in Asheville grow extremely busy, we wanted to give you a next-door neighbor option. Glass Onion sits just 10 minutes north of Asheville in Weaverville.
The Weaverville restaurants are great if you want to enjoy a quieter evening out with less stress about parking and crowds. Plus, Weaverville has a more local vibe. Did we mention WagBar — a nearby dog park and bar?
While it's sometimes harder to find gluten-free fining dining around Asheville, Glass Onion has a plethora of options for our Celiac husband.
The owners are originally from New York — and former head chefs for two highly-rated Hamptons restaurants — and they use locally sourced ingredients.
Glass Onion is a fantastic option for Italian lovers. Think global Italian, and sit ensconced in a smaller restaurant filled with blown glass and a tiny bar.
We can never turn down a beet salad with spicy pecans, and scallops over pasta are life. Find trout, steak, salmon, and pasta.
Out of all of the Asheville fine dining restaurants, we find Glass Onion to be one of the most accommodating and understanding in regard to food intolerances.
Glass Onion is technically casual-fancy — you don't have to overdress — and reservations are suggested. For us, Glass Onion is a great Sunday evening choice.
Glass Onion | 18 N Main St, Weaverville, NC 28787
7. Plant
If you follow us anywhere online, you know that Plant is one of our all-time favorite Asheville restaurants. In fact, Zagat named them as one of the best vegan restaurants in the country.
While we don't necessarily consider Plant 'fancy' — you can dress casually — it is one of the only dedicated vegan fine dining restaurants in Asheville. Their menu is also largely gluten-free but not completely.
Plant is a little pricer than some of the other AVL vegan joints, like Laughing Seed, but 200% worth it.
It's best to make reservations for Plant, although walk-ins can occasionally grab a spot at the bar.
We are not vegan, but we live for Plant's vegan cheese plate, roasted beets, and desserts.
Plant specializes in making multiculturally-influenced dishes. They offer small and large dinner plates.
While the menu changes seasonally, we love anything with Brussels, ramen, curry, and tamales smothered in vegan cheese. Cocktails and desserts are also a must.
Sometimes, you can purchase Plant's sauces and cheeses to-go.
Plant | 165 Merrimon Avenue, Asheville, NC 28801
8. Asheville Proper
As mentioned above, we aren't huge steak fans, but we know some of our readers are. One of Asheville's newer fine dining restaurants for steak, Asheville Proper is fantastic.
Located in the historic Grove Arcade, this cozy restaurant is trendy but romantic. Along with a large wood-burning fire in front of the kitchen, sit surrounded in mellow lighting on green and yellow couches with gold accents.
Asheville Proper will have your traditional steak dishes with small plates and à la carte sides. If steak isn't your jam, though, find mains like duck, grouper, and eggplant.
For sides, choose from roasted potatoes, tomatoes salad, mushrooms, and fried okra. Classy yet simple and elegant, you will leave sated but not overstuffed.
Asheville Proper labels gluten-free items, and like all of Asheville's fine dining restaurants, they have a fun cocktail list.
Asheville Proper | 1 Page Ave #151, Asheville, NC 28801
10. Posana
One of the fancy restaurants in Asheville that's also great for celebrations, Posana most uniquely has a dedicated gluten-free kitchen.
Serving up contemporary American and located across from Pack Square, Posana promises a fresh and locally sourced menu.
Their menu changes frequently, and they are in tune with diner's food allergies and intolerances. They also host private events in a separate space.
It's best to make reservations. For dinner, start with a variety of fresh salads, hush puppies (GF!), or bread with spreads.
Follow up with mains — including vegan and veggie options — like fried tofu. Posana will also have your traditional chicken, seafood, and steak entrees.
Don't miss all of the gluten-free or gluten-sensitive restaurants in Asheville.
Posana | 1 Biltmore Ave, Asheville, NC 28801
We always have trouble narrowing down our lists. It's hard to go wrong in AVL — the city is "Foodtopia" after all.
A few more Asheville fine dining restaurants you might want to explore include:
The Bull & Beggar
Chestnut
Isa's French Bistro
Zambra (for tapas & fine wine)
Bargello
Bone & Broth
The Admiral
The Red Stag Grill
Chiesa – May be temporarily closed
Looking For A Place To Stay?
See our Top Places To Stay in Asheville.

Don't miss out on these Asheville properties on Booking.com, too.
Save These Asheville Fine Dining Restaurants For Later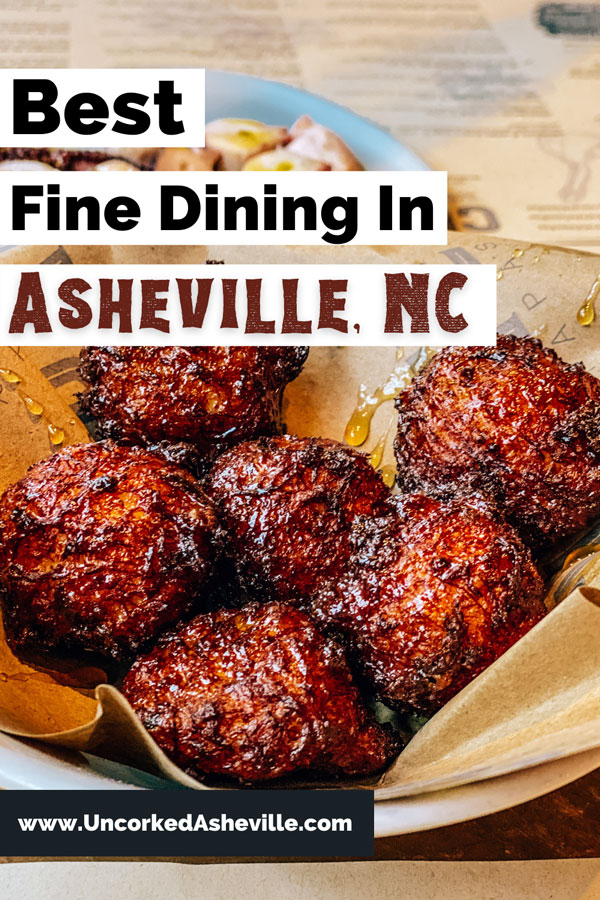 What are your favorite fancy restaurants in Asheville?
Where do you enjoy fine dining in Asheville, NC? Let us know in the comments.
What can you do after your nice dinner out in Asheville?
Best Rooftop Bars
Decadent Dessert Bars
Coffee in Asheville
Wine Bars