Uncover the best Asheville cideries and meaderies. See who is serving up which flavors and find newer cider taprooms in Asheville, NC.
We know that Asheville is most well-known for its craft beer, but cider and meads are growing in popularity. Where can you find eclectic and fun cider in Asheville?
As someone married to a partner with Celiac Disease, we frequent the Asheville cideries and meaderies. You can also find cider offered at almost all of the local craft breweries — canned or on tap.
For those of you who aren't as familiar with cider and mead, cider is naturally gluten-free. Cider is essentially fermented apple juice.
Many of the Asheville cideries use apples grown in North Carolina. Hendersonville is known as 'Apple Alley' after all.
The ciders in Asheville are made with real fruit, herbs, and spices. The WNC cideries pride themselves on "clean" cider.
Popular cideries in Asheville include Botanist and Barrel, Noble, and Urban Orchard. Of course, you most likely know the name 'Bold Rock,' too.
Along with the cideries, you'll find meaderies in and around Asheville. Mead is wine fermented from honey. Mead usually includes additional fruit and herbs.
Like cider, mead is naturally gluten-free. We love coffee and cherry flavors. Botanicals are great, too. Black Mountain is home to a fabulous meadery (as well as a distillery).
So, if you are visiting Western North Carolina, what are the best cideries in Asheville, NC? How about those Asheville meaderies? We are sharing where we love to go for cider in Asheville. Let's get started!
You might also love our Gluten-Free Guide To Asheville.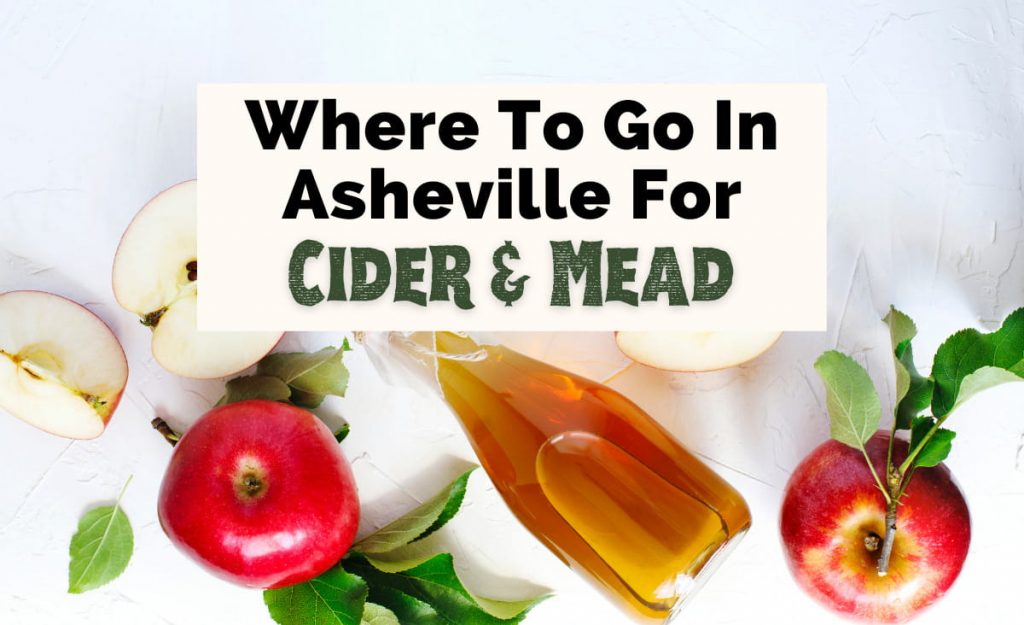 This post may contain affiliate links for products and services I recommend. If you make a purchase through these links, at no additional cost to you, I will earn a small commission. Read the full disclosure here.
See our Top Places To Stay in Asheville.

Don't miss out on these Asheville properties on Booking.com, too.
9 Delicious Asheville Cideries & Meaderies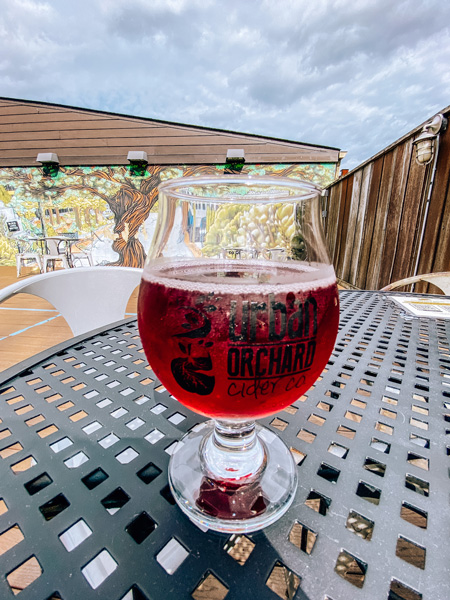 One of the most well-known cideries in Asheville, Urban Orchard has two fabulous locations.
West Asheville feels more as if you are sitting in someone's backyard. You can sit inside, too.
South Slope has a huge and trendy downtown taproom. Grab a cider flight, and in the winter, they serve mulled wine.
If you head to the West AVL location, don't miss West Asheville's stellar restaurant scene, including Gypsy Queen Cuisine, Thai Pearl, and Jargon.

Urban Orchard Cider Company West | 210 Haywood Road, Asheville NC 28806
Urban Orchard Cider Company South Slope (Downtown) | 24 Buxton Avenue, Asheville, NC 28801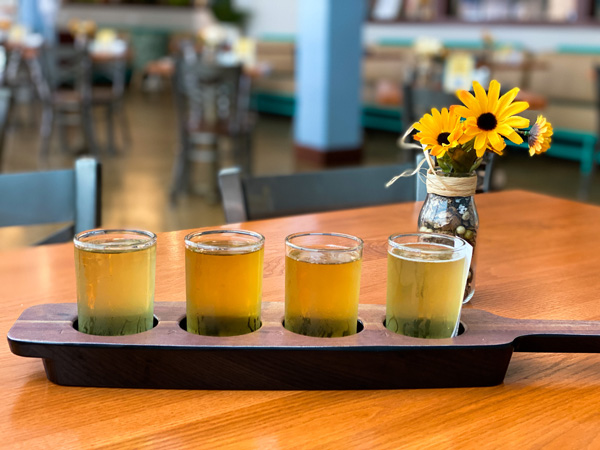 As the first cidery in Asheville, Noble Cider produces craft cider, wine, hard cider spritzers, and mead. You will find them on tap or canned at many of the Asheville breweries.
Noble's deep pastel-colored downtown taproom is both gorgeous and serenely spacious. We highly recommend them for lunch in downtown Asheville.
Their shareable plates are delicious with a plethora of gluten-free, vegan, and veggie options. Think Brussel sprouts, fried green tomatoes, and popcorn chicken. They also serve salads and burgers.

The Cidery | 356 New Leicester Highway, Asheville, NC 28806
Noble Downtown Cider & Mead Taproom | 49 Rankin Avenue, Asheville, NC 28801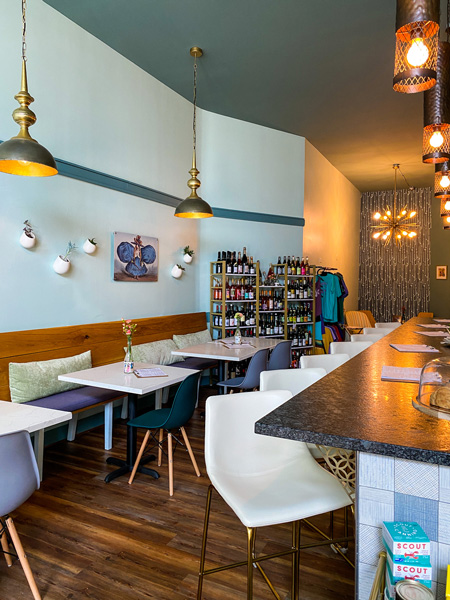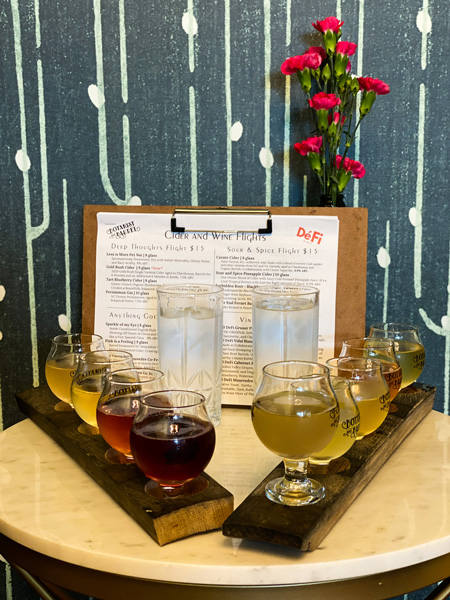 One of our favorite Asheville cideries, Botanist and Barrel recently opened a downtown taproom. It's gorgeous.
With an extensive menu and eclectic flights, taste your way through wines, ciders, and meads. Botanist & Barrel also serves up vegan and gluten-free desserts and treats like Darë Vegan Cheese. You'll find quite a few sours here.

Botanist & Barrel Downtown Asheville | 32 Broadway St Suite 110, Asheville, NC 28801
Never Miss Another Asheville Update
Are you tired of generic Asheville travel itineraries? Do you want to experience the magic of Asheville like a local?
Grab our free Asheville Favorites checklist today, including restaurants, breweries, and hiking. Plus, get local updates straight to your inbox. Sign up here.
Little Switzerland recently relocated from Asheville to Burnsville, NC (45 minutes from Asheville). They offer small-batch ciders, wines, and meads.
They are one of our bucket list Asheville cideries and wineries. We recommend checking their Facebook page for the most up-to-date information.

Little Switzerland Orchard and Winery | 621 Micaville Loop, Suite 500, Burnsville, NC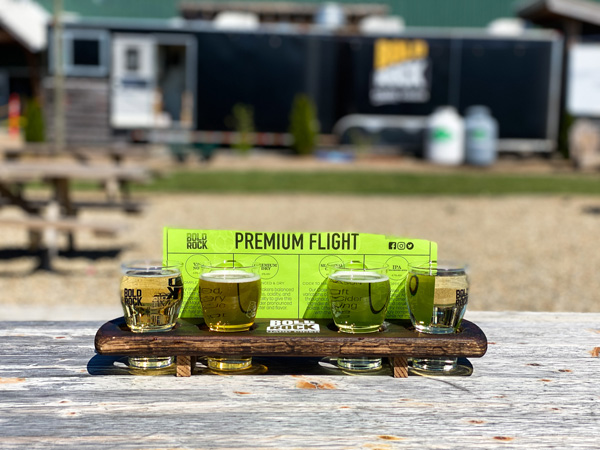 One of the most renowned Asheville cideries, Bold Rock is a national name. We are talking sangria cider, coffee cider, and…watermelon cider. Bold Rock knows how to spice up their apples.
Plus, Bold Rock Cidery boasts of a massive indoor and outdoor warehouse space, including a spacious cider garden.
They host events, and their food truck, Bold Bites Mobile Kitchen, serves up delectable sandwiches and burgers. They even have gluten-free bread.
Bold Rock Cider opened in 2015. They offer canned cocktails and boozy seltzers. Bold Rock is both a kid and pet-friendly cidery near Asheville. Don't miss all of Mills River's jumping breweries.

Bold Rock Cidery | 72 School House Rd, Mills River, NC 28759
Upcoming Downtown Asheville Taproom | 39 N. Lexington Avenue, Asheville, NC 28801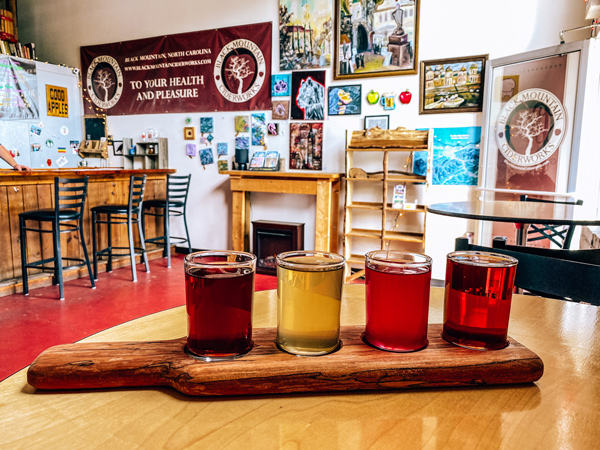 Known as either Black Mountain Ciderworks & Meadery or Black Mountain Cider & Mead, head to Black Mountain for some of the best breweries, a meadery, and a distillery.
Black Mountain is under a 30-minute drive from Asheville and home to some of the best restaurants, Lake Tomahawk, and quaint bed and breakfasts.
This Asheville cidery and meadery suggestion is perfect if you love botanicals and spice. Don't miss Oak and Grist Distillery in the same warehouse area.

Black Mountain Ciderworks & Meadery | 104 Eastside Dr #307, Black Mountain, NC 28711
One of the furthest cideries around Asheville on this list, we wanted to mention GoodRoad CiderWorks in case you are coming from or going to Charlotte Douglas International Airport (CLT).
GoodRoad is only 15-minutes away from CLT and 2 hours and 15 minutes from Asheville.
GoodRoad CiderWorks has worked with our sister blog, The Uncorked Librarian, to create delicious literary-inspired mead cocktails. We loved their avocado mead for at-home mojitos.
GoodRoad CiderWorks' meads and ciders are unique and tasty.

GoodRoad CiderWorks | 117 Southside Dr, Charlotte, NC 28217
Meaderies Near Asheville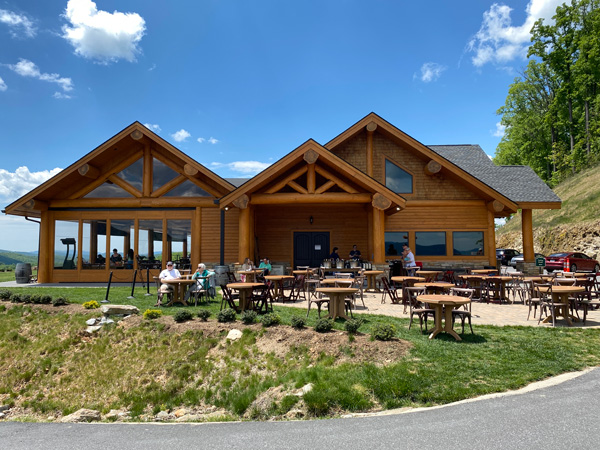 Did you know that Point Lookout Vineyards, a winery, is also a meadery? They are famous for their 30-mile panoramic views of the gorgeous mountains.
You can either do a wine tasting and include a mead or vice versa. Explore multiple indoor seating areas, including a room with massive windows and fireplaces.
Point Lookout Vineyards is also popular for live music and weddings. Some seating areas and parking may be off-limits if there is a wedding. Usually, they'll offer a shuttle if they need you to park in the lower lot for an event.

Point Lookout Vineyards | 408 Appleola Road in Hendersonville, NC
If you love all things apple and are in Hendersonville during the fall, don't miss the Hendersonville apple orchards.
Although we have yet to visit this Asheville meadery, my husband loves Fox Hill meads. You'll find these meads served around Asheville, including at Shakespeare in the Park with the Montford Park Players.
Fox Hill Meadery | 33 Selby Ct, Marshall, NC 28753
Save These Cideries & Meaderies In Asheville For Later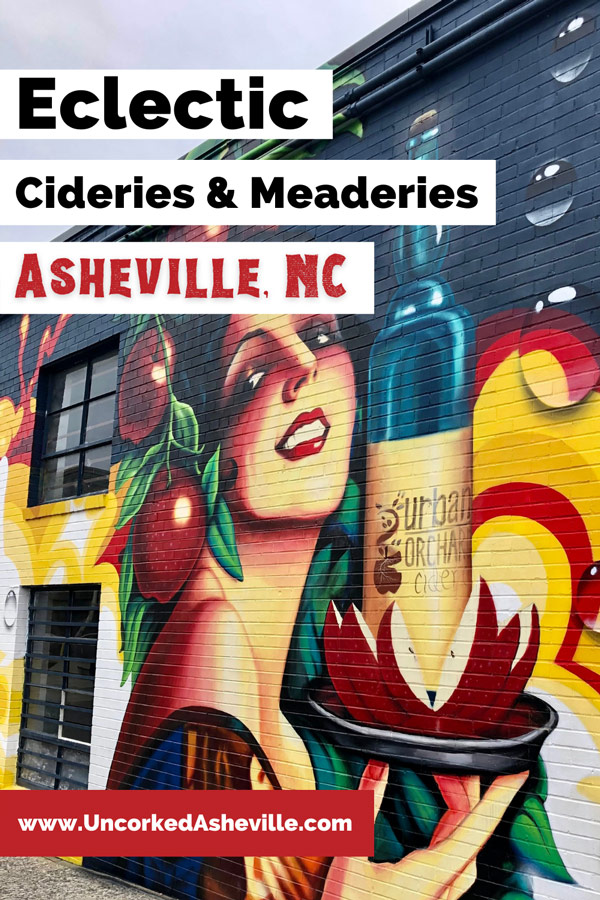 What are your favorite cideries in Asheville? Where do you love to go for mead in Asheville?
What are your favorite Asheville cideries and meaderies? Who makes the best cider in Asheville? Let us know in the comments.
See our Top Places To Stay in Asheville.

Don't miss out on these Asheville properties on Booking.com, too.
Related Posts To Help You Better Plan Your Day:
Asheville's Hopping Breweries
Wineries Around WNC
Distilleries In Asheville
Asheville's Trendiest Wine Bars

Master Guide To Asheville Food & Drink
Gluten-Free AVL
Vegan & Veggie Asheville Guide
Favorite Asheville Coffee Shops

Top Things To Do In & Around AVL