Where can you order the best Thai food in Asheville? See where to get steaming bowls of noodles along with delicious dine-in and takeout.
It's no secret that Asheville, NC is a foodie's dream. There are endless cafes, restaurants, bars, and food trucks to order from.
As locals, we are always working our way through all of the foods – and the city is constantly opening brand-new restaurants.
Plus, with Celiacs and lactose intolerances, we devour Asian cuisine, especially enjoying all of the great Thai in Asheville.
Think Pad See-Ew, Pad Woon Sen, Drunken Noodles, and Pad Thai along with summer and spring rolls.
Not to mention those curries, Thai salads, and specialized noodle dishes. Plus, who can resist ginger soup and Thai fried onion rings?
So, what are the best Thai restaurants in Asheville for both dine-in and takeout? Who has a kid-friendly menu and outdoor seating?
Who serves up cocktails, wine, and beer? How about oysters, all of the spices, and international Asian cuisine?
And, which Asheville Thai food restaurant has a Chef who worked for the Royal Palace in Thailand?
Below, we are sharing just a few spots to grab the best Thai in Asheville that we love and our friends and readers frequent.
We might have slipped in a few Thai restaurants near Asheville too – the food is just that good! Learn where to park and what to order. Let's get started!
Discover the best overall restaurants in all of AVL.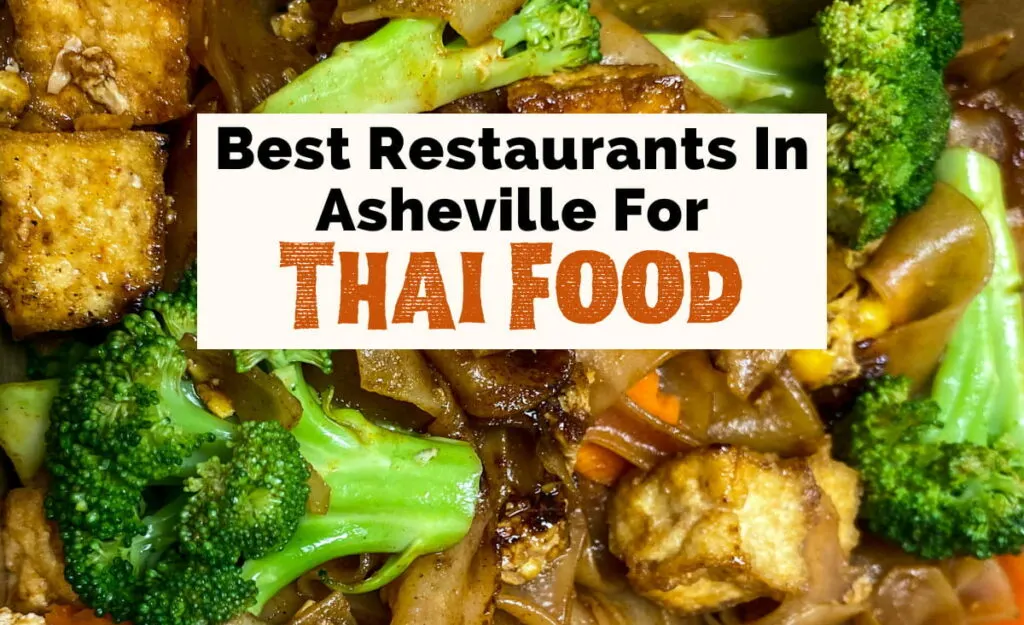 This post may contain affiliate links that earn us a commission at no extra cost to you. If you love these guides, support Uncorked Asheville here.
See our Top Places To Stay in Asheville.

Don't miss out on these Asheville properties on Booking.com, too.
7 Places For The Best Thai Food In Asheville
1. Thai Pearl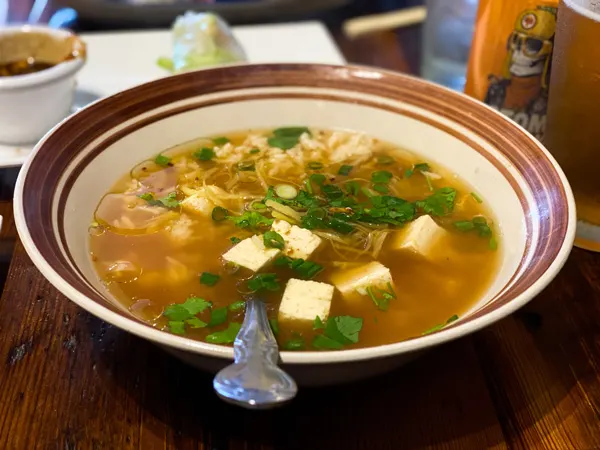 One of the newer Thai restaurants in Asheville (2020), Thai Pearl is gorgeous inside and absolutely delicious.
Located near equally fabulous West AVL restaurants like Nine Mile and Jargon, choose from curries, rice, stir-fry dishes, soups, and Thai salads.
Be sure to order the unique and addicting Thai fried onion rings and a green papaya salad. Thai Pearl also serves fresh oysters, and they are on Takeout Central – if you wish to order takeout.
Plus, there's booze! Now's your chance to order a local beer. Tom usually gets wine.
Thai Pearl is also the perfect spot for gluten-free and vegan/veggie Thai food in Asheville. They label their menu for GF diners, but you can always ask. Some dishes can be modified.
Most notably, Chef May trained and cooked at The Royal Palace in Bangkok, Thailand.
We met Chef May when Thai Pearl first opened – her team invited us out – and she stole our hearts with how much she cares about the AVL community, her family and the community in Thailand, and her staff.
Her food is so fresh, and the service is amazing. We head here as much as we can.
For parking, find a small lot out back or along the residential side streets. Please just be mindful of locals' homes, mailboxes, and driveways.
While in this area, budget extra time to explore West AVL too.
This hipster Asheville neighborhood is full of shops, bars, bookstores, coffee joints, and vibrant murals – including Gus Cutty's Dolly Parton and RuPaul.
Lastly, if new restaurants are your jam, find more foodie gems in Asheville in 2022.
Thai Pearl | 747 Haywood Road Asheville, NC 28806 | (828) 412-5905
2. DTK Thai Kitchen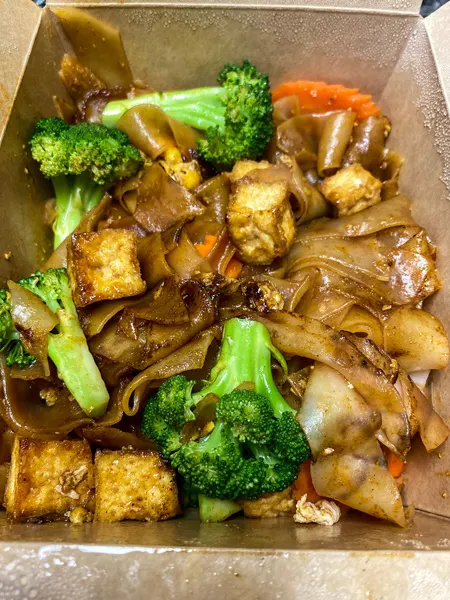 DTK Thai Kitchen is one of the more hidden Thai restaurants in Asheville, sitting in the northern part of the city on Merrimon Ave.
We prefer Thai Kitchen for no-frills takeout. The food is simple, not overly spiced, and feels a tad lighter than the other restaurants on this list. We personally love them.
Thai Kitchen features your traditional noodles – Pad Thai, Pad See Ew, Pad Woon Sen, and Drunken Noodles – along with apps, soups, stir-fries, and curries.
For Thai food in Asheville, you cannot beat the convenience and price.
DTK Thai Kitchen is located near other fabulous North Asheville restaurants like The Madness for sushi and burgers and Luella's for the best BBQ around.
Of course, Taco Temple has delicious tacos, and Bone & Broth is a great North AVL pub.
DTK Thai Kitchen | 535 Merrimon Ave # C, Asheville, NC 28804 | (828) 251-1960
3. Little Bee Thai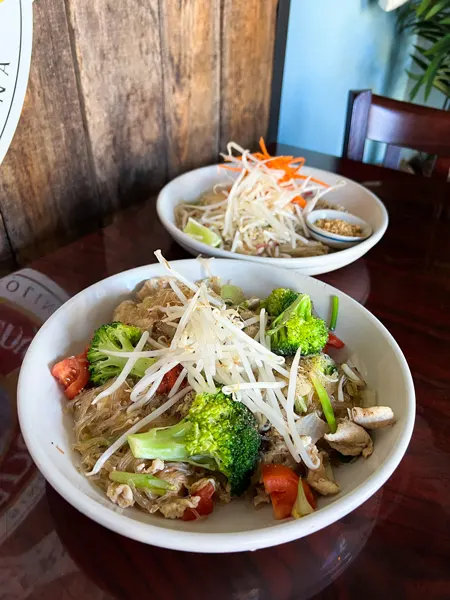 Once a food truck and now a permanent restaurant, Little Bee Thai serves up casual Thai in Asheville, NC.
For a smaller menu – best seen on-site – Little Bee Thai features specialty Thai cuisine and alcoholic and non-alcoholic bevies. Grab some local craft brews.
Locals rave about Little Bee Thai, and because the restaurant sits just outside of the main Downtown area, you'll find mostly residents grabbing takeout or dining in here.
Order small bites like vegan spring rolls, fried shrimp and crab rolls, volcano chicken bites, and hot wings.
For entrees, find curries, stir-fry, and popular Thai noodle dishes like Pad Thai and Pad Woon Sen. Add in beef tofu, or vegetables.
Little Bee Thai's beef comes from local butchery, The Chop Shop, and order curry sauces to-go.
Be sure to let them know of all food intolerances and allergies. Many dishes are made-to-order, and most can be made gluten-free.
What we most enjoy about Little Bee Thai is that many dishes are not loaded with spice, which is great for our more sensitive stomachs.
Spicy dishes are labeled as such, and they have an ingredient list behind the counter. Plus, the portions are huge – plan for leftovers.
Little Bee Thai does not take reservations; just order at the counter, grab your number, and the staff brings out food to you. Sit inside or outside on the patio.
Be sure to double-check their hours on Facebook as they aren't open on certain days of the week or consistently for lunch like some of the other Thai restaurants on this list.
For parking, find one-hour street parking directly out front through 6 PM.
Or, park in the pay lots around United Way; just pay attention to all posted signs and hours. People have gotten ticketed out here.
For off-the-beaten-path Thai restaurants in Asheville, Little Bee Thai is it.
Little Bee Thai | 45 S French Broad Ave #190, Asheville, NC 28801 | (828) 404-1370
4. Suwana's Thai Orchard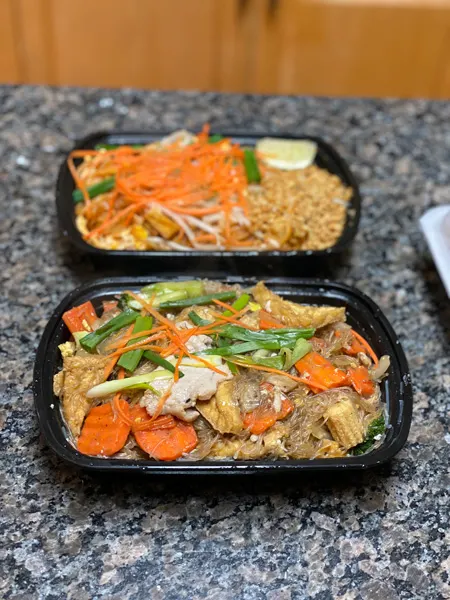 It's no surprise that Downtown Asheville houses some of the best restaurants. One of the establishments that we frequent for takeout and delivery includes Suwana's Thai Orchid.
Suwana's features authentic Asheville Thai food, fresh ingredients, and an experienced Head Chef, Suwana Cry.
For apps, start with satay, dumplings, fried tofu, edamame, or spicy chicken wings.
Then, enjoy hot bowls of soup and stir-fry with basil, ginger, eggplant, cashew chicken, garlic, or sweet and sour sauces.
Of course, Suwana's Thai Orchard has all of those traditional curries and noodle dishes like Pad Thai and Pad Z Ew. We can never resist Pineapple fried rice.
One of Asheville's kid-friendly restaurants, Suwana's Thai Orchard's children's menu has items like chicken fried rice, corn dogs, and chicken fingers.
Suwana's is equally great for vegan and vegetarian options.
Afterward, grab dessert at nearby Old Europe Cafe or hot chocolate at Asheville Chocolate.
For parking, if you don't mind walking, we park at the Rankin and Civic Center Garages – but know that Broadway also has smaller pay lots and garages near the main hotel chains.
Suwana's Thai Orchard | 11 Broadway St., Asheville, NC 28801 | (828) 281-8151
5. Siam Thai Asheville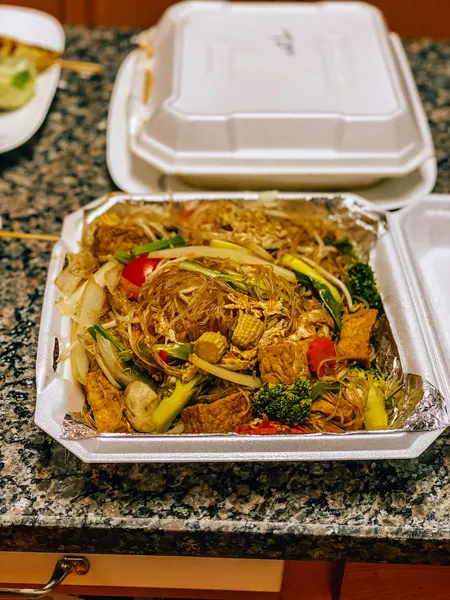 If you are looking for lunch in Asheville, Siam Thai won't disappoint. Siam is one of our top Thai food restaurants in Asheville for takeout.
Located in North Asheville – on the edge of Weaverville – devour home-style authentic Thai food.
We always order a handful of appetizers including tofu, fresh rolls, dumplings, satay, and chicken wings. We pair these apps with delicious Thai noodle dishes like Pad-Thai, Pad Z-Ew, and Pad Woon Sen.
Select from non-alcoholic beverages including sodas and hot and iced teas. If you are doing takeout, you can call to ensure that your dish is gluten-free.
While in this area, know that Weaverville also has stellar restaurants like Stoney Knob Cafe and Soba Sushi.
Find nearby bars like Hoppy Trees – themed after Bob Ross – and WagBar, a dog park serving up craft beer.
Siam Thai Asheville | 100 Stone Ridge Blvd Asheville, NC 28804 | (828) 645-0155
Never Miss Another Asheville Update
---
Tired of generic Asheville travel itineraries? Experience Asheville like a local with our free Asheville Favorites checklist, including restaurants, breweries, and hiking. Plus, get local updates – including events and hidden gems – straight to your inbox. Sign up here.
6. Boon Choo Thai Express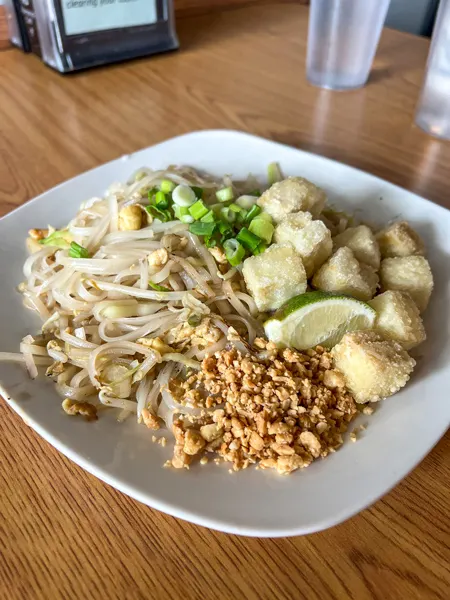 For one of the best Thai restaurants near Asheville, don't miss Boon Choo. Boon Choo means "good karma" and is located in Flat Rock, NC.
Flat Rock is about a 45-minute drive from Asheville – think Asheville day-tripping time – but we just had to include them on our Asheville Thai food list. Don't come for us.
Boon Choo is that delicious, and yes, we'll drive from Asheville to eat there – similar to other great Hendersonville-area restaurants like Umi Sushi (the best sushi in Western North Carolina).
Order and pay at the counter, and grab a seat inside or on their small outdoor patio. Boon Choo staff brings out food to you, but you will have to bus your own table.
Boon Choo serves wine, beer, and local cider along with your Thai noodles, fried rice, appetizers, and salads.
They also had a small kids' menu with noodles and fried rice. Unlike many of the dining spots in Asheville, Boon Choo has their own parking lot.
Boon Choo Thai Express also makes for a great stop along the way to the Hendersonville wineries (Stone Ashe & Marked Tree), breweries (Oklawaha & D9), or seasonally-opened apple orchards (Sky Top, Stepp's, & Jeter Mountain Farm).
Boon Choo Thai Express | 576 Upward Rd, Flat Rock, NC 28731 | (828) 435-9077
7. Blue Dream Curry House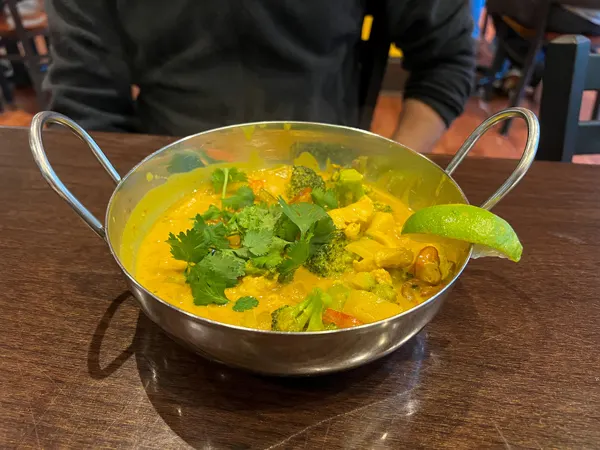 Lastly, Blue Dream Curry serves delicious Thai food in Asheville along with a variety of Asian cuisine, including mouthwatering Indian dishes. They sit in the heart of the city.
Blue Dream Curry House most certainly lives up to its namesake too. Find endless curry options along with Asian fusion dishes inspired by Thai, Indian, Japanese, Korean, and Filipino flavors.
Start with small bites, soups, and salads like Filipino-style lumpia, Indian naan, Japanese rice bowls, and Thai salad.
For curries, explore UK, Thai, and Southern Indian influences; some are spicier than others. Add a protein like tofu, veggies, chicken, pork, sunburst trout, or beef.
Children may select from a curry or noodle bowl along with a protein of choice. Think Panang, Yellow, Masala, and Korma.
Their menu is well-labeled for gluten-free, vegan, and vegetarian diners. We cannot resist the yellow curry and naan. Sip Dashi Noodle Soup on a chilly day.
Blue Dream Curry House also serves local beers and craft cocktails. They accept reservations, although, during non-peak days and hours, it's easy to walk right in.
For parking anywhere in this area, we prefer the Coxe Ave. pay lots and garage.
Nearby, Red Ginger Dimsum is another favorite for Asian food in Asheville. Asheville Pizza & Brewing also sits on Coxe Ave., which is a great stop for local beer and pizza.
Blue Dream Curry House | 81 Patton Ave., Asheville, NC 28801 | (828) 258-2500
Delivery Services For Thai Restaurants In Asheville, NC
Looking for delivery options for your Thai cuisine? Try:
North Carolina has its own takeout app and delivery service, Takeout Central. Download the free app, and you'll see all of the areas and restaurants they serve, including Asheville.
Like other food apps, place your order in the app, add a payment method, and drop any notes for the restaurant or driver.
Kickback AVL is a local delivery service that began service in 2018.
A portion of your delivery fee is donated to a nonprofit (the Asheville Cat Weirdos Emergency Fund is one example).
For delivery services, Kickback AVL most supports the local community and businesses.
Along with Takeout Central, we also use GrubHub – although the service can be iffy.
Sometimes GrubHub will have slightly different menus — even though the restaurant is the same — and/or they service different establishments.
Lastly, for Asheville Thai food takeout, you can also use Uber Eats and DoorDash.
Save These Asheville Thai Food Restaurants For Later: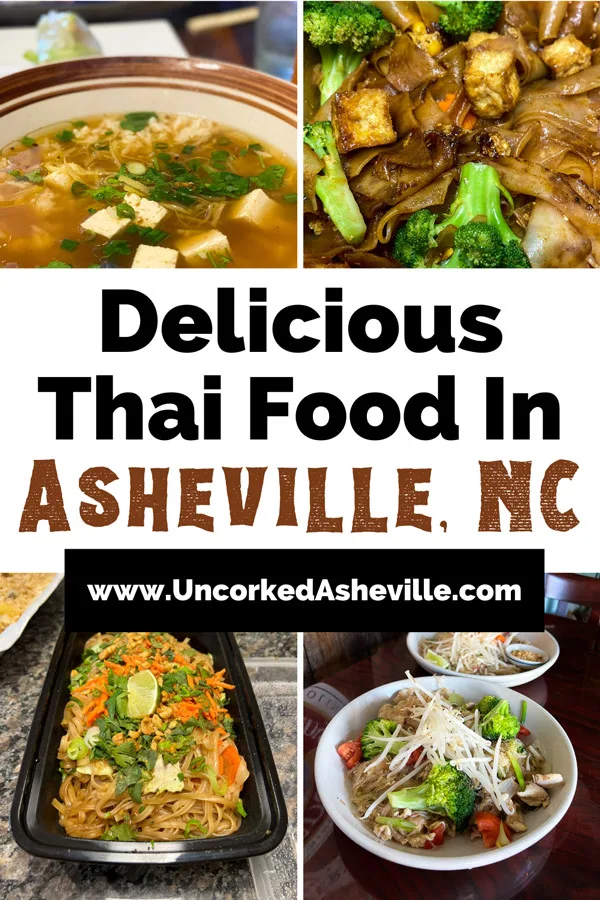 Where do you love to eat Thai in Asheville, NC?
If we had to pick the absolute best Thai food in Asheville for dine-in, we'd go with Thai Pearl.
For takeout, Siam's or Suwana's are a toss-up – but you cannot go wrong with any of these restaurants. It is Foodtopia, after all.
What Thai restaurants in Asheville have you tried? Is there a Thai food restaurant that you love ordering takeout from?
Are there any that you don't enjoy as much? And, what is your go-to Thai order? Let us know in the comments!
Where To Stay In Asheville
Explore the best places to stay in Asheville. A few of our top suggestions:
Aloft – Downtown Asheville – Centrally located and recently renovated, enjoy a rooftop pool, a gorgeous bar, and trendy rooms.

The Omni Grove Park Inn – Treat yourself to a luxury resort in North Asheville, complete with breathtaking sunsets, terrace bars and dining, and loads of Asheville history.

Hampton Inn And Suites Asheville Biltmore Area – A budget-friendly but renovated hotel on busier Brevard Road that's perfect if you wish to stay between Biltmore Estate, Downtown Asheville, and the Blue Ridge Parkway.

Asheville Cottages – Gorgeous 1 to 3-bedroom cottages with a private deck, housing a grill and hot tub. Find luxurious heated-floor bathrooms with rain showers, a well-stocked kitchen, and the cleanest rooms in town.

Foundry Hotel – An oasis in Downtown Asheville, Foundry Hotel is a nod to AVL's industrial history. Find famous restaurant Benne on Eagle while sleeping ensconced in charm and elegance.

Country Inn & Suites by Radisson, Asheville Westgate, NC – Located off of the highway as you enter AVL, find a sleek and clean hotel at a great price.

Black Walnut B&B Inn – Designed by Biltmore's supervising architect, Richard Sharp-Smith, this 1899 inn is close to Downtown AVL and serves afternoon tea. Two rooms are pet-friendly.
Don't miss out on these Asheville properties on Booking.com, too.
More Asheville Foodie Posts:
Asheville Food And Drink Guide
Looking for more things to do in AVL? Read our AVL activities guide.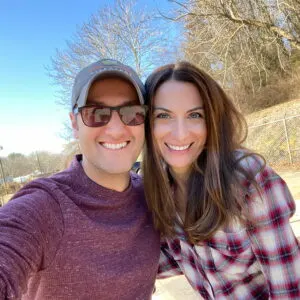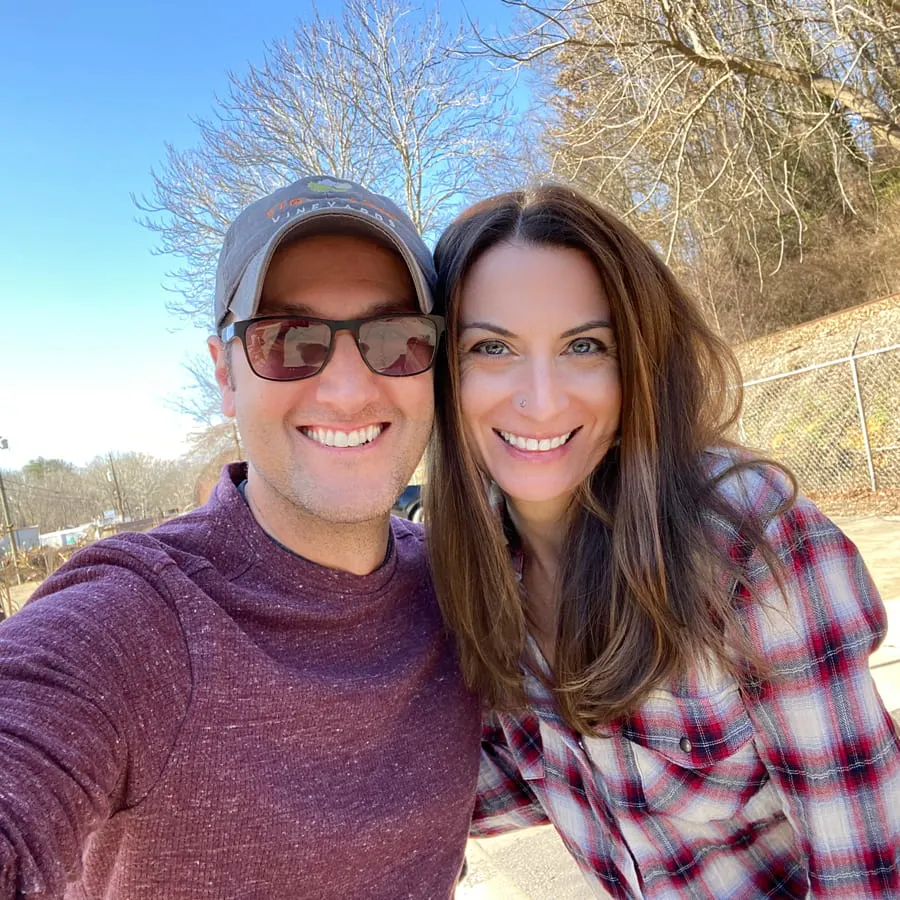 Christine (pronouns: she/her) is the owner and lead writer of Uncorked Asheville. After falling in love with those gorgeous Blue Ridge Mountains, Christine and her husband Tom decided to call Asheville, North Carolina their home. When her pointy Italian nose isn't stuck in a book, Christine is adopting all of the kitties, getting lost in the forest, and drinking an ESB.
Christine has a BA in English and History from Smith College, her MLIS from USF-Tampa, and is a former U.S. Fulbright Scholar - Indonesia. She also owns The Uncorked Librarian LLC with books and movies to inspire travel.