Where can you order delicious Thai cuisine in AVL? As locals, don't miss our favorite Thai food restaurants in Asheville for eat-in and takeout.
It's no secret that Asheville, NC is a foodie's dream. There are endless cafes, restaurants, bars, and food trucks to order from.
As locals, we are becoming foodie experts and are working our way through *all of the foods.*
However, we love spending our free time touring and ordering takeout from the local establishments. AND, we love Asian cuisine, especially Asheville's Thai food scene.
How do we personally judge a good Asheville Thai restaurant? By the noodles, apps, and service, of course!
We always have to order (at least once) the Pad See-Ew, Pad Woon Sen, and Pad Thai along with summer and spring rolls. Curries and specialized noodle dishes are a must, too.
So, where can you order delicious Thai food in Asheville? What are the best Thai food restaurants in Asheville for dine-in and takeout?
Below, we are sharing just a few of Asheville's Thai restaurants that we love, our friends frequent, or that are on our foodie bucket list.
P.S. Which AVL Thai food restaurant has a Chef who worked for the Royal Palace in Thailand? Find out soon…
Keep reading to uncover Thai restaurants in Asheville that serve up spicy curries, oysters, noodles, craft cocktails, and so much more, too. Let's get started!
Be sure to head over to our Asheville Foodie Dining Guide, too!
This post may contain affiliate links for products and services we recommend. If you make a purchase through these links, at no additional cost to you, we will earn a small commission. Read the full disclosure here.
See our Top Places To Stay in Asheville.

Don't miss out on these Asheville properties on Booking.com, too.
7 Delicious Thai Food Restaurants In Asheville
One of the newer Thai food restaurants in Asheville (2020), Thai Pearl is gorgeous inside and absolutely delicious. Thai Pearl is also perfect if you are looking for gluten-free friendly options around AVL.

Located near other equally fabulous West AVL restaurants like Nine Mile and Jargon, choose from curries, rice, stir-fry dishes, soups, and Thai salads. Thai Pearl also serves fresh oysters.
Notably, Chef May trained and cooked at The Royal Palace in Bangkok, Thailand. Be sure to order her addicting Thai onion rings and a green papaya salad.
Full disclosure that Thai Pearl originally invited us out for meals on-the-house since we hadn't been yet. Ummm, we might never leave now. The food is just so fresh, and the service is amazing.
Chef May stole our hearts with how much she cares about the community, her family and the community in Thailand, and her staff.
See where else you can grab the best Asheville lunches, and don't miss our complete guide to visiting West Asheville.
Thai Pearl Contact Information: 747 Haywood Road Asheville, NC 28806 | (828) 412-5905
Thai Kitchen is a more hidden 'hole in the wall' Thai restaurant in Asheville. We prefer Thai Kitchen for no-frills takeout. For Thai food in Asheville, Thai Kitchen has your traditional noodles, apps, soups, stir-fry, and curry.
Thai Kitchen Contact Information: 535 Merrimon Ave # C, Asheville, NC 28804 | (828) 251-1960
Never Miss Another Asheville Update
Are you tired of generic Asheville travel itineraries? Do you want to experience the magic of Asheville like a local?
Grab our free Asheville Favorites checklist today, including restaurants, breweries, and hiking. Plus, get local updates straight to your inbox. Sign up here.
For a smaller menu with Thai food in Asheville that locals also rave about, Little Bee Thai offers outdoor patio seating and bevies. You can order small bites like spring rolls and wings along with noodles, stir-fry, and curry.
Little Bee Thai Contact Information: 45 S French Broad Ave #190, Asheville, NC 28801 | (828) 404-1370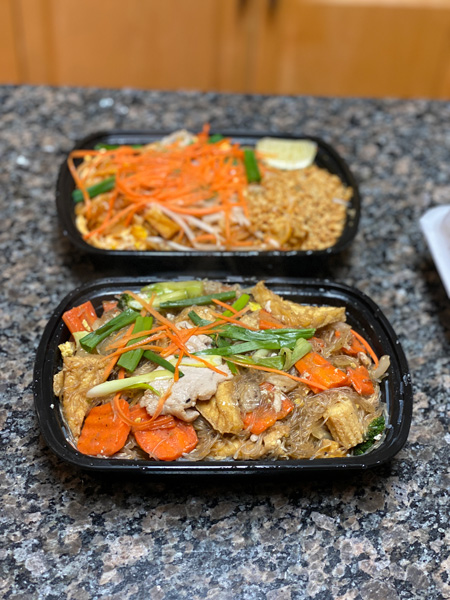 One of the most popular downtown Thai food restaurants in Asheville, Suwana's boasts of authentic Thai food, fresh ingredients, and an experienced Head Chef, Suwana Cry.
Suwana's is also great for vegan, vegetarian, and gluten-free options. We love takeout from Suwana's — if you cannot tell from our picture.
Suwana's Thai Orchard Contact Information: 11 Broadway St., Asheville, NC 28801 | (828) 281-8151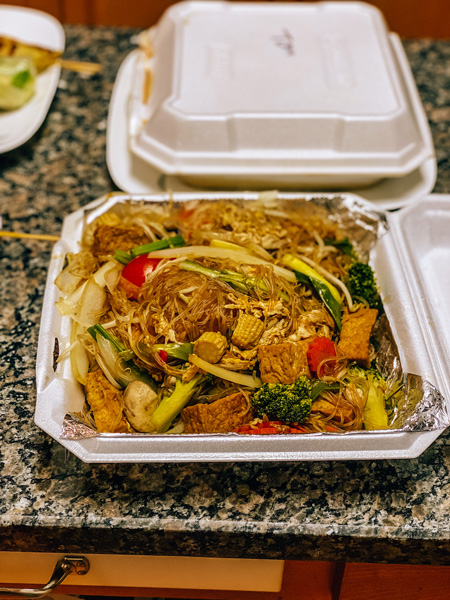 One of the delicious Thai food restaurants in Asheville that we enjoy for takeout, don't miss Siam Thai. Located in North Asheville, you can devour home-style authentic Thai food.
We always order a handful of appetizers like tofu, fresh rolls, dumplings, satay, and chicken wings. We pair these apps with delicious Thai noodle dishes.
Don't miss their Pad-Thai, Pad Z-Ew, and Pad Woon Sen. If you are doing takeout, you can call to ensure that your dish is gluten-free.
Siam Thai Asheville Contact Information: 100 Stone Ridge Blvd Asheville, NC 28804 | (828) 645-0155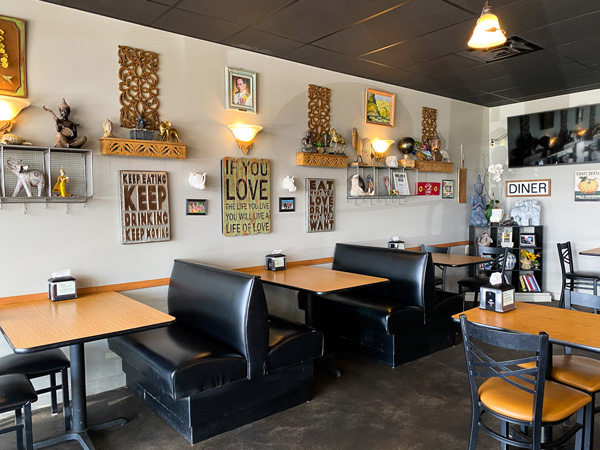 For one of the best Thai restaurants near Asheville, don't miss Boon Choo. Boon Choo means "good karma and is located in Flat Rock, NC.
Yes, Flat Rock is about a 45+-minute drive from Asheville, but we just had to include them on this Asheville Thai food list. They are that delicious.
Order and pay at the counter and grab a seat inside or on their small outdoor patio. Boon Choo staff brings out food to you, but you will have to bus your own table.
Boon Choo serves wine, beer, and local cider along with your Thai noodles, fried rice, appetizers, and salads.
These guys make for a great stop along the way to the Hendersonville wineries, breweries, or seasonally-opened apple orchards.
Boon Choo Thai Express | 576 Upward Rd, Flat Rock, NC 28731 | (828) 435-9077
Asian Fusion Restaurants Serving Thai In Asheville
Blue Dream Curry offers delicious Thai food in Asheville along with international Asian cuisine.
True to their namesake, Blue Dream serves curry along with Asian fusion dishes inspired by Thai, Indian, Korean, and Filipino flavors. They also serve local beers and craft cocktails.
Blue Dream Curry House Contact Information: 81 Patton Ave., Asheville, NC 28801 | (828) 258-2500
Don't forget to grab dessert after your Asheville Thai lunch or dinner.
Delivery Services For Thai Food In Asheville, NC
Looking for delivery options for your Thai cuisine? These are the two apps that we use the most:
North Carolina has its own takeout app and delivery service, Takeout Central. Download the free app, and you'll see all of the areas and restaurants they serve, including Asheville.
Like other food apps, place your order in the app, add a payment method, and drop any notes for the restaurant or driver.
Along with Takeout Central, we also use GrubHub. Sometimes they have slightly different menus — even though the restaurant is the same — and/or they service different establishments.
You can also use Uber Eats, Kickback AVL, and DoorDash, but we mostly rely on Takeout Central and GrubHub for our Asheville Thai food delivery options.
Save These Asheville Thai Food Restaurants For Later
Are you ready to tour the Thai food restaurants in Asheville, NC?
What Thai restaurants in Asheville have you tried? Is there a Thai food restaurant that you love ordering takeout from? Are there any that you don't love as much? Let us know in the comments!
See our Top Places To Stay in Asheville.

Don't miss out on these Asheville properties on Booking.com, too.
More Asheville Foodie Posts You May Enjoy:
Asheville Food And Drink Guide
Best Restaurants In Asheville, NC

Where To Get Savory Indian Food In AVL
Restaurants For Sushi Lovers
Famous Asheville Barbecue
Tasty Donut Spots In Asheville
Looking for more things to do in AVL? Explore the best things to do in Asheville here→