The breathtaking Asheville hiking trails are famous, especially along the scenic Blue Ridge Parkway. Don't miss the best hikes near Asheville, NC for all levels: easy, moderate, and difficult.
Plus, discover which Asheville hiking trails are known for gushing waterfalls and vibrant blooms. Don't forget those jaw-dropping sunsets and incredible top-of-the-world views, all according to Asheville locals.
It's no secret that one of the reasons we moved to Asheville, North Carolina is because we fell in love with those blue and green-hued smoke-breathing mountains. Heck, the Blue Ridge Mountains are even in Uncorked Asheville's logo.
What's even better is that these mountains hold some of the best hiking trails in and near Asheville, NC.
So, if you are visiting or even live in AVL, what is the Asheville hiking scene like? What are the best hikes near Asheville?
What should you expect? How the heck do you find these hidden gems? Where do the locals go?
We'll share the best hikes in Asheville, including parks, gardens, and Biltmore trails. Then, we'll branch out to hikes near Asheville.
These trails include the Blue Ridge Parkway, Pisgah National Forest, Gorges State Park, DuPont State Forest, Black Mountain range, the Smokies, Asheville waterfall hikes, and more.
Lastly, we'll talk about the level of hiking difficulty; please just remember that we aren't giving professional hiking advice. These are just our experiences.
So, are you ready to get fit while enjoying eye candy and fresh mountain air? Let's get started with some of the best hikes near Asheville!
Don't Miss The Best Things To Do In Asheville & Top Waterfall Hikes, too!
---
This post may contain affiliate links for products and services I recommend. If you make a purchase through these links, at no additional cost to you, I will earn a small commission. Read the full disclosure here.
---
See our Top Places To Stay in Asheville.

Don't miss out on these Asheville properties on Booking.com, too.
Easy Hikes In Asheville
These are the hikes in Asheville, NC that are closer to the downtown area. Some include full hikes perfect for mountain biking. Others are more like nature trails with easier accessibility.
Many of these Asheville hiking trails are free while a few require a parking or admittance fee.
Biltmore Estate & Hiking Trails
Biltmore Estate Address: 1 Lodge St, Asheville, NC 28803
Various trails and must pay a full ticket price or be a passholder to enter
Don't Miss Our Guide To Biltmore Estate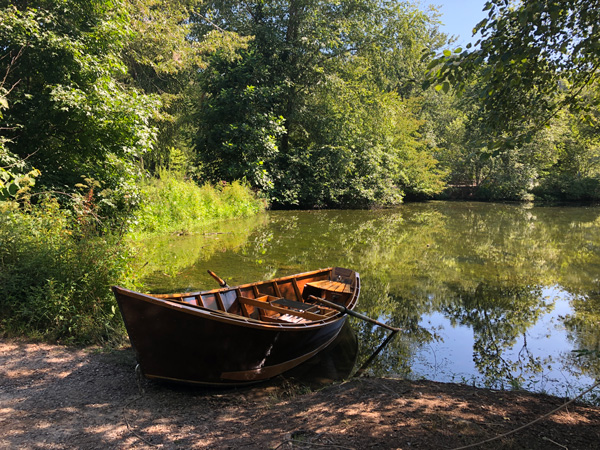 Why Biltmore?
Did you even visit Asheville if you didn't drop by the Biltmore Estate? Biltmore is rich in history and forestry education. OK, and wine.
For Asheville hiking trails, these are super close: anywhere from 10-15-minutes from downtown AVL.
Biltmore Trails
Did you know that Biltmore has over 22 miles of trails and gardens? If you are looking for trail hiking in Asheville paired with wine, a mansion, and delicious southern treats, you can easily spend a day here.
Uncover endless walking, running, and biking trails. Some of these Asheville hiking trails are as long as 3.5 miles and range from moderate to challenging.
Biltmore Nature Walks & Gardens
In addition, the Biltmore gardens are perfect for accessibility and are quaint and beautiful — designed by Fredrick Law Olmstead.
---
---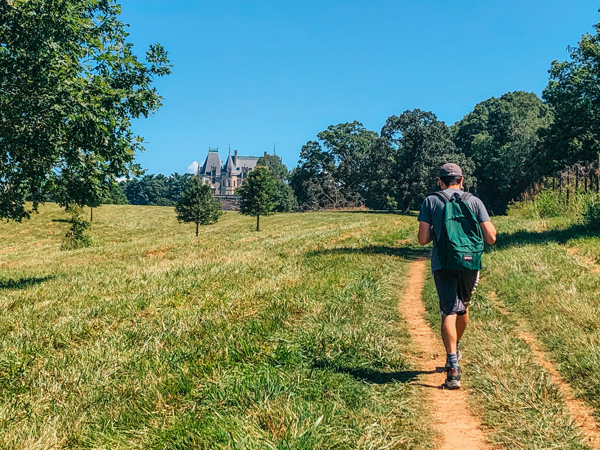 Biltmore Address
The Biltmore is located at 1 Lodge Street in Asheville, NC. Read more about the Biltmore Estate Trails. In order to enter any part of the Biltmore, you must have a ticket or annual pass. This goes for the winery and restaurants, too. Tickets will cost you around $60+.
Botanical Gardens At Asheville
Address: 151 W T. Weaver Boulevard, Asheville, NC 28804
Free to enter and casual nature trails to walk
Don't Miss All Of The Fun Things You Can Do At Asheville's Botanical Gardens
Why The Asheville Botanical Gardens?
A somewhat hidden secret, did you know that there are 10-acres of non-profit botanical gardens 10-minutes away from downtown Asheville? We sneak here to see gorgeous and rare wildflowers.
The grounds are quiet, and visitors will find a literary cabin in the woods, beautiful bridges, labeled flora and fauna, nature trails, and large streams.
Length Of The Botanical Gardens At Asheville Trail
One of the shortest trails for hiking in Asheville, NC, the loop is around .5 to .7 miles. The Botanical Gardens at Asheville aren't for you if you want a hardcore hike.
Asheville Botanical Gardens Address:
Admission and parking into the Botanical Gardens are free. The Botanical Gardens At Asheville is located at 151 W.T. Weaver Blvd. Asheville, NC 28804.
---
---
Beaver Lake Trail & Bird Sanctuary
Address: Merrimon Ave. past the North Branch Asheville library
Perimeter Trail Length: 2.1-mile loop
Grab Our Complete Guide To Beaver Lake
Why Beaver Lake?
For local Asheville hiking trails, Beaver Lake is another gentle nature walk option. Walkers and runners will find a gorgeous flat hike in the heart of a well-established Asheville neighborhood.
You'll love the trees and lake perfect for fall foliage chasing, picnics, and bird watching. Beaver Lake is under 10-minutes from downtown Asheville.
Beaver Lake Bird Sanctuary
Attached to the Beaver Lake Perimeter Trail, you can walk into or go around the Beaver Lake Bird Sanctuary. Here, visitors may enjoy a beautiful nature walk filled with birds, dragonflies, and butterflies across 8-acres.
Length Of Beaver Lake Trail
The Beaver Lake Perimeter Trail is about 2.1 miles. The boardwalk loop inside of the Beaver Lake Bird Sanctuary is under .5 miles. If you are looking for hiking in Asheville that is chill but still exercise, Beaver Lake is where it's at.
Beaver Lake Location
The Beaver Lake Bird Sanctuary is located at 1020 US-25 in Asheville, NC 28804. Past the sanctuary, you will find small lots off of Merrimon Ave. next to the lake. Parking is donation-based. You will need a permit for your dog and/or boat.
Save This Post For Later
The North Carolina Arboretum
Address: 100 Frederick Law Olmsted Way, Asheville, NC 28806
Numerous trails, gardens, and pay to enter
Don't Miss Our Complete Guide To The North Carolina Arboretum
Why The NC Arboretum?
As annual passholders, we love The NC Arboretum for Asheville hiking trails and garden events. Located in the southern Appalachian Mountains south of downtown Asheville and off of the BRP, you'll find botanical gardens and some of the easiest and most serene hiking trails in Asheville.
I especially love walking along the water on the Bent Creek Trail. The NC Arboretum is only about 20-minutes from downtown AVL.
Length of The North Carolina Arboretum Trails
There are over 13 Asheville hiking trails at The NC Arboretum. They range in distance and difficulty. Find .3-mile to 1.3-mile hikes. Some trails allow for mountain biking.
The North Carolina Arboretum Location
As of 2020, there is a $16 parking fee for personal vehicles. Visitors have access to the Bistro. The NC Arboretum is located at 100 Frederick Law Olmsted Way in Asheville, NC 28806.
---
---
Local Asheville Hiking Trails For Walks, Hikes, Or Biking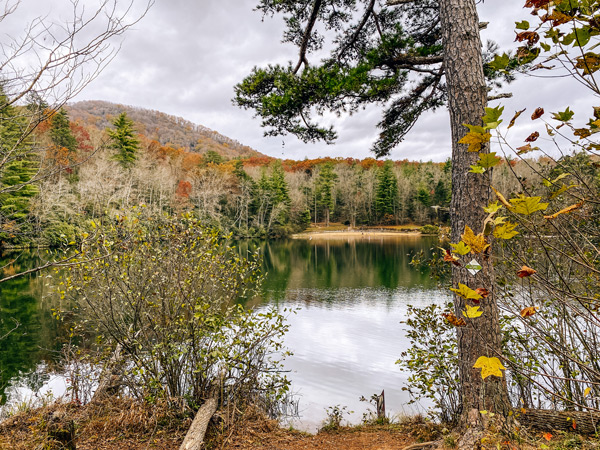 Home to the Hard Times Trail and Lake Powhatan, don't miss a series of pretty Asheville hikes perfect for walking and mountain biking. AVL locals flock here on the weekends — us, included.
Riverside Cemetery
Address: 53 Birch St, Asheville, NC 28801
3.5 miles of paved roads
Grab Our Complete Guide To Riverside Cemetery With Must-See Sites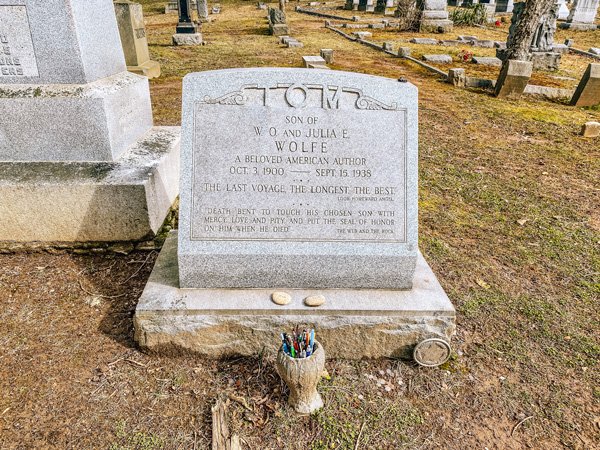 Find 3.5 miles of paved roads surrounded by Asheville history. This beautiful Victorian-style cemetery is the final resting place for literary greats like Thomas Wolfe and O. Henry.
You'll find many Asheville residents jogging and strolling through this historic Montford neighborhood. Please be respectful, too.
---
---
Best Easy Hikes Near Asheville
Below, find easier hikes near Asheville that are perfect for the entire family. Many of these hikes include gorgeous waterfalls and swimming holes fit for a dip to cool off in the shallow, slow-moving water.
Catawba Falls Trail & Waterfall
Address: 3074 Catawba River Rd, Old Fort, NC 28762
Length: 2.7-mile hike round trip out and back
Why Catawba Falls?
Catawba Falls is a 30-minute drive from downtown and is one of the most gorgeous waterfall hikes near Asheville.
This part of the Pisgah National Forest is filled with moss, lichen, and a 100-foot cascading waterfall at the end. For Asheville hiking, this trail is great for families and pooches.
Length Of Catawba Falls Hike
Catawba Falls is about a 2.7-mile hike round trip. Much of the trail is flat or mildly uphill.
How To Get To Catawba Falls
The address for Catawba Falls is 3074 Catawba River Rd, Old Fort, NC 28762. From Asheville, you will travel down 1-40 East and take Exit 73 toward Old Fort. Then, take a right onto Catawba River Road.
---
---
DuPont State Forest Trails & Waterfalls
Visitor Center Address: 1300 Staton Road Cedar Mountain, NC 28718
Various trails, difficulties, & lengths
Visit Uncorked Asheville's Guide To DuPont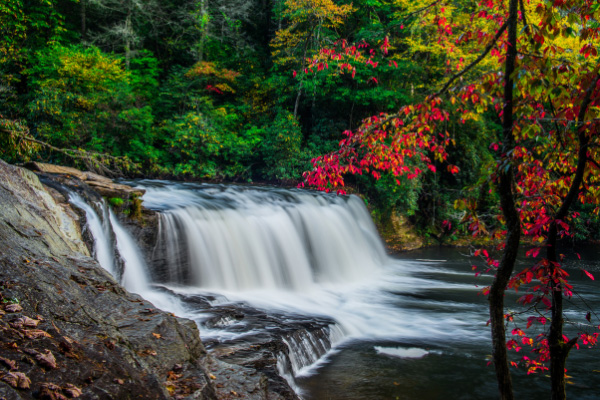 Why DuPont Forest?
Some of the best waterfall hiking near Asheville is at DuPont State Forest. This beautiful North Carolina State Park is around 45-minutes from Asheville.
The park is free to enter, and there are endless trails throughout the area. Plus, two of the waterfalls — Bridal Veil Falls At DuPont and Triple Falls — are where parts of The Hunger Games were filmed.
Hooker Falls, Triple Falls & High Falls Hike Length
If you park at the Hooker Falls Access Area, head straight before crossing the scenic bridge. Follow the trail about .25 miles in for Hooker Falls.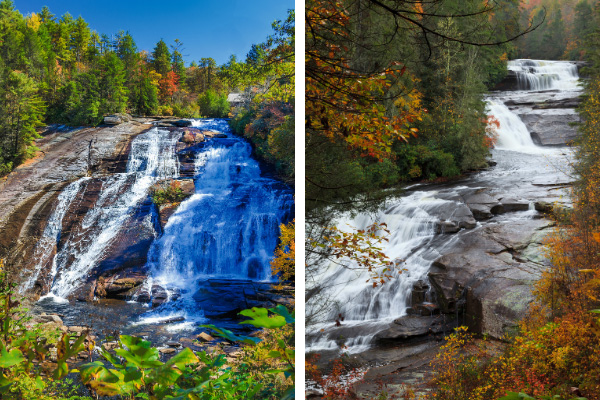 Then, loop back up over the bridge for a moderate .5-mile climb to see Triple Falls. High Falls is another .5 miles after Triple Falls.
You may also pick up this hike from the Visitor Center, starting with High Falls. You could also continue on to Bridal Veil Falls.
Bridal Veil Falls At DuPont Trail Length
If you add on or hike Bridal Veil Falls on its own, it's about a 5-mile out and back, ending at the waterfall. Please note this is not the Bridal Veil Falls at Highlands.
DuPont State Recreational Forest Address
It's free to park at DuPont State Forest. The Hooker Falls Access Area has restroom facilities. If a parking lot fills up, you might have to drive to the other lots or Visitors Center. You are not allowed to park on the side of the road here.
Douglas Falls
Address: Douglas Falls, Barnardsville, NC 28709
Length From FS74/Laurel Gap Gate Closure: Under 4-miles roundtrip, out and back; under 1-mile from official trailhead
Check Out Our Hiking Guide To Douglas Falls
Why Douglas Falls?
Douglas Falls is about an hour and 15-minutes away from Asheville with a scenic but scary winding drive up into the Pisgah National Forest. On your way, you will pass Walker Falls.
For Asheville hiking, Douglas Falls offers a short hike to a 70-foot waterfall that you can walk behind.
Length Of Douglas Falls
Douglas Falls has two access points: Craggy Gardens (which is an extremely difficult hike around 7+ miles) and the FS74 entrance, which is under 1-mile roundtrip from the official trailhead. There is a gate closure at Laurel Gap, though, adding about 1.1 miles. We recommend the shorter and easier hike.
Douglas Falls Tips
Sometimes the Douglas Falls Trail has downed trees. This doesn't mean that the trail is closed. You can jump over them or go around.
Also, keep in mind that this is a rough dirt road for your car to climb. Your car may take a beating, especially if it lays low, and sometimes passing is difficult.
How To Get To Douglas Falls
Head toward Barnardsville and NC Highway 197. When you take a right onto Dillingham Road, you'll enter a gorgeous mountain town — passing cows, farmland, and horses.
This road ends in the Pisgah National Forest hitting FS74. At times, the edge of the cliff is right there. You'll have to drive up unpaved FS74 until Laurel Gap (and a gate closure).
Skinny Dip Falls
Address: Milemarker 417, Blue Ridge Pkwy, Canton, NC 28716
Length: Under 1-mile round trip out and back
Grab Our Guide To Skinny Dip Falls
Why Skinny Dip Falls?
Located on the BRP about 3 miles from Graveyard Fields and one of the most popular hikes near Asheville, NC for swimming, don't skip Skinny Dip Falls. Pack a swimsuit, say hi to the 'dragon tree,' and find your own private rock for a picnic.
People spread out around the falls, and there are plenty of wading pools for younger children. Skinny Dip is also famous for cliff jumping, but it's truly not recommended for safety reasons.
Length Of Skinny Dip Falls Trail
The Skinny Dip Trail is a little under 1-mile round trip and its extremely accessible for families.
How To Get To Skinny Dip Falls
Skinny Dip Falls is located off of the Blue Ridge Parkway in the Pisgah National Forest. Look for mile marker 417 (Looking Glass Overlook). You can park at Looking Glass Overlook, cross the street, and look for a marked post.
Follow the signs for the Mountains-to-Sea Trail (MST) to start and keep going straight. Cellphone reception gets a little spotty out here.
Additional Popular & Easy Hiking Trails Near AVL
Writer and poet Carl Sandburg settled down in Flat Rock, NC where you'll now find 5 miles of trails on the 264-acres of property. One popular hike includes the Glassy Mountain Trail.
Moore Cove Falls Trail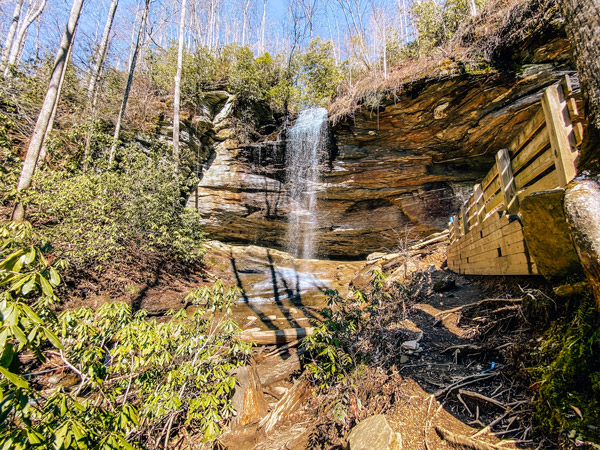 A 1.4-mile round trip out and back hike that leads you to a waterfall, Moore Cove Falls is near Looking Glass Falls in the Pisgah National Forest off of the Forest Heritage Scenic Byway. This is an easy and popular trail for families. Read more about Moore Cove Falls.
Bearwallow Mountain Trail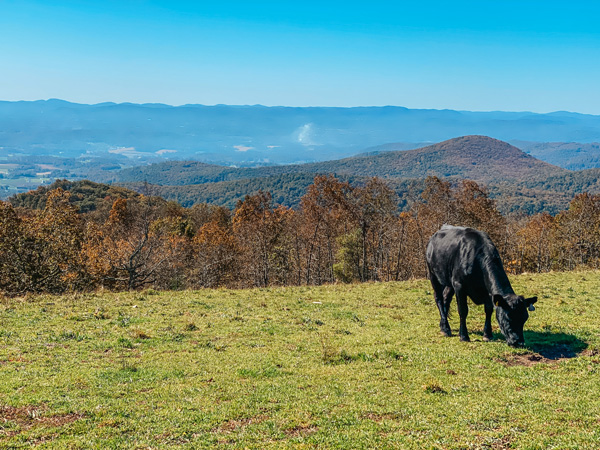 A 2-mile round trip hike near Asheville, either take the gravel access road or forest trail up to a beautiful meadow filled with cows. Bearwallow Mountain is an easy hike for families and is perfect for picnics and sunsets. This is also a good fall and winter hike. Read more about Bearwallow Mountain.
Pink Beds Loop Hiking Trail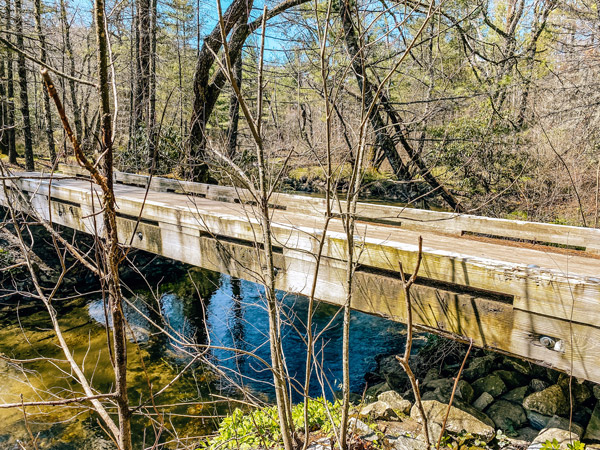 Located in the Pisgah Forest close to the Blue Ridge Parkway, nature lovers will covet this 5.5-mile Asheville hiking trail. Best in the late spring and summer, you'll catch butterflies, birds, and wildflowers. Plus, hike in a mountain bog! Don't miss our Complete Pink Beds Loop Guide.
Fryingpan Mountain Lookout Tower & Trail
An easy to moderate 1.6-mile hike along the BRP immediately past Mount Pisgah, this gravel road trail leads to a 70-foot lookout tower. Check out the 360-degree views of Mount Pisgah, the Blue Ridge Parkway, and Looking Glass Rock. Read more about Fryingpan Mountain.
Crabtree Falls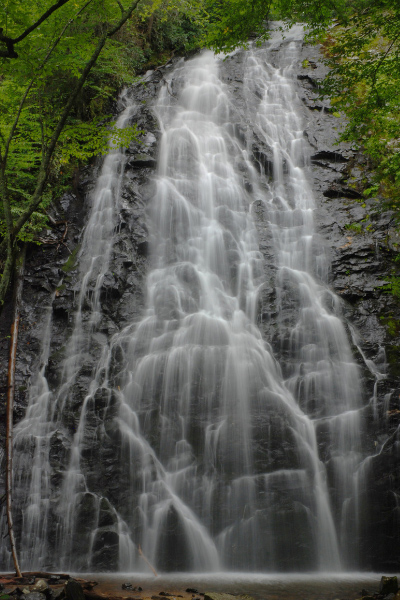 One of the most popular waterfall hikes near Asheville close to Little Switzerland, Crabtree Falls is an easy-ish 2-mile out and back. You can also take the slightly harder 2.5-mile loop once you arrive at the falls. Crabtree Falls is located on the Blue Ridge Parkway at Mile Post 339.5.
Oconaluftee River Trail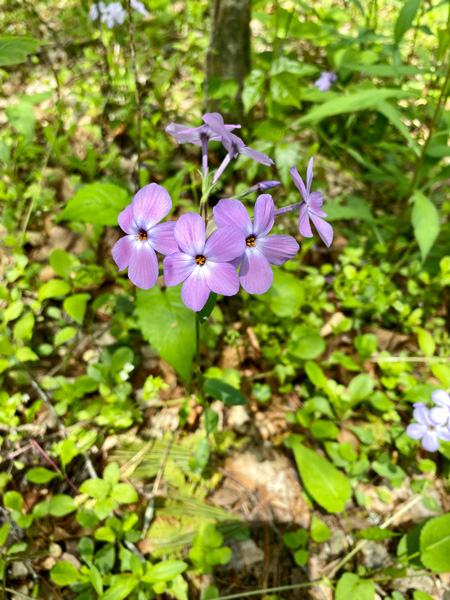 Much farther out from Asheville — in Great Smoky Mountains National Park — encounter elk and wildflowers along the Oconaluftee River Trail. Find a beautiful and easy 3-mile nature walk along the Oconaluftee River. Grab our Complete Oconaluftee River Trail Guide.
Max Patch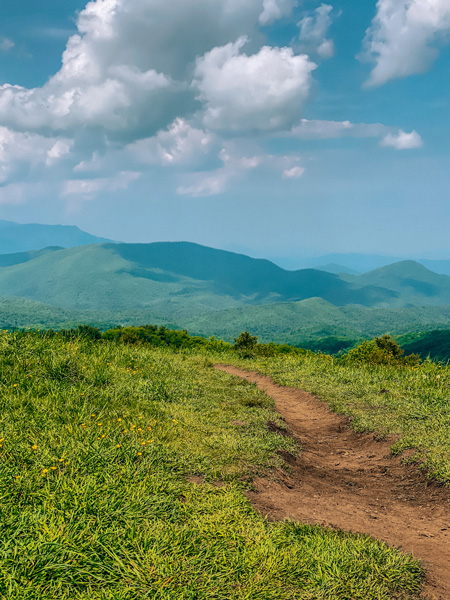 Another one of the most popular hikes near Asheville, Max Patch promises trekkers a bit of everything. Encounter views of Mount Mitchell and the Smokies along an easy 1.5-mile or moderate 2.5-mile loop. You can cross over onto the Appalachian Trail to reach the summit, which is perfect for a picnic. Check out our full guide to Max Patch.
Moderate Hiking Trails Near Asheville
Craven Gap
Address: Craven Gap Trail, N35.6479 W82.4910, Asheville, NC 28805
Length: 5-mile out and back trail
Why Craven Gap?
Craven Gap is one of the more local Asheville hiking trails that's only about 20-minutes from downtown. What Craven Gap lacks in stunning views, it pays you back in exclusively.
In fact, the Obamas hiked here in 2010. I love the Craven Gap hike for its babbling brooks, mini-caves, and wooden bridge. The trail collides with the Blue Ridge Parkway at the other end where you can pick up more trails.
The Length Of Craven Gap
Craven Gap is part of the Mountains-to-Sea Trail and is a little under 5 miles round trip. A moderate hike, Craven Gap gets very narrow.
Craven Gap Location
The trailhead to Craven Gap is unmarked. Look for the dirt parking lot with a tiny staircase in front of it. There are no facilities here. Craven Gap is at Milepost 377.4 or GPS N35.6479, W82.4910.
Craggy Gardens Picnic Area & Visitor Center
Craggy Gardens Milepost Areas: Milepost 364.4 & 367
Craggy Gardens Trail Length: 2-miles round trip out and back
Why Craggy Gardens?
One of the most visited and easier Asheville hiking trails, Craggy Gardens is 20 miles away from downtown AVL (45-minutes) with a variety of hiking, picnicking, and accessibility options.
Plus, there are restroom facilities. Craggy is especially gorgeous in the spring and summer with purple, white, golden blooms.
Craggy Gardens Picnic Area
Craggy Garden Picnic Area is right before the Visitor Center. Find an abundance of parking, charcoal grills, picnic tables, restrooms, and the Craggy Gardens Trail.
Length of Craggy Gardens Trail
The main trail is just a little under 2-miles round trip with a gazebo and beautiful fields. Of course, you'll find flowers and heart-stopping mountain views.
Before you head up to the lots, know that there are tons of little side trails — we've tried a few.
Craggy Gardens Visitor Center
The Craggy Gardens Visitor Center has stunning views of the fall foliage along with clean restrooms (that flush!), snacks, and a souvenir shop.
You can pick up multiple trails — Douglas Falls (the hard one — we've done a few miles of this hike) and Craggy Gardens. Parking fills up quickly in the fall and on weekends.
Craggy Gardens Tips
The mountains are always colder than in the city. Temperatures may drop 10-15 degrees cooler, and the mountain weather changes quickly. I always recommend wearing layers.
Craggy Gardens Location
Craggy Gardens (not including the Dome) has two easy access points off of the Blue Ridge Parkway. One is at the Visitor Center, and the other is from the Craggy Gardens Picnic Area. Milepost 364.4-367.6 will help guide you.
Craggy Pinnacle
Address: Milepost 364.1
Length: 1.4-miles out and back
Full Hiking Guide To Craggy Pinnacle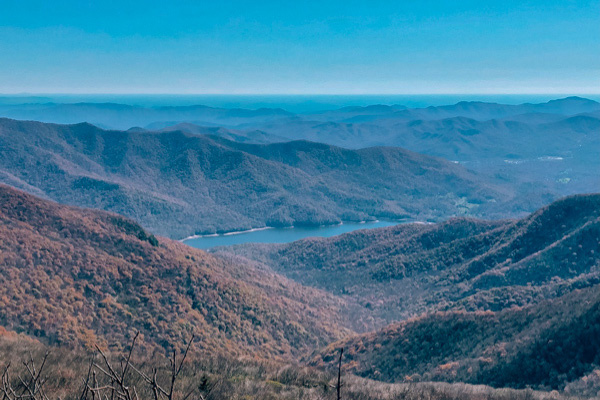 Why Craggy Pinnacle?
Craggy Pinnacle is one of the shortest but more moderate hikes near Asheville, NC. Located along the Blue Ridge Parkway about 50-minutes away, this Asheville trail is most known for its 360-degree views at the top.
Hikers can spy down on the Asheville Watershed, Craggy Gardens, and Mount Mitchell. Don't miss a famous Craggy Pinnacle sunset, either.
Length Of Craggy Pinnacle
The Craggy Pinnacle hike is about 1.4 miles round trip. We always take the small detours when it's not foggy. You'll find at least three scenic viewing areas around the top.
Craggy Pinnacle Tips
Fog loves Craggy Pinnacle like I love AVL beer. Sometimes you'll find yourself literally in the clouds. The trail also becomes icier into late October/early November, especially after heavy rain. The foliage dies around this time, too. Wear sturdy shoes.
How To Get To Craggy Pinnacle
Craggy Pinnacle is located at Milepost 364.1 on the Blue Ridge Parkway. Head past the tunnel after the Craggy Gardens Visitor Center (driving north from Asheville).
The lot isn't well labeled as you turn in on the left, but you'll see a two-tiered parking lot and signs once you enter. 'Craggy Dome' is the official trailhead. There are no bathroom facilities here.
Mount Pisgah Trail
Address: Milepost 407.6
Length: 2.6-miles round trip out and back
Don't Miss Our Complete Mount Pisgah Guide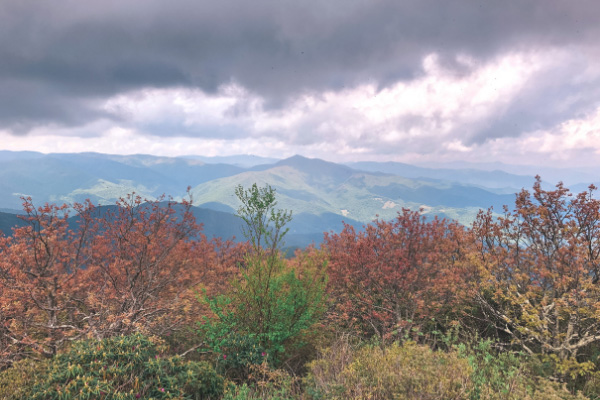 Why Mount Pisgah?
Mount Pisgah is by far one of the most recognizable mountain peaks around Asheville seen from the Grove Park Inn, downtown, and Biltmore.
For Asheville hiking, Mount Pisgah gets slammed in the fall with its 5,721-foot summit and famous observation platform — where visitors can see Frying Pan Mountain and Looking Glass.
A moderate hike and about 1-hour away from Asheville, we love hiking Mount Pisgah for the summer rhododendron and mountain laurels.
Mount Pisgah Trail Length
The Mount Pisgah Trail is a tad tiring with an elevation gain of 750-feet — yup, there are mountain stairs again, too. Round trip, the trail is about 2.6 miles and you'll have to climb over shaky rocks.
Mount Pisgah Directions
From downtown Asheville, hop on the Blue Ridge Parkway (south) to Milepost 407.6. You'll see well-labeled signs for the Mount Pisgah Parking Area.
Graveyard Fields & Graveyard Loop Trail With Waterfalls
Address: Milepost 418.8
Various trails and waterfalls
Why Graveyard Fields?
Located off of the BRP past the Mount Pisgah area, Graveyard Fields is one hour plus from Asheville. The trails boast of two gorgeous and rocky waterfalls: High and Low Falls.
Length Of Graveyard Fields Trails
Low Falls is .4 miles at the trailhead when you take a right after the footbridge. Around the footbridge, you may wade into the water, and this area is a sight in itself.
You can then loop back to pick up the full Graveyard Loop Trail, which is about 2.9 more miles, round trip (partly an out and back). You would follow signs for Graveyard Loop/Upper Falls (right and then a quick left at the big intersection).
If you keep going right and accidentally pass Upper Falls Trail, you'll land on the Graveyard Ridge Trail.
Graveyard Fields Location
Graveyard Fields is at Milepost 418.8, south of Asheville. The tiny parking lot fills up quickly, but you can safely park on the side of the road right before the entrance. Don't leave your car hanging into the Blue Ridge Parkway. You will also find restroom facilities here.
Black Balsam Hike On The Art Loeb Trail or Sam Knob Trail
Address: Black Balsam Knob, Art Loeb Trail, Canton, NC 28716
Length: About 2-miles round trip hike
Why Black Balsam?
For engagement photographers, the Black Balsam hiking trails near Asheville is where it's at. The Art Loeb Trail borders between easy and moderate.
You can take numerous pathways that intersect the Art Loeb Trail, and you'll find almost 360-degree views of the gorgeous mountains. Black Balsam Knob is a must for Asheville hiking.
Blueberries and gorgeous wildflowers greet visitors in the summer. Black Balsam is about 1-hour and 10-minutes from Asheville.
Length of Black Balsam Hike
While there are numerous hikes and runoffs along Black Balsam, if you stay on the Art Loeb Trail, this hike is about 2 miles.
Black Balsam Location
From Asheville, take I-240W to I-26E. Take Exit 33, and turn left onto Highway 191. Turn right at the light (follows the BRP signs) and pass the entrance to The NC Arboretum.
Turn right on the Blue Ridge Parkway and drive to Milepost 420.2. Turn right onto Black Balsam Road. You can either park alongside the road or head to the parking lots where there are basic restroom facilities. Like a hole with a toilet over it…
Linville Falls Trails & Waterfalls
Address: Mile Marker 316.4
Length: Numerous trails and waterfall access areas
Why Linville Falls?
Many of the waterfall hikes near Asheville are over an hour away, including Linville Falls. Linville Falls is one of the farther Asheville hiking spots, though, with a 1.5 hour to 2-hour drive for you, depending on your route.
Linville Falls is also one of the most photographed waterfalls in WNC and has a Visitor Center with restrooms.
The falls are about 90-feet high, and there are 5 viewpoints that total a 4-mile hike. There are different hikes that you can take, including Erwins View Trail and Linville Gorge.
Length Of Linville Gorge Trail & Plunge Basin Overlook
To the left of the Visitor Center, don't miss the lesser-known trailheads that take you around the falls and to the base. For a challenging trail, Linville Gorge Trail is a 1.25-mile hike round trip to the base of the falls.
We like the Plunge Basin Overlook with a stunning waterfall view that is only about .5 miles round trip.
Length Of Upper Falls Trail & Erwins View Trail
If you walk past the Visitor Center and cross the bridge, you will find to find a variety of trailheads ranging in difficulty with more waterfall views. Upper Falls is about .5 miles round trip and then you may continue on to the Erwins View Trail, which is 1.6 miles round trip from the Visitor Center.
How To Get To Linville Falls
Located on the Blue Ridge Parkway, look for Mile Marker 316.4. The quickest way to get to Linville is by taking I-40 East to 221, which will get you on the Blue Ridge Parkway.
Exceptional Moderate Hikes Near AVL
Daniel Ridge Loop & Falls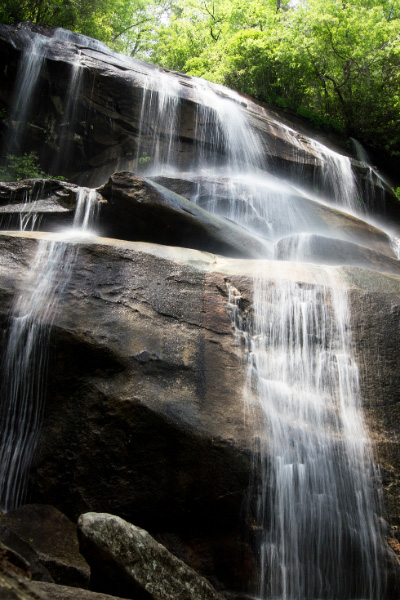 Head to the Pisgah National Forest for a moderate 4-mile loop or easy 1-mile out and back passing by gorgeous Daniel Ridge gorgeous falls. This is one of the best lesser-trafficked hikes near Asheville and our personal favorites. Read more about Daniel Ridge Falls.
Hidden Falls, Rainbow Falls, & Turtleback Falls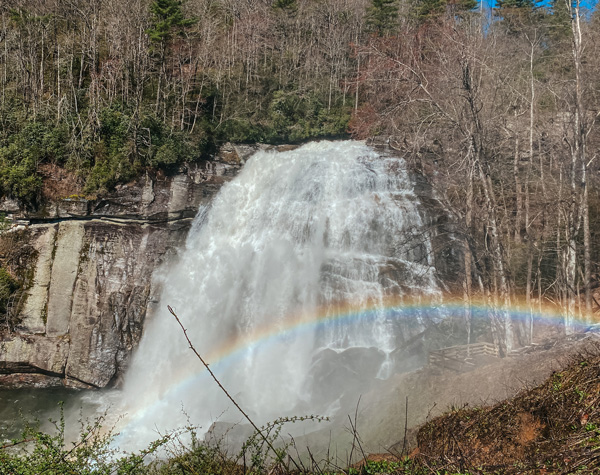 An easy but slightly moderate waterfall hike, you'll love Rainbow Falls — which lives up to its namesake. Along the way, you will pass Hidden Falls. If you go as far as Turtleback Falls, you'll clock about a 4.1-mile out and back.

Be prepared to cross light streams. Rainbow Falls sits in Gorges State Park and crosses into the Pisgah National Forest. For more information, head over to our Rainbow Falls Guide.
Little Bearwallow Falls & Wildcat Rock Trail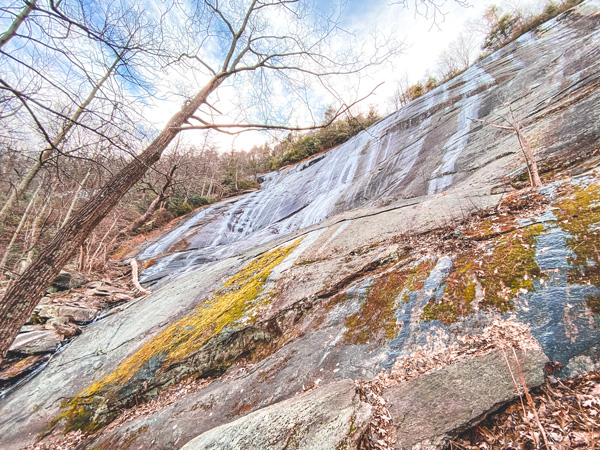 Take the 2-mile out and back trail to Little Bearwallow Falls or complete the entire 4-mile out and back to Wildcat Rock. The complete hike grows much more difficult once you pass the falls. This trail is perfect for rock and ice climbers in the winter, but you'll also need sturdy shoes/crampons for the ice and mud.
Mount Mitchell's Trails
One of the most popular Asheville hiking spots, Mount Mitchell Trail is 11.3 miles. Visitors can pick from a variety of trail lengths and difficulties, including the Balsam Nature Trail, Mount Mitchell High Loop and Summit, and Old Mitchell Trail.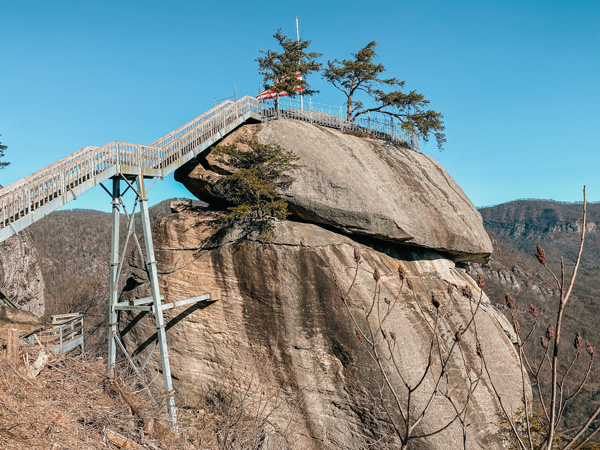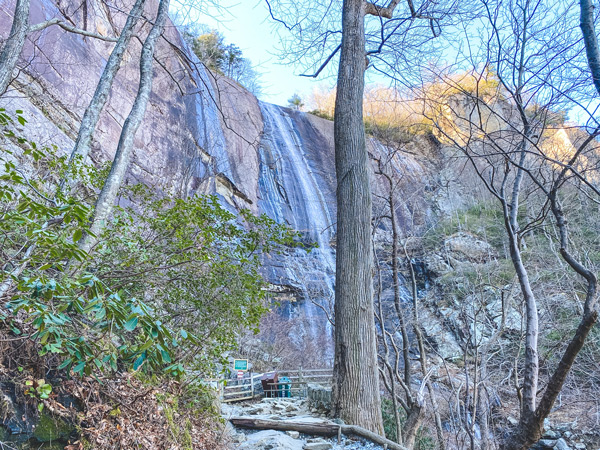 Another heavily trafficked area, Chimney Rock offers some of the most popular hikes near Asheville, NC. Eight of their hiking trails are more moderate, and a few tourist favorites include Hickory Nut Falls Trail, Exclamation Point & Devil's Head, and Party Rock Trail. You have to pay to enter Chimney Rock.
Lover's Leap Loop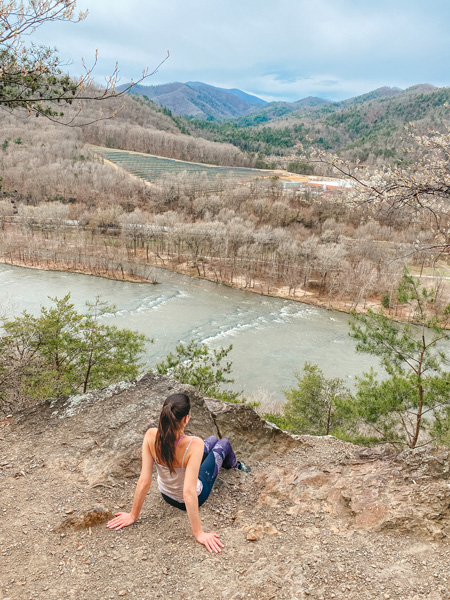 Located in the Pisgah National Forest in Hot Springs, NC, if you are hoping to hop on the Appalachian Trail, this is your chance. Hike the moderate and somewhat terrifying trek up to Lover's Leap Loop, filled with gorgeous vistas. This 1.8-mile hike is filled with switchbacks. Read more about Lover's Leap Loop.
Mingo Falls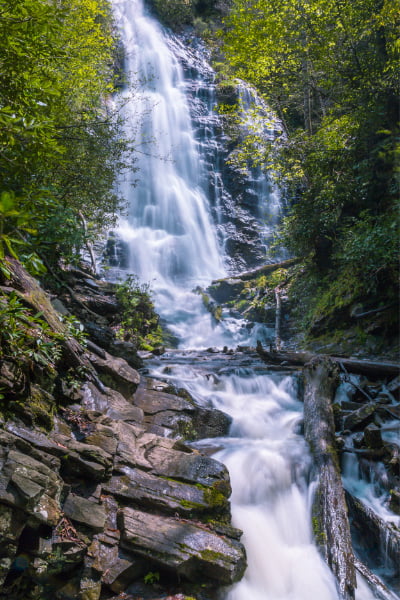 Start driving toward Smoky Mountains National Park to Cherokee, NC. Here, you'll find one of the tallest waterfalls in the Southern Appalachians. Mingo Falls is also one of the prettiest waterfalls near Asheville and clocks in at under a .5-mile hike. Get ready for nature's StairMaster, though. Read more about Mingo Falls.
Asheville Hiking Trails That Are More Difficult
These hikes near Asheville, NC are a little harder with steep inclines, not as cleared paths, and/or are longer in length.
We recommend strong hiking shoes, extra layers and water, covered legs, bug spray, snacks and/or a picnic, and a first aid kit.
Little Butt And Big Butt Trails
Address: Mile Marker 359.8
Length: 5.1-mile out and back hike
Why Little & Big Butt?
A more local Asheville hiking trail off of the Blue Ridge Parkway past the Craggy area (about 1 hour and 10 minutes from AVL), uncover largely quiet trails with stunning mountain views.
These trails may kick your butt, especially when you hit Point Misery. Pleasant AF sounding, right?
Honestly, anything with forest stairs is misery to me. However, we love Little Butt for a picnic on the rock and a good night's sleep.
Length Of Little & Big Butt Trail
Little Butt Trail leads to Big Butt, starting at Walker Knob Overlook. The trail is about 5.1 miles round trip, although you'll see it labeled as longer.
Little Butt is not labeled once you arrive, but you'll see a slightly hidden rock with incredible views of the Black Mountain range. If you want to tack another mile onto your trip, head to Big Butt, which is an elevated climb without the Little Butt views.
Location of Little & Big Butt
The Little Butt Trailhead is at Mile Marker 359.8 on the Blue Ridge Parkway past the Craggy area. You can park in the round loop.
There are multiple Asheville hiking access points around here: you'll also see another marker for the Mountains-to-Sea Trail. Across the street, you'll find a trail for Glassmine Falls.
Look to your left for the Little and Big Butt Trailhead. Parking is extremely limited here.
Looking Glass Rock Trail
Address: Looking Glass Rock Trailhead, Brevard, NC 28712
Length: 6.5-mile out and back hike
Why Looking Glass Rock Trail
You cannot miss the huge stone on the BRP that is Looking Glass Rock. About 45-minutes from downtown Asheville, this Asheville hiking trail is popular in the winter (but be careful).
Upper Looking Glass Cliffs offers stunning views, and this hike is considered more moderate to difficult as you climb over 1,700 feet in under 3 miles.
Length Of Looking Glass Rock Trail
You'll want to budget quite a bit of time for the Looking Glass Rock Trail hike as it is about 6.5 miles round trip.
Directions To Looking Glass Rock Trail
You will take I-240 West to I-26 East. Take Exit 40 for Highway 280 and turn right toward Brevard. Turn right onto US Highway 276 North and then turn left to the Pisgah Center for Wildlife Education. Look for the parking area on the right for Looking Glass Rock Trail Head.
Address: 4854 Bearwallow Mountain Rd, Hendersonville, NC 28792 (Across from Bearwallow Mountain)
Length: 5-mile round trip out and back
Grab Our Complete Guide To Trombatore Trail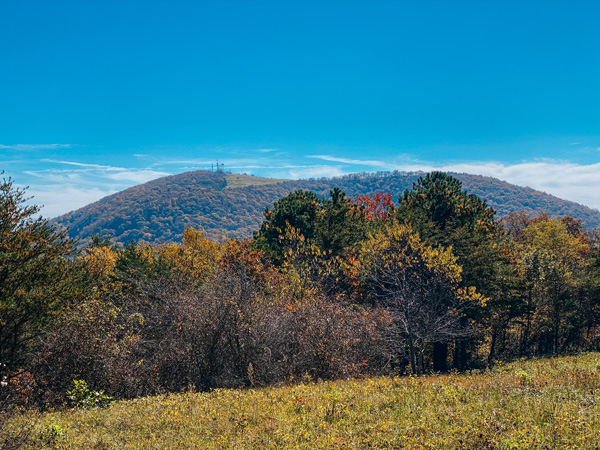 Why Trombatore Trail?
We are all about hiking around Asheville, NC on quiet trails and enjoying a picnic to ourselves. If you are looking for a more strenuous and well-labeled hike, I highly recommend Trombatore Trail across from Bearwallow Mountain Trail.
This trail follows along the Eastern Continental Divide with a 1,200-foot elevation gain and is managed by Conserving Carolina. At the top, find views of Mount Mitchell, Bearwallow Mountain, and the Hickory Nut Gorge.
Length Of Trombatore Trail To Blue Ridge Pastures
Trombatore Trail is a 5-mile out and back that is labeled moderate to difficult. Follow the trail posts and tree markings. Private property is also clearly marked.
Location of Trombatore Trailhead
From Asheville take I-240 to US-74 Alt East toward Bat Cave. Stay on US-74 Alt. You'll turn right onto Bearwallow Mountain Road, which will turn into a gravel road.
Park on the side of the road — but please don't block the private gate — and look for the trailhead. Across from Trombatore, you'll see the trailhead for Bearwallow. Both have maps and information. There are no facilities.
Most Difficult Asheville Hiking Trails
Grandfather Trail At Grandfather Mountain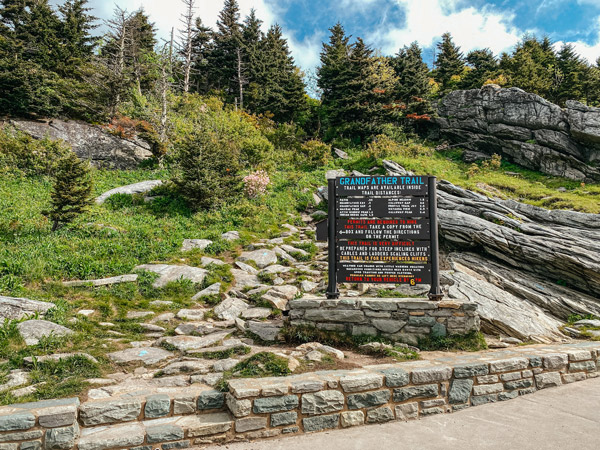 About 1.5 hours from Asheville at Grandfather Mountain, Grandfather Trail is called the "chutes and ladders" trail for its assists — cables and ladders.
Permits are required to hike Grandfather Trail, and you have to be back at your car by a specific time or they will send out a search team.
Grandfather Trail is one of the most difficult hikes near Asheville and is for experienced hikers only. This blue-blazed trail is 2.4-miles long and crosses the summit ridge from the Mile High Swinging Bridge to Calloway Peak.
We, personally, are not cool enough to hike Grandfather Trail, but I wanted to let you know that it exists.
Best Asheville Hiking By Season
What is the best time to ascend certain Asheville hiking trails? Below, we'll share our favorite times of the year for Asheville hiking locations along with a few tips and tricks for a successful visit.
It's always best to hike early and on the weekdays if you are hoping to beat the crowds. Of course, places like Craggy Pinnacle and Black Balsam are also amazing at sunset.
Asheville Hiking In The Winter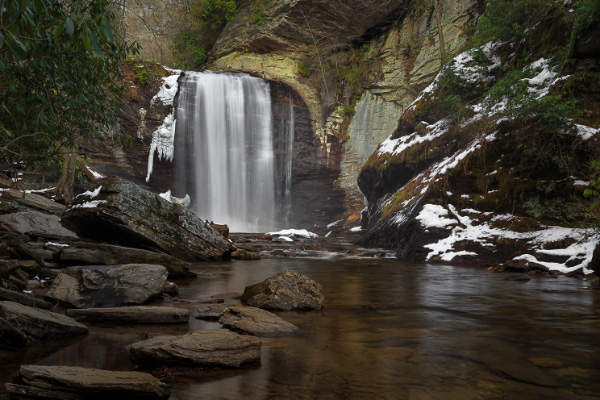 Hiking near Asheville in the winter gets a little trickier. The BRP has sudden closures, the trails ice up, and of course, there is sporadic fog.
The fog rolls in and out of the mountains all day — sometimes burning off midday. One second the road is there and the next, it's gone.
The same goes for those gorgeous views at places like Craggy Pinnacle and Black Balsam (Note: BRP hikes aren't accessible mid-winter). I do love driving in a cloud, though.
Always check with the National Park Service (NPS) before heading out on the Blue Ridge Parkway. It might be sunny in Asheville but not in the mountains.
Long stretches of the BRP may close, which sometimes you'll catch first on your GPS. Find updated NPS closures here and look under 'Weather,' specifically to see if the Blue Ridge Parkway gates are closed.
Where can you hike near Asheville in the winter? Looking Glass Falls (the waterfall) has the potential to ice up for a beautiful picture.
We enjoy the waterfall hikes like DuPont Forest, Chimney Rock's Hickory Falls, and Daniel Ridge Falls since the crowds dwindle down. Bearwallow Mountain is also an easier winter hike.
---
---
Asheville Hiking In The Spring & Summer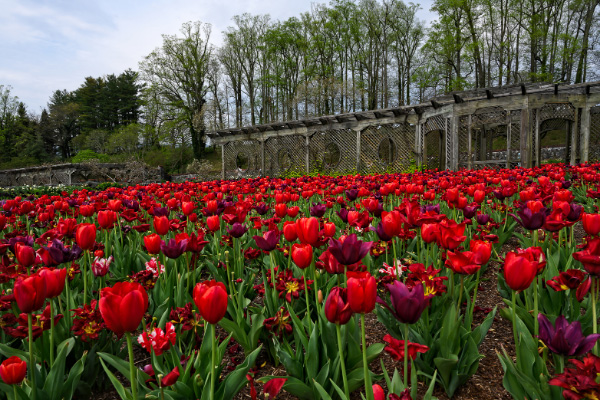 To us, the best hikes near Asheville, NC in the spring and summer include Black Balsam, Craggy Gardens, and Craggy Pinnacle.
The Biltmore gardens are in bloom along with The NC Arboretum and Botanical Gardens at Asheville.
You may also enjoy Lover's Leap, Rainbow Falls, and Crabtree Falls for the quietest and prettiest spring hikes near Asheville.
If you are looking to cool off in the late summer, don't miss Sliding Rock and Skinny Dip Falls.
Asheville Hiking In The Fall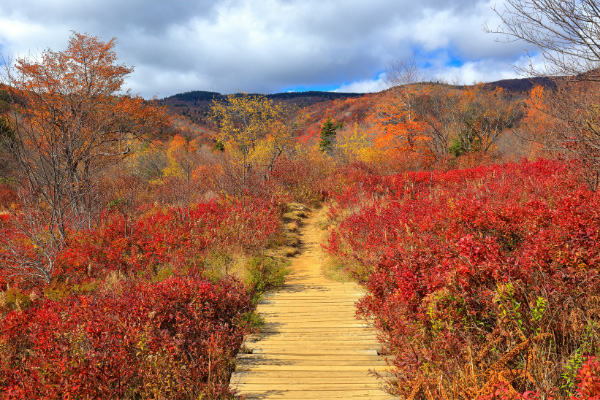 For fall hiking in Asheville, we recommend anywhere in the higher elevations, especially along the BRP. Graveyard Fields, Mount Pisgah, Black Balsam, Art Loeb, and DuPont are especially nice.
Every year, Romantic Asheville predicts the AVL Fall Color Forecast. Peak fall foliage typically depends on the weather that season. Usually, the third and fourth weeks of October are a solid time to catch vibrant fall colors.
---
Visiting Asheville in the fall? Be sure to check out our top recommend Asheville Fall Foliage Hikes.
---
Hiking In Asheville, NC? Where Should You Stay?
Which of these gorgeous hikes near Asheville, NC have you tried?
What are your favorite hikes near Asheville? What's on your Asheville hiking bucket list? And, what's your favorite season for hiking in Asheville?

The summation for me: I love DuPont State Forest, the Craggy Gardens area, Catawba Falls, and Black Balsam. Of course, nothing beats the fall foliage hikes near Asheville like Graveyard Fields.

Let us know your thoughts in the comments.
Loving These Asheville Hiking Trails? You May Also Enjoy:
Best Waterfall Hikes Near Asheville
Beautiful Parks & Gardens
Where To Picnic Around Asheville
Top Mountain Bike Trails In AVL
Hikes Near Asheville By Season:
Stunning Fall Foliage Hikes Near Asheville
Top Winter Hiking Trails Near Asheville
More Things To Do:
Ultimate List Of Things To In Asheville, NC
Where To Stay In Asheville