Explore all that the South has to offer with the best cities and towns near Asheville, NC for food, fun, and the great outdoors.
Although Asheville has enough to keep visitors and locals endlessly busy, the towns around Asheville are equally worthy for both day trips and overnight getaways.
Plus, many of the cities near Asheville make for great residential areas for natives and people looking to relocate.
And, whether you live in Western North Carolina or are just visiting, it might be overwhelming to choose what to do and see. As locals, we'll never manage it all.
So, what are the best small towns near Asheville for quaint downtown areas, history, and shopping? How about the best cities near Asheville for hiking and waterfall chasing?
Below, explore a few of the closest cities to Asheville that promise delicious cafes, vibrant street art, craft beer, and quirky finds.
Then, uncover mountain towns near Asheville filled with wineries, breweries, live music, mountain biking trails, and engaging museums.
Get lost in bamboo forests, and visit famous filming locations. See the elk, and go for a swim Let's get started!
Discover even more of the best day trips from Asheville.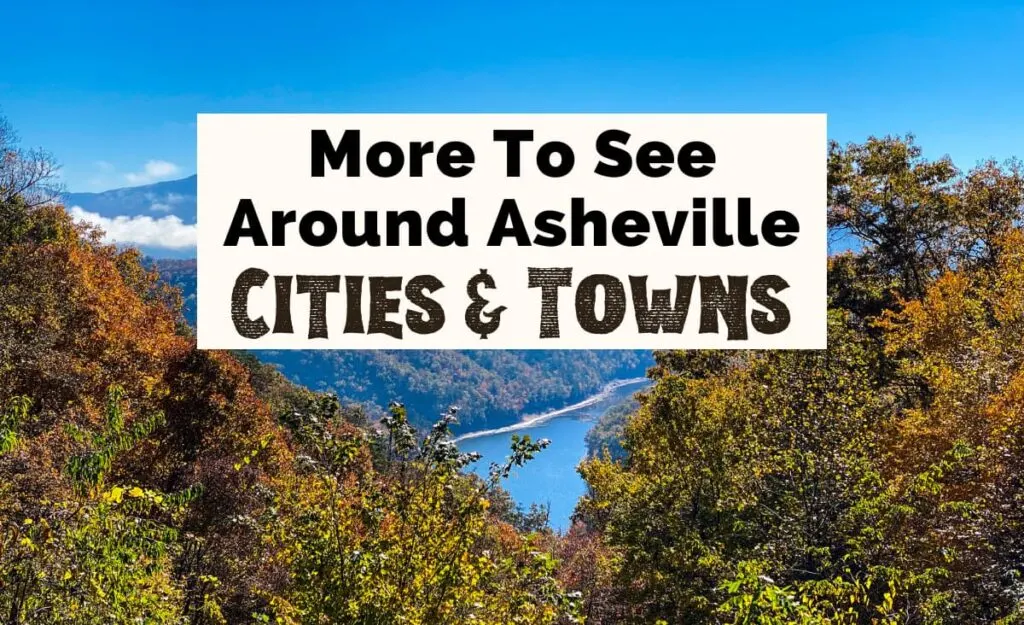 This post may contain affiliate links that earn us a commission at no extra cost to you. If you love these guides, support Uncorked Asheville here.
18 Best Cities & Towns Near Asheville, NC
1. Hendersonville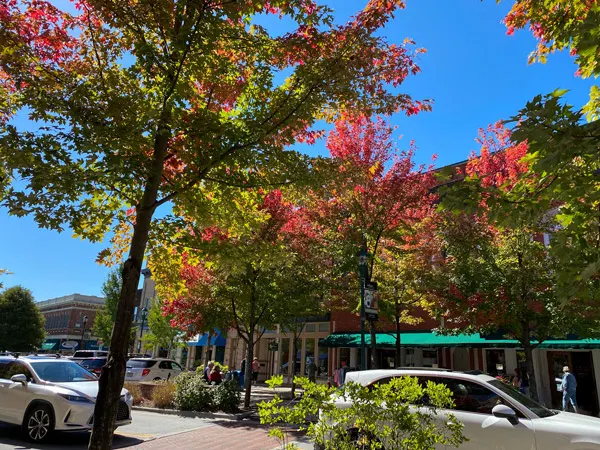 One of the best cities near Asheville for wine, apple orchards, museums, and local bites, Hendersonville is a must.
Hendersonville sits south of Asheville, and Asheville to Hendersonville is only about a 50-minute drive.
This is one of the up-and-coming cities that rivals AVL in culture and fun. There is so much to do in Hendersonville, and you might just catch a festival or special event.
If you enjoy hitting the trails, we recommend starting your morning chasing those waterfalls at DuPont State Forest in Cedar Mountain – which is about 20 minutes away from Hendersonville.
Jump Off Rock is also 5 miles from Downtown and is a gorgeous scenic overlook.
If it is fall, though, head straight to the Hendersonville apple orchards for cider, corn mazes, farm animals, and bamboo forests. Stepp's Hillcrest and Jeter Mountain Farm are two fabulous choices.
Then, dine at one of Hendersonville's best restaurants, including Umi Sushi, Pita Express, Haus Heidelberg, or even quirky Hot Dog World.
Grab coffee downtown at Black Bear, and opt-in for an afternoon of museum touring at The Mineral and Lapidary Museum and Appalachian Pinball Museum. Or, wine and beer hop.
Our favorite wineries around Hendersonville include Stone Ashe Vineyards, St. Paul Mountain Vineyards, and Point Lookout.
Like Asheville, Hendersonville has hopping breweries, including D9, Guidon, and Oklawaha (which has gluten-reduced beers too).
Hendersonville Visitor Information Center | 201 South Main Street, Hendersonville, NC 28792
2. Black Mountain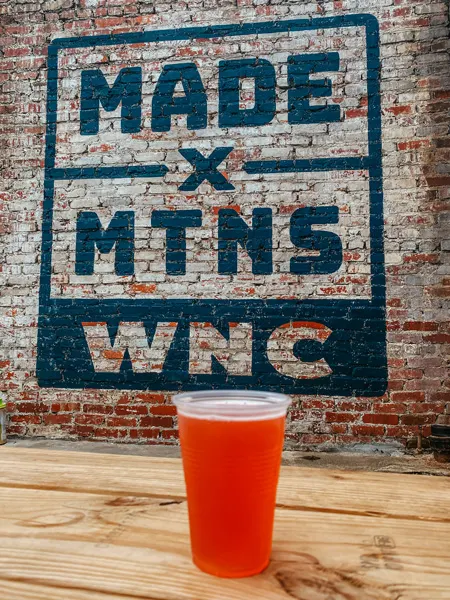 One of the most beautiful towns near Asheville, Black Mountain is our go-to for a nearby lake, local coffee, and mouthwatering craft cocktails.
Black Mountain is famous for its Southern Appalachian arts and crafts scene, and Black Mountain to Asheville is only about 20+ minutes away. This town sits slightly east of AVL.
You won't find a shortage of things to do in Black Mountain, including strolling historic downtown for endless shops. Sassafras Bookstore is a book lover's dream.
For food in Black Mountain, Trailhead is a local favorite. Berliner Kindler serves up delicious German cuisine, and Cousins Cuba Cafe is outstanding for breakfast and lunch.
Grab a coffee at Dripolator, and ice cream – with vegan options – at The Hop. Enjoy one of the best distilleries around with craft cocktails, Oak & Grist.
Like Hendersonville and AVL, Black Mountain is home to breweries and a cidery, including Black Mountain and Lookout Brewing.
Head to Lake Tomahawk, a quaint recreational lake, for a quick stroll.
Black Mountain is also a great option if you want to stay at a cute Bed & Breakfast outside of AVL and have a walkable downtown area at your doorstep.
Black Mountain Swannanoa Chamber of Commerce | 201 E State St, Black Mountain, NC 28711
3. Bryson City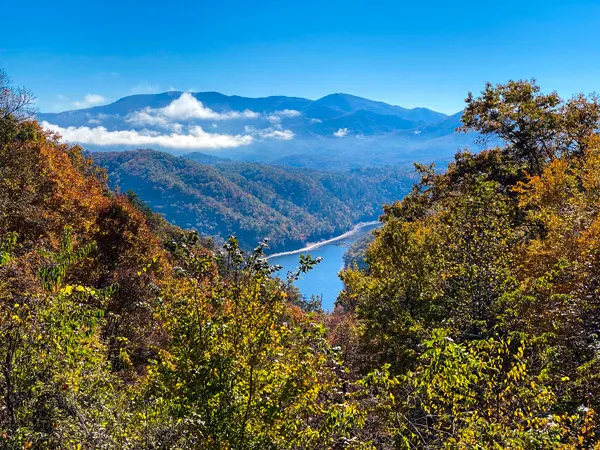 Local author Renea Winchester wrote about Bryson City in her NC novel, Outbound Train.
This is one of the best Smoky Mountain cities near Asheville, especially if you enjoy trains and catching beautiful fall foliage drives.
Asheville to Bryson City is about a 1-hour and 10-minute drive and is well worth it for hiking, Fontana Lake, and the charming downtown area.
Start on the Road to Nowhere – Lakeview Drive – which is stunning in the fall. Unfortunately, the Road to Nowhere represents a broken promise to residents during the war and was never completed.
Today, the Road to Nowhere offers scenic overlooks of Fontana Lake and ends at hiking trails and an eerie and echo-filled tunnel.
Then, head into town for one of Bryson City's many restaurants. Iron Wok serves giant bowls of steaming pho, and Nantahala Brewing and Mountain Layers feature hoppy local brews.
For Christmas fun around Asheville, Great Smoky Mountains Railroad hosts a Polar Express event. Or, ride the steam train throughout the year for lunch or as part of their special wine adventure.
Walk or ride over 480-foot Fontana Dam, which might sound familiar from the movie, A Walk In The Woods.
Visit the Fly Fishing Museum of the Southern Appalachians and Smoky Mountain Trains Museum.
Outdoor enthusiasts head to Bryson City for white-water rafting, ziplining, and of course, hiking the Great Smoky Mountains and Nantahala National Forest.
If the Road to Nowhere is a point of interest for you, explore even more of NC's abandoned places and towns.
Swain County Visitor Center and Heritage Museum | 2 Everett St, Bryson City, NC 28713
4. Weaverville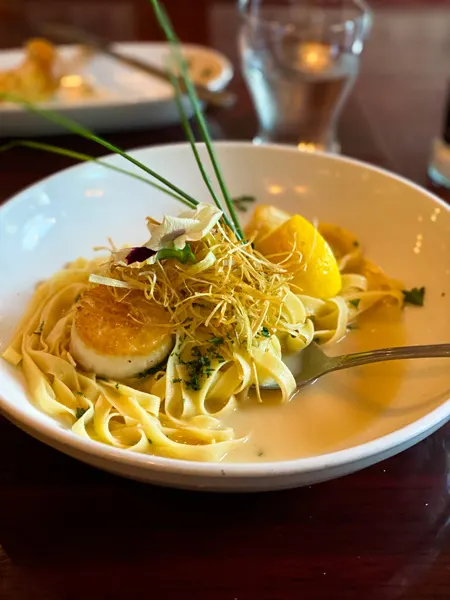 One of the closest cities to Asheville, Weaverville is just slightly north of the city and only a 10 to 15-minute drive.
In fact, if you are coming from Downtown Asheville, take Merrimon Ave. all the way there.
Pass through gorgeous North Asheville, home to Beaver Lake and the Botanical Gardens at Asheville.
You'll know you've entered Weaverville when you spy Lake Louise, a shimmering recreational lake with a hidden dam waterfall, playground, and perimeter trail.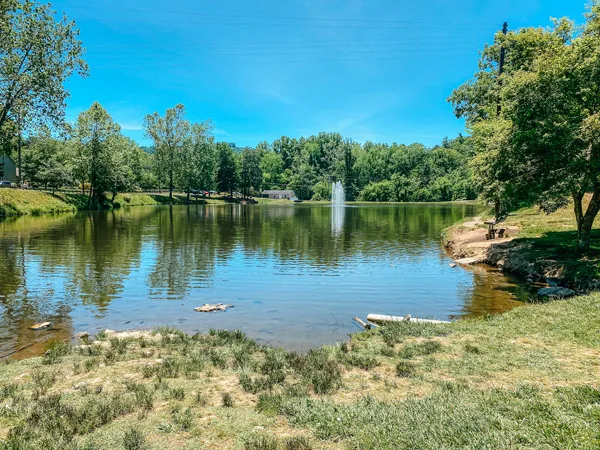 Weaverville also has a nature park as well as a dog park bar with food trucks, WagBar.
If you are looking for places to eat in Weaverville, Twisted Laurel, Glass Onion, Soba, and Stoney Knob Cafe are all delicious stops.
Or, grab a local craft beer at Eluvium or Leveller, and pay tribute to Bob Ross at Hoppy Trees.
Honey & The Hive is a unique beekeeping store, and Well-Bred Bakery is a popular stop for coffee and treats.
Read more about what to do in Weaverville.
5. Lake Lure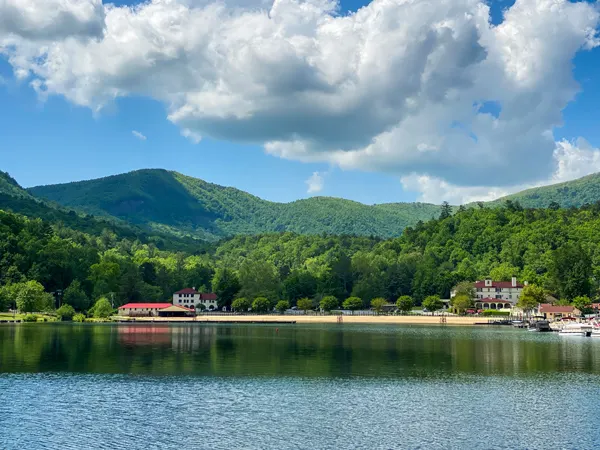 Are you hoping to explore more of the best lake day trips from Asheville? And, where can you find a bridge filled with vibrant blooms while getting your Dirty Dancing on?
Lake Lure has so much to offer and is one of the best towns around Asheville if you are craving that lake and cabin lifestyle.
Asheville to Lake Lure is just under an hour's drive along windy mountain roads. If this is your first time in Lake Lure, we recommend stopping at the Lake Lure Welcome Center.
From here, head to Lake Lure's stunning Flowering Bridge, which comes to life in the spring and summer. Spy herbs, flowers, and furry critters as butterflies and birds sail past you.
Chatty volunteers are always planting, weeding, and designing new creative garden spaces. It's free to visit, but consider leaving a generous donation.
Then, walk Morse Park for beautiful views of the lake. If it is summer, hang out at Lake Lure Beach or rent a boat.
And, don't forget to pay homage to the movie, Dirty Dancing. NC is home to tons of great filming locations.
Each year, Lake Lure hosts a Dirty Dancing Festival. Baby carried that watermelon here and look back to many dancing scenes.
Lake Lure Welcome Center | 2932 Memorial Hwy, Lake Lure, NC 28746
6. Hot Springs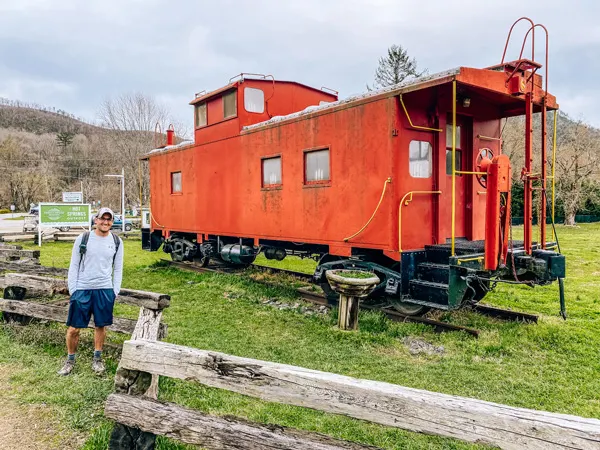 We cannot leave out those quirky small towns near Asheville – even with under 600 residents – and Hot Springs is the best for relaxation and local vibes.
Asheville to Hot Springs is just under a 50-minute drive, and Hot Springs promises to live up to its namesake.
Hot Springs Resort and Spa houses naturally hot mineral water that's divine.
Along with the resort and spa, enjoy basic camping cabins, tent sites, and full RV hookups, which is perfect since Hot Springs is one access point for the famous Appalachian Trail.
Hop on Lover's Leap, which connects to the AT, for a steep incline overlooking all of those stunning Western North Carolina mountains.
After hiking, head into town for lunch at Iron Horse Station Tavern and Restaurant followed by a beer at Big Pillow Brewing.
Find the sweetest library too, and grab a smoothie or coffee at Artisun Gallery and Cafe while shopping for local art.
Nearby, continue along the Appalachian Trail at Max Patch.
Discover all that you can do in Hot Springs, North Carolina.
Hot Springs Welcome Center | 106 Bridge St, Hot Springs, NC 28743
7. Arden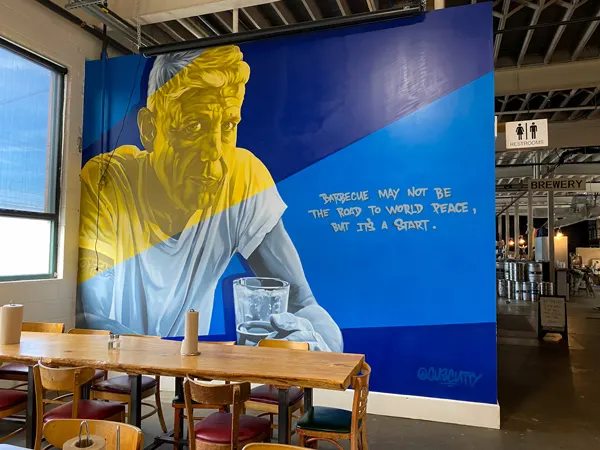 Another one of the closest cities to Asheville – which many consider a suburb or even deem a part of South Asheville – at first sight, Arden doesn't seem like a WNC destination.
However, if you are craving delicious Southern BBQ, Arden houses one of the best spots around, 12 Bones Smokehouse.
It is here you'll find Gus Cutty's homage to Anthony Bourdain, and the South location also showcases 12 Bones's brewery – one of the best places for beer around AVL.
Choose from delicious BBQ platters, and know that the Obamas visited their River Arts District location.
Biscuit Head – a breakfast spot – and Wild Ginger – amazing Asian cuisine – are nearby in South Asheville.
Also within Arden, head to Lake Julian for another popular recreational lake. Enjoy horseshoe pits and a playground. Rent paddle boats or play disc golf.
At Christmastime, be sure to drive through Lake Julian's holiday lights display, and in the spring, enjoy the numerous picnic spots.
Arden has some of the most kid-friendly activities around Asheville, too, including Launch Trampoline Park and Lakeview Putt and Play.
Asheville to Arden is about a 20-minute drive. When considering relocating to Asheville, many people look at homes in Arden as it is largely residential.
For more cities near Asheville, Fletcher is similar to Arden and has one of our favorite wineries, Souther Williams.
8. Brevard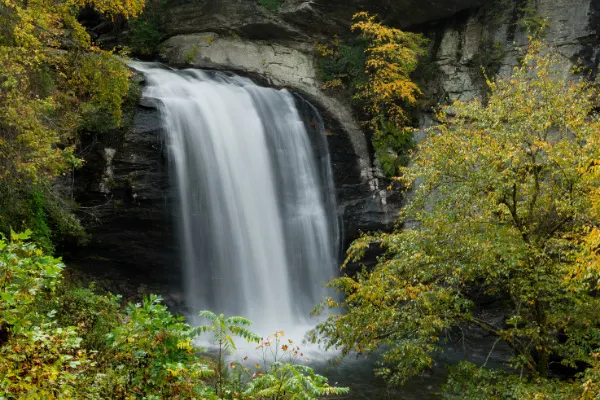 What is one of the best cities near Asheville for waterfalls? Brevard sits in Transylvania County, literally known as the "land of the waterfalls."
And, it's no secret that the Pisgah National Forest is filled with fantastic waterfall hikes of varying lengths and difficulty levels.
Just a few waterfalls and hikes near Brevard worth a visit include Moore Cove Falls, Daniel Ridge Loop, Looking Glass Falls, and Sliding Rock.
In the summer, visitors and locals flock to Sliding Rock to slide down the 60-foot, natural waterfall slide into a chilly pool of water.
Looking Glass Falls is a popular roadside waterfall that freezes in the winter, and Daniel Ridge promises challenging mountain biking trails.
After a day of Asheville hiking, head to Downtown Brevard for food and beer. Brevard has fun brewery options, too, like Ecusta and Oskar Blues.
Asheville to Brevard is about a 45-minute drive.
Visitor Center – Brevard and Transylvania County | 175 E Main St. Brevard 28712
9. Flat Rock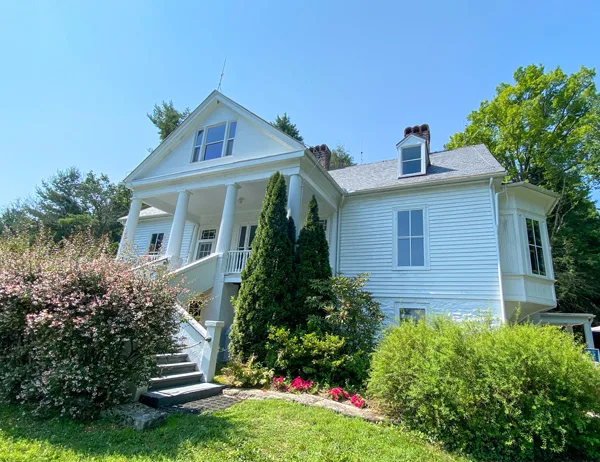 One of the best small towns near Asheville – well, technically a village with a population under 3,400 people as of 2020 – Flat Rock is home to history, apples, and hiking.
Asheville to Flat Rock is about a 40-minute drive, and Flat Rock and Hendersonville pair well together while you are in the area.
Along with delicious local restaurants like Boon Choo for Thai food and BBQ at Hubba Hubba Smokehouse, Flat Rock is known for the Flat Rock Playhouse and Carl Sandburg Home.
Flat Rock Playhouse showcases musicals, concerts, and plays. The Carl Sandburg Home is a fantastic spot for hiking, petting farm animals, and paying tribute to the area's literary history.
"The Poet of the People" and a famous NC writer, tour Sandburg's house or enjoy the grounds, including climbing Glassy Mountain Trail to an overlook.
While in Flat Rock, stop at Marked Tree Vineyard on a foggy day, which is eerily romantic. If it's autumn, apple pick and eat steaming cider donuts made in front of you at Sky Top Orchard.
Sky Top Orchard also has a bamboo forest, apple cannon, and hay rides.
Explore even more that you can do in Flat Rock, NC, including strolling The Park at Flat Rock and grabbing coffee at ShareWell.
10. Cherokee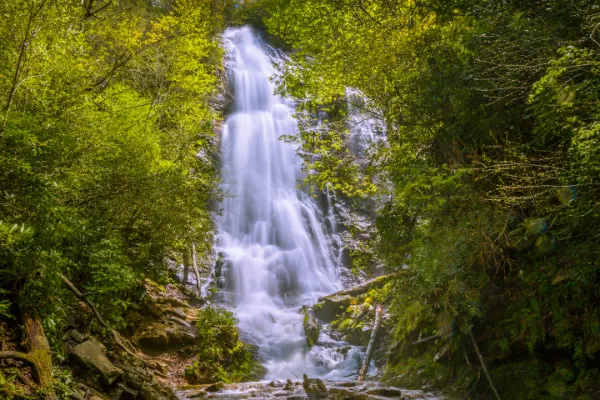 For towns around Asheville that emphasize WNC's Indigenous history, culture, and lifestyle, head to Cherokee.
Asheville to Cherokee is just over an hour's drive, and Cherokee is also one of the fantastic access points to Great Smoky Mountain National Park.
Cherokee is home to the Eastern Band of Cherokee Indians, which is one of three federally recognized Cherokee tribes.
The Reservation, also known as the Qualla Boundary, holds 57,000 acres of land. The Qualla Boundary is kept in trust by the federal government and owned by the Eastern Band of Cherokee Indians.
While in Cherokee, visit the Museum of the Cherokee Indian or try your luck at Harrah's Cherokee Hotel and Casino.
Shop for woven baskets, beadwork, and pottery before heading into the Smokies.
On your way into the Smokies, climb the 160 steps to stunning Mingo Falls, and pop into the Oconaluftee Visitor Center to get your bearings.
At the Visitor Center, pick up the Oconaluftee River Trail, and walk around the free Mountain Farm Museum and Mingus Mill.
If you are lucky, you might see the elk – just remember to keep your distance; it's against the law to get too close.
Cherokee Welcome Center | 498 Tsali Blvd, Cherokee, NC 28719
11. Mills River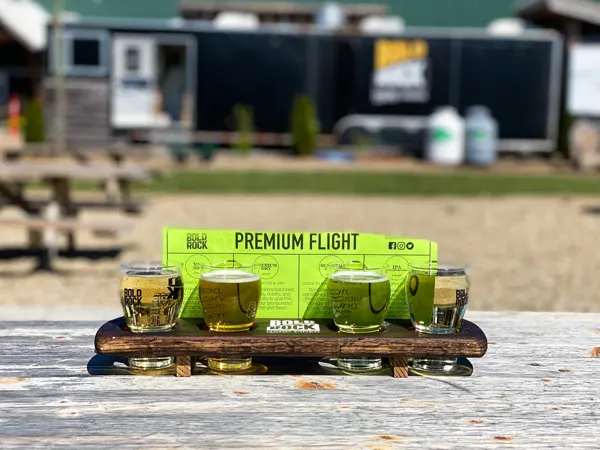 One of the most overlooked towns near Asheville, Mills River is close to the Asheville Regional Airport in Fletcher.
Asheville to Mills River is about a 25-minute drive.
While not the largest tourist destination, Mills River is a popular place to live and is most well-known for its cidery and breweries.
Sierra Nevada has a massive brewing facility in nearby Fletcher, which you can tour. We like to drop in here with hungry airport guests and try all of their beer while gorging on duck fries.
Just down the road, Bold Rock is equally famous as one of the best cideries and has the most unique cider flavors.
With large indoor and outdoor spaces, grab a flight and food from their on-site food truck.
Across the street, find Mills River Brewing – a more local brewery with camping vibes and food.
We tend to stop in Mills River as a midpoint while driving between the Pisgah National Forest, Brevard, and Asheville.
12. Chimney Rock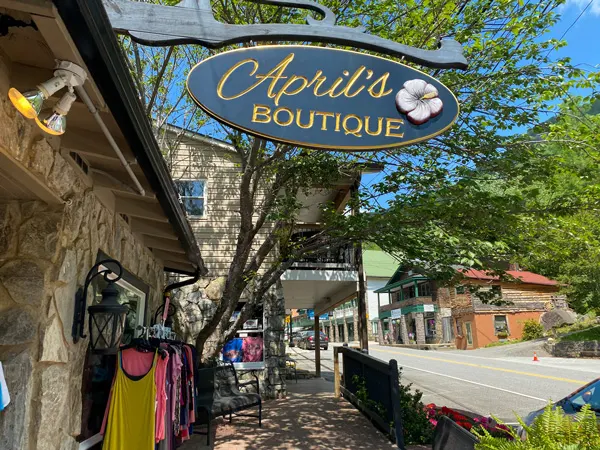 Another one of the famous villages and small towns near Asheville, Chimney Rock lands on every Asheville bucket list of the best things to do.
Chimney Rock State Park is home to a 535-million-year-old monolith that sits 2,200 feet above sea level.
Visitors may hike or take an elevator to the rocks. At the top, soak in the 75-mile view – if it's a sunny day – getting a bird's eye view of Lake Lure.
Then, hike one of the park's numerous trails.
Hickory Nut Falls is an easier waterfall hike, and Chimney Rock – as a whole – is a family-friendly hiking spot.
There are admission fees to enter Chimney Rock State Park, and winter is the best time to visit to avoid crowds.
On your way out, explore Chimney Rock Village. Walk the short but picturesque Rocky Broad Riverwalk.
Grab lunch – with gluten-free buns – at Old Rock Cafe. For ice cream treats, dip into the Village Scoop.
For boozy travelers, Hickory Nut Gorge Brewery offers local brews along the river and Burntshirt has a wine taproom.
Nearby in Gerton, hike Wildcat Rock Trail and Little Bearwallow Falls.
Asheville to Chimney Rock is about 45 to 50 minutes, and if you are hoping to explore multiple towns around Asheville, visit Chimney Rock and Lake Lure together.
Never Miss Another Asheville Update
---
Tired of generic Asheville travel itineraries? Experience Asheville like a local with our free Asheville Favorites checklist, including restaurants, breweries, and hiking. Plus, get local updates – including events and hidden gems – straight to your inbox. Sign up here.
13. Lincolnton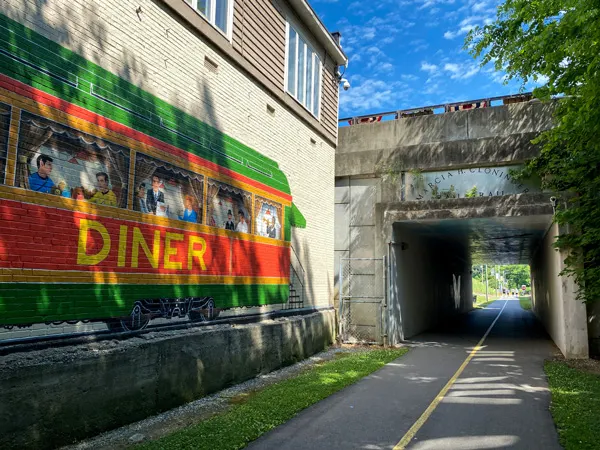 Lincolnton is one of those cities near Asheville that we just happened to wander into and now love. And, not too many tourists head into Lincolnton.
The perfect stop if you want to grab food on your way to or from Charlotte Douglas International Airport, Lincolnton is east of Asheville and slightly north of Charlotte.
Asheville to Lincolnton is about a 1 hour and 45-minute drive – also making it one of the furthest cities on this list.
Why should you visit?
Stop in Lincolnton for the cafes, bookstores, woodfire pizza, and a walkable downtown filled with old school murals. Get lost in North State Books.
Walk the gorgeously done Lincolnton Rail-Trail, and drop into Southern Charm Winery for a tasting.
BrickTree Brewing is a must, and if you enjoy driving through more rural areas, head over to Baker Buffalo Creek Vineyard & Winery in Lawndale – complete with a tasting flight in milk bottles.
14. Waynesville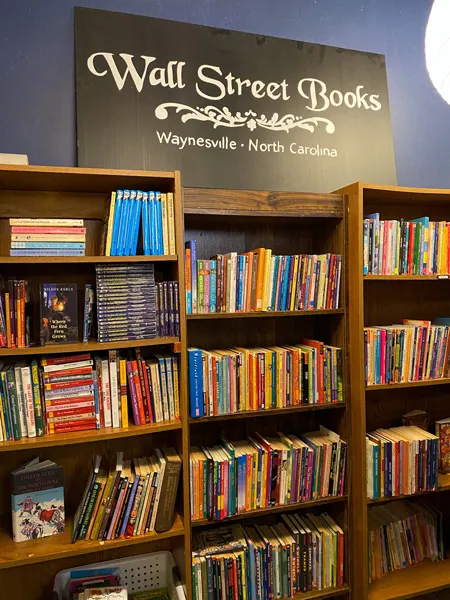 Asheville to Waynesville is about a 45-minute drive, and if you are starting at Lake Junaluska, Asheville to Lake Junaluska is an easy 30 minutes.
Waynesville makes for a fabulous stop after walking Lake Junaluska's perimeter trail and is one of the best towns near Asheville that our readers love.
Like many of the other (mostly) Western North Carolina towns on this list, Waynesville promises a unique downtown filled with beer, food, and shops. It's also a great place to live.
Plus, every Southern town needs a Mast General Store, and Wall Street Books is a great stop for used books.
Since we love uncorking (and untapping), Boojum Brewery is a must – you'll find their beer served across Asheville's taprooms, and Boojum serves stellar food.
Waynesville is also home to the Haywood Arts Regional Theater, and you certainly won't find a shortage of antique shops.
Or, if you love roller skating to music at an indoor rink, pop into Smoky Mountain Sk8way. Rent skates or bring your own. They also have a mini-golf course, comfort snacks, and inflatables.
Along with Lake Junaluska, visit Maggie Valley while here – another one of the most charming small towns near Asheville.
The Visit Smokies website will get you started in Haywood County, covering Lake Junaluska, Canton, and Maggie Valley.
15. Tryon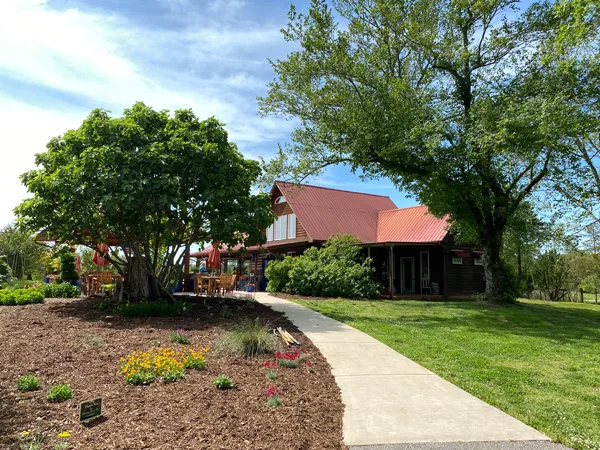 Head to Polk County for one of the lesser-visited towns near Asheville, Tryon.
Tyron is known for its equestrian culture, wineries, Christmas festival, Pearson Falls, and shops.
Tryon International Equestrian Center hosts numerous horse events and competitions.
Around Christmastime in Asheville, head to Tryon for Winterfest with Shadrack's Christmas Wonderland and a drive-thru light show.
We are, of course, impartial to the Tryon Foothills wineries like Parker-Binns and Overmountain Vineyards. Mountain Brook and Russian Chapel Hills are close by too.
Parker-Binns even has a delicious Burger Barn and Airbnb property for rent. You'll see black vans escorting endless groups around to taste all of that delicious wine.
Catch a movie at the indie theater, Tryon Theatre, and shop downtown for used books and local art.
Saluda – another one of the small cities near Asheville worth a trip – is only 15 minutes away. Asheville to Tryon is just under a one-hour drive.
16. Maggie Valley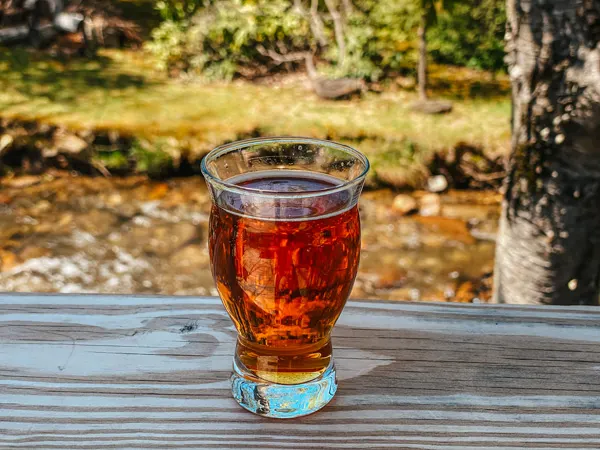 Another one of those Smoky Mountain towns near Asheville, Asheville to Maggie Valley is about a 45-minute drive.
Maggie Valley is most well-known for being close to the Smokies, its craft shops, winter skiing, and Soco Falls.
A family-resort town with old-school vibes, relish in rustic mountain charm.
Driving through the town, spot funky vintage motels. Drop into Wheels Through Time, a car and motorcycle museum.
Or, enjoy the short hike to Soco Falls. Soco Falls is a double waterfall, bordering the Eastern Band of Cherokee Indians Reservation.
Many people head out this way in the winter for the Cataloochee Ski Area – home to skiing, snowboarding, and tubing.
BearWaters Brewing has a creekside location in Maggie Valley, serving up local brews and food along a babbling brook.
Read our complete guide to Maggie Valley.
Haywood County Visitor Center | 1110 Soco Rd, Maggie Valley, NC 28751
17. Burnsville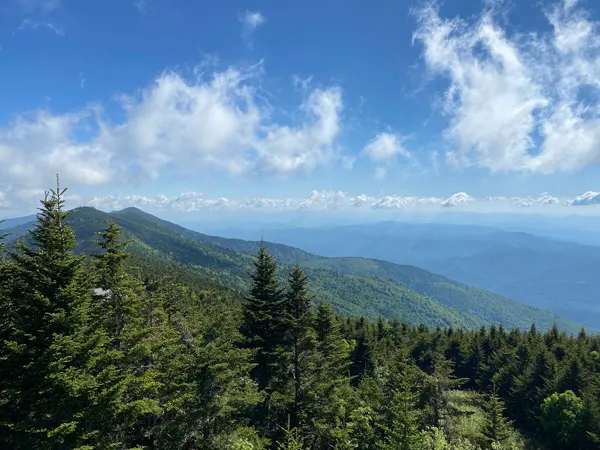 Have you heard of Mount Mitchell? Chances are, the answer is yes!
One of the most popular towns around Asheville, Burnsville has just over 2,000 residents as of 2020 and is home to Mount Mitchell State Park.
Mount Mitchell is the highest point east of the Mississippi River at 6,684 feet. Mount Mitchell State Park is free and filled with hiking trails.
It's also a great hiking stop along the NC's Blue Ridge Parkway.
On your way to or from Mount Mitchell, find Craggy Gardens, Craggy Pinnacle, and the Little Butt/Big Butt hikes.
Burnsville is also considered a wonderful place to live for its gorgeous Blue Ridge Mountain views, friendly residents, and mild climate.
Find a walkable downtown area with cafes, indie shops, murals, and art galleries.
Asheville to Burnsville is about a 40-minute drive.
18. Marshall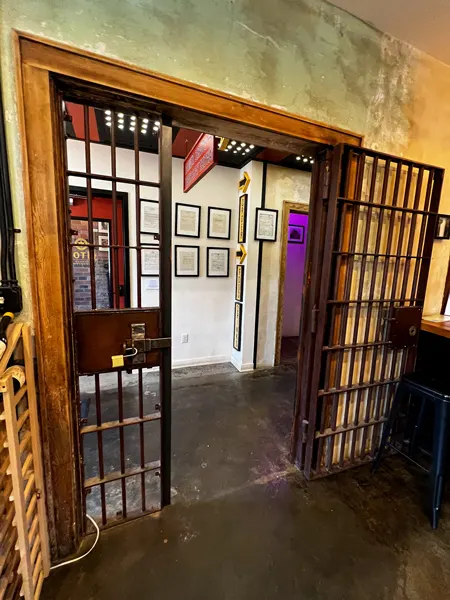 One of our favorite lesser-trafficked small towns near Asheville includes Marshall, North Carolina – with a population of fewer than 800 people.
Asheville to Marshall is only a 30-minute drive, and Marshall sits just past Weaverville but before Hot Springs.
This chill town is full of quirks and kitschy cafes and restaurants. While many of the older buildings are quite run down, charm and friendly smiles hide in every corner.
Shop for used books at French Broad Exchange or dip into the witchy metaphysical shop, Of Wand & Earth; have your tarot read.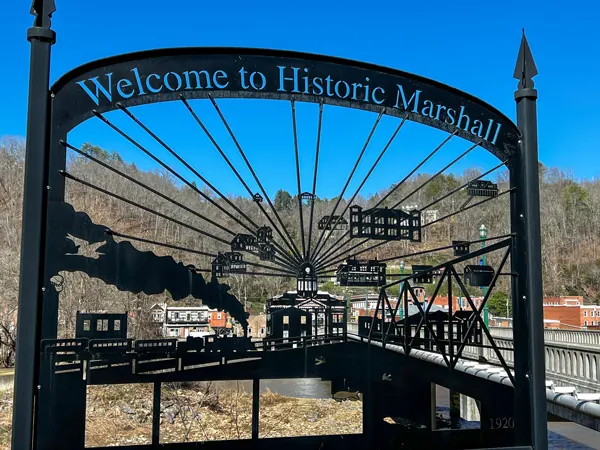 Grab beer and pizza at Mad Co. Brew House, and cross the bridge to Blannahassett Island when there is an arts and crafts market.
Spy historic landmarks like the Madison County Courthouse and former Marshall Jail, which is now a hotel and bar.
For nearby hiking, head to the Laurel River Trail along Big Laurel Creek, a flat and easy out and back perfect for families and pets.
Attend the Mermaid Parade and Festival in June or the 4th of July fireworks.
Madison County Visitor Center | 56 S Main St, Mars Hill, NC 28754
More Large & Small Towns Near Asheville To Visit
Sylva
Blowing Rock
Montreat
Morganton
Cashiers
Little Switzerland
Boone
Gatlinburg, TN
Old Fort
Knoxville, TN
Greenville, SC
Save The Best Cities Near Asheville For Later: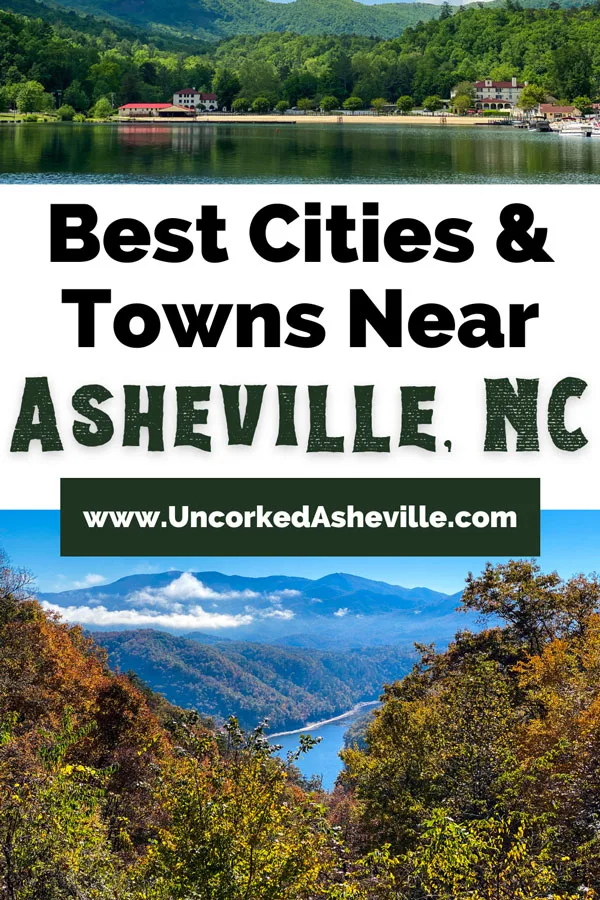 Where To Stay In Asheville
Explore the best places to stay in Asheville. A few of our top suggestions:
Aloft – Downtown Asheville – Centrally located and recently renovated, enjoy a rooftop pool, a gorgeous bar, and trendy rooms.

The Omni Grove Park Inn – Treat yourself to a luxury resort in North Asheville, complete with breathtaking sunsets, terrace bars and dining, and loads of Asheville history.

Hampton Inn And Suites Asheville Biltmore Area – A budget-friendly but renovated hotel on busier Brevard Road that's perfect if you wish to stay between Biltmore Estate, Downtown Asheville, and the Blue Ridge Parkway.

Asheville Cottages – Gorgeous 1 to 3-bedroom cottages with a private deck, housing a grill and hot tub. Find luxurious heated-floor bathrooms with rain showers, a well-stocked kitchen, and the cleanest rooms in town.

Foundry Hotel – An oasis in Downtown Asheville, Foundry Hotel is a nod to AVL's industrial history. Find famous restaurant Benne on Eagle while sleeping ensconced in charm and elegance.

Country Inn & Suites by Radisson, Asheville Westgate, NC – Located off of the highway as you enter AVL, find a sleek and clean hotel at a great price.

Black Walnut B&B Inn – Designed by Biltmore's supervising architect, Richard Sharp-Smith, this 1899 inn is close to Downtown AVL and serves afternoon tea. Two rooms are pet-friendly.
Don't miss out on these Asheville properties on Booking.com, too.
What are your favorite towns around Asheville?
Which small towns near Asheville do you frequent and love? Are there any on your bucket list? Let us know in the comments!
All Nearby Travel Guides
Black Mountain
Hendersonville
Hot Springs
Marshall
Old Fort
Weaverville
More Guides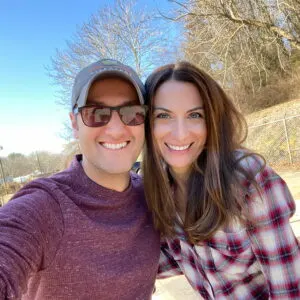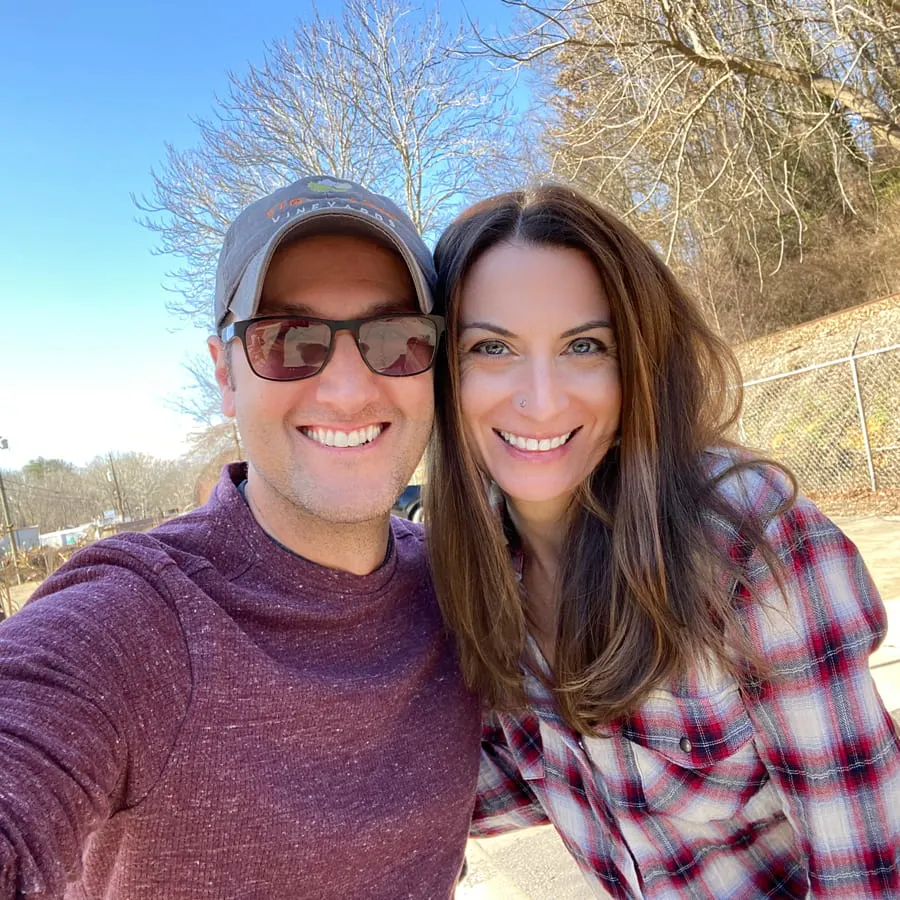 Christine (pronouns: she/her) is the owner and lead writer of Uncorked Asheville. After falling in love with those gorgeous Blue Ridge Mountains, Christine and her husband Tom decided to call Asheville, North Carolina their home. When her pointy Italian nose isn't stuck in a book, Christine is adopting all of the kitties, getting lost in the forest, and drinking an ESB.
Christine has a BA in English and History from Smith College, her MLIS from USF-Tampa, and is a former U.S. Fulbright Scholar - Indonesia. She also owns The Uncorked Librarian LLC with books and movies to inspire travel.