Discover the best time to see fall colors in Asheville, NC as well as across Western North Carolina – from locals.
Are you hoping to catch peak leaf season in Asheville?
As residents, we know how testy the fall foliage can be. All it takes is one unseasonably warm week to offset the changing leaves. This can be devastating when you only have a week or even a weekend planned in the Blue Ridge Mountains.
Below, find our Asheville fall color forecast based on years of living here.
See when to catch the best fall foliage in Asheville as well as its surrounding mountain towns, starting in the highest elevations and usually ending in the city proper by early November.
Grab top hiking and Blue Ridge Parkway tips, the best things to do, and more. We are major leaf chasers.
You will find us hitting the trails, taking photos at scenic overlooks, and apple picking at the local orchards. All photos below are our own. Let's get started!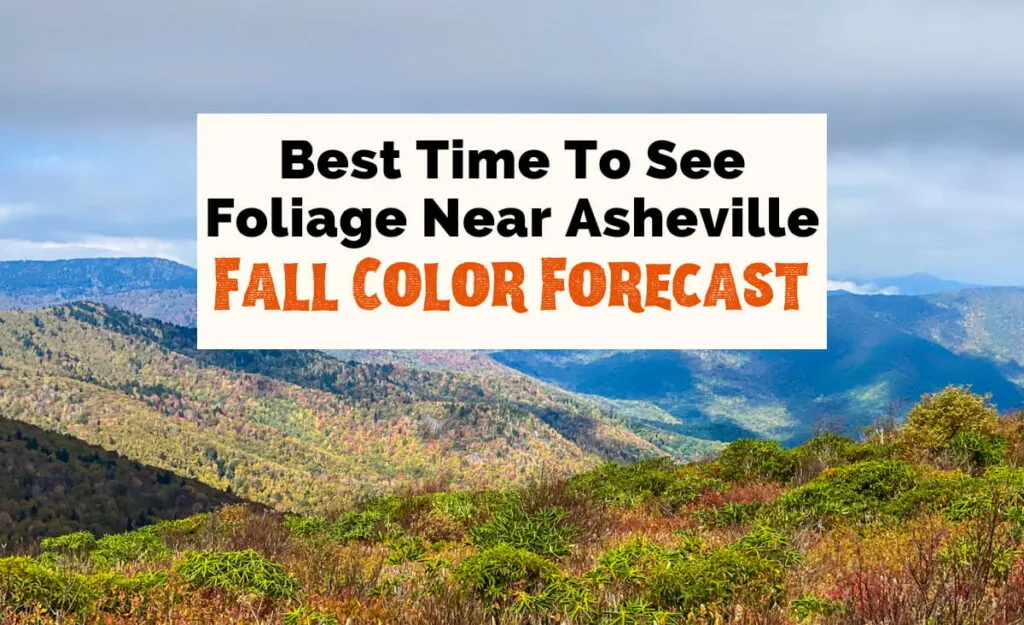 This post may contain affiliate links that earn us a commission at no extra cost to you. If you love these guides, support Uncorked Asheville here.
Asheville Fall Foliage: Top Things To Know
While we will share our full Asheville fall color forecast below, if you are in a hurry, these four most frequently asked questions will help get you started with your fall planning.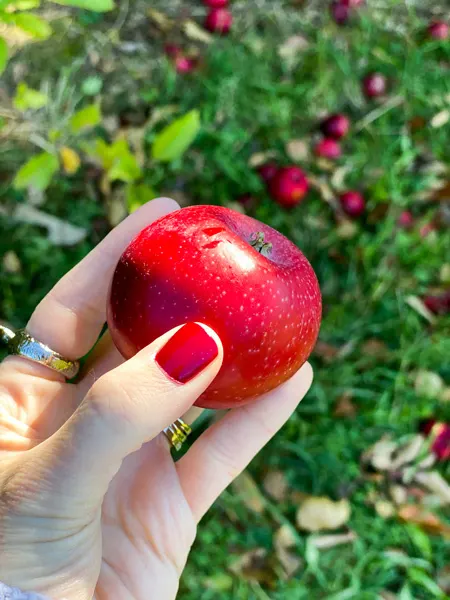 When can you see fall colors in Asheville?
In late September, the North Carolina mountains start to see changing colors, especially in higher elevations like Graveyard Fields. With cooler temperatures, early October is typically a great time to see the most fall foliage in the Asheville area. Early to mid-November marks the end of leaf season.
Is October a good time to visit Asheville?
October is the perfect time to visit Asheville and one of our favorite months as residents. Find ideal weather conditions with dry, warm days and cool nights filled with bright sunsets. Plus, there is plenty to do with terrific fall festivals. Stroll pumpkin patches and pick apples while stocking up on cider donuts.
Is Asheville pretty in the fall?
Yes; Asheville is breathtaking in October. As New England natives, we were shocked by the intensity of fall color you'll see in the NC mountains, especially along the Blue Ridge Parkway. If you are planning a trip to Asheville, we highly recommend visiting in the fall to see the color change across the area.
What popular guided tours can I take?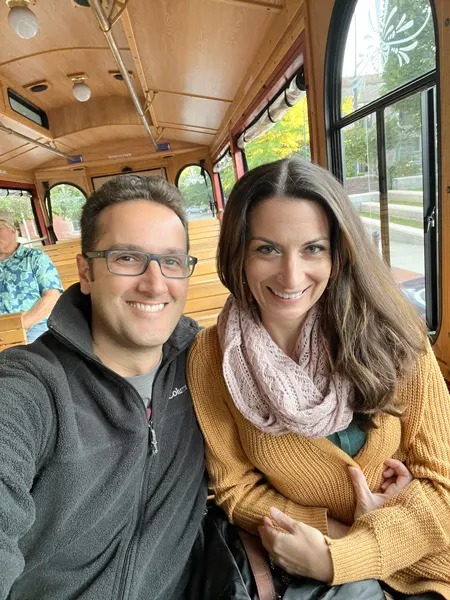 If you are visiting Asheville for a short time and prefer guided tours for all things ghosts and fall foliage, try these three popular tours around the Blue Ridge Mountains:
If you are staying in Downtown Asheville, we also love and recommend LaZoom's Ghosted Tour or the Gray Line Trolley Ghost Tour.
5 Best Places To See Fall Foliage In Asheville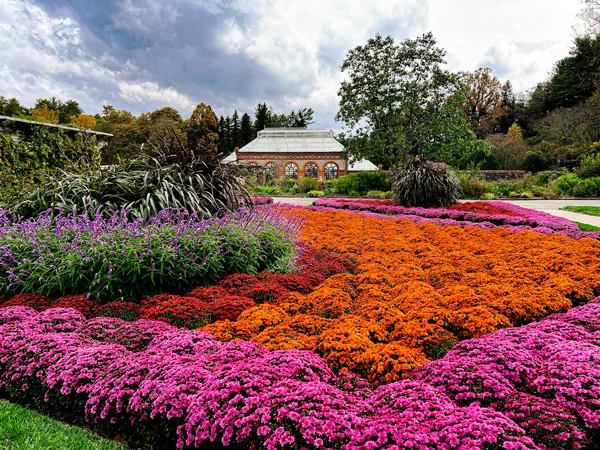 As locals, we always have a few "must" spots where we go to catch the peak fall foliage near Asheville. The Blue Ridge Parkway is a given. A few of our favorite trails and areas:
Black Balsam via the Art Loeb Trail – Dip over to Sam Knob, too
Graveyard Fields and Loop – Chase those waterfalls; just know that this area gets quite busy and is a bit confusing for hiking
Craggy Gardens and Craggy Pinnacle – With one of our favorite picnic areas, hike both Craggy Gardens and Craggy Pinnacle while stopping at the Visitor Center for that scenic overlook
The North Carolina Arboretum – As annual members, this is a great area to catch local Asheville fall colors without the crowds; plus, it's close to the city with nearby mountain biking trails
Biltmore Estate – As annual passholders, we love hiking Biltmore's trails to the Walled Garden filled with its final fall blooms of the season
Best Time To See Fall Colors In Asheville By Elevation/Location
While no one can completely predict Mother Nature, visitors can usually catch peak fall foliage in Asheville from late September through October. Asheville's fall colors last for around 5-6 weeks total every year.
Below, find a rough estimate of the Asheville Fall Color Forecast based on the previous years. Please remember that we are not meteorologists; these predictions are from our personal experiences living here.
Appalachian State University's Biology Department in Boone, NC also has a great fall color map with predicted fall colors by date and area.
Last week of September into October
Start with those higher-elevation hikes around the last week of September into the first week of October. Aim for areas around 5,000 to 6,000+ feet.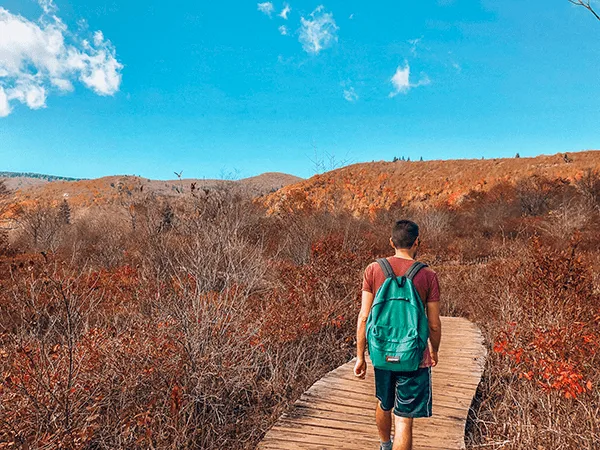 Around the end of September, we recommend top Blue Ridge Parkway fall foliage hikes and waterfalls including:
Graveyard Fields and Loop
Black Balsam, Art Loeb, Sam Knob (more into October)
Rough Ridge
These are, by far, some of the most vibrant colors and our favorite trails for leaf chasers. They are also the most memorable.
First weeks of October
The first and second weeks of October are another great time for those popular and scenic Blue Ridge Parkway hikes. Typically, we'll begin to see color change around 4,000 to 5,000+ feet.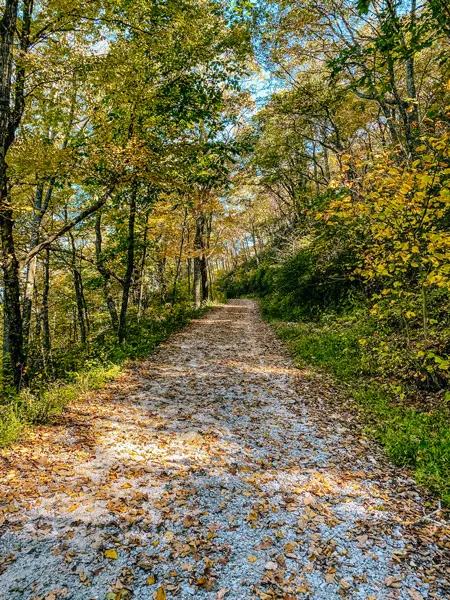 A few popular places to catch peak fall foliage near Asheville in October:
Grandfather Mountain
Max Patch (please remember that camping is on hold at Max Patch)
Beech Mountain
Waterrock Knob
Roan Mountain
Great Smoky Mountains National Park (along the ridges)
Craggy Gardens
Bearwallow Mountain
Trombatore Trails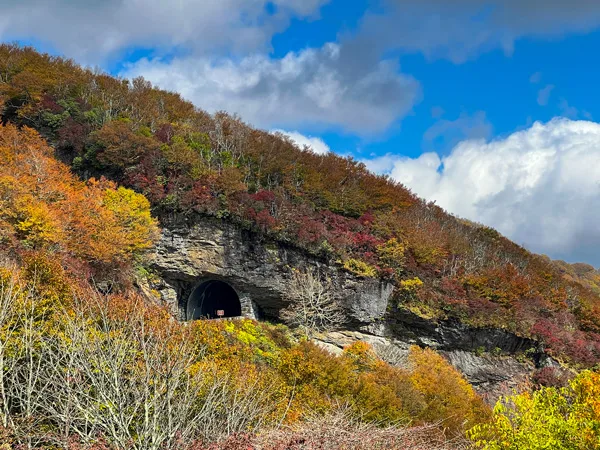 For stunning 360-degree panoramic views:
Craggy Pinnacle
Mount Pisgah
Mount Mitchell State Park
Fryingpan Mountain Tower
This is when the Pisgah Inn near Mt. Pisgah tends to fill up and the area becomes heavily trafficked.
It is also a great time to take a day trip from Asheville to popular WNC mountain towns like Waynesville, Lake Junaluska, and Cashiers.
We have many individual hiking guides for each of these trails (just use the search bar). Or, peruse our master Asheville hiking list here with trails we frequent as locals.
Mid-October
Around the third week of October, keep an eye on the Asheville fall foliage at around 3,000 to 4,000 feet.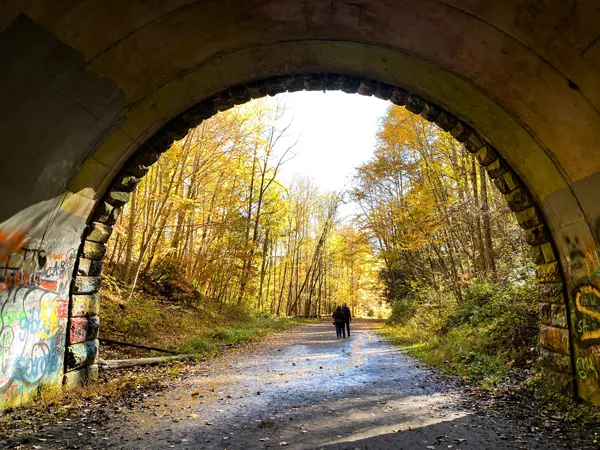 For peak fall foliage in late October in the NC mountains, head to:
Little Switzerland
Pisgah National Forest
Linville Gorge
Maggie Valley
Cherokee
Brevard
Banner Elk
Bryson City
This is a great time to chase waterfalls, including:
Looking Glass Falls
Moore Cove Falls
Daniel Ridge Falls
End of October
By the end of October, you'll want to explore the area's lowest elevations, around 2,000 to 3,000 feet. This is the best time to see fall colors in Asheville (city proper).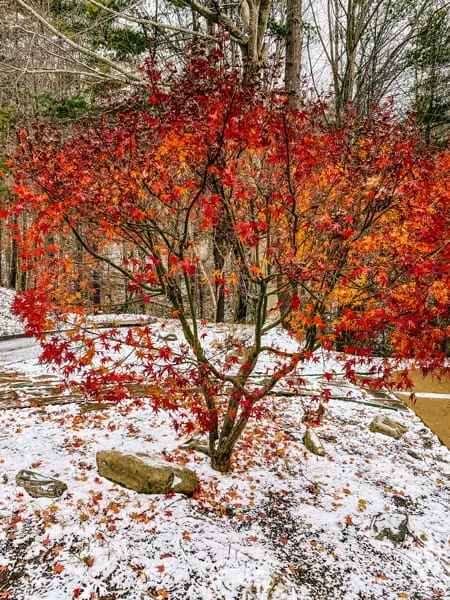 Best peak fall foliage in Asheville spots:
Read more about all of Asheville's parks and gardens. Walk the RAD Riverwalk, and rollerskate in Carrier Park too.
Beginning of November
Lastly, while Asheville is still ending its fall color season, head to the lower elevations around 1,000 to 2,000 feet.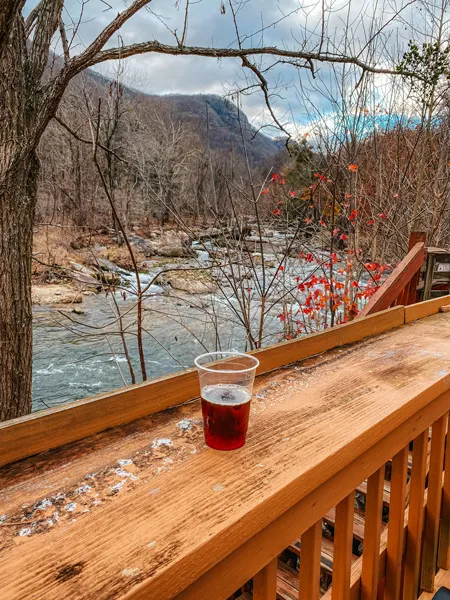 The last places to see foliage in Western North Carolina include:
Chimney Rock State Park
Lake Lure
Tryon Foothills
Marion
Rutherfordton
Lake James
Never Miss Another Asheville Update
---
Tired of generic Asheville travel itineraries? Experience Asheville like a local with our free Asheville Favorites checklist, including restaurants, breweries, and hiking. Plus, get local updates – including events and hidden gems – straight to your inbox. Sign up here.
Top 10 Tips For Spying Fall Foliage In Asheville
As locals, we've lived through many Blue Ridge Mountain falls. Trust us; it gets busy here. However, if you time it right and wake up early, you can have a great, stress-free time seeing the fall colors in Asheville.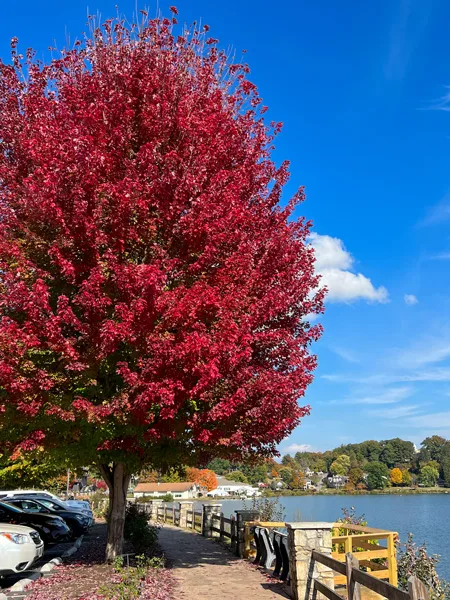 Our top 10 tips for enjoying the Asheville fall foliage:
Book all of your Asheville fall accommodations as early as possible. The end of September through October in Asheville is our busiest tourist season. Also, be sure to make advanced dining reservations at Asheville's top restaurants.


Weekends and later in the day are the busiest times for exploring. When at all possible, head out early in the morning and on weekdays.


Waterfall hikes are the most popular along with visiting apple orchards, especially on the weekends. Many hikes have limited parking that will fill up quickly. Have a backup plan, and read all signs around parking areas. Exert extreme caution around waterfalls.


Whether you are taking photographs or using navigation, make sure your camera and phone batteries are charged.


Not all hiking locations have restrooms. Places with restrooms might only have simple, pit toilets. Pack extra tissues, wipes, and hand sanitizer.


If you pack food, be prepared to take your trash with you. Please consider the wildlife as you dispose of your trash. The Western North Carolina mountains are filled with black bears. Don't overflow bins. Keep dogs leashed. Leave no trace.


Cellular service comes and goes in the mountains. Have offline maps saved for driving directions as well as a picture of your trail maps. We hike with this Garmin.


Not all trails are clearly marked. It is easy to get lost, especially with fallen leaves obscuring marked paths. Hike with proper hiking supplies. Wear layers, bring extra food and water, and have an emergency kit. Let others know where you will be hiking and how long you will be gone.


The Blue Ridge Parkway grows extremely busy around the fall in Asheville. You'll see some terrible driving, people in areas on the road where they shouldn't be, and wildlife. Drive with caution, and stay alert. Allow extra time to get to your destination. Please do not stop dead in the middle of the BRP.


Pay attention to the weather and know that the fog rolls in and out of the mountains. Expect cooler temperatures in the mountains. The BRP is icy in November. Check with the National Park Service for road and gate closures along the Blue Ridge Parkway. Gates will close for the weather as winter approaches.
Of course, stay safe and have fun!
More Guides For Fall Planning In The Blue Ridge Mountains
For all of your Asheville fall foliage planning, be sure to check out all of our top autumn guides across WNC.
Along with with festival, orchard, and activities guides mentioned above, we also recommend reading about:
Where To Stay In Asheville
Explore the best places to stay in Asheville. A few of our top suggestions:
Aloft – Downtown Asheville – Centrally located and recently renovated, enjoy a rooftop pool, a gorgeous bar, and trendy rooms.

The Omni Grove Park Inn – Treat yourself to a luxury resort in North Asheville, complete with breathtaking sunsets, terrace bars and dining, and loads of Asheville history.

Hampton Inn And Suites Asheville Biltmore Area – A budget-friendly but renovated hotel on busier Brevard Road that's perfect if you wish to stay between Biltmore Estate, Downtown Asheville, and the Blue Ridge Parkway.

Asheville Cottages – Gorgeous 1 to 3-bedroom cottages with a private deck, housing a grill and hot tub. Find luxurious heated-floor bathrooms with rain showers, a well-stocked kitchen, and the cleanest rooms in town.

Foundry Hotel – An oasis in Downtown Asheville, Foundry Hotel is a nod to AVL's industrial history. Find famous restaurant Benne on Eagle while sleeping ensconced in charm and elegance.

Country Inn & Suites by Radisson, Asheville Westgate, NC – Located off of the highway as you enter AVL, find a sleek and clean hotel at a great price.

Black Walnut B&B Inn – Designed by Biltmore's supervising architect, Richard Sharp-Smith, this 1899 inn is close to Downtown AVL and serves afternoon tea. Two rooms are pet-friendly.
Don't miss out on these Asheville properties on Booking.com, too.
Plan ahead and save this article: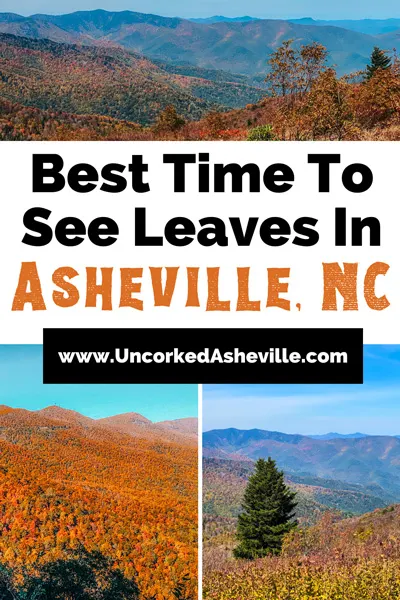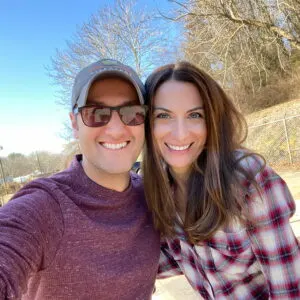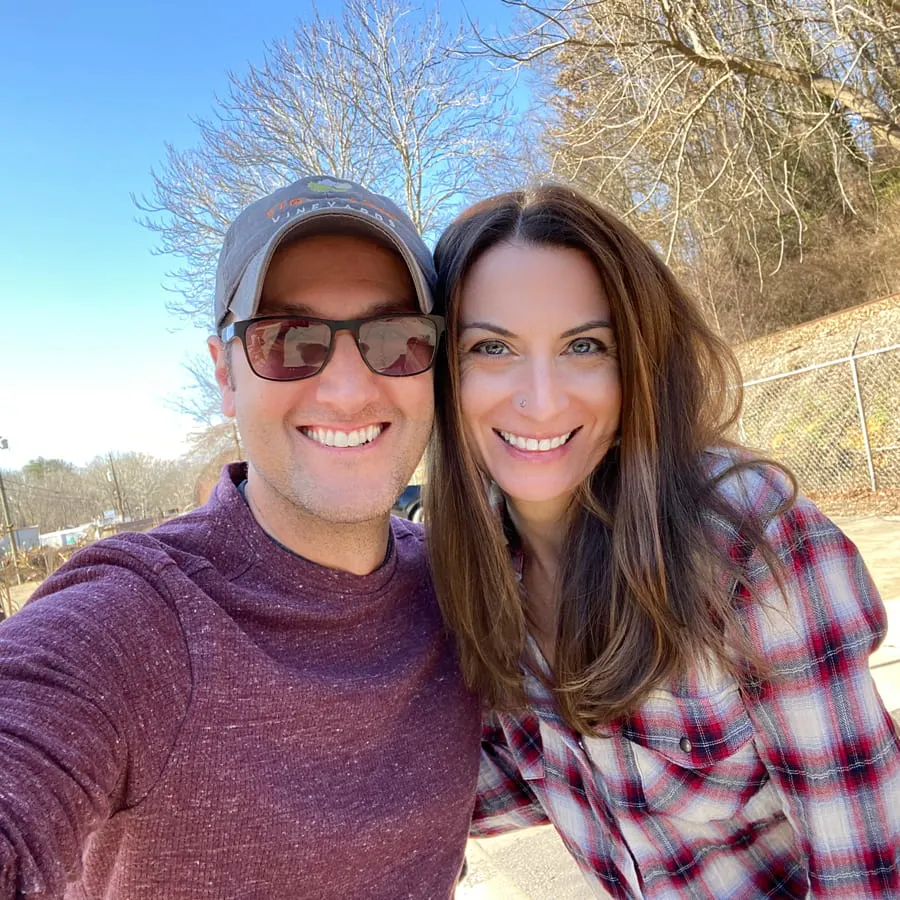 Christine (pronouns: she/her) is the owner and lead writer of Uncorked Asheville. After falling in love with those gorgeous Blue Ridge Mountains, Christine and her husband Tom decided to call Asheville, North Carolina their home. When her pointy Italian nose isn't stuck in a book, Christine is adopting all of the kitties, getting lost in the forest, and drinking an ESB.
Christine has a BA in English and History from Smith College, her MLIS from USF-Tampa, and is a former U.S. Fulbright Scholar - Indonesia. She also owns The Uncorked Librarian LLC with books and movies to inspire travel.