Trying to find an Asheville wine bar in the sea of beer? It's possible! Don't miss these delicious wine bars in Asheville, NC – from locals.
Known as Foodtopia, Asheville, North Carolina is pretty famous for its beer and restaurant scene.
Heck, it feels like there is a brewery on every corner. Honestly, there pretty much is.
For wine lovers, though, the Asheville wine bar scene has your back too. While not as plentiful as the craft breweries, the wine bars are gorgeous and situated in the best locations.
Head to the River Arts District for 12 Bones BBQ, stopping for a flight at pleb urban winery or a glass of wine the size of your face at Bottle Riot.
Spy vibrant murals while sipping an eclectic blend in these romantically urban locations.
Then, head to Downtown Asheville. Did you know that one of the most famous wine bars in Asheville sits inside of a used bookstore at Grove Arcade?
Battery Park Book Exchange is famous for its champagne bar and literary cocktails. Buy used books too!
Or, tour gorgeous nature photography with wine from around the world at Walls Wine Bar.
Plus, throughout Western North Carolina (WNC), visitors and locals can tour endless wineries and vineyards. Some of these establishments even have Downtown tasting rooms like Marked Tree Vineyard.
So, what are the best wine bars in Asheville? Which Asheville wine bar is right for you?
As locals, we are sharing where to drink wine in Asheville. Let's get started!
Read more about Asheville's beautiful wineries and vineyards.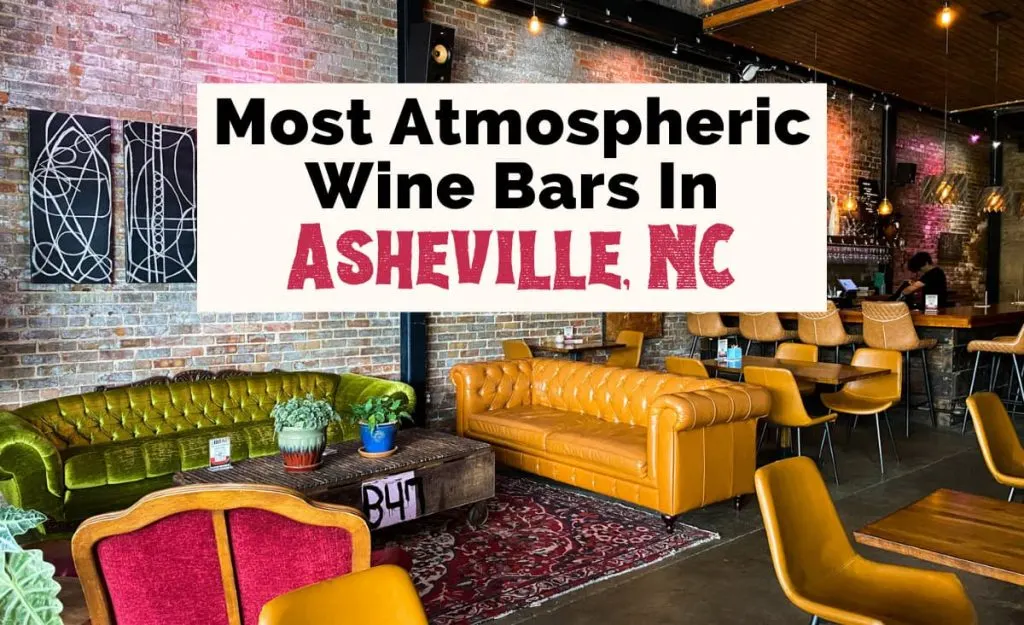 This post may contain affiliate links that earn us a commission at no extra cost to you. If you love these guides, support Uncorked Asheville here.
See our Top Places To Stay in Asheville.

Don't miss out on these Asheville properties on Booking.com, too.
11 Best Wine Bars In Asheville
1. 5 Walnut Wine Bar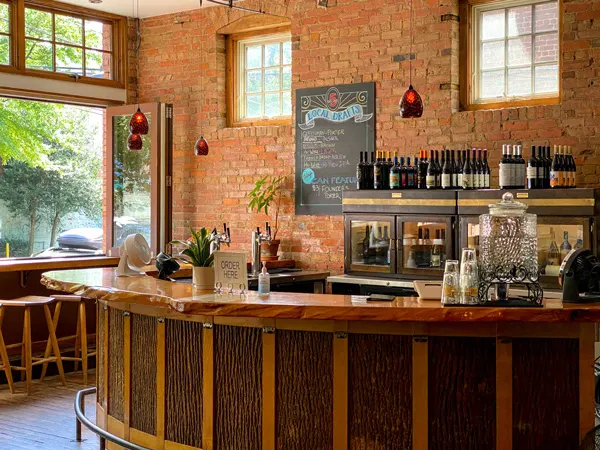 Our go-to Downtown Asheville wine bar, taste your way through an eclectic list of wines in a comfy, rustic, and pastel establishment.
Be sure to check out the specials on the wall, including $5 glasses of wine.
Grab cheese and small bites next door at 5 Walnut Cheese Bar. During the weekday, we appreciate their quieter ambiance.
All of the seating in 5 Walnut Wine Bar is indoors, and when there is gorgeous weather, they'll open their massive windows so that you can people-watch.
If you are looking to grab a bite to eat, head over to some of the best Downtown Asheville restaurants like Bouchon, Strada/Social Lounge, and Limones.
For more nearby bars in Downtown Asheville, check out Crave Dessert Bar and Capella on 9.

5 Walnut Wine Bar | 5 W Walnut St, Asheville, NC 28801
2. Leo's House Of Thirst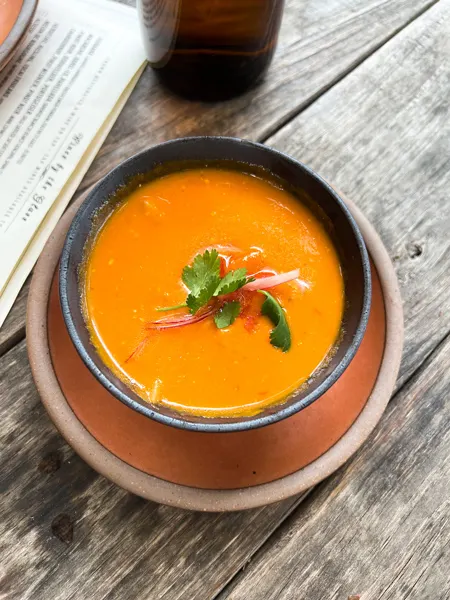 One of the newer Asheville wine bars (2020), Leo's House Of Thirst is fabulous for a "fancy" but simple dinner out paired with a unique wine selection.
Or, come for a chill Saturday brunch (Leo's is no longer open to the public on Sundays, but always double-check hours on their site).
Choose from a small wine glass list or an extensive bottle list. Find orange and pink wines as well as half-carafes.
While Leo's doesn't offer flights, you can request half-pours. They discount any bottles that you purchase for home.
For food, enjoy desserts, cheeses, handhelds, olives, and one of the best Asheville charcuterie boards. You might catch the smoker in use too.
We devour the cold and hot soups. Did someone say beets?
Of course, their menu changes frequently, and they can usually accommodate for gluten and lactose intolerances. GF crackers included (Tom has Celiacs).
Leo's House of Thirst boasts a beautiful outdoor wine garden with heaters, hanging lights, trees, and picnic tables. It's one of our favorite spots in Asheville.
Their smaller indoor space is intimate and sweet. Out back, enjoy the covered patio. There's no smoking here except by the parking lot entrance in a designated area.
Know that Leo's House of Thirst is also a pet-friendly wine bar in Asheville – but only in their garden area for leashed and well-behaved dogs.
Leo's does not take reservations. If tables are full when you arrive, they'll add you to a waitlist.
Parking gets a little tricky here since it is West Asheville, but their lot is located immediately behind the building. Please don't park in neighboring business lots – look for street parking, if their lot is full.
Check out all of West Asheville's great restaurants while you are here, including Thai Pearl, Gypsy Queen Cuisine, and Haywood Common.
The Odditorium is nearby if you are looking for more great bars with fun cocktails.

Leo's House Of Thirst | 1055 Haywood Rd, Asheville, NC 28806
3. Bottle Riot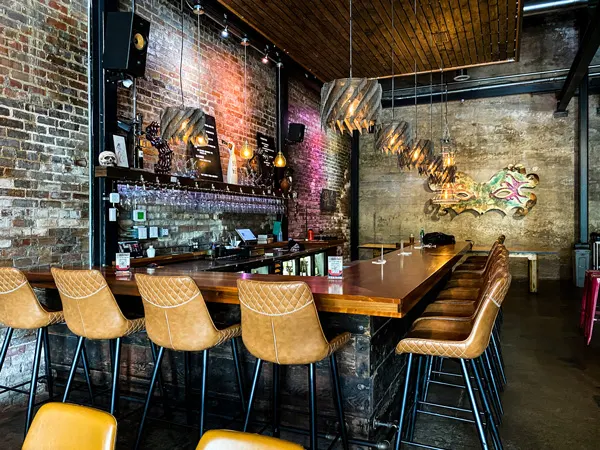 Head to the colorful River Arts District for the most atmospheric Asheville wine bar, Bottle Riot. Bottle Riot is your local neighborhood wine joint.
Bottle Riot features delicious wines by the glass and "baller" bottles for fancy spenders. Encounter wine glasses as big as your face, and order half pours to create your own wine tasting.
They also curate an eclectic list of red, orange, and white wines that rotate frequently. Purchase bottles to bring home at a retail discount price.
Newer to Bottle Riot, they added classic cocktails alongside an impressive international spirits list. Did we mention beer too?
Bottle Riot has a vibrant bar, spacious indoor seating, and two levels of outdoor patio seating. Plus, they share a free parking lot with Wedge Brewing Co. (Studios location).
Bottle Riot is another dog-friendly wine bar in Asheville, and they host weekly events and DJ music.
Next door, don't miss one of Asheville's most romantic restaurants, The Bull And Beggar. Read about even more romantic date night ideas.
Lastly, before or after visiting Bottle Riot, consider grabbing grub at RAD's stellar restaurants like RosaBees (Hawaiian), Baby Bull (burgers), or the Chop Shop Food Truck (meats).

Bottle Riot | 37 Paynes Way #009, Asheville, NC 28801
4. Battery Park Book Exchange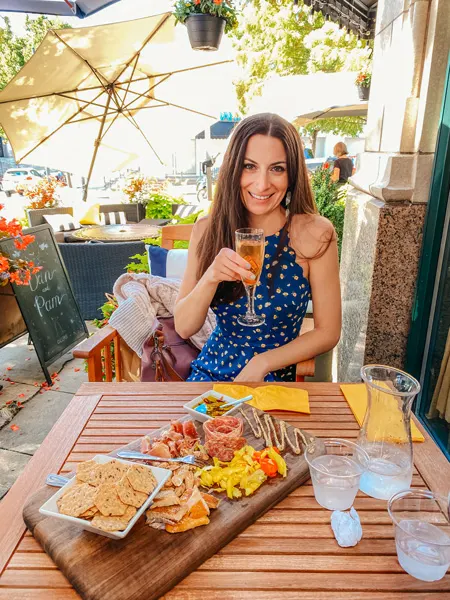 One of the most famous Downtown Asheville wine bars, you cannot skip Battery Park Book Exchange, especially if you love bookstores.
And, be sure to add Battery Park Book Exchange to your itinerary if you are a literary tourist. Think champagne, wine, and literary cocktails enveloped in used bookshelves.
Battery Park Book Exchange is one of the many reasons we moved to Asheville. Explore a massive wine list while finding your next great read.
Their charcuterie keeps getting better and better, and this is the perfect Sunday brunch tapas spot too.
Nearby, find Cultivated Cocktails – a fabulous Asheville distillery – and Hemingways, one of AVL's famous rooftop bars.
Battery Park Book Exchange | 1 Page Ave #101, Asheville, NC 28801
5. La Bodega by Cúrate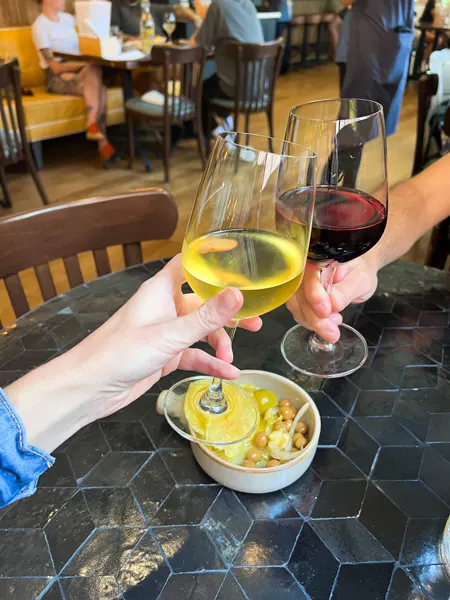 What's one of the best wine bars in Asheville in 2022? La Bodega by Cúrate, which is located on South Lexington Ave. in Downtown AVL.
Félix Meana and Chef Katie Button opened this Spanish wine bar, café, and specialty marketplace.
If their names sound familiar, it might be because they won the 2022 James Beard Award for outstanding hospitality for one of Asheville's most unforgettable restaurants, Cúrate.
La Bodega's prices are more affordable than Cúrate, especially since it isn't as fancy or fine dining as its counterpart. Enjoy an impressive and highly curated wine list without emptying your wallet.
La Bodega by Cúrate has upstairs table service and an even more casual downstairs café.
Open all day, along with wine, choose from Spanish tapas and lighter fare like olives, melons covered in meats and cheeses, and delicious brunch options including omelets and handhelds.
With an ever-changing seasonal menu, La Bodega also serves up charcuterie, dessert croissants, salads, burgers, and Spanish-inspired desserts.
La Bodega has gluten-free options and can usually accommodate food intolerances. It's also the most serene Asheville wine bar with its gorgeous brick walls and beamed ceilings.
For parking, use Biltmore Garage or pay lot across the street. Nearby, grab coffee at The Rhu.
La Bodega by Cúrate | 32 S Lexington Ave, Asheville, NC 28801
Never Miss Another Asheville Update
---
Tired of generic Asheville travel itineraries? Experience Asheville like a local with our free Asheville Favorites checklist, including restaurants, breweries, and hiking. Plus, get local updates – including events and hidden gems – straight to your inbox. Sign up here.
6. Cork & Keg Bar at Weinhaus
Weinhaus is the city's oldest operating beer and wine store, and inside, find another great wine bar in Asheville.
Family run, pull up a seat at their Cork and Keg Bar for live music, draft and bottled beers, and wine by both the glass and bottle.
Weinhaus is located in the heart of Downtown Asheville near Thirsty Monk – one of our favorite Asheville breweries – and Red Ginger and Jerusalem Garden Cafe, both terrific lunch spots.

Weinhaus Asheville | 86 Patton Ave, Asheville, NC 28801
7. Marked Tree Vineyard Tasting Room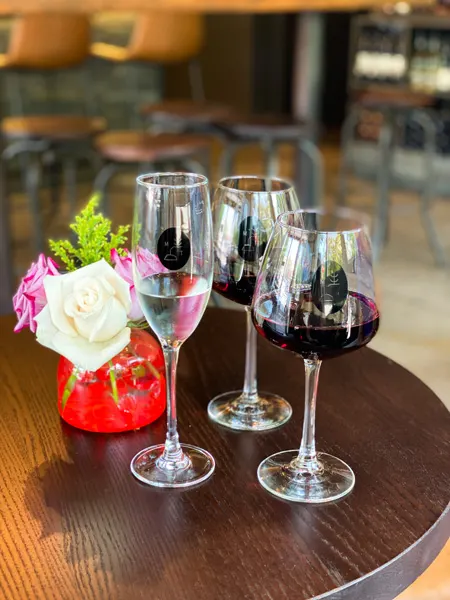 Situated in the former Rustic Grape and located behind the Aloft Hotel, enjoy an intimate atmosphere at Marked Tree.
For a wine bar in Asheville, the space may be tiny, but Marked Tree Vineyard wines are big in flavors. Sit at the high top or along the walls.
Select from Marked Tree's white and red wines. For years, we were wine club members.
If you have time, we highly suggest visiting Marked Tree's Flat Rock vineyards and tasting room too.
Located on a spooky hill during the fall fog, encounter old chimneys in a gorgeous treehouse-vibe tasting room.
We tend to lump Marked Tree in with the equally stellar Hendersonville wineries.
P.S. Look up as you enter Marked Tree's Asheville tasting room. You'll see Alex Irvine and Ian Wilkinson's Daydreamer mural.

Marked Tree Vineyard | 14 Aston St, Asheville, NC 28801
8. Wine Bar At Biltmore Winery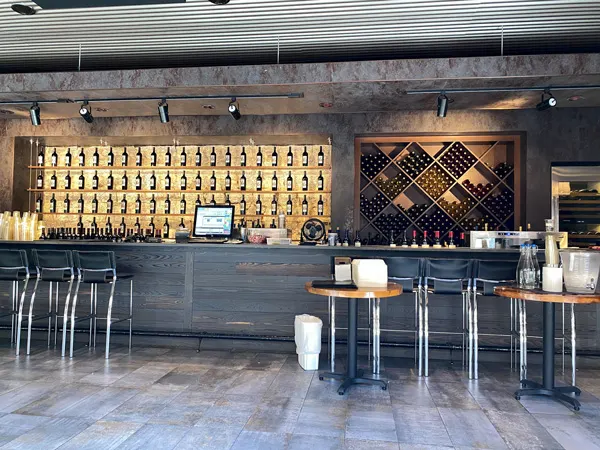 Did you know that Biltmore's winery used to house the former dairy? In fact, that beautiful tunnel that you walk down to enter the winery used to be full of cow….yea…
Biltmore offers a variety of activities for wine lovers, including a wine bar in Asheville. You will need a ticket, overnight property reservation, or an annual pass to enter the estate, though.
Also, know that your general ticket price includes a complimentary wine tasting at Biltmore winery. You may also add on winery tours.
We enjoyed the Behind The Scenes Tour to see how Champagne is made as well as receive a Reserve wine tasting.
The Red Wine and Chocolate Tour pairs Biltmore's red wine with French Broad Chocolates's truffles. Both are worth the extra price.
After wine tasting at the winery or on a special tour, pull up a seat at the bar inside Biltmore's winery.
Or, head across the way to Biltmore's Wine Bar. Wine bottles flank the walls.
Drink wine outside in Antler Hill Village or on their patio next to the wine bar. Nothing beats a Biltmore charcuterie board either.
If you are headed to Biltmore, be sure to check out our guide for getting the most out of that Biltmore ticket price.
Asheville wine bars don't get any more iconic than this.
Discover even more great bars and restaurants at Biltmore – and find new Biltmore facts.
Biltmore Estate Winery | 1 Lodge St, Asheville, NC 28803
9. Pleb urban winery & The Aventine Wine Bar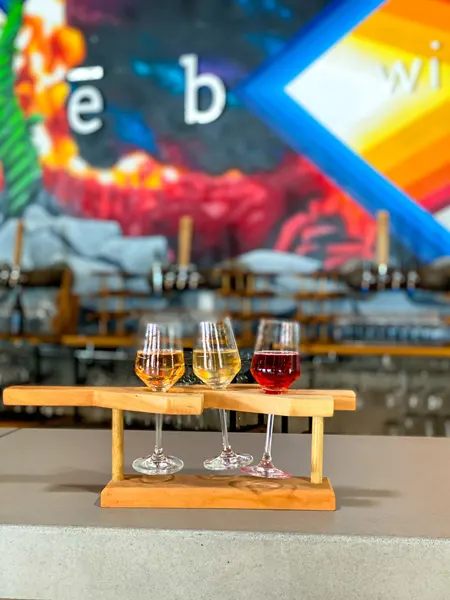 One of AVL's hippest wineries, we are extending the definition of an Asheville wine bar just a tad here since pleb has both a winery and a Downtown wine bar.
Located at Foundation in the River Arts District (RAD), pleb's winery practices minimal intervention winemaking with a focus on responsible planting.
Grab a unique flight as you sit ensconced in urban art, inside or out. Their wines might not be for everyone, especially if steel fermentation and cans are not your jam – but definitely give them a try.
Their new Downtown wine bar, The Aventine – serving up more traditional wines – sits next to Cultivated Cocktails.
pleb urban winery | Winery: 289 Lyman St, Asheville, NC 28801 | The Aventine: 25 Page Ave, Suite 102, Asheville, NC 28801
10. Walls Wine Bar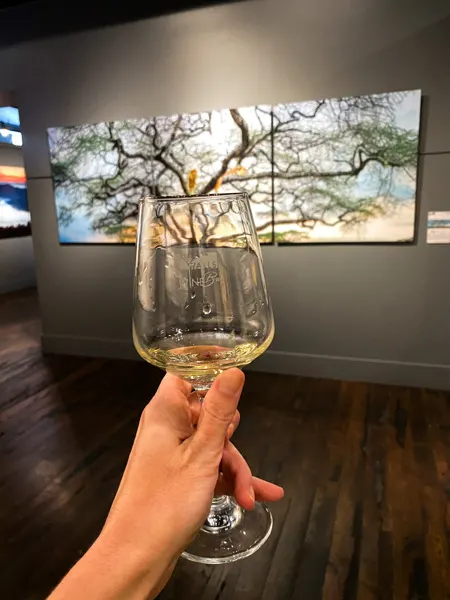 For one of the best wine bars in Asheville that is tucked inside of a breathtaking art gallery, head to Walls Wine Bar.
Drink wine among photographer Benjamin Walls's gorgeous nature photos.
Benjamin Walls's artwork spans the entire gallery with a wine bar hiding in the very back. Staff members will hand you a credit-card-charged card, and wine dispenses from the machine.
Choose from just a tasting to a half or full-size pour, including wine from New Zealand and Bordeaux, France. Now is your chance to try that Italian Brunello.
You may also purchase bottles of retail wine and truffles from Asheville Chocolate. Find minimal indoor seating.
Even better, head to the outdoor patio to people-watch in Downtown Asheville – which has heaters in the fall and winter.
Don't miss a photo of Walls with Jane Goodall too. The Smithsonian exhibits his works.
Walls Wine Bar | 38 Broadway St Suite 3, Asheville, NC 28801 (also The Windsor Boutique Hotel)
11. Wine Sage & Gourmet (Hendersonville)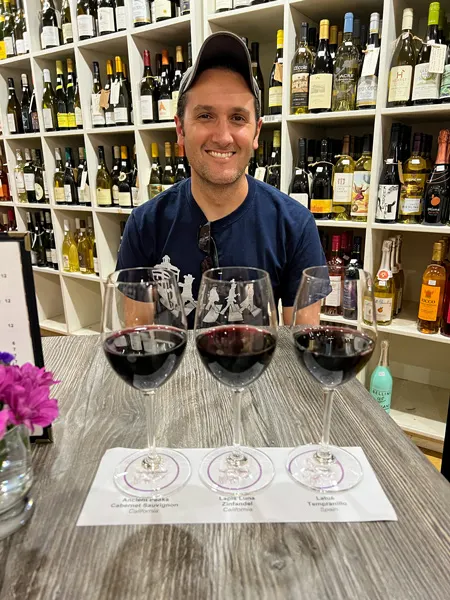 Explore a slightly lesser-known wine bar near Asheville in Downtown Hendersonville. Hendersonville (HVL) is about 35 to 45 minutes from Asheville, making it the perfect day trip.
HVL is also another one of WNC's gorgeous mountain cities filled with museums, shops, breweries, and seasonal apple orchards.
With two floors, visit this quaint wine shop complete with a basement wine bar. Sit among the gorgeous wine bottles.
Grab a glass of red and peruse Wine Sage and Gourmet's extensive and thoughtful wine bottle selection. You'll also find local North Carolina wine and meads.
Wine Sage and Gourmet sells boozy gifts, drunk wine art, olive oil, olives, and local coffee. They host a variety of events for the community – including some with food!
The staff at Wine Sage is incredibly knowledgeable and community-oriented. Please tell our friend and the owner – Merit – that we say hello! She's the best.
We dare you to leave empty-handed. We never do.
While Downtown, don't miss Hendersonville's delicious restaurants, including Umi Sushi, Shine, and Haus Heidelberg – and their breweries, including Oklawaha and D9.
Wine Sage And Gourmet | 416 N Main St, Hendersonville, NC 28792
Note: Sadly, both the Rustic Grape and Sante Wine Bar closed in 2020.
Save Your Favorite Asheville Wine Bar For Later: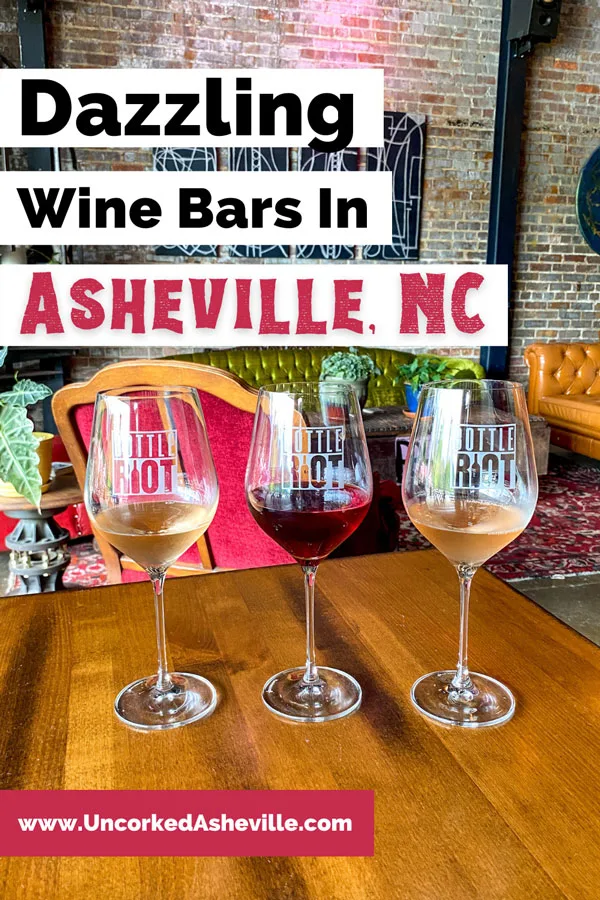 Where To Stay In Asheville
Explore the best places to stay in Asheville. A few of our top suggestions:
Aloft – Downtown Asheville – Centrally located and recently renovated, enjoy a rooftop pool, a gorgeous bar, and trendy rooms.

The Omni Grove Park Inn – Treat yourself to a luxury resort in North Asheville, complete with breathtaking sunsets, terrace bars and dining, and loads of Asheville history.

Hampton Inn And Suites Asheville Biltmore Area – A budget-friendly but renovated hotel on busier Brevard Road that's perfect if you wish to stay between Biltmore Estate, Downtown Asheville, and the Blue Ridge Parkway.

Asheville Cottages – Gorgeous 1 to 3-bedroom cottages with a private deck, housing a grill and hot tub. Find luxurious heated-floor bathrooms with rain showers, a well-stocked kitchen, and the cleanest rooms in town.

Foundry Hotel – An oasis in Downtown Asheville, Foundry Hotel is a nod to AVL's industrial history. Find famous restaurant Benne on Eagle while sleeping ensconced in charm and elegance.

Country Inn & Suites by Radisson, Asheville Westgate, NC – Located off of the highway as you enter AVL, find a sleek and clean hotel at a great price.

Black Walnut B&B Inn – Designed by Biltmore's supervising architect, Richard Sharp-Smith, this 1899 inn is close to Downtown AVL and serves afternoon tea. Two rooms are pet-friendly.
Don't miss out on these Asheville properties on Booking.com, too.
What is your favorite wine bar in Asheville? Which Asheville wine bars are on your bucket list?
True to our namesake, we just love the wine bars in Asheville. If we had to pick our top three, we'd say Leo's House of Thirst, Bottle Riot, and La Bodega.
But, you cannot go wrong with any of the Asheville wine bars on this list.
Where do you like to drink wine in Asheville? What type of wine do you like?
Do you prefer to order wine by the glass or bottle? Let us know in the comments.
More great places for drinks
Cider & Mead In AVL
Pubs, Taverns, & Brewpubs
Hungry? Don't miss our food guides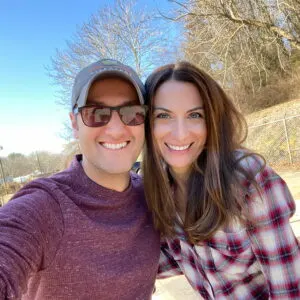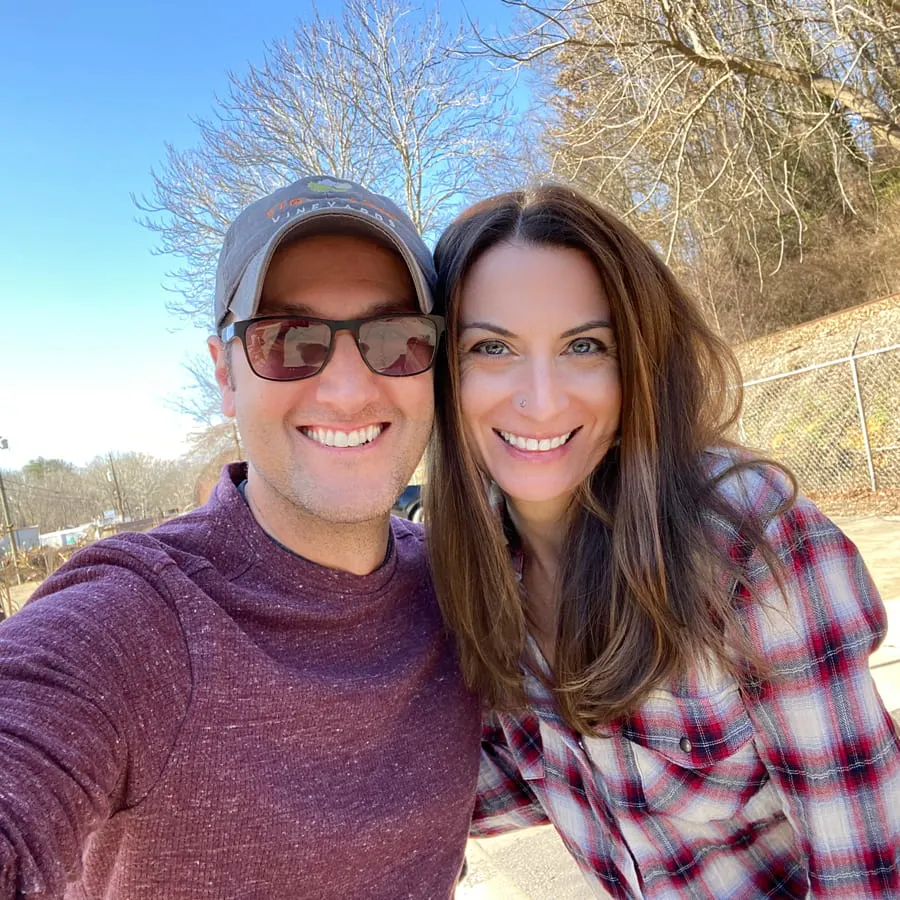 Christine (pronouns: she/her) is the owner and lead writer of Uncorked Asheville. After falling in love with those gorgeous Blue Ridge Mountains, Christine and her husband Tom decided to call Asheville, North Carolina their home. When her pointy Italian nose isn't stuck in a book, Christine is adopting all of the kitties, getting lost in the forest, and drinking an ESB.
Christine has a BA in English and History from Smith College, her MLIS from USF-Tampa, and is a former U.S. Fulbright Scholar - Indonesia. She also owns The Uncorked Librarian LLC with books and movies to inspire travel.