Trying to find an Asheville wine bar in the sea of beer? It's possible! Don't miss these delicious wine bars in Asheville, NC.
Known as Foodtopia, Asheville, North Carolina is pretty famous for its beer and restaurant scene.
Heck, it feels like there is a brewery on every corner. Honestly, there pretty much is.
For wine lovers, though, the Asheville wine bar scene has your back too. While not as plentiful as the craft breweries, the wine bars are gorgeous and situated in the best locations.
Head to the River Arts District for 12 Bones BBQ, stopping for a flight at pleb urban winery or a glass of wine the size of your face at Bottle Riot. Spy vibrant murals while sipping an eclectic blend in these romantically urban locations.
Then, head to Downtown Asheville. Did you know that one of the most famous wine bars in Asheville sits inside of a used bookstore at Grove Arcade?
Battery Park Book Exchange is famous for its champagne bar and literary cocktails. Buy used books, too!
Or, tour gorgeous nature photography with wine from around the world at Walls Wine Bar.
Plus, throughout Western North Carolina (WNC), visitors and locals can tour endless wineries and vineyards. Some of these establishments even have Downtown tasting rooms like Marked Tree Vineyard.
So, what are the best wine bars in Asheville? Which Asheville wine bar is right for you?
As locals, we are sharing where to drink wine in Asheville. Let's get started!
Read more about Asheville's beautiful wineries and vineyards.
This post may contain affiliate links that earn us a commission at no extra cost to you.
See our Top Places To Stay in Asheville.

Don't miss out on these Asheville properties on Booking.com, too.
10 Best Wine Bars In Asheville
1. 5 Walnut Wine Bar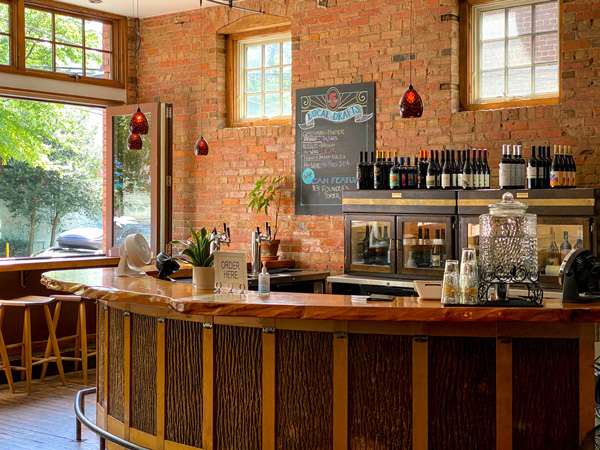 Our go-to Downtown Asheville wine bar, taste your way through an eclectic list of wines in a cute rustic and pastel establishment. Don't miss the specials on the wall, including $5 glasses of wine.
Grab cheese and small bites next door at 5 Walnut Cheese Bar. During the weekday, we appreciate their quieter ambiance.
If you are looking to grab a bite to eat, head over to some of the best Downtown Asheville restaurants like Bouchon, Strada, and Mela.
For more nearby bars in Downtown Asheville, check out Crave Dessert Bar and Capella on 9.

5 Walnut Wine Bar | 5 W Walnut St, Asheville, NC 28801
2. Leo's House Of Thirst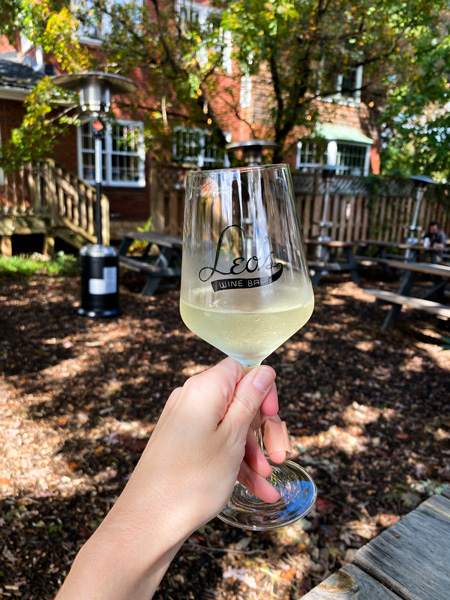 One of the newer Asheville wine bars, Leo's House Of Thirst is fabulous for a fancy but simple dinner out paired with a unique wine selection. Or, come for Saturday and Sunday brunch.
Choose from a small wine glass list or an extensive bottle list. Orange and pink wines included as well as half carafes.
While Leo's doesn't offer flights, you can request half pours. They discount any bottles you purchase for home.
Leo's also boasts of a beautiful outdoor wine garden with heaters, hanging lights, desserts, cheese, olives, and one of the best Asheville charcuterie boards. You might catch the smoker in use, too.
Parking gets a little tricky here since it is West Asheville, but their lot is located immediately behind the building.
Please don't park in neighboring business lots — look for street parking, if their lot is full. Don't miss all of West Asheville's great restaurants while you are here.
The Odditorium is nearby if you are looking for more great bars with fun cocktails.

Leo's House Of Thirst | 1055 Haywood Rd, Asheville, NC 28806
3. Bottle Riot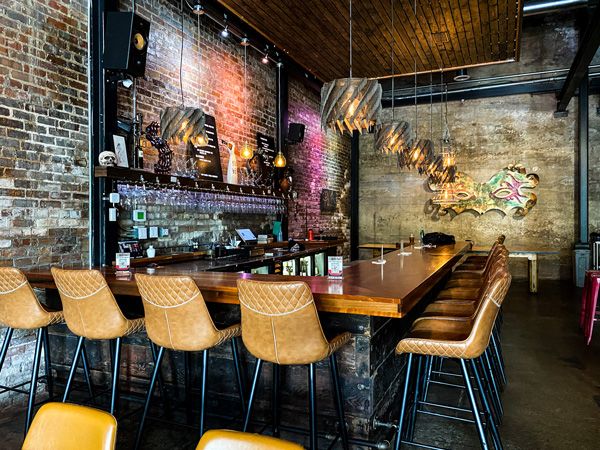 Head to the colorful River Arts District for the most atmospheric Asheville wine bar, Bottle Riot. Find wine glasses as big as your face, and order half pours to create your own wine 'tasting.'

Bottle Riot has delicious wines by the glass as well as 'baller' bottles for fancy spenders. You can also purchase bottles to bring home at a retail discount price.
Next door, don't miss one of Asheville's most romantic restaurants, The Bull And Beggar. Read about even more romantic date night ideas.

Bottle Riot | 37 Paynes Way #009, Asheville, NC 28801
4. Battery Park Book Exchange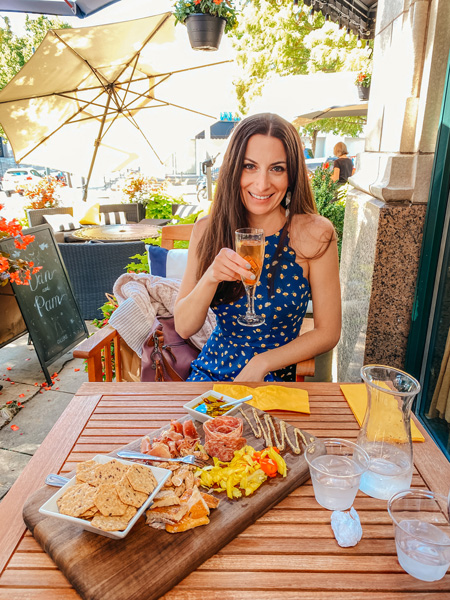 One of the most famous Downtown Asheville wine bars, you cannot skip Battery Park Book Exchange, especially if you love bookstores.
Think champagne, wine, and literary cocktails enveloped in used bookshelves.
Battery Park Book Exchange is one of the many reasons we moved to Asheville. Explore a massive wine list while finding your next great read.
Also, be sure to add Battery Park Book Exchange to your itinerary if you are a literary tourist. Their charcuterie keeps getting better and better.
This is the perfect Sunday brunch tapas spot, too. Nearby, find Cultivated Cocktails — a fabulous Asheville distillery — and Hemingways, one of AVL's famous rooftop bars.
Battery Park Book Exchange | 1 Page Ave #101, Asheville, NC 28801
Never Miss Another Asheville Update
---
Tired of generic Asheville travel itineraries? Are you hoping to experience the magic of Asheville like a local? Grab our free Asheville Favorites checklist, including restaurants, breweries, and hiking. Plus, get local updates – including events and hidden gems – straight to your inbox. Sign up here.
5. Cork & Keg Bar at Weinhaus
Asheville's Weinhaus is the city's oldest operating beer and wine store. Family run, pull up a seat at their Cork and Keg Bar for live music, draft and bottled beers, and wine by both the glass and bottle.

Weinhaus Asheville | 86 Patton Ave, Asheville, NC 28801
6. Marked Tree Vineyard Tasting Room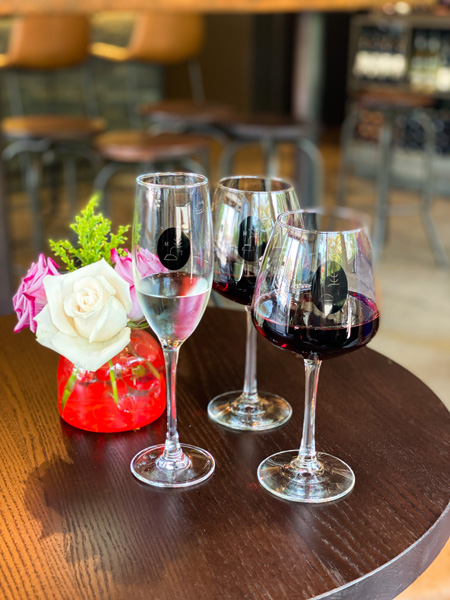 Formerly in the old Rustic Grape building and located behind the Aloft Hotel, enjoy an intimate atmosphere at Marked Tree. This Asheville wine bar may be tiny, but Marked Tree Vineyard wines are large in flavors.
If you have time, we highly suggest visiting Marked Tree's Flat Rock vineyards and tasting room, too.
Located on a spooky hill during the fall fog, encounter old chimneys in a gorgeous treehouse-vibe tasting room. We lump Marked Tree in with the equally stellar Hendersonville wineries.
P.S. Look up as you enter Marked Tree's Asheville tasting room. You'll see Alex Irvine and Ian Wilkinson's Daydreamer mural.

Marked Tree Vineyard | 14 Aston St, Asheville, NC 28801
7. Wine Bar At Biltmore Winery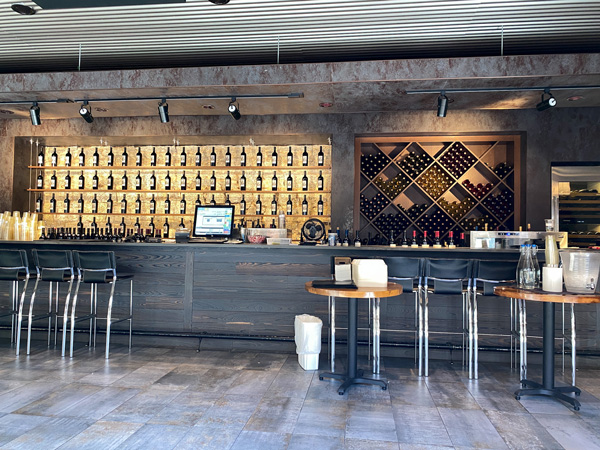 Did you know that Biltmore's winery used to house the former dairy? In fact, that beautiful tunnel that you walk down to enter the winery used to be full of cow….yea…
Biltmore offers a variety of activities for wine lovers, including a wine bar. You will need a ticket, overnight property reservation, or an annual pass to enter the estate, though.
Know that your general ticket price includes a complimentary wine tasting at Biltmore winery. You may also add on winery tours.
We enjoyed the Behind The Scenes Tour to see how Champagne is made and receive a Reserve wine tasting.
The Red Wine and Chocolate Tour pairs Biltmore's red wine with French Broad Chocolates's truffles. Both are worth the extra price.
After wine tasting at the winery or on a special tour, pull up a seat at the bar inside Biltmore's winery.
Or, head across the way to Biltmore's Wine Bar. Wine bottles flank the walls.
Drink wine outside in Antler Hill Village or on their patio next to the wine bar. Nothing beats a Biltmore charcuterie board either.
If you are headed to Biltmore, be sure to check out our guide for getting the most out of that Biltmore ticket price.
Biltmore Estate Winery | 1 Lodge St, Asheville, NC 28803
8. pleb urban winery & The Aventine Wine Bar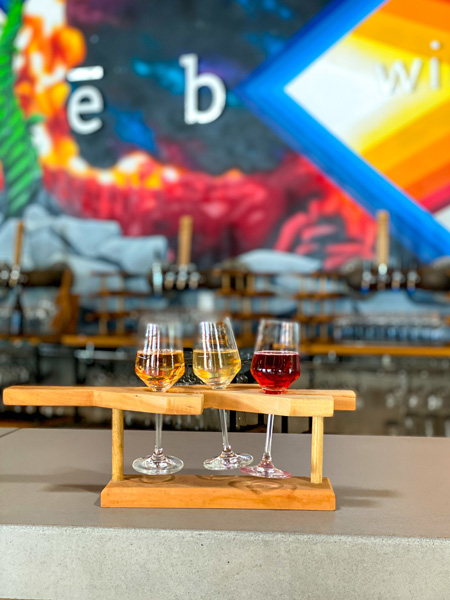 One of AVL's hippest wineries, we are extending the definition of Asheville wine bar just a tad here since pleb has both a winery and Downtown wine bar.
Located at Foundation in the River Arts District (RAD), pleb's winery practices minimal intervention winemaking with a focus on responsible planting.
Grab a unique flight as you sit ensconced in urban art, inside or out. Their wines might not be for everyone, especially if steel fermentation and cans are not your jam — but definitely give them a try.
Their new Downtown wine bar, The Aventine — serving up more traditional wines — sits next to Cultivated Cocktails.
Be sure to check out the best things to do in Asheville's RAD neighborhood.
pleb urban winery | Winery: 289 Lyman St, Asheville, NC 28801 | The Aventine: 25 Page Ave, Suite 102, Asheville, NC 28801
9. Wine Sage & Gourmet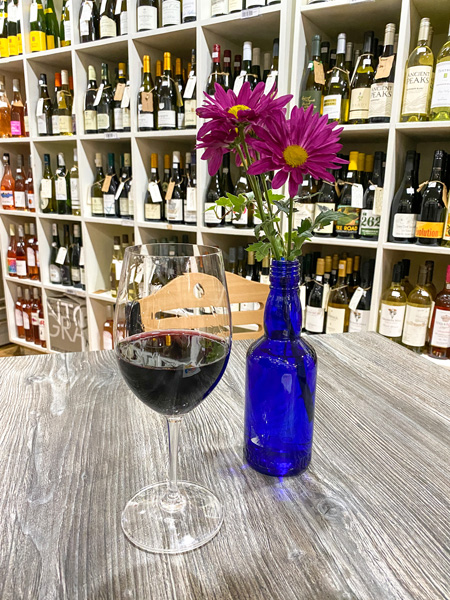 Explore a slightly hidden and lesser-known wine bar near Asheville in Downtown Hendersonville. Hendersonville is about 35 to 45 minutes from Asheville.
With two floors, visit this quaint wine shop complete with a basement wine bar. Sit among the gorgeous wine bottles.
Wine Sage and Gourmet also sells boozy gifts, drunk wine art, olive oil, and local coffee.
Grab a glass of red and peruse their extensive and thoughtful wine bottle selection. You'll also find local North Carolina wine and meads.
The staff at Wine Sage is incredibly knowledgeable and community-oriented. We dare you to leave empty-handed. We certainly didn't.
While Downtown, don't miss Hendersonville's stellar restaurants — like Umi, Shine, and Haus Heidelberg — and their breweries, including Oklawaha and Triskelion.
Wine Sage And Gourmet | 416 N Main St, Hendersonville, NC 28792
10. Walls Wine Bar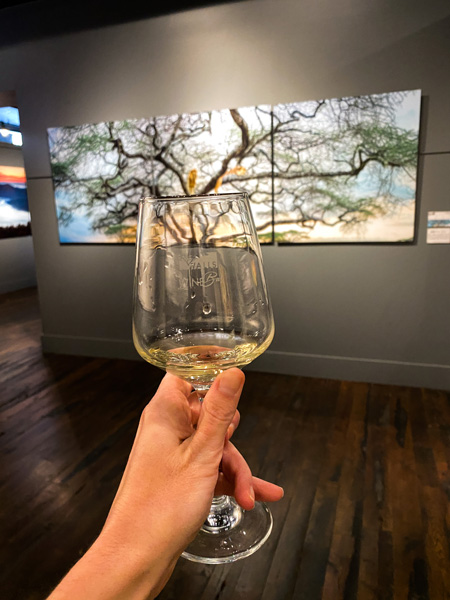 For one of the best Asheville wine bars tucked inside of a breathtaking art gallery, head to Walls Wine Bar. Drink wine among photographer Benjamin Walls's gorgeous nature photos.
Benjamin Walls's artwork spans the entire gallery with a wine bar hiding in the very back. Staff members will hand you a credit-card-charged card, and wine dispenses from the machine.
Choose from just a tasting to a half or full-size pour, including wine from New Zealand and Bordeaux, France. Now is your chance to try that Italian Brunello.
You may also purchase bottles of retail wine and truffles from Asheville Chocolate. Find minimal indoor seating.
Even better, head to the outdoor patio to people-watch in Downtown Asheville — which has heaters in the fall and winter.
Don't miss a photo of Walls with Jane Goodall too. The Smithsonian exhibits his works.
Walls Wine Bar | 38 Broadway St Suite 3, Asheville, NC 28801 (also The Windsor Boutique Hotel)
Note: Sadly, both the Rustic Grape and Sante Wine Bar closed in 2020.
Find A New Wine Bar In Asheville? Save This Post For Later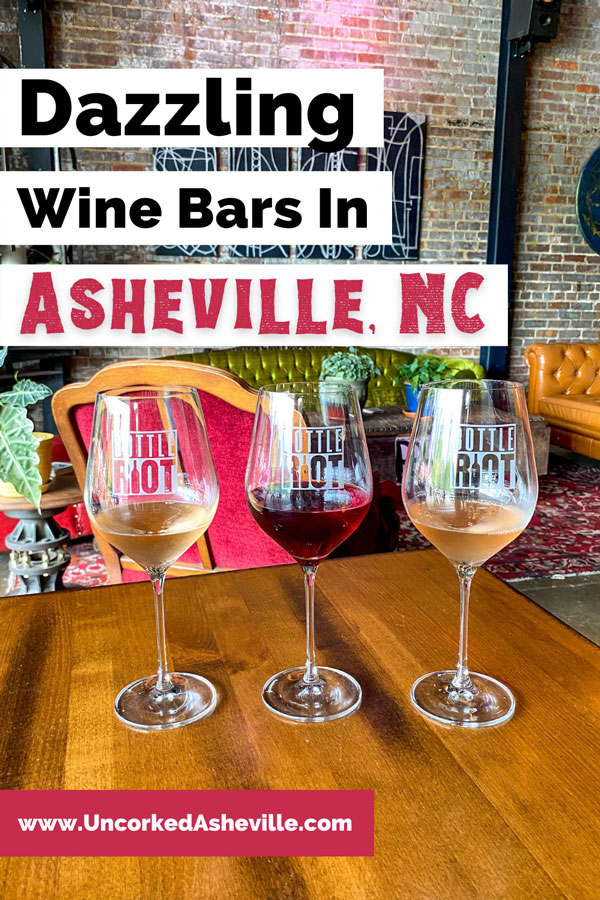 Where To Stay In & Around Asheville
Asheville, NC Hotels
Hotels and B&Bs tend to book up fast in Asheville, especially in the fall, spring, and around holidays. Make dinner reservations wherever you can, too. A few hotels to consider that either we, our friends, or others highly recommend include:
Downtown Asheville
The Foundry Hotel
AC Hotel By Marriott Downtown Asheville
Hotel Indigo
Aloft – Downtown Asheville *One of our top picks; they renovated in 2020
Near The Asheville Outlets/Biltmore
Hampton Inn And Suites Asheville Biltmore Area *Our second favorite pick. We stayed here before we moved.
DoubleTree By Hilton Biltmore/Asheville
Grand Bohemian Hotel Asheville

North Asheville/Montford
The Omni Grove Park Inn *We frequently stop by the Grove Park Inn for sunsets, drinks, and food.
1900 Inn On Montford
Don't miss our Top Asheville Hotel, Resort & B&B Picks Here.
What is your favorite wine bar in Asheville? Which Asheville wine bars are on your bucket list?
Where do you go to drink wine in Asheville? What type of wine do you like? Do you prefer to order wine by the glass or bottle? Let us know in the comments.
More great places for drinks
Top Wineries in and near Asheville
Hendersonville's Gorgeous Wineries

Local Guide To Asheville's Brewery Scene
Best Asheville Distilleries
Where To Find Cider & Mead In AVL
Pubs, Taverns, & Brewpubs
Asheville's Famous Coffee Shops
Hungry? Don't miss our food guides