17 Vibrant Murals In Asheville
What are the best murals in Asheville, NC and where can you find them? As locals, we are dishing on the Asheville street art scene.
The Asheville murals are plentiful and stunning. Some designs are thought-provoking and reverent while others are just plain fun.
Did you know that you can catch Homer Simpson snacking on a donut in the River Arts District? Or, that you can pay homage to Dolly Parton and 'Joan of Arc' (meant to be the painter's daughter) in West Asheville?
The Aloft recently renovated their gorgeous hotel, filling it with colorful art. Here, you'll find a vibrant tribute to Asheville's music scene.
You can learn more about Asheville's agricultural ties as you pass by fairy doors. Just don't get attacked by a 10-foot rooster or the ghost of Chicken Alley… Say hi to Lionel Richie downtown, and get inspired by the Daydreamer.
These are some of the best murals in Asheville to see in 2021. We will share artists, locations, and stories behind each of Asheville's murals as we know of them.
We are always searching for more information on each Asheville mural — please never hesitate to share what you know.
Are you ready to tour the beautiful urban street art in Asheville, NC? Let's get started, and don't forget to give all of these mural artists a follow at the end.
Read about all that you can do in Asheville, NC here.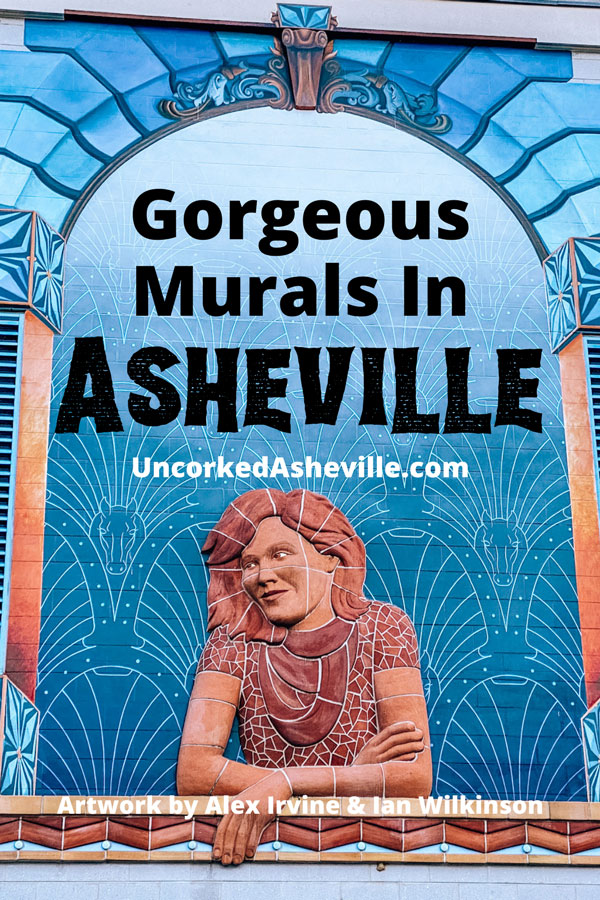 This post may contain affiliate links that earn us a commission at no extra cost to you. If you love these guides, support Uncorked Asheville here.
Gorgeous & Fun Murals In Asheville, NC
Dolly Parton & RuPaul
783 Haywood Road and Mildred Ave., Asheville, NC 28806
Artist: Gus Cutty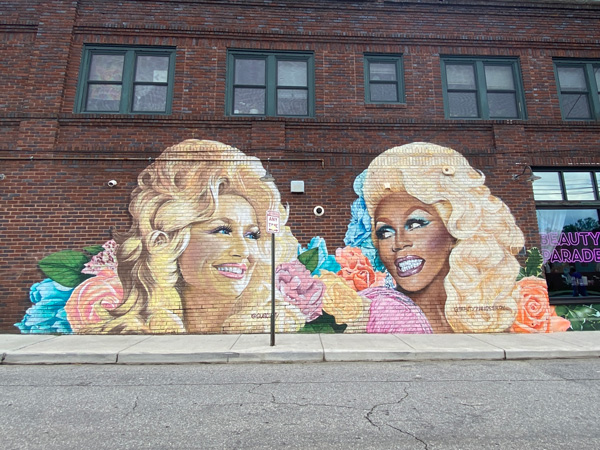 Don't miss Gus Cutty's Dolly Parton in West Asheville. Plus, Dolly got a neighbor in 2021: RuPaul.
A collaboration with Terra Marshall of Beauty Parade, you'll find Dolly and RuPaul on the corner of 783 Haywood Road and Mildred Ave.
Haywood Road is a busy area; please be careful crossing the street and while taking pictures. We usually park on a side road and try to be extra respectful of not blocking anyone's home or space.
Like Dolly, many of the gorgeous Asheville portraits are painted by Gus Cutty.
Greetings From West Asheville
Bon Paul & Sharky's Hostel: 816 Haywood Road, Asheville, NC 28806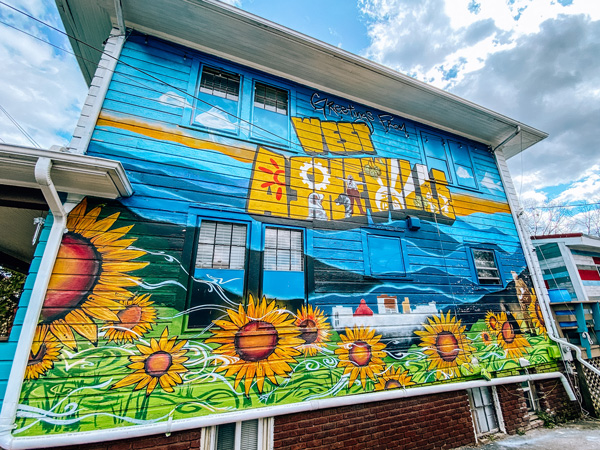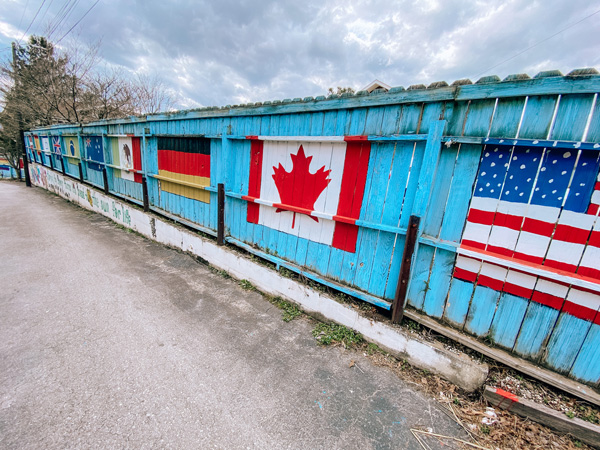 While snapping pictures of Dolly, don't miss the Greetings From West Asheville mural. You'll also find a fence covered with country flags at Bon Paul & Sharky's Hostel located at 816 Haywood Road.
Be sure to check out Asheville's Hippest Neighborhoods, including West AVL.
The Dude Abides
Address: Sky Lanes Bowling at 1477 Patton Ave, Asheville, NC 28806
Lead Artists: Gus Cutty, & Topr as part of the Asheville Mural Project | Collective artists mural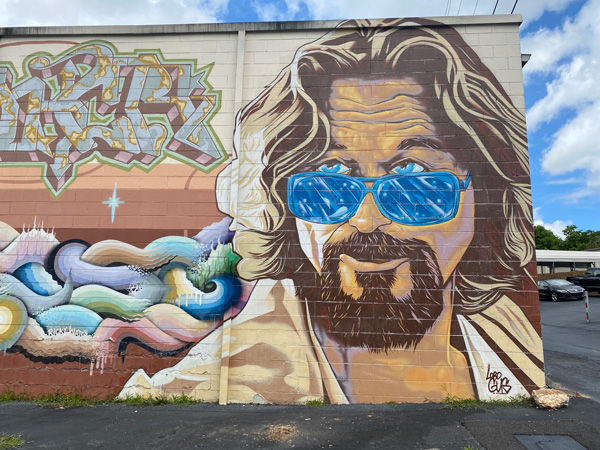 Most famous to West Asheville, say hello to The Dude from The Big Lebowski — painted by Gus Cutty.
The Dude Abides is part of a larger Asheville mural project, "Burners and Barbecue," meant to bring artists and the community together.
You can easily spot this gorgeous and fun Asheville mural from the road on Sky Lanes Bowling. Pretty perfect, right?
We are not going to lie; we headed right home to watch The Big Lebowski. White Russians, anyone?
Across the street, don't miss one of the best places in AVL for burgers, The Malvern.
Asheville Silo
1 Roberts St., Asheville, NC 28801
Artists: Ian Wilkinson (Ian the Painter) & Ishmael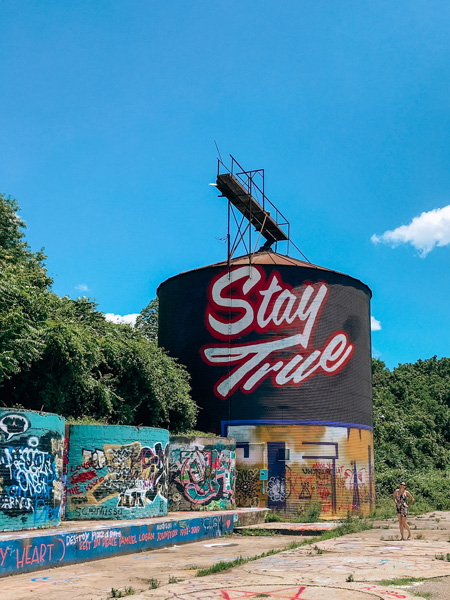 Graffiti and urban art is a large part of the River Arts District (RAD). If you love Wynwood Walls in Miami, don't skip over this part of Asheville.
Most famous, you cannot miss the Asheville Silo — an old grain silo with an ever-changing slogan. Since we have moved to town, the silo has read "Stay Weird," "Good Vibes," "Stay Home," and "Stay True."
You can find the Asheville Silo around 1 Roberts Street just a tad off of the main road. The Silo is a collaboration between Ian the Painter and Ishmael.
I highly recommend following Ian the Painter's Instagram account for the most accurate and comprehensive details about his projects as well as Ishmael's IG.
---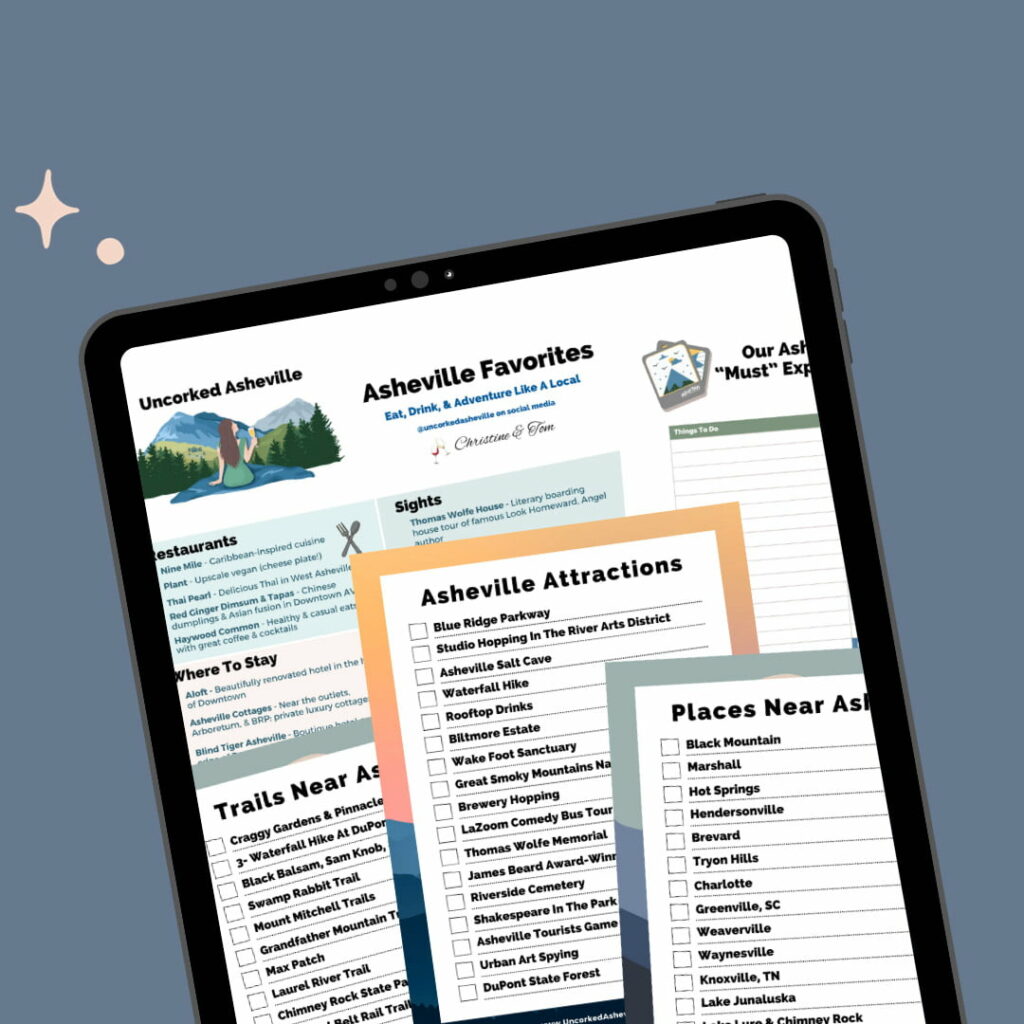 Never Miss Another Asheville Update
Experience Asheville like a local with our free attractions, dining, hiking, and day tripping guides. Get events, updates, and more straight to your inbox from Christine.
---
Fender Bender (Homer Simpson)
Asheville Waste Paper Company: 304 Lyman St., Asheville, NC 28801
Artist: Jerkface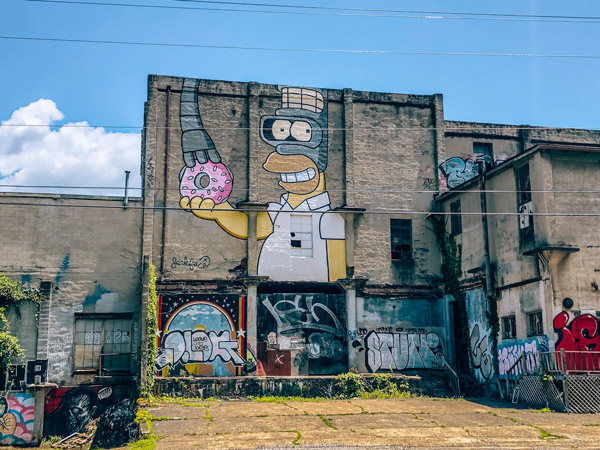 Located at the Asheville Waste Paper Company in the River Arts District, don't miss Homer Simpson meets Bender from Futurama. Jerkface, an NYC artist, painted this Asheville mural titled "Fender Bender."
You can find this iconic AVL mural around 304 Lyman St. starting along Riverside Drive.
---
---
Daydreamer
Aloft Hotel: 51 Biltmore Ave. Parking Garage
Artists: Ian Wilkinson & Alex Irvine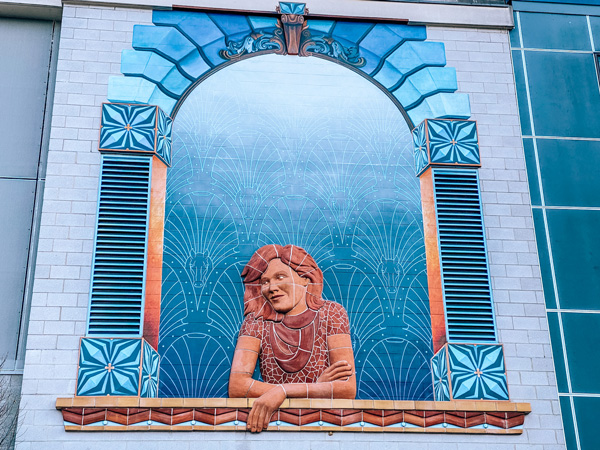 On the side of the Aloft Hotel — on the corner of Lexington & Aston — don't miss the Daydreamer. Alex Irvine and Ian Wilkinson sculpted and installed this surface and ceramic tile mural in 2014.
Commissioned by the City of Asheville, you can read more about the entire creation process here.
The mural depicts a woman leaning out of a window and daydreaming as she overlooks downtown Asheville. She is also the gatekeeper to the 51 Biltmore Ave. Parking Garage.
You can follow Alex Irvine on Instagram here.
Burial Beer Co.'s Tom Selleck & Sloth
Burial Beer Co.: 40 Collier Ave., Asheville, NC 28801
Artist: Gus Gutty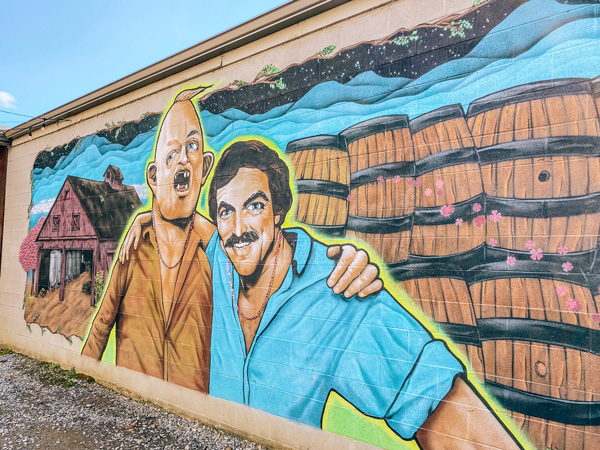 Of course, one of the most well-known murals in Asheville, you cannot miss Gus Cutty's Tom Selleck & Sloth mural at Burial Beer Co. in downtown Asheville located at 40 Collier Ave.
I'm not even going to try to explain this one. On their website Burial says:
First, yes it's Tom Selleck, not Burt Reynolds. Second, when we first opened we were loaned a rare and beautiful velvet Selleck to display our taproom.

Soon after, a portrait of Sloth made its way into our hands and the hearts of all who gazed upon his likeness. Meanwhile, on the outside of our brewery, a need to fill the blank canvas of our bare concrete wall began to grow and gave way to a night of long, arduous and soul-searching conversation among Jess, Doug, and Tim to decide what things were important enough to them to immortalize forever.

Should it be our logo? A portrayal of our belief in the beautiful and aching cyclical nature of life and death? A light side/dark side piece that is reflected in all our labels?! Sometimes speaking the most important thing about yourself to the world, means speaking about thing that makes you laugh and brings you joy without fail.

And sometimes that means your self-portrait looks like a world where Sloth and Tom Selleck are best friends on an urban farm brewery nestled in the Blue Ridge mountains, just living their dream of being best buds.

Burial Beer Co.
Chicken Alley Mural
Chicken Alley Asheville, NC 28801
Artist: Molly Must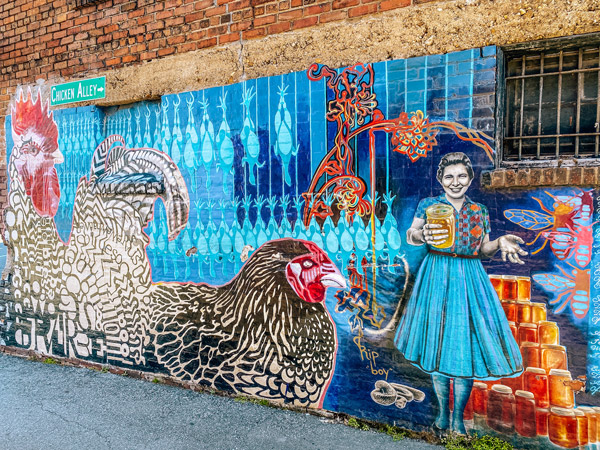 Welcome to Chicken Alley! You'll know you've arrived when you see a 10-foot rooster.
Molly Must – another famous Asheville mural artist – designed and painted this mural in 2011. You'll learn more about the chicken processing plant owned by Asheville natives, Sam and Argie Young.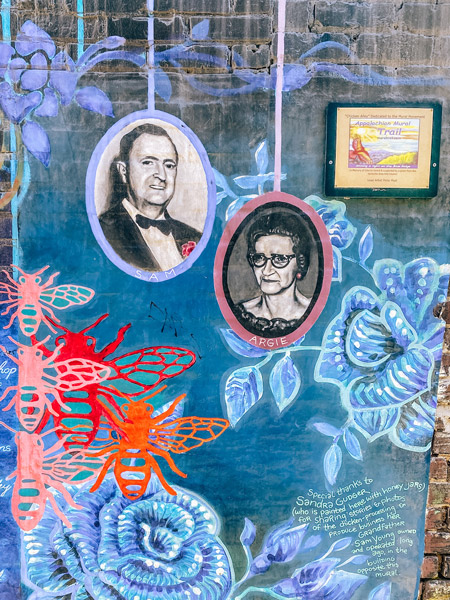 You'll also see their granddaughter, Sandra Gudger, depicted holding honey; she was a local beekeeper.
South Lexington Ave. used to host a farmer's market, and the mural is a reverent nod to Asheville's agricultural history.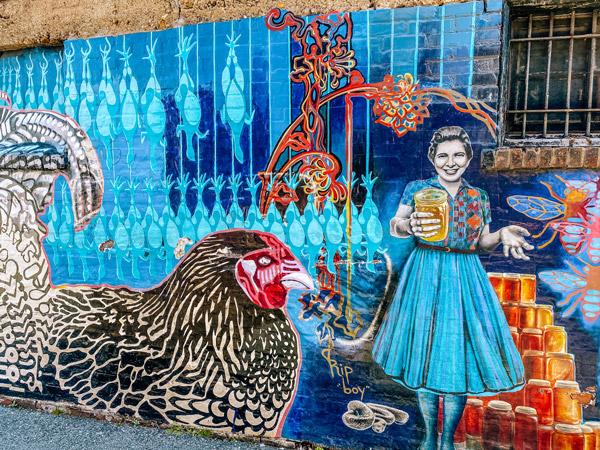 There are also rumors that Chicken Alley is pretty haunted… A doctor attempted to break up a bar fight and received a knife to the heart.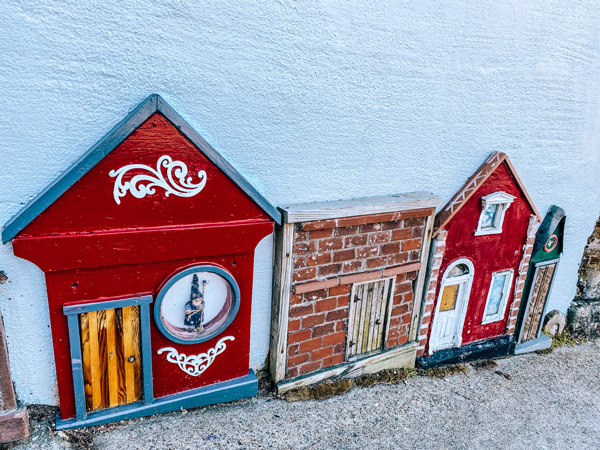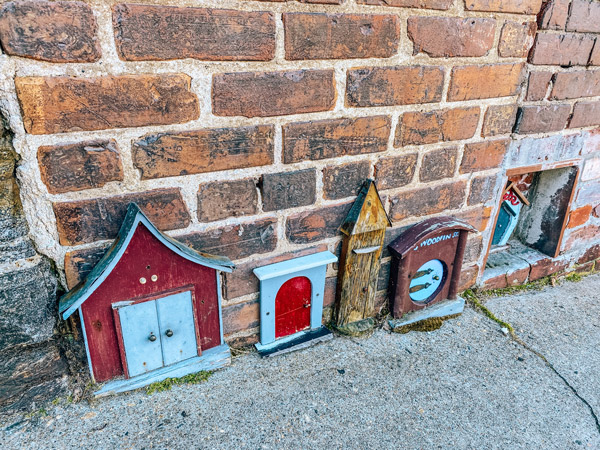 Chicken Alley is located off of Woodfin Street between Carolina Lane and North Lexington Ave. Check it out on Google Maps.
Lexington Ave. Gateway Mural & Chess Players
Broadway & Merrimon Ave., Asheville, NC at 1-240 Bridges
Muralists: Molly Must, Joshua Spiceland, Daniel Beck, Harper Leich, Kurt Thaesler, Steve Lister, and later, Ian Wilkinson, Trish Tripp, and Melissa Glaze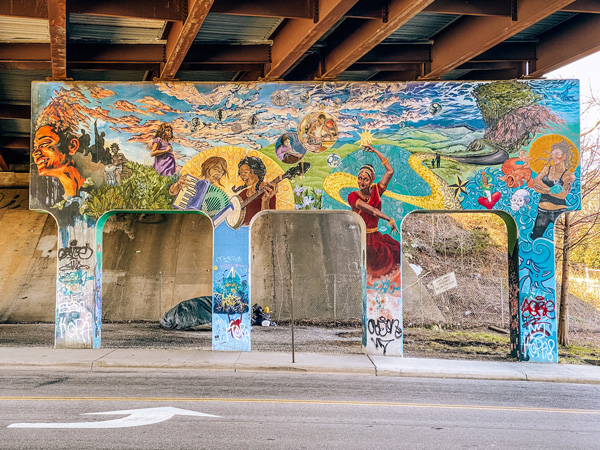 An older public art collaboration, painted from 2008-2009, the Lexington Gateway Mural greets visitors at the juncture of North Asheville and downtown on the I-240 bridges located on Broadway Avenue.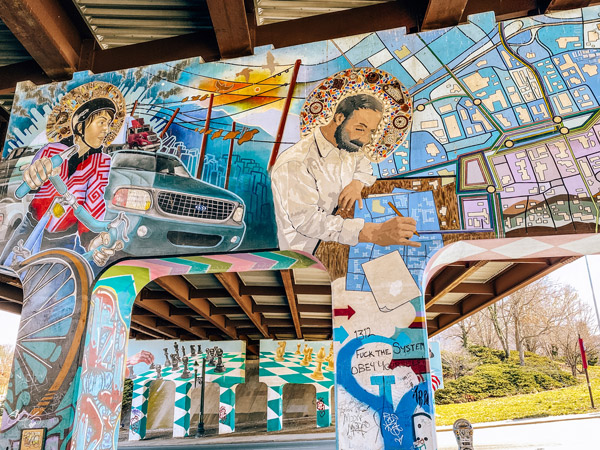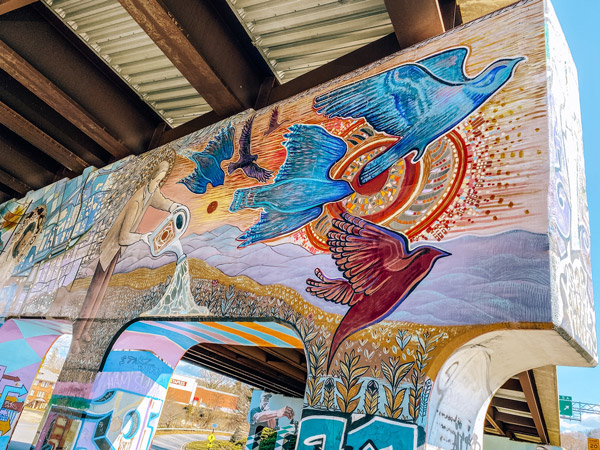 As part of the Arts 2 People and Asheville Mural Project (AMP) — a nonprofit dedicated to local public art — you'll find numerous images and local portraits showcasing Asheville's vibrant community.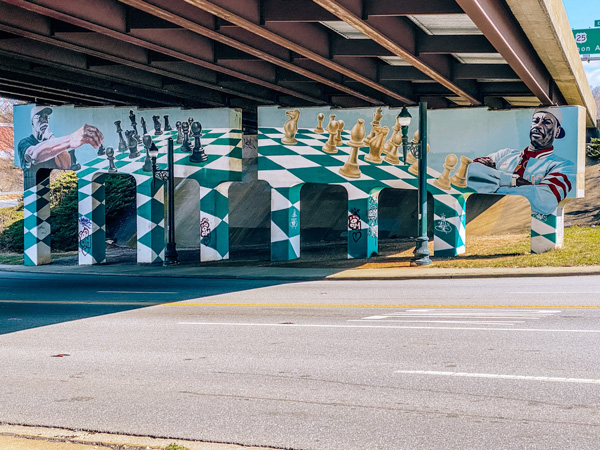 More Asheville Murals We Love
Buddha Mural – 10,000 Buddhas Project
Address: The Social Lounge | 29 Broadway St, Asheville, NC 28801
Artist: Amanda Giacomini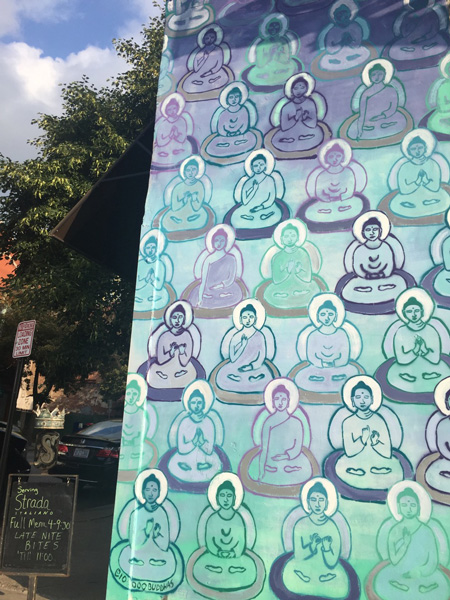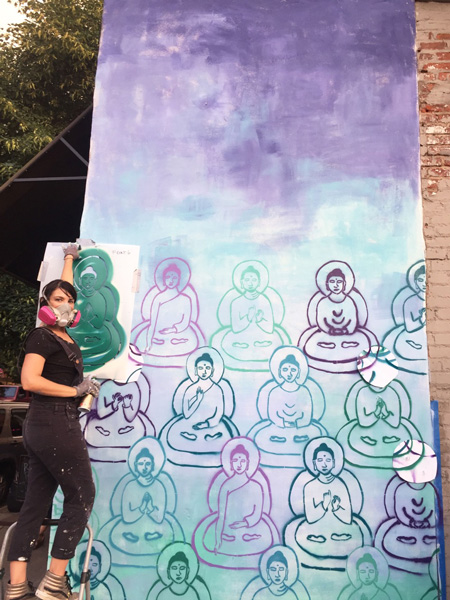 Live At Aloft
Address: 51 Biltmore Ave, Asheville, NC 28801
The Aloft is one of our top recommended Asheville Hotels. Book Now.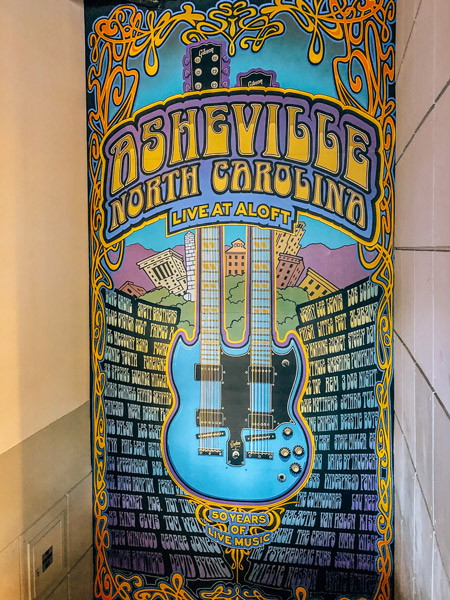 Lionel Richie
Address: The Orange Peel | 101 Biltmore Ave., Asheville, NC 28801
Artist: Gus Cutty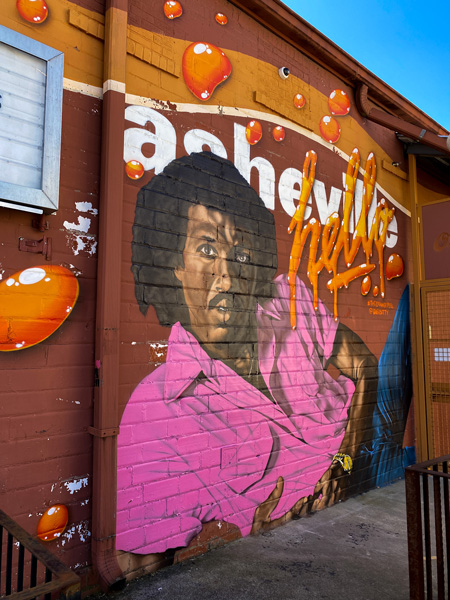 pleb urban winery
Address: 289 Lyman St.
Grab our full list of Wineries In Asheville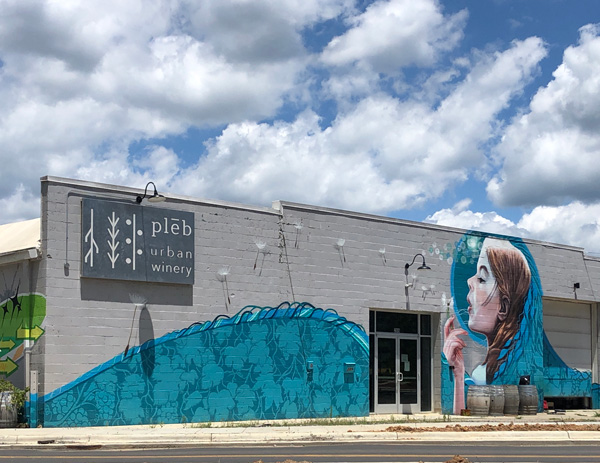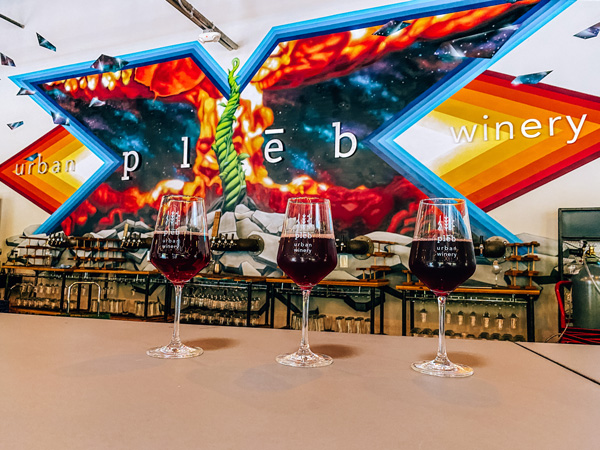 Foundation Walls Project
Address: River Arts District – 339 Old Lyman St, Asheville, NC 28801
There are endless murals throughout RAD.
Goat Snake
Artist: Jerry Cahill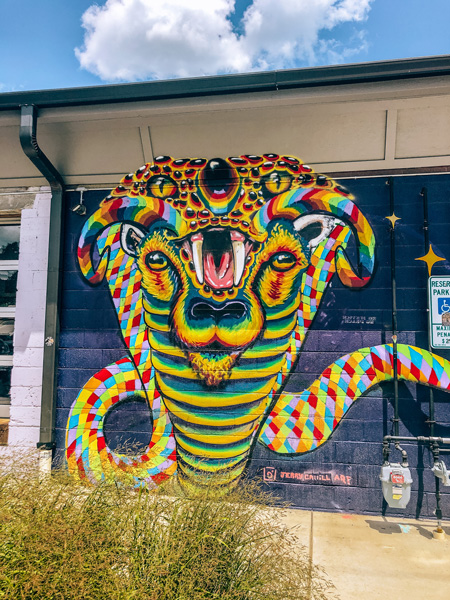 The Littlest Birds
Address: The Littlest Birds Asheville | 647 Haywood Rd, Asheville, NC 28806
Artist: Braxton Art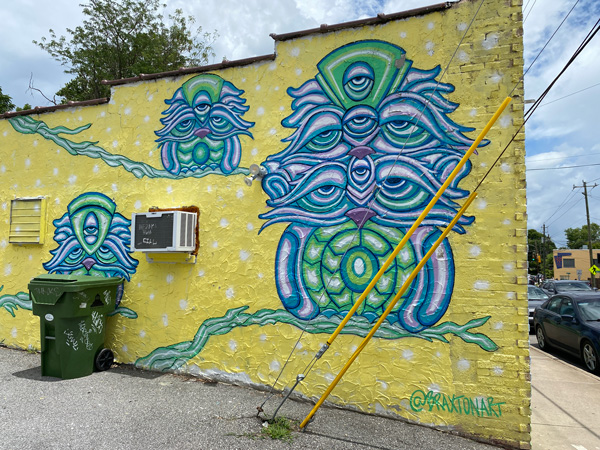 Fox Mural
Address: Across the street from 647 Haywood Rd, Asheville, NC 28806
Artist: Gus Cutty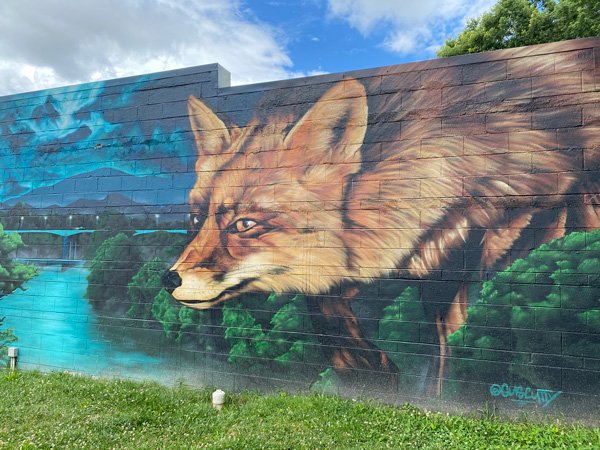 Joan Of Arc (Ella)
Address: Next To Archetype Brewing at 265 Haywood Rd, Asheville, NC 28806
Artist: Ian Wilkinson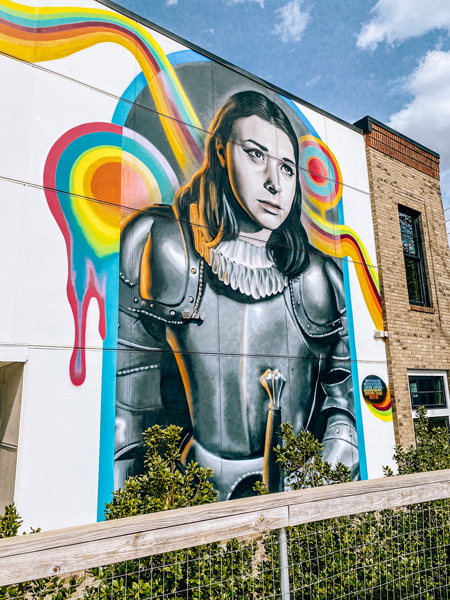 For a little more information about this Asheville mural, Ian noted that:
This image will be observed by the public and identified as Joan of Arc, which is fine. But it's actually my sweet daughter Ella. My firstborn, my heart. And this is how her dad would like to send her out into the dating world, in a heavy suit of armor. Jk but I want her to come up in a world where we don't have to explain equality among the sexes it's just a given…

Read the full story on Instagram here: Ian the Painter
Bucket List Murals In Asheville, NC
Hank and Lucy by Kathryn Crawford Art – Patton Avenue Pet Company – West, Asheville, NC
Triangle Park Mural – Sycamore Alley and South Market Street – Downtown Asheville
Here's Where You Can Support All Of These Artists
Ian Wilkinson (Ian the Painter): Instagram | Website
Ishmael: Instagram
Topr: Instagram
Alex Irvine: Instagram | Website
Molly Must: Instagram | Website
Gus Cutty: Instagram | Website
Jerry Cahill: Instagram | RAD Printworks At Foundation Studios
Jerkface: Instagram | Website
Amanda Giacomini: Instagram | Website
Braxton Art: Instagram | Podcast
Thank you so, so much to artists Alex Irvine, Ian Wilkinson, Jerry Cahill, Gus Cutty, Molly Must, and Amanda Giacomini for providing extra information and the privilege to feature their artwork on Uncorked Asheville.

What are your favorite Asheville murals and street art?
What are your favorite murals in Asheville, NC? Did we miss one that you love? Let us know in the comments.
See our Top Places To Stay in Asheville.

Don't miss out on these Asheville properties on Booking.com, too.
Where Should You Head Next?
Ultimate Guide Of Asheville Things To Do
Asheville's Hippest Neighborhoods
Best Science, History, & Art Museums In Asheville
Abandoned Places Across NC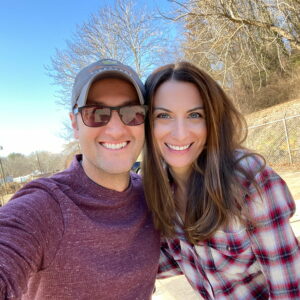 Christine (pronouns: she/her) is the owner and lead writer of Uncorked Asheville. After falling in love with those gorgeous Blue Ridge Mountains, Christine and her husband Tom decided to call Asheville, North Carolina home. When her pointy Italian nose isn't stuck in a book, Christine is adopting all of the kitties, getting lost in the forest, and drinking an ESB. She has a BA in English and History from Smith College, her MLIS from USF-Tampa, and is a former U.S. Fulbright Scholar - Indonesia. Christine also owns The Uncorked Librarian LLC with books and movies to inspire travel.