Are you looking for gin, whiskey, rum, moonshine, and liqueurs in AVL? Don't miss these 5 fantastic distilleries in Asheville, NC — and their spirited products on local shelves.
It's no secret that Asheville is a major foodie town with endless breweries. However, did you know that Asheville also offers even more boozy adventures like wineries and distilleries?
The distilleries in Asheville host tastings, tours, and cocktails. You can find their spirits and liquors at local restaurants and package stores (OK; I'm busted here: I am originally from CT…liquor stores!? Whatever you call them).
I won't pretend to be a distillery expert, either. I just drink the goods, know what I like, and occasionally whip up a cocktail for my other site, The Uncorked Librarian.
So, what Asheville distilleries should you visit for your spirits and liquors? Which ones have bars and serve cocktails?
Below, UA is sharing 5 main distilleries in Asheville, NC and what makes each so special. Let's get started.
Read more about the best spots in Asheville for Local Craft Beer and Wine, too.
---
This post may contain affiliate links for products and services we recommend. If you make a purchase through these links, at no additional cost to you, we will earn a small commission. Read the full disclosure here.
---
See our Top Places To Stay in Asheville.

Don't miss out on these Asheville properties on Booking.com, too.
5 Distilleries In Asheville To Taste The Mountains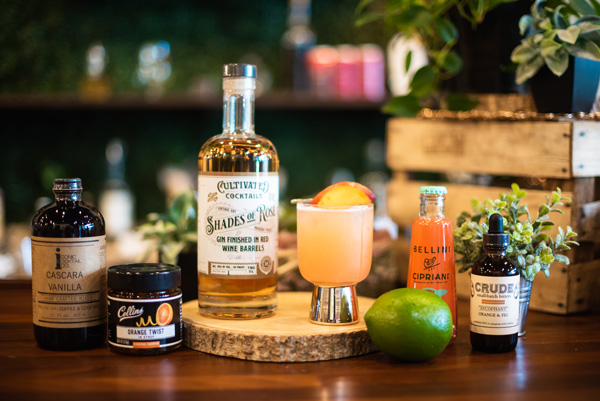 It's no secret that Cultivated Cocktails (formerly H & H Distillery) is one of our favorite distilleries in Asheville. We also partner with them for The Uncorked Librarian's literary cocktails — our sister site.
Along with classy home bar schwag like double jiggers, glassware, and shakers, you can purchase whiskey, rum, vodka, gin, and liqueurs.
Our favorites include the Steel Horse Whisky, Shades of Rose Gin, and Coffee Liqueur. They also sell delicious bitters, and you can order a craft cocktail at the bar.
You might remember The Uncorked Librarian showcasing one of their craft cocktail boxes — complete with glasses, recipe, and ingredients — on the Aloft Hotel's new Ledge mid-2020.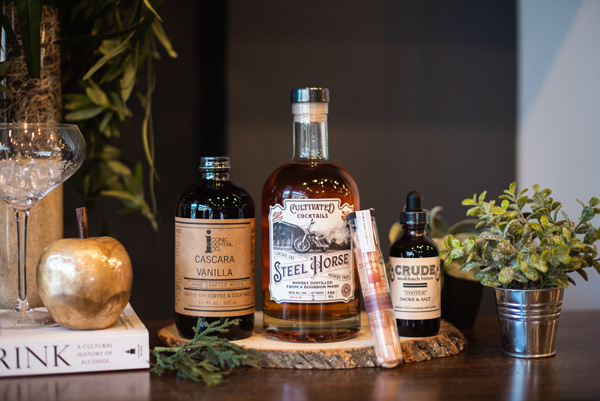 Cultivated Cocktails Distillery Location
Distillery & Shop: 29 Page Ave, Asheville, NC 28801, USA
Phone: 828-338-9779
Cultivated Cocktails's production facility is located in East Asheville. Tours of the Asheville distillery are by appointment only.
---
Never Miss Another Asheville Update
Are you tired of generic Asheville travel itineraries? Do you want to experience the magic of Asheville like a local?
Grab our free Asheville Favorites checklist today, including restaurants, breweries, and hiking. Plus, get local updates straight to your inbox. Sign up here.
---
Founded in 2010, one of the Asheville distilleries on our bucket list includes Asheville Distilling. 2020 has been quite a year, and usually, they offer tours and tastings.
Asheville Distilling Company is also one of the few distilleries in Asheville that produces Moonshine. Here, you can taste whiskey brimming with mountain-flavors like honey and nectarine.
Asheville Distilling Location
12 Old Charlotte Hwy, Asheville, NC 28803
(828) 575-2000
---
---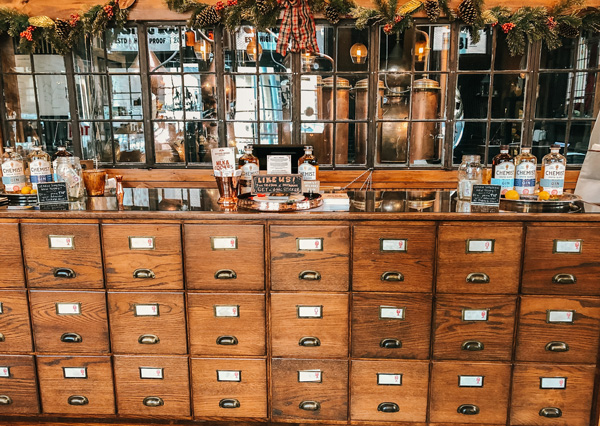 If you are looking for distilleries in Asheville near all of the local breweries like Twin Leaf, the Funkatorium, and Green Man, head to Chemist Spirits.
Explore many of Chemist's creations at local Asheville establishments like Chiesa and Biltmore, too.
Chemist specializes in gin, and you can do a tasting while there. They also produce a Chocolate Orange Gin Liqueur, Reserve Whiskey, and Biltmore Rose Gin.
Don't forget to visit Antidote at Chemist Spirits, their 19th-century cocktail lounge. Antidote is one of the most unique rooftop bars in Asheville.
Chemist Spirits Location
151 Coxe Ave, Asheville, NC 28801
(828) 263-6943
---
Want to do a distillery and beer tour? Don't miss these Asheville Breweries.
---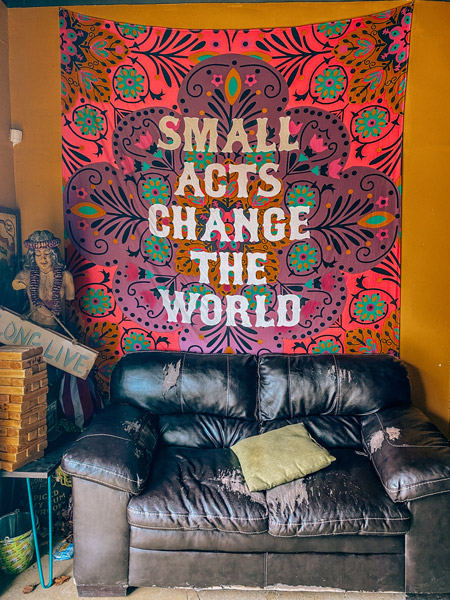 A family-run Asheville distillery, Dalton Distillery is Asheville's first legal downtown distillery. They specialize in vodka and rum, and their spirits are Caribbean Island-inspired mixed with Appalachian love.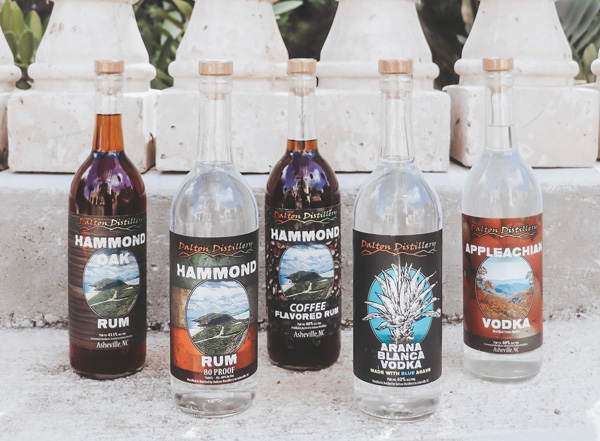 Dalton Distillery also boasts of a "dive bar," Dalton Distillery Bar, that serves the most local spirits in town. You will find a hipster place with arcade games and outdoor seating.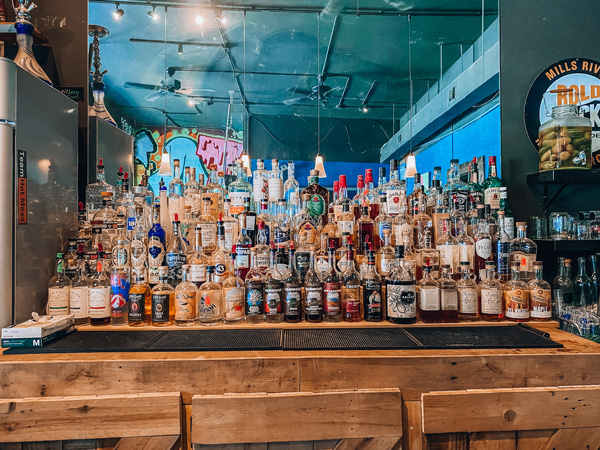 Dalton Distillery Location
251 Biltmore Avenue, Asheville, NC, 28801
(828) 785-1499
---
Are you creating your own Asheville booze tour? While Asheville is most known for its craft beer, don't miss these Asheville wineries.
---
Like many of the distilleries in Asheville, Eda Rhyne Distilling Company's goal is to capture the essence of Southern Appalachia. They are also intrigued by the medicinal properties of the local flora and fauna.
Uniquely, Eda Rhyne is the only distillery in North Carolina to produce Amaro, an Italian herbal liqueur. Along with their Amara Flora, Eda Rhyne produces an Appalachian Fernet and Rustic Nocino.
Their tasting room is temporarily closed.
Eda Rhyne Distilling Company Location
101 Fairview Rd Suite A, Asheville, NC 28803
(828) 412-5441
---
---
Touring Your Way Around Asheville? Here Are Some Accommodation Ideas:
Save These Asheville Distilleries For Later
What are your favorite distilleries in Asheville, NC?
What is your favorite Asheville distillery and spirit? We'd love to hear about your boozy Asheville experiences. Tell us all in the comments.
You May Also Enjoy
Best Wineries In And Around Asheville
All The Craft Beer You Ever Need In Asheville
Where To Find Cider & Mead In Asheville
Asheville's Jumping Coffee Scene
Atmospheric Wine Bars Around Asheville

Asheville Food & Booze Guide
Mouthwatering Restaurants In Asheville.
Top Things To Do In Asheville, NC