7 Delicious Distilleries In Asheville, NC To Boost Your Spirits
Enjoy these fantastic distilleries in Asheville, NC for gin, whiskey, rum, moonshine, liqueurs, and the best cocktails around.
It's no secret that AVL is a major foodie town with endless breweries. However, did you know that the Asheville distilleries and wineries are just as jumping?
Find their spirits and liquors at local restaurants and in package/liquor stores across the state. Or, visit their gorgeous taprooms and divey bars in person.
Plus, the distilleries in Asheville – like our favorite, Cultivated Cocktails – also host tastings and tours as well as feature mouthwatering cocktails.
Oak & Grist (Black Mountain) is our go-to distillery in Asheville for drinks, and Antidote is Chemist's popular rooftop bar.
So, which Asheville distillery should you visit for your spirits, liquors, and cocktails? What's the best gin distillery in Asheville? How about rum? Vodka? Whiskey?
Below, explore the best distilleries in Asheville, NC – from locals. Let's get started.
Read all about Asheville's food and drink scene.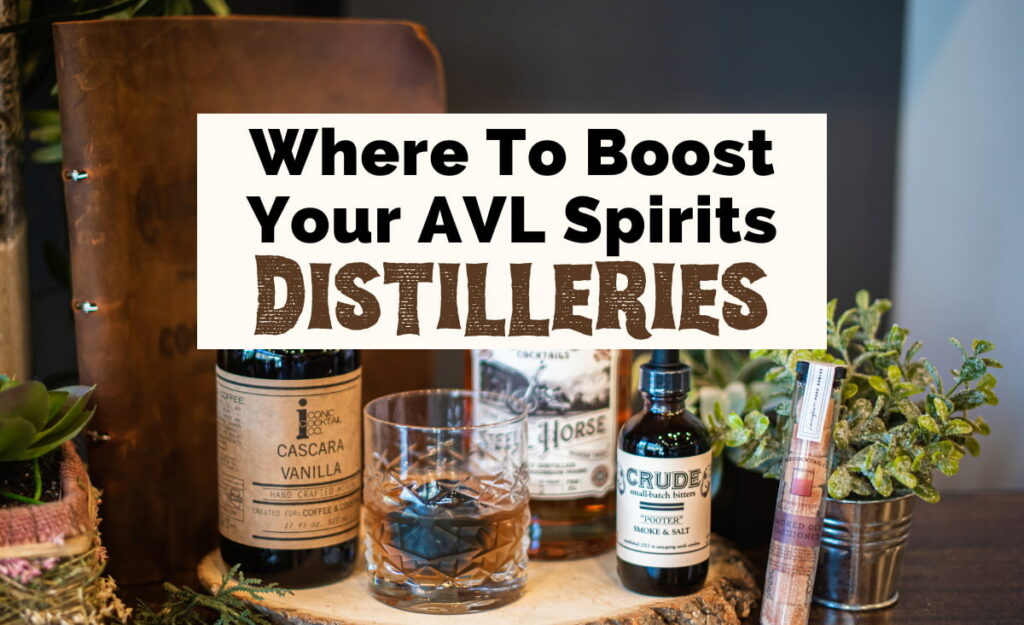 This post may contain affiliate links that earn us a commission at no extra cost to you. If you love these guides, support Uncorked Asheville here.
7 Best Distilleries In Asheville
1. Cultivated Cocktails Distillery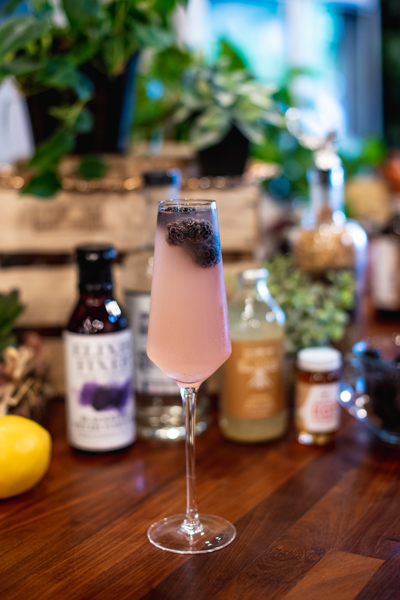 Cultivated Cocktails (formerly H & H Distillery) is one of our all-time favorite distilleries in Asheville, NC. It's also a great place to shop for gifts.
Along with classy home bar schwag like double jiggers, glassware, and shakers, purchase whiskey, rum, vodka, gin, and liqueurs.
Our favorites include Cultivated Cocktails Steel Horse Whisky, Shades of Rose Gin, and Coffee Liqueur. They also sell delicious bitters and syrups along with cocktail-making kits.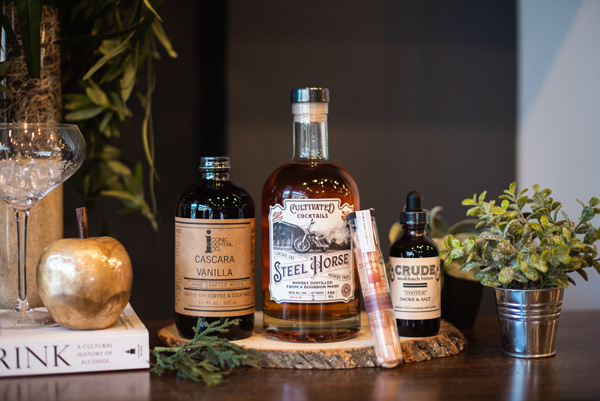 Also, one of the best bars in Downtown Asheville, order a cocktail and hang out on a trendy couch.
We partnered with Cultivated Cocktails for The Uncorked Librarian's (TUL) literary cocktails series. TUL is Uncorked Asheville's sister site for travel-oriented book and movie lovers.
Cultivated Cocktails | Distillery & Shop: 25 Page Ave, Asheville, NC 28801
Cultivated Cocktails' production facility is located in East Asheville. Tours of the distillery are by appointment only.
2. Asheville Distilling Company
Founded in 2010, one of the Asheville distilleries on our bucket list includes Asheville Distilling Company.
2020-2022 has been quite rough for everyone, and usually, Asheville Distilling Company offers tours and tastings.
Asheville Distilling Company is also one of the few Moonshine distilleries in Asheville.
Here, you can taste whiskey brimming with mountain flavors like honey and nectarine. Their spirits are delicious.
Asheville Distilling Company | 145 S. French Broad Ave., Asheville, NC 28801 (new location)
3. Chemist Spirits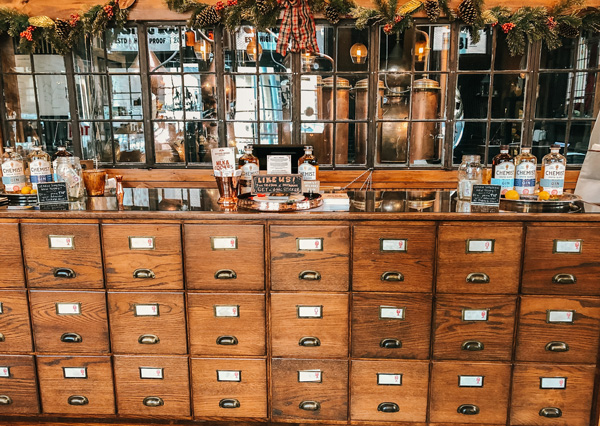 If you are looking for distilleries in Asheville near all of the famous local breweries like Twin Leaf, Funkatorium, Catawba, and Green Man, head to Chemist Spirits.
Also, enjoy many of Chemist's creations at Downtown Asheville restaurants and Biltmore.
Chemist specializes in gin, and enjoy a free tasting while there. They also produce a Chocolate Orange Gin Liqueur, Reserve Whiskey, and Biltmore Rose Gin.
If you have time, be sure to visit Chemist Spirits's 19th-century cocktail lounge, Antidote. Antidote is one of the most unique rooftop bars in Asheville.
Chemist Spirits | 151 Coxe Ave, Asheville, NC 28801
4. Dalton Distillery Asheville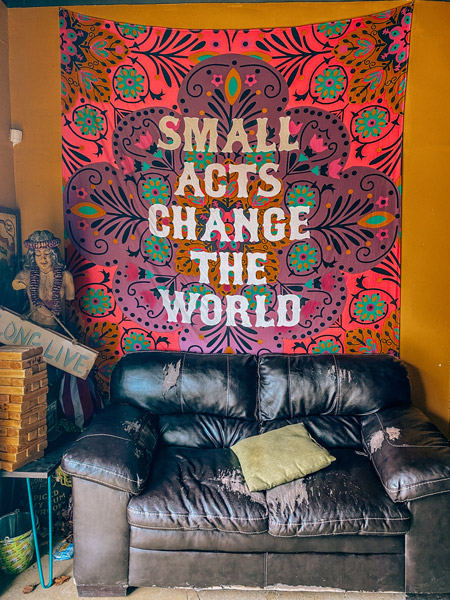 A family-run establishment, Dalton Distillery is Asheville's first legal Downtown distillery.
They specialize in vodka and rum, and their spirits are Caribbean Island-inspired mixed with Appalachian love.
Dalton Distillery also boasts of a "dive bar," Dalton Distillery Bar, that serves up the largest array of local spirits in town.
Enjoy a hipster place with arcade games and outdoor seating.
Dalton Distillery | 251 Biltmore Avenue, Asheville, NC, 28801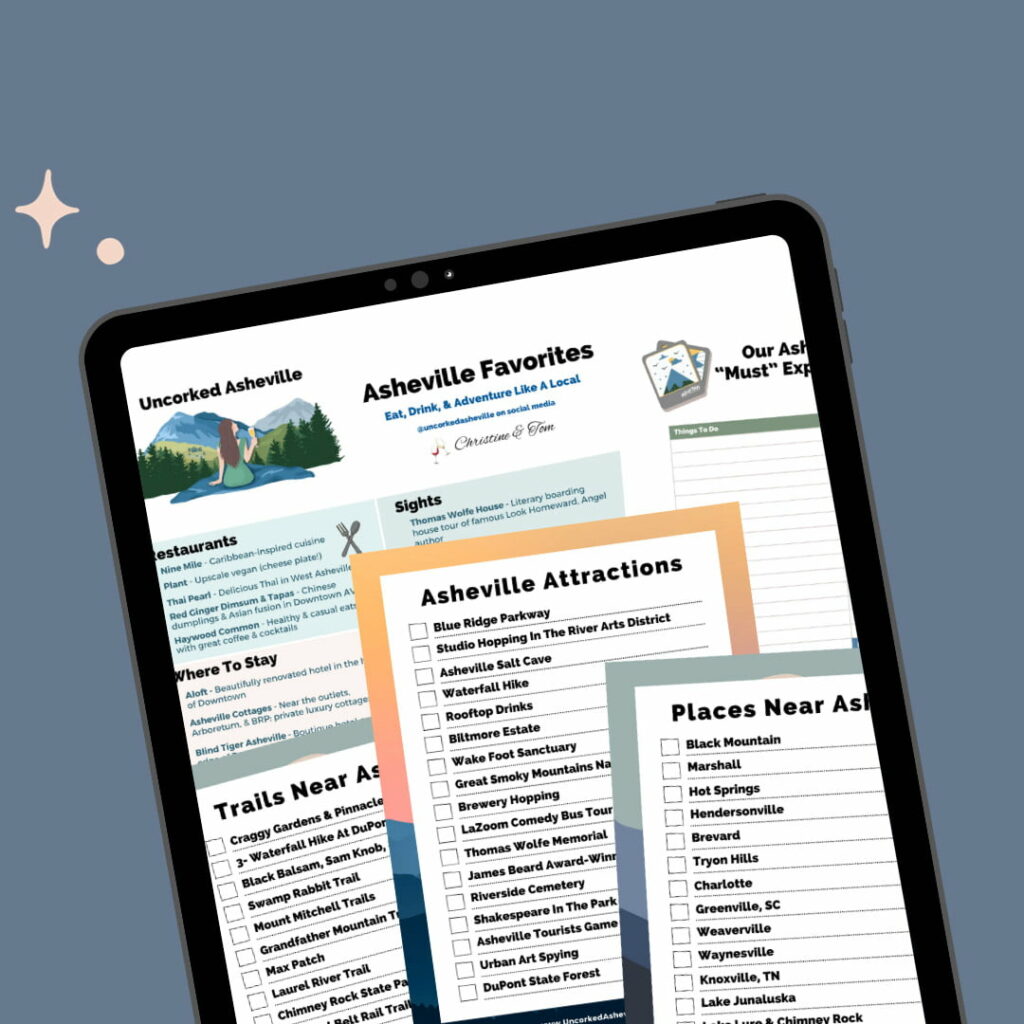 Never Miss Another Asheville Update
Experience Asheville like a local with our free attractions, dining, hiking, and day tripping guides. Get events, updates, and more straight to your inbox from Christine.
5. Eda Rhyne Distilling Company
Like many of the distilleries in Asheville, Eda Rhyne Distilling Company's goal is to capture the essence of Southern Appalachia.
They are also intrigued by the medicinal properties of the local flora and fauna.
Uniquely, Eda Rhyne is the only distillery in North Carolina to produce Amaro, an Italian herbal liqueur.
Along with their Amara Flora, Eda Rhyne produces an Appalachian Fernet and Rustic Nocino.
Eda Ryne sits tucked into the Biltmore Village area near Hillman Beer and French Broad River Brewing.
Enjoy a tasting before shopping and dining around the area. We just love Village Pub – new in 2022 – across the street.
Eda Rhyne Distilling Company | 101 Fairview Rd Suite A, Asheville, NC 28803
6. Rye Knot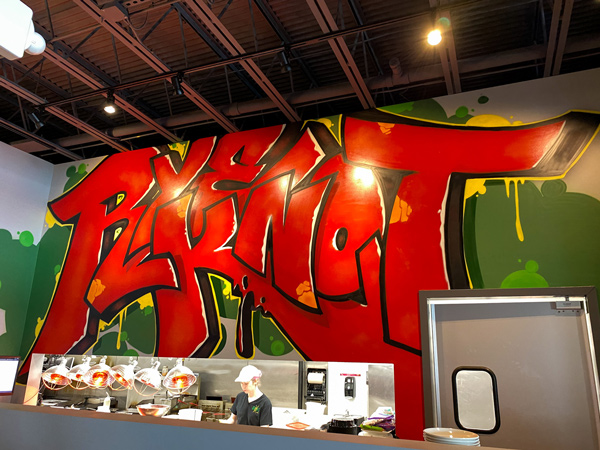 One of the newer Asheville distilleries that is also a brewery and restaurant, Rye Knot is a local North AVL neighborhood hot spot.
Travelers tend to overlook Rye Knot because it's situated behind Cecilia's Kitchen and Fresh Market on Merrimon Ave.
Along with craft beer, enjoy whiskey, gin, bourbon, and vodka. Be sure to take a bottle home.
For North Asheville restaurants, Rye Knot features classic American and Southern cuisine. Know that the dinner menu is larger than the weekend lunch menu.
Start with wings, nachos, deviled eggs, and fried green tomatoes. Oh, and of course, a cocktail or beer flight.
Find sandwiches, soups, salads, and BLTs. Rye Knot serves up one of the best burgers in town too.
Their larger and more expensive entrees include fish, meatloaf, chicken, pork chops, and steaks.
Rye Knot has a children's menu, and you'll find plenty of parking in the lots out front. What more could you ask for from a distillery?
Rye Knot | 868 Merrimon Ave., Asheville, NC 28804
7. Oak & Grist Distilling Company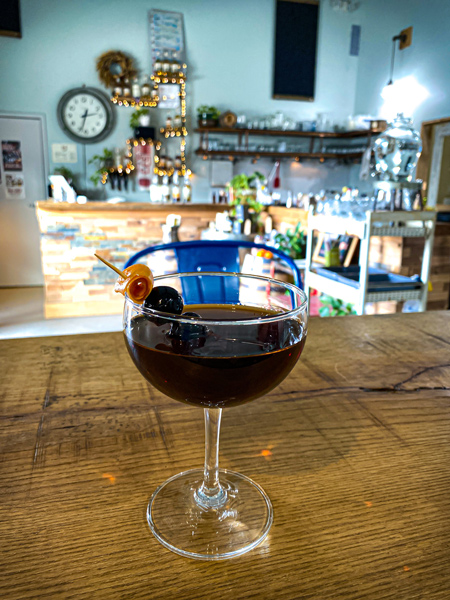 For Asheville distilleries, Oak & Grist is a must – even if their facility is 25-minutes outside of the city in one of our favorite mountain towns, Black Mountain.
Black Mountain is filled with quaint shops, restaurants, breweries, a meadery, and a fantastic distillery.
For whiskey and gin distilleries in Asheville, you cannot go wrong. Start by enjoying a tasting followed by one of their handcrafted cocktails.
Cocktails include classy takes on the classics and a few innovative and newer flavors and drinks.
These are seriously some of the best cocktails around, and you'll love the off-the-beaten-path warehouse vibes. On a weekday, Oak & Grist stays wonderfully peaceful.
Be sure to take a peek at Oak & Grist's fermentation tanks, and crack a smile at their punny (liberal) names. Oak & Grist has mostly outdoor seating with only a table inside.
Don't let the warehouse area turn you off, and know that Black Mountain Ciderworks & Meadery is also hiding out over here.
Nearby, don't miss Black Mountain breweries, including Lookout Point and Black Mountain Brewing.
For restaurants in Black Mountain, be sure to check out Trailhead, Cousins Cuban Cage, and Berliner Kindl German Restaurant.
Oak & Grist Distilling Company | 1556 Grovestone Road in Black Mountain, NC, 28711
Save These Asheville Distilleries For Later: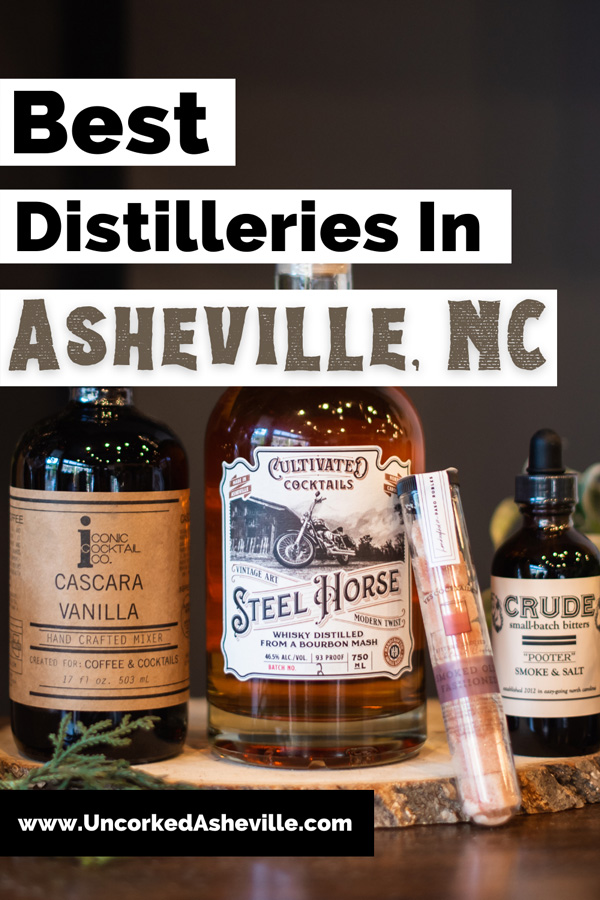 Where To Stay In Asheville
Explore the best places to stay in Asheville. A few of our top suggestions:
Aloft – Downtown Asheville – Centrally located and recently renovated, enjoy a rooftop pool, a gorgeous bar, and trendy rooms.

The Omni Grove Park Inn – Treat yourself to a luxury resort in North Asheville, complete with breathtaking sunsets, terrace bars and dining, and loads of Asheville history.

Hampton Inn And Suites Asheville Biltmore Area – A budget-friendly but renovated hotel on busier Brevard Road that's perfect if you wish to stay between Biltmore Estate, Downtown Asheville, and the Blue Ridge Parkway.

Asheville Cottages – Gorgeous 1 to 3-bedroom cottages with a private deck, housing a grill and hot tub. Find luxurious heated-floor bathrooms with rain showers, a well-stocked kitchen, and the cleanest rooms in town.

Foundry Hotel – An oasis in Downtown Asheville, Foundry Hotel is a nod to AVL's industrial history. Find famous restaurant Benne on Eagle while sleeping ensconced in charm and elegance.

Country Inn & Suites by Radisson, Asheville Westgate, NC – Located off of the highway as you enter AVL, find a sleek and clean hotel at a great price.

Black Walnut B&B Inn – Designed by Biltmore's supervising architect, Richard Sharp-Smith, this 1899 inn is close to Downtown AVL and serves afternoon tea. Two rooms are pet-friendly.
Don't miss out on these Asheville properties on Booking.com, too.
What is your favorite Asheville distillery?
What is your favorite spirit, and which of these distilleries makes the best cocktails? Let us know in the comments.
For More Drinks:
Best Wineries In And Around Asheville
Where To Find Cider & Mead In Asheville
Cozy Pubs & Taverns
Asheville's Jumping Coffee Scene
Atmospheric Wine Bars Around Asheville
You May Also Enjoy:
Asheville Food & Booze Guide
Mouthwatering Restaurants In Asheville.
Top Things To Do In Asheville, NC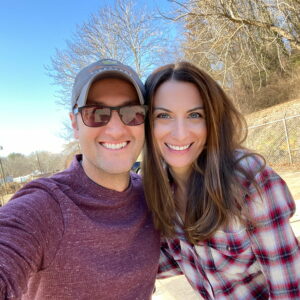 Christine (pronouns: she/her) is the owner and lead writer of Uncorked Asheville. After falling in love with those gorgeous Blue Ridge Mountains, Christine and her husband Tom decided to call Asheville, North Carolina home. When her pointy Italian nose isn't stuck in a book, Christine is adopting all of the kitties, getting lost in the forest, and drinking an ESB. She has a BA in English and History from Smith College, her MLIS from USF-Tampa, and is a former U.S. Fulbright Scholar - Indonesia. Christine also owns The Uncorked Librarian LLC with books and movies to inspire travel.