Is Christmas at Biltmore worth it? Yes! Explore the best things to do during a Biltmore Christmas from annual passholders and locals.
What is there to do at Biltmore at Christmas, and is it worth the ticket price?
As annual passholders and Asheville locals, we definitely think a Biltmore Estate Christmas is a must at least once – even if you have previously toured the home.
Biltmore offers holiday special events, seasonal meals, and plenty of things to do with the entire family.
Not to mention that Biltmore Candlelight Christmas is magical with those blazing fireplaces and Martha Stewart-worthy holiday decorations.
Even spy a gingerbread Biltmore House hiding in the kitchen.
Plus, tour the home to live Christmas music in the dimly lit common areas and sip on seasonal cocktails at Biltmore's delicious on-site restaurants.
If you are hoping to witness the festivities, a typical Biltmore House Christmas runs from early November to early January, and yes, you will need to purchase Biltmore Christmas tickets – there are many options.
So, keep reading to discover all that you can do at Biltmore Estate for Christmas, including ticket information and FAQs.
Make the most out of that ticket price. Let's get started!
Afterward, read our comprehensive guide to enjoying Biltmore Estate – itinerary included.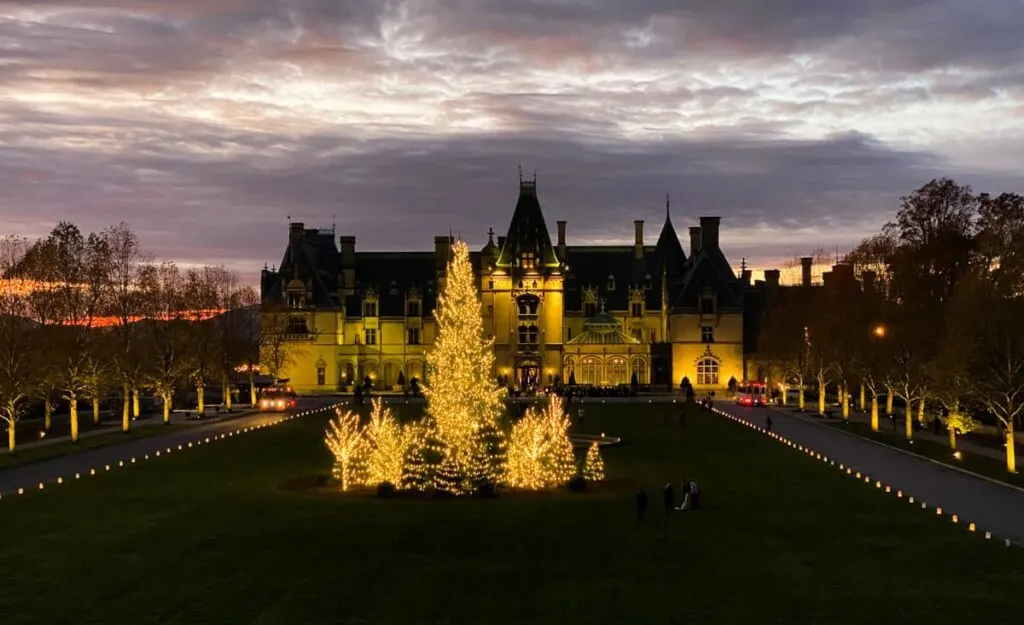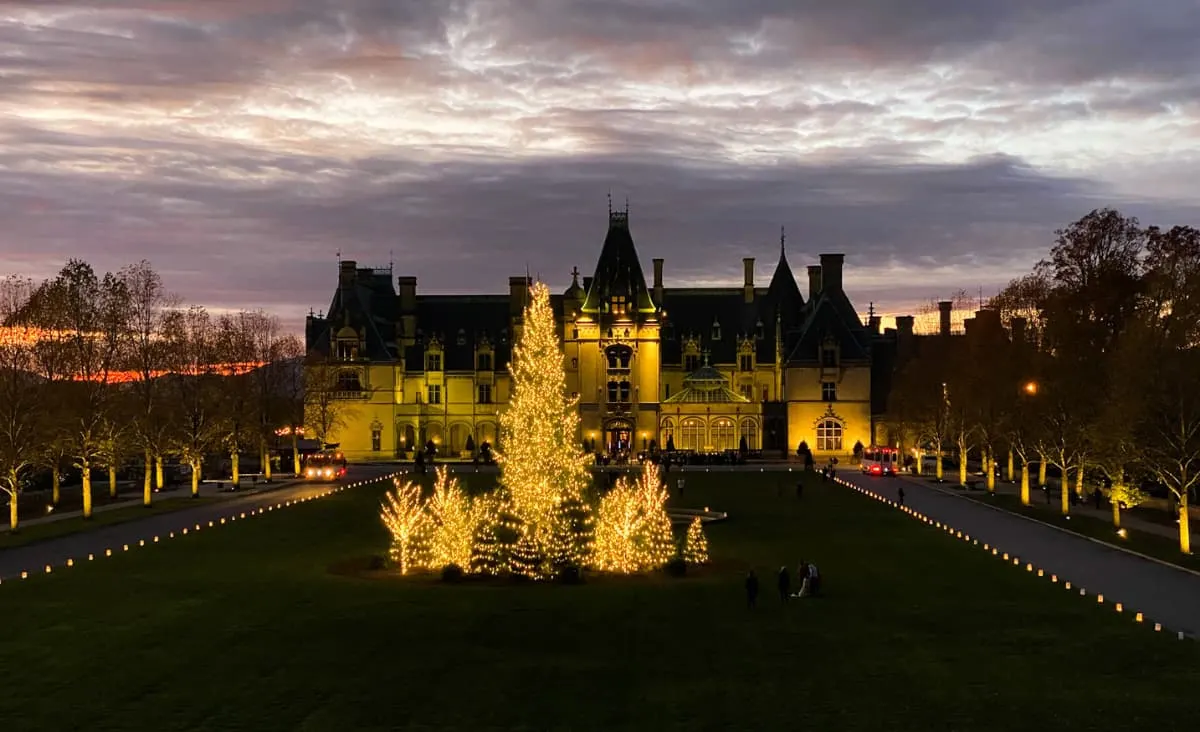 This post may contain affiliate links that earn us a commission at no extra cost to you. If you love these guides, support Uncorked Asheville here.
See our Top Places To Stay in Asheville.

Don't miss out on these Asheville properties on Booking.com, too.
9 Best Ways To Enjoy Christmas At Biltmore
1. Watch The Sunset Over The Blue Ridge Mountains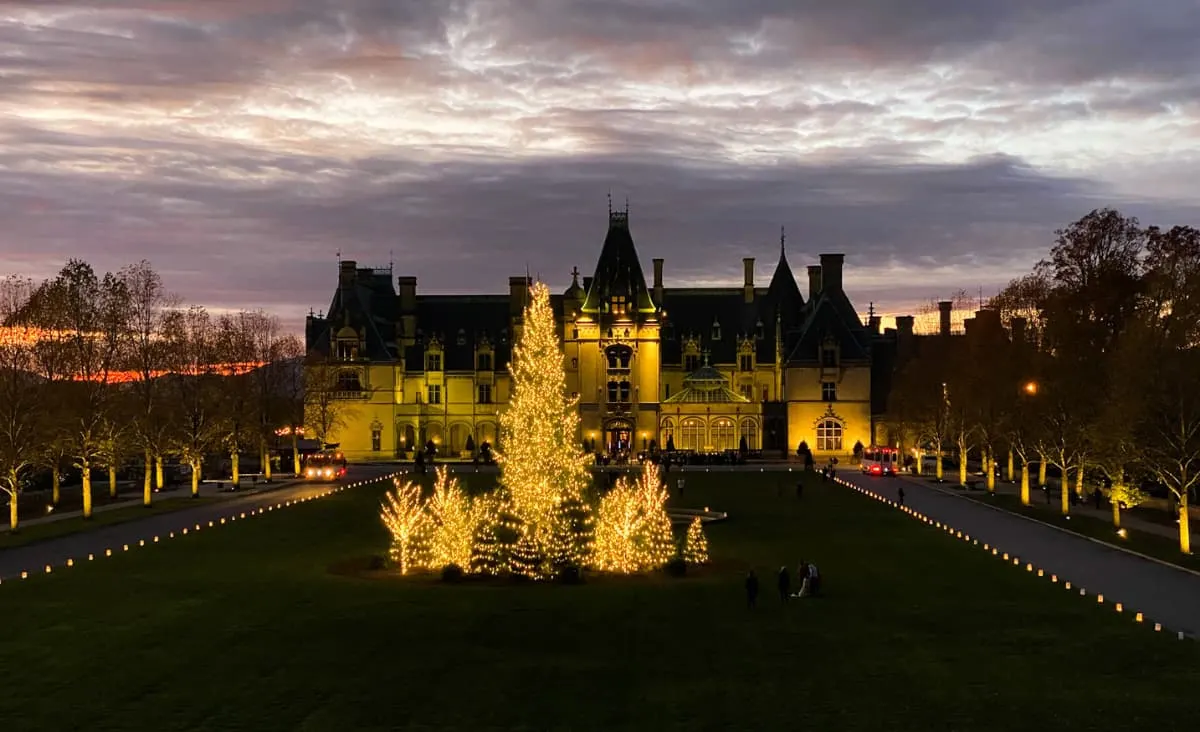 Asheville winters are the best for gorgeous sunsets, blazing fireplaces, boozy hot beverages, and sweater weather.
Heading to Biltmore at Christmas is no exception.
As Biltmore passholders, we usually visit Biltmore Estate in the evenings and head directly to the trails or Antler Hill Village for wine and dinner at Cedric's.
For years, we missed out on seeing the home at sunset, which is an amateur mistake.
We suggest planning your Biltmore Christmas tickets and house entry time around nightfall to catch a glorious sunset over the Blue Ridge Mountains and Biltmore House.
Western North Carolina winter sunsets are especially famous for those vibrant purples, out-of-this-world oranges, and hot pinks – which is why we included an Omni Grove Park Inn picture here.
Imagine standing on the raised viewing areas in front of Biltmore House as the sun goes down.
Christmas trees sparkle out front, and as twilight descends, Biltmore's facade shimmers while enveloped within those Blue Ridge Mountains.
It's one of the most romantic things to do in Asheville.
2. Listen To An Audio Guide Tour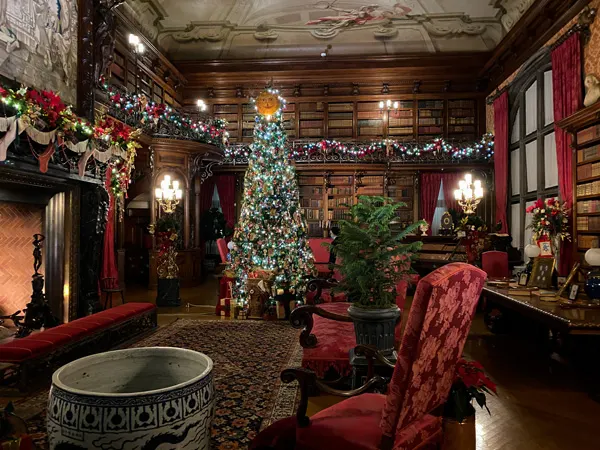 Not all Biltmore tickets include an audio guide, but during Christmas at Biltmore, they do!
Biltmore frequently changes its audio tours, and we will say that some are better than others.
One year, we "attended" a Biltmore party filled with guests. Cedric the dog stole the turkey, and an opera singer caught a cold.
Another year, our audio guide was much more formal, discussing unique and engaging Biltmore history. You even hear from the curators. It was a little dry…
We also read local Asheville author Denise Kiernan's, The Last Castle, which is full of untold Biltmore facts and history.
We couldn't recommend the title enough if you wish to learn more about the Vanderbilt family's Asheville legacy.
There is more to George and Edith than just excessive wealth. Edith was active in politics, and both made contributions to forestry education.
You might also enjoy these books set in Asheville and North Carolina to enhance your visit. Of course, Biltmore offers more specialized tours for wine and history lovers too.
And, if you love Biltmore's history, be sure to visit all of Asheville's top museums and historic sites.
3. Spy Stunning Holiday Decor & Christmas Trees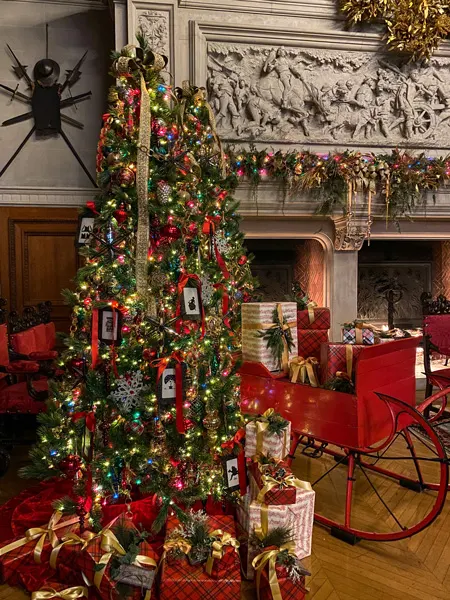 Did Martha Stewart just vomit all over Biltmore Estate? Yes; yes, she did!
A Biltmore Estate Christmas entails more than 100 intricately decorated trees, 10,000 holiday ornaments, and 100,000 sparkling lights.
Spy ribbons, presents, wreaths, garlands, and all things candles. The trees are not original to the home, but they sure do add a magical quality.
The Banquet Hall is our favorite Christmas-themed room and has the tallest tree in the home. For bibliotourists, fall in love with Biltmore's gorgeously decorated library.
Other highlights – whether it is Christmas at Biltmore or not – include the indoor swimming pool, Halloween room, gym, and bowling alley.
Of course, Antler Hill Village is also decorated for the holidays and comes to life at night with lights.
If you covet Biltmore's Christmas light displays, explore all of Asheville's breathtaking holiday light events, including The NC Arboretum's Winter Lights festival and Lake Julian's drive-thru.
And, if those trees inspire you as much as they do us, find the best spots around Asheville to cut or select your own Christmas tree to decorate.
4. Gawk At A Gingerbread Biltmore House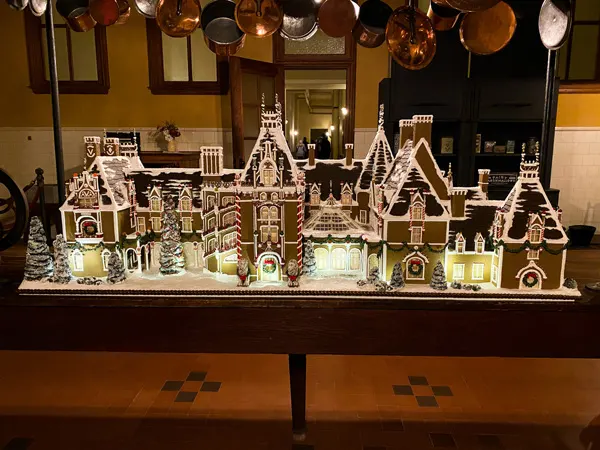 Biltmore at Christmas – and across Asheville – means all things gingerbread!
Located downstairs in Biltmore's kitchen, you can smell it before you can even see it. In fact, the sculpture is so perfect, we had to ask to ensure it was indeed real.
On the kitchen table, don't miss a gorgeous Biltmore Estate replica made completely out of gingerbread.
This little masterpiece blows away the Gingerbread House Competition at the Omni Grove Park Inn. Sorry, not sorry.
Of course, if you love historic buildings and hot chocolate, be sure to visit the Grove Park Inn in November and December, it's one of our other Asheville Christmastime traditions.
5. Take A Biltmore Candlelight Christmas Evenings Tour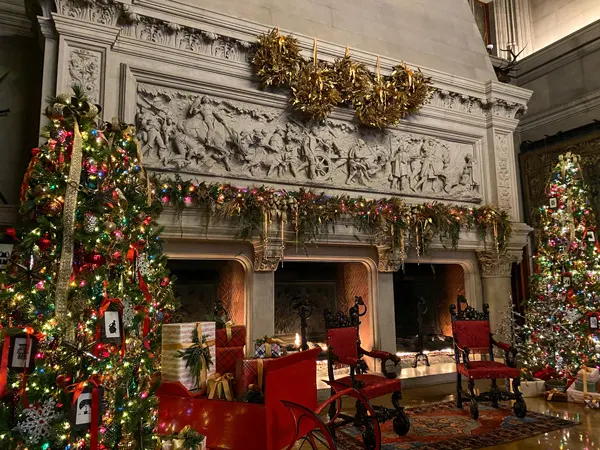 As locals, what do we think is the best way to experience a Biltmore Christmas?
If you are a passholder and/or debating between a daytime or evening visit, we highly suggest choosing Biltmore Candlelight Christmas Evenings tickets.
Enjoy a magical nighttime experience with the lights dimmed and candles situated throughout the house. Biltmore Estate fires up many of the 65 fireplaces, keeping you warm and cozy.
Sometimes, we think Biltmore is a tad creepy during the day. In fact, rumor has it that the Estate is one of Asheville's haunted houses. Blame the tapestries.
At night, with Biltmore's Christmas decorations and lights, though, the home is stunning. Hand us a glass of wine, and let's go settle in a chair in George Vanderbilt's library.
How long does the Biltmore Candlelight tour take? If you are touring on your own and with an audio guide, plan for one hour to one and a half hours.
You may encounter crowd congestion in certain areas, and budget a little time for non-flash pictures.
Please don't forget to use the restroom before entering the house. There are no restrooms along the way.
Biltmore also asks that you arrive at the house 15 minutes before your allotted tour time. They warn that you should budget for about 45 minutes to park and get to the house.
6. Sip Seasonal Cocktails & Enjoy A Meal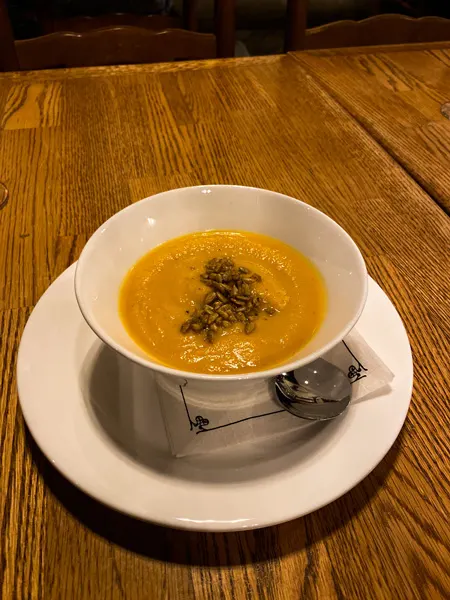 Spending Christmas at Biltmore also means eating at their delicious restaurants.
Even as locals – and Asheville is known as Foodtopia – we enjoy dining at Biltmore Estate throughout the year.
To dine at any of Biltmore's restaurants, you will need a daytime ticket, annual pass, or room booked on the property.
We highly encourage making online reservations for any of your Biltmore meals as well as booking them as far out in advance as possible.
We occasionally manage to sneak in without reservations, but you may get turned away or have long wait times.
Stable Cafe traditionally offers a Candlelight Christmas Evenings dinner. This is a ritzy, 3-course Biltmore Christmas dinner menu with an appetizer, entree, and dessert.
It's not the friendliest menu for food intolerances and preferences (or for children), but gluten-free, vegetarian, and vegan items are labeled.
There usually is a vegan soup, and they are able to lightly modify dishes if you are lactose intolerant. The food is delicious, and those seasonal cocktails are fabulous.
Plus, after a night of sparkling lights, the ambiance is perfectly romantic.
For lunch in Asheville – and if you are attending Biltmore's Daytime Celebrations – we devour Stable Cafe's chicken salad sandwiches, Southern samplers, and classic burgers.
And, during the day, Stable Cafe is a great kid-friendly restaurant. For littles, choose from chicken tenders, burgers, grilled cheese, and BLTs.
We also frequent Cedric's Tavern for lunch – for those pub vibes – which is lighter fare with those same stellar drinks.
Think fish and chips, bangers and mash, burgers, and Shepherd's pie.
Make sure to order some Lusty Monk mustard on the side along with pickles as pictures of that beloved Saint Bernard watch over you.
Nearby in Antler Hill Village (up the stairs), Biltmore also has one of our favorite wine bars with charcuterie. We cannot resist a good snack.
If you prefer to dine nearby off the Estate, try Biltmore Village's Corner Kitchen or West Asheville's Neng Jr.'s.
7. Stay Overnight At A Biltmore Property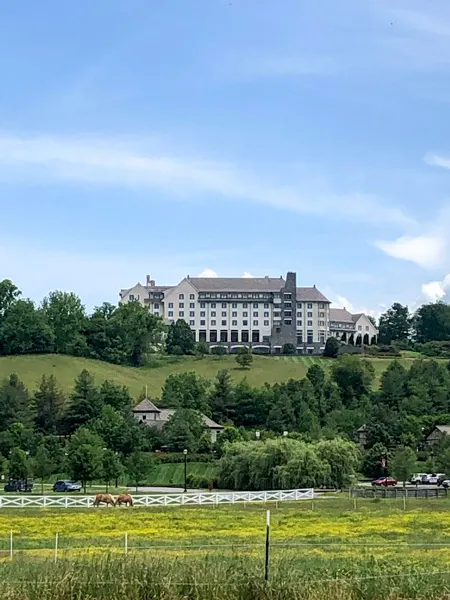 Treat yourself to the ultimate Biltmore Estate Christmas with an overnight stay.
Antler Hill Village glows at night, and throughout the barnyard, encounter trees filled with lights. Grab an Adirondack chair and pull up next to the playground.
Here, you can also stay at Biltmore's Village Hotel. This property is centrally located with moderate prices and spa access.
Plus, the winery is next door. The Village Hotel also has a pool.
The Inn On Biltmore Estate is a tad fancier. Cozy up in this luxury hotel with the most on-property conveniences, including (by request) mountain views.
Each suite is named after one of George Vanderbilt's friends or relatives. There is also a premier cottage if you are going all out.
If you don't wish to stay at Biltmore – it can get pricy – these are the hotels we recommend in AVL.
8. Enjoy A Special Exhibit (Leonardo da Vinci in 2022)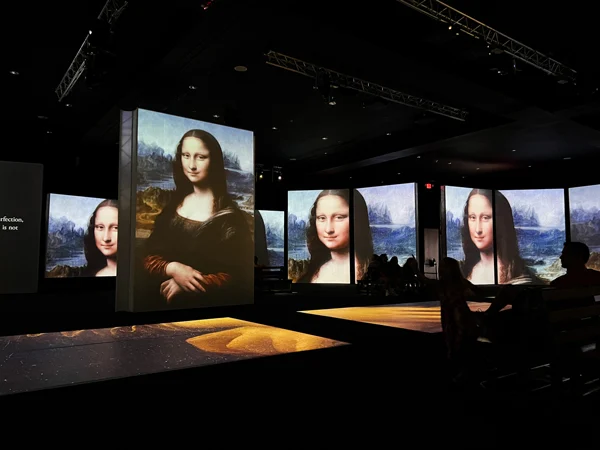 Christmas at Biltmore Estate would not be complete without a special exhibit. This 2022, Biltmore has gone all out.
Its seasonal exhibit, Leonardo da Vinci – 500 Years of Genius, is a must. You'll love this immersive art experience, which is similar to Van Gogh Alive and Monet & Friends (we attended all three).
First, head into a gallery featuring Leonardo da Vinci's greatest inventions. Then, duck into a darkened room filled with floor-to-ceiling screens.
Watch a 35+ minute video showcasing da Vinci's innovations and artworks paired with classical music and quotes from his life.
The exhibit is both breathtaking and thought-provoking.
If you are a Biltmore passholder, find discounted da Vinci tickets. If you are a daytime or evening visitor, you may add tickets to your house pass for a higher fee.
Leonardo da Vinci at Biltmore goes through February 2023 in the Amherst building at Deerpark and will be followed by Italian Renaissance Alive.
Be sure to check out all of Asheville's fabulous events.
9. Hike Or Bike Biltmore's Fabulous Trails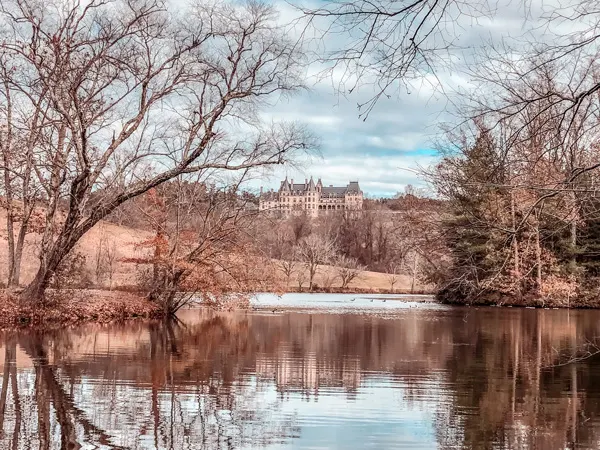 One of the biggest reasons we are Biltmore annual passholders includes the 22 miles of hiking and biking trails across the Estate.
This is also a great activity for families traveling with children.
Of course, all outdoor activities are weather-dependent, and snow and ice may kibosh your plans. Asheville will see snow and freezing temperatures in the winter.
However, no Christmas at Biltmore would be complete without fully exploring the grounds and terrific winter hikes, including enjoying the same spots as the Vanderbilts.
Since we are locals, we bring our own mountain bikes. However, Biltmore's Bike Barn rents out bikes seasonally – typically matching Estate hours.
Biking trails range in level, length, and difficulty, and be sure to download Biltmore's trail map to help you decide.
Or, just enjoy a casual on-property stroll or hike. We frequent the Westover Trails or walk from Antler Hill Village to the Lagoon.
Continue on from or park at the Lagoon – catch a great view of Biltmore over the water – and hike up to the side of Biltmore House and gardens via the Deer Park Trail, which is our personal favorite trek.
Near Bass Pond, be sure to catch Biltmore's waterfall damn. It's not as awe-inspiring as Asheville's larger waterfalls, but it is easy to access in the winter.
Never Miss Another Asheville Update
---
Tired of generic Asheville travel itineraries? Experience Asheville like a local with our free Asheville Favorites checklist, including restaurants, breweries, and hiking. Plus, get local updates – including events and hidden gems – straight to your inbox. Sign up here.
All You Need To Know About Biltmore Christmas Tickets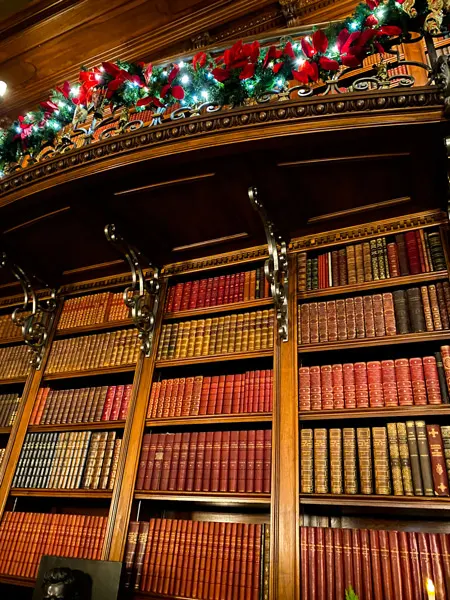 Biltmore Christmas 2022 runs from November 4, 2022 through January 8, 2023 and takes place across the entire Estate.
However, most decorations are at Biltmore House and Antler Hill Village.
You will need to purchase Biltmore Christmas tickets or be a passholder to enter the Estate. Biltmore also offers a variety of Christmas packages and tours.
If you are a passholder, you will have to purchase and pay additionally for Candlelight Christmas Evenings and Leonardo da Vinci – at a discounted price.
Please double-check all information and purchase tickets directly with Biltmore Estate.
Biltmore Christmas Daytime Ticket Options (2022)
Please know that prices vary by day and time.
If you just wish to visit Biltmore's home and grounds during the day, Christmas Daytime Biltmore House Admission offers a basic audio-visit daytime package starting at around $99+.
If you also want to include Biltmore's special 2022 exhibit, Leonardo da Vinci, tickets start at $129+. We thoroughly enjoyed this breathtaking experience.
Lastly, Biltmore's largest daytime ticket package costs $364+ and includes an audio tour, da Vinci, and a 90-minute group tour.
Biltmore Candlelight Christmas Evenings Tickets
Candlelight Christmas Evenings at Biltmore are where the magic happens.
While you can see all of the gorgeous Christmas decor and trees during a daytime visit, nothing beats the warm glow emanating from candles, fireplaces, and lights.
Plus, let's not forget Biltmore Christmas dinner…
Like Biltmore Christmas daytime tickets, the evening offers three different packages at slightly elevated prices.
Take just the evening audio tour for $119+. Or, purchase tickets for da Vinci and the audio tour starting at $149+.
Lastly, there is a package for a daytime audio guide, a 90-minute group guide, and extra Vanderbilt Christmas stories for $384+.
Read about all of Biltmore's Christmas ticket pricing on their site.
Biltmore Estate Christmas Visitor Information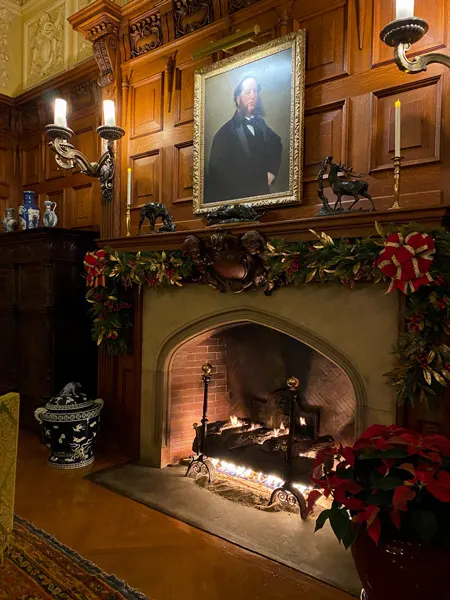 Biltmore Estate General Address:
Address: One Lodge Street, Asheville, NC 28803
Phone Number: 800-411-3812
Website: https://www.biltmore.com/
Information About Accessibility: https://www.biltmore.com/help-center/accessibility/
Parking At Biltmore
Parking is included with admission. Some lots are within walking distance of your destination. There are shuttles from the furthest lots that will take you around the property.
Where To Stay In Asheville
Explore the best places to stay in Asheville. A few of our top suggestions:
Aloft – Downtown Asheville – Centrally located and recently renovated, enjoy a rooftop pool, a gorgeous bar, and trendy rooms.

The Omni Grove Park Inn – Treat yourself to a luxury resort in North Asheville, complete with breathtaking sunsets, terrace bars and dining, and loads of Asheville history.

Hampton Inn And Suites Asheville Biltmore Area – A budget-friendly but renovated hotel on busier Brevard Road that's perfect if you wish to stay between Biltmore Estate, Downtown Asheville, and the Blue Ridge Parkway.

Asheville Cottages – Gorgeous 1 to 3-bedroom cottages with a private deck, housing a grill and hot tub. Find luxurious heated-floor bathrooms with rain showers, a well-stocked kitchen, and the cleanest rooms in town.

Foundry Hotel – An oasis in Downtown Asheville, Foundry Hotel is a nod to AVL's industrial history. Find famous restaurant Benne on Eagle while sleeping ensconced in charm and elegance.

Country Inn & Suites by Radisson, Asheville Westgate, NC – Located off of the highway as you enter AVL, find a sleek and clean hotel at a great price.

Black Walnut B&B Inn – Designed by Biltmore's supervising architect, Richard Sharp-Smith, this 1899 inn is close to Downtown AVL and serves afternoon tea. Two rooms are pet-friendly.
Don't miss out on these Asheville properties on Booking.com, too.
Ready to enjoy a Biltmore At Christmas? Save this post for later.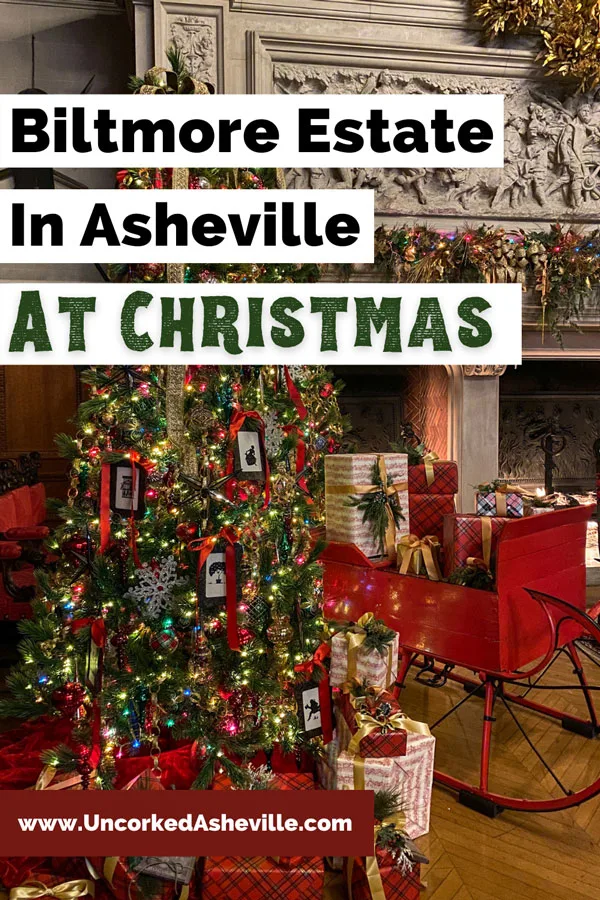 Have you attended a Biltmore Estate Christmas event?
Have you visited Biltmore at Christmas? Did you attend a Biltmore Candlelight Christmas or Daytime Celebration?
What did you think? Do you have any questions? Please let us know in the comments.
And, no matter what time of year you are visiting Biltmore – like in spring for the blooms – we have a plethora of Biltmore Estate Guides to make your visit even better.
You May Also Enjoy: