Are you looking for the best donuts in Asheville, NC? We'll share delicious spots for warm and gooey Asheville donuts as locals.
Imagine this: You have spent all day hiking in the mountains. Maybe you want a sugary reward?
Or, maybe you are on vacation craving a treat for breakfast or a snack. Why not grab a donut?
True to Asheville, North Carolina's "Foodtopia," the Asheville donuts are delicious, eclectic, and food-intolerance as well as allergy-friendly.
If you are looking for gluten-free treats and vegan donuts in Asheville, head to Vortex or Black Mountain's Dough House.
Do you want whipped-up-in-front-of-you donuts? Don't skip Duck Donuts on Merrimon Ave.
Or, are you looking for bakery-style donuts with Italian cookies and apple fritters? Geraldine's Bakery has your back.
Below, we are sharing the best doughnuts in Asheville – as locals – as well as a part Celiac and lactose-intolerant household.
Plus, we'll disclose a coveted seasonal spot for donuts near Asheville, too; think Hendersonville apple orchards in the fall (our tradition). Let's get started!
Why not grab some delicious Asheville coffee with that donut?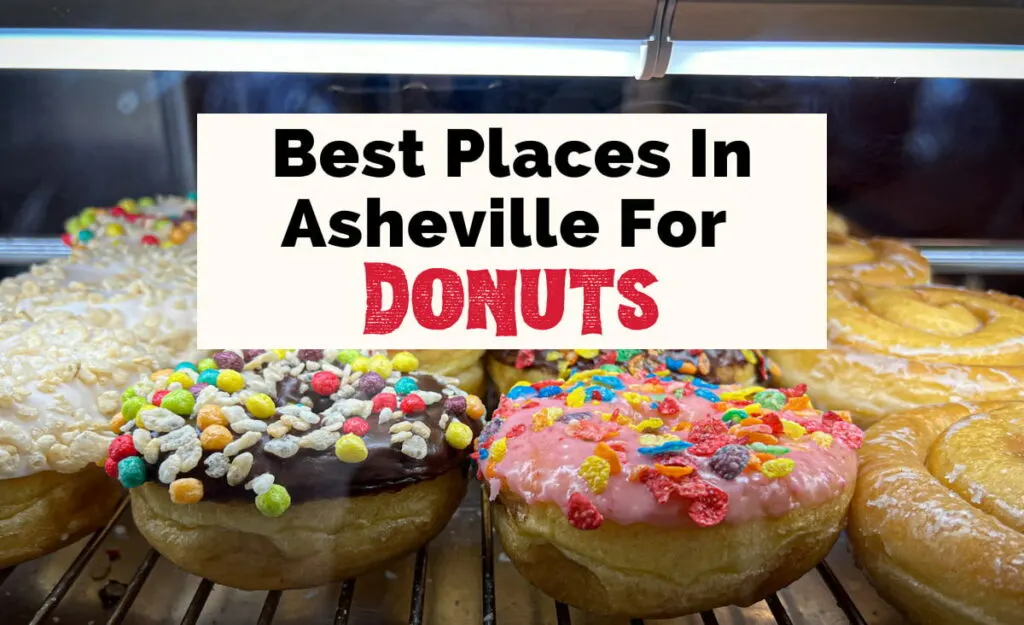 This post may contain affiliate links that earn us a commission at no extra cost to you. If you love these guides, support Uncorked Asheville here.
8 Places For The Best Donuts In Asheville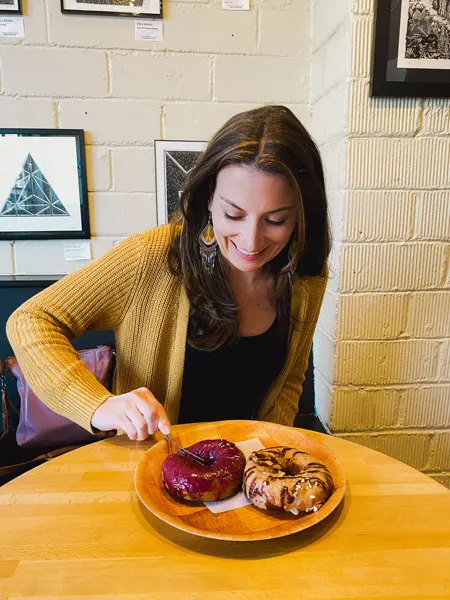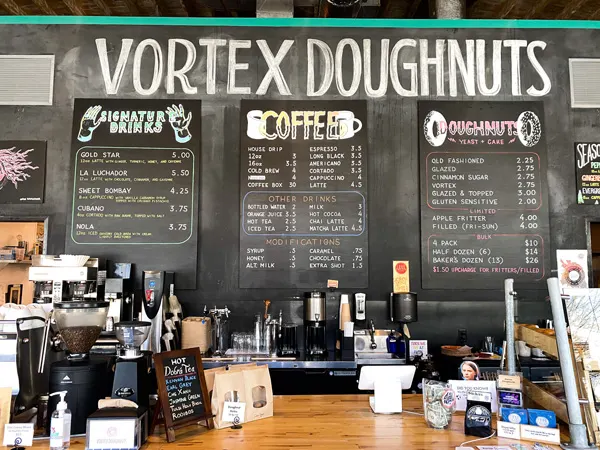 While we are not solely vegan, we are lactose-intolerant – and a part Celiac household – which means that finding donuts without milk and butter is preferable.
For delicious vegan donuts in Asheville, Vortex Doughnuts is it. It's also one of our favorite Downtown Asheville coffee joints.
Located next to Catawba Brewing (a hot AVL brewery) and close to Buxton Hall BBQ (famous BBQ) in Downtown Asheville, find gourmet coffee and scrumptious donuts.
Not all of the donuts are vegan, especially for dairy eaters, and you'll also usually find a gluten-free option or two.
Of course, Vortex has signature coffee drinks, hot chocolate, juice, and tea. Their donut shop is spacious and fun – perfect for the entire family.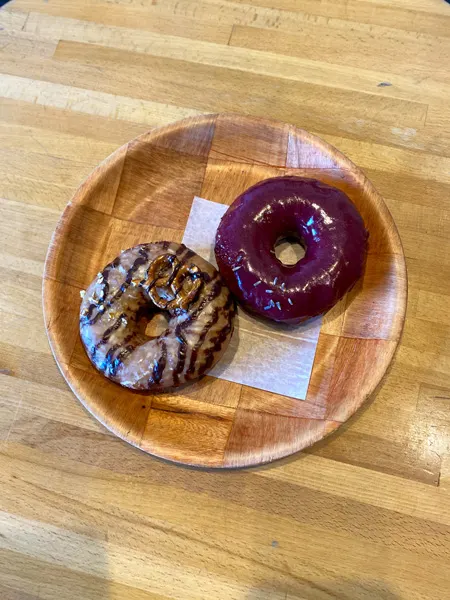 Don't miss the cool linear clock on the wall, and be sure to grab a box of donuts to go, especially since there is so much to do in this area.
Whenever we head to an event in Asheville, they tend to serve up these delicious treats.
If you are looking for parking around Vortex Doughnuts, we suggest one of the pay lots across the street or immediately behind the building.
We also always recommend having the ParkMobile app downloaded and ready to go for convenience and cell service.
Be sure to check out these vegan and vegetarian-friendly spots in Asheville too, including more cafes, bakeries, food trucks, and restaurants.
And while Downtown, make reservations for one of the area's great restaurants like Bouchon, La Bodega, and Limones.
Vortex Doughnuts Location
Address: 32 Banks Ave #106, Asheville, NC 28801
Website: https://vortexdoughnuts.com/
Phone Number: (828) 552-3010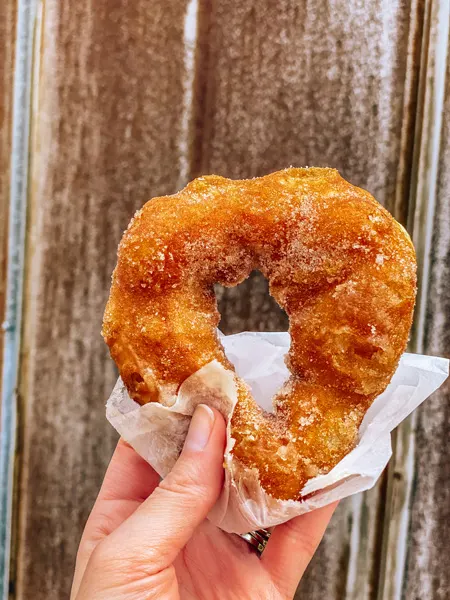 Voted Best Dessert of 2016 by Bon Appetit, Hole Doughnuts is a staple West Asheville coffee shop serving handmade Asheville donuts.
Hole Doughnuts is pretty trendy, and you'll see iconic Instagram photos of donuts being held up in front of their food truck. Many agree that they make the best donuts in Asheville.
Along with classic donut flavors, Hole Doughnuts has a seasonal donut that rotates every week.
Grab local coffee – they source from Penny Cup – and tea (from the Asheville Tea Company), too.
However, just know that Hole Doughnuts isn't the best option for our vegan, gluten-free, and dairy-free readers as their donuts are made with eggs, stone ground flour, and butter.
Nearby, you'll find TacoBilly, Gan Shan West, Urban Orchard Cider Co., and Archetype Brewing, just a few of West Asheville's stellar restaurants and watering holes.
West Asheville is also known for its murals, great shopping, and bookstores.
Hole Doughnuts Location
Address: 168 Haywood Rd, Asheville, NC 28806
Website: https://www.hole-doughnuts.com/
Phone Number: (828) 774-5667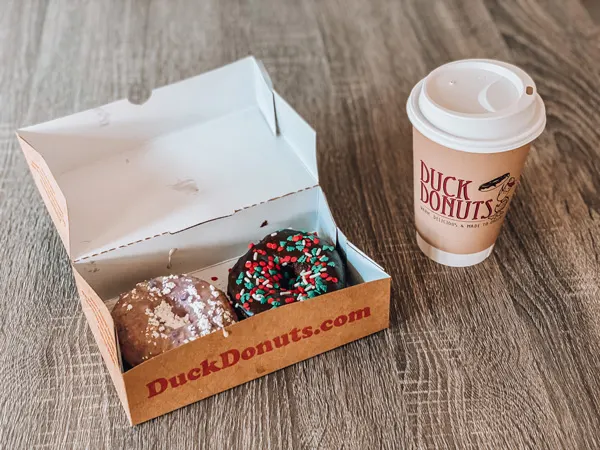 If you are looking for made-to-order donuts in Asheville, Duck Donuts is where it is at. We enjoy their blueberry glazed donuts (with a Lactaid). All of their donuts currently have dairy.
Duck Donuts is a large and mostly North American franchise (but they also have stores in Saudi Arabia and Egypt, for example), and we have one location in North Asheville.
Don't let this turn you off, though, as the donuts are customized just for you and are quite colorful and unique. Even for locals, these are still some of the best donuts in Asheville.
Plus, the most fun fact: Duck Donuts started in the Outer Banks of Duck, North Carolina – this is a real place; we swear.
Duck Donuts serves warm and fresh made-to-order donuts; pick a coating, topping, and drizzle for your vanilla cake donut.
Just a few sugary and delicious items to select from include cinnamon sugar, strawberry icing, chopped bacon, shredded coconut, and marshmallow or raspberry drizzle.
Duck Donuts also sells fan favorites like Blueberry Lemonade, Bacon in Sun, Cinnamon Bun, Peanut Butter and Jelly, and Chocolate Covered Strawberry.
Don't miss their seasonally fun creations, too. Who doesn't love Christmas sprinkles?
Along with Vortex, Duck Donuts might be our and our dairy-eating friends' favorite donuts in Asheville. However, like Hole Doughnuts, this isn't the best spot if you are vegan and dairy and gluten-free.
Dine at even more of the best North Asheville restaurants.
And, for more Duck Donuts near Asheville, head to Charlotte, Greenville, SC, and Knoxville TN.
Duck Donuts North Asheville Location
Address: 182 Merrimon Avenue, Asheville, NC 28801
Website: https://www.duckdonuts.com/
Phone Number: (828) 575-2177
"Wanna get glazed?"
If you are looking for breakfast, coffee, and donuts in Downtown Asheville, head to Stay Glazed Donuts & Cafe, slightly hidden in a haunted area of Pack Square (look for the bullseye and take a Gray Line Trolley Tour…).
Stay Glazed Donuts makes small-batch doughnuts that they hand-cut each morning. You can call ahead to double-check their daily rotating donuts.
They also update their Instagram account with delicious donut creations and note when they sell out of the goods, which is frequent.
If you want more delicious treats and donuts in Asheville, head over to these indulgent Asheville dessert cafes and bars, especially the famous French Broad Chocolate Lounge and Old Europe Cafe.
Asheville Chocolate is also a great spot for chocolatey treats.
Lastly, know that Pack Square is where the city hosts many Asheville festivals and events.
For parking, try the Pack Square Garage and nearby lots. If you don't mind walking, the Rankin and Civic Center garages are our personal picks.
Stay Glazed Donuts Location
Address: 22 S. Pack Square LL 100, Asheville, NC 28801
Website: https://www.stayglazeddonuts.com/
Phone Number: (828) 412-5718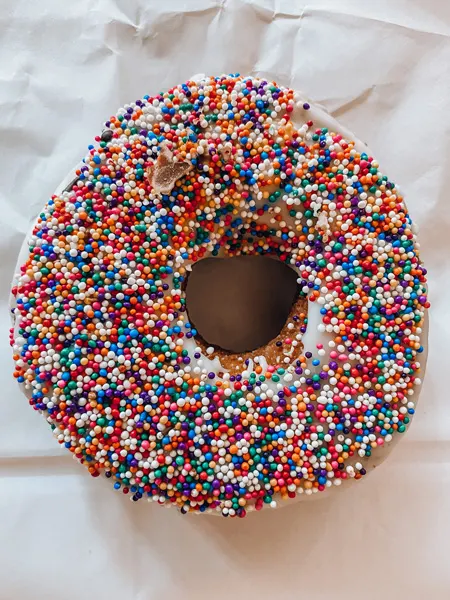 For homemade donuts in Asheville along with all of your freshly baked goods, head to Geraldine's Bakery. Not to mention that Geraldine's is a fantastic grab-and-go local breakfast spot.
Geraldine's Bakery is situated on Merrimon Ave. toward the more residential area of North Asheville close to the grocery stores, a library branch, and Beaver Lake Bird Sanctuary & Perimeter Trail.
Geraldine's reminds us of our favorite childhood Italian bakery back home in CT.
Select from wedding cakes, Italian cookies, fritters, and an endless display of mouth-watering pastries that you cannot leave without.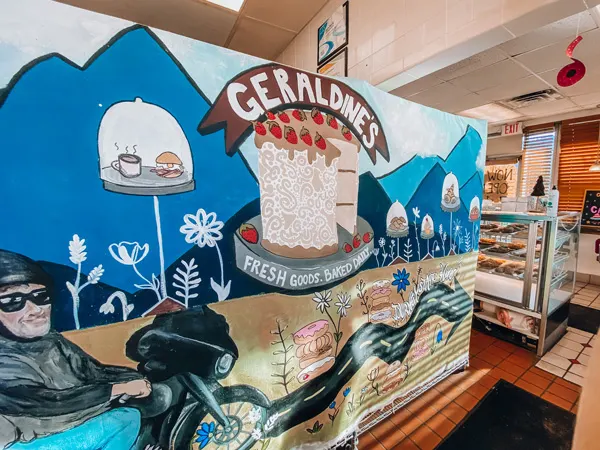 For Asheville donuts and cakes, Geraldine's Bakery cannot be beaten, and they stay pretty jumping during business hours.
Geraldine's Bakery's mural basically sums up Asheville: The Blue Ridge Mountains, riding down the Blue Ridge Parkway, donuts, coffee, and food.
A bonus for convenience is that Geraldine's has its own parking lot. Find limited indoor and outdoor seating too.
One Penny Cup location sits across the street for more coffee, and in the fall, look up toward Grace Episcopal Church for our favorite pumpkin patch around.
See where else you can brunch in Asheville, including nearby 5 Points – a local Montford diner – and All Day Darling, which has gluten-free and dairy-free options.
Geraldine's Bakery Location
Address: 840 Merrimon Ave, Asheville, NC 28804
Website: https://www.geraldinesbakeryavl.com/
Phone Number: (828) 252-9330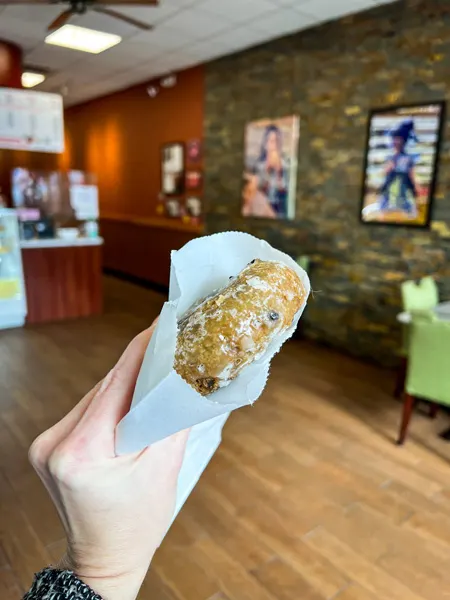 Many of our Uncorked readers will tell you that Ava's Donuts makes the absolute best donuts in Asheville – and they don't lie!
Ava's Donuts is family-owned, and their donuts are made fresh every morning.
A little off-the-beaten path for travelers in South Asheville, find Ava's on the edge of popular – and let's be real, yuppie – Biltmore Park Town Square.
Biltmore Park Town Square is home to secondary locations for some of Asheville's most famous restaurants along with a great movie theater and retail shopping.
There are also a few pricy neighborhoods around here.
Park in Ava's lot out front and grab donuts to eat in their little cafe. Or, grab donuts for the road like us.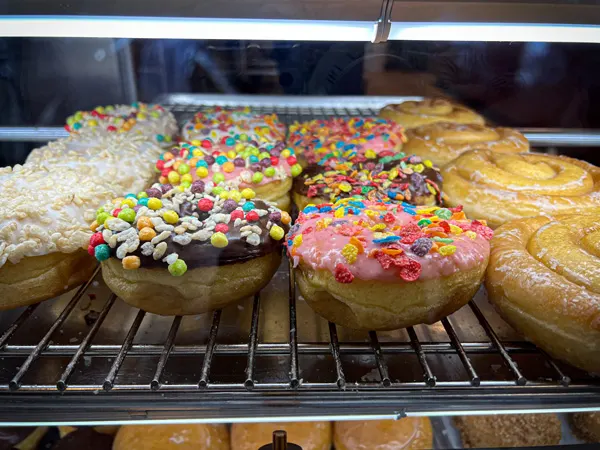 Some of Ava's classic donuts include flavors like strawberry, vanilla, cookies & cream, and caramel.
Or, select from cake and specialty donuts like maple bacon, red velvet cake, and sour cream old-fashioned.
Ava's Donuts is also the place to grab bear claws, cinnamon rolls, and apple fritters.
However, Ava's is not the best Asheville donut shop if you are vegan or dairy and gluten-free. Personally, we'd love to see those options, please!
Ava's Donuts Location
Address: 26 Carl Alwin Pl, Asheville, NC 28803
Facebook: https://www.facebook.com/avasdonuts/
Phone Number: (828) 676-1884
Never Miss Another Asheville Update
---
Tired of generic Asheville travel itineraries? Experience Asheville like a local with our free Asheville Favorites checklist, including restaurants, breweries, and hiking. Plus, get local updates – including events and hidden gems – straight to your inbox. Sign up here.
More of the best donuts near Asheville
7. Dough House (Black Mountain)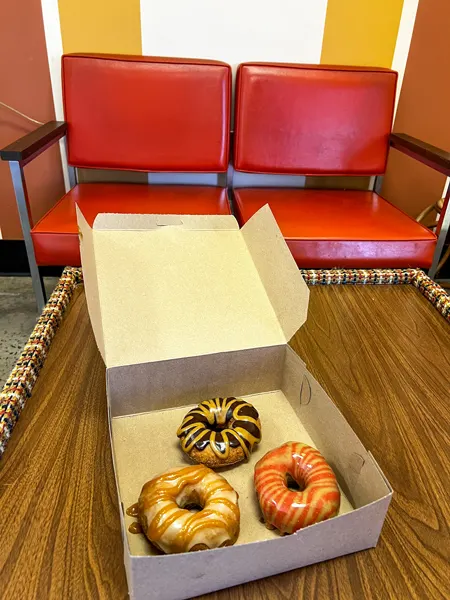 As we mentioned above, we are a part Celiac household, which means that finding the best gluten-free restaurants is a priority for us.
Add in that lactose intolerance, and you'd think Tom would never eat a donut again… until Asheville's The Trashy Vegan created a sister donut cafe.
Newer to the Black Mountain restaurant scene, Dough House serves up gluten-free and vegan donuts near Asheville. They are delicious and get better each time we go.
Only about 25 minutes by car, and another gorgeous neighboring mountain town, Black Mountain is home to Lake Tomahawk, Bed & Breakfasts, and a historic walkable downtown.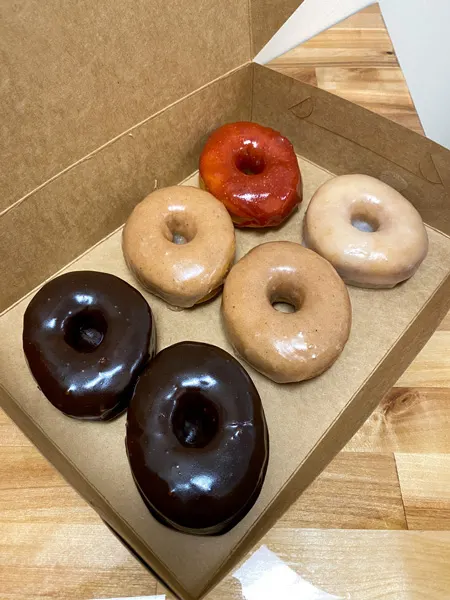 Dough House specializes in made-to-order donuts, and you can request them as either vegan or both vegan and gluten-free, including gf toppings, without an upcharge.
Dough House tops its donuts with rich and flavored icing. Go for classics like strawberry or chocolate or try something different like matcha strawberry.
They also serve coffee and chai.
Inside, find a small seating area to eat a donut there; or, take a dozen home. They let us create a mix of 6 vegan and 6 vegan/GF donuts in separate boxes to complete our dozen.
Park in the lot out front, and know that Dough House sits just outside of the walkable downtown area. Be sure to watch their hours too, or you might just miss them.
Read more about all that you can do in Black Mountain while grabbing these delicious donuts, including brewery hopping, grabbing a cocktail at one of our favorite distilleries, and dipping into the free museum.
And, discover even more places to eat dairy-free in and around Asheville.
Dough House Location
Address: 601 W State St Suite 3, Black Mountain, NC 28711
Website: https://www.thetrashyvegan.net/
Phone Number: (828) 357-8312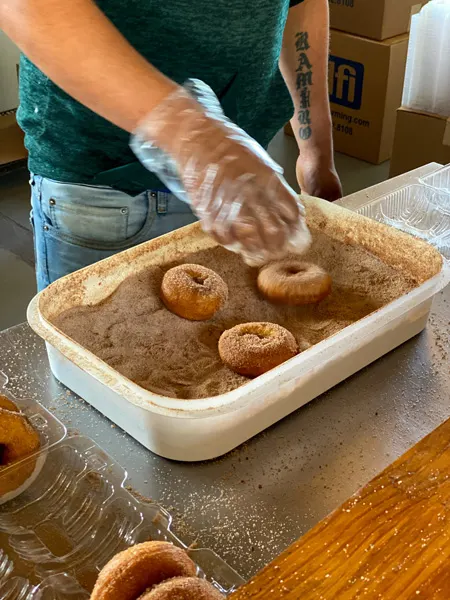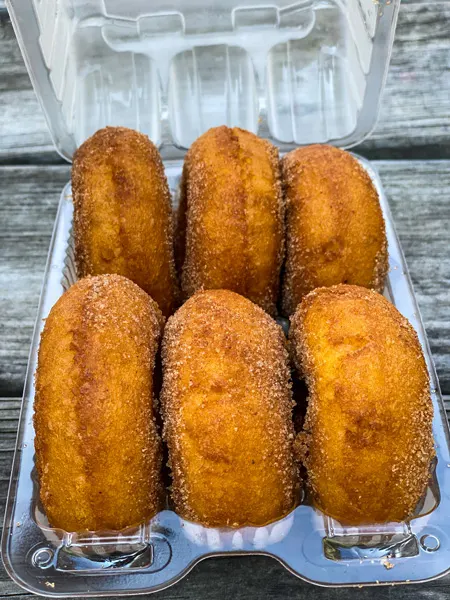 About 40 minutes away from Asheville – a fantastic day trip – you cannot miss Sky Top Orchard's famous donuts in the fall.
Their "made-while-you-watch" apple cider donuts are served piping hot.
Many people grab the goods and pull right over to a picnic table to devour them. These are by far the best donuts near Asheville, NC – just know that they aren't dairy-free.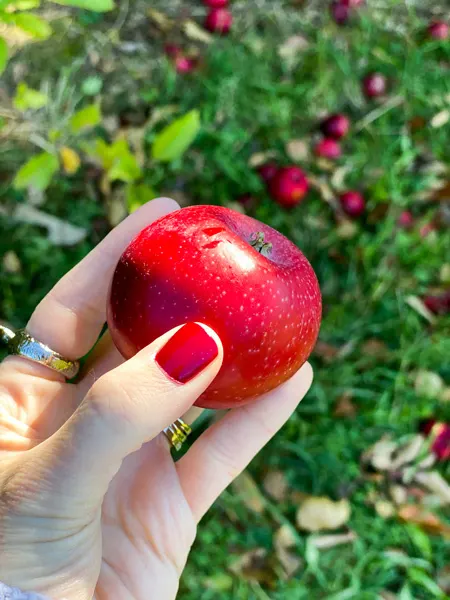 If you are visiting Asheville in the fall, be sure to check out all of the Hendersonville apple orchards for their donuts, including Stepp's Hillcrest and Coston Farm.
Mountain Fresh also has one of the best country stores and bakeries in WNC. Jeter Mountain Farm won't disappoint either.
Afterward, head to Downtown Hendersonville for fantastic museums, shopping, coffee shops, and wineries.
Hendersonville has great restaurants too and another bakery for Asheville donuts, McFarlan's. Or, try HenDough, known for its famous fried chicken and donuts.
Lastly, explore more of Flat Rock (technically a small village in Henderson County paired with Hendersonville) by enjoying a picnic at The Park At Flat Rock and hiking around the Carl Sandburg Home.
Sky Top Orchard Location
Open seasonally (fall)
Address: 1193 Pinnacle Mountain Rd, Flat Rock, NC 28731
Website: https://www.skytoporchard.com/
Phone Number: (828) 692-7930
Changes & Updates To Our Asheville Donut Shops List: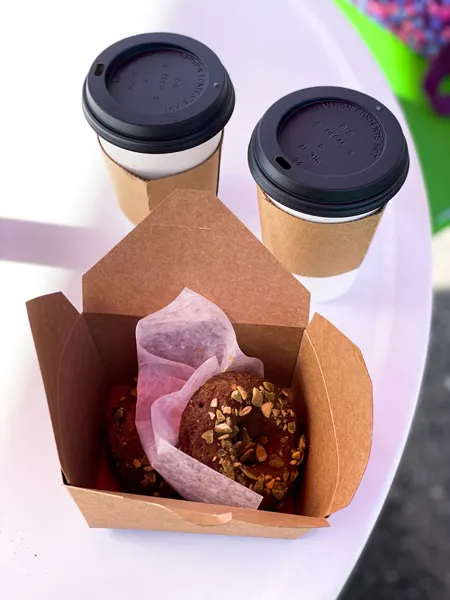 As Asheville residents and indie travel writers, we always try to keep our articles updated, which means that places come and go and menus change.
In 2022, we lost one of the best spots for vegan and gluten-free donuts in Asheville, BimBeriBon. This was Asheville's only dedicated gluten-free bakery. See what else happened in Asheville in 2022.
Headed To AVL? Need A Place To Stay?
See our Top Places To Stay in Asheville.

Don't miss out on these Asheville properties on Booking.com, too.
Save These Delicious Places For Doughnuts In Asheville For Later: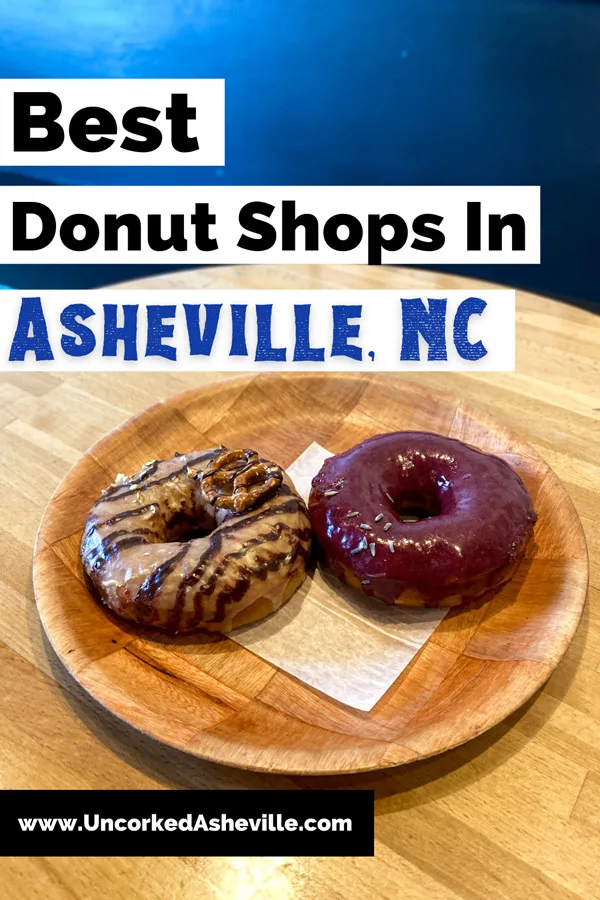 Who makes the best Asheville donuts? What is your favorite donut flavor combo?
Here at Uncorked Asheville, we love rainbow sprinkles, cinnamon cider, and blueberry-glazed Asheville donuts.
And, in a household full of food intolerances – as well as Celiacs and Ulcerative Colitis – we especially appreciate places with vegan and gluten-free options.
If we had to pick the overall best donuts in Asheville, we'd head to Vortex Doughnuts, Ava's Donuts, and Duck Donuts.
For the best donuts near Asheville, Dough House (Black Mountain) is a must for vegan and gluten-free donuts, and Flat Rock's Sky Top Orchard is famous in the fall.
Where do you love getting donuts in Asheville, NC? What are your favorite doughnut flavors? Let us know in the comments.
Oh, and are you team "donut" or "doughnut."
Before you go:
Asheville is full of terrific shops for food, clothing, plants, art, and more. Whether you are looking for gifts for friends and family, want a few souvenirs, or are a local shopping for yourself, be sure to check out our guide to the best stores in Asheville.
Related Articles: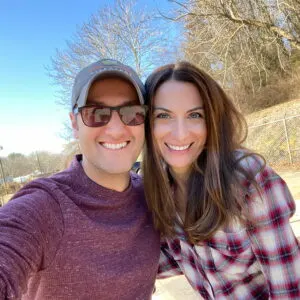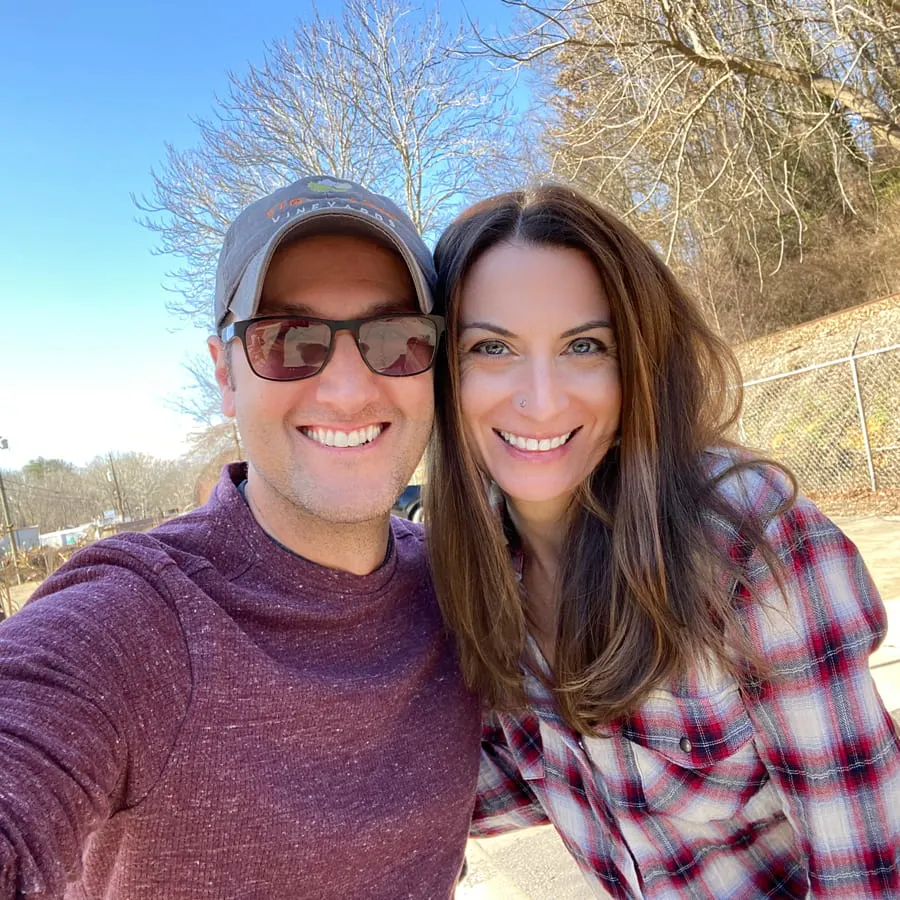 Christine (pronouns: she/her) is the owner and lead writer of Uncorked Asheville. After falling in love with those gorgeous Blue Ridge Mountains, Christine and her husband Tom decided to call Asheville, North Carolina their home. When her pointy Italian nose isn't stuck in a book, Christine is adopting all of the kitties, getting lost in the forest, and drinking an ESB.
Christine has a BA in English and History from Smith College, her MLIS from USF-Tampa, and is a former U.S. Fulbright Scholar - Indonesia. She also owns The Uncorked Librarian LLC with books and movies to inspire travel.