Are you looking for moderate hiking trails with breathtaking views near Asheville? Check out Lover's Leap Hike and loop in Hot Springs, North Carolina.
If you've always wanted to hike on parts of the Appalachian Trail, don't skip Lover's Leap Loop. Located in the Pisgah National Forest along the French Broad River, this is a gorgeous and slightly terrifying yet thrilling hike.
Visitors trek Lover's Leap Trail for its brevity — 1.8 miles — and its numerous vistas. Hiking as high as the birds will have your heart singing like Snow White.
Imagine absolute silence and serenity as a train passes by in the distance. Plus, it's not a bad workout.
Along with the views, the steep incline via a series of switchbacks will take away your breath. Just keep a vigilant eye on that ledge.
You don't want to accidentally become part of a legend. Lover's Leaps are traditionally named after, well, romantic tragedies and deliberate jumps, after all.
So, are you all in? Keep reading for tips and tricks for Lover's Leap Hike along with when to go and where to park. Let's get started!
Don't skip our Ultimate Guide To Asheville Hikes — we are AVL locals and avid hikers.
---
This post may contain affiliate links for products and services I recommend. If you make a purchase through these links, at no additional cost to you, I will earn a small commission. Read the full disclosure here.
---
Lover's Leap Hike & Loop Quick Stats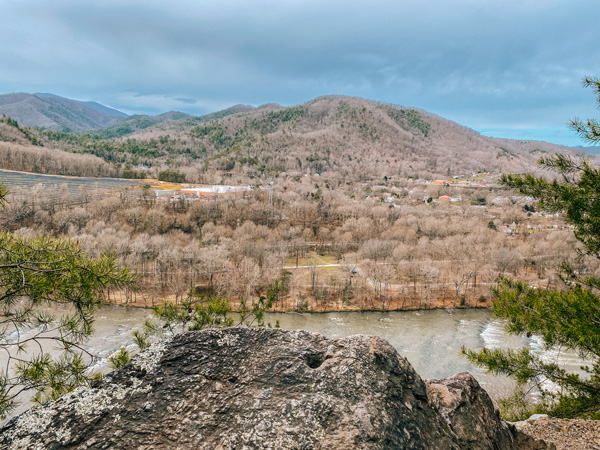 Distance From Asheville, North Carolina: 45-50 minutes; 38 miles

Address & Parking: There are two places you can park for the Lover's Leap Hike. We parked at the free public lot at 25 Andrews Avenue North, Hot Springs, NC/Hot Springs Town Parking. You will have to walk across the bridge with some light traffic. Or, you can park around the Silvermine Trailhead at 138 Silvermine Rd, Hot Springs, NC 28743.

Hike Difficulty: Moderate To More Difficult (and probably not for those petrified of heights)

Length: Lover's Leap Loop is about 1.8 miles with a 500-foot elevation gain

Duration Of Hike: About 1 to 1.5 hours

Type Of Hike: Loop with switchbacks; follow the white trail blazes (Appalachian Trail) to the orange blazes (Lover's Leap Loop Hike)
Don't miss these lodges, inns, cottages and cabins in Hot Springs, NC.
---
Never Miss Another Asheville Update
Are you tired of generic Asheville travel itineraries? Do you want to experience the magic of Asheville like a local?
Grab our free Asheville Favorites checklist today, including restaurants, breweries, and hiking. Plus, get local updates straight to your inbox. Sign up here.
---
Why Lover's Leap Trail & Loop?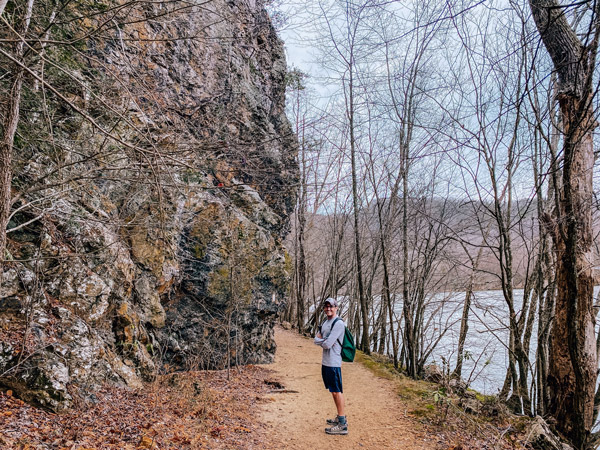 If you are itching to hop on the Appalachian Trail, Lover's Leap is for you. The trailhead starts on the Appalachian Trail along the fast-flowing French Broad River.
This area is incredibly beautiful in the early spring. If you are looking for views, Lover's Leap is one of the prettiest hikes around Asheville.

Throughout the hike, find breathtaking vistas and picture and picnic spots. If you are lucky, the train might pass through town.
You'll follow the well-marked white blazes along the river, quickly climbing the large mountain that you can see back in Hot Springs, NC from the bridge.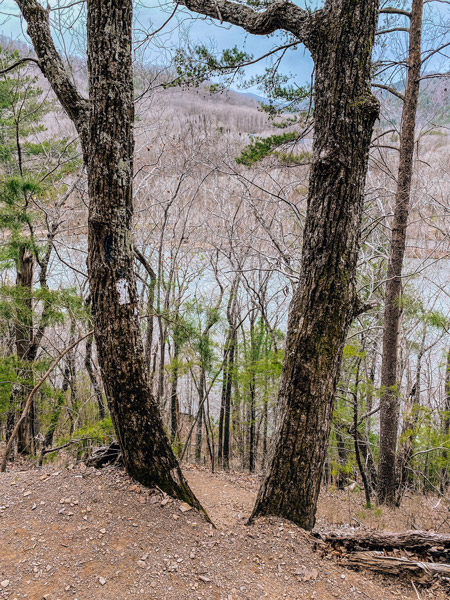 Through a steep series of switchbacks, as my husband says, you'll feel like a billy goat, climbing as high as the birds. This hike isn't fabulous if you are scared of heights. It's a tad scary and thrilling.
Along the top, you'll intersect with the orange blazes to continue onto Lover's Leap Loop. It's a slick descent that will swing you back into Silvermine's parking lot.
Please Hike With Care
You must exert extreme caution on Lover's Leap. It would be pretty easy to trip, slide, or fall right over the edge.
I'm not sure you'd be around to tell anyone about it. There are times where you are hiking precariously close to the edge.
---
If you love the cascading water along the French Broad River, don't miss these Stunning Waterfall Hikes Near Asheville.
---
When Is The Best Time To Hike Lover's Leap Loop?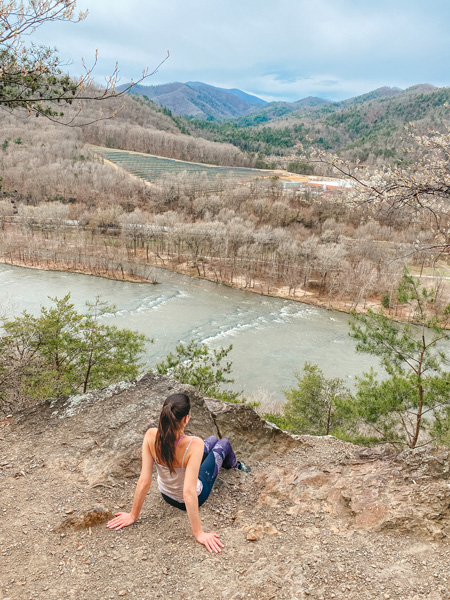 In early spring, Hot Springs is still quiet, and you may have the trail mostly to yourself. Not everything in downtown Hot Springs will be open, though, unless you go on the weekend.
I recommend getting there early and hiking on a weekday. Lover's Leap Trail is a popular and more heavily trafficked hike when visitor season picks up.
Lover's Leap Loop is best around March — when it's no longer icy — through November. You'll also catch more bird watching then, too.
I wouldn't personally attempt Lover's Leap Trail during or after heavy rain, and fog would ruin the views.
---
---
Where Is Lover's Leap?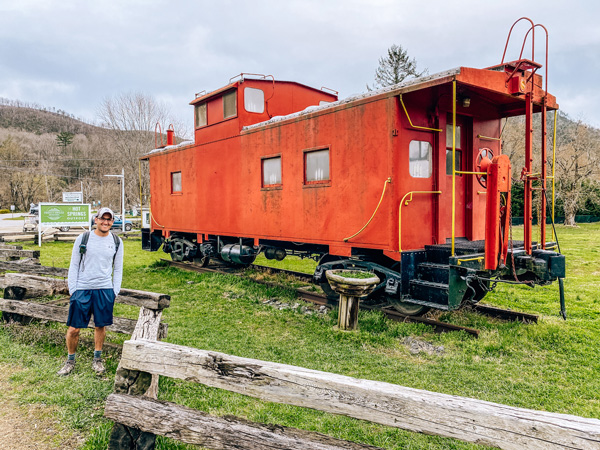 Lover's Leap is located in Hot Springs, NC. This is a friendly little town perfect for Appalachian Trail hikers looking to stock up and catch some Wi-Fi. There is a brewery, public library with Wi-Fi, grocery and supply store, and restaurants.
Everyone always asks about actual hot springs. There is a Resort & Spa for that filled with those mineral waters.
Driving Directions To Lover's Leap Trail From Asheville
From AVL, you'll take I-26 West toward Weaverville. Get off at Exit 19A for US 25 North/US 70 West.
As you enter Hot Springs, you can either take a right before the bridge to park at the Silvermine or Lover's Leap/Appalachian Trailhead or you'll cross the bridge and train tracks, taking the next right onto Andrews Avenue. You'll see signs for public parking.
Your GPS will come in and out while driving as well as long the trail. I highly recommend downloading offline maps. It's not a tricky or confusing drive or hike, though.
Save This Hike For Later
---
---
If You Love Lover's Leap Trail, Try…
If you enjoyed Lover's Leap Hike, try Little Butt and Big Butt trails on the Blue Ridge Parkway past the Craggy Gardens area. These are longer and more strenuous hikes with views.
If you are looking for easy to moderate BRP hikes near Asheville with those stunning views, Craggy Pinnacle or Fryingpan Mountain are great.
Bearwallow Mountain and Trombatore's Blue Ridge Pastures also have picnic views from pastures overlooking the mountains.
For moderate hikes that follow flowing water, you cannot go wrong with Daniel Ridge Loop and Falls.
Lastly, don't miss the nearby Max Patch Loop Hike. Max Patch overlaps with part of the Appalachian Trail and is the perfect picnic spot.
Where To Stay Around Hot Springs, NC
Don't miss these lodges, inns, cottages and cabins in Hot Springs, NC.
See our Top Places To Stay in Asheville.

Don't miss out on these Asheville properties on Booking.com, too.
Have you attempted Lover's Leap Hike? Were you terrified, too?
Have you been to Lover's Leap in Hot Springs? What did you think of those views? Was the hike a tad scary, too? What other hiking trails do you enjoy throughout Western North Carolina? Let us know in the comments.
What can you do next?
Don't miss these things to do in Asheville, NC
Ultimate Asheville Hiking Guide
Gorgeous Waterfalls To Visit
Max Patch Trail Along The AT

Where To Stay In Asheville, NC