Are you looking for some of the best Asheville waterfalls to hike? As Asheville locals, we promise to share our favorite waterfalls near Asheville, NC, all of which are under a 2-hour drive from the city.
---
Disclosure: This site may contain affiliate links for products and services I recommend. If you make a purchase through these links, at no additional cost to you, I will earn a small commission. Read my full disclosure for more information.

---
One of my favorite parts about living in Asheville and the mountains are the waterfalls. When we moved to North Carolina, I had no idea that there were so many waterfall hikes near Asheville. I always imagined the trails and beautiful fall foliage on the Blue Ridge Parkway, but for some reason, I associated waterfalls as something we see abroad, like in Central and South America. We did get engaged near Iguazu, after all.
However, Transylvania County is actually known as the "Land of Waterfalls" with over 200+ waterfalls spanning across Western North Carolina. Asheville (NC Micropolitan Statistical Area) and Brevard fall into some of this area.
Our very first experience hiking the Asheville, NC waterfalls, we headed to DuPont State Forest for The Hunger Games falls. One of my favorite Asheville waterfall hikes still, you can see where Peeta and Katniss hid from the others at Triple Falls. Visitors can also hike to High Falls, Hooker Falls, and Bridal Veil Falls all in one visit. You'll love the stunning grounds, perfect for a picnic, too.
So what are some of the best waterfalls near Asheville, in our humble opinion? I wouldn't skip Douglas Falls or Looking Glass Falls. Gravefield Fields is home to two stunning waterfalls in the fall. Tourists and locals love to jump in Skinny Dip Falls.
Below find our favorite Asheville waterfalls that we and our friends recommend, including waterfalls on the Blue Ridge Parkway, waterfalls you can easily hike, and also one or two sets of falls that you can drive up to. We'll talk distance from Asheville, where to park, and what to pack as well as expect.
Best Waterfalls Near Asheville, NC: 30 to 45-Minutes Away
Catawba Falls
Catawba Falls are only about a 30-minute drive from Asheville and this is one of my all-time favorite Asheville waterfall hikes. This part of the Pisgah National Forest is gorgeous, and you'll find moss, lichen, and cascading falls.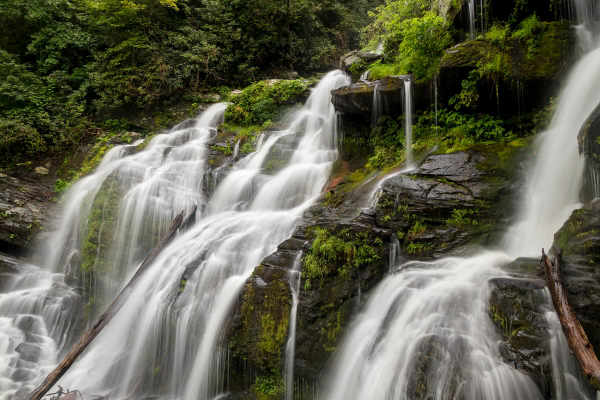 Wide and moderate to easy trails plus the massive falls and bubbling water along the way make Catawba an extremely popular hike: be forewarned that on the weekends, the parking lot fills up quickly and visitors crowd the trails. I prefer to visit during the weekday. The Catawba Trails hike is also great if you have dogs or kids.
With falls at 100-feet tall, hikers walk a little under 1.5-miles to reach their final destination before backtracking back to the lot. You'll barely notice that you've walked around 2.7-miles round trip, though, as you'll cross a scenic bridge and have waterfalls and jumping stones to endlessly distract you.
You can sit on the boulders or dip into the water, but please also know that the water is fast-moving and the rocks get slippery.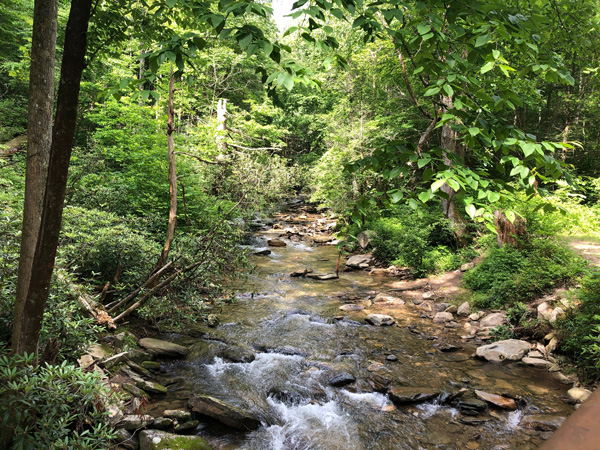 How To Get To Catawba Falls
The address for Catawba Falls is 3074 Catawba River Rd, Old Fort, NC 28762.
You can easily plug in Catawba Falls into GPS and not have to worry about those directions being wrong–like so many other waterfalls near Asheville and hiking trailheads. We live here, and we still get confused sometimes. From Asheville, you will travel down 1-40 East and take Exit 73 toward Old Fort. You'll then take a right onto Catawba River Road.
---
---
Four Favorite Waterfalls Near Asheville At DuPont State Forest
The next four waterfalls near Asheville, NC are located at DuPont State Recreational Forest, about 45-minutes+ from downtown. Visiting this area is free, including parking, and many lots have restrooms and fountains. There are picnic areas, dogs on leashes are allowed in most places, and these are some of the best waterfalls near Asheville for the entire family.
Please know that if the parking lots fill up, you cannot park along the road. Signs everywhere will remind you of this.
If you want to hike all of the DuPont State Recreational Forest falls while visiting, I'd start with Hooker Falls, loop back up to Triple Falls, which is about 1-mile away, and then hike to High Falls, another half-mile+. It's a three-mile roundtrip hike to see these three waterfalls. You may also continue on to Bridal Veil Falls from the covered bridge, but add in another 4.4-ish miles.
---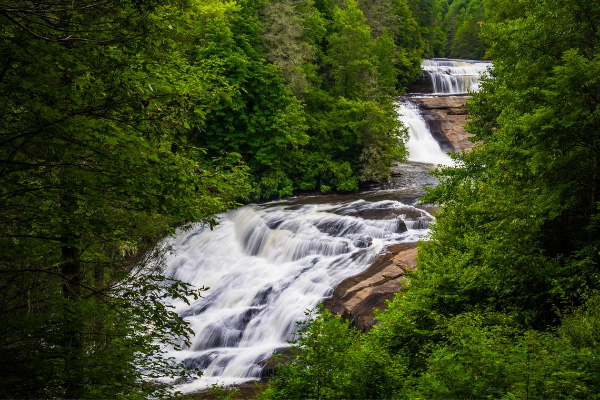 Hooker Falls – Easiest Hike Near Asheville
One of the waterfalls near Asheville, NC that you can practically drive-up to is Hooker Falls at DuPont State Forest. If you are coming from downtown Asheville, this is about a 45-minute+ drive to one-hour. You'll want to park in the upper-level lot at DuPont known as the Hooker Falls Access Area. From this lot, Hooker Falls is under a .25-mile hike. This parking lot also has restrooms and water fountains.
Hooker Falls is the fourth waterfall on the Little River and is only about 12-feet high. At the bottom of the falls, you can hang out on the rocks or take a dip in the huge pool. Hooker Falls is also deemed as the only safe spot at DuPont for swimming because there is no current. Of course, please read all of the posted signs in case this changes and always exert caution.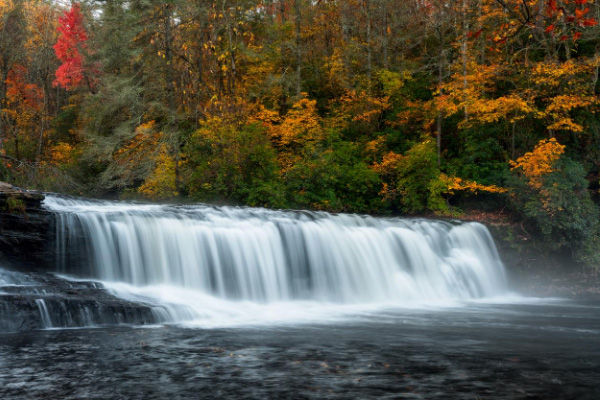 How To Get To Hooker Falls
You can type 'Hooker Falls Access Area' into navigation. Located in Brevard, from Asheville, you'll take I-26 East to Exit 40. There are a series of twists and turns that will take you down 280 to U.S. 64.
Please note that coming back from this area you might not have cellphone service. We advise knowing your next destination in advance and how to make your way back out of the mountains until it picks up again.
DuPont State Forest has a fantastic and informational website here filled with tips, info, maps, and advice.
Triple Falls – "The Hunger Games" Waterfalls
The first Asheville waterfalls I've ever seen include Triple Falls at DuPont State Forest, which is where part of the filming for The Hunger Games took place. To access Triple Falls, you can park at either the Visitor Center or Hooker Falls Access Area. We usually park at Hooker Falls to see Triple Falls as the Visitor Center is more heavily trafficked and popular. Parking tends to fill up at the Visitor Center first.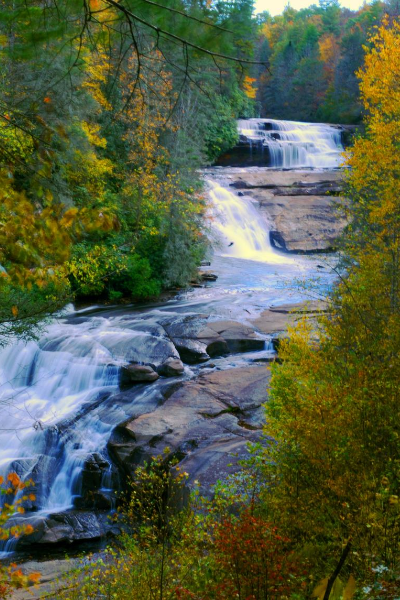 Triple Falls is the third waterfall on the Little River and is a three-tiered, 120-foot waterfall. You can view the falls from afar with additional picnic areas slightly above the main trails. If you are more adventurous, climb down the stairs to see the middle of the falls. You can no longer get too close as the area is roped off–which of course, you will see endless visitors disrespect and disregard. I always advocate for trying your best to keep yourself, rescue teams, and the forest safe…
This waterfall hike is slightly more moderate as it is rocky and you have to go both *very* UP and DOWN at some point. It's not necessarily strenuous or hardcore, but it's not the easiest either…and your feet might slide on the gravel rocks.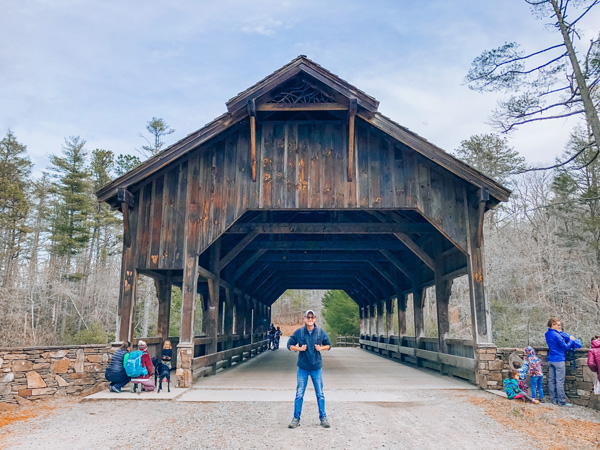 High Falls At DuPont State Forest
There are a ton of "High Falls" in North Carolina so please remember that for this particular Asheville waterfall hike, we mean the falls at Dupont. We'll share one other 'High Falls,' which is at Graveyard Fields and offers another set of waterfalls near Asheville.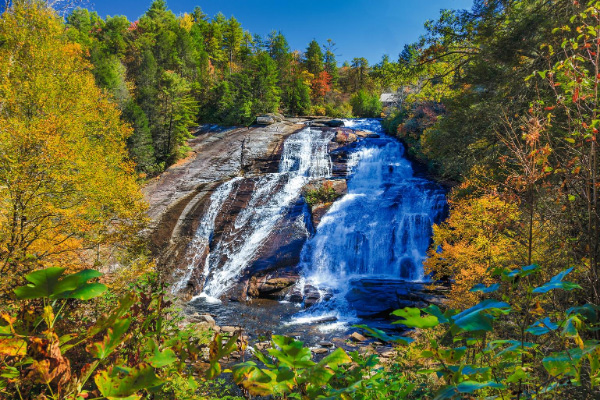 When you continue past Triple Falls for about another half-mile, you'll find yourself across from High Falls, recognizable by a covered bridge above them, which you may visit. High Falls is 150-feet and a part of the 2-mile loop that includes Triple Falls.
The hike to High Falls, like Triple Falls, is considered moderate. I wouldn't say it's that hard or tiresome, though.
Bridal Veil Falls DuPont (Not Highlands)
Another one of my favorite waterfalls near Asheville, NC, don't miss Bridal Veil Falls, especially for a picnic. Like Triple Falls, this is another filming location for The Hunger Games. They also filmed part of Last of the Mohicans here.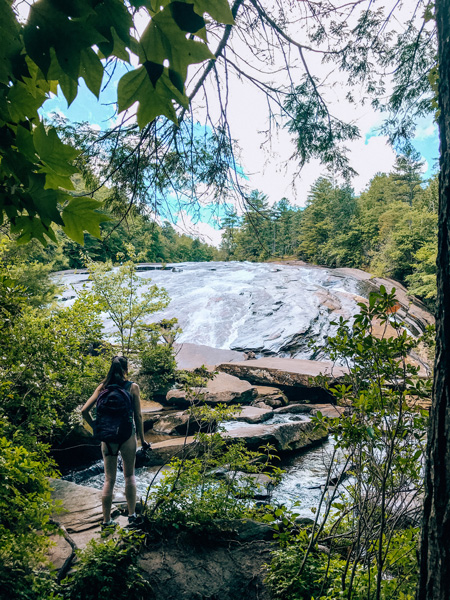 Please also know that there are two Bridal Veil Falls in North Carolina. The other falls are located in the Nantahala National Forest in Highlands, and you can literally drive under them. These Bridal Veil Falls are the closer waterfalls to Asheville at DuPont State Recreational Forest.
How Best To Access Bridal Veil Falls
You can access Bridal Veil Falls by parking at Hooker Falls and hiking all three falls (Hooker, Triple, and High) before heading up to the covered bridge and over to Bridal Veil. This hike will be around 7-miles+. Or, you can park at the Visitor Center and walk the 4.4-miles round trip just to Bridal Veil Falls. We've never parked at Fawn Lake, but that's also an option for Bridal Veil Falls, especially during a busy tourist season.
Full disclosure: Bridal Veil Falls–to me–is a slightly weird 'hike.' You follow 2+-miles of gravel road–it's not always scenic or entertaining. The road is perfect for mountain bikers. The falls themselves at the end are stunning, serene, and well worth it. You'll also find many surrounding and lesser-known trails too.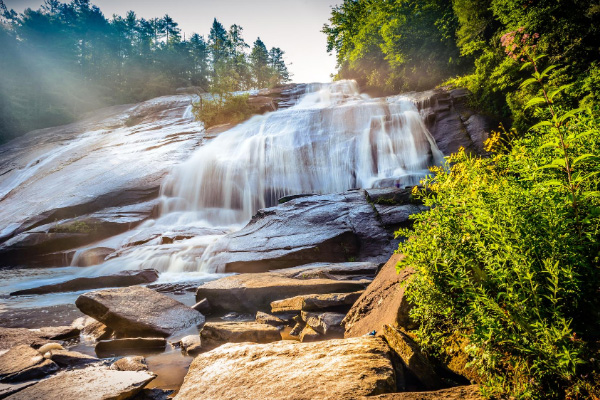 For Asheville waterfalls, Bridal Veil Falls looks like a slide (unlike Sliding Rock, though, you cannot slide down it), and you can chill on a rock with a picnic, which I highly recommend. Discover a 120-feet waterfall and an observation deck from further away.
While Dupont State Recreational Forest is a popular destination for both tourists and locals, Bridal Veil Falls is usually slightly less crowded.
Read more about DuPont State Forest Waterfalls and Hikes here.
---
What To Bring For A Day At The Asheville, NC Waterfalls
Although none of these Asheville waterfall hikes are too intense, you'll definitely want to arrive prepared. A few quick and easy items for a successful trip include:
Hiking Backpack – I love my backpack made by Eddie Bauer–I have a slightly different version than this one. My backpack is lightweight and breathable. I can carry my keys, a light jacket (because this is the mountains, after all), water, sunscreen, bug spray, snacks, and an umbrella.
Stainless Steel Water Bottle – We are moderate hikers so we don't use anything fancy like water bladders. I like my stainless steel water bottle since it holds the temperature, doesn't perspire, and contains no harmful by-products. Plus, it's easy to clean.
First Aid Kit – After quickly remembering that I am a tragic mess when hiking and traveling (I will always cut myself), I would either make your own or pack some sort of First Aid Kit with the basics.
---
Asheville Waterfalls To Drive To In Around One-Hour
Graveyard Fields Hikes & Waterfalls
Graveyard Field Lower (Second) Falls
Graveyard Fields offers extremely popular Asheville waterfall hikes, especially in the fall. Rumor has it that this area is named after tree stumps that look like graves. Graveyard Fields is also one of the BRP spots that offers restrooms. Many of the waterfalls near Asheville lack bathrooms with the exception of DuPont.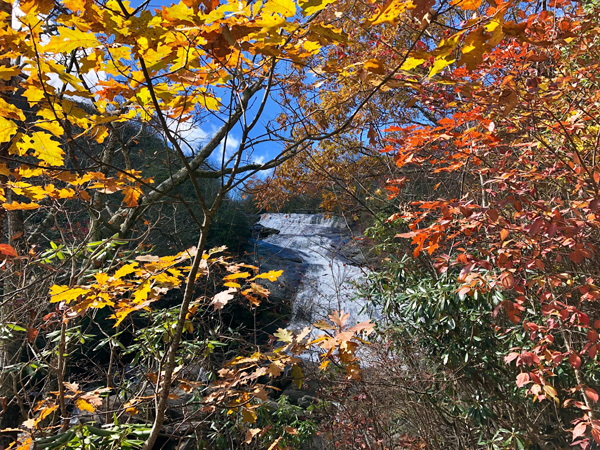 Because Graveyard Fields is so close to the Mount Pisgah hiking trail, restaurant, and lodging area, you'll have to make a call during tourist season. We've braved the fall because it's stunning. However, be forewarned that anywhere around here can also be hellish.
The Lower Falls, also known as Second Falls, is only about 1/3 of a mile from the parking area, which is perfect for young families. You can swim around this area, too.
Graveyard Loop Upper Falls
When we first moved to Asheville, we stumbled upon the Graveyard Loop and Upper Falls – the signs to the Upper Falls are pretty much nonexistent. I recommend having a map and instructions before you go or you'll find yourself walking the wrong way.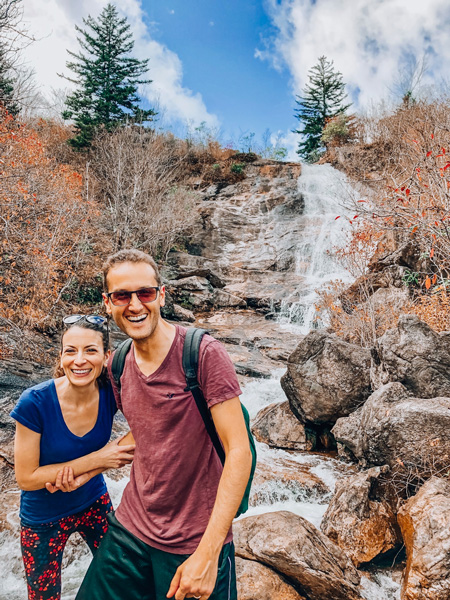 In order to find Upper Falls, you'll start hiking the Graveyard Loop. After the river, you'll go straight and find an uphill and rocky climb that is much harder when wet. Upper Falls is only about a mile off of the Graveyard Loop Trail intersection and is one of my other beloved Asheville waterfalls.
You can pick a path that gets you closer to the base or keep climbing further up to the top. Upper Falls is about 40-feet tall.
How To Get To Graveyard Fields
Head down the Blue Ridge Parkway south of Asheville to Milepost 418.8. Please know that anywhere around this area, GPS gets a little wonky and you'll most likely lose cell service at some point.
Skinny Dip Falls
Located on the Blue Ridge Parkway about 3-miles from Graveyard Fields and one of the most popular waterfalls near Asheville, NC for swimming, find Skinny Dip Falls. During a hot North Carolina summer, this is where many seek reprieve from the heat. You could also come here after hiking Mount Pisgah or Graveyard Loop. Pack a swimsuit!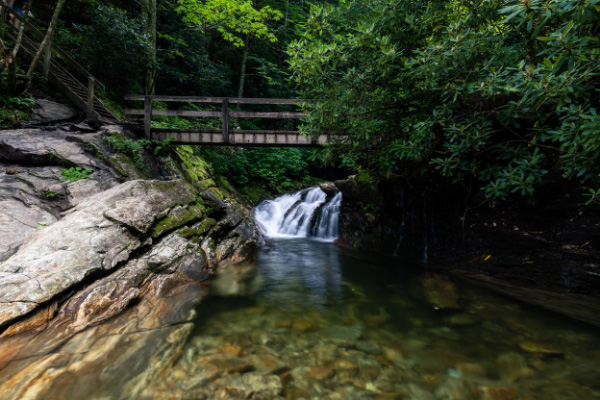 For Asheville waterfalls, Skinny Dip Falls is also pretty popular because it's kid-friendly, you can wade into the water (some jump off of the rock), and you can spread out along the waterfalls.
The hike down to the falls is fairly wide and easy. Rock steps help you along the way. This Asheville waterfall hike is under 1-mile roundtrip. Don't miss the "Dragon Tree" on your way there. Don't worry, I don't even have to explain this. You'll know it when you see it. Read more about Skinny Dip Falls→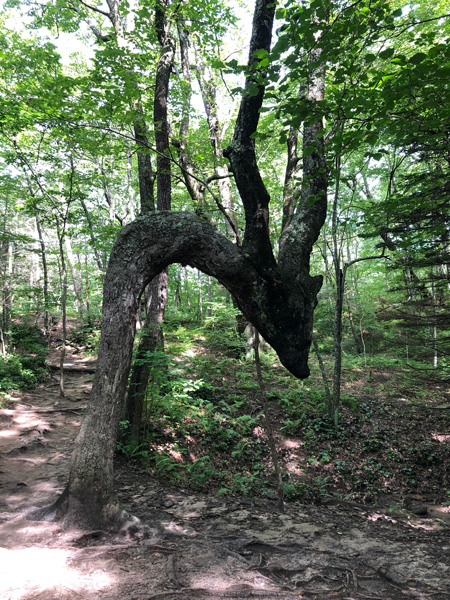 How To Get To Skinny Dip Falls
The Blue Ridge Parkway (BRP) is one of my favorite parts of living in North Carolina and home to many waterfalls near Asheville. You don't want to miss the foliage in the fall. In the spring, the BRP fills in with gorgeous greens from the trees and budding purple flowers. Watch for bears and bikers. The views are stunning: plan to pull over at a few of the overlooks.
Skinny Dip Falls is located off of the Blue Ridge Parkway in the Pisgah National Forest at mile marker 417 (Looking Glass Overlook). As a local, I promise that you'll want to watch those mile markers. Sometimes GPS is confused, and sometimes you lose cellphone reception for quite a while. This is one of those spots.
Once you park at the Looking Glass Overlook, you'll cross the street, look for a marked post on a visible trail, and follow the signs for the Mountains-to-Sea Trail (MST) just to start. From the Overlook, you only have to walk about .50-miles into the falls. Just keep walking straight down the big path, and don't veer off on one of the side ones.
Looking Glass Falls
One of the best waterfalls near Asheville, NC that you can drive up to in the Pisgah National Forest is Looking Glass Falls. Out of all of the Asheville waterfalls, these have the most accessibility since you can park on the side of the road and see them from the observation deck. You can also hike Looking Glass Falls, following along with the Looking Glass Rock Trail.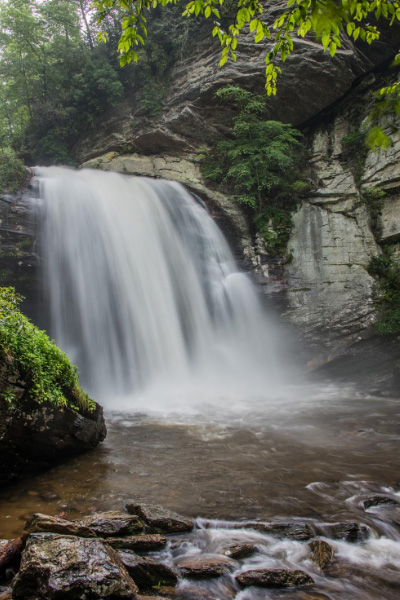 True to their namesake, parts of Looking Glass Falls freeze in the winter resembling an actual looking glass. The falls are about 60-feet tall, and you can walk down the steps to wade in the water at the base.
After visiting, you may want to explore more of the Pisgah National Forest or hike one of the connecting trails.
How To Get To Looking Glass Falls
From Asheville, you will follow 1-240 West to I-26 East to Exit 40. You'll take a right on 240 West and then a right on U.S. Highway 276 North. The falls are about a 55-minute drive from downtown Asheville in Brevard.
Waterfalls Near Asheville: 1+ to 1.5-Hours Away
Walker Falls
I debated including Walker Falls on this Asheville waterfalls list just because you can drive right by this stunner on your way to Douglas Falls. However, you can also park anywhere on the side of Forest Service Road 74 (FS74), in a designated spot, and walk up to and around the falls. There are many camping sites along the way.
Walker Falls is about 45-feet tall and literally at the roadside of FS74 deep in the Pisgah National Forest. I'd say this waterfall is a little less than halfway to Douglas Falls, and you honestly cannot miss Walker Falls on your way up. It's in your face.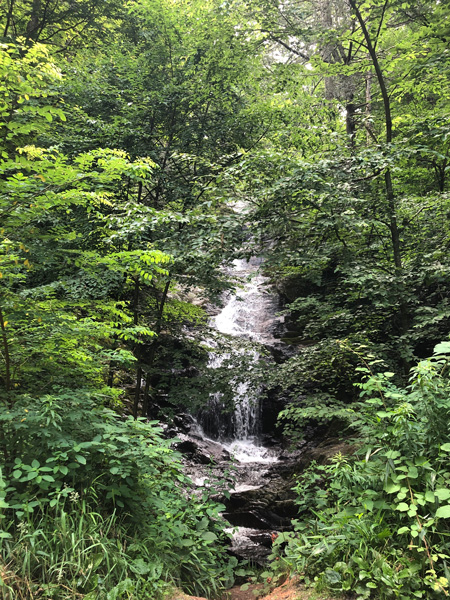 How To Get To Walker Falls
While Walker Falls is less than 30-miles from Asheville, most of the long ride is up FS74 — an unpaved, winding dirt road up the mountain. If you have an SUV, I recommend taking it. A low-lying car will struggle with the rocks, divots, and hill-climbing but is possible. You might also want to forgo the BMW, which we saw on our last visit. Your car may get a tad beat up.
You'll take 19-23 North to Barnardsville and then NC Highway 197. When you take a right onto Dillingham Road, you'll enter this scenic town that is beautifully ensconced in the blue mountains, passing cows, farmland, and horses. This road ends in the Pisgah National Forest hitting FS74, which is not for the weak. At times, the edge of the cliff is right there. This is most of your ride as you have to drive slowly.
Passing is difficult but possible in many areas of FS74 and watch for surprise rocks and holes. Walker Falls is about 4-miles in and then you will drive a little under 5-miles longer to Douglas Falls. Definitely plan to visit both waterfalls on this road trip.
Douglas Falls
Douglas Falls is one of those waterfalls near Asheville (a little under an hour and 15 mins) that you can either cheat on by driving close to or hike from Craggy Gardens. We've started the Craggy Gardens hike before. You can pick up the trail from the Visitor Center or even the Craggy Gardens Picnic area. However, this is a 7 to 10-mile, extremely challenging hike that gets pretty muddy, tricky, and overgrown. Unless you are experienced hiker–I am not–I don't recommend it.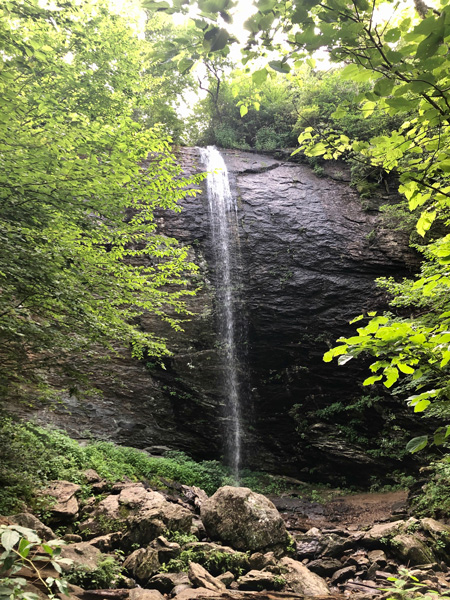 Your other option, which is our first choice, is to drive up the winding gravel road of Forest Service Road 74. From here, it's a moderate and extremely slippery-when-wet half-mile hike downhill to the falls. Please know that sometimes multiple downed trees cover the trail. You may have to climb over them or go around. This Asheville waterfall hike is an out-and-back.
You can walk under the gorgeous 70-foot falls and walk around them. You may also continue the hike to Craggy Gardens or Greybeard Overlook.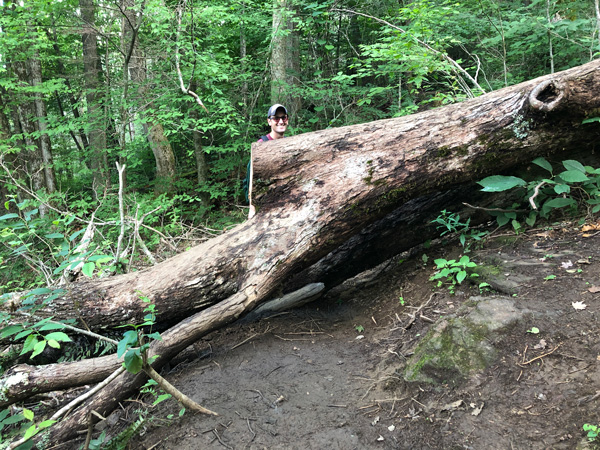 How To Get To Douglas Falls
If you are not going with the hard hike Visitor Center route, you'll head toward Barnardsville and NC Highway 197. You'll have to drive down unpaved FS74 for almost 9-miles. Please refer to the directions above for Walker Falls.
Linville Falls
Many of the waterfalls near Asheville are over an hour away, including Linville Falls. Depending on which way you take and how comfortable you are on winding mountain roads, this will be a 1.5 hr to 2 hr drive for you.
Linville Falls is one of the most photographed waterfalls in WNC. This area has a Visitor Center with restrooms. To the left of the Visitor, don't miss the lesser-known trailheads that you take you around the falls and to the base. Or, walk past the Visitor Center and cross a bridge to find a variety of trailheads ranging in difficulty and more waterfall views.
The falls are about 90-feet high, and there are 5 viewpoints that total a 4-mile hike. There are different hikes that you can take, including Erwins View Trail and Linville Gorge.
How To Get To Linville Falls
Located on the Blue Ridge Parkway, look for mile marker 316.4. Two trails leave from the Visitor Center. The quickest way to get to Linville is by taking I-40 East to 221, which will get you on the Blue Ridge Parkway.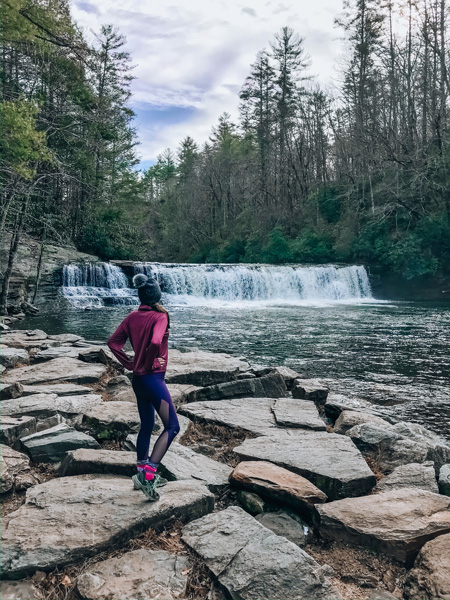 Where To Stay For These Asheville Waterfall Hikes
If you are headed to the waterfalls near Asheville and want to stay for an overnight or extended period of time, here are a few of our accommodation recommendations.
What Are Your Favorite Waterfalls Near Asheville?
Do you have favorite waterfall hikes near Asheville that you enjoy? Have you hiked any of these Asheville waterfalls before? Are you visiting Asheville and have questions? Please let us know in the comments.
You May Also Enjoy These Hikes Near Asheville:
Favorite Fall Foliage Hikes Near Asheville
30+ Best Hikes Near Asheville, NC
More Waterfalls Near Asheville:
Douglas Falls: All You Need To Know
Magical Skinny Dip Falls (Swimming Hole)
DuPont State Forest Waterfall Hikes
Plus, Don't Miss: