Are you dreaming of spending a weekend in Asheville, NC? As locals, these are our top recommendations for planning the perfect Asheville weekend getaway.
We love living in Asheville; there is so much to do. Our weekends are filled with dinners out, exploring the hippest neighborhood joints, shopping at markets, and grabbing drinks.
It's fun to catch a baseball game and watch Shakespeare under the stars.
Of course, when the weather is gorgeous, we head out to the Blue Ridge Parkway for picnics and soul-fulfilling hikes.
If you are planning your Asheville weekend itinerary, then, what are the "musts," and how do you choose the best brunch spots, rooftop bars, and breweries – with a local touch?
What about day trips from the city, breathtaking vineyards, Biltmore Estate, and waterfall chasing?
As AVL residents, we are sharing the best things to do for a weekend getaway in Asheville, NC.
Of course, "best" is subjective, and we'd love to hear how your Asheville weekend went in the comments.
While we will mention some of the popular tourist spots, we wanted to give you a more unique Asheville itinerary too.
So, keep reading for how to spend the best weekend in Asheville with a taste of something for everyone and multiple options to choose from. Let's get started!
Read more about the best things to do in AVL and visit our Events Calendar.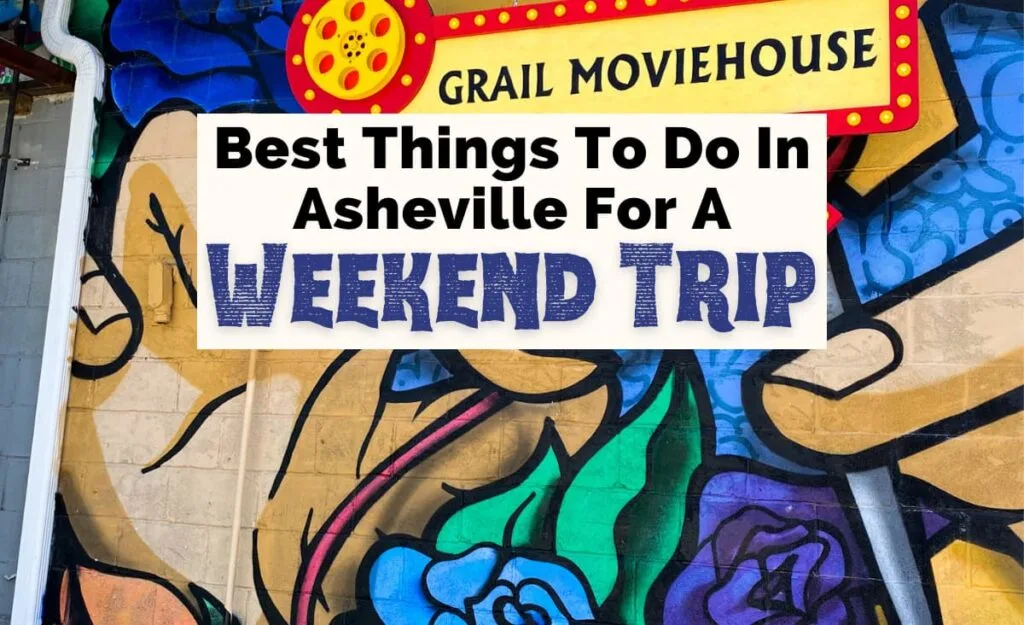 This post may contain affiliate links that earn us a commission at no extra cost to you. If you love these guides, support Uncorked Asheville here.
11 Best Things To Do With A Weekend In Asheville, NC
1. Greet Asheville from above at a rooftop bar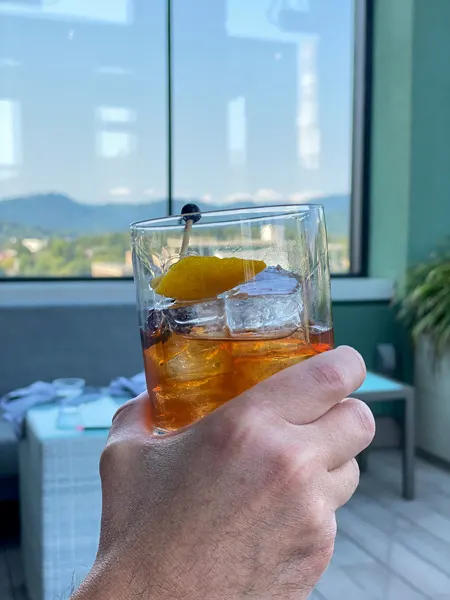 Depending on when you arrive in Asheville, you might wish to grab a snack and celebrate your Asheville weekend getaway with a drink, boozy or not.
Nothing beats the views from Asheville's rooftop bars, especially on a gorgeous day or for a sunset. Plus, scope out Asheville from above as you plan your perfect Asheville weekend itinerary.
One of the swankiest rooftop bars with the most impressive vistas, we especially enjoy Capella on 9 at the AC Hotel. Take the elevator up to the top as pristine indoor and outdoor seating awaits you.
Capella on 9 is a treat yourself establishment, running on the pricer side. They are open for breakfast and then typically re-open around 3:00 PM.
Eat your way through a tapas-style menu as you sip on handcrafted cocktails while breathing in that refreshing mountain air.
If you aren't looking to spend a ton on drinks and snacks, though, The Montford Rooftop Bar is perfect. Head to the DoubleTree by Hilton behind the Grove Arcade and take the elevator up to the top.
The Montford Rooftop Bar offers complimentary parking.
Sit inside by the bar behind sprawling windows or outside on their tinier patio, winterized with heaters. We highly suggest making reservations at The Montford as they have limited availability for walk-ins.
The Montford's menu features, snacks, shareables, flatbreads, larger plates, and desserts.
2. Hike The Hunger Games waterfalls at DuPont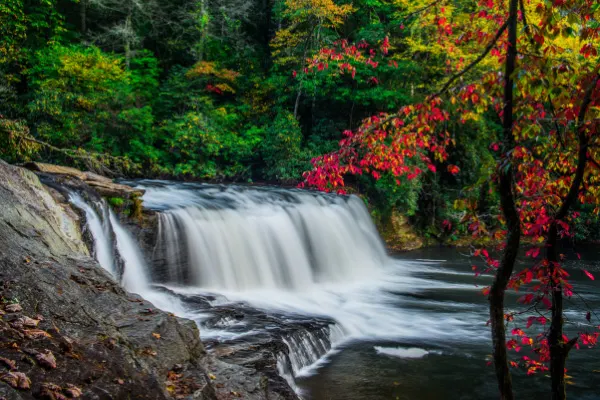 Asheville is full of hiking trails, and it's hard to pick just one or two when you only have a weekend in Asheville.
If seeing the Western North Carolina waterfalls are a must for you, we couldn't think of a more soul-fulfilling place to visit than DuPont State Forest.
DuPont is by far one of our favorite state parks, and it's only about a 45-minute drive from Asheville.
Please know that the lots may fill up quickly on the weekends, especially in peak seasons like the fall.
Hiking DuPont is free, and we recommend getting there in the morning and parking at the Hooker Falls Access Area.
From there, you can hike the quick out and back to Hooker Falls (under .5 miles), which has a small wading area. Then, cross the gorgeous bridge over bubbling water to hike up to Triple and High Falls.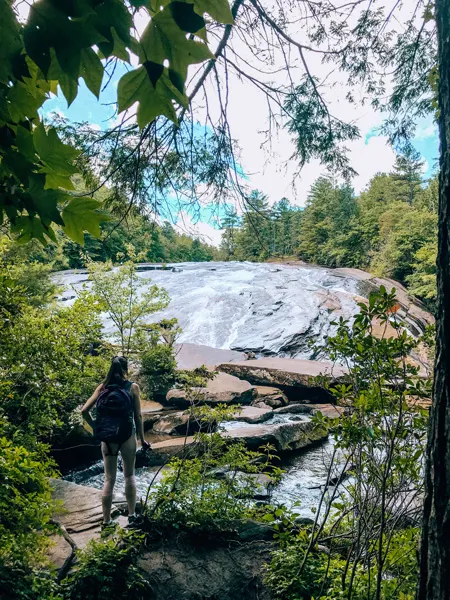 Triple Falls, a three-tiered and 120-foot waterfall, made an appearance in The Hunger Games. Katniss found Peeta hiding here.
From Triple Falls, continue on to High Falls before turning back for the parking lot. The three waterfalls are about 3 miles total.
You could also park near the Dupont Visitor Center and access Bridal Veil Falls. Or, if you are an avid hiker, trek all four falls for a 7+-mile trip.
Bridal Veil Falls is a 4-mile total easy out and back to the falls. They filmed parts of The Last of the Mohicans here.
Lastly, if you are looking for lunch picnic spots, DuPont has plenty — picnic areas and rocks.
3. Spend an afternoon in Hendersonville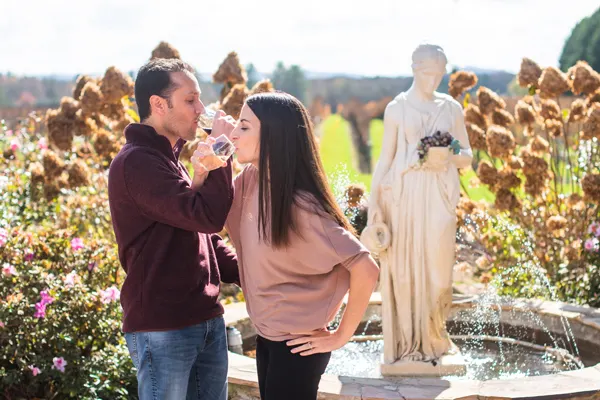 You might not wish to leave the city if it's your first-ever weekend trip to Asheville. However, Asheville's day trips are pretty spectacular too.
Especially if you decide to hike DuPont, as mentioned above, we almost always head to Hendersonville right afterward.
Hendersonville is about 20+ minutes from DuPont and 40 minutes from Asheville.
Like Asheville, Hendersonville has plenty of things to do, including museums for the entire family, coffee shops, a walkable downtown, shopping, and food.
If you spend your morning hiking, start by grabbing lunch at one of Hendersonville's delicious restaurants.
We enjoy Umi for sushi, Haus Heidelberg for German cuisine, and Joey's NY Bagels if you wish to grab subs on the run to bring to a winery that allows outside food — like Saywer Springs.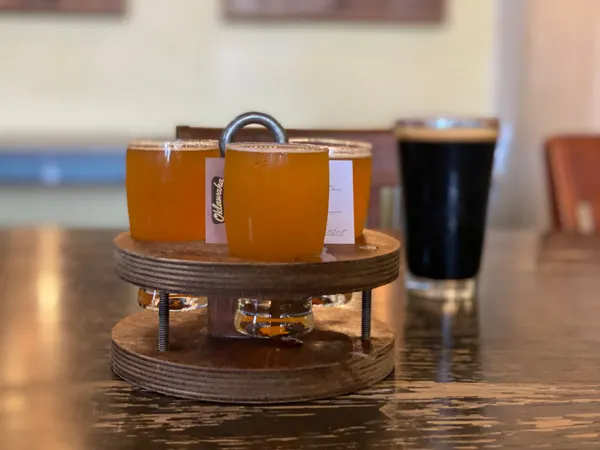 Hendersonville also houses a plethora of breweries and wineries to choose from.
For breweries, head to Oklawaha and D9, and for wineries, Stone Ashe and Marked Tree (technically in Flat Rock) Vineyards.
If you are visiting Asheville with kids and it's fall, the Hendersonville apple orchards offer corn mazes, cinnamon cider donuts, and hayrides.
If you are looking to visit a WNC mountain town closer to AVL, though, Black Mountain is a gorgeous Asheville weekend getaway option too.
4. Dine at one of Asheville's famous restaurants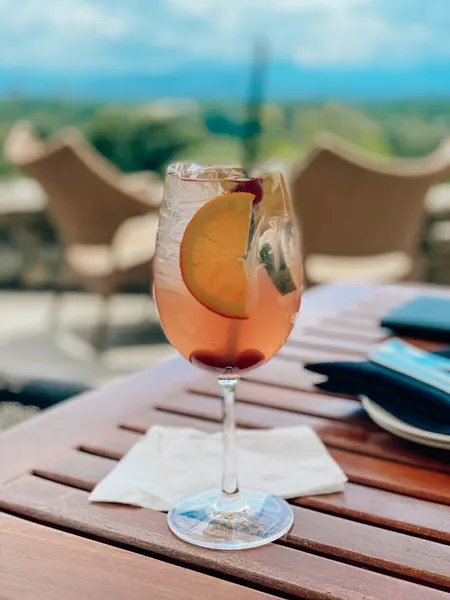 Asheville is filled with unforgettable and award-winning restaurants. Nicknamed "Foodtopia," you'll definitely want to include food and beer on any Asheville weekend itinerary.
Our Asheville Food & Drink Guide is filled with restaurants by neighborhood, cuisine, occasions, and so much more. We dine out frequently and feel incredibly lucky to have so many options.
These are just a few Asheville restaurants that we'd suggest for dinner — with a mix of price points, ambiances, and cuisines:
Edison at The Omni Grove Park Inn – F. Scott Fitzgerald would summer at the Grove Park Inn, and today, this luxury resort is infamous for its spa and sunsets. Talk about romantic AVL dining.
For a middle-priced meal, make reservations at Edison — and be sure to check sunset times on your weather app. Enjoy cocktails, handhelds, salads, and entrées.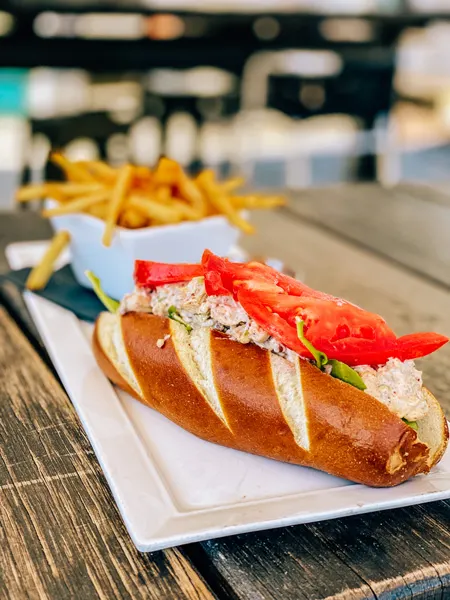 Wicked Weed Brewpub – In the heart of Downtown Asheville, for casual dining and beer with the entire family, Wicked Weed is the perfect stop.
They have a huge beer selection, and nothing beats veggies with hummus or a classic chicken salad sandwich.
Plus, this is one of Asheville's most popular breweries – for good reason. Their patio is dog-friendly.
Chai Pani – If you love Indian cuisine, Chai Pani is famous. Samantha Brown recently dropped in, and Meherwan Irani is a five-time James Beard-nominated Chef.
Chai Pani's Indian street snacks are delicious, and they do not take reservations. Equally famous, you could also head to Cúrate, a Spanish tapas restaurant where Anthony Bourdain dined.
Limones – If you love Mexican dishes with a California and French twist, Limones is perfect for fine dining in Downtown Asheville. We just love this cozy and historic space.
However, if you lean more toward French cuisine, Bouchon is an equal contender.
Never Miss Another Asheville Update
---
Tired of generic Asheville travel itineraries? Experience Asheville like a local with our free Asheville Favorites checklist, including restaurants, breweries, and hiking. Plus, get local updates – including events and hidden gems – straight to your inbox. Sign up here.
5. Enjoy a local craft beer or dessert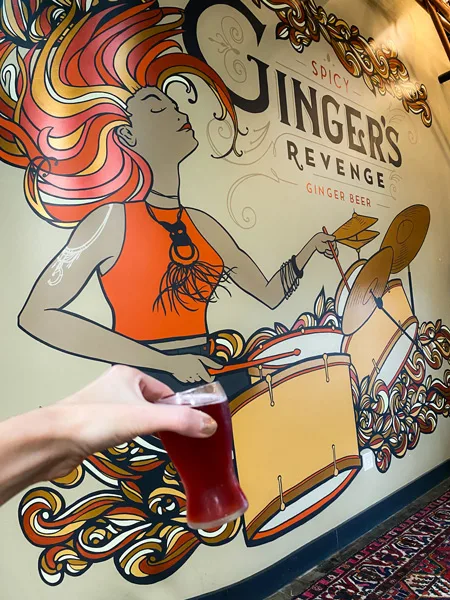 Along with its jumping restaurant scene, Asheville is most famous for its beer. With only a weekend in Asheville, you have to visit a few of the area's amazing breweries.
Just a few of Asheville's breweries that we love:
Zillicoah Beer Company – Sit along the French Broad River with a local craft brew and tacos from Taqueria Munoz — their permanent food truck. As locals, we frequent Zillicoah the most.
Ginger's Revenge – For more unique drinking options, Ginger's Revenge is a must for ginger beer. They brew up fun flavors and host delicious weekend food trucks like The Smokin' Onion and Trashy Vegan.
Green Man Brewery – Downtown Asheville is full of popular breweries like Catawba, Burial, Wicked Weed, and Bharmari. Green Man makes the best ESB in town.
Hillman Beer – Located on the outskirts of Biltmore Village, grab a bite to eat and enjoy one of our favorite beer selections in town next to a babbling brook.
Eurisko Beer Company – On the edge of South Slope, head upstairs or sit outside while sipping on a delicious Helles.
If beer isn't your thing, grab dessert in Asheville at one of these places: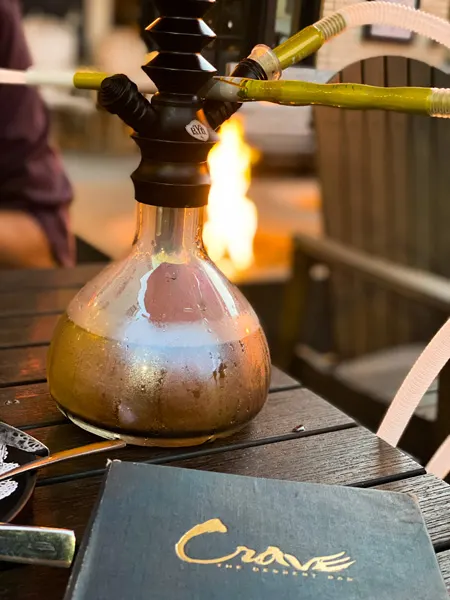 Crave Dessert Bar – Where can you enjoy hookah, order a smoky Old Fashioned, and devour over-the-top desserts?
Crave Dessert Bar is perfect for Downtown Asheville people-watching and excessive treats.
Asheville Chocolate – Everyone knows the delicious French Broad Chocolate Lounge, but equally delicious, Asheville Chocolate has gelato, hot chocolate, coffee, and decadent truffles.
They are one of our favorite chocolate shops in town, and they have vegan and gluten-free options.
6. Grab a bubbly Sunday Brunch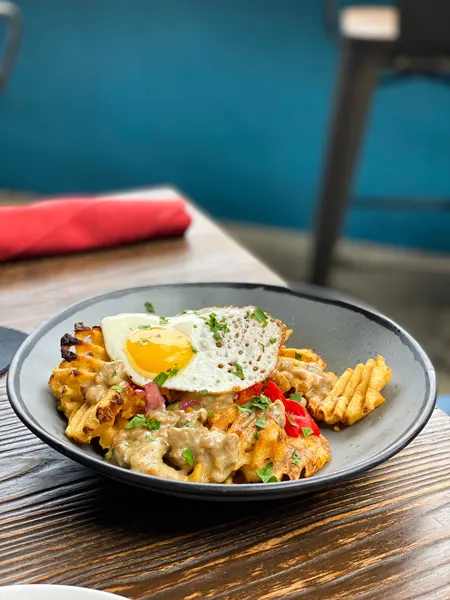 Any Asheville weekend trip should include brunch — it's the best meal of the day. However, just like dinner, it might be hard to choose the best restaurants.
A few places for brunch in Asheville that we recommend include:
The Social Lounge – A sister restaurant to Strada, enjoy entrées and small plates on a chic rooftop terrace.
As a group once took our photo here, they commented that the setting was perfect for a Better Homes and Gardens ad.
The Social Lounge offers gluten-free, vegan, and veggie options along with cocktails, eggs, shrimp and grits, and biscuits and gravy.
Sunny Point Cafe – A local West Asheville restaurant, Sunny Point Cafe doesn't take reservations and may have long lines.
However, Sunny Point is your go-to for drinks, eggs, sandwiches, and cheap breakfast and lunch eats. For our gluten-free eaters, though, head to BimBeriBon, a GF bakery across the way.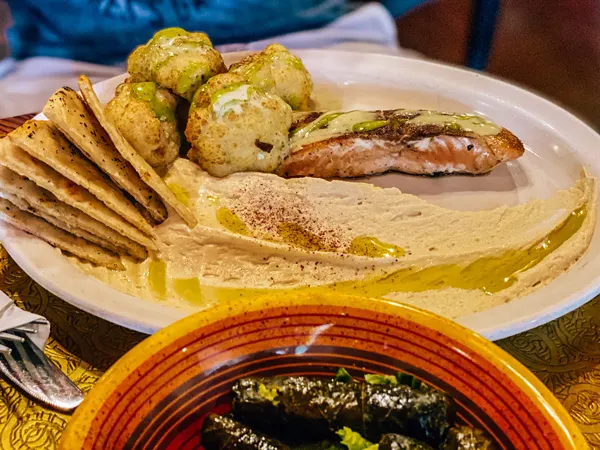 Jerusalem Garden Cafe – For the best Mediterranean and Middle Eastern cuisine, if you are looking for another option besides Tupelo Honey, this vibrant restaurant sits across the street.
Head to Jerusalem Garden Cafe for Saturday or Sunday brunch with falafels, hummus, meat and fish entrées, and of course, mimosas.
Rosetta's Kitchen – If you are looking for a delicious vegan meal, Rosetta's Kitchen is unassuming and delicious for Southern specialties, bowls, and all of the vegan queso that you could ever desire.
If you are looking for non-brunch options throughout your Asheville weekend trip, don't miss Asheville's best breakfast spots — or donut and pastry shops, including Old Europe Pastries.
7. Head out on a Blue Ridge Parkway hike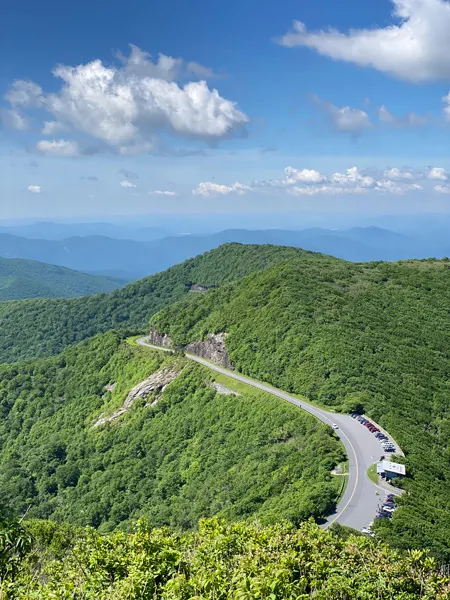 Deemed "America's favorite drive," the Blue Ridge Parkway — with the exception of wintertime — is one the most popular attractions in WNC.
The BRP spans 469 miles through Virginia and North Carolina, connecting Shenandoah National Park to Great Smoky Mountains National Park.
A 2-lane and typically 45-mph road, bikers and road trippers cruise down the parkway for those scenic overlooks, waterfalls, and hiking access.
If you have time, visit the Blue Ridge Parkway Visitor Center in Asheville, which is filled with information, maps, and exhibits. Or, just head to North or South Asheville and start driving.
Like the restaurants and breweries, for a weekend getaway in Asheville, there are too many BRP hikes and falls to choose from. However, a few that we recommend: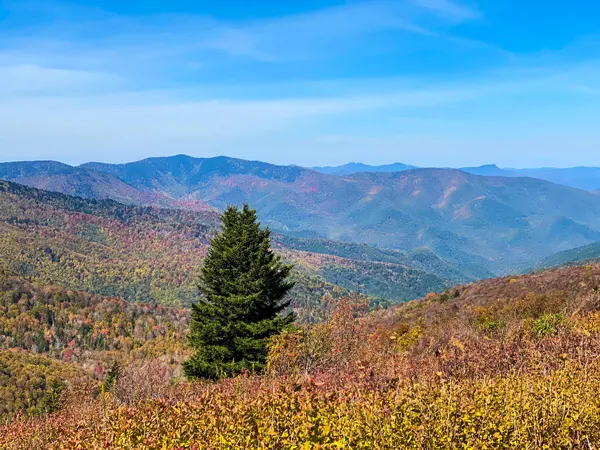 Craggy Gardens or Craggy Pinnacle – Head north of Asheville for an easy hike and picnic at Craggy Gardens or drive to Craggy Pinnacle for a more moderate summit hike with views of the Asheville Watershed.
Further north, for experienced hikers, try Little Butt. Or, enjoy various hiking trails at Mount Mitchell State Park, boasting of the highest point east of the Mississippi.
Graveyard Fields or Black Balsam – For the best fall hiking, Graveyard Fields and Black Balsam light up with breathtaking foliage colors.
South of Asheville, these are popular moderate trails for views along with Mount Pisgah and Fryingpan Mountain Tower.
If you aren't prepared to hike, though, Asheville is full of quaint and scenic parks and gardens. We are members of The NC Arboretum.
8. Tour Biltmore Estate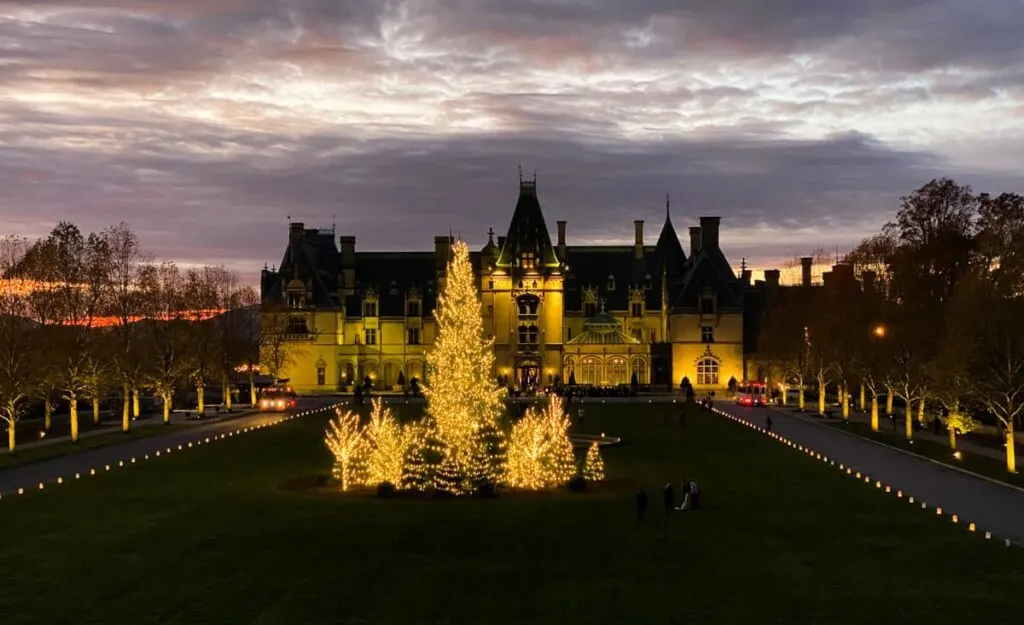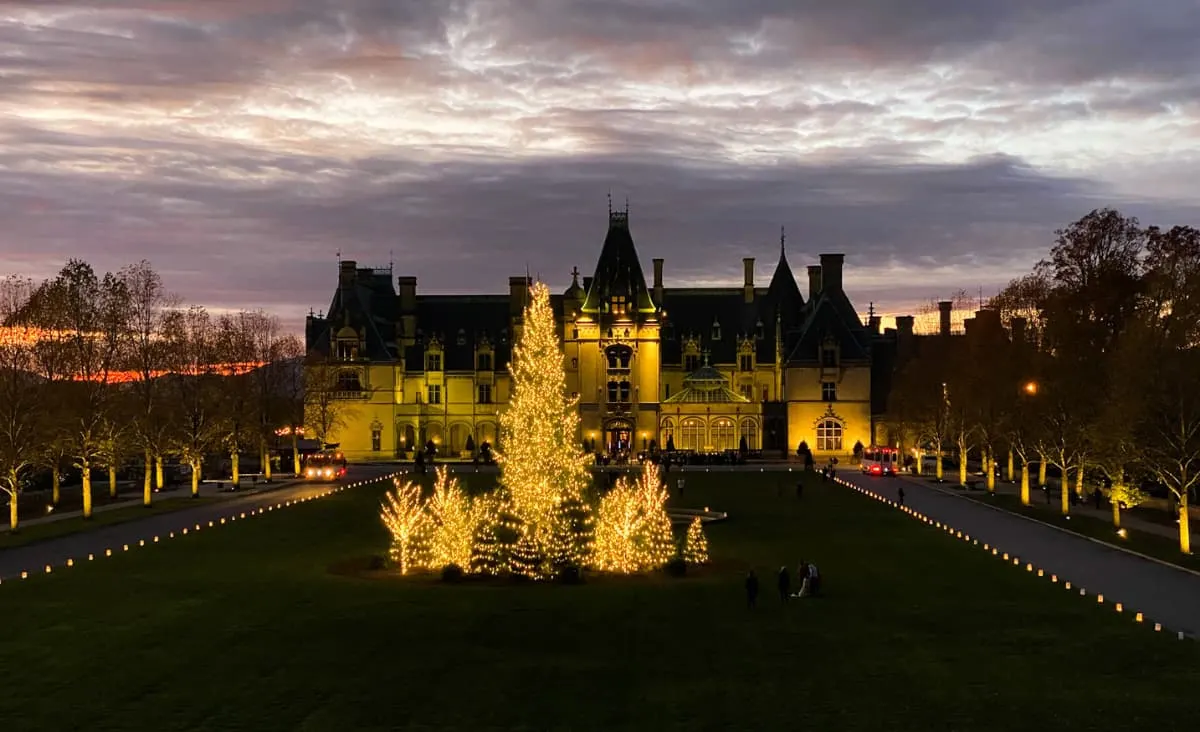 America's largest home, Biltmore Estate may or may not be too ambitious for a weekend in Asheville itinerary. It's easy to spend at least a full or half-day at Biltmore.
Biltmore is for travelers who appreciate history, enjoy luxury homes like the Newport Mansions, are fans of Frederick Law Olmsted and Richard Morris Hunt, and love gardens.
Biltmore is family-friendly, and on top of your $66+ ticket price, which includes a self-guided home tour, wine tasting, and access to the grounds, you can add on special tours and exhibits.
Shop at Antler Hill Village, dine at Stable Cafe or Cedric's Tavern, rent bikes for the trails, and stroll the gardens. There's a barnyard and playground too.
A Biltmore House tour takes about 1.5 hours with highlights of the library, indoor pool, bowling alley, gym, main kitchen and bedrooms, and the gorgeous loggia overlooking the Pisgah National Forest.
Biltmore at Christmas is utterly magical, especially Candlelight Christmas Evenings. Christmas trees light up all of the rooms along with glowing fireplaces and sparkling garlands.
Purchase tickets and plan reservations on Biltmore's website. We've been annual passholders for years, which tells you how much we appreciate Biltmore. It's not just a tourist trap.
9. Hang out in a wine bar or coffee shop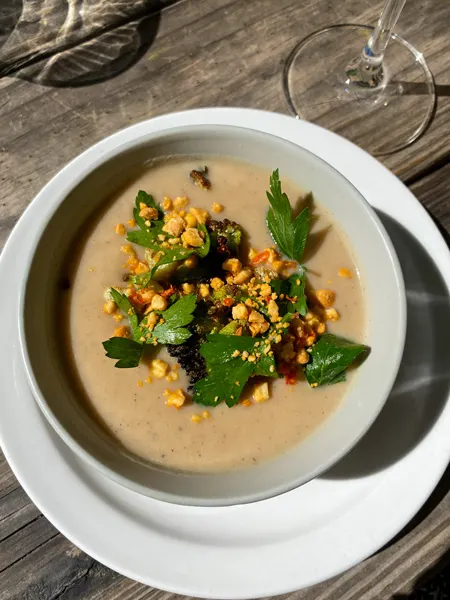 Every Asheville weekend getaway should include some local beverages, whether coffee or wine. Everyone always associates Asheville with beer, but the city boasts of a vibrant wine scene too.
Like the rooftop bars, the Asheville wine bars range in price and decadence. A few of our top picks for a weekend in Asheville:
Leo's House Of Thirst – Order some of the best charcuterie in town and enjoy a gorgeous West Asheville day at Leo's.
Order wine by the glass, half carafe, or bottle along with a vegan soup, handhelds, and a bowl of olives.
Bottle Riot – Head to RAD for "baller bottles" and huge glasses of wine. Bottle Riot is a dazzling space with green and pink furniture and a rotating wine selection.
The Aventine – If you enjoy pleb urban winery in the River Arts District, they have a newer Downtown wine bar, The Aventine.
One of Asheville's most unique wineries, pleb focuses on minimal intervention winemaking. You'll find red, orange, and white wines with steel fermentation.
If you are looking for non-alcoholic choices and need an Asheville weekend pick-me-up, the city has a stellar local coffee scene. Three of our favorites include: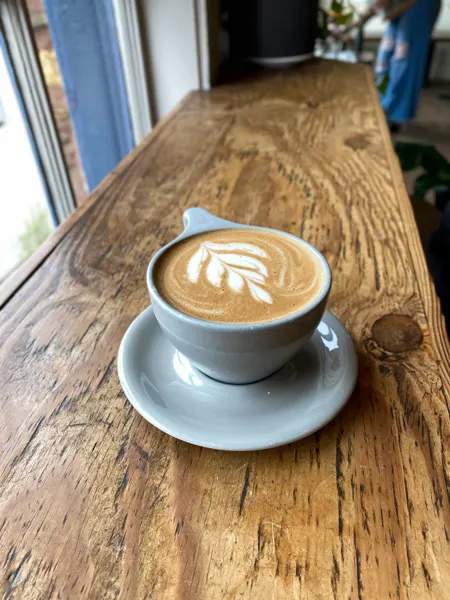 Rowan Coffee – Situated in a gorgeous historic building in Downtown Asheville, find a small but perfect coffee menu with vegan milk options.
Summit Coffee – Summit has multiple locations across Asheville, but we prefer sitting with a latte surrounded by RAD's street art.
The Dripolator – Black Mountain has delicious restaurants, and honestly, we couldn't leave off our all-time favorite coffee shop. The Dripolator features gluten-free and vegan baked goods too.
10. Tour one of Asheville's hipster neighborhoods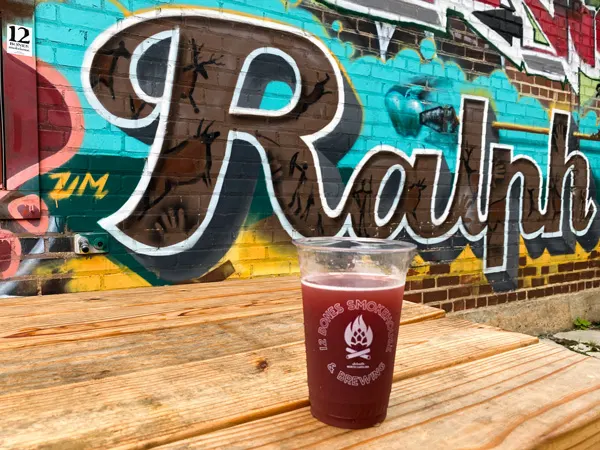 We always enjoy visiting cities that have unique neighborhoods with their own character and specialties.
Although not essential to a weekend trip in Asheville, it's fun to dine, spy murals, and shop in a few different areas. A few of the best AVL neighborhoods (besides Downtown) include:
West Asheville – Gus Cutty, Ian the Painter, and Jerry Cahill are popular mural artists, with street art around West AVL and RAD.
Catch Cutty's RuPaul and Dolly Parton in West AVL along with bars like The Odditorium, Fleetwood's, The Malvern, and The Whale.
River Arts District – Watch an indie film at the Grail Moviehouse or shop for home decor at Asheville's newest European-style market, Marquee.
Pop in and out of artists' studios or walk along the newly renovated RAD Riverwalk.
Montford – Historic Montford is home to gorgeous Bed & Breakfasts, one Nine Mile location, and Free Little Libraries.
We love the literary history at Riverside Cemetery, O. Henry and Thomas Wolfe's final resting grounds.
Historic Biltmore Village – Home to The Corner Kitchen — a great lunch spot — grab a coffee from Well-Bred Bakery, find high-end shopping, and enjoy a brew from Hillman Beer.
11. Catch an Asheville Tourists game or watch Shakespeare in the Park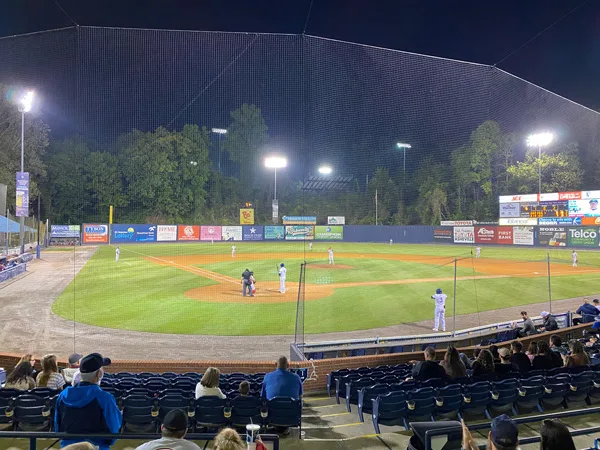 For a weekend in Asheville with younger children or for sports lovers, you cannot go wrong with an Asheville Tourists game.
April through September, purchase tickets for a minor league baseball game at McCormick Field. Tickets usually start around $11 for an adult and $9 for a child.
Grab a hot dog, nachos, and a local beer from food stalls while cheering for our home team. They have cheesy games between innings and sell fun souvenirs. Parking is a little tricky out this way.
Or, if you are looking for a more romantic Asheville weekend getaway, May through October watch Shakespeare in the Park.
Performed by the Montford Park Players, this is a free (donation-based) outdoor theatrical event under the stars.
Most but not all performances are adaptations of Shakespeare plays with quirky additions.
Vendors sell ice cream, wine, beer, cider, and other local treats. Or, pack your own picnic and drinks. Bring chairs, rent theirs, or sit on their amphitheater wooden benches.
Where To Stay For A Magical Asheville Weekend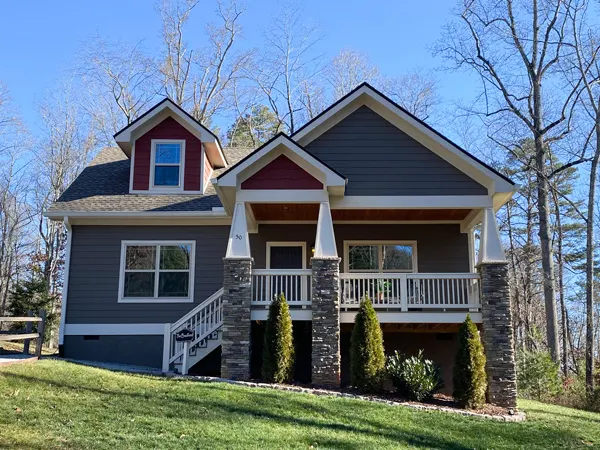 Asheville Cottages – For private luxury cottages off of Brevard Road, indulge in that mountain life with Asheville Cottages.
Managed by the Manche family, find gorgeous and clean one to three-bedroom cottages equipped with a private deck, hot tub, and grill.
Enjoy the gas fireplaces and full kitchens stocked with essential dishes and utensils — frosted beer mugs included.
For a romantic weekend getaway in Asheville, these guys are perfect.
Aloft – Downtown Asheville – For Downtown Asheville hotels, the Aloft — a Marriott property — is newly renovated as of 2020.
Fall in love with the colorful murals and pristine rooms. The Aloft hosts live music, has a rooftop pool overlooking the mountains, and boasts of a patio space overlooking Downtown AVL.
Hampton Inn And Suites Asheville Biltmore Area – Located on busy Brevard Road – NC-191 – across from the Asheville Outlets, stay at a fairly priced, clean, and updated hotel.
Choose this hotel for location; it's in the middle of everything: Downtown, Biltmore, and the Blue Ridge Parkway.
The Hampton Inn Biltmore Area was our hotel pick before moving to AVL. You will need to drive everywhere from here, though.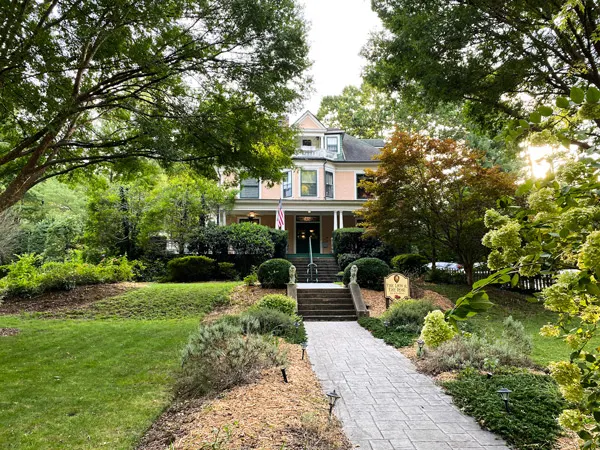 The Lion and the Rose Bed and Breakfast
One of Asheville's longest operating inns also located in Montford, this 1898 pink lady Queen Anne/Georgian-style will wow visitors with history, character, and luxury.
1900 Inn on Montford is a quaint Bed & Breakfast in the historic Montford area. The 1900 Inn features a 3-course breakfast, is pet-friendly, and is about one mile from Downtown.
Technically, you could walk to Downtown from here.
Spending more than a weekend in Asheville? Read about all of our top hotel accommodations.
Planning your Ashville weekend getaway? Save this post for later: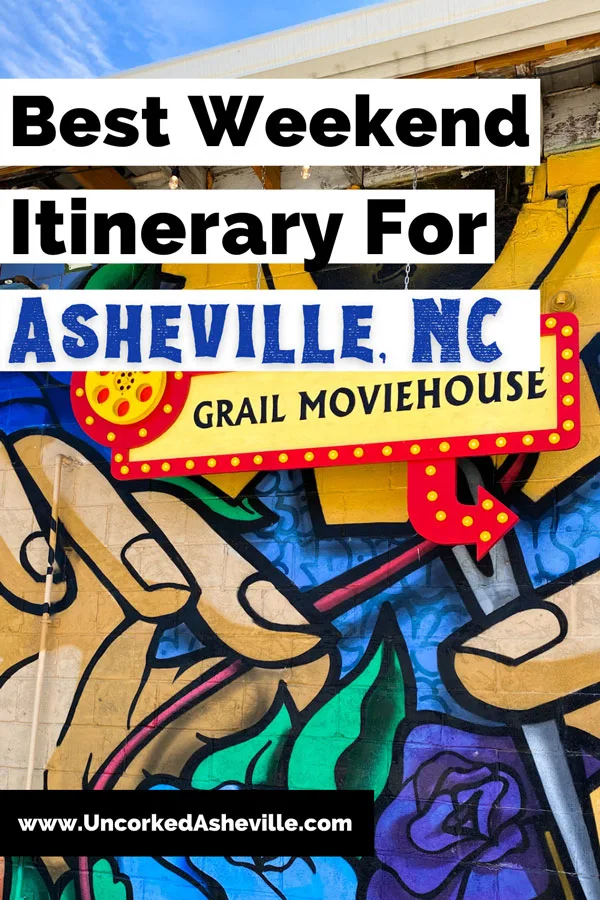 What are your favorite things to do for a weekend getaway in Asheville, NC?
If you've taken a weekend trip to Asheville, what are your "musts?" Please let us know in the comments.
Also, if you are planning your weekend in Asheville and have questions, please don't hesitate to reach out in the comments.
We hope that you have a wonderful trip — first-time or returning.
More Asheville itineraries to help you plan:
Itinerary For Under 2 Days In Asheville
Asheville With The Entire Family
Romantic Asheville Itinerary
Book Lover's Itinerary
Asheville, NC by season: