11 Fantastically Fun Things To Do In Hendersonville, NC
Uncover the best things to do in Hendersonville, NC. Explore museums, hiking, breweries, wineries, and a historic downtown area.
What can you do in Hendersonville, NC – a fantastic day trip from Asheville (AVL)?
Before moving to AVL, we spent a long weekend enjoying the wineries, hiking, and touring the areas around Western North Carolina.
After trekking the gorgeous The Hunger Games waterfalls at DuPont, we grabbed lunch in Historic Downtown Hendersonville followed by wine tasting at St. Paul Mountain Vineyards.
We instantly fell in love with the city, its chill vibes, and its friendly community. We almost bought a house here.
Today, this area remains one of our favorite places to visit for drinks, apple orchards, and festivals – especially since Hendersonville is only about a 40-minute drive from Downtown Asheville.
Hendersonville is filled with delicious and unique restaurants, competing with its Foodtopia neighbor. Think BBQ, gyros, famous hot dogs, pizza, sushi, and Thai cuisine.
Play vintage pinball or shop for your pooch. Grab a flight of sour beer and a steaming cup of local coffee. Immerse yourself in literature and history.
Craving homemade fudge or a 50s-style soda fountain? How about a bee or Coca-Cola mural?
Did we mention quaint B&Bs? A rock museum with a dinosaur? The Hendersonville attractions are endless.
So, what are the best things to do in Hendersonville, North Carolina? And, where can you stay?
As Asheville locals, enjoy our top Hendersonville things to do for couples, families, friends, and solo travelers.
Then, explore a few fun things to do near Hendersonville in case you have time to road trip around the Blue Ridge Mountains – lakes and the Blue Ridge Parkway included. Let's get started!
*Please always double-check websites and hours for each establishment. Know that Hendersonville grows much busier on the weekends.
Uncover the best day trips around Asheville.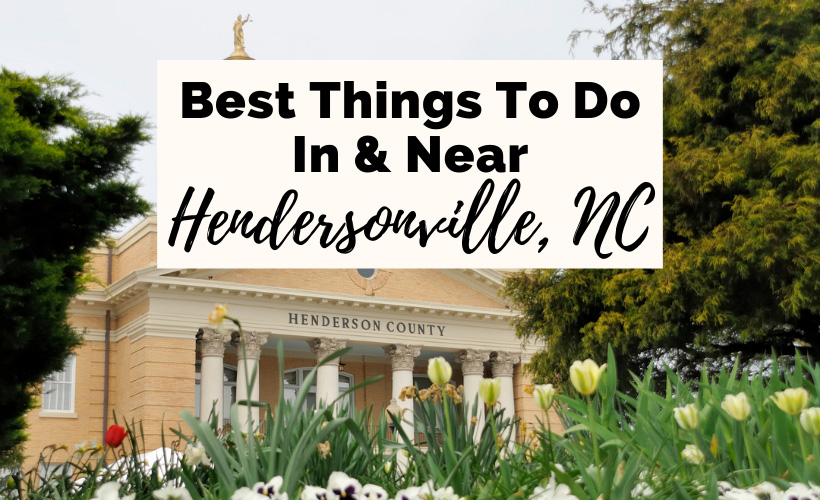 This post may contain affiliate links that earn us a commission at no extra cost to you. If you love these guides, support Uncorked Asheville here.
If you need a place to stay, book a hotel, Bed and Breakfast, cabin, or cottage in Hendersonville here.
Don't miss our Asheville Accommodation Recs, too.
11 Best Things To Do In Hendersonville, NC
1. Walk Downtown Hendersonville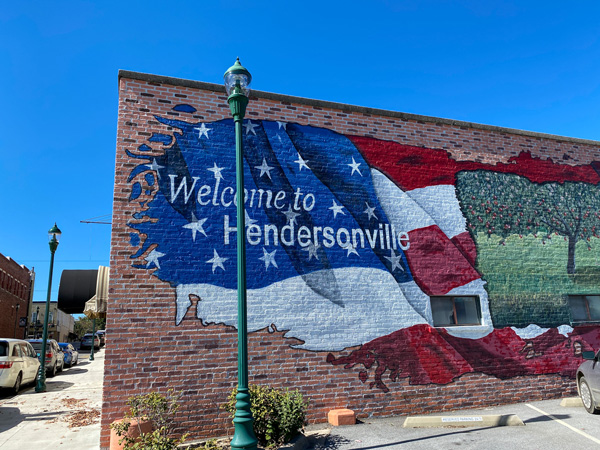 Wondering what to do in Hendersonville, NC first? Why not shop – and eat and drink?!
We just love walkable Downtown Hendersonville, which is filled with shops, cafes, bookstores, breweries, and restaurants.
Encounter quaint streets filled with al-fresco dining. Find parking along Main Street's side roads and in pay lots.
A few notable Hendersonville shops and landmarks to check out:
Find more information about Downtown Hendersonville from Visit Hendersonville.
2. Grab A Bite To Eat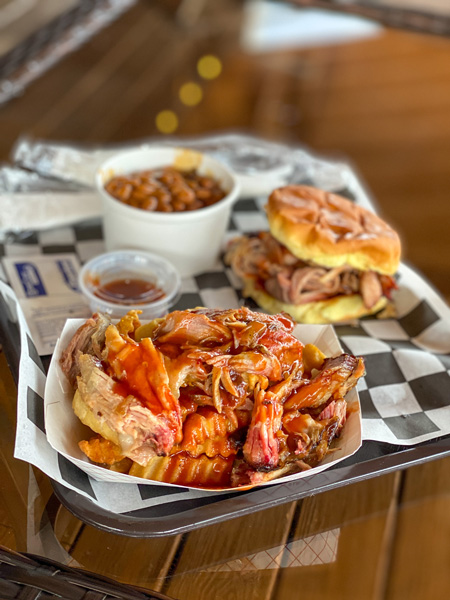 Hendersonville attractions include its stellar local restaurant scene. Grab a bite to eat before winery hopping or after a great DuPont waterfall hike.
Be sure to check out our complete guide to Hendersonville's delicious restaurants – we eat in HVL frequently.
A few not-to-miss Hendersonville restaurants:
3. Wine Taste At The Hendersonville Wineries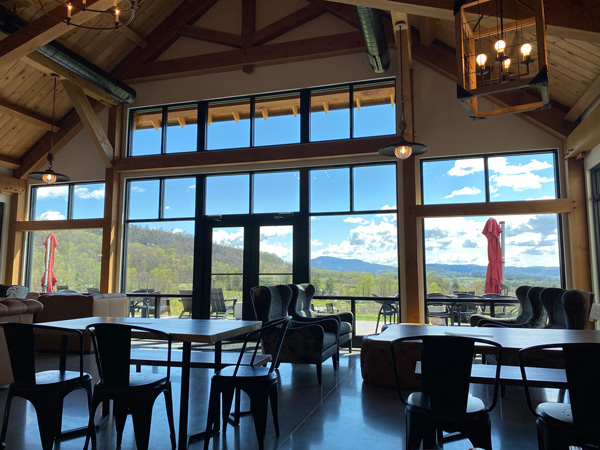 Wondering what to do in Hendersonville after lunch? Why not wine taste?
Hendersonville is becoming renowned for its growing vineyards. A few of the best Hendersonville wineries include: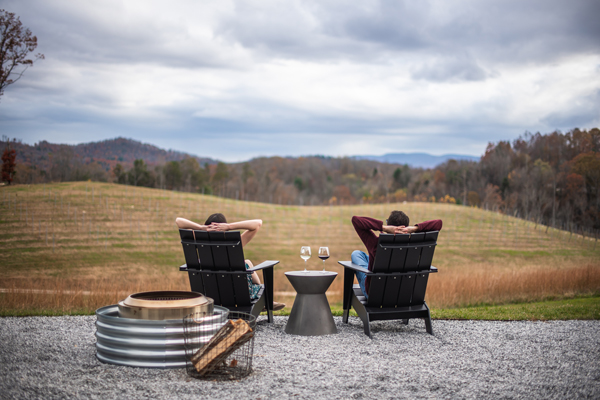 Marked Tree Vineyard – For things to do near Hendersonville, head to Marked Tree. Technically Marked Tree sits in Flat Rock, but it's a must. Enjoy gorgeous vineyard views (even in the fog), small plates, and delicious wine in a modern and trendy building.
These Asheville wineries are nearby too.
4. Enjoy A Craft Brew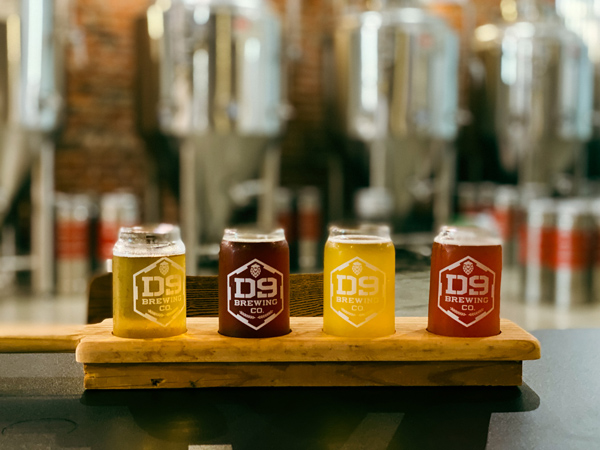 What are the best Hendersonville things to do for beer lovers? Brewery hop, of course!
Everyone always thinks of Asheville for breweries, which is true. But, Hendersonville has quite a few local craft breweries.
Plus, the Hendersonville brewery scene has grown immensely over the past few years, stays more local, and is less crowded than AVL.
We are in love with Hendersonville's pristine and dare we say sexy new breweries. A few have large outdoor patios and event spaces.
We frequent Oklawaha Brewing (formerly Sanctuary Brewing) for their gluten-reduced beers. Tom has Celiac Disease and finds that he can personally drink the beers here (not all Celiacs can, though).
Or, order flights full of Scottish Ales, Ambers, IPAs, and Blondes at Hendersonville breweries like Southern Appalachian Brewery, Guidon Brewing, and D9 Brewing Company.
D9 is noteworthy if you enjoy sour beers. They also have gluten-free options like local ciders and hard seltzers.
Be sure to grab our full Hendersonville brewery list to see where the best BBQ food trucks sit, which brewery has the coolest murals, and where you can drink lots and lots of German beer.
And, let's be real: drinking beer is one of our favorite things to do in Hendersonville. This is Uncorked (and untapped) Asheville, after all.
5. Apple Pick & Gorge On Cider Donuts In The Fall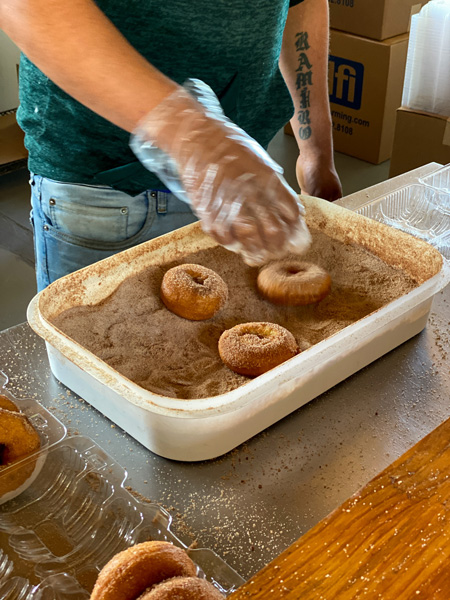 Hendersonville, also known as "Apple Alley" is home to amazing apple orchards in Western North Carolina.
If you are looking for the best fall things to do in Hendersonville, don't miss bamboo forests, cider donuts, corn mazes, and slushies.
People always ask us which apple orchard we love the most.
If you are running short on time, we'd pick one of these orchards:
We also enjoy Coston Farm for low-key apple picking without the crowds. Our readers frequent Jeter Mountain Farm on the weekends, and they have a hard cider taproom.
Explore even more kid-friendly activities in and around Hendersonville and Asheville.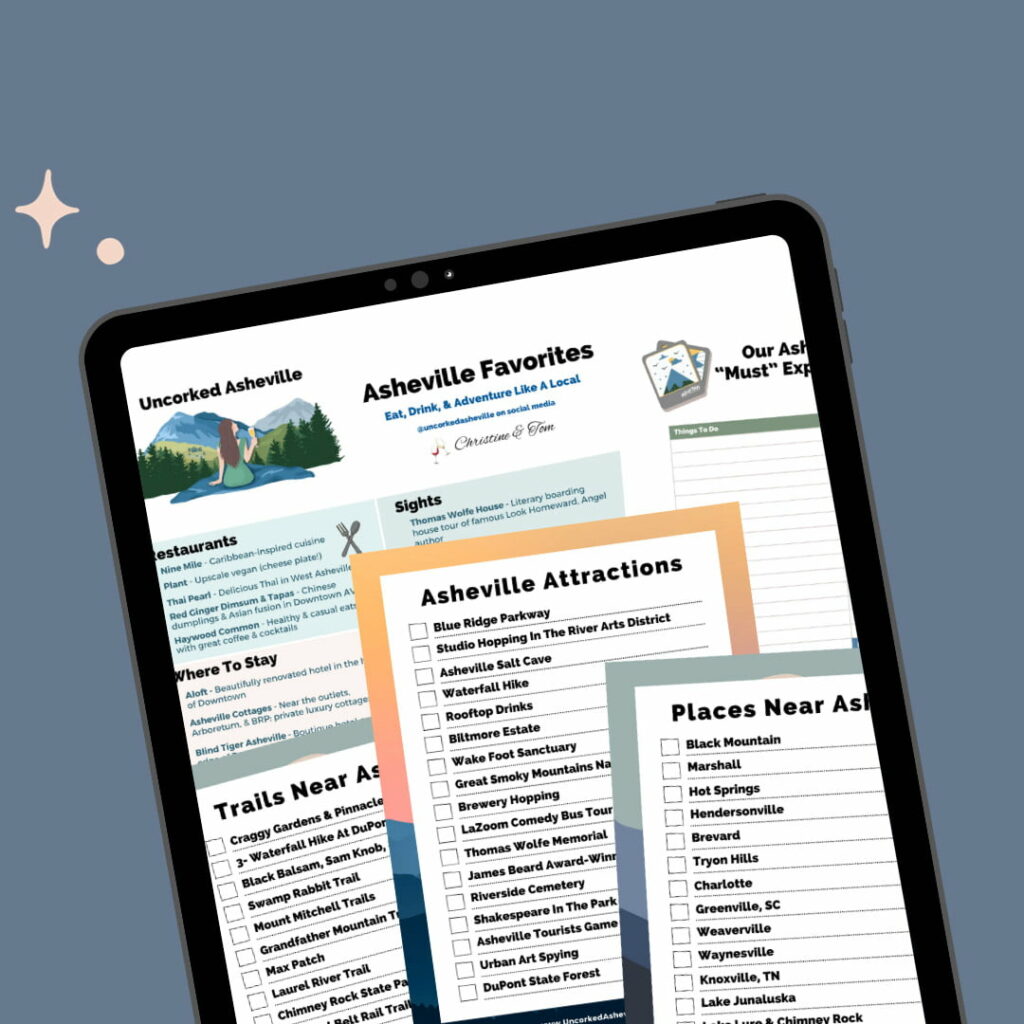 Never Miss Another Asheville Update
Experience Asheville like a local with our free attractions, dining, hiking, and day tripping guides. Get events, updates, and more straight to your inbox from Christine.
6. Stay At A Quaint B&B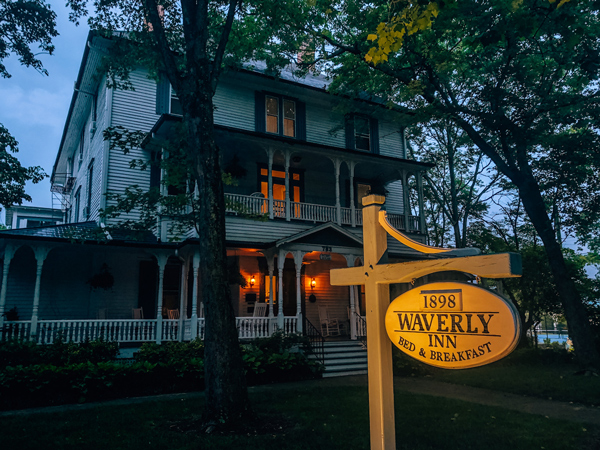 For romantic things to do in Hendersonville, NC we recommend an overnight getaway for couples. The Bed & Breakfasts are quaint and incredibly sweet.
While you might wish to pick a cabin stay or Hendersonville Airbnb, we suggest the 1898 Waverly Inn. They have a delicious happy hour with local wine and beer along with cozy rooms.
Mike is a wonderful host with endless Hendersonville suggestions (we found Umi Sushi because of him), and you can walk to Downtown Hendersonville.
Plus, there is a reading room with a library, and they serve a scrumptious breakfast. We stayed here while house hunting.
If the 1898 Waverly Inn is booked, right next door, The Charleston Inn looks charming, too. We haven't stayed at this B&B yet, but we did take a peek.
For Asheville and Hendersonville attractions, visiting all of the historic homes, neighborhoods, and sites is a must – even if you are just window shopping.
7. Hike Nearby At DuPont State Forest To See The Hunger Games Waterfalls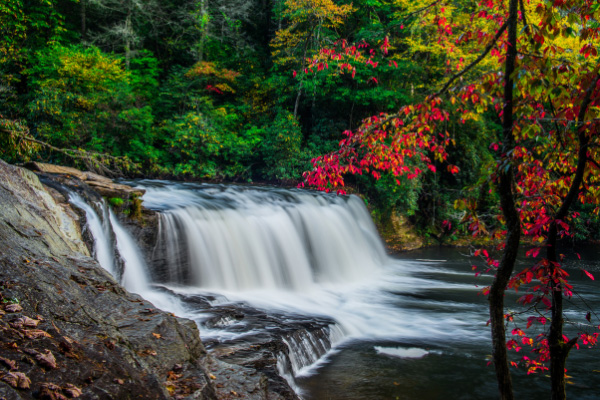 If you are looking for fun things to do near Hendersonville, NC, don't skip waterfall chasing at nearby DuPont State Forest. We couldn't recommend this state park anymore.
DuPont is located between Hendersonville and Brevard, which makes this free park a great morning stop before heading into Downtown Hendersonville.
DuPont is pretty famous, too, as a filming location for both The Hunger Games and The Last of the Mohicans.
We always recommend the 3-waterfall hike – Hooker, Triple, and High Falls – and/or the trek to Bridal Veil Falls.
If you hike all 4 waterfalls, it's about 7-miles total. The first three waterfalls are only about 3 miles. Just Bridal Veil Falls is 4.4 miles.
If you are hiking with younger children, Hooker Falls is about .25-miles from Hooker Falls Access Area parking. You may wade here, but exert caution as there are no active lifeguards.
Please pay attention to all posted signs for your own safety. You'll find well-labeled maps and a visitor center close to High Falls.
If DuPont seems like it is going to be busy, you could also hike the easy Bearwallow Mountain Trail or the more moderate Trombatore Trail.
Read more about all of the terrific Asheville hiking trails and the variety of waterfall hikes across WNC.
8. Visit A Museum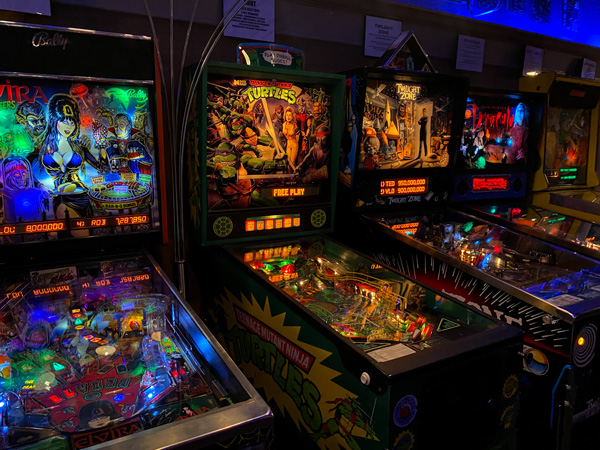 For fun things to do in Hendersonville for the entire family, the city has quite a few museums and historic buildings to visit.
A few notable Hendersonville attractions include:
You may also enjoy these museums and historic sites in and around Asheville.
9. Attend A Tea Party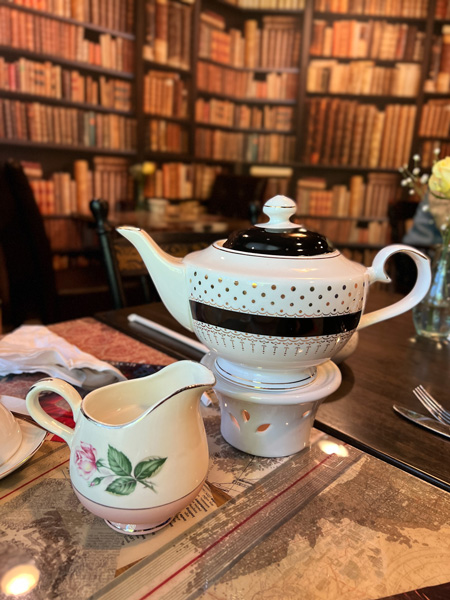 Located about 7 minutes from Downtown Hendersonville, enter a literary gem, The Book And Bee Cafe. This tearoom and cafe opened in 2021 and serves, breakfast, lunch, and tea.
You'll know you've arrived when you spot the red British phone booth and book spine-labeled stairs.
Breakfast and lunch (with cream tea) are first-come, first-serve. Or, make reservations for afternoon tea complete with finger sandwiches, jam and scones, and sweet desserts.
We enjoy lunch with soups, salads, and sandwiches – gluten-free and dairy-free options included.
While here, be sure to visit all of the themed rooms; we dare you not to fall in love with the literary decor and quaint, sparkling rooms.
Plus, Victoria and her mom run this cafe – and they'll treat you like one of the locals.
The Book & Bee Cafe is by far one of the best things to do in Hendersonville, NC for book lovers.
The Book & Bee Cafe and Tea | 795 Mountain Rd, Hendersonville, NC 28791
10. Perk Up With Coffee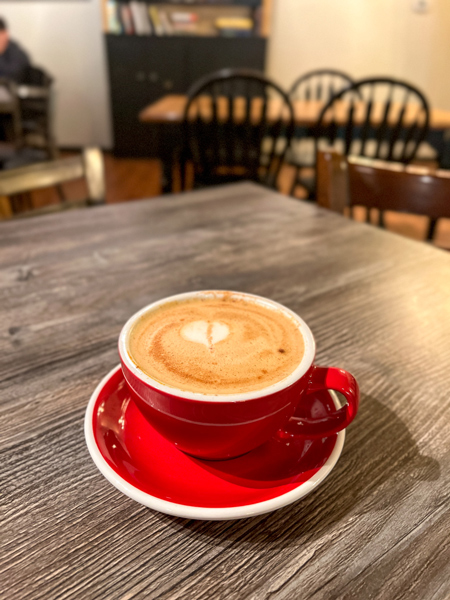 Asheville isn't the only city filled with stellar coffee shops. After touring all of the Hendersonville attractions, you might need a little pick-me-up.
Located in Downtown Hendersonville, Black Bear Coffee Co. (318 N Main St) is a city oasis. Choose from gourmet coffee and light bites.
Be sure to look up at the ceiling as it is lined with international coffee bags. Sit outside on the patio and people watch or head to the back to get some work done.
Along with Black Bear and situated outside of Downtown Hendersonville, Appalachian Coffee Company (*now moving to a new location as of Feb. 2023) is another delicious coffee spot.
With gorgeous windows and wooden walls, select from coffee, smoothies, and beer. Sit outside on the patio or inside by the sprawling windows.
Relaxing over coffee and tea is one of our top things to do in Hendersonville after a day of museum hopping, hiking, and winery touring, especially before driving back to AVL. *Yawns*
Grab our complete guide to the best Hendersonville coffee shops to see which places are pet-friendly, serve vegan and gf treats, and are great spots for digital nomads.
11. Day Trip Around WNC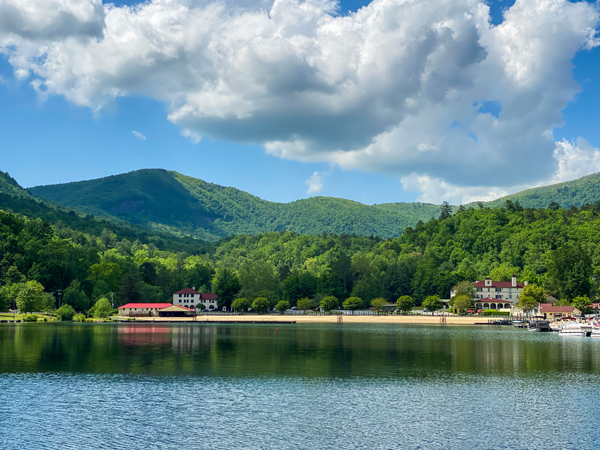 If Hendersonville is your base for your Western North Carolina travels, we highly recommend day-tripping to other great mountain towns, starting with its Flat Rock neighbor (mentioned quite a few times above).
Flat Rock, North Carolina boasts a gorgeous strolling park, the Carl Sandburg Home, the Flat Rock Playhouse, ShareWell Coffee, Sky Top Orchard, and Marked Tree Vineyard.
And, of course, one of the best things to do near Hendersonville includes touring Asheville.
Asheville is a haven for breweries, artist studios, museums, street art, concerts, rooftop bars, and hiking.
The restaurants in Asheville are famous, including Chai Pani and Curate. AVL is only about a 40-minute drive from Hendersonville.
Weaverville is right next door too – complete with a dog park bar and quirky restaurants.
Similar to Hendersonville, we frequent Black Mountain, which is about 45 minutes away.
Black Mountain is known for its art culture and is a more local spot for food and beer, housing our favorite distillery, Oak & Grist.
Lake Lure and Chimney Rock promise hiking trails and waterfalls. This is cabin life at its best.
Lake Lure features a Flowering Bridge and shimmering lake that you may recognize from the movie Dirty Dancing.
About an hour away, explore Maggie Valley, stopping for beer by the river, visiting Soco Falls, and touring Wheels Through Time.
Of course, WNC is filled with gorgeous lakes, including Lake Junaluska and AVL's Beaver Lake.
Or, head out onto the scenic two-lane Blue Ridge Parkway for breathtaking mountain overlooks, some of the best fall hiking, and even more cascading waterfalls.
Lastly, hike along the Appalachian Trail around Hot Springs – about one hour and ten minutes by car from Hendersonville.
Where To Park In Hendersonville, NC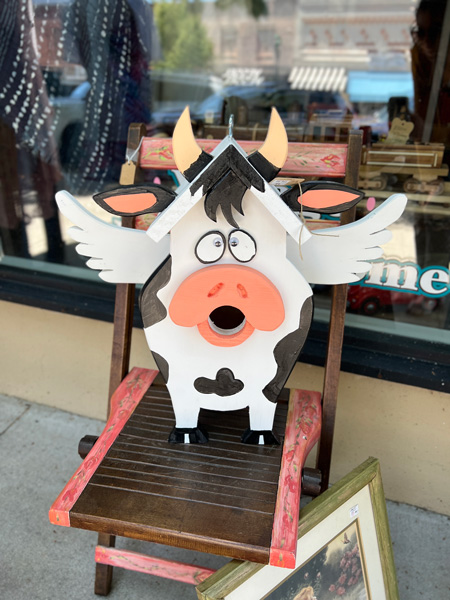 Parking in Hendersonville can get a little tricky, especially if you are attending an event or visiting on a busy weekend.
We always try to find street parking along the side roads running perpendicular to Main Street. Newer, these spots are no longer free (under a specific time limit), and you will have to pay via the ParkMobile App.
There are also a few smaller pay lots around Downtown Hendersonville, including the Dogwood, Azalea, and Maple Lots. You'll want to follow public parking signs for these lots.
There is also the Hendersonville Parking Deck where you take your ticket with you and pay at the station.
Please note that many of these changes started in March 2023.
More Places To Stay Around Hendersonville
Along with the aforementioned Bed and Breakfasts, check out some of these top-rated Hendersonville hotels and inns:
The Melange Inn – Built in 1920, stay in a historic Southern and Victorian-style mansion, especially if you are traveling with a group.
Echo Mountain Inn – Enjoy a traditional American breakfast, stone fireplaces, and a swimming pool at this pretty Bed & Breakfast.
Kanuga Inn – An outdoor retreat, grab a room with a balcony or check out their larger cottages perfect for families and groups.
Skylaranna Hotel & Resort – This boutique mountain hotel boasts of over 50+ acres of riverfront property.
Find even more Hendersonville accommodations, or check out Asheville's hotels.
Save These Hendersonville Things To Do For Later: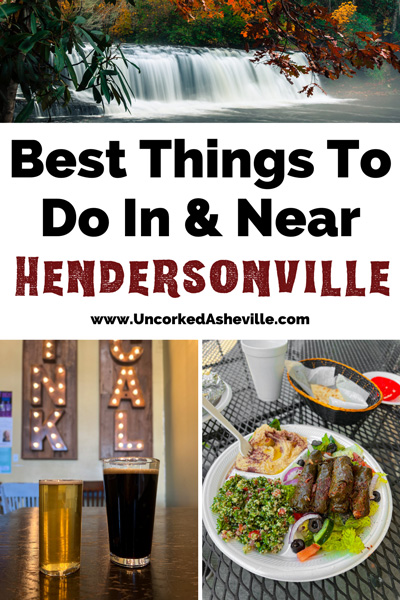 What are your favorite Hendersonville attractions?
We just love Hendersonville, and we hope you do too. What are some of your favorite things to do in Hendersonville, NC?
Where have you stayed and eaten that you enjoyed?
How about the best things to do near Hendersonville? Hikes? Waterfalls? Other WNC towns? Let us know in the comments!
More Hendersonville Activities:
Hendersonville, NC's Best Restaurants
Top Breweries In Hendersonville
Waterfall Chasing At DuPont State Forest
Not-To-Miss Wineries In Hendersonville
Best Hendersonville Apple Orchards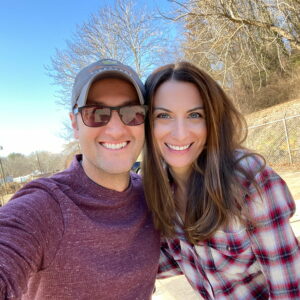 Christine (pronouns: she/her) is the owner and lead writer of Uncorked Asheville. After falling in love with those gorgeous Blue Ridge Mountains, Christine and her husband Tom decided to call Asheville, North Carolina home. When her pointy Italian nose isn't stuck in a book, Christine is adopting all of the kitties, getting lost in the forest, and drinking an ESB. She has a BA in English and History from Smith College, her MLIS from USF-Tampa, and is a former U.S. Fulbright Scholar - Indonesia. Christine also owns The Uncorked Librarian LLC with books and movies to inspire travel.