Are you looking for the best restaurants for lunch in Asheville, NC? Don't miss these delicious Asheville lunch spots for tacos, sandwiches, and so much more.
AVL is known as Foodtopia, and it's pretty hard to find a bad meal. It is, however, nearly impossible to pick the best lunch restaurants in Asheville.
We've been mulling over this list for quite some time. As Asheville locals, we eat out every week for both lunch and dinner. Our yoga pants are stretching…
What are our must-visit and most frequented Asheville lunch spots? And, what restaurants do our friends and readers covet?
Of course, you (and us) cannot eat at all of the Asheville lunch restaurants. We tried our absolute best to narrow it down by best lunch cuisine.
Below, we are sharing a little bit of everything for lunch in Asheville: where to get burgers, Indian, Thai, Middle Eastern, tacos, sandwiches, brewery grub, and BBQ.
See where famous presidents dined and where you can order a burger with sushi. Which taco joint has a permanent line out the door, and which restaurant used to be for the horses?
Plus, who has the biggest beer selections, prettiest outdoor patios, and best lunch cocktails? Where can you set your mouth and belly on fire?
Lastly, if you are looking for gluten-free, vegetarian, and vegan lunch in Downtown Asheville, we got your back.
We know this list is contentious; please let us know your favorite Asheville lunch restaurants in the comments. Let's get started!
Read more about Asheville's most unforgettable restaurants.
This post may contain affiliate links that earn us a commission at no extra cost to you.
See our Top Places To Stay in Asheville.

Don't miss out on these Asheville properties on Booking.com, too.
21 Best Restaurants For Lunch In Asheville, NC
1. White Duck Taco Shop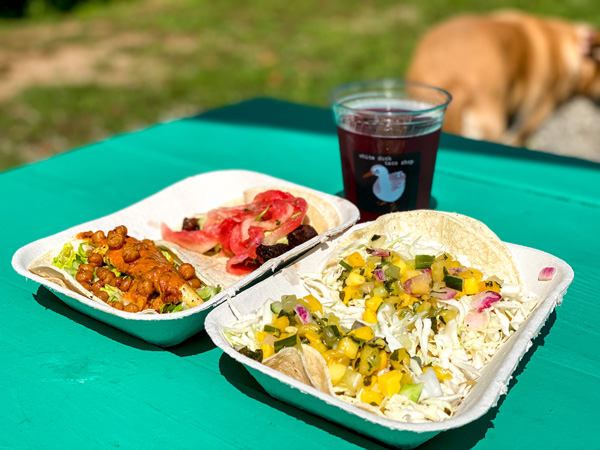 For a casual atmosphere along the French Broad River with your pooch (River Arts District location), you'll recognize White Duck Taco by the line out the door.
White Duck Taco is probably the most famous spot for lunch in Asheville.
These are not your average tacos either. Think Chicken Tikka Masala, Crispy Pork Belly, and Gyro-themed soft tacos along with a local brew.
White Duck Taco Shop labels gluten-free items.
Devour your goods at a shaded picnic table. If you love Mexican, enchiladas, burritos, and more, don't miss all of Asheville's stellar taco joints.
Our contributing mom blogger, Tori of Explore with Tori, also notes that White Duck Taco is one of Asheville's most family-friendly restaurants.
White Duck Taco Shop | RAD 388 Riverside Drive | Downtown 12 Biltmore Avenue | Arden 16 Miami Circle
2. 12 Bones Smokehouse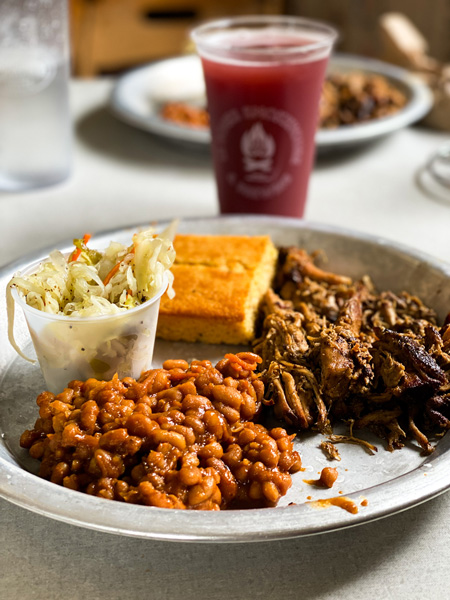 Lunch in Asheville like a former president. The Obama's ate at 12 Bones during one of their visits, and you can see why.
12 Bones cooks up some of the best BBQ in AVL.
Sit surrounded by vibrant street art at their River Arts District (RAD) location. Of course, the ribs come highly recommended, but you can also order sides of all of the meats.
Head to Bottle Riot or pleb for wine afterward or Wedge for craft beer. Read more about all that you can do in the RAD neighborhood.

12 Bones Smokehouse | River 5 Foundy St Ste 10, Asheville, NC 28801 | Arden w/Taproom 2350 Hendersonville Road, Arden, NC 28704
3. Noble Cider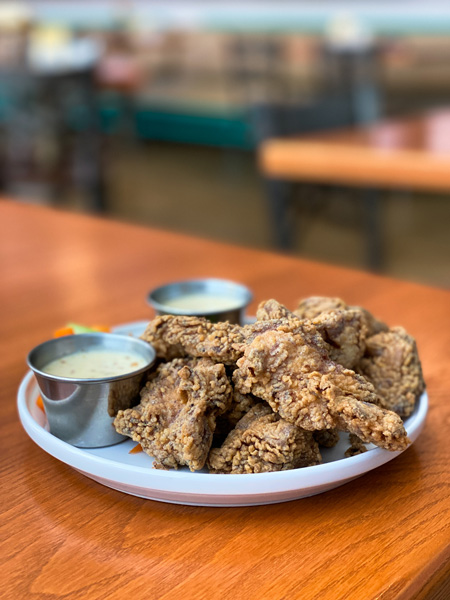 For the absolute best gluten-free lunch in Downtown Asheville, run to Noble Cider. Tom has Celiac Disease, and Noble is his favorite.
On top of delicious ciders, Noble offers an extensive gluten-free menu with shareables, burgers, sandwiches, and salads.
Popcorn chicken, fried green tomatoes, and fried Brussels are our favorites.

Noble Cider | Downtown 49 Rankin Avenue, Asheville, NC 28801 | Cidery/Taproom 356 New Leicester Hwy, Asheville, NC 28806
4. Wicked Weed BrewPub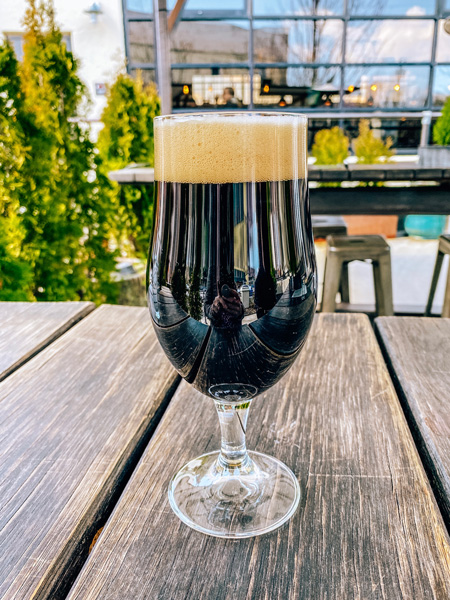 Wicked Weed is the perfect Asheville lunch spot if you are hitting up the downtown brewery scene. Wicked Weed's craft beer is not only famous but abundant and delicious.
Find anything from small plates to more fancy entrees and snacks.
Afterward, brewery hop to nearby Bhramari, Catawba, Green Man, Twin Leaf, and Wicked Weed's Funkatorium.
Read more about Asheville's chill pubs, taverns, and brewpubs – perfect for lunch or dinner.

Wicked Weed BrewPub | 91 Biltmore Ave, Asheville, NC 28801
Never Miss Another Asheville Update
---
Tired of generic Asheville travel itineraries? Are you hoping to experience the magic of Asheville like a local? Grab our free Asheville Favorites checklist, including restaurants, breweries, and hiking. Plus, get local updates – including events and hidden gems – straight to your inbox. Sign up here.
5. Sunny Point Cafe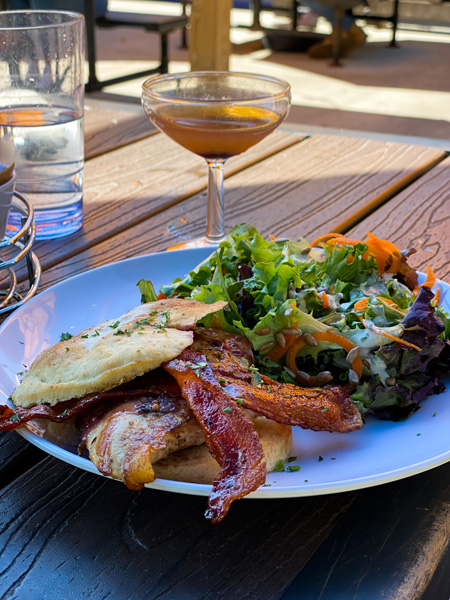 While downtown is always jumping with locals and tourists, West Asheville sees a lot more locals.
One of the busiest spots in West Asheville for brunch and lunch, everyone loves Sunny Point Cafe.
Sunny Point serves all three main meals. You can eat outside on the patio or enjoy a meal indoors.
Dine on delicious burgers or Southern classics like chicken and waffles, fried green tomatoes, and shrimp and grits.
We also think Sunny Point Cafe is one of the best breakfast spots in all of Asheville.
Sunny Point Cafe | 626 Haywood Rd, Asheville, NC 28806
6. Twisted Laurel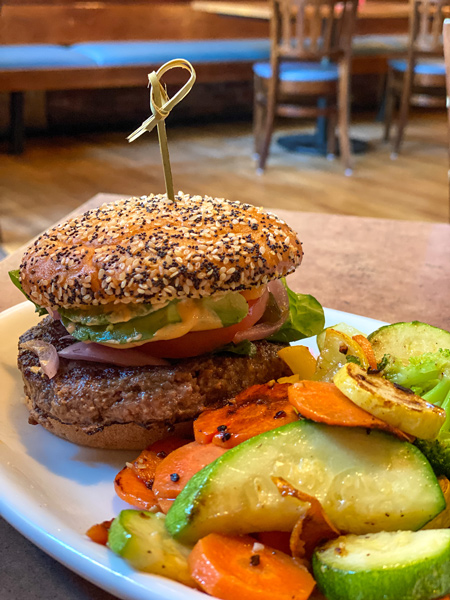 With two locations, Twisted Laurel is a go-to Asheville restaurant for lunch if you are craving a huge local craft beer selection, cocktails, and sandwiches.
We prefer their Weaverville location to escape the downtown crowds. Plus, Weaverville has plenty to do including a dog bar, a walkable lake, and shops.
Twisted Laurel | Downtown Asheville 130 College St, Asheville, NC 28801 | Weaverville 10A S Main St, Weaverville, NC 28787
7. Haywood Common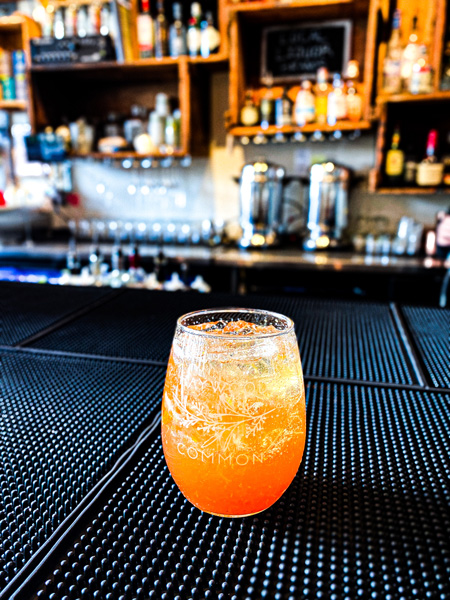 One of our favorite West Asheville restaurants for lunch and beer, Haywood Common is connected to The Whale Craft Beer Collective.
Order delicious and fresh sandwiches, poke, or salads with a side of boiled peanuts.
Sit on the shared patio with The Whale, which has an impressive and unique selection of beers, wine, meads, and cider.
Haywood Common | 507 Haywood Rd, Asheville, NC 28806
8. Farm Burger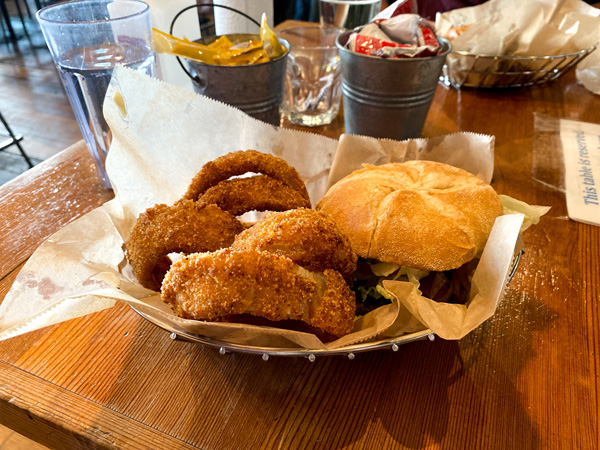 For some of the best burgers in Asheville, Farm Burger is where it's at.
Farm Burger has vegan, veggie, and gluten-free options, including GF fries (some locations) and gluten-free buns.
Farm Burger features sides like cheese fries, sweet potato fries, onion rings, and slaw.
This Downtown Asheville lunch spot is always jumping and also makes for a quick, convenient, and affordable lunch stop.
Located throughout the South (it is a regional chain), Farm Burger prides itself on fresh and local ingredients with an emphasis on community.
While you are downtown, top off lunch with a drink at one of Asheville's breathtaking rooftop bars. Capella On 9 is a 2-minute walk from Farm Burger.

Farm Burger | Downtown 10 Patton Ave, Asheville, NC 28801 | South Asheville 1831 Hendersonville Rd, Asheville, NC 28803
9. HomeGrown
Another one of the Asheville lunch restaurants with a line out the door, HomeGrown is famous for those Southern 'sammiches." Think Catfish Po'Boys and Buttermilk and Fried Chicken.
HomeGrown also serves Southern specialties like meatloaf and pot pie paired with grits and beet sides. Plus, North Asheville is a happening neighborhood.
Grab ice cream (vegan options included) from The Hop. You can also walk off your meal at Beaver Lake or the Botanical Gardens at Asheville.
Explore even more of North Asheville's foodie scene.

HomeGrown | 371 Merrimon Ave, Asheville, NC 28801
10. The Madness Asheville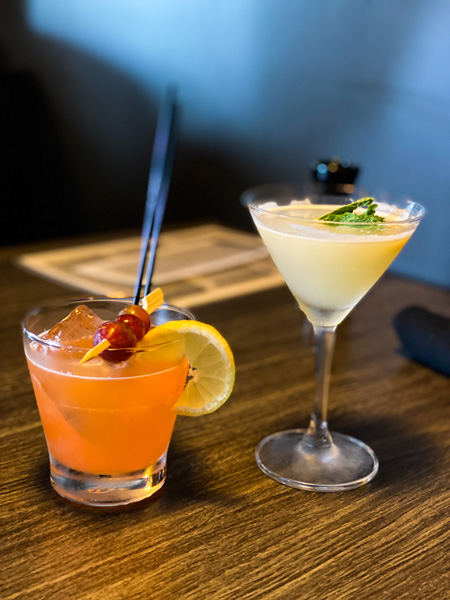 Where can you get the best lunch in Asheville for sushi and meat lovers? The Madness! Think sushi, burgers, and craft cocktails.
One of the newer Asheville restaurants, The Madness makes artful sushi creations and has some of the best apps in town. If you are with non-sushi lovers, they have juicy and giant burgers too.
The Madness's menu is huge. Lately, their consistency has been a tad iffy for us and some of our readers — so we are keeping our eyes (and stomachs) on this one.
The Madness | 275 Smokey Park Hwy Ste 251, Asheville, NC 28806
11. Jerusalem Garden Cafe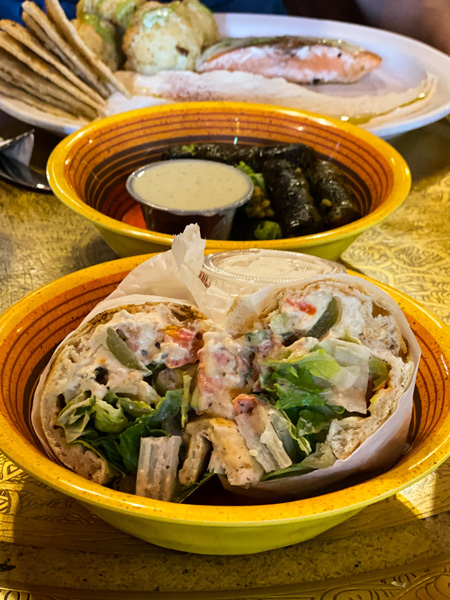 If you are looking for lunch in Downtown Asheville, Jerusalem Garden Cafe is one of our top picks.
Mayfel's and Tupelo Honey sit across the street, and Red Ginger Dimsum (another personal favorite) is next door.
Find authentic Meditteranean and Middle Eastern cuisine in a gorgeously colorful and intimate atmosphere. Can we eat all of the falafels, hummus, and pita, please? They also make GF pita…
We also crave Jerusalem Garden Cafe for weekend brunch in Downtown Asheville.
Jerusalem Garden Cafe | 78 Patton Ave, Asheville, NC 28801
12. Stable Cafe or Cedric's Tavern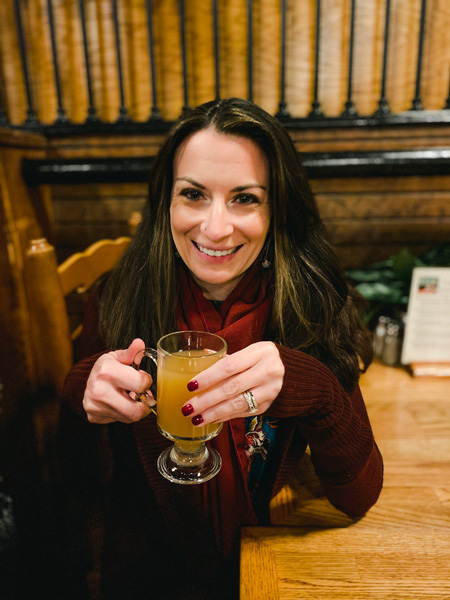 We are Biltmore annual passholders — mostly for the trails, restaurants, and winery.
If you are visiting Biltmore Estate for the day, we highly recommend grabbing lunch at Cedric's Tavern or Stable Cafe.
You will need a ticket to dine on the Estate, and it's worth it!
Stable Cafe is perfect if you are touring Biltmore with kids or are craving stellar sandwiches in the former Vanderbilt horse stables.
Cedric's Tavern, in Biltmore's Antler Hill Village, is a bit fancier and pays homage to the Vanderbilts' beloved Saint Bernard.
They also have the best seasonal cocktails. Head to Biltmore winery or wine bar afterward and hit up a walking trail.

Biltmore Estate | 1 Lodge Street, Asheville, NC 28803
13. Apollo Flame Bistro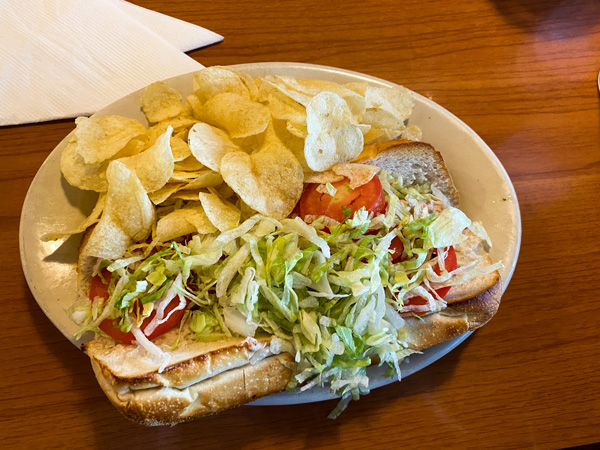 One of our most controversial Asheville lunch recommendations, it's no secret if you follow us on Instagram, we love Apollo Flame.
We receive messages that people adore us for this rec or don't get it at all. Welcome to Uncorked Asheville!
Apollo Flame is our go-to for grinders (subs if you aren't from CT), sandwiches, huge salads, and pizza. We tend to order grape leaves and their tuna and Italian subs.
And yes, they have gluten-free bread and might be a 'hole-in-the-wall' diner.
Grab a sandwich to-go and head to The NC Arboretum or Blue Ridge Parkway for a hike. Don't miss our favorite Asheville picnic spots with their grub, too.
Apollo Flame Bistro | South AVL 1025 Brevard Rd. Asheville, NC 28806 | Biltmore Area 485 Hendersonville Rd., Asheville, NC 28803
14. S&W Market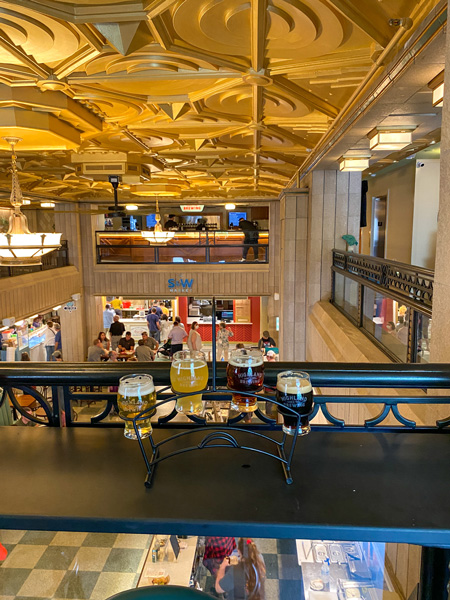 Newer to the Downtown Asheville restaurant scene, S&W Market is Asheville's first food hall. Head here for the gorgeous historic building and Highland Brewing beer.
Each food stall cooks up something different: tacos, hot dogs, fried chicken sandwiches, and Thai treats. There's even ice cream.
S&W Market | 56 Patton Ave, Asheville, NC 28801
15. Early Girl Eatery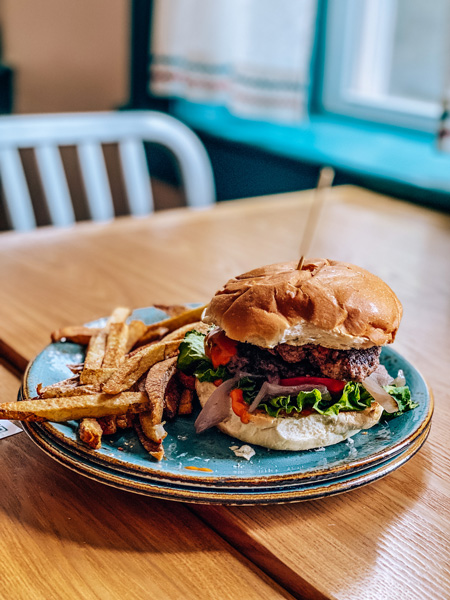 Another gluten-free friendly Asheville lunch spot, Early Girl Eatery has a large menu filled with burgers and sandwiches.
They are quite popular, especially their bustling downtown location.
Early Girl serves breakfast, lunch, and dinner all day, and they emphasize farm-to-table cuisine.
Don't miss nearby Trade & Lore for coffee. Laughing Seed Cafe is also close by, a top vegan and veggie choice.
Early Girl Eatery | Downtown 8 Wall St. | West 444 Haywood Rd. #101 | South 1378 Hendersonville Rd. Suite A
16. Isa's French Bistro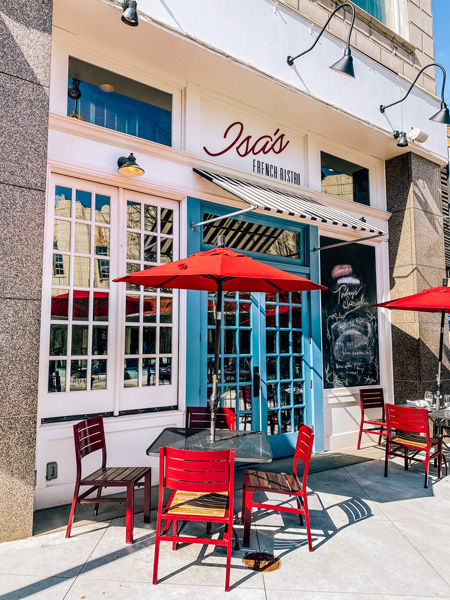 Located in Asheville's fancier hotel scene, Isa's French Bistro sits tucked into the Haywood Park Hotel. You'll see this picturesque bistro in engagement and wedding photos.
Although we had our doubts, Isa's is actually delicious for lunch in Downtown Asheville. Sit outside and people-watch while enjoying an elegant meal with a cocktail.
Sandwiches included, though. Isa's is not stuffy.

Isa's French Bistro | 1 Battery Park Ave, Asheville, NC 28801
17. Thai Pearl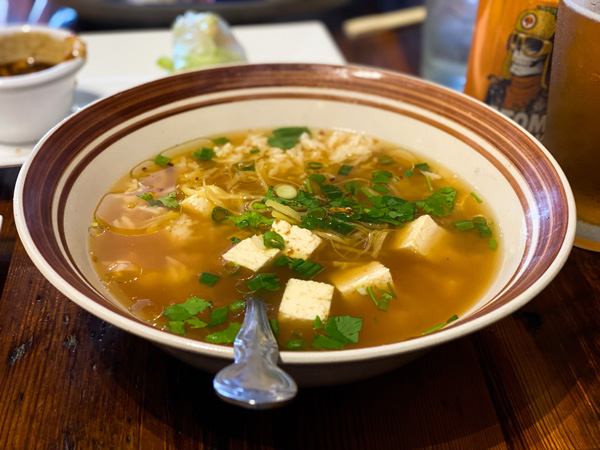 One of the newer restaurants with the best lunch in Asheville, head to Thai Pearl. They are one of our all-time favorite AVL Thai food restaurants.
Located in West Asheville near Nine Mile and Jargon (great dinner choices), you have to order the Thai onion rings to start.
Then, choose from Thai salads, noodle and rice dishes, and delicious apps. Many of the sauces and noodles are gluten-free.

Thai Pearl | 747 Haywood Rd, Asheville, NC 28806
18. Biryani Express
We just love Biryani Express for Asheville takeout. We have not dined on-site, yet.
Biryani Express is one of the most delicious Pakistani and Indian restaurants in Asheville. Of course, Chai Pani and Mela are amazing, too.
You have to pull up Biryani's menu on a takeout app like Kickback AVL (they are a bit newer). We go for classics like Aloo Mutter, Aloo Gobi, and Chana Masala.
Biryani Express | 129 Bleachery Blvd, Asheville, NC 28805
19. Tupelo Honey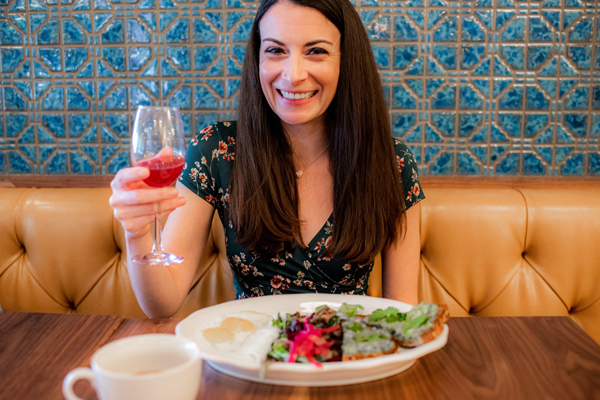 One of the Downtown Asheville restaurants for lunch where you might need reservations includes ever-popular Tupelo Honey.
Tupelo boasts of locally sourced ingredients. Choose from Southern cuisine and sides, all-day brunch, and crafty cocktails. Visitors love their chicken. Tupelo is food-intolerance friendly.
Tupelo Honey | Downtown 12 College St, Asheville, NC 28801 | 1829 Hendersonville Rd, Asheville, NC 28803
20. The Cantina At Historic Biltmore Village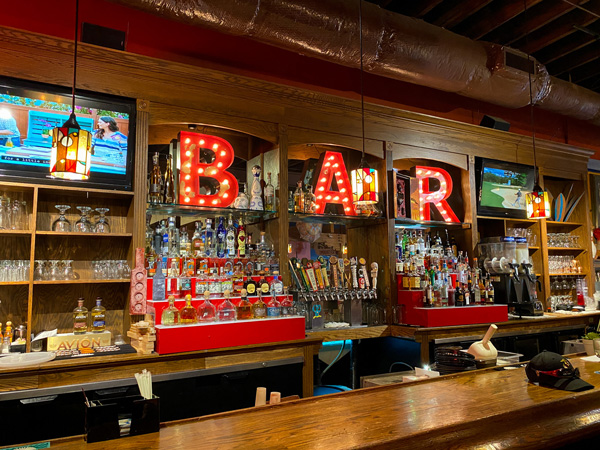 Head to Historic Biltmore Village for fresh Mexican food in Asheville. The Cantina is famous for its colorful tequila bar and huge portions.
Think everything delicious and Mexican — and plan for a takeaway box.
Afterward, brewery hop in Biltmore Village at French Broad Brewing, Thirsty Monk, or Hillman Beer. Eda Rhyne Distillery is nearby, too.
The Cantina At Historic Biltmore Village | 10 Biltmore Plaza, Asheville, NC 28803
21. Itto Ramen Bar & Tapas
There is certainly no shortage of delicious Asian food restaurants in Asheville.
Itto Ramen Bar is one of the best if you are craving sharable dishes, uniquely flavored cocktails, and all things ramen.
We especially enjoy Itto's West Asheville location, and they have a parking lot out front (which is harder to come by in West AVL).
There is so much to choose from, we usually want it all. The mango shrimp skewers, beef yakitori, and ramen with black garlic oil are divine. Of course, there's our favorite: poke.
Itto Ramen Bar & Tapas | West Asheville – 630 Haywood Rd, Asheville, NC 28806; Downtown – 3 Biltmore Ave, Ashville, NC 28801; South – 335 Airport Road, Suite 300, Arden, NC 28704
Find new Asheville lunch spots? Save this post for later.
Where To Stay In Asheville, NC
Asheville, NC Hotels
Hotels and B&Bs tend to book up fast in Asheville, especially in the fall, spring, and around holidays. Make dinner reservations wherever you can, too. A few hotels to consider that either we, our friends, or others highly recommend include:
Downtown Asheville
The Foundry Hotel
AC Hotel By Marriott Downtown Asheville
Hotel Indigo
Aloft – Downtown Asheville *One of our top picks; they renovated in 2020
Near The Asheville Outlets/Biltmore
Hampton Inn And Suites Asheville Biltmore Area *Our second favorite pick. We stayed here before we moved.
DoubleTree By Hilton Biltmore/Asheville
Grand Bohemian Hotel Asheville

North Asheville/Montford
The Omni Grove Park Inn *We frequently stop by the Grove Park Inn for sunsets, drinks, and food.
1900 Inn On Montford
Don't miss our Top Asheville Hotel, Resort & B&B Picks Here.
Where have you had the best lunch in Asheville, NC?
What is your all-time favorite Asheville restaurant for lunch? Where do you grab lunch in Downtown Asheville? Let us know in the comments!
Are you a serious foodie? Don't miss these posts:
Complete Guide To Asheville Food & Drink
Overall Best Restaurants In Asheville
Vegan & Veggie Guide To Asheville
Gluten-Free Eating In Asheville
Best Takeout In Asheville
Where to head next:
Grab Some AVL Coffee
Donut Desserts In Asheville
Asheville Beer Scene
Asheville Things To Do For Everyone