24 Best Restaurants For Lunch In Asheville
Are you looking for the best restaurants for lunch in Asheville, NC? Explore delicious Asheville lunch spots for tacos, sandwiches, sushi, and more.
AVL is known as Foodtopia, and it's pretty hard to find a bad meal. It is, however, nearly impossible to pick the best lunch restaurants in Asheville.
We've been mulling over this list for quite some time, and it's also no secret that as Asheville locals, we eat out every week for both lunch and dinner.
So, what are our must-visit and most frequented Asheville lunch spots? And, what Asheville lunch restaurants do our friends and readers covet?
Below, uncover where to get mouthwatering pizza, sandwiches, brewery grub, BBQ, and Asian and Middle Eastern cuisine for one unforgettable lunch in Asheville.
See where famous presidents dined and where you can order a burger topped with sushi. Which local taco joints have permanent lines out the door, and which restaurant used to be for the horses?
Plus, who has the biggest beer selections, prettiest outdoor patios, and best lunch cocktails? Where can you set your mouth and belly on fire?
Lastly, if you are looking for gluten-free, vegetarian, and vegan lunch in Downtown Asheville, we got your back. Find family and budget-friendly options too.
We know this list is contentious; please let us know your favorite Asheville lunch restaurants in the comments. Let's get started!
Read more about Asheville's most memorable restaurants.
This post may contain affiliate links that earn us a commission at no extra cost to you. If you love these guides, support Uncorked Asheville here.
See our Top Places To Stay in Asheville.

Don't miss out on these Asheville properties on Booking.com, too.
24 Best Restaurants For Lunch In Asheville, NC
1. White Duck Taco Shop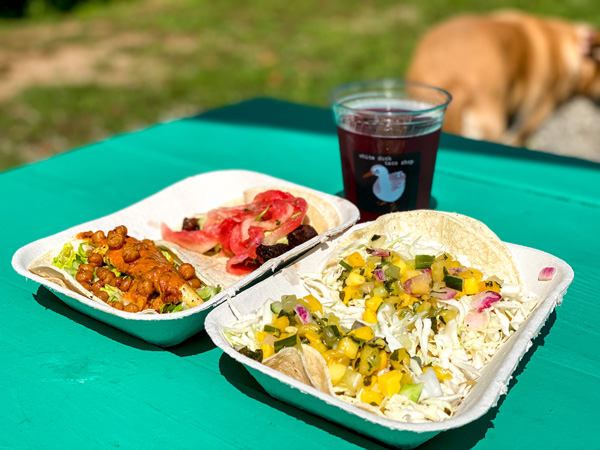 For a casual atmosphere along the French Broad River with your pooch (River Arts District location), you'll recognize White Duck Taco by the line out the door, funky refurbished shipping container, and large white duck logo.
White Duck Taco is by far one of the most famous places to eat lunch in Asheville.
These are not your average tacos, and both locals and travelers will flock here to devour them.
Think Chicken Tikka Masala, Crispy Pork Belly, and Gyro-themed soft tacos along with a local brew. White Duck Taco Shop also labels gluten-free items.
Annihilate your goods at a shaded picnic table, and know that this is an extremely family and pet-friendly Asheville lunch spot. Just exert extra caution around the French Broad River.
Afterward, stroll along the River Arts District's newly renovated Riverwalk.
Read more about Asheville's most family-friendly restaurants.
White Duck Taco Shop | RAD 388 Riverside Drive | Downtown 12 Biltmore Avenue | Arden 16 Miami Circle
2. 12 Bones Smokehouse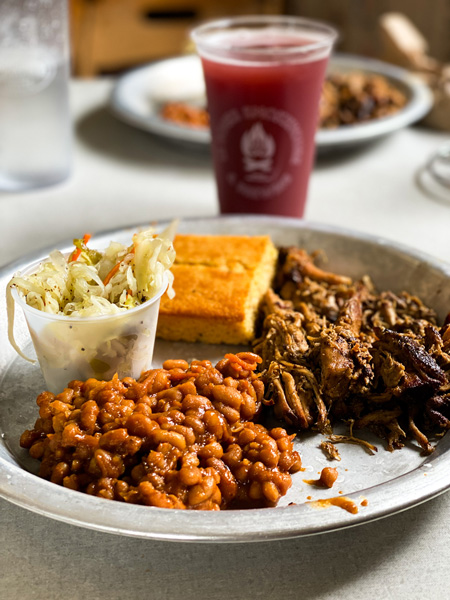 Lunch in Asheville like a former president. The Obama's ate at 12 Bones during one of their visits, and you can easily see why.
12 Bones cooks up some of the best BBQ in AVL along with Bear's, Luella's, and Buxton Hall.
Sit surrounded by vibrant street art at their River Arts District (RAD) location. Or, enjoy their South Asheville brewery under the watchful eyes of Anthony Bourdain – well, Gus Cutty's tribute to him.
Of course, the baby back ribs come highly recommended, but you can also order "just a taste" to try all of their meats.
Enjoy pulled pork and chicken, smoked turkey, sandwiches, and salads. Sides include Mac and Cheese, collard greens, potato salad, baked beans, and slaw.
If you are at their RAD/River location, head to Bottle Riot or pleb for wine afterward (depending on the time) or Wedge for craft beer.
Read about all of RAD's top restaurants, including more delicious and local Asheville lunch spots like Baby Bull and the Chop Shop Food Truck.

12 Bones Smokehouse | River 5 Foundy St Ste 10, Asheville, NC 28801 | Arden w/Taproom 2350 Hendersonville Road, Arden, NC 28704
3. Noble Cider*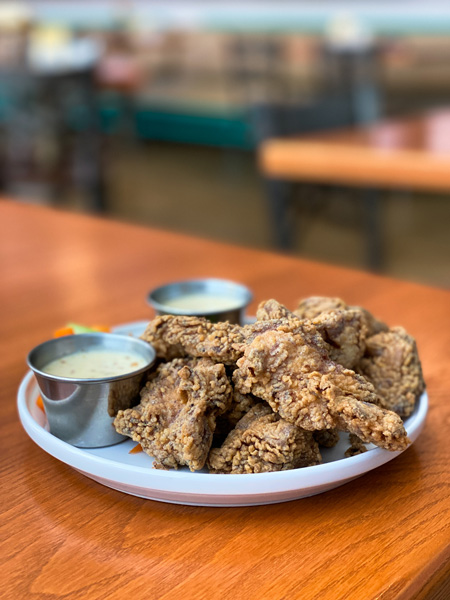 *Due to temporary staffing issues, please double-check that their kitchen is open. For now, enjoy Noble's Casual Eats.
For the absolute best gluten-free lunch in Downtown Asheville, run to Noble Cider. Tom has Celiac Disease, and Noble is his favorite.
On top of delicious ciders, Noble offers an extensive gluten-free menu with shareables, burgers, sandwiches, and salads.
Popcorn chicken, fried green tomatoes, and fried Brussels are our favorites.

Noble Cider | Downtown 49 Rankin Avenue, Asheville, NC 28801 | Cidery/Taproom 356 New Leicester Hwy, Asheville, NC 28806
4. Wicked Weed BrewPub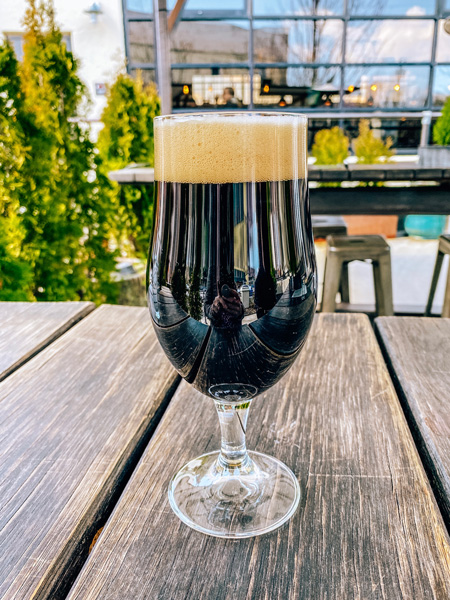 Wicked Weed is the perfect Asheville lunch spot if you are hitting up the downtown brewery scene. Plus, Wicked Weed's craft beer is not only famous but also abundant and delicious.
For food, find anything from small plates to more fancy entrees and snacks. We enjoy hummus with veggies, chicken salad sandwiches, and burgers.
Larger entrees typically include steak, fish, and pork chops – but their menu changes frequently.
Along with their beer, select from cocktails and wine.
Afterward, brewery hop to nearby Bhramari, Catawba, Green Man, Twin Leaf, and Wicked Weed's Funkatorium.
Read more about Asheville's chill pubs, taverns, and brewpubs – perfect for lunch or dinner.

Wicked Weed BrewPub | 91 Biltmore Ave, Asheville, NC 28801
5. Sunny Point Cafe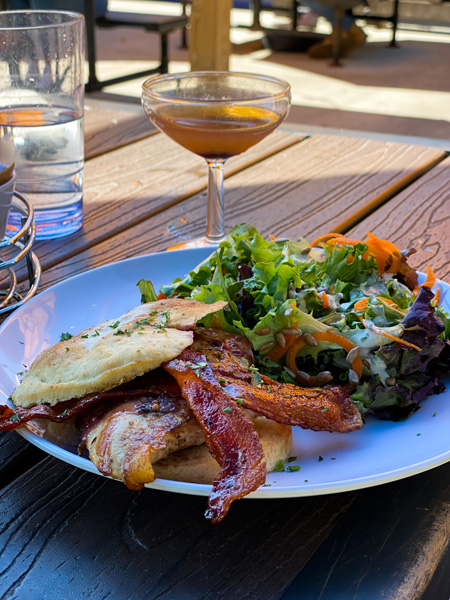 While downtown is always jumping with locals and tourists, West Asheville sees a lot more locals.
For Asheville neighborhoods, the area promises music, murals – RuPaul and Dolly – quirky bars, and radical bookstores.
One of the busiest West Asheville lunch restaurants, everyone frequents Sunny Point Cafe.
Eat outside on the patio or enjoy a meal indoors. Dine on delicious burgers or Southern classics like chicken and waffles, fried green tomatoes, and shrimp and grits.
Their kids' menu includes grilled cheese, quesadillas, and burgers.
We also think Sunny Point Cafe is one of the best breakfast spots in all of Asheville, but be prepared for tricky parking along West Asheville's side streets and limited lots. They also dish out dinner.
Sunny Point Cafe | 626 Haywood Rd, Asheville, NC 28806
6. Haywood Common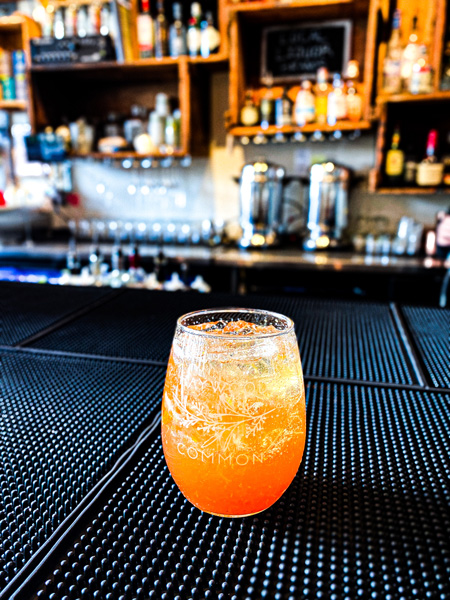 One of our favorite West Asheville restaurants for lunch and beer, Haywood Common is connected to The Whale Craft Beer Collective.
Order delicious and fresh sandwiches, poke bowls, burgers, and salads with a side of boiled peanuts.
Sit on the shared patio with The Whale, which has an impressive and unique selection of beers, wine, meads, and cider.
During the weekday, this is our personal top go-to place for fresh air and lunch in Asheville.
Haywood Common | 507 Haywood Rd, Asheville, NC 28806
7. All Day Darling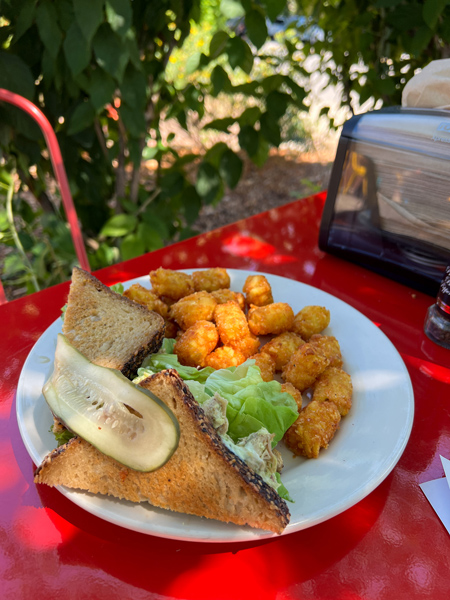 For a vegan, vegetarian, and gluten-free-friendly Asheville lunch spot, All Day Darling is where the locals go.
Plus, nothing beats Historic Montford, home to quaint residential houses, Bed & Breakfasts, Free Little Libraries, Riverside Cemetery, and Shakespeare in the Park.
Open seven days a week and serving breakfast, brunch, lunch, and dinner, All Day Darling is family and budget-friendly with quick service.
Order at the counter, take your number, and grab a seat inside or out.
All Day Darling's lunch menu features burgers, classic sandwiches – a Reuben, chicken salad, steak – warm kale and rice bowls, salads, and toast with a variety of spreads.
For kids, select from grilled cheese, a burger, rice and beans, or a chicken sandwich. Of course, save room for dessert.
All Day Darling has a dedicated gluten-free fryer, and they make their own gluten-free bread (the kitchen is not solely gf though).
They will stay consistently busy throughout the day; we always recommend going during non-peak dining hours.
Park along the side streets, and know that you are minutes away from Downtown Asheville.
All Day Darling | 102 Montford Avenue, Asheville, NC 28801
8. Twisted Laurel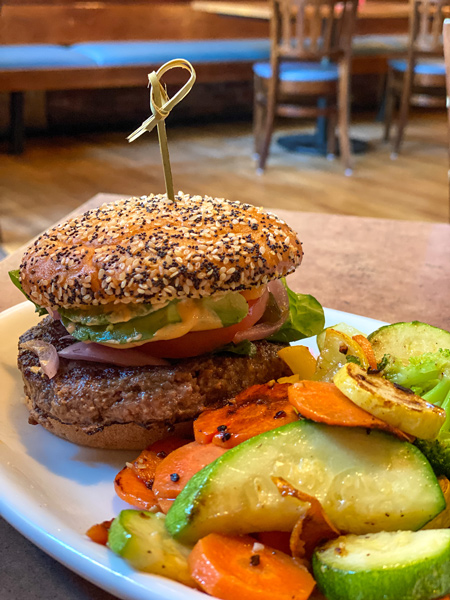 With two locations with varying menus, Twisted Laurel is one of the go-to lunch places in Asheville, especially if you are craving a huge WNC craft beer selection, cocktails, and sandwiches.
For starters, order hummus, Brussels, meatball sliders, wings, nachos, and more. Sandwiches – with a gf bread option – include fish BLTs, burgers, fried chicken, turkey clubs, and pastrami.
Or, order a salad, gyro, or pizza. Twisted Laurel also serves dinner, and their Weaverville location has Sunday brunch.
We personally enjoy Twisted Laurel's Weaverville location to escape the Downtown AVL crowds.
And, there are plenty of things to do in Weaverville. Sip craft beer at the dog park bar, stroll Lake Louise, and shop for local gifts.
Uncover even more delicious Weaverville restaurants, including breweries and a funky cafe hiding Elvis.
Twisted Laurel | Downtown Asheville 130 College St, Asheville, NC 28801 | Weaverville 10A S Main St, Weaverville, NC 28787
9. Farm Burger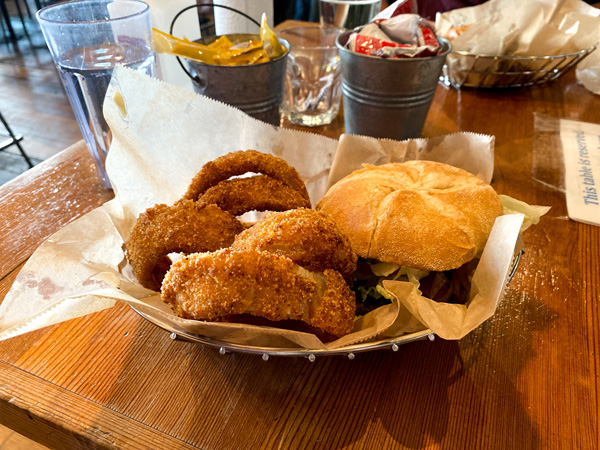 For some of the best burgers in Asheville, Farm Burger is where it's at.
Farm Burger has vegan, veggie, and gluten-free options, including GF fries (some locations) and gluten-free buns.
Farm Burger features sides like cheese fries, sweet potato fries, onion rings, and slaw.
This Downtown Asheville lunch spot is always jumping and also makes for a quick, convenient, and affordable lunch stop.
Located throughout the South (it is a regional chain), Farm Burger prides itself on fresh and local ingredients with an emphasis on community.
While you are downtown, top off lunch with a drink at one of Asheville's breathtaking rooftop bars. Capella On 9 is a 2-minute walk from Farm Burger.

Farm Burger | Downtown 10 Patton Ave, Asheville, NC 28801 | South Asheville 1831 Hendersonville Rd, Asheville, NC 28803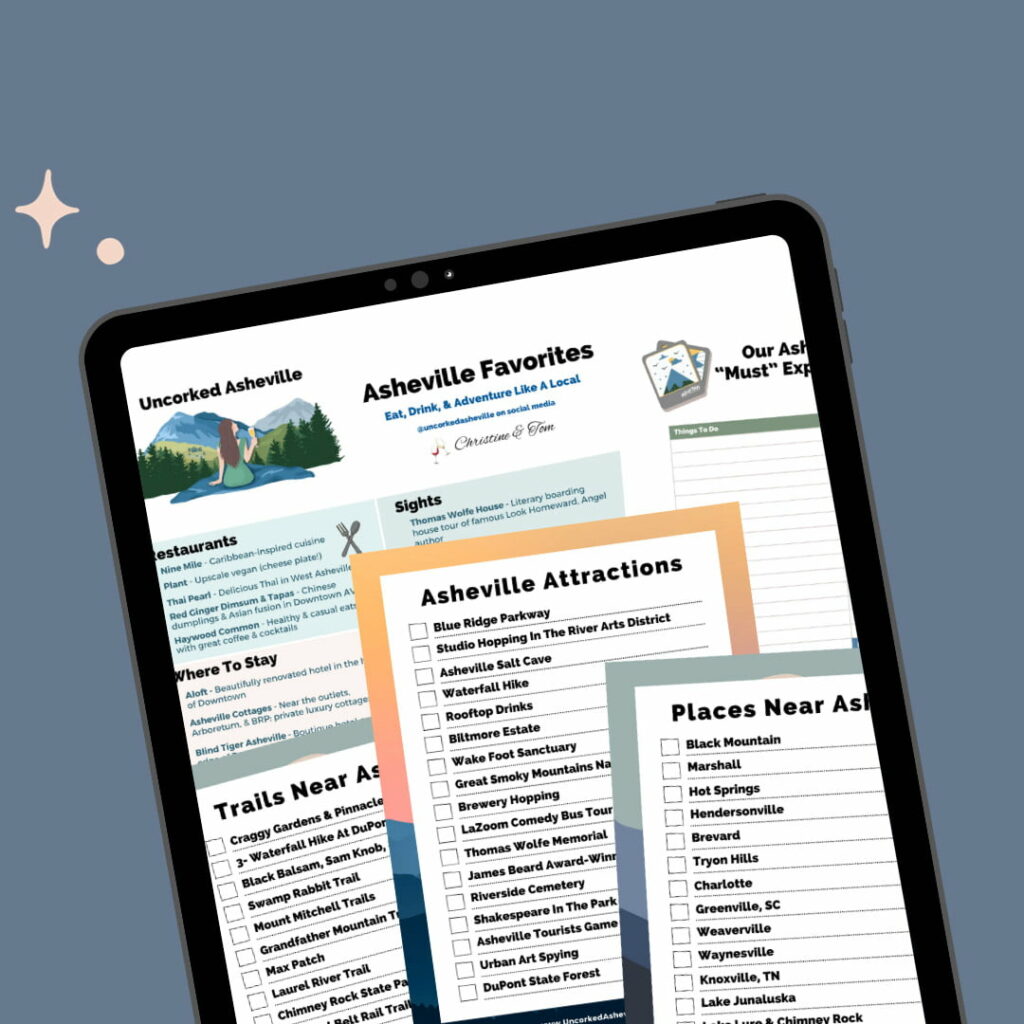 Never Miss Another Asheville Update
Experience Asheville like a local with our free attractions, dining, hiking, and day tripping guides. Get events, updates, and more straight to your inbox from Christine.
10. Pupuseria Patty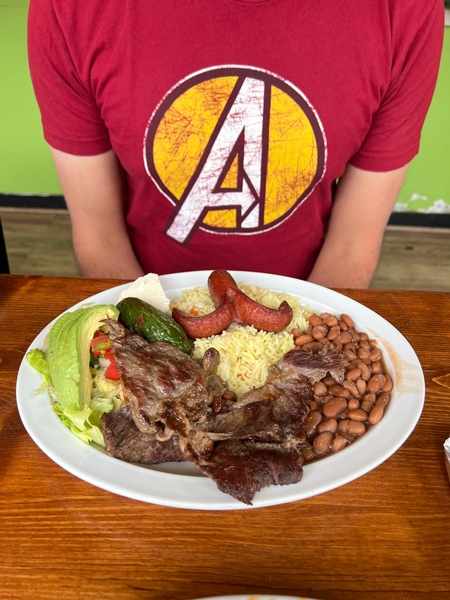 Lunch in Asheville doesn't get any more local than Pupuseria Patty, a Honduran, Salvadoran, and Mexican restaurant in West Asheville located off of busy Patton Ave.
It's special local places like this – tucked into unassuming gas station corners – that make Asheville so unique.
Don't let the extra casual environment deter you, either, although it might not be for everyone. The service is friendly and excellent too.
Open from breakfast until dinner, choose from heaping plates of rice and beans paired with chicken, eggs, sausages, and fried plantains. Of course, find pupusas too.
Pupuseria Patty is a budget-friendly Asheville restaurant perfect for the entire family – and a great takeout option.
Just writing this makes us hungry, and we have to personally thank Stu Helm: Food Fan for this find.
Stu talks about Pupuseria Patty a ton in his hilariously fun and delicious newsletters; we had to try it for ourselves. Thank you, Stu!
Pupuseria Patty | 1563 Patton Ave, Asheville, NC 28806
11. Itto Ramen Bar & Tapas
There is certainly no shortage of delicious Asian food restaurants in the city.
Itto Ramen Bar is one of the best lunch spots in Asheville if you are hankering for sharable Asian tapas, uniquely flavored cocktails, and all things ramen.
There is so much to choose from, we usually want it all and always over-order.
The mango shrimp skewers, beef yakitori, and ramen with black garlic oil are divine. Of course, there's our favorite: poke.
We especially enjoy Itto's West Asheville location, and they have a parking lot out front – which is harder to come by in West AVL.
Itto Ramen Bar & Tapas | West Asheville – 630 Haywood Rd, Asheville, NC 28806; Downtown – 3 Biltmore Ave, Ashville, NC 28801; South – 335 Airport Road, Suite 300, Arden, NC 28704
12. Jerusalem Garden Cafe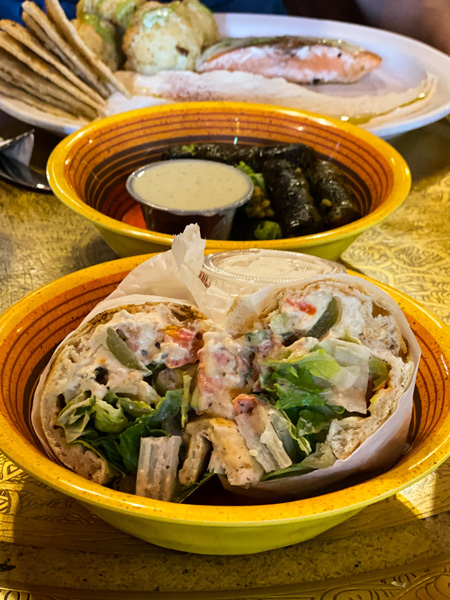 If you are looking for lunch in Downtown Asheville, Jerusalem Garden Cafe is one of our top picks.
Mayfel's and Tupelo Honey sit across the street, and Red Ginger Dimsum (another personal favorite) is next door.
Find authentic Meditteranean and Middle Eastern cuisine in a gorgeously colorful and intimate atmosphere.
Can we eat all of the falafels, hummus, and pita, please? They also make GF pita…
Equally, we crave Jerusalem Garden Cafe for weekend brunch in Downtown Asheville. Mimosas and grape leaves? Yes; please!
Jerusalem Garden Cafe | 78 Patton Ave, Asheville, NC 28801
13. Stable Cafe or Cedric's Tavern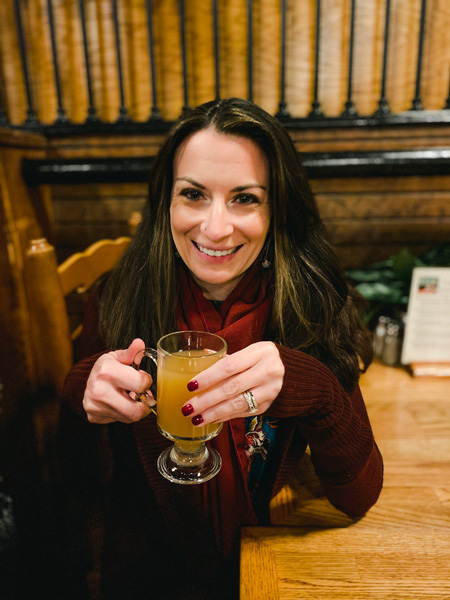 Lunch in Asheville like a Vanderbilt! We are Biltmore annual passholders – mostly for the trails, restaurants, and winery.
If you are visiting Biltmore Estate for the day, we highly recommend grabbing lunch at Cedric's Tavern or Stable Cafe.
You will need a ticket, annual pass, or Biltmore property hotel reservation to dine on the estate, and it's worth it!
Stable Cafe is perfect if you are touring Biltmore with kids or are craving stellar sandwiches in the former Vanderbilt horse stables.
Cedric's Tavern, in Biltmore's Antler Hill Village, is a bit fancier and pays homage to the Vanderbilts' beloved Saint Bernard.
They also have the best seasonal cocktails. Head to Biltmore winery or wine bar afterward and hit up a walking trail.
Because Biltmore tends to get busy, we suggest making advanced dining reservations here.
Read our complete guide to dining at Biltmore, including cafes, bars, and the most delicious restaurants.

Biltmore Estate | 1 Lodge Street, Asheville, NC 28803
14. Apollo Flame Bistro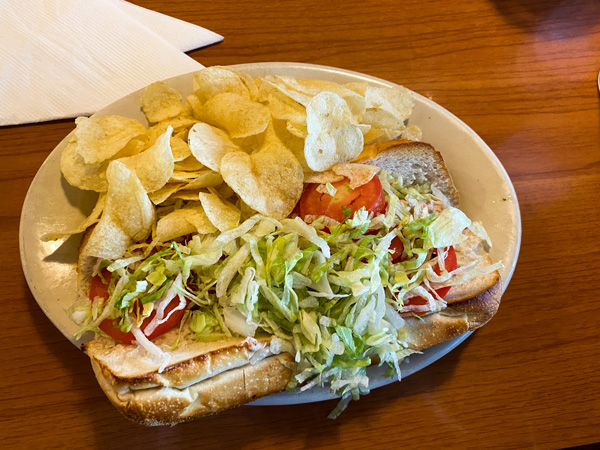 One of our most controversial Asheville lunch recommendations, it's no secret if you follow us on Instagram, we love Apollo Flame.
We receive messages that people adore us for this rec or don't get it at all. Welcome to Uncorked Asheville!
Apollo Flame is our go-to for grinders (subs if you aren't from CT), sandwiches, huge salads, and pizza. We tend to order grape leaves and their tuna and Italian subs.
And yes, they have gluten-free pizza and bread and might be a "hole-in-the-wall" diner. We say that lovingly.
Grab a sandwich to-go and head to The NC Arboretum or Blue Ridge Parkway for a hike or a picnic if you visit their Brevard location.
Apollo Flame's Hendersonville Road location makes them one of the most convenient places to eat near Biltmore Estate.
Apollo Flame Bistro | South AVL 1025 Brevard Rd. Asheville, NC 28806 | Biltmore Area 485 Hendersonville Rd., Asheville, NC 28803
15. Mamacita's Taco Temple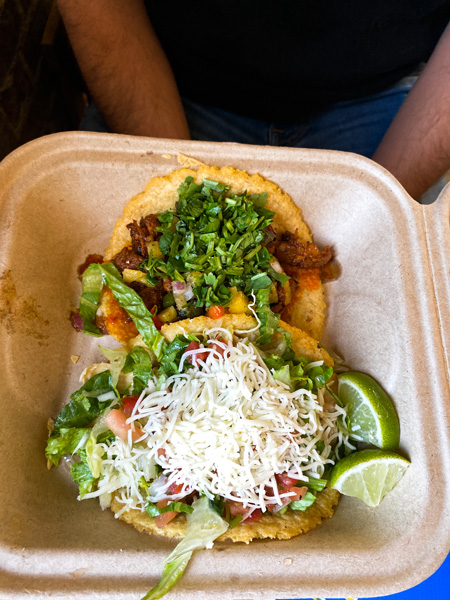 One of our favorite local Asheville lunch restaurants, Taco Temple promises quick, simple, and delicious eats – in the coolest setting.
While Taco Temple also serves breakfast tacos (and Mexican hot chocolate!), for lunch, select from tortas, milled corn tortillas, and tamales.
With overflowing taco portions, we recommend starting with two tacos. Some tacos are much spicier than others.
Order chips and guacamole or tater tots to pair with a drink – boozy or non-alcoholic. And, find salads and kids' menu.
After ordering at the window, grab a seat inside – which resembles a small church – or stay outside on the patio.
We just love the North AVL neighborhood, and for a budget and family-friendly lunch in Asheville, you cannot go wrong here.
If you crave Mexican specialties, enchiladas, burritos, and more, explore all of Asheville's stellar taco joints.
Mamacita's Taco Temple | 132 Charlotte St, Asheville, NC 28801
16. S&W Market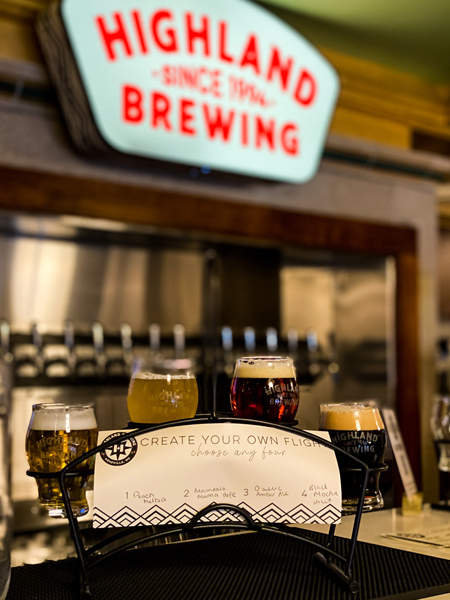 Newer to the Downtown Asheville restaurant scene, S&W Market is Asheville's first food hall.
Head here for lunch in Downtown Asheville in a gorgeous historic building. Plus, enjoy Highland Brewing beer.
Each food stall cooks up something different: tacos, hot dogs, fried chicken sandwiches, and Thai treats. There's even ice cream.
Find popular vendors from favorite Chefs across the city: Bun Intended, Buxton Chicken Palace, Peace Love Taco, Farm Dogs, and The Hop – just to name a few.
The food hall makes for a quick, easy, and budget and family-friendly lunch in Asheville.
S&W Market | 56 Patton Ave, Asheville, NC 28801
17. Early Girl Eatery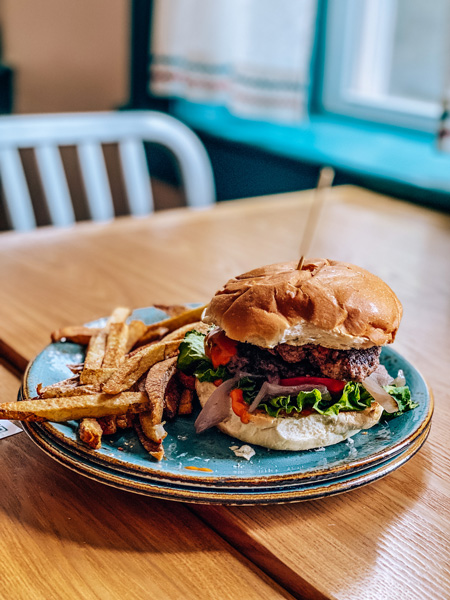 Another gluten-free friendly Asheville lunch spot, Early Girl Eatery has a large menu filled with burgers and sandwiches.
They are quite popular, especially their bustling downtown location.
Early Girl serves breakfast, lunch, and dinner all day, and they emphasize farm-to-table cuisine.
Notably, choose from mushroom sandwiches, beet burgers, shrimp Po'boys, fried chicken platters, fish and chips, and salads.
Don't miss nearby Trade & Lore for coffee.
Laughing Seed Cafe is also close by, a top vegan and veggie choice that we love. Discover even more dairy-free restaurants in AVL.
Early Girl Eatery | Downtown 8 Wall St. | West 444 Haywood Rd. #101 | South 1378 Hendersonville Rd. Suite A
18. Thai Pearl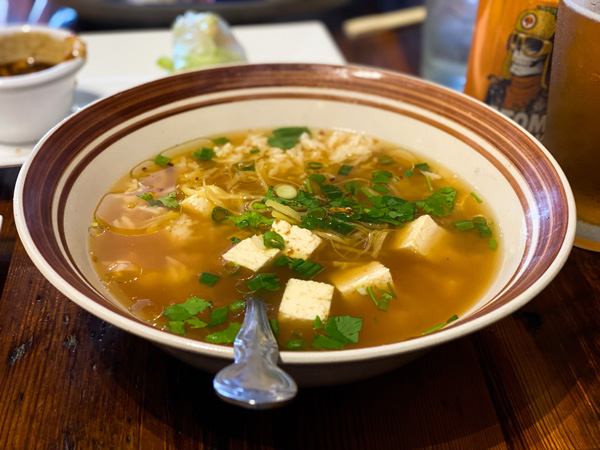 One of the newer restaurants serving up the best lunch in Asheville, head to Thai Pearl. They are one of our all-time favorite AVL Thai food restaurants.
Located in West Asheville near Nine Mile and Jargon (great dinner choices), you have to order the Thai onion rings to start.
Then, choose from Thai salads, noodle and rice dishes, and delicious apps. Many of the sauces and noodles are gluten-free.
Park in their lot in the back or along one of the residential side streets.

Thai Pearl | 747 Haywood Rd, Asheville, NC 28806
19. Wild Ginger Noodle Bar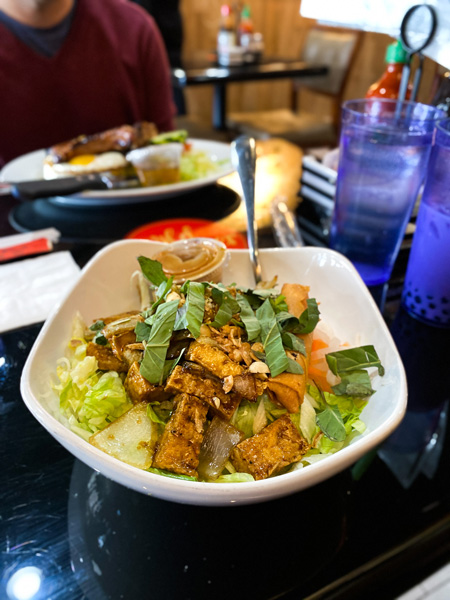 Another lesser-known and coveted local Asheville lunch restaurant, Wild Ginger is a must for pho and noodles.
Located in an unassuming strip mall in South AVL, this Vietnamese restaurant features large portions, bubble tea (with lactose-free options), and banh mi.
Wild Ginger labels all of their dishes for gluten-free diners too. Choose from endless noodle, rice, meat, and fish dishes.
We devour Wild Ginger's rice vermicelli, steamy pho, spring rolls, and pork chops with rice. This is a casual setting with a large but busy parking lot out front.
Wild Ginger Noodle Bar | 1950 Hendersonville Rd. Suite 12, Asheville NC 28803
20. Manicomio Pizza & Food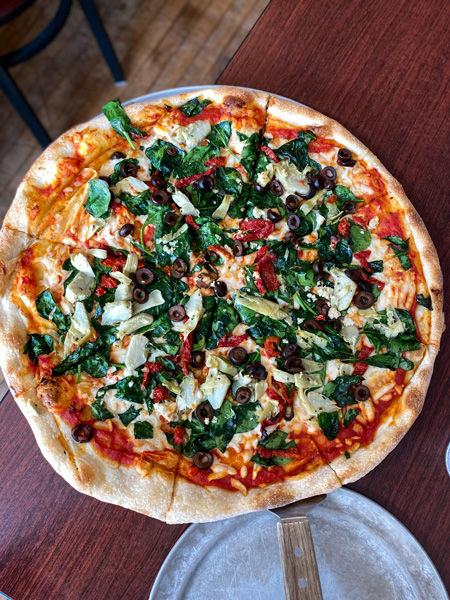 Biltmore Ave. is a popular spot for lunch in Downtown Asheville, and if you are craving some of the best AVL pizza, head to Manicomio.
Although located in the heart of the city, Manicomio Pizza feels more like a small hometown joint. UNC-Asheville students tend to flock here on breaks.
Order at the counter and grab pizza by the slice or select a full pie. Manicomio Pizza has gluten-free crust as well as a vegan pizza like the AsheVegan.
Grab a seat inside or out on the patio. Did we mention they dole out vegan desserts like a Dare cheesecake?
Even better, when many lunch restaurants in Asheville are closed on Mondays and Tuesdays, Manicomio stays open 7 days a week.
Of course, you can grab delicious takeout too.
We also highly recommend Asheville Pizza and Brewing and 828 Family Pizzeria for your AVL pizza fix.

Manicomio Pizza & Food | 27 Biltmore Ave Asheville, NC 28801
21. Isa's French Bistro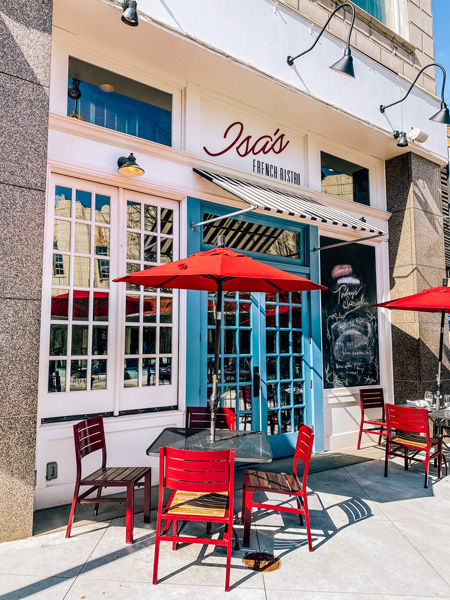 Located in Asheville's fancier hotel scene, Isa's French Bistro sits tucked into the Haywood Park Hotel. You'll recognize this picturesque bistro from engagement and wedding photos.
Although we initially had our doubts, Isa's serves delicious lunch in Downtown Asheville.
Sit outside and people-watch while enjoying an elegant meal with a cocktail. However, Isa's isn't stuffy.
Select from a variety of handhelds, seafood entrees, and steaks.
While the larger dishes might be a bit pricy – $22-$45+ – if you are looking for a less expensive Asheville lunch, Isa's also has soups, salads, and sandwiches for around $15.

Isa's French Bistro | 1 Battery Park Ave, Asheville, NC 28801
22. Chai Pani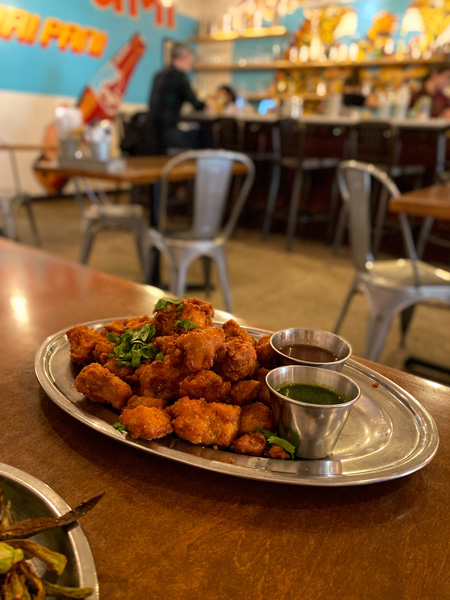 Chai Pani is one of the best Indian restaurants in Asheville. In fact, in 2022, Chai Pani won the James Beard Award for Outstanding Restaurant.
Samantha Brown dropped in to grab a bite to eat for her PBS series, Places to Love, and you'll see Chai Pani continuously mentioned in all of the major foodie publications.
Is Chai Pani worth the hype? You bet! This Indian street food is worth the wait.
Chai Pani is the perfect Asheville lunch spot for shareable plates. We annihilate Chai Pani's chicken pakoras, okra fries, corn bhel, and bhel puri.
Find gluten-free and vegan options paired with a stellar seasonal cocktail menu. Not all of the food is spicy either – Christine has UC and can still eat here.
Chai Pani does not take reservations, and because of its accolades, we highly recommend dining during non-peak hours to avoid lines out the door.
Chai Pani | 22 Battery Park Avenue, Asheville, NC 28801 | (828) 254-4003
23. Tupelo Honey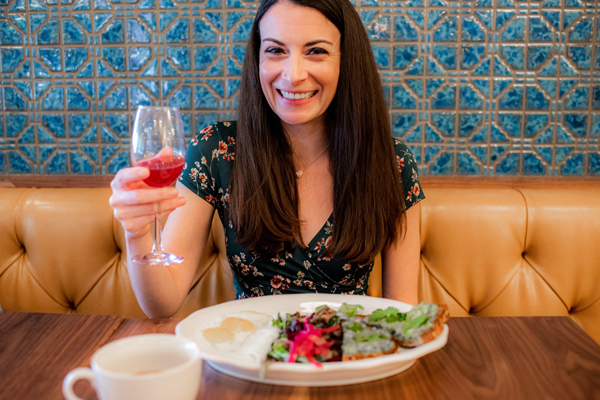 One of the Downtown Asheville lunch restaurants where you might need reservations includes the ever-popular Tupelo Honey.
Tupelo boasts of locally sourced ingredients. Choose from Southern cuisine and sides, all-day brunch, and crafty cocktails. Visitors love their chicken.
For starters, select from Brussels, biscuits, soups, and fried pickles. Then, order a large salad, bone-in fried chicken, chicken and waffles, meatloaf, sandwiches, or shrimp and grits.
Tupelo is food-intolerance friendly – you just have to ask.
Tupelo Honey | Downtown 12 College St, Asheville, NC 28801 | 1829 Hendersonville Rd, Asheville, NC 28803
24. The Madness Asheville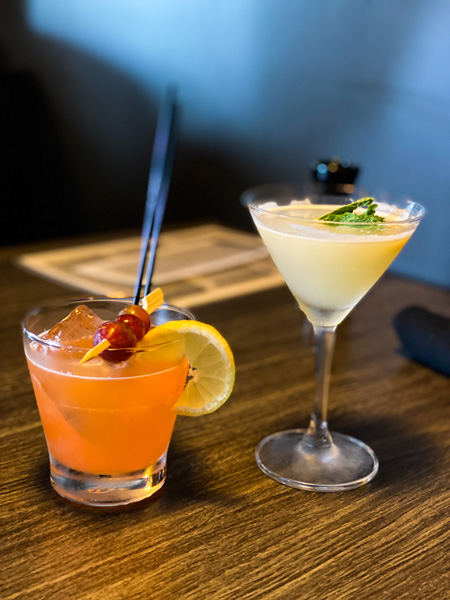 Where can you get the best lunch in Asheville for sushi and meat lovers? The Madness! Think sushi, burgers, and craft cocktails.
One of the new-ish Asheville restaurants, The Madness makes artful sushi creations and has some of the best apps in town.
How do you pick amongst wings, fried pickles, fries, dumplings, spring rolls, and those stellar sushi spoons?
If you are with non-sushi lovers, they have juicy and giant burgers too. The Madness's menu is just huge.
We also enjoy nearby Zen Sushi (North AVL) and Green Tea Sushi (West AVL).
The Madness | 275 Smokey Park Hwy Ste 251, Asheville, NC 28806
25. The Cantina At Historic Biltmore Village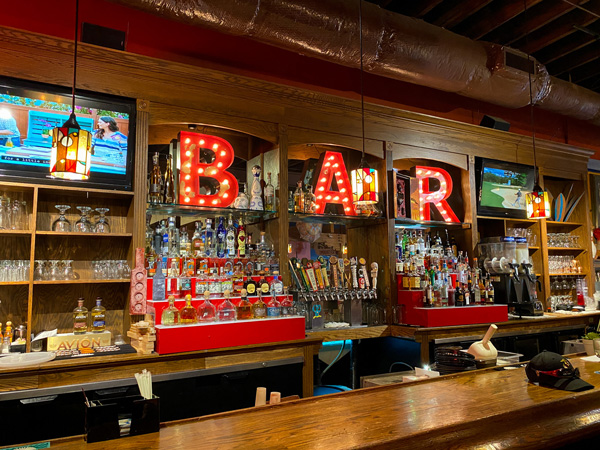 We couldn't have a "best lunch in Asheville" post without listing a Biltmore Village restaurant. However, it is hard to choose between Corner Kitchen, Red Stag Grill, and The Cantina.
Corner Kitchen is delicious and extremely popular – we'd make reservations.
They recently brought back brunch (combining it with lunch), which includes deviled eggs, biscuits and gravy, burgers, sandwiches, boozy french toast, salads, and bagels with lox.
Red Stag Grill sits in the Grand Bohemian and is decorated like a chic hunting lodge; go for charcuterie and drinks. They also have soups, salads, sandwiches, and large entrees like steaks.
For delicious Mexican, though, The Cantina is famous for its colorful tequila bar and huge portions. It also stays a little less crowded for lunch than Corner Kitchen.
They do not take reservations, but you can call ahead.
Think everything delicious and Mexican like stuffed avocados, burritos, tacos, and enchiladas. Of course, order a margarita.
Afterward, brewery hop in Biltmore Village at French Broad Brewing or Hillman Beer. Eda Rhyne Distillery is nearby too.
The Cantina At Historic Biltmore Village | 10 Biltmore Plaza, Asheville, NC 28803
26. HomeGrown
Lastly, another one of the North Asheville lunch restaurants with a line out the door, HomeGrown is famous for those Southern "sammiches."
Think Catfish Po'Boys and Buttermilk and Fried Chicken.
HomeGrown serves Southern specialties like meatloaf and pot pie paired with grits and beet sides.
Nearby, grab ice cream (vegan options included) from The Hop. Walk off your meal at Beaver Lake or the Botanical Gardens at Asheville.
Explore even more of North Asheville's foodie scene.

HomeGrown | 371 Merrimon Ave, Asheville, NC 28801
Lunch Near Asheville, NC
If you are looking for lunch near Asheville, read more about the best restaurants in Black Mountain. We love Cousins Cuban Cafe, Black Mountain Kitchen & Ale House, and Trailhead.
And, discover the top Hendersonville restaurants like Umi Sushi, Haus Heidelberg, and Pita Express.
Find new Asheville lunch spots? Save this post for later:
Where To Stay In Asheville
Explore the best places to stay in Asheville. A few of our top suggestions:
Aloft – Downtown Asheville – Centrally located and recently renovated, enjoy a rooftop pool, a gorgeous bar, and trendy rooms.

The Omni Grove Park Inn – Treat yourself to a luxury resort in North Asheville, complete with breathtaking sunsets, terrace bars and dining, and loads of Asheville history.

Hampton Inn And Suites Asheville Biltmore Area – A budget-friendly but renovated hotel on busier Brevard Road that's perfect if you wish to stay between Biltmore Estate, Downtown Asheville, and the Blue Ridge Parkway.

Asheville Cottages – Gorgeous 1 to 3-bedroom cottages with a private deck, housing a grill and hot tub. Find luxurious heated-floor bathrooms with rain showers, a well-stocked kitchen, and the cleanest rooms in town.

Foundry Hotel – An oasis in Downtown Asheville, Foundry Hotel is a nod to AVL's industrial history. Find famous restaurant Benne on Eagle while sleeping ensconced in charm and elegance.

Country Inn & Suites by Radisson, Asheville Westgate, NC – Located off of the highway as you enter AVL, find a sleek and clean hotel at a great price.

Black Walnut B&B Inn – Designed by Biltmore's supervising architect, Richard Sharp-Smith, this 1899 inn is close to Downtown AVL and serves afternoon tea. Two rooms are pet-friendly.
Don't miss out on these Asheville properties on Booking.com, too.
What are your favorite lunch restaurants in Asheville?
As locals, if we had to pick just five of the best places to eat lunch in Asheville – which is nearly impossible – we'd go with Haywood Common, Thai Pearl, Chai Pani, Apollo Flame, and Taco Temple.
What is your all-time favorite Asheville lunch spot? Where do you like to grab lunch in Downtown Asheville? What is your favorite AVL neighborhood to dine in?
Let us know in the comments! We are constantly changing and updating our website articles.
Where to head next:
All Food & Drink Guides
Donuts In Asheville
Dessert Cafes
Chocolate Shops
AVL Bars
Wineries To Love
Asheville Things To Do For Everyone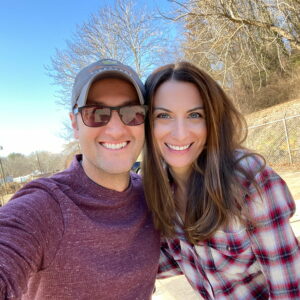 Christine (pronouns: she/her) is the owner and lead writer of Uncorked Asheville. After falling in love with those gorgeous Blue Ridge Mountains, Christine and her husband Tom decided to call Asheville, North Carolina home. When her pointy Italian nose isn't stuck in a book, Christine is adopting all of the kitties, getting lost in the forest, and drinking an ESB. She has a BA in English and History from Smith College, her MLIS from USF-Tampa, and is a former U.S. Fulbright Scholar - Indonesia. Christine also owns The Uncorked Librarian LLC with books and movies to inspire travel.