12 Places For The Best Pizza In Asheville – From Locals
Where can you get the best pizza in Asheville, NC? Enjoy favorite Asheville pizza places, gluten-free and vegan options included – from locals.
Nothing beats a saucy pie with bubbling cheese and all of the meats paired with a local craft brew after a Western North Carolina hike.
The pizza in Asheville won't disappoint, and because the city is nicknamed "Foodtopia," you can guess that there is no shortage of terrific Asheville pizza restaurants – both for dine-in and takeout.
So, where can you get the best pizza in Asheville, NC? As locals, we are sharing the top places that we, our friends, and our readers love the most.
Find pizza in Downtown Asheville like Asheville Pizza & Brewing, Barley's Taproom, Mellow Mushroom, Strada Italiano, and Laughing Seed.
For gluten-free pizza in Asheville, head to Grata's Pizzeria and White Labs Brewing Co. We'll even talk vegan pizza options, and of course, breweries serving up those artisan Italian pies.
Some of these restaurants will be super chill, but we'll also list a romantic pizza joint or two for date night.
Of course, "best" is subjective, and pizza, like beer, is quite contentious here. Be sure to let us know your favorite Asheville pizza places in the comments. Let's get started!
Explore more of the best restaurants in WNC's Foodtopia.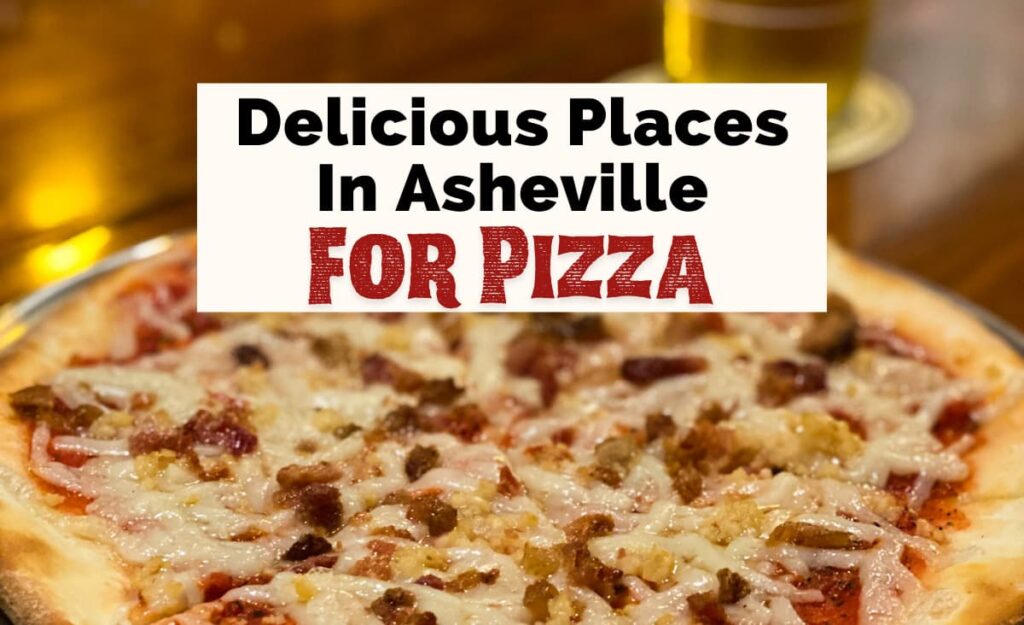 This post may contain affiliate links that earn us a commission at no extra cost to you. If you love these guides, support Uncorked Asheville here.
12 Best Spots For Pizza In Asheville, NC
1. Asheville Pizza & Brewing Company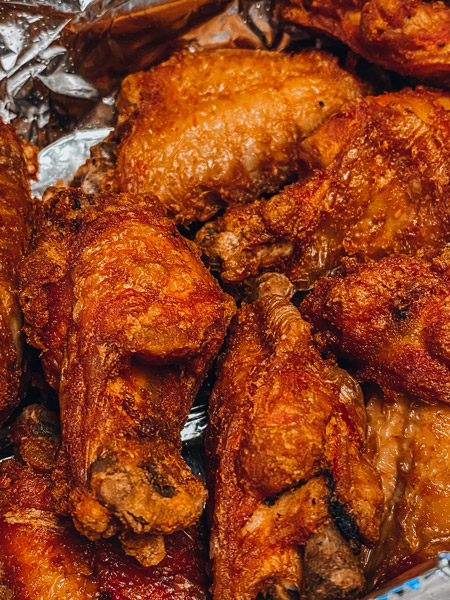 Our personal favorite place for pizza in Asheville, Asheville Pizza & Brewing is also one of the most family-friendly restaurants.
In fact, the North Asheville restaurant has a movie theater and a small arcade. Asheville Pizza & Brewing also has Downtown and South Asheville locations.
Even more fun – for adults – Asheville Pizza is one of the best breweries in the city. Nothing beats their stouts, lagers, and IPAs.
Plus, for gluten-free pizza in Asheville, their crust is on point (we do have a member of our household with Celiac Disease).
Since we are both lactose-intolerant, we also appreciate their vegan cheese.
Along with pizzas with punny-movie names, find a pub menu filled with tater tots, spicy wings, salads, sandwiches, and fish and chips.
For pizza delivery in Asheville, these guys are a tasty option, and pooches are welcome in their outdoor spaces.
See where else to catch a movie in Asheville.
Asheville Pizza & Brewing | North AVL – 675 Merrimon Avenue; Downtown South Slope – 77 Coxe Avenue; South AVL – 1850 Hendersonville Road Suite A
2. Apollo Flame Bistro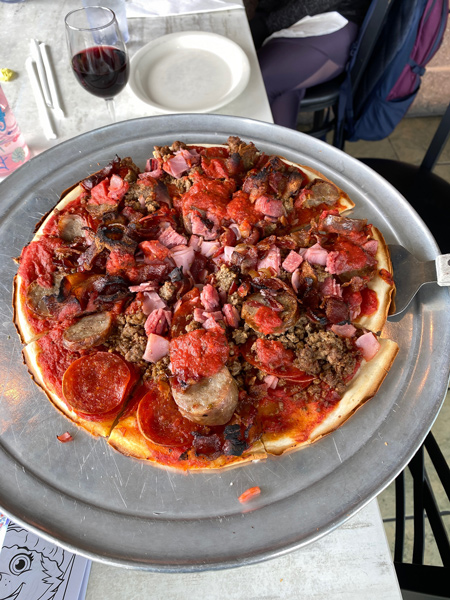 If you've been with us for a while, you know that we sing Apollo Flame all of the praises for their subs, especially before or after a BRP hike or for picnic food on the go.
With locations right outside of Biltmore Estate – think delicious Biltmore Village – and another near The NC Arboretum, Apollo Flame is your go-to Greek diner.
Let's be real: Apollo Flame is a little bit of a dive, but we love them.
This is also one of the cheapest and most casual Asheville pizza places for grinders/subs, pies, salads, pasta, and burgers.
While dining at Apollo Flame, you will see endless and huge steaming pizzas and sandwiches coming out of the kitchen.
This is another Asheville pizza spot for gluten-free pizza (and grinders).
Discover more restaurants in Asheville near Biltmore.
Apollo Flame Bistro | Biltmore Village Area – 485 Hendersonville Road and South Asheville/BRP – 1025 Brevard Road
3. PIE. ZAA
Looking for late-night pizza in Downtown Asheville? Or how about pizza slices the size of your face?
If you enjoy New York-style pizza, PIE. ZAA is for you and sits along the outskirts of South Slope.
Most days, PIE. ZAA closes around midnight with the exception of Fridays and Saturdays where they stay open until 1 AM. (Please always check this on their site.)
Choose from their slice list or order a full pie with dipping sauces. You cannot build your own/customize a pizza, but you may do half and half with their delicious options.
Currently, PIE. ZAA does not offer delivery or gluten-free and vegan options.
PIE. ZAA | 46 Millard Ave, Asheville, NC 28801
4. Grata Pizzeria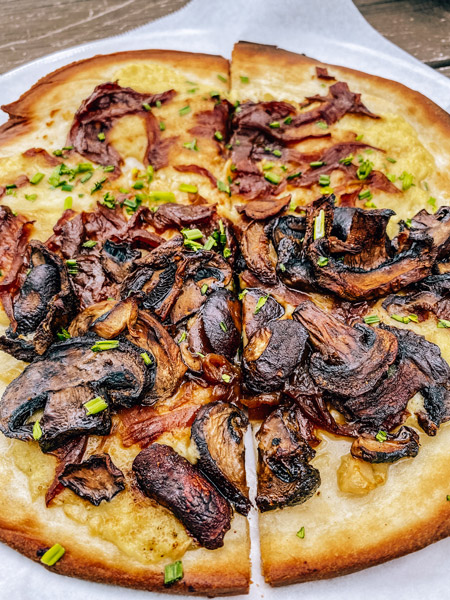 One of the best restaurants for gluten-free pizza in Asheville, head to West Asheville's Grata Pizzeria.
West Asheville is a quirky fun neighborhood filled with breweries, bars, and delicious restaurants.
Grata is located at UpCountry Brewing, an AVL brewery filled with vibrant murals and indoor and outdoor seating.
If you sit in the back, you'll truly feel like you are at a friend's cookout and not in a busy city. UpCountry sits across from the quirky bar, The Odditorium, and Leo's House of Thirst is just down the road.
Along with their California-inspired pizza, Grata serves up salads and apps including meatballs and fries. They also use locally sourced ingredients for the freshest artisan pies.
Substitute in gf crust, and Grata offers Darë vegan cheese – which is one of the best vegan cheeses we've ever eaten (and is sold locally at farmer's markets, stores, and festivals).
For Asheville pizza restaurants serving local beer in a great location, it doesn't get any better than Grata Pizzeria.
Explore more of Asheville's gluten-free friendly restaurants.
Grata Pizzeria | 1042 Haywood Road, Asheville, NC 28806
5. All Souls Pizza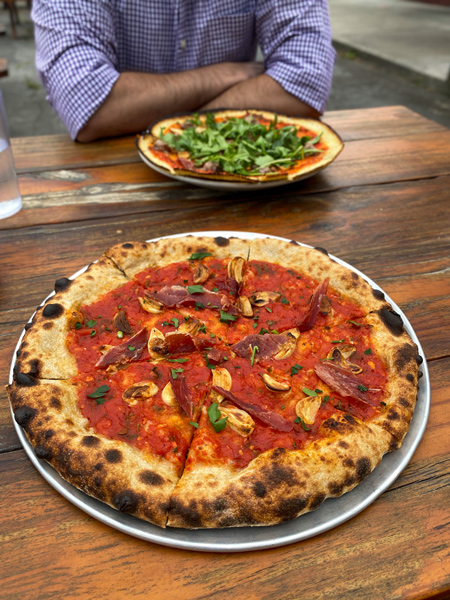 Like West Asheville, it's no secret that the River Arts District houses some of the best restaurants in Asheville, including the famous 12 Bones Smokehouse and White Duck Taco.
All Souls Pizza is another local spot with a small but artisan pizza menu filled with sandwiches, salads, soups, and olives.
They also offer a gluten-free polenta crust substitution. Full disclosure on this one, though: Our Celiac husband doesn't really care for it.
If you are lactose-intolerant or vegan, you might also have to go cheeseless like us.
In season, find mouthwatering rotating plates of sardines, monkfish, fried okra, clams, and wood-fired cauliflower.
For those who appreciate outdoor dining, grab a spot at the plethora of picnic tables overlooking The Gray Eagle music hall.
All Souls Pizza also has a wine and beer list. Read more about all of RAD's delicious restaurants.
All Souls Pizza | 75 Clingman Ave, Asheville, NC 28801
6. Mellow Mushroom
Florida first introduced us New Englanders to Mellow Mushroom – a wildly fun and mellow experience.
Unlike other pizza spots on this list, know that Mellow Mushroom is a chain with over 200+ restaurants throughout the United States. That doesn't mean you shouldn't drop in, though.
And, for pizza in Downtown Asheville, you honestly won't be able to miss Mellow Mushroom either. Look for the colorful spheres stuck in their cement walls along with the bright seating.
Mellow Mushroom is another great family-friendly restaurant with a large menu featuring stone-baked pizzas, calzones, sandwiches, and burgers.
Walls Wine Bar — filled with world-famous photographer Benjamin Wall's images — sits across the street.
Eat at even more great Downtown Asheville restaurants.
Mellow Mushroom | 50 Broadway St, Asheville, NC 28801
7. White Labs Brewing Co. Asheville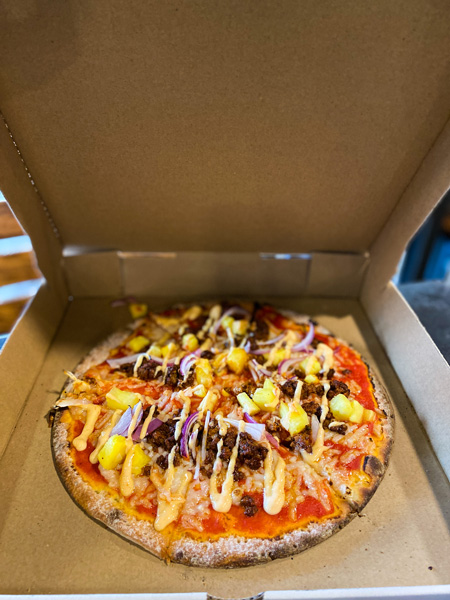 If you are local, you know that outside of Downtown AVL, you can find quite a few treats hiding along the side streets.
Charlotte Street is one of them, which is home to restaurants like Jettie Rae's and Bone & Broth and leads you into more residential areas.
The Grove Park Inn is also close by as you drive toward North Asheville.
White Labs Kitchen and Tap serves up some of the best pizza in Asheville along with their own beers, sandwiches, burgers, and sharables – gluten-free and vegan options included.
Sometimes after an afternoon of hanging out in Downtown AVL, we'll stop here for a flight or cocktail and grab pizza to-go for dinner.
Some of White Labs' beers are gluten-reduced, and we enjoy their Stouts, Lagers, and Ambers. They also have local guest taps in case you aren't able to make it to all of Asheville's stellar breweries.
Sit inside or out. Outside, find a patio out front or head upstairs for more seating. There's plenty of on-site parking.
White Labs Brewing Co. Kitchen & Tap | 172 S Charlotte St, Asheville, NC 28801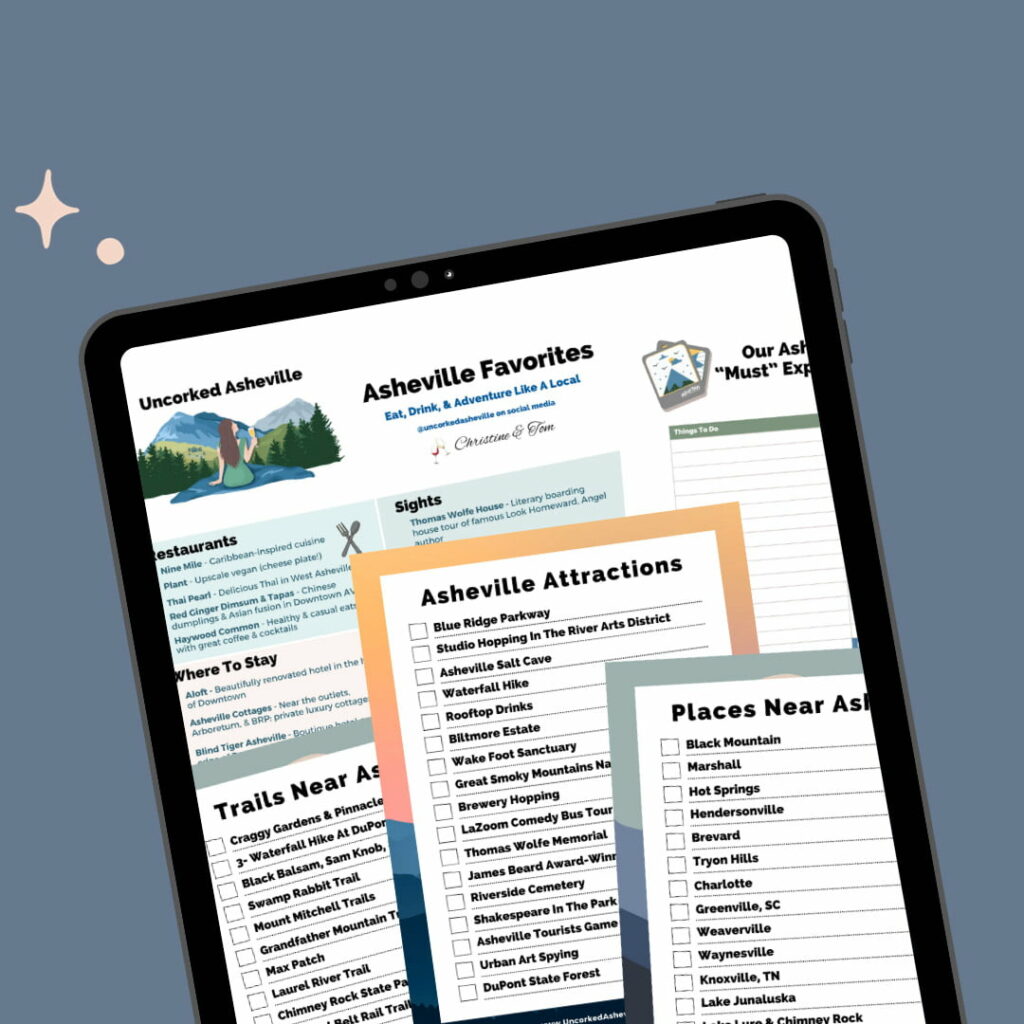 Never Miss Another Asheville Update
Experience Asheville like a local with our free attractions, dining, hiking, and day tripping guides. Get events, updates, and more straight to your inbox from Christine.
8. Laughing Seed Cafe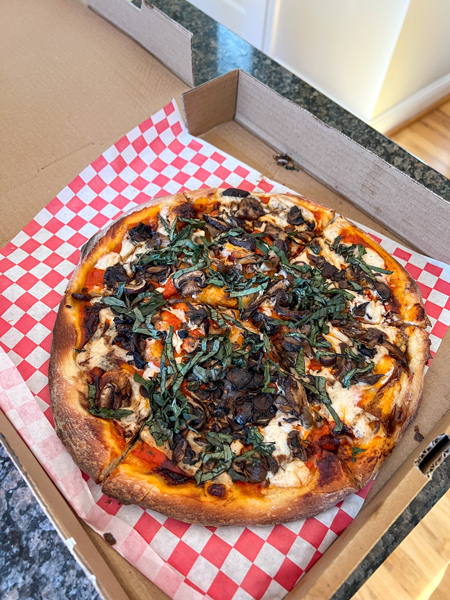 Asheville is full of stellar restaurants for vegan and vegetarian diners. Along with Plant in North AVL, Laughing Seed in Downtown is a must.
In fact, Laughing Seed was one of the first restaurants we ever ate at, even before moving to Asheville. We've even spent Valentine's Day here.
Enjoy pizza with regular or gluten-free crust and vegan options, including delicious vegan cheese. Make your own pizza or pick from classics like a mushroom or Margherita pie.
However, Laughing Seed isn't just a Downtown Asheville pizza spot – they have a large menu filled with vegetarian sandwiches, bowls, burgers, tacos, desserts, and cocktails.
When not in a pizza mood, we enjoy Laughing Seed's "Reubens," lasagna, bowls, and veggie burgers.
Grab a smoothie on your way out, or head to Trade and Lore across the street for a whimsical coffee experience.
For parking, we recommend using the Wall Street Garage or the metered spaces around the garage.
*Please note that since their menu changes seasonally, pizza might come and go here.
Laughing Seed Cafe | 40 Wall St, Asheville, NC 28801
9. Barley's Taproom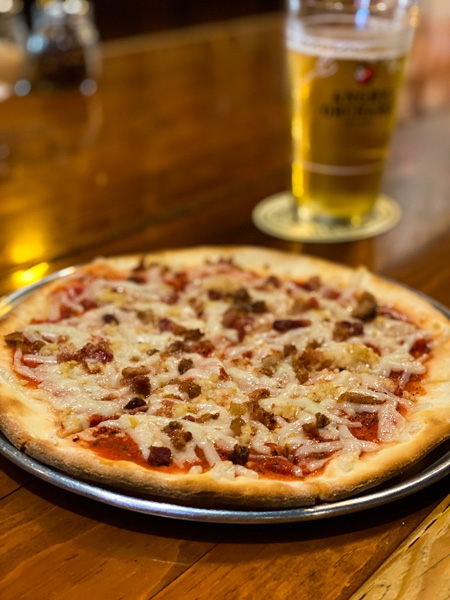 Craving a pub with sports on TV, billiards upstairs, and that oh-so-chill bar vibe? For beer and pizza in Downtown Asheville, head to Barley's Taproom.
This largely unassuming and no-frills Asheville pub is quite the change of pace from its Downtown neighbors.
Barley's sits ensconced between fancy hotels with gorgeous rooftop bars and nearby fine dining restaurants like Chestnut, Posana, Limones, and Cúrate.
Order gluten-free pizza crust or a regular New York-style pie paired with a local beer from Barley Taproom's bar. Of course, find bar food specialties like nachos, hummus, and garlic knots.
Choose from calzones, chili, soups, salads, and pasta too. Order takeout and delivery here if you wish to eat from the comfort of your couch.
Most uniquely, Barley's sits in a renovated 1920s appliance store and has been a part of Asheville since 1994.
Barley's Taproom | 42 Biltmore Ave, Asheville, NC 28801
10. Strada Italiano
Another unsuspecting spot for the best pizza in Asheville, Strada Italiano is your go-to Downtown Asheville restaurant. We recommend making advanced dinner reservations here.
A romantic Downtown AVL restaurant, Strada is a bit fancier than some of the places on this list. You may still dress casually, and families are, of course, welcome.
Enter a cozy atmosphere in a historic building. Strada features a large Italian menu with pizza, antipasti, and salads.
They also serve traditional entrees and pasta, labeling their menu with gluten-free and vegan items.
For Asheville pizza options, build your own or pick from their drool-worthy specialty pies.
Connected to Strada, grab a late-night drink at The Social Lounge, which is also one of our top Asheville brunch spots.
Strada Italiano | 27 Broadway St, Asheville, NC 28801
11. Manicomio Pizza & Food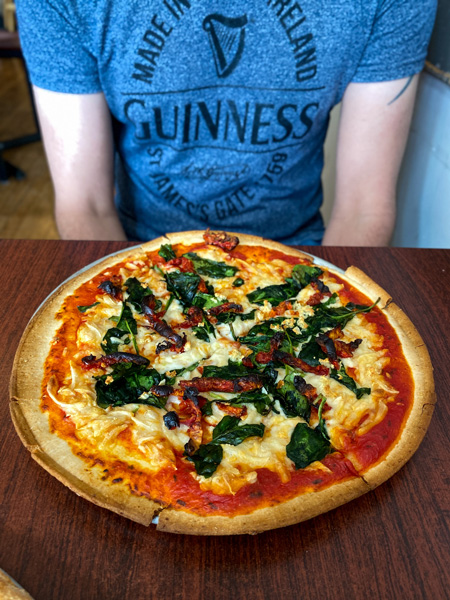 Tucked into a strip along Biltmore Ave. filled with some of Downtown Asheville's most popular restaurants, just look for the pizza icon.
Manicomio Pizza is nothing like its surroundings — in a good way. With less of a city and more of a hometown feel, head up to the counter to place your order.
Choose pizza by the slice or pick from their hearty pie sizes. Pair your pizza with a local craft brew, and then grab a seat inside or out. Or, sit at the counter along the windows to people watch.
Manicomio has the best vegan pizza in Asheville too — one of which is the AsheVegan. They use local vegan cheese (not the overly processed gross stuff that you tend to find at the grocery store).
Along with vegan options, find a small – somewhat underwhelming – gluten-free pizza crust. We especially appreciate the vegan dessert choices including a vegan Dare cheesecake.
Plus, when many Asheville restaurants close on Mondays and Tuesdays, Manicomio stays open 7 days a week. Of course, you can grab pizza to-go.

Manicomio Pizza & Food | 27 Biltmore Ave Asheville, NC 28801
12. 828 Family Pizzeria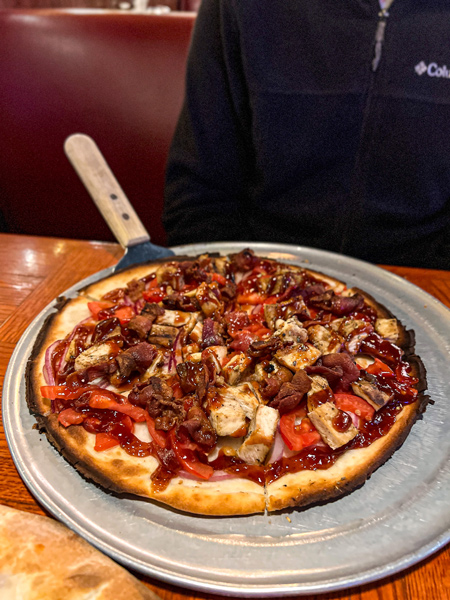 Pizza in Asheville doesn't get any better than 828 Family Pizzeria in North AVL. This one reminds us the most of one of our favorite places back in CT called Village Pizza.
It's no surprise since they specialize in New York-style pizza and have been in business since 1933.
Located in the same plaza as the Fresh Market and across the street from Ingles on Merrimon, 828 Family Pizzeria features huge Italian subs with waffle fries, pizza, and calzones.
Although they don't have dairy-free or vegan cheese, find a gluten-free and dairy-free crust option.
Pizzas are large and come in different sizes.
Select from delicious and classic specialty pizzas or build your own with generous toppings. Think full-sized kalamata olives, chunks of artichokes, giant mushrooms, and fresh spinach.
Enjoy a local craft beer and a slice of cake in the dimly lit dining room filled with charming yellow holiday lights. Grab a booth, table, or seat at the bar.
Afterward, explore more of North Asheville.
828 Family Pizzeria | 946 Merrimon Ave, Asheville, NC 28804
More Asheville Pizza Spots
Del Vecchio's
Black Bear Pizza
Pizza Daddy Asheville
Harvest Pizzeria
Tin Can Pizzeria (Food Truck)
Vinnie's Neighborhood Italian
MOD Pizza (Chain)
Save Your Favorite Asheville Pizza Places For Later: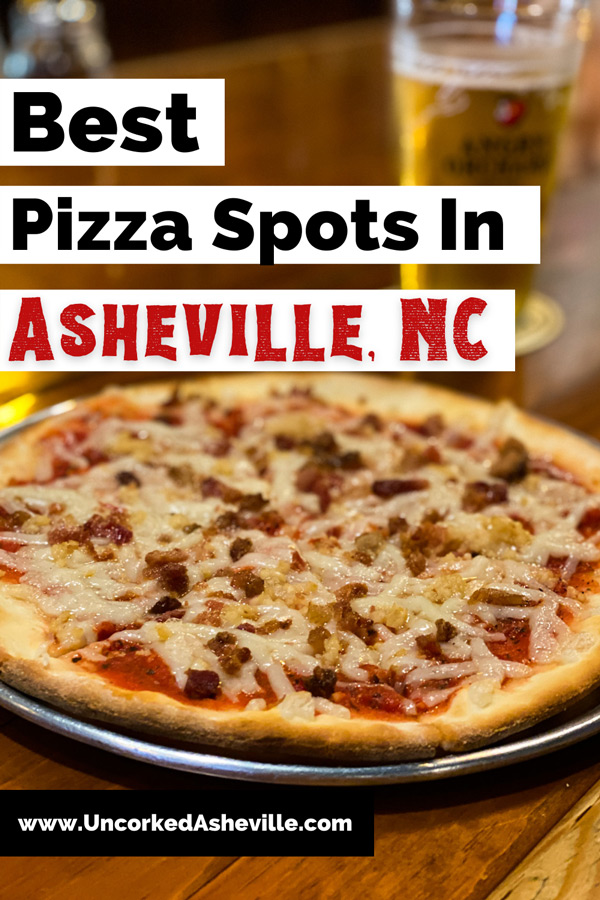 What are your favorite Asheville pizza restaurants?
Where do you love to get pizza in Asheville? How about pizza and beer?
Who makes the best vegan pizza in Asheville? Where can you find the best gluten-free crust?
Most importantly, what is your favorite pizza topping(s)? Let us know in the comments.
You may also love:
Juicy Burgers
Top Charcuterie Boards
Lunch In Asheville
Stellar Asian Restaurants
Local Donut Shops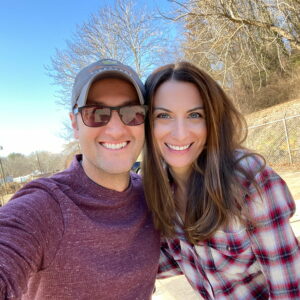 Christine (pronouns: she/her) is the owner and lead writer of Uncorked Asheville. After falling in love with those gorgeous Blue Ridge Mountains, Christine and her husband Tom decided to call Asheville, North Carolina home. When her pointy Italian nose isn't stuck in a book, Christine is adopting all of the kitties, getting lost in the forest, and drinking an ESB. She has a BA in English and History from Smith College, her MLIS from USF-Tampa, and is a former U.S. Fulbright Scholar - Indonesia. Christine also owns The Uncorked Librarian LLC with books and movies to inspire travel.