Catch brilliant sunsets over craft cocktails at the best rooftop bars in Asheville, NC. See which Asheville rooftop bars have delicious restaurants with stellar bites too.
We fell in love with Asheville over those stunning Blue Ridge Mountains. Flying into Western North Carolina on a clear day, you cannot miss their blue and green smoky magnificence.
These mountains spark such a romantic ambiance, even famous for inspiring young writers and artists. They also make for vibrant sunsets, especially as winter approaches.
So, if you are hoping to catch a mountain sunset over cocktails, where are the best rooftop bars in Asheville, NC?
Although "best" is subjective, Capella on 9 and W XYZ Lounge are both equally worthy for different reasons.
One overlooks most of the city proper along with the Grove Park Inn and Asheville's iconic and historic buildings. The other is perfect for downtown people-watching.
Along with the cocktails, you can also dine at some of the most delicious rooftop restaurants in Asheville.
Not all serve full meals – think small plates – but along with Capella on 9, you cannot miss The Great Hall Bar, Social Lounge, and Hemingway's Cuba.
The Montford Rooftop Bar is also a must for delicious bites, warm heaters, and all of those yummy drinks. Plus, you have Antidote, which is attached to a famous Asheville distillery, Chemist.
As locals, we are divulging the details of each popular rooftop bar in Asheville. We'll tell you what to expect and where to go afterward.
Don't forget there are Asheville rooftop bar tours. Let's get started!
Read more about all of Asheville's best bars – sports, dive, luxury, and more.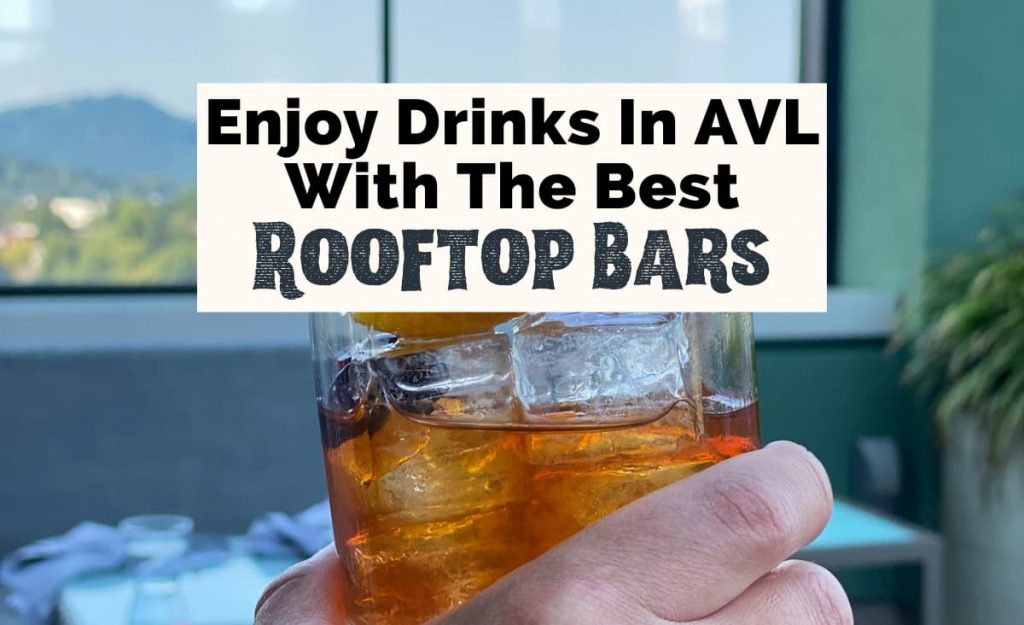 This post may contain affiliate links that earn us a commission at no extra cost to you.
See our Top Places To Stay in Asheville.

Don't miss out on these Asheville properties on Booking.com, too.
10 Best Rooftop Bars In Asheville, NC
1. Capella On 9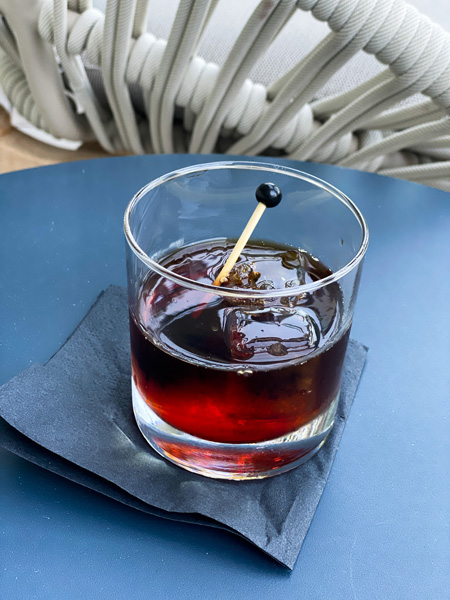 Feel as if you are a modern-day Vanderbilt at Capella On 9 – and question if you just landed in Miami instead of Asheville.
Located in the gorgeous AC Hotel by Marriott, sit inside or out in one of the sexiest rooftop bars in Asheville. You will pay for those views, but their craft cocktails are top-notch.
Maker's Mark even distills a special barrel-finished bourbon for Capella On 9. As Capella On 9 best says, find "Small plates. Big Views."
Outside, enjoy gas fireplaces and the swankiest lounge chairs. Order fresh salads and charcuterie.
Capella On 9 is the perfect Asheville rooftop bar if you have Downtown AVL dinner reservations at Strada, Posana, Wasabi, or Rhubarb — and is one of the most romantic things to do in Asheville.
Capella On 9 | AC Hotel by Marriott Asheville Downtown | 10 Broadway St f9, Asheville, NC 28801
2. Pillar Rooftop Bar
One of the poshest rooftop restaurants in Asheville, Pillar sits in the Hilton Garden Inn. Pillar stirs up hand-crafted and classic cocktails along with the bubbly and local brews.
Pillar Kitchen emphasizes small Southern and seasonal bites. Grab breakfast in the hotel lobby.
Pillar Rooftop Bar Asheville | Hilton Garden Inn Asheville Downtown | 309 College St 6th Floor, Asheville, NC 28801
3. Social Lounge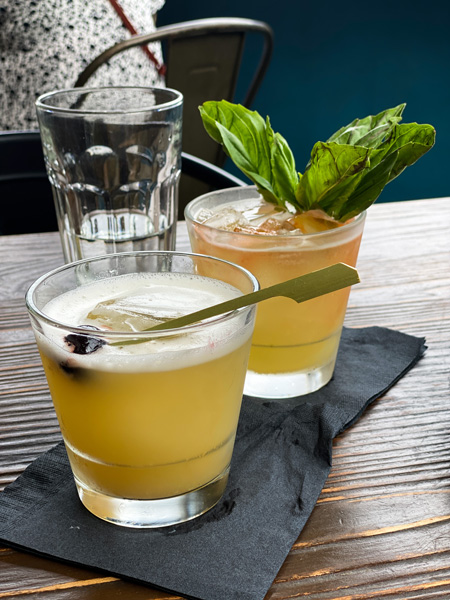 Asheville's original cocktail bar, Social Lounge is close to Capella on 9. Along with Sunday rooftop brunch, Social Lounge is popular for its late-night menu.
Brunch showcases vegan lox, salads, and muffins alongside pancakes, french toast, omelets, and shrimp and grits. Their dinner and late menus are all about Italian cuisine.
Social Lounge's cocktails tend to flow with the seasons – and their fresh ingredients reflect this.
Along with classic drinks, find a large list of spirits including Whiskey, Tequila, Rum, Brandy, Gin, Bourbon, and Scotch – to name a few.
Social Lounge is attached to Strada – its jumping downtown Italian (sister) restaurant – and a spectacular romantic dining option. There is also indoor bar seating.
Nearby, don't miss Asheville dessert bars like French Broad Chocolate Lounge, Asheville Chocolate, and Old Europe.
You'll also find two terrific art museums, the Asheville Art Museum and Black Mountain College Museum.
Social Lounge Asheville | 29 Broadway St, Asheville, NC 28801
4. The Montford Rooftop Bar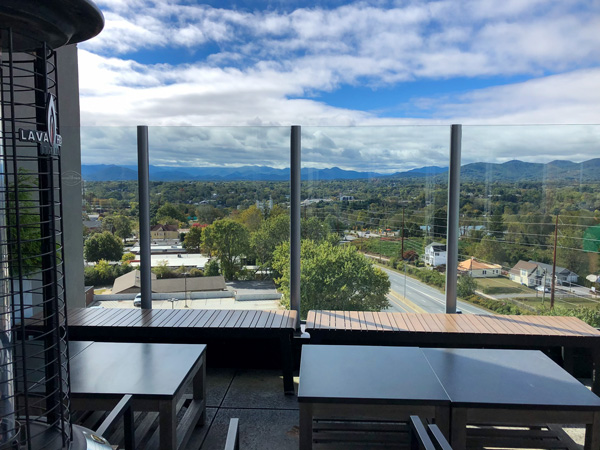 One of the best Asheville rooftop bars for rainbows and views, The Montford offers spectacular vistas of Asheville's Historic Montford neighborhood.
The Montford is also the Asheville rooftop bar we most frequent as locals; their Christmas decorations are ridiculously fun and festive.
Sit inside or out as you peer over Asheville with fried Brussels sprouts, eggplant, and tater tots. The Montford also serves flatbreads, sandwiches, and desserts.
Find sharable cheese boards and reasonably priced cocktails. Nearby, head to the Grove Arcade and Battery Park Book Exchange — a used bookstore with cocktails.
The Asheville Pinball Museum, Asheville Proper (steak restaurant), pleb urban winery's new taproom, and Cultivated Cocktails are also out this way around Page Ave.
The Montford Rooftop Bar | DoubleTree by Hilton Asheville Downtown | 199 Haywood St, Asheville, NC 28801
Never Miss Another Asheville Update
---
Tired of generic Asheville travel itineraries? Experience Asheville like a local with our free Asheville Favorites checklist, including restaurants, breweries, and hiking. Plus, get local updates – including events and hidden gems – straight to your inbox. Sign up here.
5. Hemingway's Cuba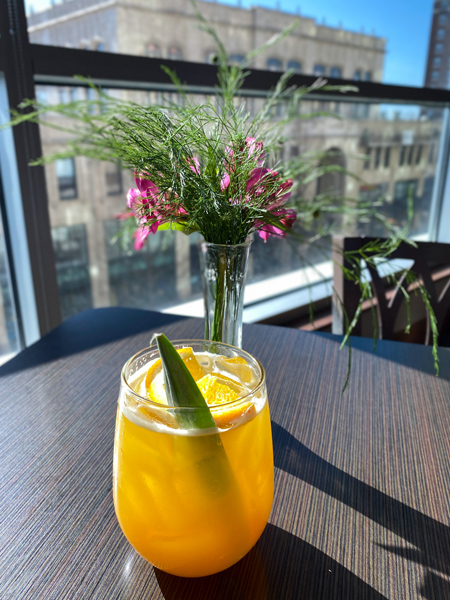 One of the best rooftop restaurants in Asheville, Hemingway's Cuba won't disappoint. Find them at the Cambria Downtown.
Hemingway's promises traditional Cuban cuisine and "a delightful slice of Habana."
For food, we cannot resist starters like yucca fries and fried plantains – smashed into tostones or on a traditional rice and chicken dish.
Select from classics like a Cuban sandwich, burgers, and sliders. Or, try their spicer stews and meat dishes.
Hemingway's Cuba makes a signature cocktail, the Cuban Daquiri, but all of their drinks are equally delicious.
The rooftop restaurant and bar overlook the Blue Ridge Mountains as well as Downtown Asheville's Grove Arcade.
Sit inside on a chilly day and stare out the gorgeous windows. If the weather is in your favor, enjoy the rooftop terrace and people-watch Downtown Asheville's visitors.
Hemingway's serves breakfast, weekend brunch, and dinner. We recommend making advanced reservations for dining – but in the off-season, you will most likely find a spot.
Hemingway's Cuba | Cambria Hotel Downtown Asheville | 15 Page Ave 4th Floor, Asheville, NC 28801
6. Antidote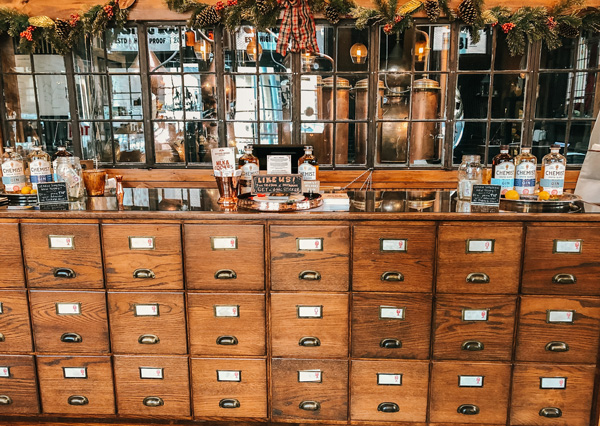 Did you know that Asheville has a happening distillery scene?
Located in South Slope – home to famous downtown breweries – Antidote is part of Chemist Spirits. You may wish to start your day at Chemist tasting their delicious gin.
You'll find many of Chemist's spirits in the area's restaurants. They even partner with Biltmore Estate for delicious libations.
Antidote is Chemist Spirits' intimate Asheville rooftop bar. Find turn-of-the-century, apothecary-style fixtures including 1900s decor as you find "the cure for the common cocktail."
Antidote | Chemist Spirits | 151 Coxe Ave, Asheville, NC 28801
7. W XYZ Bar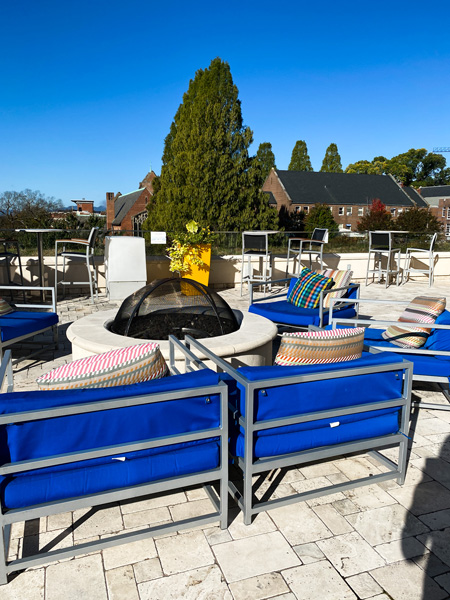 We hard-hat toured the 2020 Aloft renovations as the W XYZ Bar and Ledge received a gorgeous and modern makeover.
The Aloft Asheville not only makes for one trendy AF rooftop bar in Asheville, but it's also a top recommendation of places to stay.
The rooms are beautifully designed. Along with a DJ and live music at W XYZ Bar, you can head to the rooftop for drinks and the pool overlooking the mountains.
The Ledge and W XYZ Bar also peer down upon Asheville's downtown coffee shops like Double D's as well as the LaZoom Bus, which is one of the most fun things to do in Asheville.
Play pool, take a selfie in the actual 'selfie mirrors,' and peruse Aloft's modern art galleries.
W XYZ Bar | Aloft Asheville Downtown | 51 Biltmore Ave, Asheville, NC 28801
8. Top Of The Monk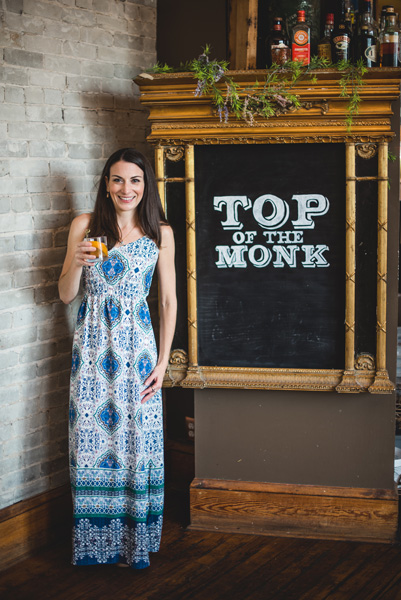 Only one of the rooftop bars in Asheville hands you a key with your cocktail… We aren't sure if we should spoil the surprise. Let's just say that the key opens a sweet treat.
Top of the Monk sits above the Thirsty Monk's downtown taproom (Belgian beers!) and prides itself on its whiskey collection.
Most notably – and what we appreciate the most – is that Top Of The Monk uses the correct ice cubes in their cocktails.
They also make their own bitters and juices. No artificial stuff.
Close to Top Of The Monk, don't miss Asheville's newest food hall, S&W Market, and classy cocktails and mocktails at The Times Bar & Coffee Shop.
You'll also find our favorite downtown lunch spots like Red Ginger, Jerusalem Garden Cafe, and more touristy Tupelo Honey.
Top Of The Monk | 92 Patton Ave, Asheville, NC 28801
9. The Great Hall Bar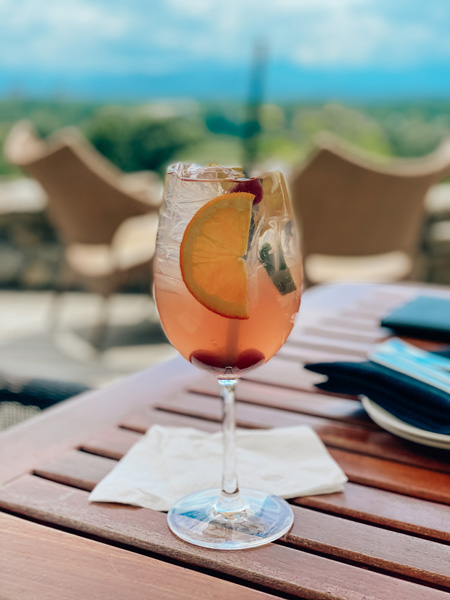 It's no secret that we don't always play by the rules here at Uncorked Asheville: Maybe The Great Hall Bar doesn't sit on a rooftop but it certainly has 'rooftop views'…
The Omni Grove Park Inn is a must for stellar Asheville sunsets and sits in the gorgeous North Asheville neighborhood.
We consider this one of the best rooftop restaurants in Asheville, NC – The Great Hall Bar, Edison, and Sunset Terrace, if we are being even more technical.
Sunset Terrace exceeds its reputation and namesake. Enjoy a fine dining experience with incredible mountain sunset views.
The Great Hall Bar has a terrace below Sunset Terrace Restaurant that opens mid-afternoon. Order the best Asheville charcuterie and bites with our favorite cocktails in town.
There is also indoor service at the physical bar and around those massive floor-to-ceiling fireplaces.
Or, dine at Edison – our favorite at Grove – and sip on seasonal cocktails. All three restaurants and bars overlook Downtown Asheville and Mount Pisgah.
North Asheville restaurants don't get any better than this.
The Great Hall Bar | The Omni Grove Park Inn | 290 Macon Ave, Asheville, NC 28804
10. Shine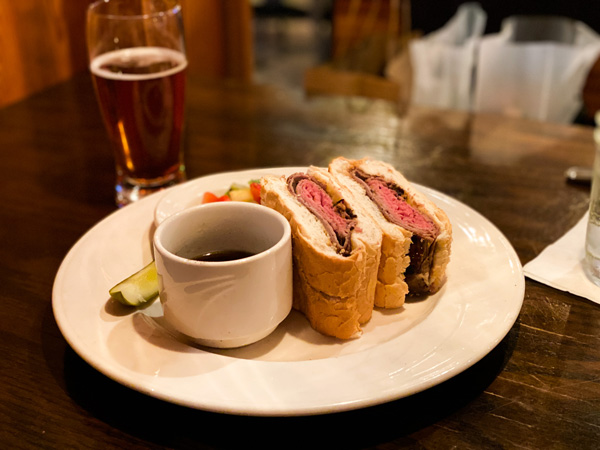 We are sneaking in one extra rooftop bar that's not quite in Asheville. Head to nearby Hendersonville — as an Asheville day trip — for some of the best breweries, bars, and restaurants.
Shine is a cozy pub with a seasonal rooftop bar located on Hendersonville's Main Street. They have a great local beer selection and simple and clean food.
Grab a late lunch or heavier dinner served in Shine's restaurant, including sandwiches, steaks, duck, and even frog's legs. They also offer Sunday brunch.
Head up to Shine's rooftop bar for those handcrafted cocktails. Don't miss Hendersonville's breweries too.
Shine | 202 N Main St, Hendersonville, NC 28792
If you want to see many of the rooftop bars in Asheville all at once with a designated driver, don't miss these Asheville Rooftop Bar Tours.
See our Top Places To Stay in Asheville.

Don't miss out on these Asheville properties on Booking.com, too.
Save The Best Asheville Rooftop Bars For Later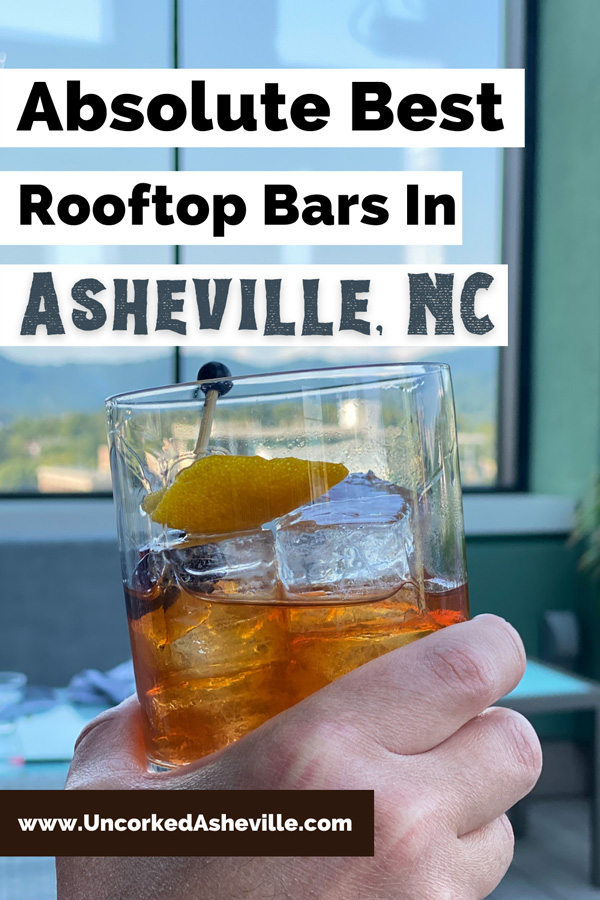 Which rooftop bar in Asheville is your favorite?
What Asheville rooftop bar is your go-to? What are your favorite rooftop restaurants in Asheville? Let us know in the comments.
Where Can You Celebrate Next?
Unforgettable Restaurants
Hopping Breweries
Fizzy Wine Bars
Top Distilleries
Best Wineries
Charcuterie Spots
Pubs & Taverns

Asheville Food & Drink Guide