18 Tempting Restaurants In North Asheville
Explore the best restaurants in North Asheville for gorgeous sunsets, artisan pizza, sushi with burgers, charcuterie, vegan desserts, and more – from locals.
Similar to larger cities, Asheville, NC is full of unique neighborhoods, each housing its own culture, bars, restaurants, murals, and vibes.
As residents, we highly recommend checking out more than just what Downtown Asheville has to offer, especially if you are craving a more local experience.
North and West Asheville along with the River Arts District are a few of our favorite neighborhoods. Most notably, the North Asheville restaurants are absolutely incredible (and plentiful!).
North Asheville is famous for BBQ, pizza with beer, and one of Asheville's largest luxury resorts housing multiple rooftop bars and restaurants perfect to catch jaw-dropping mountain sunsets.
The restaurants on Merrimon Ave. are family-friendly and showcase every type of cuisine from sushi and Mexican to burgers, Cuban, and vegan desserts. Catch a movie too!
Plus, the restaurants around Charlotte Street cook up New England-style seafood and all of the meats.
So, what are the best restaurants in North Asheville for all price ranges and moods — fancy, romantic, and chill? How about those not-to-miss restaurants near UNC Asheville?
Keep reading for memorable North Asheville restaurants, and be sure to share your favorites in the comments. Let's get started!
Explore all that you can do in North Asheville after you eat!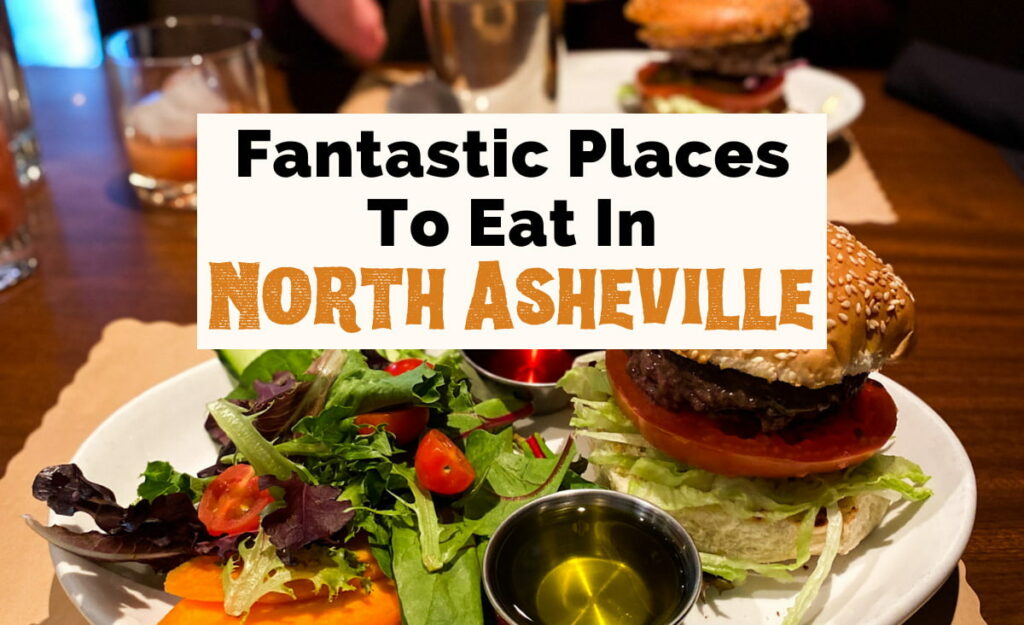 This post may contain affiliate links that earn us a commission at no extra cost to you. If you love these guides, support Uncorked Asheville here.
18 Delicious Restaurants In North Asheville
1. Luella's Bar-B-Que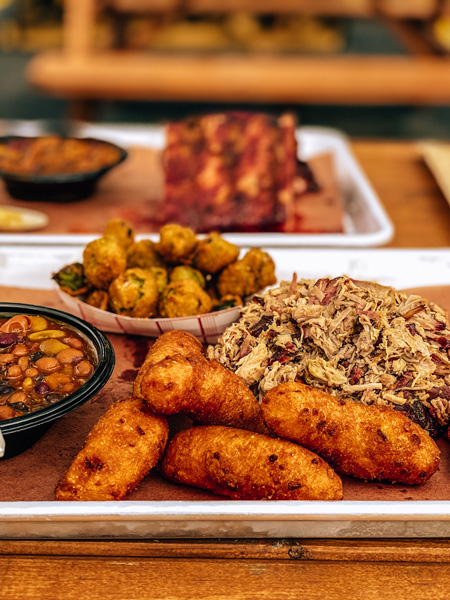 For that mouthwatering North Carolina barbeque, Luella's is one of the best North Asheville restaurants for large portions and plentiful outdoor seating.
Know that they also have a Biltmore Park location.
Luella's Bar-B-Que is personally one of our all-time favorite BBQ restaurants in Asheville — even over popular Buxton Hall.
Opened in 2007, Luella's is named after Grandma Lue. This local BBQ spot is committed to giving back to the AVL community along with keeping us all well-fed.
Devour reasonably priced BBQ platters full of ribs, brisket, and pulled pork. Luella's sandwiches feature a heaping 1/4-pound of meat.
Of course, select from Luella's Bar-B-Que other classic dishes including wings, chicken, stew, and Mac & Cheese.
Did someone say baked beans, coleslaw, sweet potato chips, fried okra, hush puppies, and green beans?
Luella's labels their menu with gluten-safe and vegetarian options, serving up tempeh and fresh salads if meat isn't for you.
Restaurants on Merrimon Ave. don't scream WNC any more than this. Luella's has their own parking lot, and find street parking off of Merrimon, if needed.
Luella's Bar-B-Que | 501 Merrimon Avenue
2. Jettie Rae's Oyster House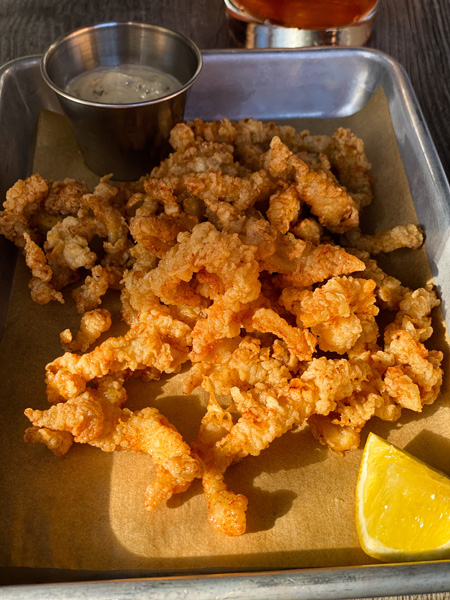 If you are looking for the best seafood restaurants in North Asheville, we nominate Jettie Rae's Oyster House. As former New Englanders, this is our style of cooking for delicious fish entrees.
Jettie Rae's features all things classic seafood, including oysters, trout, shrimp cocktail, octopus, mussels, and fried clams. Enjoy a selection from the raw bar, including ceviche.
Make difficult decisions between a Po Boy, seared diver scallops, crab cakes, fisherman's stew, or duck. It's hard to say no to fish and chips too.
For cocktails, Jettie Rae's Oyster House drinks pack a spicy punch and showcase quite a few creative selections. Find unique twists on your favorite classic drinks.
For non-seafood lovers, select from their burgers and salads.
We highly suggest making advanced reservations here. Choose from indoor or covered outdoor seating.
Even more unique to the restaurants around Charlotte Street, Jettie Rae's sits in a renovated Gulf Gas Station. They also have their own parking lot.
P.S. The Charlotte Street restaurants are close to Biltmore Estate – about 10+ minutes by car.
Jettie Rae's Oyster House | 143 Charlotte St.
3. Asheville Pizza & Brewing Company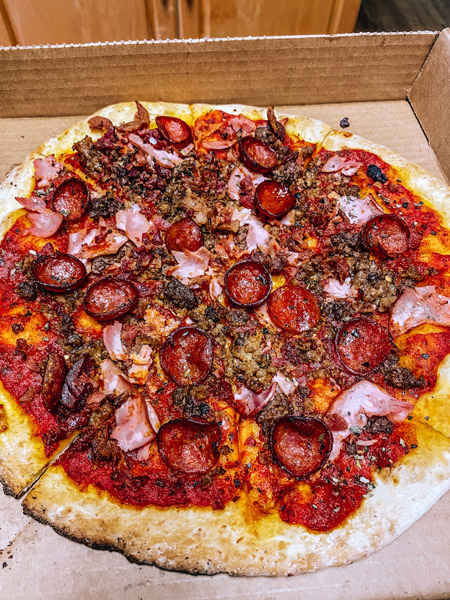 For convenient, well-priced, and delicious restaurants near UNC Asheville, Asheville Pizza & Brewing is a must. They also have a South AVL and Downtown Asheville location.
Personally, we prefer their North location – it is for both pizza lovers and moviegoers, housing a small arcade and two movie theaters.
While Asheville Pizza used to play vintage movies, they've also upgraded to new releases.
Of course, these perks make Asheville Pizza & Brewing an especially fantastic dining option if you are looking for kid-friendly AVL restaurants.
For adults, Asheville Pizza is one of the top breweries across the city – at least in our opinion. They brew tasty stouts, lagers, and IPAs.
Plus, according to my Celiac husband, Asheville Pizza has the best gluten-free crust. Find vegan and veggie options too, including vegan cheese.
Along with pizzas named after classic movies, enjoy a menu filled with comfort food including tater tots, famous King Kong wings, salads, sandwiches, and fish and chips.
Asheville Pizza & Brewing is fabulous for takeout and delivery in Asheville. Read more about Asheville's gf options too.
Asheville Pizza & Brewing | 675 Merrimon Avenue
4. Plant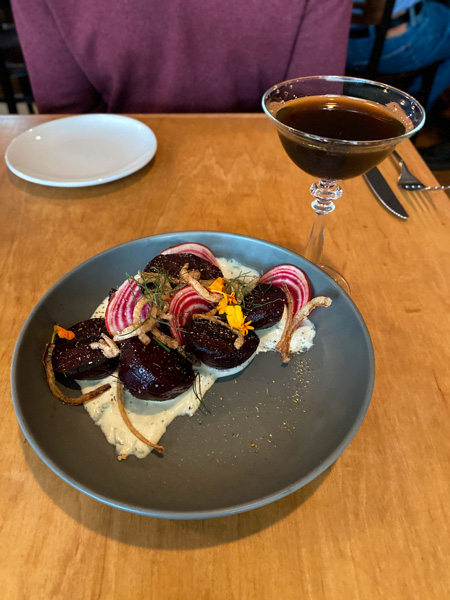 One of our all-time top North Asheville restaurants, especially for a romantic night out, Plant is an absolute must.
A little more expensive, Plant is also a fine dining establishment, but you certainly don't have to get dressed up.
Reservations are recommended, though, unless you try your luck at opening for a seat at the bar.
Plant is AVL's best vegan restaurant followed by Downtown Asheville's vegan and vegetarian Laughing Seed Cafe. We are not vegan, but Plant will still appeal to everyone.
Sit outside on the patio on a spring day with Plant's fresh cocktails and endless small plates.
Or, dine in Plant's cozy interior, watching the kitchen prepare your meal. The smell of delicious spices wafts throughout the kitchen.
Entrees change seasonally, and most are organic and gluten-free. We devour Plant's grilled beets, curries, and veggie lasagna. You have to order the vegan cheese plate.
If on the menu, Plant's ravioli and ramen Brussels sprouts are popular dishes. You can also bet they make the best vegan dessert in Asheville.
Plant has its own parking lot, which sometimes requires tricky maneuvering in tight spots.
Read more about Asheville's lactose-free restaurants.
Plant | 165 Merrimon Avenue
5. HomeGrown
HomeGrown is one of the most unassuming and casual restaurants in North Asheville — and also another family-friendly option.
Be forewarned that you might find lines wrapping around the restaurant and out the door on weekends.
With a sweet and homey feel, sit on wooden furniture or on their covered patio. You'll love their handwritten chalkboard menu.
HomeGrown features lunch and dinner with a bit of a Southern flair. Select from soups, salads, and sandwiches.
Make difficult dining decisions with their chicken salad, burgers, BBQ tofu, and tempeh patty melt "sammiches." For larger entrees, select from meatloaf, fish tacos, and pot pies.
Bevies include beer and wine with non-alcoholic options, and you can't beat the price. HomeGrown has a parking lot behind the restaurant.
HomeGrown | 371 Merrimon Ave.
6. Taqueria Munoz Food Truck at Zillicoah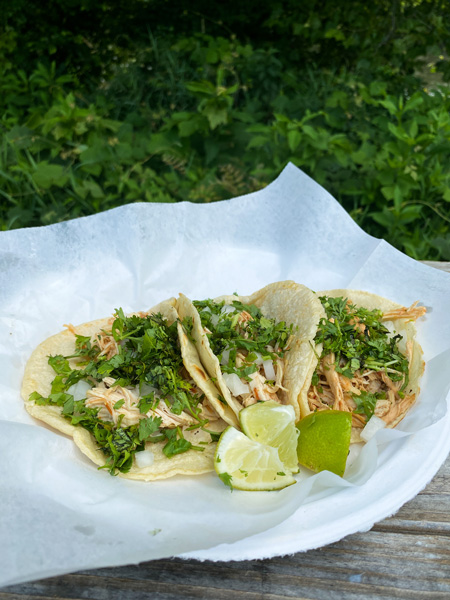 As locals, Zillicoah Beer is another one of our top breweries and best places for tacos across the city. Taqueria Munoz is Zillicoah's permanent food truck.
For North Asheville restaurants, think no-frills but delicious and incredibly well-priced food.
Zillicoah sits along the French Broad River in Woodfin. If you head south, you'll enter Asheville's vibrant artist region, the River Arts District.
At Zillicoah, settle down at an indoor or outdoor picnic table. Further out from the brewery, bring your own chairs to enjoy their sprawling lawn.
Play a round of frisbee. Zillicoah also hangs hammocks along the river.
Outside and at the back of Zillicoah Beer Company, you'll spot a tiny white food truck, Taqueria Munoz. The small menu features tacos, burritos, and sopas.
Taqueria Munoz hand-makes their soft-shell tacos, and they have gluten-free options. It's no secret that Taqueria Munoz is one of our favorite food trucks in all of Asheville.
For the most chill and relaxing atmosphere, you cannot go wrong here.
Monday through Saturday, Zillicoah is 21+ only – they will check IDs before you park. Find large on-site parking lots.

Taqueria Munoz | Zillicoah Beer Company | 870 Riverside Drive, Woodfin, NC 28804
7. Rye Knot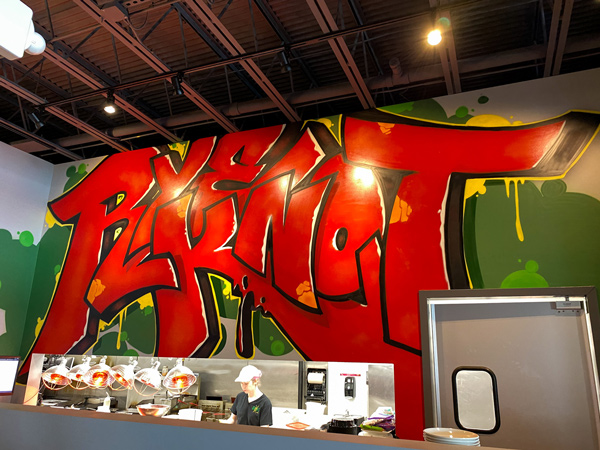 Rye Knot is one of the restaurants on Merrimon Ave. that you might not even realize exists.
This newer 2020 establishment sits tucked behind Cecilia's Kitchen. Their discreet location makes Rye Knot one of the most local North Asheville restaurants on this list.
Notably, Rye Knot brews their own beer and distilled beverages such as whiskey, gin, bourbon, and vodka. Be sure to take a bottle home and order a flight of their beer.
Sit inside or out as you select from delicious and classic American cuisine. Start with wings, deviled eggs, fried green tomatoes, and Brussels sprouts.
Order soups, salads, and flatbreads. For sandwiches, find burgers, Reubens, and BLTs. Lastly, Rye Knot's fancier entrees include meatloaf, fish, grilled chicken, risotto, pork chops, and gourmet steaks.
Rye Knot has a traditional children's menu, and you'll find plenty of parking in the lots out front.
Rye Knot | 868 Merrimon Ave.
8. Omni Grove Park Inn's Edison & The Great Hall Bar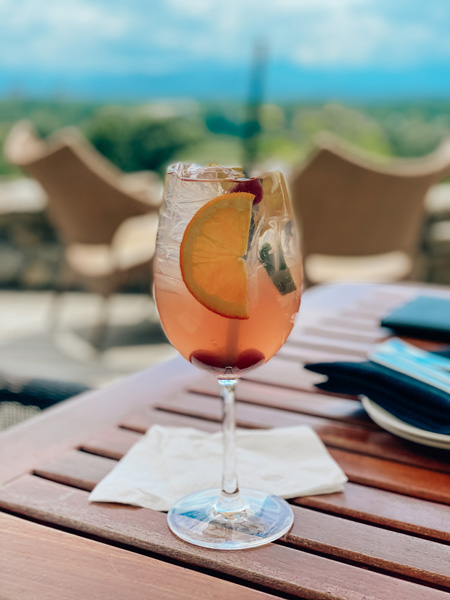 Looking for the best sunset views while enjoying dinner? The Omni Grove Park Inn houses two of our favorite restaurants in North Asheville, Edison and The Great Hall Bar.
Rooftop Asheville dining doesn't get any more luxurious than this.
Of course, the Grove Park Inn is also known for its fancier North Asheville restaurants like Sunset Terrace, Vue 1913, and Blue Ridge — which are elegant fine dining selections.
However, we prefer to head to The Great Hall Bar. This restaurant is perfect if you are craving lighter fare with craft cocktails.
Sit inside along the bar or next to the floor-to-ceiling stone fireplaces in rocking chairs. On a gorgeous day, head outside past Sunset Terrace to the second level.
Find seating around the massive staircase and tables with umbrellas. Table service for this seating area starts mid-afternoon.
Once settled, order one of the best charcuterie boards in Asheville while looking out at Mount Pisgah and Downtown AVL.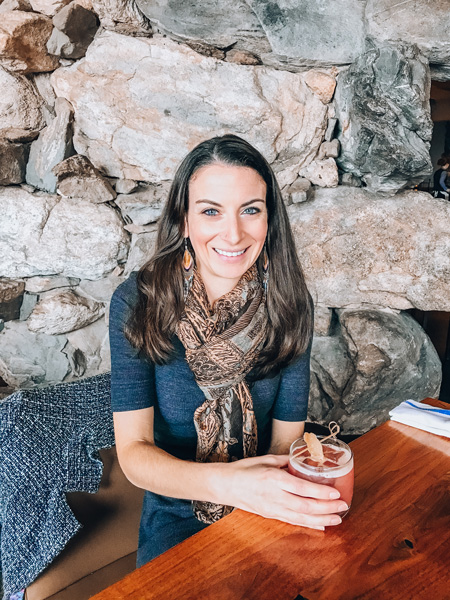 Along with The Great Hall Bar, Edison is an equally unforgettable dining experience once you walk past reception.
Along with some of the best craft cocktails in town, enjoy a seasonal menu with handhelds and American entrees.
Be sure to make a dinner reservation around sunset to catch those vibrant purples and pinks. We recommend parking in the Vanderbilt Garage.
Please just keep in mind that The Omni Grove Park Inn is a luxury resort. Yes, it's filled with travelers, but as locals, we just love this historic inn.
Explore more great places to stay in Asheville.

The Omni Grove Park Inn | 290 Macon Ave.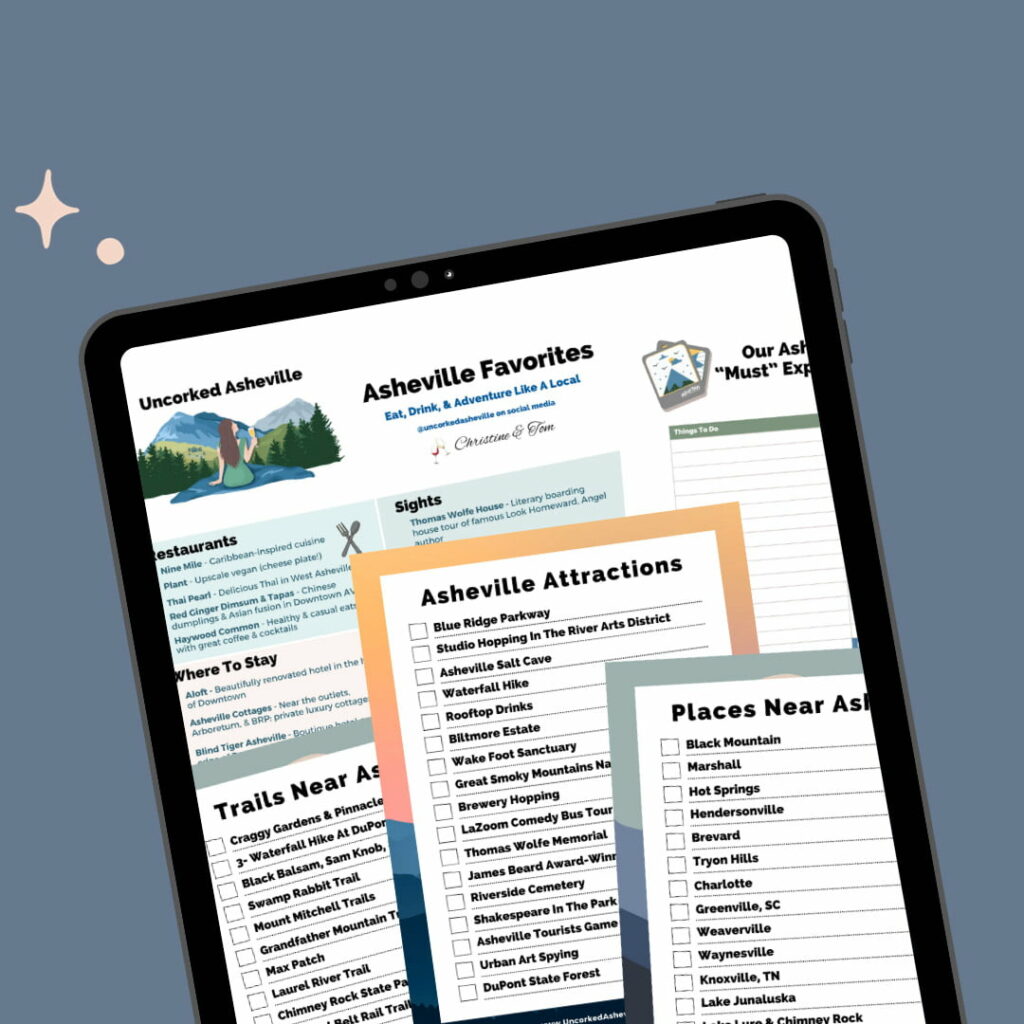 Never Miss Another Asheville Update
Experience Asheville like a local with our free attractions, dining, hiking, and day tripping guides. Get events, updates, and more straight to your inbox from Christine.
9. Cecilia's Kitchen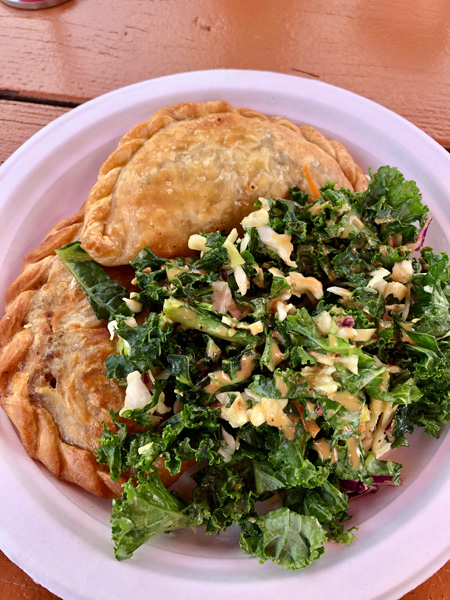 There are many ways to enjoy Cecilia's Kitchen, including their food truck that circulates the brewery and farmer's market scene as well as their North Asheville restaurant — which moved a block over on Merrimon in recent years.
Cecilia's specializes in "food from the heart," and their goal is to serve affordable and healthy meals with locally sourced ingredients.
You'll find a mix of Mexican, Cuban, and French cuisine. This is one of the only restaurants in North Asheville (and possibly AVL) serving gluten-free crêpes.
We enjoy ordering sweet and savory French crêpes to-go for an impromptu picnic at Beaver Lake or empanadas with beer when Cecilia's food truck is stationed at New Belgium Brewing.
Cecilia's Kitchen also serves up cheese plates, olive spreads, soups, salads, tamales, and sandwiches. Find limited vegan and vegetarian options too.
When not dining from the food truck, Cecilia's North Asheville restaurant has a wine and cocktail menu. Sit indoors or outside, and Cecilia's has its own lot (with more places to park than their old location).
Cecilia's is also another one of the great restaurants near UNC Asheville. Along with the campus, enjoy a walk or picnic at the Botanical Gardens at Asheville.
Cecilia's Kitchen | 870 Merrimon Ave.
10. Mr. Sushi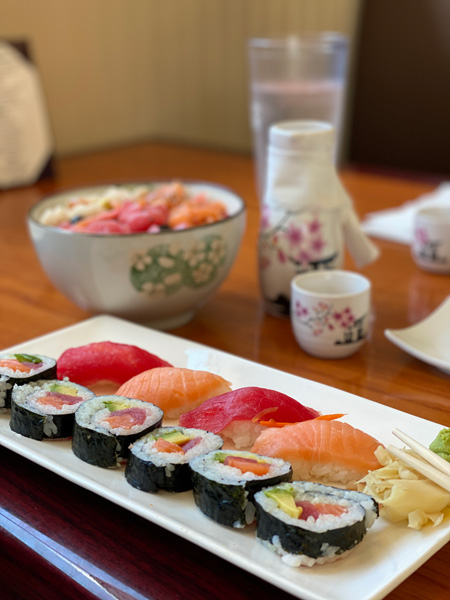 We know; we know. We'd be hesitant to dine at a restaurant called "Mr. Sushi" too.
However, Mr. Sushi is one of the stellar sushi restaurants in Asheville along with West Asheville's Green Tea.
While we've dined in at Mr. Sushi, we personally enjoy their sushi for takeout a tad more (find them on GrubHub).
The North Asheville restaurant has a bit of a sterile interior with cute subway tile in an old-school kitchen. Blown-up pictures of sushi rolls cover the walls.
We devour Mr. Sushi's rice paper summer/spring rolls, poke bowls, and specialty sushi rolls. They also have rice and noodle dishes.
While we'll share more sushi restaurants on Merrimon Ave., Mr. Sushi has one of the largest selections. They also have their own parking lot in the back and boast of a South AVL location.
Explore even more of Asheville's delicious Asian food restaurants.
Mr. Sushi | 354 Merrimon Ave. Suite 50
11. The Madness AVL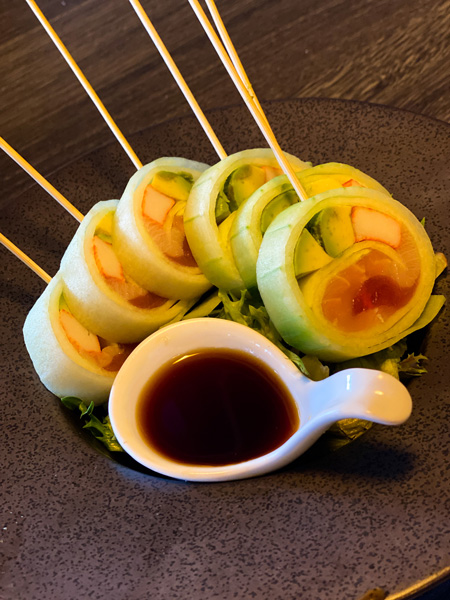 Nothing beats both sushi and burgers — and The Madness AVL makes a mean Asheville burger.
One of the newer North Asheville restaurants on Merrimon Ave., with a second location in West Asheville, The Madness is your go-to for sushi, burgers, and cocktails.
You might even catch a burger garnished with a sushi roll.
The Madness serves deliciously fresh sushi and sashimi where the presentation is everything.
From their gorgeous craft cocktails to sushi spoons, you'll feel like you are getting an extra special dining experience.
For burgers, The Madness offers a gluten-free bun. They also serve up sandwiches, including fried egg and bacon, Carolina BBQ smoked pork, grilled chicken, a vegan patty, and Cuban.
If you are going the sushi route, The Madness Spoons are a winner along with a Naruto Roll paired with some of the more classic rolls.
We haven't always had the most consistent service here, but when we do, the food is worth it.
The Madness on Merrimon Ave. has its own parking lot and sits next to the North Branch library.
The Madness Asheville | 1020 Merrimon Ave. Suite 104
12. Mamacita's Taco Temple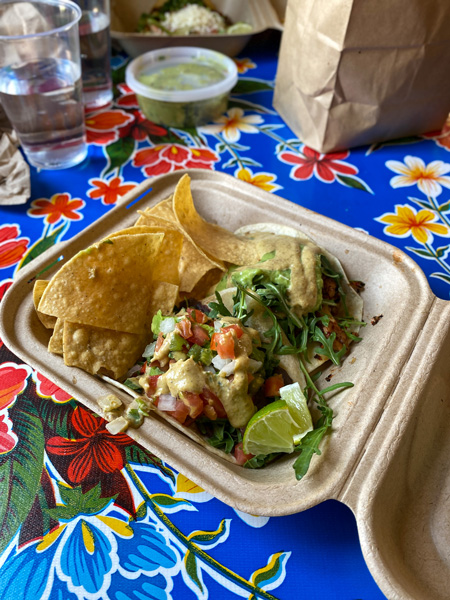 One of the best-kept local secrets, Mamacita's Taco Temple is your go-to for budget-friendly tacos and Mexican cuisine.
Order at the window. Then, sit in a former 1930s gas station with an interior decorated like a church. Or, grab a table outside on their covered patio.
Choose from milled corn or flour taco tortillas, tortas, and tamales. Mamacita's Taco Temple has vegan taco options — avocado crema sauce included — and gluten-free selections.
We recommend ordering at least 2 tacos per person, and know that they are large and generously stuffed. Of course, we cannot pass up on chips and guacamole.
Taco Temple has a small kids' menu and a salad option. The Mexican hot chocolate is tempting.
Uniquely, Taco Temple features breakfast tacos starting at 7:30 AM to noon. For lunch or dinner, enjoy a margarita and cocktail.
Taco Temple is one of the most budget-friendly restaurants in North Asheville.
Mamacita's Taco Temple | 132 Charlotte St, Asheville, NC 28801
13. Bone & Broth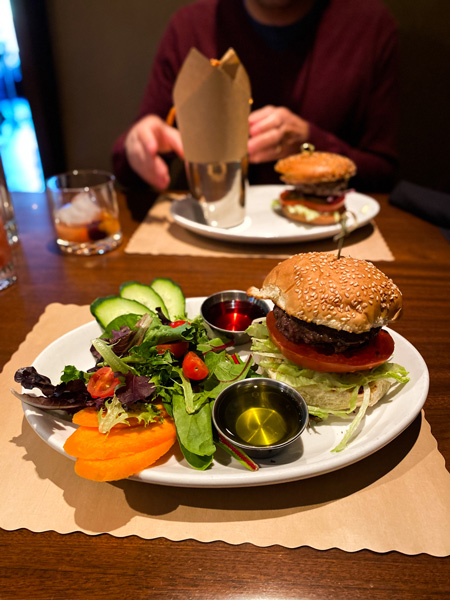 One of the best restaurants around Charlotte Street's historic area, Bone & Broth is a casual neighborhood establishment.
Enjoy Bone & Broth in one of two ways: grab a seat or booth at the bar with locals or a table in the fancier dining room. Reservations are recommended.
Along with Bone & Broth's historic charm – picture hints of exposed brick – order a cocktail or local craft brew.
If you are looking for steak restaurants in North Asheville, these guys are it too.
For more casual and lighter fare, order a burger featuring The Chop Shop's freshest meats paired with truffle fries, a side salad, or fried okra.
The more budget-friendly side of Bone & Broth's menu features soups and sandwiches along with delicious Southern appetizers, including mussels, fried clams with pickles, and deviled eggs.
For larger entrées at more moderate prices, choose from risotto, duck, lamb chops, salmon, and shrimp with grits.
Bone & Broth is perfect for diners who appreciate Asheville's pub and tavern scene – with a chill yet classy vibe.
Bone & Broth | 94 Charlotte St, Asheville, NC 28801
14. Geraldine's Bakery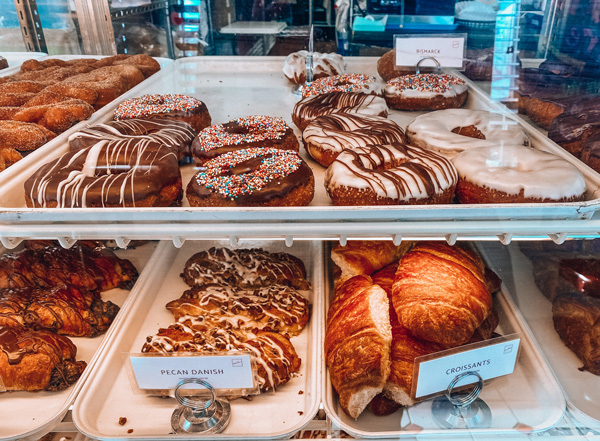 There aren't too many breakfast restaurants in North Asheville. You can, however, grab breakfast tacos at Mamacita's Taco Temple or smoothies, eggs, and bowls at Green Sage Cafe.
Or, head to Geraldine's Bakery, which is perfect if you wish to grab a pastry and coffee on the run.
Geraldine's Bakery reminds us of a little Italian bakery back in our CT home. It's quaint, cozy, and full of treats.
As one of Asheville's artisan donut shops, select from a wide variety of donuts, pastries, and cakes. Italian cookies. Apple Fritters. Crawlers. You name it.
Be sure to look inside for Geraldine's Bakery's mural that completely encapsulates the essence of Asheville: The gorgeous Blue Ridge Mountains, cruising down the BRP, coffee, donuts, and food.
Geraldine's has their own convenient parking lot.
Geraldine's Bakery | 840 Merrimon Ave.
15. Penny Cup Coffee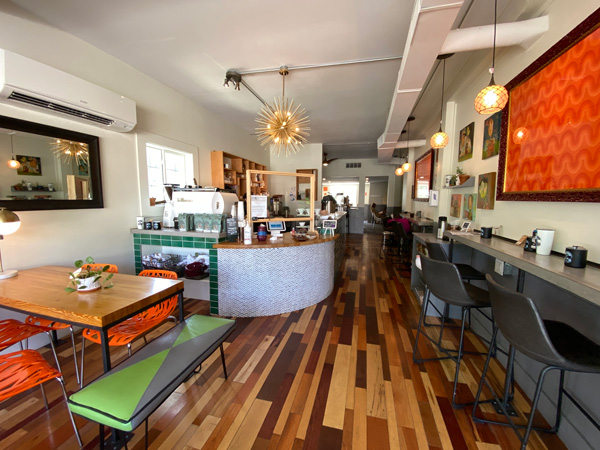 Looking for coffee in North Asheville? Penny Cup has multiple coffee shops across the city. The North Asheville location is especially great as they recently expanded their seating area.
PennyCup is a small-batch roaster in AVL, and their brand focuses on sustainable and green coffee. For us, they feel a little more local (at least at this location).
Their North Asheville coffee shop is perfect if you need WiFi or wish to get a little work done.
Find a bright space paired with fairly priced coffee drinks. Be sure to grab a bag of beans for home.
Penny Cup has their own parking lot, and for Asheville restaurants, you'll also find MOD Pizza over here.
Penny Cup Coffee | 857 Merrimon Avenue
16. Ginger's Revenge (With Food Trucks)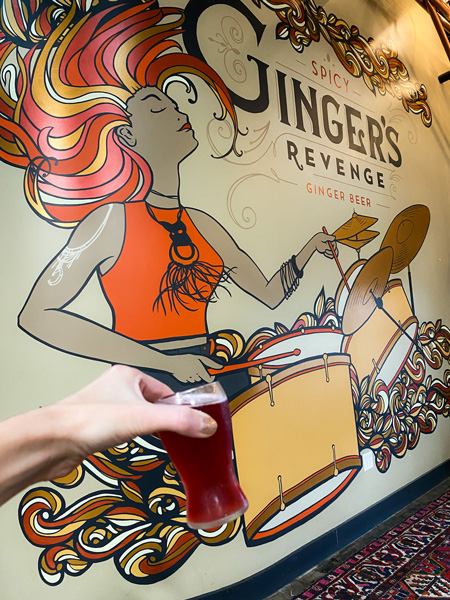 One of the most unique North Asheville "restaurants" on this list, Ginger's Revenge is a brewery serving up alcoholic ginger beer – perfect if you are looking for gluten-free or Keto beer options.
Ginger beer may be an acquired or preferred taste, and Ginger's Revenge pulls out all of the stops with fun and unique flavors.
Because they frequently change up their draft list, we recommend ordering a flight if it's your first time here.
The warehouse seating is airy yet cozy. Play games with friends or listen to live music. Ginger's Revenge also hosts events, including paint nights, fundraisers, and seasonal parties.
A gorgeous mural of a woman playing the drums brightens up the space.
Best of all, Ginger's Revenge has rotating food trucks including The Smokin' Onion and Buggy Pops. Talk about vegan and gluten-free deliciousness.
We recommend checking Ginger's Revenge's Instagram for their food truck schedule.
Find parking in front of and around the building in a large lot used for all of the building. The French Broad Chocolate Factory – for delicious chocolate and tours – is nearby too.
Ginger's Revenge | 829 Riverside Dr. Suite 100
17. 828 Family Pizzeria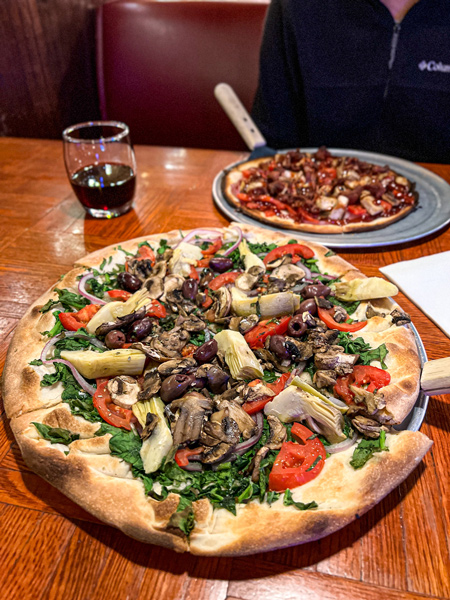 One of the most local restaurants on Merrimon Ave., 828 Family Pizzeria is another delicious spot for pizza, calzones, and Italian subs.
In business since 1933, 828 serves up delicious New York-style pizza. Find them in the Fresh Market plaza. We just love the yellow holiday lights sitting against the darker walls.
Order a mouthwatering specialty pizza or build your own. They won't skimp on the toppings either.
Devour artichoke quarters, full-sized kalamata olives, heaps of mushrooms, bright red tomatoes, and fresh spinach.
While it is unlikely you'll find vegan cheese, 828 Family Pizzeria does have gluten-free pizza crust.
Wash your pizza down with a local craft brew and a slice of cake. Sit in a booth, at a table, or up at the bar.
828 Family Pizzeria | 946 Merrimon Ave, Asheville, NC 28804
18. The Hop Ice Cream Cafe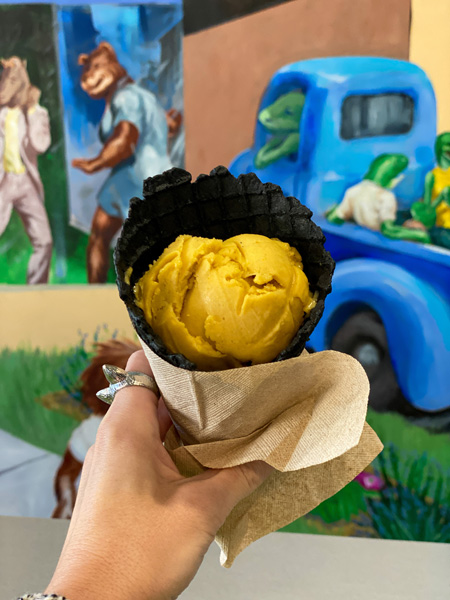 For the best dessert restaurants in North Asheville, The Hop Ice Cream Cafe is our pick for both vegan and regular ice cream. This is their flagship location.
The Hop Ice Cream Cafe specializes in handcrafted dairy ice cream as well as dairy-free and vegan ice cream. Around the holidays, order vegan and regular ice cream rolls.
The Hop's vegan ice cream flavors are plentiful, creamy, and delicious. Also, find regular and vegan toppings (vegan hot fudge!), and order hot apple cider floats, affogatos, and shakes.
Another one of the kid-friendly North Asheville restaurants, The Hop showcases whimsical decor and a variety of flavors and treats. Sit inside or out.
Find Zen Sushi in the same plaza as well as a large parking lot.
Eat all the ice cream around Asheville.
The Hop Ice Cream Cafe | 640 Merrimon Ave. #103
More Popular North Asheville Restaurants In The Area:
Pulp & Sprout Juice Bar & Vegan Cafe
Green Sage Cafe
Duck Donuts
Zen Sushi
Urban Burrito
Ay Caramba Mexican Bar & Grill
Vinnie's Neighborhood Italian
Save Your Favorite North Asheville Restaurants For Later: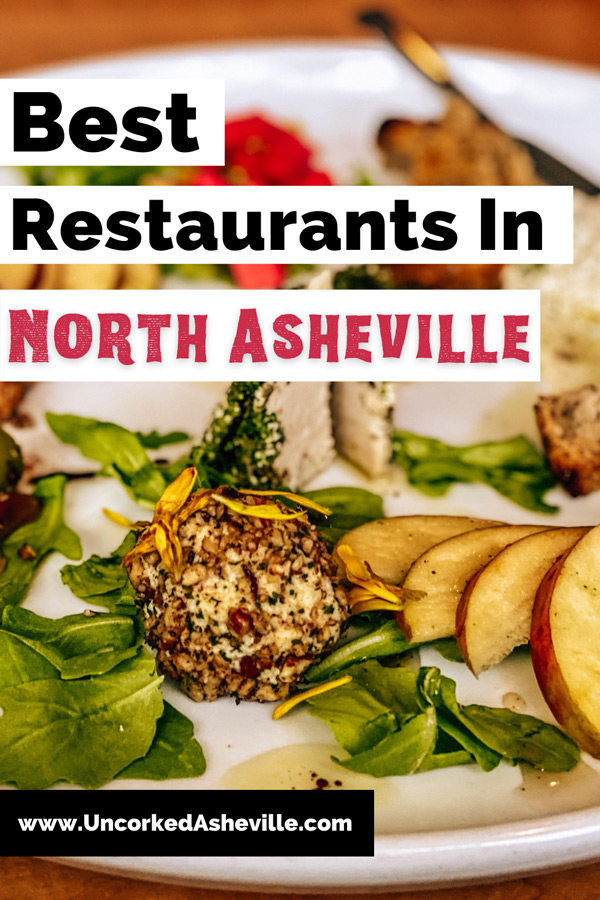 What are your top restaurants on Merrimon Ave. and the surrounding areas?
Where do you love to eat in North Asheville? Do you have favorite restaurants near UNC Asheville?
How about restaurants around Charlotte Street? Let us know in the comments!
See our Top Places To Stay in Asheville.

Don't miss out on these Asheville properties on Booking.com, too.
You May Also Enjoy:
Best Neighborhoods In Asheville
Biltmore Village Restaurants
Fantastic River Arts District Restaurants
Eating In West Asheville
Not-To-Miss Downtown Asheville Restaurants
Asheville Restaurant Musts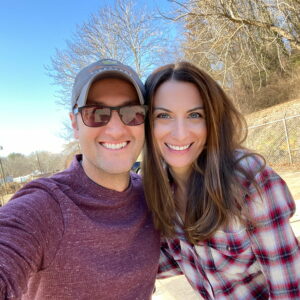 Christine (pronouns: she/her) is the owner and lead writer of Uncorked Asheville. After falling in love with those gorgeous Blue Ridge Mountains, Christine and her husband Tom decided to call Asheville, North Carolina home. When her pointy Italian nose isn't stuck in a book, Christine is adopting all of the kitties, getting lost in the forest, and drinking an ESB. She has a BA in English and History from Smith College, her MLIS from USF-Tampa, and is a former U.S. Fulbright Scholar - Indonesia. Christine also owns The Uncorked Librarian LLC with books and movies to inspire travel.