From locals, discover the top Asheville tourist attractions to begin your Blue Ridge Mountain adventures.
We love living in Asheville because of those stunning blue-green mountains, cascading waterfalls, and delicious restaurants catering to diverse palates.
When we have friends in town, which is quite often, you can bet that we want to show off the beauty of our home. There are endless things to do.
Of course, most of our visitors first want to see the biggest tourist attractions in Asheville like the Blue Ridge Parkway, Biltmore Estate, and The Omni Grove Park Inn. They are iconic and worthwhile.
Then, we take them to Wicked Weed and Green Man for beer and an award-winning restaurant like Chai Pani or Cúrate for dinner.
A few other top places to visit in Asheville include the Pinball Museum and Salt Cave.
Wake Foot Sanctuary, Battery Park Book Exchange, the River Arts District, and Thomas Wolfe should also be on every Asheville itinerary.
What are other great sightseeing locations?
Below, dive into the top indoor and outdoor tourist spots in Asheville that we recommend as residents. We'll give you tips, tricks, and a few local gems too. Let's get started.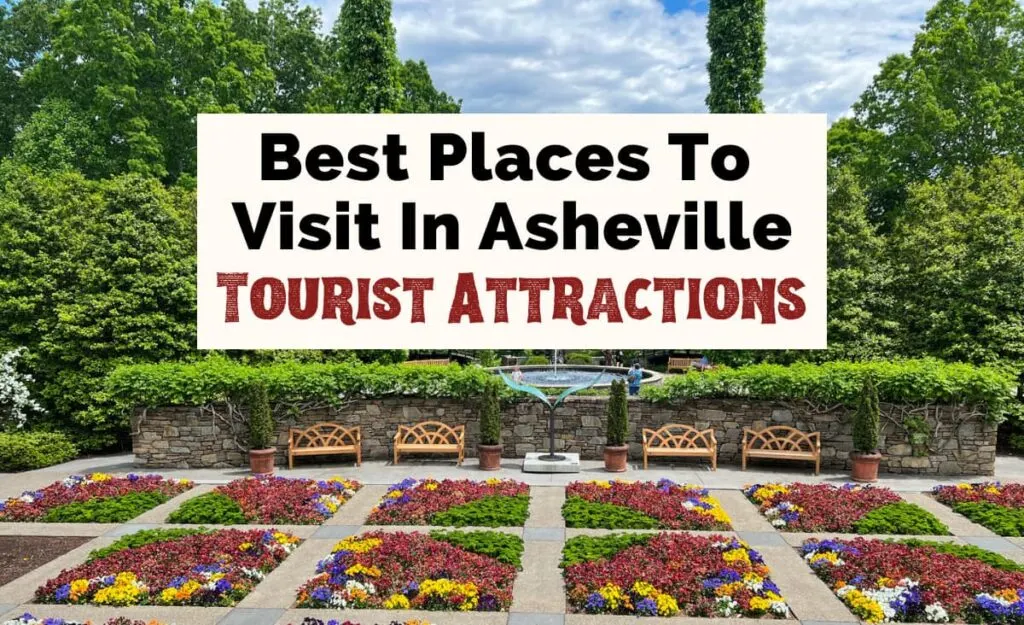 This post may contain affiliate links that earn us a commission at no extra cost to you. If you love these guides, support Uncorked Asheville here.
Best Indoor Asheville Tourist Attractions
From famous homes and historic sites to unforgettable experiences like Wake Foot Sanctuary and the Asheville Salt Cave, these are some of our favorite indoor Asheville attractions and activities.
The Omni Grove Park Inn
One of the most iconic tourist attractions in Asheville along with Biltmore Estate, we highly recommend the historic Omni Grove Park Inn.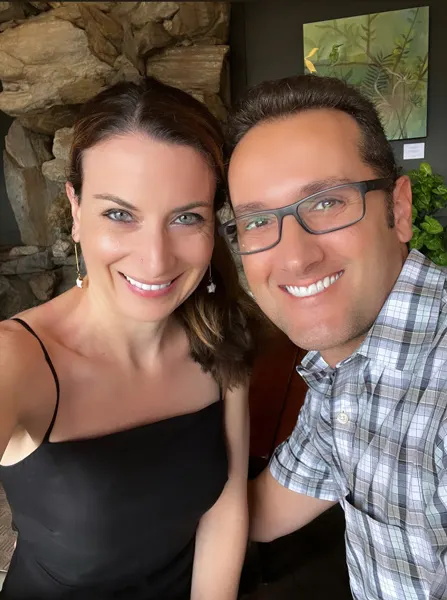 Constructed just after Biltmore in 1913, Edwin Wiley Grove designed the inn along with his sales of Grove's Tasteless Chill Tonic – quinine – to prevent malaria. He wished to create a relaxing place in the clean mountain air to improve everyone's health.
Today, The Omni Grove Park Inn is a luxury resort in North Asheville. It houses a world-class spa, golf course, and delicious restaurants.
The stunning property boasts a stone facade and sprawling views of Mount Pisgah and Downtown Asheville.
Even as locals, we frequent the Grove Park Inn, especially when visitors come to town, for holiday fun, sunsets, and rooftop drinks.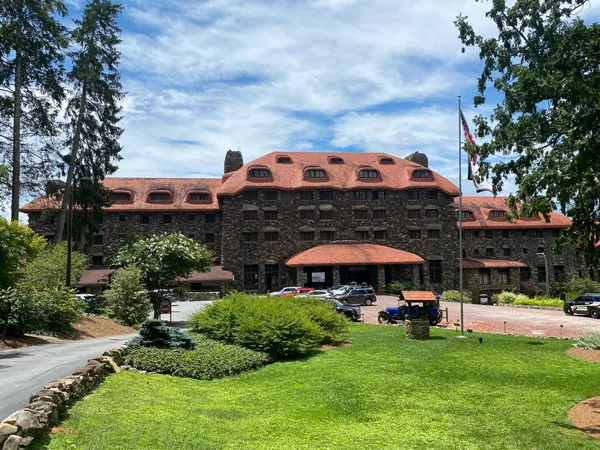 The best things to do at the Grove Park Inn include:
Sunset drinks and dinner at Edison
Sitting with a drink and charcuterie board from The Great Hall Bar in front of the floor-to-ceiling fireplaces or on the second-level terrace
Attending free event, The Annual National Gingerbread House Competition, each winter
Visiting Grovewood Village across the street for the Estes-Winn Antique Car Museum, Grovewood Gallery, and delicious restaurant, ELDR
The Grove Park Inn is also one of the most haunted tourist spots in Asheville; keep your eyes out for The Pink Lady. F. Scott Fitzgerald also summered here.
Enjoy free admission – but you might have to pay for parking depending on your length and time of stay.
If you love all things spooky, take a guided ghost tour to see Asheville's most haunted sites.
The Omni Grove Park Inn | 290 Macon Ave, Asheville, NC 28804
Thomas Wolfe Memorial
We are bibliotourists and always visit a city's bookstores, historic literary sites, national libraries, and books-to-movies filming locations.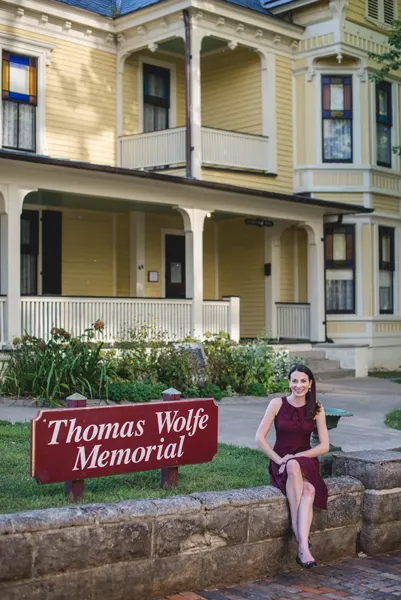 One of the best Asheville tourist attractions for book lovers, the Thomas Wolfe Memorial is a budget-friendly and unique stop. It's a must if you are interested in Asheville's history.
The home is Wolfe's mother's boarding house; Julia was quite the entrepreneur of her time. Their family home no longer stands – just down the road – but the boarding house is where all of the juicy stories lie.
Local AVL author Thomas Wolfe is most well-known for his historical fiction tome, Look Homeward, Angel. Yes, we've read it.
You don't have to read or even like the book before visiting; he's a bit long-winded, and it is a little dry. In fact, you don't need to know anything about Wolfe to enjoy this Asheville attraction.
Wolfe wrote about the townspeople, barely changing their names. It's sort of like a Burn Book, but not as mean…
Take a guided tour through the home, and watch a short film. There's also a small museum with Wolfe's things. Budget one hour of your time; you won't regret it.
The Thomas Wolfe Memorial is one of our personal favorite places to visit in Asheville. You might also enjoy this guided literary tour of Asheville to learn even more.
Thomas Wolfe Memorial | 52 N Market St, Asheville, NC 28801
Asheville Pinball Museum
One of the top Asheville tourist attractions on a rainy day, the Asheville Pinball Museum is perfect for the entire family. Enjoy an interactive museum where you can touch and play with everything.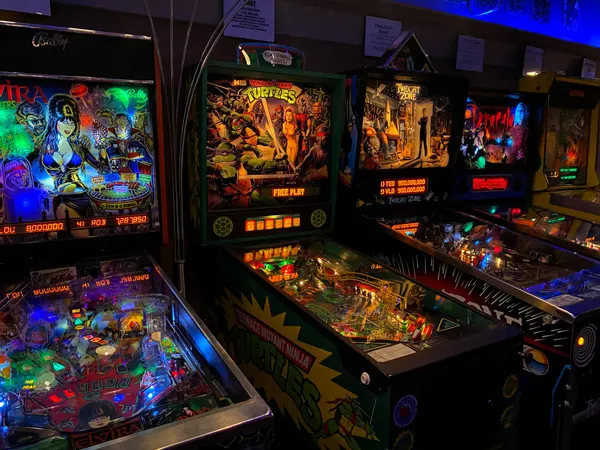 Situated behind the historic Grove Arcade in Downtown Asheville, purchase an all-day wristband for around $15 to have access to endless games.
Play your favorite pinball machines, and find new and old-school gaming consoles. We can't resist Donkey Kong and Frogger.
The Asheville Pinball Museum does not take reservations and will grow busier with inclement weather. Have that hand sanitizer ready.
Explore more of Asheville with the entire family. Learn about gems and see dinosaur bones at the Asheville Museum of Science, or cheer for the home team at an Asheville Tourists Game – two more kid-friendly tourist spots in Asheville
Asheville Pinball Museum | 1 Battle Square Ste 1b, Asheville, NC 28801
Biltmore Estate
It's no secret that if you are sightseeing in Asheville, Biltmore Estate is one of the most famous attractions. In fact, Biltmore is a National Historic Landmark.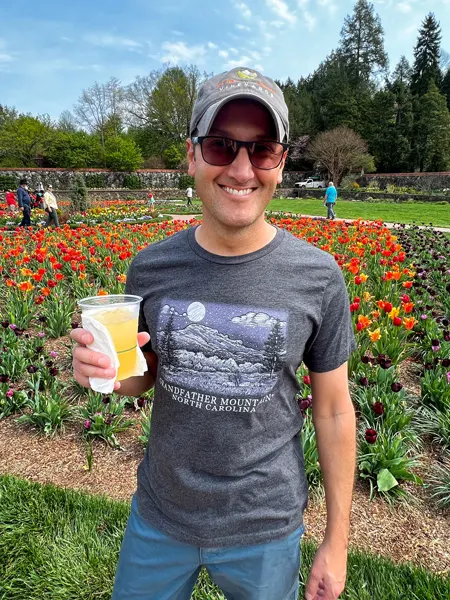 America's largest home, Biltmore is the former residence of George and Edith Vanderbilt.
While this isn't one of the most budget-friendly tourist attractions in Asheville – tickets start at $79+ – we certainly think that the ticket price is worth at least one visit for all that you get.
In fact, we are Biltmore Estate annual passholders each year for the estate's hiking trails, restaurants, and special exhibits. We live around 10 minutes away and still plan overnights here.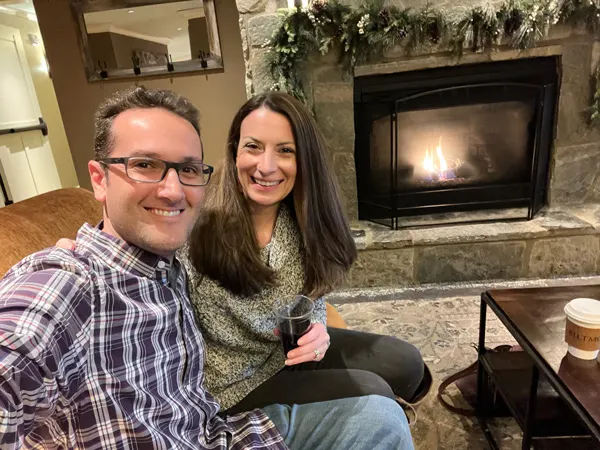 Just a few of the best things to do at Biltmore Estate:
Tour Biltmore Home with stops in the library, indoor pool, Halloween Room, and bowling alley.
Attend beautiful Candlelight Christmas Evenings in the winter to see the decor with blazing fireplaces.
Stay overnight at one of their gorgeous properties like The Inn on Biltmore Estate and Village Hotel. The Inn even has a library bar…
Dine at Biltmore, including Cedric's Tavern, Village Social, or Stable Cafe.
Hike and mountain bike those gorgeous trails. We love the Lagoon and Deer Park Trails.
Shop at Antler Hill Village, and head to Biltmore Winery for wine tasting.
Stroll the gardens for those gorgeous seasonal Biltmore Blooms.
For top Asheville tourist attractions, Biltmore is also incredibly family-friendly with a farmyard, ice cream shop, and wooden playground.
As passholders who visit Biltmore multiple times a month, we are pros at navigating the estate. Peruse all of our insider Biltmore Guides to make the most out of that ticket price.
Biltmore Estate | 1 Lodge St, Asheville, NC 28803
Wake Foot Sanctuary
One of the best places to visit in Asheville after a long day of sightseeing, Wake Foot Sanctuary promises an urban oasis. This is your go-to for a massage and foot soak.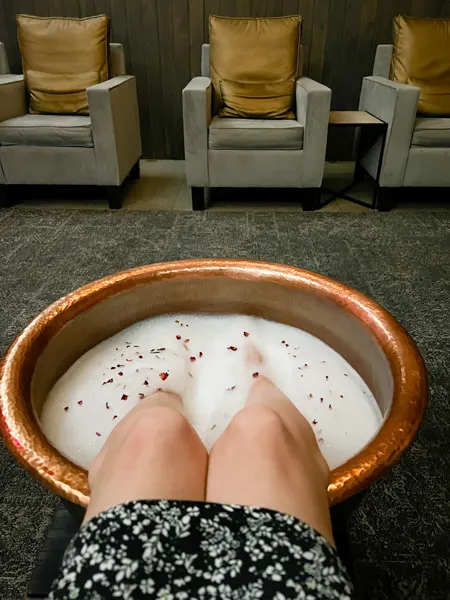 Asheville is full of fun things to do; we live here and never get bored.
If you want a break from your chaotic itinerary, we highly recommend making a reservation at Wake Foot Sanctuary.
We promise; for both local and tourist attractions in Asheville, this is a transcendent experience.
While prices range based on your package and selections, you can spend around $100 (including tip) for a therapeutic foot soak and a 20-minute massage. Just a foot soak starts at $40+.
The foot soak menu is endless, filled with bubbles and botanicals, which they reheat throughout your visit. Then, add a massage such as your feet and legs or head, neck, and shoulders.
Sip on wine or tea while catching up with friends or your partner. This is even a great solo Asheville activity.
Wake Foot Sanctuary | 1 Page Ave #115, Asheville, NC 28801
Downtown Asheville
Downtown Asheville is worth a visit and full of fun things to do, including shopping, eating, and drinking. For sightseeing in Asheville, spy historic buildings and landmarks. Attend a special event.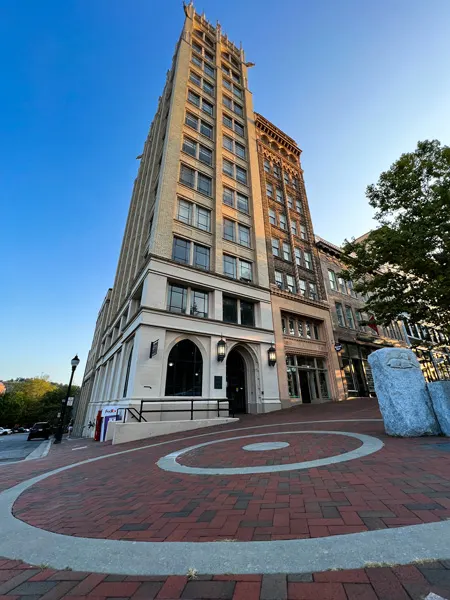 For top Downtown Asheville tourist attractions, we recommend:
Battery Park Book Exchange – One of the best AVL bookshops serving literary cocktails; also, head to Malaprop's for translated literature and new releases
Historic Grove Arcade – On the National Register of Historic Places, enjoy local shops and food
The Montford – A favorite Asheville rooftop bar with great views
Thomas Wolfe Memorial (mentioned above)
Woolworth Walk – Art gallery and emporium
LaZoom Comedy Bus Tour – Purchase tickets for Asheville's purple comedy bus; it's loads of fun
Pack Square – Home to a park, splash pad, and many of AVL's events and festivals
Basilica of Saint Lawrence – Roman Catholic Church with a spooky history
French Broad Chocolate Lounge – Your go-to for all things chocolate in Asheville (with vegan/df options)
Asheville Art Museum – If you love art, this is one of Asheville's nicest museums. The Asheville Art Museum houses art from the 20th and 21st Centuries
If you cannot decide where to start, consider taking a popular guided electric bike tour. Or, test your balance on this fun segway tour perfect for first-time visitors.
Best Downtown Parking Lots: Rankin Garage, Civic Center Garage, Wall Street Garage, Coxe Ave. Garage
River Arts District
If you enjoy eye candy and art shopping plus an indie theater and river walk, the River Arts District (RAD) is a must for sightseeing in Asheville. It's one of the city's most eccentric neighborhoods.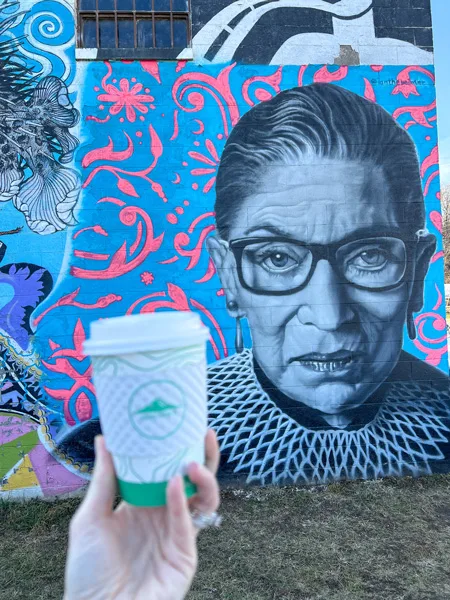 The River Arts District is filled with stunning murals; you might see a sloth or Homer Simpson.
Gus Cutty, who creates amazing portraits across Asheville (Anthony Bourdain, RuPaul, Dolly Parton…), helped paint pleb urban winery – one of Asheville's most eclectic wineries.
You'll also recognize Jerry Cahill's rainbow pieces near his studio.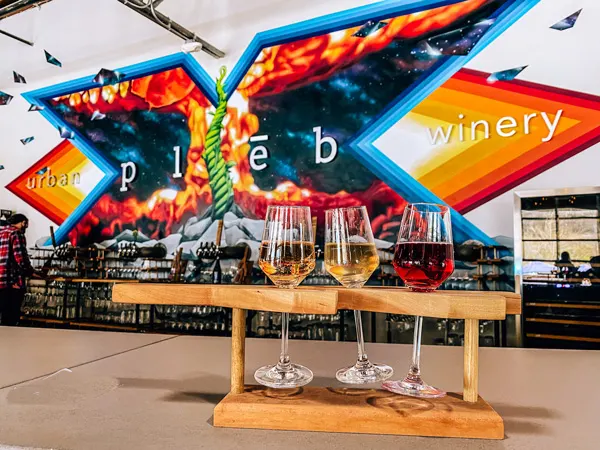 There is plenty to do in the River Arts District:
Catching a movie at the Grail Moviehouse – it's budget-friendly and indie owned.
Walking, biking, or skating the newly renovated RAD Riverwalk along the French Broad River. This also connects to Asheville's top parks like Carrier Park and French Broad River Park.
Dining at one of the best RAD restaurants like RosaBees, Baby Bull, or 12 Bones (the Obamas ate here).
Shopping for art and meeting local artists at the coolest studios and markets like Marquee, Cotton Mill Studios, and Foundation Woodworks.
Drinking a craft brew at Wedge or wine tasting at pleb. We also love Bottle Riot, one of the best wine bars around.
For top tourist attractions in Asheville, know that locals frequent RAD just as much. Parking is easy, and the area is much less congested than Downtown.
If RAD still seems overwhelming, consider this tip-based, River Arts District sightseeing guided tour.
South Slope Breweries
Of course, the best Asheville attractions include its hopping craft breweries. There are over 60+ in the area, ranging from micro-breweries to national names like Sierra Nevada and New Belgium. Taste as many local beers as you can while in AVL.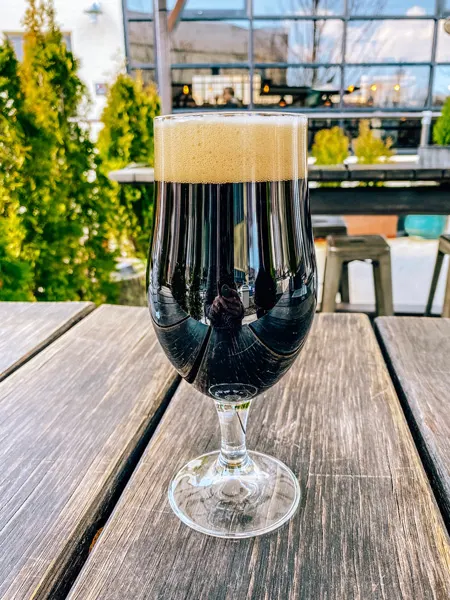 Whether you are a local or visitor, it can be hard to choose which breweries to hop around to.
This is why – for tourists especially – we suggest hitting the South Slope Breweries in Downtown Asheville. They are all a short walk from each other.
Many of the AVL breweries are also family and pet-friendly.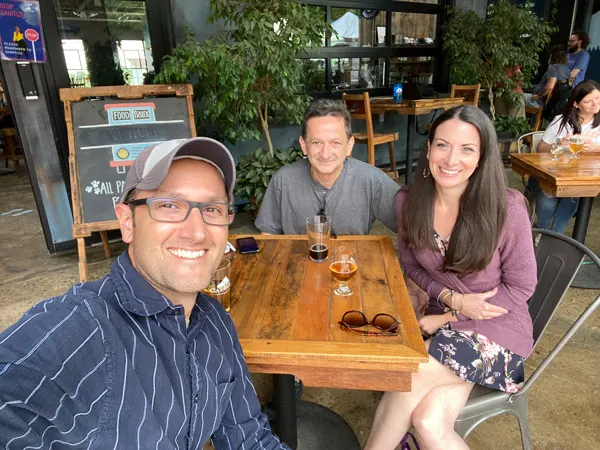 Fantastic South Slope breweries include:
Wicked Weed BrewPub – For the name alone, Wicked Weed is a must. They serve delicious pub grub and have a massive selection of beer.
Green Man – This multi-level brewery makes the best ESB in town.
Twin Leaf – We always feel like we are sitting in a greenhouse at Twin Leaf. The taproom is across the street from Wicked Weed's Funkatorium and Chemist, a terrific Downtown distillery.
Catawba – Next to the famous BBQ joint, Buxton Hall, Catawba is warehouse chic and another must for any Asheville itinerary.
Burial Beer – Just look for Tom Selleck and Sloth along with the darkest beer names around.
Asheville Brewing – This is a go-to for pizza, with vegan and GF options; they have locations across Asheville, including a movie theater at their North AVL location.
Hi-Wire – Sip on eclectic brews, and the Downtown location just got a tiki bar.
Can't decide? Take a guided walking brewery tour.
If you have extra time, a few more of the best places to visit in Asheville for beer include Hillman Beer, 7 Clans, and Zillicoah.
James Beard Award-Winning Restaurants
Did you know that Asheville is nicknamed "Foodtopia?" The city is full of the most unforgettable restaurants for foodies.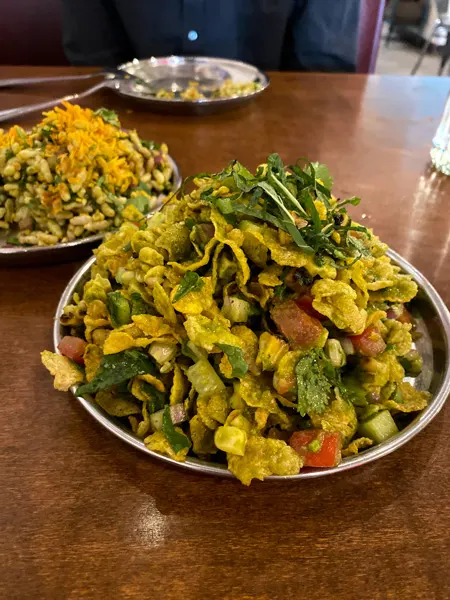 While we have our favorites as locals, two of the most popular foodie Asheville tourist attractions include Chai Pani and Cúrate. Both have won James Beard Awards.
Chai Pani serves the best Indian cuisine in town. Samantha Brown ate here, and Vice President Kamala Harris invited Chef Melwani to cook for the State Department luncheon.
Select from mouthwatering Indian street snacks like chicken pakoras and okra fries. We love the vegan Bhel Puri too. Chai Pani does not take reservations.
Reservations at Cúrate are a must, especially if you crave Spanish tapas and sherry.
Felix Meana and Chef Katie Button also opened La Bodega, another beautiful Downtown wine bar. La Bodega is a more casual option, and they serve weekend brunch.
We are major foodies and have endless articles about the top places to visit in Asheville by mealtime, cuisine, neighborhood, and more. Find all of our foodie guides here.
Asheville Salt Cave
A great place to recharge, the Asheville Salt Cave is one of our personal top recommendations for unique tourist attractions in Asheville.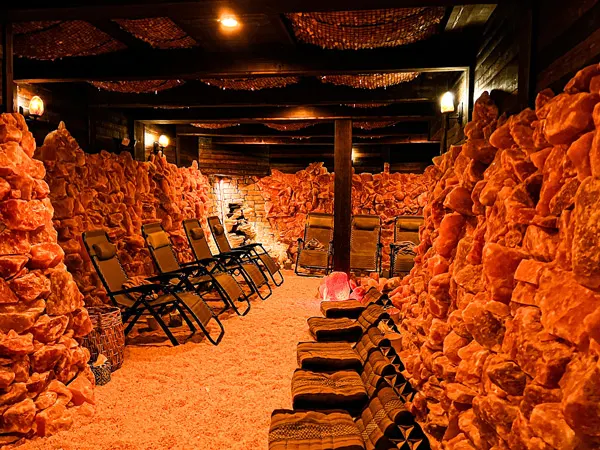 Also a local hot spot, imagine sitting in a zero gravity chair surrounded by 30 tons of pink salt. We were skeptical at first too, but it's honestly heaven.
Forty-five minutes flies by when you are listening to water features and breathing in such pure and therapeutic air.
Along with the community salt cave, the Asheville Salt Cave has massages, sound baths, and even a designated children's playtime.
We've never experienced anything like it. Be sure to make advanced reservations online.
Asheville Salt Cave | 16 N Liberty St, Asheville, NC 28801
Music Scene
Asheville is infamous for its eclectic and happening music scene. For top Asheville, NC attractions, the music venues are it!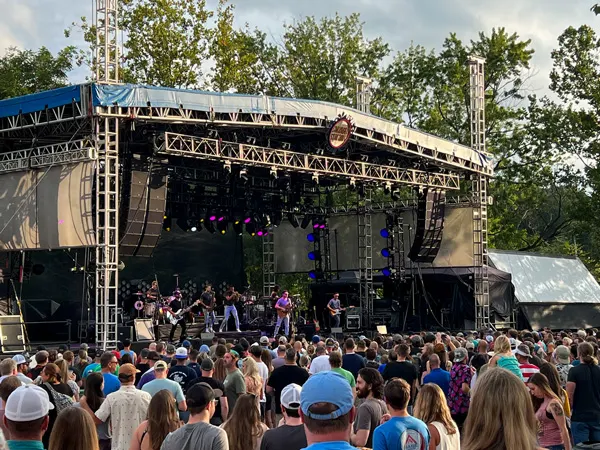 We've seen O.A.R. and Dispatch at Salvage Station and watched the world-famous Candlelight Orchestra at a local church.
Top Asheville music venues include:
Salvage Station – A large outdoor venue in the River Arts District surrounded by food trucks. They get some pretty big names.
The Orange Peel – Look for Gus Cutty's Lionel Richie mural. Their space can hold about 1,000 people for concerts and live music. They have two bars and a cocktail lounge in the basement.
Harrah's Cherokee Center/Thomas Wolfe Auditorium – Home to the Asheville Symphony with two separate venue spaces.
Grey Eagle Music Hall – An all-ages music venue in the River Arts District (with tacos!). Meet new emerging artists too.
Wortham Center for the Performing Arts – A beautiful 500-seat opera-style theater perfect for orchestras, dance tropes, and touring theater companies.
Please note that although we are dropping music under our "indoor Asheville attractions" section, some of the venues listed are indoors as well as outdoors.
Never Miss Another Asheville Update
---
Tired of generic Asheville travel itineraries? Experience Asheville like a local with our free Asheville Favorites checklist, including restaurants, breweries, and hiking. Plus, get local updates – including events and hidden gems – straight to your inbox. Sign up here.
Outdoor Places To Visit In Asheville
Western North Carolina is the perfect place to get outdoors. From the Pisgah National Forest to the Smokies and the Blue Ridge Mountains, enjoy the endless hiking trails. Waterfalls included. Explore our top Asheville outdoor activities.
Riverside Cemetery
You might not think of a cemetery as one of the best places to visit in Asheville, however, if you are a dark tourist or history buff, head to Riverside Cemetery.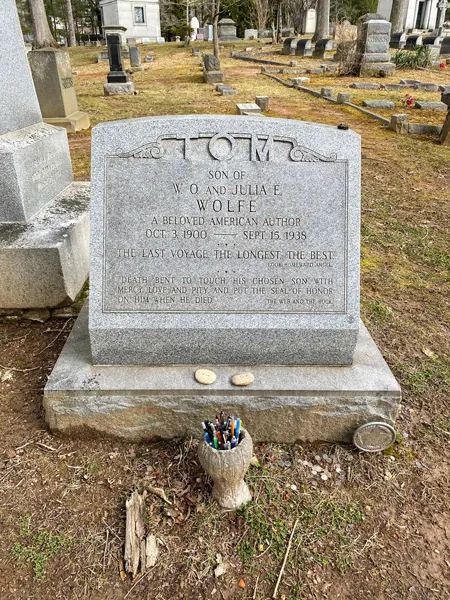 Located in the gorgeous Historic Montford District of Asheville, Riverside Cemetery is the final resting place for historic and literary figures.
Think Thomas Wolfe and his family as well as O. Henry. You'll even see some of W.O.'s famous angels.
Established in 1885, this Victorian-style cemetery has a self-guided walking tour pamphlet outside of the entrance gates.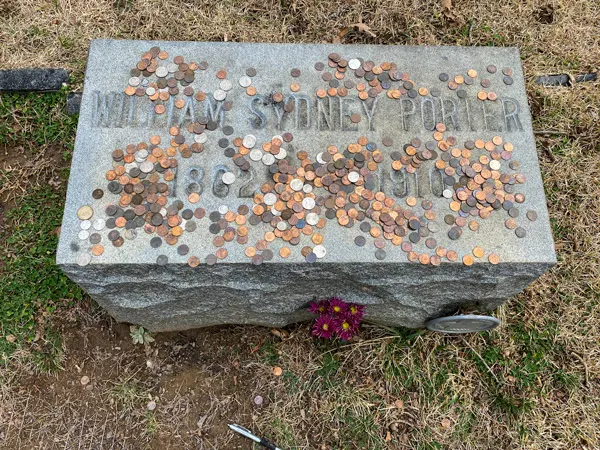 With over 3.5 miles of paved walking trails, the cemetery is quite peaceful and also said to be a bit haunted.
Just remember to be respectful; it is an active cemetery managed by Asheville's parks system. And, be sure to read our Riverside Cemetery Guide to make the most out of your visit.
Or, consider taking a guided Riverside Cemetery ghost tour.
Riverside Cemetery | 53 Birch St, Asheville, NC 28801
Blue Ridge Parkway
One of the absolute "must" Asheville tourist attractions, take a scenic drive down sections of the two-lane, 469-mile Blue Ridge Parkway (BRP).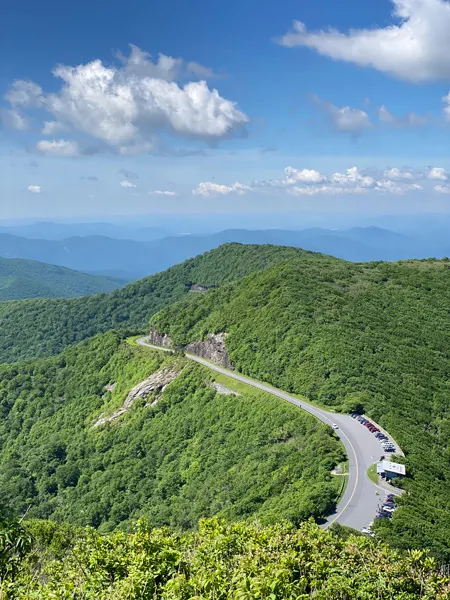 Deemed "America's favorite drive," the Parkway spans Shenandoah National Park in Virginia to the Great Smoky Mountains National Park in North Carolina. The speed limit is usually 45 mph.
Along the way, expect breathtaking overlooks and hiking trails varying in length and difficulty. There are endless waterfalls.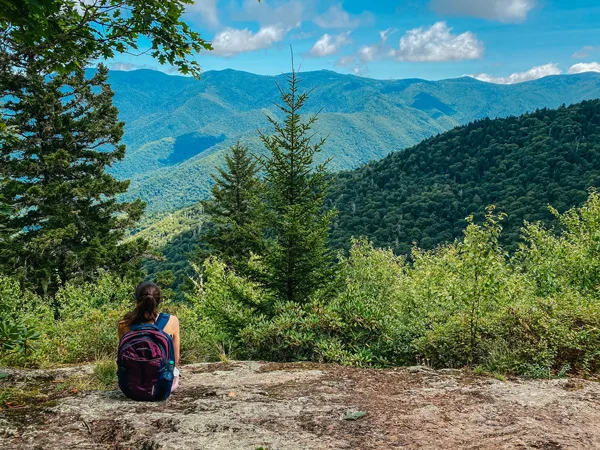 In the fall – especially around October – you'll catch the best foliage, including famous Black Balsam via the Art Loeb Trail and Graveyard Fields and Loop. Drive through tunnels and clouds.
Just keep in mind that much of the BRP will close in the late fall and early winter for fog, ice, and snow. The National Park Service has the best road and facility closure updates.
We have a plethora of Blue Ridge Parkway articles to get you started. We'll talk more about Mount Mitchell and the Craggies below since they are two more top tourist spots in Asheville.
Or, create an unforgettable Blue Ridge Parkway experience with this small group Jeep tour.
Botanical Gardens At Asheville
With free admission, enter a world of secret gardens, protected birds, wildflowers, and babbling streams at the Botanical Gardens at Asheville.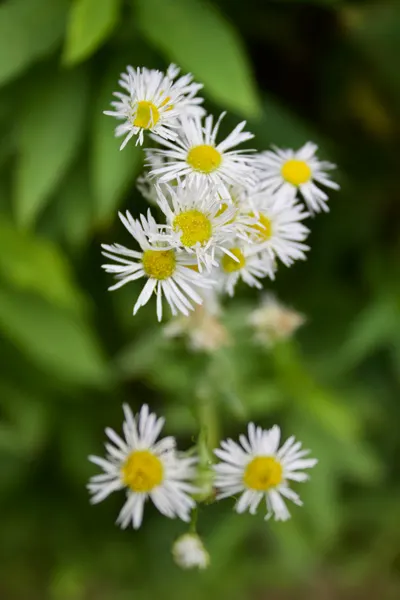 One of the quieter tourist attractions in Asheville, the Botanical Gardens sits at the UNC – Asheville campus between North AVL and Montford.
Here, find short nature trails and pathways as well as scenic bridges. Drop into the visitor center for restrooms and souvenir shopping.
The gardens are the perfect place to visit in Asheville if you are looking for romantic activities with a partner or are craving a picnic. Find wide open spaces and shaded areas under trees.
Nearby, you might also enjoy Beaver Lake Bird Sanctuary and its walkable 2-mile trail.
DuPont State Forest
For top tourist attractions near Asheville, DuPont State Forest close to Hendersonville is the perfect day trip. Trek the 3 waterfall-hike. Triple Falls is famous as a The Hunger Games filming location.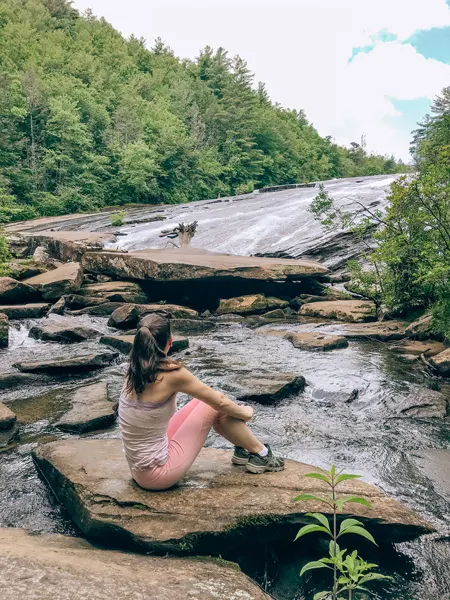 For sightseeing in Asheville, Western North Carolina's waterfalls are both plentiful and stunning. The most memorable, though, includes DuPont State Forest's Triple, High, and Hooker Falls.
Hooker Falls is one of the best short and easy hikes for families. We prefer parking at Hooker Falls Access Area – with facilities.
From there, loop back and take a moderately easy hike to Triple and High Falls, totaling just under 3.1 miles. Some people also like to park at the Visitor Center.
Another popular NC filming location, continue on for an easy 4-mile, round trip, out and back to Bridal Veil Falls. Does it look familiar from The Last of the Mohicans?
Explore our DuPont State Forest Guide for more details. It is free to enter the park.
The North Carolina Arboretum
Stare in awe at an intricate Quilt Garden and spy bonsai. Hike scenic nature trails, and grab a snack at the bistro. The North Carolina Arboretum is one of the best Asheville tourist attractions for nature lovers.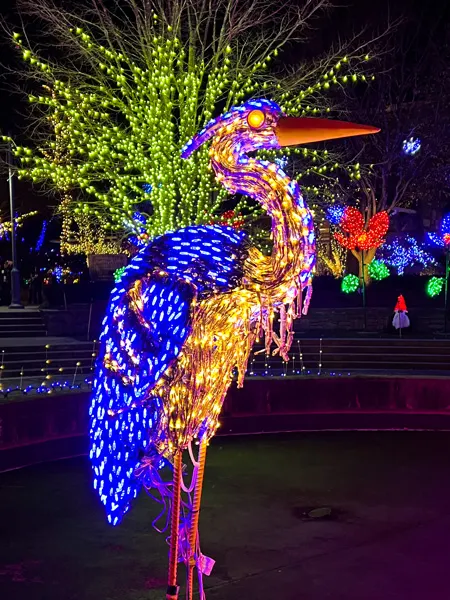 We've been members of The NC Arboretum since living here. We love walking the beautiful gardens and hitting the easy walking and biking trails.
Parts of the Arboretum even cross into Bent Creek Experimental Forest – home to some of the best mountain biking in AVL.
This is also a great way for families to enjoy the natural beauty of WNC, especially with multiple restroom facilities, a visitor center, a gift shop, educational activities, and a bistro serving food.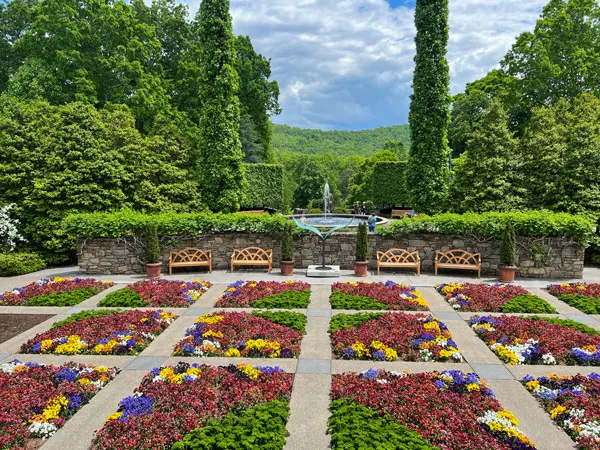 Every winter in AVL, the Arboretum hosts its annual Winter Lights Festival. The gardens come alive with unicorn and caterpillar light displays. Make s'mores by the fire. Watch lit trees dance to music.
To enter, pay by car and not per person; a personal car starts at $20 for non-members.
The NC Arboretum | 100 Frederick Law Olmsted Way, Asheville, NC 28806
Hendersonville Wineries
Did you know that the Hendersonville wine region, known as the Crest of the Blue Ridge, was named an American Viticultural Area (AVA) in 2019? Definitely put wine tasting on your Asheville itinerary.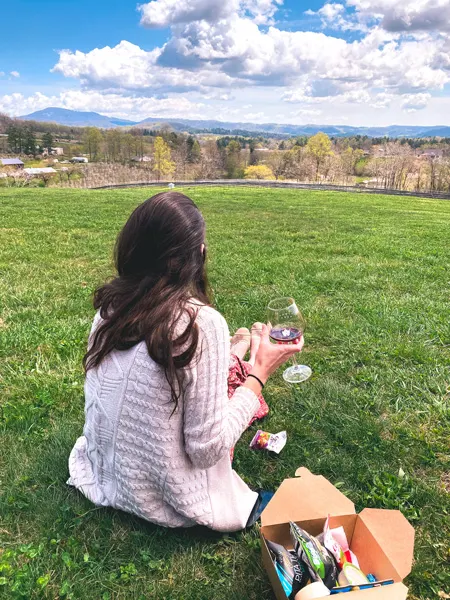 Even before we moved to Asheville, we enjoyed Hendersonville's stunning vineyards and wine tasting rooms. Since moving here, even more have popped up.
Hendersonville makes for a great Asheville day trip – around 40 to 50 minutes away by car. There is plenty to do here, including apple picking, dining, and enjoying even more museums.
It's even a great stop after hiking DuPont. Grab lunch at one of our favorite Hendersonville restaurants, like Umi Sushi or Haus Heidelberg German Restaurant.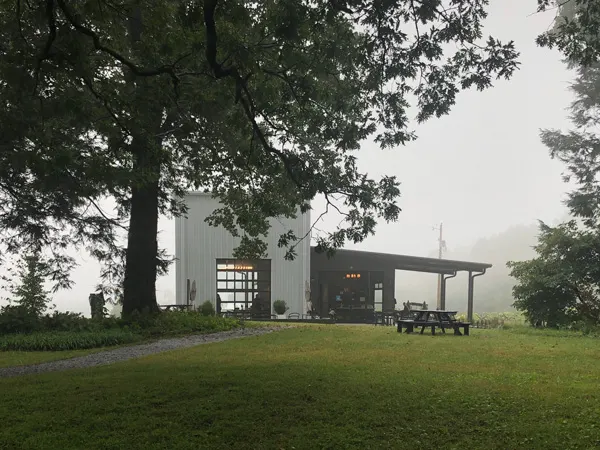 Then, head to one of these stunning Hendersonville wineries:
Stone Ashe Vineyards – Our top pick for delicious wine with a great indoor and outdoor space; 21+
Marked Tree (technically in the Village of Flat Rock) – This one is fun on a foggy day
Souther Williams – A beautiful newer winery that's 21+
Saint Paul Mountain Vineyards – A smaller winery with delicious reds and an indoor fireplace
Point Lookout Vineyards – Serving up mead and wine with stellar mountain views
Sawyer Springs – Sip wine in a barn or at a quaint picnic table
If it's fall, know that the Hendersonville apple orchards are another one of the top tourist attractions in Asheville. They open August through early November. Jeter Mountain Farm, Stepps Hillcrest, and Sky Top are our favorites.
Craggy Gardens & Pinnacle
There are plenty of worthy stops along the Blue Ridge Parkway. However, one of the best Asheville tourist attractions – and only 40 minutes away – hike Craggy Pinnacle and Craggy Gardens.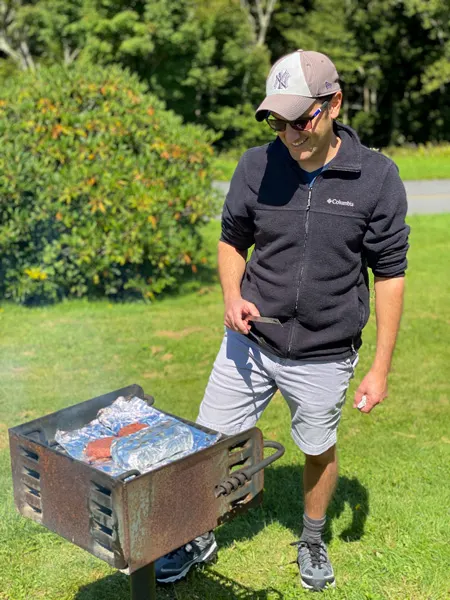 If you only have 36 hours or even one weekend to spend in Asheville, we highly recommend the Craggies.
For mountaintop sightseeing in Asheville, it doesn't get any better than this. Just be sure to keep your eyes on the weather. We've gotten to the top of Craggy Pinnacle and sat in the clouds.
It's also a little chillier in the higher elevations. Consider dressing in layers, and be sure to pack plenty of water and snacks.
Craggy Pinnacle has its own small lot that may fill up in tourist season. It's a moderate 1.4-mile, out-and-back hike with a fairly steep incline.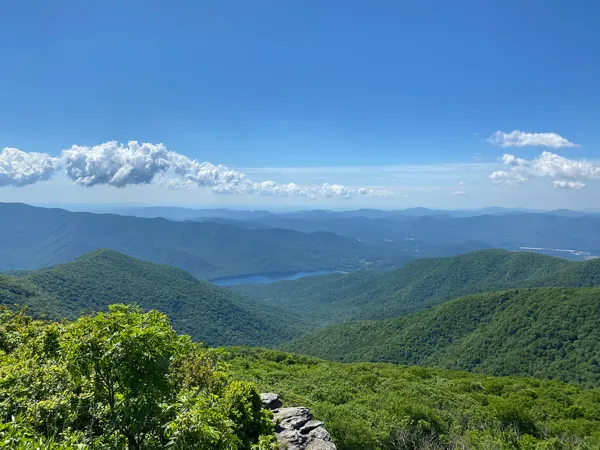 You'll need sturdy shoes as the rocks shift and grow slippery with snow and ice. At the top, enjoy 360-degree views of the mountains, including a glimpse of the Asheville Watershed.
Craggy Gardens is less strenuous with access points at the Craggy Garden Visitor Center (limited parking) and Craggy Gardens Picnic Area (more parking). Both have facilities that open seasonally – and sometimes sporadically.
Craggy Gardens is one of our favorite places to visit in Asheville in the fall, spring, and summer. The trek is an easy-to-moderate 2-mile out and back. Stop at the bald or picnic area for a rest.
There's a gazebo and covered shelter along the trail. The picnic area boasts charcoal grills that we love to use. Just always remember to leave no trace.
Craggy Gardens Visitor Center | 364 Blue Rdg Pkwy, Black Mountain, NC 28711
Western North Carolina Nature Center
Get to know the local wildlife at the Western North Carolina Nature Center. This is one of the most family-friendly tourist attractions in Asheville.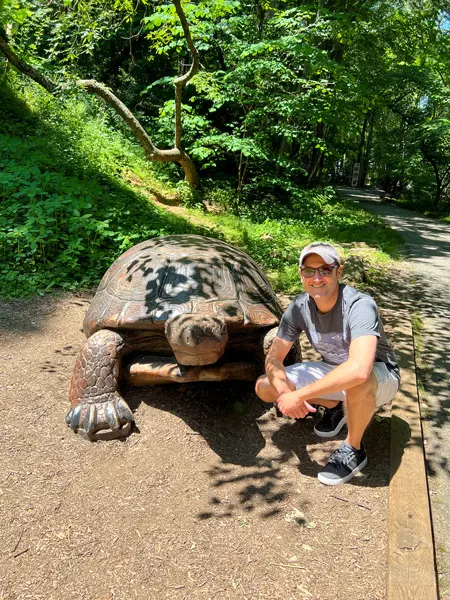 Open 7 days a week, except on major holidays, tickets are under $15 a person and even cheaper for children.
Littles can bounce around on nature-themed playgrounds and experiment at exploration stations. Meet otters, red pandas, black bears, owls, wolves, and donkeys.
For couples and older visitors, from June through August the WNC Nature Center hosts Brews and Bears. Grab a beer or cider and enjoy the center after hours.
WNC Nature Center | 75 Gashes Creek Rd, Asheville, NC 28805
Great Smoky Mountain National Park
Whether you want to see the elk from afar or hike a gorgeous trail, the Smokies are calling you. Great Smoky Mountain National Park rises along the North Carolina and Tennessee borders. It's one of the most popular Asheville tourist attractions and visited national park in America.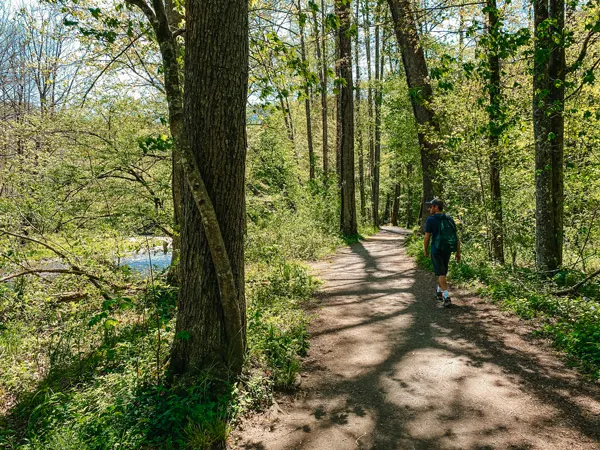 A few Smoky highlights include:
Cades Cove – This is one of the most popular Asheville tourist attractions in the Smokies. See wildlife, including deer and bears, and enjoy an 11-mile, one-way loop.
Mingo Falls – On the outskirts of the NC entrance, climb the steps to stunning falls.
Clingmans Dome – At 6,643 feet, Clingmans Dome is the highest point in the Smoky Mountains. Enjoy breathtaking views from the observation tower. On clear days, see 100 miles into the distance.
Oconaluftee Visitor Center – Witness elk and drop into the visitor center for more Smoky information. Hike the nature trail and take a peak at Mingus Mill. See how people traditionally lived back in the day.
Roaring Fork – Named after a mountain stream, Roaring Fork Motor Nature Trail is a scenic, 5.5-mile drive.
Newfound Gap – This mountain pass is another excellent spot for breathtaking views. Start in either Cherokee, North Carolina or Gatlinburg, Tennessee to enjoy a variety of forest ecosystems.
Cataloochee Valley – Another opportunity for wildlife viewing, especially those elk.
Just keep in mind that parking tags are now required to park for more than 15 minutes anywhere in Great Smoky Mountain National Park.
More Tourist Attractions Near Asheville
We couldn't possibly name all of the places to visit near Asheville. There is so much to do here. However, there are plenty of fun mountain cities and towns near Asheville perfect for visitors.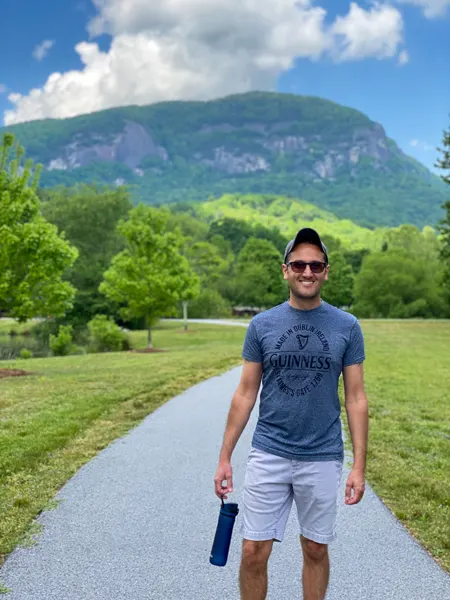 A few more top Asheville, NC tourist attractions include:
Lake Lure – "No one puts baby in the corner…"
Chimney Rock – See a 535-million-year-old monolith
Grandfather Mountain – Test your nerves on the mile-high swinging bridge; see where Forrest Gump ran
Lake Junaluska – Close to Waynesville, WNC has gorgeous walkable lakes
Hot Springs – Soak away your ailments in the heated mineral waters
Linville Gorge Wilderness Area – Think all things waterfalls and hiking
Mount Mitchell State Park – At 6,684 feet, Mount Mitchell is the highest peak east of the Mississippi River
Pisgah National Forest – Drive up to Looking Glass Falls or hike Moore Cove and Daniel Ridge Falls
Appalachian Trail – Lover's Leap and Max Patch are just a few of the trails that intersect the famous AT
Greenville Zoo – A little over an hour away from Asheville, Greenville is its own destination. The Greenville Zoo rescues and houses giraffes, orangutans, and tigers
Be sure to let us know your favorites in the comments.
Where To Stay In Asheville
Explore the best places to stay in Asheville. A few of our top suggestions:
Aloft – Downtown Asheville – Centrally located and recently renovated, enjoy a rooftop pool, a gorgeous bar, and trendy rooms.

The Omni Grove Park Inn – Treat yourself to a luxury resort in North Asheville, complete with breathtaking sunsets, terrace bars and dining, and loads of Asheville history.

Hampton Inn And Suites Asheville Biltmore Area – A budget-friendly but renovated hotel on busier Brevard Road that's perfect if you wish to stay between Biltmore Estate, Downtown Asheville, and the Blue Ridge Parkway.

Asheville Cottages – Gorgeous 1 to 3-bedroom cottages with a private deck, housing a grill and hot tub. Find luxurious heated-floor bathrooms with rain showers, a well-stocked kitchen, and the cleanest rooms in town.

Foundry Hotel – An oasis in Downtown Asheville, Foundry Hotel is a nod to AVL's industrial history. Find famous restaurant Benne on Eagle while sleeping ensconced in charm and elegance.

Country Inn & Suites by Radisson, Asheville Westgate, NC – Located off of the highway as you enter AVL, find a sleek and clean hotel at a great price.

Black Walnut B&B Inn – Designed by Biltmore's supervising architect, Richard Sharp-Smith, this 1899 inn is close to Downtown AVL and serves afternoon tea. Two rooms are pet-friendly.
Don't miss out on these Asheville properties on Booking.com, too.
Asheville Sightseeing FAQs
Is Downtown Asheville worth visiting?
Downtown Asheville is a must for any Asheville itinerary. Enjoy endless craft breweries, rooftop bars, and award-winning restaurants. Shop in boutique stores, and attend a festival in Pack Square. Spy vibrant street art, and grab a cup of coffee.
Is there a famous street in Asheville?
Asheville has multiple famous and popular walkable roads for nightlife, dining, shopping, and history. Head to Lexington Ave., Biltmore Ave., Broad Street, and Church Street. Also, peruse Page Ave. and Wall Street. Stroll Pack Square.
What is the city of Asheville known for?
Asheville has been named one of the best cities to visit for years. The biggest attractions include the Blue Ridge Parkway, craft beer scene, and James Beard award-winning restaurants. Biltmore Estate, the Thomas Wolfe Memorial, and the Grove Park Inn are also musts.
Save Your Favorite Asheville Attractions For Later: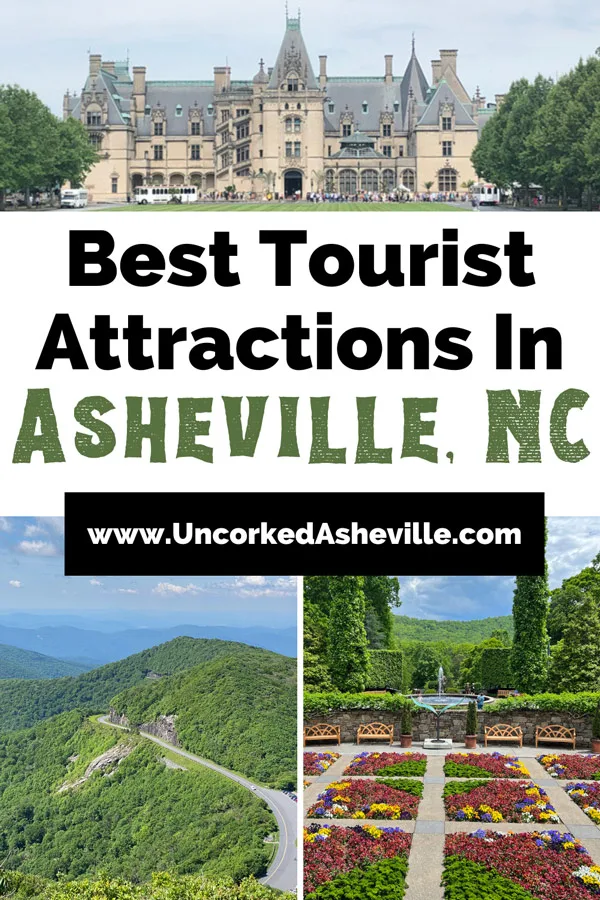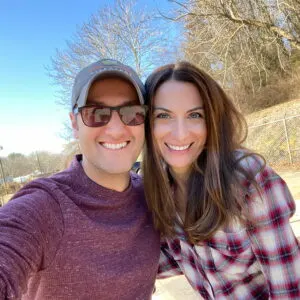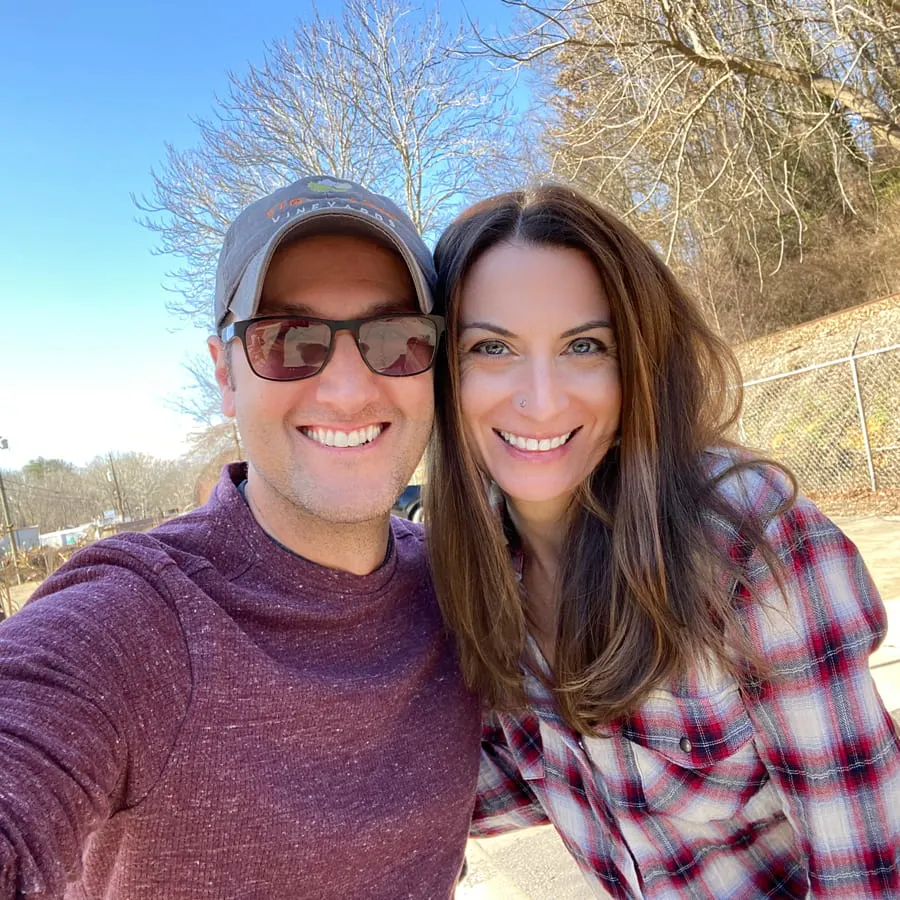 Christine (pronouns: she/her) is the owner and lead writer of Uncorked Asheville. After falling in love with those gorgeous Blue Ridge Mountains, Christine and her husband Tom decided to call Asheville, North Carolina their home. When her pointy Italian nose isn't stuck in a book, Christine is adopting all of the kitties, getting lost in the forest, and drinking an ESB.
Christine has a BA in English and History from Smith College, her MLIS from USF-Tampa, and is a former U.S. Fulbright Scholar - Indonesia. She also owns The Uncorked Librarian LLC with books and movies to inspire travel.