Don't miss the best things to do in Asheville with kids, including outdoor activities, museums, and farms. Spy a shark or dinosaur, zipline, and sit in a plane.
Many times, our inbox is filled with readers looking for the best kids' activities in Asheville, NC. And, if you know Christine and Thomas, you probably see our furbabies plastered all over Instagram.
This is exactly why we consulted our favorite mom blogger, Tori from Explore With Tori, asking her for the top kid-friendly activities in Asheville (as well as nearby).
Tori loves to get outside with her family, hiking and chasing those waterfalls. Their road trips are full of adventure, delicious food, and educational but equally fun tours.
Plus, Tori and her family of 4 frequent Asheville, stopping for wine and beer with your favorite uncorked travel writers.
Tori wishes to create lifetime memories for her children and show you how to have extraordinary vacations, too.
Below, Tori is sharing the best things to do with kids in Asheville. Find Asheville kids' activities for the entire family — that even adults will love.
See where you can pet farm animals, sit in planes, and watch sharks feed. Zipline, mountain bike, and pick some apples. Let's get started!
Read more about all of the top things you can do in Asheville, NC.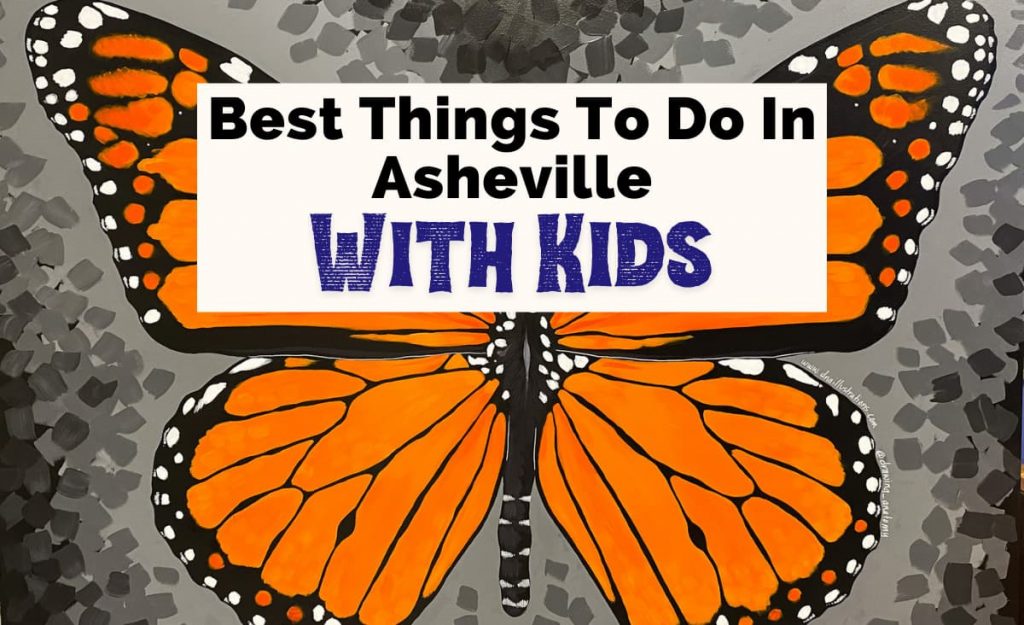 This post may contain affiliate links for products and services we recommend. If you make a purchase through these links, at no additional cost to you, we will earn a small commission. Read the full disclosure here.
See our Top Places To Stay in Asheville.

Don't miss out on these Asheville properties on Booking.com, too.
16 Best Things To Do In Asheville With Kids
By Tori Curran
1. Tour Biltmore Estate
If you're thinking that America's largest private home, full of antiques and breakables, isn't going to make your Asheville with kids itinerary, think again.
Visitors may be surprised to learn just how kid-friendly the Vanderbilt's Biltmore Estate really is; families can spend an entire day at the estate and barely scratch the surface of Biltmore's family-friendly offerings.
For starters, tour the main house. While young children especially may not appreciate the architecture, they will certainly get a kick out of the basement bowling alley, pool, and oversized children's nursery.
Plus, for slightly older children, there's an audio tour narrated by Cedric, the Vanderbilt family's Saint Bernard. What kid wouldn't love hearing about Asheville and Biltmore through the perspective of a pet?
Beyond the home tour, families can spend some pent-up energy frolicking through the gardens or on one of the many Biltmore estate trails.
In Antler Hill Village, find Pisgah Playground, Biltmore Farmyard, and scheduled demonstrations that are sure to engage the kids.
While the Biltmore is one of the more pricy Asheville kids' activities or excursions, it's more than worth the ticket price for the abundance of value.
Biltmore | 1 Lodge Street, Asheville NC 28803
2. Meet WNC's Wildest Animals
One of the most popular things to do in Asheville with kids, the Western North Carolina Nature Center showcases the various animals and plants of the Southern Appalachian Mountains.
Find animal exhibits, including the American Black Bear, Red Wolf, Bobcat, and more, as well as interactive learning exhibits and nature play areas.
Practice balancing on natural beams, make music with nature's instruments, paint with water, and more. Options are endless when nature is your playground.
The WNC Nature Center prides itself on reminding families that children thrive when exposed to nature.
Age and grade-appropriate nature packs and activity sheets also offer scavenger hunts and more nature-themed kids activities in Asheville's premier zoological area.
More than just a zoo though, the WNC Nature Center is a truly immersive experience for kids of all ages.
WNC Nature Center | 75 Gashes Creek Rd, Asheville, NC 28805
3. Hike Along A Waterfall
Adventuring families will love to know that there is no shortage of kid-friendly Asheville hikes.
Popular and adaptable for all experience levels, DuPont State Forest offers a multitude of hikes, including three waterfall hikes.
For newbies, try Hooker falls, a short hike leading down to a waterfall where kids can splash in the river. You can easily add on Triple Falls and High Falls here, as well, from the same access area.
Our family made it through all three with a four, two, and one year old. While the hiking packs came in handy, much of the trail was feasible for their little feet.
Additional family-friendly Asheville hikes include the 1.5 mile Catawba Falls out and back, Bent Creek's short hikes which provide access to the beach at Lake Powhatan, and Chimney Rock State Park.
Though not stroller-friendly, Chimney Rock does have an elevator to shorten your hike or provide easy access to the views.
While we initially visited Chimney Rock for The Last of the Mohicans scenery, as do many others, we enjoyed finding some quieter trails at the top of Chimney Rock.
Read more about all of Asheville's top hiking trails.
4. Zipline, Mountain Bike, & Climb An Obstacle Course
Just five minutes from downtown, the Adventure Center of Asheville offers some of the top-rated adventurous activities in Asheville for kids and teens.
Zipline through the canopies, learn to mountain bike, and climb through the trees in an elevated obstacle course with 77 challenges.
For younger kids, KidZip offers the country's first zip line for children four to ten years old! Families with children four and over can also take advantage of the various white water rafting tours available.
At the Adventure Center, excitement and adventure are available for almost all ages and skill levels.
The Adventure Center | 85 Expo Dr, Asheville, NC 28806
5. Visit A Farm Or Apple Orchard
By now you've probably realized that there's no shortage of thrilling outdoor things to do with kids in Asheville. It's to be expected in the gorgeous Blue Ridge Mountains.
While you may not expect a pasture-raised cow and poultry farm to make the list, though, a visit to the charming Hickory Nut Gap Farm will have you believing otherwise.
A self-guided tour will put you up close with baby animals, while expansive land provides plenty of space to run around or enjoy a picnic.
During the fall, there are plenty of seasonal activities, like a corn maze and pumpkin patch, and of course, the farm store is open year-round to grab some edible treats and meats.
If you are looking for more farm and fall things to do in Asheville with kids, head to the Hendersonville apple orchards, too.
Sky Top Orchard is famous for its apple cannons, bamboo forest, cider donuts, children's bee train, and hayrides.
Hickory Nut Gap Farm | 57 Sugar Hollow Rd, Fairview, NC 28730
Sky Top Orchard | 1193 Pinnacle Mountain Rd, Flat Rock, NC 28731
Never Miss Another Asheville Update
Are you tired of generic Asheville travel itineraries? Do you want to experience the magic of Asheville like a local?
Grab our free Asheville Favorites checklist today, including restaurants, breweries, and hiking. Plus, get local updates straight to your inbox. Sign up here.
6. Play With A Giant Light Bright
(Re-Opening October 26, 2021, with new renovations)
Looking for baby, toddler, and preschool kids' activities in Asheville? Head to Hands On! Children's Museum in Hendersonville, NC, about 40 minutes from the heart of Asheville.
Discover a giant Light Bright, dress up and perform on the Play Stage, immerse your little ones in the music of the Sound Zone, or let loose in the Imagination Playground.
There's also a grocery store, post office, vet center, a miniature Kilwin's Ice Cream shop, a nature nook, and Mt. Hands On, an 850 square-foot mountain, and waterfall right inside the museum.
Hands On! is the perfect introduction to WNC and Asheville for kids – play and let loose in the museum, then visit the places that inspired the museum.
Hands On! Children's Museum | 318 N Main St, Hendersonville, NC 28792
7. Stroll & Picnic At The NC Arboretum
Discover a beautiful and serene but also kid-friendly Asheville spot to spend a day with the entire family at The NC Arboretum.
While the floral and tree exhibits will be quite a sight for visitors of all ages, little ones will especially enjoy hiking through Bent Creek, geocaching, or exploring the Nature Discovery Room.
Littles can also join the Arboretum's initiative, ecoEXPLORE, in which kids discover and document plants and animals at the arboretum and beyond to earn badges across North Carolina.
Whenever we visit gardens and arboretums, we keep our kids engaged with an "eye spy" game. This lets them focus on finding patterns and colors in nature, while the adults get to marvel at the natural scenery, as well.
Don't forget to pack a picnic lunch, and check out the special events to make the most of your day.
From November to January 1st, the family will love the Arboretum's Winter Lights Festival.
Drink peppermint hot chocolate in the gardens at night as holiday lights dance to music. There are even s'mores stations.
The North Carolina Arboretum | 100 Frederick Law Olmsted Way, Asheville, NC 28806
8. Play Arcade & Video Games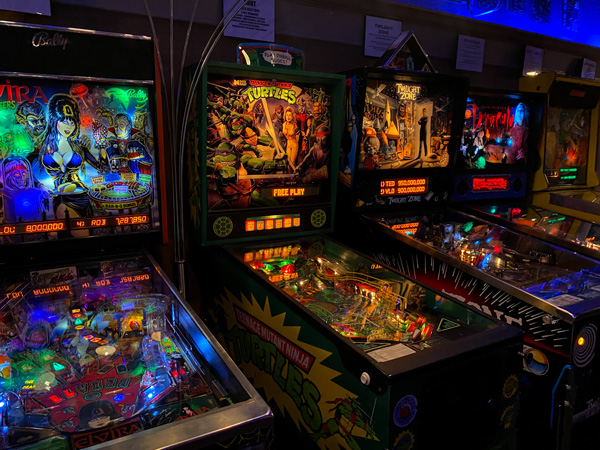 For one of the most unique museums in Asheville for kids and teens (and, ok, adults, too!), head to the Asheville Pinball Museum.
A play-all-you-wish arcade, this museum offers over 75 retro pinball machines and classic arcade games.
Alternatively, play all day for $10 per person at Retrocade. Find over 5000 video games, pinball, billiards, skeeball, and more.
Know though, that while Retrocade is a fun and appropriate setting in Asheville for kids, after 9 PM it's an adults-only joint.
These kid-friendly Asheville museums might be hard to choose from.
Asheville Pinball Museum | 1 Battle Square St, Asheville NC 28801
Retrocade | 800 Haywood Rd #100, Asheville, NC 28806
9. Watch Sharks & Stingrays Feed
Vacations with kids can add up, so if you are curious about inexpensive things to do with kids in Asheville and the surrounding areas, consider taking a day trip to Hendersonville to check out the Aquarium and Shark Lab.
This is the first inland aquarium in WNC. Children under 2 are free, kids 2-4 are $4.40, and visitors 5-65 are only $6.
Meander through the majestic ocean life exhibits, let the little ones get up close with the touch tank, witness a shark and stingray feed, or catch the reptiles when they're brought out for personal encounters.
Aquarium and Shark Lab | 11 N Main St, Hendersonville, NC 28792
10. Rock Out With A Dinosaur
Little science lovers will be thrilled at the Asheville Museum of Science, complete with hands-on exhibits and scavenger hunts to make navigating the museum engaging and educational.
Become a geologist, dig for fossils, and learn about the French Broad River and its ecology. After, climb and explore through the forest-themed indoor playground.
Don't forget to spy on the Teratophoneus Curriei, a giant dinosaur skeleton. Though we don't think you'd be able to miss him!
Plus, take advantage of the Little Explorers Club, an in-house and free preschool program on the first and third Friday of every month, with ever-changing activities and themes.
Asheville Museum of Science | 43 Patton Ave, Asheville, NC 28801
11. See A Meteorite With T-Rex
You may not think that rocks and minerals fascinate Asheville's youngest visitors, but Hendersonville's Mineral and Lapidary Museum has a way of making paleontology fun.
If you're visiting Asheville with kids who love dinosaurs, they will especially enjoy the fossil displays.
Encounter dinosaur eggs, a T-Rex skull, sabertooth cat skeleton, mastodon bone and tusk, and a 6 foot 7-inch tall wooly mammoth bone.
Plus, learn about and see the Hendersonville Meteorite and marvel at the various geodes, which include a several-foot high amethyst specimen.
While in this area, don't miss Hendersonville's delicious restaurants like Mikes On Main, one of the best kid-friendly restaurants.
Mineral and Lapidary Museum of Henderson County | 400 N Main St, Hendersonville, NC 28792
Headed To Asheville With Kids? Save Your Favorite Things To Do For Later: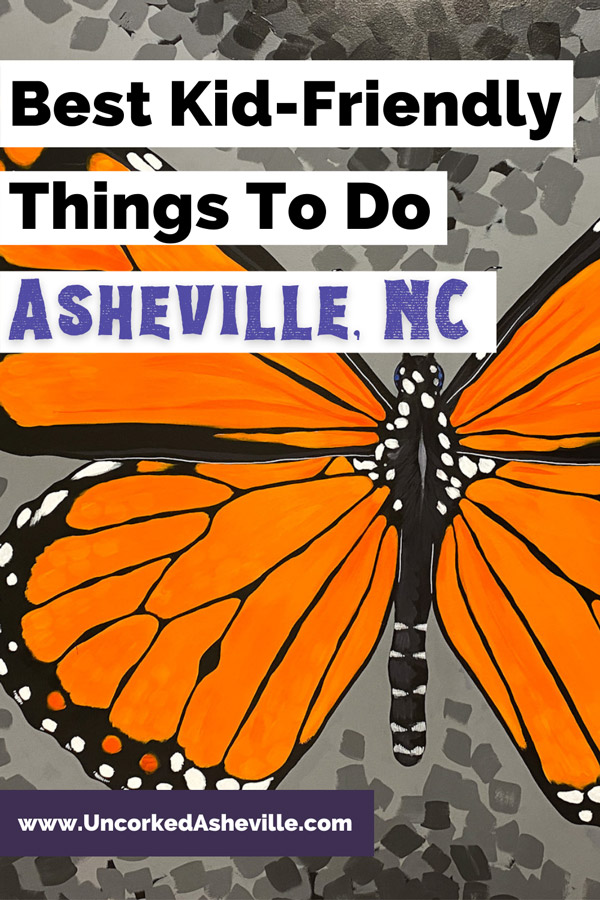 12. Sit In A Plane
Are you heading to Asheville with kids who love planes? The WNC Air Museum is the perfect place to get up close and personal with North Carolina's aviation history. Plus, kids can even sit in some of the planes.
With twenty or so aircraft on display, visitors will be happy to know that there are no glass cases or ropes keeping you at a distance.
Explore a simple, unassuming museum, free of charge, dedicated to preserving flight history and encouraging visitors — young and old — to get up close and personal with it.
Western North Carolina Air Museum | 1340 E Gilbert St, Hendersonville, NC 28792
13. Climb Through A Jungle Gym
Where can you discover a miniature Asheville, complete with a kid-sized Biltmore and a three-part jungle gym?
For indoor fun in Asheville with kids, head to Mountain Play Lodge, and let the littles enjoy soft play equipment, climbing obstacles, and a toddler area, all while discovering the magic of Asheville.
Perhaps the kids will be more inclined to enjoy Biltmore Estate once they're done climbing through the pint-sized version, Cedric the Saint Bernard included.
Jungle gyms are accessible to adults, so join in the fun, and remember to bring socks as they are required.
Mountain Play Lodge | 3389 Sweeten Creek Rd, Arden, NC 28704
14. Laugh Along On A Big Purple Bus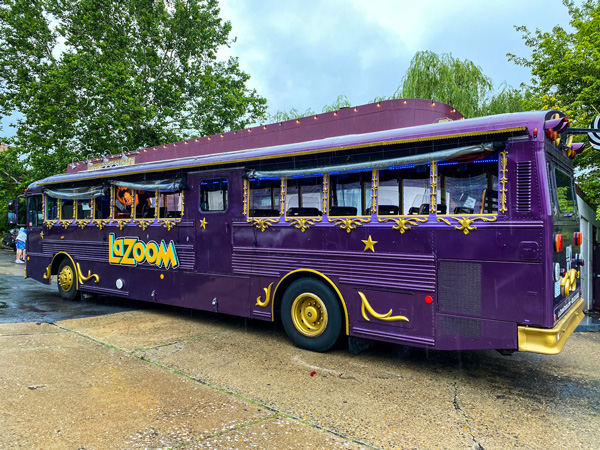 Wanting to learn more about Asheville history, take a guided tour, or sit down for an hour… but worried about entertaining the kids? LaZoom has a solution.
Hilarious and educational, LaZoom's Lil Boogers Kids' Comedy Tour perfectly blends comedy and the history of Asheville for kids.
Geared specifically for children 5-12 years old, families will explore the town of Asheville while being entertained by comedic skits, zany tour guides, and special guest appearances.
Younger children are welcome as well, and lap children under three are free.
LaZoom Kids Comedy Tour | 76 Biltmore Ave, Asheville, NC 28801
15. Take A Train Ride Through History
Grab the entire family and take a train ride through history. The open-air train ride is a perfectly unique Asheville experience, especially for those train loving littles.
Learn about the railway history of WNC, and hop aboard some of the old train and trolley cars.
Two-hour train rides begin at $90 for a family of four and increase in price with additional riders.
Plus, if you're searching for seasonal kids' activities in Asheville, you'll find fall-themed events, as well as a Jungle Bell Trolley Ride in December, complete with hot chocolate, cookies, and a visit from Santa.
Craggy Mountain Line | 111 Woodfin Ave, Asheville, NC 28804
16. Slide Down A Waterfall
**Temporarily closed due to flooding impacts; please check with the USDA Forest Service for updates**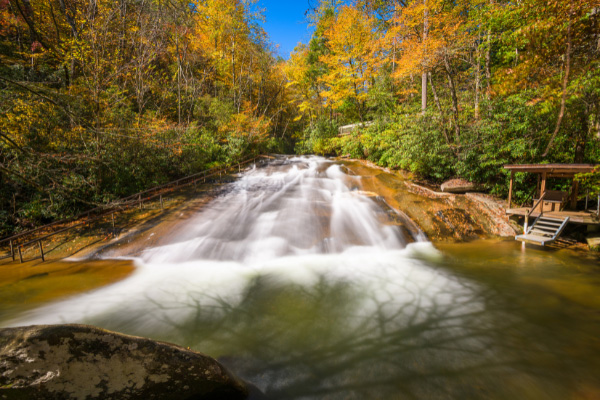 Families seeking more outdoor Asheville kids activities might be interested in Sliding Rock, a 60-foot natural waterslide in the Pisgah National Forest.
Ride a smooth slab of rock down into an 8-foot pool for a thrilling, natural experience in the heart of the woods. During the summer, the cool 50-60 degree water is the perfect reprise.
What kid wouldn't line up to try that at least once?
Sliders, including all children, must know how to swim. Kids seven and under must ride with an adult; life jackets are allowed.
While Sliding Rock is open year-round, there is only a lifeguard present from May through September. During this peak season, visitors will be charged $4 per person. It is free during the off-season.
Sliding Rock is also close to additional family-friendly Asheville hikes, like Moore Cove Falls, Skinny Dip Falls, Daniel Ridge Falls (shorter trail), and Looking Glass Falls.
Sliding Rock Natural Waterslide | 7851 Pisgah Highway, Pisgah Forest, NC 28768
Where To Stay In Asheville:
See our Top Places To Stay in Asheville.

Don't miss out on these Asheville properties on Booking.com, too.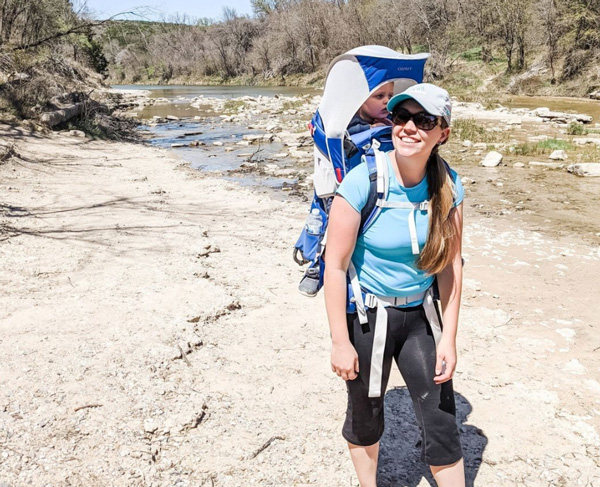 Thank you to Uncorked Asheville contributor, Tori Curran from Explore With Tori
Tori is a mom to two boys, living in Dallas but adventuring everywhere, usually with a toddler on her back. She's an avid traveler, nature junkie, and writer encouraging families to get outside and start exploring the world. When she's not hiking or traveling, you can find her lost in a book, watching Bravo reruns, or obsessively decluttering her home.
What are your favorite things to do with kids in Asheville, NC?
What are the best kids' activities in Asheville that your family loves? Do you have any Asheville family traditions? Let us know in the comments.
More Fun Things To Do In Asheville With Kids:
Biltmore With Kids
Best Kid-Friendly Asheville Restaurants
Easy DuPont Waterfall Hikes
Asheville's Best Museums
Fall Apple Orchards For U-Pick & Mazes