13 Fun Kid-Friendly Restaurants in Asheville
After a day of hiking and exploring, don't miss the best kid-friendly restaurants in Asheville, NC.
Are you traveling around Western North Carolina with the entire family and looking for something to eat?
Known as Foodtopia, there are a plethora of family-friendly restaurants in Asheville for all price ranges and cuisines.
There are also tons of kid-friendly Asheville restaurants for pizza, tacos, sandwiches, donuts, and even that famous Southern BBQ.
Did you know that Asheville's kid-friendly restaurants are also great for food intolerances and allergies? Many of the restaurants offer gluten-free, vegan, and veggie options.
Some will label or have menu information cards for nuts, soy, and other allergens too.
Plus, there are even a few kid-friendly breweries in Asheville. One even has a movie theater!
Since we are a furbaby-only family, we asked our favorite mom blogger, Tori from Explore With Tori, where she, her husband, and her two boys love to eat in and around Asheville.
Below, find the best kid-friendly restaurants in Asheville along with a brewery or two. Let's get started!
Read more about the best things to do in Asheville with kids.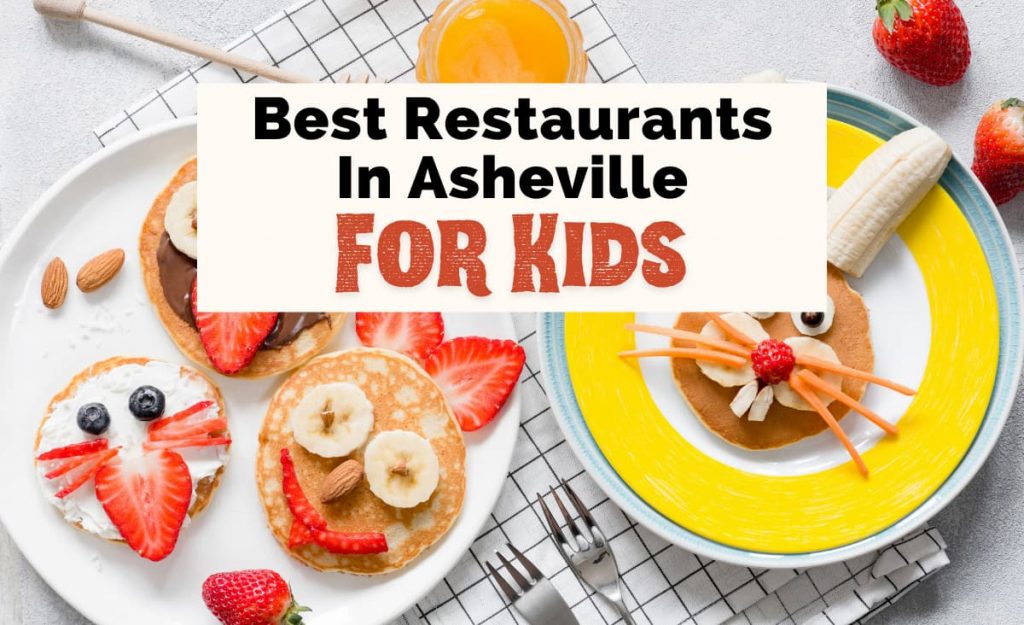 This post may contain affiliate links that earn us a commission at no extra cost to you. If you love these guides, support Uncorked Asheville here.
13 ​​Best Kid-Friendly Restaurants in Asheville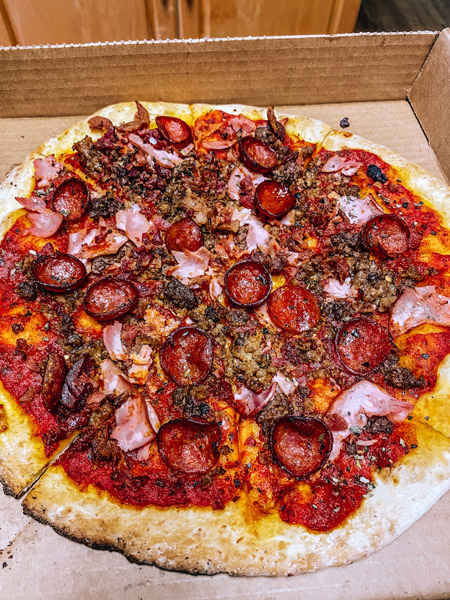 In a city of endless beer, you know that some of the best kid-friendly restaurants in Asheville happen to be breweries!
With apps, pizza, and house-brewed adult bevies, Asheville Pizza and Brewing clearly aims to keep the entire family happy, fed, and full.
It's truly one of the best spots in town for pizza, and their breweries' outdoor spaces are dog-friendly.
If you're anything like us, looking for the perfect combination of local food, decent drinks, something "plain" for picky kids, and a unique setting can be a tall order.
Here, kids can have their plain pizza at a picnic table while you enjoy something a little more interesting – like a milk blueberry stout and a sweet and spicy slice of the Hot Sexy Mother Clucker pizza.
Plus, there are salads, sandwiches, apps, and more than a few vegan, vegetarian, and gluten-free options. Gluten-free pizza included!
The best part?! The North Asheville restaurant on Merrimon has a theater and arcade.
Asheville Brewing is also a great option if you are exhausted after a day of exploring and are looking for takeout and delivery in Asheville.
Explore more Downtown AVL restaurants to enjoy too, and find more movie theaters across AVL.
Asheville Brewing Locations: North Asheville With Theater – 675 Merrimon Avenue, Asheville, NC 28804 | Downtown South Slope – 77 Coxe Avenue, Asheville, NC 28801 | South Asheville – 1850 Hendersonville Road Suite A, Asheville, NC 28803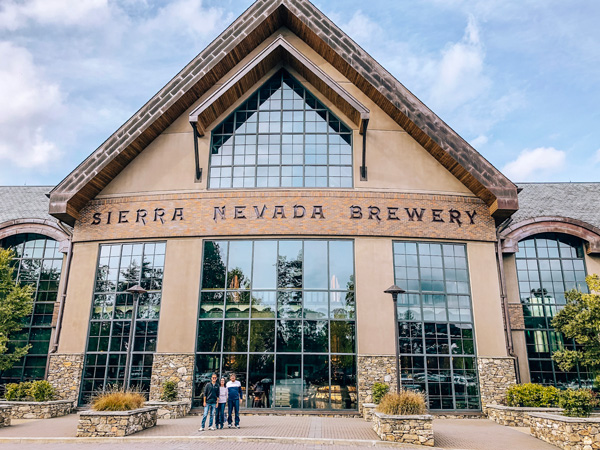 Tucked away into the Blue Ridge Mountains is another one of the most popular kid-friendly breweries in Asheville.
At Sierra Nevada Taproom and Restaurant, an oversized lawn, laid-back Adirondack chairs, a fire pit, a fun sandbox for the little ones, and a nature trail welcome visitors.
Nothing makes us happier than any sort of combination of family-friendly hikes and brews. Toss in a kids menu and a place for them to play, and we're happy campers.
At Sierra Nevada, a traditional children's menu is available, but you might also find family-friendly fare on the regular menus like the 1/2 pound pretzel.
If you're visiting with older children, know that the brewery tours welcome children twelve and over.
Sierra Nevada is next to the Asheville Regional Airport, making it a great stop before or after a flight. Read more about the best Mills River breweries.
Sierra Nevada: 100 Sierra Nevada Way, Mills River NC 28732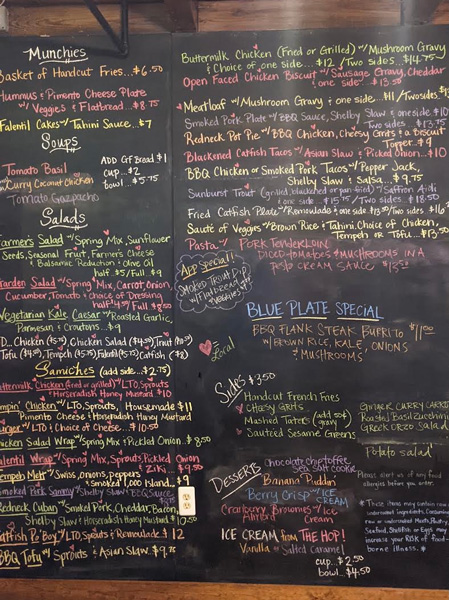 HomeGrown may seem unassuming at first, but inside you'll find one of the most unique kid-friendly restaurants in Asheville.
With a covered patio, garden seating, cozy wooden furniture, and a handwritten chalkboard menu, you'll feel right at home at HomeGrown.
The patient staff and extra fries they brought our boys didn't hurt either!
While there isn't a designated children's menu at HomeGrown, find family favorites such as chicken tenders, french fries, meatloaf, and tacos.
Many of the menu items are locally sourced, as well as their beer selection, including Gingers Revenge alcoholic, gluten-free ginger beer. HomeGrown makes for a fun Asheville lunch spot.
HomeGrown: 371 Merrimon Ave, Asheville, NC 28801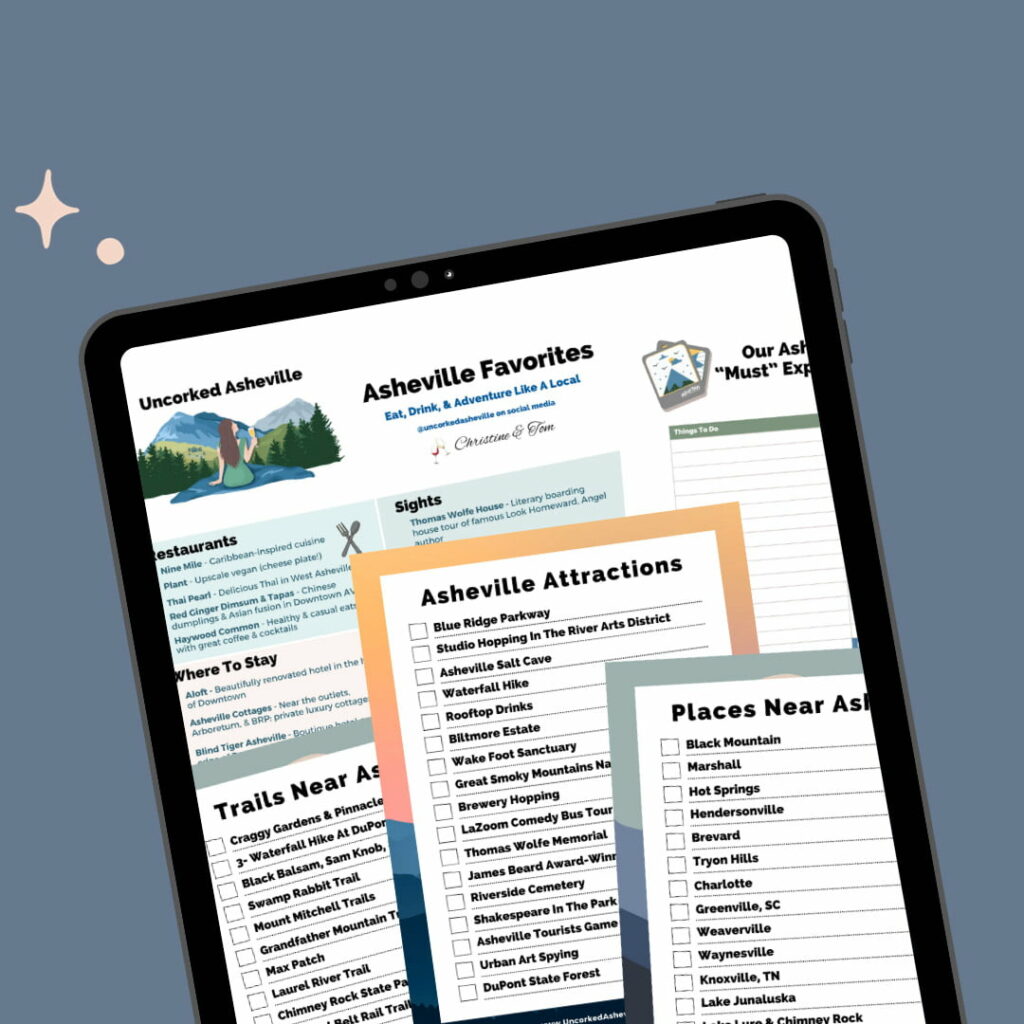 Never Miss Another Asheville Update
Experience Asheville like a local with our free attractions, dining, hiking, and day tripping guides. Get events, updates, and more straight to your inbox from Christine.
Are you searching for family-friendly Asheville restaurants that offer a bit more than kid-friendly food and a casual environment?
At Creekside Taphouse, you'll happily find lawn games, a patio, and a children's playground set next to a creek. With over two acres, there's more than enough room to let the kids be kids.
More so, Creekside is pet friendly and dogs are welcome at their large outdoor seating area.
Plus, of course, you'll find AVL brews and ciders, and a casual, locally sourced menu with salads, wings, and sandwiches in addition to a children's menu.
Creekside Taphouse: 8 Beverly Road, Asheville NC 28805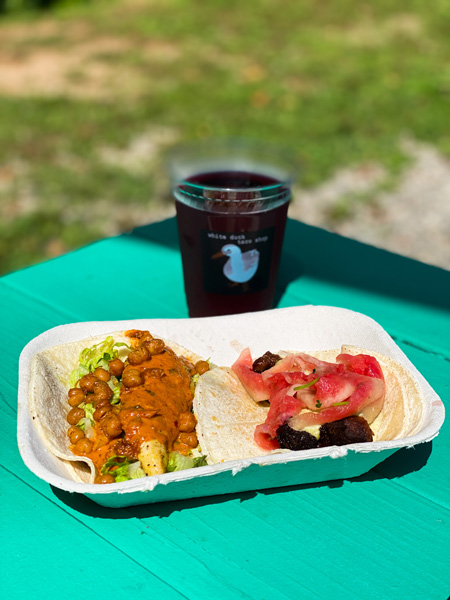 With three Asheville kid-friendly restaurant locations and a la cart tacos, White Duck Taco Shop is a must. In fact, many say White Duck Taco is one of the best Asheville taco spots around.
White Duck's flagship Asheville/RAD location sits waterfront with an abundance of indoor and pet-friendly outdoor seating.
The Downtown location sits next to Pack Square and has an outdoor back courtyard (also pet-friendly).
The Arden location in South Asheville is also pet-friendly with outdoor seating and offers games and free parking.
Tacos vary by season and location, but the flavors are always interesting. Lump crab or jerk chicken taco anyone?
If your little ones aren't into tacos, find kids' chicken and cheese quesadillas, as well as chips, queso, and salsa.
Read more about the River Arts District's most famous restaurants.
White Duck Taco Locations: Downtown – 12 Biltmore Avenue, Asheville NC 28801 | RAD – 288 Riverside Drive, Asheville NC 28801 | South – 16 Miami Circle, Arden NC 28704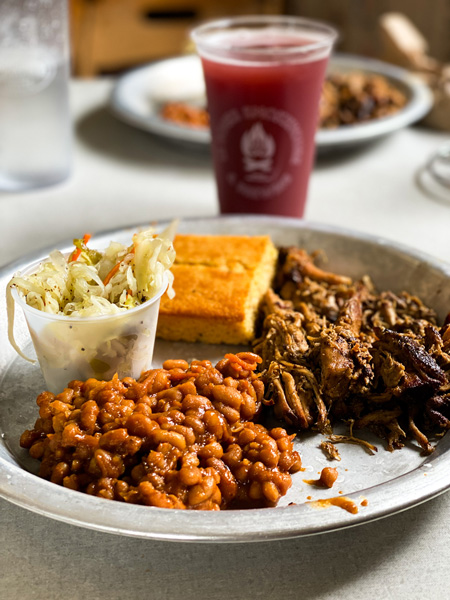 Which one of our kid-friendly Asheville restaurants has served former President Obama?
If you guessed 12 Bones and are wondering if it's worth a visit, we'd share a resounding YES! 12 Bones is one of the best BBQ joints in Asheville.
Along the French Broad River in the River Arts District, 12 Bones River features a large outdoor space with casual picnic tables, smoked meats, and some of the most delicious mac and cheese we've ever indulged in.
We might have taken a quart for the road during a recent road trip. Don't miss RAD's gorgeous urban art scene, too.
Currently, the flagship River location is only open for lunch and not on weekends.
The South location in Arden is open throughout the week, except for Mondays, and serves lunch on weekends. South offers dinner carry-out.
12 Bones Locations: River – 5 Foundy Street, Suite 10, Asheville, NC 28801 | South With Brewery – 2350 Hendersonville Road, Arden, NC 28704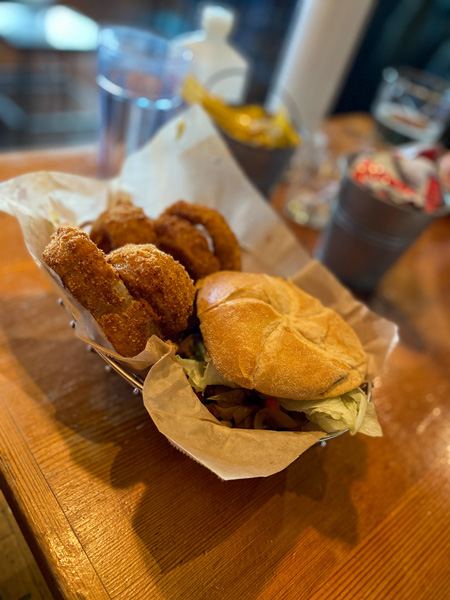 Though Farm Burger is a small national chain, it's one of our favorite casual kid-friendly restaurants in Asheville for its simple menu and rustic seating.
Choose from a few house burger selections, including vegan quinoa and a veggie-based burger, or build your own creation. Asheville is just full of delicious vegan restaurants.
Kids can choose from a cheeseburger, grilled cheese, or chicken tenders.
Parents looking for something healthier will like knowing that instead of fries, kids' entrees can come with fruit and veggies with sunflower (not peanut!) butter dip.
Of course, though, the kids will want to round out their meal with one of Farm Burgers' famous shoes or floats, made with local ice cream!
Uncover even more delicious burger joints in Asheville like Baby Bull.
Farm Burger Locations: Downtown – 10 Patton Avenue, Asheville, NC 28801 | South – 1831 Hendersonville Rd, Suite 100, Asheville, NC 28803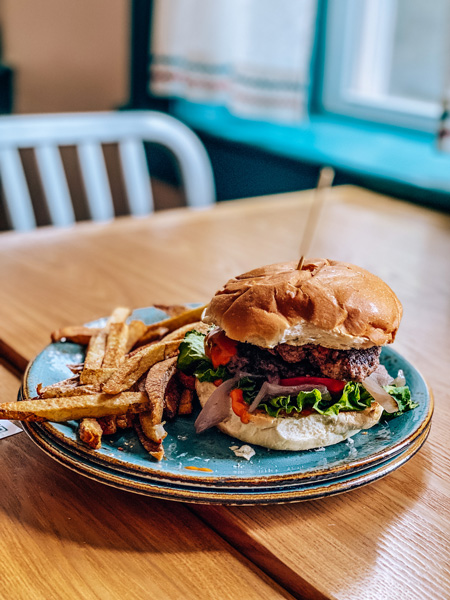 For one of our favorite kid-friendly restaurants in Asheville for breakfast, head to Early Girl Eatery.
In addition to daily made pastry selections, visitors love their southern spin on traditional breakfast items.
You also cannot go wrong for weekend brunch downtown here.
The veggie breakfast bowl was to die for. Veggie and vegan options round out their breakfast menu, as well as mains, such as grit cakes, Mac and cheese, and sandwiches.
For the kids, pick from a pancake, grilled cheese, chicken tenders, or a veggie plate.
Everything at Early Girl Eatery is local, from the eggs to the coffee, and they opt for fresh, organic produce whenever available.
Discover more restaurants with lactose-free options in AVL.
Early Girl Eatery: West Asheville – 444 Haywood Road #101, Asheville NC 28806 | Downtown – 8 Wall Street, Asheville, NC 28801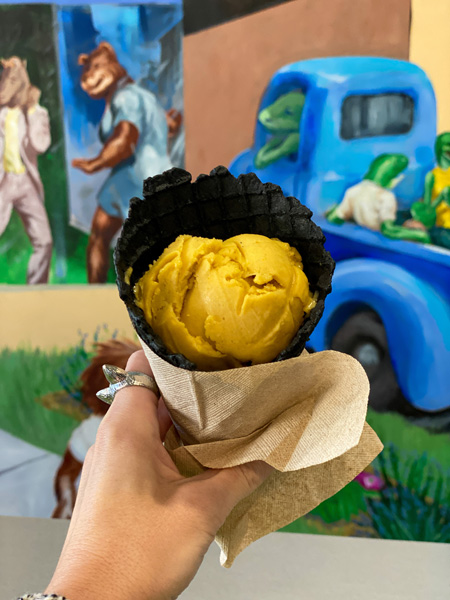 Our favorite kid-friendly Asheville restaurants wouldn't be complete without a spot dedicated to dessert and ice cream.
An Asheville staple, The Hop serves handcrafted ice cream, including vegan/non-dairy, in as many flavors as possible to be inclusive to allergic families and other dietary needs.
Year-round, you'll find salted caramel, vanilla bean, and chocolate rotations including coffee, fruit, kid-friendly flavors, and unexpected ones, like lavender vanilla and ginger.
You may also enjoy these local Asheville dessert spots but nothing beats The Hop for kids.
Of course, Asheville has plenty of chocolate shops too; think Asheville Chocolate and French Broad Chocolate Lounge.
The Hop Locations: North Asheville – 640 Merrimon Ave, Asheville NC 28804 | West Asheville – 721 Haywood Rd, Asheville NC 28806 | Downtown – 56 Patton Ave, Asheville NC 28801 | Creamery – 167 Haywood Rd. Asheville NC 28806
A few more kid-friendly Asheville restaurants from Christine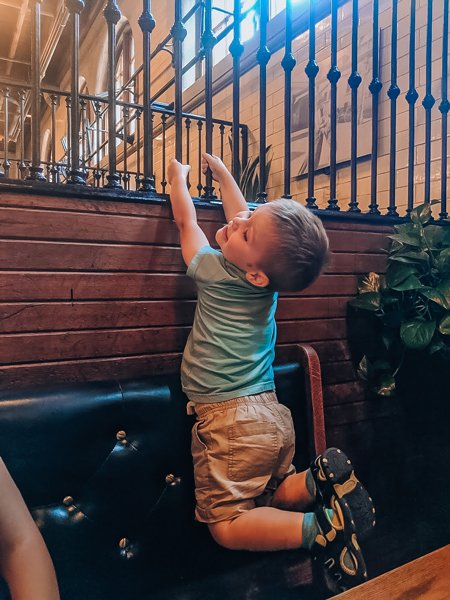 One of the most fun Asheville kid-friendly restaurants, Stable Cafe is a must if you are touring Biltmore. Where else can you say that you dined in George Vanderbilt's former horse stables?
Please know, though, that you will need a Biltmore ticket or annual pass to dine at any of Biltmore's restaurants.
We highly suggest making advanced reservations, too.
Stable Cafe serves up casual fare like sandwiches and salads. Their children's menu offers grilled cheese, burgers, chicken tenders, and sandwiches.
For parents, find seasonal craft cocktails.
This is the perfect stop if you are spending the day at Biltmore. We suggest visiting Biltmore House first, perusing the gardens, and then grabbing lunch at Stable Cafe.
Afterward, head to Biltmore farmyard and playground or hit up their trails. Don't miss all of Biltmore's family-friendly activities that Tori recommends.
P.S. Village Social is another Biltmore restaurant with a great kids' menu. For breakfast, kids can select from waffles, eggs, and pancakes.
For lunch and dinner, they offer children's mac and cheese, chicken fingers, and grilled cheese.
Discover even more great kid-friendly restaurants around the estate, including Biltmore Village restaurants like Corner Kitchen and Juicy Lucy's.
Biltmore Estate: 1 Lodge St, Asheville, NC 28803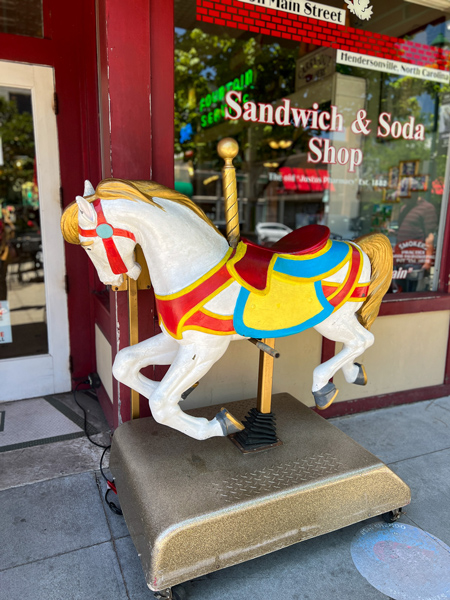 We are slipping in one of Hendersonville's family-friendly restaurants, especially if you have just spent the day hiking DuPont's waterfalls.
Hendersonville is about 40-45 minutes away from Asheville.
Mike's On Main is a flashback to the past. This 1950s-style restaurant offers breakfast, sandwiches, salads, burgers, and hot dogs.
Mike's On Main reminds us of lunch dates at Friendly's with our grandparents. Remember that nostalgic chain restaurant?
Don't miss their soda fountain or outside Coca-Cola mural.
Mike's isn't the best kid-friendly restaurant choice for food intolerances/allergies, but they are fantastic for fun — old school pony ride included. They also host birthday parties.
Afterward, don't miss Hendersonville's fun museums, fudge shop, and stores. This historic downtown even has an aquarium and pinball museum with games that you can play!
Mike's On Main: 303 N Main St, Hendersonville, NC 28792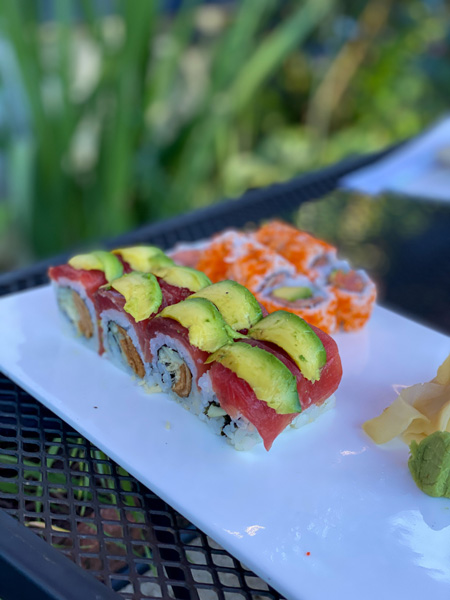 One of the most kid-friendly restaurants in Asheville for sushi, Green Tea has a large menu filled with rolls, soups, salads, and specialty items. Think Bento boxes, noodles, and fried rice too.
Please note that their in-person menu in person is much bigger than what you see online.
After school and sports practices let out, you'll see a plethora of families sitting on the patio ordering some of the best sushi in AVL.
Plus, this West Asheville restaurant sits outside of the largely congested areas with their own parking lot.
Read more about all of Asheville's top Asian food restaurants.
Green Tea Sushi: 2 Regent Park Blvd, Asheville, NC 28806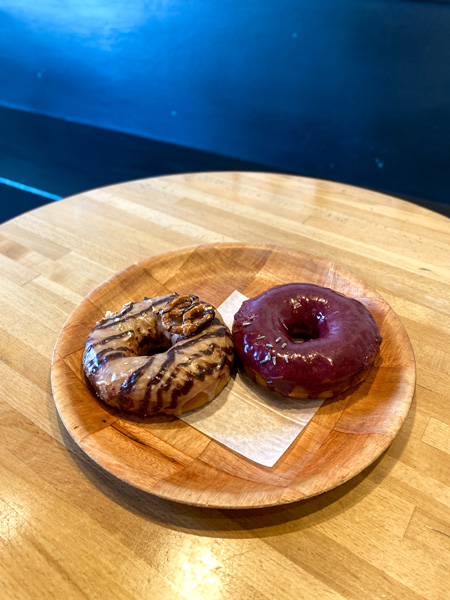 While we aren't suggesting that you sugar up the littles, everyone deserves a donut now and again.
For both regular and vegan donuts in Asheville, Vortex Doughnuts is a must for breakfast and lunch before their mid-day closing.
Find a spacious and trendy donut shop in South Slope next to Catawba Brewing and close to Buxton Hall BBQ.
Grab a cup of coffee, tea, juice, or hot chocolate to pair with their mouthwatering donut flavors.
Kid-friendly restaurants in Asheville don't get any better than this, especially if you have a major sweet tooth.
If you need a pick-me-up for the rest of the day, don't miss these local Asheville coffee shops too.
Vortex Doughnuts: 32 Banks Ave #106, Asheville, NC 28801
Save Your Favorite Asheville Kid-Friendly Restaurants For Later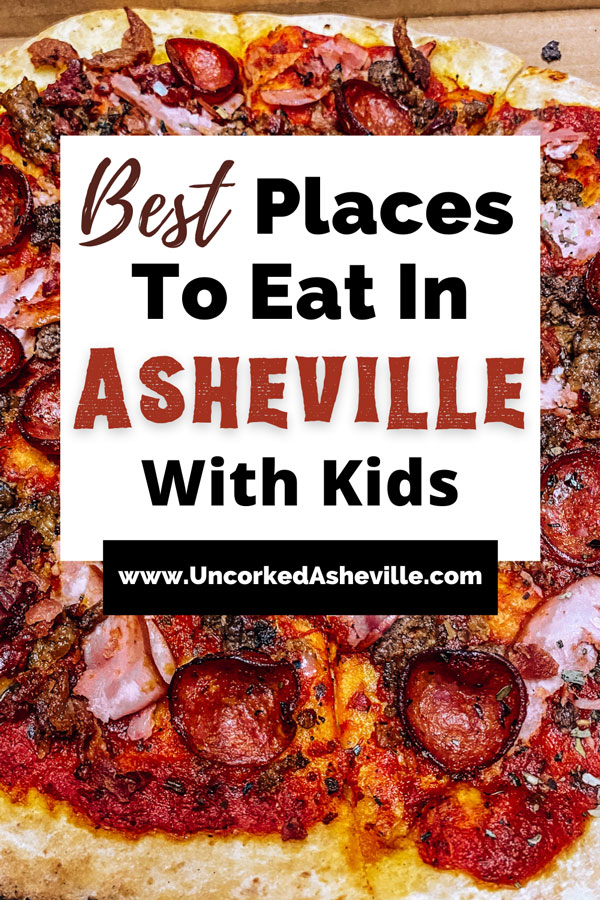 Where To Stay Around AVL
See our Top Places To Stay in Asheville.

Don't miss out on these Asheville properties on Booking.com, too.
Which kid-friendly Asheville restaurants do you love?
Where do you and your family love to eat in Asheville? What are the most family-friendly Asheville restaurants, in your opinion?
Plus, which kid-friendly breweries in Asheville do you enjoy?
Please let us know in the comments. We always love checking out new places and frequently update our articles.
For more family fun:
Biltmore For Kids
Best Kids' Things To Do In Asheville
Short & Easy Family Hikes
Fall Family Apple Orchards
Top Asheville Museums
You may also love:
Overall Best Asheville Restaurants
Ultimate Guide Of Asheville Things To Do