Explore the best bars in Asheville, NC – including rooftop, wine, and LGBTQ+ bars – perfect for any mood.
Known as "Foodtopia," AVL may be famous for its award-winning restaurants and endless breweries, but the Asheville bars are just as fun, colorful, and eclectic as the city itself.
No trip to Asheville would be complete without a little bar hopping.
Asheville is probably most famous for its rooftop bars, including The Montford, Capella on 9, Hemingway's, and The Social Lounge.
Travelers can also enjoy endless wine bars in Asheville like Bottle Riot, La Bodega, Walls, and 5 Walnut.
For unforgettable dessert bars, Crave is a must for smoky cocktails paired with sugary treats.
Of course, some of the best bars in Downtown Asheville – and its neighbors – are the more local sports and dive bars – filled with pub grub and budget-friendly drinks.
Think Bone & Broth, The Odditorium, and Fleetwood's.
Not to mention distilleries serving up handcrafted cocktails – Cultivated Cocktails, Chemist's Antidote, and Rye Knot – as well as a bookstore featuring literary cocktails, The Battery Park Book Exchange.
So, what are the best bars in Asheville, NC serving up smoky cocktails, delicious mocktails, and snacks for a variety of budgets and travelers?
There are honestly too many to name. Below, explore a variety of quirky, classy, and casual Asheville bars – some will sit inside delicious restaurants.
Be sure to let us know your favorite Asheville bar in the comments. Let's get started!
See where else to drink in Asheville.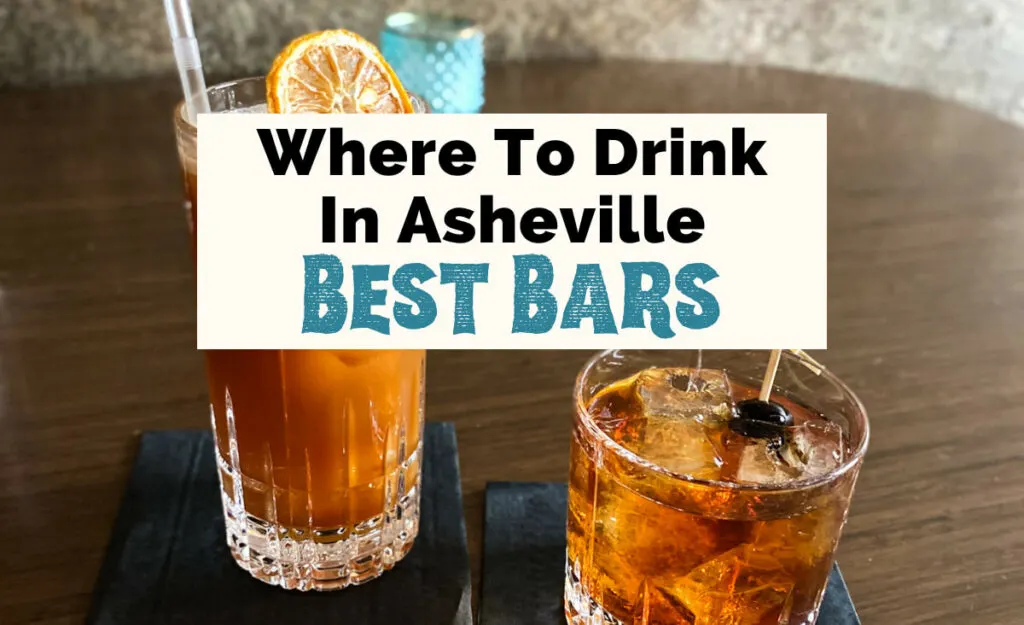 This post may contain affiliate links that earn us a commission at no extra cost to you. If you love these guides, support Uncorked Asheville here.
20 Best Bars In Asheville
1. The Times Bar & Coffee Shop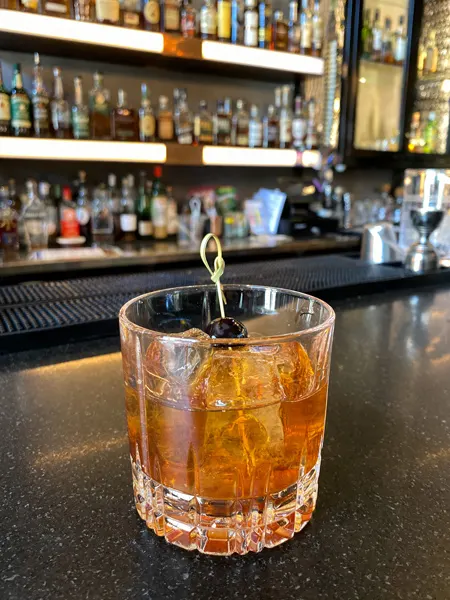 One of the prettiest bars in Downtown Asheville, The Times Bar is perfect for both boozy and non-alcoholic beverage seekers.
For cocktails, find twists on classics, seasonal concoctions, and fruit and spice infusions. Literary masters will laugh and smirk at cocktails' crafty names.
Plus, enjoy one smooth and classy drink in their bar complete with a library ladder, cascading red curtains, and the sparkliest chandeliers.
Be sure to check out The Times Bar's personal cocktail recipe collection – which adds an apothecary-like feel to this grand Asheville bar.
Non-drinkers can choose from mocktails or some of the most trendy coffee selections in AVL.
Just know that the coffee counter is typically open from 10 AM to 4 PM Wednesday through Sunday (although this is subject to change seasonally).
The Times Bar and Coffee Shop also features daytime boozy lattes, Bloody Marys, and mimosas.
The Times Bar & Coffee Bar | 56 Patton Ave, Asheville, NC 28801
2. Battery Park Book Exchange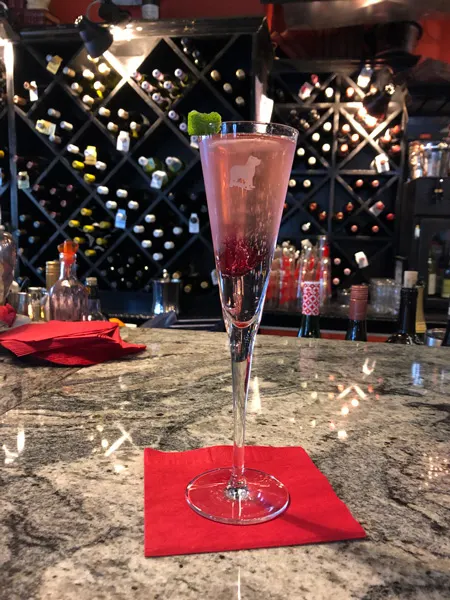 What is one of the most unique bars in Asheville for bookworms?
Battery Park Book Exchange is both a champagne bar and one of the top used bookstores in town – it's a tipsy bibliotourist's dream.
Battery Park Book Exchange sits in the historic Grove Arcade, offering up a little something for everyone. Head left for the bar with a huge wine selection, champagne, and literary cocktails.
Or, turn right for multiple levels of used books, gathering areas, poetry readings, and hidden tables and couches to relax with charcuterie and drinks.
In fact, we think Battery Park Book Exchange has one of the best charcuterie boards in AVL.
They were creating those meat roses well before it was cool on TikTok – and on a gorgeous day, sit outside with a board to people watch.
Battery Park Book Exchange | 1 Page Ave #101, Asheville, NC 28801
3. Cultivated Cocktails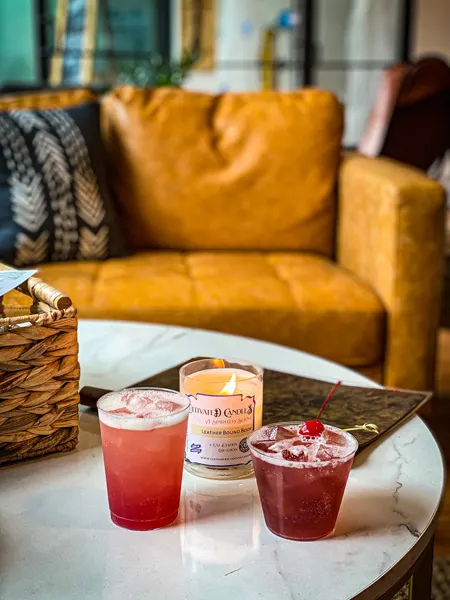 Although most well-known for its beer, the city's distillery scene is quite noteworthy too.
In fact, Dalton Distillery has a fantastic dive sports bar, and Chemist's Antidote is a popular rooftop bar in Downtown Asheville.
If we had to pick our favorite, though, Cultivated Cocktails is a must for delicious cocktails in a trendy space along jumping Page Ave.
Here, pick up Asheville souvenirs to bring home, including Cultivated Cocktails whiskey, gin, coffee liqueur, rum, and vodka.
They also sell the best home bar schwag and kits for you to create your own magical and spice-infused cocktails.
Be sure to follow their Instagram account for curated cocktail recipes
Cultivated Cocktails | 25 Page Ave suite 103, Asheville, NC 28801
4. Bottle Riot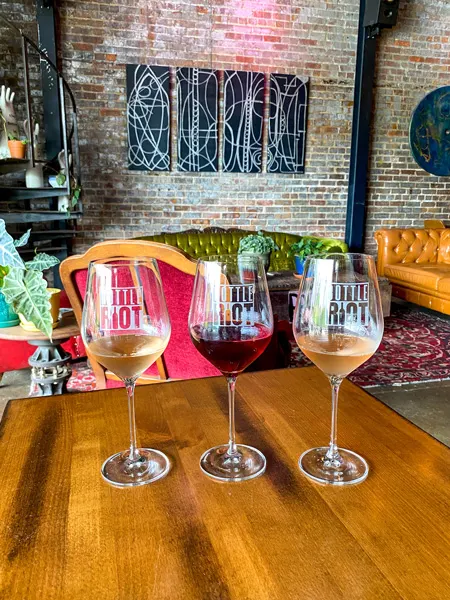 Originally one of our go-to wine bars in Asheville, Bottle Riot now serves spirits and cocktails as well.
Sip from wine glasses the size of your face, and go balls to the walls extravagant with "baller bottles."
Order light snacks like charcuterie and spreads.
Bottle Riot curates an interesting list of red, orange, and white wines that rotate frequently. Find basic and classic cocktails alongside an impressive and international spirits list.
Bottle Riot is located in Asheville's vibrant River Arts District.
While here, and if you are hungry, be sure to check out Baby Bull for burgers, Bull and Beggar for fine dining, and RosaBees for Hawaiian.
Read more about RAD's stellar restaurants here. RosaBees is also one of the best overall restaurants in AVL.
Bottle Riot | 37 Paynes Way #009, Asheville, NC 28801
5. The Montford Rooftop Bar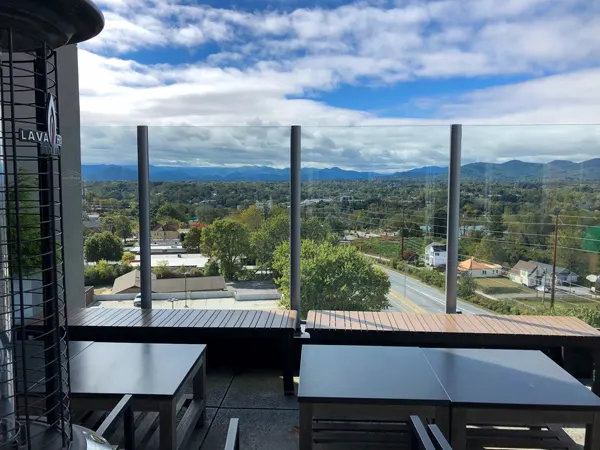 Located on top of DoubleTree by Hilton, The Montford is one of the most well-known rooftop bars in Asheville.
Take the elevator to the top for spectacular views of Asheville's Historic Montford neighborhood – home to Riverside Cemetery, gorgeous architecture, and Bed & Breakfasts.
If you are lucky, you might catch a glimmering rainbow over the Blue Ridge Mountains as well as The Omni Grove Park Inn and Sunset Mountain.
Sit inside their bar area with sprawling windows or outside on the smaller heated patio.
For food, select from fried Brussels sprouts, chicken wings, eggplant, and tater tots. The Montford also serves flatbreads, sandwiches, and desserts.
Find sharable cheese and charcuterie boards with reasonably priced cocktails, wine, and beer.
Around the holidays, The Montford Rooftop Bar has fun and festive Christmas decorations, and all year long, visiting any of Asheville's rooftop bars is one of the most romantic couples' activities.
The Montford has limited availability for walk-ins, making reservations highly recommended. Be sure to take advantage of their valet parking.
The Montford Rooftop Bar | DoubleTree by Hilton Asheville Downtown | 199 Haywood St, Asheville, NC 28801
6. The Odditorium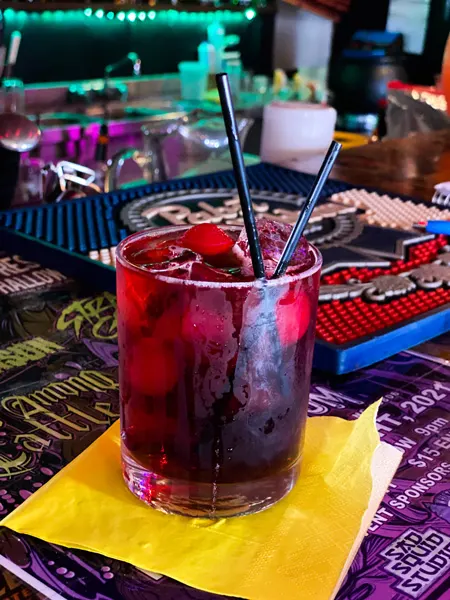 Like the River Arts District, the West Asheville bars and restaurants are spectacular. If you are looking for an LGBTQ+ bar in Asheville, The Odditorium is a must.
The Odditorium markets itself as an oddities bar, which sounds about right when Zoltar and stuffed critters greet you. We absolutely love it.
Along with drag shows and pop-up food events, find the quirkiest cocktail menu in AVL.
One Halloween, our Cheerwine and unicorn-inspired drinks came with bones. We don't want to know where those bones came from.
Sit inside or out on one of their picnic tables surrounded by street art.
A great event space, The Odditorium also hosts flea markets, art shows, trivia and poetry nights, and more.
While touring West Asheville, dine at Thai Pearl for delicious Thai cuisine, shop for books at Firestorm, and sip wine at Leo's House of Thirst.
The Odditorium | 1045 Haywood Rd, Asheville, NC 28806
7. The Great Hall Bar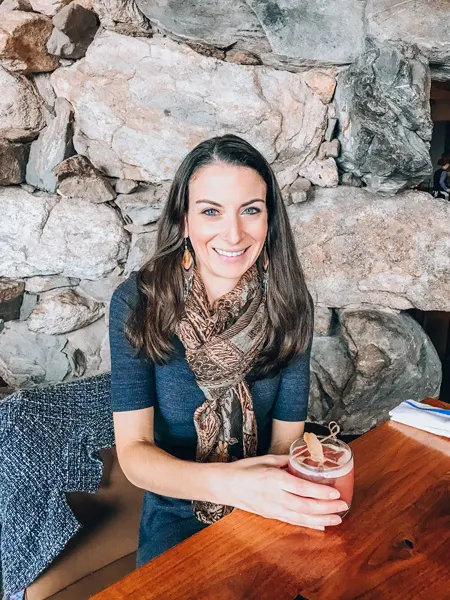 For romantic restaurants, The Omni Grove Park Inn won't disappoint.
Even though this is a luxury resort for travelers, we frequent Grove Park's Edison and The Great Hall Bar for drinks.
Both – along with fine dining at Sunset Terrace – are perfect for those breathtaking mountain views over Downtown Asheville and Mount Pisgah.
Located inside The Omni Grove Park Inn's lobby in North Asheville, The Great Hall Bar promises floor-to-ceiling stone fireplaces with rocking chairs and comfy tables and chairs along the bar.
On a gorgeous day, head outside to the second-level terrace past Sunset Terrace for al fresco service with small bites, sandwiches, and dessert.
The Great Hall Bar serves ritzy takes on pub grub such as a three-cheese grilled cheese, caramelized onion dip, charcuterie, and jumbo chicken wings.
Of course, don't forget about those delicious handcrafted cocktails, spirits, and wine.
For Asheville bars with the best overall ambiance and drinks, The Great Hall Bar is one of our top choices.
The Great Hall Bar | The Omni Grove Park Inn | 290 Macon Ave, Asheville, NC 28804
8. The Social Lounge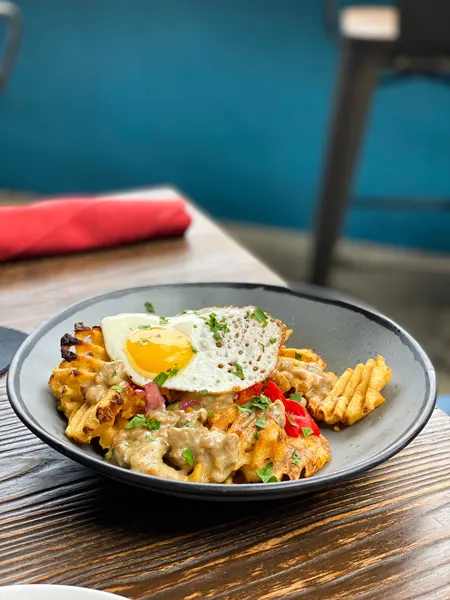 The Social Lounge is a must if you are looking for late-night bars in Downtown Asheville. Inside find a more historic-looking space with cozy brown booths and a fun wall mural.
Or, head here for one of the most memorable weekend brunches in Asheville on their rooftop terrace. You cannot go wrong either way.
For late-night dining and cocktails, The Social Lounge shares a menu with its sister restaurant, Strada Italiano, which doles out classic Italian pizzas, pasta, and apps.
Their seasonal cocktails showcase twists on classic favorites and offer unique flavor pairings.
For brunch, The Social Lounge features vegan lox, pastries, salads, and omelets along with shrimp and grits, pancakes, and French toast.
Gluten-free and vegan diners will be able to find something on their menus for both dinner and brunch. As a lactose-intolerant household, we can eat here.
Explore even more of Asheville's top Downtown restaurants like Bouchon, Limones, Jerusalem Garden Cafe, and Red Ginger.
See where to grab breakfast too.
Social Lounge Asheville | 29 Broadway St, Asheville, NC 28801
9. Rankin Vault Cocktail Lounge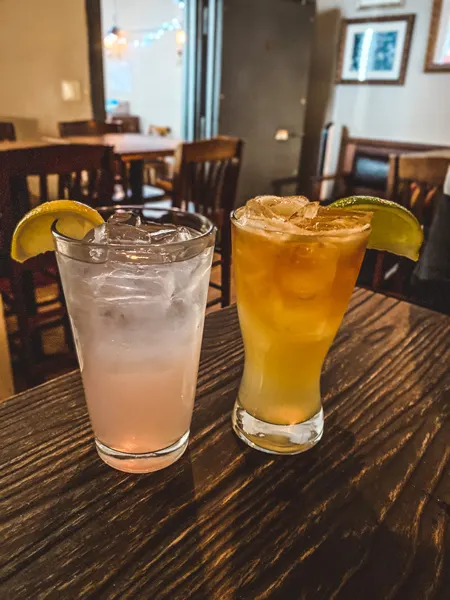 Which Asheville bar was voted "best burger in Asheville" for 5+ years in a row? Rankin Vault Cocktail Lounge in Downtown Asheville. (We also love Baby Bull.)
The Vault Burger is their award-winning patty.
One of the more casual and no-frills bars in Downtown Asheville, Rankin Vault Cocktail Lounge is perfect for those seeking a casual ambiance with budget-friendly food.
Rankin Vault serves up creative cocktails like a Lavender lemonade, boozy iced tea, an Ashevillian Love Affair, and margaritas.
Grab a seat at the bar or a table in one of three spaces – two of which are slightly elevated – after placing your order at the bar.
Outdoors, enjoy a small patio to people-watch, but beware of nonchalant smokers.
Along with those famous burgers and hot dogs, Rankin Vault serves traditional pub grub, including chili, sandwiches, salads, and nachos.
Rankin Vault Cocktail Lounge | 7 Rankin Ave, Asheville, NC 28801
Never Miss Another Asheville Update
---
Tired of generic Asheville travel itineraries? Experience Asheville like a local with our free Asheville Favorites checklist, including restaurants, breweries, and hiking. Plus, get local updates – including events and hidden gems – straight to your inbox. Sign up here.
10. Bone & Broth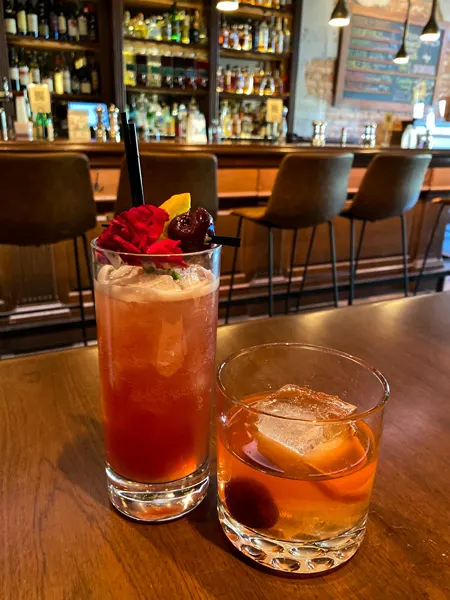 Bone & Broth is a restaurant with one of the best bars in Asheville – their cocktails are out of this world.
You'll love the historic feel of this Charlotte Street establishment, especially with its exposed brick.
Bone & Broth stays off the beaten path – hiding on the edge of Downtown around the Chestnut Street inns and Bed and Breakfasts.
A local North Asheville hotspot, reserve a booth or pull up a seat at Bone and Broth's bar. You can also enjoy dinner in their quaint dining area filled with pictures and rustic lighting.
Along with classic cocktails, try one of their infused distilled beverages and local beer.
For steak lovers, Bone & Broth's more moderately-priced entrée will speak to you. Dine on lamb chops, duck, risotto, and seafood dishes.
Or, select from lighter fare and Southern appetizers like deviled eggs, mussels in white wine sauce, and fried clams with pickles.
We highly recommend a burger featuring The Chop Shop's finest meats.
The Chop Shop is a fantastic local butchery next door. Order truffle fries, a side salad, or fried okra on the side.
Bone & Broth | 94 Charlotte St, Asheville, NC 28801
11. Fleetwood's Chapel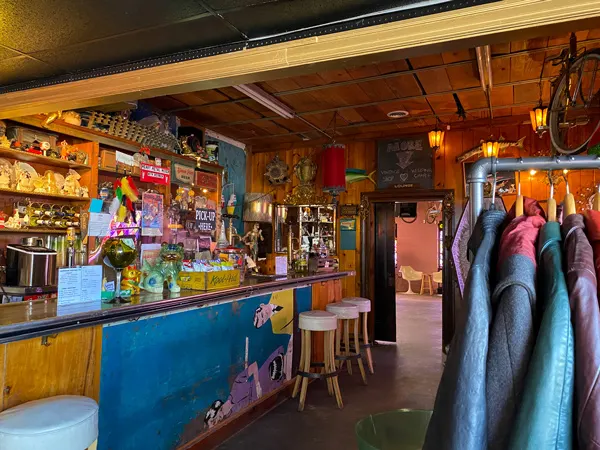 "Until death do us part," baby. Asheville bars don't get any weirder than Fleetwood's.
Buy a vintage wedding dress and get married near a hearse and open coffin at Fleetwood's Chapel.
This Rock N' Roll West Asheville bar will either haunt you for the rest of your life or crack you up – there's nothing else quite like it.
Along with a bar doling out local ciders, brews, and wine, enter a shop selling vintage clothing. Fleetwood's also hosts events, including a market, DJ music, and pop-ups.
Drink inside or head outdoors where local artist Kathryn Crawford's mural awaits you. This is another late-night bar in Asheville that you won't soon forget – even if you want to.
It's a bit grunge meets…death?
Fleetwood's Chapel | 496 Haywood Rd, Asheville, NC 28806
12. Top Of The Monk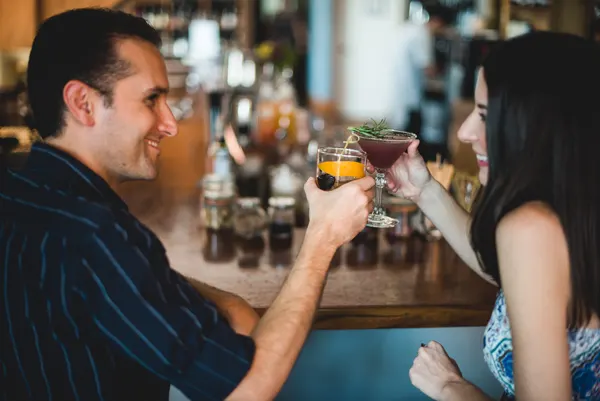 Did you know that Thirsty Monk – one of Downtown Asheville's hopping breweries – has a little speakeasy-like rooftop bar?
In fact, it's one of the only bars in Asheville that hands you a key with your drink.
Top of the Monk prides itself on its whiskey, and unlike many of the Asheville bars, they actually use the correct ice cubes. No watery drinks here.
Top of the Monk also makes its own juices, infusions, syrups, and bitters, serving up some of the finest cocktails in town.
Be sure to use that little key when you get hungry.
Top Of The Monk | 92 Patton Ave, Asheville, NC 28801
13. Crave Dessert Bar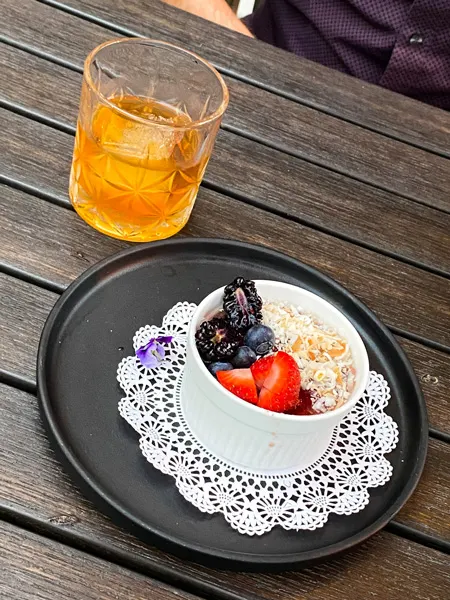 Imagine smoking hookah – or ordering a smoky Old Fashioned – with a classic and playful cocktail list paired with desserts and people-watching.
One of the best dessert bars in Asheville, Crave is a must, especially after enjoying dinner in Downtown Asheville.
Think liquid dessert as well as indulgent Italian donuts, cake, cheesecake, bread pudding, and s'mores.
Even better, Crave is another late-night Downtown Asheville bar, staying open until midnight.
If sweets are not for you, Crave also offers small plates, handhelds, and flatbreads.
Sit outside under the stars or head inside to their swanky bar. This is indulgence at its best – even if you'll be wired all night.
Crave Dessert Bar | 41 N Lexington Ave Suite #100, Asheville, NC 28801
14. District 42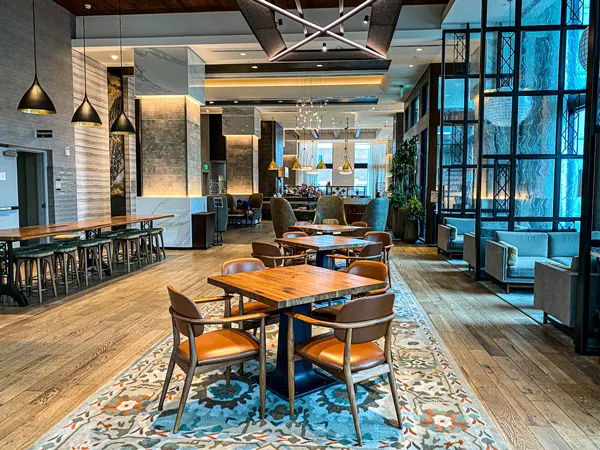 Asheville bars don't get any classier than District 42, which is located inside the gorgeous 4-star Hotel Arras Downtown.
This is a pricier and more elegant all-day bar and lounge for both guests of the hotel and visitors to the area.
Although you may miss the more local vibes found in the casual neighborhood bars, District 42 promises classy cocktails in a trendy and modern setting.
District 42 also makes for a great stop if you are attending a festival in Pack Square.
Sit inside or out, and be sure to check out their pizza bar, boards and bites, pasta, salads, sandwiches, and burgers along with dessert.
Cocktails rotate seasonally, and you'll find a unique international wine list and spirits – some made locally.

District 42 | Kimpton Hotel Arras | 7 Patton Ave, Asheville, NC 28801
15. Ben's Tune-Up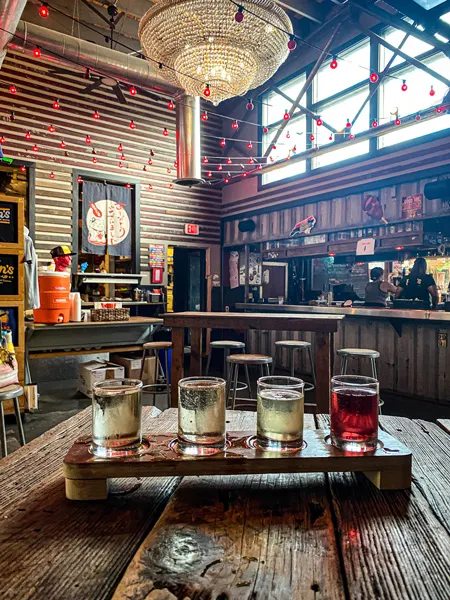 Have you ever enjoyed a flight of sake at a brewery?
One of the most unique bars in Downtown Asheville, Ben's Tune-Up is an urban brewery and sake bar.
Sit outside in covered and uncovered seating wrapped around their multiple bars or inside at a high top or table.
You won't find other sake bars in Asheville – and this is your chance to try a variety of dry, sweet, and fruity sake.
Pair your drink of choice with delicious Asian cuisine, including dumplings, Korean beef bowls, Bahn mi, stir-fry, and noodle salads.
Ben's Tune-Up also serves burgers and pork or vegan brats.
Ben's Tune-Up | 195 Hilliard Ave, Asheville, NC 28801
16. Village Pub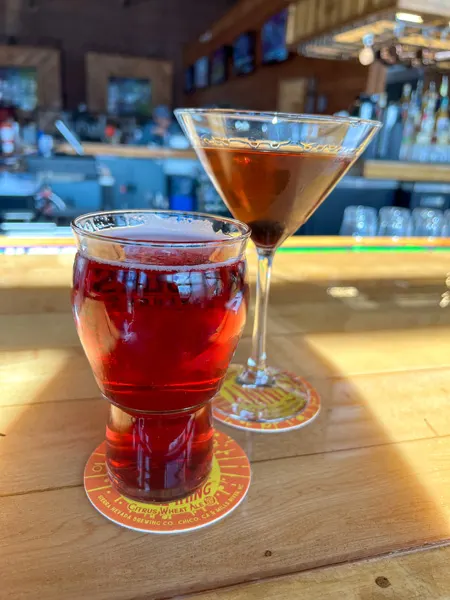 If you are traveling around Biltmore Estate and looking for food and drinks in Biltmore Village, head to Village Pub.
New to AVL in 2022, Village Pub sits conveniently across the street from Eda Rhyne Distilling and French Broad River Brewing.
For sprawling taverns in AVL, find two floors, multiple bars, gender-neutral restrooms, and indoor as well as outdoor seating.
Their food menu features your typical pub grub including nachos, fries, burgers, wings, hot dogs, and pizza with gluten-free-friendly and vegan options.
Of course, find fried pickles (GF!), mozzarella sticks, fish and chips, meatball parm, loaded cheese fries, Phillies, and a chicken smash.
As one of the best bars in Asheville, Village Pub promises an extensive beer list with local Asheville brews, wine, cocktails, and hemp-infused beverages.
This is a great meet-up spot. Find parking in the lot out front.
Village Pub | 100 Fairview Rd, Asheville, NC 28803
17. Library Lounge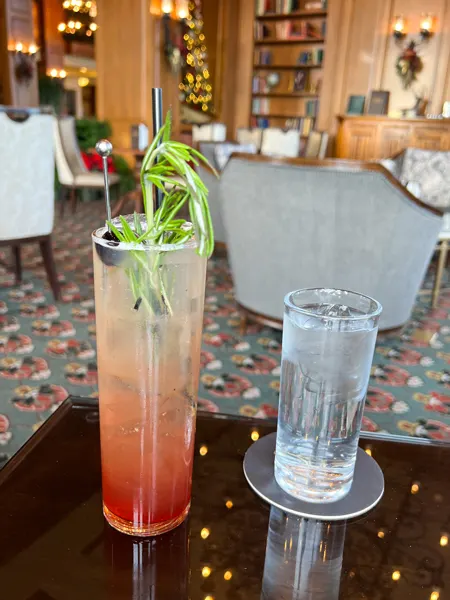 Perfect for book lovers, head to Biltmore Estate for its glitzy Library Lounge.
This is one of the more exclusive bars in Asheville as you will need a Biltmore daytime ticket, annual pass, or overnight/on-property stay to visit and enter the grounds.
Located inside of The Inn on Biltmore Estate – a 4-star, luxury property – head toward the back of reception for a gorgeous bar ensconced by tall bookshelves and windows overlooking the Blue Ridge Mountains.
Look down onto Antler Hill Village – another terrific Biltmore bar and restaurant area – which also houses Biltmore's wine bar, Cedric's Tavern, Village Social, and the winery.
For drinks, we most enjoy the Library Lounge's seasonal cocktails, and they boast an extensive wine list both by the glass and bottle.
This is also a great spot to try Biltmore's wines paired with small bites like charcuterie, soups, shrimp cocktail, sliders, and desserts. Think ice cream sandwiches, cookies, and mousse.
Sharables and snacks range from $12 to $20, and cocktails are in the $20+ range, making this one of the pricier Asheville, NC bars.
We prefer dropping into the Library Lounge mid-day when the dress code is more relaxed.
They encourage "resort casual" wear, which is highly encouraged more so for evening cocktails and entertainment.
Shorts, faded or ripped jeans, tank tops, and flip-flops won't work here – but this isn't a stuffy bar either.
Learn more about Biltmore's unique history, and discover the magic of the estate at Christmastime. Biltmore decorates the Library Lounge beautifully for the holidays.
While in this area, uncover more great places to eat around Biltmore like Andaaz, Corner Kitchen, and casual Apollo Flame.
For more nearby bars in Asheville, Red Stag Grill in the Grand Bohemian is quite memorable with its hunting-themed decor.
Library Lounge | The Inn on Biltmore Estate | Biltmore Estate 1 Lodge St., Asheville, NC 28803
18. The Whale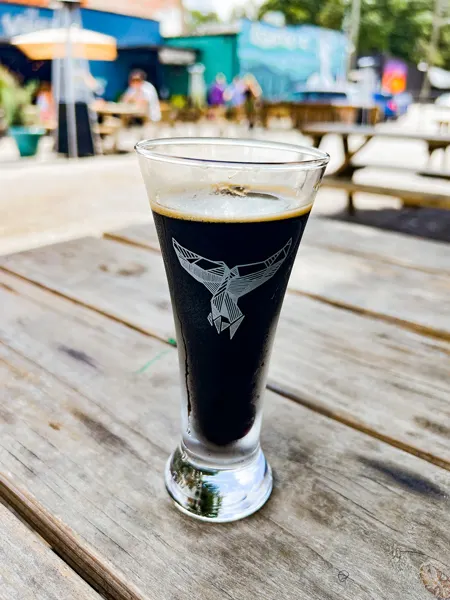 One of our favorite West Asheville bars to pair with food, The Whale and Haywood Common share a quaint and peaceful outdoor patio in the heart of this traditionally busy AVL neighborhood.
The Whale is known for its extensive local and international beer list.
Find both beers on tap and canned for North Carolina breweries as well as across the U.S. and from countries like Ireland, Belgium, the Caribbean Islands, and more.
The Whale offers a great way to drink your way around the world.
The shared patio is both dog and family-friendly with covered and outdoor seating. Dogs must remained leashed.
The Whale also has a smaller indoor seating area.
Even better, dip into Haywood Common to place your order for healthy (and not-so-healthy) meals like poke bowls, burgers, salads, boiled peanuts, and tater tots.
We drop in here for lunch quite a bit. Haywood Common also serves weekend brunch and has handcrafted cocktails and delicious coffee.
Plus, for gluten-free diners, find GF bread and a designated fryer (but always double-check).
The Whale is one of the best bars in Asheville because of all that it has to offer in combination with Haywood Common. There's something for everyone.
We suggest downloading the park mobile app and parking at the church next door. The Whale has a very small lot out front, but it's tight and usually pretty full.
The Whale Asheville | 507 Haywood Rd #10, Asheville, NC 28806
19. Asheville Guitar Bar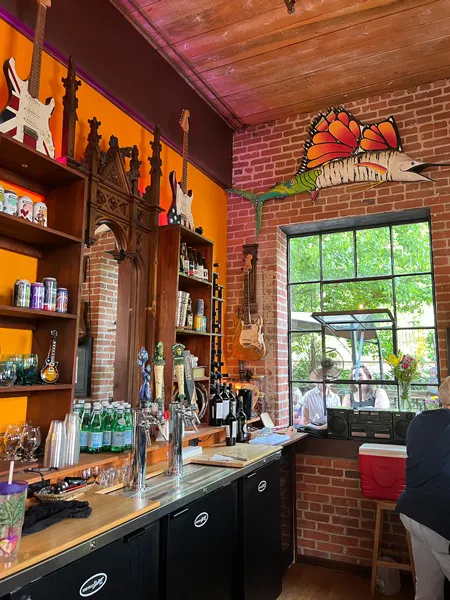 If you are looking for bars in Asheville with live music that cater to an older crowd, head to the River Arts District's Guitar Bar.
This no-frills bar tends to stay off of the beaten path, especially because it's quite intimate and casual.
We walked in one night after strolling the beautifully renovated RAD Riverwalk, which is perfect for biking and skating too.
We couldn't resist the music – older tunes that our parents loved – and people were dancing up front.
We grabbed wine and beer from the bar and headed outside to peek through the windows to the stage.
The Asheville Guitar Bar has both indoor and outdoor seating as well as a staging area for music.
Also located in Cotton Mill Studios, find the local artist Andy Herod's bar, Great Wild Nowhere, and Guajiro, Asheville's Cuban food truck.
Park in the gravel lots out front or along the RAD Riverwalk. The French Broad River is across the street.
Asheville Guitar Bar | 122 Riverside Dr. Suite D, Asheville, NC 28801
20. Saint Brighids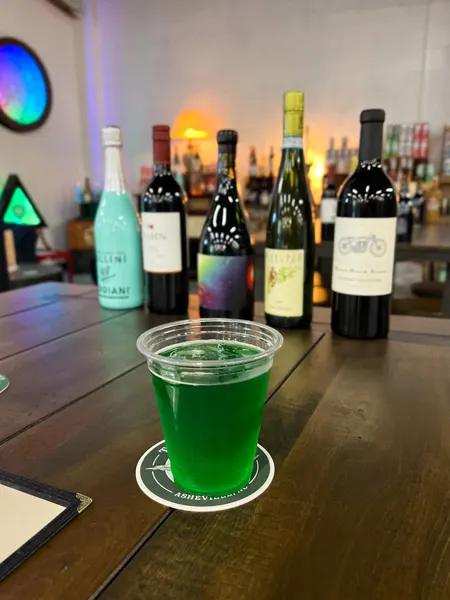 Situated in Marquee – the River Arts District's gorgeous (and newer) European art and home decor market – don't miss one of the coolest bars in Asheville, Saint Brighids.
Saint Brighid is the Irish patron saint of brewers, and this spacious bar is an homage to her, serving a bit of everything including local cider and mead.
Of course, find a large beer and wine list featuring some of the area's best wineries and most famous Asheville breweries.
Grab a drink and sit at a table or walk around shopping for the best art and home decor in the city.
Marquee has items like Pez machines transformed into plant holders, blown glass lighting, pottery, embroidered jean jackets, guitars, furniture, paintings, jewelry, and more.
Every time we go, it gets better and better – and visiting this area is a great way to spend a weekend in Asheville.
Find free parking out front along the studios and shops in the Foundy Street area. Pleb urban winery is nearby.
Discover more great things to do in Asheville, including watching an indie film at the Grail Moviehouse.
Saint Brighids | 36 Foundy St A1, Asheville, NC 28801
Even More Bars Around Asheville:
The Golden Pineapple
Asheville Club
Asheville Yacht Club
LaZoom (Comedy Bus Tours)
Capella on 9
Hemingway's Cuba
Asheville Biergarten
Dirty Jack's
Off The Wagon Dueling Piano Bar
Creekside Taphouse
Foggy Mountain Brew Pub
Barley's Taproom
The Village Porch
Save The Best Asheville Bars For Later: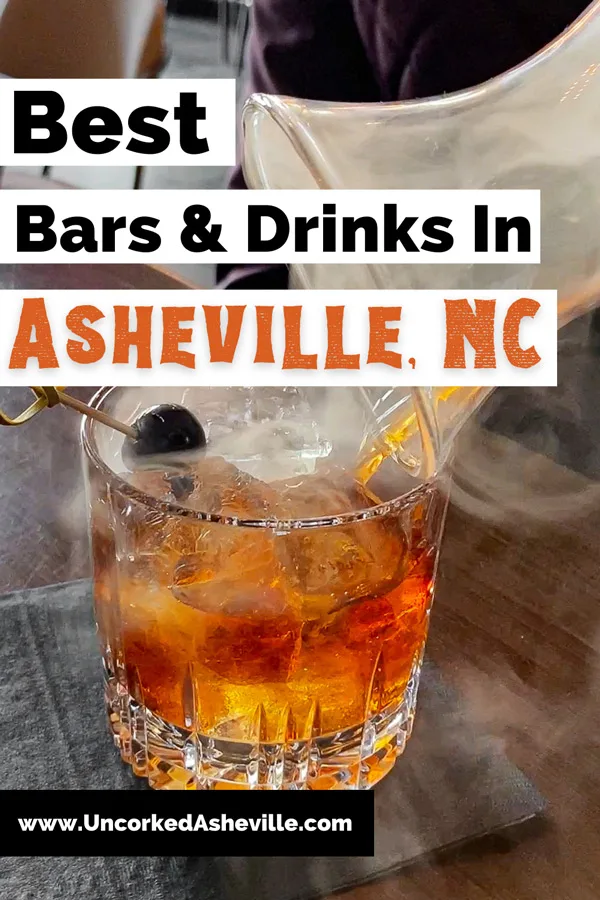 Where To Stay In Asheville
Explore the best places to stay in Asheville. A few of our top suggestions:
Aloft – Downtown Asheville – Centrally located and recently renovated, enjoy a rooftop pool, a gorgeous bar, and trendy rooms.

The Omni Grove Park Inn – Treat yourself to a luxury resort in North Asheville, complete with breathtaking sunsets, terrace bars and dining, and loads of Asheville history.

Hampton Inn And Suites Asheville Biltmore Area – A budget-friendly but renovated hotel on busier Brevard Road that's perfect if you wish to stay between Biltmore Estate, Downtown Asheville, and the Blue Ridge Parkway.

Asheville Cottages – Gorgeous 1 to 3-bedroom cottages with a private deck, housing a grill and hot tub. Find luxurious heated-floor bathrooms with rain showers, a well-stocked kitchen, and the cleanest rooms in town.

Foundry Hotel – An oasis in Downtown Asheville, Foundry Hotel is a nod to AVL's industrial history. Find famous restaurant Benne on Eagle while sleeping ensconced in charm and elegance.

Country Inn & Suites by Radisson, Asheville Westgate, NC – Located off of the highway as you enter AVL, find a sleek and clean hotel at a great price.

Black Walnut B&B Inn – Designed by Biltmore's supervising architect, Richard Sharp-Smith, this 1899 inn is close to Downtown AVL and serves afternoon tea. Two rooms are pet-friendly.
Don't miss out on these Asheville properties on Booking.com, too.
What are your favorite bars in Downtown Asheville? West Asheville? RAD?
Which Asheville bar do you most enjoy? Let us know in the comments!
Get your drink on here:
Dog-Friendly Breweries
GF and Gluten-Reduced Beer
Asheville Food Guides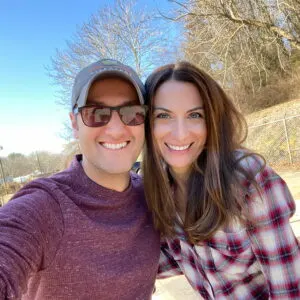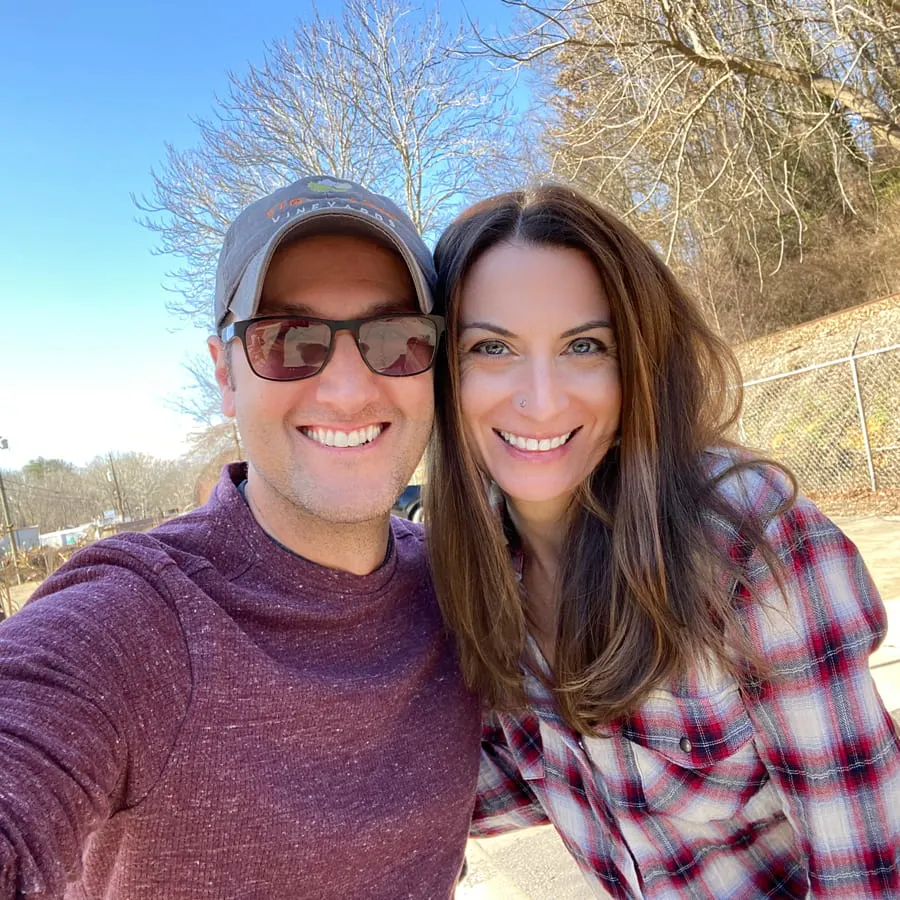 Christine (pronouns: she/her) is the owner and lead writer of Uncorked Asheville. After falling in love with those gorgeous Blue Ridge Mountains, Christine and her husband Tom decided to call Asheville, North Carolina their home. When her pointy Italian nose isn't stuck in a book, Christine is adopting all of the kitties, getting lost in the forest, and drinking an ESB.
Christine has a BA in English and History from Smith College, her MLIS from USF-Tampa, and is a former U.S. Fulbright Scholar - Indonesia. She also owns The Uncorked Librarian LLC with books and movies to inspire travel.