Are you headed to the historic Biltmore Estate in Asheville, North Carolina? Is the Biltmore ticket price worth it?
Discover 18 of the best things to do at Biltmore, including Biltmore tours, dining, hiking, and wine from an annual passholder and Asheville local.
Before becoming Asheville locals, we were Asheville tourists. I'll never forget flying over the Blue Ridge Mountains and watching the trees open up to Biltmore Estate. You can also catch a glimpse of Biltmore from the Blue Ridge Parkway driving toward Asheville.
Considered the largest home in America, Biltmore is breathtaking. You cannot miss it.
Think spooky library with 22,000 volumes of books that George Vanderbilt personally collected. Imagine 22-miles of scenic hiking trails, including the famous gardens designed by Frederick Law Olmsted.
Daydream about endless wine tasting. Learn how champagne is made. Take a red wine and chocolate tour.
Or, picture getting chatty with some chickens. How about eating southern pickles with seasonal cocktails at Cedric's Tavern — an ode to the Vanderbilt's beloved Saint Bernard.
There's shopping Appalachia-style in Antler Hill Village. Not to mention that you can sleep on-site at The Inn On Biltmore Estate or Village Hotel. Plus, don't forget to drive over to Biltmore Village.
What should you do next? Be sure to check out our Asheville Guide Of Top Things To Do.
---
This post may contain affiliate links for products and services we recommend. If you make a purchase through these links, at no additional cost to you, we will earn a small commission. Read the full disclosure here.
---
Biltmore Estate & Asheville Go Together Like Red Wine & Chocolate
Honestly, you cannot visit Asheville without seeing Biltmore at least once. Biltmore is such a large part of Asheville's history.
Not only one of Asheville's most iconic 'tourist attractions' and one of America's largest homes, but Biltmore Estate also helped shape and grow this mountain city.
The Vanderbilts put Asheville on the map. They dedicated time and money to education, forestry, and the community.
Today, Biltmore continues to work on environmental-friendly practices, food access and sustainability, and preserving our natural resources.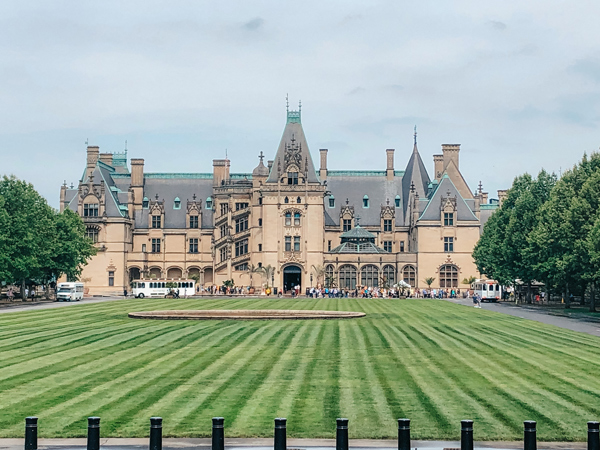 So, why should you visit? What makes Biltmore essential to your Asheville vacation? Who will enjoy Biltmore Estate? Is the ticket price worth it, and how can you get your money's worth out of Biltmore?
We promise to share the best things to do at Biltmore as locals to ensure that you have a fabulous time. Below find information, tips, tricks, and Biltmore FAQs answered from locals and passholders. Let's get started!
See our Top Places To Stay in Asheville.

Don't miss out on these Asheville properties on Booking.com, too.
---
Never Miss Another Asheville Update
Are you tired of generic Asheville travel itineraries? Do you want to experience the magic of Asheville like a local?
Grab our free Asheville Favorites checklist today, including restaurants, breweries, and hiking. Plus, get local updates straight to your inbox. Sign up here.
---
Who Will Love Biltmore Estate?
You visit for all of the things to do at Biltmore: history and property tours, eating, hiking, and wine-ing. Families, couples, friends, singles, and travelers looking for something more will all find worthwhile and special Biltmore activities.
You also don't have to love history or creepy old houses. Gardeners will love the flowers, hikers and bikers will enjoy the trails, readers will gawk at the library, children will smile at the pigs and chickens, and foodies will want to enjoy a meal in the former Vanderbilt stables at Stable Cafe.
You can read about all of the family-friendly things to do at Biltmore here from our favorite mommy blogger, Tori.
Engagement and wedding events are popular here, too. Loads of people get stunning and sweet engagement and proposal pictures at Biltmore Estate. P.S. We highly recommend Sarah Resta Photography.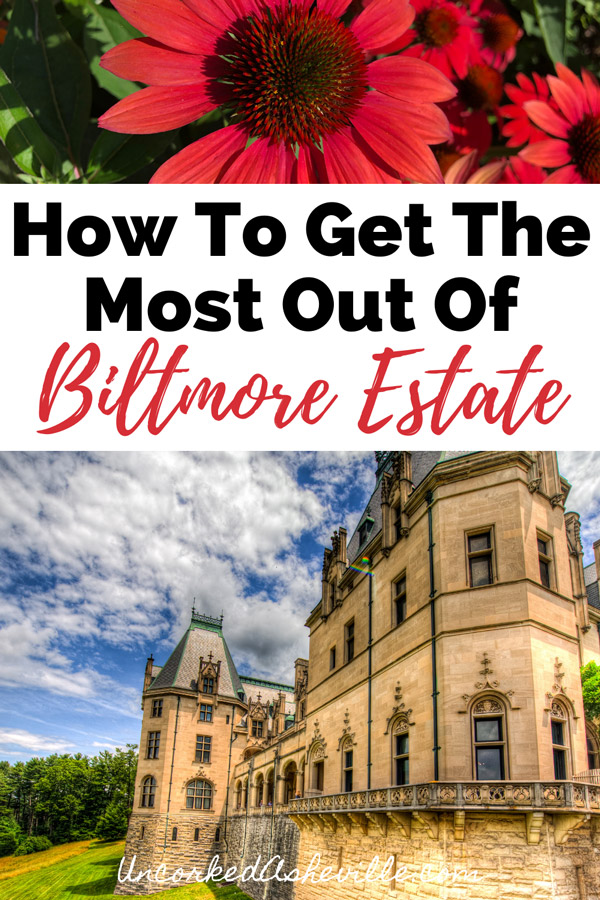 Is The Biltmore Ticket Price Really Worth It? And Why Is It So Expensive?
With all of that disclosed, Biltmore ticket prices usually start around $64-$94 and go up from there depending on the time of year and day of the week. Typically, Biltmore offers a discount if you book earlier online.
You are paying for the massive amounts of restoration and maintenance it takes to run Biltmore Estate. I highly recommend reading Denise Kiernan's The Last Castle, which truly makes you appreciate the Vanderbilts and the current cost of admission.
While everyone has their own budgets, interests, and circumstances, if you can afford the cost of a Biltmore ticket, it's worth it. In fact, we are annual passholders.
There are so many fun and yummy things to do at the Biltmore for everyone. You need at least one full day there to experience even a portion of the Biltmore sights. I look at the cost of a Biltmore Estate ticket like a Disney World pass minus the germs and insanity.
Let's make that ticket price worth it!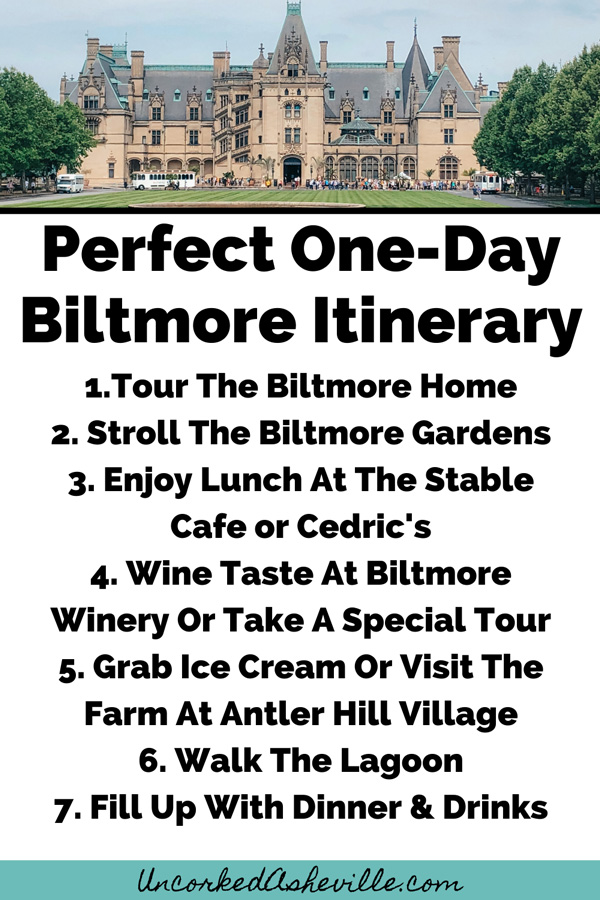 Our Recommended One-Day Biltmore Estate Itinerary
In the morning, take a self-guided or audio tour of Biltmore house.
After your home tour, head straight to the Biltmore gardens.
Enjoy lunch at Stable Cafe next to the home or head to Cedric's Tavern in Antler Hill Village.
After lunch, jump in line for wine tasting at Biltmore Winery or catch a Biltmore Winery Tour. Pick up some wine souvenirs at the shop.
Shop, drink wine, snack on ice cream, and take advantage of Antler Hill Village, including visiting the Farmyard.
Before heading out, take a stroll along the lagoon.
Of course, you can book dinner here, too.
With that said, keep on reading to see all of the best things to do at Biltmore:
18 Of The Best Things To Do At Biltmore Estate From Passholders
1. Visit & Tour The Biltmore House
One of the first and most obvious things you should do at Biltmore Estate is tour the home. Know that when you book, you must pick what time you'd like to enter the house. If you don't, you aren't guaranteed access to walk inside.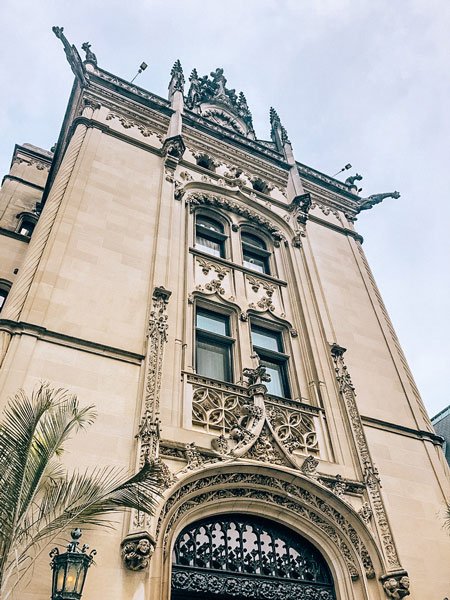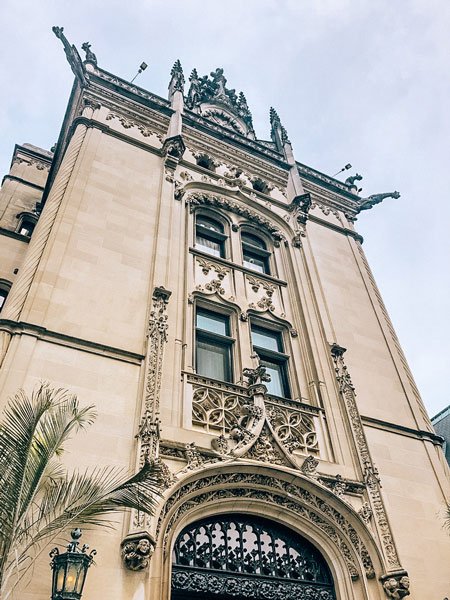 The earlier in the day you tour the Biltmore house, the better. Although reserving a time means you must arrive then, this helps with crowd control, too.
The first time that we visited Biltmore — because we booked in advance — we found cheaper tickets that also included a free audio tour.
Biltmore Estate Pro Tip: Use the restroom before you get in line to enter the house. I'm not kidding. You won't see bathrooms again until the end of the 1.5-hr tour.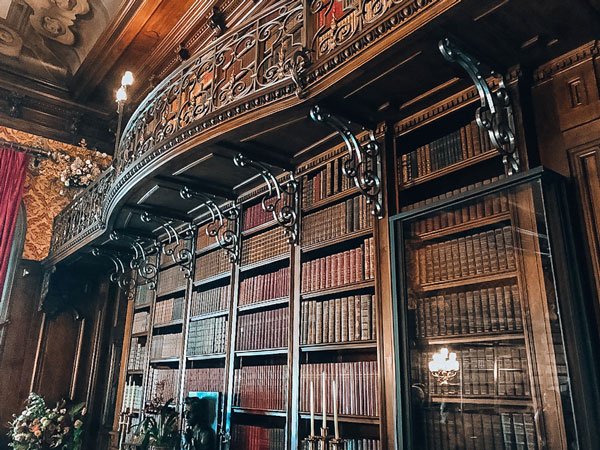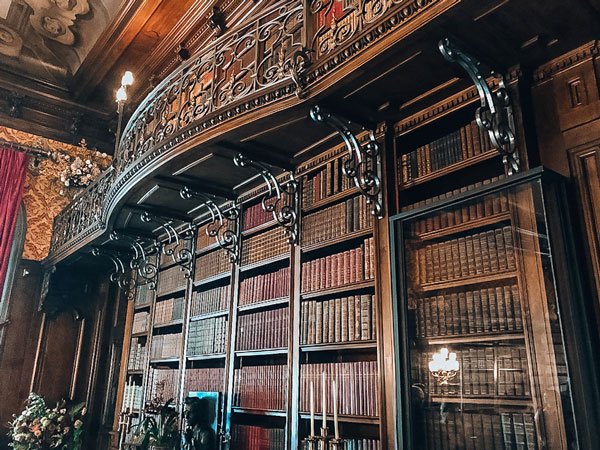 What Is A Biltmore Estate Audio Tour Like?
Personally, I don't love audio tours, but this particular one was hilariously fun as we were 'guests' at a classy Vanderbilt dinner party. While the opera singer prepared her vocal cords, a writer practiced her after dinner reading as Cedric the dog stole an entire turkey.
I'm also told that Cedric, the Vanderbilts beloved St. Bernard, gives the children's audio tour. They do change up the audio tours on occasion.
The audio tour took us around 1.5-2 hours throughout the entire house.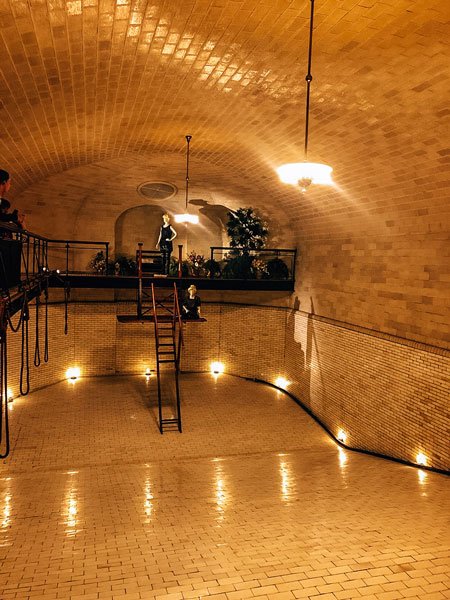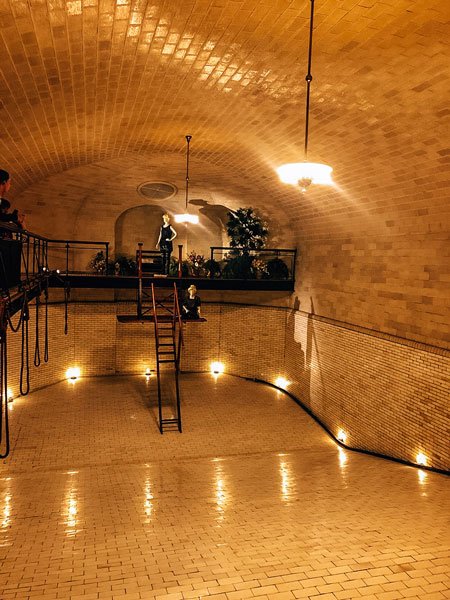 Do I Need To Take A Guided Biltmore House Tour?
We have yet to take a guided house tour. A guided tour is on our Biltmore Estate bucket list to learn behind the scenes facts.
However, if you just want to walk the house on your own without upping the price of your ticket, you can. When family and friends visit, we tour on our own, which still takes 1.5-2 hours.
The rooms explain themselves and are well worth the visit alone.
---
---
What Should You See Inside The Biltmore House?
Just like you, George and Edith were not at a loss for things to do at Biltmore Estate. They had endless entertainment and grounds to frolic on.
I'm not going to lie: I'm a little biased here so get ready for what we love inside the Biltmore home besides all of the bedrooms and dining and sitting rooms.
Biltmore Library – According to Biltmore's historians, as an avid reader and book collector, George Vanderbilt read 81 books on average per year. How do they know this? George personally recorded all of the novels he read in a journal. He also collected over 22,000 volumes of books, and he favored French writing.
Biltmore Loggia – Before you enter the library, don't miss the 360-degree views of the Blue Ridge Mountains from this gorgeous balcony.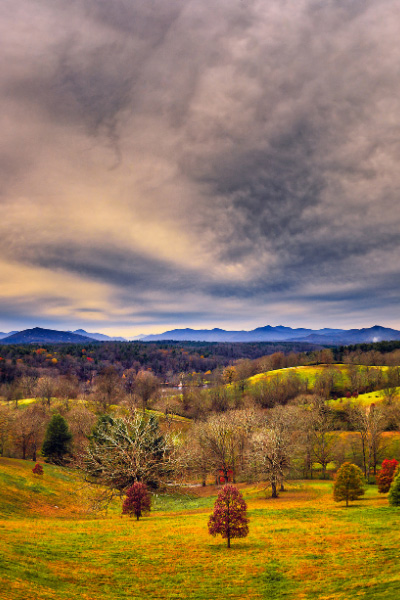 Biltmore Estate Indoor Swimming Pool – Biltmore's pool is intriguing, even though it is, of course, empty. At around 10-feet deep, this pool is said to have stored 70,000 gallons of water. I also think the changing rooms are pretty neat.
Biltmore Bowling Alley – Biltmore housed endless luxury rooms including a gym and bowling alley. In fact, this two-lane bowling alley is said to be the first-ever in a private home.
Biltmore's Halloween Room – As you head into Biltmore Estate's basement, don't miss the folklore-ish murals painted on the brick walls. Biltmore historians believe Cecil had the murals painted for New Year's ball in 1925. You can read more about the Halloween Room here→
Biltmore Banquet Hall – You can't miss the banquet hall with its 70-foot ceiling, triple fireplace, and pipe organ. At Christmas, you'll find a 35-foot tree.
Other notable mentions include the Butler's pantry, laundry room, and George and Edith's bedrooms.
2. Stroll Around The Biltmore Gardens
After exiting the house, if you have a morning ticket, I recommend heading to the Biltmore Estate gardens right outside of the home's entrance.
In the spring, you'll discover the infamous Biltmore Blooms, home to sweet engagements and vibrant photo sessions. Find acres of both formal and informal gardens with strolling paths. The gardens with paved paths are the most accessible.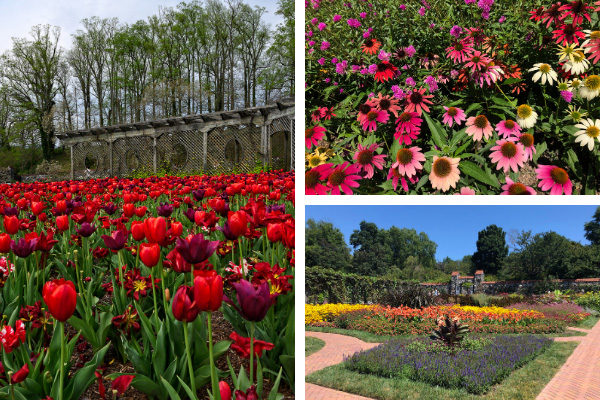 Notably, Fredrick Law Olmstead designed Biltmore's gardens, and you can even see an Italian Garden. Don't miss the conservatory.
3. Grab Lunch Or Dinner At One Of The Many Biltmore Restaurants
One of our favorite things to do at Biltmore Estate as annual passholders, we love heading to one of the Biltmore restaurants for a meal and glass of local wine or a craft cocktail.
I highly recommend using Open Table to make reservations if you don't want long waits.
What are our favorite Biltmore Restaurants?
When we first visited and where we usually take our guests is Stable Cafe right next to Biltmore house. Stable Cafe has your basic and non-fancy sandwiches along with southern treats.
Child-friendly and decent for food intolerances, my Celiac and lactose-intolerant hubby can easily find something to eat.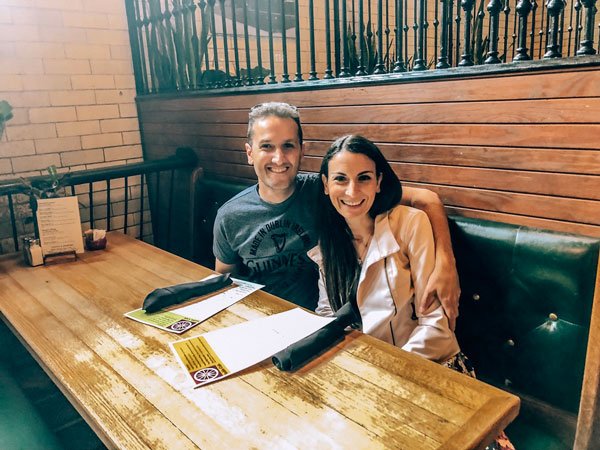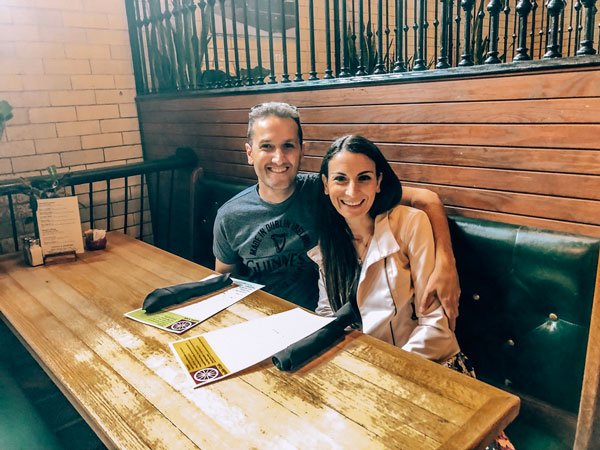 My dad loves their platter of smoked meats, and personally, I enjoy a classic chicken salad sandwich. Who knew that they make stellar seasonal cocktails, too?
Plus, if you are lucky to snag a booth, you will find yourself eating in the old Vanderbilt horse stalls. Maybe that's not your thing, but I love it.
While I know that Biltmore has fancier restaurants, our absolute go-to is Cedric's Tavern — where you can find Cedric's massive dog collar.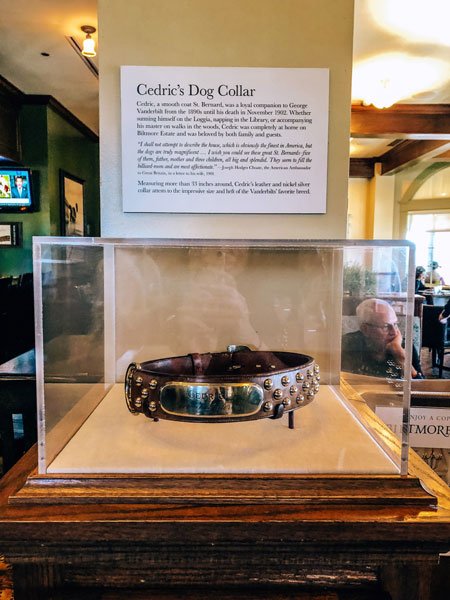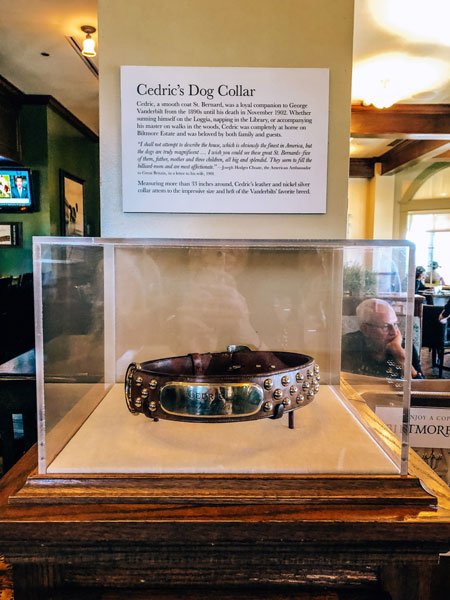 Cedric's Tavern makes their own pickles that they serve at lunch, and don't miss their Lusty Monk Mustard. And YES, order a boozy cocktail. They are delicious.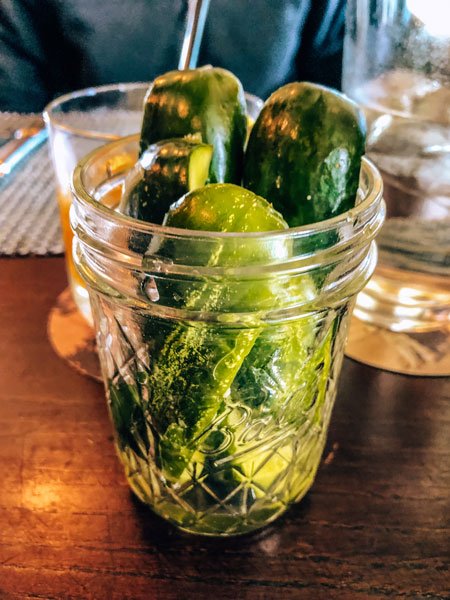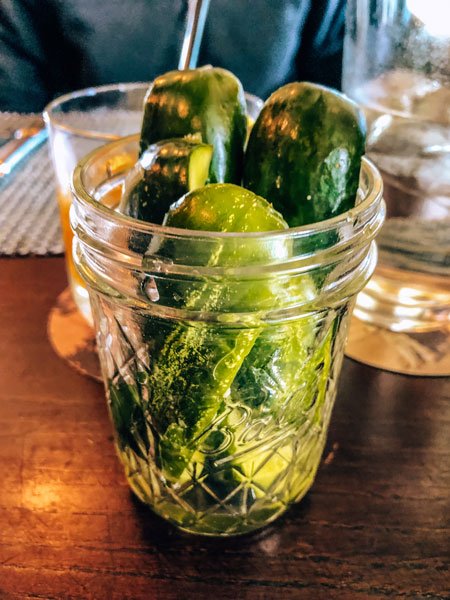 Slightly pricier, the menu and drinks change seasonally and are fresh as well as worth it. The outdoor patio is heated in the winter, and they have bar seating. The walls are filled with black and white photographs of Cedric and the Vanderbilts.
Out front is a creepy-fun little statue of Cornelia playing with Cedric.
More Food And Drink At Biltmore Estate
If you are looking for more foodie things to do at Biltmore, this is their full list of restaurants→
Grab an ice cream at the Creamery, brunch at Deerpark Restaurant, or a drink at the Library Bar. The Bistro is more casual, and we enjoy drinking wine at the Wine Bar and sitting outside.
Outside of Biltmore, don't miss our favorite lunch spots across Asheville.
Although we don't have children, our friend and rogue mommy blogger, Tori, noted that if you bring your family to Biltmore, they will let them taste…grape juice. Cute, right?
After eating lunch, visiting the winery to stock up on reserves is our most favorite thing to do at Biltmore. If you know me from The Uncorked Librarian, you know that I am ALL IN for wine.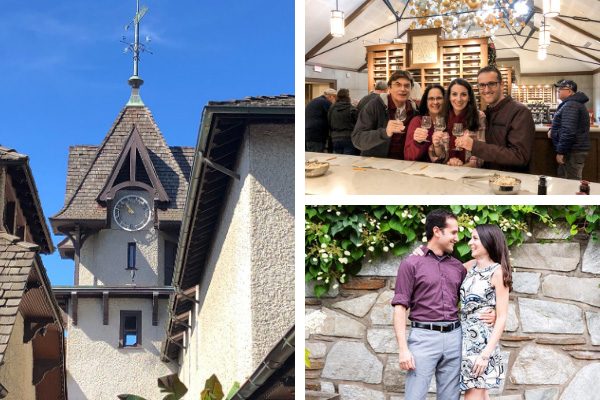 Both my husband and I enjoy the Biltmore wine, too. We buy bottles to bring home, and yes, you can find their generic wines at Ingles — our main Asheville grocery store. Biltmore's black label wine is only sold on property.
My favorites include the red Biltmore Christmas, Chenin Blanc, Reisling, and Gewurztraminer — some of these are limited releases.
Wine tasting is complimentary with your ticket. Sometimes you will find a line and other times, not so much.
You can taste about 6-7 wines. My husband says 10 — must be nice to be cute. I have the wine-tasting paper in front of me right now, but no one in my family can remember the exact amount either.
Usually, our host pours us more… I never claimed that I was the BEST travel writer… I am easily distracted.
P.S. If you love wine, don't miss our list of Asheville wineries, including wineries near Hendersonville.
5. Take A Biltmore Winery Special Tour
If you are looking for more unique and informational things to do at Biltmore Estate, take a special tour. The Biltmore Winery tours typically run on the hour.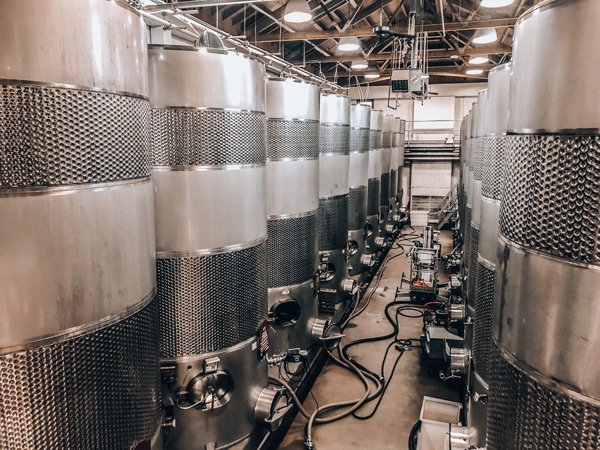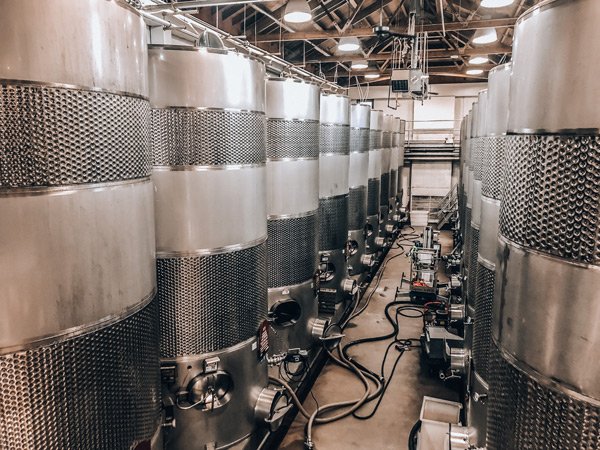 **Biltmore Estate invited us to try two of their special tours for free — with no obligation to post or talk about them. But, please know that the below tours were comped, and my opinions remain unbiased. **
You can purchase a special Biltmore Winery tour separately — in addition to the cost of your general admission ticket. The two tours the Biltmore hosted us for include:
As of 2020, the Behind-The-Scenes Winery Tour is around $10. Do it, especially if you skipped a guided house tour.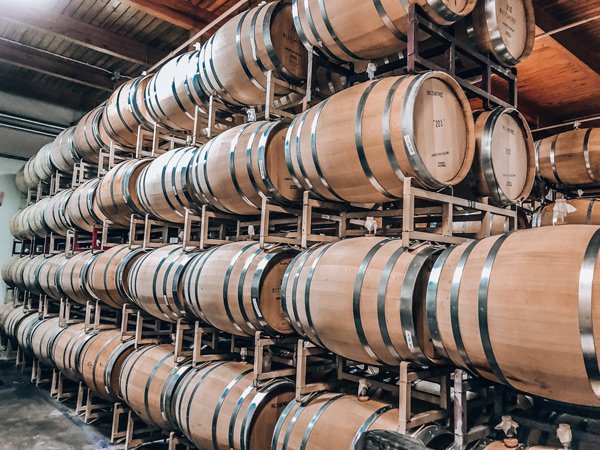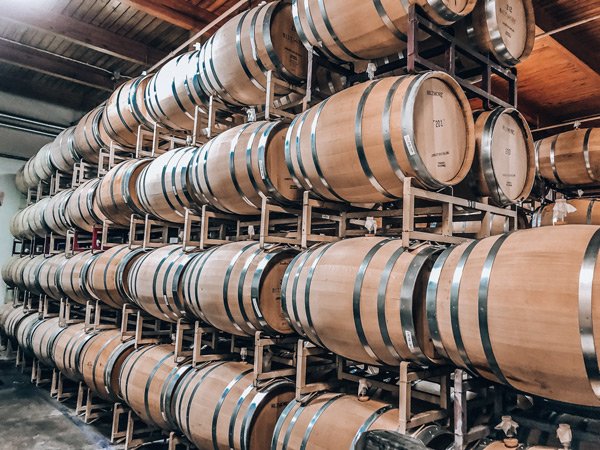 Staff take you back into the wine production facility and walk you through the Champagne bottling process. Of course, you get to see both French and American Oak barrels, the fermentation process, and my favorite: bottling.
I had no idea that the Biltmore Winery only started up in 1985. Previously, the space housed the dairy.
Biltmore Estate Insider Tip: When you are walking through the tunnel to enter the winery, you are walking through the old cow manure trail. GAHAHA!! It's terribly pretty lit at up Christmas; who knew?!
After the winery tour, you receive a special premium wine tasting away from the crowds. Typically, those wines are only served at the wine bar.
I'm not going to lie: My husband and I are lactose-intolerant. We drank the red wine and snuck a tiny bite of chocolate for Biltmore's Red Wine and Chocolate Tour.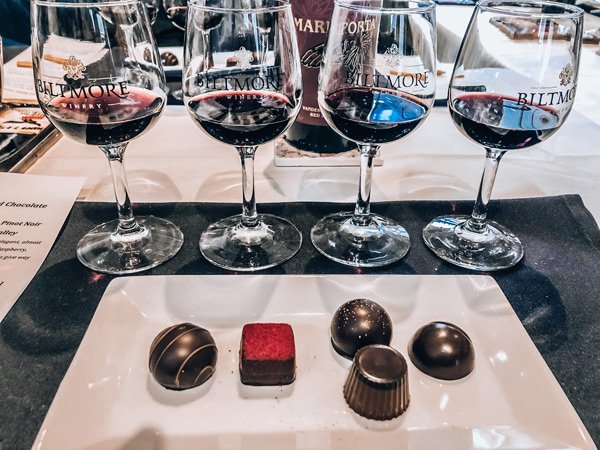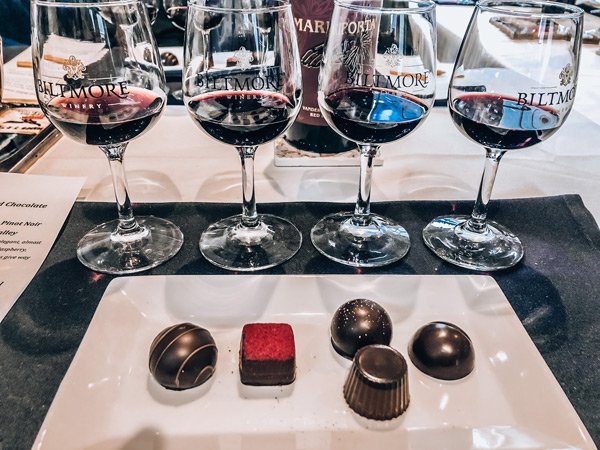 For an extra $55 a person, as of late 2020, enter a room near the clock tower that smells of delicious red wine. Four red wines are paired with an array of chocolates from Asheville's infamous French Broad Chocolates store — you know; the chocolate shop in Pack Square with the line out the door on weekends.
6. Check Out The Special Exhibits
More nerdy things to do at Biltmore include checking out their special exhibits. Exhibits change seasonally and some are free while others are not.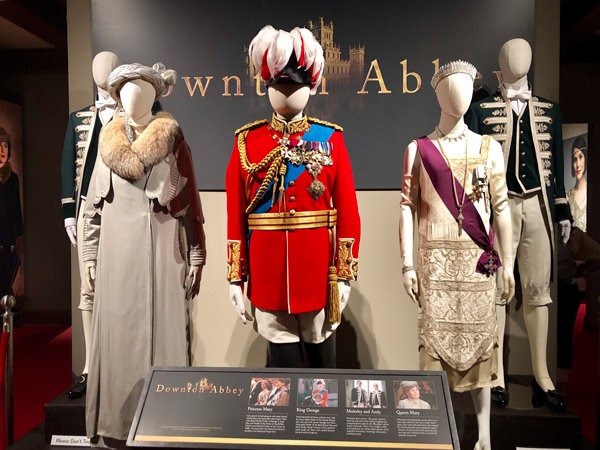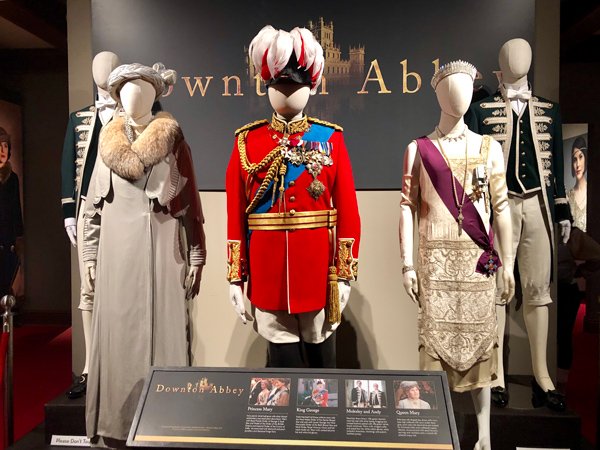 An example of a temporary Biltmore exhibit includes Dowton Abbey period clothing show. Although we never watched Downton Abbey, we loved seeing the dresses, hats, and riding gear.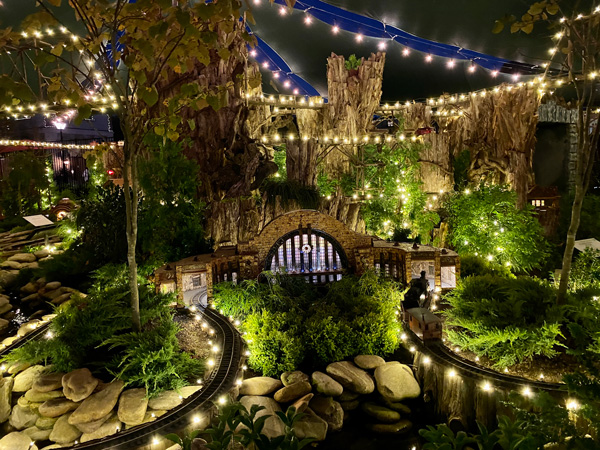 Around Christmas, you might catch a historic outdoor train depot display outside of Cedric's Tavern.
7. Shop, 8. Play, 9. Watch A Demonstration, or 10. Rent Bikes At Antler Hill Village
Don't miss all of the things to do at Biltmore Estate surrounding the home, especially exploring Antler Hill Village.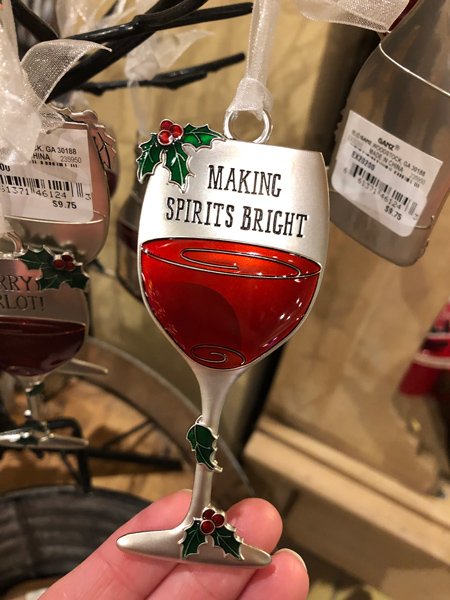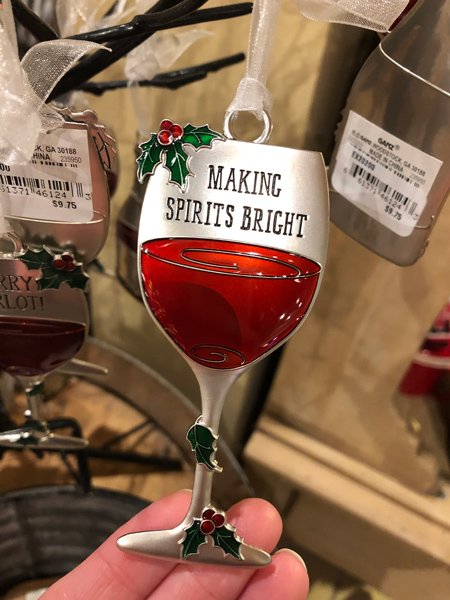 We've purchased beautiful Christmas ornaments, wine, trinkets, specialty food items, and gifts at many of the Biltmore shops.
Asheville Local Tip: If you haven't tried Roots Hummus, get some in the winery fridge; it's a big deal here and it's delicious.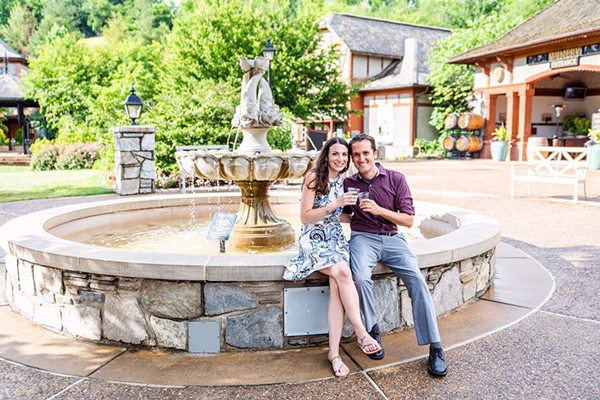 What Are The 4 Best Things To Do At Biltmore Estate's Antler Hill Village?
Visit the Farmyard – Say hello to the gorgeous draft horses, and watch chicks flourish under heating lamps. You'll see goats, chickens, ducks, roosters, and pigs, too.
Watch a craft demonstration – See how a broom is made or watch a Blacksmith at work.
Play at the wooden Pisgah Playground – We are too big, but if you have littles, they'll love this giant wooden playground and picnic area.
Pick up one of the trails after visiting the Bike Barn – We'll go into all of the details below, but rent a bike or lace up your hiking boots to explore Biltmore Estate's many trails.
11. Get Outdoors: Hike Or Bike On One Biltmore's Many Trails
Besides food and drink, our other favorite things to do at Biltmore Estate include walking or biking the trails. Did you know that the Biltmore has over 22-miles of hiking trails and 8,000 acres to play on? Some trails are much easier than others.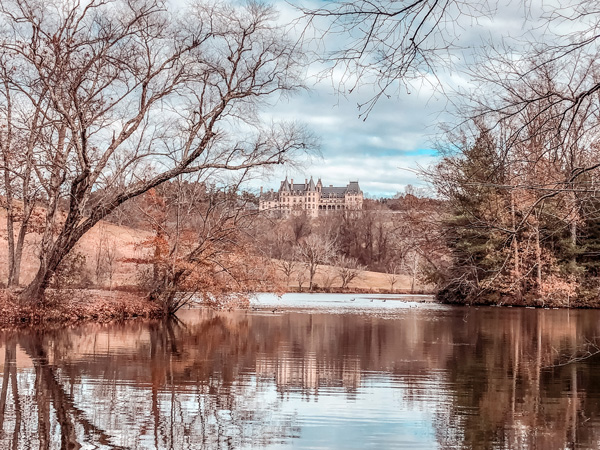 You can also find biking trails and rent bikes from the Bike Barn if you don't have your own. Of course, some of these activities are better based on the weather, but North Carolina has pretty mild seasons. The Biltmore Estate trails are especially gorgeous in the fall.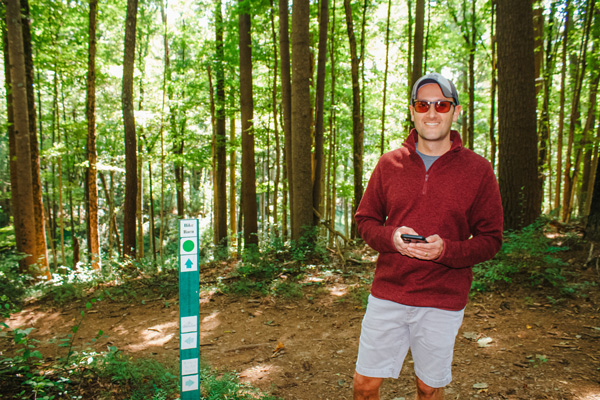 Our Favorite Biltmore Hiking Trails:
Westover Trails – If you head up the hill behind the Bike Barn, you'll find all of the Westover Trails. Make sure to have a map. Although labeled, the trails are a little tricky to find at first. You'll pass the Inn On Biltmore Estate from the Blue Trail, which is a 2.8-mile hike.
Lagoon Trail – The 3-mile Lagoon Trail is both easy and beautiful. In the fall, you'll encounter sunflowers, and of course, you'll pass the gorgeous lagoon.
Deer Park Trail – We've taken the 2.5-mile Deer Park Trail up to the Biltmore house and gardens. You get a great side view of the Biltmore home.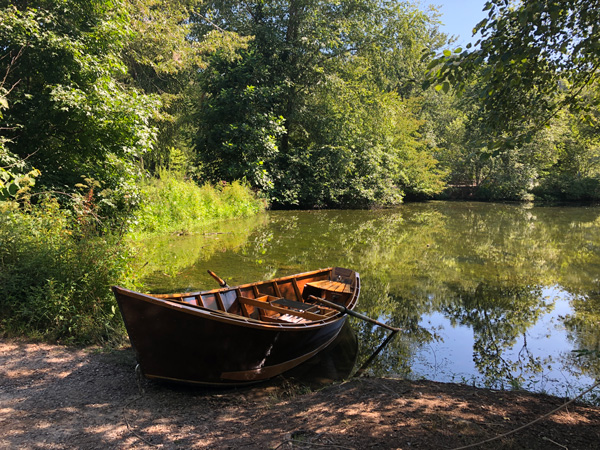 5 More Outdoor Things To Do At Biltmore Estate:
12. Horseback Riding – On my to-do list, I'd love to horseback ride Western-style down one of Biltmore Estate's gorgeous trails.
13. Carriage Rides – Take a 30-minute carriage ride with Biltmore's Belgian draft horses.
14. Fly-Fishing – You have to make reservations, but you can fish with professional instructors for kids and adults.
15. Picnicking – Many locals will pack a picnic and chairs and sit along the lagoon or French Broad River.
16. Kayaking – Rent a kayak and float down the French Broad River.
---
---
17. Stay Overnight On Property
Because we visited North Carolina once and immediately moved to Asheville, we have yet to stay on property. I actually would love to, though, as I've only heard good things. As a blogger, I've been meaning to ask for a quick room tour, too.
On property, the Biltmore offers:
Village Hotel – This property is more centrally located with moderate prices and spa access. This is the property you see next to the winery. The Village Hotel also has a pool.
The Inn On Biltmore Estate – The Inn On Biltmore Estate is considered a luxury hotel, which also means you will pay more. The Inn has the most conveniences including requested mountain views. Each suite is named after one of George Vanderbilt's friends or relatives.
There is also the premier cottage if you are George Vanderbilt himself. Cough, cough…
18. Attend A Special Event
Lastly, we cannot wait for the Biltmore spring concerts. The Biltmore hosts a ton of events — some that require additional tickets that you can find here.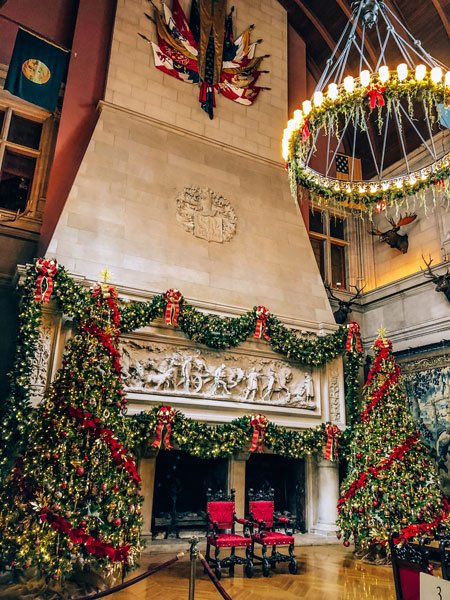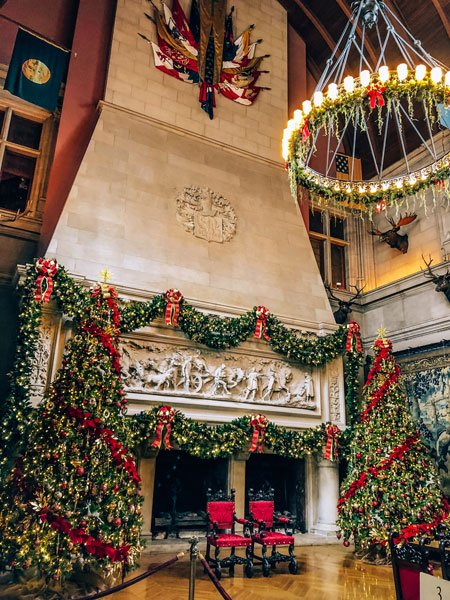 In the winter, you can see the house decorated for Christmas or buy tickets for Candlelight Christmas Evenings.
For the spring, don't miss the Biltmore Blooms. Cedric's Tavern hosts live music, and you can also find jazz and instrumental music in the Library Bar.
Biltmore Estate Visitor Information
Biltmore House Hours:
The Biltmore hours change seasonally, and with so many different buildings that open at different times, I don't want to give you bad or outdated information.
You can find the Biltmore hours here. For a general idea, though, the house is usually open 9-5.
Biltmore Parking & Tickets:
Parking is included with admission. There are shuttles from the furthest lots.
Ticket prices vary greatly so please check for ticket information here. I highly recommend buying tickets in advance online.
General house admission typically starts around $94+. You can pay more for special exhibits, add-on tours, and events.
The complimentary wine tasting, the trails and gardens, shopping, and access to the grounds are included with your house admission.
Biltmore Estate Address, Website & Phone Number:
One Lodge Street
Asheville, NC 28803
Biltmore Website
800.411.3812
Where Else You Can Stay Near The Biltmore & In Asheville
When we first visited Asheville and then returned to look at houses as well as close on our home, we stayed at a few Asheville hotels. Our recs include: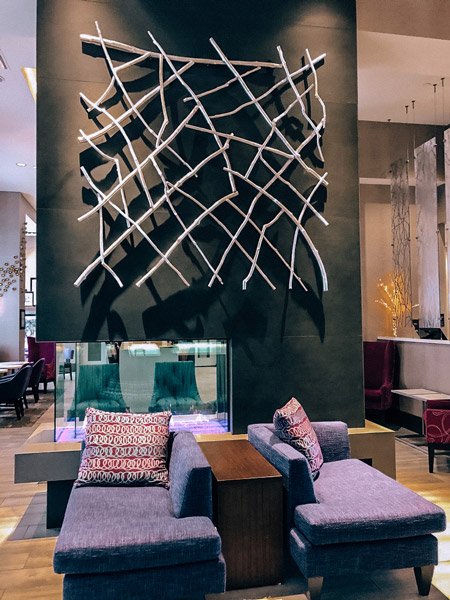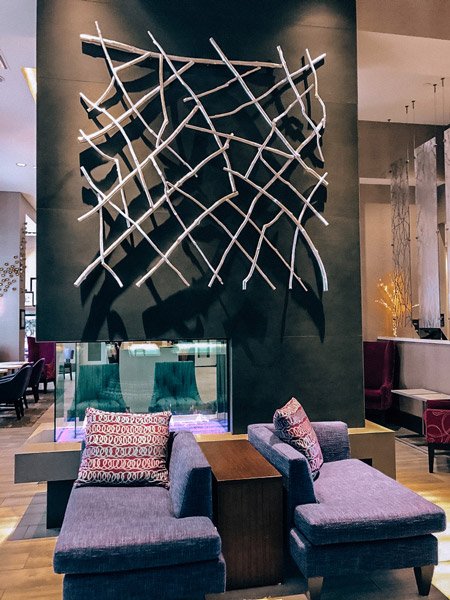 See our Top Places To Stay in Asheville.

Don't miss out on these Asheville properties on Booking.com, too.
More Things To Do Near Biltmore Estate
What else you can do around the Biltmore? A lot!
Located across from the entrance to Biltmore Estate, dine, shop, and drink beer at Biltmore Village.
If you loved touring and learning about the history of Biltmore, you may also enjoy these art, history, and science museums around AVL.
Asheville is infamous for its craft breweries. Explore our favorite breweries in downtown Asheville as well as around the area.
If you love Biltmore Winery, don't miss the other wineries in and around Asheville, NC. pleb urban winery sits in the nearby River Arts District.
Don't miss these 50+ best things to do in Asheville, including restaurants, breweries, Biltmore, hiking, waterfalls, and so much more. This guide will give you all of the ideas.
What are your favorite things to do at Biltmore? What Other Biltmore Estate Questions Do You Have?
Phew! Of course, I can name 100 other things to do at the Biltmore Estate, but if you only have a day, these are my top 18. What questions do you have? Feel free to ask away in the comments. Also, please let me know what you love(d) and didn't love doing at the Biltmore Estate in Asheville.
This post originally published on March 6, 2020 and has been updated for winter 2020/2021.
Posts You May Also Enjoy:
Visiting The Biltmore With Kids
Best Tours At Biltmore Estate
50+ Best Things To Do In Asheville, NC
Where To Stay In Asheville
Our Asheville Food & Drink Guide
If You Love History & Literature Like George, You May Also Enjoy:
Famous Asheville Authors
Books Set In Asheville & At Biltmore Estate
Best Books About North Carolina