From the Flowering Bridge to Chimney Rock, explore the best things to do in Lake Lure, NC – from Asheville locals.
Are you ready to have the time of your life? And do you owe it all to…
Western North Carolina is filled with beautiful mountain towns, especially for travelers who enjoy hiking, waterfall chasing, and relaxing by the lake.
For day trips from AVL, Lake Lure and Chimney Rock in Rutherford County are musts. In fact, Asheville to Lake Lure is only 50 minutes away.
The Lake Lure attractions promise Dirty Dancing filming locations, a vibrant Flowering Bridge, and of course, that shimmering lake.
Not to mention that the best things to do near Lake Lure involve a 535-million-year-old monolith located in Chimney Rock State Park and taste testing all of the local beer and wine in Chimney Rock Village.
Enjoy shopping in quirky stores, kayaking, savoring ice cream by the river, and finding off-the-beaten-path hiking trails in nearby Gerton.
The Lake Lure activities are endless and perfect for couples, solo travelers, families, and even pooches. This is mountain life at its best, after all.
So, if you are day-tripping around WNC, what are the top things to do in Lake Lure? From Asheville locals, explore this breathtaking area with us.
Don't forget to let us know your favorite Lake Lure things to do in the comments. Let's get started.
Read more about all of the stunning lakes around Asheville.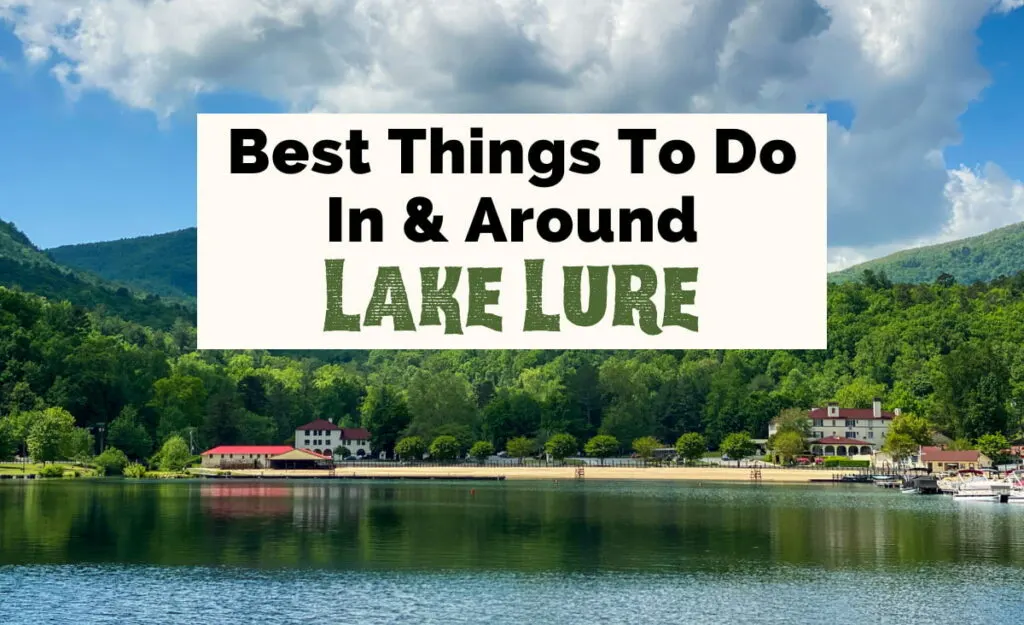 This post may contain affiliate links that earn us a commission at no extra cost to you. If you love these guides, support Uncorked Asheville here.
Be sure to check out the top-rated places to stay in Lake Lure & Chimney Rock.
13 Best Things To Do In Lake Lure, NC
1. Visit Lake Lure's Flowering Bridge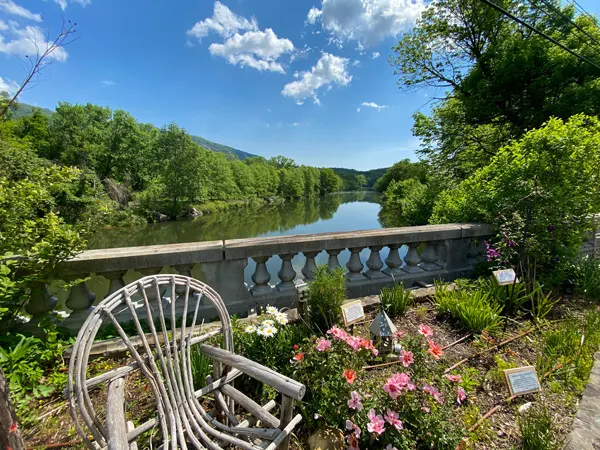 Did you know that Lake Lure has a secret garden? OK; maybe it's not so secret these days, but you'll 100% get The Secret Garden vibes.
One of the best free things to do in Lake Lure – you can leave a generous donation, though – is head to the Flowering Bridge, especially in spring and summer.
In fact, the Flowering Bridge is one of the first Lake Lure attractions you'll see if you are coming from Asheville through Chimney Rock Village.
We couldn't imagine a better greeting and introduction to the area.
Find free parking before or after the bridge or at the Welcome Center. Then, head toward the vibrant blooms, butterflies, lizards, and chipmunks.
Enjoy gardens filled with scattered signs labeling herbs and flowers. Chat with a friendly volunteer.
Dip into side gardens, and take a seat on a scenic bench. Watch out for Mr. McGregor, though.
Enjoy the fountains, a sparkling view of Lake Lure, and peeping critters. You might feel a bit like Snow White. There are sculptures, birdbaths, and bird and bee shelters.
Lake Lure's Flowering Bridge is 155 feet long. Constructed in 1925, volunteers transformed the bridge into a flower garden in 2011.
Many of the gardens are wheelchair accessible.
Lake Lure Flowering Bridge | 3070 Memorial Hwy, Lake Lure, NC 28746
2. Walk & Picnic At Morse Park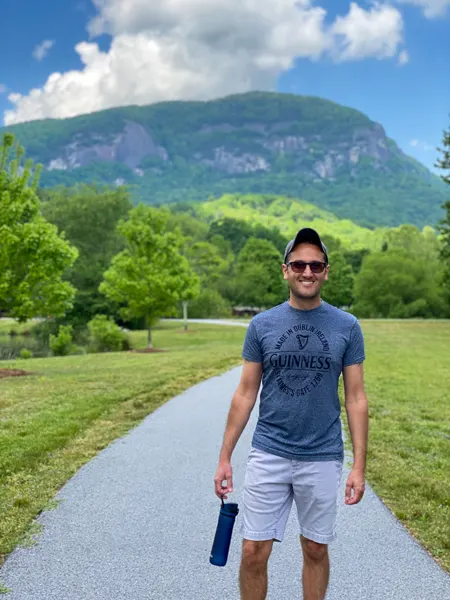 For Lake Lure things to do with the entire family or for a short visit, walk and picnic at Morse Park.
Park at the Welcome Center, which has restrooms, a small playground, picnic areas, basketball and tennis ball courts, and access to the Morse Park Trail – a 2-mile loop.
Head toward the lake for paved walking paths that eventually loop back to the Welcome Center. Along the way, pass wildflowers and…hissing geese.
Watch fish swim by, and you'll find a few benches and more remote picnic tables. Spy gorgeous views of Lake Lure, and be sure to look up.
Chimney Rock towers high above – it's a fantastic view, especially over the water. This area is pet-friendly for leashed dogs.
Morse Park & Lake Lure Welcome Center | 2926 Memorial Hwy, Lake Lure, NC 28746
3. Rent A Boat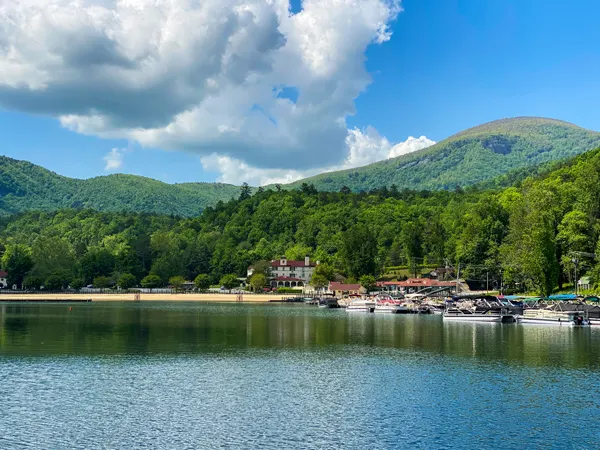 Lake Lure's Washburn Marina offers both motorized and non-motorized boat rentals.
For motorized boats, choose from 13-person pontoon boats (for visitors with prior experience) or fishing boats. The marina sells bait and tackle – if you need it.
For non-motorized boats, rent canoes, paddleboards, kayaks, and hydro bikes – which are typically available starting Memorial Day through Labor Day at their beach location.
If you are looking to sit back and be taken around, though, relax on a guided tour, getting all of the scoop on Lake Lure attractions like Dirty Dancing landmarks and local legends.
Lake Lure Tours | 2930 Memorial Hwy, Lake Lure, NC 28746
4. Celebrate Dirty Dancing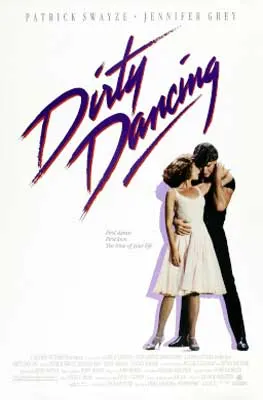 Speaking of famous movies, one of the coolest things to do in Lake Lure, NC involves the movie Dirty Dancing.
Dirty Dancing is a famous 1987 American romance, drama, and dance film starring Patrick Swayze and Jennifer Grey.
The film follows the story of a naive young woman, Frances or "Baby," who falls in love with a sexy dance instructor at the resort where her family is staying.
The soundtrack is the best part.
If you watch Netflix's The Movies That Made Us, they have an episode dedicated to the cult classic – explaining many of the NC filming locations.
Full disclosure that there is some "debate" about the famous lake lift scene. Everyone wants to claim it.
Our understanding is that this iconic moment technically happened at Mountain Lake Lodge in Pembroke, VA. Unfortunately, the lake dried up.
However, Baby carrying the watermelon as well as practicing on the stairs were both filmed at Lake Lure.
Nearby – at Camp Chimney Rock – the original cabins, dining hall, and gymnasium were also used for filming.
In honor of Baby, have the time of your life at Lake Lure's Dirty Dancing Festival. This one-day event is typically held in September, and you want to grab tickets ASAP.
Listen to live bands, watch performances, take dance lessons, play movie-inspired games, and enjoy artisan vendors, and local food and drinks.
If you enjoy visiting filming locations like Dirty Dancing, explore even more movies made in North Carolina.
With the massive filming studio in Wilmington, it's no surprise how many great movies are filmed here.
Dirty Dancing Festival | Keeter Field – next to the 1927 Lake Lure Inn & Spa
5. Cool Off At The Beach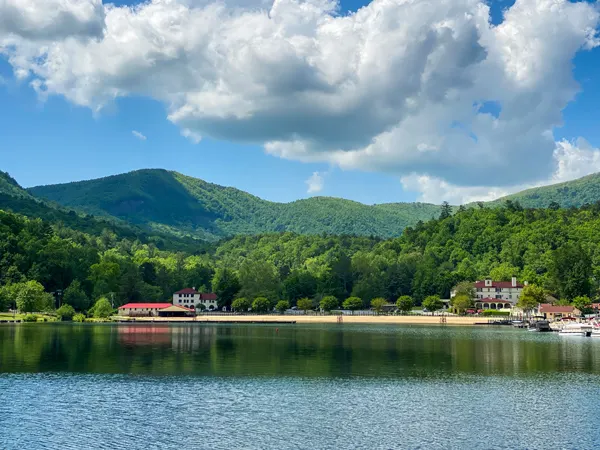 One of the popular Lake Lure activities on a hot day or summer weekend, head straight to the beach. Wait, that sounds funny, right?
Moving up from Florida and being native New Englanders, we quickly learned about "mountain beaches."
Here in Western North Carolina, a mountain beach is a lake with sand. It will have to do since the nearest ocean beaches are 4+ hours away from Asheville.
Admission starts around $10+ for adults and $8+ for children aged 4 to 12 years old. Play beach volleyball, sunbathe, cool off in the water, and have a picnic.
Lake Lure's beach follows the local school calendar schedule for opening and closing days and know that staff will clear the beach for inclement weather.
Along with Lake Lure Beach, splash around in the waterpark complete with a water slide. Admission to the waterpark is included with your beach ticket.
Lake Lure Beach | 2724 Memorial Hwy, Lake Lure, NC 28746
6. Hike At Chimney Rock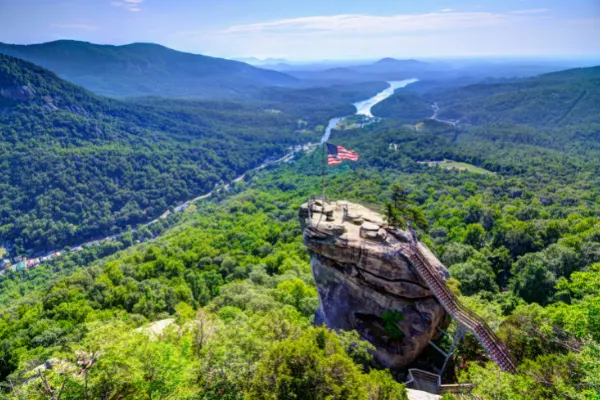 One of the most well-known attractions in Western North Carolina, Chimney Rock is a must.
However, we always suggest visiting this area for a winter hike, as this is also one of the busiest and most popular day trips from Asheville.
During peak seasons, the area turns into quite the parking lot before the entrance, and you will have to pay to get in.
Tickets start around $8+ for youth and $17+ for adults.
Chimney Rock is a 535-million-year-old monolith, resting 2,200 feet above sea level. Hike or take an elevator to the top.
The view is incredible, spanning over 75+-miles on a clear day, including a bird's eye view of Lake Lure.
Afterward, hike to Hickory Nut Falls or pick up a harder trail. Enjoy picnic areas, a gift shop, and the cafe.
For families looking for Lake Lure things to do, this is a great option, especially with facilities, trails with a variety of lengths and difficulty levels, and multiple ways to access the rock.
There's also an Animal Discovery Den, home to a variety of North Carolina snakes, frogs, turtles, opossums, groundhogs, and chipmunks.
The Great Woodland Adventure Trail – designed for kids – features Discovery Stations with educational and entertaining sculptures.
Read more about family-friendly activities around Asheville.
Chimney Rock State Park | 431 Main St, Chimney Rock, NC 28720
7. Chase Waterfalls At Wildcat Rock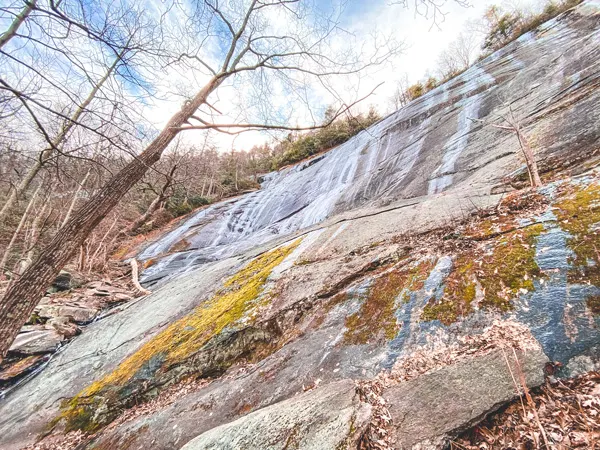 It's no secret that Asheville is a hiker's dream; the hiking trails are incredible, offering stunning views and cascading waterfalls.
Of course, this means that one of the best things to do near Lake Lure is chase those falls.
Besides hiking at Chimney Rock, explore more off-the-beaten-path treks, including Wildcat Rock.
Conserving Carolina maintains the trail, and we always find their trails well-labeled and well-maintained.
For one of the more difficult hikes, trek the 4-mile (roundtrip) out and back to Wildcat Rock from the Gerton Highway.
Start at the Upper Hickory Nut Gorge Trailhead, which has somewhat limited parking across the street in a designated lot.
For a shorter and easier hike, though, stop at the midway point at Little Bearwallow Falls, which is about 1 mile in along the trail. Experienced outdoor enthusiasts will ice and rock climb here too.
If you are looking for a longer hike, continue on to Bearwallow Mountain (the newer part of the trail), which is a 12-mile roundtrip hike.
Know that the Wildcat Rock hike grows pretty muddy, and in the winter, it's extremely icy, especially around the rocks. Exert extreme caution and hike prepared.
Conserving Carolina | 3836 Gerton Hwy, Gerton, NC 28735
8. Dine & Shop In Chimney Rock Village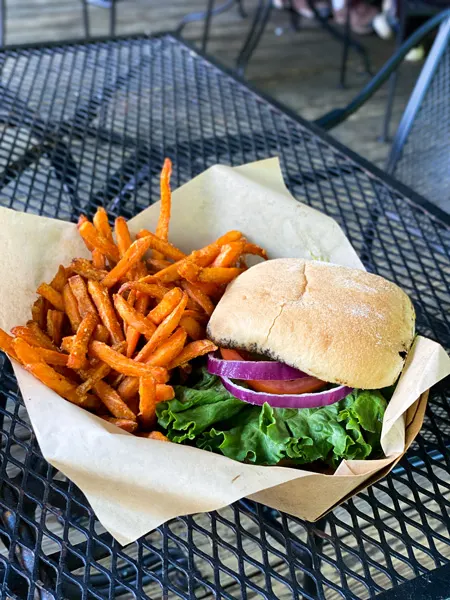 For non-hikers, you might also enjoy Lake Lure attractions including shopping and relaxing in Chimney Rock Village.
We aren't going to lie: Chimney Rock Village can seem a little tourist hokey at times, but the area still has its charm.
The small local population is friendly, and you cannot resist the old town quirks.
Just outside of the entrance to Chimney Rock State Park, explore Main Street.
Main Street is filled with restaurants, cafes, shops, a carousel, a gem mine, and inns – with free and pay-for parking spots.
For shopping in Chimney Rock, peruse the shelves at Gale's Shop (418 Main Street). In operation since 1947, the store promises unique souvenirs.
And, every WNC town needs a general store; Bubba O'Leary's General Store (385 Main Street) has a bit of it all. Find anything from clothes to candy and jam.
Then, grab a sandwich or burger at Old Rock Cafe (431 Main Street). They even have gluten-free buns.
For ice cream and shakes, drop into the Village Scoop (439 Main Street) – with vegan options including dairy-free ice cream and sorbet.
We suggest enjoying your ice cream down by the Rocky Broad River Walk; it's one of our favorite Lake Lure activities.
Chimney Rock Village | Main St, Chimney Rock, NC 28720
9. Stroll Rocky Broad River Walk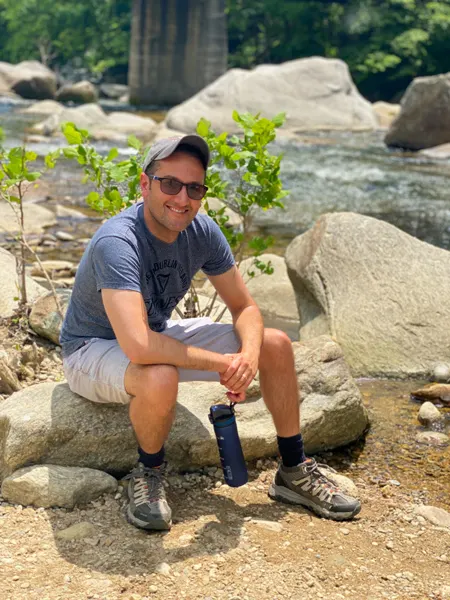 Less than one mile long, Rock Broad River Walk is a scenic river walk that parallels Chimney Rock's Main Street.
For quick and easy soul-soothing things to do in Lake Lure, this is it. Watch the cascading river as it flows under bridges and around rocks.
Grab a seat in the sand or on a small boulder. Find a few picnic tables scattered throughout and nearby public restrooms.
This area sits behind many of the restaurants as well as the gem mine, making it a convenient stop before or after lunch.
Rocky Broad River Walk's access points are near the public restrooms and around Old Rock Cafe and The Scoop. Look for the signs.
10. Taste WNC's wine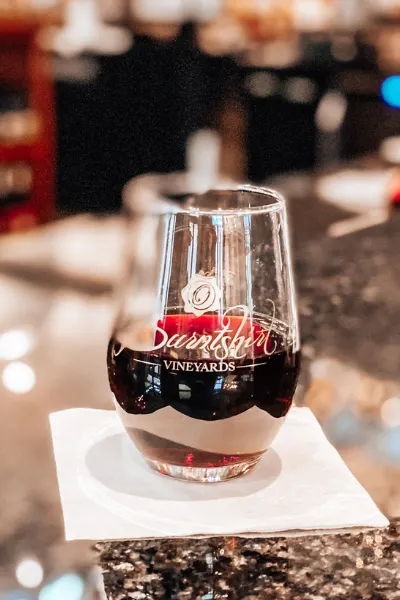 True to our namesake, we frequent the wineries around Asheville, and Hendersonville is becoming pretty well-known for them.
In fact, one of Hendersonville's award-winning wineries, Burntshirt Vineyards, has a tasting room in Chimney Rock.
For boozy things to do around Lake Lure, drop into Burntshirt's bistro for wine, bites, and gorgeous views of Hickory Nut Falls at Chimney Rock.
If you are visiting on a Friday through Sunday, start with a wine tasting. Burntshirt makes two delicious Chardonnays as well as a Rock Bottom Red that we cannot resist.
Burntshirt also features a Meritage, Merlot, Cab Franc, and Gruner Veltliner – just to name a few.
The Bistro menu changes frequently with seasonal offerings, but find items like fingerling potatoes, Brussels sprouts, fried green tomatoes, and beet salads.
Shop at their small gift store too.
Burntshirt Vineyards Tasting Room | 438 Main St, Chimney Rock, NC 28720
11. Grab A Beer By The River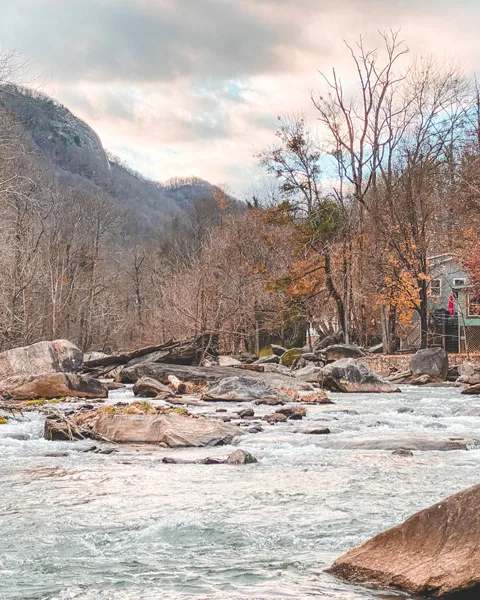 We haven't forgotten our beer lovers, and as you know, Asheville is "beer city."
And let's face it; if you are on vacation, one of the best Lake Lure things to do is relax by the river with a local craft beer.
Hickory Nut Brewery's Chimney Rock location is truly an oasis.
Order a Chocolate Stout, ESB, Red Ale, Blonde, IPA, or Porter to start and loop around the back toward the sound of that cascading water.
Sit back and relax by the river and enjoy the view.
And, if you are headed toward Asheville after your day of touring the Lake Lure attractions, stop into Whistle Hop Brewing in Fairview.
Yelp recently name Whistle Hop one of the top breweries in North Carolina, and they feature rotating food trucks. Cheers to that!
Hickory Nut Brewery | 461 Main St, Chimney Rock, NC 28720
Never Miss Another Asheville Update
---
Tired of generic Asheville travel itineraries? Experience Asheville like a local with our free Asheville Favorites checklist, including restaurants, breweries, and hiking. Plus, get local updates – including events and hidden gems – straight to your inbox. Sign up here.
12. Attend A Festival
Equally as famous as the Dirty Dancing Festival, the Lake Lure Arts and Crafts Festival showcases over 90+ artists, creators, and craft sellers.
Shop for handmade, Appalachian arts and crafts while viewing exhibits, picnicking by the creek, and listening to all-day, live entertainment.
Find hand-crafted jewelry, soaps, textiles, candles, pottery, photography, and a variety of medium artwork.
It's one of the best free things to do in Lake Lake Lure for the entire family, filled with food vendors, entertainment, and kids' activities.
Kids' activities include face painting and mini-golf.
The spring festival typically happens in May. Read more about all of the great festivals and events near Asheville.
Lake Lure Arts & Crafts Festival | 119 1st St, Lake Lure, NC 28746
13. Tour The Train Museum
Open Friday through Sunday, stop into The Right Track Toy Train Museum. The museum pays homage to Peggy Keyes' husband of 47 years who passed away from pancreatic cancer.
Her husband was a life-long toy train collector. Peggy – along with volunteers – displays his trains in this museum. There are several working train tracks to enjoy.
For littles, find coloring pages, engineer costumes, and toy trains to play with.
Admission is a $5 donation fee toward pancreatic cancer, and they do not accept credit cards. Children under 2 are free.
If you love the train museum and have time, be sure to visit the Estes-Winn Antique Car Museum in Asheville.
Estes-Winn showcases a rare 1957 Cadillac Eldorado Brougham as well as Asheville's 1922 American LaFrance fire truck.
Things to do in Lake Lure, NC do not get any more heartfelt than this.
The Right Track Toy Train Museum | 2414 Memorial Hwy, Lake Lure, NC 28746
Lake Lure, NC Welcome Center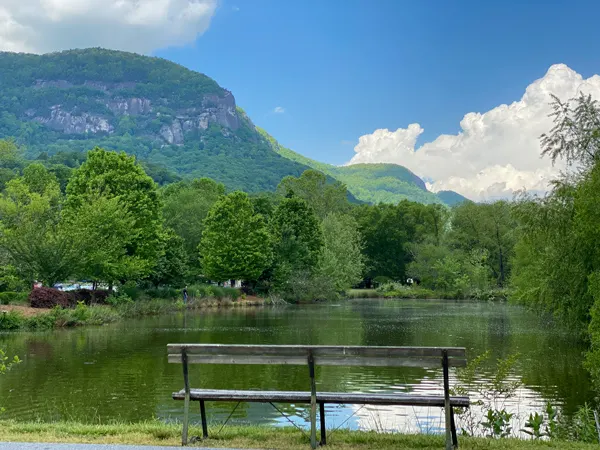 Before hitting the Lake Lure attractions, stop into the Welcome Center to check out the maps, ask your questions, and use the restrooms. It's a great place to catch your bearings.
As mentioned above, visitors can also access Lake Lure's Flowering Bridge and Morse Park from the Welcome Center.
The Welcome Center in Lake Lure is located at 2926 Memorial Hwy, Lake Lure, NC 28746.
Where To Stay In Lake Lure & Chimney Rock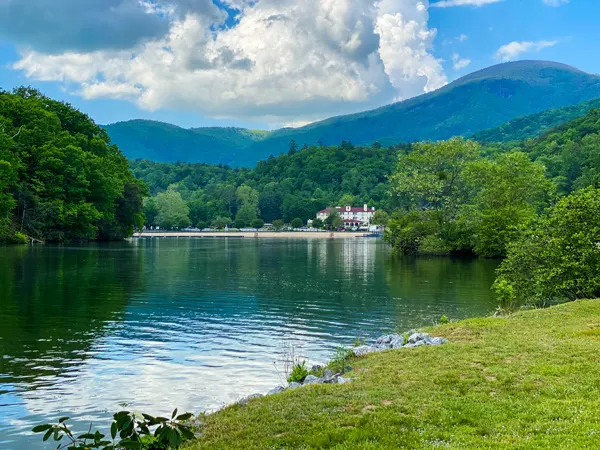 The Esmeralda Inn & Restaurant – Located in Chimney Rock, enjoy this rustic inn by the river. Some rooms and cabins include fireplaces and hot tubs.
Grafton Lodge – This is a quaint Bed & Breakfast lodge with 1 cottage and 6 bedrooms. Stargaze from the decks, and enjoy an American breakfast.
Broad River Inn – Situated on Main Street in Chimney Rock near the entrance to the park and on the edge of Lure, enjoy breathtaking mountain views and classically elegant rooms.
Carter Lodge – With 16 rooms, this lodge sits tucked under Chimney Rock State Park.
The 1927 Lake Lure Inn & Spa – A go-to wedding venue and inn with historic charm and modern comforts.
Explore more of the best places to stay in Lake Lure & Chimney Rock.
Save These Lake Lure Activities For Later: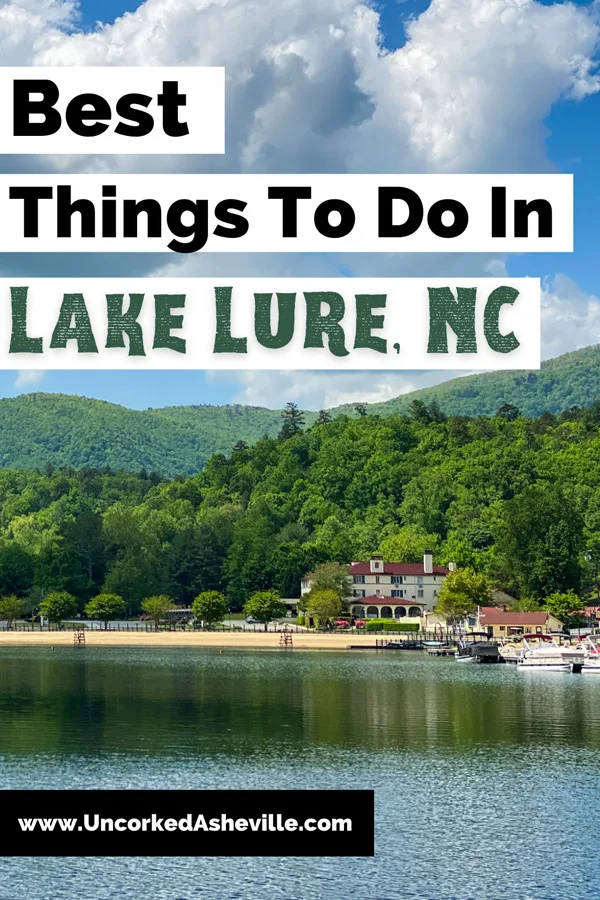 What are your favorite things to do near Lake Lure, NC?
Lake Lure and Chimney Rock are stunning Western North Carolina mountain towns. What Lake Lure attractions do you enjoy the most?
Do you have favorite nearby hiking trails, waterfalls, and breweries? Where do you like to stay in Lake Lure?
Are there favorite Lake Lure things to do that we missed? Let us know in the comments.
You may also enjoy:
Asheville Day Trips
More Nearby Towns & Cities
Maggie Valley Guide
Black Mountain
Hendersonville
Weaverville
Asheville
Flat Rock, NC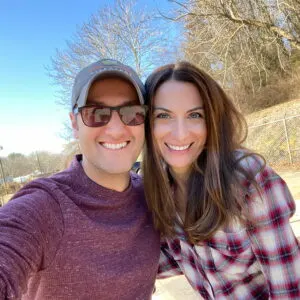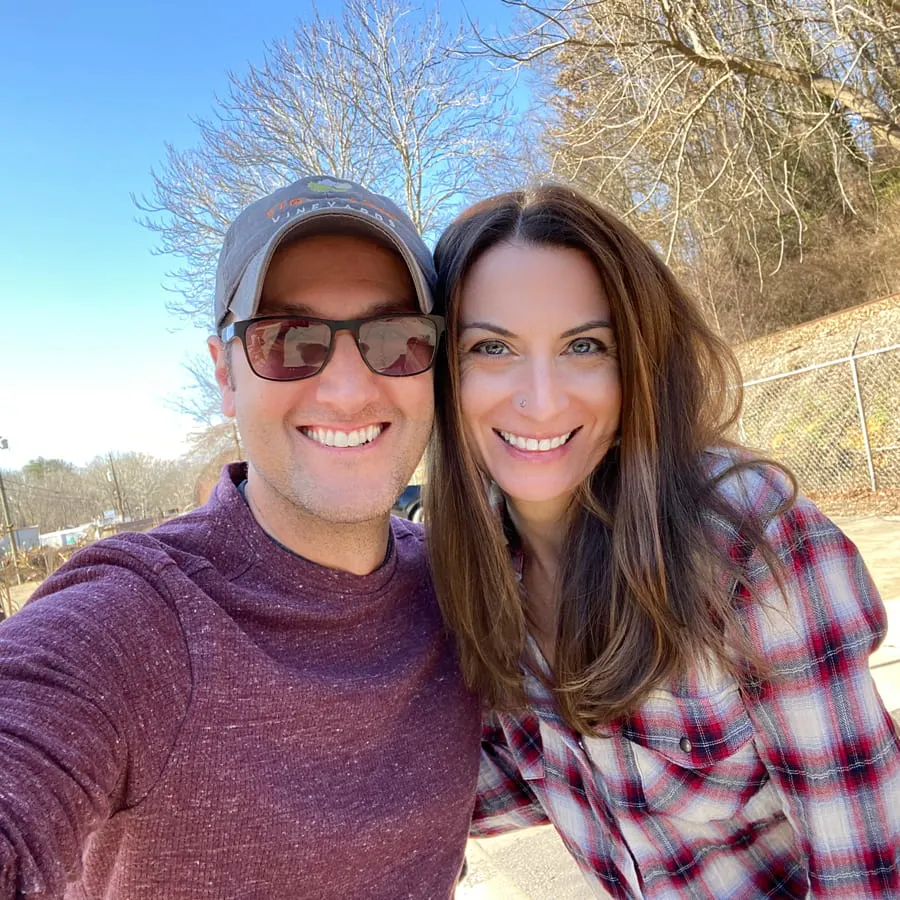 Christine (pronouns: she/her) is the owner and lead writer of Uncorked Asheville. After falling in love with those gorgeous Blue Ridge Mountains, Christine and her husband Tom decided to call Asheville, North Carolina their home. When her pointy Italian nose isn't stuck in a book, Christine is adopting all of the kitties, getting lost in the forest, and drinking an ESB.
Christine has a BA in English and History from Smith College, her MLIS from USF-Tampa, and is a former U.S. Fulbright Scholar - Indonesia. She also owns The Uncorked Librarian LLC with books and movies to inspire travel.