10 Terrific Things To Do In Flat Rock, NC From Asheville Locals
Discover the best things to do in Flat Rock, NC, including gentle strolls, hiking, food, and drink – from Asheville locals.
Flat Rock, North Carolina is a gorgeous Western North Carolina mountain town – well, technically a village – located in Henderson County about 40 to 45 minutes away from our Asheville, NC home.
With a population of just under 3,500 people in 2020, Flat Rock is both a great place to live, especially for retirees, and an equally fun place to play – whether you are hoping to get outside or enjoy history, food, and drinks.
Ironically, though, Flat Rock isn't quite "flat" as its name suggests, and the area is surrounded by sprawling and foggy mountain ranges. In the fall, spy gorgeous foliage.
Incredibly scenic and charming, Flat Rock, NC is most famous for the Carl Sandburg Home, Flat Rock Playhouse, Marked Tree Vineyard, and Sky Top Orchard.
Visitors and residents can take advantage of its close proximity to Hendersonville, Asheville, and DuPont State Forest.
Along with hiking and chasing waterfalls, some of the best Flat Rock things to do include strolling its gorgeous local park, catching a play, and dining at one of the local restaurants.
So, if you are wondering what to do in Flat Rock, North Carolina, we have quite a few suggestions for all types of travelers, including family, solo, couples, and pets.
Many of these Flat Rock activities will get you outside or teach you more. Quite a few are also free or budget-friendly and most require little to no advanced planning.
And, of course, unlike the name "Flat Rock," we have to live up to our namesake too: expect cideries, breweries, and wineries. Plus, we are quite the Asheville foodies.
Keep reading to see where to eat, drink, stay, and play in Flat Rock, NC – from Western North Carolina locals. Let's get started!
Explore the best cities and towns around Asheville to visit next.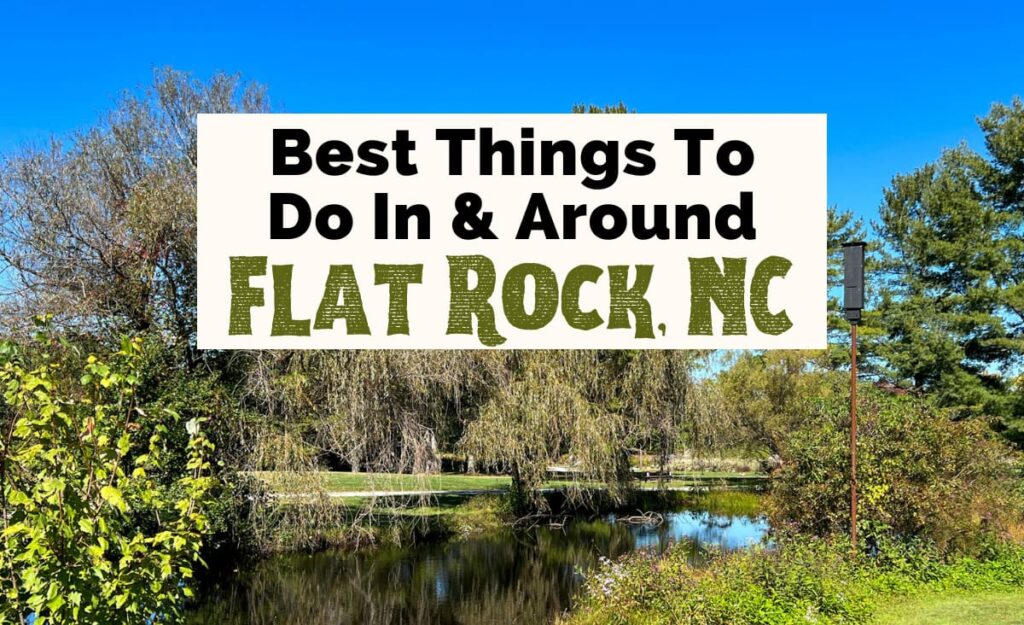 This post may contain affiliate links that earn us a commission at no extra cost to you. If you love these guides, support Uncorked Asheville here.
Search for places to stay in Flat Rock and nearby Hendersonville.
10 Best Things To Do In Flat Rock, North Carolina
1. Stroll The Park At Flat Rock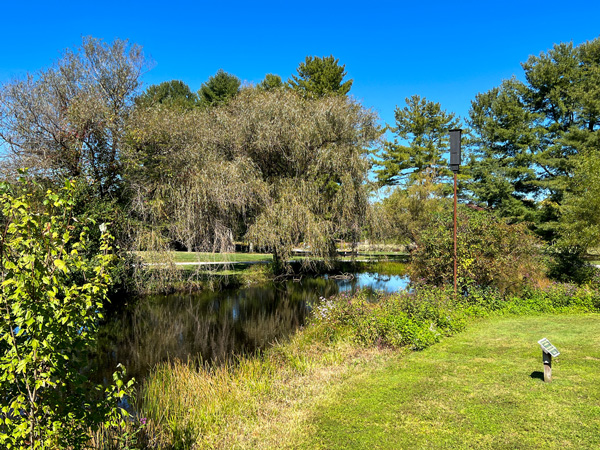 One of the best free things to do in Flat Rock, NC – and a great way to start your morning – is to head to The Park At Flat Rock.
As Asheville residents, especially, we cannot resist gorgeous lakes and parks, and while The Park at Flat Rock does not have a lake, it most certainly houses gorgeous ponds and a river
The Park at Flat Rock is free, open to the public, and has a plethora of parking in a paved lot. Like most parks, The Park at Flat Rock is open 7 days a week from dawn until dusk.
For families with young children, head straight to the large and elaborate wooden playground area. Find picnic tables, small rock-climbing walls, balancing stations, and slides.
Or, enjoy a walk around the flat and partly paved/partly dirt 1.5-mile perimeter trail, passing by flowers, a lily pad pond, benches, and wide-open space. Did someone picnic?
This trail has run-offs – if you wish to cut your stroll short – and bikes but not skates are allowed. Plus, this is a dog-friendly park, and you'll pass endless leashed pooches along the way.
In the spring and summer, enjoy vibrant wildflowers, and in the fall, catch the foliage. WNC's fall is almost as good as New England's – we say this as Connecticut/Florida half-backs.
The Park At Flat Rock is also home to a nature center with educational information about the flora and fauna, a welcome center with water fountains and restrooms, and multiple shelters, overlooks, and pavilions.
The Park At Flat Rock | 55 Highland Golf Dr, Flat Rock, NC 28731
2. Visit The Carl Sandburg Home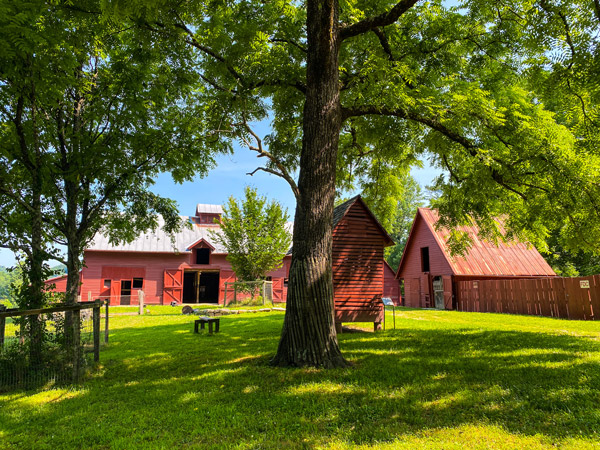 Deemed "Poet of the People," Carl Sandburg is one of North Carolina's most famous writers, penning poetry, children's stories, and journalistic pieces.
Visiting his former home, a National Historic Site, is one of the best things to do in Flat Rock, NC for book and literature lovers.
Previously known as "Connemara," Christopher Gustavus Memminger, the first Confederate Secretary of the Treasury, owned the home, also making it one of NC's Civil War sites.
The home is a great stop for families, especially with the barnyard, and low-key hikers. Plan for around 2 hours for your visit, and pick and choose what you'd like to do.
Visitors may access the grounds for free – although you may have to purchase a ticket if you want a home tour (right now, the house tour is free, but this has changed quite a bit since 2020; check their website).
Advanced reservations for tours are highly recommended. However, we prefer to walk the grounds on our own and skip the house tour, which requires little advanced planning.
We cannot resist stopping by the farmyard to see the goats and turtles in the pond.
Then, walk around the home and head to the trails located immediately behind the house. We enjoy the Glassy Mountain Trail, which is a moderate climb to a rock summit with limited mountain views.
This well-labeled trail is about 1.3 miles long, and we do recommend having basic hiking gear, including the proper closed-toed shoes.
Before visiting the Carl Sandburg Home, we highly suggest checking the National Park Service's website for updates about parking and closures, including restrooms, parking lot, and tour information.
For more things to do near Flat Rock, NC and if landmarks like the Carl Sandburg home appeal to you, you might also enjoy "meeting" Asheville author, Thomas Wolfe.
One of our favorite things to do in Asheville is to tour the Thomas Wolfe Memorial – his mother's boarding home – and visit Wolfe's grave at Riverside Cemetery.
Read more books from, about, and set in North Carolina.
Carl Sandburg Home | 1800 Little River Rd, Flat Rock, NC 28731
3. Wine Taste At Marked Tree Vineyard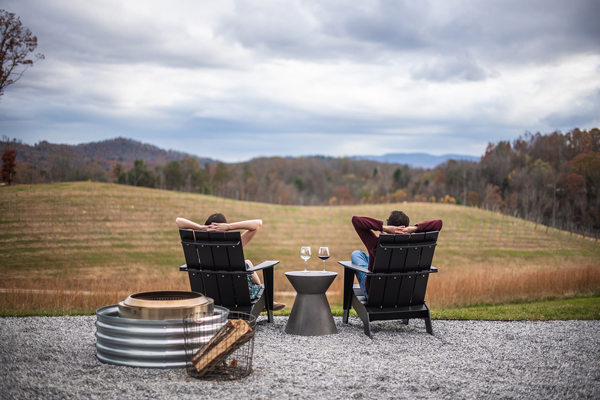 If you are wondering what to do in Flat Rock, NC for adults, the Flat Rock and Hendersonville wineries are a must.
Some of the wineries are family and pet-friendly, and they all have a variety of rules about outside food and seating – be sure to check each winery website before you go. Sometimes their policies change.
If we had to pick just one – and located directly in Flat Rock, North Carolina – we'd head to Marked Tree Vineyard.
This is a newer winery near Asheville (2020) with a gorgeous tasting room and stunning Western North Carolina mountain views.
Marked Tree Vineyard accepts walk-ins, although reservations are highly encouraged for the weekends. This is also a family-friendly winery.
No outside food or alcohol is allowed, and dogs must be leashed and stay outside in designated areas. Children must be attended to at all times too.
Marked Tree Vineyard produces a variety of wines including Cab Franc, Petit Verdot, Watershed, Chardonel, Grüner Veltliner, and Rosé named after their dogs.
Our top wine picks are usually the Cab Franc and Watershed.
Enjoy a guided tasting or wine by the glass or bottle. For years, we were wine members here (but we like to mix it up after a while).
Sit inside their modern space or enjoy outside seating overlooking the vineyards and mountains.
On a foggy day, the winery grows beautifully eerie, especially with that old (and haunted) North Carolina fireplace.
More terrific nearby wineries include Stone Ashe Vineyard, Saint Paul Mountain Vineyards, and Souther Williams – all of which are in Hendersonville/Fletcher.
And, for more tipsy things to do near Flat Rock, NC, tour the cideries and meaderies like Appalachian Ridge Artisan Cider and Point Lookout (also a winery).
Marked Tree Vineyard | 623 Deep Gap Rd, Flat Rock, NC 28731
4. Pick Apples At Sky Top Orchard (Seasonal)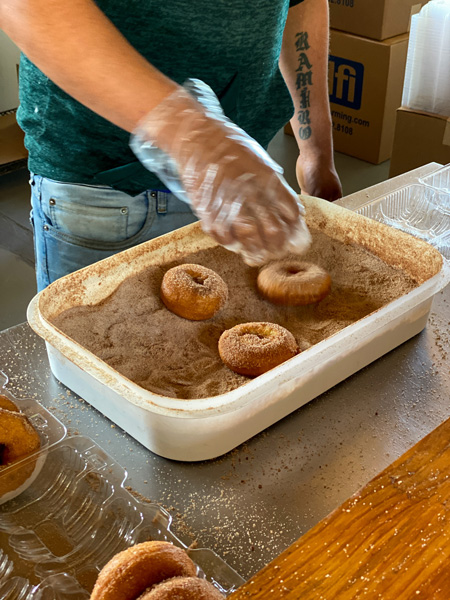 You have not truly experienced Asheville in the fall if you haven't dropped into Sky Top Orchard.
In fact, visiting the area's apple orchards is one of the best things to do in Flat Rock, North Carolina from mid-August through the beginning of November; it is "Apple Alley" after all.
Sky Top Orchard is located directly in Flat Rock while other popular apple-picking places sit in Hendersonville.
Think Stepp's Hillcrest, Jeter Mountain Farm, and Coston Farm & Apple House, just to name a few.
For the best Sky Top and Flat Rock things to do, pick apples, shop at the country store, eat steaming hot cider donuts made right in front of you, and get lost in a bamboo forest.
Shoot apples from the cannon, visit the goats and farmyard animals, and play in wooden structures on the playground.
Sky Top also has hard cider, cider slushies, and picnic tables to devour your treats. Grab mini-pumpkins, jam, or pre-picked apples too. Did we mention the bee train and hayrides?
Sky Top is such a large attraction, we wrote our own guide to navigating the orchard. Families, couples, and friends can spend hours here.
Because fall is one of the area's peak traveler seasons, though, we suggest visiting Sky Top Orchard early and on the weekday. Parking gets a little congested and stressful on the weekends.
See what other October bucket list items you should check off, including some of the best things to do near Flat Rock like fall foliage hikes, festivals, and Oktoberfest beer drinking.
Sky Top Orchard | 1193 Pinnacle Mountain Rd, Flat Rock, NC 28731
5. Grab Coffee At ShareWell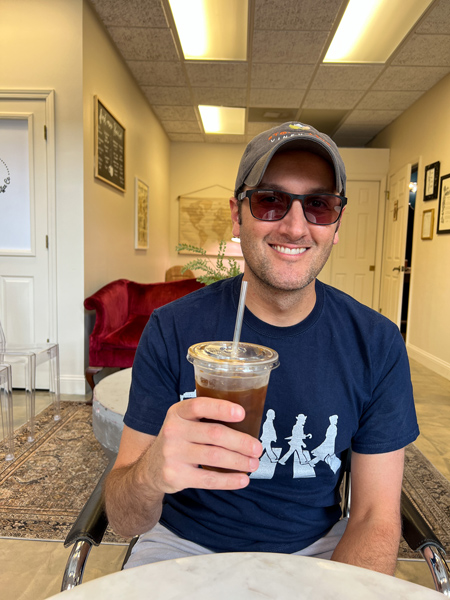 For sleepy travelers, digital nomads, and coffee lovers wondering what to do in Flat Rock, NC, this one is for you! We just love a good coffee shop – even when we travel internationally.
Similar to the number of wineries and apple orchards around the area, find a plethora of Hendersonville and Flat Rock coffee shops.
In fact, the Western North Carolina and Asheville coffee scene is huge. Find roasters, counter service, wi-fi spots, and mini-oases.
Newer to Flat Rock, ShareWell once lived in the basement of Appalachian Ridge Cidery. Now, they have a brick-and-mortar shop on the edge of Hendersonville and Flat Rock.
Here, grab delicious specialty coffee along with vegan and gluten-free baked treats. Sit inside or upstairs on their patio.
We also grab ground beans for the road. In fact, we have multiple bags in our pantry now.
Other nearby coffee shops include Black Bear Coffee Co. and Appalachian Coffee Company. Or, head to The Book and Bee for sandwiches and tea.
Who knew drinking coffee could be one of the best things to do in Flat Rock, North Carolina?
ShareWell Coffee Co. & Roaster | 2698c Greenville Hwy, Flat Rock, NC 28731
6. Devour Delicious Food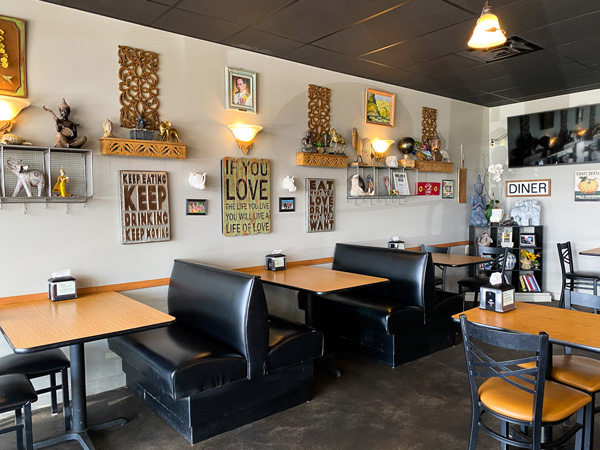 Like Asheville, Flat Rock and Hendersonville are a foodie's dream. So, of course, one of the best things to do in Flat Rock, NC is to grab a bite to eat.
Located in Flat Rock, Boon Choo is our number one pick; they serve up some of the best Thai in the area.
Casual and local, sit inside or out while enjoying mouthwatering noodles, soups, stir-fry, and curries. Sip on a local beer or cider, and Boon Choo's kid-menu features noodles and fried rice.
Another local favorite for BBQ, everyone raves about Hubba Hubba Smokehouse, which sits in a sweet country home.
Order that Southern comfort food at the window – brisket, pulled pork, ribs, and chicken – and grab a covered or uncovered table around the courtyard.
We personally cannot pass up the equally delicious Hendersonville restaurants like Haus Heidelberg (German), Umi Sushi (best sushi in WNC), and Pita Express (Middle Eastern).
For food for the entire family, head to Hot Dog World or Mike's on Main.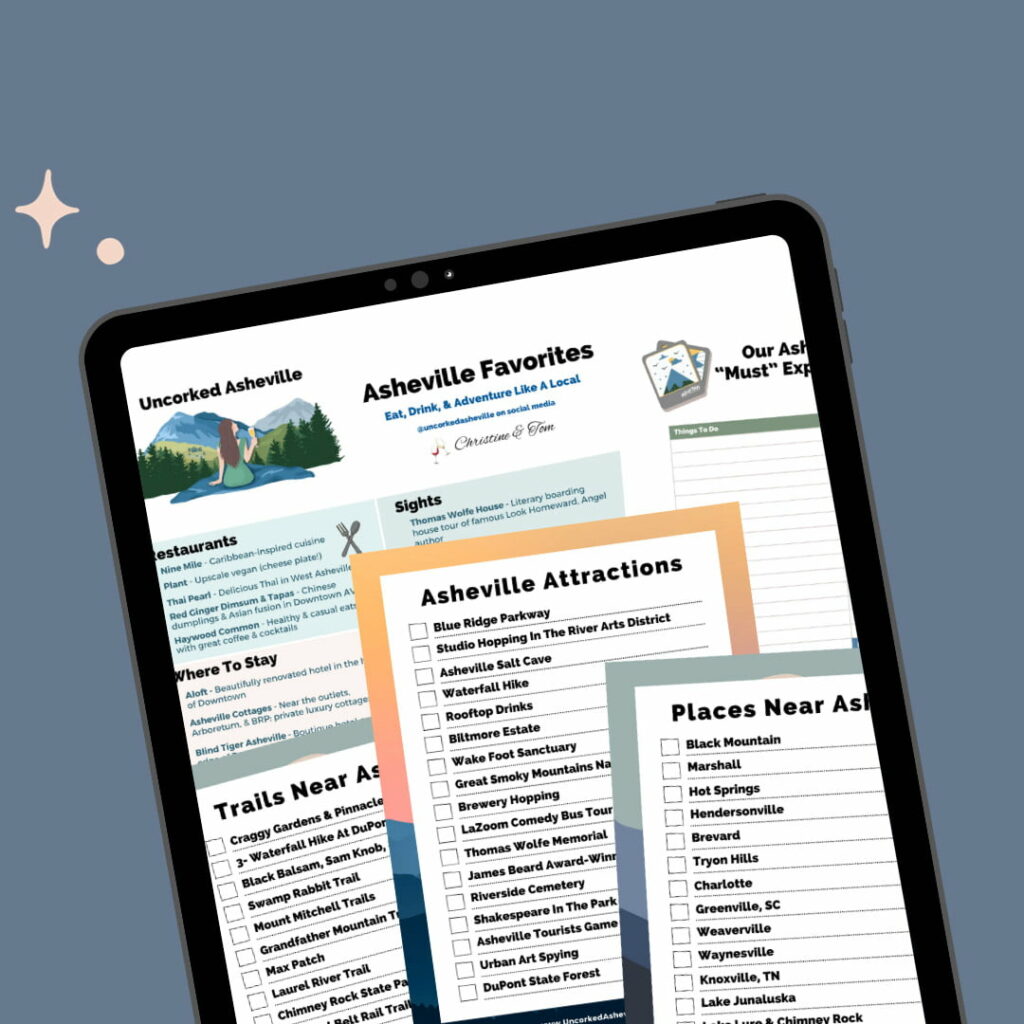 Never Miss Another Asheville Update
Experience Asheville like a local with our free attractions, dining, hiking, and day tripping guides. Get events, updates, and more straight to your inbox from Christine.
7. Watch A Play Or Concert At The Flat Rock Playhouse
Along with visiting Carl Sandburg's home, one of the most popular Flat Rock things to do is to attend a musical, concert, or play at the Flat Rock Playhouse.
We personally think that attending a play is one of the most romantic things to do for couples, but, of course, enjoy their events geared toward the entire family too.
Making a comeback after mostly virtual events from 2020-2021, now is the time to get your song and dance on.
For theater, think of off-Broadway shows like Mamma Mia. Flat Rock Playhouse also recently started a Black Block Series featuring both contemporary and classic works.
Ticket prices range from $45-$65, but always double-check prices on the Flat Rock Playhouse website.
They have limited free parking on site and no strict dress code.
Flat Rock Playhouse | 2661 Greenville Hwy, Flat Rock, NC 28731
8. Explore Hendersonville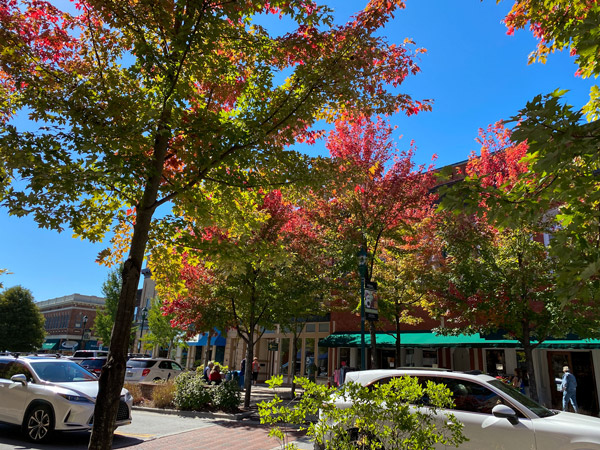 Because Flat Rock, NC is a smaller village, one of the best things to do in Flat Rock is head to its larger neighboring city, Hendersonville.
Like Flat Rock, Hendersonville has endless activities and attractions. Heading to Downtown Hendersonville – with a quaint, walkable Main Street – is a great start.
Hendersonville is full of shops, restaurants, galleries, and museums. Find free street parking and pay lots around the area.
If you enjoy breweries, Oklawaha Brewing Company serves gluten-reduced beers. D9 has a sleek taproom and serves a few sours.
A bit further away from Downtown around the Historic 7th Ave District, try Guidon for those German beers – and be sure to catch a local food truck or bear mural.
For wine bars, drop into Wine Sage & Gourmet and enjoy rooftop views from Shine.
For more things to do near Flat Rock, enjoy Hendersonville's shopping scene.
We love Wag for boutique pet supplies, A Walk in the Woods for fantastical arts and crafts, and Joy of Books for used books.
Find a chocolate factory, Kilwin's, and don't forget to snap pictures with the city's artistic bear sculptures. Depending on the season, be on the look out for festivals and fairs too.
9. Visit A Museum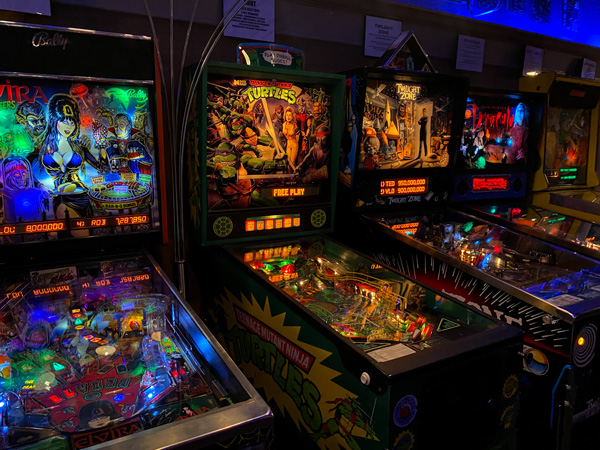 For things to do in Flat Rock, NC on a rainy day, the area is full of museums, some free and others with small admission fees.
If it's the weekend, head to the Western North Carolina Air Museum, especially for young pilots in the marking.
Since North Carolina claims to be the "first in flight" (our Ohio friends have thoughts here), stop in to see their replica and restored airplanes.
Or, play vintage pinball and arcade games at the Appalachian Pinball Museum. There's also a pinball museum in Asheville.
Pay for the day and have unlimited access to all of the games. Just use that hand sanitizer…
For a free museum near Flat Rock, drop into the Mineral & Lapidary Museum, which is filled with rocks and crystals for geology lovers.
See the Hendersonville meteorite, and meet a Tyrannosaurus rex (well, his skull). It's small but worth it!
If you are traveling with young children, try the Hands On! Children's Museum, which is an interactive museum. Find a giant Lite Brite.
There's also a small aquarium, Aquarium & Shark Lab by Team ECCO, home to sharks, eels, sea horses, and sting rays.
For more museums and things to do near Flat Rock, read about the best museums and historic sites around Asheville.
10. Chase Waterfalls At DuPont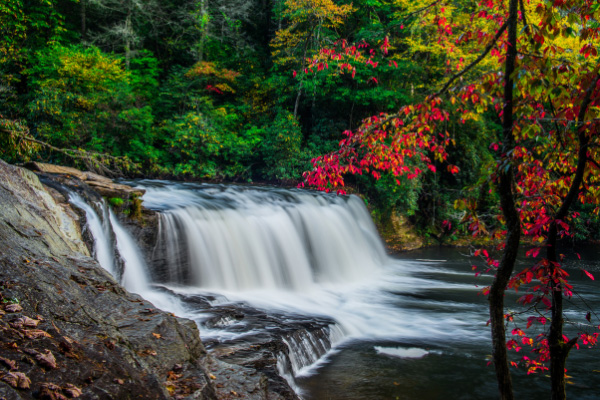 For top things to do near Flat Rock, North Carolina, we always suggest a visit to DuPont State Forest, especially if you enjoy waterfall hikes.
DuPont makes for a great day trip because it's only 25 minutes from Hendersonville and Flat Rock and 50 minutes from Asheville.
Plus, for North Carolina movie buffs, you might recognize Triple and Bridal Veil Falls from The Hunger Games and The Last of the Mohicans.
While DuPont State Recreational Forest is filled with recreational hiking and biking trails, the 3-waterfall hike – Hooker, Triple, and High Falls – is the most impressive.
The 3-waterfall hike is about 3 miles long and mostly gravel hiking with small to large rocks and some hills.
For short and easy trails for young families, though, trek just to Hooker Falls, which is .25 miles long and has a wading area (no lifeguards on duty – exert extreme caution).
For a longer hike or flat and easy mountain bike ride, add in Bridal Veils, tacking on an additional 4.4. miles. Spy a covered bridge and multiple falls along the way.
As always, leave no trace, and pay attention to all posted signs. There are areas you cannot enter to protect you, Mother Nature, and wildlife.
Find well-labeled maps, parking, and a visitor center close to High Falls. Or, start at the Hooker Falls Access Area, which has restrooms and parking.
DuPont State Recreational Forest Visitor Center | 89 Buck Forest Rd, Cedar Mountain, NC 28718
Where To Stay In Flat Rock, North Carolina:
Highland Lake Inn & Resort – True to its namesake, Highland Lake Inn overlooks a private lake, sitting on top of 26 acres of land. The inn/resort boasts contemporary food from its on-site restaurant and has historic Southern charm. Choose from poolside cottages, cabins, suites, and lodge rooms. Highland Lake Inn also specializes in destination weddings.
Mountain Inn & Suites – This is a pet-friendly, independently-owned brick motel located off of the highway. Enjoy free breakfast, on-site parking, and a convenient location for your favorite spots.
Quality Inn & Suites – Enjoy a budget-friendly, chain hotel with free breakfast and parking, a fitness center, and a heated indoor pool.
Search for more cabins, cottages, inns, and hotels in Flat Rock, NC.
Where To Stay In Hendersonville:
1898 Waverly Inn – This is a quaint historic B&B with a little library and delicious breakfast. Happy hour was our favorite here, and the hosts possess a wealth of knowledge about the area.
The Charleston Inn – Next door to the Waverly Inn, this quaint 16-room property is within walking distance of Downtown Hendersonville. Built in 1880, and formerly known as The Claddagh Inn, this building now sits on the National Register of Historic Places. Children and pets are considered on a case-by-case basis.
Echo Mountain Inn (Laurel Park) – Echo Mountain Inn is a stone 1896 Bed & Breakfast featuring a breakfast buffet, multiple rooms with fireplaces, and a seasonally opened swimming pool.
The Melange Inn – A 1920 historic Hendersonville mansion, enjoy a romantic getaway within walking distance of Downtown HVL. Visitors may also book the entire house, which comfortably sleeps 18 guests.
Search for more hotels, B&Bs, inns, cabins, and cottages in Hendersonville, NC.
Save The Best Flat Rock Things To Do For Later: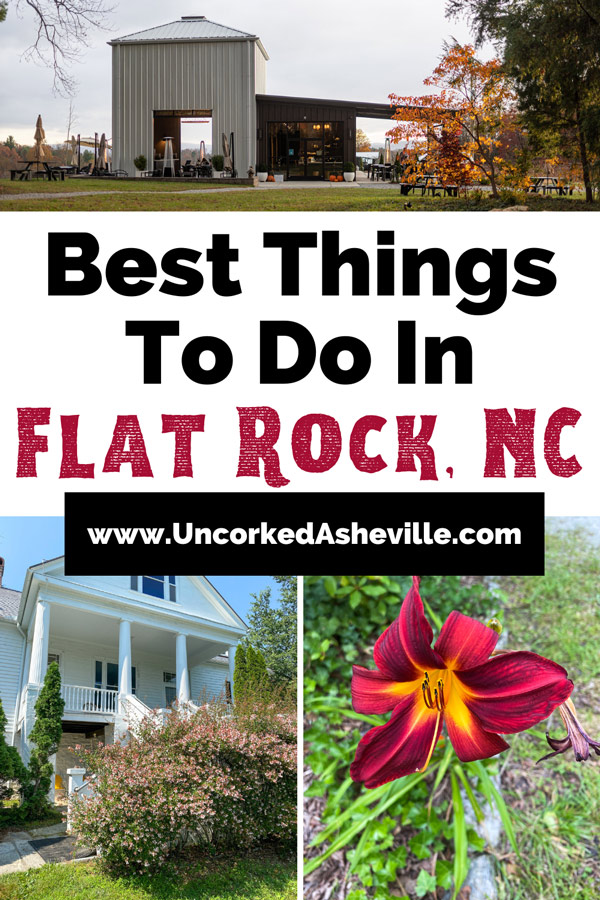 What are your favorite things to do near Flat Rock, NC?
If we had to pick just a few of our top things to do in Flat Rock, NC – and if you are looking to narrow down your itinerary – we'd suggest visiting the Carl Sandburg Home, enjoying fall at Sky Top Orchard, and wine tasting at Marked Tree Vineyard.
With more time, the Park at Flat Rock is lovely, and for the best things to do near Flat Rock, NC, hiking DuPont's waterfalls is a must.
Afterward, grabbing lunch or dinner and a brew in Hendersonville would complete our day.
What are your favorite things to do in Flat Rock, NC? How about Hendersonville?
Let us know in the comments! We are constantly updating our guides with our personal finds and local experiences.
You may also enjoy these WNC towns & cities:
Black Mountain
Lake Lure
Maggie Valley
Weaverville
Hot Springs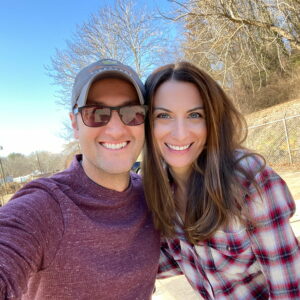 Christine (pronouns: she/her) is the owner and lead writer of Uncorked Asheville. After falling in love with those gorgeous Blue Ridge Mountains, Christine and her husband Tom decided to call Asheville, North Carolina home. When her pointy Italian nose isn't stuck in a book, Christine is adopting all of the kitties, getting lost in the forest, and drinking an ESB. She has a BA in English and History from Smith College, her MLIS from USF-Tampa, and is a former U.S. Fulbright Scholar - Indonesia. Christine also owns The Uncorked Librarian LLC with books and movies to inspire travel.