18 Best Local Spots For Breakfast In Asheville (2023)
From locals, see where you can get the best breakfast in Asheville, including quick bites, neighborhood favorites, and GF, vegan, and veggie spots.
As the most important meal of the day, especially if you are planning on chasing those waterfalls, what are the best breakfast places in Asheville, NC to fuel up?
It's pretty hard to choose, especially since Asheville is known as "Foodtopia." And, while many of the hotels serve complimentary continental breakfast, we highly suggest dining at least once at a local spot.
Below, find Asheville breakfast restaurants including tourist hot spots – Early Girl Eatery, Biscuit Head, and Tupelo Honey Cafe – as well as more local joints like 5 Points and All Day Darling.
Plus, don't forget those breakfast tacos after a night of touring the breweries, and know that you have fantastic Asheville brunch spots like Isa's, Social Lounge, and Jerusalem Garden Cafe.
Do we have you convinced? Keep reading for insider details of how to eat breakfast like a local, including family, budget, and pet-friendly places.
We'd love to know your favorites in the comments. Let's get started!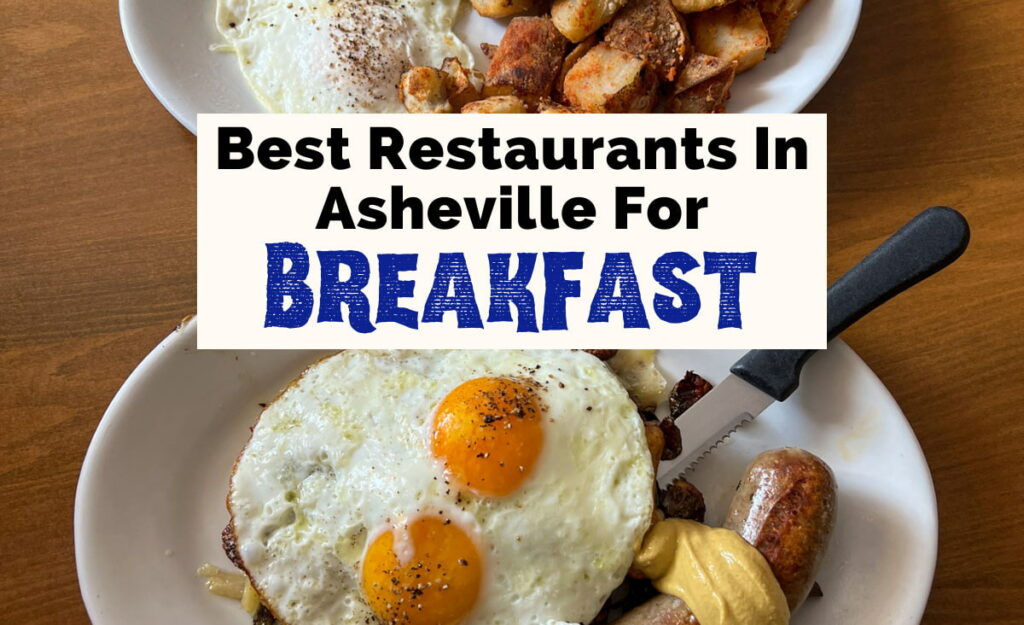 This post may contain affiliate links that earn us a commission at no extra cost to you. If you love these guides, support Uncorked Asheville here.
Our Top 5 Asheville Breakfast Places
Having lived in Asheville for years, we've eaten our way across the city. In fact, the city has turned us into professional foodies. So, how do we rate a good breakfast spot?
We look for fresh ingredients, comfortable seating, and great service. We'd say healthy food, but sometimes you just want that grease. Strong coffee is a must too. We also champion community-oriented restaurants and talk with many business owners.
If we had to pick our 5 favorite spots for breakfast in Asheville, we'd go with:
All Day Darling (Montford)
Pulp & Sprout (North Asheville)
Sunny Point Cafe (West Asheville)
Mamacita's Taco Temple (North Asheville)
Tupelo Honey Cafe (Downtown Asheville)
If it is Saturday or Sunday morning, you might also appreciate these weekend AVL brunch spots. Sunday brunch is our jam. Also, please keep in mind that we are a part Celiac and lactose-intolerant household – which is reflected on our lists.
18 Spots For The Best Breakfast In Asheville
1. Sunny Point Cafe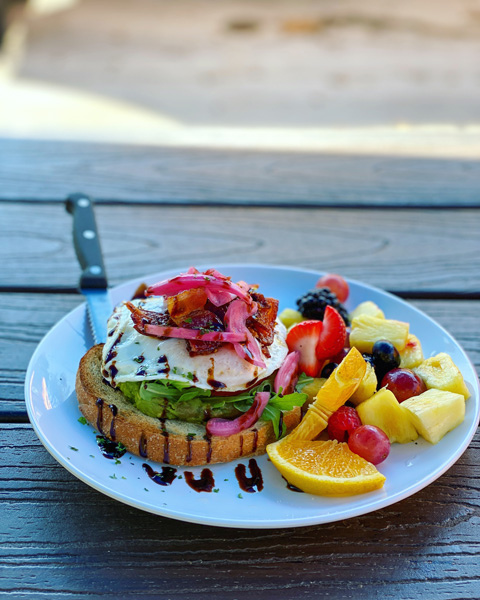 Who serves the overall best breakfast in Asheville, NC? Sunny Point Cafe is both a visitor and local favorite sure to make your taste buds and wallet happy.
The weekends will see lines around West Asheville, and the weekdays tend to be just as busy. We think the wait is worth it, though (and trust us, lines scare us too).
Sunny Point Cafe serves breakfast, brunch, and lunch; they stopped their dinner service in 2023.
Eat outside on the patio or enjoy a meal indoors. Dine on Southern classics like chicken and waffles, fried green tomatoes, and shrimp and grits.
Sunny Point Cafe also has French toast, hotcakes, avocado toast, candied bacon, huevos rancheros, and breakfast burritos.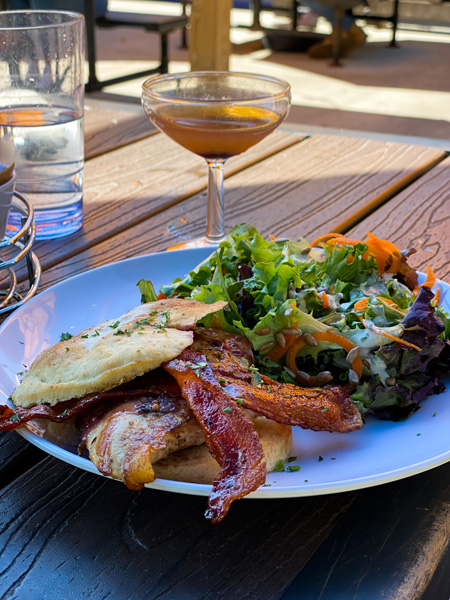 On their kids' menu, find items like hot cakes, french toast, and egg breakfasts with a choice of protein and biscuit.
They offer gluten-free bread options and serve up large portions with local libations. For West Asheville restaurants, Sunny Point Cafe is both dog and family-friendly too.
Afterward, peruse West Asheville's quirky shops, coffee joints, and street art. We suggest street parking on or around State Street.
Know that West Asheville has plentiful pay-lots and street parking – please be mindful of all posted signs and local residences.
Sunny Point Cafe | 626 Haywood Rd, Asheville, NC 28806
2. Pulp & Sprout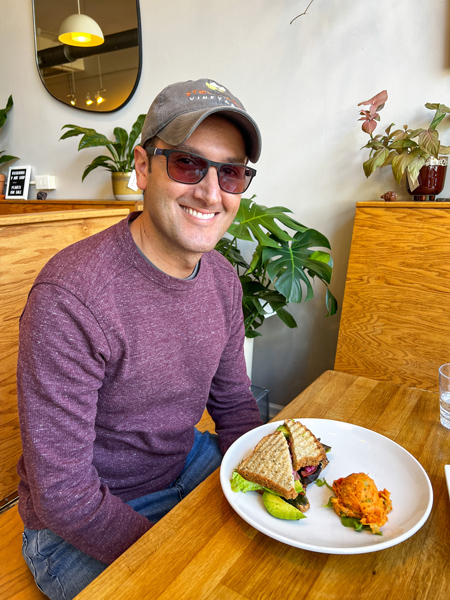 There are plenty of charming restaurants hiding in North Asheville, one of the top AVL neighborhoods for locals.
Pulp + Sprout Juice Bar and Vegan Cafe is a dedicated vegan breakfast, brunch, and lunch restaurant with loads of gluten-free and vegetarian options. They sit in the Chesnut area between Downtown and North AVL.
This is a counter-service breakfast spot, and they will bring food out to you. Hop in a booth up front, a table in the back, or head outside to the makeshift patio.
For a healthy Asheville breakfast, start your day off with a cold-pressed juice or delicious smoothie. They have a variety of cashew-based "mylks" to choose from along with other milk alternatives.
Of course, find avocado toast, broths, and a variety of items that can be made into either smoothies or bowls, filled with your favorite fruits and veggies like beets, carrots, bananas, and blueberries.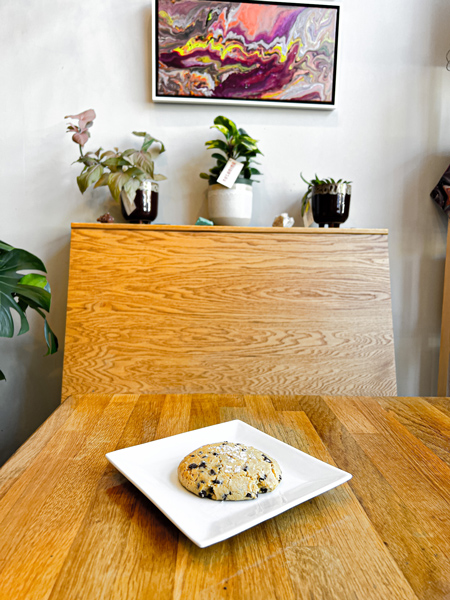 Order a muffin, granola, or shortbread. And yes, you are seeing a cookie in that photo; we aren't ashamed to eat GF and vegan chocolate chip cookies for breakfast either.
Pulp & Sprout also serves up sandwiches, and they have gluten-free bread. Many people will grab food and drinks to go.
Park out front or on a side street (just not in the reserved yoga lots). This is a low-key and budget-friendly breakfast restaurant.
Like many of these breakfast places in Asheville, Pulp & Sprout does not require or take reservations.
Discover even more top vegan and vegetarian restaurants in Asheville.
Pulp + Sprout Juice Bar and Vegan Cafe | 233 S Liberty St, Asheville, NC 28801
3. All Day Darling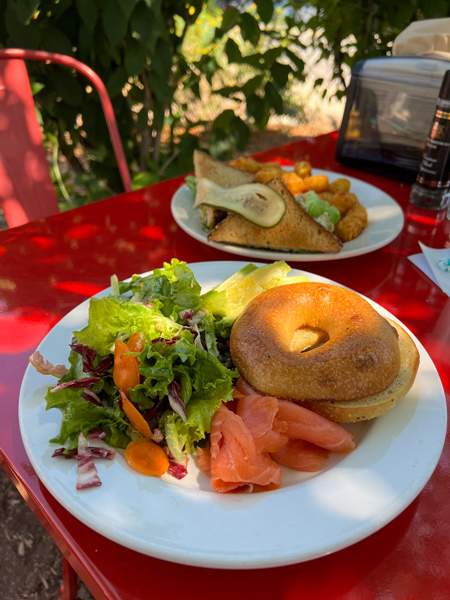 One of the best Asheville breakfast places for gluten-free, vegan, and veggie diners, All Day Darling is a must – especially for locals and visitors in the Historic Montford District.
And, many of their items can also be made dairy-free.
Open 7 days a week, All Day Darling serves breakfast, lunch, and dinner – with both indoor and outdoor seating. They specialize in market-focused food.
Head up to the counter to order, grab your number, and find a seat. This is a restaurant that stays jumping all day; we always eat here during slightly off-peak hours.
For breakfast, order a matcha latte with oat milk, lox, gluten-free pancakes, breakfast bowls, and steak and eggs.
Or, make tough decisions between avocado, mushroom, and almond butter toast. All Day Darling also has a kids' menu featuring rice and beans, grilled cheese, and a burger or chicken sandwich.
While All Day Darling isn't a dedicated gluten-free kitchen, they do have a dedicated GF fryer and make their own gluten-free bread (we ask and always double-check).
As locals, this is one of our top picks for a budget-friendly, casual, food intolerance-conscious, and utterly delicious breakfast in Asheville.
Find parking on the side streets around All Day Darling. You are also minutes away from Downtown AVL.
Read more about Asheville's gluten-free dining scene.
All Day Darling | 102 Montford Avenue, Asheville, NC 28801
4. Tupelo Honey Cafe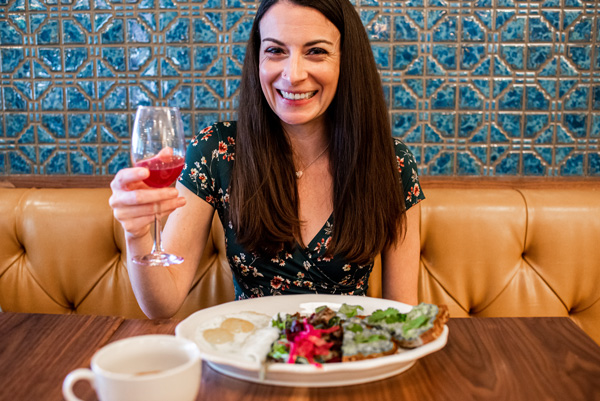 Where can you find the best breakfast in Downtown Asheville that's served all day? Tupelo Honey – and yes, we highly suggest making advanced reservations.
Tupelo Honey is one of the most popular and "touristy" places for breakfast in Asheville – OK, and lunch too. However, this doesn't mean that you shouldn't eat there.
Tupelo Honey Cafe makes delicious and locally sourced food, serving fresh Southern meals with brunch cocktails.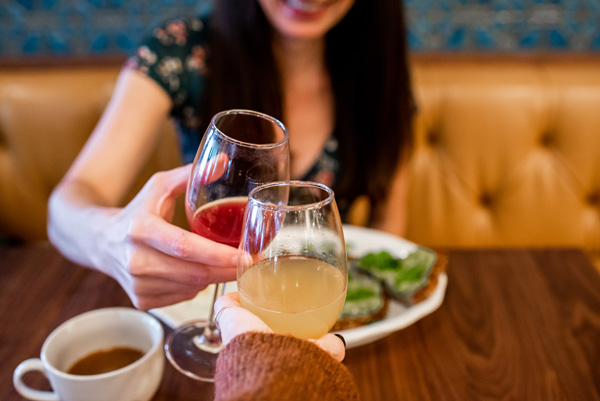 For breakfast, choose from avocado toast, eggs, biscuits, cauliflower, and Brussels. Tupelo Honey is famous for their fried chicken and waffles.
They also serve up buttermilk waffles, shrimp and grits, pancakes, and eggs. Know that they are a small franchise – if that isn't your jam.
Find even more great Downtown Asheville restaurants to enjoy.
Tupelo Honey Cafe | 12 College St, Asheville, NC 28801 | 1829 Hendersonville Rd, Asheville, NC 28803
5. Mamacita's Taco Temple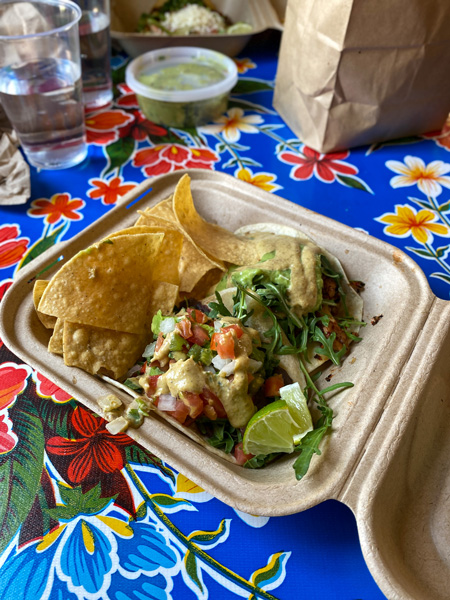 Craving breakfast places in Asheville that serve tacos?
Mamacita's Taco Temple is always jumping. This is where the locals go and is also one of the city's most memorable dining experiences.
Mamacita's Taco Temple sits in a former 1930s gas station in North Asheville. Uniquely, the inside is decorated like a church, which is a religion we can get by.
Breakfast typically starts at 9:00 AM and runs until noon, although please always double-check their hours on the website.
Order at the window, and grab a table at the covered patio or inside the small restaurant. There's usually a table in the grass too, which is perfect if you have a furry friend.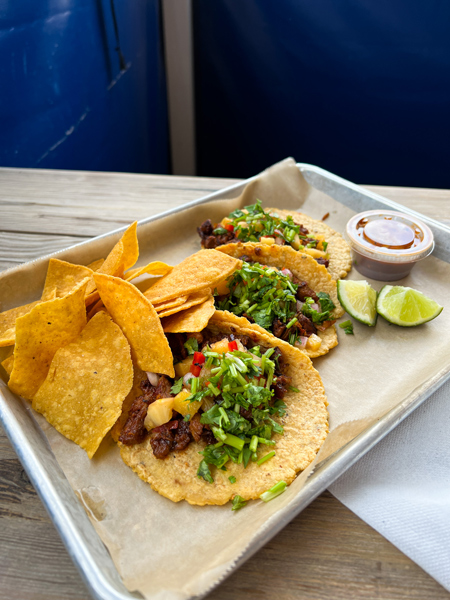 Taco Temple serves up some of the best tacos in town. Think milled corn and flour tortillas, tortas, and tamales. Sip Mexican hot chocolate with a side of tater tots or churros.
Mamacita's Taco Temple also doles out gluten-free and vegan tacos, and unlike their lunch and dinner options, select from breakfast tacos with eggs, hashbrowns, and bacon.
Taco Temple has a small kids' menu and a salad option, making it another kid-friendly Asheville breakfast place.
P.S. These guys are one of our favorite North Asheville restaurants, but this area of the city is full of hidden gems.
Mamacita's Taco Temple | 132 Charlotte St, Asheville, NC 28801
6. 5 Points Restaurant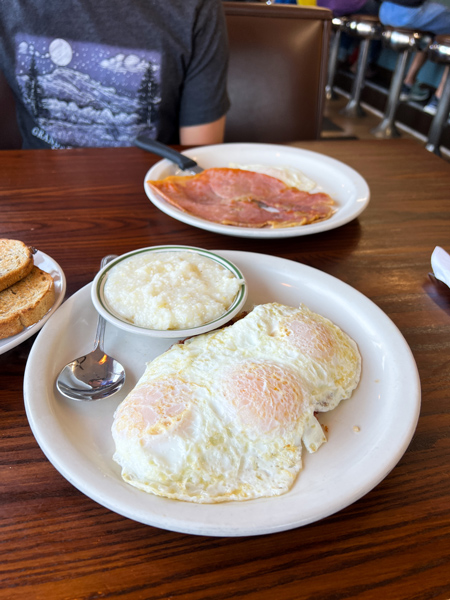 One of the most local Asheville breakfast places, 5 Points Restaurant sits at the intersection of Historic Montford, North AVL, and Downtown.
Five Points is perfect if you are looking for a budget-friendly, casual breakfast in Asheville and adore cozy, local diners. As world travelers, we personally seek out kitschy and retro diners.
The diner is owned by a third-generation Greek family and specializes in no-frills but delicious Greek and Italian cuisine.
The crowds and consistently filled seats speak for themselves, and you'll find AVL locals shuffling in and out all day.
You might have a short wait, but tables turn over rather quickly too. Sit at the counter, grab a booth, or hide out at a corner table. 5 Points has indoor dining only.
With the perfect hangover menu, find breakfast served all day filled with your favorite classics: corned beef hash, eggs, ham, pancakes, and those Southern grits.
Of course, 5 Points serves French toast, breakfast sandwiches, breakfast wraps, and eggs benedict paired with never-ending coffee pours. It's the perfect place for a hearty breakfast.
If you are nearing lunch, enjoy gyros, sandwiches, salads, and fried as well as grilled seafood.
While the menu isn't labeled for food intolerances, just let your server know – 5 Points Restaurant has a gluten-free biscuit, and they made our egg order in oil instead of butter. We had to make a few modifications for lactose – but it wasn't hard. And, the service is great!
Park in their lot out front, but it may be full or a bit tight if you drive an SUV like us. There is also limited street parking on Chestnut Street – please be respectful and mindful of residents as well as all posted signs.
Stock up with treats from Trader Joe's, Whole Foods, or Harris Teeter on your way out. These specialty stores sit just minutes from Five Points.
5 Points Restaurant | 258 Broadway St, Asheville, NC 28801
7. Green Sage Cafe
With multiple locations across the city, Green Sage Cafe is perfect for those looking for a healthier and organic Asheville breakfast served all day. Plus, this is a quick eats option.
Smoothies, bowls, eggs, kale, toast – you name it, Green Sage serves it.
Green Sage Cafe also labels menu items for those who are gluten-sensitive or looking for a vegan breakfast in Asheville. Choose from tea, coffee, milkshakes, and specialty drinks too.
Their locations feel like casual cafes, and the easiest-to-access ones include Downtown and Merrimon Ave. We prefer the Merrimon Ave. location.
Full disclosure: not all of our readers love Green Sage, but we drop in here while running errands in town and need quick, easy, affordable, and healthy fuel.
Green Sage Cafe | 5 Broadway St, Asheville, NC 28801 | 633 Merrimon Ave, Suite A, Asheville, NC 28804 | 1800 Hendersonville Rd, Asheville, NC 28803 | 70 Westgate Pkwy, Asheville, NC 28806
8. Isa's French Bistro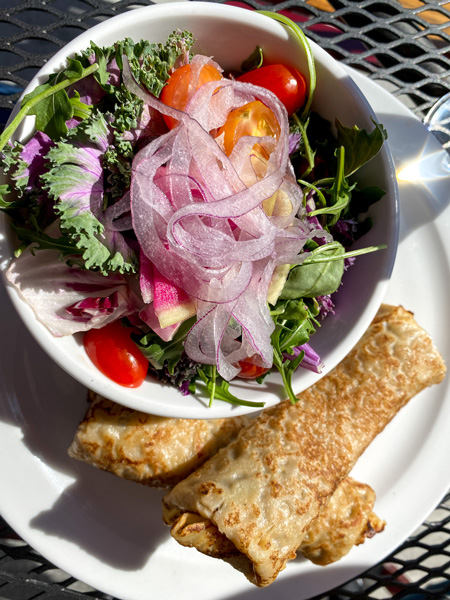 Located in Asheville's trendy hotel scene, Isa's French Bistro sits tucked into the Haywood Park Hotel. You'll see this picturesque French bistro in engagement and wedding photos.
It's pretty iconic, and we think Isa's is one of Asheville's quaint and romantic dining spots.
Plus, if you are looking for "fine dining" Asheville breakfast spots, head here. However, Isa's is not pretentious, and you can still dress fairly casually.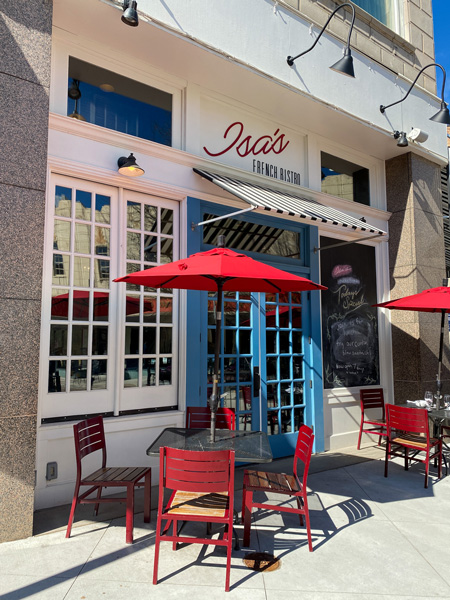 For brunch, Isa's offers a hash skillet, lox, vegan sausage, and French toast. Find a few gluten-free options.
Don't miss that Bloody Mary or their flavorful mimosas. Sit outside to watch the hustle and bustle of Downtown Asheville. We prefer to eat here on a whim during a non-peak dining time to avoid the crowds.
Isa's French Bistro | 1 Battery Park Ave, Asheville, NC 28801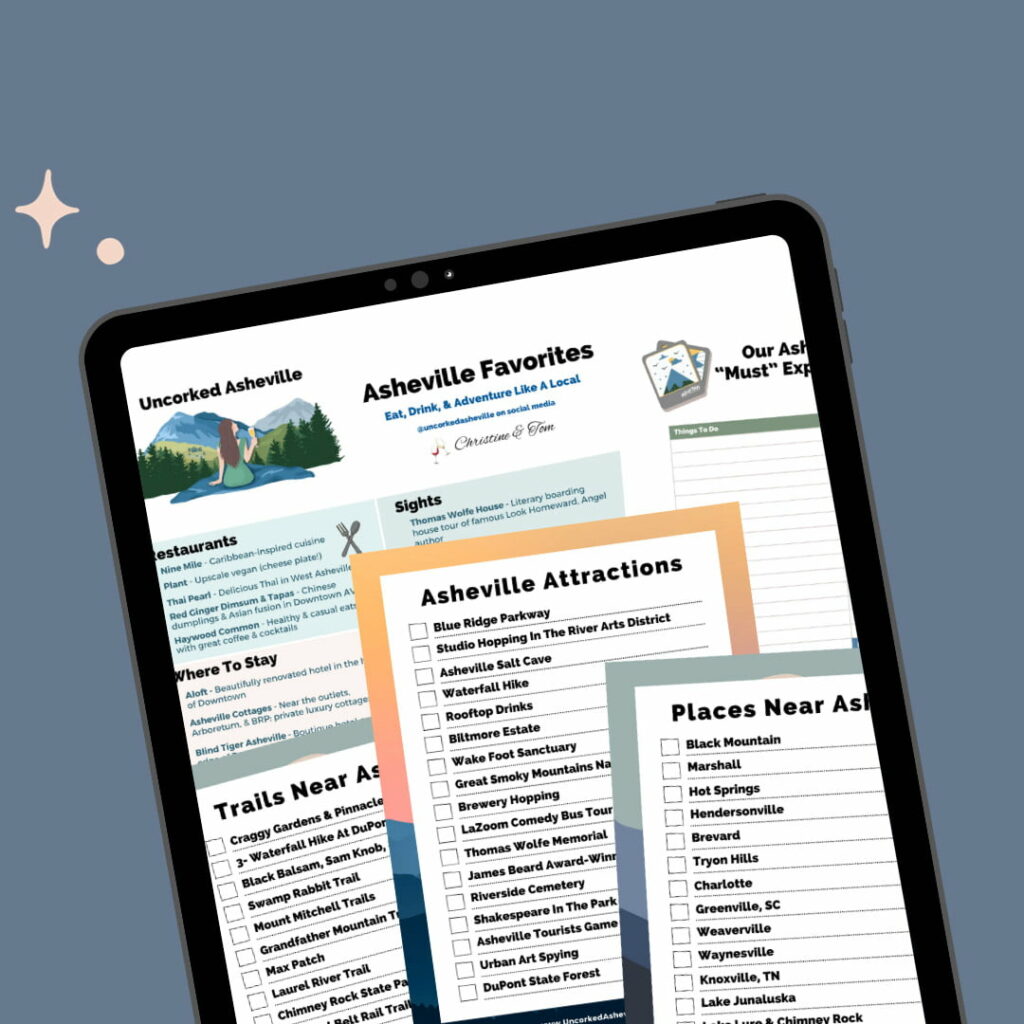 Never Miss Another Asheville Update
Experience Asheville like a local with our free attractions, dining, hiking, and day tripping guides. Get events, updates, and more straight to your inbox from Christine.
9. Biscuit Head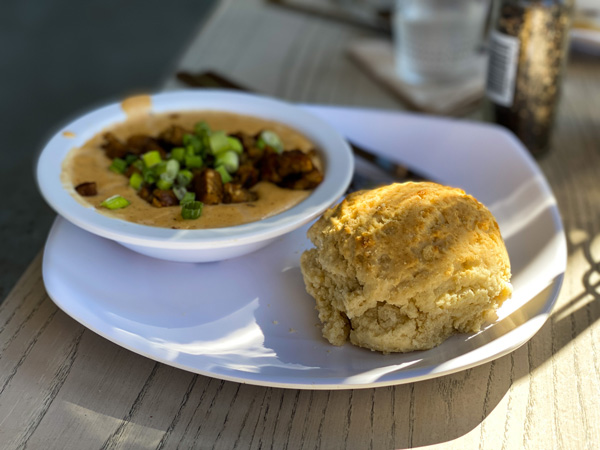 It's no secret that Biscuit Head has a cult following similar to White Duck Taco. Many say that Biscuit Head serves the best breakfast in Asheville and across Western North Carolina.
We are not necessarily a part of the Biscuit Head following – truth bomb here – but we understand that people love Biscuit Head. We won't poo on your fun. Their food is fantastic, and they have great service.
What we personally appreciate about Biscuit Head is that we can order vegan and gluten-free biscuits with gravy. Those dietary needs and Southern biscuit finds can be hard to come by.
Biscuit Head makes moist biscuits, and they support the community by locally sourcing many of their ingredients and drinks.
For Asheville breakfast places, choose from traditional biscuits with fun and spicy gravy flavors or turn them into tempting and massive sandwiches with all of the meats. We've even seen a mimosa fried chicken biscuit.
On the weekends, lines wrap around their buildings, and you might have a more stressful experience. If Biscuit Head is a must for you, we highly suggest going on weekdays during non-peak times around 11 AM.
This Southern comfort food will truly make you feel like you are in North Carolina. We love the Gus Cutty art at the Hendersonville Road location. That cat wallpaper too…
Biscuit Head | 733 Haywood Rd., Asheville, NC 28806 | 417 Biltmore Ave, Ste 4F Asheville, NC 28801 | 1994 Hendersonville Rd, Asheville, NC 28803
10. Jerusalem Garden Cafe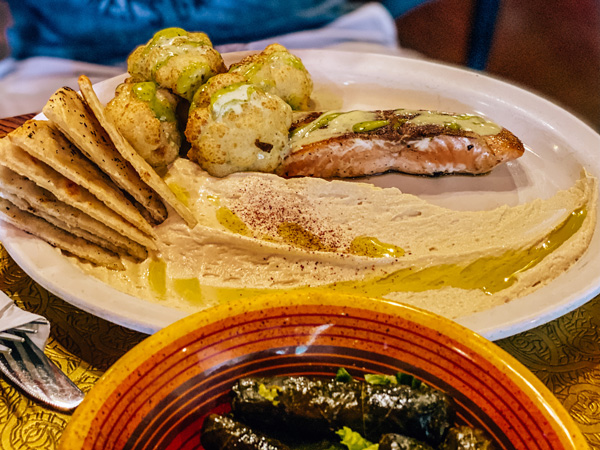 One of our favorite spots for a late weekend breakfast in Downtown Asheville, Jerusalem Garden Cafe is colorful and delicious.
Just know that Jerusalem Garden Cafe does not serve breakfast/brunch on the weekdays, but they typically open at 11 AM, which is great for that late-morning meal.
Here, enjoy mouthwatering and flavorful Middle Eastern and Mediterranean cuisine.
On the weekends, choose from brunch omelets, Shakshuka, eggs, falafels, hummus, salads, and gyros. Jerusalem Garden Cafe even serves brunch mimosas.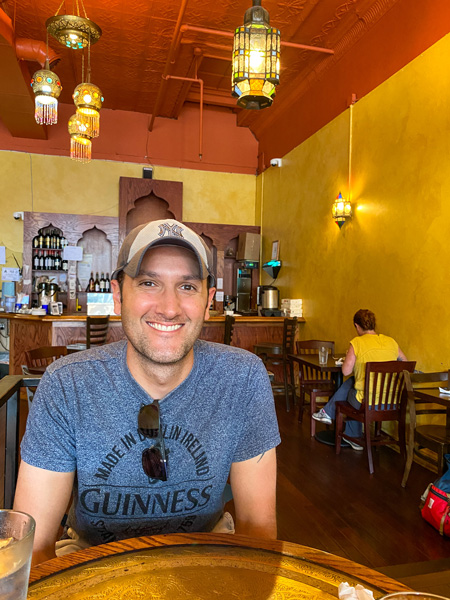 Of course, Jerusalem Garden Cafe is also one of our favorite Asheville lunch spots.
They are laso a great option against the incredibly busy and popular Tupelo Honey. Just look across the street, and you'll see Tupelo and Mayfel's.
On either side of Jerusalem Garden Cafe, you'll also find S&W Market and Red Ginger, two more delicious Downtown Asheville restaurants.
We like to park at the Coxe Ave. garage when dining in this area. For a more authentic breakfast in Asheville, this is it.
Jerusalem Garden Cafe | 78 Patton Ave, Asheville, NC 28801
11. Geraldine's Bakery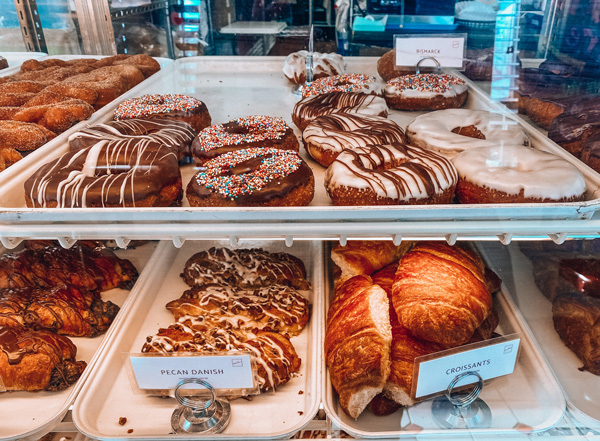 There are plenty of donut shops in Asheville, making it hard to choose just one. We've decided to go off the beaten path here.
If you are craving homemade donuts for breakfast in Asheville along with freshly baked goods and pastries, head to Geraldine's Bakery.
This is one of the more local spots and is great for fast counter service and treats on the run.
Situated in North Asheville, this residential restaurant most resembles our old hometown Italian bakery in Connecticut. You'll feel that old-school nostalgia.
Geraldine's sells wedding cakes, Italian cookies, fritters, and an endless display of mouth-watering pastries that you cannot leave without.
Grab a coffee and get work done at nearby Penny Cup or take a stroll around Beaver Lake or the Botanical Gardens at Asheville. Think of it as a breakfast picnic that you won't soon forget.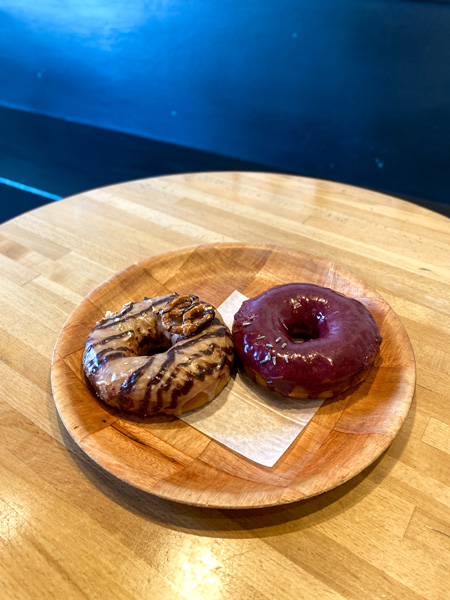 Of course, our other choice for a donut-filled Asheville breakfast, Vortex Doughnuts in Downtown Asheville's South Slope neighborhood, is equally delicious. Here, find vegan options, sometimes GF choices, and delicious coffee Downtown.
Vortex sits next to the famous Buxton Hall, one of the best spots for BBQ. There's a pay lot across the street for parking.
Lastly, West AVL's Hole Doughnuts also serves donuts and is near TacoBilly – another one of the best breakfast places in Asheville for tacos. We know; it's a lot!
Geraldine's Bakery | 840 Merrimon Ave, Asheville, NC 28804
12. Well-Bred Bakery & Cafe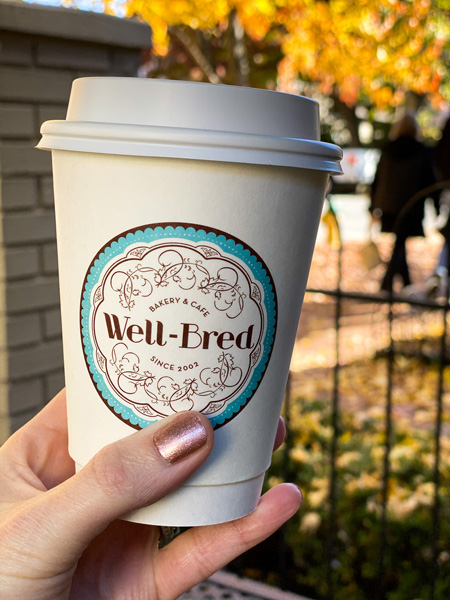 Located in Biltmore Village – with Downtown locations – for many, Well-Bred Bakery serves up the best breakfast in Asheville, especially for Biltmore Estate travelers.
We suggest fueling up at Well-Bred before your massive Biltmore Estate tour or right after a special exhibit. Once you leave the estate's gates Well-Bred is under a five-minute drive.
Well-Bred Bakery has been voted one of the best bakeries in WNC for years, and they have two Weaverville locations – if you wish to escape AVL crowds.
Choose from brunch, lunch, and fine pastries. Well-Bred Bakery offers a variety of quiches and breakfast burritos. They also feature traditional lunch sandwiches.
Well-Bred Bakery and Cafe will have some gluten-free items but largely lack vegan and lactose-free choices.
For more breakfast places in Biltmore Village, Corner Kitchen is fantastic; we do suggest reservations here.
Discover even more top places for breakfast & brunch near Biltmore Estate (and lunch & dinner!).
Well-Bred Bakery | Biltmore Village: 6 Boston Way, Asheville, NC 28803 | Grove Arcade Downtown AVL: 1 Page Avenue, Ste. 112G, Asheville, NC 28801 | Weaverville: 26 North Main Street, Weaverville, NC 28787 & Food Truck: 232 Reems Creek Rd, Weaverville NC, 28787
13. Old Europe Pastries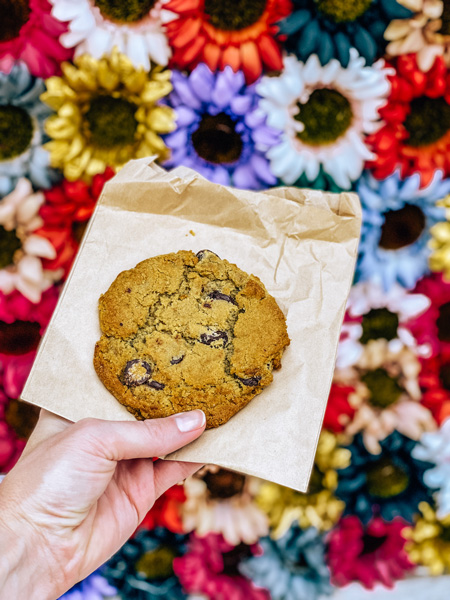 Established in Downtown Asheville in 1994, Old Europe is one of the longest-running cafés, coffee shops, and pastry shops in Asheville.
Old Europe makes some of the most dazzling desserts and is perfect if you are looking for a grab-and-go, sweet breakfast in Downtown Asheville.
If you are vegan, lactose-intolerant, or looking for gluten-free treats, Old Europe will have something for you. They also serve traditional Hungarian desserts.
Locals and visitors may order treats online or via a food delivery service.
If you are looking for similar eats but find yourself in West Asheville, try Odd's Cafe, which also boasts coffee and baked goods with vegan and GF options.
Old Europe Pastries | 18 Broadway St, Asheville, NC 28801
14. Early Girl Eatery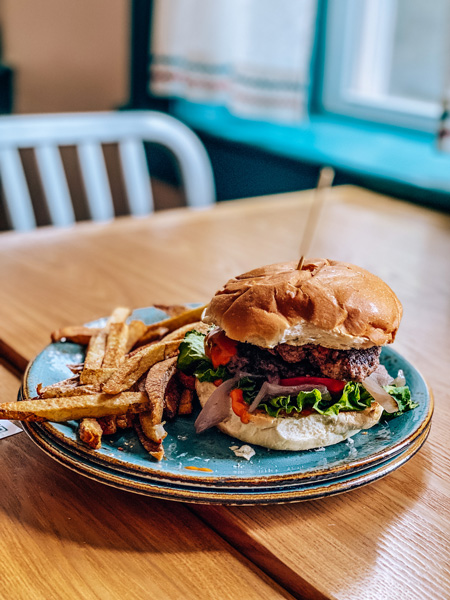 Another gluten-free and vegan Asheville breakfast restaurant, Early Girl Eatery has a large menu. They are quite popular, especially at their bustling Downtown location.
Early Girl serves breakfast, lunch, and dinner all day, and they focus on farm-to-table cuisine.
For breakfast, choose from breakfast bowls, pancakes, biscuits, and eggs. Along with mimosas, order a few sides including fresh fruit, ham, sausage, grits, cornbread, and bacon.
Early Girl Eatery is a great foodie option for the entire family. We don't however, think they are the most atmospheric place on this list – if that's important to you. It can grow busy and loud.
Early Girl Eatery | Downtown 8 Wall St. | West 444 Haywood Rd. #101 | South 1378 Hendersonville Rd. Suite A
15. Social Lounge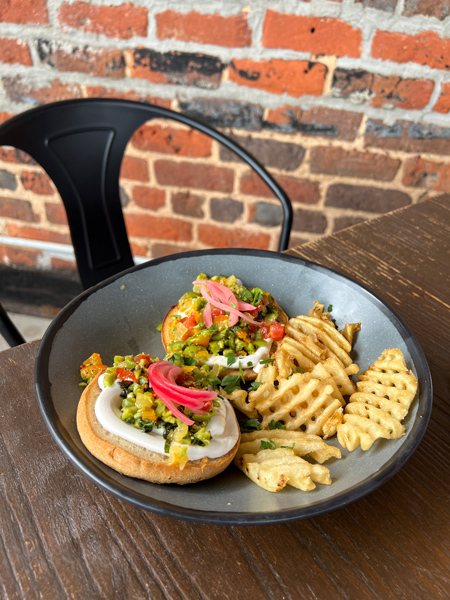 One of Asheville's infamous rooftop bars, don't miss brunch in Asheville at Social Lounge, which is the sister restaurant to Strada Italiano.
Devour Saturday and Sunday brunch on Social Lounge's rooftop with decadent and seasonal cocktails and Downtown views.
Select from Social Lounge's lighter fare, including salads, bagels, vegan lox, and muffins. Or, order larger plates with egg bowls, omelets, shrimp and grits, sweet pancakes, and French toast.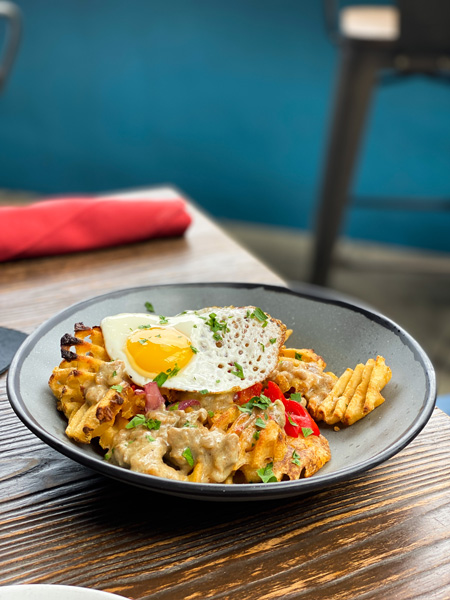 Social Lounge labels its menu for gluten-free allergies, and they have vegan items. They also serve brunch dessert.
You might just catch a live musician, and for us, Social Lounge is a tradition before heading to a festival in Pack Square. This is a great way to get an early parking spot and beat the Downtown AVL weekend crowds.
We also take out-of-town visitors here for the "wow" factor, and we champion Chef Cerrato as a local business owner.
We highly suggest making advanced reservations. For us, Social Lounge makes the best breakfast in Asheville on the weekends.
Social Lounge | 29 Broadway St, Asheville, NC 28801
16. Village Social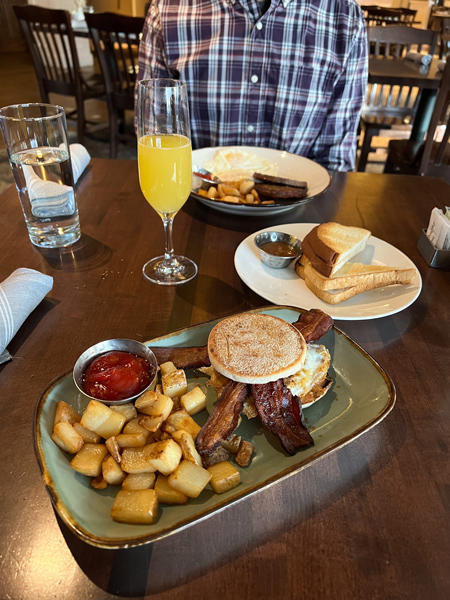 Enjoy an Asheville breakfast like a Vanderbilt at Biltmore's Village Social. We love eating here during Biltmore's Passholder Appreciation months.
Village Social sits on the second floor of Biltmore Estate's Village Hotel, and you can enter the cozy, tavern-like dining room and bar from inside the hotel or outside via Antler Hill Village.
Just be aware that you will need to be an annual passholder or have a daytime ticket or overnight hotel reservation on the estate to enjoy any of Biltmore's delicious restaurants.
We also suggest making advanced dining reservations to enjoy a classic American breakfast here.
Village Social features an egg, sausage/bacon, and potato platter, lox, pancakes, waffles, oatmeal, and scrambled eggs.
They make their own biscuits and have gluten-free bread. For children, Village Social's menu features eggs, waffles, and pancakes.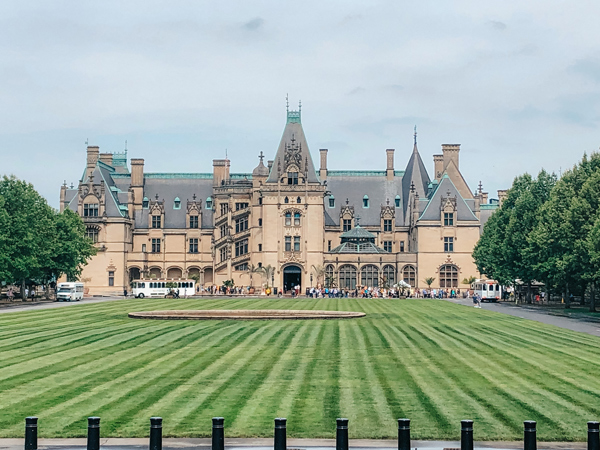 Notably, Village Social can make many dishes lactose-free, and our servers have always taken our food intolerances very seriously – the service is amazing.
If you are spending the day at Biltmore – hiking, enjoying a home tour, strolling the gardens, and wine tasting – Village Social is also a delicious spot for lunch or dinner with Southern items like fried green tomatoes, chicken and waffles, ribeye, salmon, and pot roast.
For family-friendly breakfast places in Asheville – as well as hotels – Village Social and the Village Hotel are the perfect treat. Our own family stays here when in town too!
And, across the way, head to Biltmore Winery for shopping or their fun wine bar for charcuterie.
Village Social | Antler Hill Village/Village Hotel on Biltmore Estate | 1 Lodge St., Asheville, NC 28803
17. Liberty House Cafe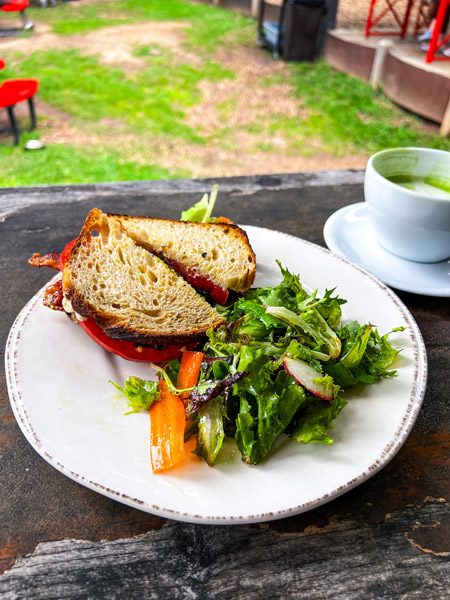 One of our favorite coffee shops and breakfast restaurants in Asheville, Liberty House Cafe sits next to Pulp and Sprout in the North Asheville neighborhood on one acre of land in a repurposed 1920s cottage.
We love heading here after a session in the Asheville Salt Cave (trust us; it's a heavenly and relaxing experience).
This is your go-to for classic breakfast favorites, including pancakes, skillets, overnight oats, avocado toast, and BLATs (bacon, lettuce, avocado, and tomato – BLTs).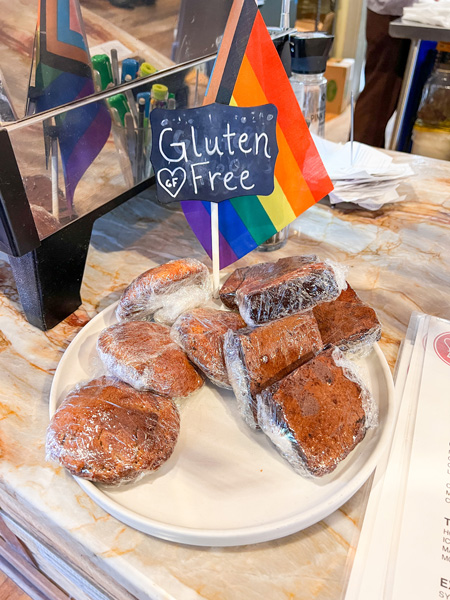 Since Liberty House Cafe is typically open 7 days a week from 9 AM to 3 PM, also select from burgers, salads, and sandwiches.
Plus, an early or late lunch is never a bad idea. On weekends, they serve brunch specials. Meet up with friends or get some work done with one of their delicious coffees.
Liberty House Cafe has gluten-free bread and non-dairy milk options. Find street parking in front of the cafe.
As locals like us, Liberty House Cafe has the best breakfast in Asheville if you enjoy sitting outside in wide open spaces – in your yoga pants. It represents all that we love about living in this gorgeous Blue Ridge Mountain city.
Liberty House Cafe | 221 S Liberty St, Asheville, NC 28801
18. The Rhu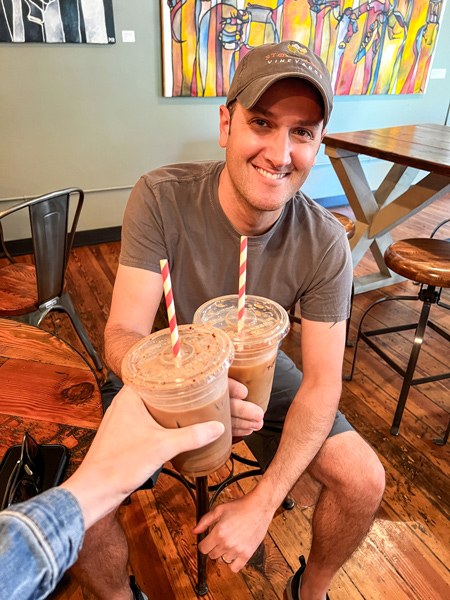 It's not a secret that we locals don't always go to Downtown Asheville unless we have to. You have to be in the mood to pay for parking, occasional congestion, and wait times (we still enjoy it, though).
However, for the best coffee and breakfast in Downtown Asheville without the hassle, head to The Rhu, tucked into South Lexington Ave. near La Bodega (a delicious Asheville brunch spot).
For a great breakfast, find anything from bagels with cream cheese and buttermilk biscuits to yogurt, English muffin sandwiches, and quiche.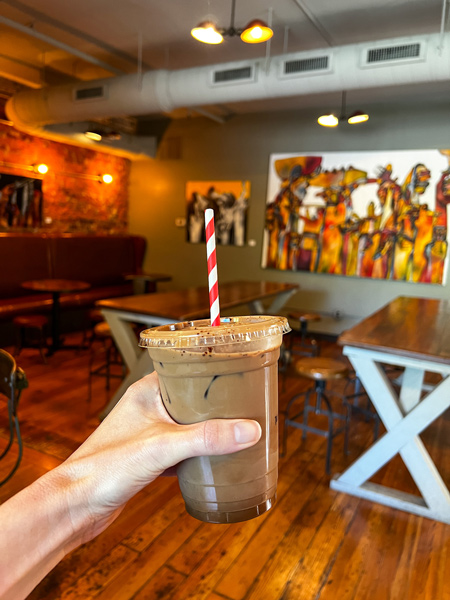 Of course, we most love their iced coffees, including specialty options. The Rhu also serves lunch items like salads and sandwiches.
Sit downstairs and people watch. We like to head upstairs to the much quieter and brilliantly decorated seating area. We typically park at the Biltmore Ave. Garage or Park Mobile lots across the street.
Afterward, shop at our personal favorite blown glass art studio, Lexington Glassworks.
The Rhu | 10 S Lexington Ave, Asheville, NC 28801
What are your favorite places for breakfast in Asheville, NC?
From the length of this article, you can probably tell it's extremely hard to pick the best breakfast in Asheville. There are so many fantastic restaurants for all types of cuisine cravings and budgets.
If we had to pick our top favorite breakfast places in Asheville as locals, we'd go with All Day Darling, Pulp & Sprout, and Sunny Point Cafe. For brunch in Asheville, we prefer Social Lounge, ELDR, and Jerusalem Garden Cafe, and for a quick breakfast on the go, Vortex, Old Europe, and Green Sage.
What are your favorite Asheville breakfast restaurants? Which restaurant serves the best breakfast in Downtown Asheville, West AVL, Montford, and North AVL?
And lastly, who makes the most delicious GF or vegan breakfast? Let us know in the comments.
Closures & Updates
Over the years, we've had to update this article for closures. A few of the best breakfast spots in Asheville we've lost over the years and removed include:
BimBeribon (2022) – Asheville's dedicated gluten-free bakery
Sawhorse (2023) – Delicious West Asheville restaurant
After breakfast, plan your day:
Save Your Favorite Asheville Breakfast Places For Later: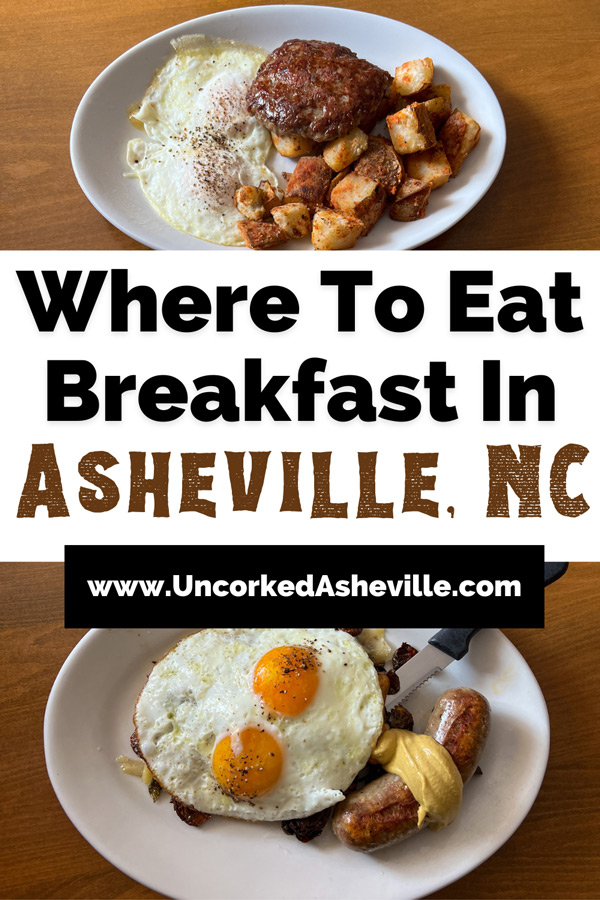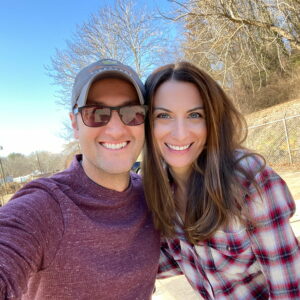 Christine (pronouns: she/her) is the owner and lead writer of Uncorked Asheville. After falling in love with those gorgeous Blue Ridge Mountains, Christine and her husband Tom decided to call Asheville, North Carolina home. When her pointy Italian nose isn't stuck in a book, Christine is adopting all of the kitties, getting lost in the forest, and drinking an ESB. She has a BA in English and History from Smith College, her MLIS from USF-Tampa, and is a former U.S. Fulbright Scholar - Indonesia. Christine also owns The Uncorked Librarian LLC with books and movies to inspire travel.