We just love spending weekends touring the Hendersonville wineries. Don't miss these fantastic wineries in Hendersonville for both dry and sweet North Carolina wines.
Although Asheville has plenty of things to do, as AVL locals, we sometimes want to escape the city. One of our favorite day trip itineraries includes eating, hiking, and drinking in Hendersonville, NC.
You could easily start your day with a nearby scenic hike such as DuPont State Forest or even Bearwallow Mountain. The former boasts of stunning and famous waterfalls and the latter is home to side-eyeing cows and mountain views.
Then, head into downtown Hendersonville for lunch and dessert. Or, beeline it straight to one of the Hendersonville wineries.
What makes each of the wineries in Hendersonville different? If you only have a day to spend in Hendersonville and have to choose, which Hendersonville winery do we recommend for you?
As winos and owners of The Uncorked Librarian, keep reading to uncover all that you need to know about Hendersonville's vineyards and wine scene. Let's get started!
Read more about the fun Things To Do Around Hendersonville, NC. Or, grab lunch or dinner at these Hendersonville restaurants.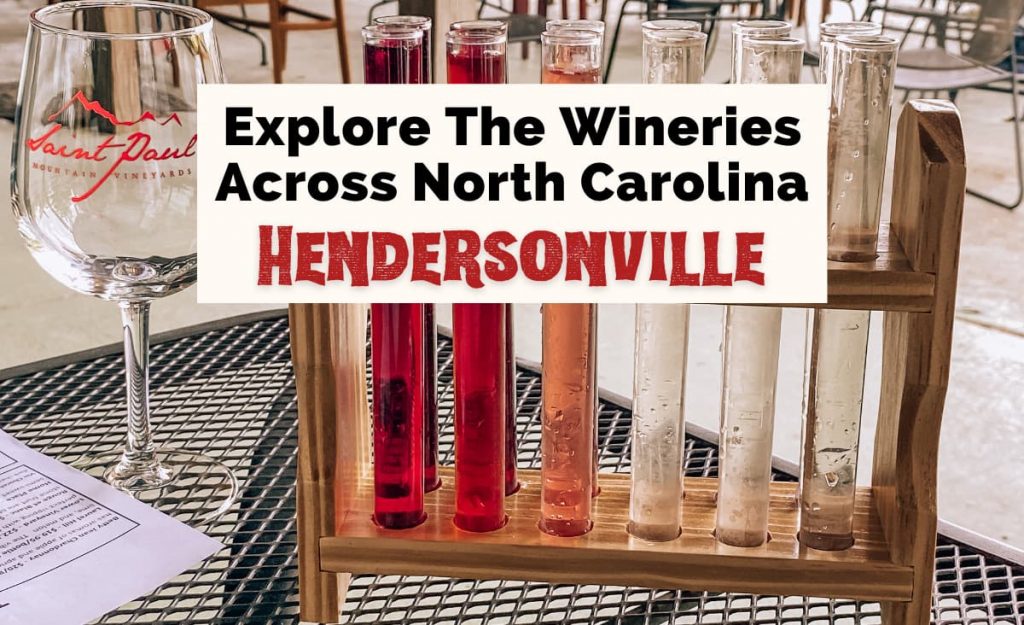 This post may contain affiliate links for products and services I recommend. If you make a purchase through these links, at no additional cost to you, I will earn a small commission. Read the full disclosure here.
If you need a place to stay, book a hotel, Bed and Breakfast, cabin, or cottage in Hendersonville here.
Don't miss our Asheville Accommodation Recs, too.
While we frequently update all information, please know that prices and rules are subject to change. We always suggest visiting each Hendersonville vineyard's website for the most current procedures.
5 Hendersonville Wineries You Cannot Skip
1. Stone Ashe Vineyards
Address: 736 Green Mountain Rd, Hendersonville, NC 28792
Website: https://stoneashevineyards.com/
Phone Number: (828) 551-5643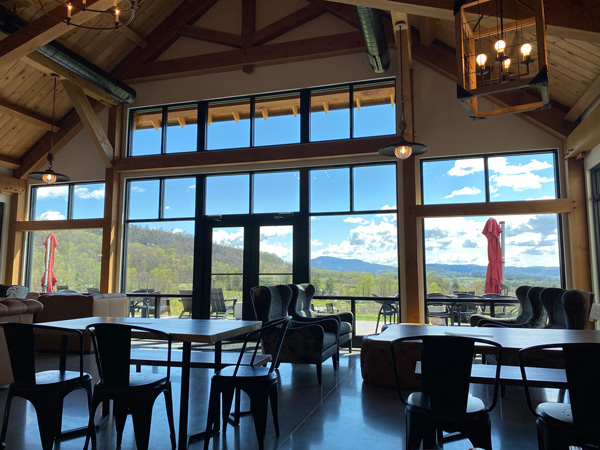 One of the newer wineries in Hendersonville, Stone Ashe Vineyards is perfect if you want to picnic out on the lawn.
You can also sit inside by the fire or wine taste with mountain and vineyard views from those stellar floor-to-ceiling windows.
Order a snack and take a bottle of wine over to an outdoor Adirondack chair or sit on the covered patio.
Stone Ashe Vineyards specializes in Bordeaux-based grape varieties. Their wine selection includes Meritage Red Blend, Cabernet Franc, Petit Verdot, Sauvignon Blanc, Chardonnay, and bubbly Provençal Rosé.
We are fans of the Cab Franc and Petit Verdot. Stone Ashe Vineyards is also my husband's favorite Hendersonville winery.
Stone Ashe Vineyards requires all guests to be 21+ and allows leashed pets in their outdoor spaces. You do not need reservations in order to wine taste, and you can select 5 wines to taste for $15.
Never Miss Another Asheville Update
Are you tired of generic Asheville travel itineraries? Do you want to experience the magic of Asheville like a local?
Grab our free Asheville Favorites checklist today, including restaurants, breweries, and hiking. Plus, get local updates straight to your inbox. Sign up here.
2. Sawyer Springs Vineyard
Address: 124 Sandy Hill Lane, Hendersonville, NC 28792
Website: https://sawyerspringsvineyard.com/
Phone Number: (828) 698-4383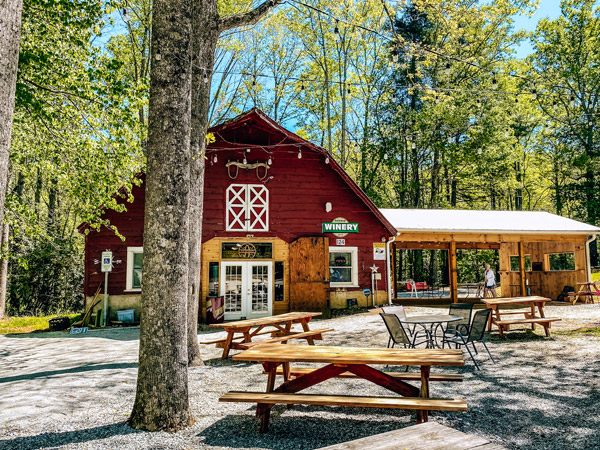 Slightly off of the beaten track, Sawyer Springs Vineyard is one of my favorite Hendersonville wineries for a more local and family feel. Encounter "dusty boots, stained hands, and classic wine."
Sit outside at an uncovered picnic table or on the covered patio. You'll catch both vineyard and barnhouse tasting room views.
Grab grinders at Joey's NY Bagels on your way there or enjoy grub from a local on-site food truck on specific days. They also host a few Saturday yoga sessions each month.
As part of NC Wine Month, we enjoyed a sponsored tasting at Sawyer Springs Vineyard and spent the afternoon with proprietor Paul and his daughters.
Paul is passionate about his wine and takes pride in their personalized customer service. He wants visitors to leave knowing more about the wine in their bottles and glasses.
For NC wine, you'll find a little bit of everything: fruity sweet, steel and oak-aged, dry, and even a Merlot. They also produce red blends, Cabernet Sauvignon, and Zinfandel.
Sawyer Springs selects 6 wines each day for their tastings.
If you love the wineries in Hendersonville, don't miss all of these Asheville Wineries.
3. Point Lookout Vineyards
Address: 408 Appleola Road in Hendersonville, NC
Website: https://pointlookoutvineyards.com/
Phone Number: (828) 808-8923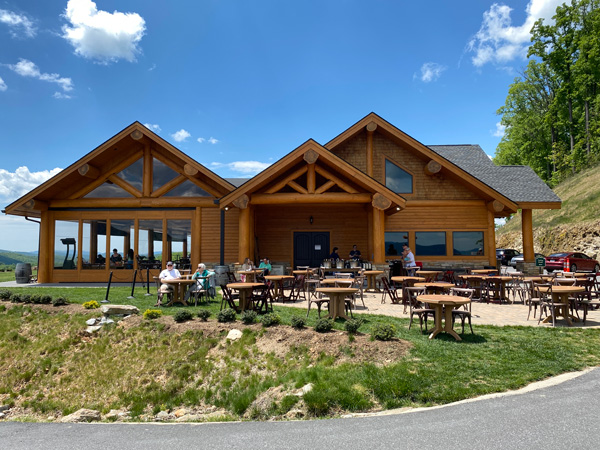 If you love moody skies and meads, Point Lookout is the Hendersonville vineyard for you. Catch 30-mile panoramic views of Point Lookout Mountain.
We've visited Point Lookout Vineyards on numerous occasions and hit both gorgeous, sunny views as well as romantic fog.
Point Lookout Vineyards has a massive wine selection. Picking 5 wines plus a mead or vice versa is actually incredibly hard; how do you choose? A tasting is $12, and you can keep the glass. They also have a food menu.
Point Lookout Vineyards whites include Chardonnay, Sauvignon Blanc, and Riesling. You can try a Rosé, dessert wine, or sparkling. For reds, we love the Pavilion. Of course, don't miss the meads, which are fermented from honey.
Point Lookout Vineyards hosts beautiful weddings. If it's the weekend, be prepared to park farther away with shuttle service. You may only have access to half of the tasting area, which isn't a problem. Their grounds are quite large.
4. Burntshirt Vineyards (Hendersonville Location)
Hendersonville Address: 2695 Sugarloaf Rd, Hendersonville, NC 28792
Website: https://burntshirtvineyards.com/
Phone Number: (828) 685-2402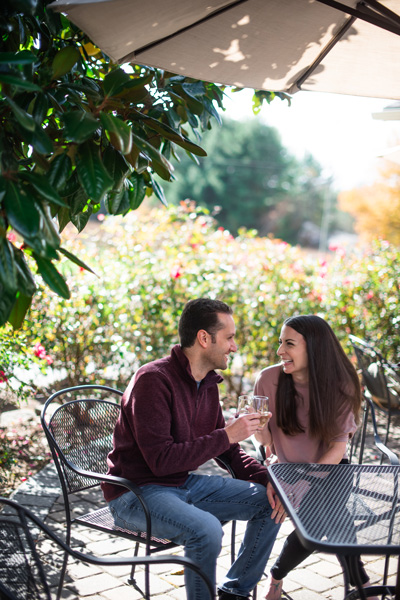 Burntshirt Vineyards has two locations: Hendersonville & Chimney Rock. The Chimney Rock location has views of Chimney Rock and Hickory Nut Falls.
We've done multiple wine tastings, and it's $10 for 7 wines and the glass. A few Burntshirt wines include Merlot, Cabernet Sauvignon and Franc, Vidal Blanc, Apple Wine, and a Villa Rosa.
In the fall, you can sit by the fire pit with spiced mulled wine. In the spring, enjoy their fountain and blooms.
Our ideal day trip starts with hiking DuPont State Forest's Waterfalls. Then, we head to downtown Hendersonville for lunch and drive over to the Hendersonville wineries.
5. Saint Paul Mountain Vineyards
Address: 588 Chestnut Gap Rd, Hendersonville NC, 28792
Website: https://www.saintpaulfarms.com/
Phone Number: (828) 685-4002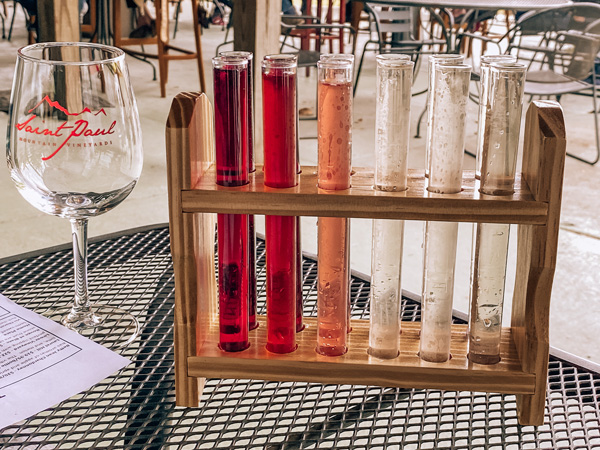 The first winery in Hendersonville that we ever visited, Saint Paul Mountain Vineyards is located incredibly close to Burntshirt.
In fact, it's easy to see Saint Paul, Burntshirt, and Point Lookout together — with a designated driver or rideshare.
In 2021, Saint Paul Mountain Vineyards is serving up their wine tastings in test tubes. You can choose from one of three tastings for $10 and pay an additional $1 to keep the glass.
They offer a semi-sweet, dry, or staff favorites tasting.
While at Saint Paul, order their loaded fries and fried Brussel sprouts. We enjoyed a sponsored day here for NC Wine Month and have visited plenty of times on our own.
St. Paul Vineyards hosts live music, and in the winter, enjoy wine by the indoor fireplace.
Save This Post For Later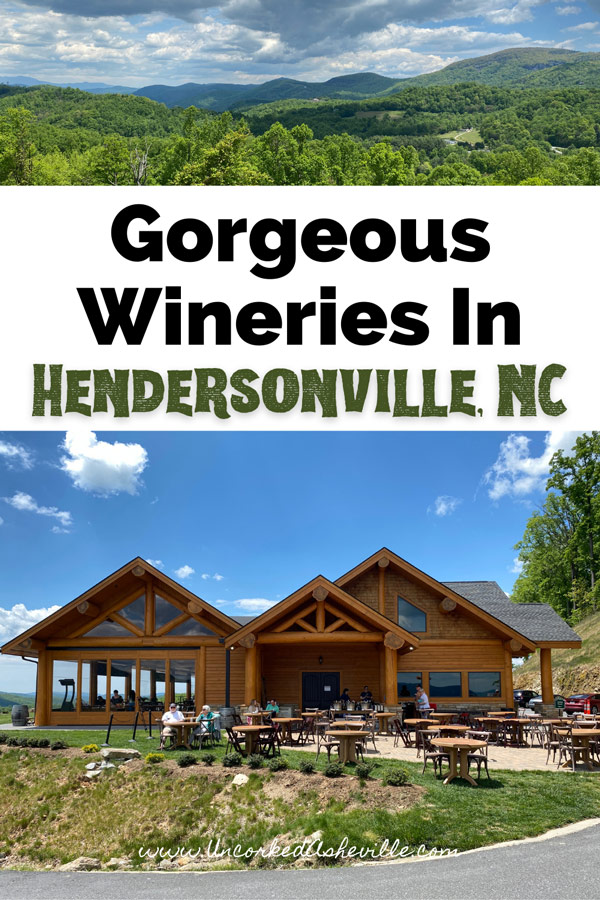 Where Can You Stay Around The Hendersonville Wineries?
If you need a place to stay, book a hotel, Bed and Breakfast, cabin, or cottage in Hendersonville here. Don't miss our Asheville Accommodation Recs, too.
1898 Waverly Inn Bed and Breakfast — While house hunting, we stayed at this sweet B&B. We loved their social happy hour and friendly hosts. You can walk into downtown Hendersonville, NC from here.
The Charleston Inn — If The Waverly is booked, this top-rated Bed & Breakfast is right next door.
Have you toured the Hendersonville wineries?
Hendersonville is a fantastic city to visit in Western North Carolina. Have you wine tasted at any of the wineries in Hendersonville?
Which one was your favorite? What are your favorite wineries across North Carolina? Let us know in the comments!
If You Love Wine, Head Here:
Best Wineries In And Around Asheville
Hipster Wine Bars In Asheville
Best Cider & Mead Around AVL
What Can You Do Next In And Around Hendersonville?
Explore Hendersonville
Hendersonville's Hopping Breweries
Grab Lunch Or Dinner At The Best Restaurants In Hendersonville
If It's Fall, Head To An Apple Orchard
Hike DuPont's Nearby Waterfalls

Play In Asheville
See All Of AVL's Great Day Tripping Itineraries