10 Beautiful Lakes Near Asheville, NC
Enjoy a beautiful day outdoors around the best lakes near Asheville, NC – many within the city or under 1.5 hours away.
The Asheville lakes are stunning – especially because those gorgeous mountains wrap around them – and they provide endless recreational activities.
Located directly in Asheville, find lakes with Christmas light displays, a bird sanctuary, and the best sunsets. These lakes house biking and hiking trails along with camping, fishing, and boating.
Then, enjoy the lakes around Asheville in your favorite mountain towns, including Black Mountain, Weaverville, and Bryson City.
After your picnic or casual stroll, head into each city's more bustling downtown areas for restaurants, breweries, bars, and shopping.
Did we mention that you'll even find a lake near Asheville that's pretty famous from the movies? Nobody puts Baby in the corner.
So, if you are visiting WNC and looking to relax, what are the best lakes near Asheville? As locals, we are sharing just a few that are within 1.5 hours' driving distance from the city.
We'd love to know your favorite Asheville, NC lakes in the comments too. Let's get started!
P.S. For the lakes in Western North Carolina that allow fishing and boating, please double-check all rules and regulations, including necessary local permits, dog rules, and if you will need an NC fishing license.
If you are enjoying these lakes around Asheville, see where to have a picnic.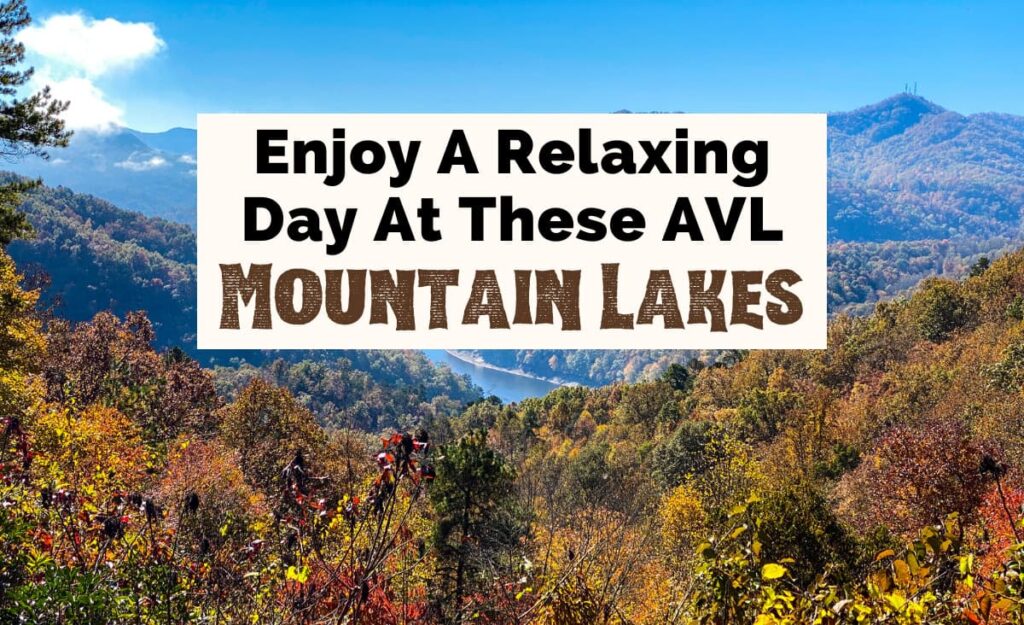 This post may contain affiliate links that earn us a commission at no extra cost to you. If you love these guides, support Uncorked Asheville here.
10 Best Lakes Near Asheville, NC
1. Beaver Lake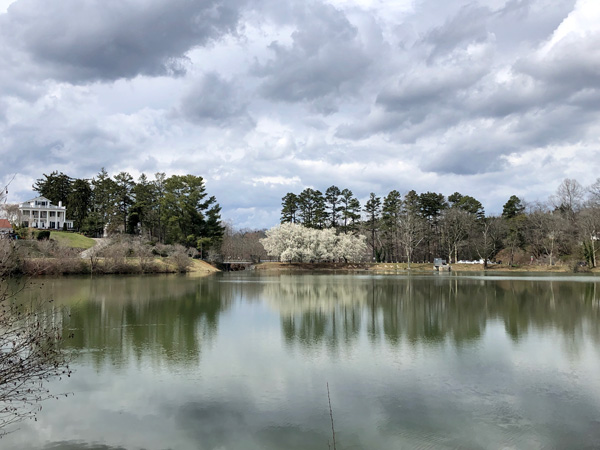 One of the best lakes in Asheville, NC, Beaver Lake is a must for bird-watching, sunsets, picnics, and a quiet stroll.
Located in the gorgeous North Asheville neighborhood, enjoy a more residential area filled with restaurants, the Botanical Gardens at Asheville, and grocery stores perfect for stocking up for that picnic.
Although a privately-owned lake, anyone may park around and walk the 2.1-mile perimeter trail (please just pay attention to the signs).
If you have a pooch, you will need a permit from the warden, and rules are listed near the boat launch docks.
Around the lake, find benches, a hidden picnic table, a mostly flat, dirt walking path, a Free Little Library, and trees for hammocks and blankets. Locals store their kayaks and boats here.
Tucked into the trail, explore the Beaver Lake Bird Sanctuary, which is home to a variety of Western North Carolina wildlife. Informational signs will introduce you to new and familiar birds and critters.
Parking at the sanctuary and around the lake is free. Find donation poles/boxes at many of the lots and trail entrances. There are no restrooms at Beaver Lake.
Beaver Lake is located around 1056 (Sanctuary) and 1292 Merrimon Ave. Asheville, NC 28804. From Downtown Asheville, you'll head down Merrimon and pass the North Branch library.
You'll also see the Asheville Country Club across the street.
2. Lake Julian Park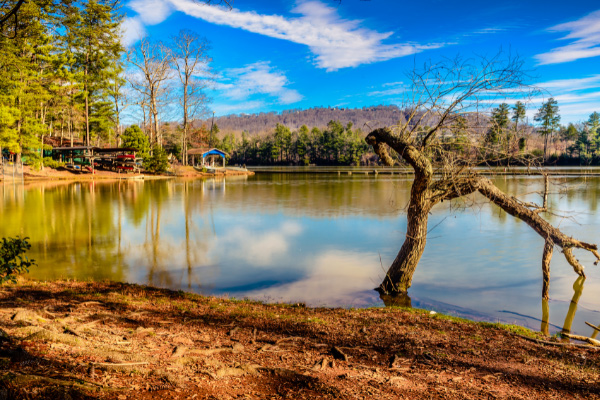 For Asheville lakes and parks, Lake Julian is a recreational haven for families in Arden/South AVL. The park features a playground, sand volleyball court, and horseshoe pits.
There's also a disc golf course, paddle boats for rent, picnic shelters, and a walking trail.
Recreation Services/Buncombe County stocks Lake Julian with bass, bream, and catfish, perfect for fishing. You will need both an NC fishing license and a lake permit to fish here.
During the winter, Lake Julian offers a small Christmas light drive-thru, which is great for the entire family.
Explore even more of Asheville's beautiful parks and gardens.
Lake Julian is located at 406 Overlook Extension in Arden, NC 28704.
3. Lake Powhatan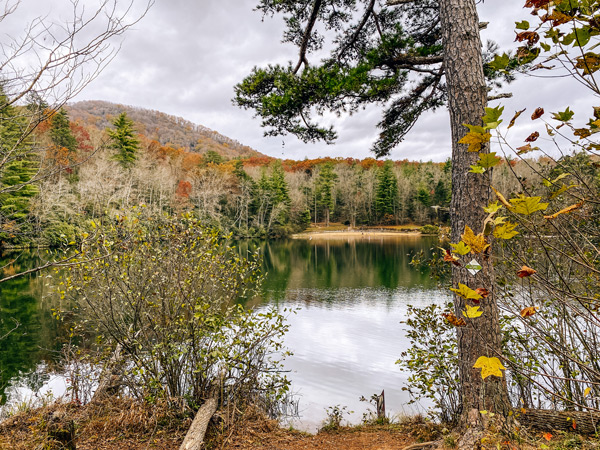 Bent Creek Experimental Forest and Lake Powhatan are popular mountain biking areas for locals. It's easy to see why.
This is one of the best lakes around Asheville for those requiring a diversity of trails by length and difficulty as well as activities for everyone.
Imagine camping with hot showers and flush toilets, picnics, and catching a little dam waterfall. This is also a swimming lake in Asheville with a little "beach."
Situated next to and connecting with The North Carolina Arboretum's Hard Times Trail, get a taste of the Pisgah National Forest.
Reserve your camping spot, check out the trails, and see what else to do around Lake Powhatan on Adventure Pisgah.
If you are just dropping in to hike, walk, or bike, park freely along the designated side roads or in the Hard Times Trail lot located at 375 Wesley Branch Rd, Asheville, NC 28806.
4. Lake Louise Park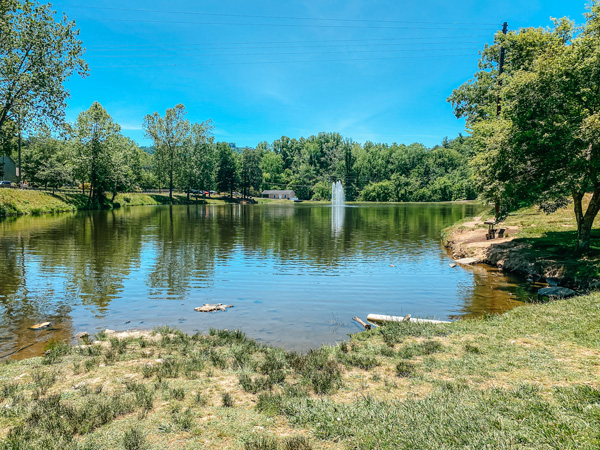 Just 10 minutes from Asheville, head over to Weaverville. Weaverville is home to a dog park bar, delicious restaurants, breweries, and Lake Louise.
Located as you enter Downtown Weaverville from Asheville, find multiple paved parking lots for Lake Louise.
Lake Louise Park totals about 15.5 acres of land with a 5-acre, man-made lake with a fountain at its heart.
Head to Lake Louise for a picnic, to enjoy the playground, to utilize its fitness equipment, or for a short .61-mile stroll. The lake is home to ducks, geese, turtles, and carp.
There's even a baby waterfall along Reems Creek. Lake Louise Park allows catch-and-release fishing with a valid NC fishing license.
Read all of the lake's rules on the Town Of Weaverville's Parks and Recreation website.
This is the quickest drive and lake near Asheville after Beaver Lake. Weaverville is also a fantastic option to escape bustling Downtown AVL with the most local vibes.
Lake Louise is located on Lake Louise Dr. in Weaverville, NC 28787.
5. Lake Tomahawk
Similar to Weaverville, Black Mountain is another must-visit WNC mountain town filled with breweries, stellar local restaurants, and a historic downtown area.
Located about 25-minutes away, Black Mountain is home to Lake Tomahawk – one of the best lakes near Asheville for a short family day trip.
Seasonally, baby ducks and geese greet jovial visitors, and in the fall, spy vibrant trees.
Along with the lake, Lake Tomahawk features a gorgeous 16.3-acre park with tennis courts, a playground, facilities, and a walking trail with small footbridges.
Meet up with friends and family at a picnic table, and play horseshoes.
Non-motorized boats are allowed on the lake, and as with all of these Asheville lakes, those looking to fish will need a valid NC fishing license.
The lake's flat and wide perimeter trail is about .55 miles and is stroller-friendly.
Lake Tomahawk Park is located at 401 Laurel Circle Drive in Black Mountain, NC 28711. There are multiple parking lots along the lake.
It's a bit of a hike, but you can also walk to Downtown Black Mountain from the lake, passing pretty residential and inn/B&B housing.
6. Lake Junaluska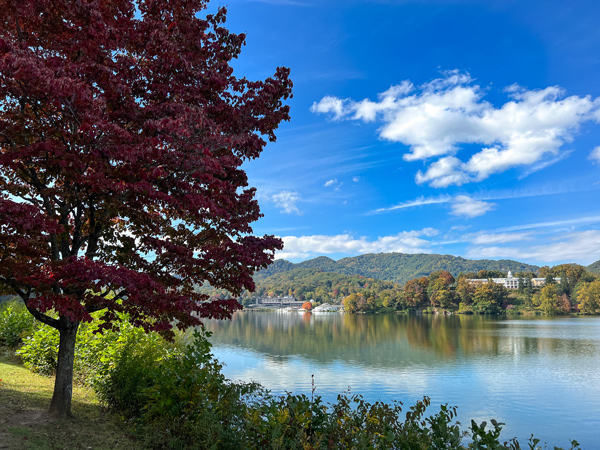 For relaxing Asheville lakes, road trip to Haywood County, about 35 minutes from Downtown AVL.
Lake Junaluska is one of the most popular man-made lakes in the Western North Carolina mountains and attracts those craving a gorgeous Blue Ridge Mountain getaway.
In fact, find a lakeside hotel, inn, and campground along with vacation rental homes and apartments. Personally, it is one of our favorite lakes near Asheville – it's breathtaking.
In the springtime, admire the blooms along the Rose Walk, and find plenty of recreational outdoor activities.
If you are spending October in Asheville, Lake Junaluska is a must for the gorgeous fall foliage. Grab a fall-flavored coffee at the retreat center before starting your walk.
Lake Junaluska offers guided pontoon boat tours, canoe, paddleboard, and kayak rentals, mini-golf, shuffleboard, and tennis courts.
Find public restrooms near the outdoor pool as well as the Lake Junaluska Conference and Retreat Center. The Center houses a gift shop, bookstore, and library. Park in free lots all around the lake.
Say hello to the swans – who are sometimes butt-up in the water – and nearby, drop into Maggie Valley or Waynesville. Both are great surrounding mountain towns for food and brews.
We especially enjoy Waynesville's Boojum Brewing, and they have gluten-free bread for their burgers.
If you love roller skating and rollerblading, the Smoky Mountain Sk8way is about 10 minutes away (just check for public skate hours).
This area is also close to Cherokee, Mingo Falls, and one entrance to the Great Smoky Mountains National Park.
If you have time – and in season – try to see the elk at the Oconaluftee Visitor Center & Trail.
Lake Junaluska is located at 91 North Lakeshore Drive in Lake Junaluska, NC 28745.
7. Lake Lure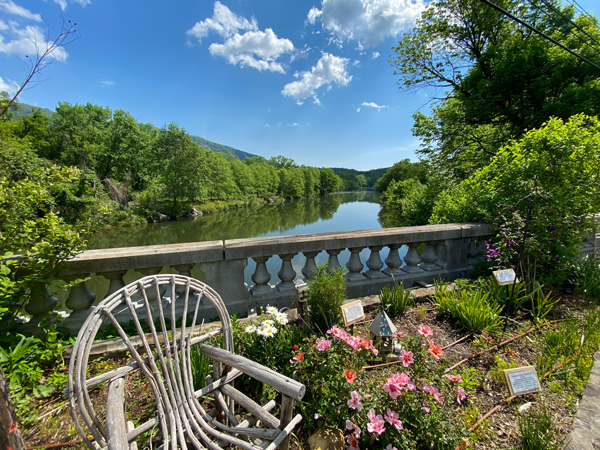 One of the most famous man-made, Western North Carolina lakes near Asheville, get your Dirty Dancing on!
Lake Lure is home to filming locations for Dirty Dancing, The Last of the Mohicans, and Thunder Road – just to name a few.
They even host a Dirty Dancing Festival in the fall, featuring a day full of entertainment and loads of nostalgia.
Located about 30 miles from Asheville, this is a winding 50-minute to 1-hour drive that will take you past Chimney Rock.
In fact, you can even see Lake Lure from Chimney Rock on a clear day – and vice versa.
The Lake Lure attractions are endless: Enjoy a picnic, walk along the boardwalk, and head to the beach (which charges for admission).
Spend some time in Chimney Rock Village. Imagine devouring vegan or regular ice cream by the Broad River.
Chimney Rock Village is also home to Hickory Nut Gorge Brewery and Burntshirt Vineyards taproom.
In spring and summer, enter a secret garden with Lake Lure's Flowering Bridge. This gorgeous walk over the river is a sanctuary for endless blooms, which is managed by friendly volunteers.
Plus, enjoy hiking and biking trails, access to boat rentals, a golf club, and a toy train museum.
Just a warning that in peak traveler season, this area will turn into a parking lot. It is best enjoyed in the off-season and on weekdays, especially if crowds overwhelm you.
Watch out for those hissing geese too. Overall, Rutherford County is stunning with major cabin vibes.
Lake Lure Beach is located around 2724 Memorial Hwy in Lake Lure, NC 28746. There are restrooms, parking, and information at Lake Lure's Welcome Center at 2932 Memorial Hwy.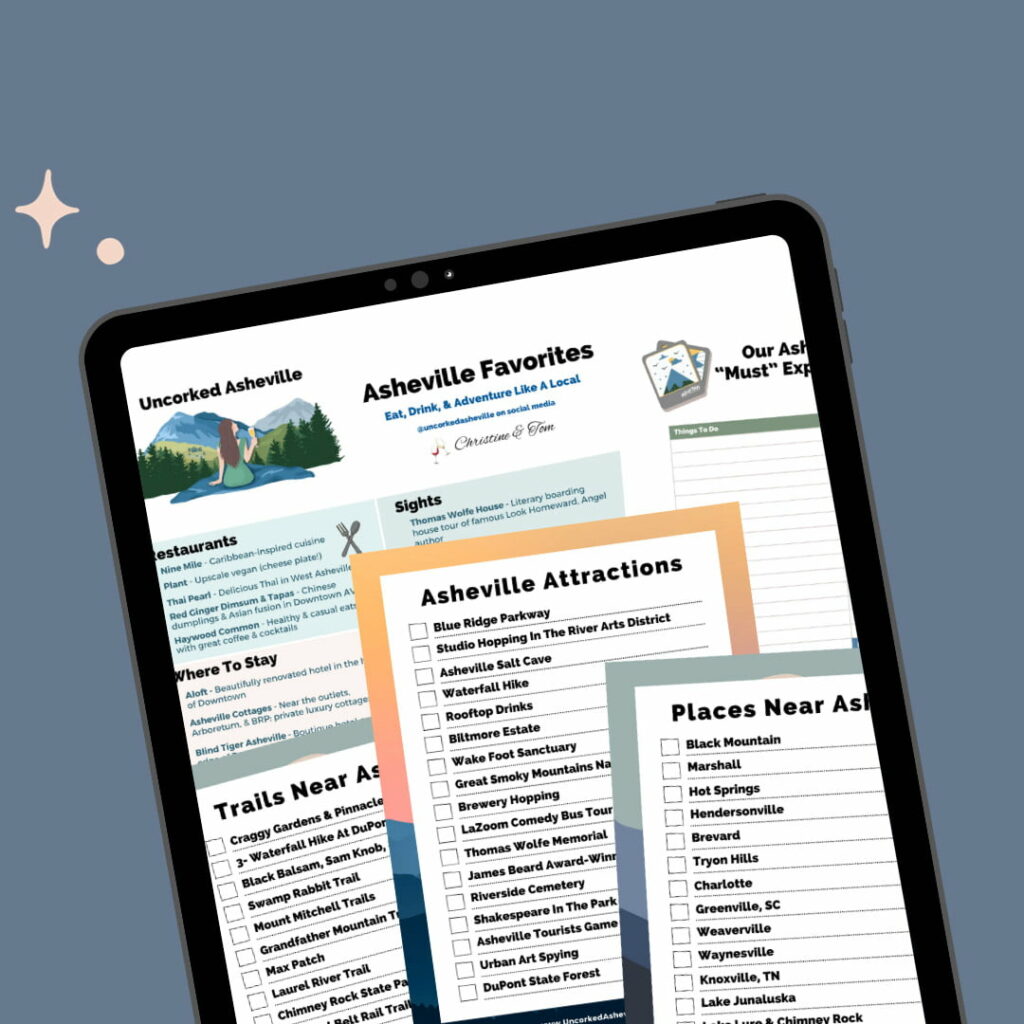 Never Miss Another Asheville Update
Experience Asheville like a local with our free attractions, dining, hiking, and day tripping guides. Get events, updates, and more straight to your inbox from Christine.
8. Lake James State Park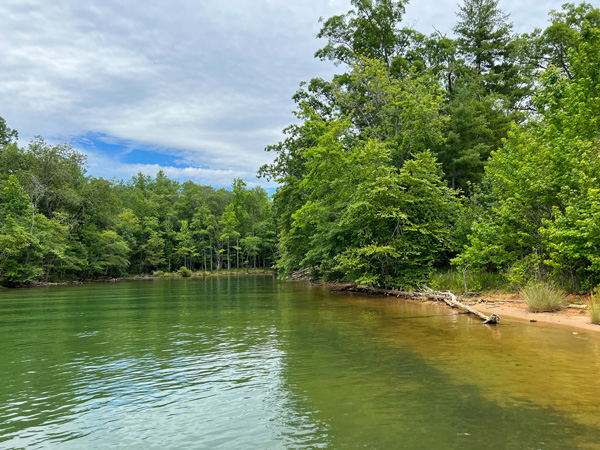 Located about 55 miles from Asheville – or a little over an hour drive – Lake James State Park sits between Burke and McDowell Counties.
For Western North Carolina lakes around Asheville, Lake James offers over 25 miles of hiking and biking trails along with its 6,812-acre lake perfect for fishing and boating.
Enjoy multiple campgrounds and a plethora of walk-in and drive-in campsites, many of which are family-friendly.
For more adventurous travelers, find a remote boat-in campground too.
From May through September, visitors can rent canoes, paddleboards, and kayaks at Paddy's Creek Area concession stand.
In the summer, pay admission to access the lake's beach or enjoy the view from a picnic table with a charcoal grill.
You'll even find accessible ramps and trails leading up to some of these shaded picnic areas. Around the beach, enjoy showers and changing rooms.
There are multiple access points to Lake James, one of which is Paddy's Creek Access at 7321 N.C. 126 Nebo, NC 28761.
While in Nebo, head to Fonta Flora Brewery at Whippoorwill Farm. Or, explore nearby Morganton.
9. Fontana Lake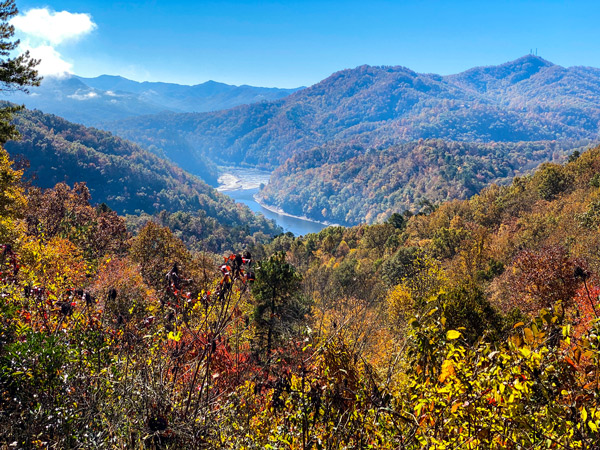 For a lake near Asheville and another great day-tripping option, head toward Bryson City. Bryson City is home to restaurants, breweries, and Great Smoky Mountains Railroad.
Lake Fontana is part of the southern border of the Smokies and the northern border of the Nantahala National Forest.
It is actually also the reservoir for the 480-foot Fontana Dam, which was built during WWII. Travelers can walk or ride over the dam, which you may recognize from the movie A Walk In The Woods.
If you follow our sister site, The Uncorked Librarian, you know that we adore sarcastic and witty Bill Bryson, author of the hilarious hiking memoir of the same name.
Along Fontana Lake, find rentals, houseboats, and access to the Appalachian Trail.
Or, enjoy one of the best views of Fontana Lake along Lakeview Drive, which is also known as the "Road To Nowhere."
Unfortunately, The Road To Nowhere represents a broken promise from the government – meant to provide access to the cemeteries for the residents it displaced during WWII.
The old road is buried under Lake Fontana.
Today, drive along scenic Lakeview Drive until it abruptly ends – hiking under its large tunnel and neighboring trails.
It's a gorgeous drive in the fall, and one of WNC's bittersweet abandoned projects.
Fontana Damn Visitor Center is typically open from mid-April through November. Find Fontana Dam off of Hwy. 28 in Fontana, N.C.
10. Lake Glenville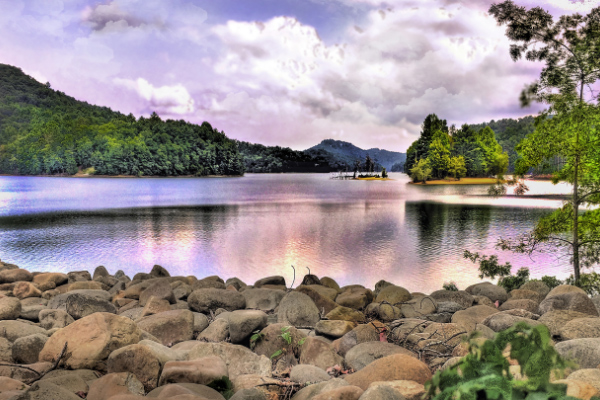 One of the furthest Asheville lakes on this list, Lake Glenville is about a 1.5-hour drive from the city near Cashiers in Jackson County.
With over 26 miles of shoreline and 1,470 acres of land, beachgoers and water sports lovers are sure to find something here.
There are two public access areas (with restrooms) and one public recreation area.
Enjoy water skiing and tubing along with paddle boarding, fishing, and of course, swimming. Pines Recreation area has a mountain beach with minimal facilities, and there are picnic areas.
Rent a boat from Signal Ridge Marina to catch three of the lake's waterfalls or to fish for trout and bass.
Signal Ridge Marina is located at 4769 State Rte 107, Glenville, NC 28736.
Save These Asheville, NC Lakes For Later:
Where To Stay In Asheville
Explore the best places to stay in Asheville. A few of our top suggestions:
Aloft – Downtown Asheville – Centrally located and recently renovated, enjoy a rooftop pool, a gorgeous bar, and trendy rooms.

The Omni Grove Park Inn – Treat yourself to a luxury resort in North Asheville, complete with breathtaking sunsets, terrace bars and dining, and loads of Asheville history.

Hampton Inn And Suites Asheville Biltmore Area – A budget-friendly but renovated hotel on busier Brevard Road that's perfect if you wish to stay between Biltmore Estate, Downtown Asheville, and the Blue Ridge Parkway.

Asheville Cottages – Gorgeous 1 to 3-bedroom cottages with a private deck, housing a grill and hot tub. Find luxurious heated-floor bathrooms with rain showers, a well-stocked kitchen, and the cleanest rooms in town.

Foundry Hotel – An oasis in Downtown Asheville, Foundry Hotel is a nod to AVL's industrial history. Find famous restaurant Benne on Eagle while sleeping ensconced in charm and elegance.

Country Inn & Suites by Radisson, Asheville Westgate, NC – Located off of the highway as you enter AVL, find a sleek and clean hotel at a great price.

Black Walnut B&B Inn – Designed by Biltmore's supervising architect, Richard Sharp-Smith, this 1899 inn is close to Downtown AVL and serves afternoon tea. Two rooms are pet-friendly.
Don't miss out on these Asheville properties on Booking.com, too.
What is your favorite lake near Asheville, NC? And, did you know one of the Asheville lakes is home to an alleged monster?
Did you know that one of the lakes around Asheville boasts a Loch Ness Monster-like creature?
Head to Charlotte's Lake Norman, and if you are lucky, you might just catch Normie. Normie is a North Carolina cryptid.
Or, is Norman just an alligator, catfish, or sturgeon? Let us know if you see it…
Which lakes near Asheville have you visited? Which do you recommend? Are there any on your bucket list?
Let us know in the comments. We are constantly updating articles with new finds.
You May Also Enjoy:
Best Hiking Trail
WNC Waterfalls
Guide Of AVL Things To Do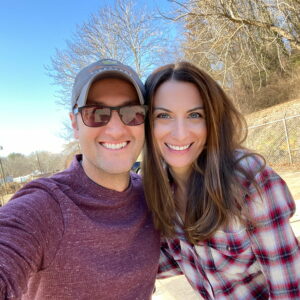 Christine (pronouns: she/her) is the owner and lead writer of Uncorked Asheville. After falling in love with those gorgeous Blue Ridge Mountains, Christine and her husband Tom decided to call Asheville, North Carolina home. When her pointy Italian nose isn't stuck in a book, Christine is adopting all of the kitties, getting lost in the forest, and drinking an ESB. She has a BA in English and History from Smith College, her MLIS from USF-Tampa, and is a former U.S. Fulbright Scholar - Indonesia. Christine also owns The Uncorked Librarian LLC with books and movies to inspire travel.