Where can you devour the best burgers in Asheville, NC? Find vegan, vegetarian, and gluten-free Asheville burger places too.
Nothing beats a mouthwatering and juicy burger cooked to perfection.
Add in a local craft brew, pork rinds, seasoned tater tots, and salty french fries and you have the perfect lunch or dinner.
The burger places in Asheville are sure to satiate your meat cravings.
So, where can you find the best burgers in Asheville, NC? Don't tell our doctors, but let's just say that we ate a lot of burgers to create this list.
"Best" is, of course, subjective – especially with the meats – and we'd love to know your favorite burger places in the comments.
Below, we are sharing just a few of our personal favorite spots for burgers in Asheville as locals.
Discover burgers in Downtown Asheville, West Asheville, and dive bars that you've probably walked by a gazillion times.
Enjoy that burger ensconced in urban art, and find Asheville burger joints with vegan, vegetarian, and gluten-free options.
Many of these Asheville burger places won't break the piggy bank either. Let's get started!
Read more about Asheville's top restaurants.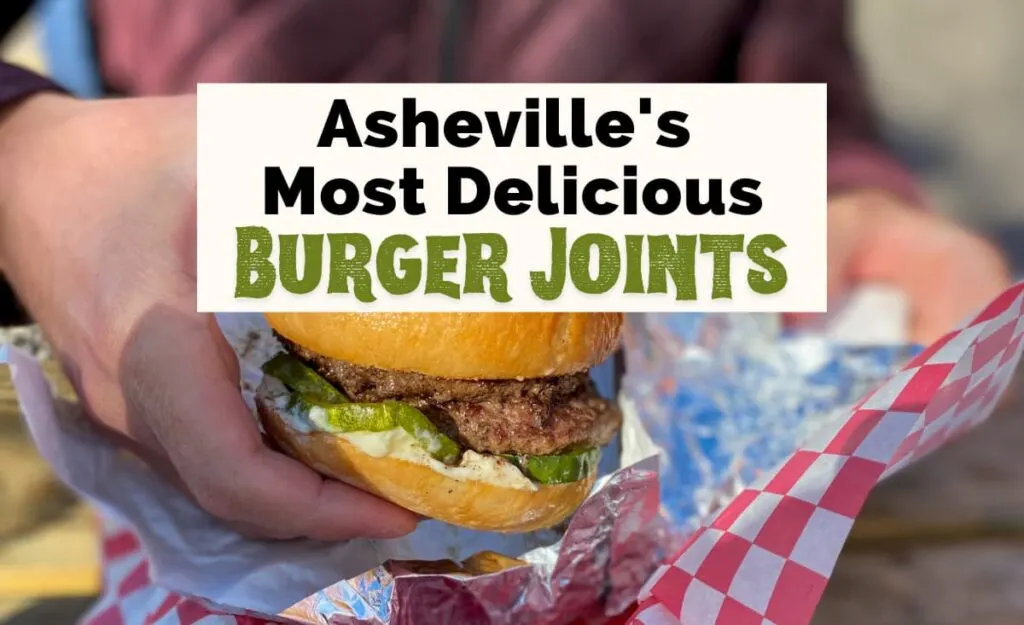 This post may contain affiliate links that earn us a commission at no extra cost to you. If you love these guides, support Uncorked Asheville here.
See our Top Places To Stay in Asheville.

Don't miss out on these Asheville properties on Booking.com, too.
9 Best Burgers In Asheville, NC
1. Baby Bull Asheville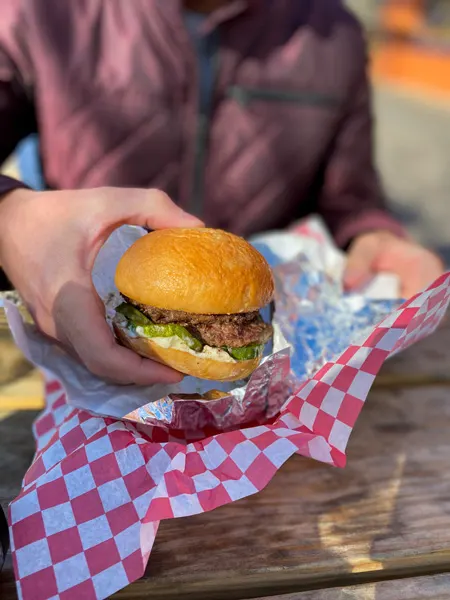 It's no secret that The Bull & Beggar is one of our top high-end romantic Asheville restaurants.
Even better, Baby Bull is their low-key and affordable burger restaurant in the River Arts District. And let's face it, they serve up the absolute best burgers in Asheville.
While you cannot make substitutions to their small menu, Baby Bull can make dietary accommodations to leave off items like cheese.
Baby Bull also serves up a delicious gluten-free burger bun; if you've been with us for a while, you know Tom has Celiac Disease.
Most notably, Baby Bull showcases "Burger Monday," with a burger, fries, and beer or soda for $9.99. While special selections rotate, you might catch a lobster roll, fried fish, pork cutlet, or pressed pork sandwich.
Sides include pork rinds, fries, and hushpuppies. Baby Bull also has a kid's burger.
Sit outside (with heaters in the winter) or inside within the River Arts District overlooking the Asheville silo. Afterward, head to Bottle Riot, pleb urban winery, or Wedge Brewing.
Read more about gluten-free friendly restaurants across Asheville.
Baby Bull | 1 Roberts St, Asheville, NC 28801
2. Juicy Lucy's Burger Bar & Grill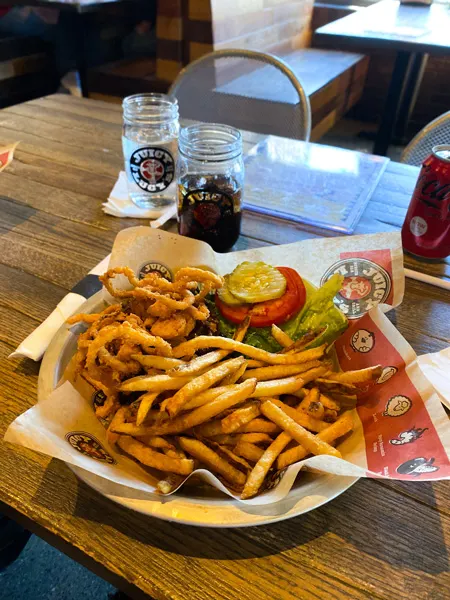 For stellar burger places in Asheville and a great restaurant near popular Biltmore Village, Juicy Lucy's is an Uncorked Asheville Readers' favorite.
Most notably, they feature local beer, shakes, and "Juicy Lucys," which are burgers stuffed with melted cheese.
Juicy Lucy's Burger Bar & Grill rotates their burgers, and they offer vegan and veggie options along with a gluten-free bun.
If you are looking for more than just a burger, try the milkshake bar or a local beer from their extensive selection. Choose from pulled pork plates, 10 different kinds of wings, and baby back ribs too.
This is the perfect beer and burger bar vibe. You can expect fast and friendly service.
Open 7 days a week – which is sometimes harder to come by in Asheville – drop in for lunch or dinner. There is plenty of parking in their lot around this busy area.
Juicy Lucy's is also a terrific Biltmore Estate area restaurant, especially if you plan on touring the home, hiking, strolling the gardens, and wine tasting on the estate.
Juicy Lucy's Burger Bar & Grill | 620 Hendersonville Rd, Asheville, NC 28803
3. Farm Burger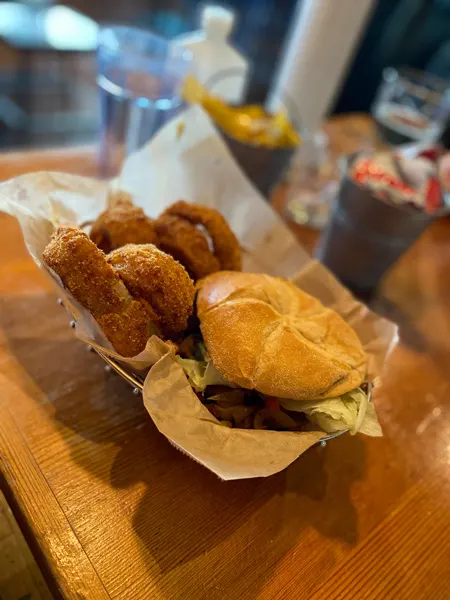 For vegan burgers in Asheville, Farm Burger is a must. Stroll up to the counter, order the goods, and grab a table where they'll serve your food.
Farm Burger is a Southern regional chain with locations in Tennessee, North Carolina, Alabama, and Georgia.
Eat at Farm Burger for a quick, convenient, and positive experience. Plus, their housemade vegan burger is out of this world.
The vegan patty is made with quinoa, black-eyed peas, kale, roasted mushrooms, sweet potatoes, and spices. You can build your own burger too.
For sides, Farm Burger features regular, cheese, and sweet potato fries (the AVL location does not have a separate gf frier, though), slaw, and massive onion rings.
On your way out, stop for a beer in the basement at One World Brewing. Or, head over to the nearby Asheville Art Museum.
For dessert, French Broad Chocolate sits across the street along with many of Asheville's rooftop bars like Capella On 9 or The Social Lounge.
Farm Burger | Downtown Asheville at 10 Patton Ave, Asheville, NC 28801 | South Asheville at 1831 Hendersonville Rd, Suite 100, Asheville, NC 28803
4. Rankin Vault Cocktail Lounge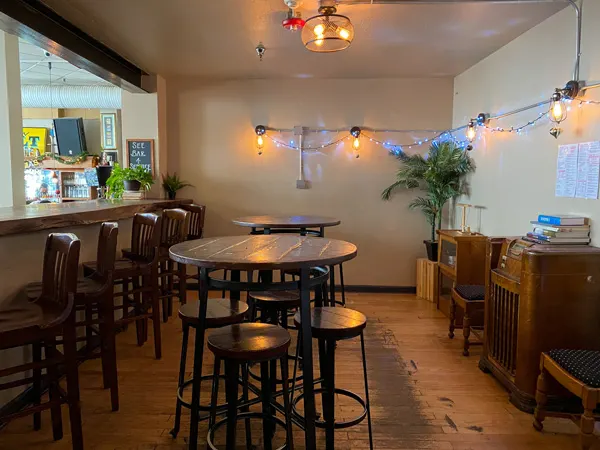 Voted the best burger in Asheville for 5+ years in a row, everyone knows the Rankin Vault Cocktail Lounge. However, it's still a more local Downtown Asheville restaurant and burger joint.
We won't speak blasphemy here; we enjoy Rankin Vault for its chill ambiance and delicious food. We may enjoy Baby Bull's burgers just a tad more – but that's us.
However, you cannot go wrong at the Rankin Vault Cocktail Lounge, and true to their namesake, they serve up creative cocktails.
Lavender lemonade, an Ashevillian Love Affair, and margaritas? Yes; please!
Pull up to the bar or grab a table in one of three spaces after placing your order at the bar. They also have a small outdoor patio to people-watch.
Along with burgers and hot dogs, Rankin Vault features sandwiches, chili, nachos, salads, and local ingredients. Rankin Vault does not have gluten-free hamburger buns.
P.S. The Vault Burger is their most famous and award-winning Asheville burger. Explore even more of Asheville's quirkiest bars.
Rankin Vault Cocktail Lounge | 7 Rankin Ave, Asheville, NC 28801
5. Laughing Seed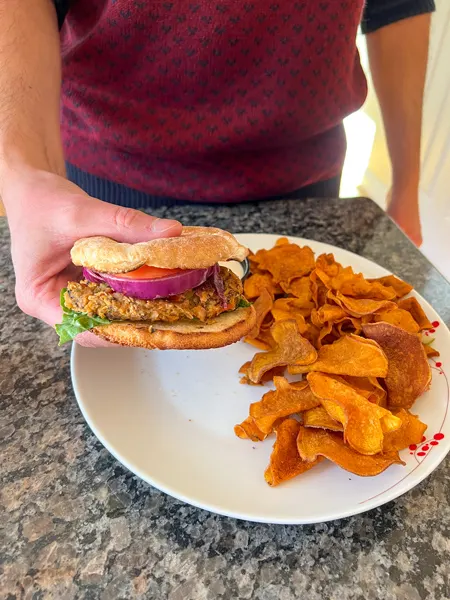 One of the best vegan and vegetarian restaurants in Asheville (along with Plant), Laughing Seed promises international meals.
Laughing Seed is located in the heart of Downtown AVL, and they label menu items as vegan, vegetarian, nut-free ingredients, and gluten-free ingredients.
Their seed burger – which Tom loves – is made with black beans, beets, carrots, and tofu. The burger bun is vegan, and you may substitute gluten-free bread.
Laughing Seed isn't known for its burgers, though, as they have an entirely eclectic and delicious menu that we can never get enough of.
Of course, find cocktails, pasta, bowls, and desserts. For special occasions, we enjoy a Valentine's Day meal here.
Discover more restaurants with dairy-free options in AVL.
Laughing Seed | 40 Wall St, Asheville, NC 28801
6. The Madness AVL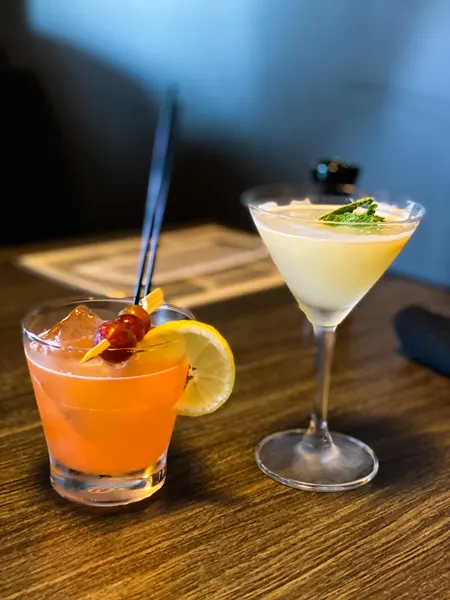 For fantastic sushi and burgers in Asheville, there's also The Madness AVL. They make delicious sashimi, apps, sushi, burgers, and burgers with a sushi roll on top.
Their cocktail list is creative and delicious, and their appetizers are served like little pieces of art.
Full disclosure, though, that while we love their food, when they are on, they are on. When they are "off," though, they seem to be really off…
Lately, we've not personally had consistent service with The Madness — and we understand and are empathetic to places that are short-staffed and doing their best through these trying times.
For us, it's been a bit more than this, though.
Our readers and friends have also sent us their concerns. All we can say is that we'll keep you updated.
To leave The Madness off would be a disservice to the Asheville burger scene, but we also don't want you to have a frustrating dining experience.
Read more about the great restaurants around North Asheville.
The Madness AVL | West Asheville at 275 Smokey Park Hwy Ste 251, Asheville, NC 28806 | North Asheville at 1020 Merrimon Ave Suite 104, Asheville, NC 28804
Never Miss Another Asheville Update
---
Tired of generic Asheville travel itineraries? Experience Asheville like a local with our free Asheville Favorites checklist, including restaurants, breweries, and hiking. Plus, get local updates – including events and hidden gems – straight to your inbox. Sign up here.
7. Cedric's Tavern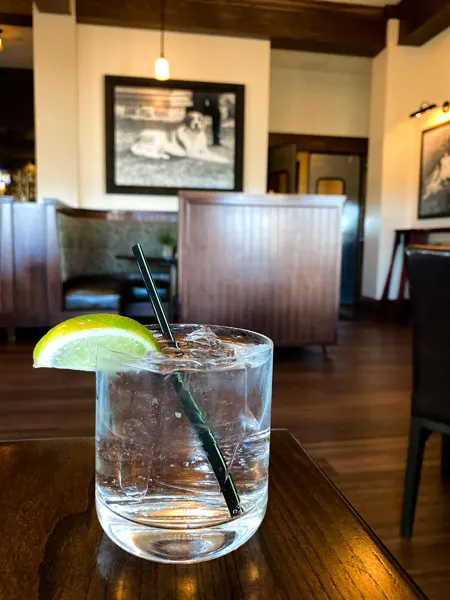 Did you know that one of the best burgers in Asheville is at Biltmore Estate?
Even though Biltmore is a tourist attraction – as America's largest home – we still frequent the property as locals.
In fact, we are annual passholders just to have access to Biltmore's restaurants, trails, gardens, exhibits, and winery. Stable Cafe and Cedric's Tavern are our go-to Biltmore restaurants.
A ticket, annual pass, or overnight stay on property is required to dine here, though.
Cedric's Tavern is an homage to the Vanderbilts' beloved St. Bernard. A statue of Cornelia and Cedric playing greets visitors as well as Cedric's massive dog collar.
Historic black and white photos flank the walls of the tavern, showcasing the lovable pooch with family members.
Sit at the bar or grab a table, and yes, we highly suggest making advanced reservations here, especially in busier traveler seasons.
Along with burgers, Cedric's Tavern features some of the best craft cocktails in town, fish and chips, stews, sandwiches, soups, and salads. The menu is moderately-priced.
Although slightly more limited, Cedric's Tavern labels gluten-free and vegan items. They also offer gluten-free buns for that double patty burger.
Cedric's is one of our favorite taverns in Asheville – even as locals.
Cedric's Tavern | Biltmore Estate | 1 Lodge St, Asheville, NC 28803
8. Trailhead Restaurant & Bar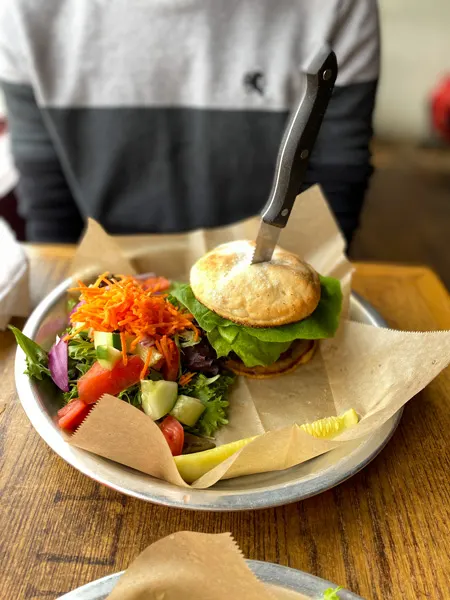 OK; OK; you caught us (and know us pretty well).
Technically, Trailhead Restaurant & Bar is located in Black Mountain, NC — but it's close enough to AVL to count it as one of the best Asheville burger spots.
Black Mountain is about a 20 to 25-minute drive from Downtown Asheville and boasts of delicious restaurants like Trailhead, Que Sera, Cousins Cuban Cafe, and Berliner Kindl.
This pub and slight dive bar is perfect for local brews and grub after a long hike — lunch or dinner.
This is another budget-friendly burger option, and the portions are huge.
Along with burgers, choose from salads, sandwiches, tacos, and dinner entrees named after Western North Carolina's famous hikes and waterfalls.
The Trailhead Restaurant also has gluten-free bread along with vegan and vegetarian options.
Trailhead Restaurant & Bar | 207 W State St, Black Mountain, NC 28711
9. The Malvern (Changed Direction/Ownership 2023)*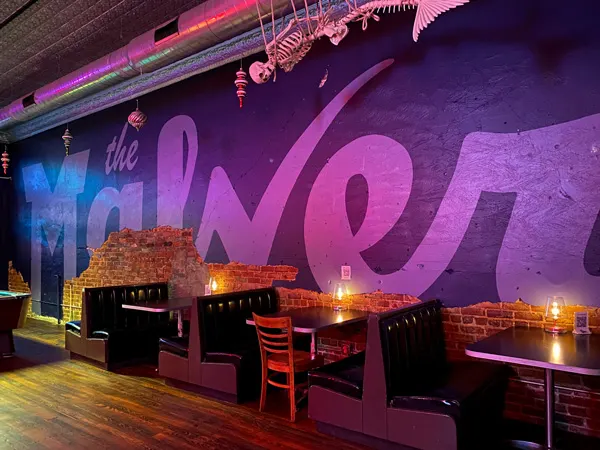 *In spring 2023, The Malvern is now "Little Louie's" and currently no longer has a burger option. They are transitioning the menu to serve hoagies, pierogies, and Phillies.
We typically take a restaurant off of our list within the year once they settle and so that our readers are also updated. Stay tuned. We are honestly a little devastated.*
To us, The Malvern has the best burger in Asheville, NC, and our friends John and Sarah Resta Photography would agree.
Situated on the outskirts of West Asheville across from Gus Cutty and friends' The Dude Abides mural, enter an unassuming neighborhood bar.
Dark with fantastic alternative music selections, The Malvern is a tad dive bar meets West Asheville hipster scene. Sit at the bar, grab a booth, or head outside to the patio.
Order a delicious burger with a side of tater tots or fries. The Malvern has one of the best gluten-free buns in Asheville along with a tempeh burger.
Although we are all about the beef hamburgers here, The Malvern also features nachos, hushpuppies, salads, and mac and cheese.
Read more about all of West Asheville's incredible restaurants — it's one of our favorite AVL neighborhoods.
The Malvern | 1478 Patton Ave, Asheville, NC 28806
Save Your Favorite Places For Burgers In Asheville: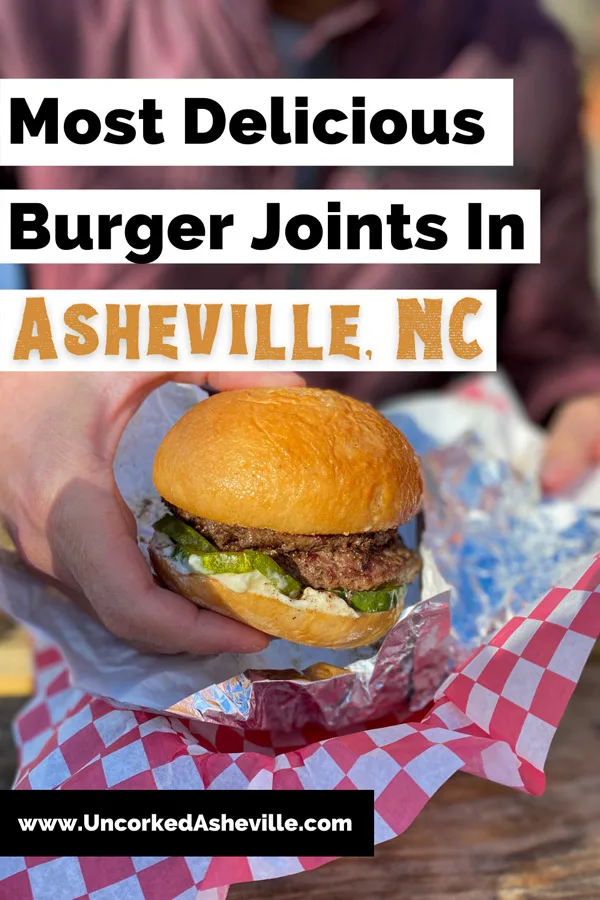 See our Top Places To Stay in Asheville.

Don't miss out on these Asheville properties on Booking.com, too.
Who do you think makes the best burger in Asheville, NC?
Where do you love to go for burgers in Downtown Asheville? Are there any Asheville burger places you think we should add to this list? Let us know in the comments.
More meals by cuisine:
Best Tacos
Thai Food
Indian Cuisine
AVL BBQ Joints
Pizza Places
Delicious Charcuterie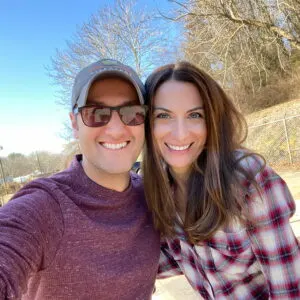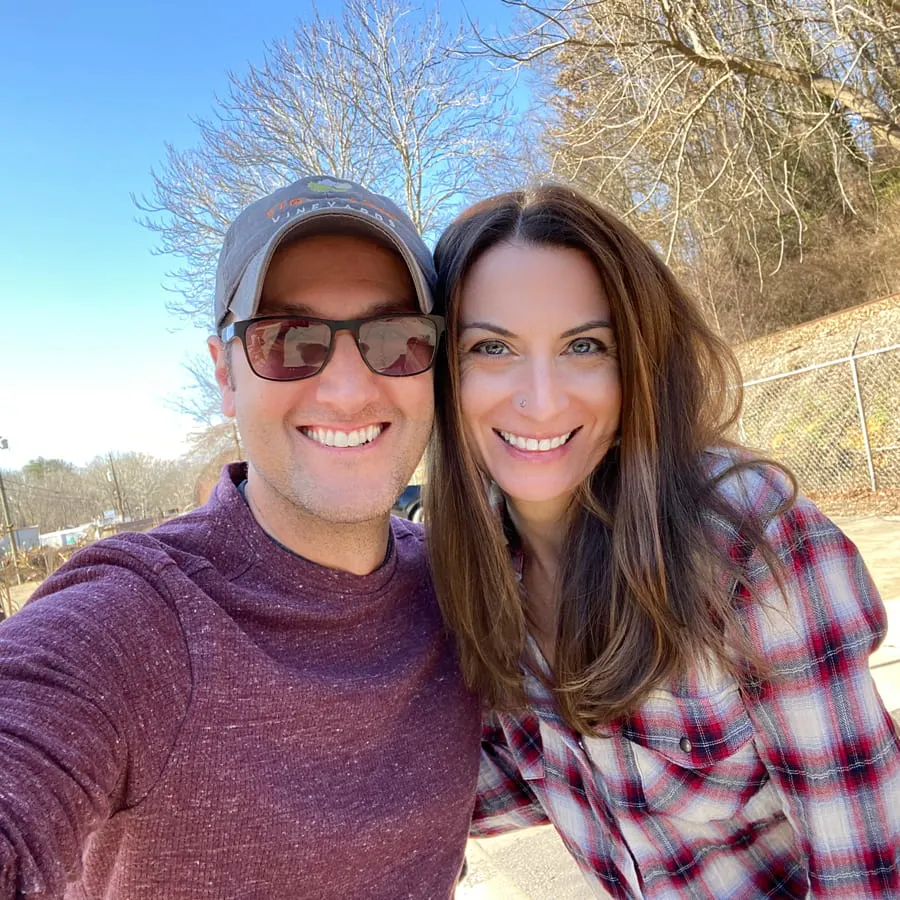 Christine (pronouns: she/her) is the owner and lead writer of Uncorked Asheville. After falling in love with those gorgeous Blue Ridge Mountains, Christine and her husband Tom decided to call Asheville, North Carolina their home. When her pointy Italian nose isn't stuck in a book, Christine is adopting all of the kitties, getting lost in the forest, and drinking an ESB.
Christine has a BA in English and History from Smith College, her MLIS from USF-Tampa, and is a former U.S. Fulbright Scholar - Indonesia. She also owns The Uncorked Librarian LLC with books and movies to inspire travel.