Where can you order delicious Indian food in Asheville? As locals, don't miss our favorite Indian restaurants in Asheville for eat-in and takeout.
One of the reasons that we love living in Asheville, NC is because of all of the delicious food options. Asheville is filled with a variety of restaurants, cafes, takeout, food trucks, and boozy places.
I'm not sure that we'll ever be able to eat or taste it all, either. Still, we try.
We especially love Asheville's Indian restaurants. Nothing warms up your insides like delicious curries, okra fries, chickpeas, and delicious spiced meats.
So, where can you order savory Indian food in Asheville? What are the best Indian restaurants in Asheville for dine-in and takeout?
Below, we are sharing just a few of Asheville's Indian restaurants that we love, our friends frequent, or that are on our foodie bucket list.
Uncover Indian restaurants in Asheville that serve up spicy curries, delicate lamb, street snacks, and so much more. Let's get started!
Read more about the Absolutely Unforgettable Restaurants In Asheville.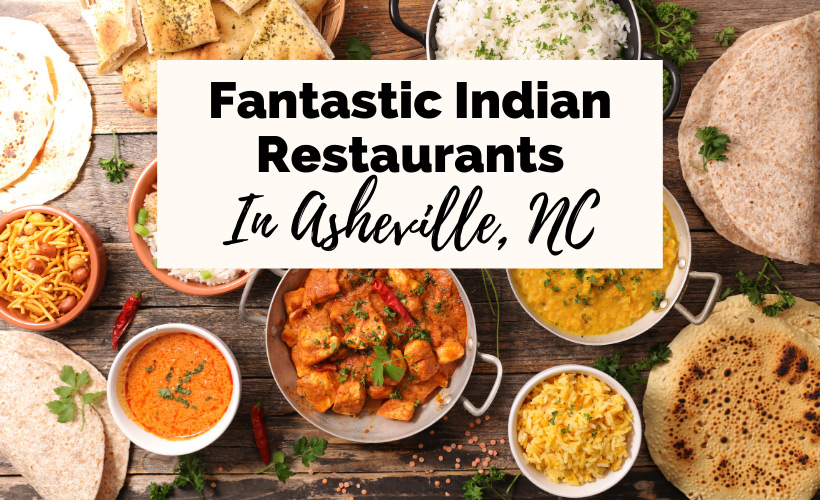 ---
This post may contain affiliate links for products and services I recommend. If you make a purchase through these links, at no additional cost to you, I will earn a small commission. Read the full disclosure here.
---
Where To Get Fantastic Indian Food In Asheville
If you are looking for Indian street snacks in downtown AVL, don't miss Chai Pani. Chai Pani is one of the best places for Indian food in Asheville, NC. Chai Pani has been featured in The New York Times, GQ Magazine, and New York Magazine.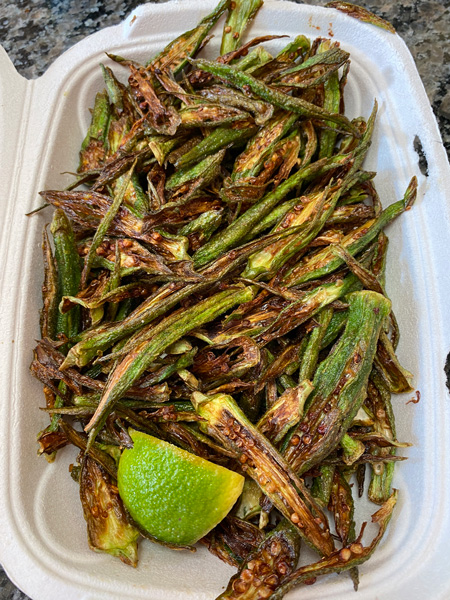 Personally, we love Chai Pani's okra fries, chicken pakoras, and simple rice and daal plate. Chai Pani has vegan and gluten-intolerance-friendly options, too.
Chai Pani Contact Information: 22 Battery Park Avenue, Asheville, NC 28801 | (828) 254-4003
---
---
If you are looking for authentic Indian food in Asheville, India Garden on Tunnel Road promises fresh food prepared daily. They offer a large menu of traditional Indian cuisine with protein options for lamb, shrimp, salmon, or chicken. India Garden also caters.
India Garden Restaurant Contact Information: 80 South Tunnel Road, Asheville, NC 28805 | (828) 298 – 5001
---
---
One of our favorite Asheville Indian restaurants, Mela serves large portions of rich spicy goodness inspired by both North and South Indian cuisine. They boast of fresh and local ingredients where possible.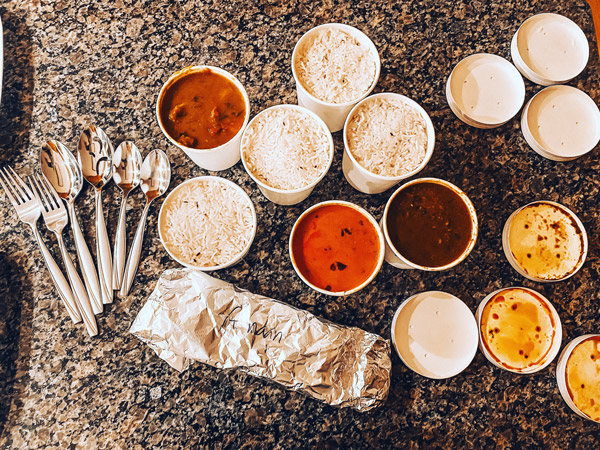 Mela has vegan and gluten-free Asheville Indian food options. We love their tandoori chicken, chicken tikka masala, garlic naan, and lamb Chettinad. For us, Mela is one of the absolute best places to get Indian food in Asheville.
Mela Asheville Contact Information: 70 North Lexington Ave., Asheville, NC 28801 | (828) 225-8880
---
---
For South Asheville Indian restaurants, Cinnamon Kitchen has a large menu with unique selections. Find pakoras, curries, tandoori dishes, lamb, scallops, and salmons.
Cinnamon Kitchen Contact Information: 1838 Hendersonville Road, Suite 103, Asheville, NC 28803 | (828) 575-2100
One of the newer Pakistani and Indian restaurants in Asheville, Biryani Express has some of our favorite dishes like aloo gobi and aloo mutter. We haven't been inside for dine-in, but we have ordered tummy-warming takeout.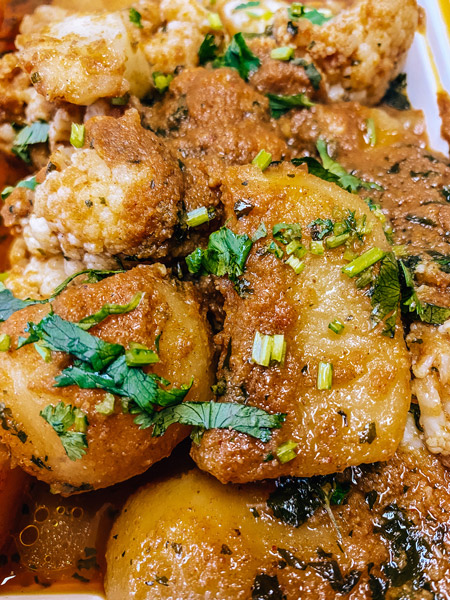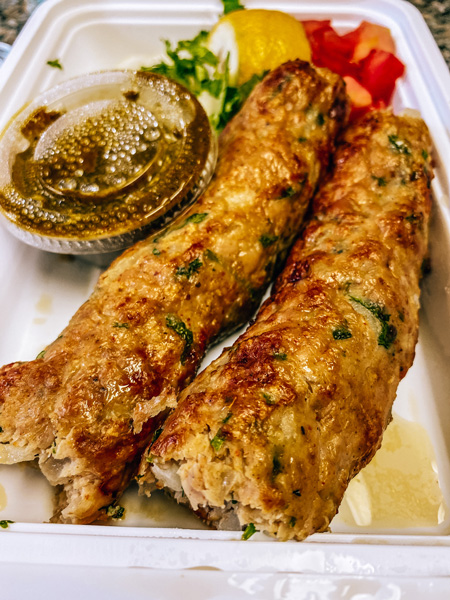 Biryani Express Contact Information: 129 Bleachery Blvd, Asheville, NC 28805
---
---
Asian Fusion Restaurants Serving Indian Food In Asheville
Kathmandu is one of the Indian food restaurants in Asheville on our bucket list. They offer Nepalese, Indian & Tibetan cuisine. Their signature drinks and dishes include matar paneer, Nepali thali, and jaljeera. While I think buffets will be a thing of the past, we cannot wait to order takeout from here.
Kathmandu Cafe Contact Information: 90 Patton Ave., Asheville, NC 28801 | (828) 252-1080
Blue Dream Curry offers delicious Indian food in Asheville along with international Asian cuisine, including Asian fusion dishes inspired by Thai, Korean, and Filipino flavors. Find curry, naan tacos, yummy soups, and bowls. Blue Dream Curry also serves local beers and craft cocktails.
Blue Dream Curry House Contact Information: 81 Patton Ave., Asheville, NC 28801 | (828) 258-2500
Delivery Services For Indian Restaurants In Asheville, NC
Looking for delivery options for your Asheville Indian food cravings? These are the two apps that we use the most: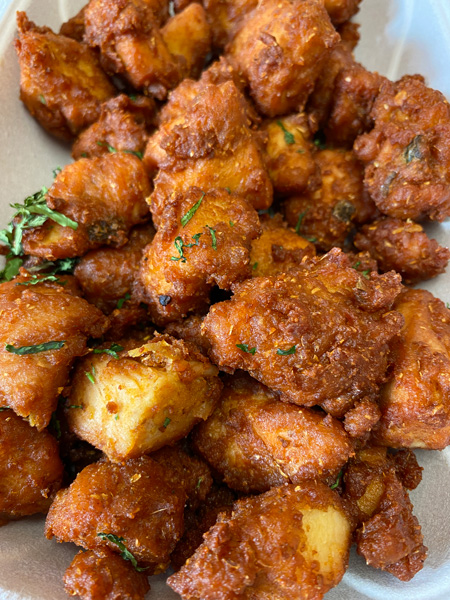 North Carolina has its own local takeout app and delivery service, Takeout Central. Download the free app to your device, and you'll see all of the areas and restaurants they serve, including Asheville. Like other food apps, place your order in the app, write notes to the kitchen, and add a payment method. You can also leave special instructions for the driver.
As a partner of Takeout Central, if you use the code uncorked, you'll be eligible for one free delivery.
Along with Takeout Central, we also use GrubHub. Sometimes they have slightly different menus — even though the restaurant is the same — and/or they service different Asheville Indian food restaurants.
You can also use Uber Eats, Kickback AVL, and DoorDash, but we mostly rely on Takeout Central and GrubHub for our Asheville food delivery options.
Are you ready to tour the Asheville Indian restaurants?
What Indian restaurants in Asheville have you tried? Is there an Indian food restaurant that you love ordering takeout from? Are there any that you don't love as much? Let us know in the comments!
See our Top Places To Stay in Asheville.

Don't miss out on these Asheville properties on Booking.com, too.
More Asheville Foodie Posts You May Enjoy:
Asheville Food and Drink Guide
Asheville Restaurants You Don't Want To Miss
Best Asheville, NC Takeout and Delivery
Delicious Gluten-Free Spots In Asheville
6 Thai Food Restaurants In Asheville, NC
Where To Get The Best Sushi In AVL
Best Vegan & Vegetarian Asheville Restaurants
Famous Asheville BBQ
Tasty Donut Spots In Asheville
Don't miss our best things to do in Asheville, too→