7 Delicious Restaurants For Indian Food In Asheville, NC
Find out from locals where you can you order the best Indian food in Asheville, NC, including street food, fine dining, and takeout.
One of the reasons that we love living in Asheville, NC is because of all of the delicious food options. Asheville is filled with a variety of restaurants, cafes, and food trucks.
In fact, Asheville is nicknamed "Foodtopia." We are not sure that we'll ever be able to eat or taste it all, but still, we try.
We especially love the Indian restaurants in Asheville. Nothing warms up your insides like delicious curries, okra fries, chickpeas, and spiced meats.
Plus, many of the Asheville Indian food restaurants have loads of gluten-free, vegan, and vegetarian options. A few offer lunch buffets, and many are great for the entire family.
So, which Indian restaurant in Asheville won a James Beard Award? Has the prettiest dining room? Serves up the spiciest dishes?
Where can you get the best Indian takeout, and which Asheville Indian restaurants require – or strongly recommend – reservations?
Even as locals, we understand that dining in Asheville can be pretty overwhelming and stressful, especially during peak dining hours.
Learn what to expect, how to plan ahead, where to go, and what to order.
Please keep in mind that our "best" might not be yours, and we'd love to hear your favorite places for Indian food in Asheville, NC in the comments. Let's get started!
Are you a foodie? Don't miss our guide to AVL's must-visit restaurants.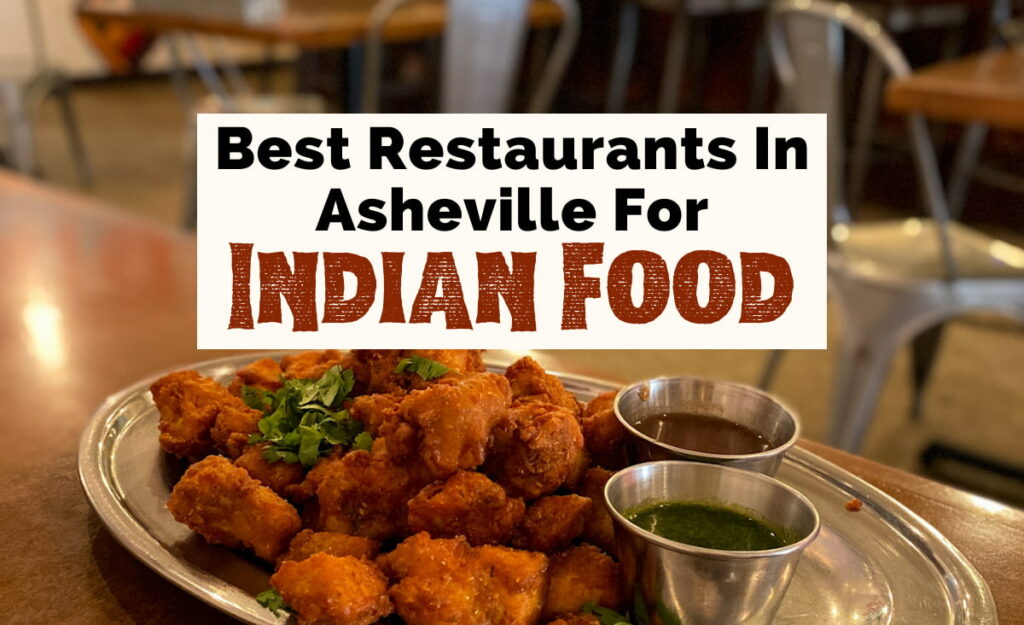 This post may contain affiliate links that earn us a commission at no extra cost to you. If you love these guides, support Uncorked Asheville here.
7 Best Restaurants Serving The Best Indian Food In Asheville, NC
1. Chai Pani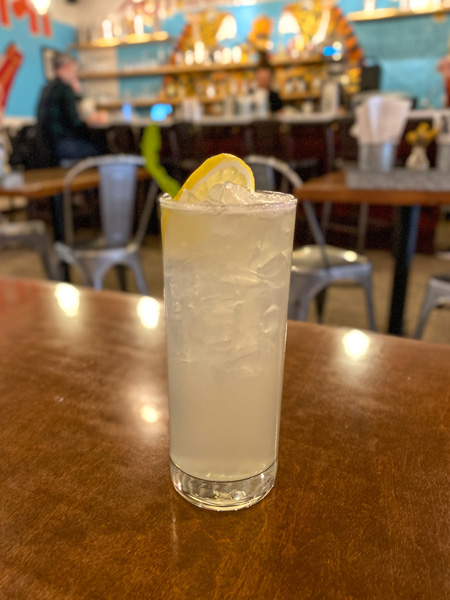 Chai Pani, by far, serves up the best Indian food in Asheville, NC – and yes, this establishment lives up to the hype.
Head here for all of your Indian street snacks, especially if you want to try a little of everything.
Personally, we love Chai Pani's okra fries, chicken pakoras, and simple rice and daal plate. The corn bhel and bhel puri make for mouthwatering sharable plates too.
More uniquely, find Indian sandwiches and wraps with spiced lamb, spicy potato dumplings, chicken tikka, or masala fish.
One of Asheville's kid-friendly restaurants, select from children's menu items like cheese paratha, rice and daal, chicken and rice, and kids' uttapam.
Chai Pani also has vegan and gluten-intolerance-friendly options along with a stellar seasonal cocktail menu.
Imagine drinks like a lavender lemonade with gin or cardamom Old Fashioned. Plus, Chai Pani has both indoor and outdoor seating.
When the weather is nice, it's fun to sit outside on Battery Park Ave. and people-watch. You might even catch a nearby street performer.
Plus, you might have already heard about Chai Pani since they've been featured in The New York Times, GQ Magazine, and New York Magazine – and for good reason.
Chef Meherwan Irani is a five-times James Beard-nominated chef, and in 2022, Chai Pani won the James Beard Award for Outstanding Restaurant.
In fact, Samantha Brown stopped by (in 2022) to grab a bite.
Because of its renowned popularity, though, we suggest dining at Chai Pani during non-peak hours to avoid lines out the door.
They are one of the few Asheville Indian restaurants that do not take reservations, and if you want to skip the crowds, order takeout.
For parking, metered street parking is usually hard to come by – and a tad stressful. We suggest using the parking garages around the historic Grove Park Arcade like the Wall Street Garage.
While here, read more about Downtown Asheville's happening foodie scene. Or, see where else you can eat lactose-free in AVL.
Chai Pani | 22 Battery Park Avenue, Asheville, NC 28801 | (828) 254-4003
2. Andaaz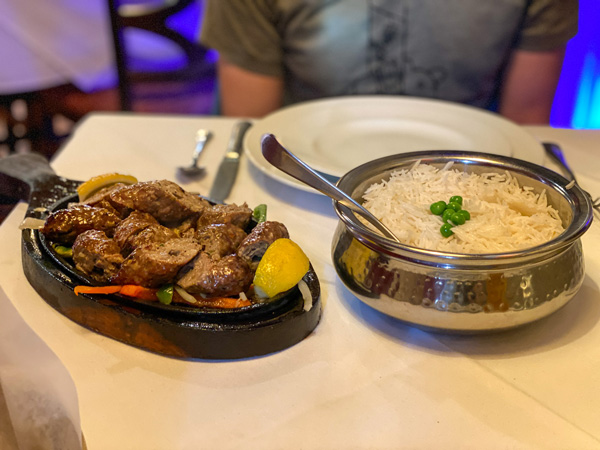 One of the most talked-about new Indian restaurants in Asheville, Andaaz Indian Fine Dining Restaurant is perfect if you are looking for spicer fine dining dinner options.
Andaaz is also an Uncorked Asheville readers' favorite choice; we receive tons of messages from subscribers and followers telling us how much they love the food here.
Located in Biltmore Village near Biltmore Estate, you'll love Andaaz's gorgeous and colorful decor and large bar.
The food is incredibly spicy and delicious – with plentiful portions. We had leftovers for days.
For lunch and dinner, Andaaz offers an Indian food buffet. At dinner, order a la carte.
Start with butternut squash or spiced corn soup. For appetizers, enjoy chicken lettuce wraps, spinach chaat, and crispy fried cauliflower.
Then, devour a traditional Indian meal like tandoori, biryanis, and curries paired with delicious naan. We like to order items like chana masala, gobi aloo mutter, chicken curry, and lamb dishes.
Andaaz also has a stellar cocktail list – Indian spice included – and is a gluten-free and vegan-friendly restaurant. They also label their menus for nuts.
We highly suggest making advanced dinner reservations at Andaaz. Biltmore Village's restaurants tend to be popular.
Andaaz also has online ordering, takeout, and delivery.
Please keep in mind that this area grows a tad congested, especially at dinnertime and rush hour.
Andaaz has a small parking lot, and there is nearby parking throughout Biltmore Village.
Read more about Asheville's intimate and cozy restaurants.
Andaaz Asheville | 28 Hendersonville Rd, Asheville, NC 28803 | (828) 552-3200
3. Mela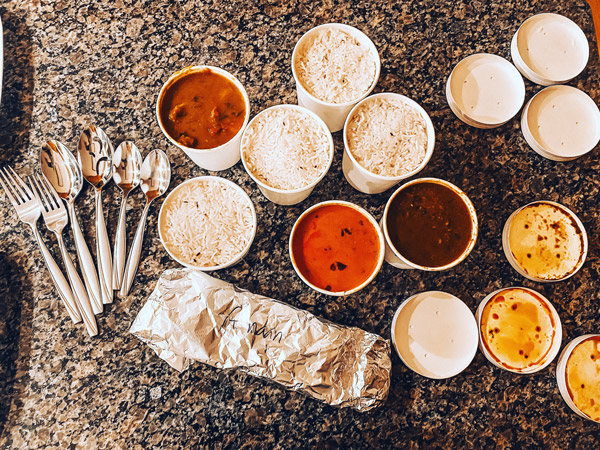 Award-winning and open since 2005, Mela serves large portions of rich and spicy goodness inspired by both North and South Indian cuisine.
They boast of fresh and local ingredients (where possible) and have gluten-free and vegan options.
We love their tandoori chicken, chicken tikka masala, garlic naan, and lamb Chettinad. For dinner and to-go options, find endless menu items, though.
Appetizers include classics like pakoras, samosas, soups, spicy Asian salads, and extra chutneys. For tandoori plates, think chicken, salmon, and lamb.
Their dessert menu showcases items like mango cheesecake and deep-fried cheeseballs with syrup.
Order online or enjoy dine-in for their lunch buffet or dinner menu. Sit inside or pull up a seat at the bar. Or, get takeout or delivery.
Mela is also kid-friendly, and they offer catering. They are open 7 days a week – just always double-check this – and we suggest making advanced dinner reservations.
For us, Mela is one of the best Asheville Indian food restaurants if you love heat, and their Downtown location is perfect if you are spending the day shopping, drinking coffee, and beer hopping.
Afterward, enjoy Downtown Asheville's rooftop bars – Social Lounge, Capella on 9, or The Montford – or dessert shops like Crave and Asheville Chocolate.
For parking anywhere in this area, we suggest walking from the Civic Center and Rankin Garages or nearby pay lots.
Mela Asheville | 70 North Lexington Ave., Asheville, NC 28801 | (828) 225-8880
4. Mëhfil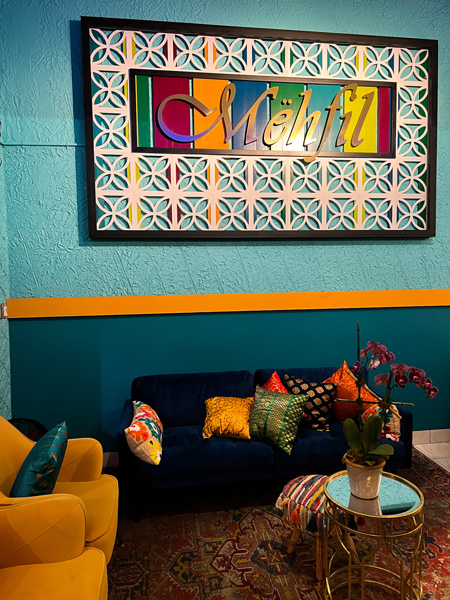 If you are looking for more of the best Indian food in Asheville and for lovers of Andaaz, we have another spot for you that opened in 2022.
Head to Biltmore Ave. and visit Mëhfil – which is located in the former Hana Sushi building (did we mention Asheville has fantastic sushi restaurants too?).
Mëhfil means "a place that brings people together," and we just love this space.
Plus, gluten-free diners will enjoy a plethora of largely natural gluten-free and vegetarian selections, and the portions are large, spicy, and steamy. The menu is a bit dairy-heavy, though.
Along with your favorite Indian dishes – like tandoori chicken, lamb kabobs, and a variety of tikka masala – select from Indian-spiced cocktails and desserts in a vibrantly decorated space.
We were pretty impressed with the bar – and not all of the Thai or Indian restaurants in Asheville serve alcohol. We have a reputation to maintain here.
We've had great service, and they will adjust spice levels by request.
With a Celiac and UC household, we appreciate how much they care about our food intolerances and sensitive stomachs. It's not always easy to eat Indian cuisine because of the spice and dairy.
We've dined at Mëhfil without advanced reservations, but we always recommend them for Downtown dining, especially during peak dining hours.
Immediately next door, Mehfil also opened Dilbar; picture Indian street snacks in an uber trendy space.
Be sure to read more about all of the mouthwatering Asian food in and around Downtown Asheville. We enjoy Shanghai Dumpling House, Suwana's, Ukiah, and Red Ginger Dimsum & Tapas.
Find parking garages around Biltmore Ave. as well as free and pay lots in the areas surrounding Pack Square.
Mëhfil | 5 Biltmore Ave Suite B, Asheville, NC 28801
5. Cinnamon Kitchen Indian Cuisine
For South Asheville Indian restaurants, Cinnamon Kitchen has a large menu with unique selections. Like the other Indian restaurants around the city, they offer a lunch buffet and dinner menu.
Find pakoras, curries, tandoori dishes, lamb, scallops, and salmon. They also provide event catering.
Most notably, Cinnamon Kitchen has three goat specialties and a large dessert menu along with alcoholic beverages.
Cinnamon Kitchen is located in Gerber Village. South Asheville is a great area for dining, especially if you want more local crowds and sometimes less busy restaurants.
Cinnamon Kitchen | 1838 Hendersonville Road, Suite 103, Asheville, NC 28803 | (828) 575-2100
6. Biryani Express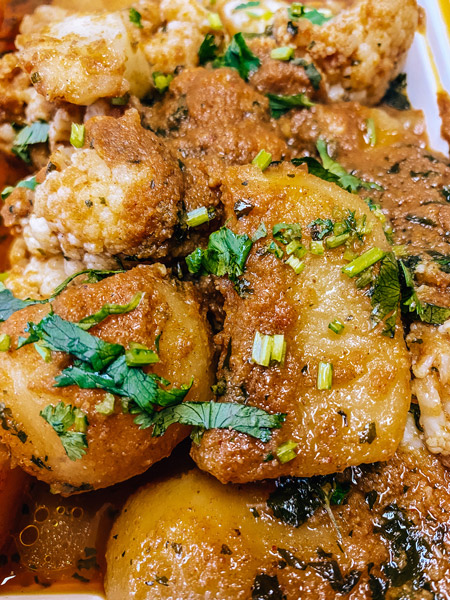 For Pakistani and Indian food in Asheville, Biryani Express has some of our favorite dishes like aloo gobi and aloo mutter.
We find them to be perfectly spiced for our sensitive stomachs too.
We'd dare say that they are lesser-known since they opened during a chaotic period in time and sit in Southeast Asheville, near Indian Garden Restaurant and Tunnel Road.
True to its namesake, Biryani Express has three biryani signature dishes, typically lamb, veggie, or chicken. For specialties, they feature shrimp cooked in curries, spicy stews, and chicken and shrimp korma.
Select from lamb, goat, and veggie entrees along with BBQ kabobs, naan, and roti.
We have yet to eat at Biryani for dine-in, but we have ordered tummy-warming takeout on multiple occasions.
These guys make for a great weekend takeout lunch option in Asheville.
Biryani Express | 129 Bleachery Blvd, Asheville, NC 28805 | (828) 424-7322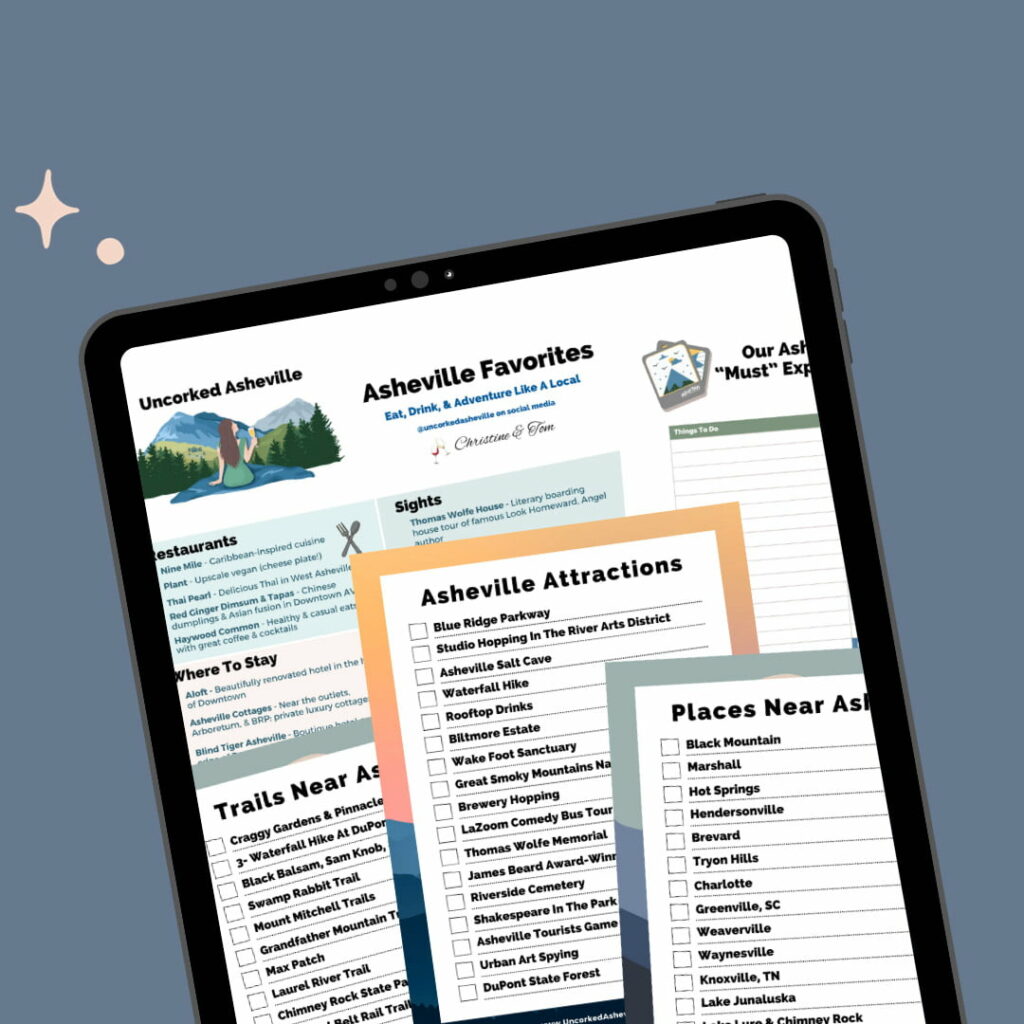 Never Miss Another Asheville Update
Experience Asheville like a local with our free attractions, dining, hiking, and day tripping guides. Get events, updates, and more straight to your inbox from Christine.
Asian Fusion Restaurants Serving Indian Food In Asheville
7. Blue Dream Curry House*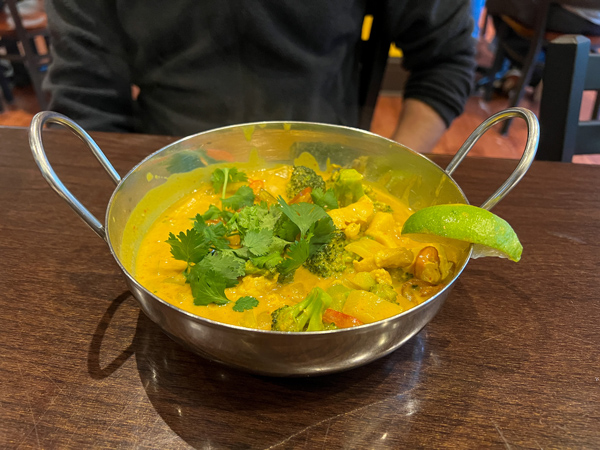 *In February 2023, Blue Dream Curry House announced that they were ending dine-in service & starting takeout. Unfortunately, they had to close completely.
Blue Dream Curry House pairs delicious Indian food in Asheville with international Asian cuisine, including fusion dishes inspired by Thai, Korean, Japanese, and Filipino flavors.
Find curry, soups, and Japanese rice bowls.
Their appetizers include Filipino-style lumpia, Thai and Asian-inspired salads, Indian naan, and Japanese rice bowls.
British, Southern Indian, and Thai flavors also influence their curries, which you can add proteins to like local trout, chicken, pork, beef, or tofu.
We highly suggest trying the naan. Of course, you cannot go wrong with a spicy curry, and nothing beats Dashi Noodle Soup on a chilly day.
Blue Dream Curry House's children's menu includes a curry or noodle bowl with a protein add-in like veggies, tempeh, chicken, beef, pork, or tofu.
They label their menu for gluten-free, vegetarian, and vegan diners. Blue Dream Curry House offers local beers and delicious craft cocktails – with the correct ice cubes.
For parking anywhere in this area, we prefer the Coxe Ave. pay lots and garage.
Nearby, there's Asheville Pizza & Brewing for beer and some of the best pizza in the city.
Blue Dream Curry House | 81 Patton Ave., Asheville, NC 28801 | (828) 258-2500
More Asheville Indian Restaurants
India Garden Restaurant | 80 South Tunnel Road, Asheville, NC 28805 | (828) 298 – 5001
Dilbar Asheville | 5 Biltmore Ave Suite A, Asheville, NC 28801 | (828) 412-5149
Delivery Services For These Indian Restaurants In Asheville, NC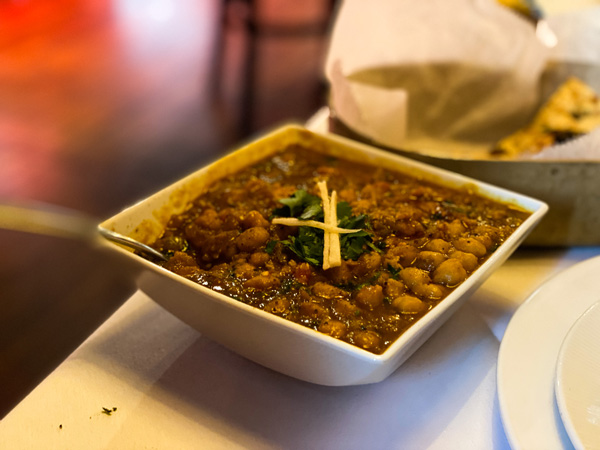 Looking for delivery options for your Asheville Indian food cravings?
These are a few ways to order takeout and delivery in AVL besides ordering directly from the restaurant:
North Carolina has its own local takeout app and delivery service, Takeout Central. Download the free app to your device, and you'll see all of the areas and restaurants they serve, including Asheville.
Like other food apps, place your order in the app, write notes to the kitchen, and add a payment method. You can also leave special instructions for the driver.
Starting in 2018, Kickback AVL is a local Asheville delivery service.
A portion of the delivery fee is donated to a nonprofit of choice for the year (the Asheville Cat Weirdos Emergency Fund is one example).
Out of all of the delivery services in the city, Kickback AVL most supports the local community and businesses.
Along with Takeout Central, Asheville has GrubHub.
Sometimes they have slightly different menus/fewer items than if you ordered directly from the restaurant, and they only service some of the Asheville Indian food restaurants.
You can also use Uber Eats and DoorDash.
Save These Asheville Indian Restaurants For Later: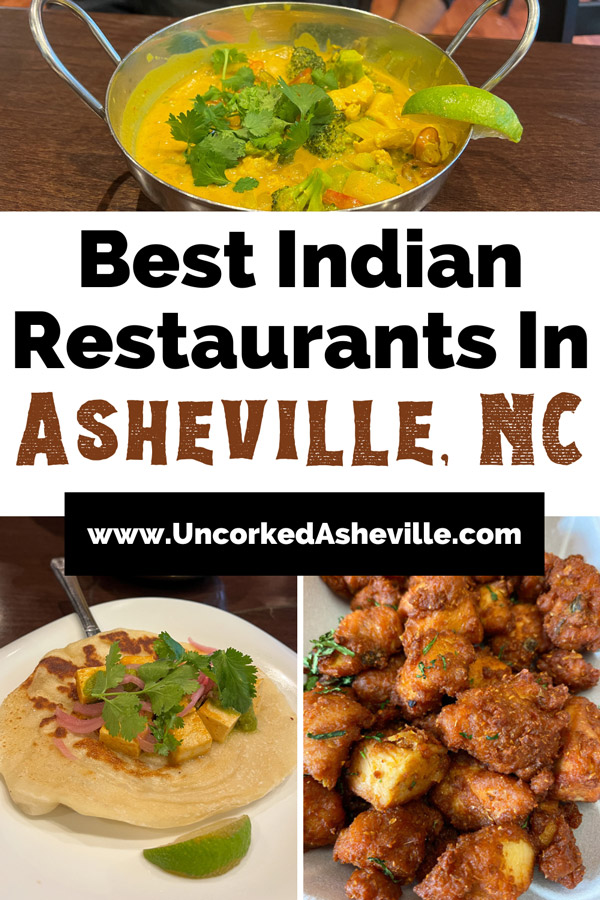 Where To Stay In Asheville
Explore the best places to stay in Asheville. A few of our top suggestions:
Aloft – Downtown Asheville – Centrally located and recently renovated, enjoy a rooftop pool, a gorgeous bar, and trendy rooms.

The Omni Grove Park Inn – Treat yourself to a luxury resort in North Asheville, complete with breathtaking sunsets, terrace bars and dining, and loads of Asheville history.

Hampton Inn And Suites Asheville Biltmore Area – A budget-friendly but renovated hotel on busier Brevard Road that's perfect if you wish to stay between Biltmore Estate, Downtown Asheville, and the Blue Ridge Parkway.

Asheville Cottages – Gorgeous 1 to 3-bedroom cottages with a private deck, housing a grill and hot tub. Find luxurious heated-floor bathrooms with rain showers, a well-stocked kitchen, and the cleanest rooms in town.

Foundry Hotel – An oasis in Downtown Asheville, Foundry Hotel is a nod to AVL's industrial history. Find famous restaurant Benne on Eagle while sleeping ensconced in charm and elegance.

Country Inn & Suites by Radisson, Asheville Westgate, NC – Located off of the highway as you enter AVL, find a sleek and clean hotel at a great price.

Black Walnut B&B Inn – Designed by Biltmore's supervising architect, Richard Sharp-Smith, this 1899 inn is close to Downtown AVL and serves afternoon tea. Two rooms are pet-friendly.
Don't miss out on these Asheville properties on Booking.com, too.
Which Indian restaurant in Asheville do you love?
If we had to pick two or three of the best Indian restaurants in Asheville, we'd start with Chai Pani, Mela, and Biryani Express – although we suspect that this is highly contentious.
What Indian food restaurants in Asheville have you tried? Is there a restaurant that you love ordering takeout from?
And, what is your go-to Indian food order? Let us know in the comments.
More Foodie Posts You May Enjoy:
Asheville Food and Drink Guide
Thai Food
Burger Joints
BBQ in AVL
Taco Spots
Explore the best things to do in Asheville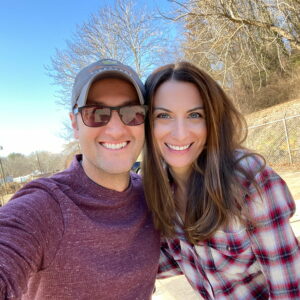 Christine (pronouns: she/her) is the owner and lead writer of Uncorked Asheville. After falling in love with those gorgeous Blue Ridge Mountains, Christine and her husband Tom decided to call Asheville, North Carolina home. When her pointy Italian nose isn't stuck in a book, Christine is adopting all of the kitties, getting lost in the forest, and drinking an ESB. She has a BA in English and History from Smith College, her MLIS from USF-Tampa, and is a former U.S. Fulbright Scholar - Indonesia. Christine also owns The Uncorked Librarian LLC with books and movies to inspire travel.