17 Romantic Things To Do In Asheville, NC For Couples
Are you looking for the most romantic things to do in Asheville, NC for couples? Explore top Asheville date ideas – from locals.
Asheville is a fabulous and fun city for families, friends, couples, and singles. However, we personally think Asheville can be quite romantic as well.
If you are looking for things to do in Asheville for couples, there's no shortage of wineries, bars, workshops, rooftop terraces, and fine dining restaurants.
Stroll an art museum and savor a decadent truffle. Stand under a cascading waterfall, and picnic with the cows.
Asheville's romantic getaways are infamous in the Blue Ridge Mountains, and the city boasts boutique hotels and historic Bed and Breakfasts.
As locals, we have plenty of unique Asheville date ideas for you, including Shakespeare under the stars and a picnic in the botanical gardens.
Dine at Asheville's romantic restaurants that promise jaw-dropping sunsets, cozy spaces, and the best cuisine in town. Think The Bull and Beggar, Limones, and Bouchon.
So, if you are looking for romantic places in Asheville, NC, where should you start?
As locals, we are sharing the most romantic things to do in Asheville that are either free or a bit more pricy for those special occasions, including the holidays like Christmas and Valentine's Day.
Find romantic Asheville hikes, coffee shops, and gardens. Learn a new trade, and fall more in love with your partner and the city.
Explore romantic Asheville with us, and be sure to let us know your favorite date night ideas in the comments. Let's get started!
Explore all that you can do in Asheville, NC.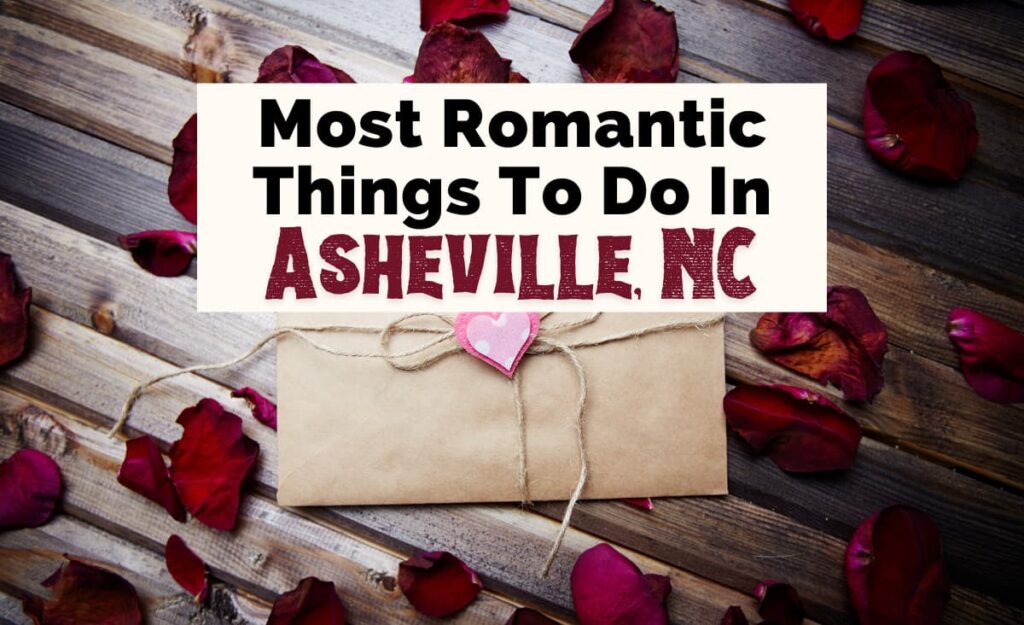 This post may contain affiliate links that earn us a commission at no extra cost to you. If you love these guides, support Uncorked Asheville here.
17 Romantic Things To Do In Asheville, NC For Couples
1. Dine At A Romantic Asheville Restaurant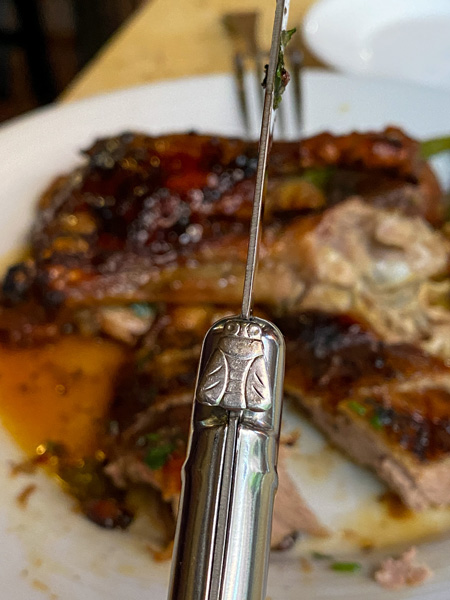 Of course, one of the most romantic things to do in Asheville for couples involves enjoying dinner at one of Asheville's unforgettable restaurants. This is Foodtopia after all.
Although dinner in Asheville doesn't have to break the bank, if you are looking for fine dining options in Asheville, there are plenty.
Our top picks for special occasions include Jargon (Southern cuisine) in West Asheville,
(Spanish tapas) and Bouchon (French cuisine) in Downtown Asheville, and Glass Onion in Weaverville.
If you are looking for gluten-free options in Asheville, Posana has a dedicated GF kitchen, and for our vegan and vegetarian readers, Plant is a must.
For the most romantic Asheville restaurants with cozy spaces and atmospheric lighting, you cannot go wrong with Limones, serving up Mexican-French cuisine.
Or, head to Ukiah Japanese Smokehouse – Japanese with an American BBQ twist – in Downtown Asheville.
The Bull And Beggar (farm-to-table meats) in the River Arts District and Sunset Terrace or Edison (American cuisine) at the Omni Grove Park in North Asheville are excellent choices too.
In 2022, Asheville also got La Bodega by Cúrate (wine bar) and Neng Jr.'s, a new Filipinx restaurant.
For Asheville date night ideas that are more casual, we enjoy meals at Nine Mile (Caribbean-inspired cuisine), Laughing Seed (veggie), Andaaz (Indian food), and Thai Pearl (Thai cuisine).
We also think tacos are love, and White Duck Taco and Taco Temple are delicious choices.
Explore more great restaurants in the Downtown Asheville area.
2. Savor Decadent Desserts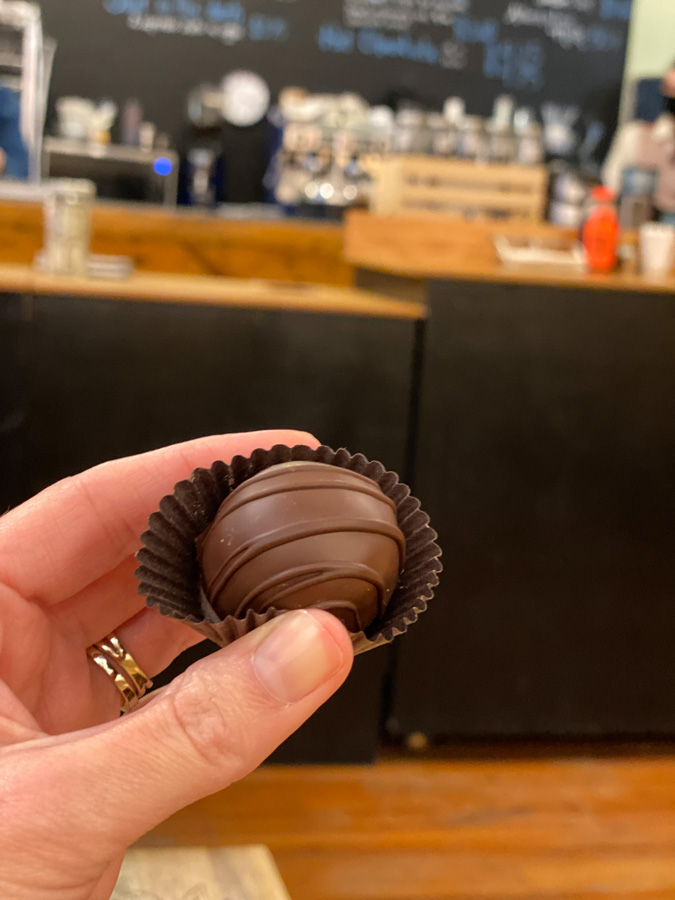 After a romantic dinner in Asheville, why not grab dessert? Asheville is full of dessert bars and chocolate shops filled with truffles, gelato, hot chocolate, and coffee.
French Broad Chocolate Lounge is one of Asheville's most famous icons and a popular thing to do amongst visitors.
Situated in Pack Square, find all of the chocolate you could ever dream of – vegan and gluten-free selections included. Head to their River Arts District (RAD) location for a factory tour.
We personally frequent Asheville Chocolate – just down the street – for their gelato, teas, and handcrafted chocolates in unique shapes like Scottie dogs.
If it's later in the evening, Crave Dessert Bar is a must for people-watching, hookah, and ridiculously fun cocktails and desserts. Order a smokin' Old Fashioned or gummy bear concoction.
Old Europe Pastries is a classic if you wish to grab dessert and head over to Pack Square. Where else can you find Hungarian pastries and gluten-free and vegan treats?
3. Catch A Radiant Sunset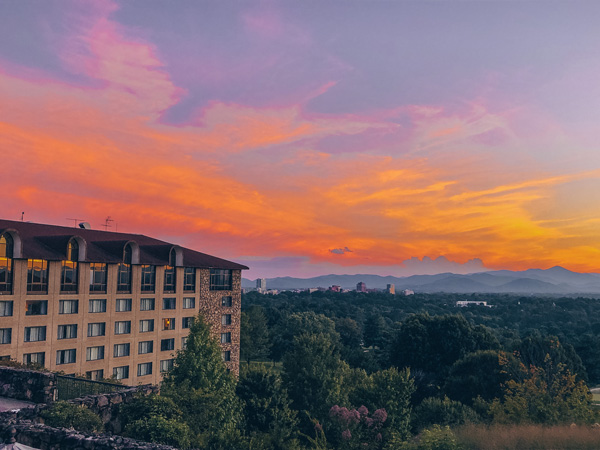 Those Blue Ridge Mountain sunsets are everything. For one of the most romantic things to do in Asheville, head to The Omni Grove Park Inn.
The Grove Park Inn is one of the best places to visit in Asheville all year long. Catch a sunset over Downtown Asheville and Mount Pisgah;
If you don't have dinner reservations at Sunset Terrace or Edison, grab a seasonal cocktail and snacks at The Great Hall Bar – one of the best bars in the city.
Stand or sit on the lower patio level and watch those vibrant purple and pinks burst from the mountains.
Of course, you can also catch a sunset along a romantic Asheville hike or at a rooftop bar.
For sunset hikes around Asheville, Max Patch, Craggy Gardens and Pinnacle, Black Balsam, and Bearwallow Mountain are fairly easy and popular.
For romantic rooftop bar sunsets in Asheville, head to Capella on 9 or The Montford Rooftop bar.
4. Stroll Around A Garden, Park, Or Lake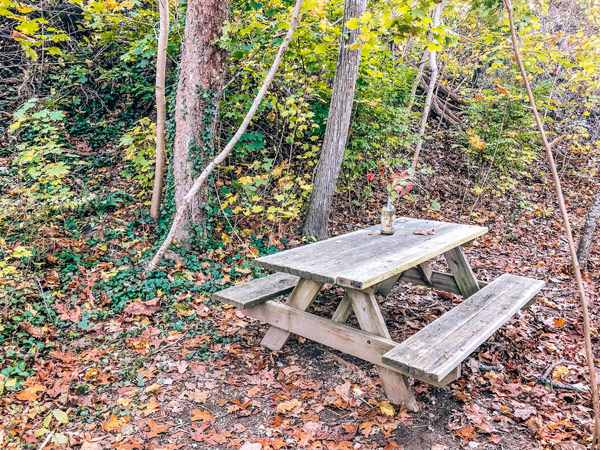 If you are looking for romantic places in Asheville that stay pretty quiet, head to one of the city's quaint parks or gardens.
As locals, we enjoy dinner at Nine Mile in Montford followed by a stroll around the neighborhood.
Here, you'll find Montford Park surrounded by quiet streets filled with historic Bed & Breakfasts and Free Little Libraries.
Maintained by the parks department, walk through Riverside Cemetery before it closes at dusk.
You may not think of a cemetery as one of Asheville's romantic places – unless you are a dark tourist – but this Victorian-style cemetery is quite special.
Like the Grove Park Inn, Riverside is also a little haunted. Literary greats O. Henry and Thomas Wolfe rest here.
Encounter walkable streets and a self-guided tour/brochure at the gates, sharing the area's incredible history. Please just remember to be respectful.
If cemeteries aren't your jam, head to North Asheville's Beaver Lake and Bird Sanctuary. Stroll the 2.1-mile perimeter trail along the lake or cozy up on a bench.
The Bird Sanctuary showcases many of WNC's favorite critters and birds. Both are free, but you may leave a donation.
Notably, French Broad River and Carrier Parks have a plethora of walking and biking trails as well as things to do. These are more local parks.
We absolutely love to bike, walk, and skate along the newly renovated RAD Riverwalk, dipping into breweries, bars, restaurants, and artists' studios along the way.
For more scenic lakes near Asheville, head to Lake Junaluska or Lake Lure.
5. Pack A Picnic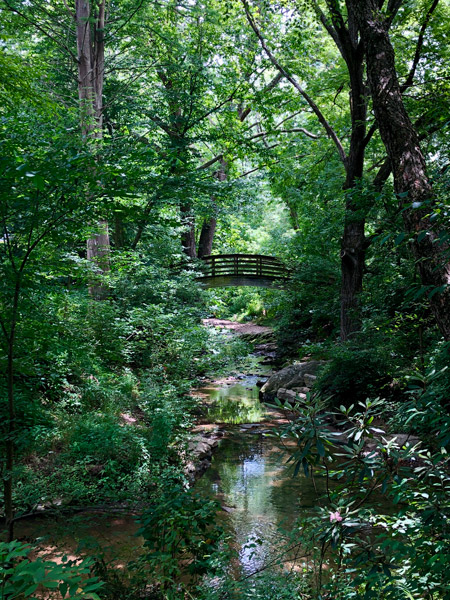 Along with the aforementioned parks, don't miss Asheville's fabulous picnic spots like the Botanical Gardens at Asheville or The NC Arboretum.
Asheville's Botanical Gardens, located at UNC Asheville, are free to enter. Here you'll find nature walks, gorgeous bridges across babbling brooks, and plenty of spots to toss down a blanket.
The Secret Garden, anyone? The gardens are also home to endangered and rare wildflowers and birds.
Unlike The Botanical Gardens at Asheville, The NC Arboretum charges a small parking fee. We are annual members. Gardens, bonsai trees, and hiking trails await you.
The Arboretum has a small bistro with boozy libations and handhelds.
You might catch harp music, and in the winter, don't miss the best Christmas light display in Asheville, Winter Lights.
Of course, you can always head to one of AVL's famous hiking trails or even a WNC winery for a picnic too.
6. Watch Shakespeare In The Park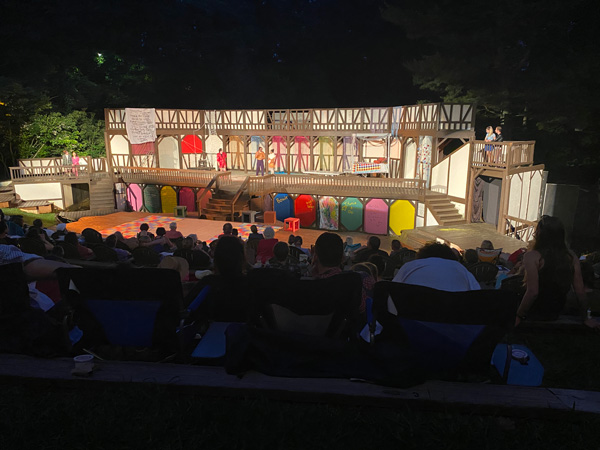 From May until October, if you are a literary traveler, one of our top Asheville date ideas includes watching Shakespeare in the Park.
Head to the Hazel Robinson Amphitheater in Asheville's Historic Montford District.
Here, the Monford Park Players perform plays under the stars – typically Shakespeare's plays along with a few more.
Mind you, these aren't your average plays, and you can expect hilarious twists on your favorite classics like Macbeth, A Midsummer Night's Dream, The Sword In The Stone, and Pericles.
We are talking contemporary music and dance with body glitter… Just don't expect Broadway-quality performances. Honestly, this is much better.
Performances are donation-based, and you can either sit on the wooden amphitheater steps, rent a chair, or bring your own chair or blanket.
Pack your own picnic, and vendors sell ice cream, local beer, wine, and other treats.
We promise: Shakespeare in the Park is by far one of the most romantic things to do in Asheville for couples.
As the sun begins to set, listen to beautiful Shakespeare verses as the magical summer fireflies descend upon the crowd.
P.S. If you are looking for kid-friendly things to do in Asheville, The Montford Moppets as well as Montford Park Players occasionally perform at earlier times with family plays like The Sword in the Stone and The Little Prince.
7. Tour Biltmore Estate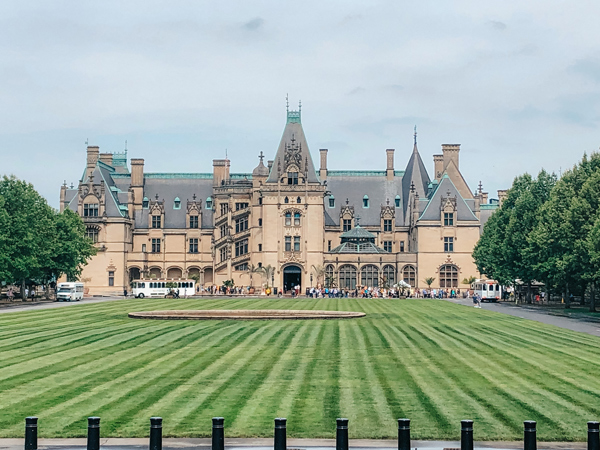 Touring Biltmore Estate is one of the best things to do in Asheville for couples and first-time visitors. It's also a great indoor activity for iffy weather.
Originally owned by George and Edith Vanderbilt, purchase a ticket to have access to the hiking trails, gardens, restaurants, home, winery, and special events.
You will never run out of things to do at Biltmore, and we are annual passholders because of this.
For romantic Asheville date ideas at Biltmore Estate, we have a few special suggestions here:
While we prefer to do a self-guided walking tour of Biltmore House, for more intimate things to do, take a special Biltmore tour.
Add on a Red Wine and Chocolate Tour to your ticket for creamy truffles paired with Biltmore's red wine. Or, if it is winter in Asheville, don't miss Biltmore's enchanting Candlelight Christmas Evenings.
Picture glowing lights and crackling fireplaces as live music echoes throughout the main areas of the home.
We especially love Biltmore's restaurants including Stable Cafe and Cedric's Tavern, perfect for a romantic Asheville lunch or dinner.
Discover more fun facts about Biltmore before you go.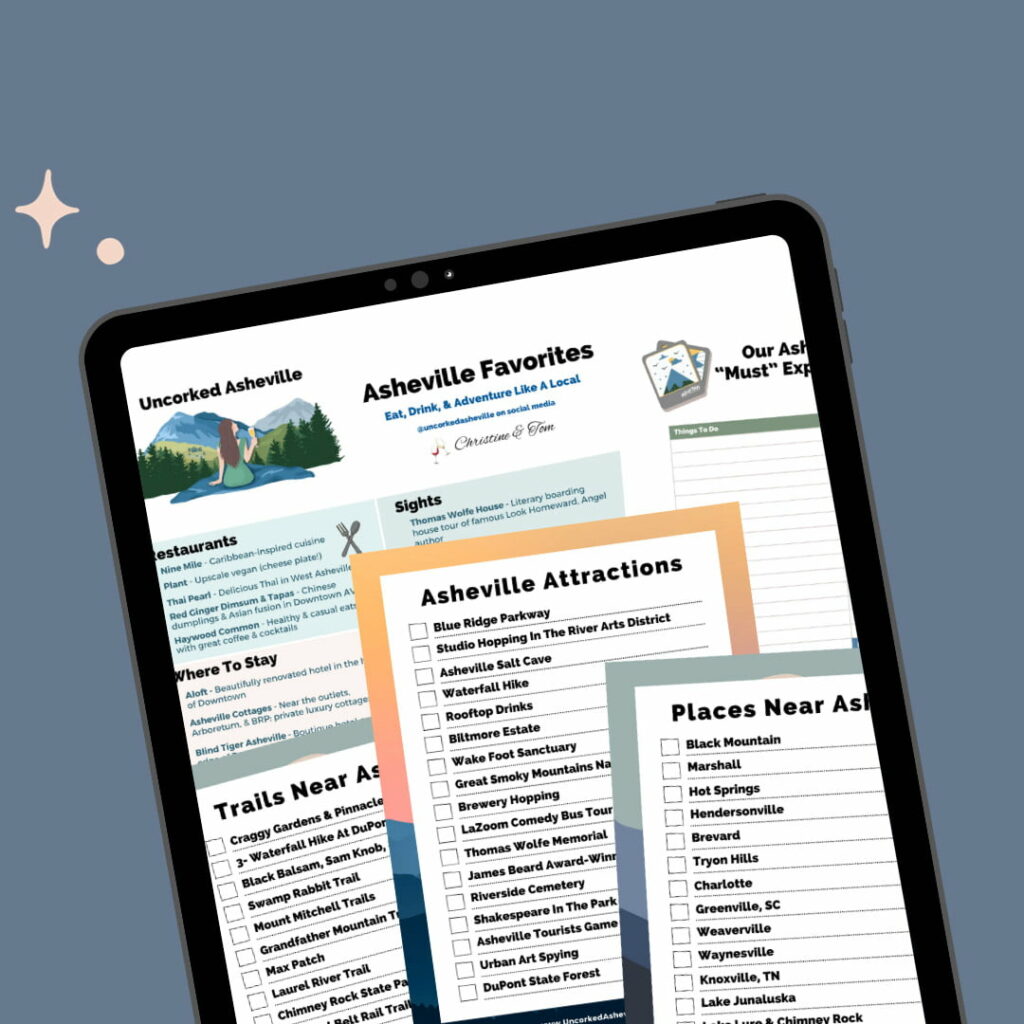 Never Miss Another Asheville Update
Experience Asheville like a local with our free attractions, dining, hiking, and day tripping guides. Get events, updates, and more straight to your inbox from Christine.
8. Attend A Workshop Or Special Event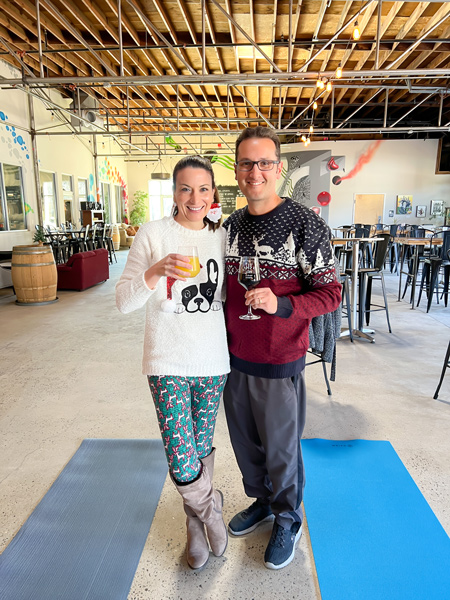 Asheville is full of workshops and unique things to do for couples.
While we cannot possibly name them all, create a charcuterie board at one of Asheville Charcuterie Co's pop-up events.
Or, attend a glass-blowing workshop or class at the gorgeous NC Glass Center. We'd like to think that we have a little Chihuly inside us all. We could also make quite a few cheesy "flame" and 'hot' jokes here.
Asheville also offers unique cooking classes, and the breweries and wineries host fun arts and crafts events.
We especially enjoy once-a-month mimosa yoga at pleb urban winery with Funky Flow Yoga. For Christmas, wear that fun holiday sweater or dress up for Halloween.
Take a peek at our Asheville Events Calendar to find just a few things happening across the city.
9. Eat Charcuterie At A Wine Bar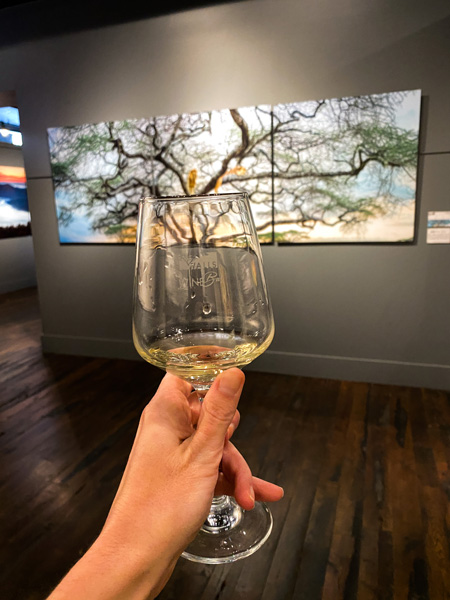 For the most romantic places in Asheville for wine lovers, dazzling wine bars are a must.
Yes, Asheville is full of hopping breweries, but you can also find delicious and curated wine selections.
To start, head to West Asheville for Leo's House of Thirst. Sit outside in their wine garden at a cozy picnic table.
Grab tapas, handhelds, or an entree. Choose from their large bottle selection or share a carafe.
We also frequent Bottle Riot in the River Arts District. Here, find wine glasses the size of your face and one of the best charcuterie boards in Asheville.
This warehouse space is extra jazzy, and in 2022, they added spirits. Don't miss their baller bottles for big spenders and wine connoisseurs.
Downtown, don't miss WALLS Wine Bar or 5 Walnut. WALLS sits in a gorgeous art gallery filled with Benjamin Walls Photography.
They even have a wine dispenser to try fancier wines via small pours.
And, if you enjoy James Beard award-winning Cúrate, head to their newest Spanish cafe, market, and wine bar, La Bodega.
For date night in Asheville, it's cozy, fairly priced, and delicious.
10. Wine Taste In Hendersonville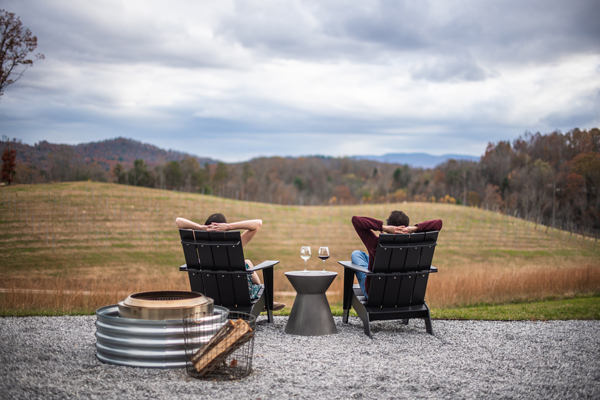 Along with wine bars, WNC's wineries are perfect if you are looking for things to do in Asheville for couples.
We always highly recommend starting with the Hendersonville wineries, which makes for a great AVL day trip (around 45 minutes away).
Among our favorites, Stone Ashe Vineyards and Marked Tree Vineyard (Flat Rock) offer stunning vineyard views. We enjoy their red wines.
Point Lookout features both meads and wines along with the best mountain views around. Sawyer Springs is our favorite family-run winery with a rustic barn and delicious rotating food trucks.
Newer to the scene, Souther Williams won't disappoint either.
Outside of Hendersonville, Tryon Hills has gorgeous wineries including Overmountain and Parker-Binns.
Discover even more quaint and romantic Western North Carolina towns to visit.
11. Stay Overnight At A Bed & Breakfast Or Boutique Hotel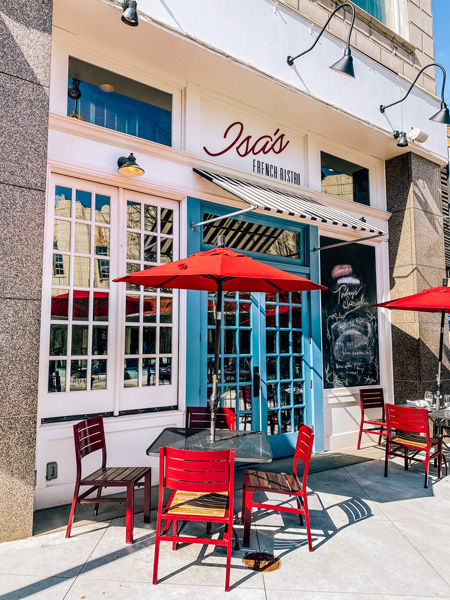 For a romantic weekend in Asheville, many people enjoy the area's cabins, hotels, and Bed and Breakfasts.
For romantic hotels in Asheville a few we suggest include:
Aloft Asheville Downtown – The Aloft is one of Asheville's newly renovated hotels with a rooftop pool, gorgeous rooms, and coffee/bar ledge overlooking Downtown. Be at the center of it all here.
The Foundry Hotel Asheville – The Foundry Hotel tips its hat to Asheville's industrial history while exuding character and decadence. Their restaurant, Benne on Eagle, features a famous Appalachia-style menu.
Haywood Park Hotel – Isa's Bistro is iconic in engagement and wedding photos. This is another centrally located Downtown Asheville hotel.
The Windsor Boutique Hotel – This 1907 boutique luxury hotel is a Trip Advisor Traveler's Choice award-winning Downtown Asheville accommodation.
Grand Bohemian Hotel Asheville – Situated in historic Biltmore Village and famous for the Red Stag Grill, enjoy a gorgeous, luxurious, and romantic Asheville weekend.
The Omni Grove Park Inn – Asheville – Sleep in Asheville like F. Scott Fitzgerald. This luxury resort brags of a world-class spa, multiple rooftop restaurants with sunset views, and a nearby antique car museum.
The Inn On Biltmore Estate – Sleep like a Vanderbilt at this 4-star hotel on Biltmore Estate.
Asheville Cottages – With a central location to the Blue Ridge Parkway, Downtown AVL, and Biltmore, these luxury cottages promise fireplaces, grills, hot tubs, and a home away from home.
If you are looking for more romantic Asheville getaways, be sure to check out Montford's Bed and Breakfasts:
1900 Inn On Montford – Imagine a 3-course breakfast and live music on Saturdays.
Black Walnut B&B Inn – Designed and built by Richard Sharp-Smith — Biltmore's supervising architect — in 1899, two of the eight rooms are pet-friendly.
Or, head to Hendersonville:
1898 Waverly Inn (Hendersonville) – The 1898 Waverly Inn is a sweet B&B with the best hosts and happy hour. This accommodation is also within walking distance of Downtown Hendersonville and is about 40 minutes away from Asheville.
Don't miss our complete guide to where to stay in Asheville.
12. Visit A Museum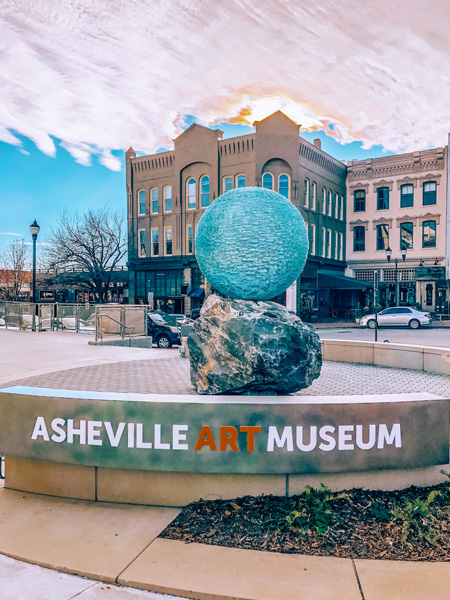 If you love science, art, and history, Asheville's museum scene will speak to you. In and around Asheville, explore an abundance of museums, perfect for a romantic and fun date.
Newly renovated, the Asheville Art Museum showcases an expansive collection of 20th and 21st-century American art. You'll love the bright, airy galleries and sleek, modern design.
For a free, donation-based art museum, head to nearby Black Mountain College Museum & Arts Center.
This small museum is great for a short visit and emphasizes a focus on how we approach, speak, and create modern art.
Another free museum – and for car lovers – check out the Estes-Winn Antique Car Museum in Grovewood Village near The Omni Grove Park Inn. Grab coffee or a bite to eat at nearby ELDR.
The museum boasts of a rare 1957 Cadillac Eldorado Brougham and Asheville's 1922 American LaFrance fire truck.
If you are looking for interactive and fun Asheville date ideas, the Asheville Pinball Museum is the best; spend all day playing vintage arcade, video, and pinball games. Just remember the hand sanitizer.
13. Take A Romantic Asheville Hike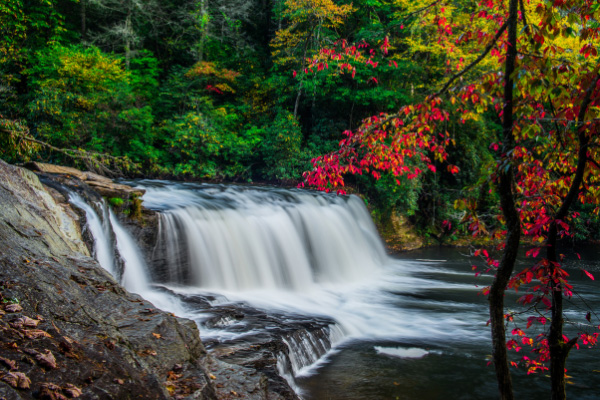 Just like the beer, Asheville is infamous for its hiking trails. There are so many to choose from, ranging in length and difficulty.
If we had to pick just a few of the most romantic Asheville hikes, we'd start with the NC Blue Ridge Parkway hikes.
Mount Pisgah, Craggy Pinnacle, and Fryingpan Mountain Tower offer breathtaking 360-degree views.
Of course, Graveyard Fields and Black Balsam are the most gorgeous fall foliage hikes.
For waterfall hikes, you cannot go wrong in the Pisgah National Forest and Brevard area, including Looking Glass Falls, Moore Cove Falls, and Daniel Ridge Falls.
DuPont State Forest is our all-time favorite spot for multiple waterfalls and picnics. Scenes from The Hunger Games and The Last of the Mohicans were filmed here.
Mingo Falls, on your way into the Smokies, is a gorgeous and misty short hike, and if you are hoping to catch a rainbow, head to Rainbow Falls near Sapphire.
Visit our hiking trails and waterfall guides for more information.
14. Soak In The Views At A Rooftop Bar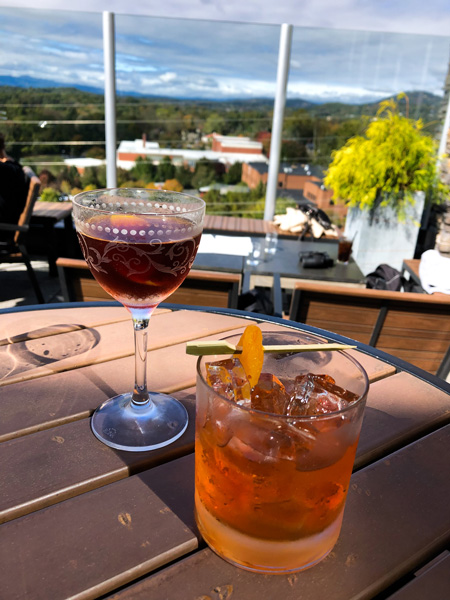 For romantic things to do in Asheville, look up; hiking those mountains and the city's rooftops are the best ways to catch vibrant Asheville sunsets.
Asheville's rooftop restaurants and bars won't disappoint. As mentioned above, The Monford Rooftop Bar and Capella on 9 are two of the best in town.
Capella on 9 – on top of the AC Hotel by Marriott Asheville Downtown – is especially jaw-dropping for the size of its rooftop and sprawling views of Asheville. Grab handcrafted and classy cocktails with delicious food.
The Monford Rooftop Bar is part of the DoubleTree by Hilton Asheville Downtown and features delicious bites and seasonal cocktails. This rooftop overlooks historic Montford.
15. Enjoy A Luxury Spa Day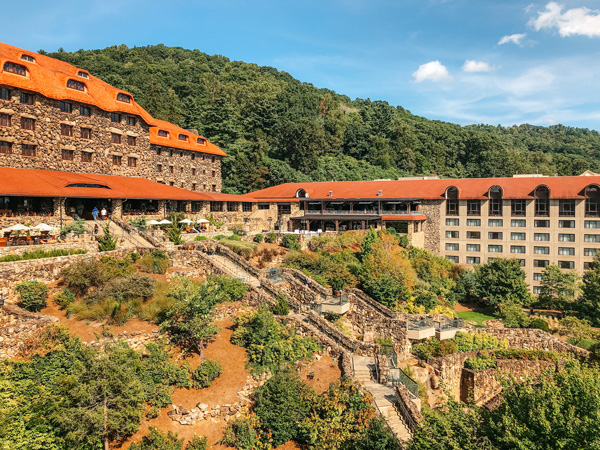 Are you craving a couple's massage or spa day? One of the most romantic places in Asheville, The Spa at Omni Grove Park Inn is Asheville's most coveted and talked about luxury.
In fact, Grove's Spa was named one of Condé Nast Traveler's top resort spas in North America.
Because of the high demand, though, The Spa at Omni Grove Park Inn currently only accepts reservations for overnight guests and books reservations months in advance.
What can you expect? Let's start with 20 water features, including mineral-based and waterfall pools. The spa also boasts a lap pool covered with over 6,500 fiber-optic stars and underwater music.
Find sauna and steam rooms, massage treatments, a nail salon, and more.
For more accessible spa, massage, and wellness options, be sure to check out Asheville Salt Cave, Shoji Spa and Retreat, and Wake Foot Sanctuary.
16. Hop On The LaZoom Bus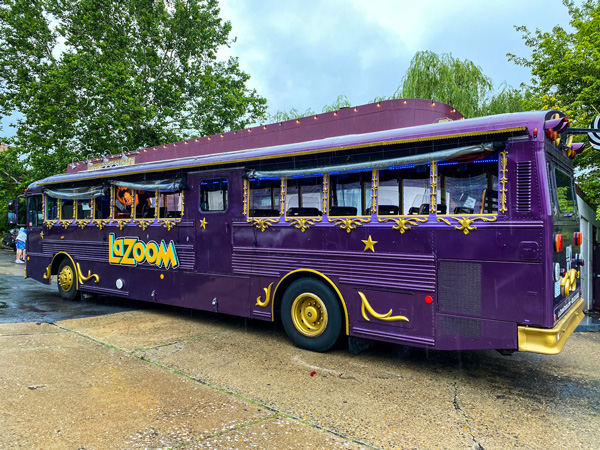 If you've been in Asheville for any length of time, you may have seen a purple bus tearing down the streets and followed by a rather bizarre line-up of people in costumes.
That's the LaZoom Comedy Tours bus – one of the most fun Asheville date ideas on this list. LaZoom offers a variety of comedy bus tours, some of which are 21+.
For one of our romantic Asheville date nights out, we joined LaZoom's haunted ghost comedy tour and learned about Asheville's spooky history.
Other LaZoom tours drive you around Asheville's brewery scene and offer up a new look at the city's past and present.
What makes LaZoom one of the absolute best things to do in Asheville for couples, though, is the fact that you can fill up one of their coolers with boozy libations. Yes! You may drink on this bus.
LaZoom sells beverages at their kitschy bar, which you may drop into at any time.
Be sure to grab your rubber chicken ticket, hang out with the cat pillows, and get ready for one unforgettable Asheville evening.
17. Catch Up Over Coffee Or Brunch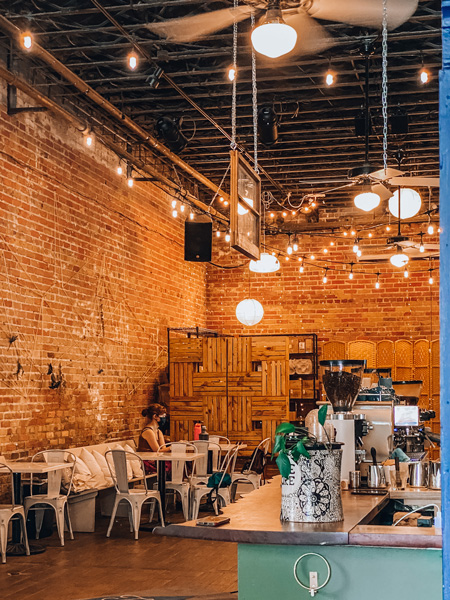 If this extensive list has you feeling a bit exhausted – same. Grab some coffee or sleep in and order brunch.
Asheville's coffee shops cannot be beaten. For the most intimate and cozy Asheville coffee shops, we suggest Rowan Coffee, Double D's, and Trade & Lore.
Rowan is a bit newer and sits inside a gorgeous historic building. Double D's is that red double-decker bus downtown that you cannot miss.
Trade & Lore is a bit more whimsical and an Instagrammer's dream. Think serenity.
We also love Summit, especially their River Arts District location for all of the street art, Marquee, and Riverwalk.
Or, grab coffee at Asheville's romantic and stellar brunch spots like The Social Lounge and Jerusalem Garden Cafe.
We can never get enough of brunch. Breakfast is always a good idea too.
Save These Romantic Asheville Date Ideas For Later:
What are your favorite things to do in Asheville for couples?
If we had to pick our top four romantic things to do in Asheville for couples, we go with a cozy dinner out at Edison or Bouchon.
Then, we'd head out for desserts at Asheville Chocolate or French Broad Chocolate Lounge followed by rooftop drinks at The Social Lounge or The Montford.
Or, we'd head to a wine bar like Bottle Riot and La Bodega. Lastly, we'd take a stroll along the RAD Riverwalk.
However, if you are only here for the day, nothing beats a Blue Ridge Parkway hike or chasing waterfalls at DuPont followed by a picnic and wine tasting in Hendersonville.
What do you consider to be the most romantic places in Asheville, NC?
We'd love to know your favorite romantic Asheville hikes, waterfalls, getaways, and restaurants in the comments.
More AVL Itineraries:
Weekend Getaway Itinerary
36 Hours In Asheville
Family Guides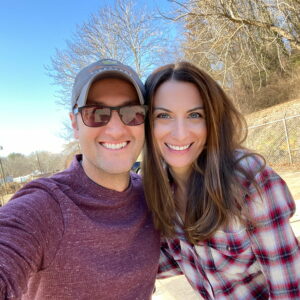 Christine (pronouns: she/her) is the owner and lead writer of Uncorked Asheville. After falling in love with those gorgeous Blue Ridge Mountains, Christine and her husband Tom decided to call Asheville, North Carolina home. When her pointy Italian nose isn't stuck in a book, Christine is adopting all of the kitties, getting lost in the forest, and drinking an ESB. She has a BA in English and History from Smith College, her MLIS from USF-Tampa, and is a former U.S. Fulbright Scholar - Indonesia. Christine also owns The Uncorked Librarian LLC with books and movies to inspire travel.