Explore the best neighborhoods in Asheville, NC for living and visiting, including the pros and cons of the coolest Asheville neighborhoods.
Uncover which neighborhoods in Asheville are filled with literary history, hide the best eats and brews, and showcase stunning eye candy.
Plus, explore where to live in Asheville by neighborhood as well as a few Asheville suburbs — from non-realtors.
In fact, did you know that there is an Asheville neighborhood where you can devour Caribbean cuisine, grab a book from a Free Little Library, and watch Shakespeare in the Park?
There's even a castle hidden among the plethora of gorgeous Bed & Breakfasts.
We also have a neighborhood in Asheville housing a brewery that plays vintage and new movies at its theater. This area also boasts of an iconic and breathtaking fall pumpkin patch on a church hill.
Explore the best neighborhoods in Asheville that the Fitzgeralds frequented for their summer vacations. Learn which Asheville, NC neighborhoods have jaw-dropping sunsets.
Don't even get us started on the best Asheville neighborhoods with the most vibrant street art, strongest coffee, and wildest breweries.
Plus, we are not realtors with agendas. We are just locals and travel writers sharing our firsthand experiences of what we consider to be the best places to live in Asheville, NC – as well as play.
This Asheville neighborhoods guide is for both visitors as well as people considering moving to Asheville. Below, tour the coolest neighborhoods in Asheville.
Of course, 'best' and 'coolest' are subjective. Let's get started!
Thinking of moving to Asheville? Head to this post next.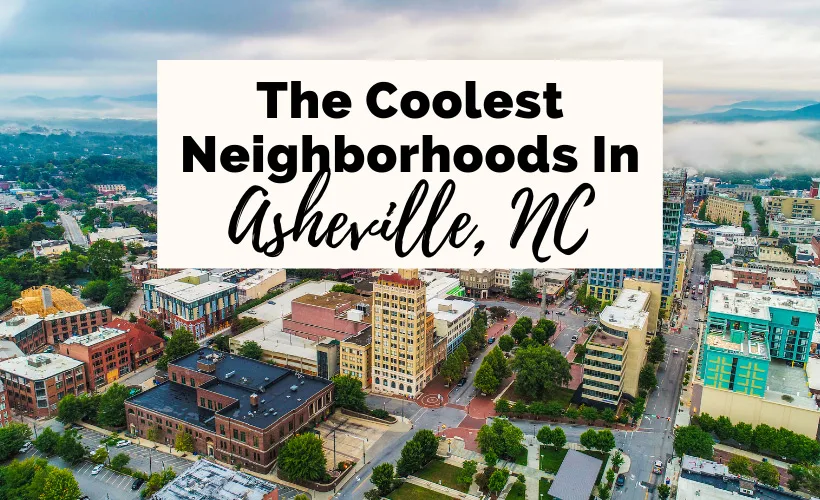 This post may contain affiliate links that earn us a commission at no extra cost to you. If you love these guides, support Uncorked Asheville here.
6 Best Neighborhoods In Asheville, NC
1. Montford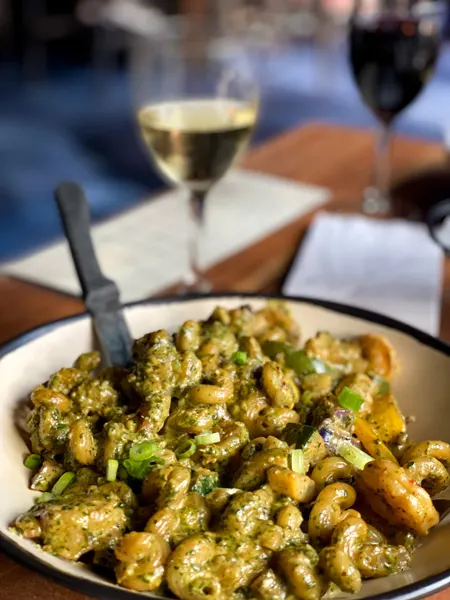 You cannot help but fall in love with Asheville's Historic Montford District. This is one of the quaintest Asheville neighborhoods filled with private residences and low-key businesses.
Montford sits between downtown and North Asheville, and parts of Montford land on the National Register of Historic Places.
Montford began to grow architecturally on the verge of Asheville's big boom; think the construction of The Grove Park Inn and Biltmore.
Rich in history, Montford also housed Highland Hospital, one of the more progressive mental health institutions of its time.
Zelda Fitzgerald along with 8 other people died in the Highland Hospital fire. Today, former Highland Hospital consists of commercial businesses.
You also don't want to miss nearby Homewood Manor where the Fitzgeralds and Vanderbilts used to stay. Homewood is one of Asheville's gorgeous 'castles.'
While Montford is a mostly residential area, visitors will find a plethora of cozy Bed and Breakfasts, restaurants, and easy access to downtown. For some, it's only a mile walk to the heart of downtown Asheville.
If you are looking for things to do in Asheville to acclimate you to the area, hop on the LaZoom Bus; their boozy adult comedy ghost tour shares the spooky history of this AVL neighborhood.
Historic Montford For Living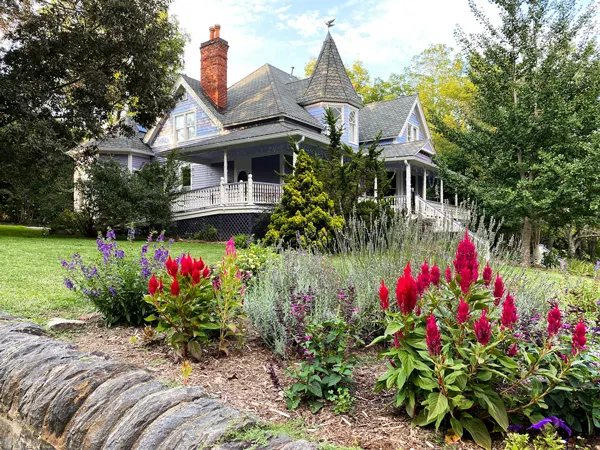 Considered one of the most diverse architectural areas across North Carolina, Montford is home to Neo-Classical apartment buildings, Victorians, Colonial Revivals, and bungalows.
If you love New England — where we are originally from — you'll appreciate the look and feel of this area.
Montford is one of the more expensive Asheville, NC neighborhoods with homes ranging from $400,000 into the millions.
It is also one of the best places to live in Asheville for active people. You will find residents running, walking, and biking, even in the cemetery.
There is a growing young professional population in Montford as well as families with younger children.
Throughout this neighborhood, encounter adorable and well-stocked Free Little Libraries.
Asheville's Montford Neighborhood For Sight-Seeing, Sleeping, & Eating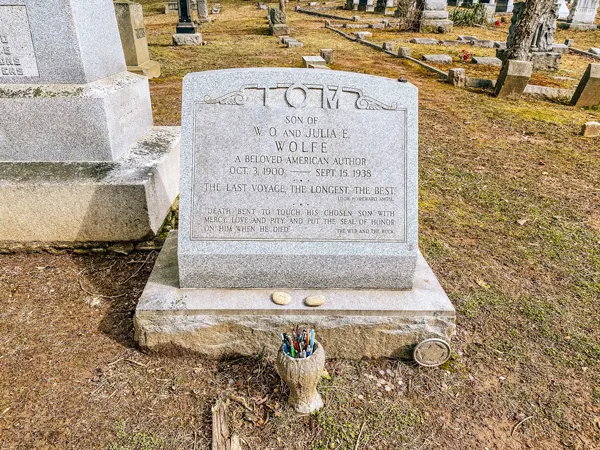 As one of the best neighborhoods in Asheville for history and literature lovers, be sure to check out:
2. North Asheville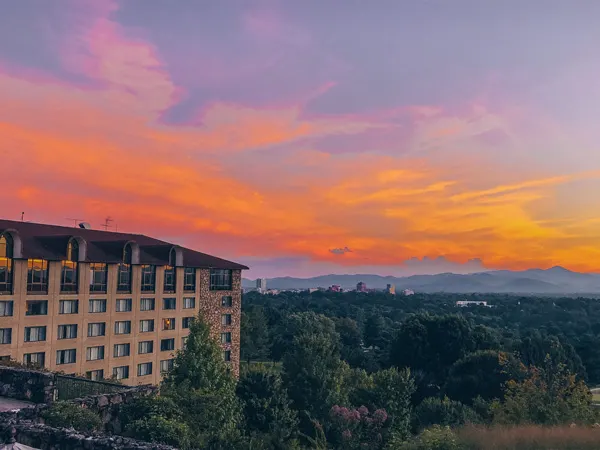 North Asheville is one of the most overlooked Asheville neighborhoods, which is fantastic if you want to escape Downtown's crowds.
During an Asheville fall, you'll recognize North Asheville by the pumpkin patch in front of the breathtaking Grace Episcopal Church.
Once those pumpkins are up, you'll know that Asheville's most beautiful season has arrived (grab our guide to spending October in AVL).
North Asheville is one of our favorite areas in Asheville to grab a bite to eat. Here, you'll see fewer crowds than downtown.
Plus, you have the historic Grove Park Inn – one of the top tourist attractions in Asheville – beautiful old homes, and UNC-Asheville's campus. Kimberley Ave. is full of amazing Tudor-style homes.
On the con side, Merrimon Ave. is a bit narrow and becomes a tad congested during rush hour with some pretty erratic drivers. Road rage is for real out here. We call this "Merrimon Mayhem."
There's been a lot of work on the older water pipes over the past few years, which, well — we'll leave that up to your imagination. On occasion, the water looks like chocolate. Chocolate would be so much better.
Read our full guide to North Asheville, including things to do, where to eat and drink, and which North Asheville neighborhoods to visit.
North AVL For Living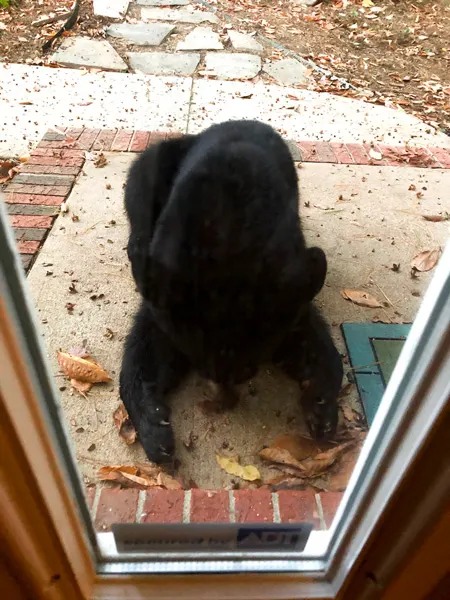 Personally, we think North Asheville is one of the best places to live in Asheville if you want to be close to downtown without the hassle.
North Asheville is known for having some pretty ritzy houses along with the Asheville Country Club — for golfers. You can still find starter homes nearby along with those multi-million-dollar mansions.
You'll also spy craftsman bungalows, Spanish-style villas, Colonials, and Tudor homes.
A few North Asheville neighborhoods include Beaverdam, Lakeview Park, and Grove Park. North Asheville has more established neighborhoods.
North Asheville is home to retirees, college students, families, and young professionals. It used to be "old money," but that is slowly changing.
Oh, and the black bears live here.
The recent housing boom is driving up the price of houses in North Asheville. What once sold for $200,000 may go for $500,000-$900,000+.
North Asheville For Playing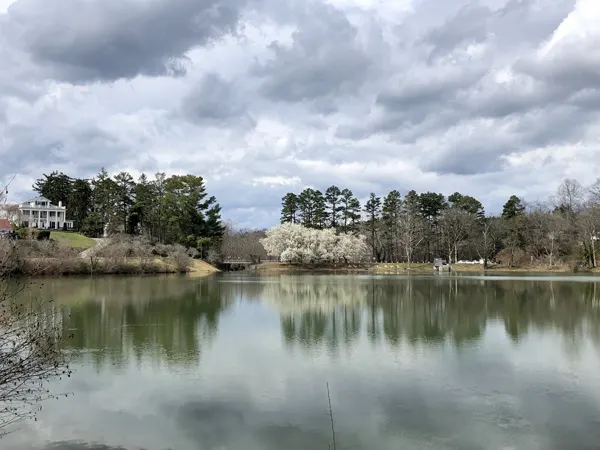 North AVL For Eating & Drinking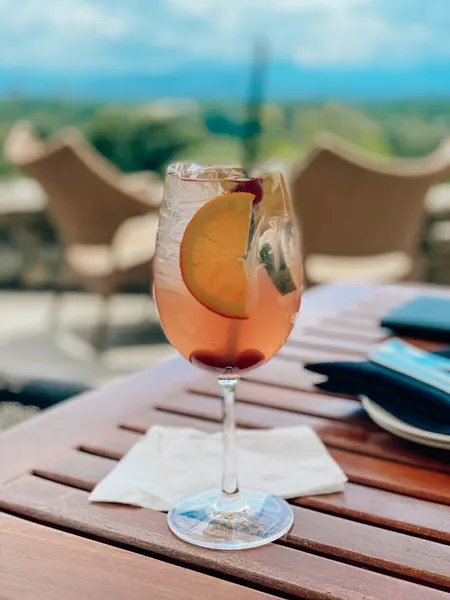 Read our complete guide to North Asheville's best restaurants for pizza, burgers, beer, sushi, tacos, and more!
Never Miss Another Asheville Update
---
Tired of generic Asheville travel itineraries? Experience Asheville like a local with our free Asheville Favorites checklist, including restaurants, breweries, and hiking. Plus, get local updates – including events and hidden gems – straight to your inbox. Sign up here.
3. River Arts District (RAD)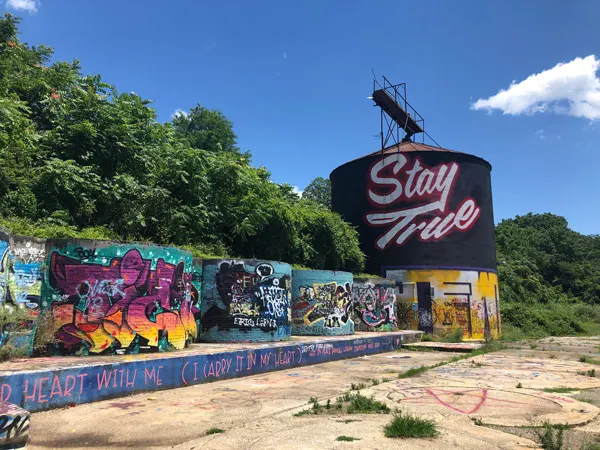 Greeted by the infamous Asheville silo with its ever-changing slogan, the River Arts District is a vibrant artist community.
Encounter endless urban street art, artists' studios, shops, and a newly renovated Riverwalk along the French Broad River. Visitors can bike, skate, and walk along the river. You can float down the river too.
For the best neighborhoods in Asheville, NC, we love RAD for visiting and playing, especially with a plethora of quirky restaurants, coffee shops, breweries, and wine spots.
This is one of the most colorful Asheville, NC neighborhoods, literally.
RAD For Living
RAD is where you will find condos and apartments along with hotly contested new construction.
A new-build condominium may run anywhere from about $350,000 to $800,000 — and many of these condos sit on or around Craven Street.
For residential homes in the River Arts District area, find older properties ranging from $300,000+.
Residents can bike to many parts of RAD from these areas to grab food and enjoy a day out.
Not all areas of the River Arts District are developed or desirable. Encounter abandoned buildings and warehouses filled with broken glass and garbage. There are active train tracks.
Driving into RAD, you'd have to appreciate the hipster, warehouse vibe to really enjoy it. For Asheville, NC neighborhoods, RAD won't appeal to everyone.
Younger families, digital nomads, and professionals tend to reside here.
RAD For Playing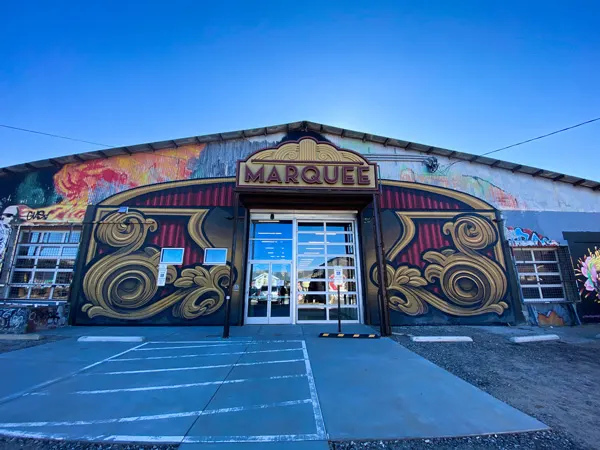 RAD For Eating & Drinking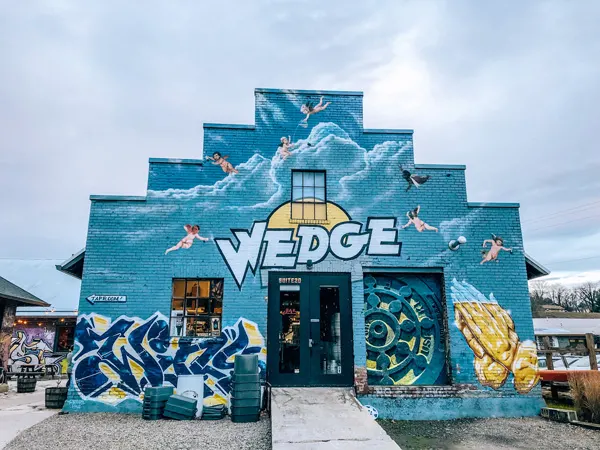 The River Arts District is one of the best Asheville neighborhoods if you are looking to beat downtown AVL's crowds and congestion. It is the most fun to visit on a weekday.
We appreciate the large parking lots and little to no traffic.
There are tons of River Arts District restaurants and places to explore. Just a few:
You might also know RAD for Salvage Station (live music), North Carolina Glass Center, and White Duck Taco.
North of RAD and Montford, don't miss the Woodfin area. Here, you'll find Ginger's Revenge and Zillicoah Brewing.
4. West Asheville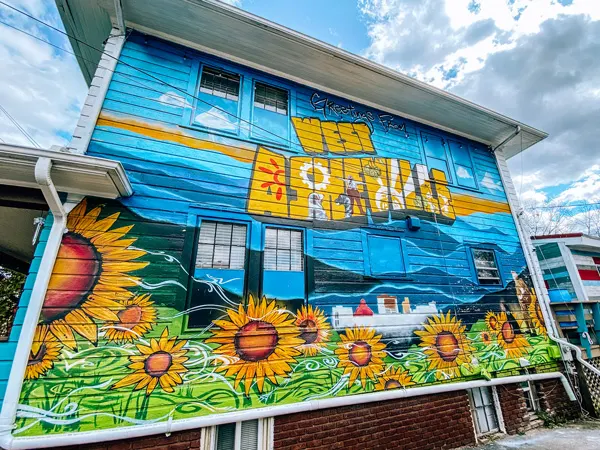 We love visiting West Asheville — even on a weekend. While Haywood Road is pretty busy and jumping, many of the breweries and surrounding areas remain quieter than downtown Asheville.
For Asheville neighborhoods, West Asheville is one of the hippest and most laid-back.
You'll find some of the best murals, including Dolly Parton and RuPaul. Look for Gus Gutty's The Fox as well as Ian the Painter's Ella/Joan of Asheville.
Find more of a GenX and Millennial population in this hipster Asheville neighborhood, too — although this is changing. West Asheville has a vibrant LGBQT+ community.
West Asheville is unique with its older buildings that house both new and generations-old establishments. You'll find organic and gluten-free goods, especially at the West Village Market & Deli.
For Living
Development companies are building many new and contentious housing units in West Asheville, also driving up the price of real estate.
It's a double edge sword, and you'll see gentrification across Asheville.
In West Asheville, you'll find more fixer-uppers for families — with the costs increasing — and expensive gated communities. Like many parts of Asheville, the median home price is around $400,000.
West Asheville is full of cottages and bungalows. Million-dollar properties exist here, too.
If you are looking for where to live in Asheville, many attest that it's one of the best areas for walking distance to shops and bars.
Like Montford, find Free Little Libraries and more street parking.
In our opinion, West Asheville sees more violent and property crime than the northern and southern parts of the city — although lately, North Asheville is seeing an increase in robberies and gunshot reports.
West AVL For Eating & Drinking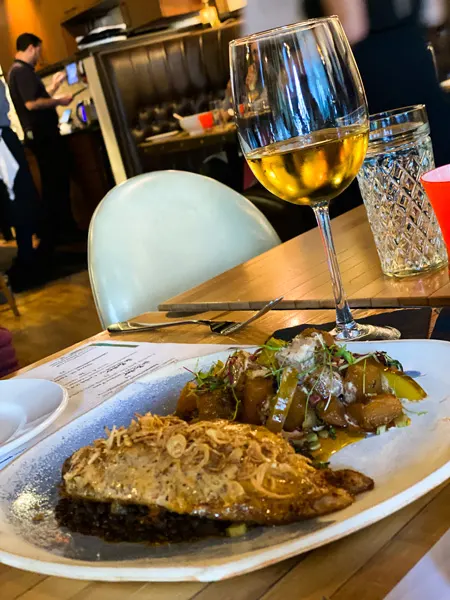 West Asheville is home to a plethora of amazing restaurants, cafes, and shops, truly making it one of the best neighborhoods in Asheville, NC for eating and drinking. To name just a few notable places:
West AVL For Playing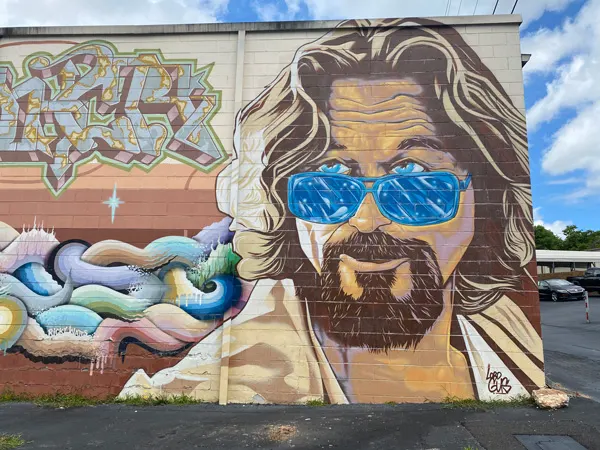 West AVL is one of the best neighborhoods in Asheville for murals. You honestly cannot miss all of the street art. Just take a drive down Haywood Road.
This is also one of the best areas in Asheville, NC for parks and shopping:
Murals – Look for Dolly with her newest neighbor, RuPaul. You'll also find The Dude (Abides) and Joan of West Asheville, Ella. Gus Cutty and Ian the Painter are big artists here.


Carrier & French Broad River Parks – Enjoy two walking and picnicking parks that connect to each other. Both have covered picnic areas, facilities, and trails. French Broad River also has a designated dog park.


Firestorm Books and Coffee – Firestorm is a queer, feminist, in-your-face (in a good way) collective and bookstore serving the needs of marginalized communities in the South. Their new releases section is the best. They also have a large children's area.
5. Downtown Asheville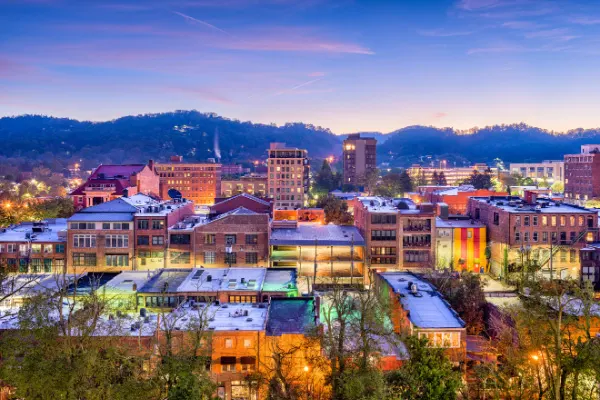 Of course, for the best Asheville neighborhoods, historic downtown is where it is at for all of the things to eat, see, and do.
Asheville is nicknamed "Foodtopia," after all. Personally, if you are looking for where to live in Asheville, though, this area wouldn't be our first choice.
We love living close to downtown and driving in for music, food, and drinks.
Downtown Asheville is what you'd expect from city life. There are older buildings, both happy and disgruntled locals, loads of tourists, transplants, and boho college students.
You will see panhandlers and an unsheltered population with "homeless camps" throughout the city.
Beloved Asheville works with our homeless community members to keep them safe and aids members with basic supplies and support.
Downtown Asheville, like other cities, sees crime, especially later into the evenings and early morning hours.
As Asheville locals, we try to visit downtown during off times and seasons, such as Mondays and Tuesdays and in the winter — just to avoid the crowds.
Parking gets a little tricky if you don't know the lesser-used garages and lots. The city is extremely walkable and has some magnificent Art Deco buildings.
Downtown AVL For Living
Downtown Asheville has apartments, luxury condos, and lofts that vary in pricing. Of course, the closer you are to the fun and city, the more you will pay for it.
Some of those million-dollar studios look gorgeous.
Living downtown means that you can walk to all of the shops and bars. However, we have heard that many of the condos have large and year-long+ waitlists.
Downtown might not be one of the best places to live in Asheville if you are looking to relocate immediately.
Romantic Asheville has a thorough guide to Asheville's downtown condo scene.
Downtown AVL For Eating & Drinking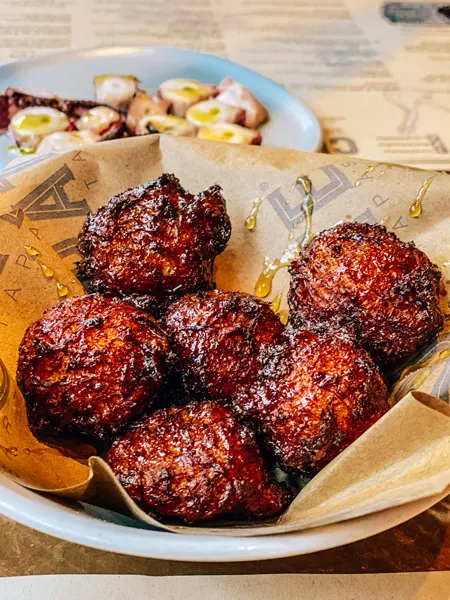 It is nearly impossible to pick out the best restaurants and things to do in downtown Asheville.
As the most happening of Asheville neighborhoods, this is just a sampling of AVL's food and drink scene:
Explore even more of the best Downtown Asheville restaurants, casual and fine dining.
Downtown Asheville For Playing & Shopping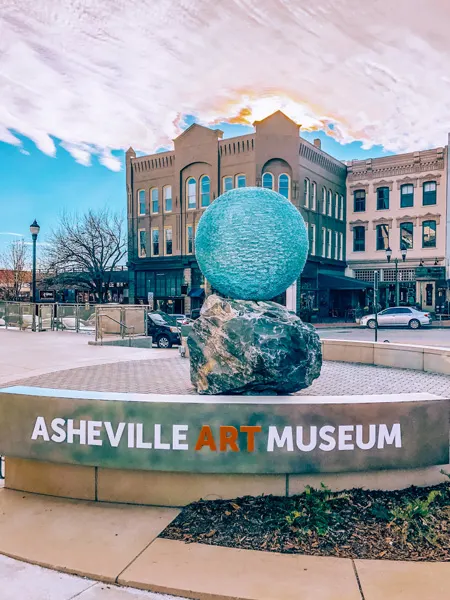 No Downtown Asheville neighborhood guide would be complete without naming a few historic sites, music venues, museums, and must-sees:
Never miss an Asheville event here.
6. South Asheville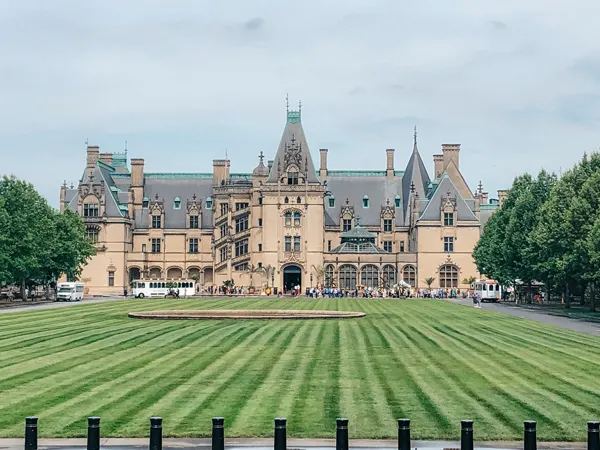 South Asheville houses wealthy older properties and newer builds, and is, of course, home to Biltmore Estate.
There are endless shopping centers as well as nearby Biltmore Village.
We debated if South Asheville was one of the coolest or best neighborhoods in Asheville, NC.
It's more of a driving area in Asheville, and we tend to drive in, out, and through the neighborhood. Its borders also grow a bit fuzzy.
However, South Asheville is full of hidden gems for outdoor enthusiasts and foodies.
For Asheville, NC neighborhoods, what we most appreciate about South Asheville is its proximity to the Blue Ridge Parkway — especially to the Mount Pisgah and Black Balsam area.
Here, explore many of WNC's hiking and biking trails.
South Asheville For Living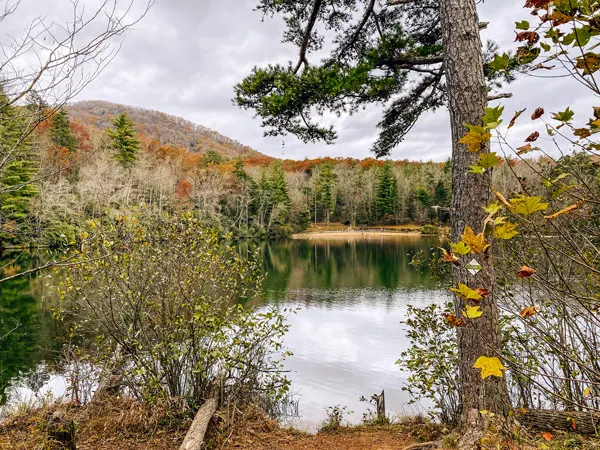 South Asheville tends to get a reputation — somewhat like North Asheville — for old money and being an expensive area.
For us, North and South Asheville are seeing younger families and millennials moving in, though. There are both new and old builds.
In South Asheville, you'll find popular Biltmore Park and Forest, which are not cheap and are in high demand. (Please know that some locals and residents consider these different Asheville neighborhoods).
The con of South Asheville and places like Biltmore Forest are that they lack diversity — just peruse the U.S. Census. Of course, this may change over the next five to ten years.
However, compared to other parts of the city, the average for a home is still cheaper at around $350,000+ — although this price tag has been increasing over the years.
South AVL For Playing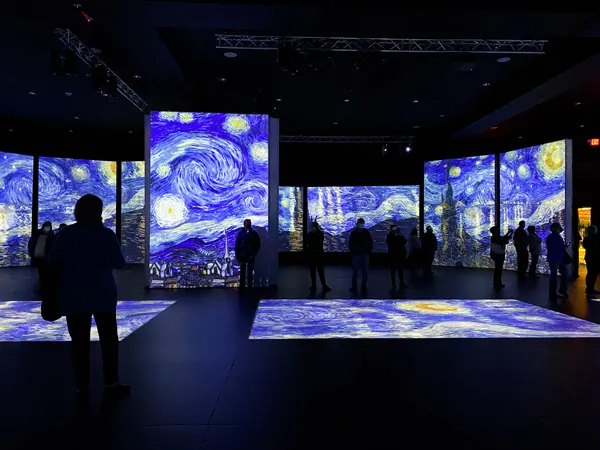 South AVL For Eating & Drinking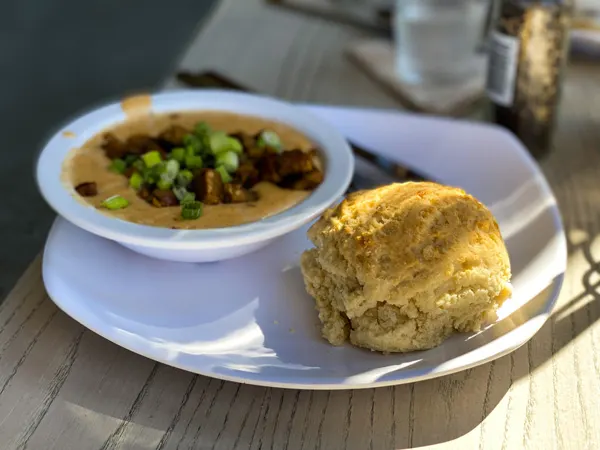 South Asheville is one of the most overlooked Asheville neighborhoods. Guilty as charged. However, Hendersonville Road, which flows into Arden, is foodie heaven.
A few South Asheville places to check out:
White Duck Taco, Green Sage Cafe, Vinnie's Neighborhood Italian, and Tupelo Honey all have South Asheville locations too.
More Noteworthy Asheville Neighborhoods
East Asheville – You'll find more rural areas and older homes and neighborhoods close to downtown and parts of the BRP. The WNC Nature Center is out this way. Oakley is popular here — filled with bungalows and craftsmen-style homes.


Kenilworth – Kenilworth is just south of downtown (a 20-minute walk), bordering South & East Asheville. Kenilworth is one of the more popular neighborhoods in Asheville for its 1920s architecture and bungalow and Spanish-style stucco homes. You have access to Tunnel Road — full of *all* of the chain stores and restaurants. Kenilworth is also close to Mission Hospital and has a park.
Best Suburbs Of Asheville & Nearby Cities
Woodfin – Woodfin always gets left out of nearby Asheville neighborhoods, and we are not realtors so maybe there's a reason?! Woodfin is home to Zillicoah and Riverside Rhapsody Breweries. Find burger joints, outdoor spaces, BBQ, and new bars. There's been talk about new housing developments out this way.

Fletcher

Arden

Fairview

Mills River

Read more about the best nearby cities, suburbs, and towns.
Save The Best Places To Live In Asheville, NC For Later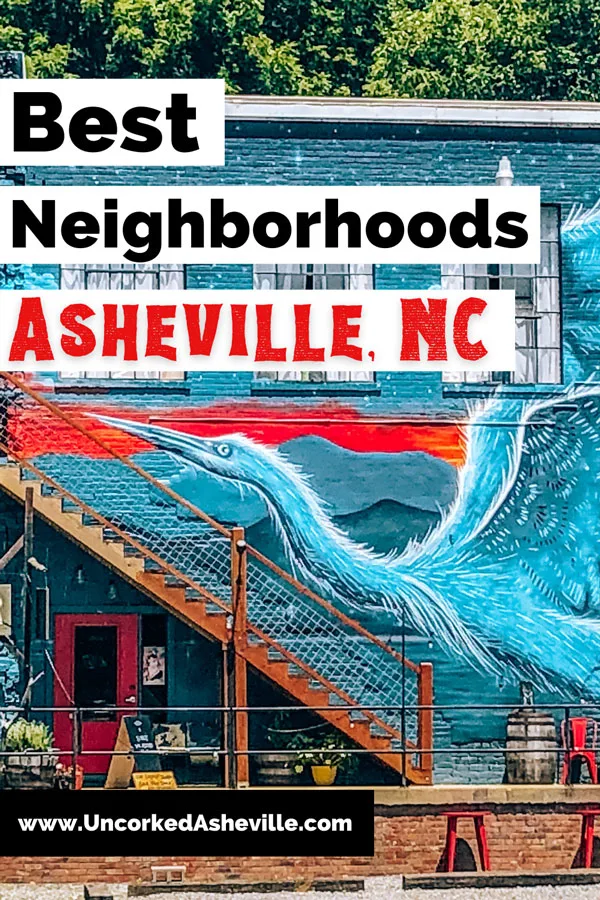 What are the best Asheville, NC neighborhoods that you love?
Which neighborhoods in Asheville do you frequent and why? Which Asheville neighborhoods are the coolest? Have the best restaurants and bars? House the best breweries?
What are the best places to live in Asheville? Let us know in the comments.
See our Top Places To Stay in Asheville.

Don't miss out on these Asheville properties on Booking.com, too.
More Asheville Neighborhood Guides:
Historic Montford
West Asheville
AVL River Arts District
North Asheville
Where To Head Next:
What's It Like Living In Asheville, NC?
Asheville Local Life & Resources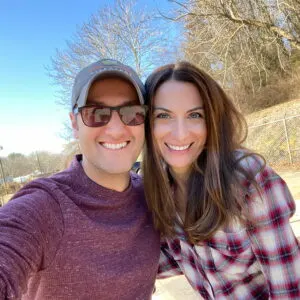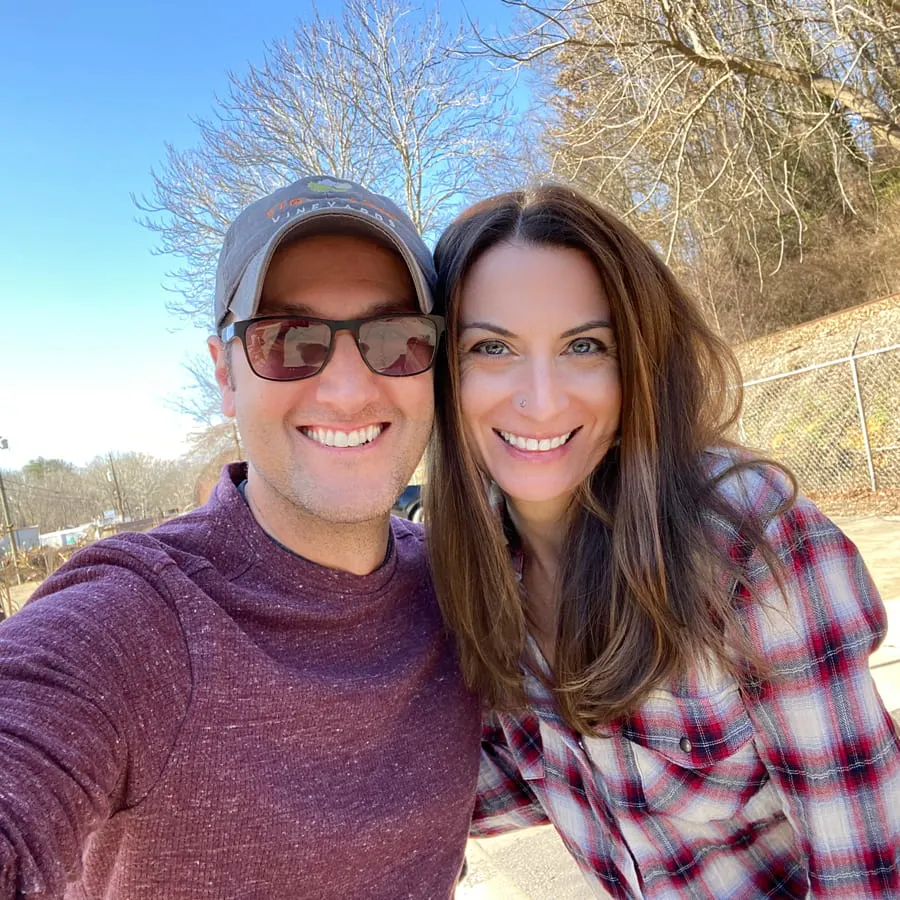 Christine (pronouns: she/her) is the owner and lead writer of Uncorked Asheville. After falling in love with those gorgeous Blue Ridge Mountains, Christine and her husband Tom decided to call Asheville, North Carolina their home. When her pointy Italian nose isn't stuck in a book, Christine is adopting all of the kitties, getting lost in the forest, and drinking an ESB.
Christine has a BA in English and History from Smith College, her MLIS from USF-Tampa, and is a former U.S. Fulbright Scholar - Indonesia. She also owns The Uncorked Librarian LLC with books and movies to inspire travel.